Are you looking for one of the best walks in Sussex? This guide to the Ditchling Beacon walk includes step-by-step directions, plus recommendations for where to eat, drink and stay nearby.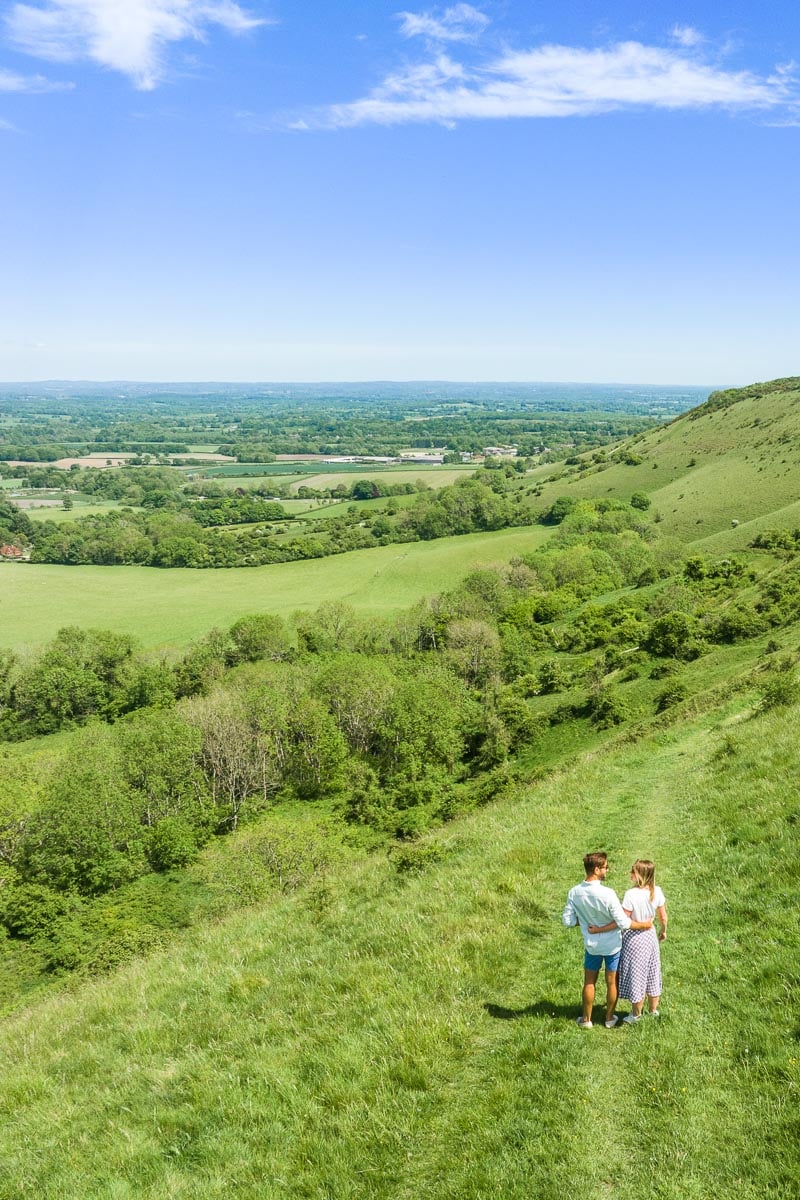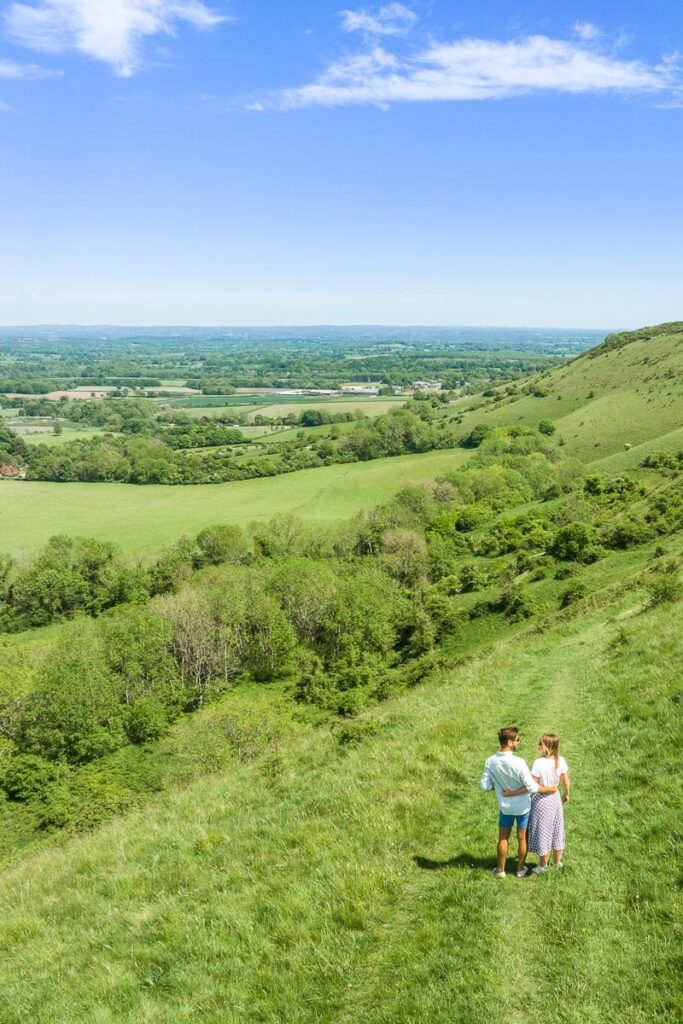 We think there's nothing better than discovering a new place on our own two feet. Exploring with our eyes and ears, all while giving our legs a little workout too.
We've just completed a walk that offers some of the best views over East Sussex, West Sussex and the South Downs National Park. We were in the area as part of a trip with Classic Cottages, staying at a lovely holiday cottage nearby. More on that coming up!
The walking route starts at Ditchling Beacon, the highest point in East Sussex at 248m. From here you have sensational panoramic views over the countryside and small villages in one direction. Flip 180 and you'll have a view right over Brighton to the sea.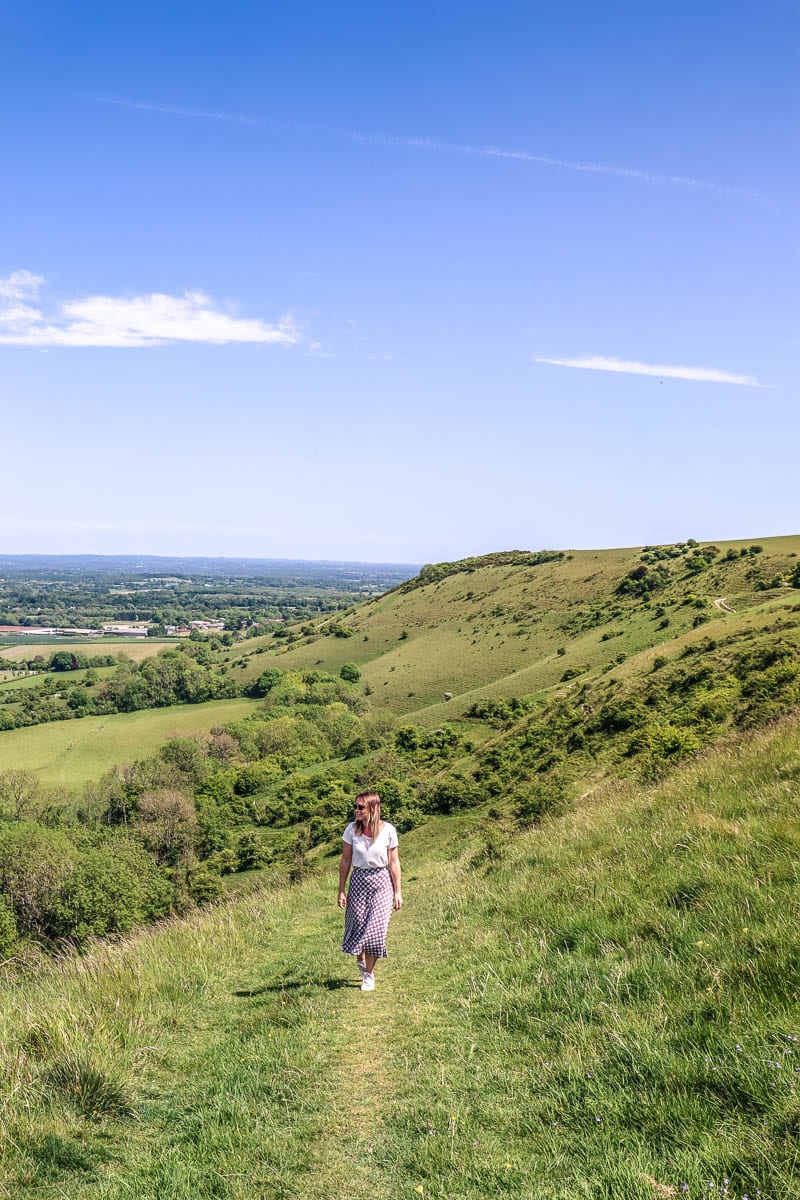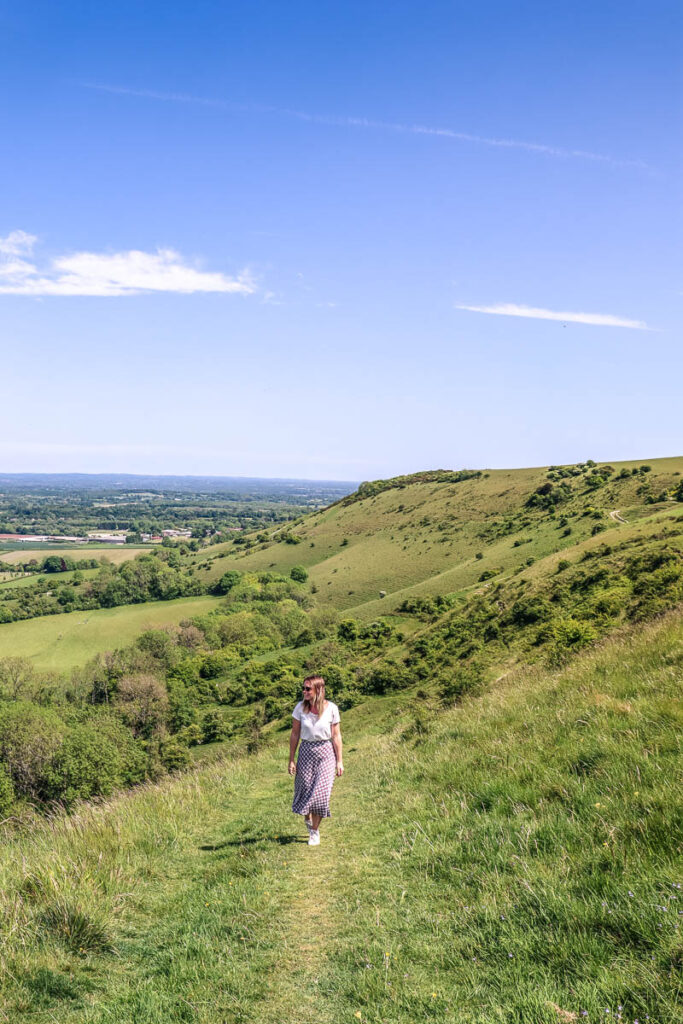 The walk itself is a 2-3-hour stroll (depending on your pace) and passes through more picturesque scenery. You'll see sweeping valleys, fields of wild flowers, grazing land with sheep and cows, woodland and more. It really has got a bit of everything!
As you can imagine with a viewpoint up on a hill, there are a few gradients to deal with too. If you struggle with hills, just take your time. Don't rush, relax into the route and enjoy taking regular breathers in the pretty surroundings. We passed people of all ages enjoying this walk – right from kids up to 80+ year old ramblers! It's dog-friendly too, so you can bring your pooch along for some exercise.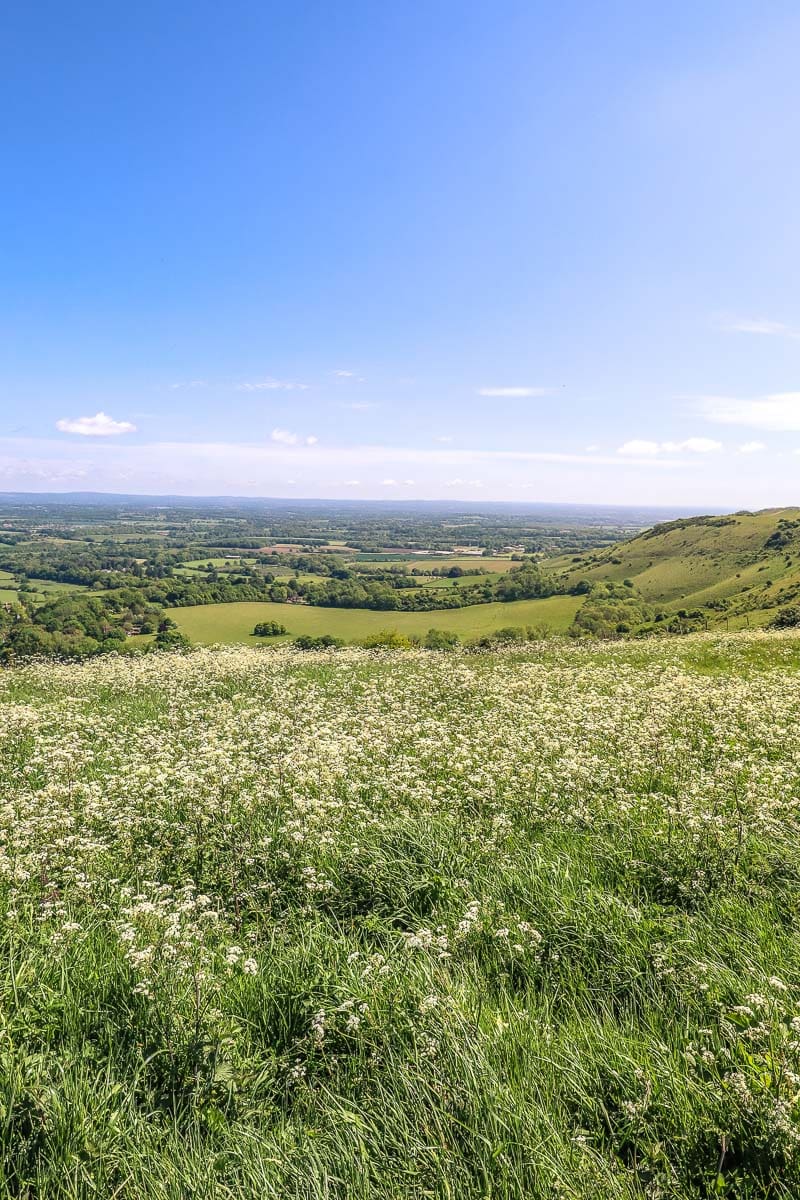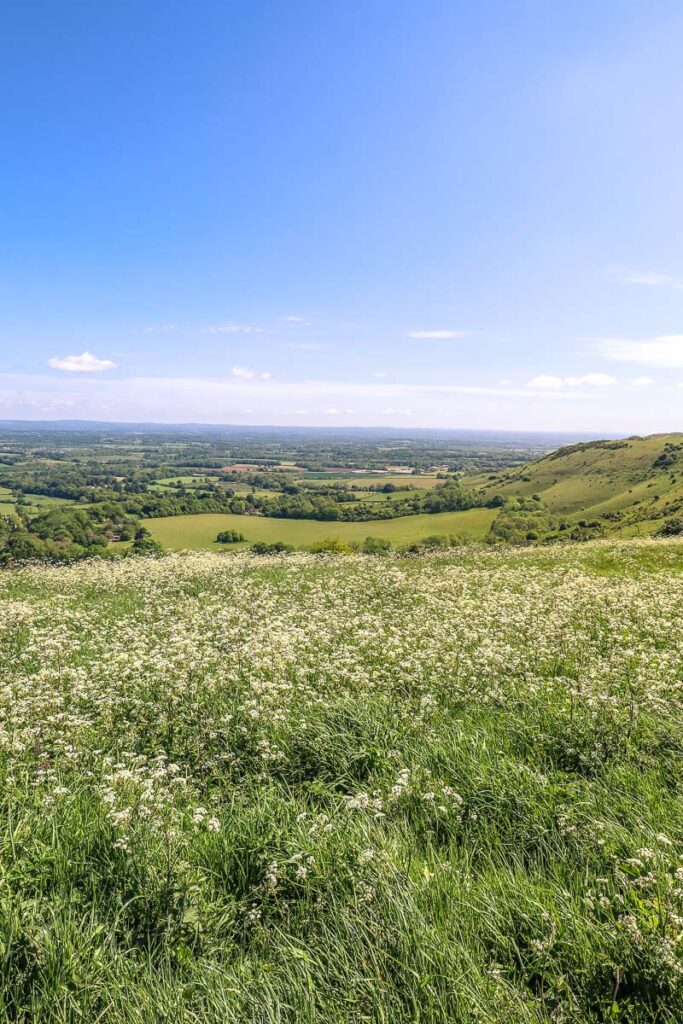 ---
A Guide To The Ditchling Beacon walk
What is the Ditchling Beacon circular walk?
This 4-mile (7 km) circular walk takes you from the National Trust car park at Ditchling Beacon through the beautiful countryside of the South Downs National Park. It passes through a mix of landscapes, including hills, valleys, farmland, grazing land, nature reserves and forests.
Ditchling Beacon is one of the highest points in the South Downs, so it provides epic panoramic views not just over the countryside, but also towards Brighton and the sea.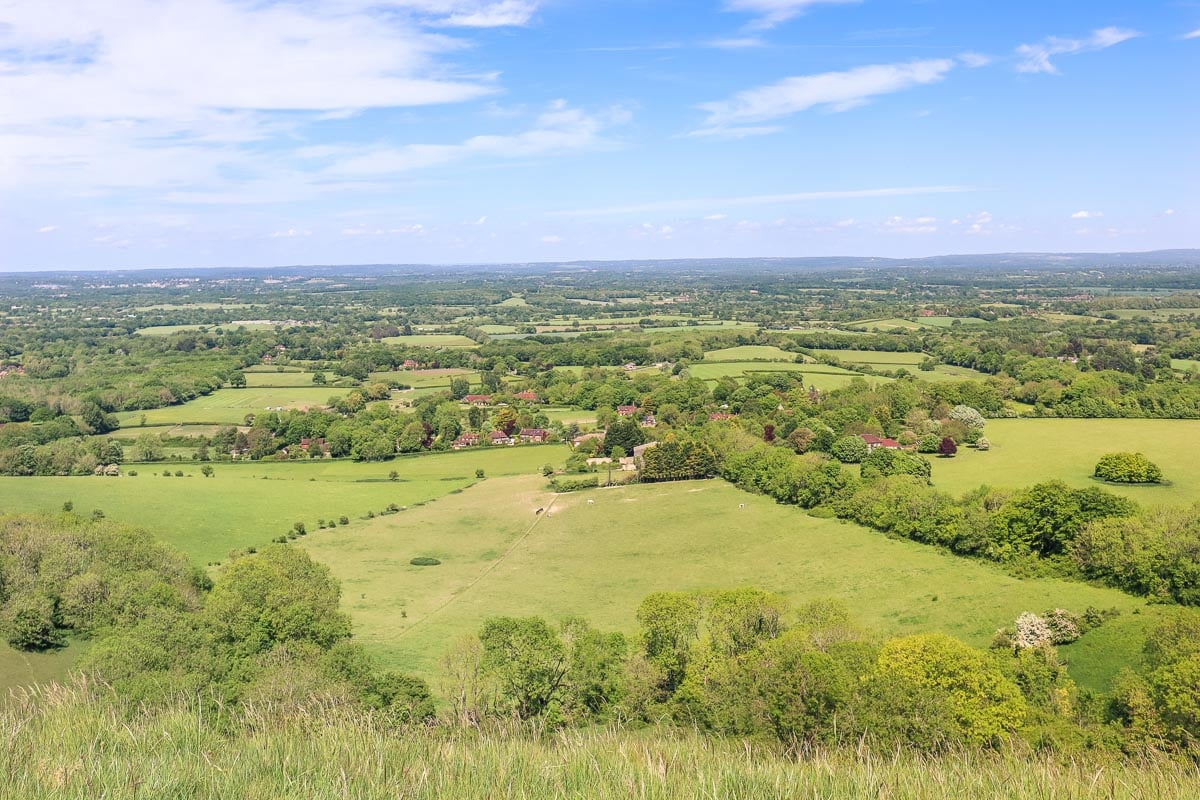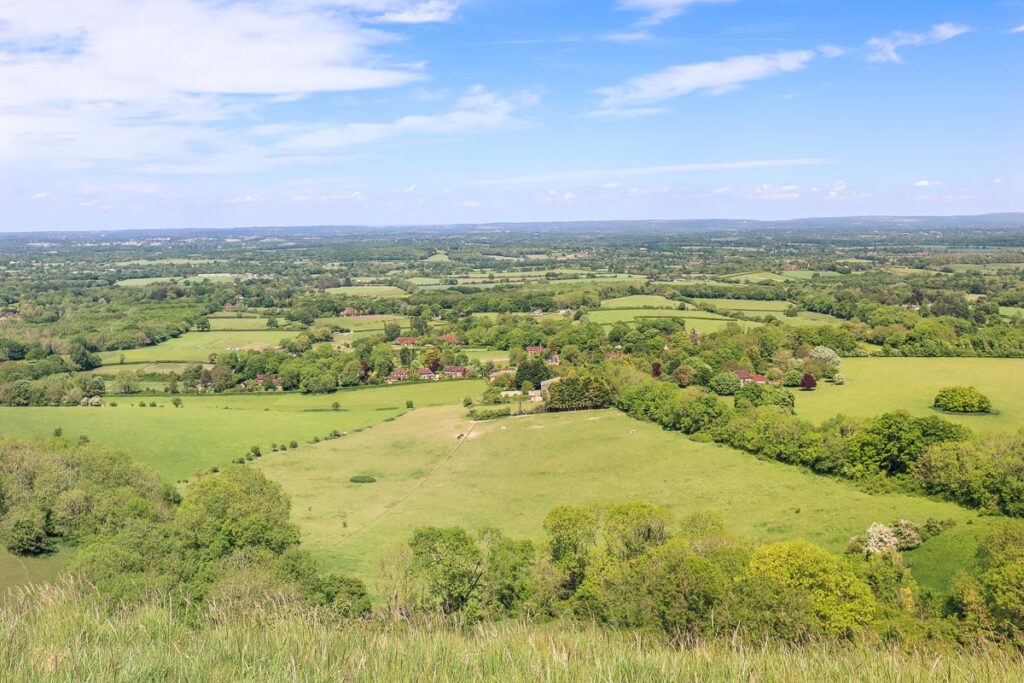 How long does the Ditchling Beacon circular walk take?
This part obviously depends how fast you walk! It took us around 2 hours in total, with a few short stops along the route to take photos. There are no pubs or cafes on the route, so it's not a walk with a pub stop like some of our other favourites (including the Chess Valley Walk, the Amersham circular and the Beachy Head walk). You'll need to fuel up before or after, or pack a picnic to take with you.
How to get to the Ditchling Beacon circular walk
This circular walk starts and finishes at Ditchling Beacon National Trust car park. The easiest way to reach this point is by car, and thankfully there are spaces for quite a few cars. It can get busy on sunny days though, so you might want to set off early to bag your spot.
You can either follow directions to the postcode BN1 9QD, or travel to this exact location on Google Maps.
It's worth noting that there are no public toilets at the start or along the route, so make sure you're comfortable before you arrive!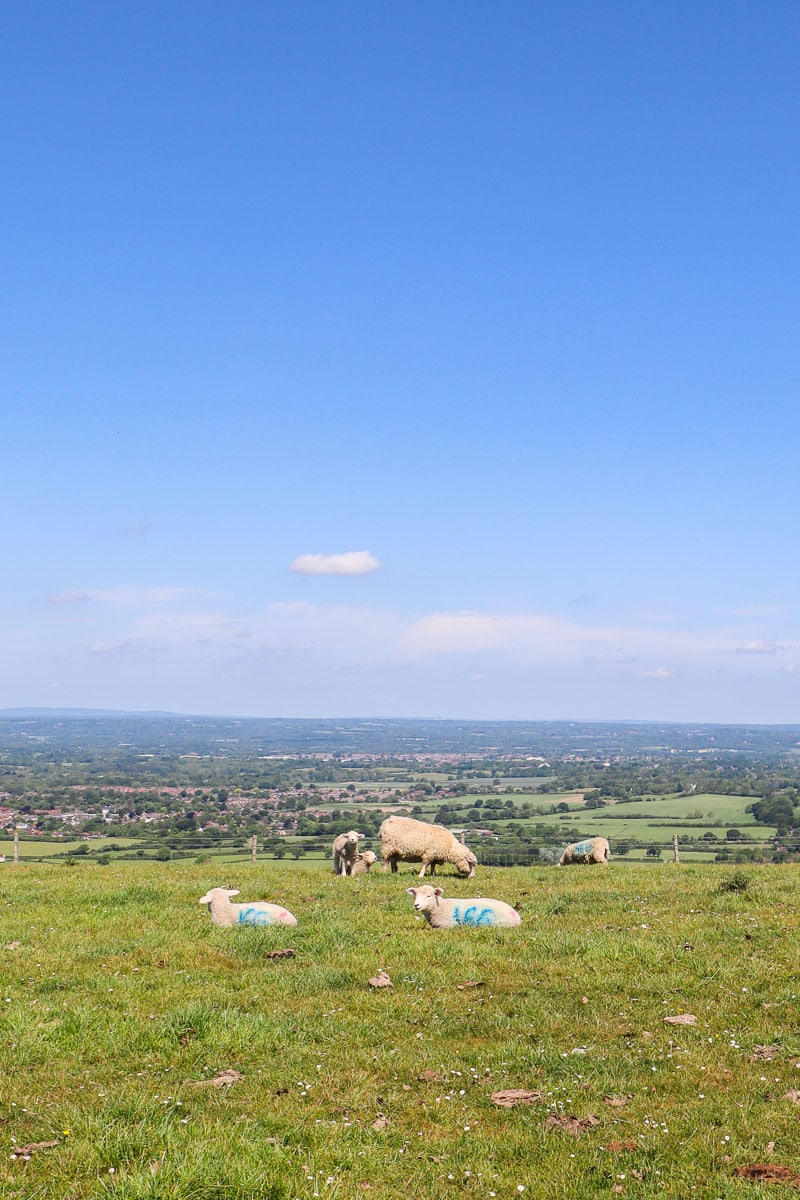 Can you reach Ditchling Beacon by public transport?
Yes! It may seem like a pretty remote location, but there is a special bus service to Ditchling Beacon every Saturday, Sunday and bank holiday throughout the year. Bus route 79 starts at Brighton Station and travel time to Ditchling Beacon is just 35 minutes.
You can use contactless payments on the bus (a ticket is £5), which also covers journeys on the other 'Breeze Buses' such as to Devil's Dyke (another beautiful place in the South Downs). You can find out more about the special bus service, and check timings and pick up locations here.
Is the Ditchling Beacon walk easy to follow?
This is a pretty simple walk to follow, especially if you keep an eye on our walking guide. We've included lots of helpful photos so you can match up what you're seeing with key directions along the route. You can find out about other beautiful walks in East Sussex here.
What is Ditchling Beacon?
This site is where there a special warning beacon was once located. Once upon a time, this beacon would have been set alight to warn people of incoming invasions! There's also the remains of an Iron Age hill fort here too, so lots for history lovers to enjoy!
---
A step-by-step guide to the Ditchling Beacon walk
Section 1
This walk begins at the Ditchling Beacon National Trust car park. From here, you want to face towards the amazing panoramic views and follow to your left to reach the South Downs Way. There's a gate to the left of the car park here, pass through that and you'll be off on the first section of the route.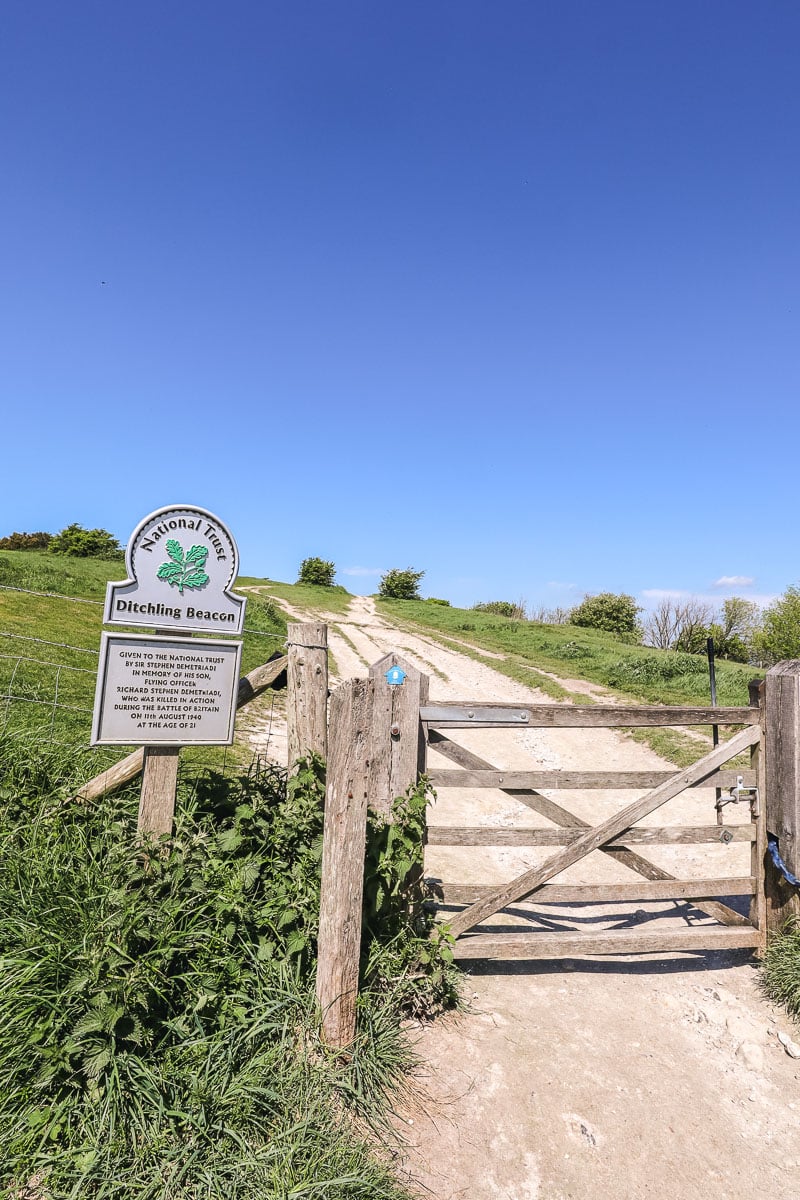 Along this first section you'll enjoy stunning views on your right-hand side. You'll see the village of Westmeston in East Sussex below as well as sweeping views over the valley and the countryside.
This section is also popular with cyclists who cycle along the ridgeway. It's not for the faint hearted as it's pretty hilly on two wheels!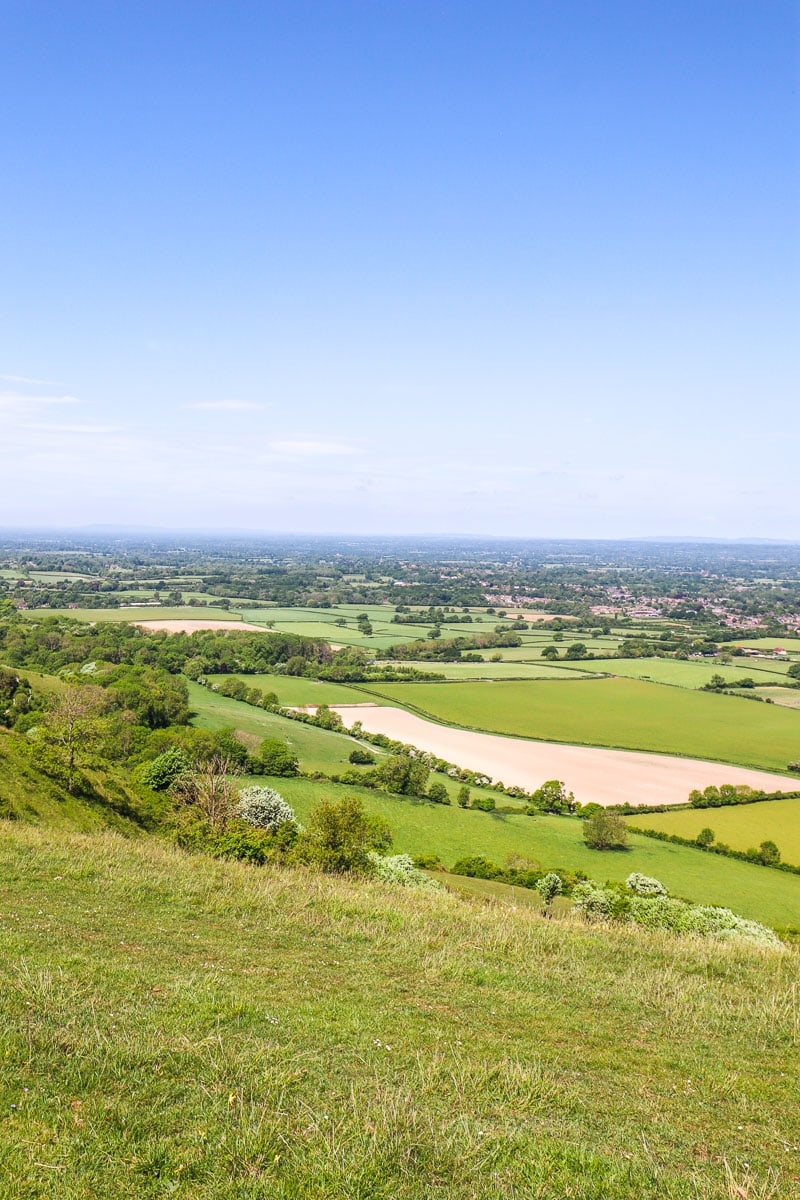 Section 2
It's time to count gates! You need to continue along the South Downs Way passing through three gates in total. This is a fairly long stretch of the route. When we visited there were cows and sheep grazing in one of the large fields. We stopped briefly to watch the baby lambs too – so cute!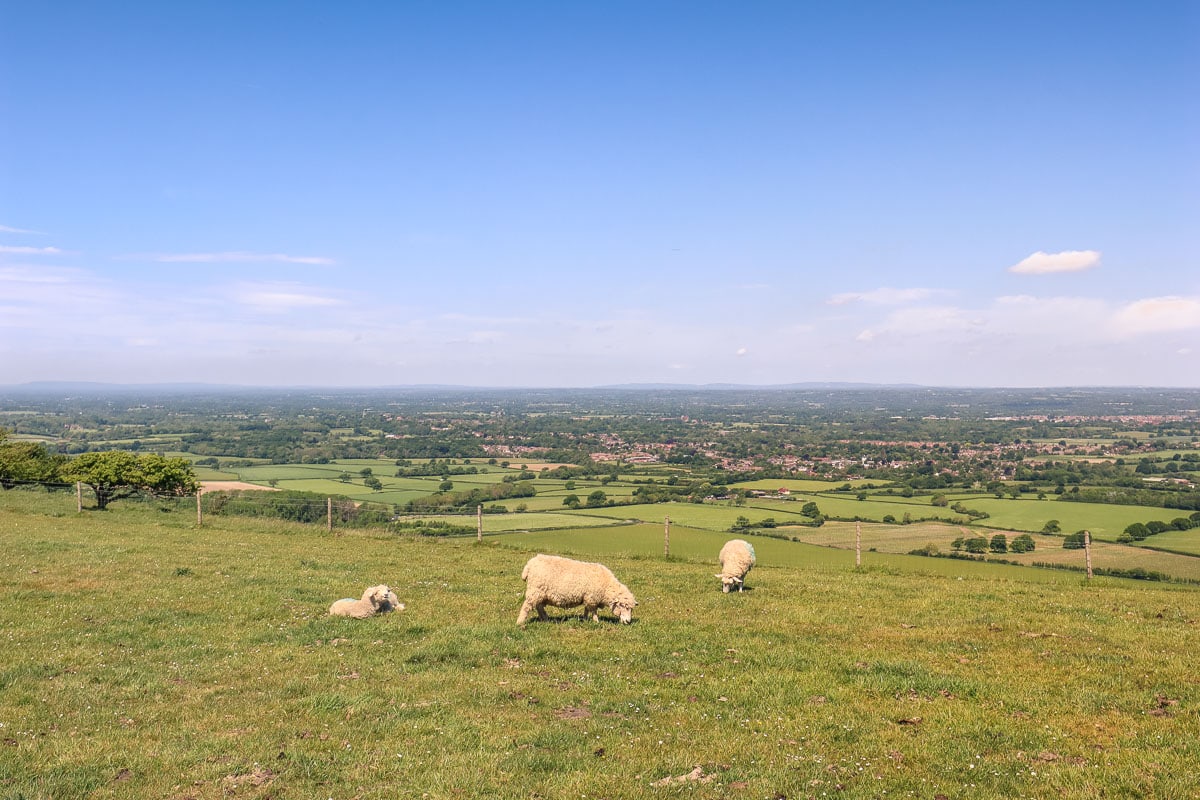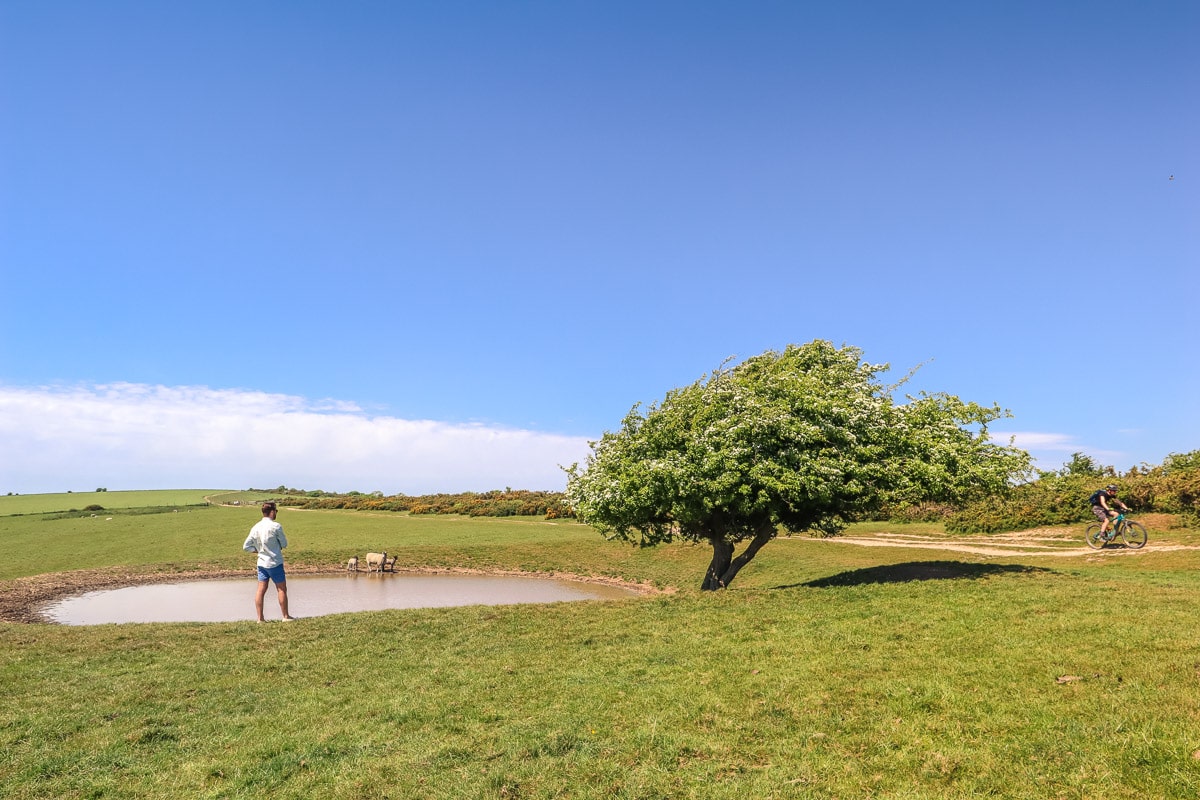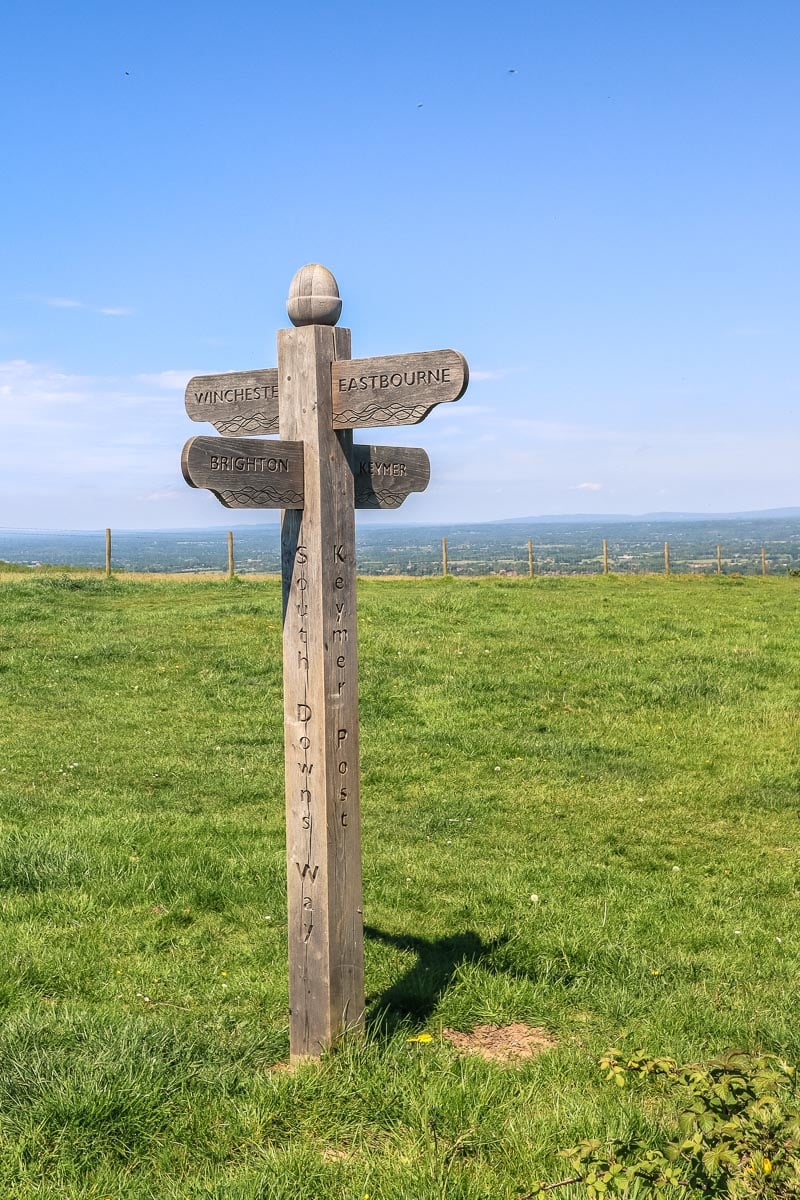 After you've passed through the third gate, you'll spot a wooden signpost on your right. Written on one side is 'Keymer Post'. It has directions to Keymer, Brighton, Eastbourne and Winchester. Continue past the post briefly, then turn left through the metal gate. Here you'll see a sign towards the Chattri. You are now on the Sussex Border Path.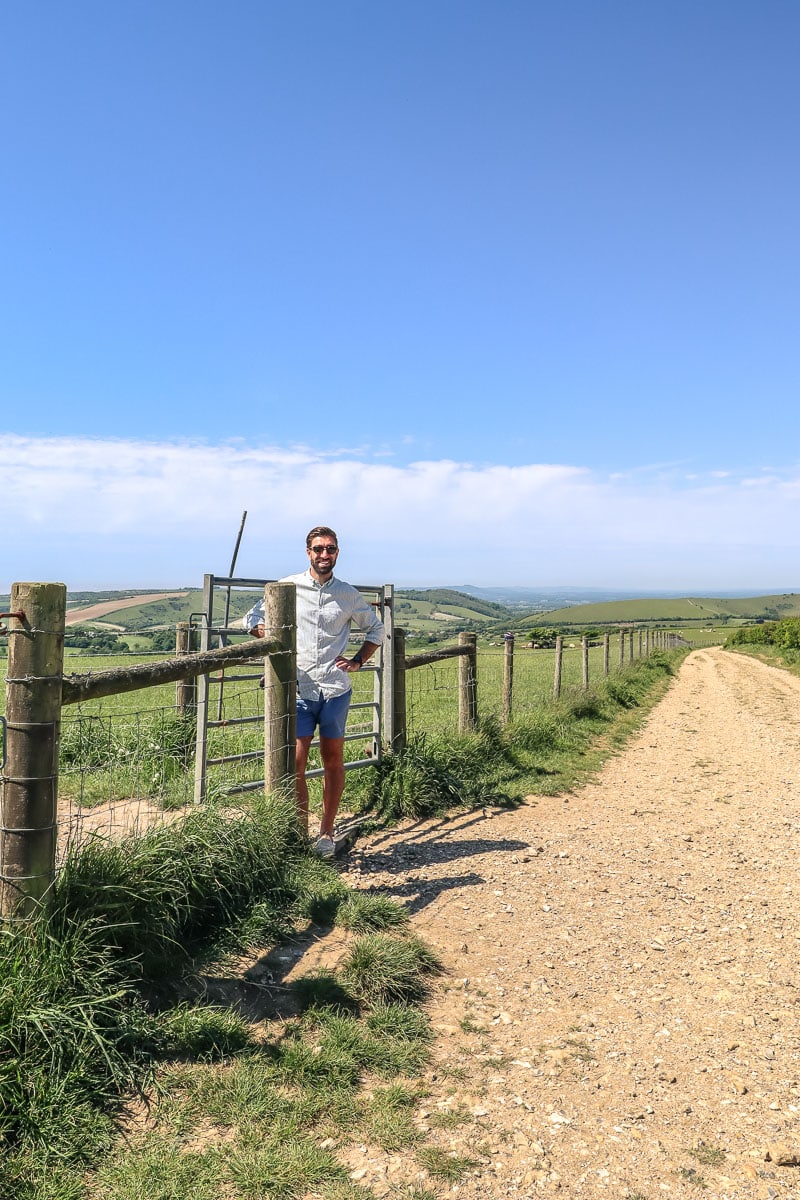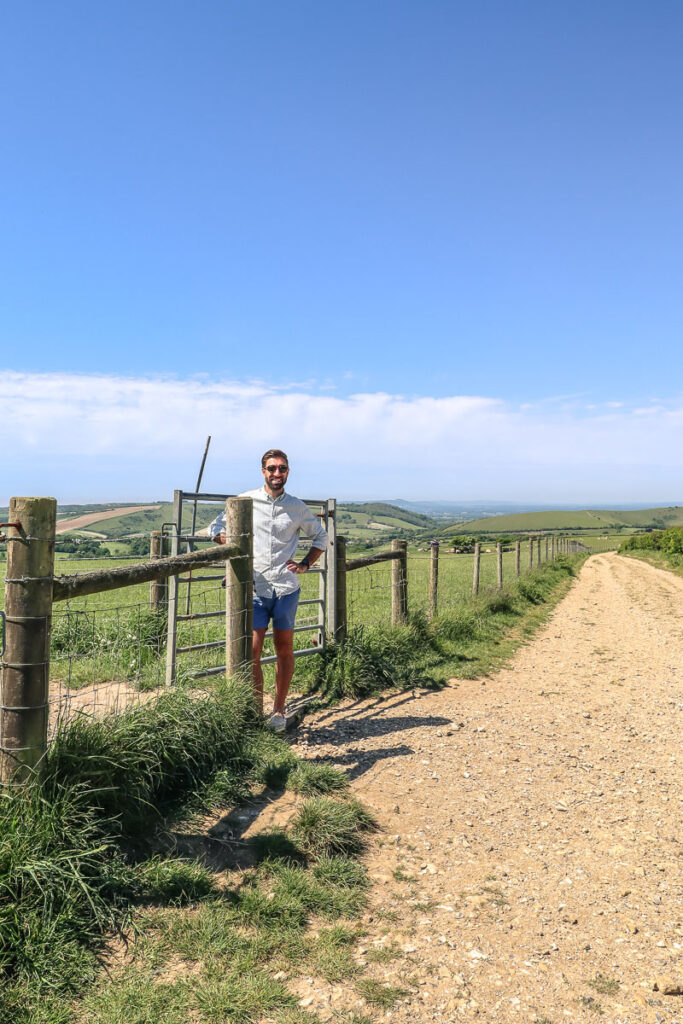 Section 3
Continue along this path and pass through another gate. During our visit in May, there were lots of pretty wildflowers along this section, including bright red poppies and long grasses.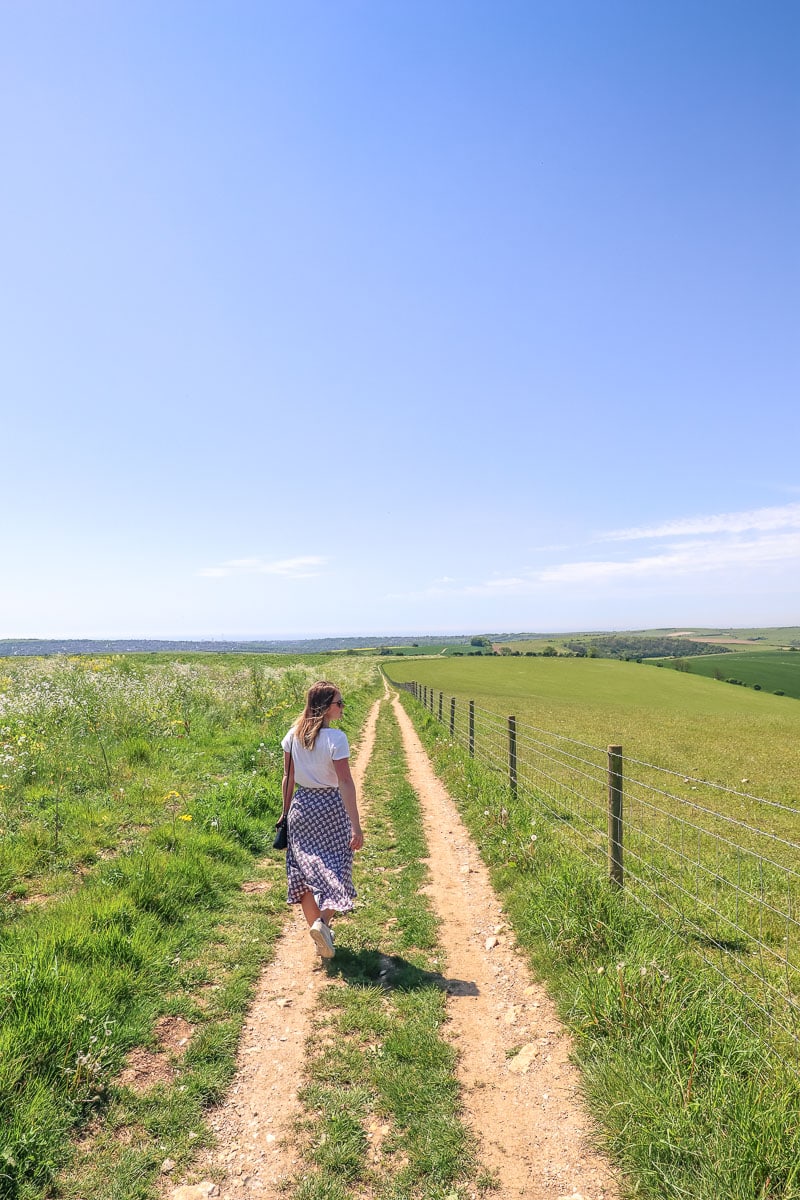 When you reach the junction, take the left turn and follow the track downhill towards the gates. You'll then follow the bridleway as it winds past a small wooded area. You'll have some farm buildings in the distance ahead of you. Aim for those to stay on the correct path.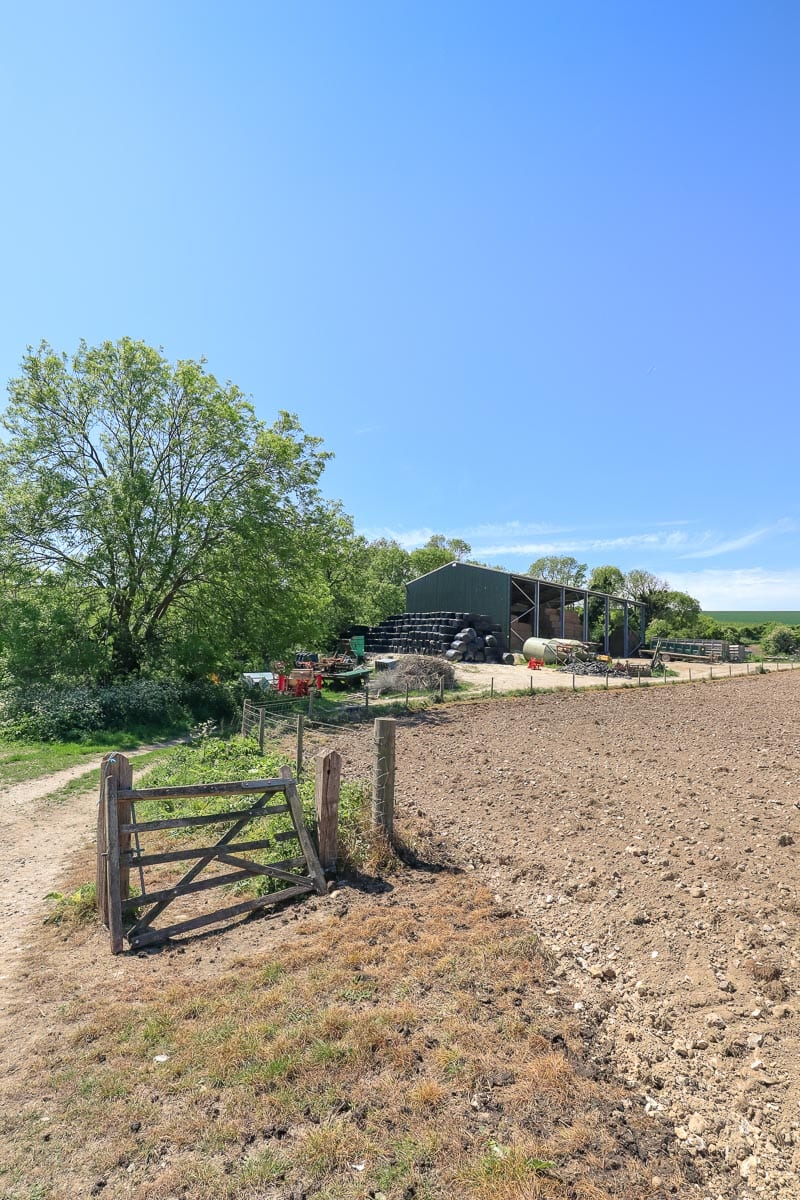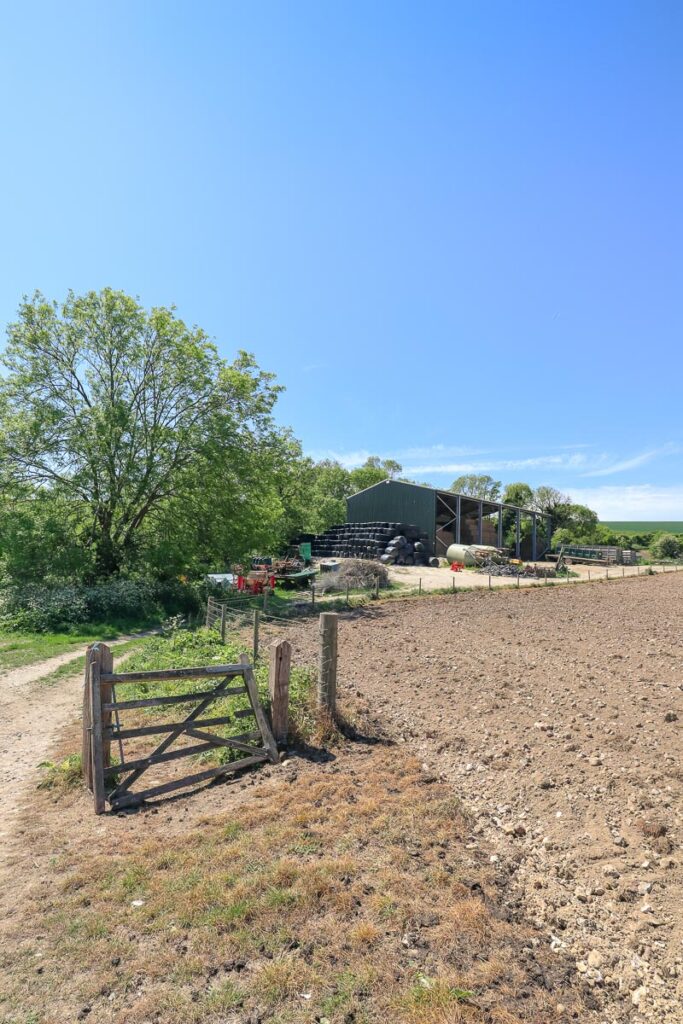 Section 4
With the farm buildings on your right, follow the path left uphill through the gate (which may be open). This path continues upwards for a section before going downhill again, with really beautiful vistas on each side.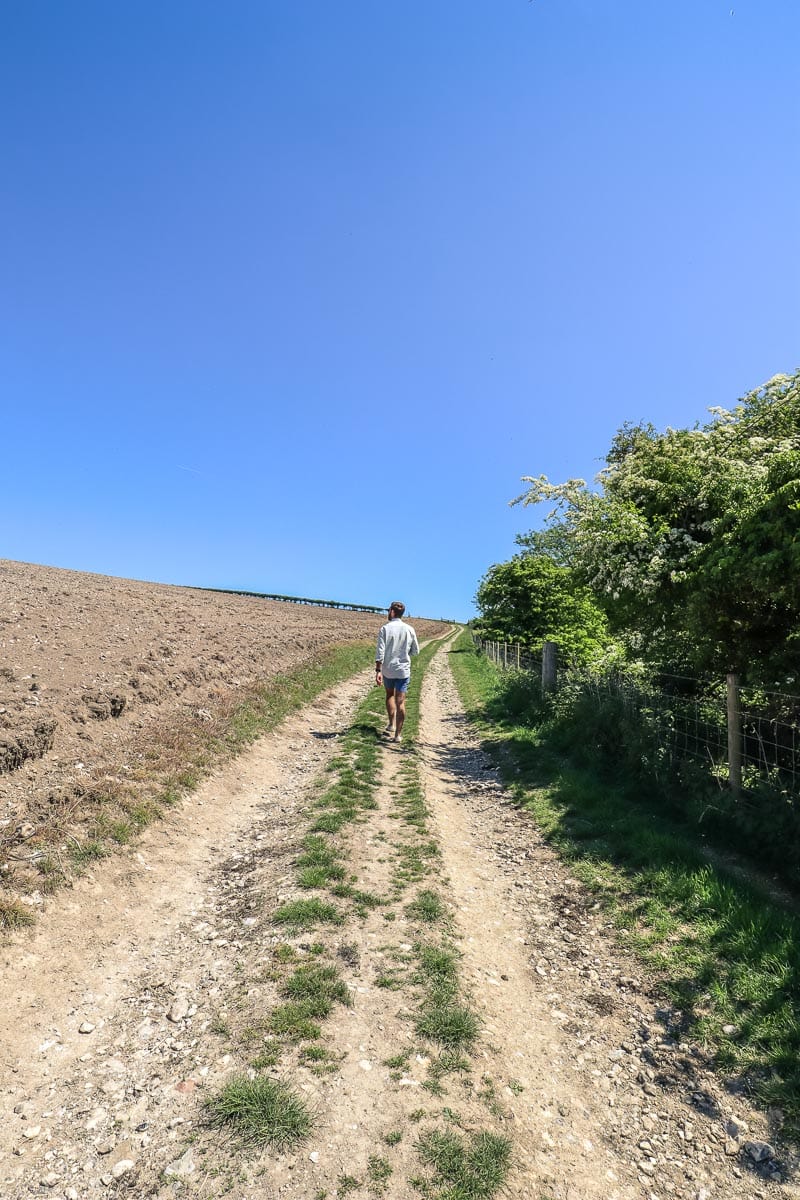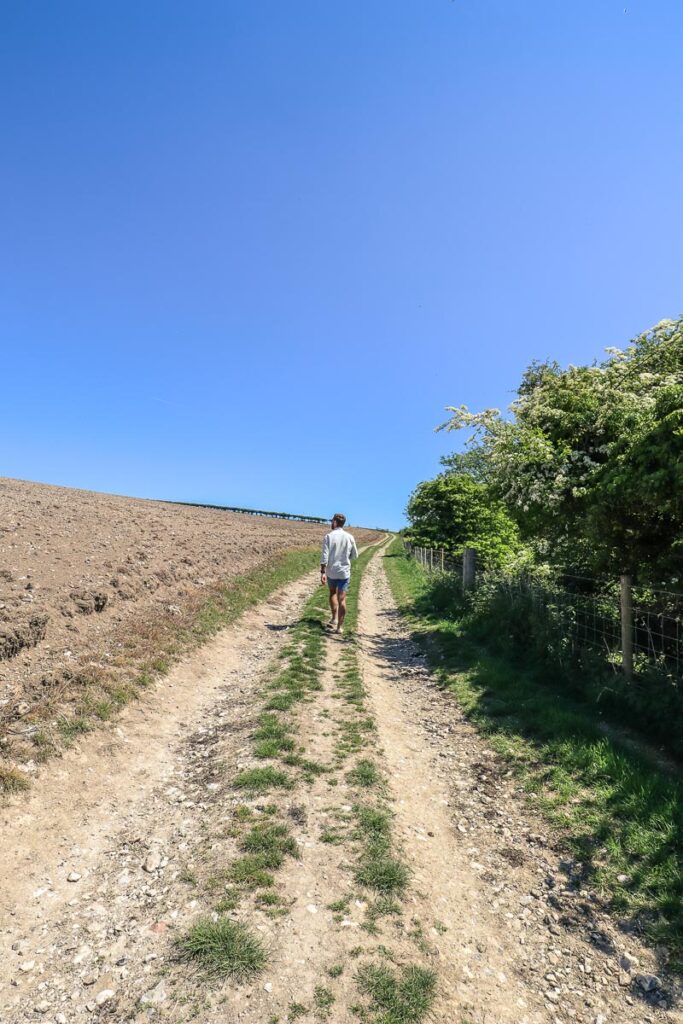 I'd recommend pausing here for a moment to look at the path snaking through the landscapes here. This was one of our favourite views on this walk!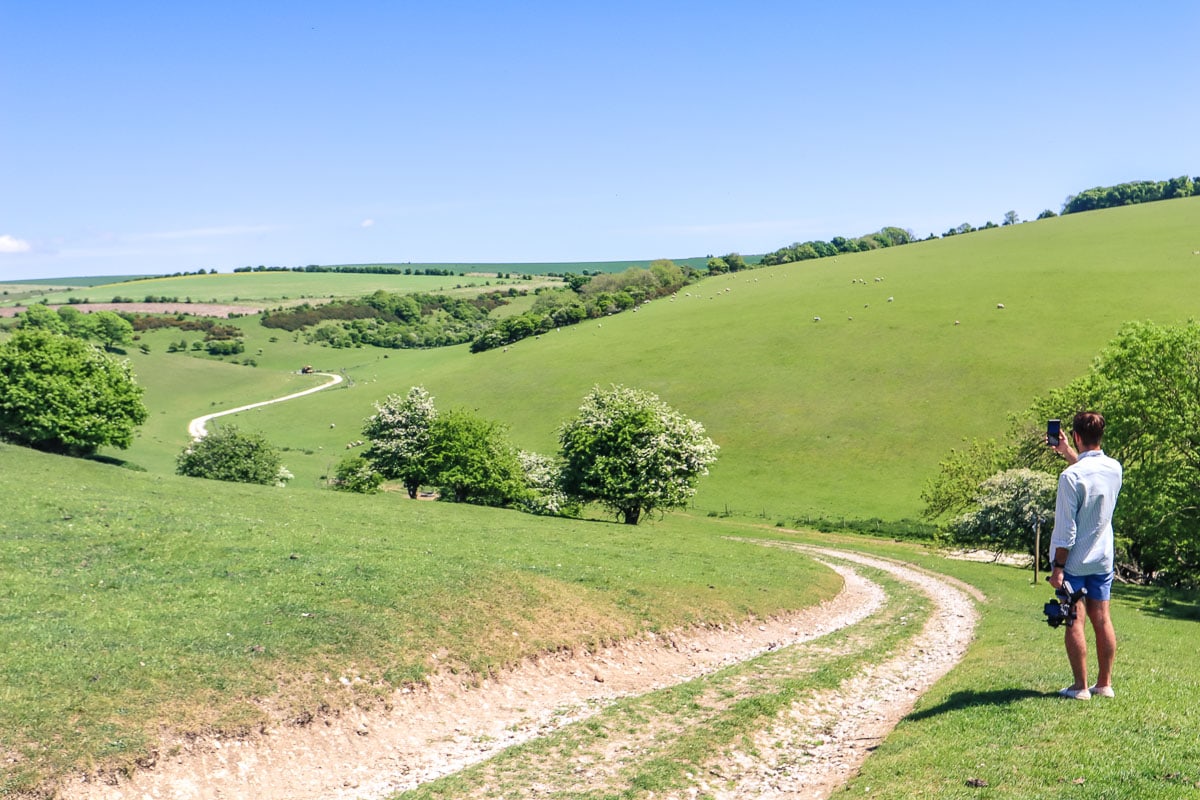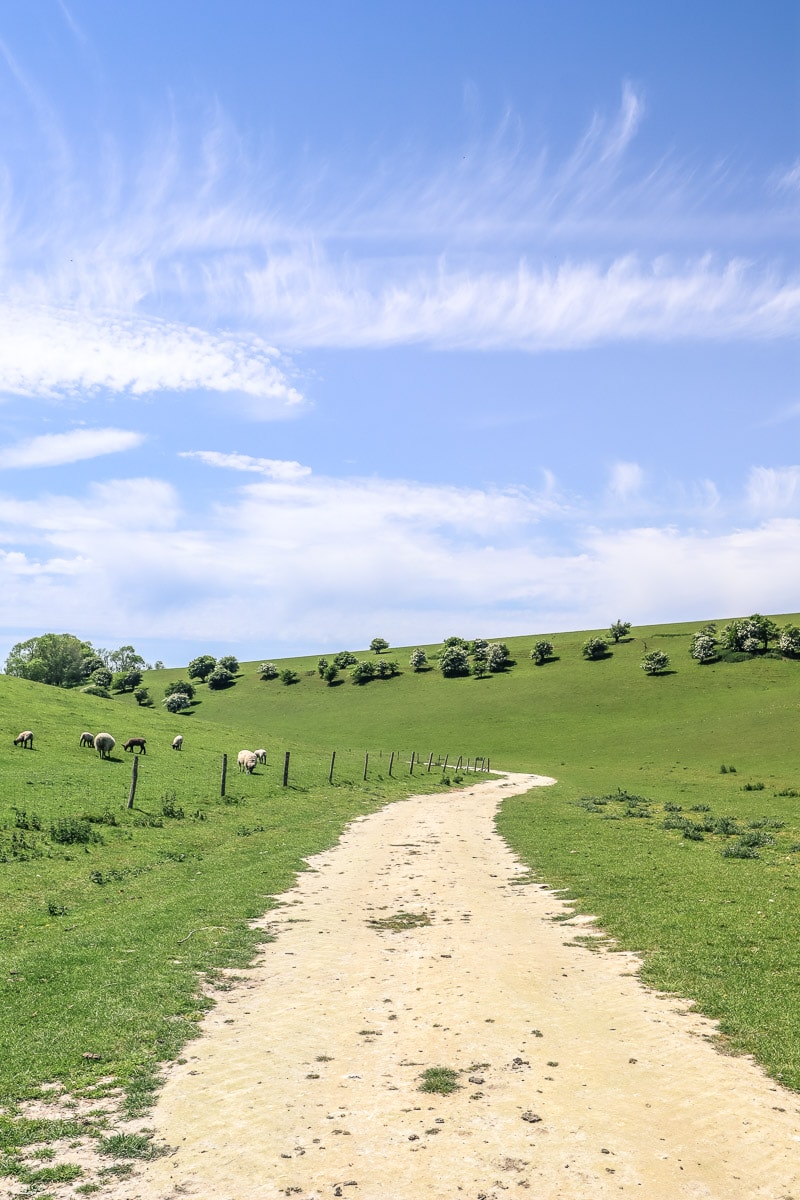 Section 5
Once down the hill, continue straight and look out for a gate with a sign saying 'footpath'. There are other gates near here which have 'private' on, so make sure you follow the footpath! Pass through the gate and into the field. There were lots of sheep and lambs here when we visited.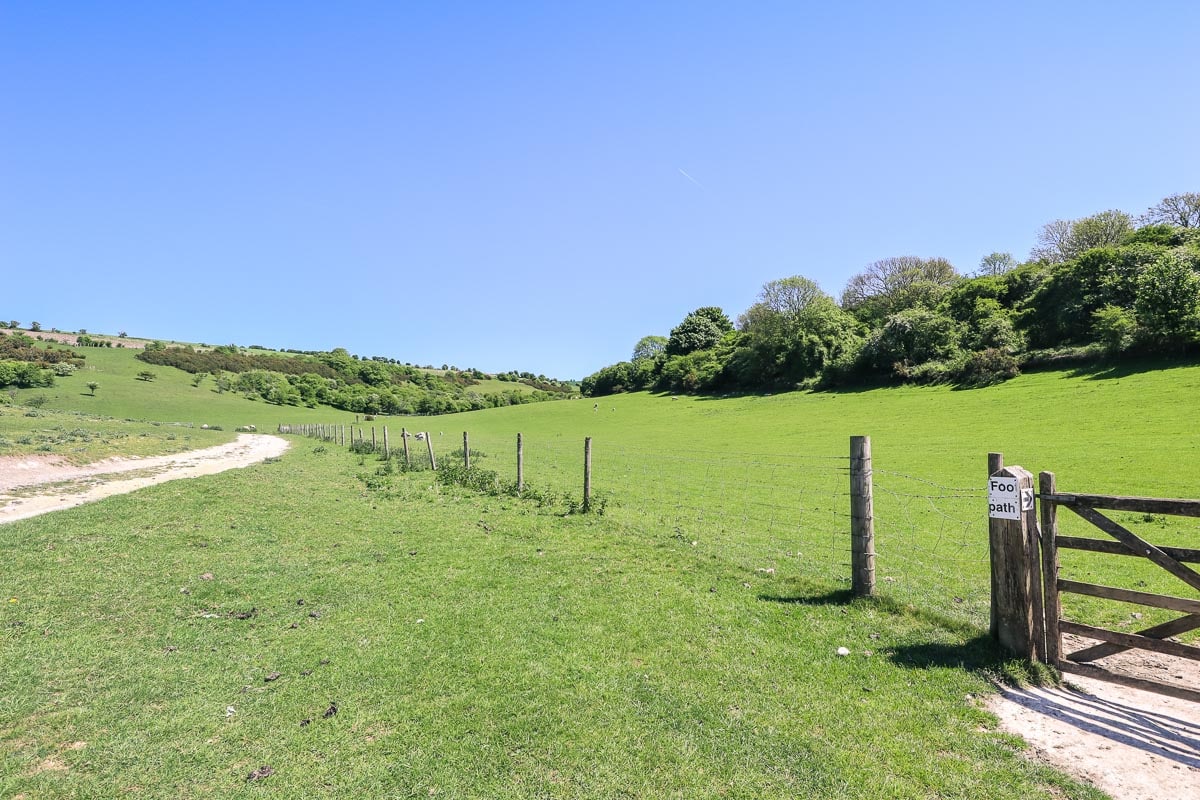 There should be a well-trodden path visible on the grass through this field. It goes in a diagonal direction north-east as you look at it, and eventually goes down towards another gate at the bottom left corner.
Section 6
Pass through the gate and follow the path up a steep hill. There's plenty for nature lovers along this route. In fact, we saw lots of wild mushrooms growing in this field.
Once you've made it up this steep hill, look for the gate to the left-hand edge of the field and pass through it onto a fenced path.
Section 7
Be sure to take in the stunning views on your left here. This was another of our favourites on the route.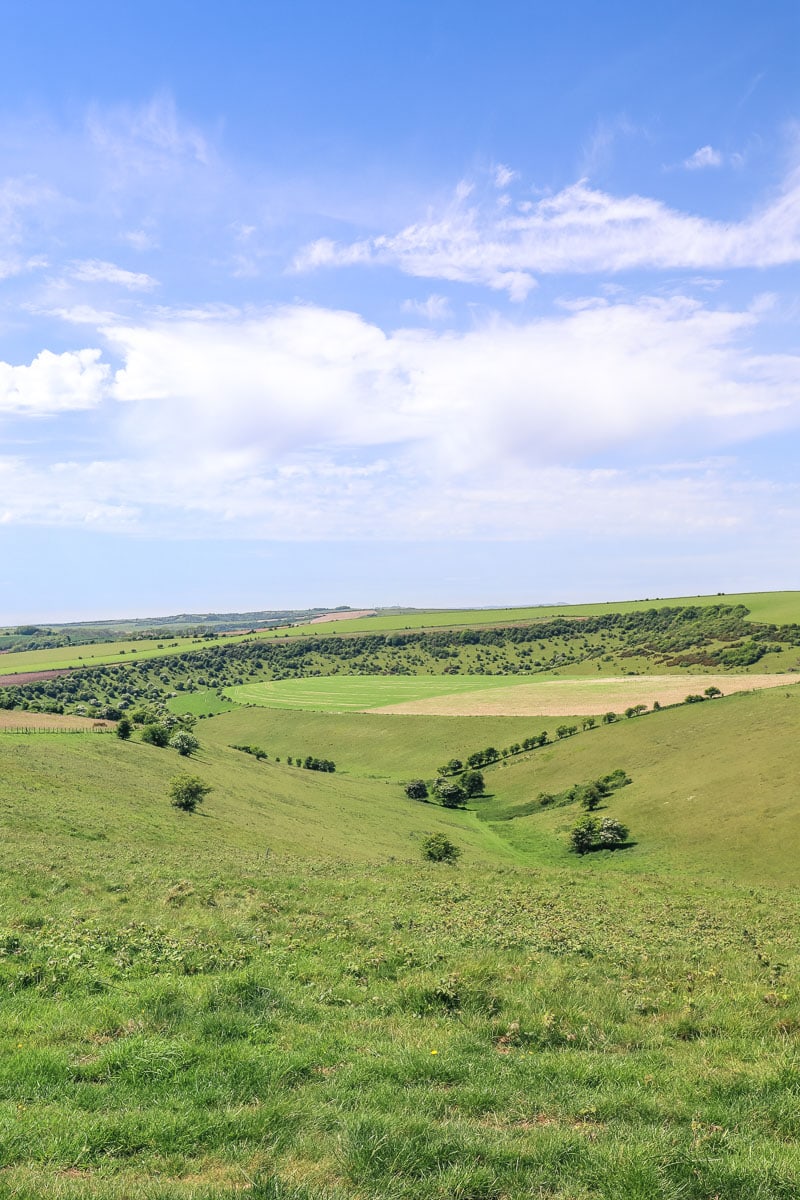 Follow this path up to the gate which marks the junction with the South Downs Way. You might recognise where you are now! If you do – well done! Pass through the gate and turn right immediately. You'll be back on the original path and it's just a short walk from here back to the start point at the car park.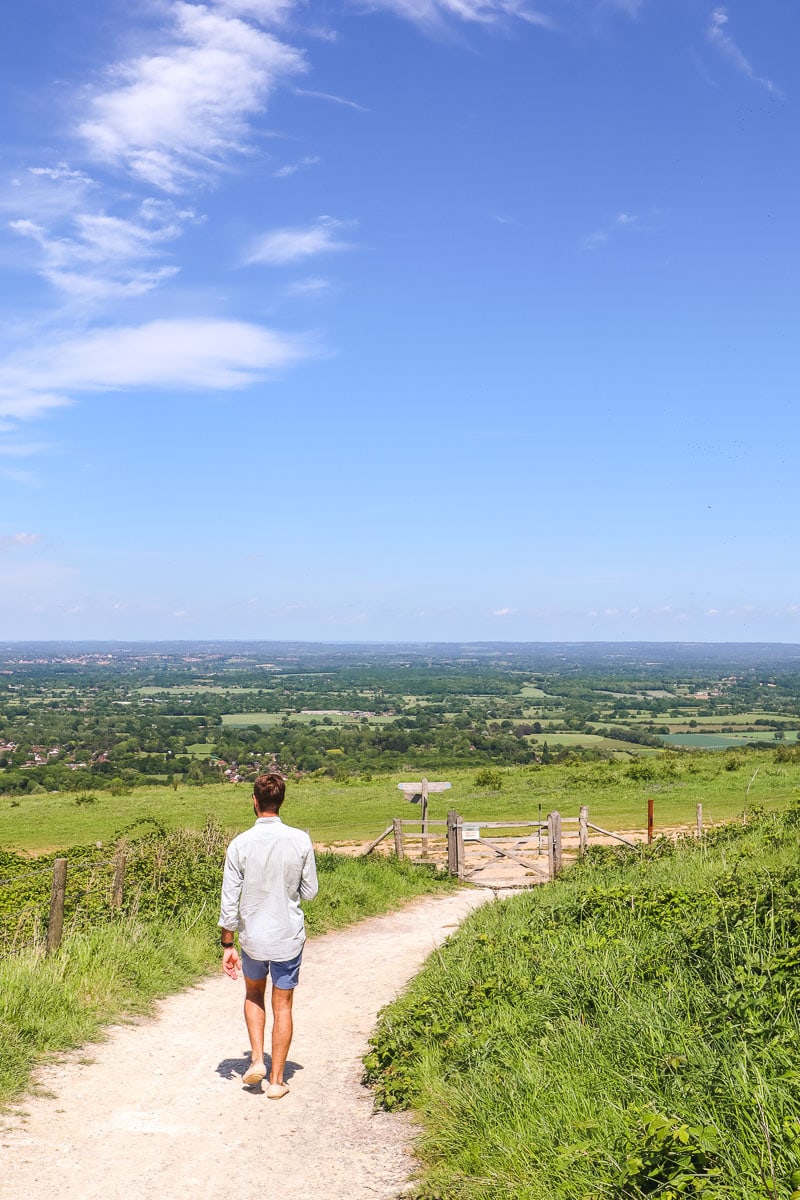 There's often an ice cream van in the car park, so perhaps treat yourself to a Mr Whippy to finish the walk!
We'd also recommend crossing the road and walking for a couple of minutes in the opposite direction. The views here are absolutely spectacular – we loved it!
---
Suggested places to eat near Ditchling Beacon
As mentioned, there's no café or pub along this walking route, so you'll need to eat before or after. If you're looking for local pubs, here are a few of our recommendations:
The Bolney Stage – This country pub is a 20-minute drive from Ditchling Beacon and offers a great menu of classic dishes and gourmet options. One of our favourite things about this pub is it has really warm, cosy interiors for cold days and a huge pub garden for sunny days. Best of both worlds! We opted for a light lunch here, tucking into some tasty and colourful salads. The service was really friendly too, making this somewhere we'd definitely recommend.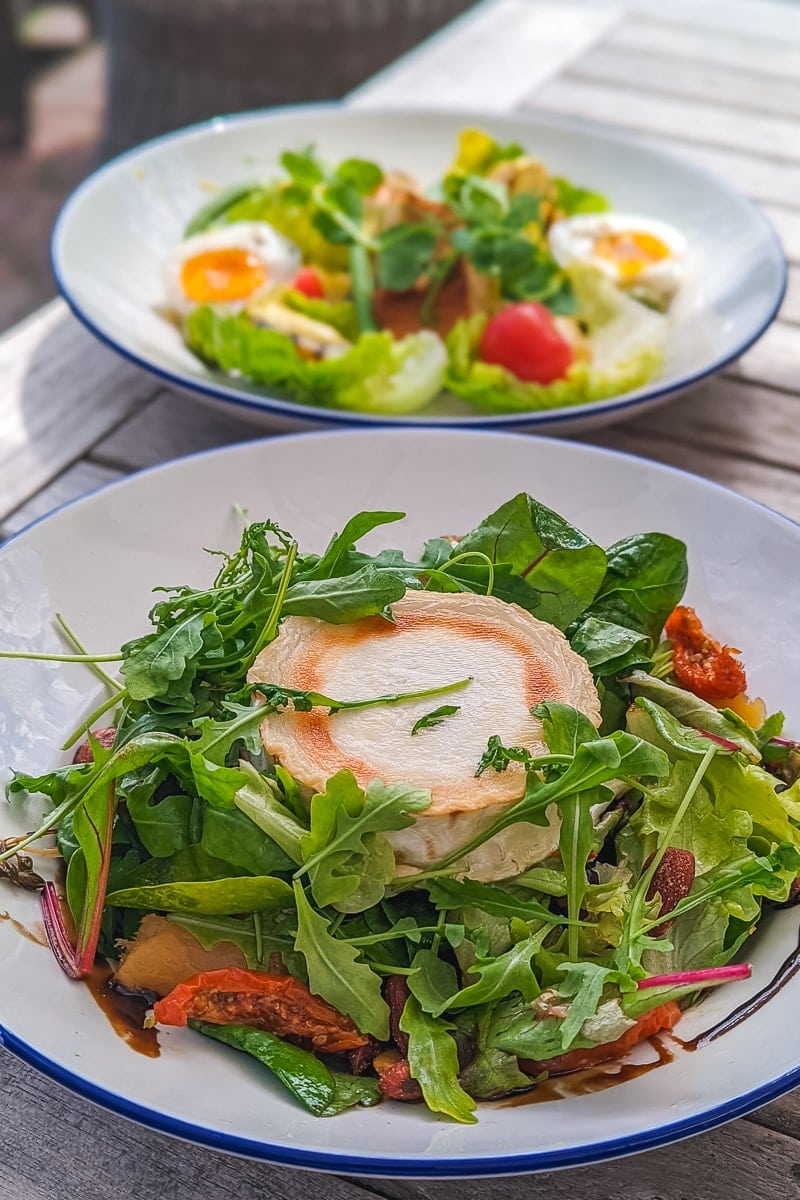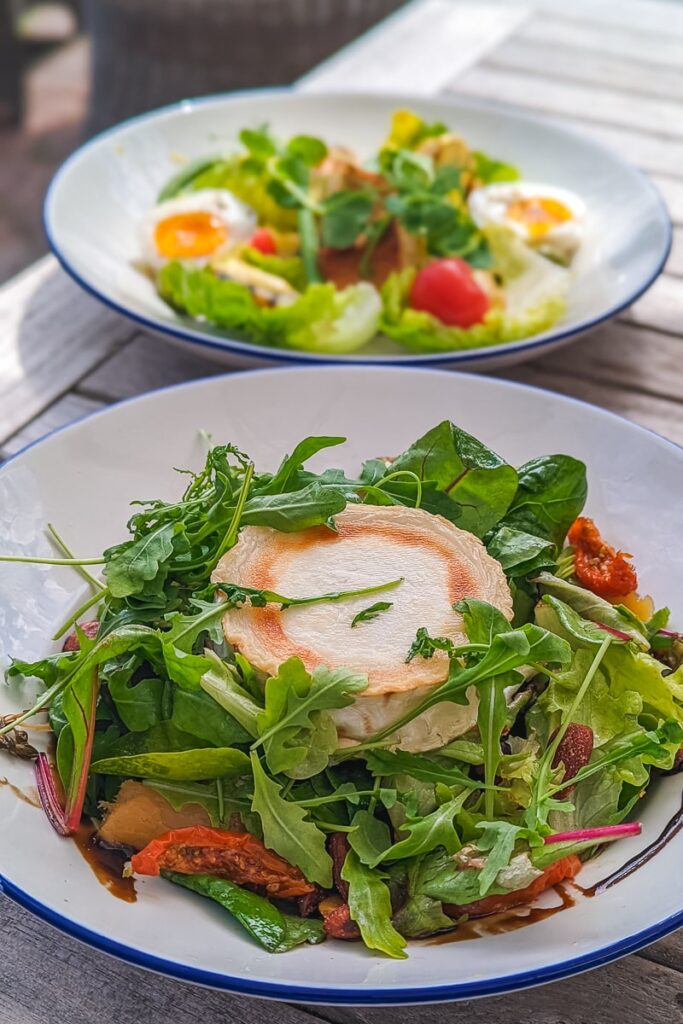 White Horse Inn – Located in Ditchling itself, this is one of the closest pubs to Ditchling Beacon. It's a charming pub too. The garden has a view of the South Downs and serves a range of local beers and Sussex's very own sparkling wines. The menu is pretty basic, with a selection of filled baguettes, burgers and warm mains, but what more do you need after conquering the Beacon?!
The Half Moon Inn – Located in Plumpton, this pub is also very close to the beacon. While the pub itself offers a pretty standard menu of classics (think fish and chips, sausage and mash etc) there's a unique offering here. This pub has one of the biggest gardens in Sussex, and they recently launched a pizza bar in it! This is mainly open at weekends, but you can imagine how fun the vibe will be out there.
---
Where to stay near Ditchling Beacon
We stayed at The Piggery at John Bull's House, one of a handful of holiday cottages in Sussex with a hot tub. This is a real home from home in a beautiful and tranquil spot, close to Bolney Wine Estate and Leonardslee Lakes and Gardens.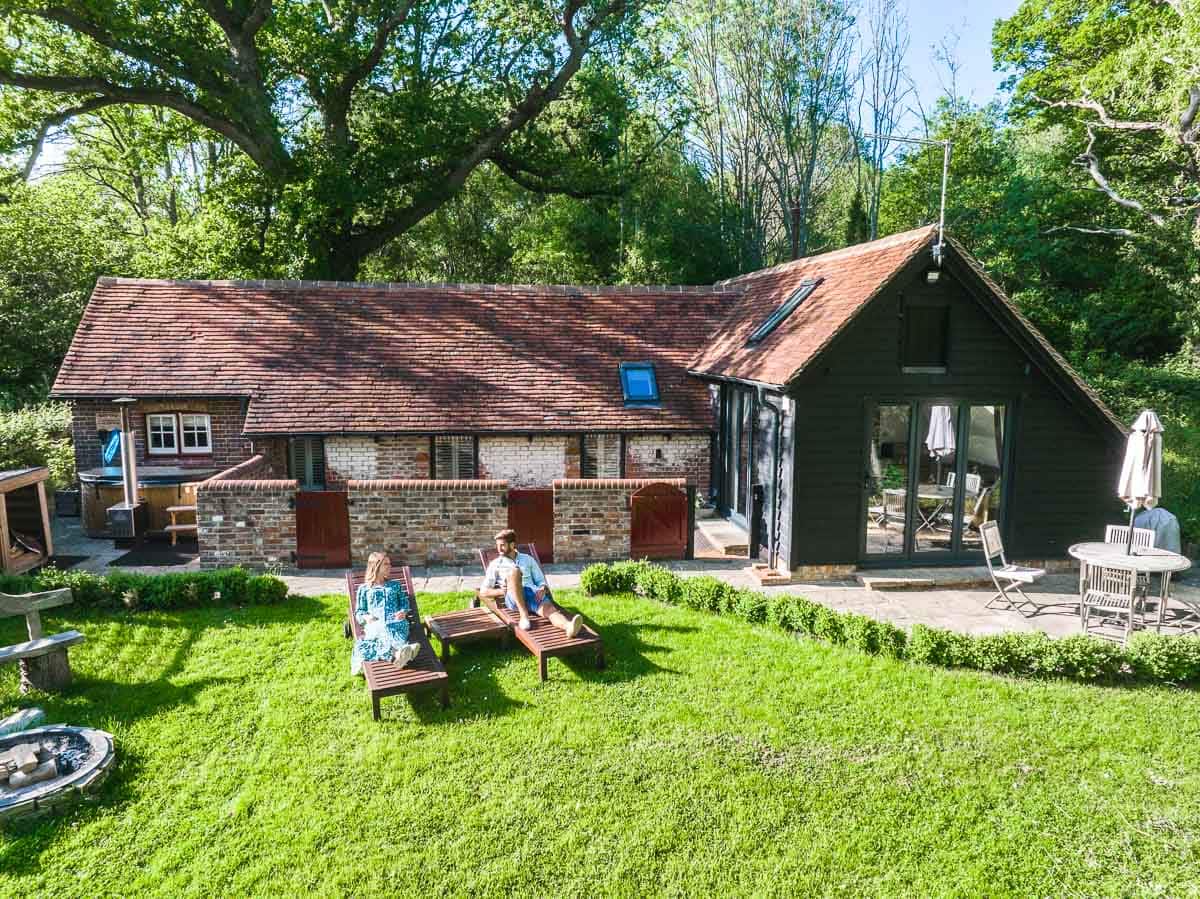 Inside you'll find a large open plan kitchen, dining and lounge area. There are rustic accents with the ancient beams running along the ceiling, giving it that cosy country cottage feel. There's a large bedroom with its very own sofa area too. It's very spacious inside.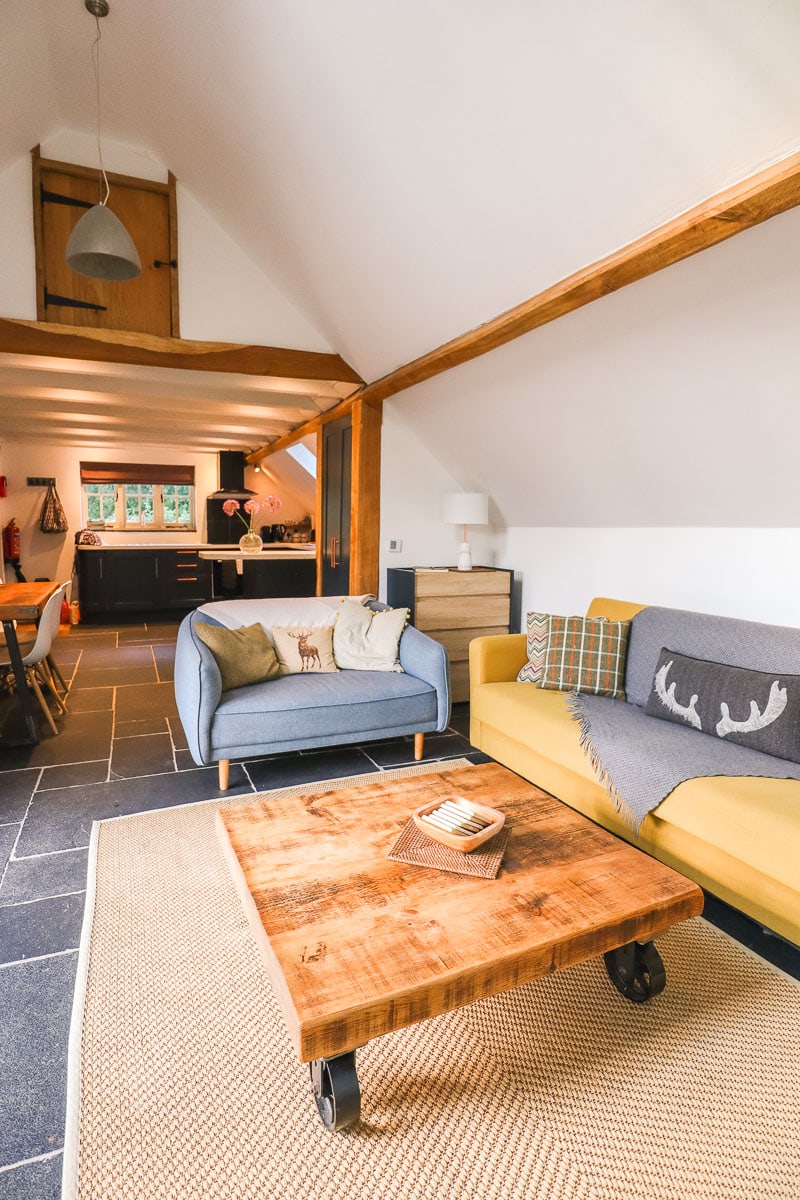 One of my favourite parts of staying at The Piggery was the amount of time we spent outside. There's an outdoor dining area, sun loungers, a fire pit and a BBQ, right by the pretty pond. When the sun is shining, it really is a little slice of paradise!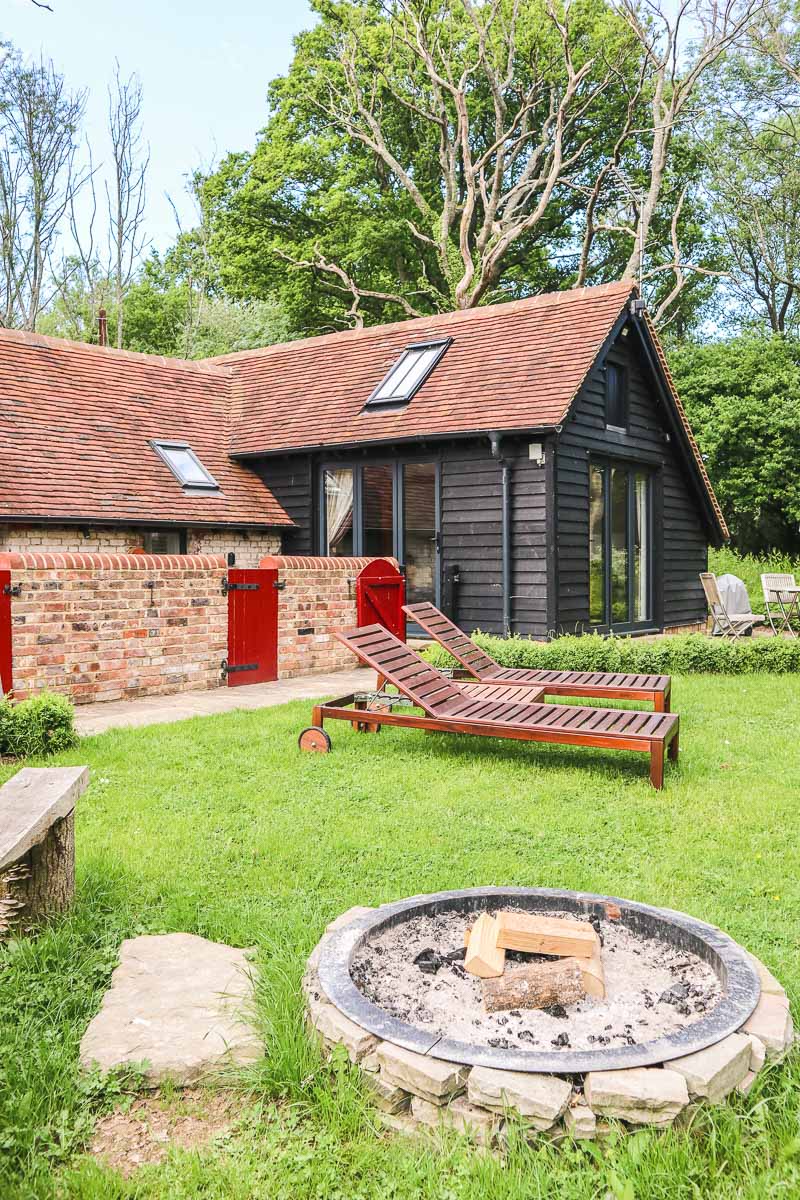 After our lovely walk at Ditchling Beacon, we picked up some BBQ ingredients and enjoyed eating outside as the sun started to set. We finished the experience by toasting some marshmallows!
Another great feature at The Piggery is the wood-fired hot tub. Relaxing in the warm waters was the perfect way to rest our tired muscles after tackling the hills of the South Downs during the day.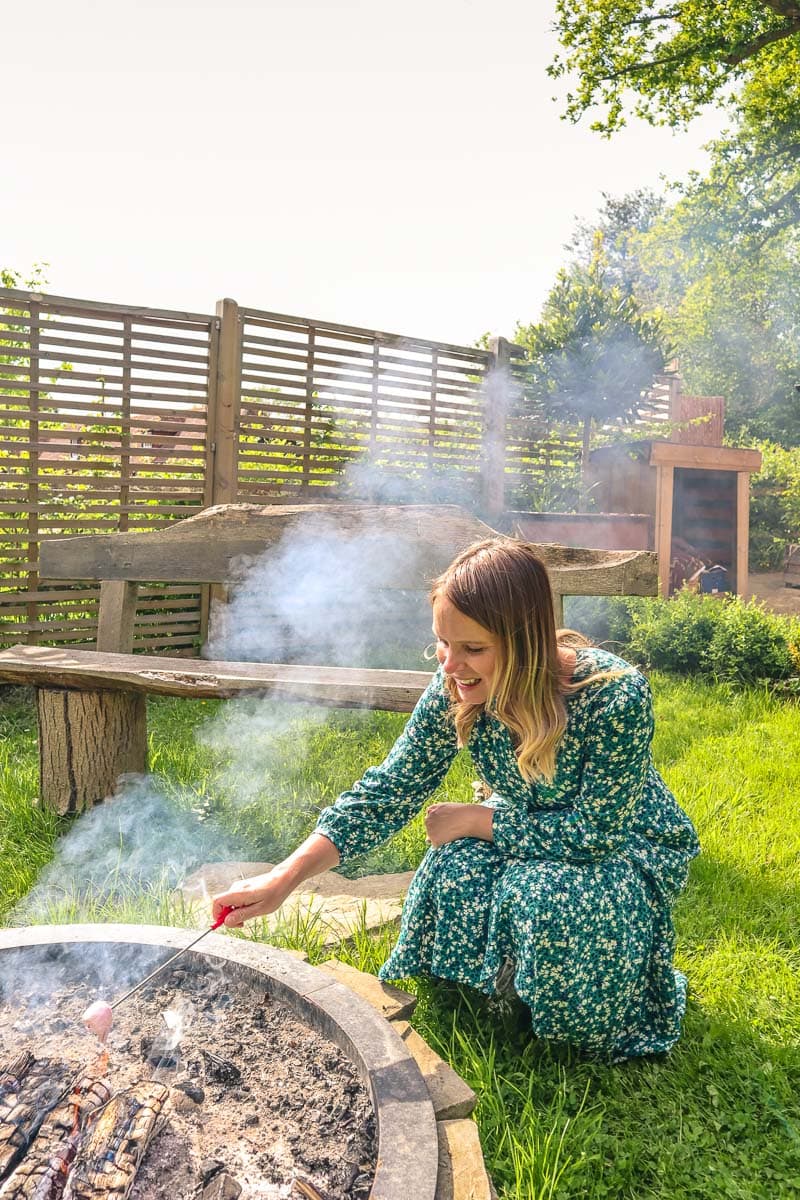 This cottage is ideal for couples looking for a romantic country getaway in Sussex. It's just a 20-minute drive from Ditchling Beacon too, so it's a great fit if you're planning to do this walk. Find out more about our Sussex staycation.
---
Walking packing list
Usually when we go out on these walks, we're spending all day out and about in the countryside. Because of that, there are some things that we always bring with us and recommend to others. Hopefully one or two of these items can help make your walk that little bit more enjoyable!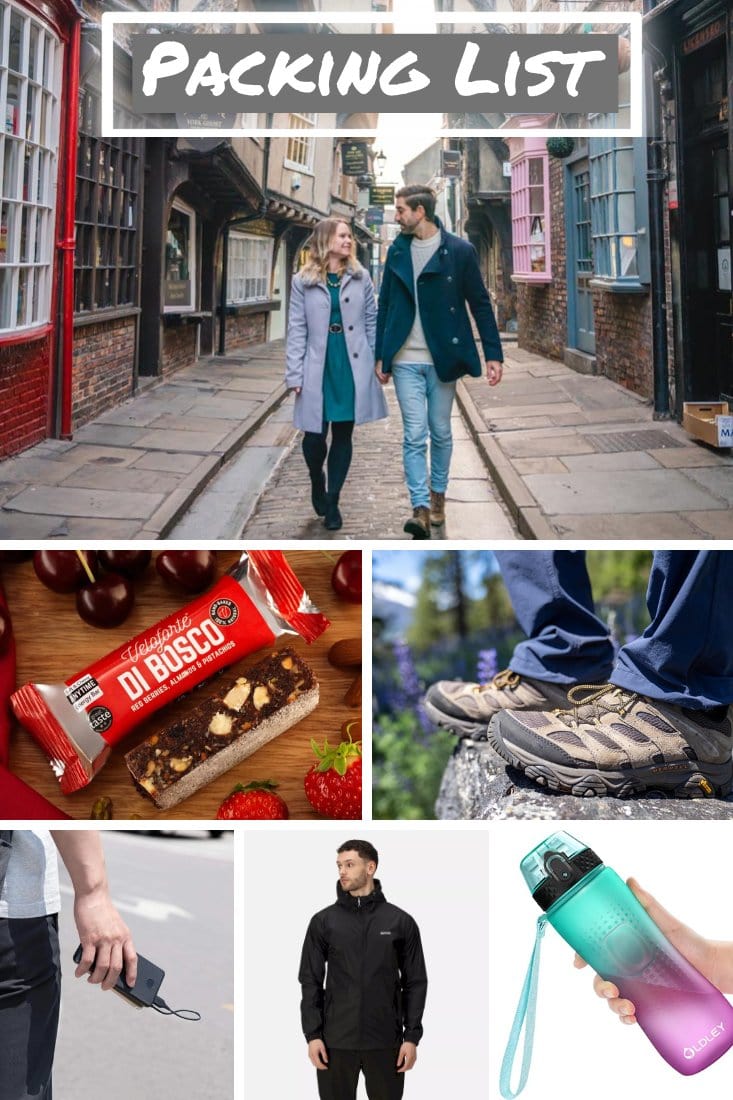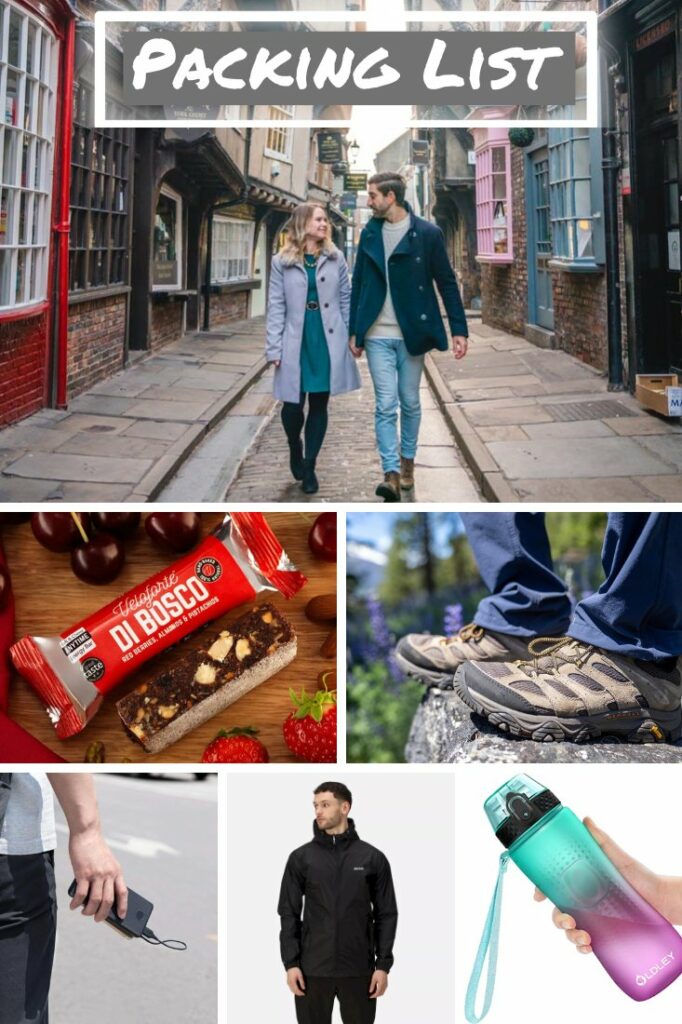 ---
Final tips for the Ditchling Beacon walk
If you're planning to follow this walk for the first time here are a few tips.
Wear comfortable trainers or walking boots. The terrain is uneven so you want to make sure your feet are well supported. If it's been raining, wellies would be a great option as it will get muddy.
Take some water with you. Those gradients are thirsty work!
Pack some snacks. Remember there are no shops, cafes or pubs along the route, so be prepared.
Visit a toilet before your walk. There are no facilities along the route, so arrive ready!
Bring some change for the ice cream van. There's often a van waiting in the car park – what better reward for all of that exercise?
Enjoy the views. They really are spectacular!
---
Thanks for reading our guide to the Ditchling Beacon walk. Wwe hope it helps you plan a lovely day out in Sussex. If you're looking for accommodation for a staycation this year, definitely take a look at these Classic Cottages holiday cottages here.
Enjoyed this post? Pin it for later…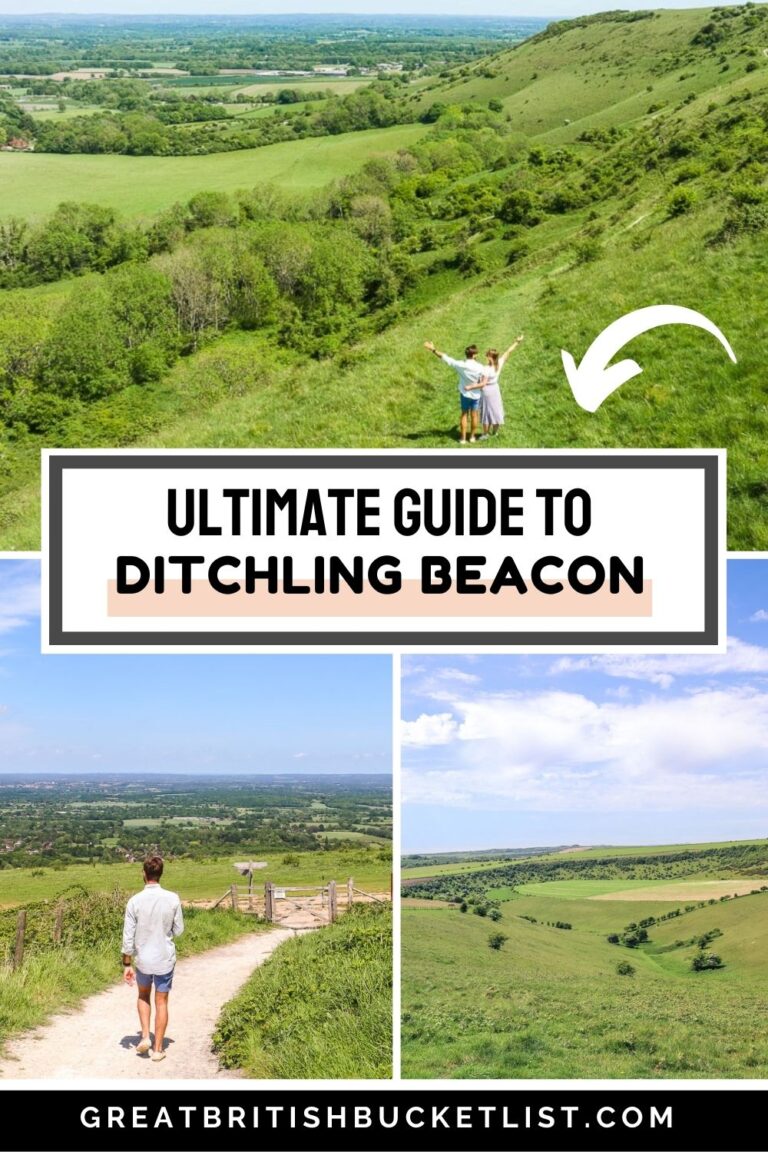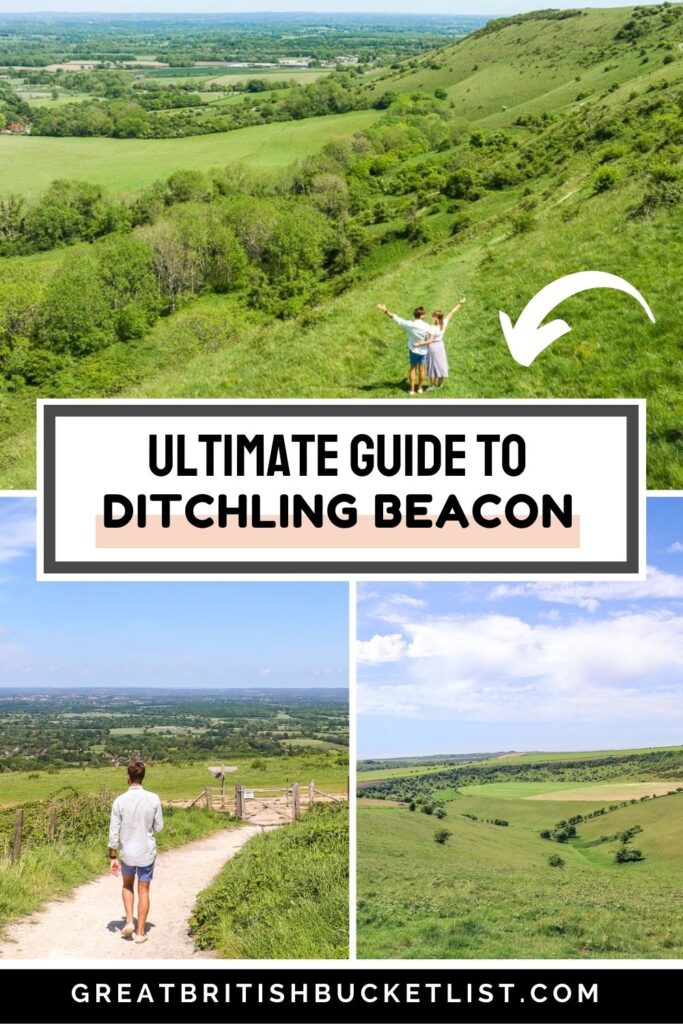 If you're looking for more great walks in the south of England, take a look at these guides…