The Whiteleaf Cross to Chequers circular walk is one of the best walks in Buckinghamshire. This detailed walking guide has all the info you'll need for a great day out in The Chilterns.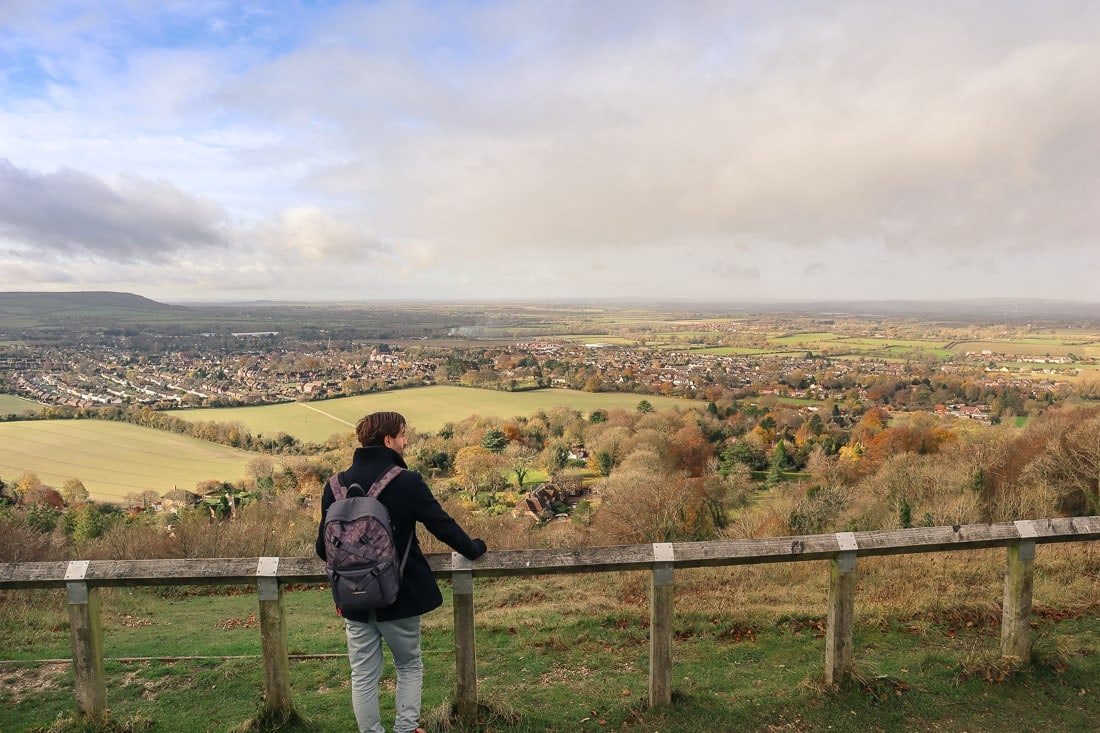 Last week we decided to explore another area of Buckinghamshire. We hopped into the car, drove to Whiteleaf Cross and set off on a lovely walk that took us through pretty woodland, rolling hills, farmland and to some pretty epic viewpoints.
The route passes some special landmarks too. It starts at the top of Whiteleaf Hill – a location famed for its historic chalk cross. Later it snakes around the Prime Minister's country estate, Chequers. The 16th century manor house has been the private retreat of the Prime Minister since 1921. As you can imagine, it's vast, with numerous chimneys, large gardens, gate houses and a long driveway.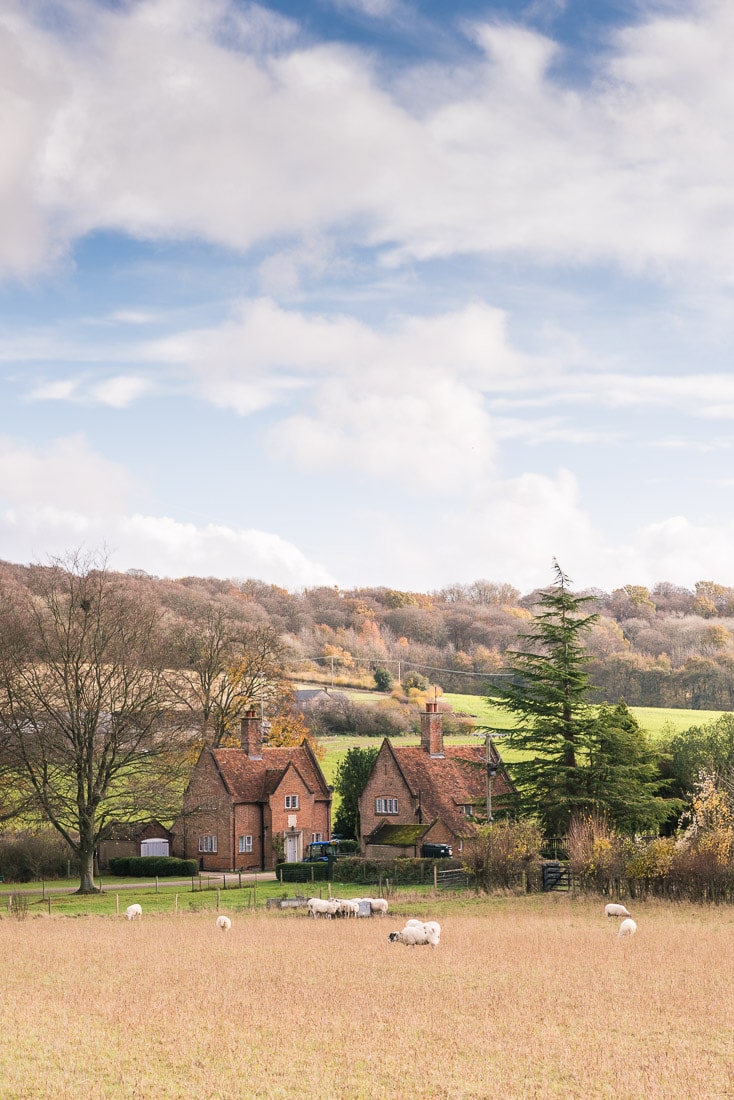 For me, this walk also offered a trip down memory lane. I grew up in the pretty village of Monks Risborough which is overlooked by Whiteleaf Cross. The chalk cross was an icon I saw every single day, and I'd walked parts of this route many times as a kid. However, I hadn't returned in over 15 years.
If you're looking for a beautiful walk in the Chiltern Hills that offers a nice mix of landscapes, views and a few pubs to stop at too, the Whiteleaf Cross to Chequers circular walk is ideal. Fancy following in our footsteps? Here's everything you need to know about the route, plus a few tips for making the most of your day out.
---
Whiteleaf Cross to Chequers circular walk
How long does the Whiteleaf Cross to Chequers walk take?
The route we followed was approximately 10 km (6 miles) and took us just over 3 hours, including 2 short stops – one for lunch and another to look around a farm shop. We kept a moderate pace throughout. As you can imagine with a route involving hills and viewpoints, there are a few steep sections. A lot of the walk is easy with gradual inclines, but there are a few parts that you might want to approach more slowly, depending on your fitness level.
If you want to make a full day of it, you could stop at a pub for a meal or a drink too. The two pub options are quite near the start / finish of the walk, so you could either start with some fuel for your day by visiting The Plough at Cadsden, or build up to a nice hearty reward towards the end of the walk by visiting The Red Lion. More on those coming up!
Parts of this route pass along the Ridgeway National Trail – an 87-mile trail which follows Britain's oldest road. A few weeks ago, we enjoyed the Ivinghoe Beacon walk, which also follows a section of this trail. Take a look at that walk if you're looking for more Chilterns walks inspiration.
Where to start the Whiteleaf Cross walk
We parked at Whiteleaf Hill car park, which is just off Peters Lane. The Whiteleaf Hill car park post code is HP27 0LH according to Google Maps, but we discovered this left us a little bit short of the car park entrance. Just keep going up the hill another minute and it'll be on your left, with an entrance sign saying Whiteleaf and Brush Hill Nature Reserve.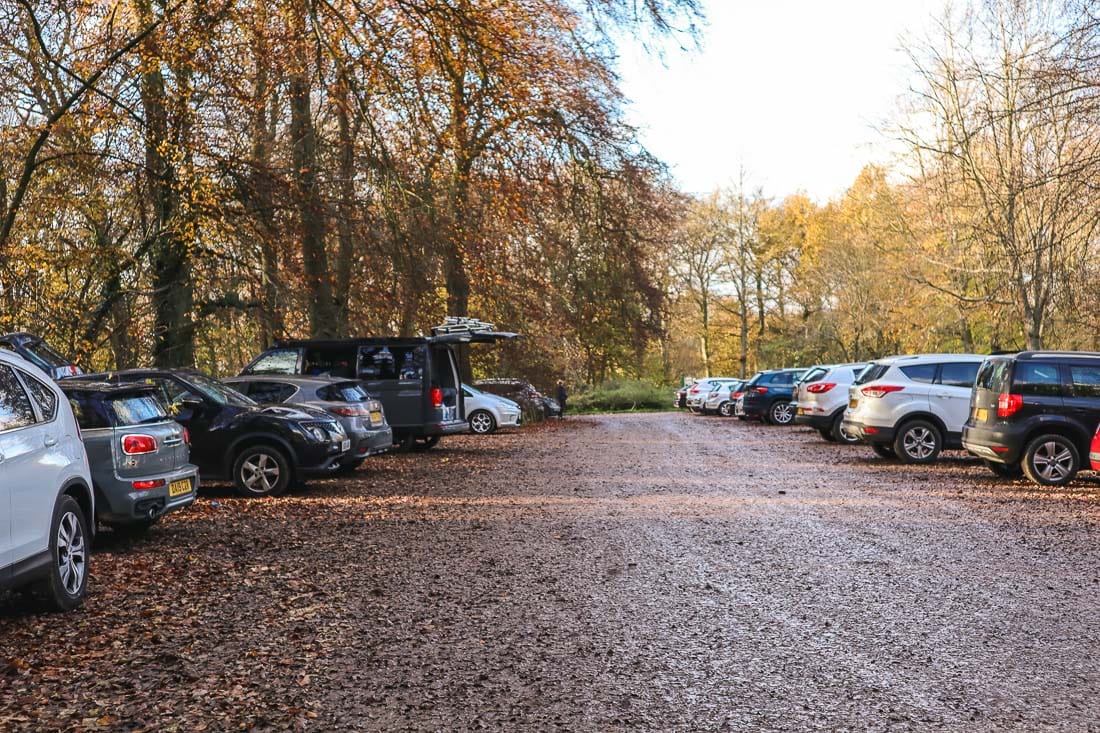 Whiteleaf Hill Nature Reserve is located above the historic market town of Princes Risborough and is within an area of outstanding natural beauty in The Chilterns.
Parking at Whiteleaf Hill car park is free and there are plenty of spaces, although I imagine it gets very busy in the summer months and at weekends.
Walking directions for the Whiteleaf Cross to Chequers circular walk
Whiteleaf Hill car park to Whiteleaf Cross
The circular walk starts at the car park. Some walking directions we read kicked off with a wander over to Brush Hill to see the view, but we recommend saving this until the end of the walk, so you start and finish your day with an epic view!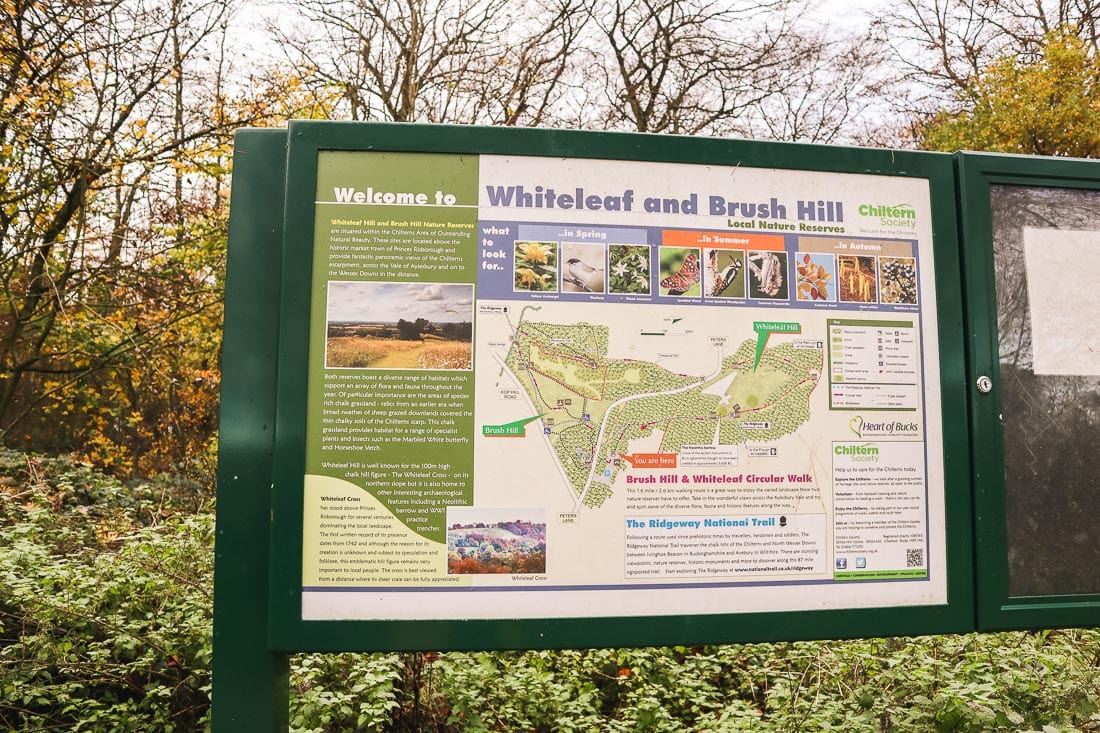 At the far end of the car park you bear right along the Ridgeway to go through the woods, then pass through a gate. There are a few amazing spots right ahead.
Firstly, there's a Neolithic barrow (a burial mound from the period from 3400-2400 BC). There are two small mounds, which you can climb up to the top of. The views are spectacular, and when we visited, there was even a rainbow in the distance.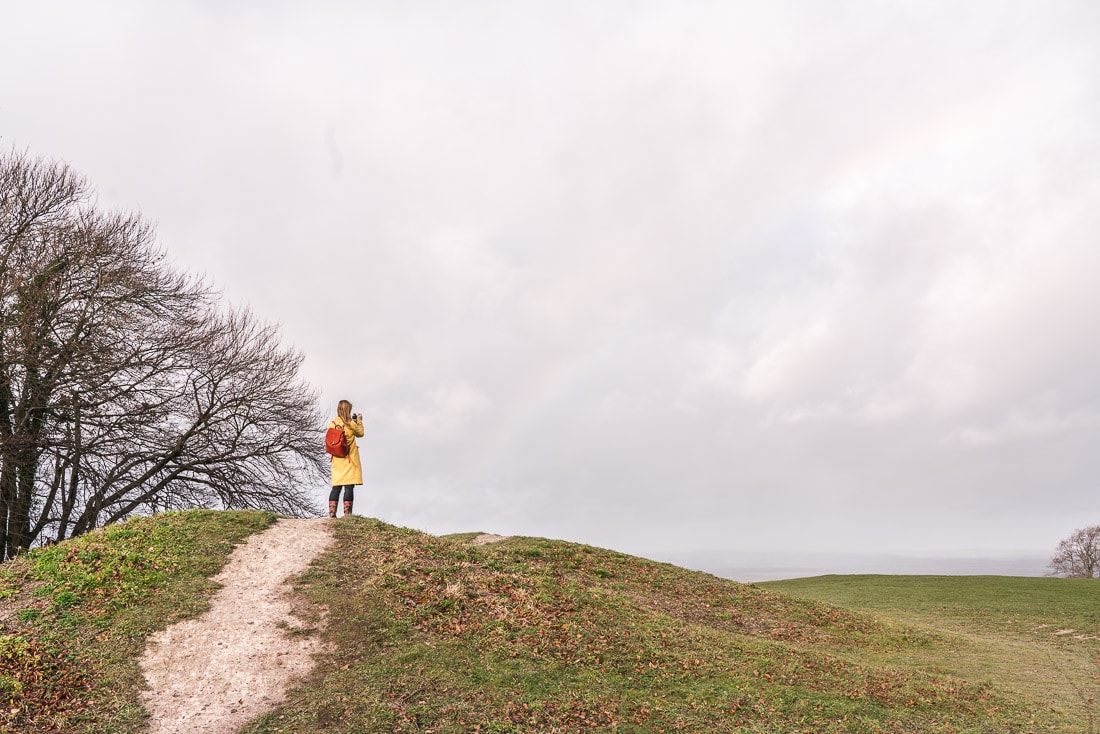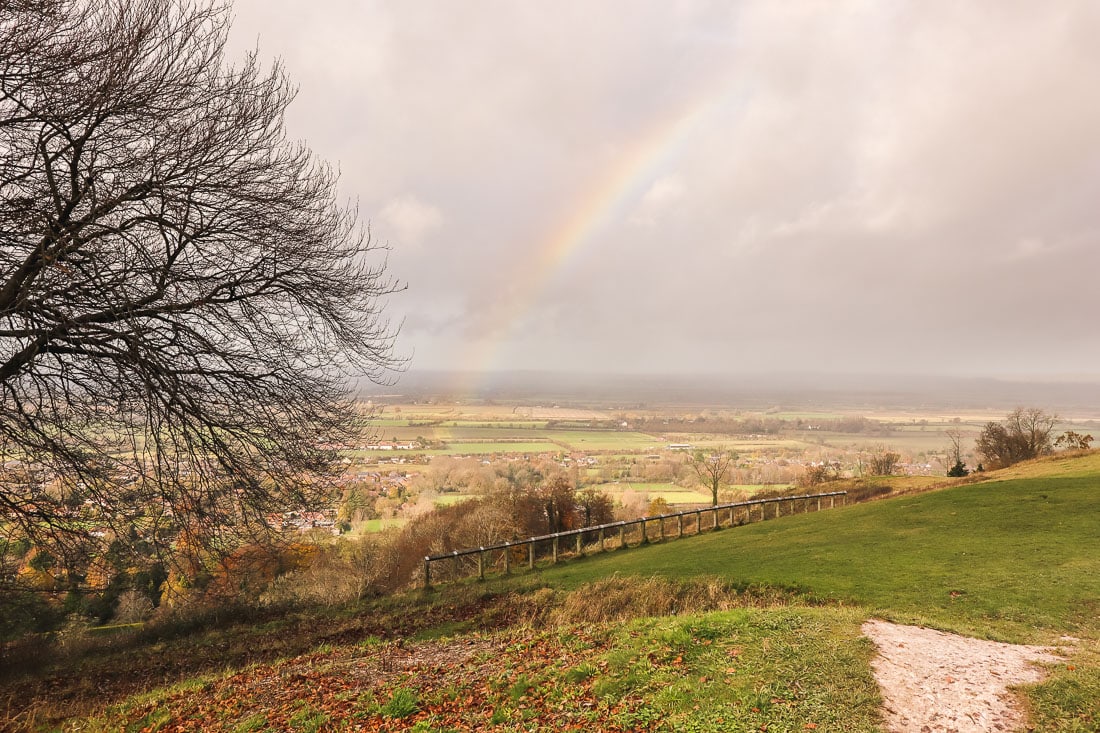 Just beyond is the main fence for Whiteleaf Cross itself. There's a lot of mystery surrounding the 100m high chalk cross. There's no definite reason for its creation, although the first written record of its presence dates from 1742. As it overlooks the Parish of Monks Risborough, (the oldest recorded Parish in England) perhaps it was created to signify the area's religious significance.
It's amazing to see Whiteleaf Cross up close, but beware the slope is very steep. We ventured down past the main railings to have a closer look, but if you have kids or are unsteady on your feet, I'd stay well back.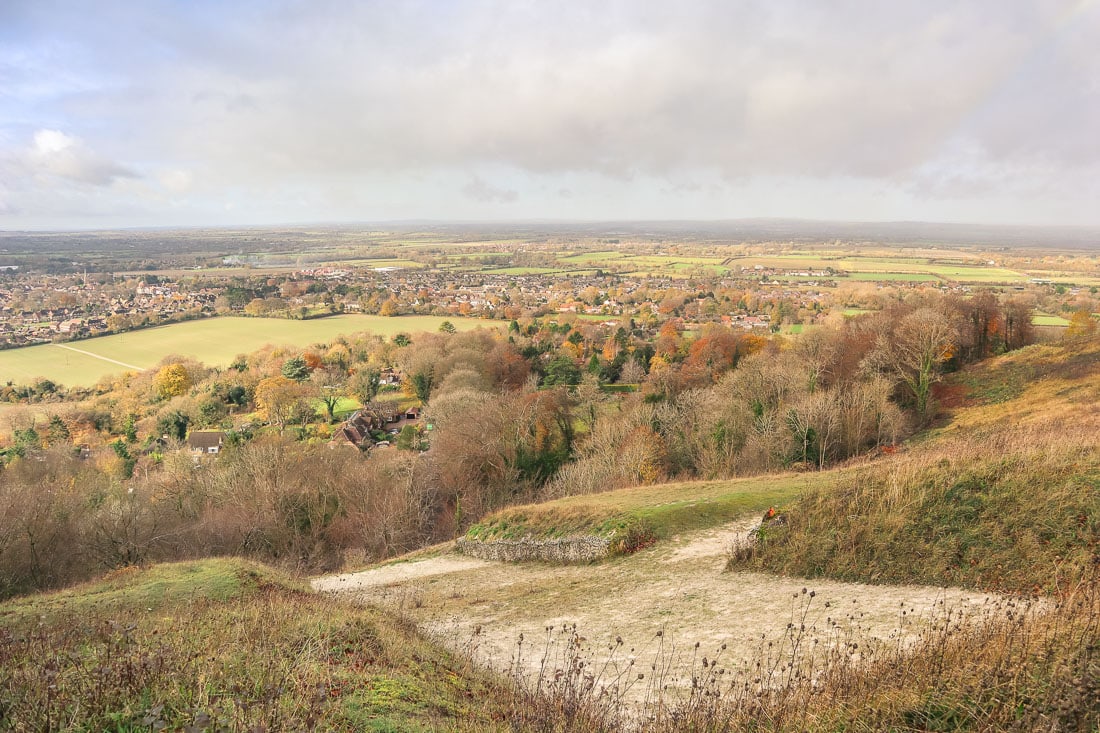 The views from Whiteleaf Hill are absolutely incredible. You can see for miles. Church steeples in Princes Risborough, mini Chiltern Railways trains winding their way through the hills, and endless fields, farms and hills – no doubt you'll want to take lots of photos like we did!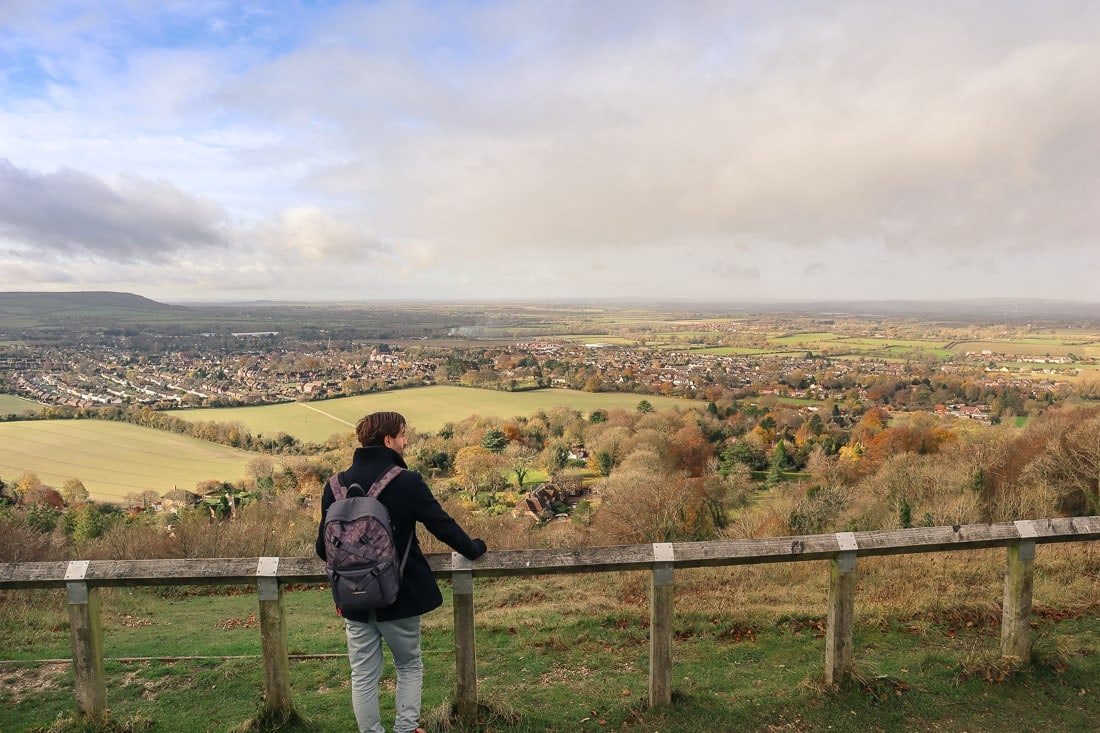 It's also worth noting that the best view of the cross itself is from further away, down in Monks Risborough or beyond. From there, you can appreciate the shape and scale of it.
Whiteleaf Cross to The Plough at Cadsden
After enjoying the stunning views, it's all downhill from there…. literally! The route to follow meanders downhill on the Ridgeway for quite a way. It's very steep and muddy in parts, but was super pretty with autumnal leaves scattered around.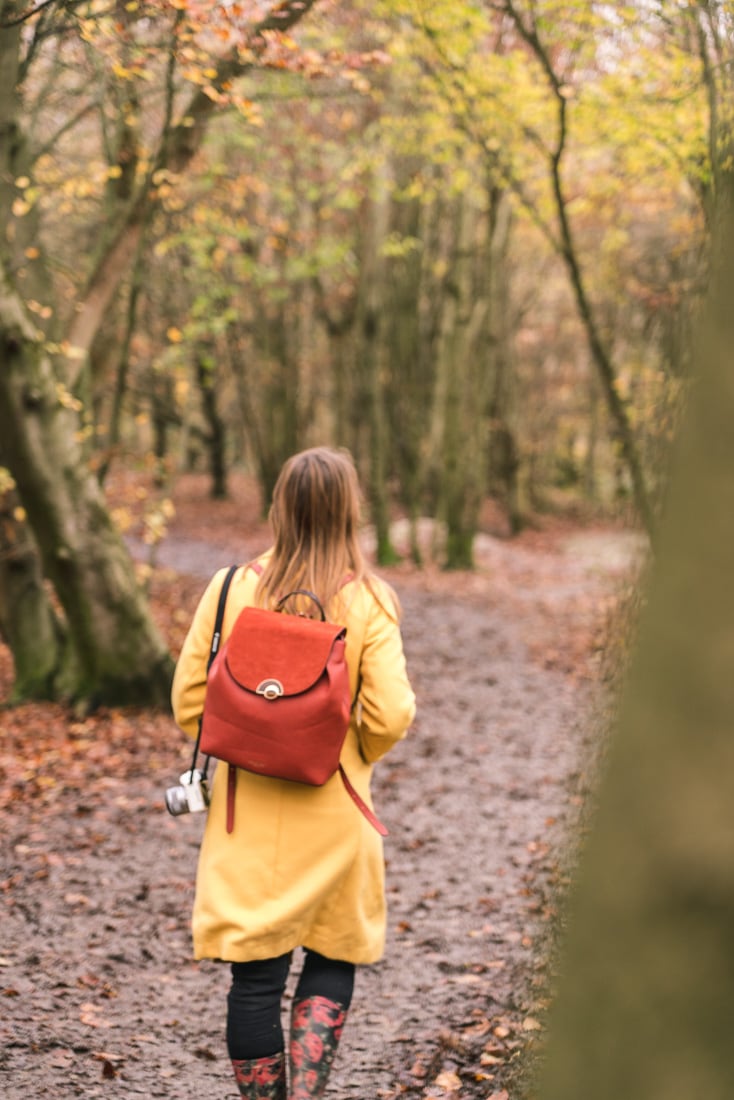 This is an important direction to get right. The walking path goes around to the right-hand side of Whiteleaf Hill Golf Course. There was a main road close to this part of the trail which almost tricked us into turning left, but you should stay on the trail right around the golf course and continue past a farm.
Eventually this emerges at The Plough at Cadsden – a cute country pub, and a great option if you're looking for somewhere to eat or drink along the route. There are also some fun rope swings here which I couldn't resist testing out…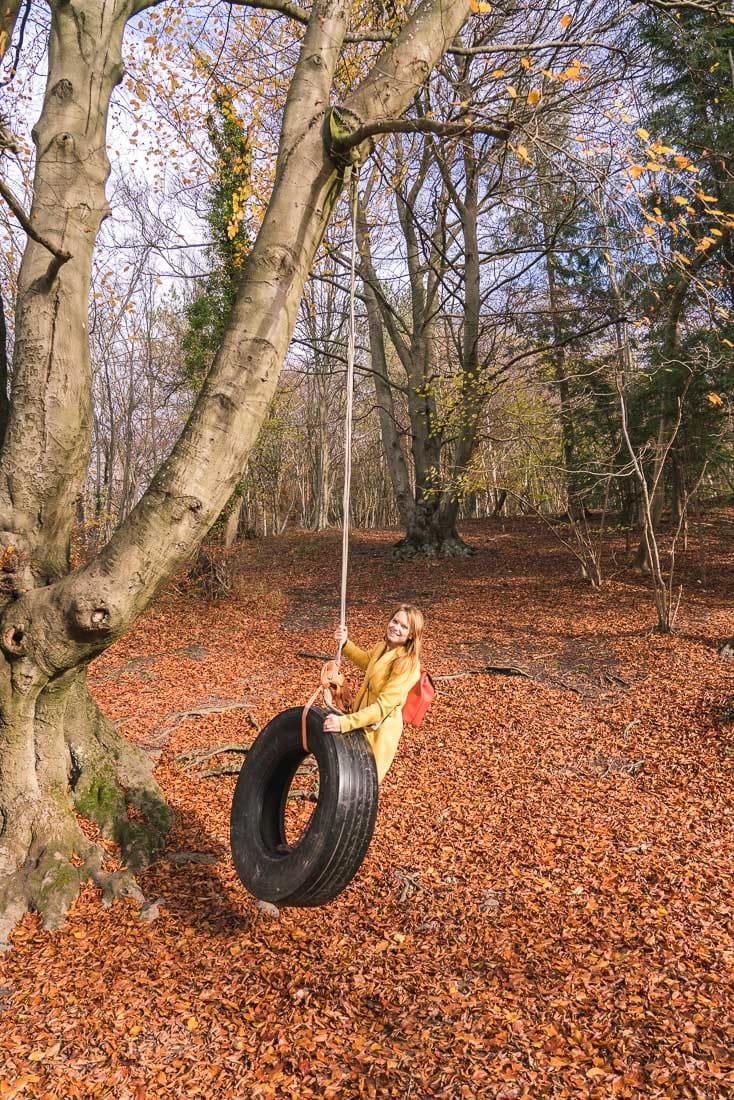 The Plough at Cadsden to Chequers
After the pub, head up to the main road (Longdown Road / Cadsden Road), then cross over and take the second walking path on the right, which is again marked the Ridgeway. This next section is out in fields and nature reserves. It's really pretty and there are some more great views on the left as you go up Pulpit Hill.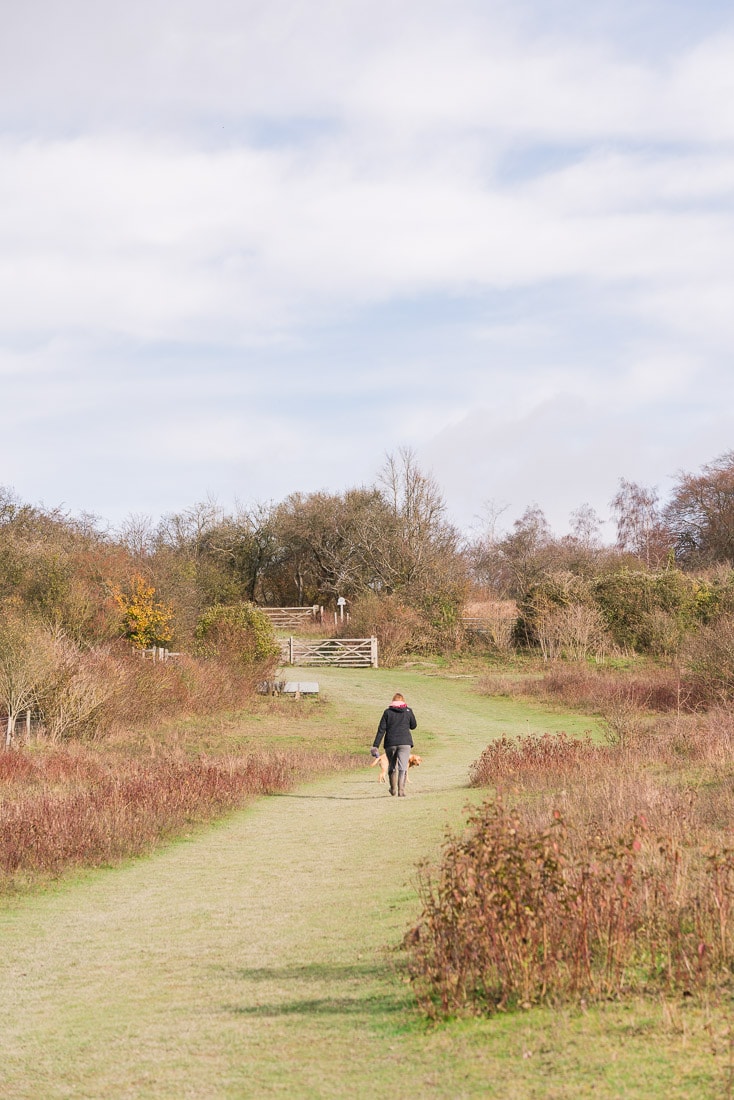 Eventually you'll find yourself walking up some steps on Pulpit Hill towards a kissing gate, and after that you turn right, then shortly after left through another gate. After this point we were a little unsure of the route as the trail meanders down a hill, then continues around the edge of a field then up to a kissing gate into another field. We stuck with it though, and it turned to be correct.
Once across this field you'll spot Chequers on the left. When we visited there was the most spectacular field of rapeseed flowers in front of the building. You'll also spot lots of signs saying not to trespass on the land to the left… and no, we didn't risk it!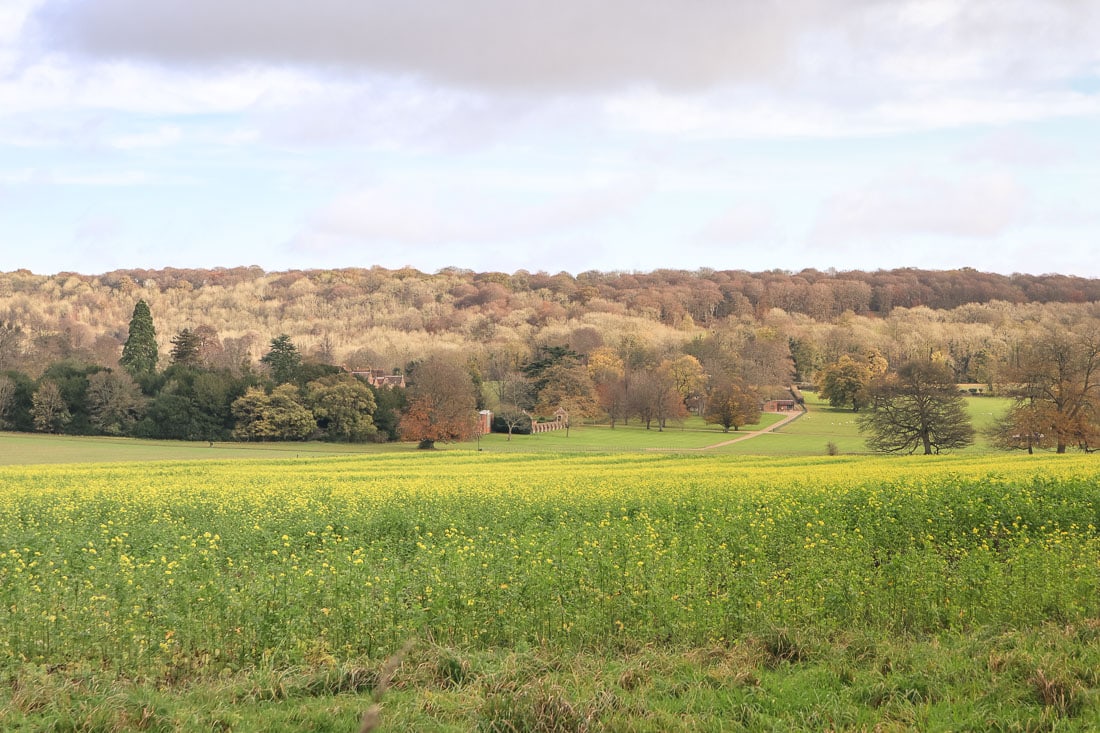 We did, however, take plenty of photos as the views were stunning!
After continuing along the path, head through a gate on the left, across another field and you'll find yourself on the Chequers driveway (oh and don't worry – this part isn't seen as trespassing as the main footpath crosses through this area!)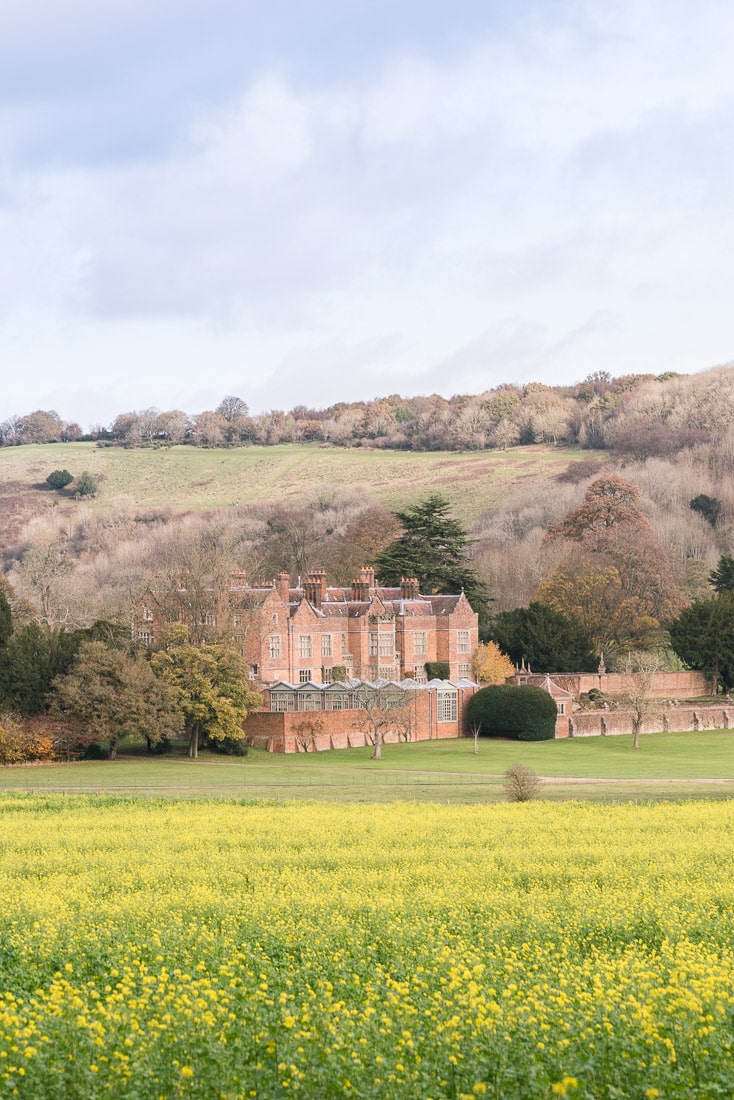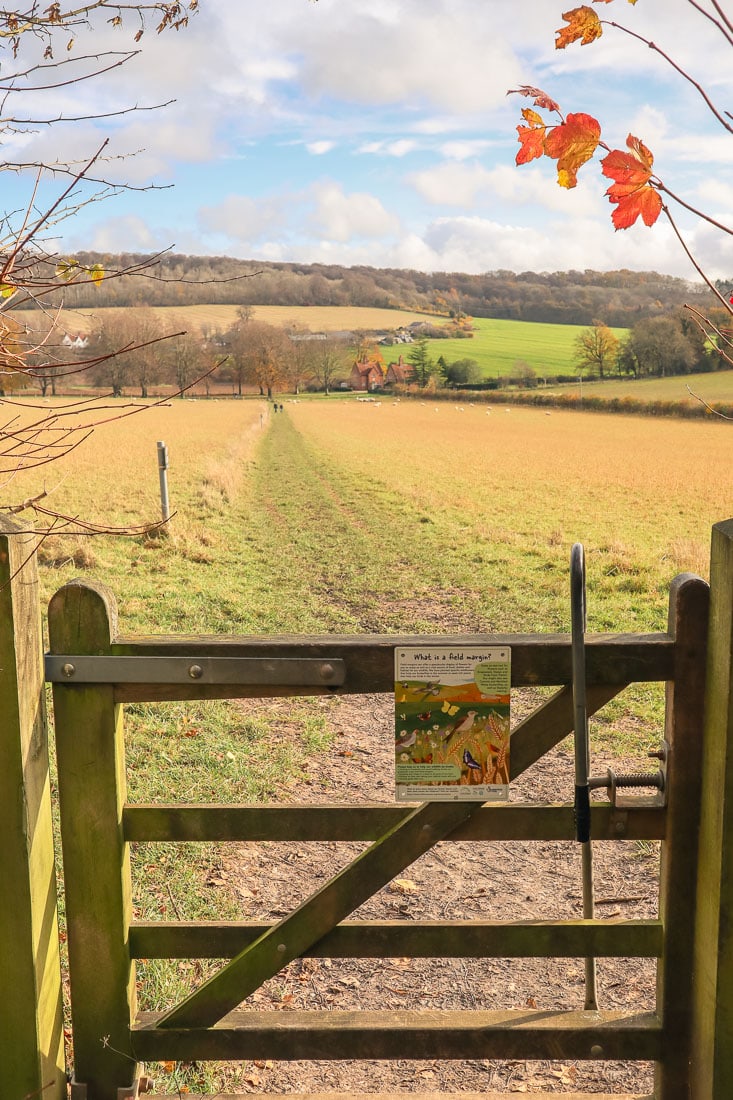 At this point you'll see two gatehouses to the right and the main driveway up to Chequers Estate to the left. There are also beautiful views up to Coombe Hill in the background.
Chequers to Whiteleaf Hill
Shortly after passing Chequers we spotted Buckmoorend Farm Shop on the right-hand side – an unexpected highlight of our walk! This small farm shop sells everything from the farm's own meats to local cheeses, pickles, cakes and more. It's a treasure trove of delicious local delicacies. We left with a slab of the local goat's cheese and a pot of mustard. I challenge you to go in and not buy anything!!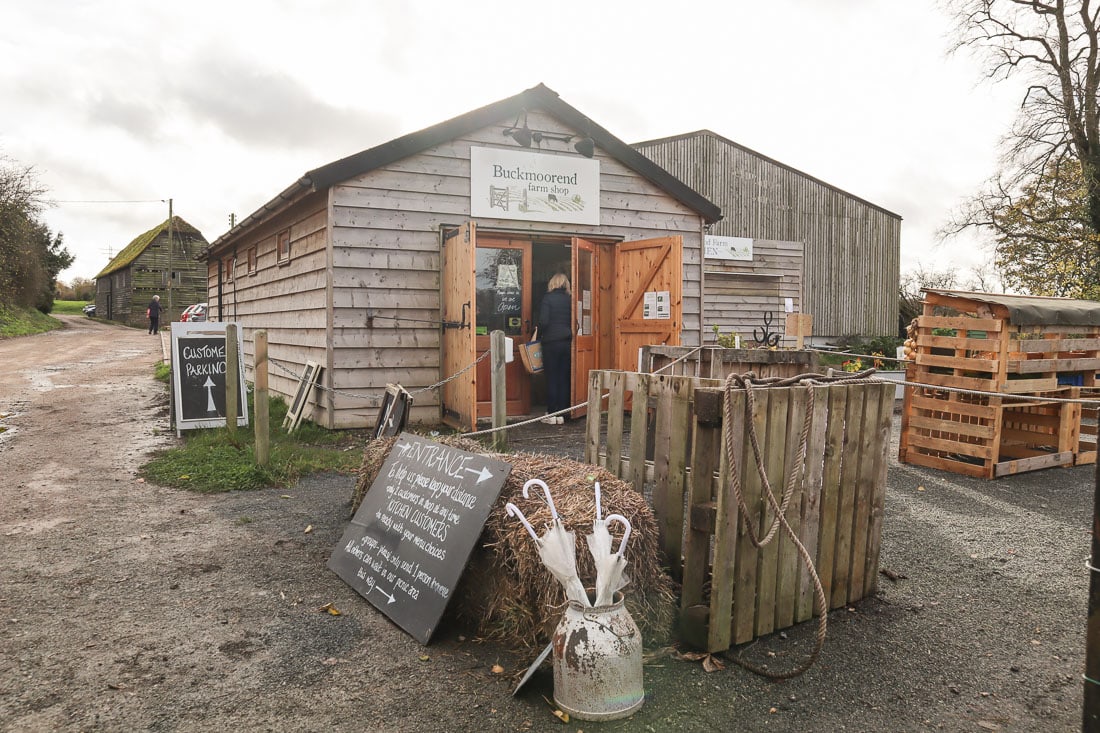 It's also worth noting that Buckmoorend Farm Shop serves hot food (Fridays – Sundays currently) from their new outdoor kitchen area. This could be another great place to fuel up on the Whiteleaf Hill to Chequers circular walk.
After this stop, you can re-join the Ridgeway towards Wendover, then cross onto the South Bucks Way. Once again, we were surrounded by beautiful woodland, enjoying autumn in all its glory with orange leaves covering the ground.
We also spotted a muntjac deer passing through this part of the forest. Other than spotting a few squirrels and red kites, this was our main wildlife encounter on the walk, and what a special one too! It was moving a little fast for us to snap a great photo, but you get the idea…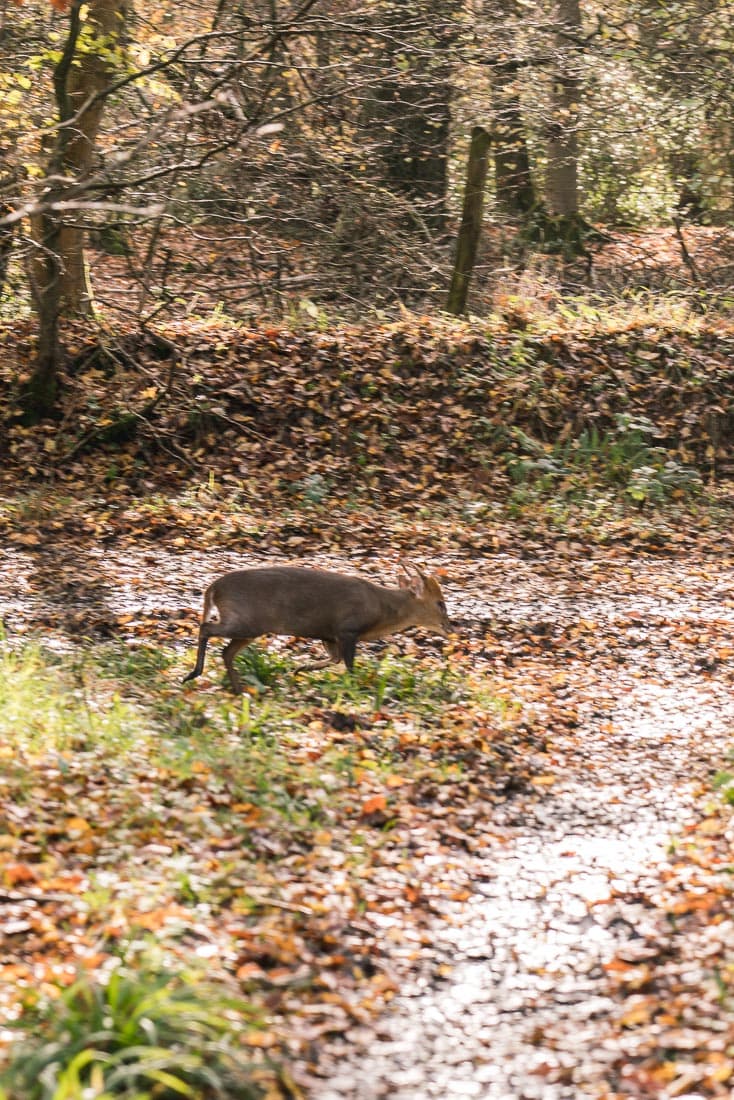 Eventually you'll end up at a junction with five paths, where you should turn right down the big track, then shortly after take the skinny path to the left over a stile. This will take you through another area of woodland. This woodland section lasts quite a while, but it is very pretty. Eventually, you'll emerged to the side of a field, which is where we spotted the ideal picnic spot – a tree trunk with a view!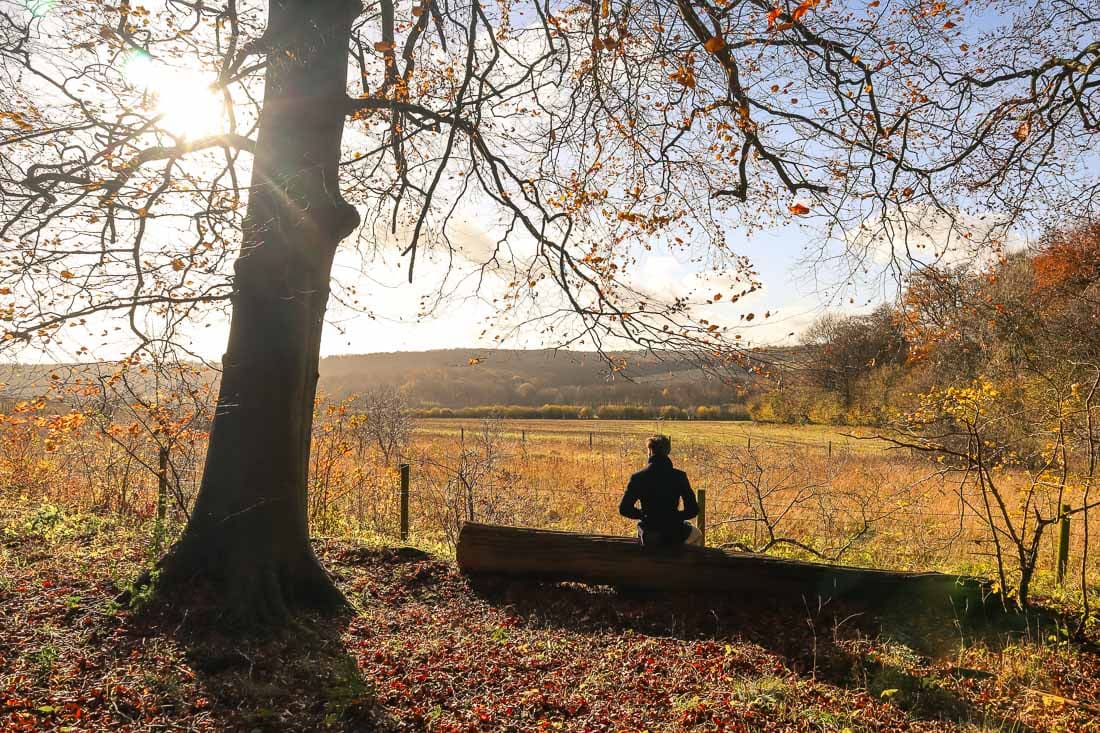 It was a great spot to rest our tired legs, taking in pretty views while being shaded by the trees.
After a picnic lunch we re-joined the route. The trail snakes around the edge of Dirtywood Farm using a special Permissive Path. After that, continue down to the main road and cross onto the big driveway towards Solinger House.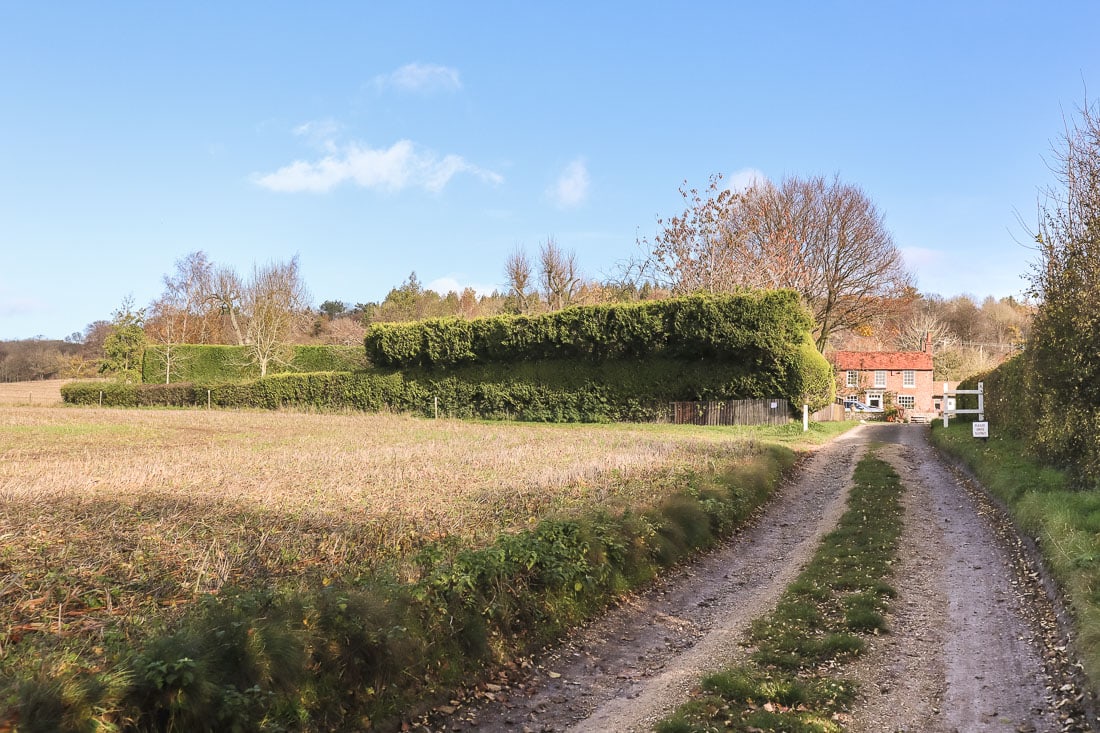 As you walk up the driveway there are a few paths off to the sides, but you should carry on right up to the top, by the gateway into the house itself. Opposite the house's gate is a stile to cross over, into more woodland.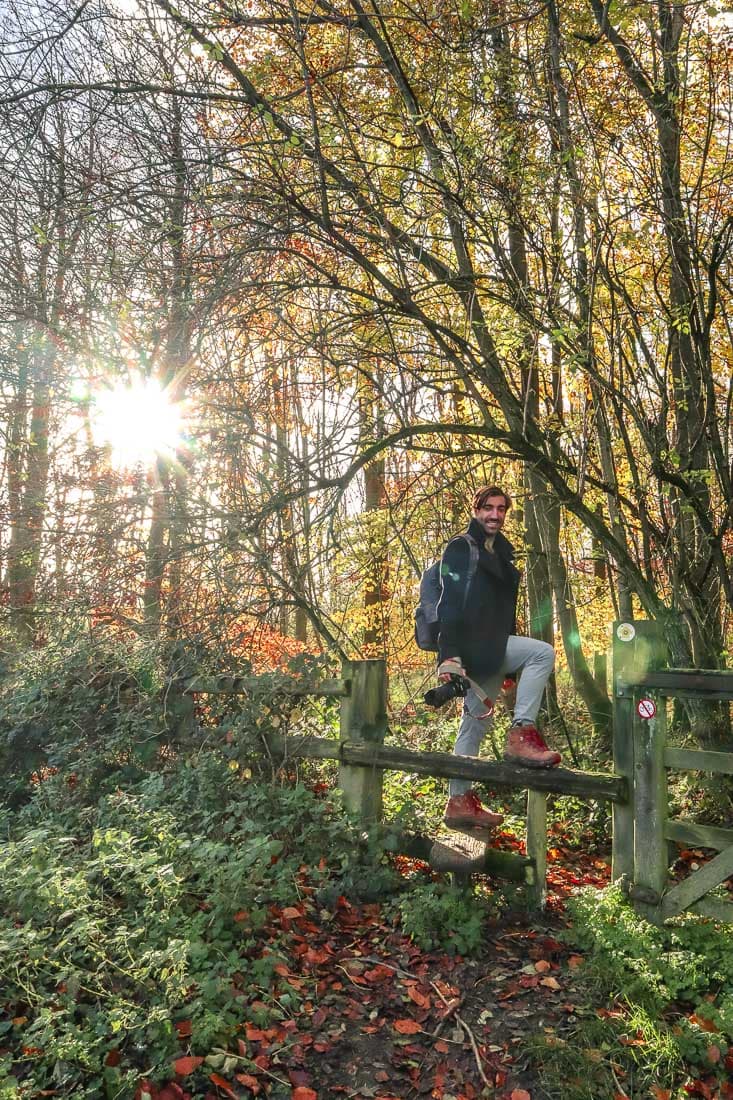 According to the route we were following, we knew we needed to fork right after passing under some transmission cables, however, we did this and it pretty much turned us back to face the way we'd come from!
It turns out you should venture a bit further into the woodland and then eventually you'll meander down the hill at a shallow incline, and reach a wooden barrier. The barrier had fallen over but we continued past and then eventually went up the steeper slope to the left.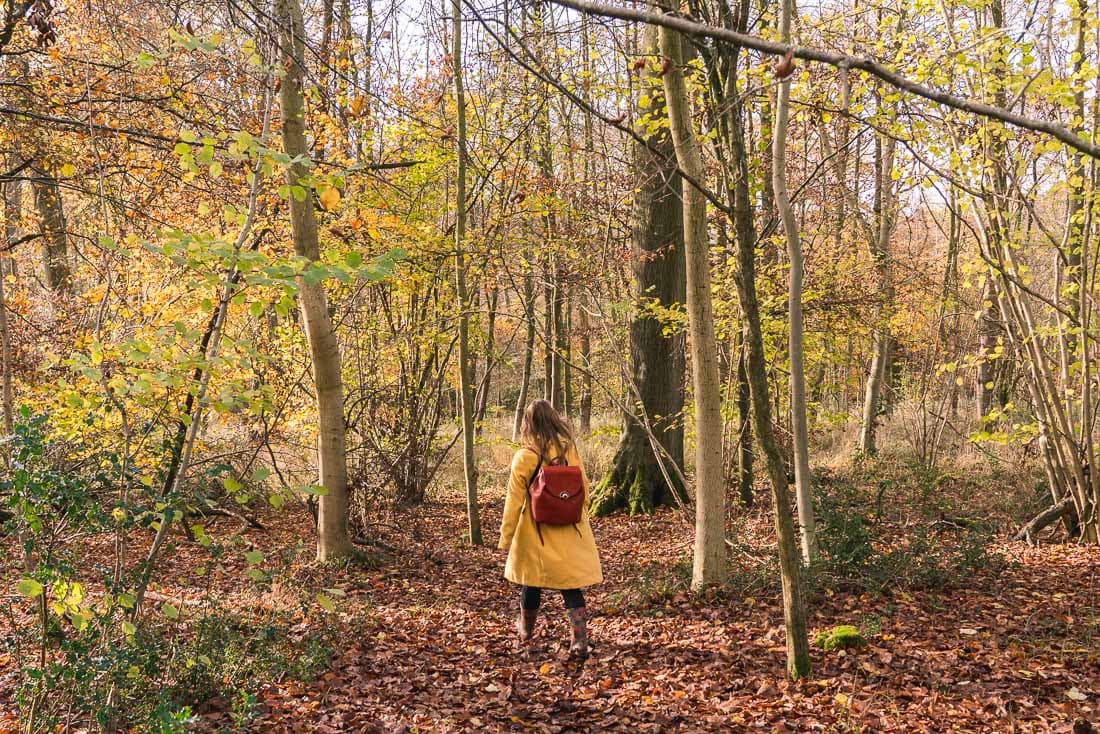 Towards the top of the hill, a few houses came into view and after several hours in the middle of nowhere, we realised we'd almost returned to civilisation! Around ten minutes later we found ourselves back at Whiteleaf Cross car park, passing some WWI practice trenches on the left just before.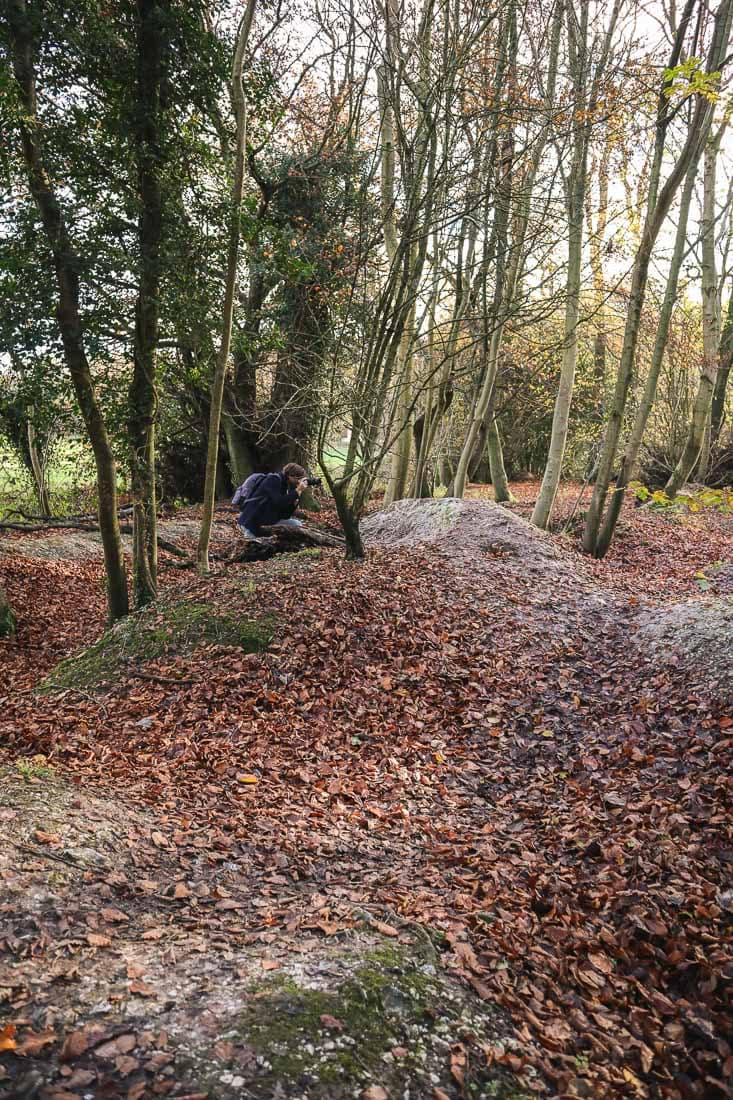 While some walking routes will finish at the car park again, I'd recommend nipping across the main road from the car park to Brush Hill nature reserve to enjoy one more very special view of Buckinghamshire. You won't regret it! Plus, there's a bench on the hill where you can relax if your feet are a little tired.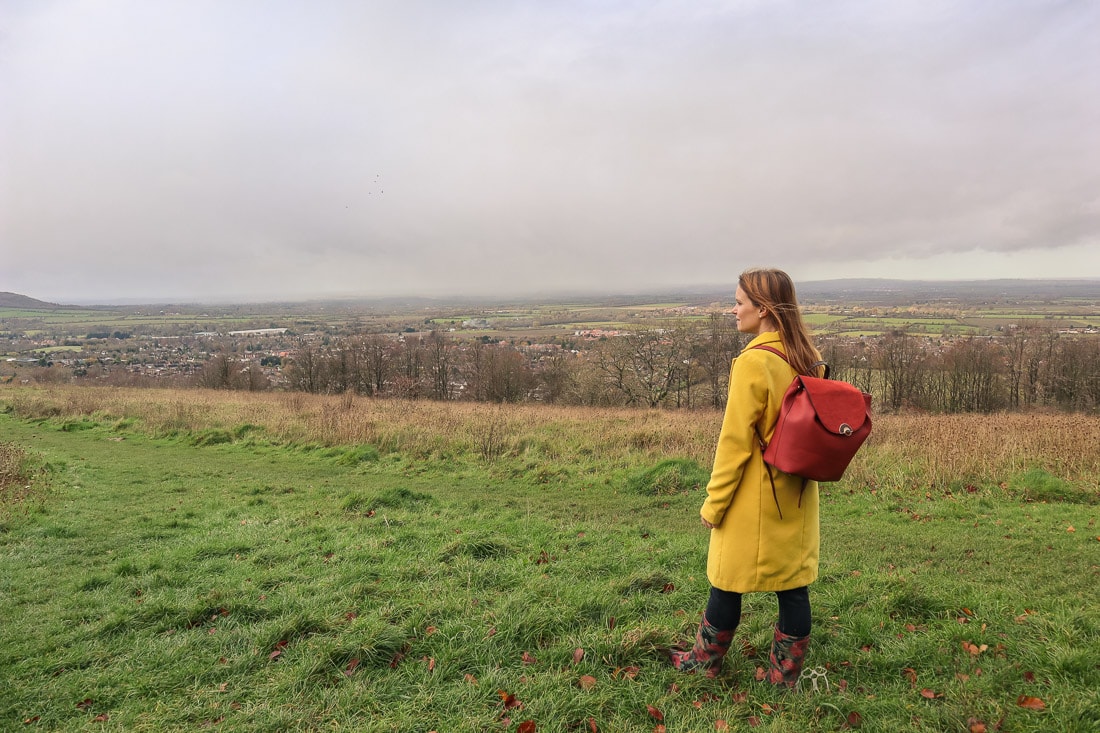 Suggested places to eat along the Whiteleaf Cross to Chequers walk
This walk directly passes The Plough Inn, so this is a great option if you want to break up your walk with a meal or a drink. It's right on the Ridgeway too, so is always popular with walkers and ramblers.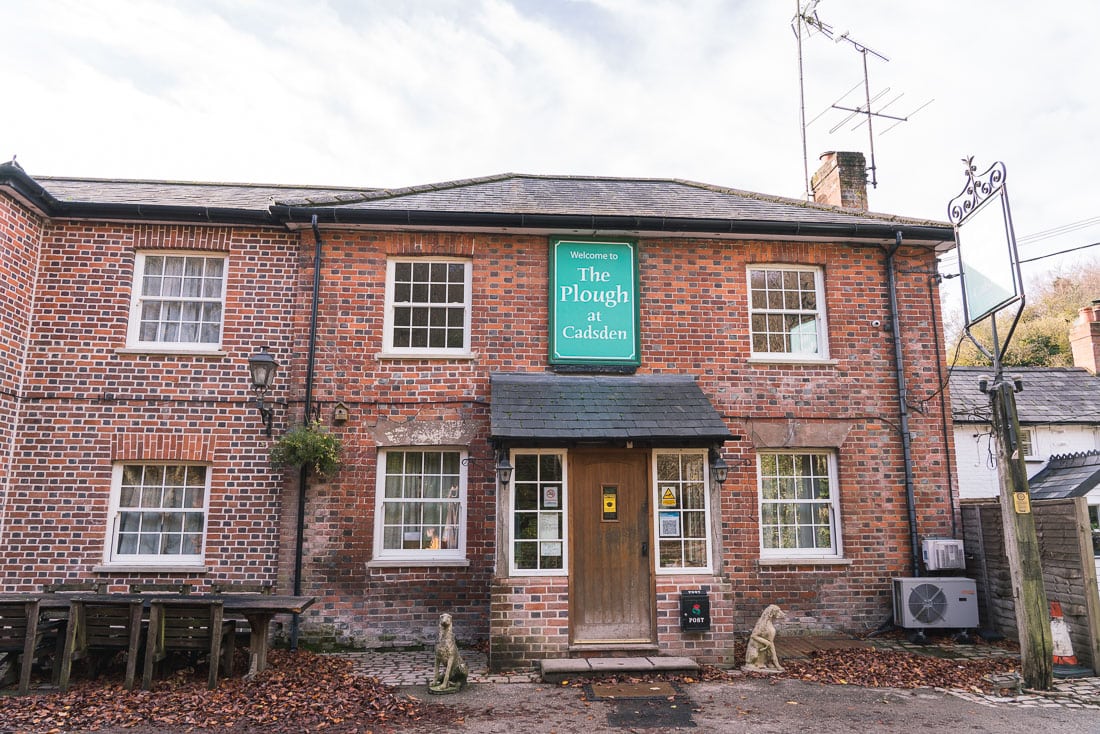 Hungry walkers can enjoy British pub classics including chunky pies, sausage and mash and fish and chips. Time your trip for a Sunday and you could tuck into a traditional Sunday roast… although, I'm not sure I'd be able to walk far after feasting on one of those!
The 16th-century coaching inn is full of character, and with Chequers so close, it's also played host to a fair few notable guests over time, including British prime ministers and foreign dignitaries.
When the weather is nice, there are plenty of places to sit outside, plus a few rope swings for kids (and big kids) to play on!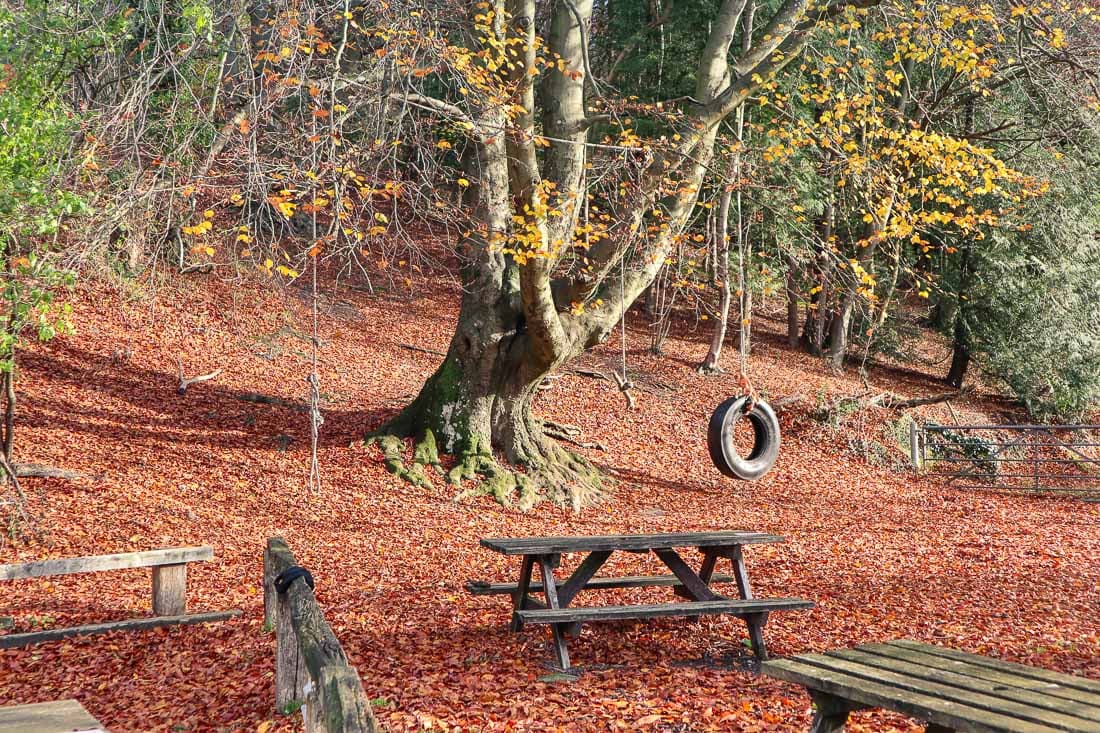 This 17th century country pub isn't directly on the walking route, but it's not far to go (or you could drive there at the end of your walk).
The pub is cosy and old fashioned. There are a mix of dishes on the lunch menu from simple options like jacket potatoes and baguettes, to heartier dishes like chilli con carne, lasagne and curry. There are usually some interesting beers on tap too.
As mentioned, this cute country farm shop was a lovely little surprise along the walking route. Located close to the main driveway at Chequers, the shop has lots of tasty local delicacies on offer.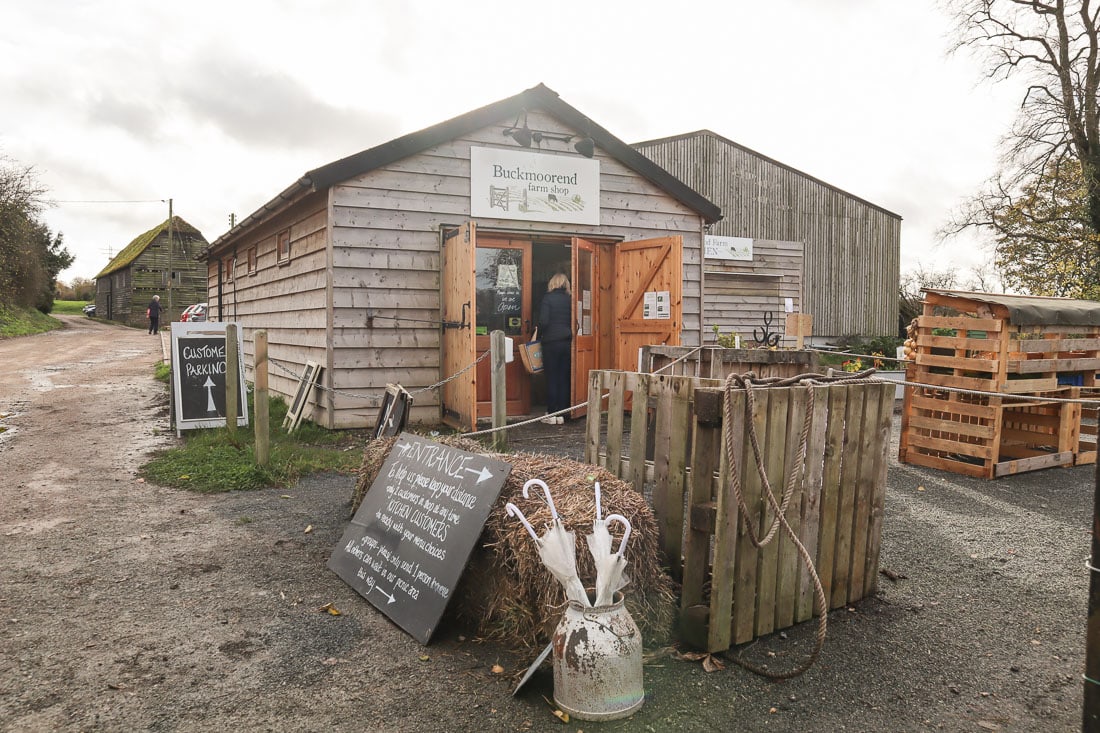 From Friday – Sunday there's an option to order hot food from 'The Kitchen' too. It's like a fast food truck, except the ingredients are really high quality.
Final tips for the Whiteleaf Cross to Chequers walk
If this is your first time walking this route, here are a few tips to make the most of your day out.
Pack water and lunch or snacks for the journey. Most of the route is out in the countryside so you won't have access to shops or amenities along the way.
If you want to stop for a meal at The Plough at Cadsden or The Red Lion, it might be a good idea to book a table in advance.
If you're doing this walk in the rainier months, wear wellies or walking boots and prepare to get muddy. We did it in late autumn after some heavy rain and there were a few parts that were quite slippery and muddy, especially on the steeper sections around Whiteleaf Hill.
If you're feeling ambitious and want to extend your walk, there's a trail from Chequers to Coombe Hill (another spot with spectacular views). Or for an even longer route, you could venture all the way to Wendover Woods.
Walking packing list
Usually when we go out on these walks, we're spending all day out and about in the countryside. Because of that, there are some things that we always bring with us and recommend to others. Hopefully one or two of these items can help make your walk that little bit more enjoyable!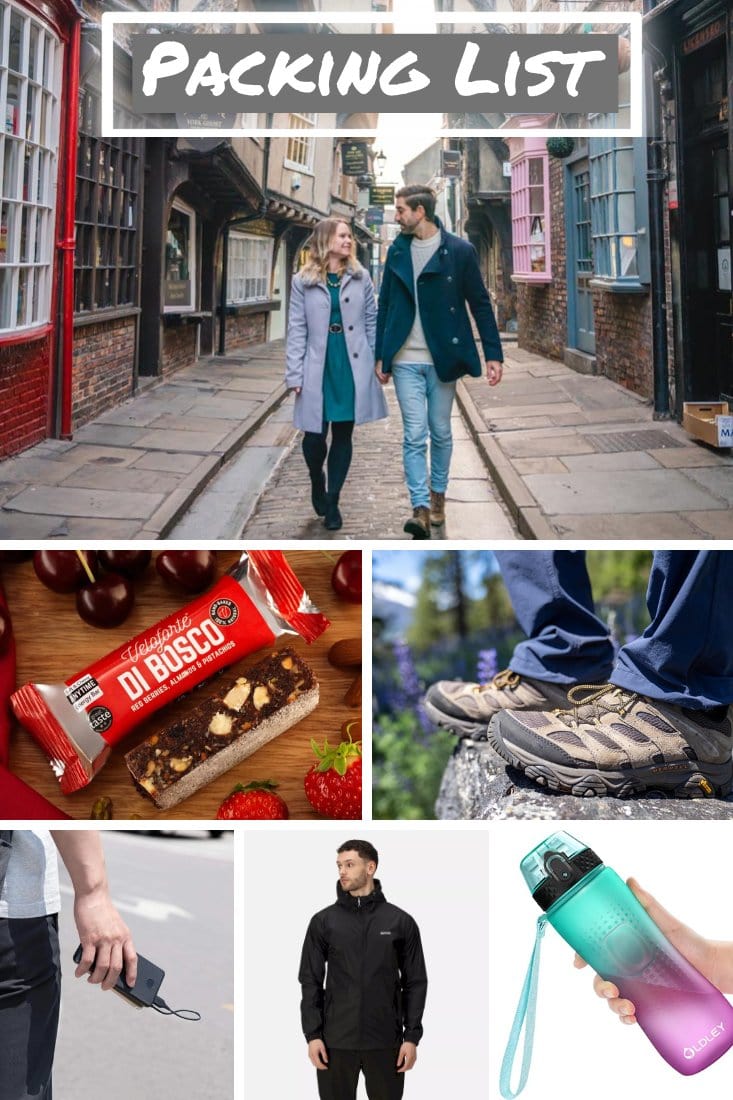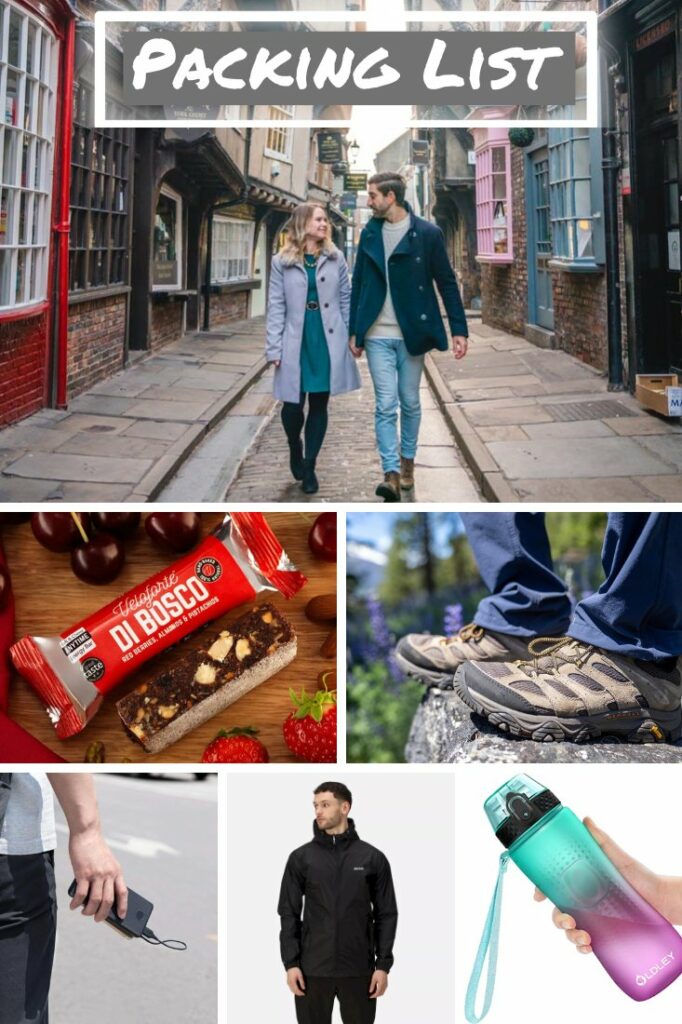 ---
---
I hope you've found this guide to the Whiteleaf walk useful. If you decide to do it yourself – ENJOY! It's beautiful. No doubt you'll take just as many photos as we did! If you're looking for other walks in Buckinghamshire and The Chilterns, check out these guides:
Chess Valley Walk
Amersham circular walk
Ivinghoe Beacon walk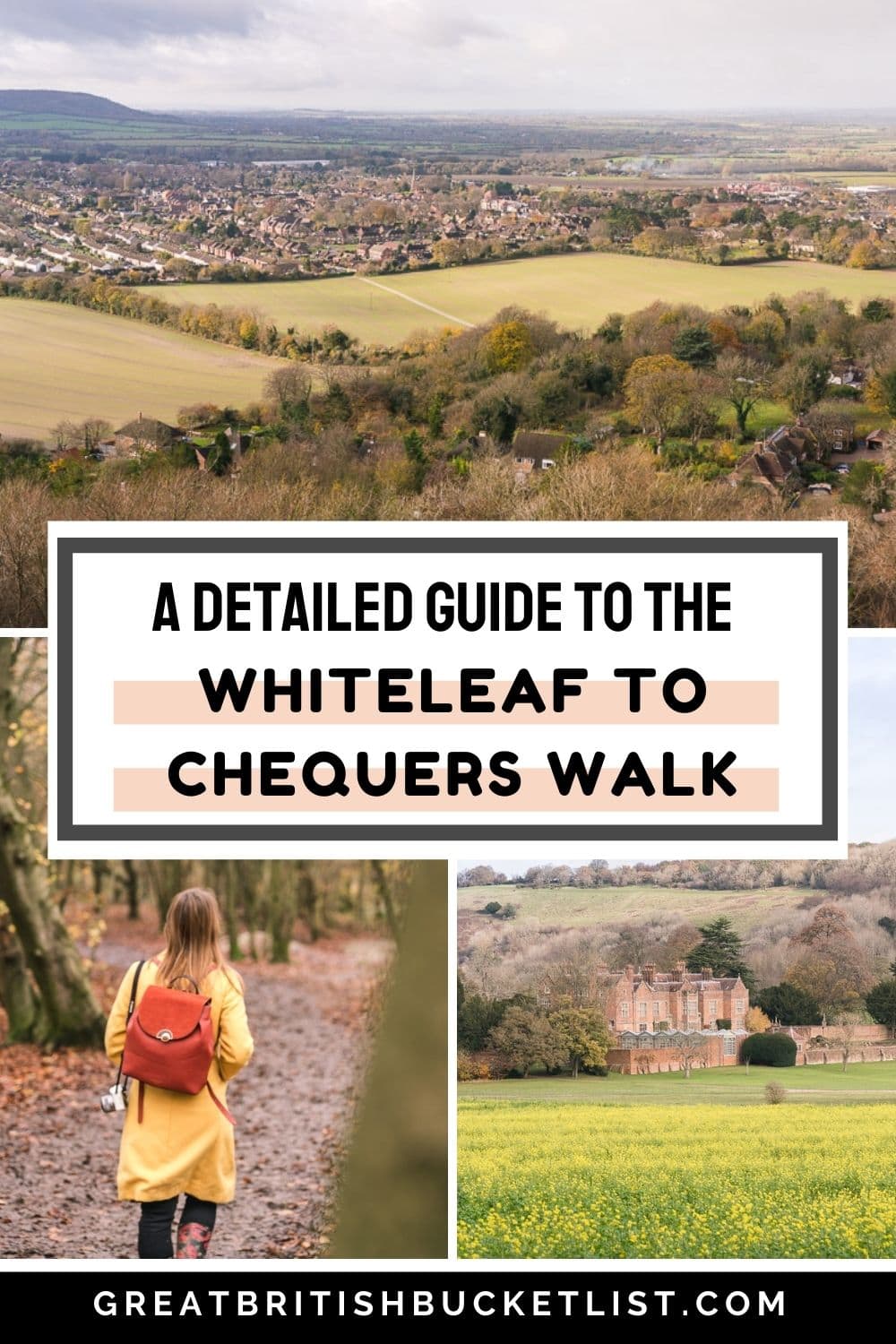 Enjoyed this post? Pin it for later….