Looking for walks in Chorleywood? This circular walk is a beautiful route passing through the Hertfordshire countryside.
Hertfordshire is one of our favourite counties to visit when we're craving some fresh air and pretty countryside views. It's got a great mix of fields, farmland, rivers, valleys and forests. There's always plenty of wildlife to spot, plus a plethora of traditional pubs serving great food.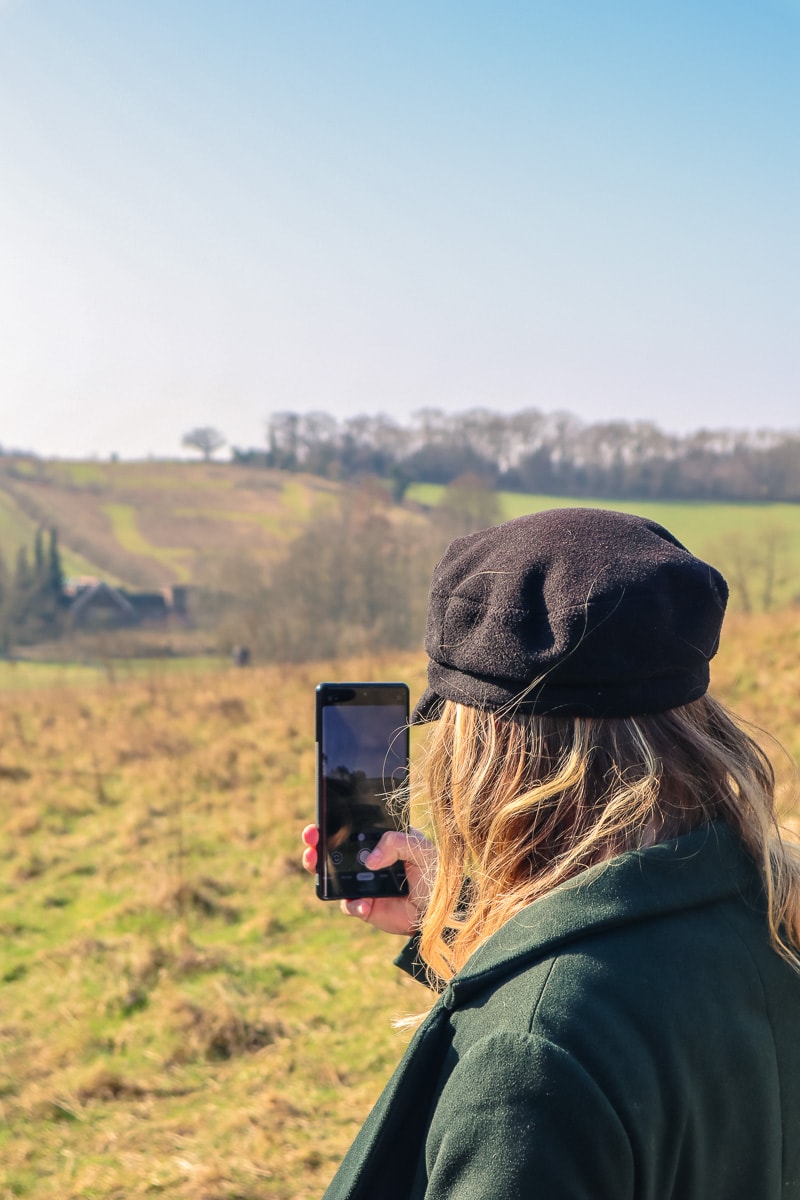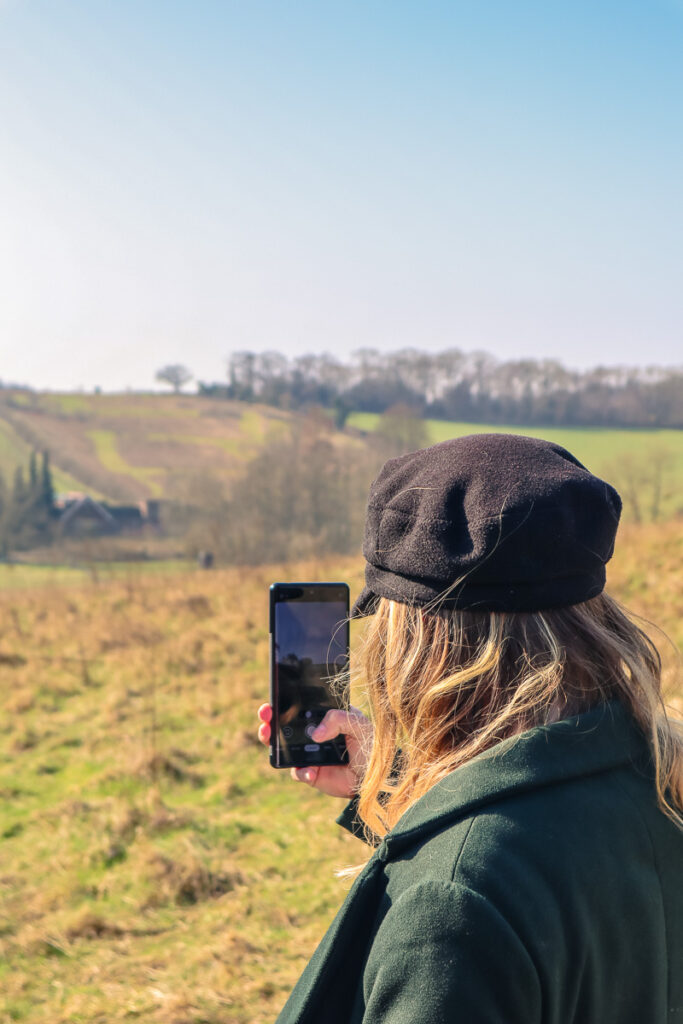 I grew up in Amersham, which is just a short drive away from Chorleywood. Despite being so close, it's a place I hadn't explored much of before… until now! Yep, we've just returned from a little glamping break in the area, and as part of our time we squeezed in a one of the best Chorleywood walks. This circular route passes through the Hertfordshire countryside, taking in views of charming villages and the stunning Chess Valley.
Along with the Chess Valley Walk (one of our absolute favourite routes in this area) we think this is one of the best day hikes from London. Keen to follow in our footsteps? It's time for our guide to the Chorleywood circular walk.
We've got a lot of favourite walks near London, including the Henley circular walk, the Amersham circular walk, the Chess Valley walk and the Ivinghoe Beacon walk. If you're looking to get out and enjoy the great outdoors, be sure to check all of these out too!
---
A Detailed Guide To The Chorleywood Circular Walk
What is the Chorleywood circular walk?
This Chorleywood walk is a circular 9km route (just over 5 miles) which passes through fields, farmland, forests and along the spectacular Chess Valley. It also passes through the picturesque Hertfordshire villages of Sarratt Bottom and Chenies. It crosses over with sections of the Chiltern Way and Chess Valley walk too, so if you've followed those before, you might find a few sections familar.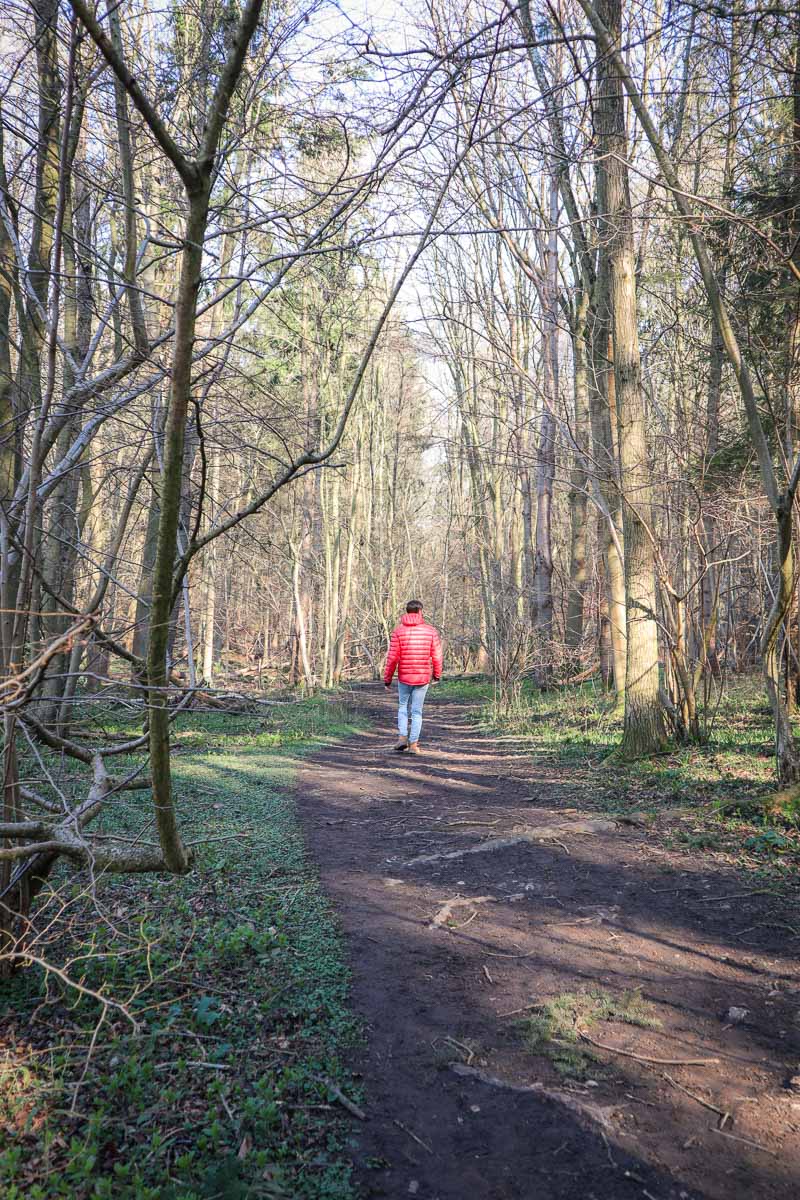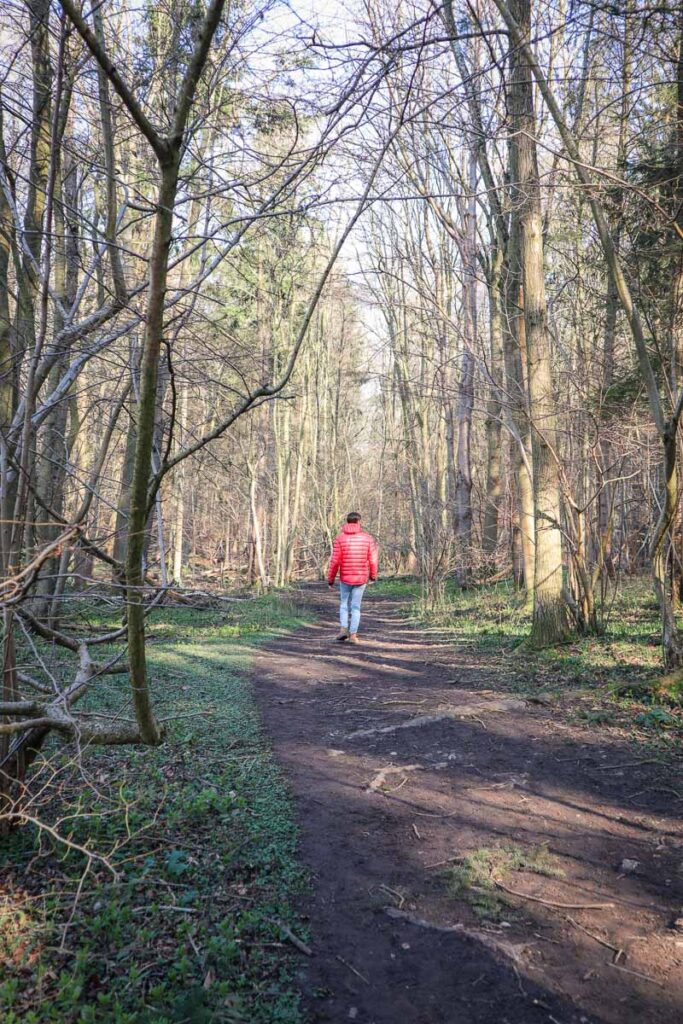 How long does the Chorleywood circular walk take?
The time it takes to do this walk obviously depends on the pace you walk at. We walked reasonably fast, with a 20-minute stop halfway, and it took around three hours in total. There are some hilly sections, so if you struggle with gradients, it is likely to take you around 4 hours (with a short stop).
How to get to the starting point for the Chorleywood circular walk
This walk starts at the Chorleywood House Estate, a 170-acre Estate which is home to a 200-year old manor house. There is plenty of parking available here, free of charge. If you're travelling by car, key in the postcode WD3 5TL.
One of the great things about this Chorleywood walk is that is also easy to reach via public transport. Just catch the train from London Marylebone or Baker Street to Chorleywood Station, then walk for 20 minutes across Chorleywood common to reach the starting point.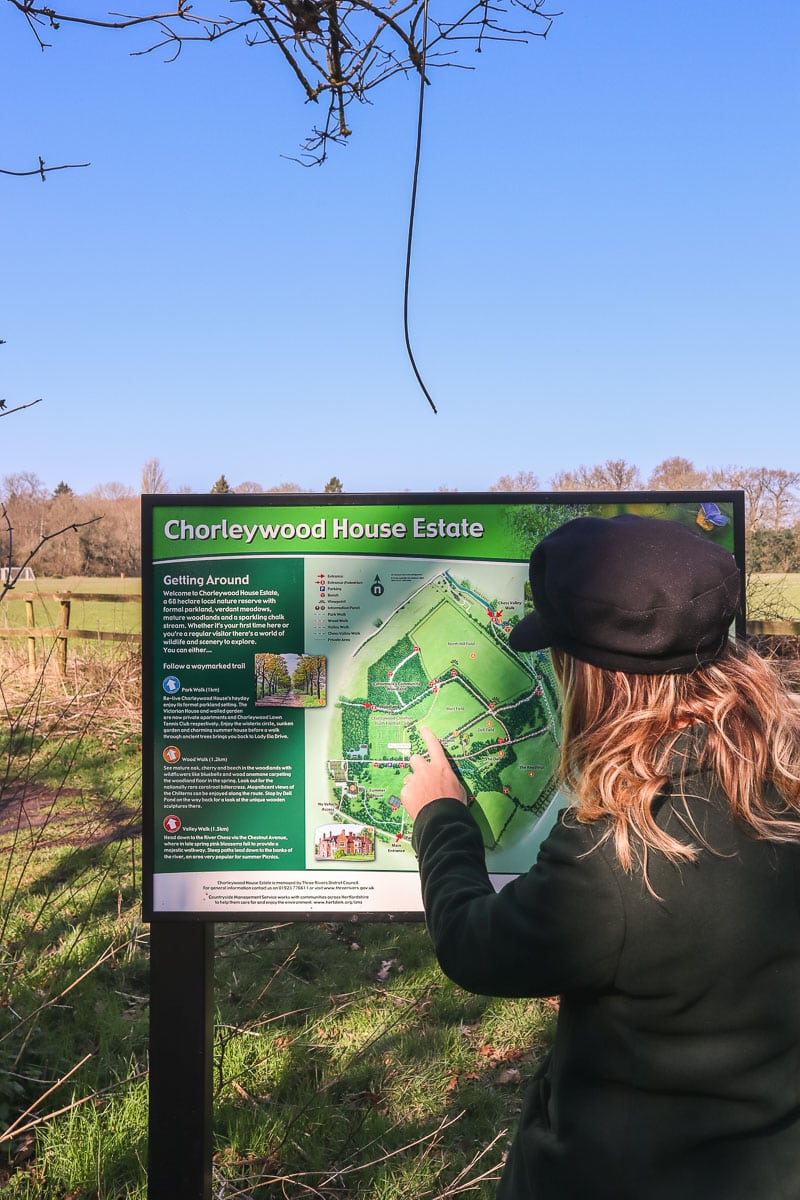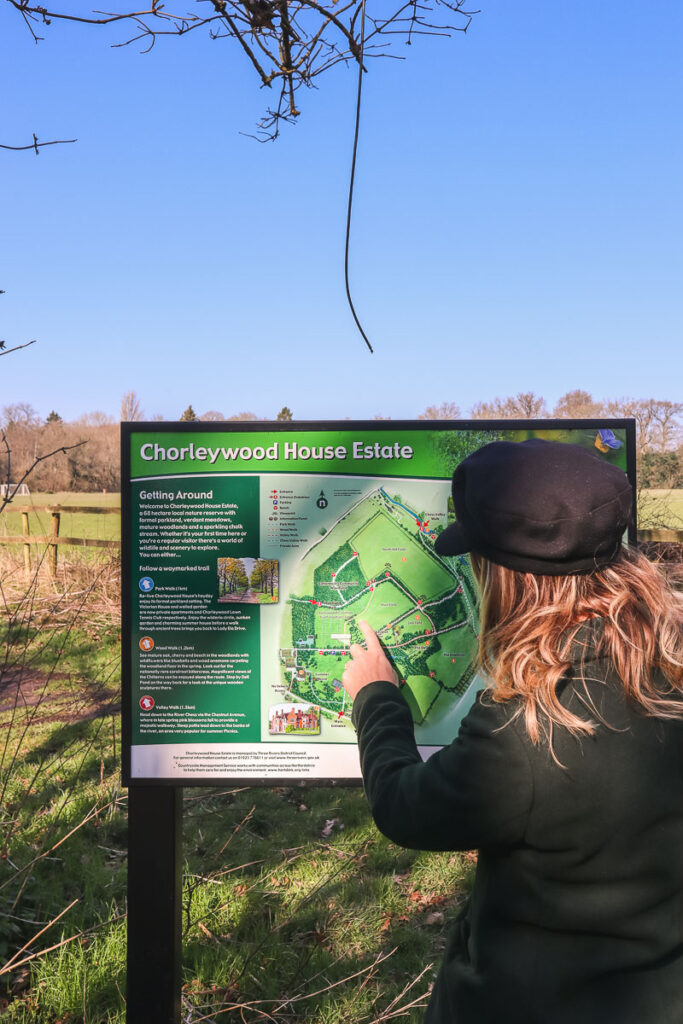 Is the Chorleywood circular walk easy to follow?
This walk is easy to follow, using the map available on AllTrails. We absolutely love this app. It's really handy to have on your phone, plus it uses GPS, so you'll always be able to see where you are on the map.
Highlights of the Chorleywood circular walk
This walk takes you through some incredibly beautiful parts of Hertfordshire, and it's the kind of route where the scenery varies a lot depending on the time of year. We went on this walk during early spring, enjoying bright blue skies and sunshine for most of the day.
Chorleywood House Estate to Sarratt Bottom
After leaving the estate, you'll be out in open fields, with vast country views ahead. This was lush and green when we visited (and a little muddy too!) This first section doubles as the final part of the walk too.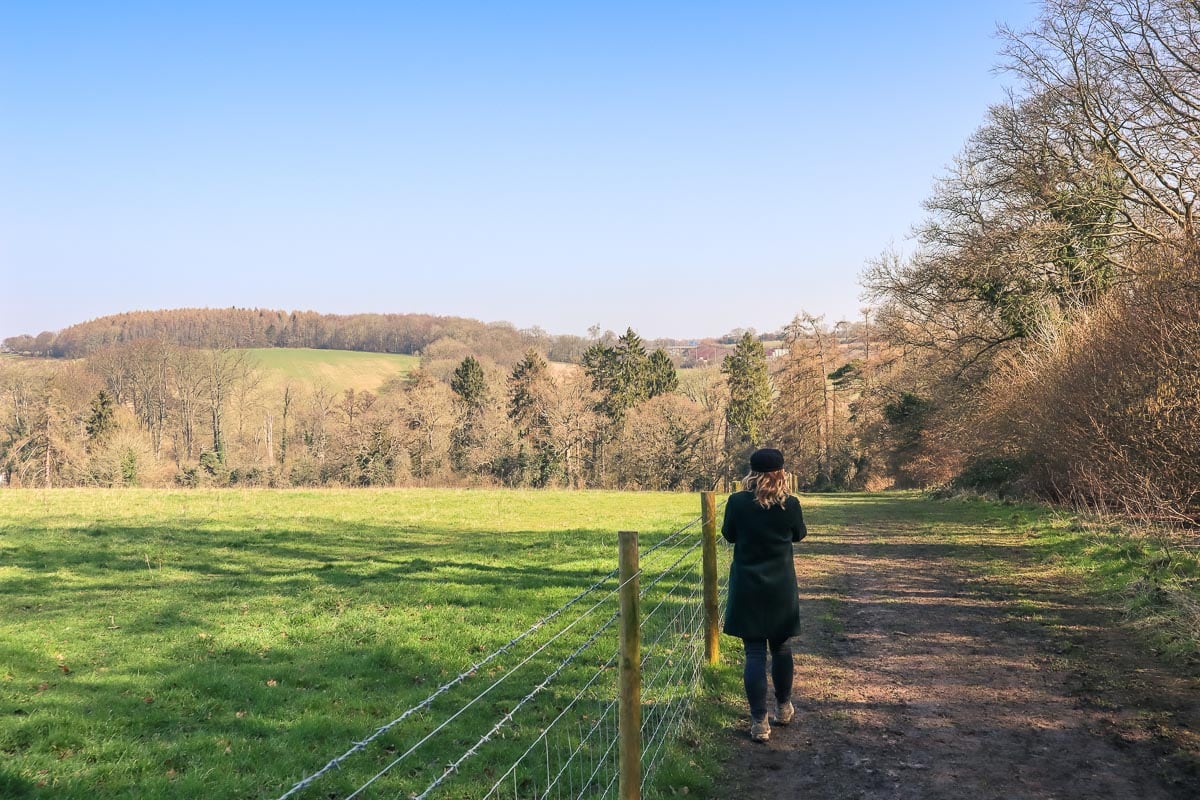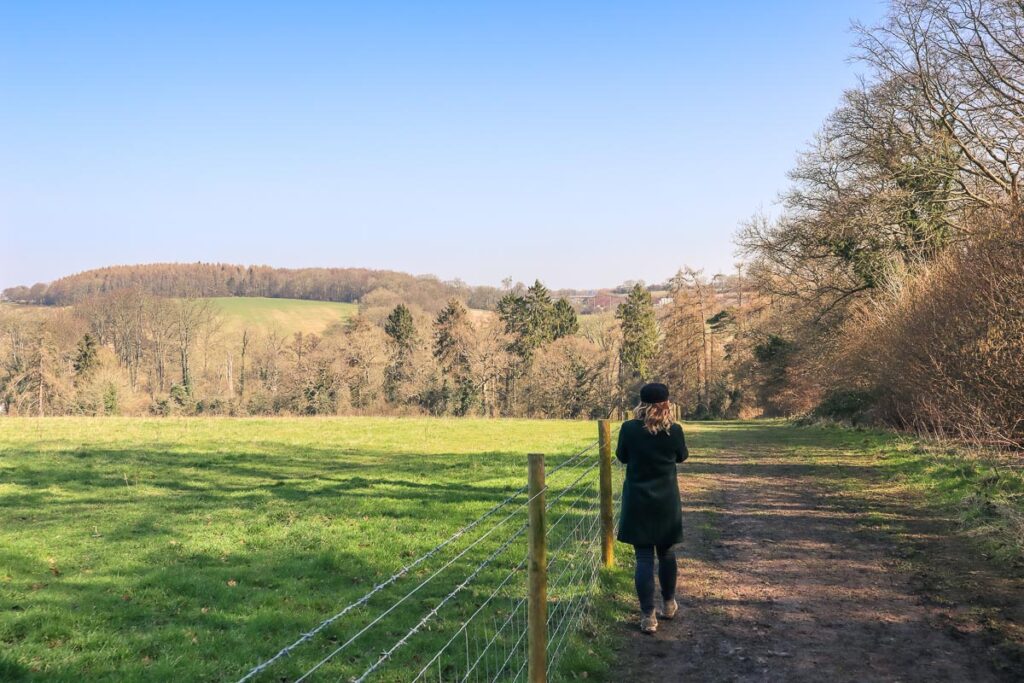 It wasn't long before we emerged at a beautiful pond area, with a wooden bridge over the water. We've visited here once before, as it's also a stop on the Chess Valley Walk. Last time we were here there were kids paddling in the shallow, clear waters.
It was a lot chillier on this visit though, so we resisted the urge to wade in! From here, it's through the field and up the hill, in the direction of Sarratt Bottom.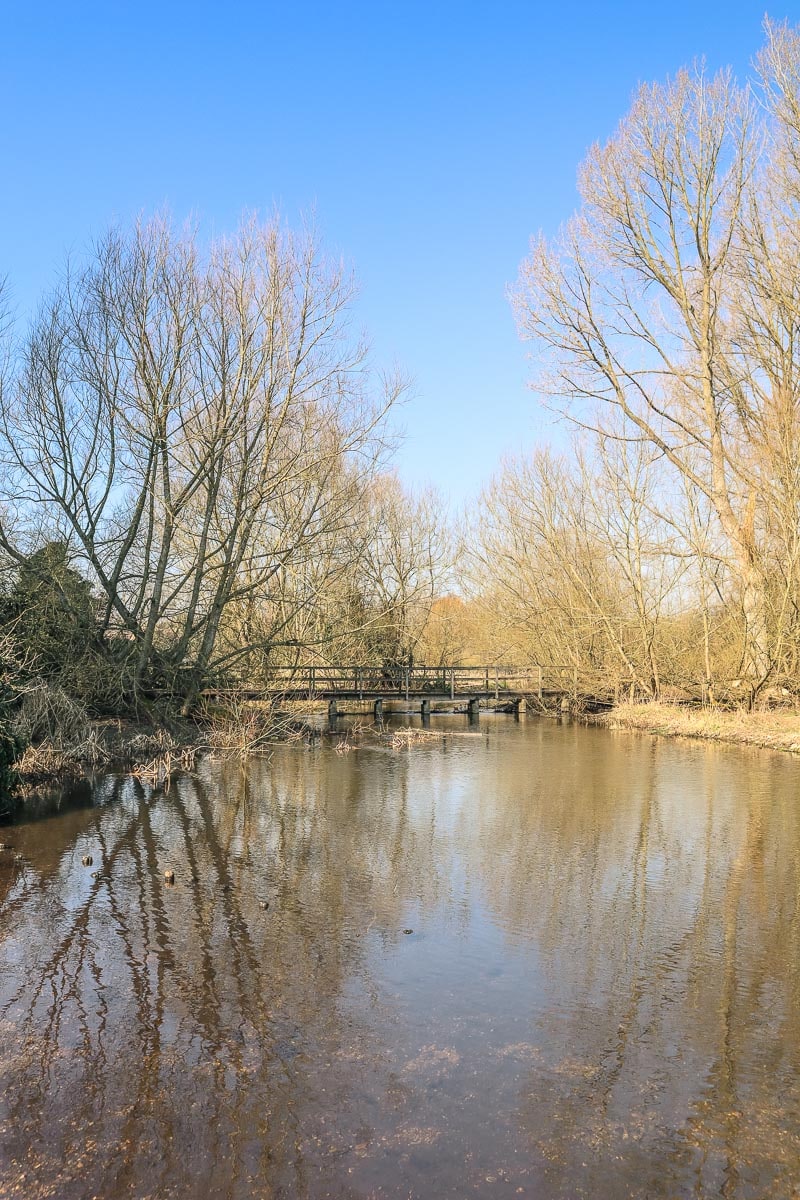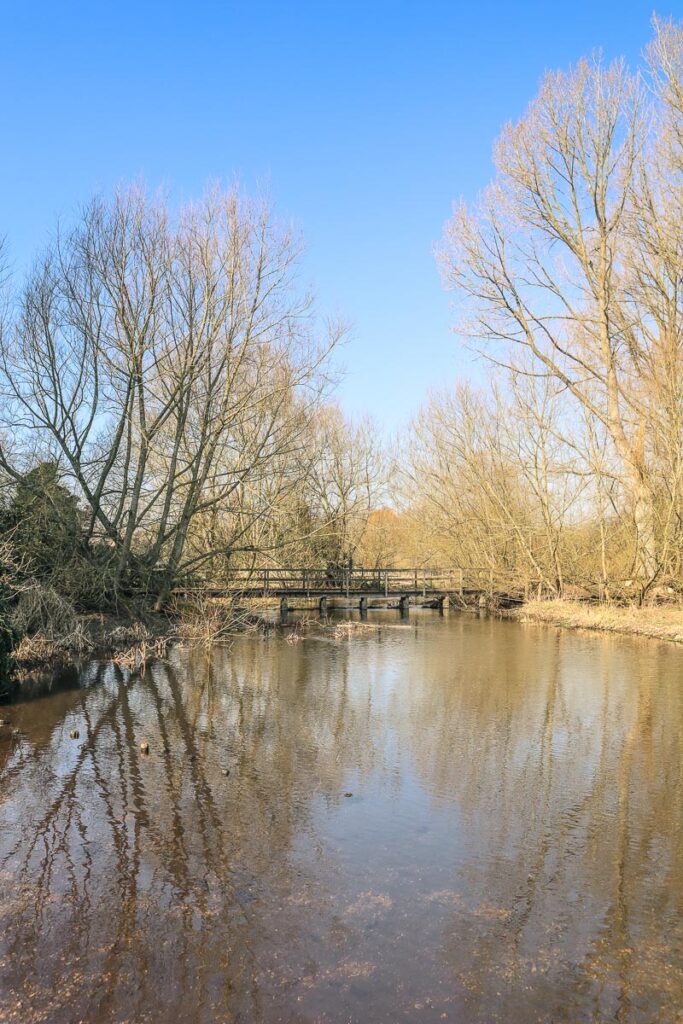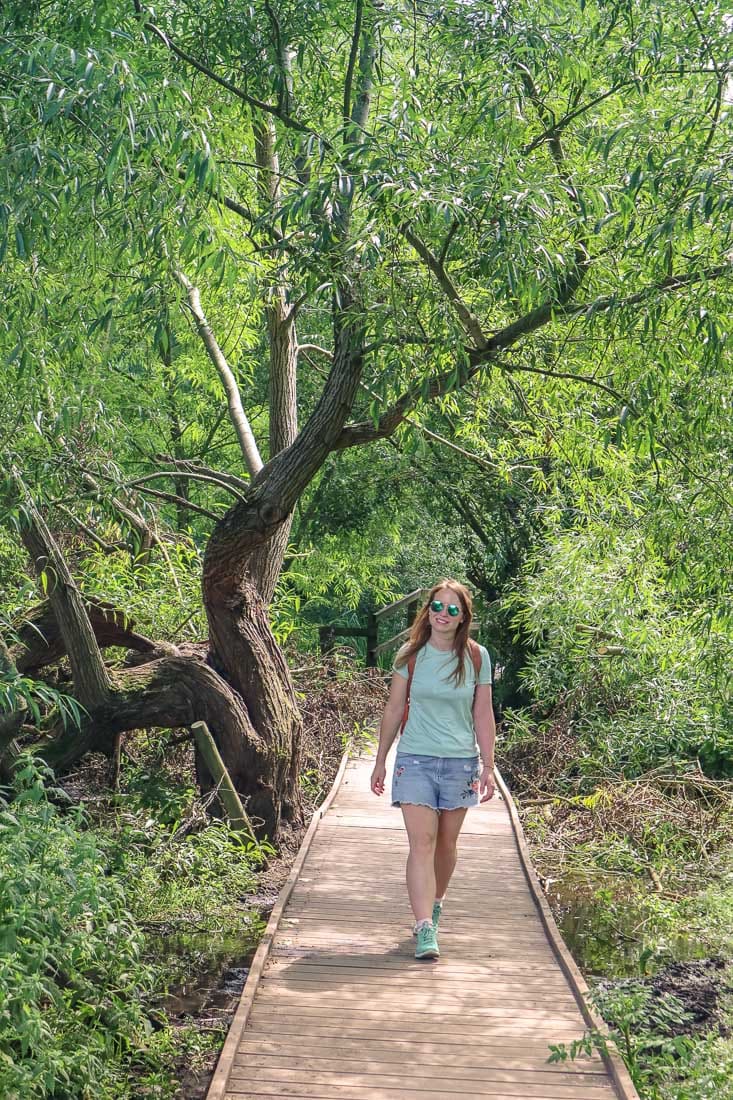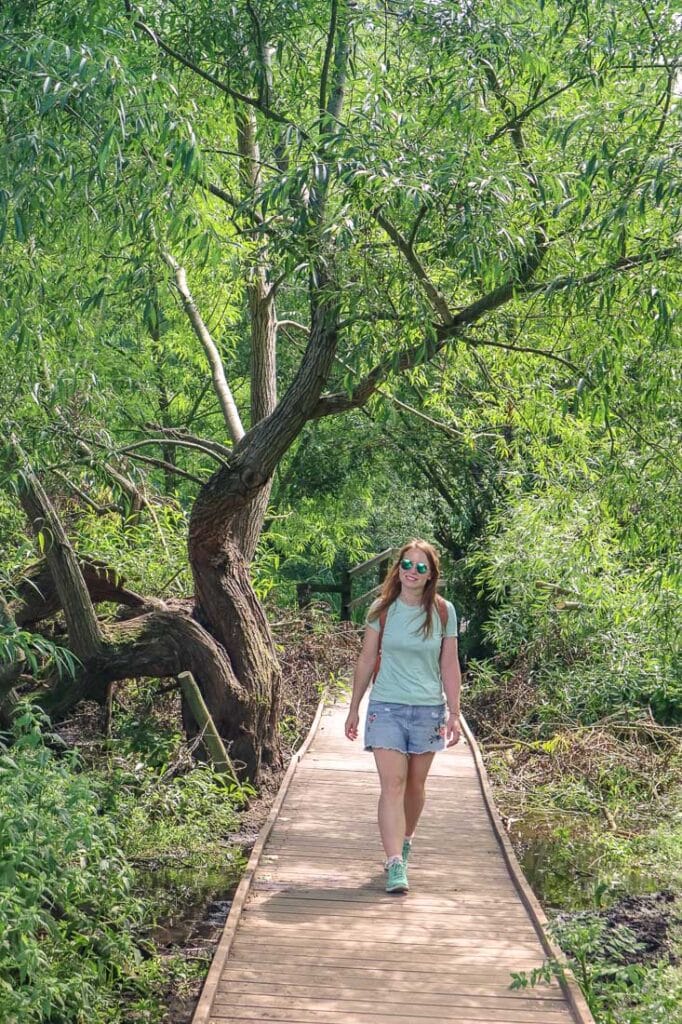 Sarratt Bottom to Chenies
Sarratt Bottom is home to just a handful of houses, a Norman church and a pub, The Cock Inn. This is one of two pubs you'll pass on this popular Chorleywood walk. This pub is a great option if you're looking to stop for lunch or a drink early on in the route. Or, if you want the walk to take the whole day, you could spend an hour here to stretch the experience out.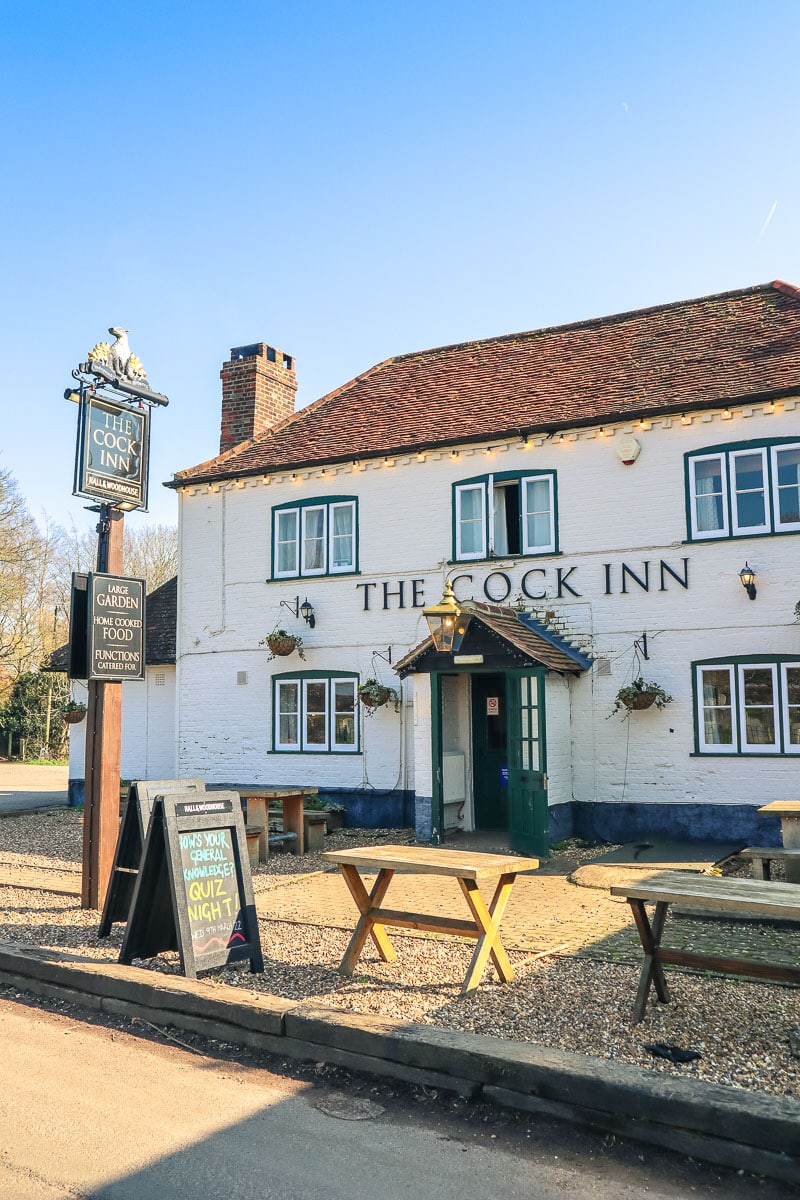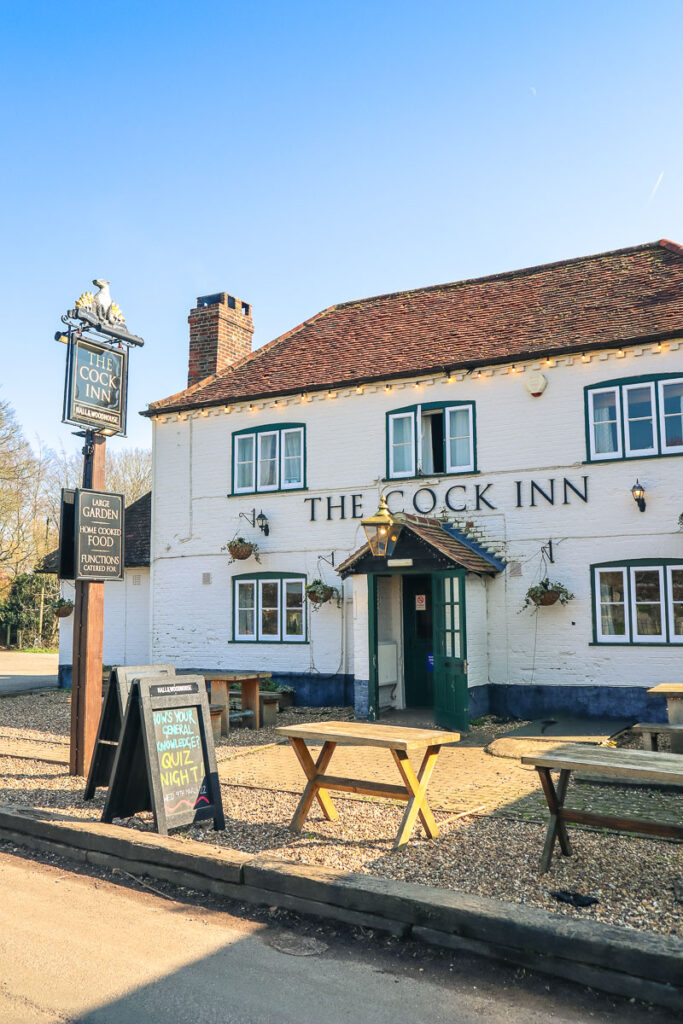 Once you've visited the pub, you'll pass the ancient Holy Cross Church, which is believed by some to stand on the site of a Roman burial ground. Some of the views along this next part were stunning, with tree-lined trails and farmland.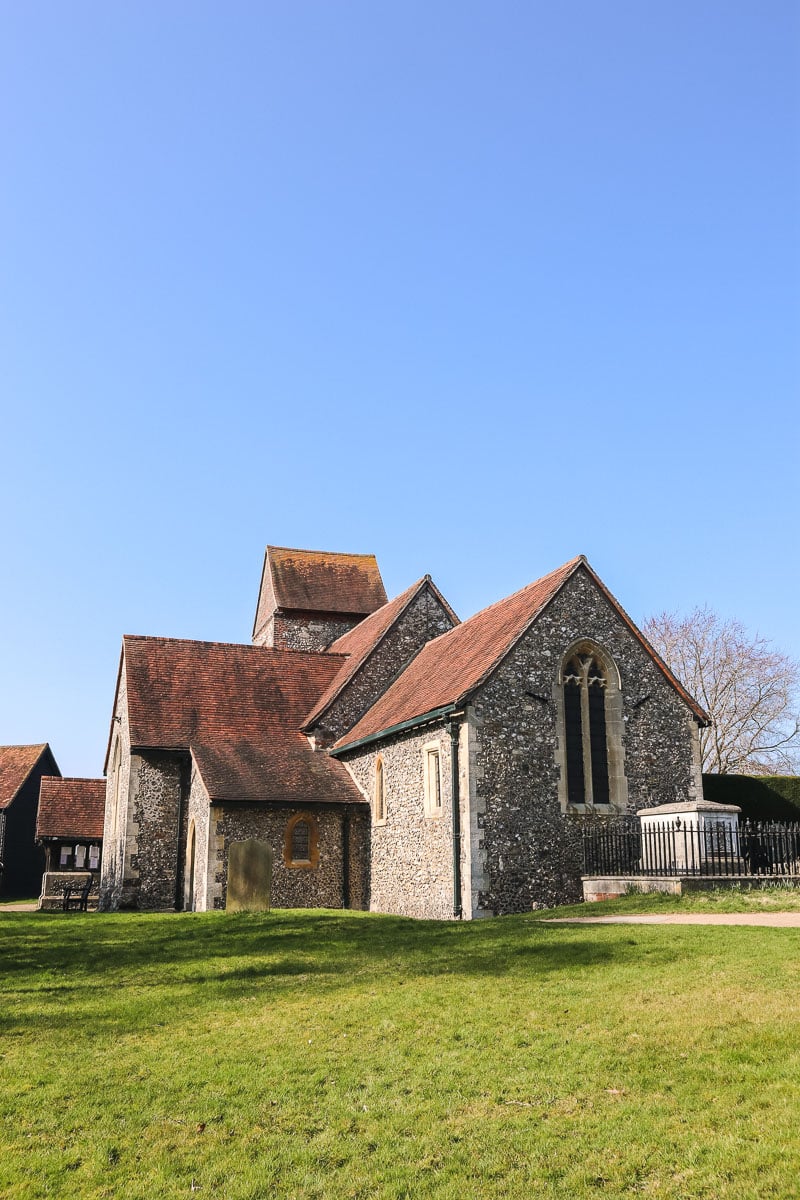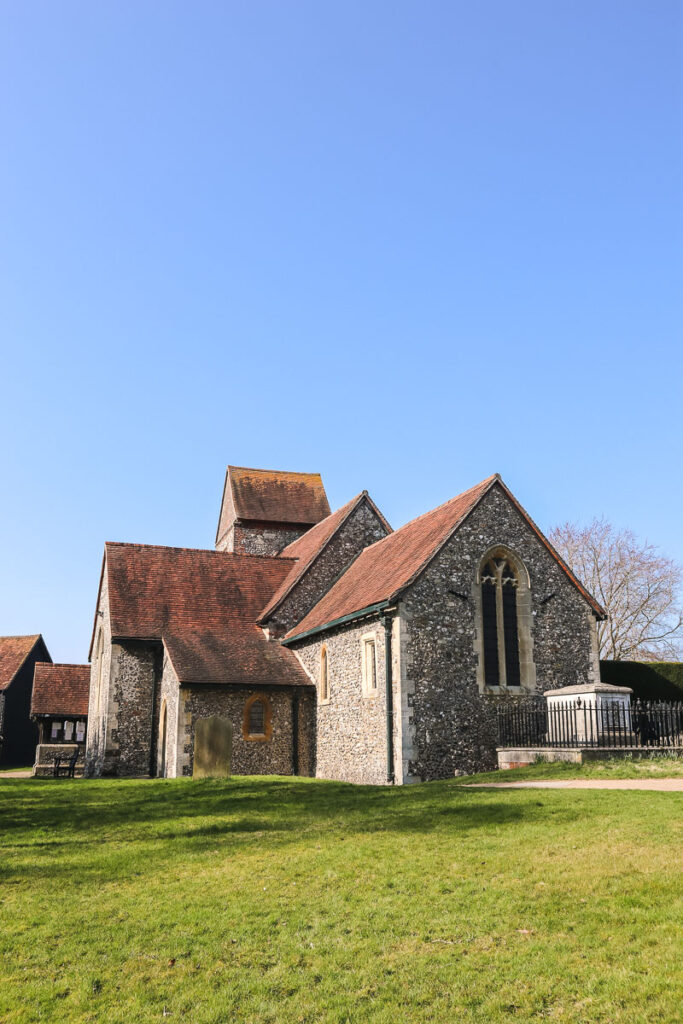 The River Chess has clean, mineral-rich spring water, and we spotted a lot of the watercress growing along this section. During the summer you might even be able to buy some to take home.
After crossing the river, it's time to venture towards another charming village, Chenies. Here the path follows the river for a while, although frustratingly you're separated by a hedge for a chunk of it!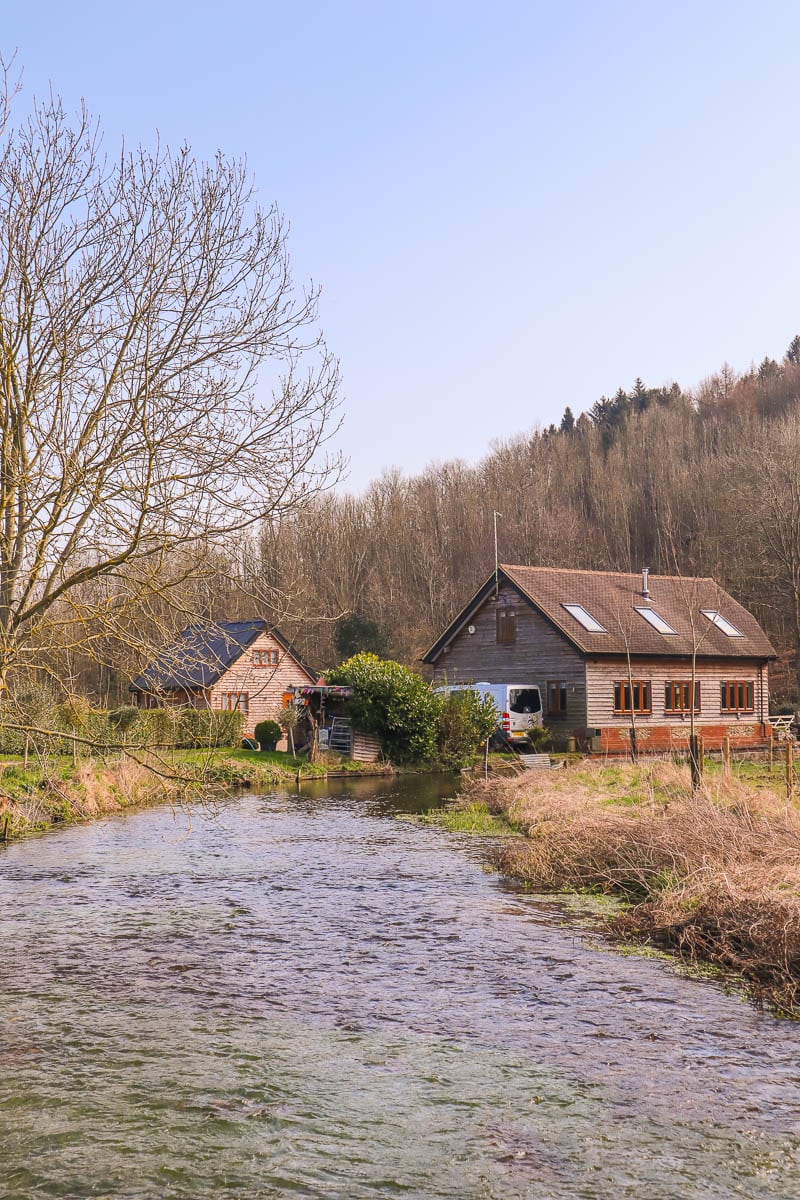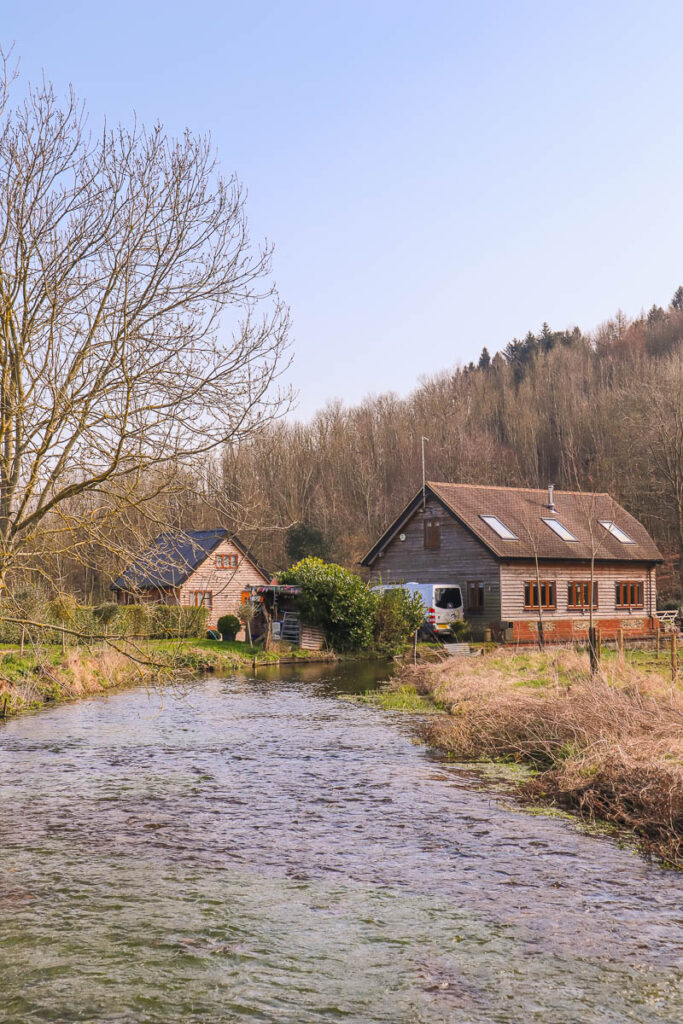 To reach Chenies, we headed up a hill, passing a field with beautiful horses. The trail eventually emerges onto Latimer Road in the village. Even more conveniently, the path is directly next to the village pub, The Red Lion!
Chenies to Chorleywood House Estate
The Red Lion is another of our recommendations if you're looking to stop for lunch or a drink during this walk. This is a 16th-century pub, with a variety of dishes on the menu and lots of local beers available. There's an outside seating area, ideal for warmer days.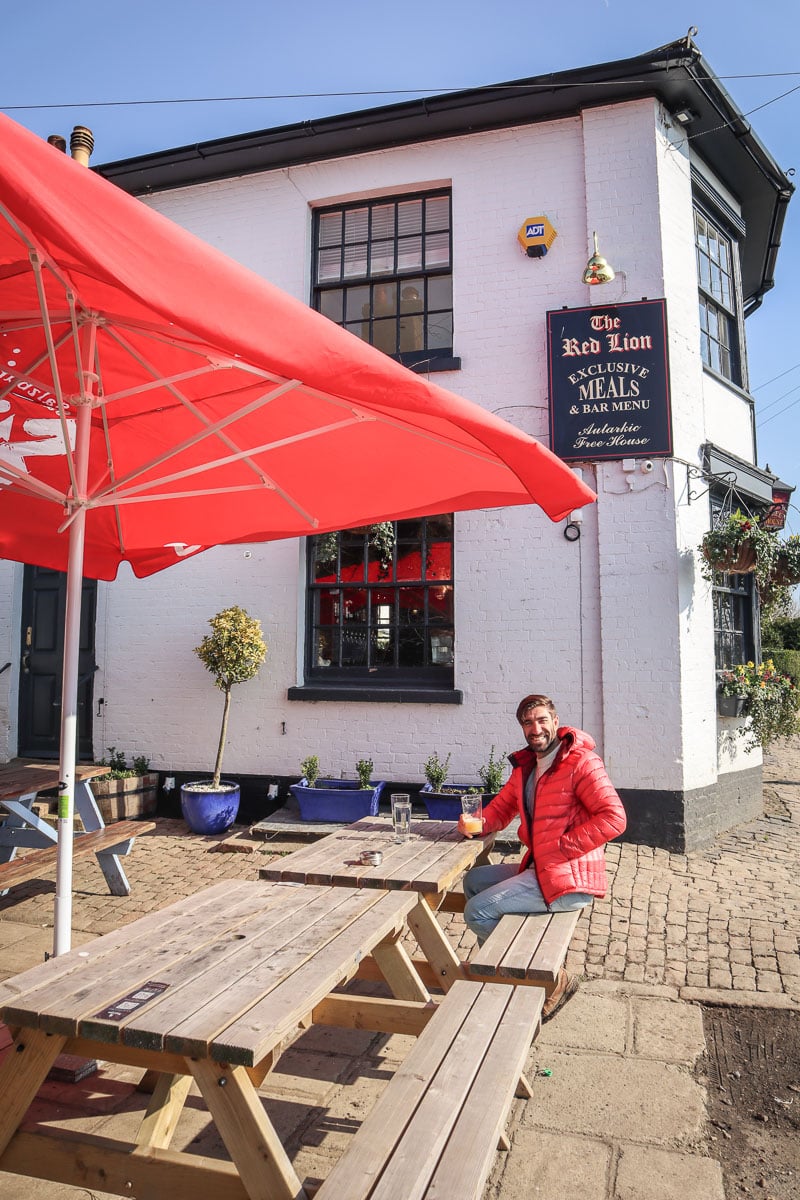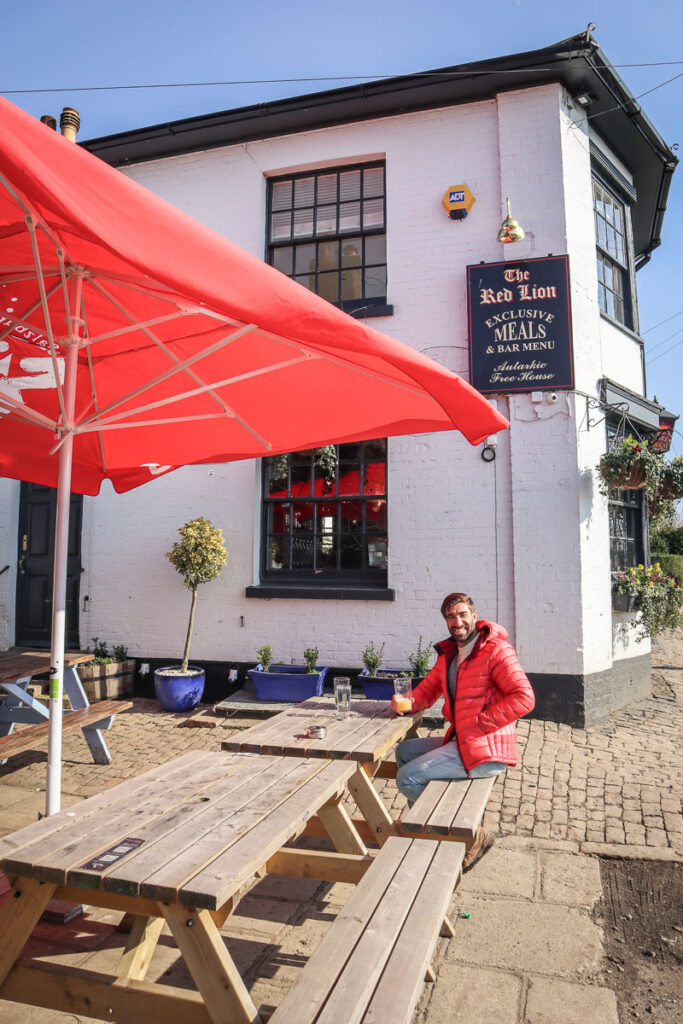 Alternatively, you can take a minor detour at this point and turn right from where the trail emerges, and follow the road along to The Bedford Arms. This is an upmarket pub in Chenies with a larger menu, as well as a few hotel rooms.
For another interesting detour, you could take a trip to Chenies Manor. This beautiful Tudor manor house dates back to the 15th century, and has the most incredible gardens. Lots of people visit each year to see the tulips and dahlias in season, and there are plenty of opportunities to buy plants to take home too.
We had a drink at The Red Lion, and then continued our walk. The next part involved turning left down another trail, which led to a beautiful woodland area (Turveyland Wood). I really enjoyed this part of the route, as it was so different to the scenery we'd seen so far.
Eventually the trail continues towards the River Chess, where you cross the water again, before joining a path that runs in parallel to one you follow in an earlier part of the walk. I particularly enjoyed the section that passes Sarratt Mill, where there's a wide stretch of water on your right, and the impressive white manor house (Goldingtons) up on the hill to your left.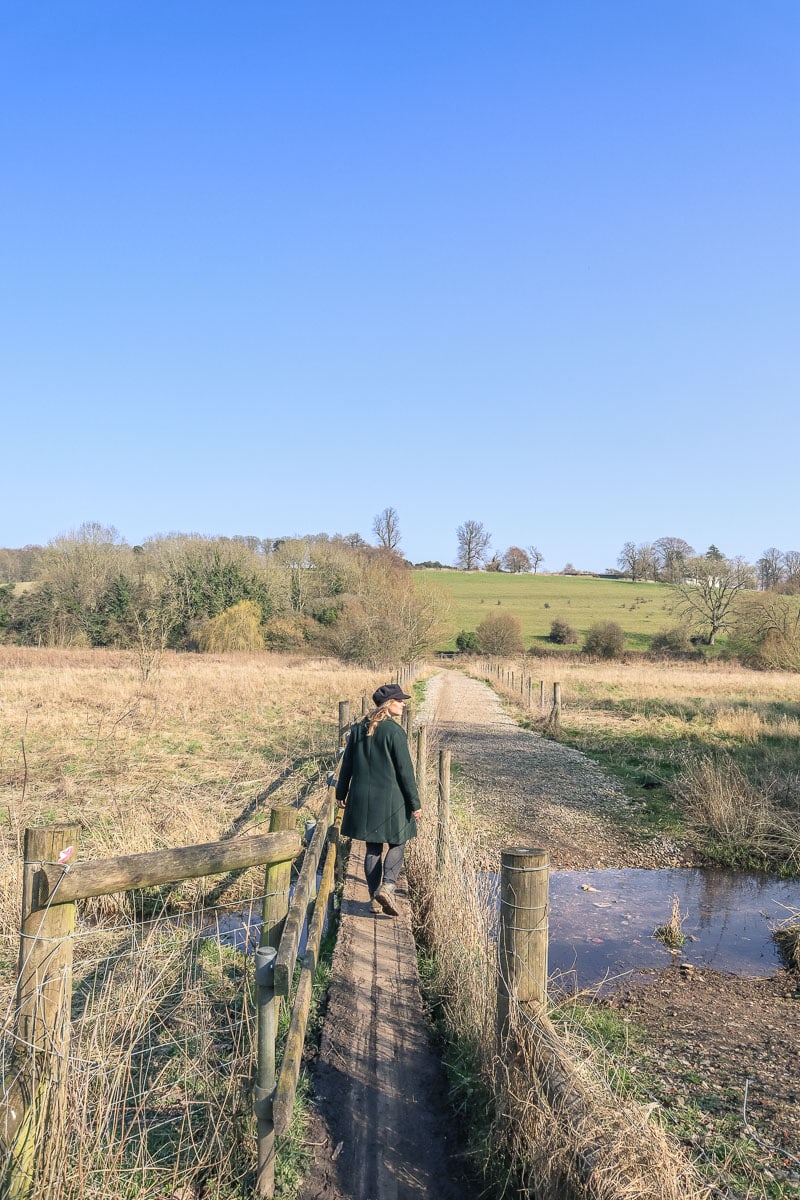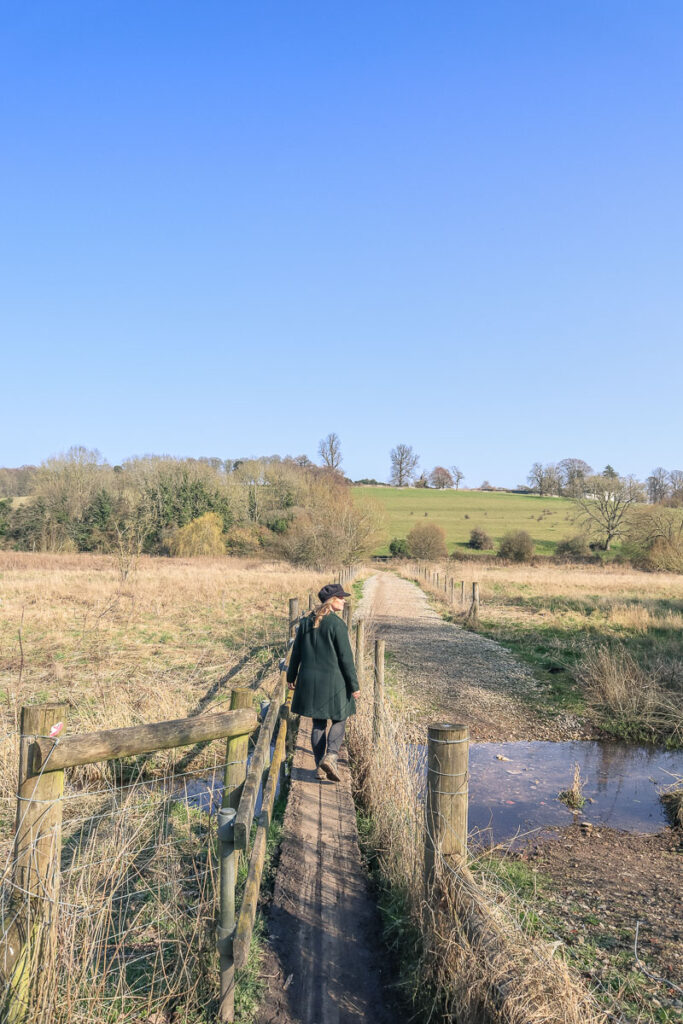 Not long after this, you re-join the original path, crossing the wooden bridge by the pond area, and then cross back up the fields to Chorleywood House Estate.
---
Suggested places to eat and drink along the Chorleywood circular walk
Here are a few suggestions of pubs and restaurants which are close to the route. Some require booking in advance.
This route passes by this historic country pub, which is directly opposite Sarratt's Norman church. Enjoy a drink in the 17th century bar area or enjoy lunch in the Old Barn Restaurant. This is a pub with standard pub classics, including fish and chips, burgers, pasta and pies, plus a special vegan menu.
This would be my top recommendation if you're looking for a pub to stop at for lunch. It's only a 2-minute detour and is around half way through the route. It also gives you the chance to see the pretty village of Chenies.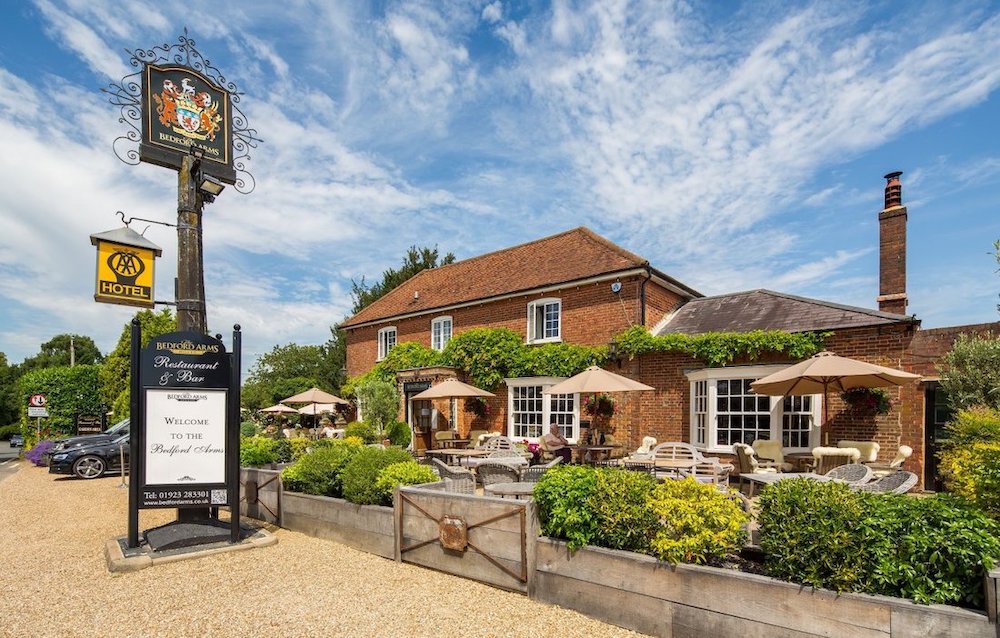 The menu at The Bedford Arms has something for everyone, but it's the building and location that's really special. The main building dates back to 1842. It also has a lovely garden if you fancy sitting outside in the sunshine.
Another pub option if you want to break up your walk with a stop in Chenies. We stopped here for a refreshing drink halfway along the route. I've heard they serve a great Sunday roast if you're planning to visit at the weekend.
There are also plenty of pubs in Chorleywood if you fancy starting or finishing your day with a drink or a bite to eat.
---
Where to stay for the Chess Valley Walk
While this is a really great walk to do on a day trip from London, you could combine it with an overnight stay. After all, this is an area of outstanding natural beauty, so why not soak it up for a little longer! Here are a few accommodation options nearby.
I've already recommended The Bedford Arms as one of the best pubs along the route, but it is also home to 18 bedrooms. There are twin, double, family or four-poster suites, including one with a Jacuzzi. If you fancy breaking the walk up with an overnight stay, this is in a good location, approximately half way along the route.
Check availability and latest prices here
If you're looking for somewhere extra special to stay, this luxury hotel is set in 30 acres and overlooks the Chess Valley.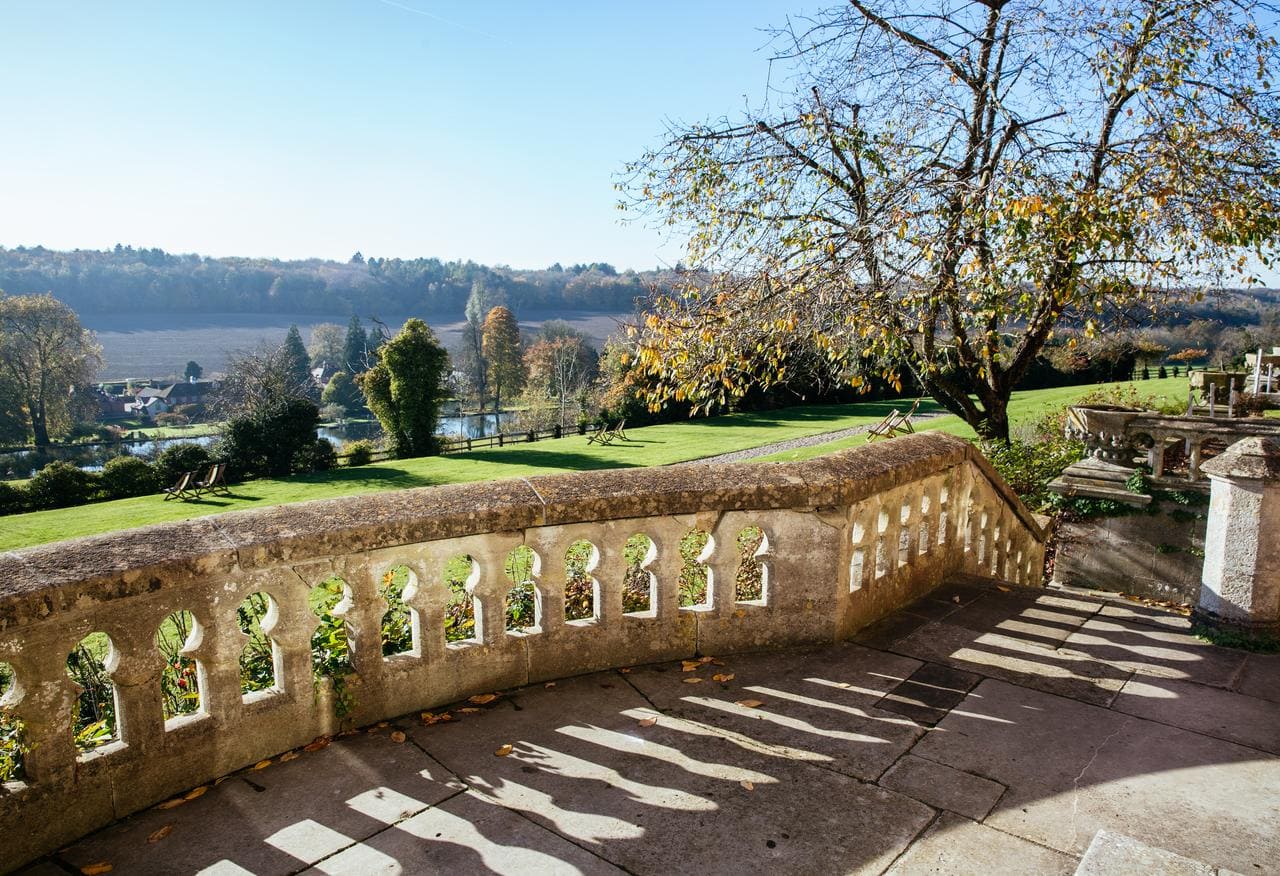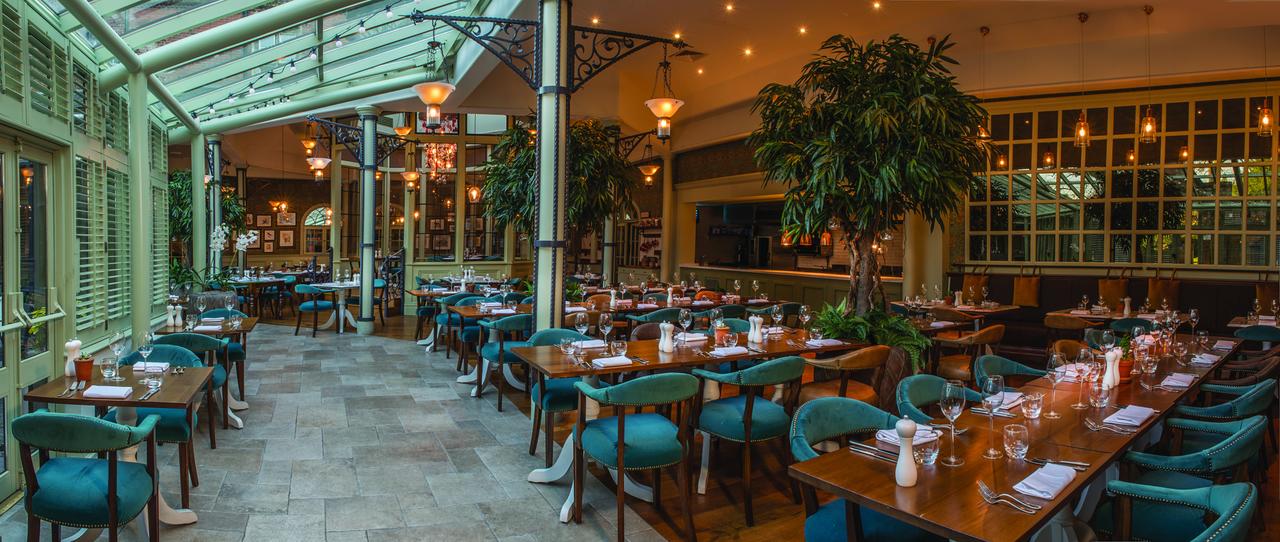 As well as chic rooms, a restaurant and bar, there's an indoor pool and sauna. What better place to truly relax and unwind after all that walking?
Check availability and latest prices here
If you love quirky accommodation, check out the creative and fun glamping options at North Hill Farm in Chorleywood. This walking route actually passes very close to the farm, so this is a great option!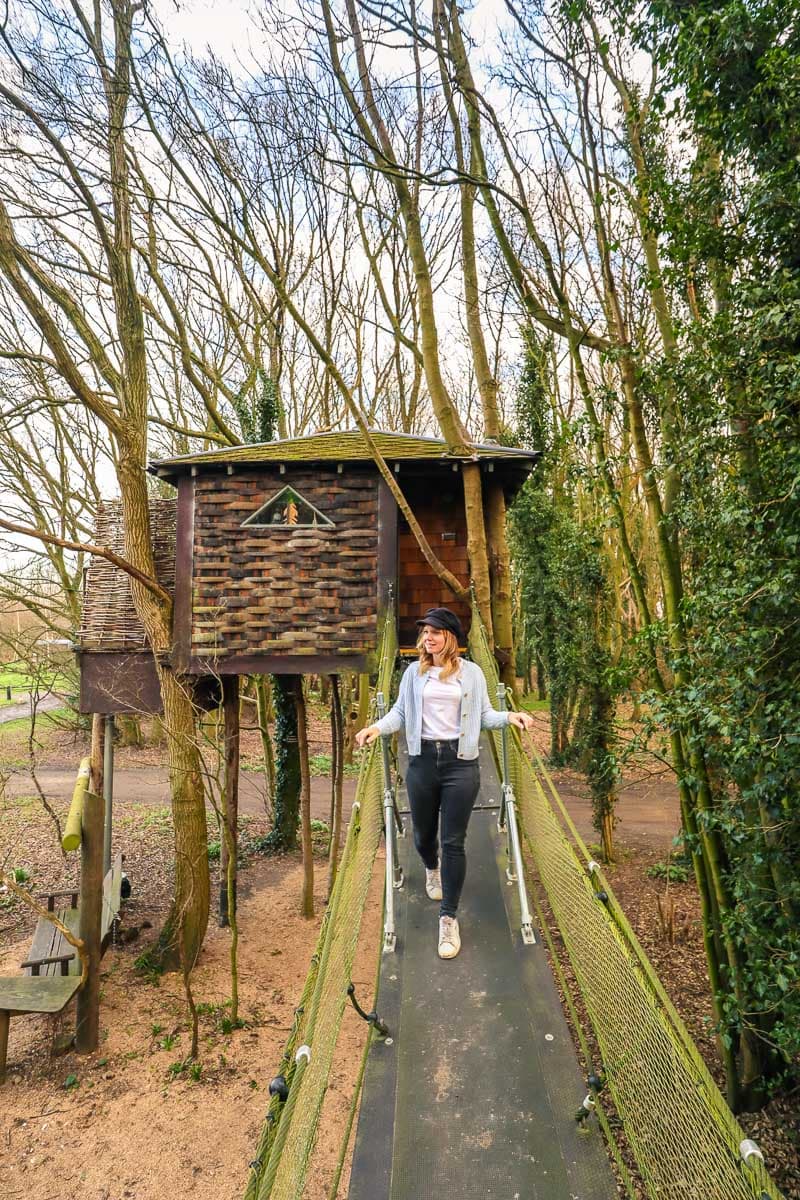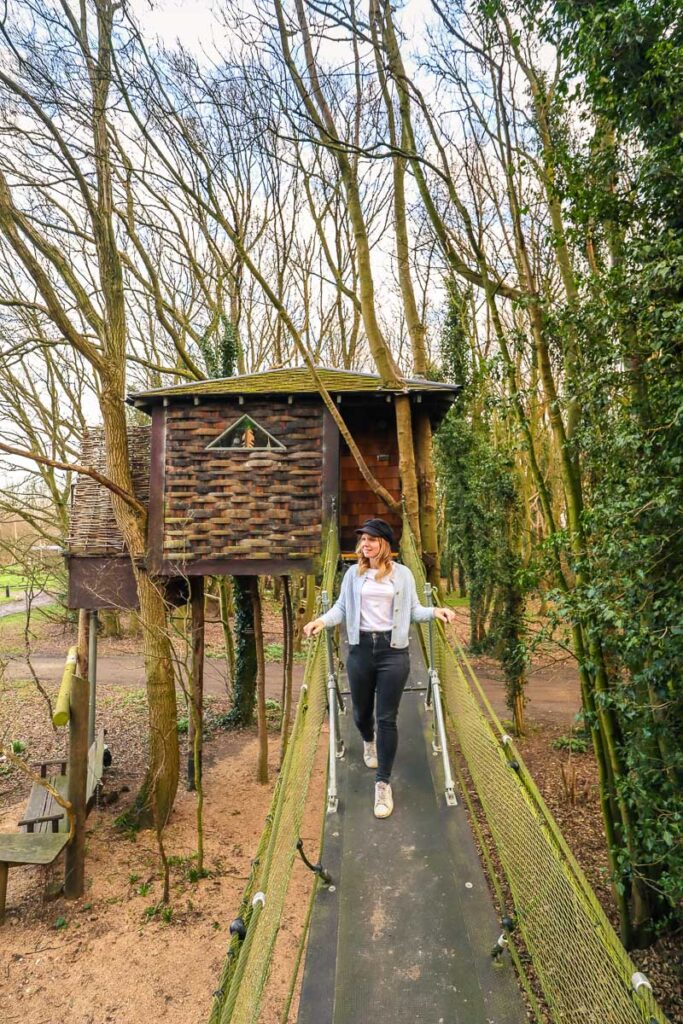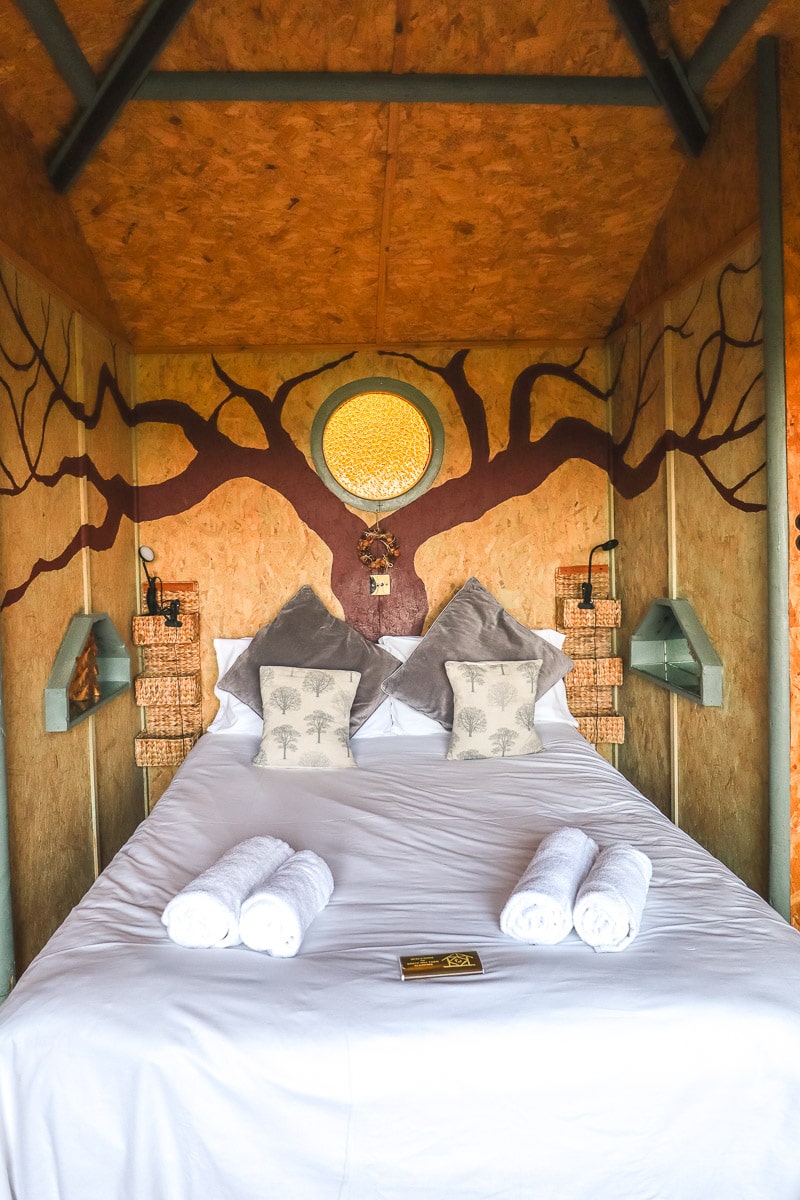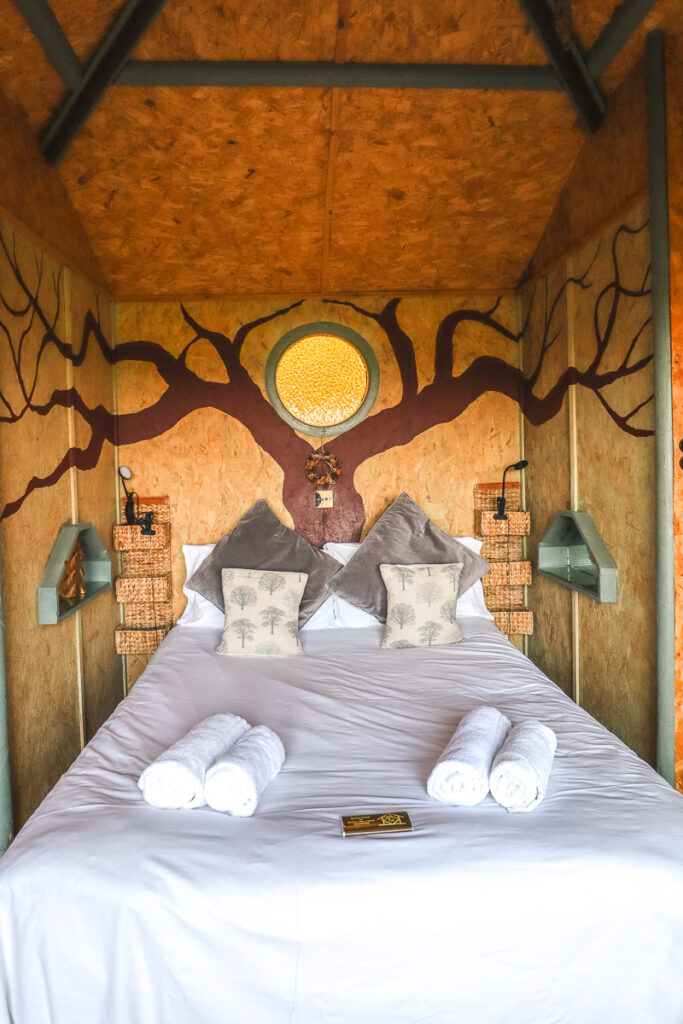 You'll find treehouses, a shepherd's hut and even a beehive! We stayed in the 'Squirrel Run' treehouse, which has a hot tub right out on the balcony. It was a lovely, unique place to stay, and we loved waking up to the sounds of the birds.
Check availability and latest prices here
---
Final tips if you're planning to follow any Chorleywood walks
If this is your first time walking this route, here are a few tips…
Pack some water as you won't pass by any shops on the route. Obviously there are a few opportunities for a drink at a pub along the way!
If you want to stop for lunch along the route, I'd recommend booking a table in advance. Also, note that some of the pubs have limited opening days or hours. Most of them are located in sleepy villages after all!
If you're doing the walk in the rainier months, wear wellies or walking boots and prepare to get muddy. Some of the paths were quite slippery when we visited in early spring, especially on the steep sections!
---
I hope you've found this guide to the Chorleywood circular walk useful. We loved it, so I'm sure you will too! If you're looking for shorter walks in this area, you could simply explore Chorleywood common and the woodland around it. It's also very beautiful and a great area for kids to run around!
If you're looking for other great day hikes from London, have a read of our guides to the Henley circular walk, the Amersham circular walk, the Beachy Head lighthouse walk and the Ivinghoe Beacon walk.