Stunning countryside, beautiful river views and a charming pub make this Henley circular walk one of the best walks in Henley-on-Thames.
If you're looking for a great country walk that's within easy reach of London, we've got the ideal route for you. This week we took a trip to the picturesque town of Henley-on-Thames and set off on a 13.5km loop through the countryside.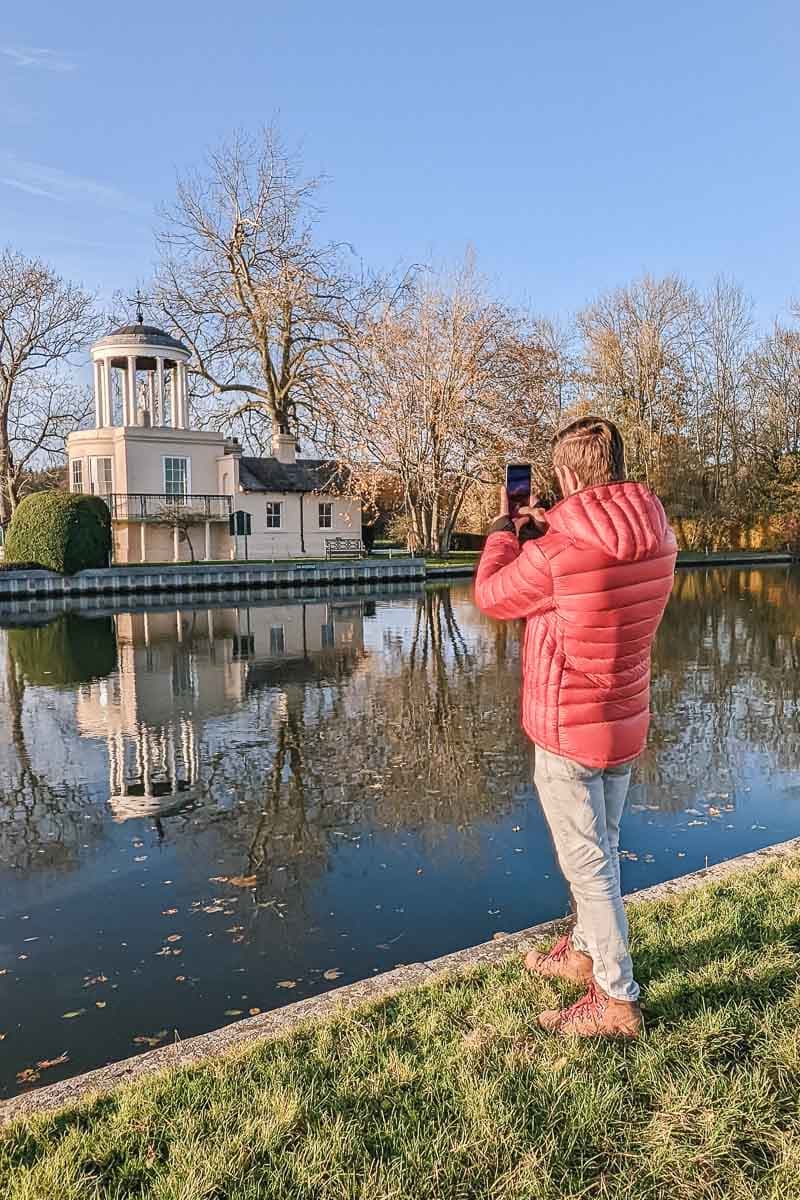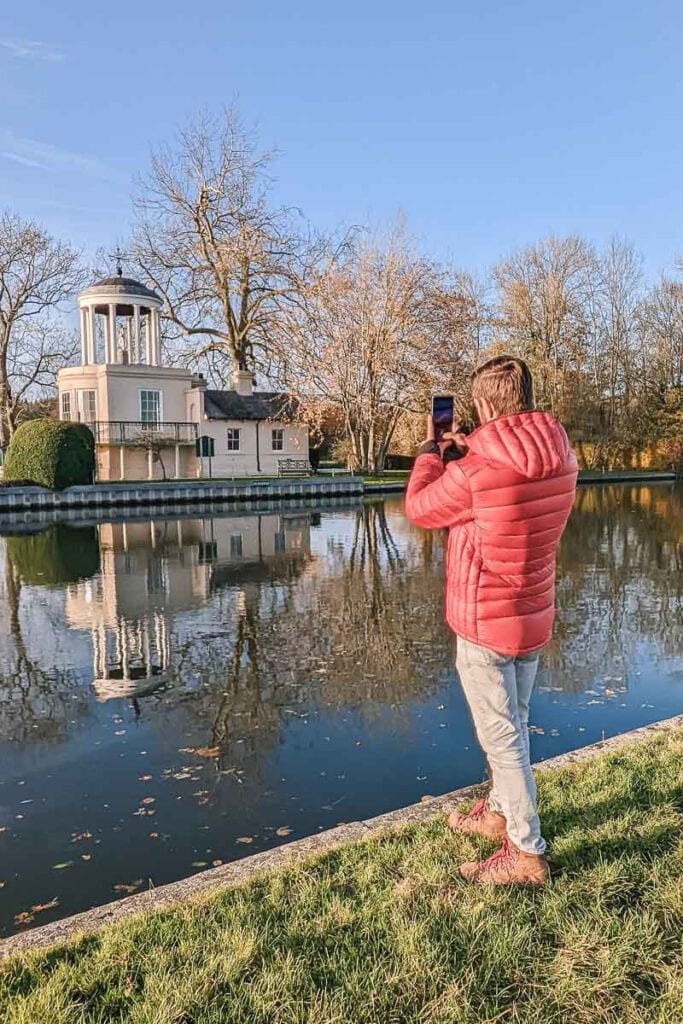 The route takes you from the town (famous for its regattas) through woodland, nature reserves and countryside, before reaching the adorable village of Hambledon. After that, it's time to venture back towards the Thames, passing the famous Temple Island before arriving back in Henley.
After the success of our walking guides to the Chess Valley walk, Epping Forest, Pendle Hill and Beachy Head, we decided it was time to plot out another great route so that you can follow in our footsteps.
This is one of the closest day hikes from London and is easy to reach by train or car. So, whether you're looking for a route to follow this weekend, or want to save this for future inspiration, we hope you enjoy our detailed guide to the Henley circular walk.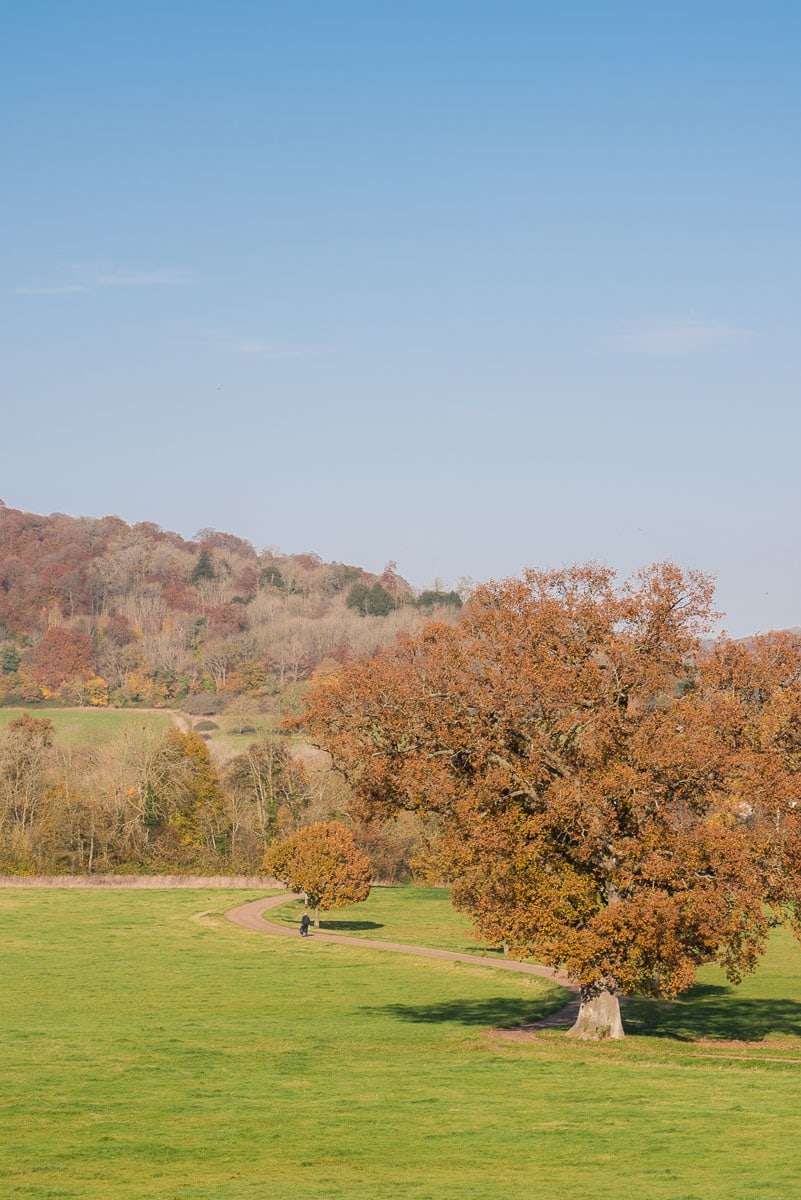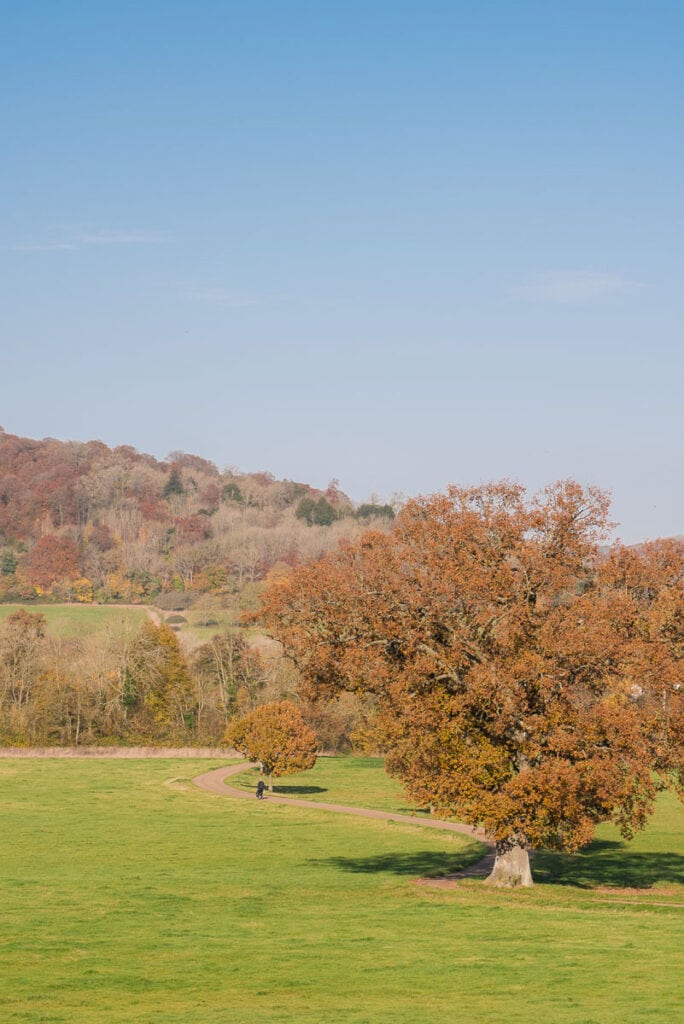 ---
What is the Henley circular walk?
This is one of the best walks in Henley on Thames. The 13.5km walk takes you from the centre of Henley, through Aston, across Hambledon Lock and Weir and to Hambledon village, before following the Thames Path back to Henley. It passes through woodland, over a Roman villa complex and meanders along a pretty pathway by the Thames where you'll see rowers practising their skills.
It's a convenient route as it starts and ends in Henley-on-Thames where there are lots of places to eat and drink. Plus, the halfway point happens to be in Hambledon, where there's a great option for a pub lunch.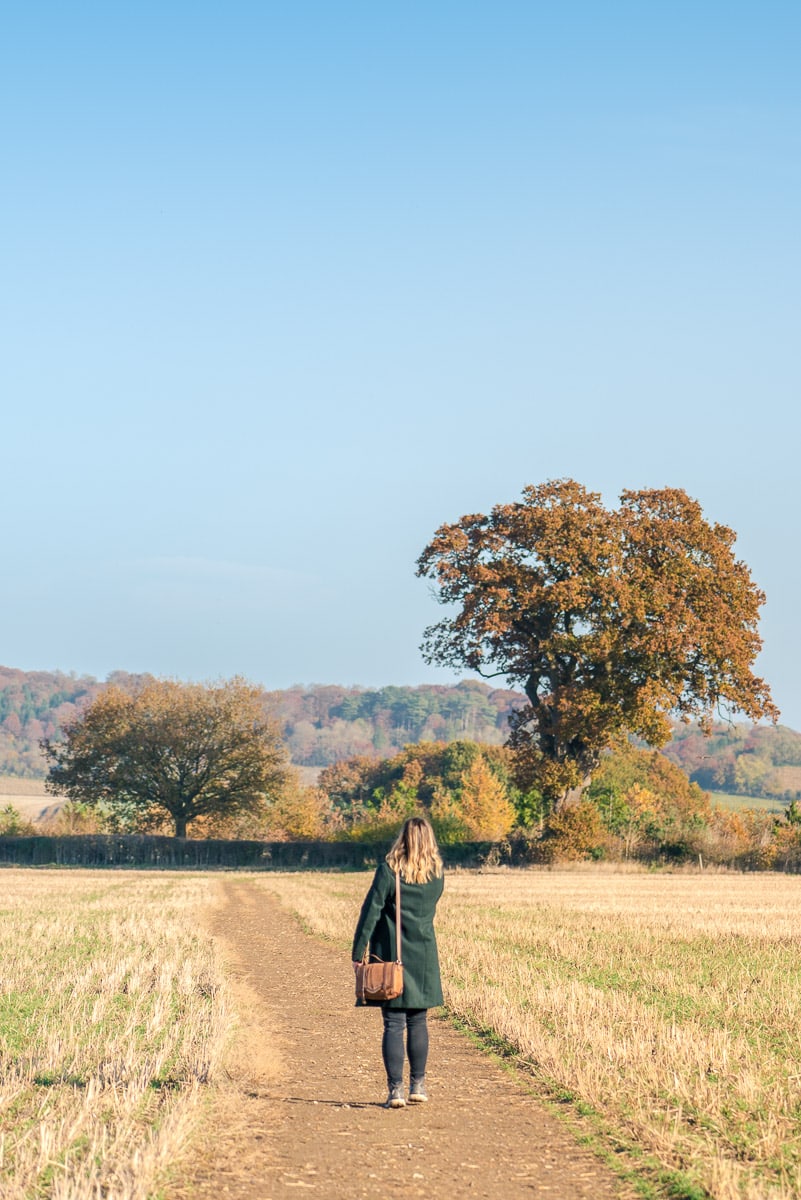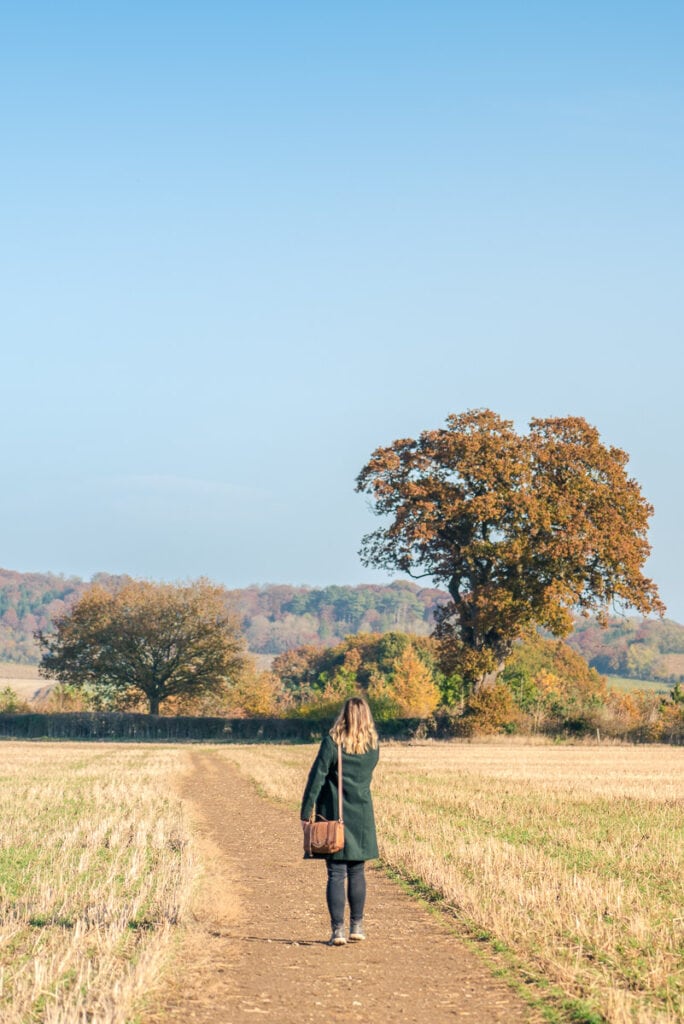 How long does the Henley circular walk take?
This 13.5km walk took us just over three hours to complete (not including our pub stop in the middle). We went at a reasonably quick pace, although we stopped to take lots of photos! I'd allow around four hours.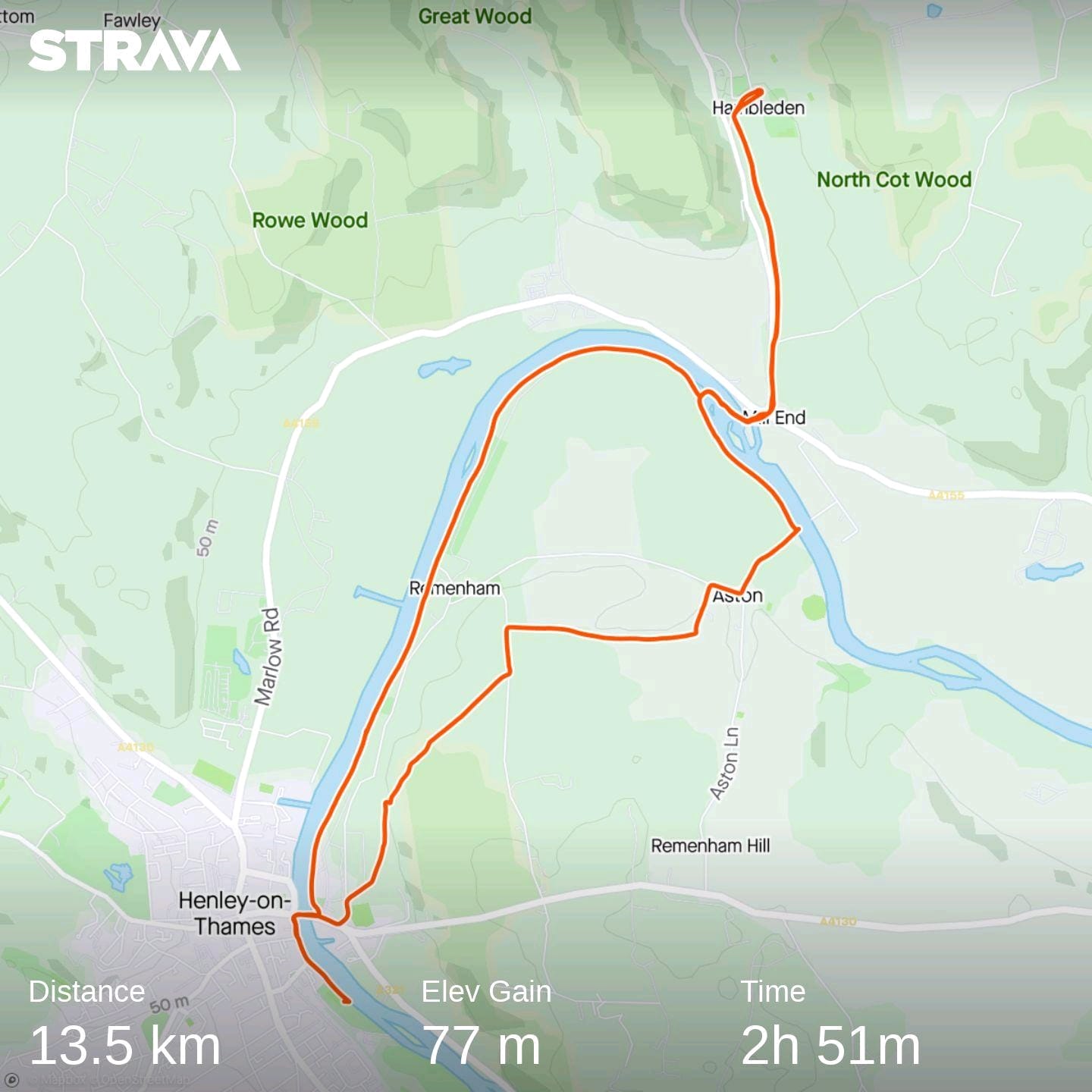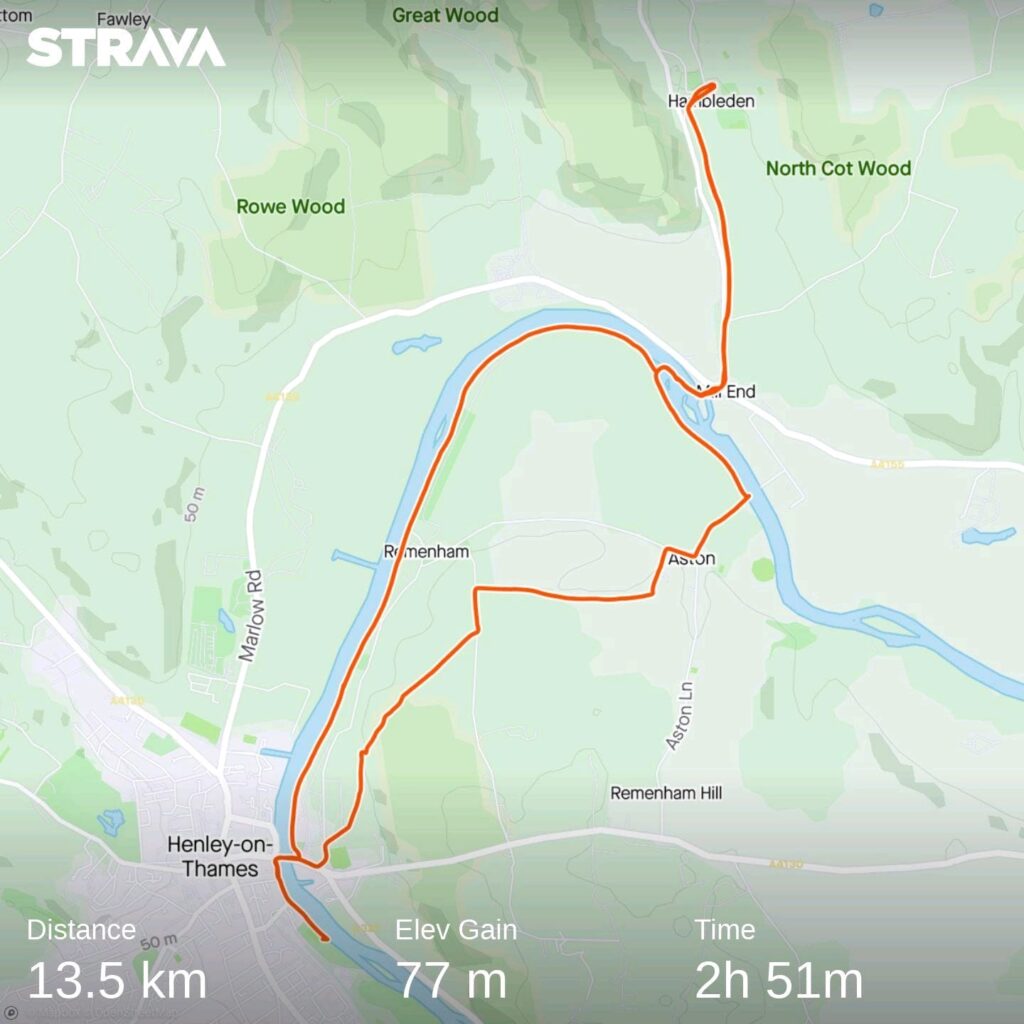 Where is the Henley circular walk?
This walk starts in Henley-on-Thames, which is 37-miles west of London in Oxfordshire, close to the borders with Berkshire and Buckinghamshire. Once you reach the village of Hambledon, you'll be in Buckinghamshire, on the edge of the Chilterns.
How to get to the Henley circular walk
We love this walk because it starts and ends at a train station. It's easy to reach whether you're travelling by public transport or driving.
You can catch a train from London Paddington to Twyford (40 mins) then change and travel three stops (12 mins) to Henley on Thames. When I checked you could get a day return for around £18.
Alternatively, you can drive to Henley and park at the station or Mill Meadow Car Park (Postcode: RG9 1BE). There are toilets at this car park.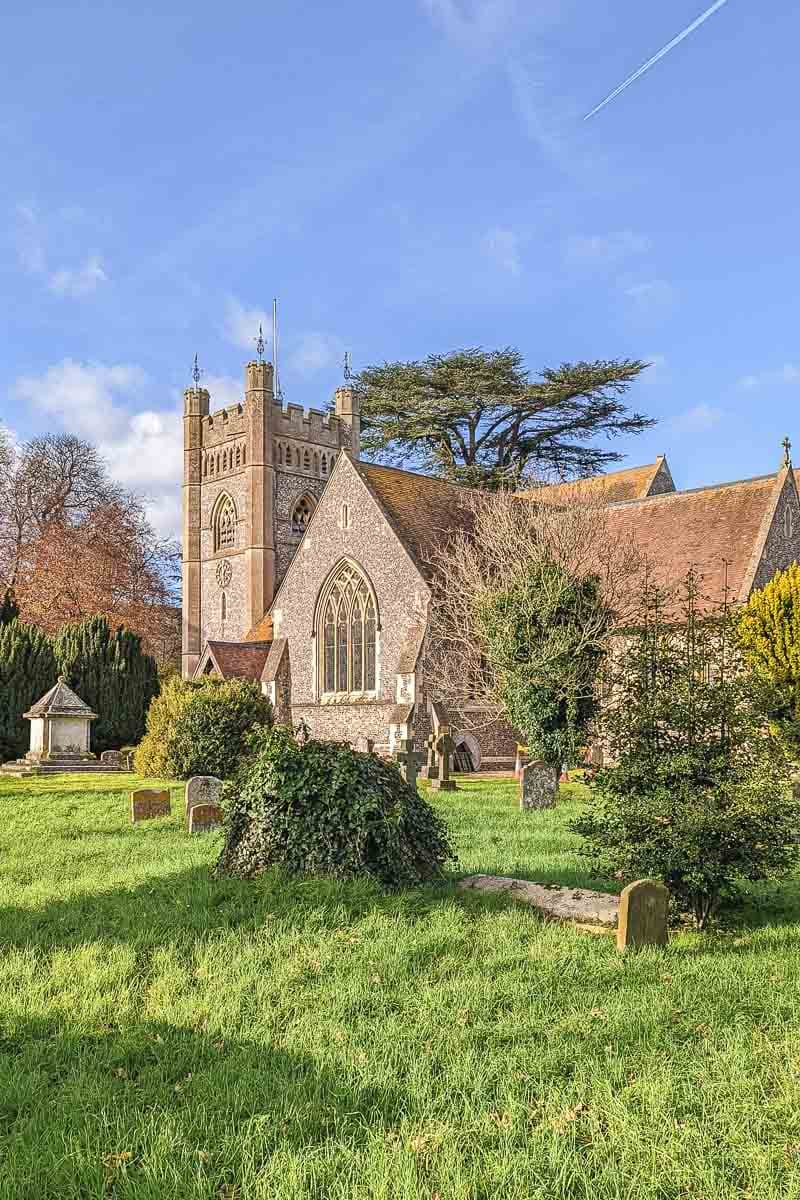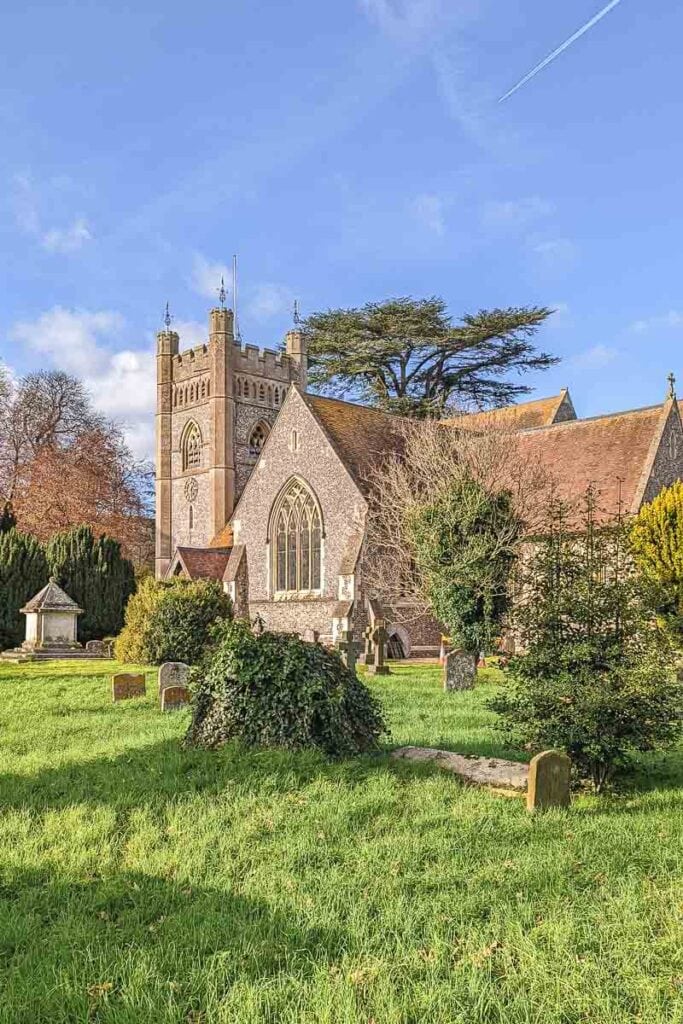 ---
A detailed guide to the Henley circular walk
If you'd like to follow in our footsteps, we've written a step-by-step route plan for you to follow. There are lots of handy photos too so you can't go wrong!
Section 1: Henley town centre
To start the Henley circular walk, make your way from the car park or train station to the iconic Henley Bridge. This stone bridge dates back to 1786 and features five pretty arches. Once you've crossed the bridge (away from the town) walk until you reach the Little Angel pub. Just before this is Remenham Lane where you'll need to turn left. Follow the road along a little way keeping an eye out for a wooden gate on the right-hand side which has a sign for The Chiltern Way.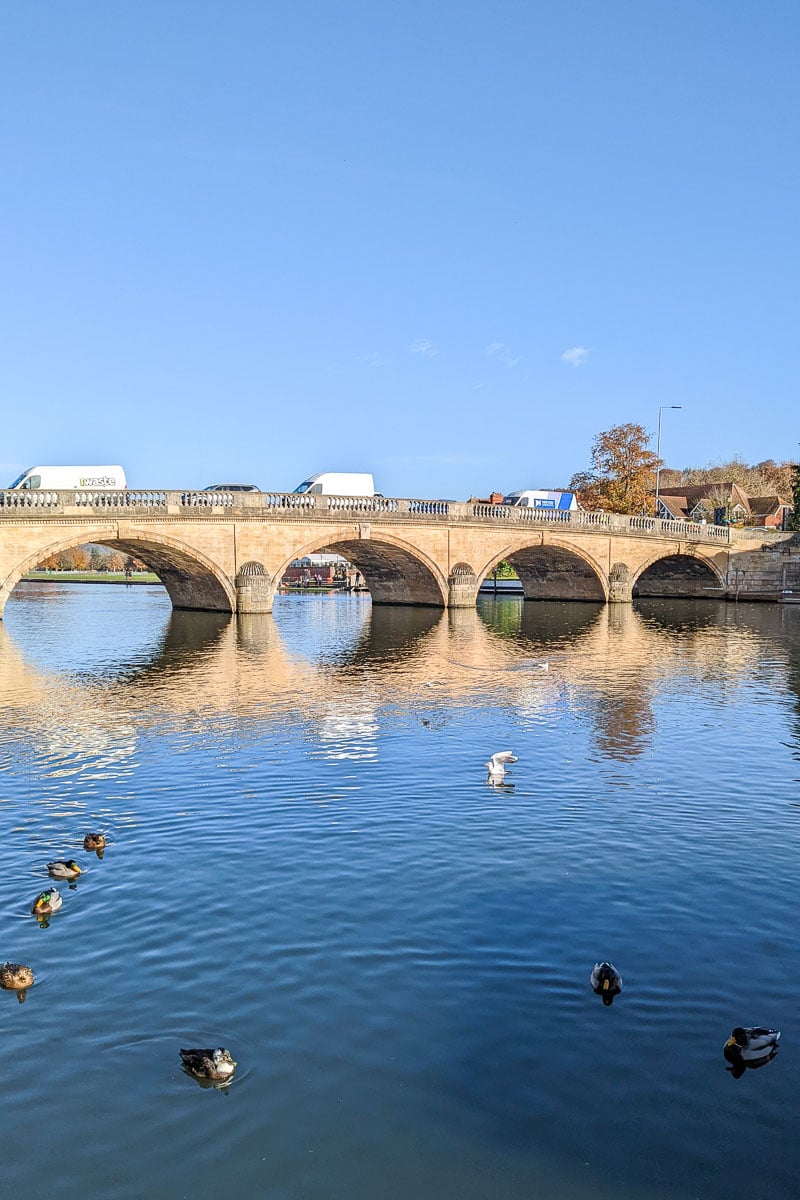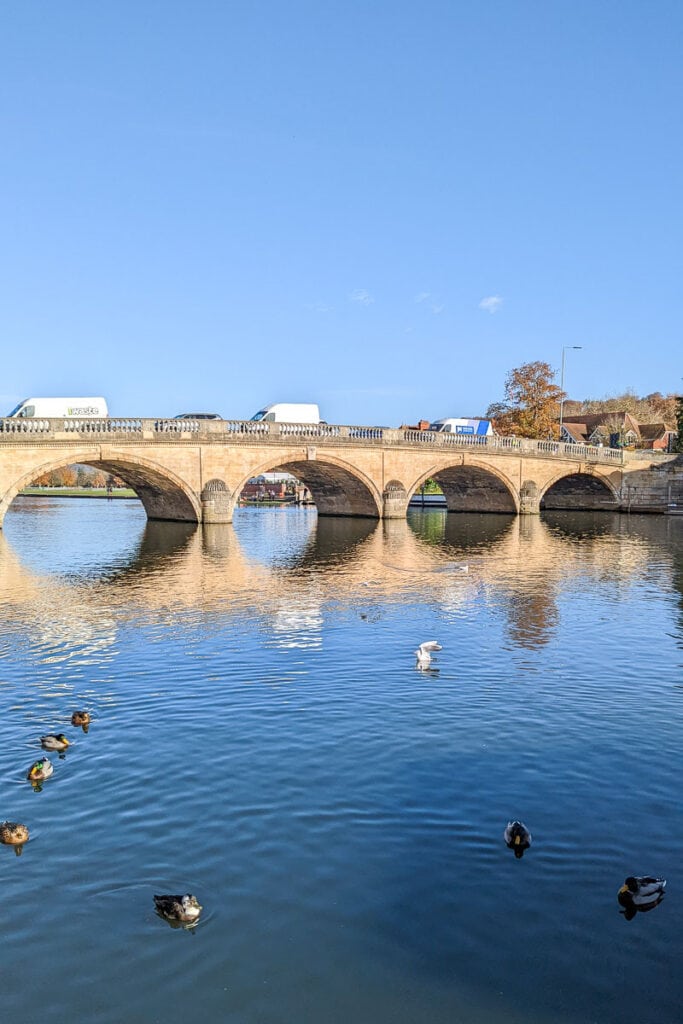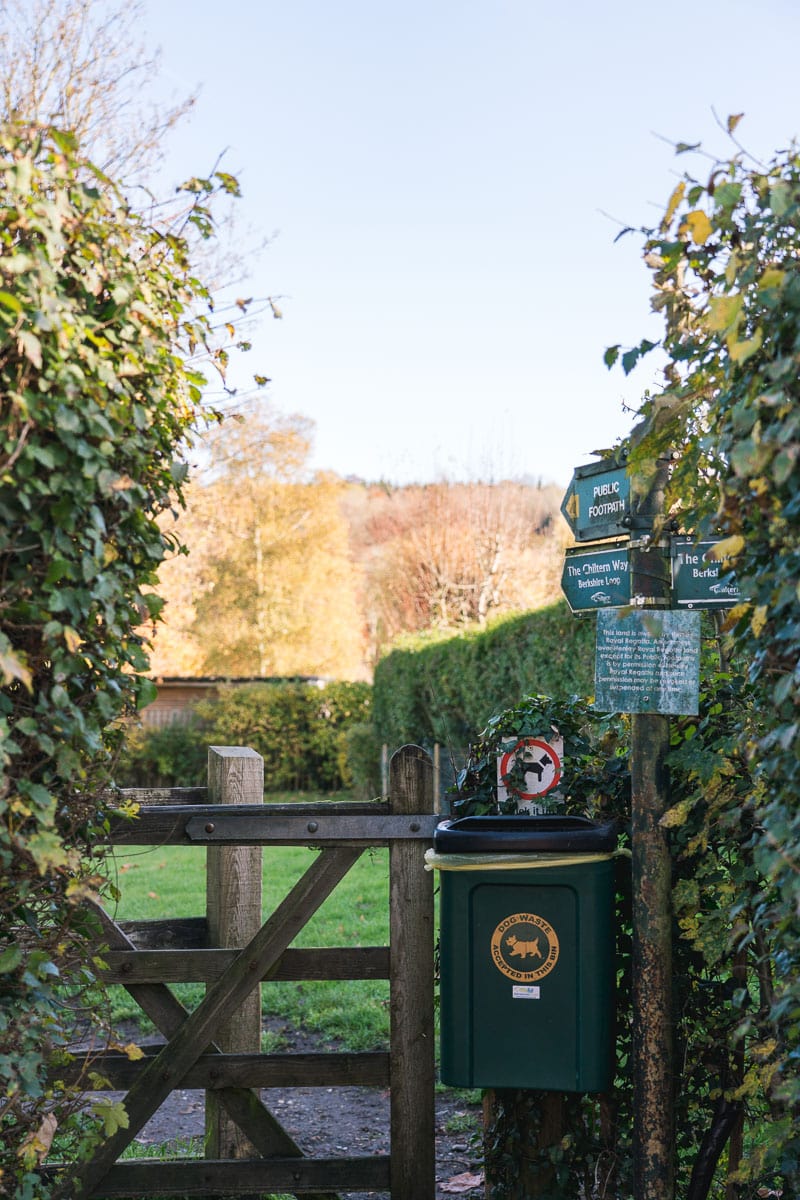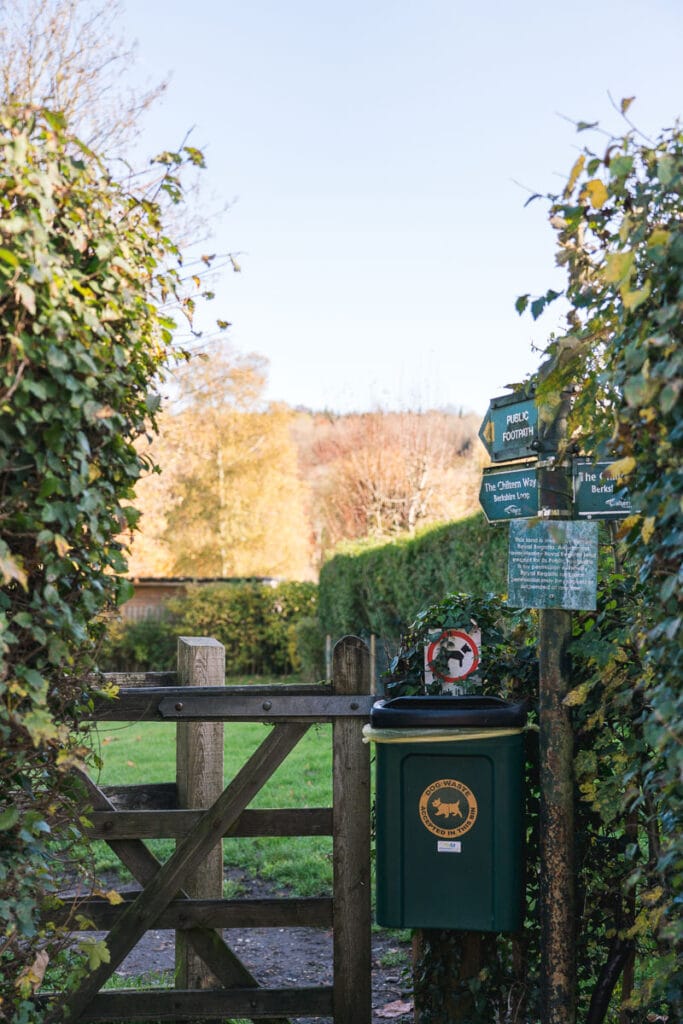 Pass through the gate and follow the path up the hill. You'll spot Matson House, an impressive house up ahead. Cross the field diagonally in front of the big house until you reach a stile.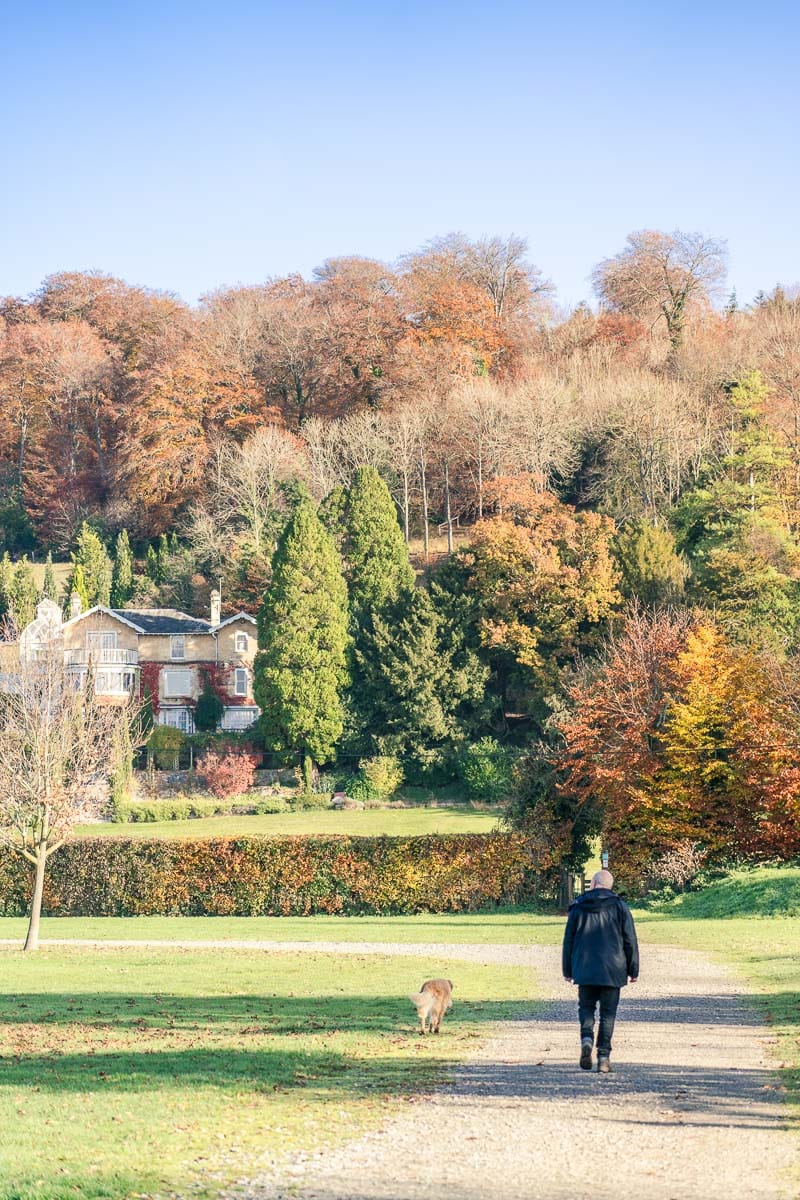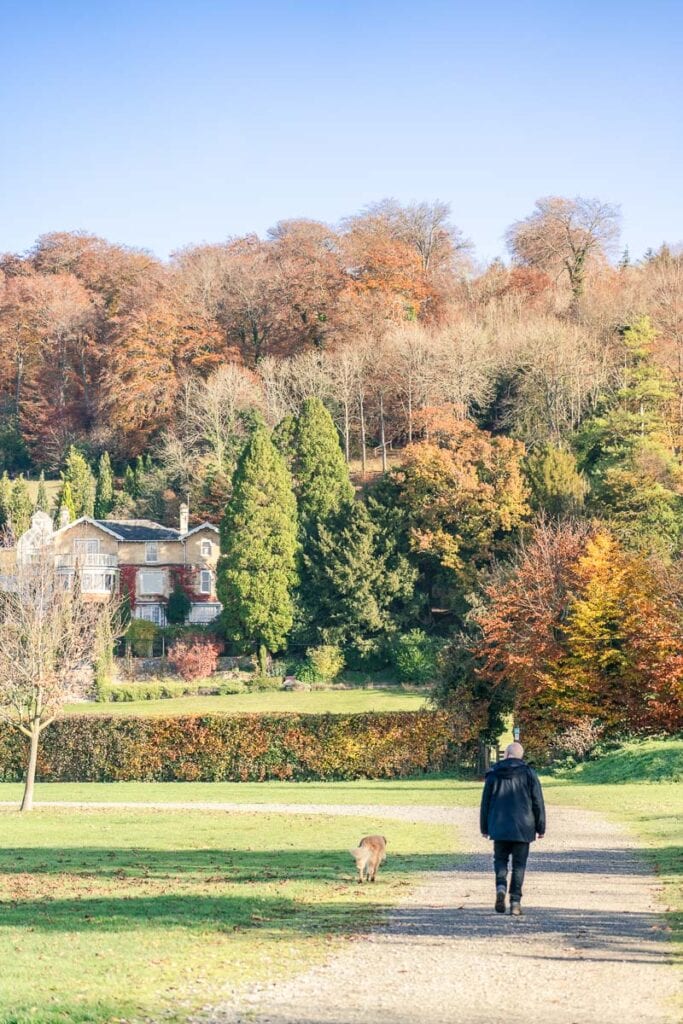 After crossing this you'll be in beautiful woodland. We visited in autumn when the trees were showing their stunning oranges and yellows.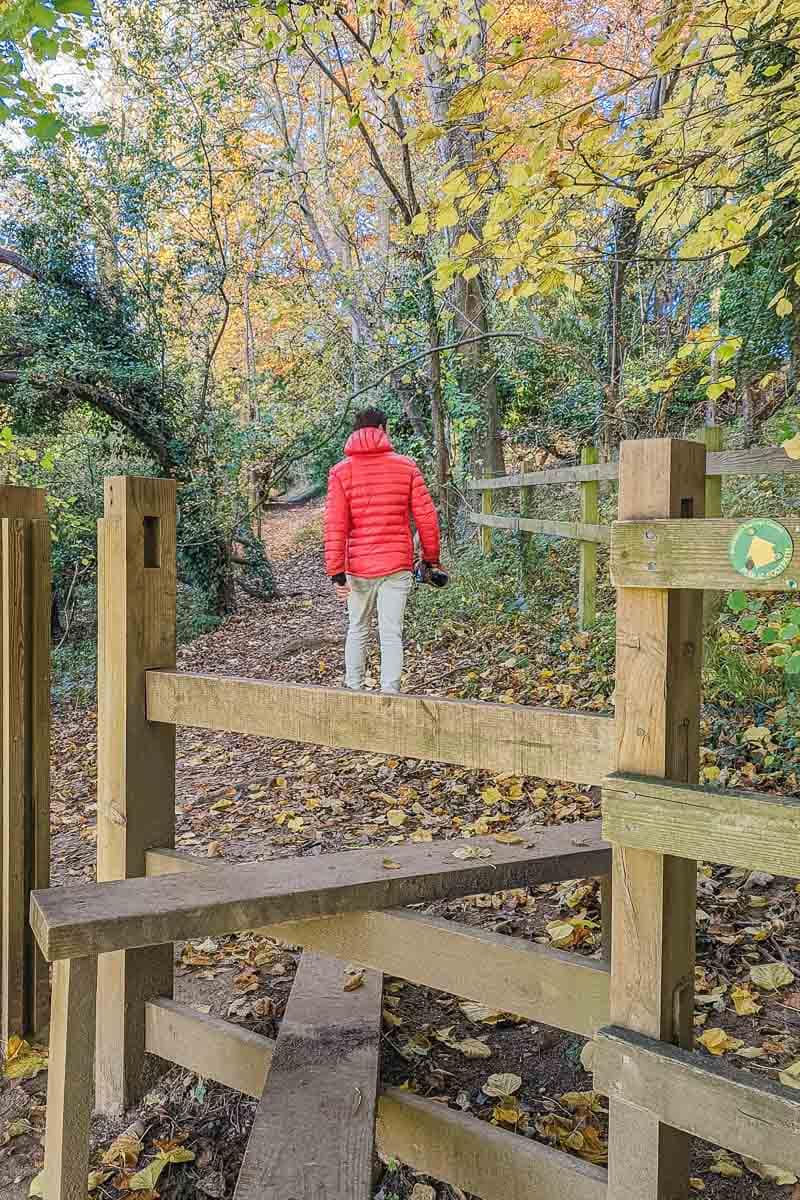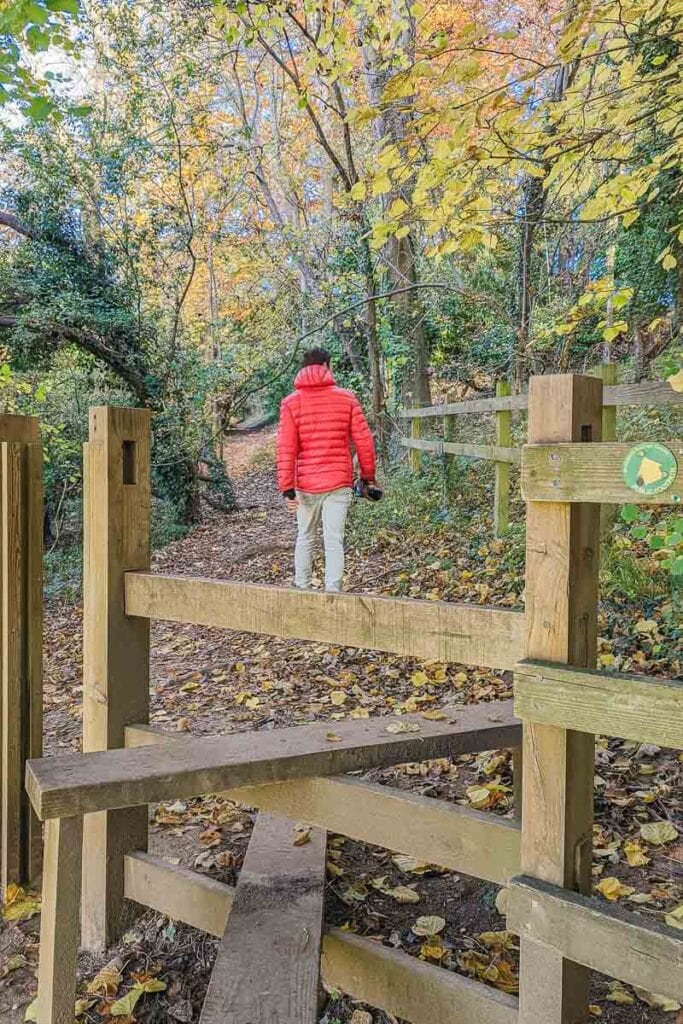 Eventually you'll reach a metal gate out onto a field. Once you pass through the gate, take a quick look around as you don't want to continue along the left edge here, you want to head uphill. When we visited this path wasn't very obvious so this could be an easy place to go wrong!
Once you've crossed the field up the hill, you'll see another stile into woodland, which eventually leads to a big field.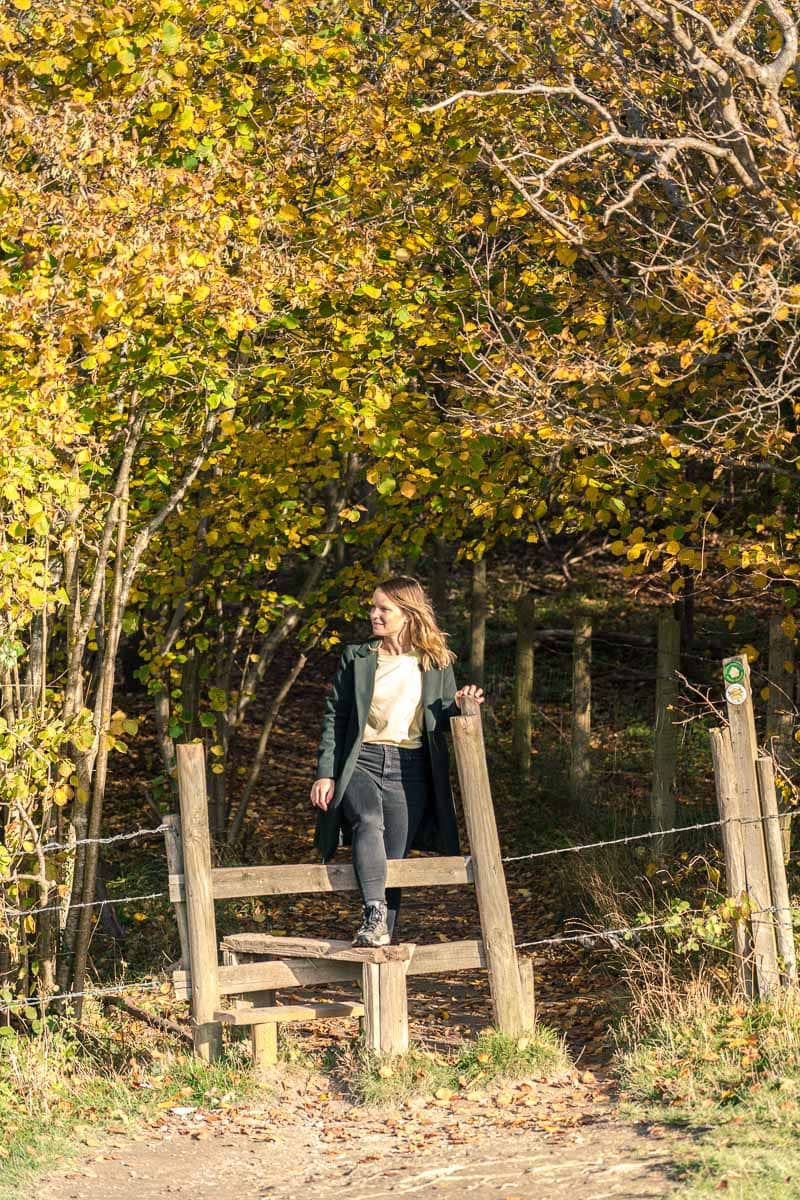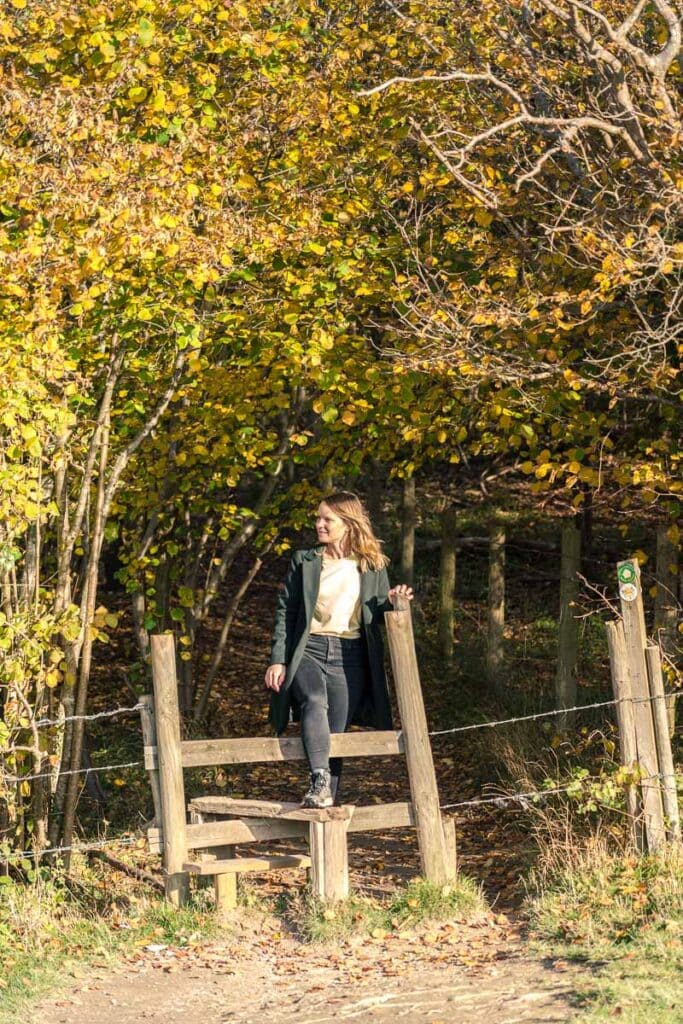 Section 2: Country views of the Thames Valley
There's a clear path right through the middle of this field. It has a bit of an incline, and from the top you'll see there are some lovely views of the Thames Valley.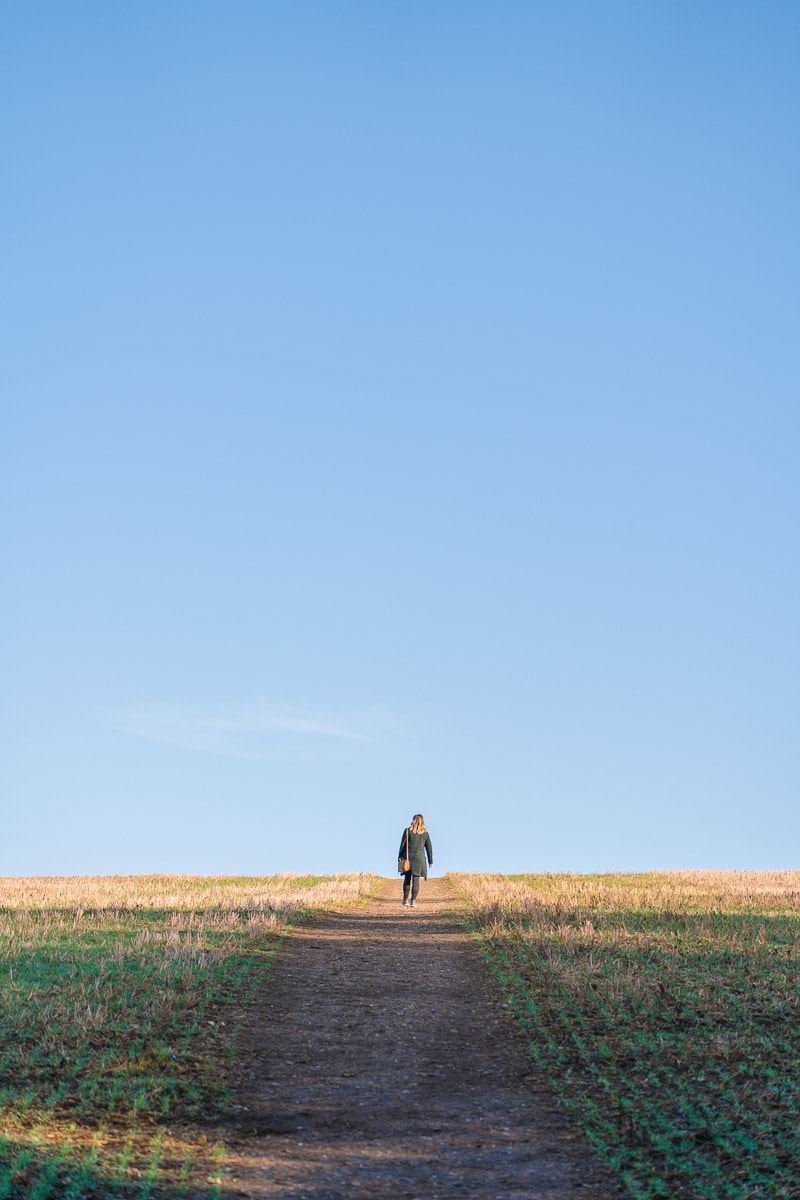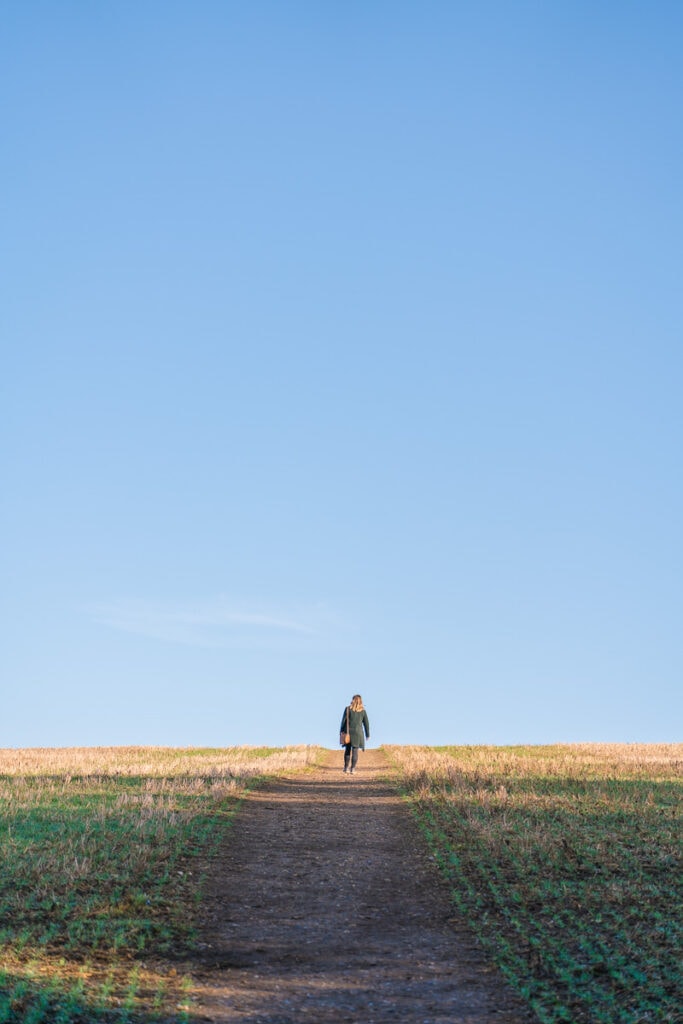 Gradually you'll head downhill through the field where you'll find a narrow gap in the hedges to pass between. Once out of the field, turn left straight away onto Remenham Church Lane. There's no footpath here, so be careful to look for cars.
After a few minutes' walk, you'll spot a sign saying the Chiltern Way Berkshire Loop and find a metal gate on your right. Walk through the metal swing gate and continue straight with a tall hedge along your left.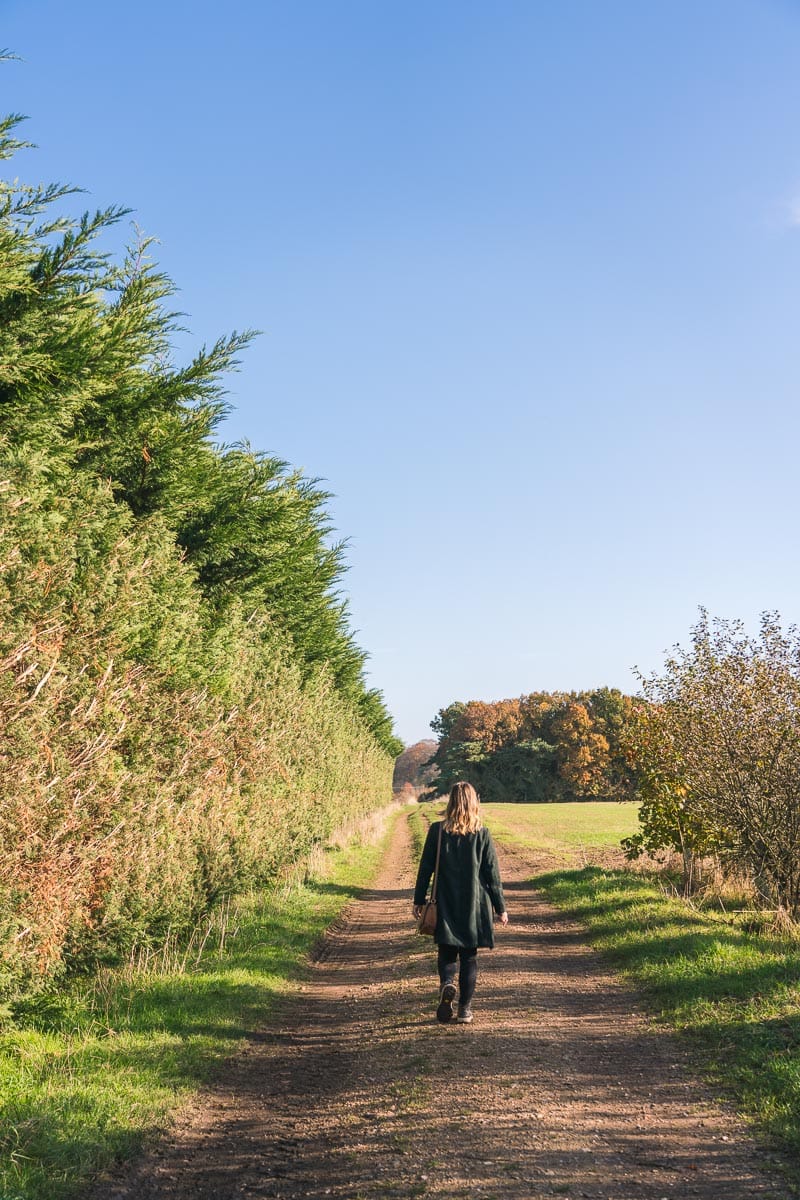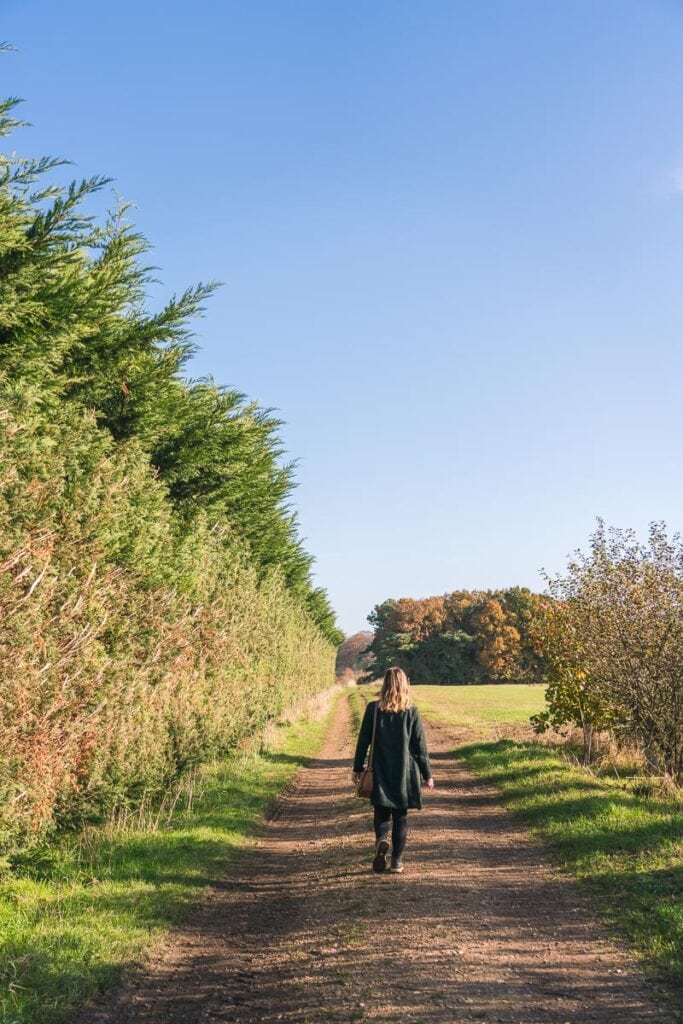 Once you're beyond the trees here, the views get better and better! Then it's time to go back into some enclosed woodland areas. After passing through a wooden gate, follow the left-hand path which goes downhill. This is a permissive path alongside a large property.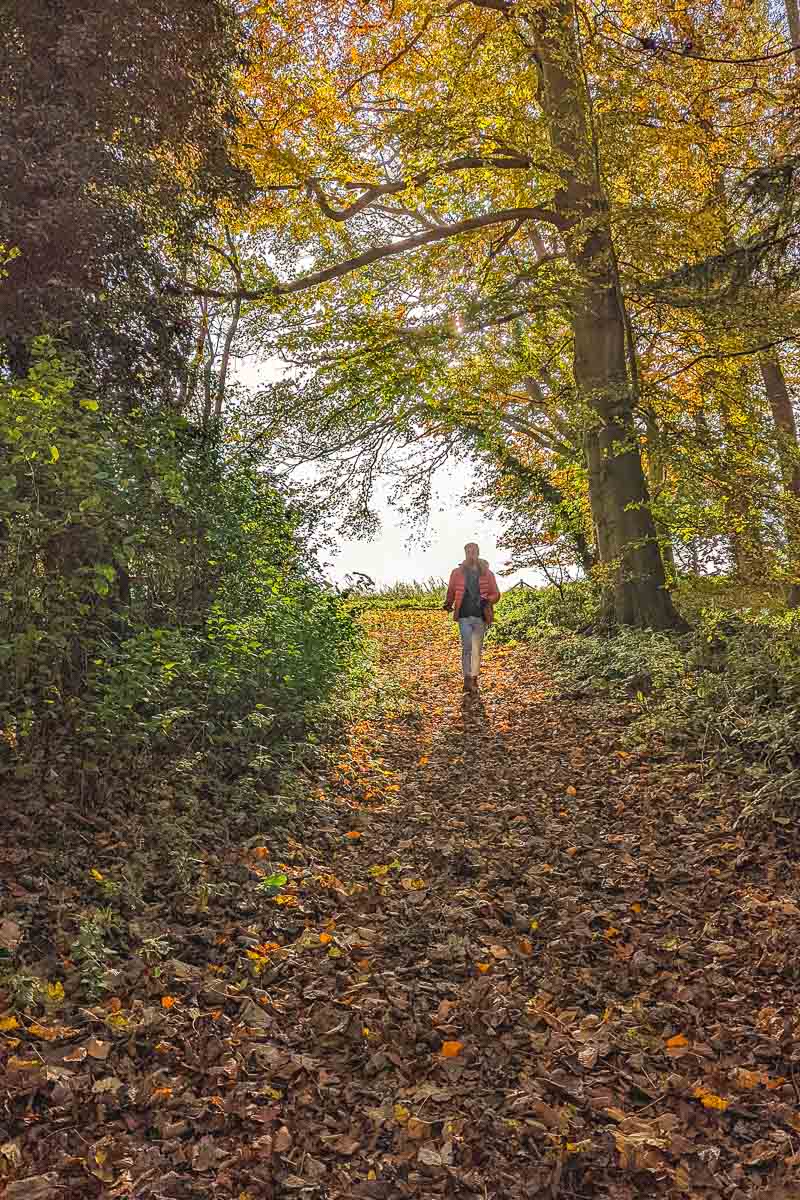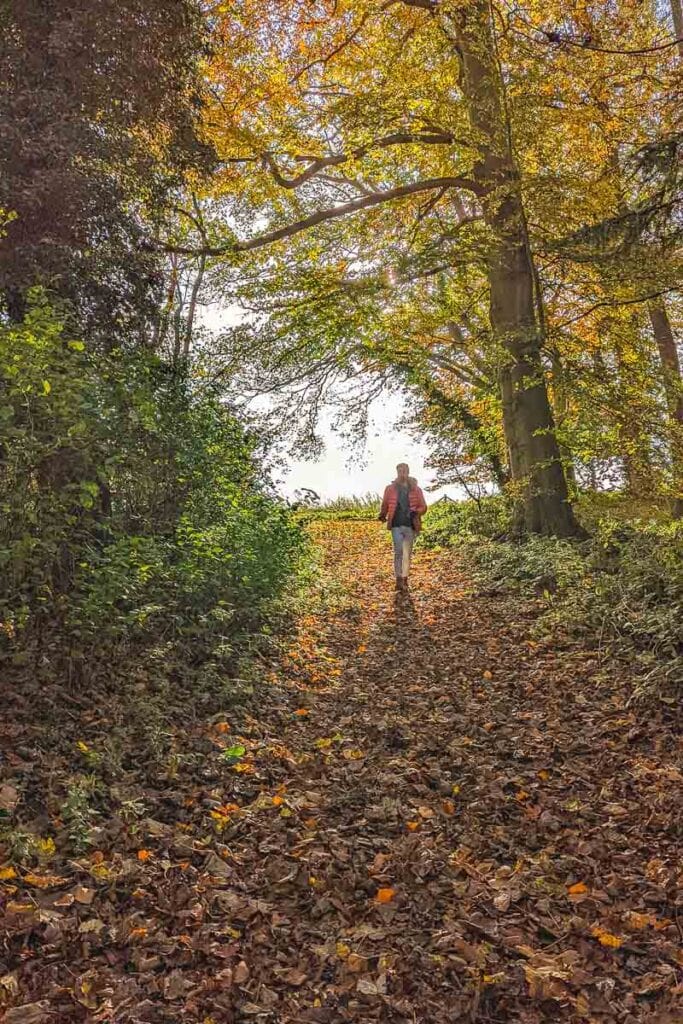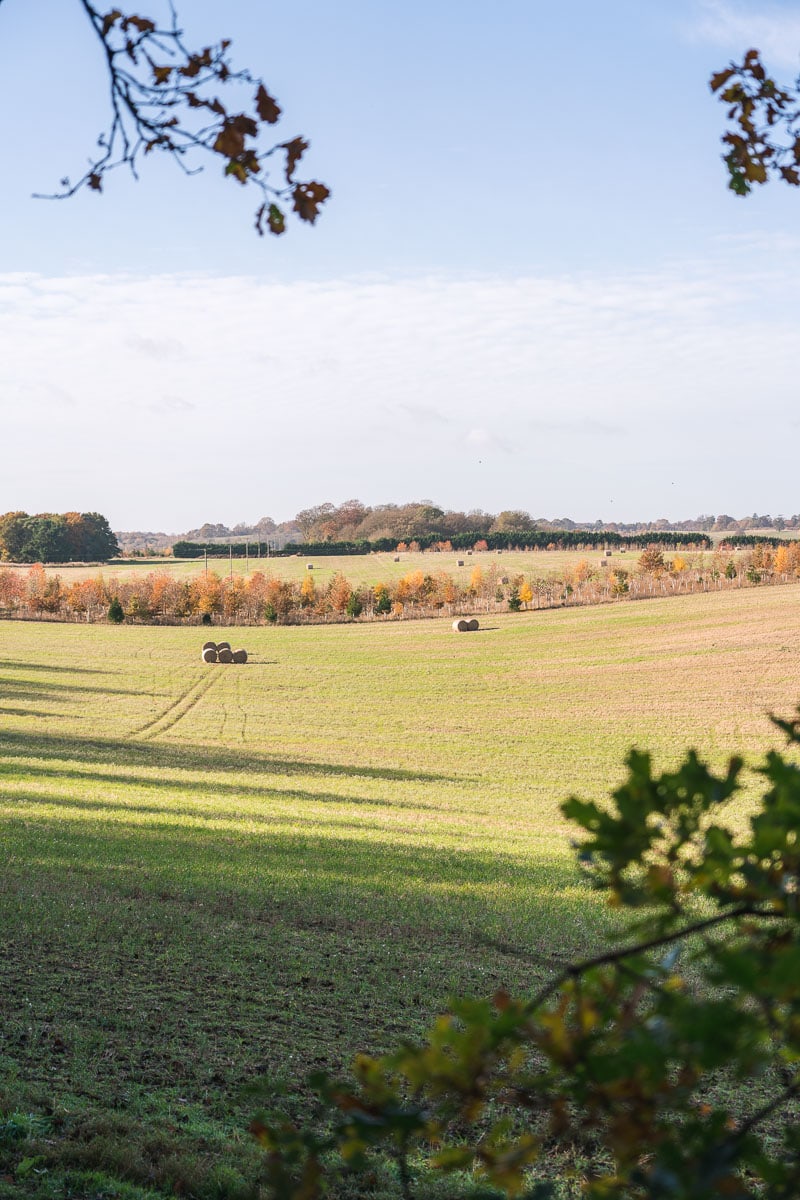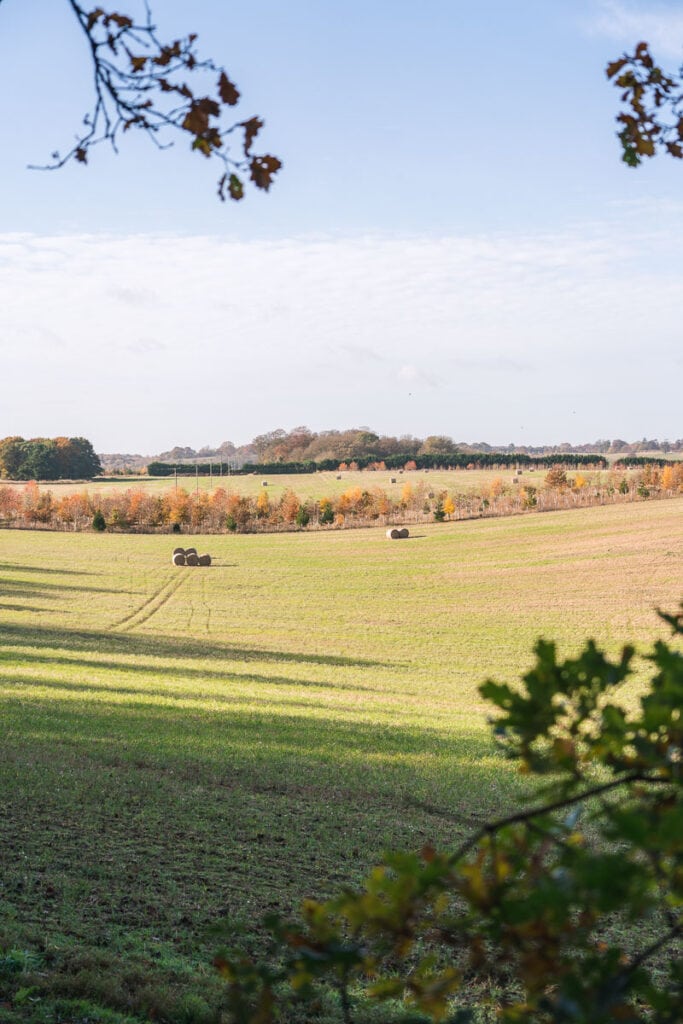 Keep an eye to your left for more amazing views over the countryside and across the Hambledon Valley. At the end of the path, you'll meet a metal gate and a stile, which brings you out at Remenham Lane.
Section 3: Aston to Hambledon Mill
Turn right onto Remenham Lane and follow the route into Aston Village until you reach the Flower Pot. This is one of the pub options on the Henley circular walk, so if you fancy a drink or a bite to eat, you could stop here. It's dog friendly and there's a huge pub garden too, ideal for warmer days.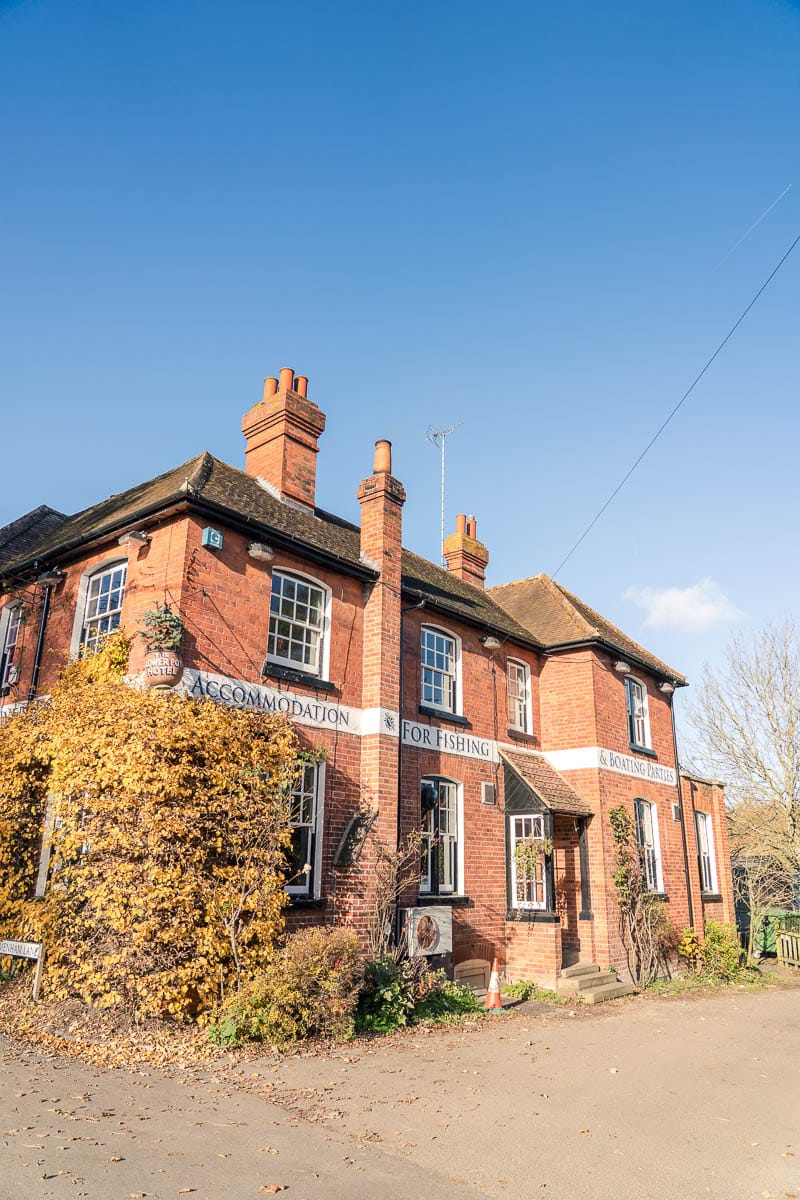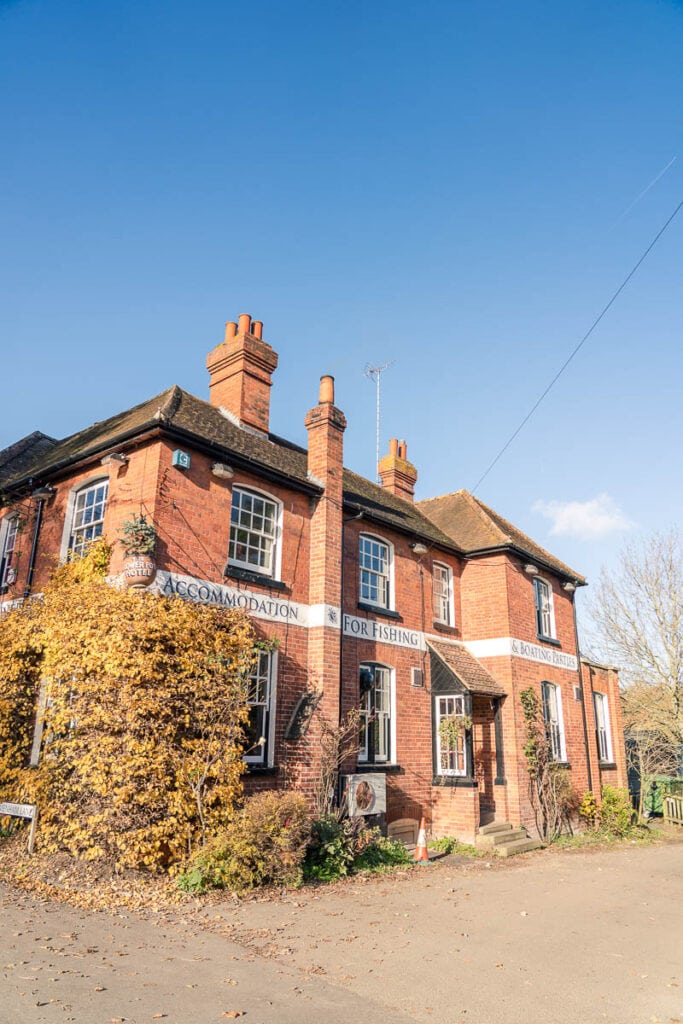 Once you reach the pub, turn left down Ferry Lane. Eventually you'll reach the River Thames. There's a little jetty at th end, with picturesque views to the other side. I'd recommend snapping a few photos here! Then it's time to turn left and follow the path along the river bank.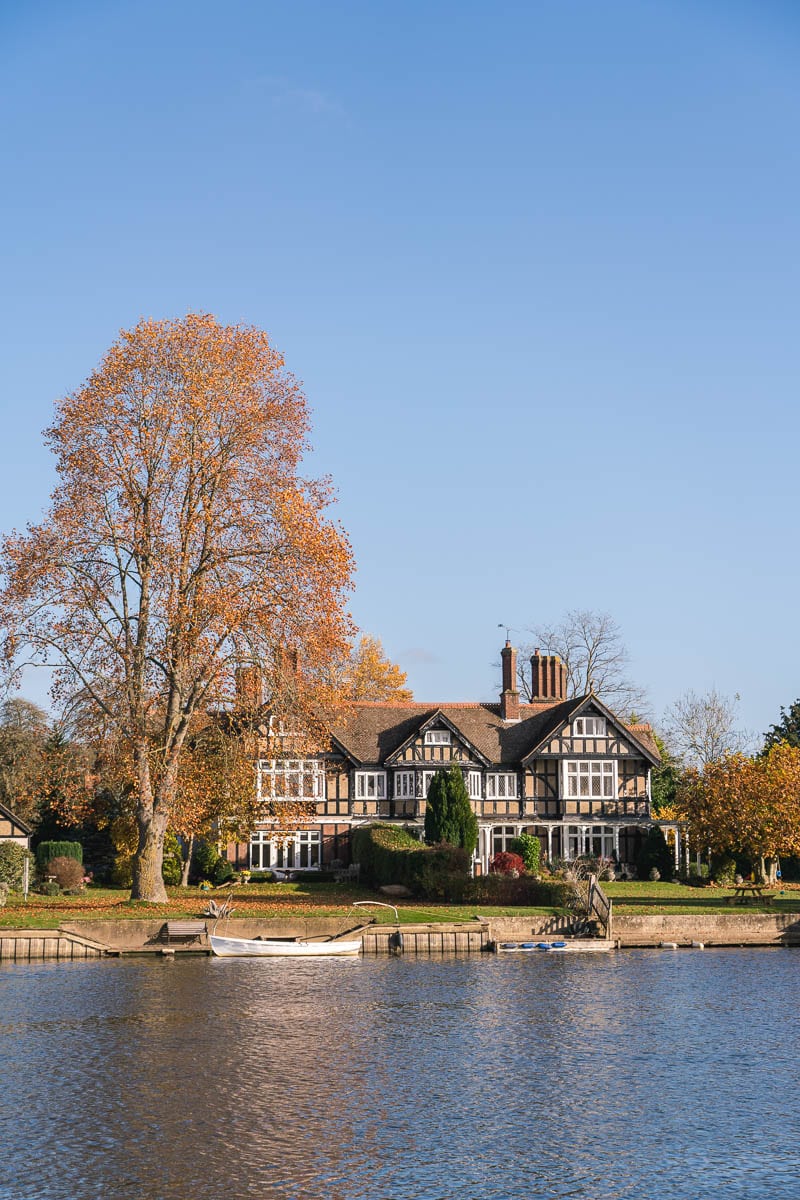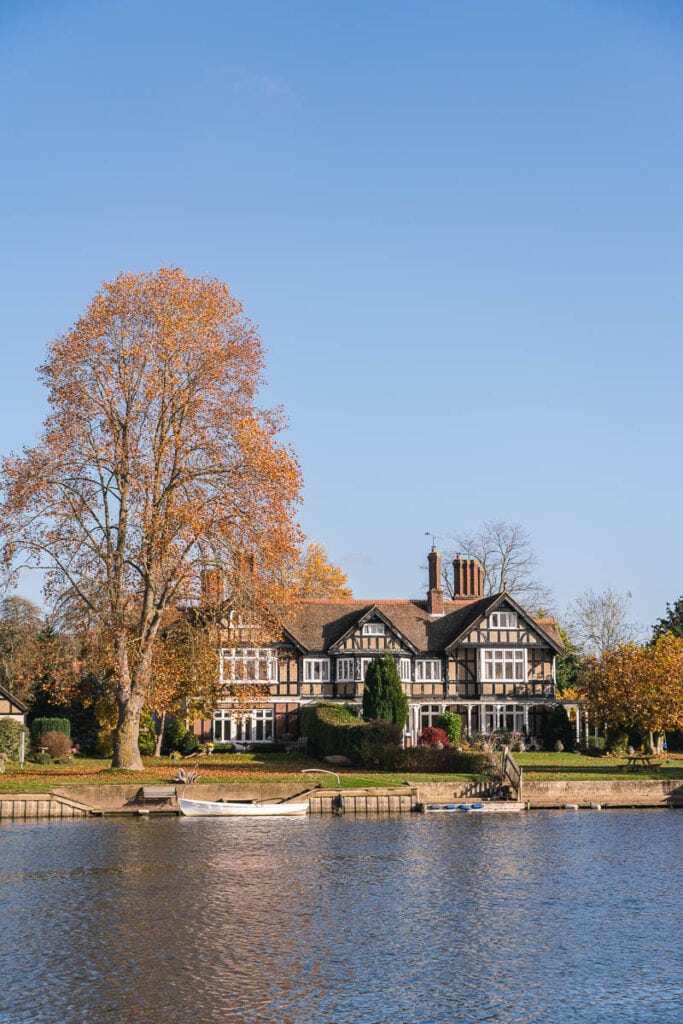 Keep going until you reach Hambleden Lock – one of the highlights of the Henley circular walk. The views really are spectacular. You'll also have a chance to see lots of boats!
Cross over Hambledon Weir, taking in not only the impressive architecture of the weir, but also the views over the water to the pretty white building of Hambledon Mill.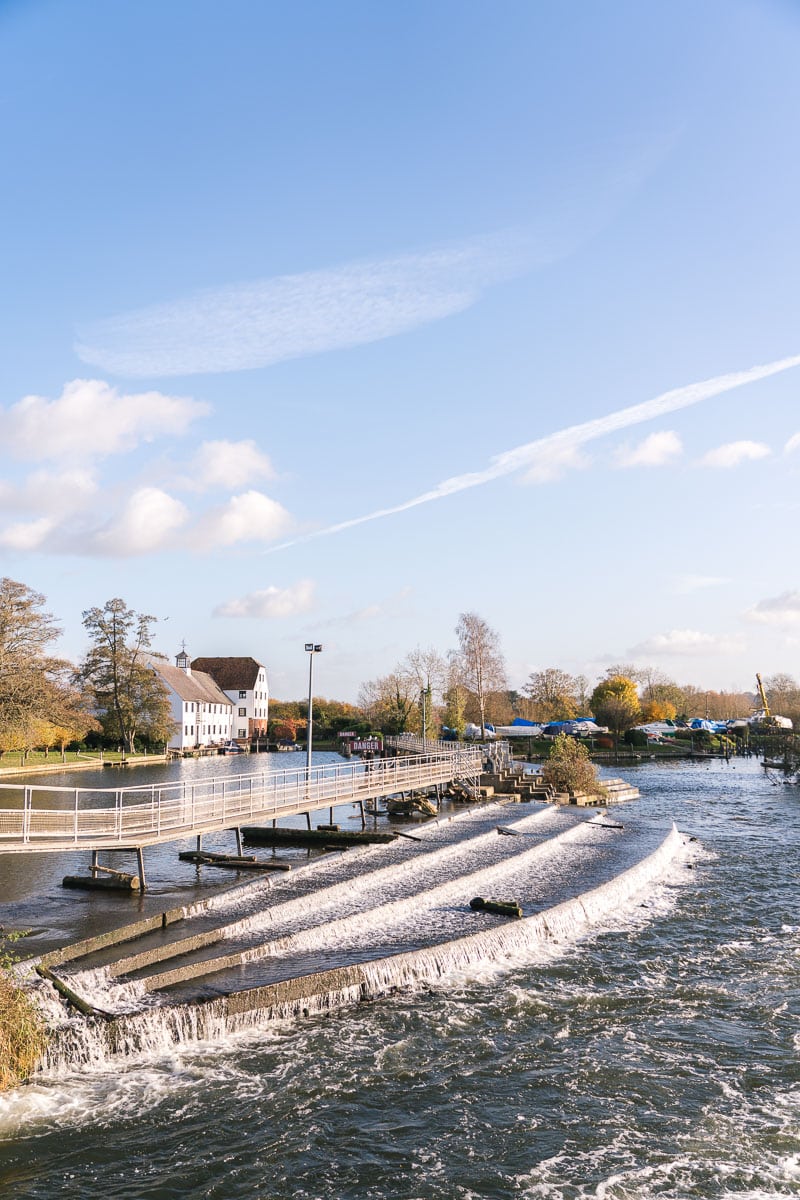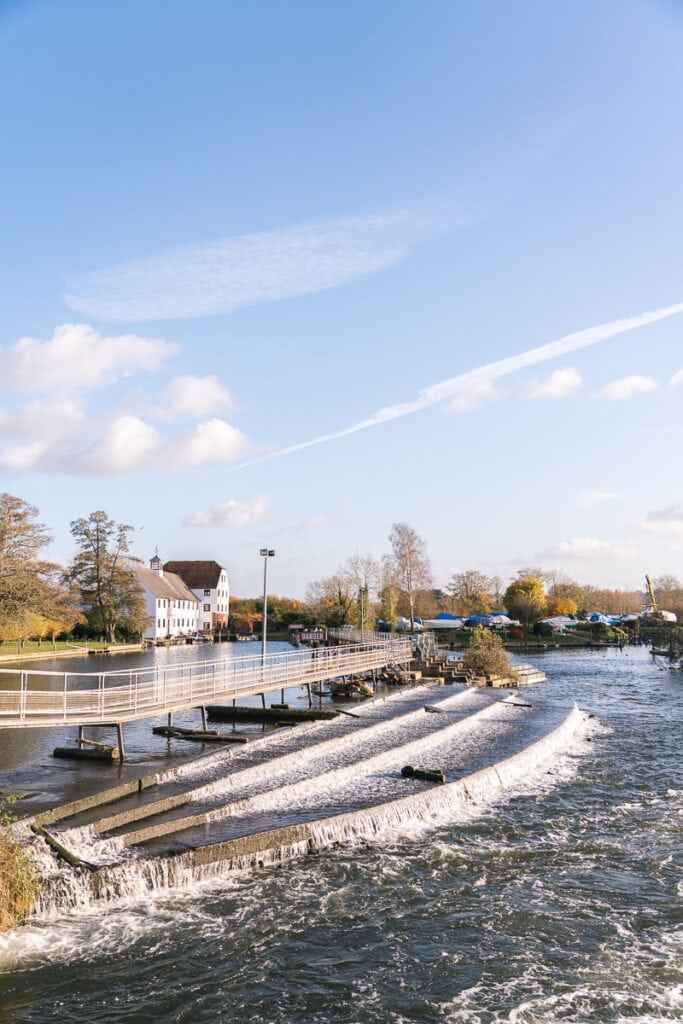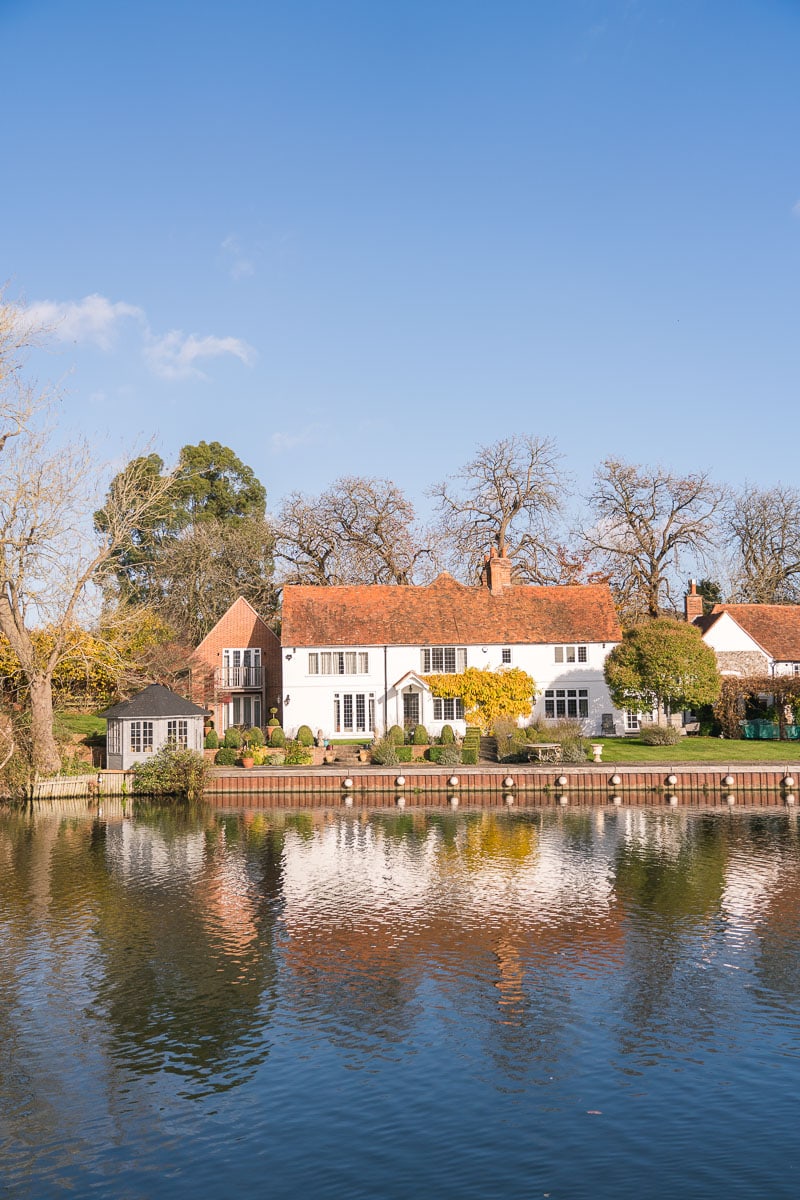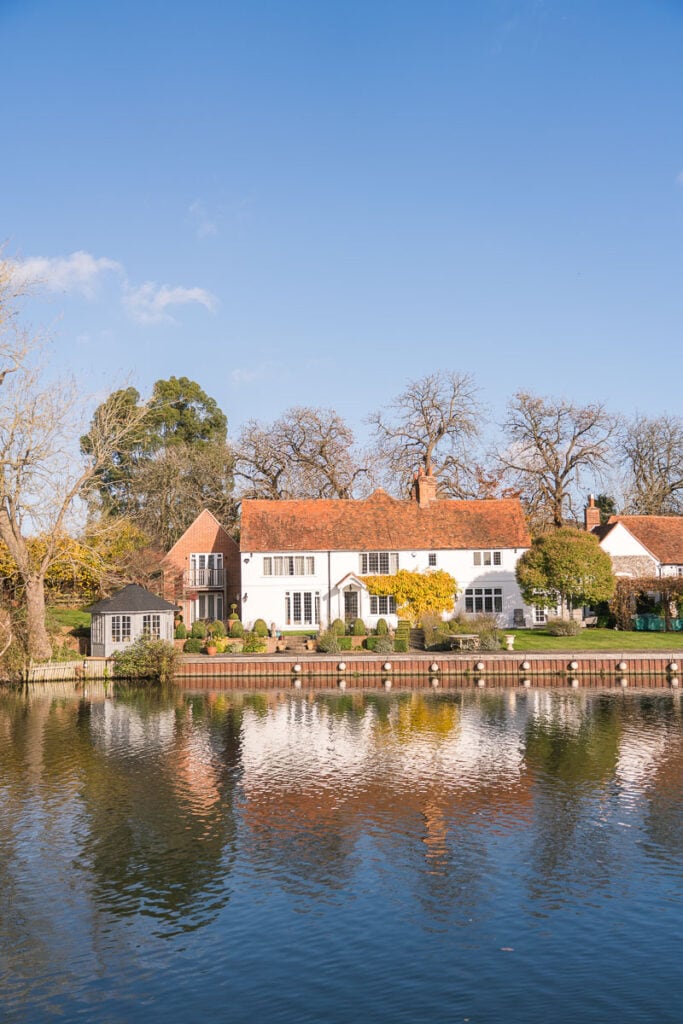 Section 4: Hambledon Mill to Hambledon village
I hope you're getting hungry by this point, as you're about 30 minutes away from our suggested pub lunch stop! Follow the footpath through Hambledon Marina area towards the main road (A4155).
Once you reach the main road, cross over to Skirmett Road, where you'll have a large farm complex on your right and impressive old houses to your left. It won't be long before you reach a footpath on your right to cross into the fields. When we visited, some of these fields had sheep grazing.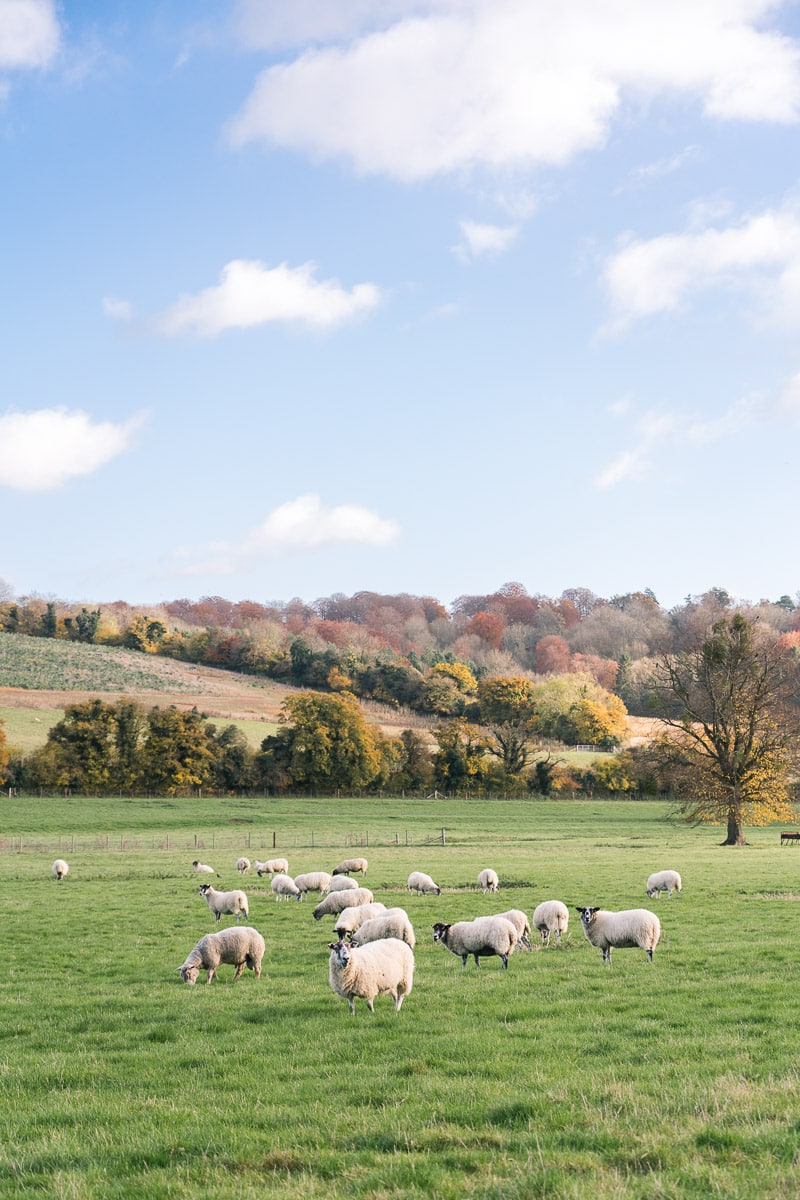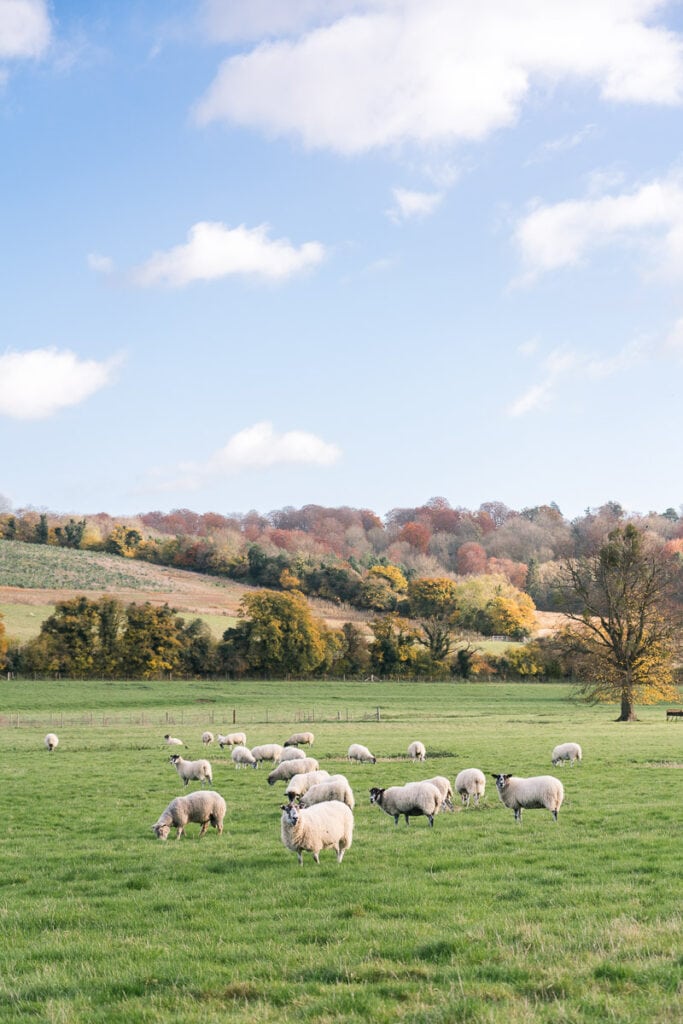 The views to the right at this point are really spectacular, with rows of trees up on the hill. It was especially pretty in autumn, with the golds, oranges and browns illuminated by the sunshine.
As you cross the fields, you'll see Hambledon village in the distance, with its church tower poking out. Continue towards the village until you reach the post office. You could stop here for a light bite or a coffee, or pick up some supplies.
However, we'd recommend following the road around to the right, past the church, to the Stag and Huntsman Pub.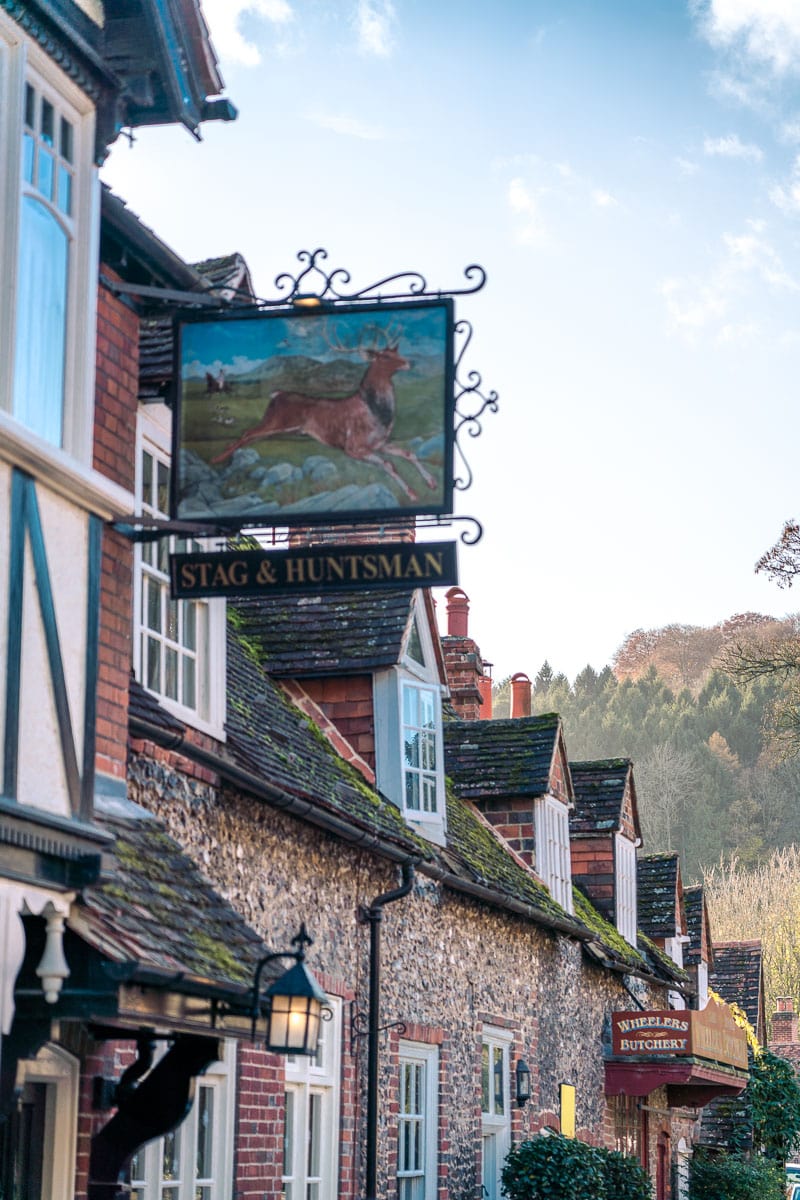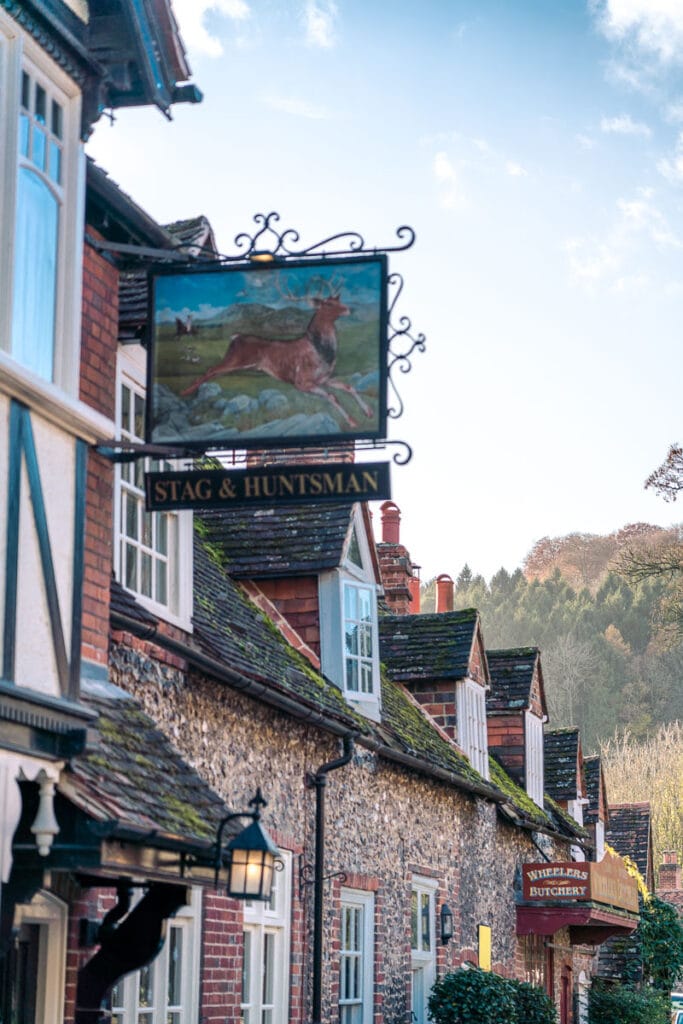 This is a great pub with a large menu. You'll find classics such as Ploughman's platters, sausage and mash and fish and chips, as well as gourmet specialities including a crispy duck salad (which I had) and the roast guinea fowl.
The pub is pretty large inside and also has a big beer garden. I'd recommend booking online if you can work out roughly what time you'll hit the half-way / two-thirds point on your walk.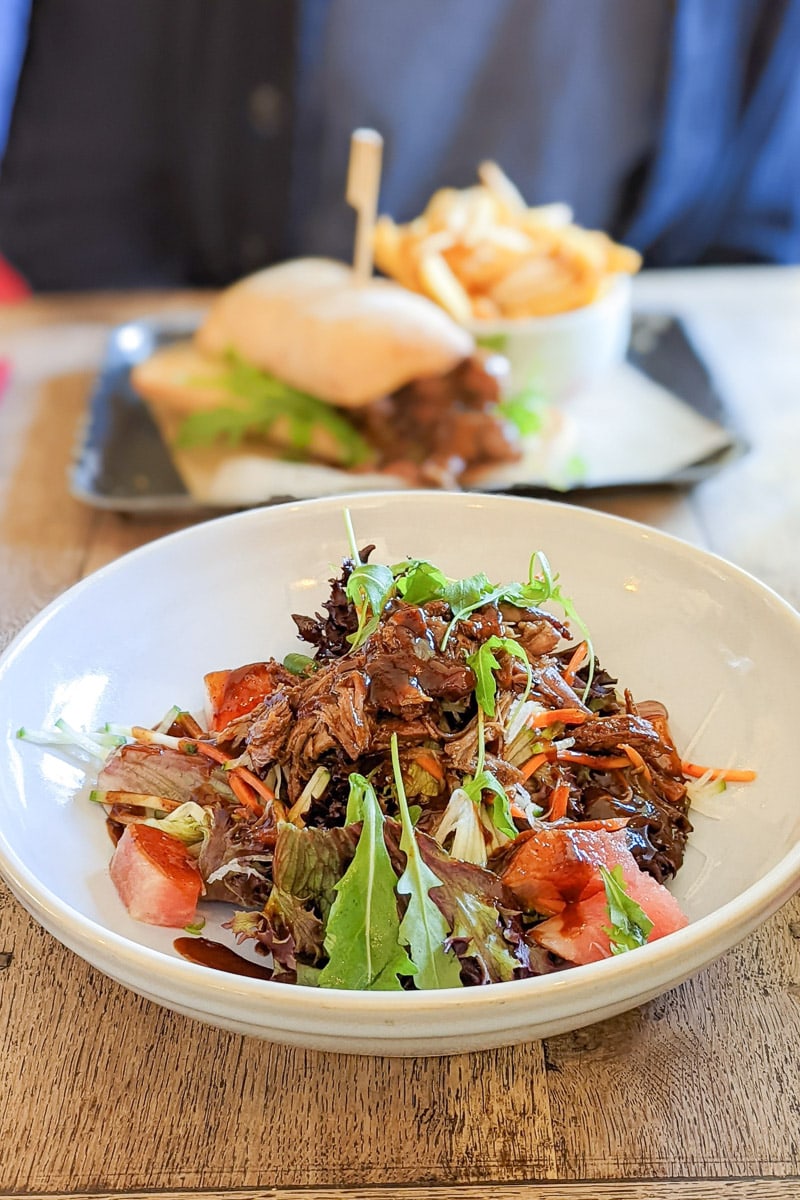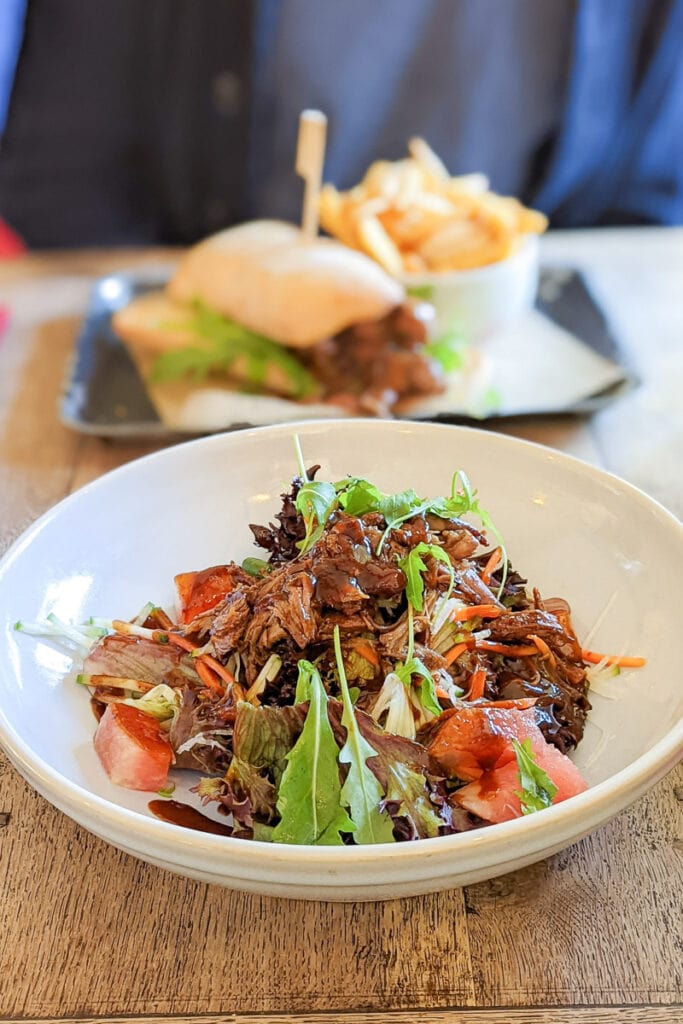 Section 5: Hambledon village to Temple Island
After lunch, retrace your steps back to Hambledon Weir, crossing back to the side of the river you started on. Then re-join the path to the right, and head towards Henley.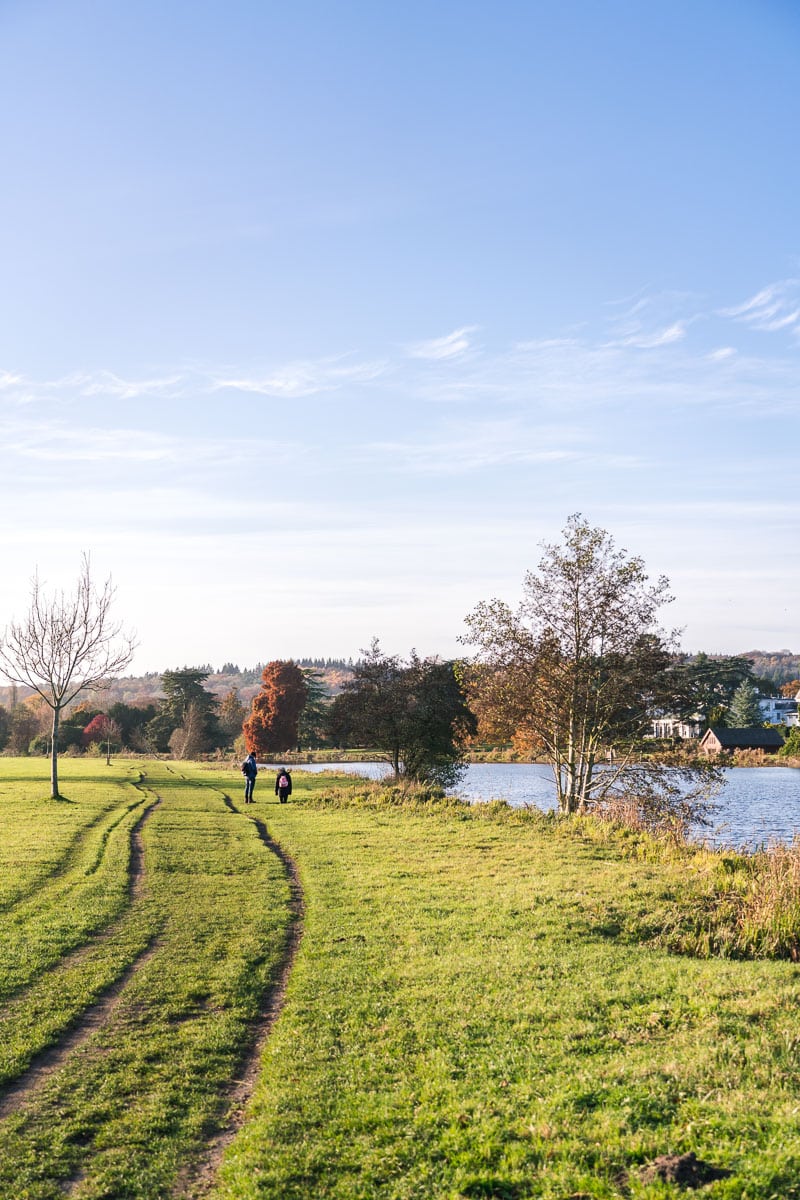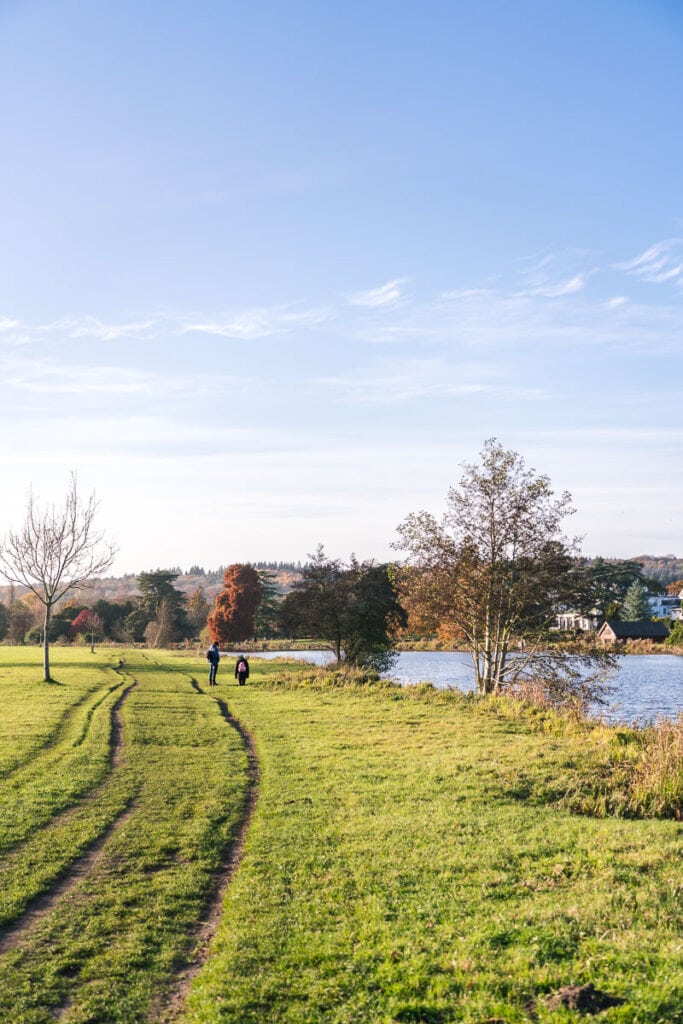 This riverside path is your route all the way back to Henley-on-Thames. One of the most iconic sites on the Henley circular walk is Temple Island. If you're into rowing, you might recognise it as it marks the start of the famous Henley Royal Regatta Course!
On the island is an adorable little folly which was constructed in 1771 by the architect James Wyatt as a fishing lodge for Fawley Court, a historic house located close by.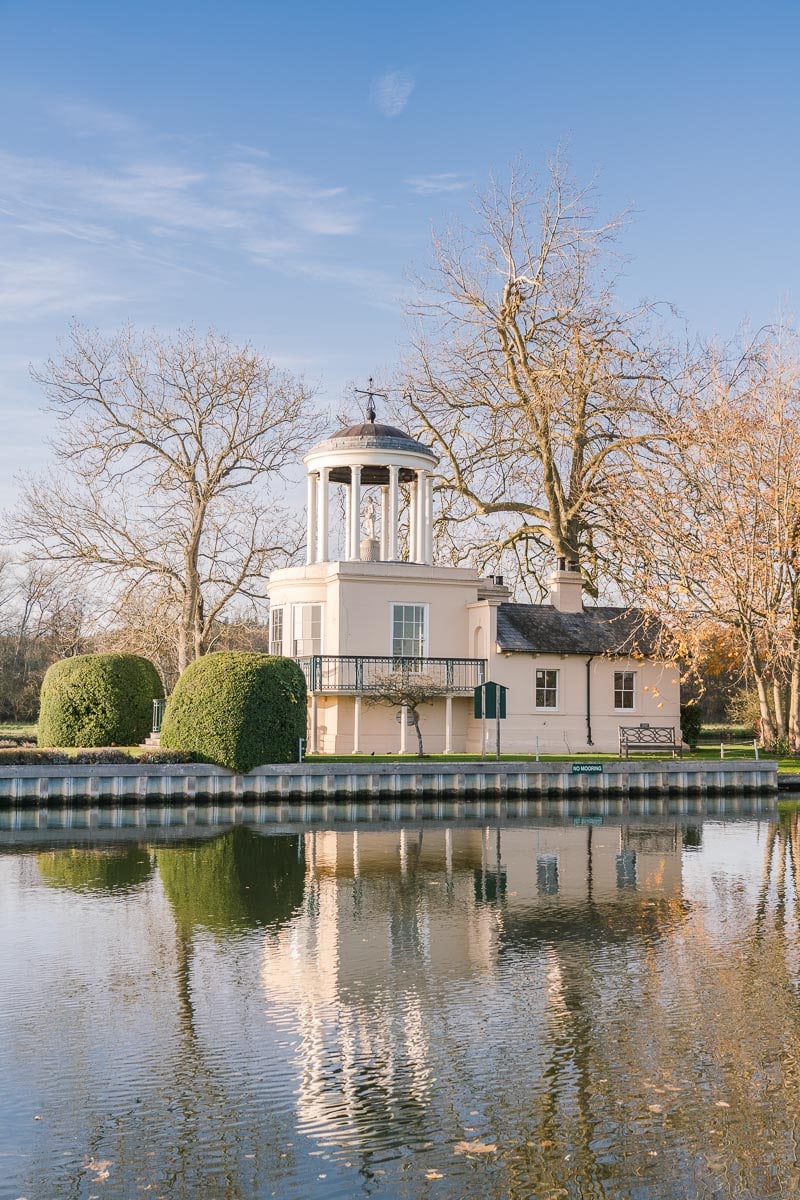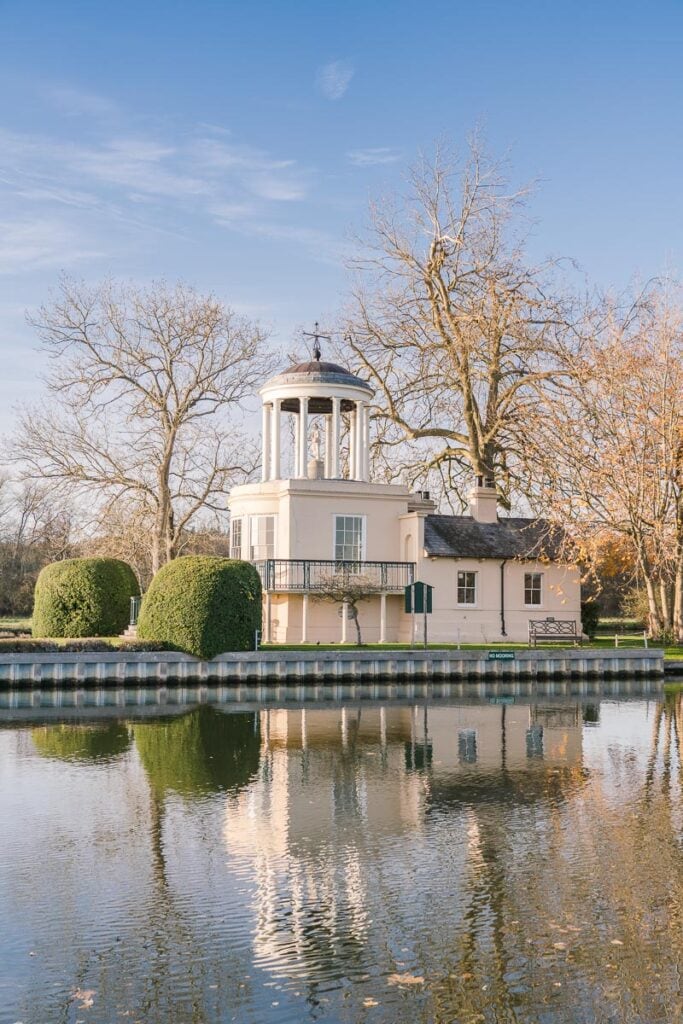 The island is available for hire, so on a sunny day in the summer months, you might spot wedding guests mingling on the lawn there, having arrived by boat!
Section 6: Temple Island to Henley-on-Thames
Once you've taken lots of photos of Temple Island, continue to follow the riverside path back towards Henley. One of my favourite spots is the little wooden footbridge. The sunlight was streaming through the trees by this point of the day, just before sunset, making for some beautiful photos.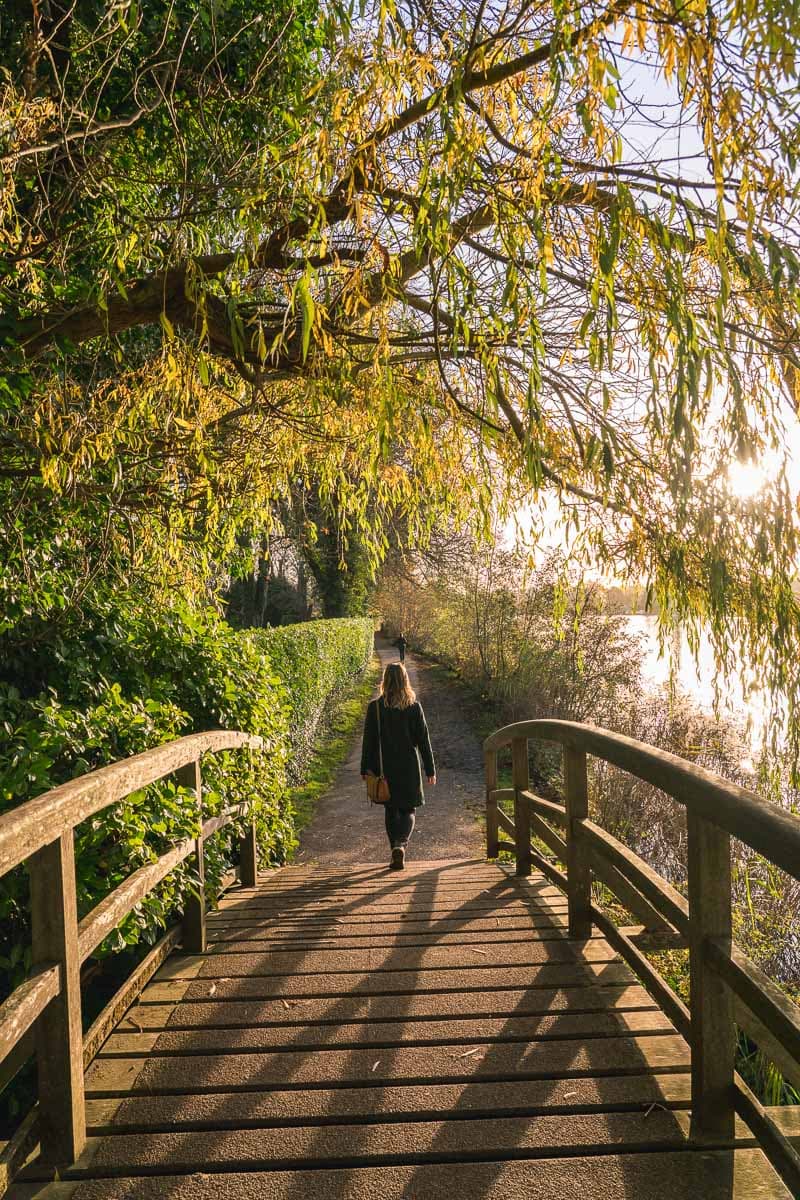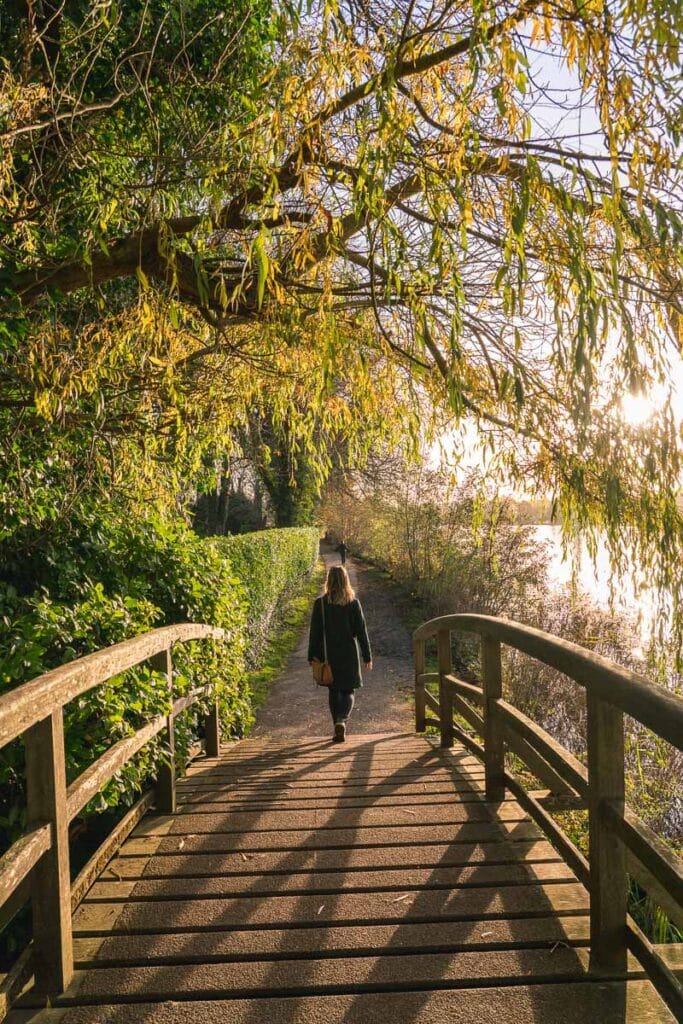 You'll pass some large properties on your left, and no doubt have some rowers practising in the water on your right. It's a lovely stretch of river, and it won't be long before you spot the skyline of Henley coming into view ahead. Enjoy the views of the characterful boathouses across the water, then the iconic view of Henley Bridge with the town behind.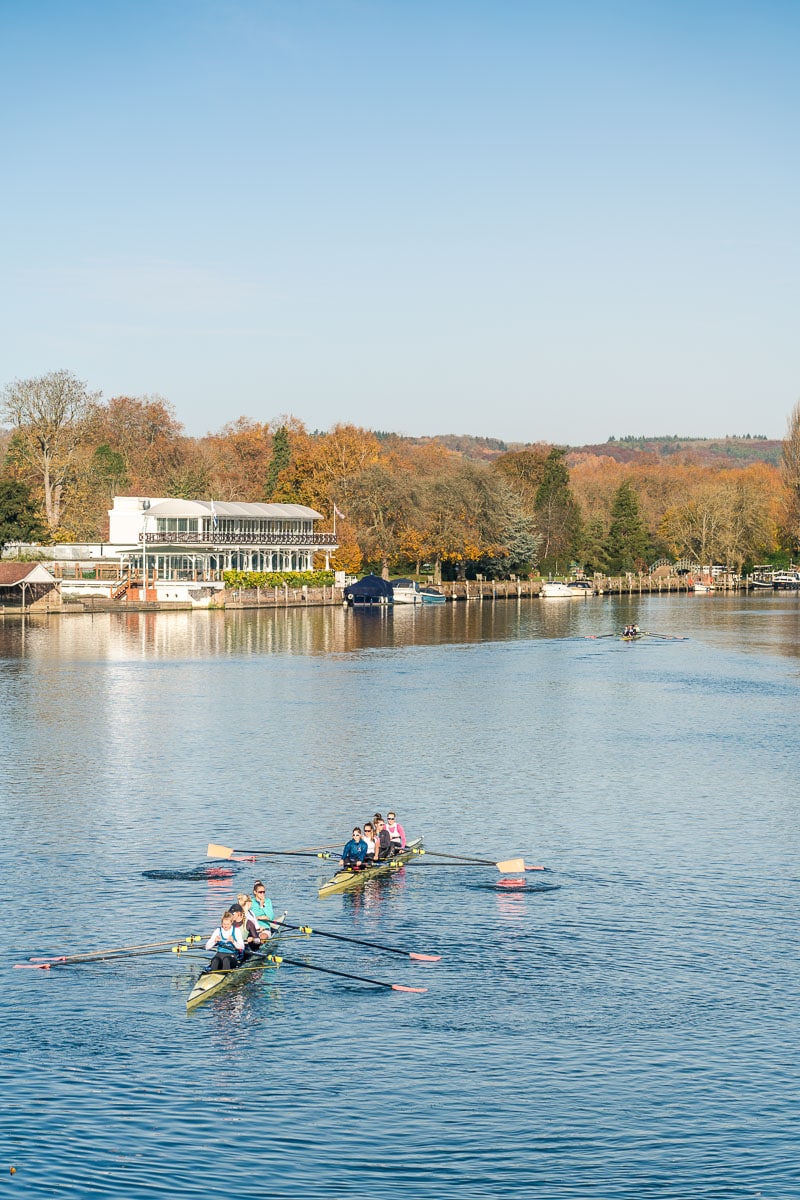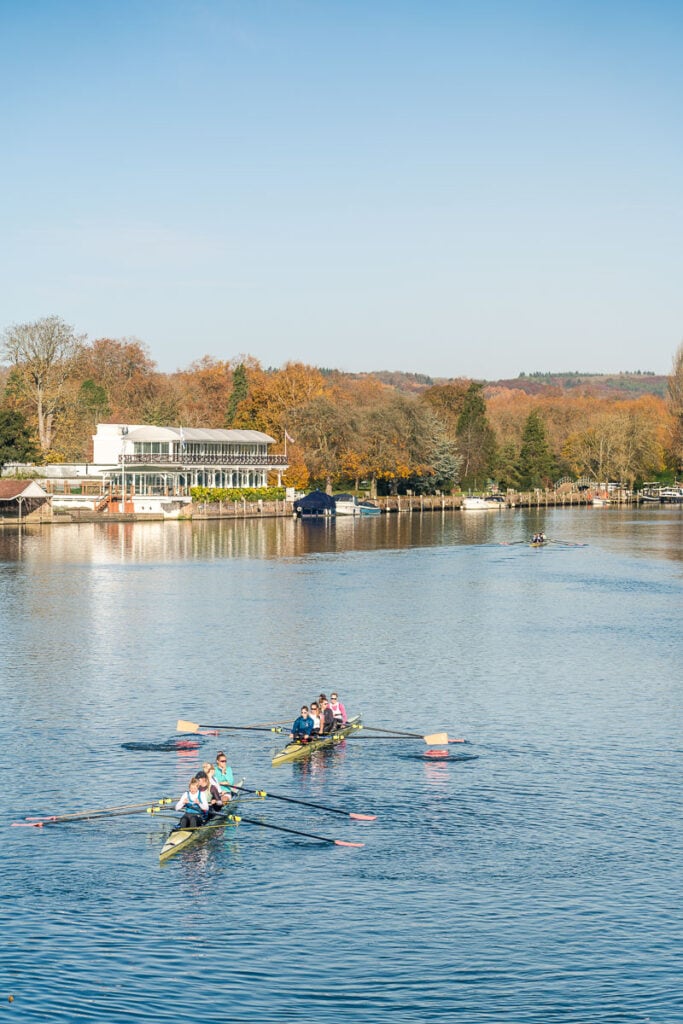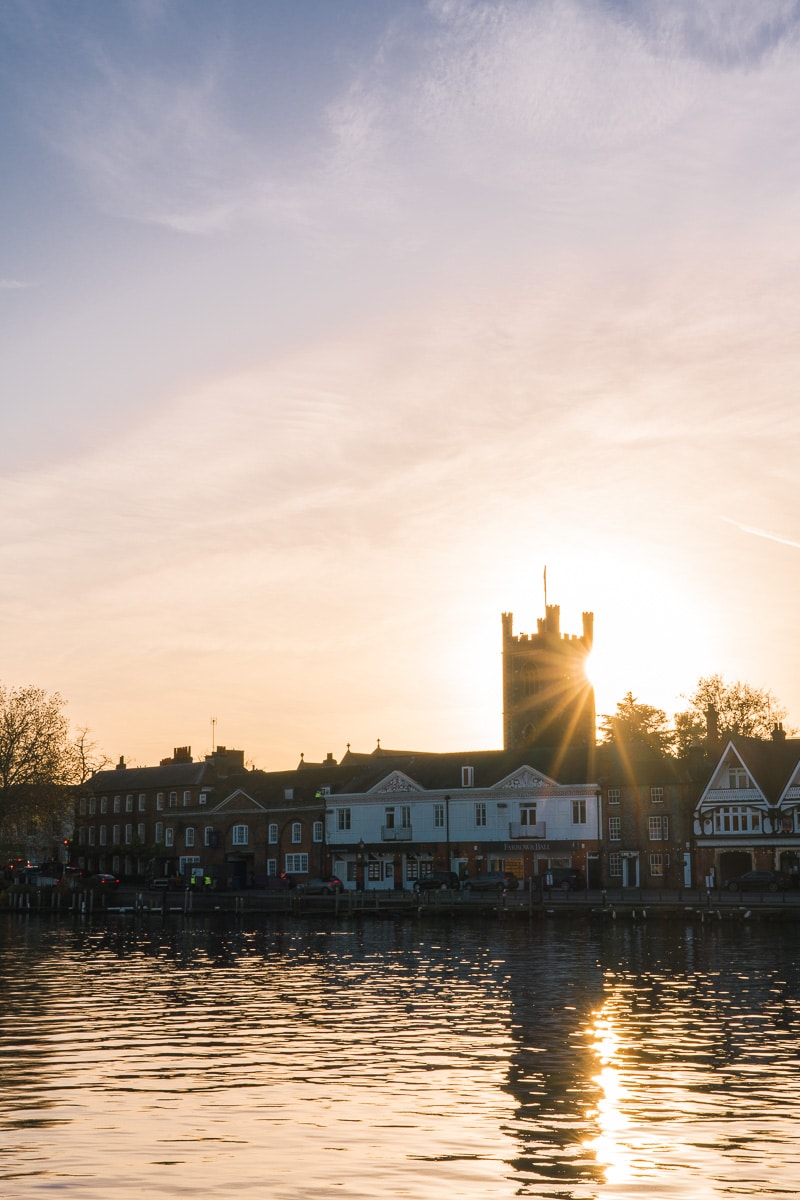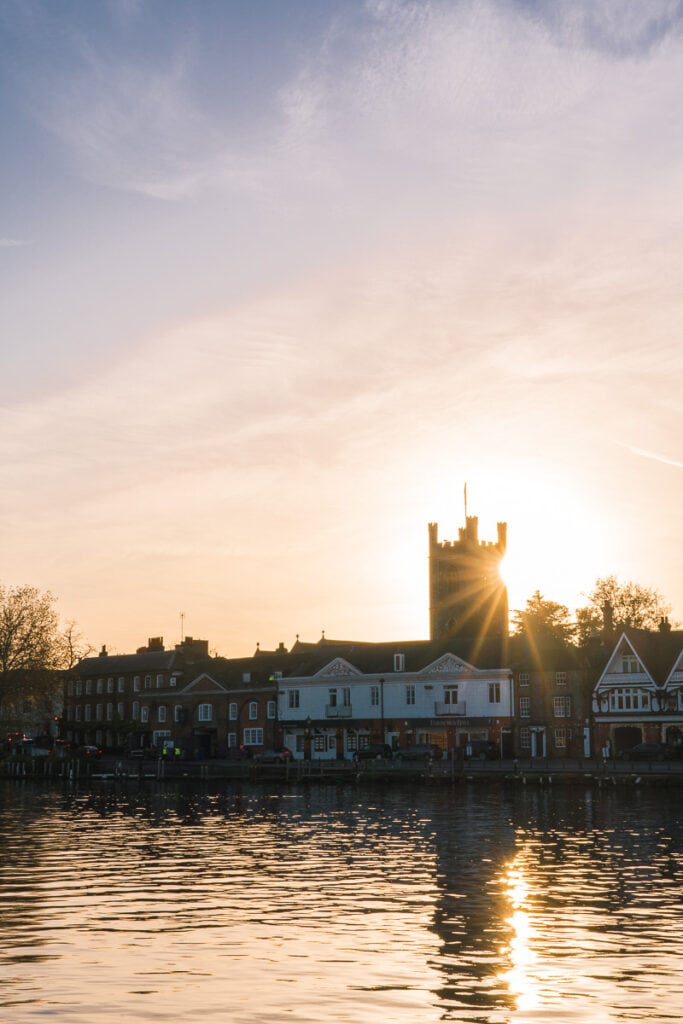 Once you've reached Henley-on-Thames I'd recommend taking a stroll around the town. There are lots of lovely places to stop for a coffee and a slice of cake, or to pick up some treats to take home. We had a delicious slice of carrot cake and strong coffee at Geo Café on Friday Street. Our legs were pretty tired by this point, so we felt it was well deserved!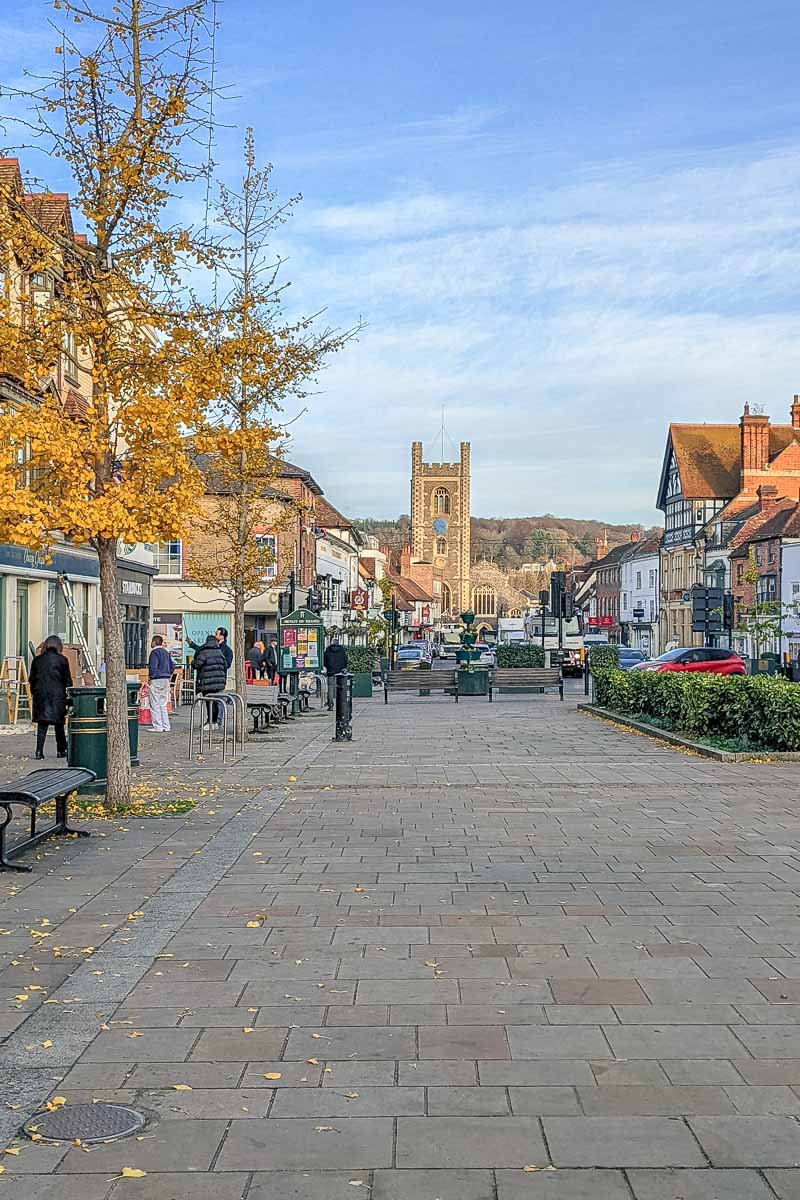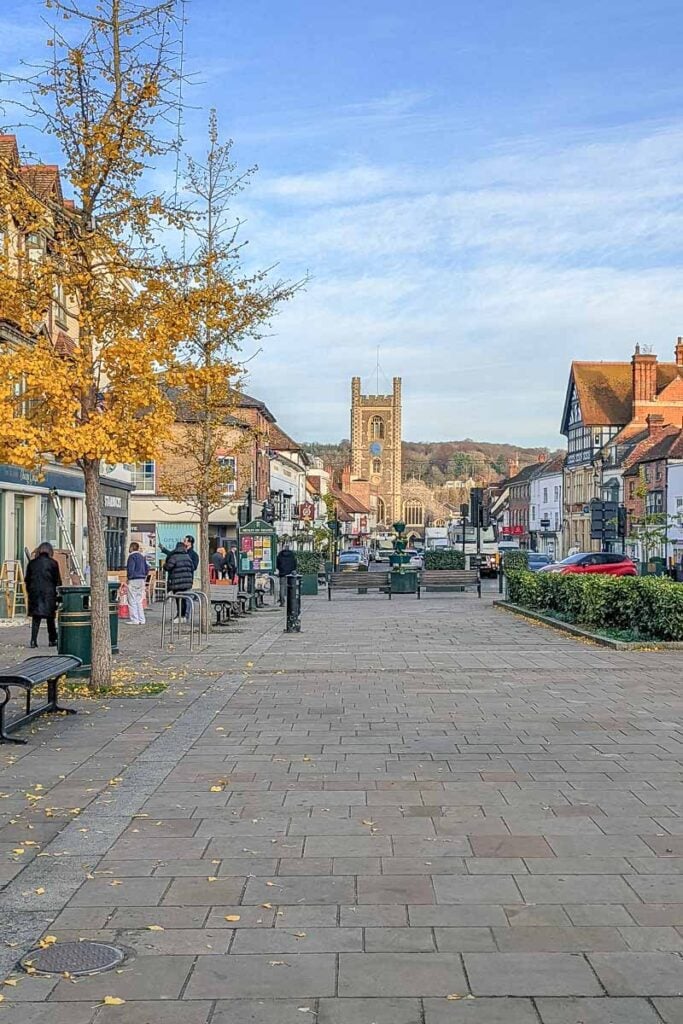 ---
I hope you've found this guide to the Henley circular walk useful. If you decide follow in our footsteps, we hope you enjoy it as much as we did. As an alternative option, you could shorten the route and simply follow the middle section for a lovely walk around Hambledon.
If you're looking for other great day hikes from London, have a read of our guide to the Chess Valley walk, the Epping Forest Oak Trail, and the Beachy Head lighthouse walk.