Are you looking for one of the best walks in Surrey? Then check out the Polesden Lacey walk with a vineyard AND brewery stop along the way.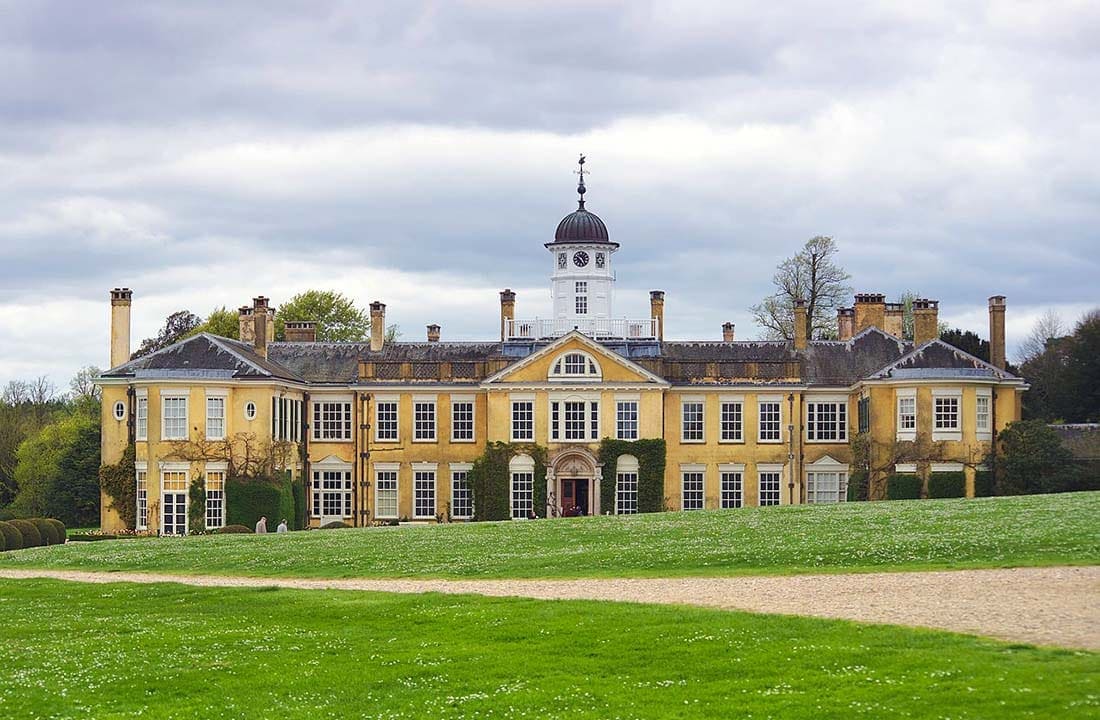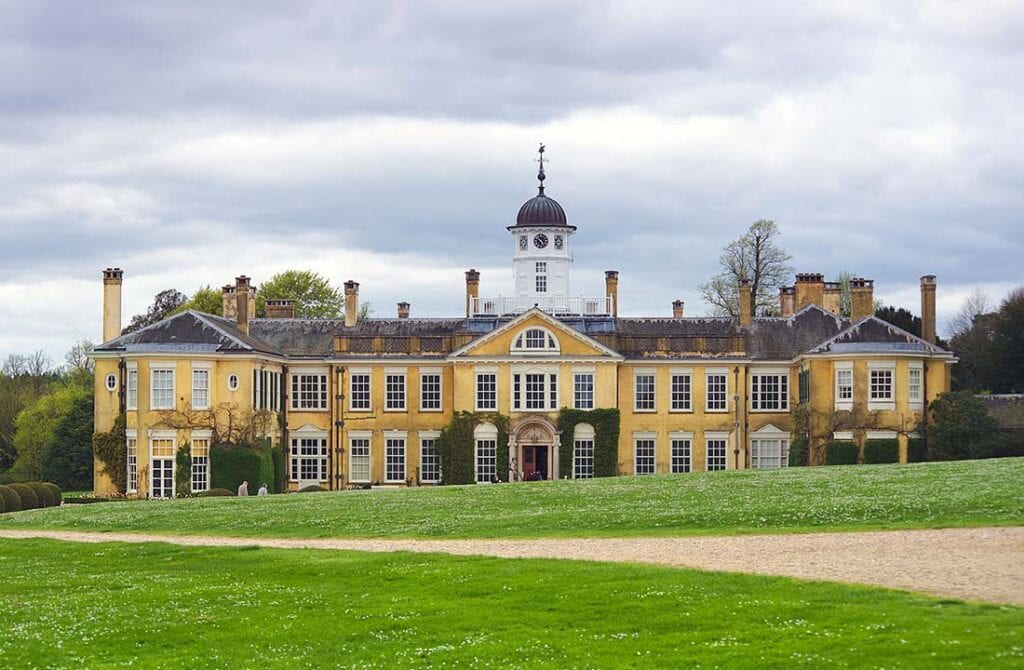 So you like walking and wine do you? Then we've got the perfect walk for you!
We recently took on the Polesden Lacey walk in Surrey, and it was amazing. For us, this was one of the best walks near London. I'll tell you why.
This was starts in the beautiful grounds of Polesden Lacey, a grand and opulent National Trust site. It then takes you through the forests to some stunning views overlooking the Surrey Hills.
Then, to make things even better, you can have lunch at one of the best vineyards in Surrey. And for those of you who don't like wine, there's even a brewery on this walk too! I mean, what more could you want!?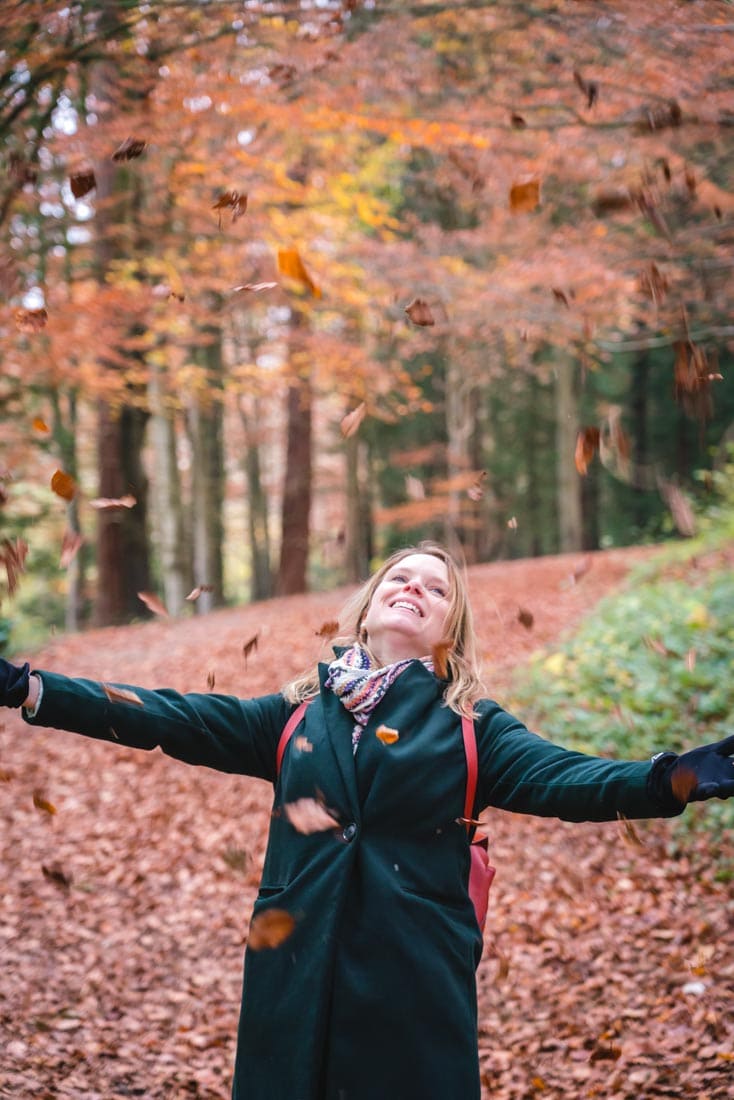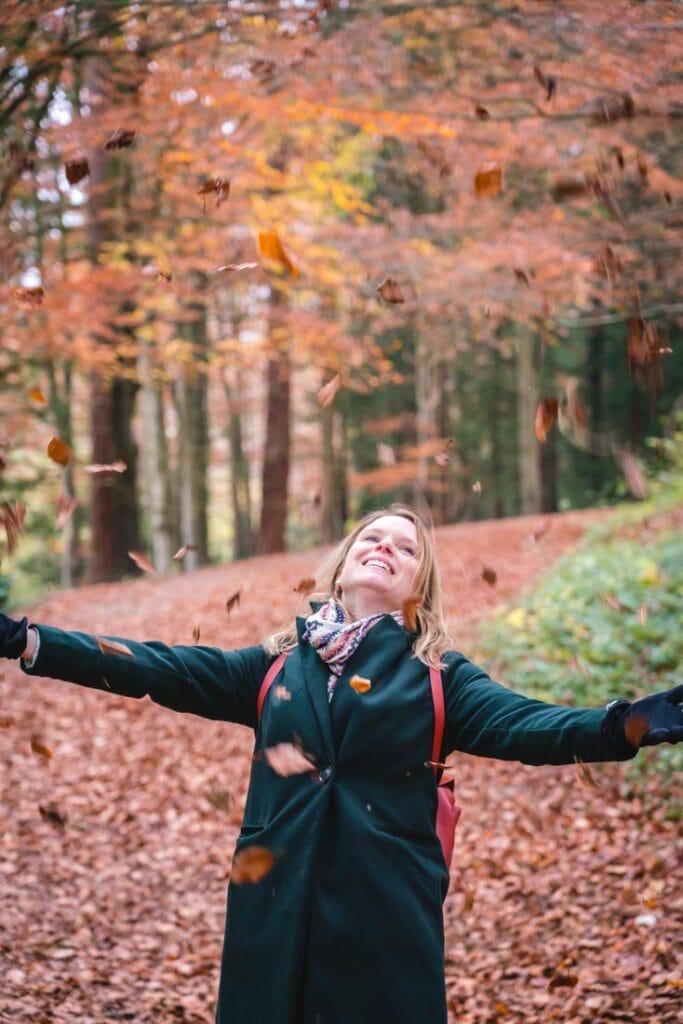 After the success of our walking guides to Beachy Head, Epping Forest, Pendle Hill and  the Chess Valley walk , we decided it was time to plot out another great route so that you can follow in our footsteps.
When I was looking for a walk close to London, I noticed this Polesden Lacey Nation Trust walk kept on coming up.
However, the biggest problem was that there wasn't a lunch-stop along the route. That's why we've come up with our own walking route. This is using parts of the National Trust walk, but with a nice detour to Denbies Wine Estate for lunch.
If you want to make a day of it, you can even go on a wine tour at Denbies and learn all about how they produce English sparkling wine there.
Hopefully you can follow this detailed guide for this spectacular Surrey walk. We really hope you enjoy it as much as we did!
What is the Polesden Lacey circular walk?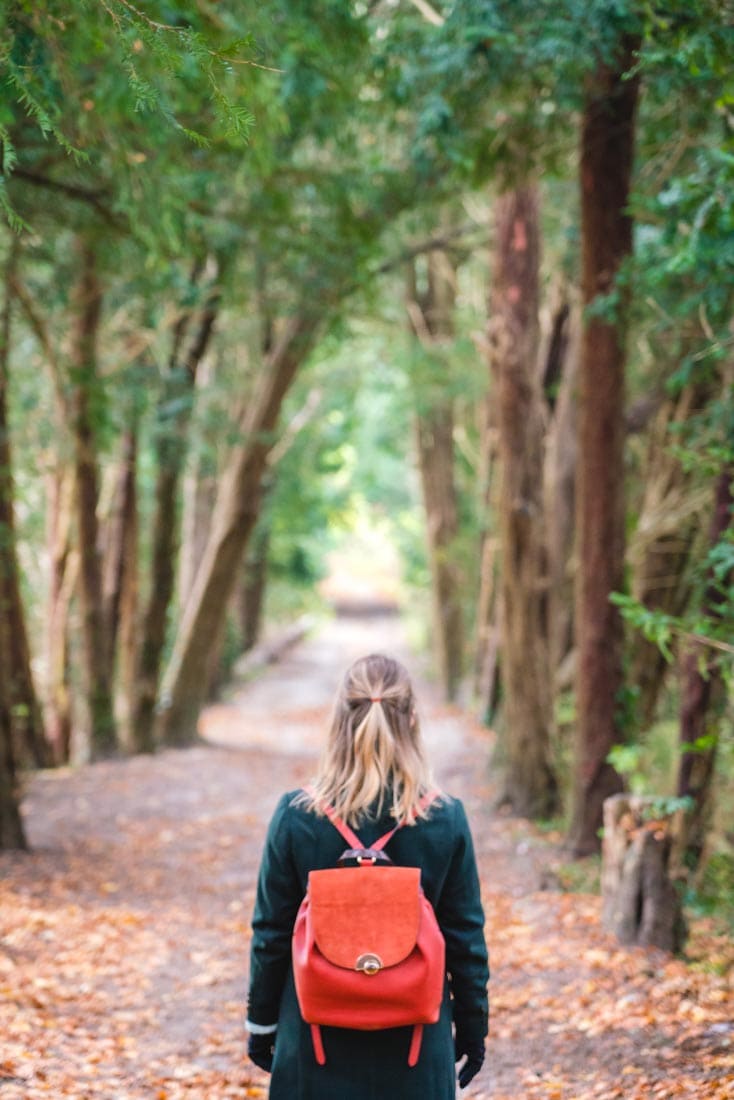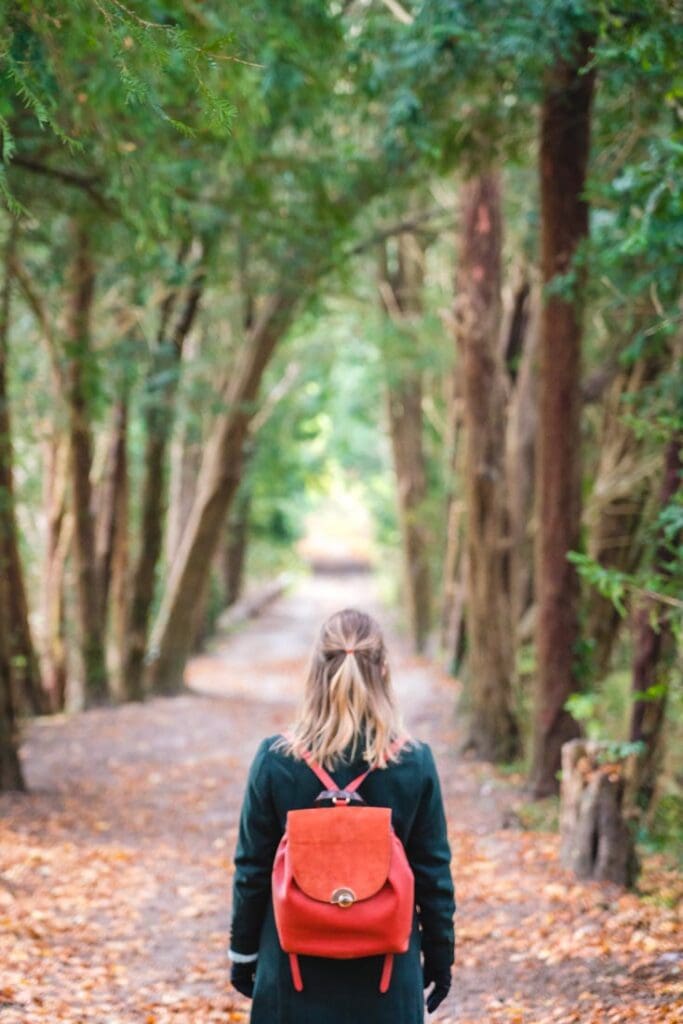 In 1923, Queen Elizabeth (the Queen Mother) once said on her honeymoon to Polesden Lacey that "this is a delicious house". Nearly 100 years later, that's still the case.
Steeped in intrigue, this place was once home to the famous Edwardian hostess Mrs Margaret Greville. She was a super-rich socialite who threw the wildest parties for royalty, politicians and celebrities of the time. Even Winston Churchill had a party here, and we all know the guy loved a drink. If only these walls could talk…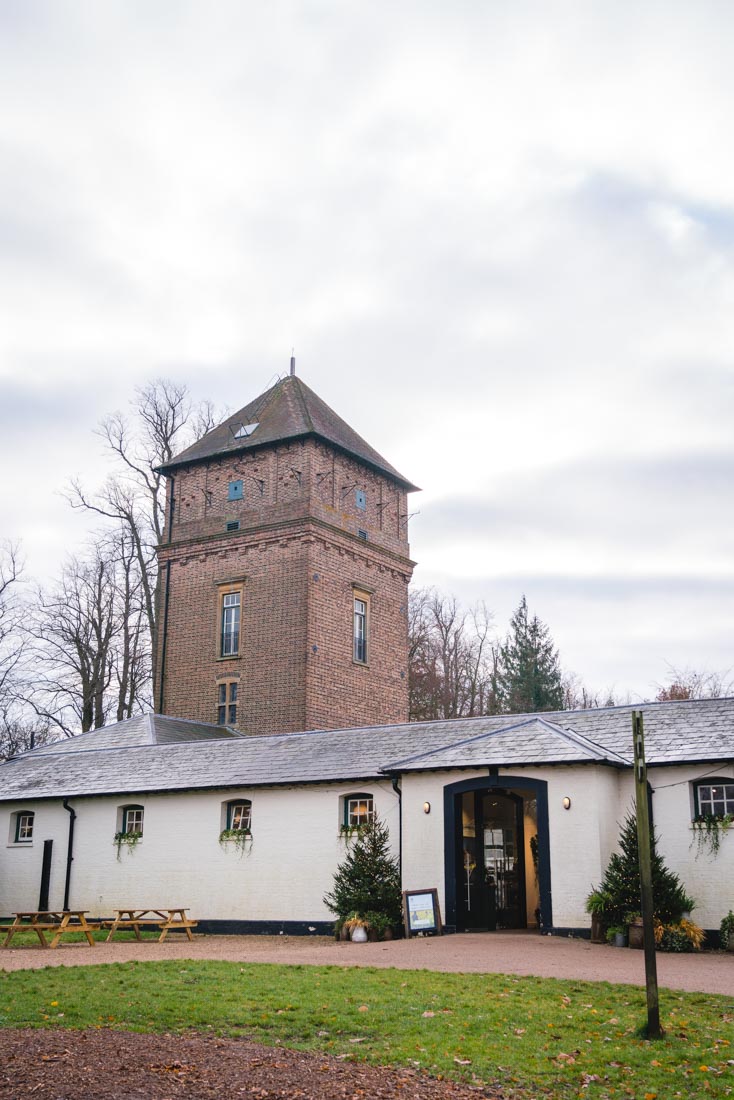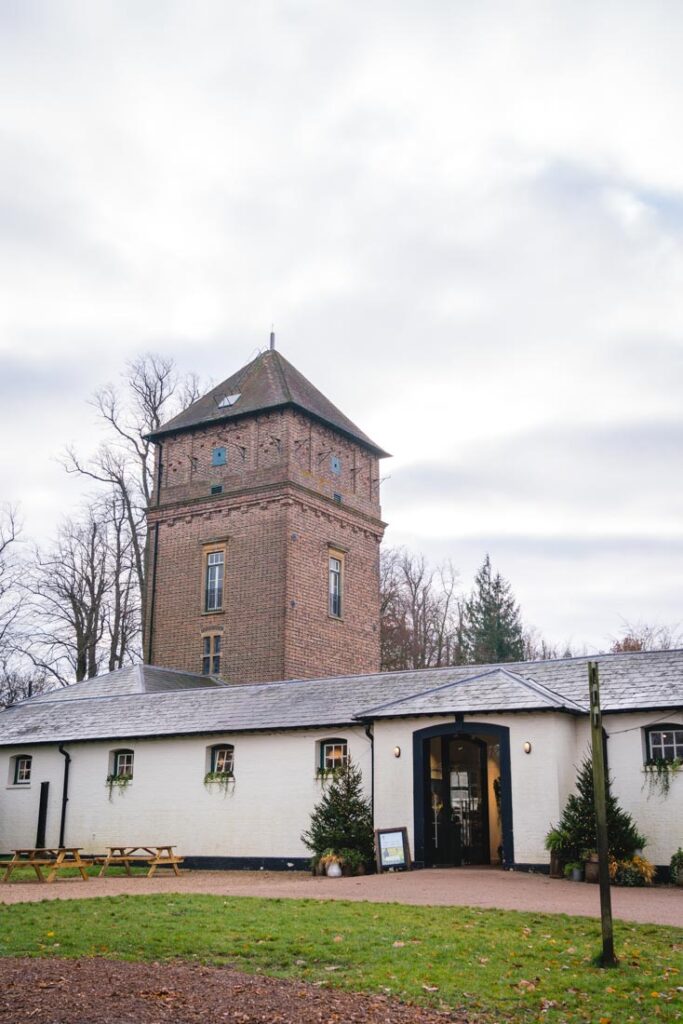 Polesden Lacey is a National Trust country retreat right in the heart of Surrey. Just four miles from Dorking, it has glorious views of the rolling Surrey Hills and lots of woodlands just waiting to be explored.
If you're looking for a Surrey walk, then this is a great option. Starting and ending at Polesden Lacey means you don't have to worry about leaving your car.
Also, you get to stop off at Denbies Wine Estate and Surrey Hills Brewery along the way. What a great day out!
How long does the Polesden circular walk take?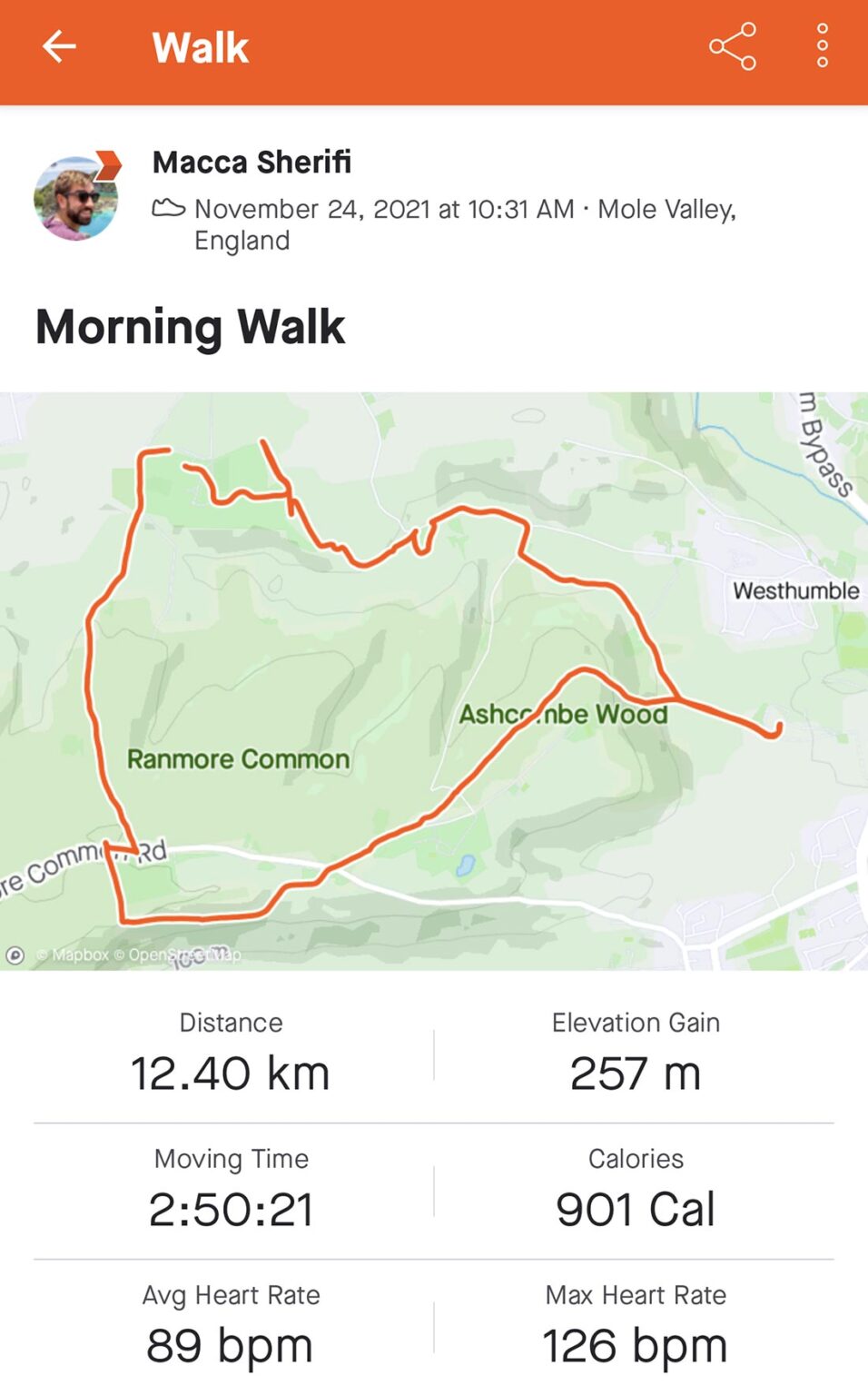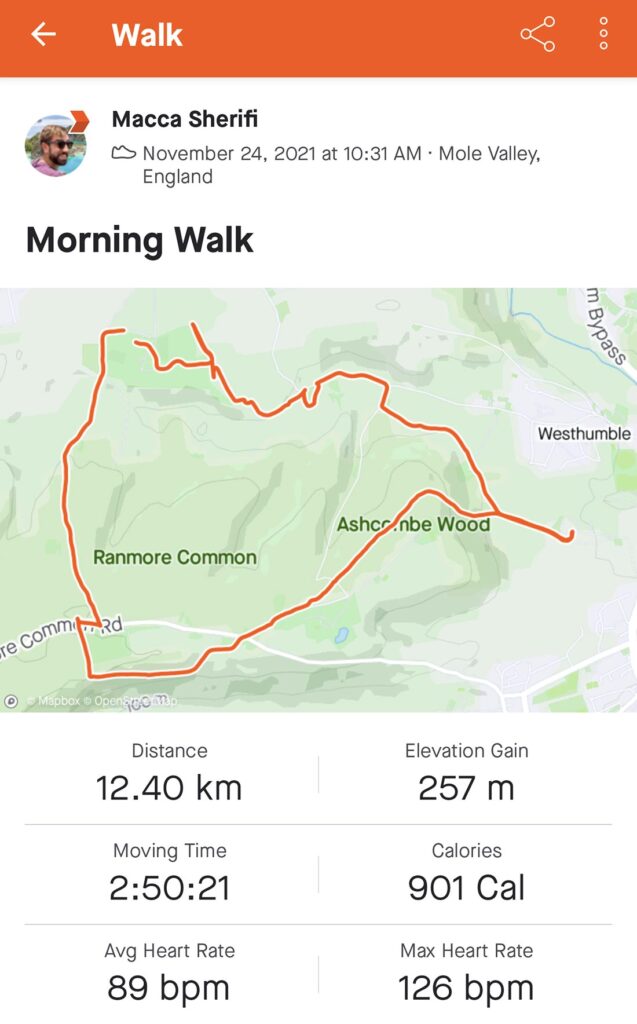 Good question! At 12.4 km long, usually this takes people 3 to 4 hours to walk. Add in an hour for lunch at Denbies Wine Estate and 30 minutes for a coffee at Polesden Lacey at the end, and you're looking at 4.5 to 5.5 hours in total.
Because we wanted to stop off for lunch along the route, we started around 11am and got to Denbies for around 1pm. Then we left Denbies at around 2pm, and made it back to Polesden Lacey at 3:30pm.
I saw plenty of dog walkers along this route, so it's a great walk for the pooch too.
How to get to Polesden Lacey house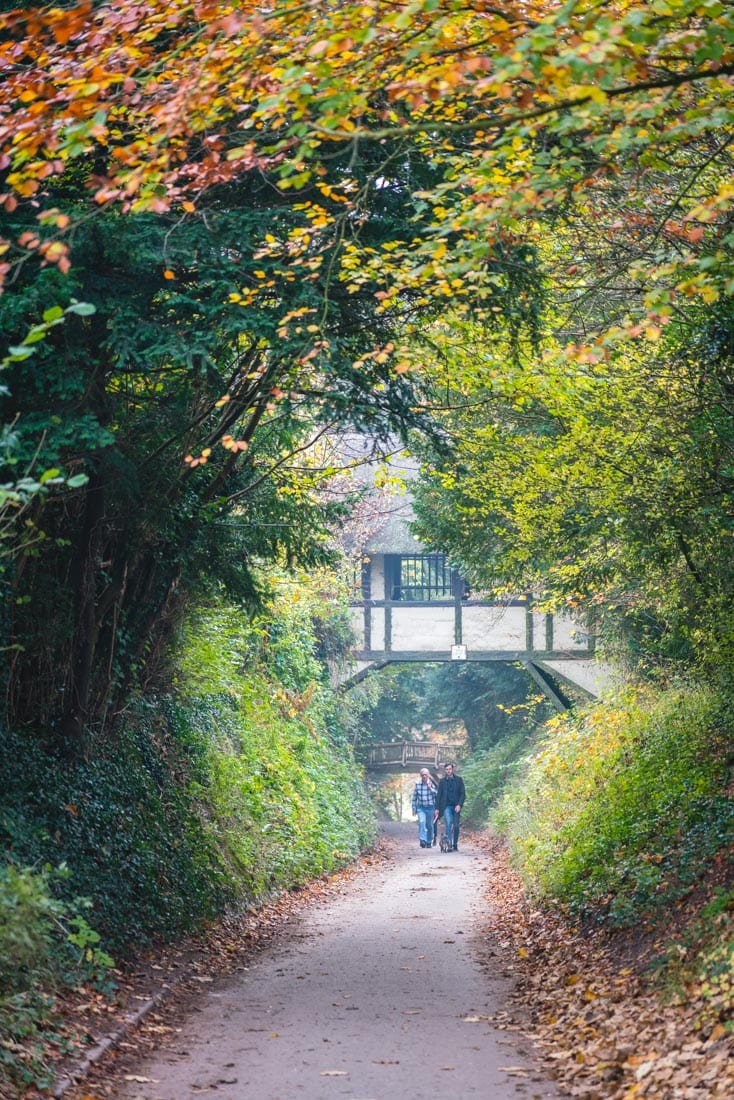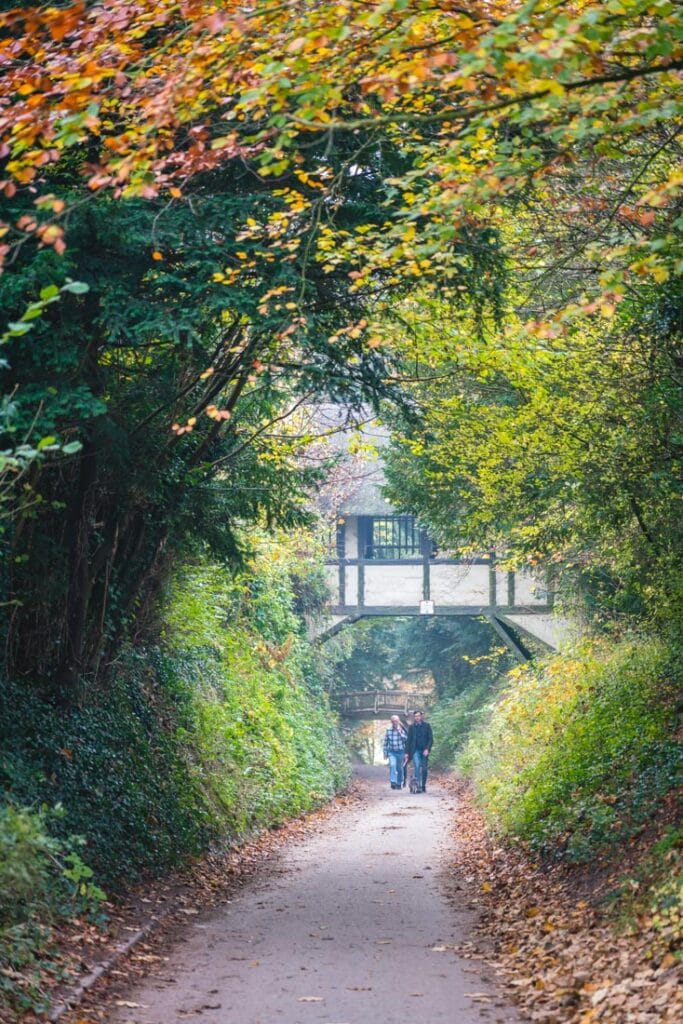 Polesden Lacey is just four miles from Dorking in Surrey.
As it's near junction 9 of the M25, it's very easy getting here. It's only 27 miles from London, so it'll take you around an hour to drive.
If you're driving, the Polesden Lacey postcode is RH5 6BD. You can find the Google Map here.
Unfortunately this is one of those places where it's a lot easier having a car and driving. Sorry if you don't have a car.
Saying that, if you wanted to, you could get the train from London Victoria to Box Hill & Westhumble and then walk 20 minutes to Denbies Wine Estate.
This would mean you're starting the circular walk from here to Polesden Lacey, but it's definitely possible and it would still make a great day out.
Highlights of the Polesden Lacey walk
Section 1: Walking through the woods to Ranmore Common Road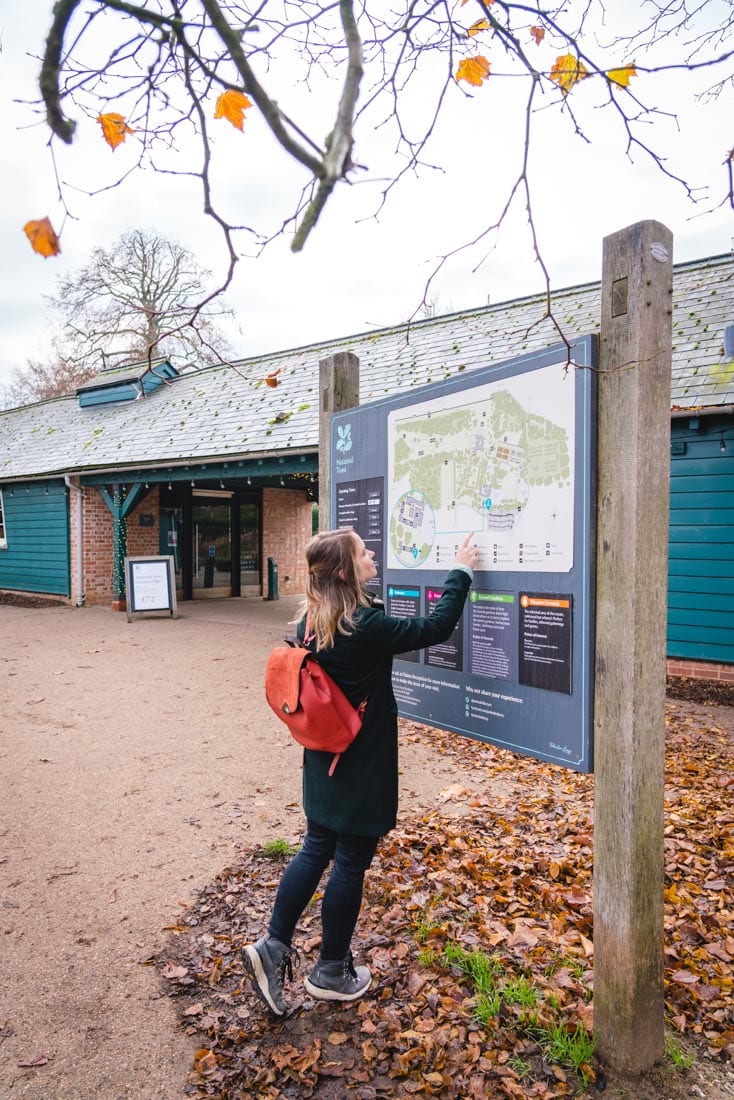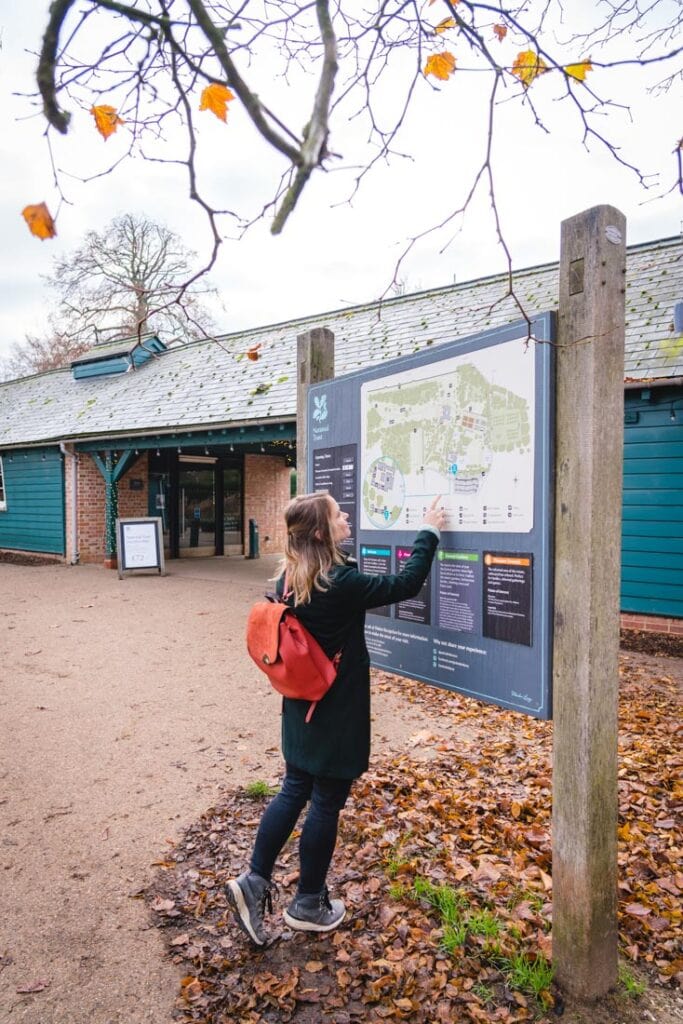 Being a National Trust site, there's plenty of parking at Polesden Lacey. The parking costs £2 for up to 2 hours, or £5 for a full day. Obviously we went for the full day. There are also toilets here, so it's a good idea to go before your walk.
If you're facing the main tower of Polesden Lacey, follow the path right and take the gate at the end of the car park. Geographically this is heading west. This photo should help with the first directions.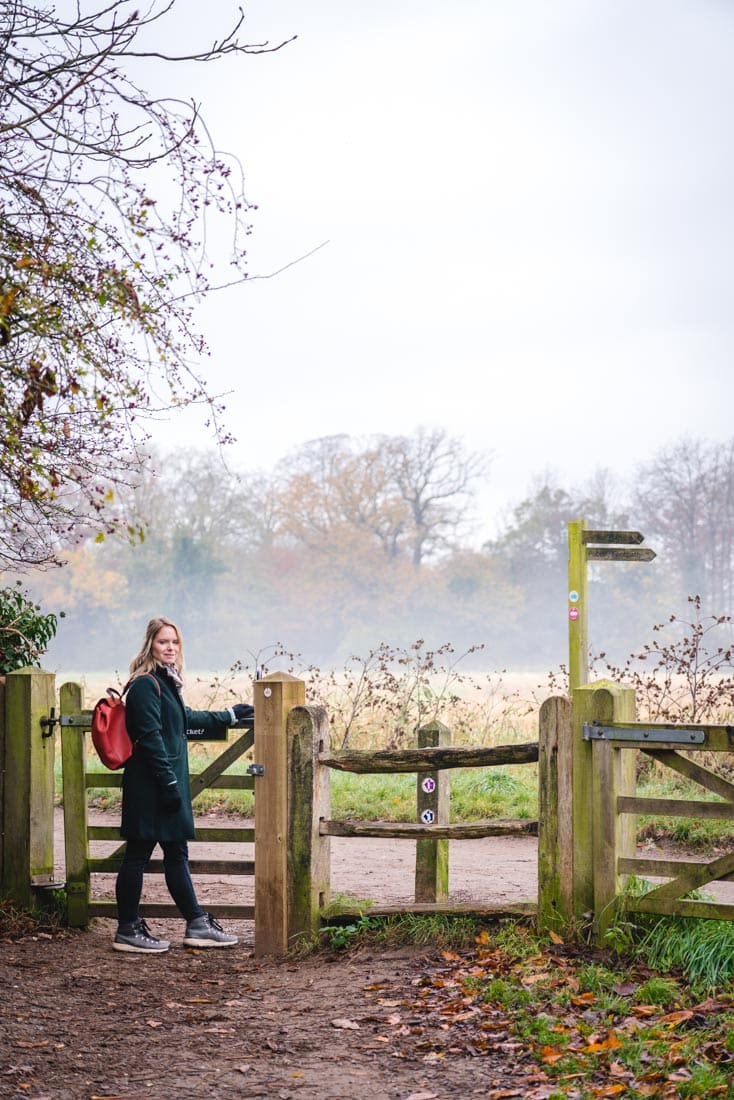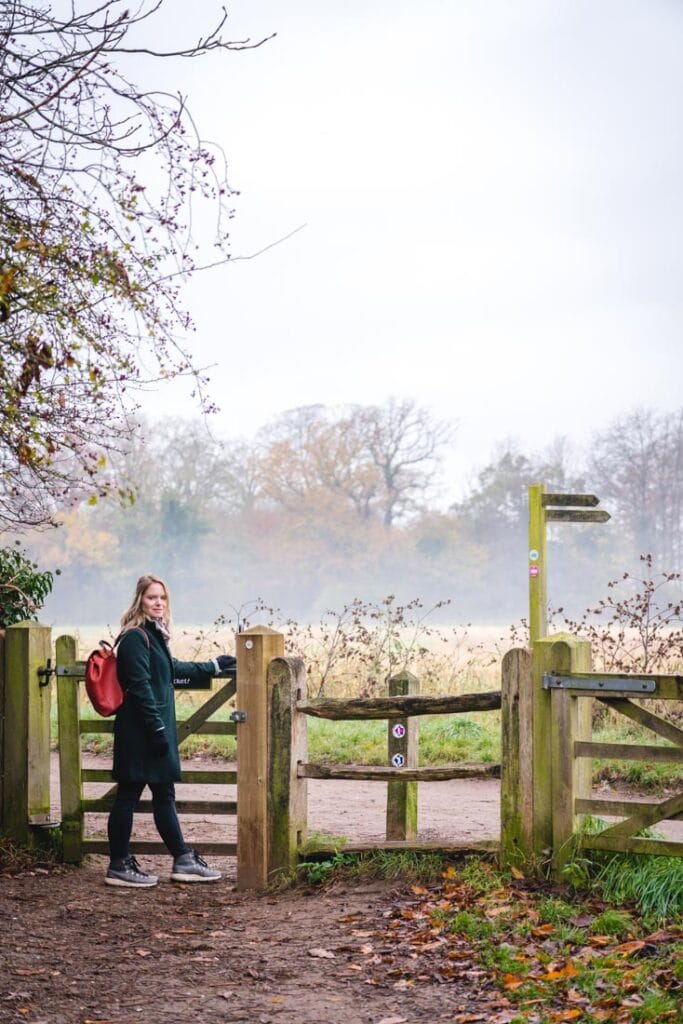 Exit the car park and turn left along the track going downhill. You'll know you're heading in the right direction when you come across two bridges running over the path.
I thought it was really cool seeing these bridges in the middle of the woods. They felt very medieval. Dare I say it, but very Game of Thrones. It really is a great way to start the walk!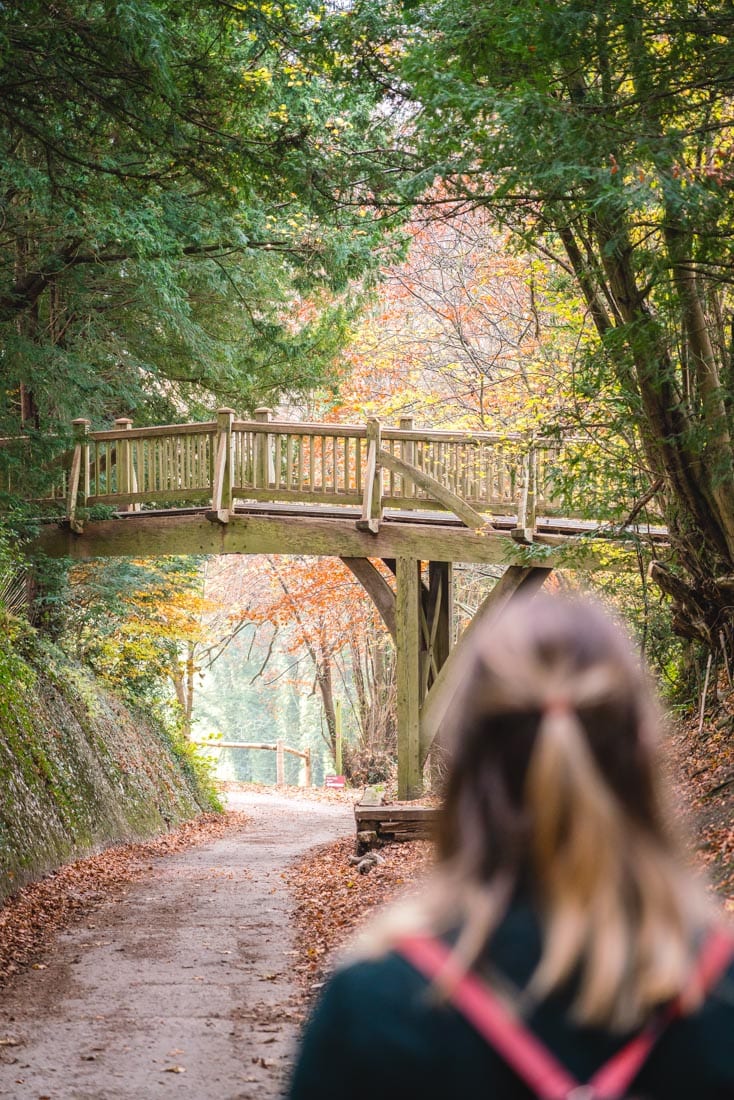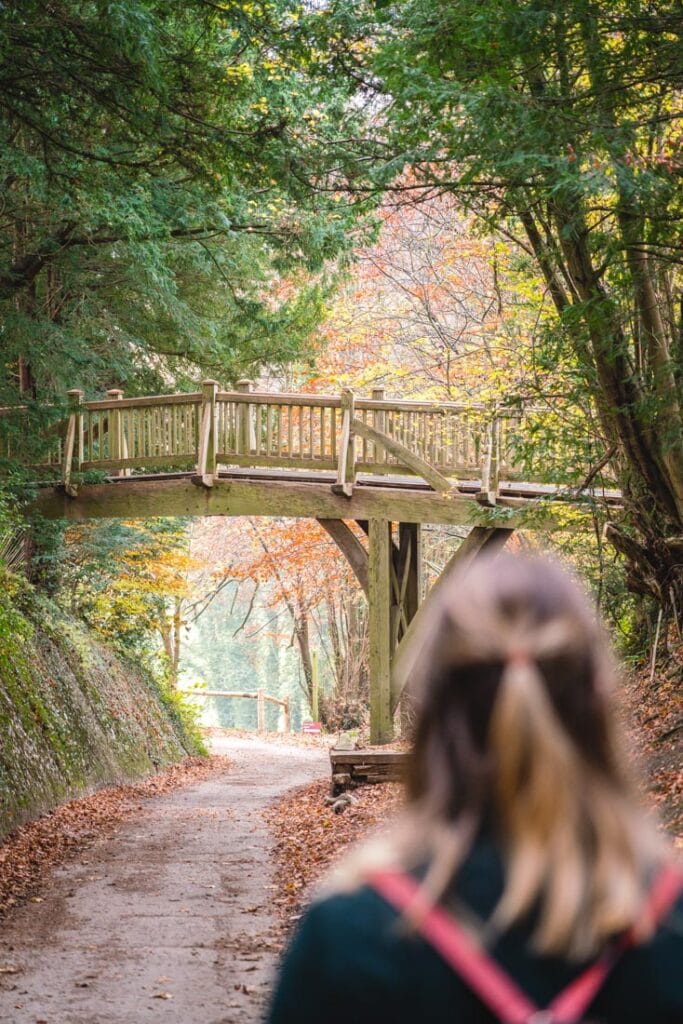 Keep on walking straight, and you'll pass through a section of gnarled yew trees before following the path uphill.
As you reach a T-junction, turn right. Keep to this track as you pass Yew Tree Farm cottages. When you come to the fork, keep left. If you keep walking then you'll pass Yew Tree Orchard on the left with this gorgeous view on the right. This is a really good photo spot.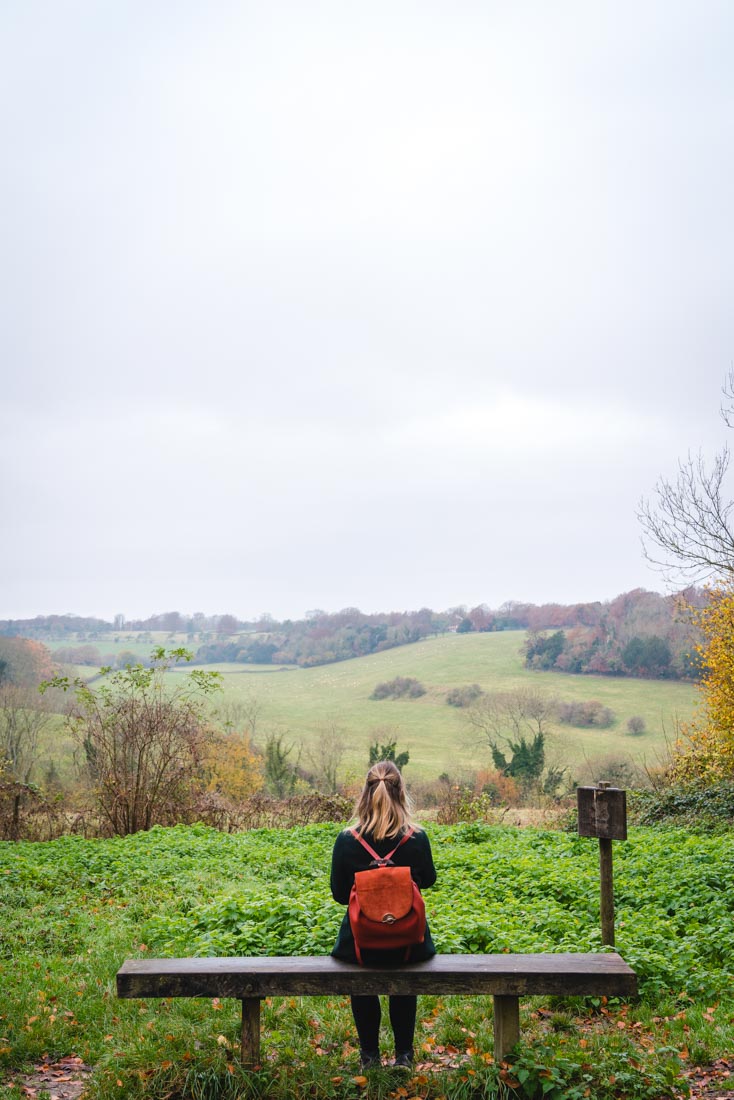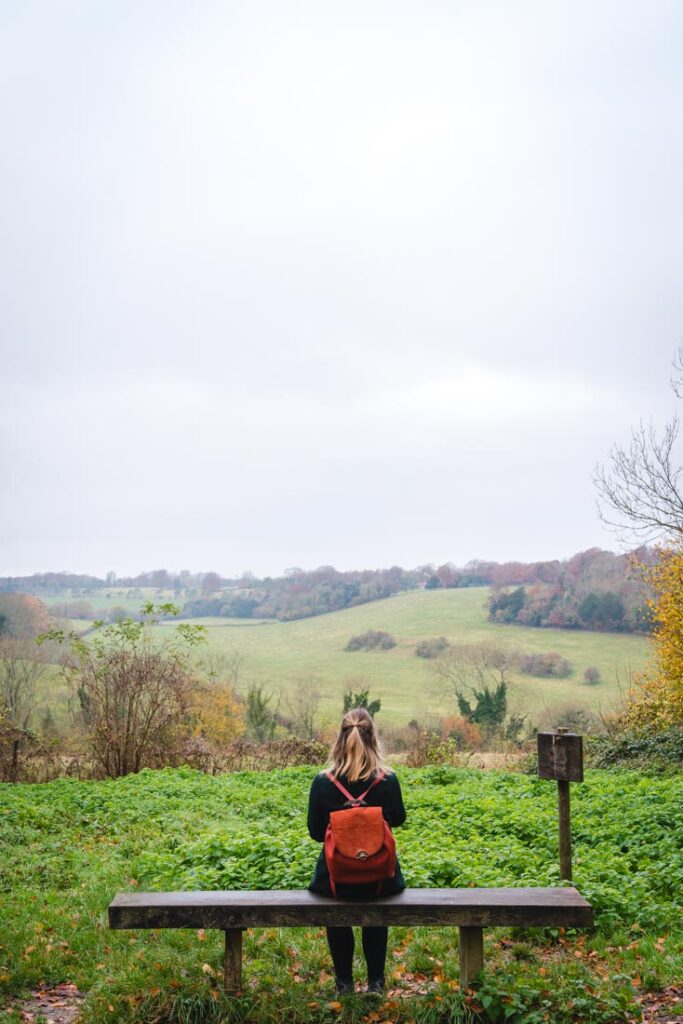 The next section of walk continues along the track south for about 15 minutes. If you keep on walking, it'll pop you out of the woods at Ranmore Common Road. There is a grassy verge and a path on the right. Follow this for about 100 metres until you come to a Forestry Commission sign.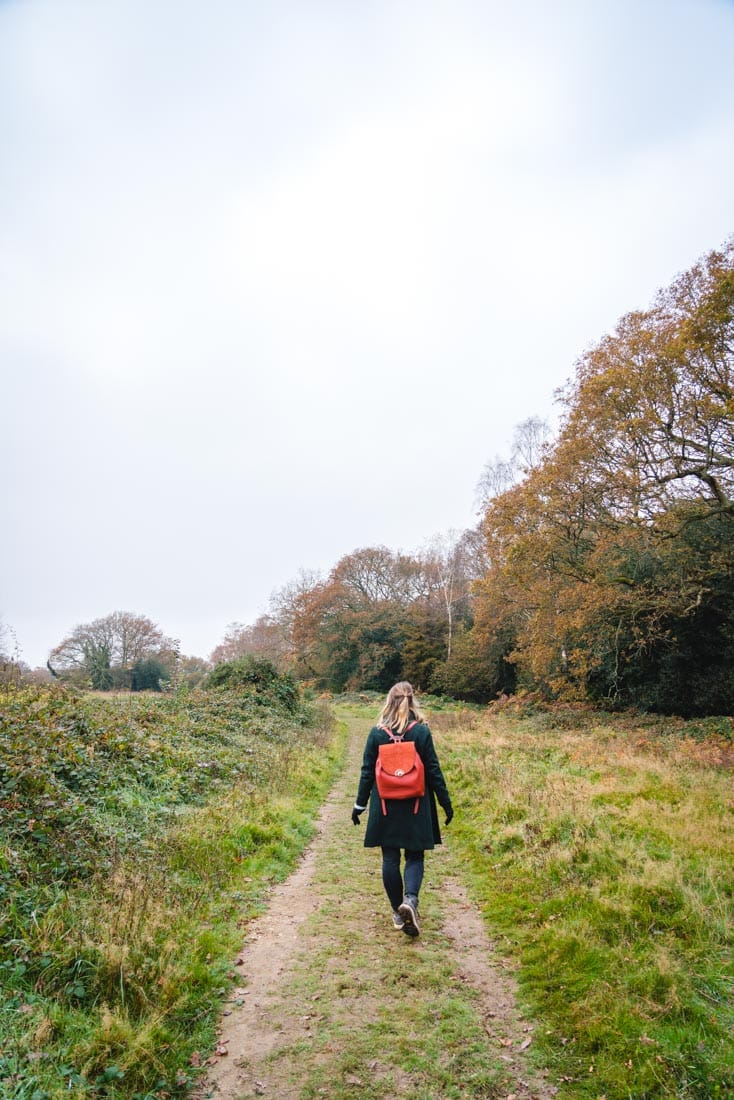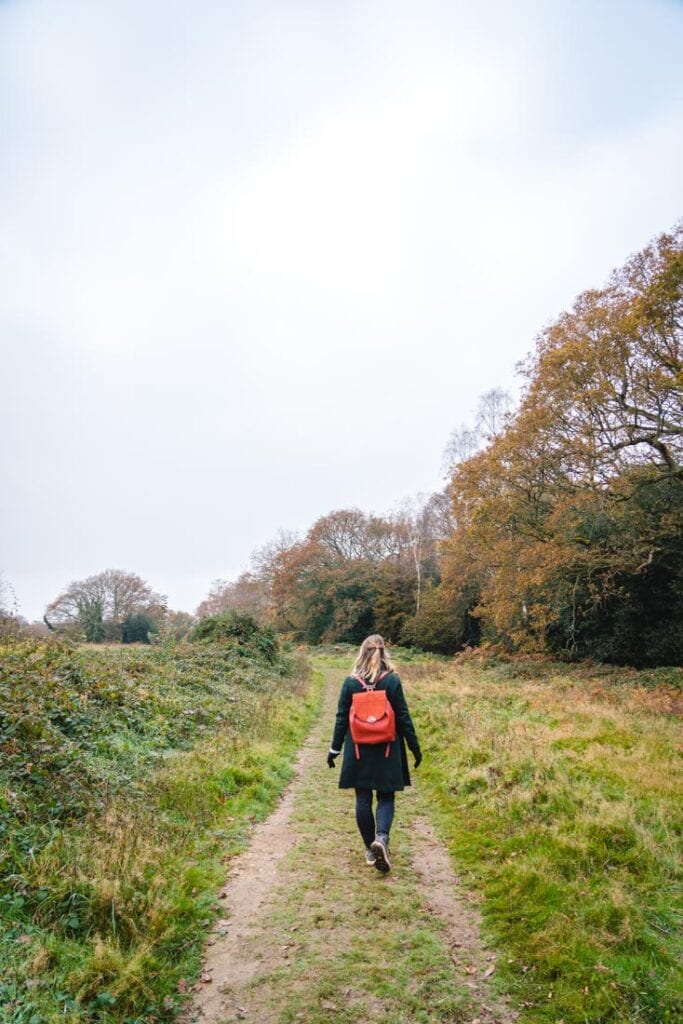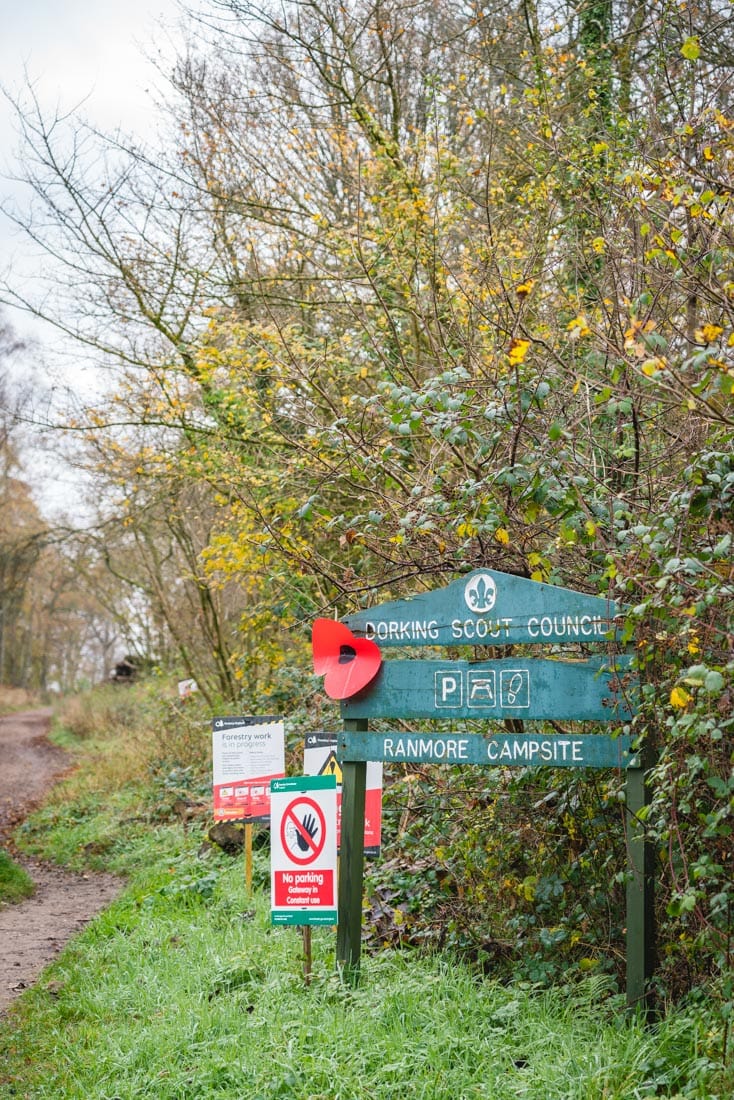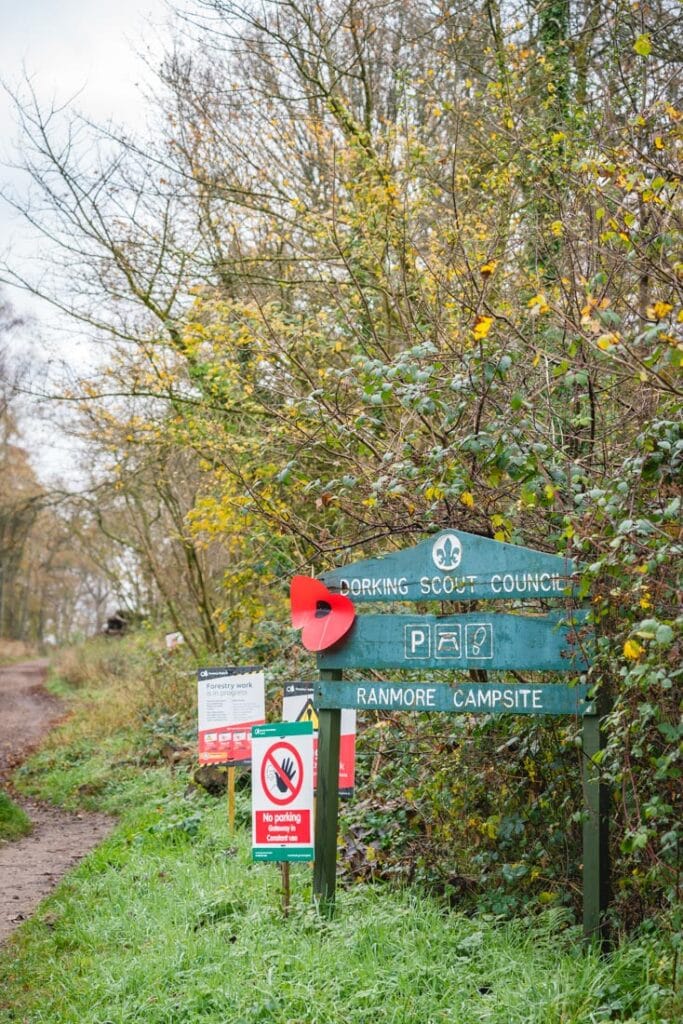 Cross the road and take the track in front of you. After a few minutes this will meet up with the North Downs Way.
Section 2: Surrey Hills to Ranmore Common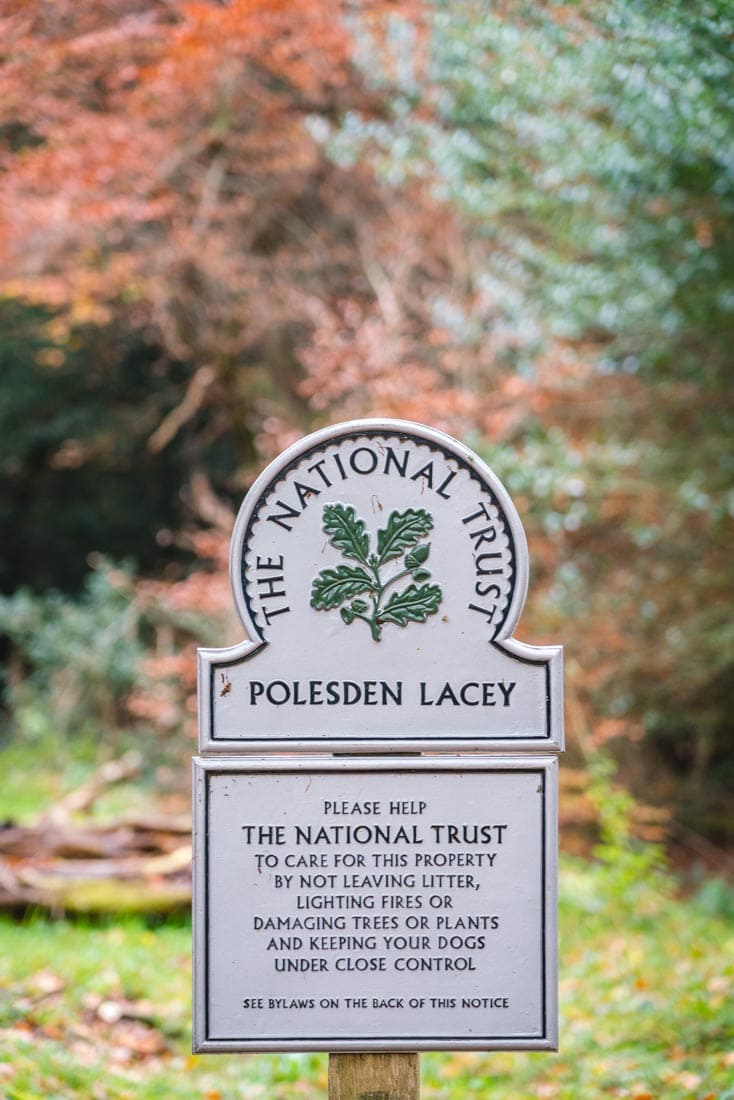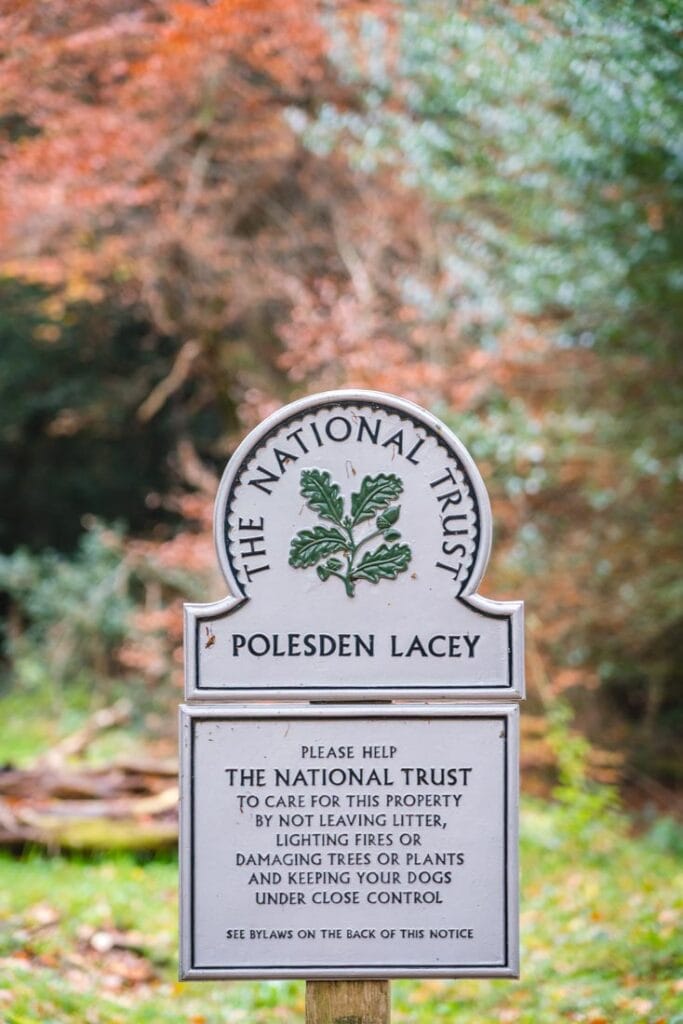 I really loved this section as this is the first glimpse of the green rolling hills that Surrey is famous for.
Once you've met up with the North Downs Way, take the track on the left. Here you'll find a gate into a field on your right. If you've found this bench then you're on the right path – this is another lovely photo spot by the way!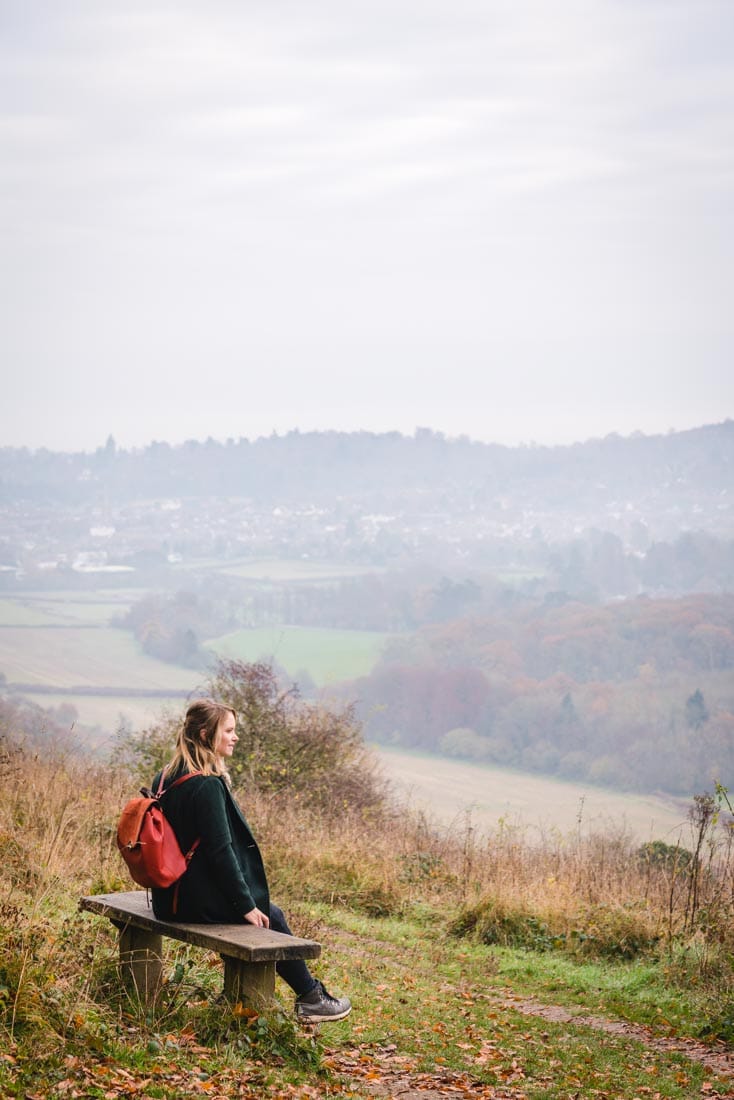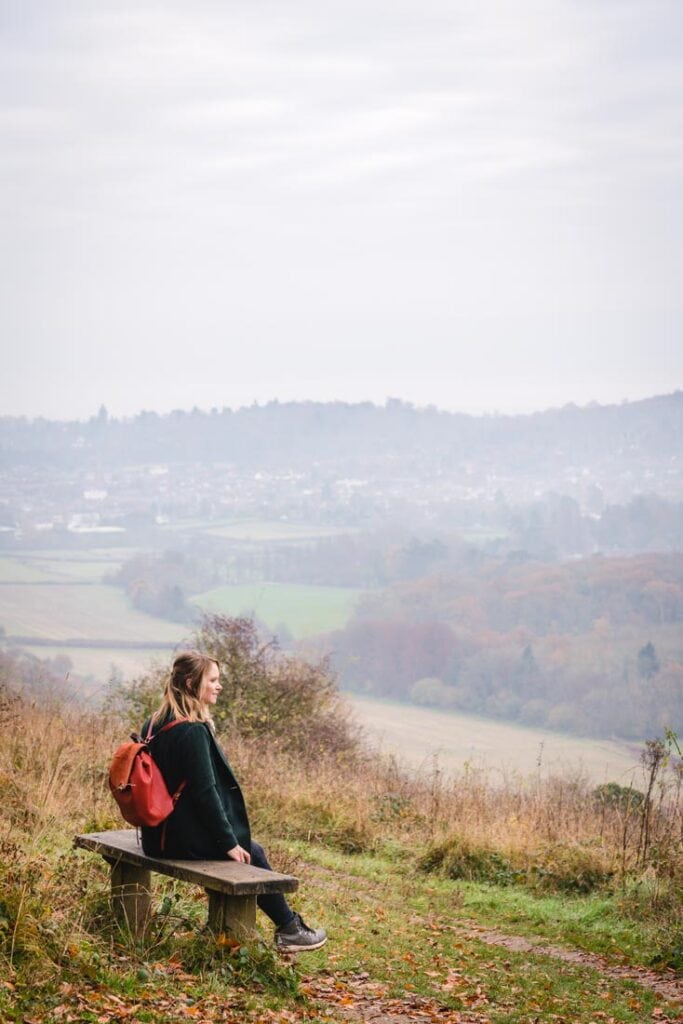 Keep on following the path until you come to another gate. If you've been following the National Trust map, this is instruction no. 5. At this point it'll tell you to head back through the woods – ignore it. This is where our Polesden Lacey walk differs.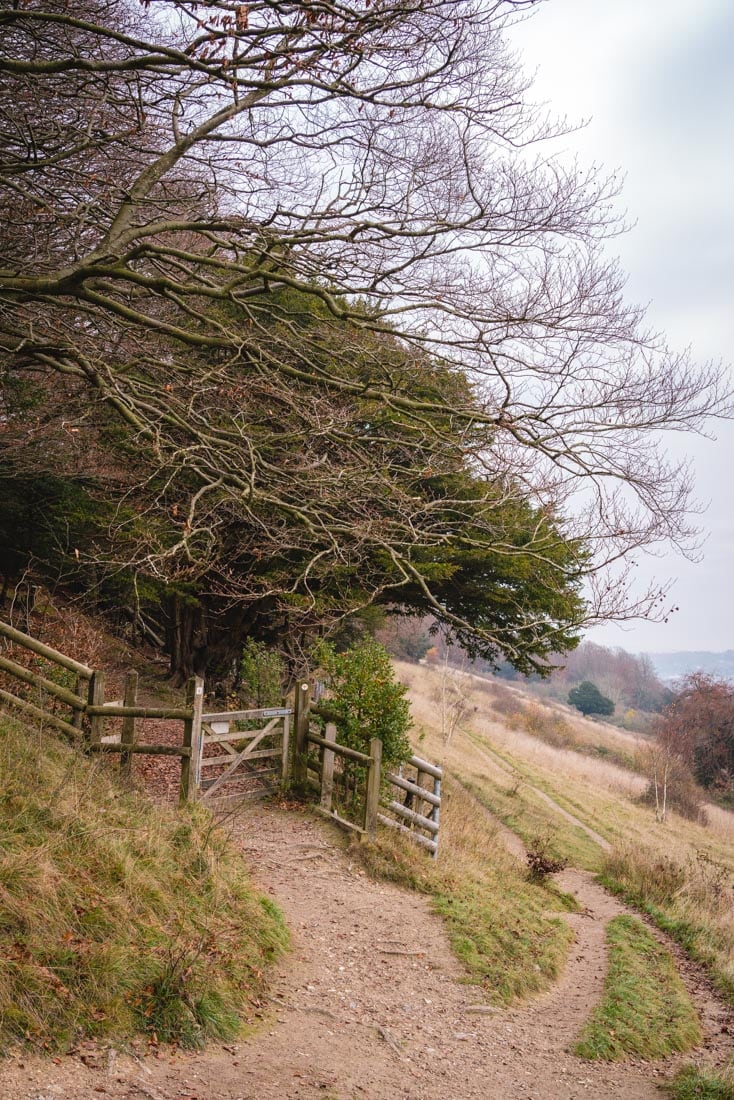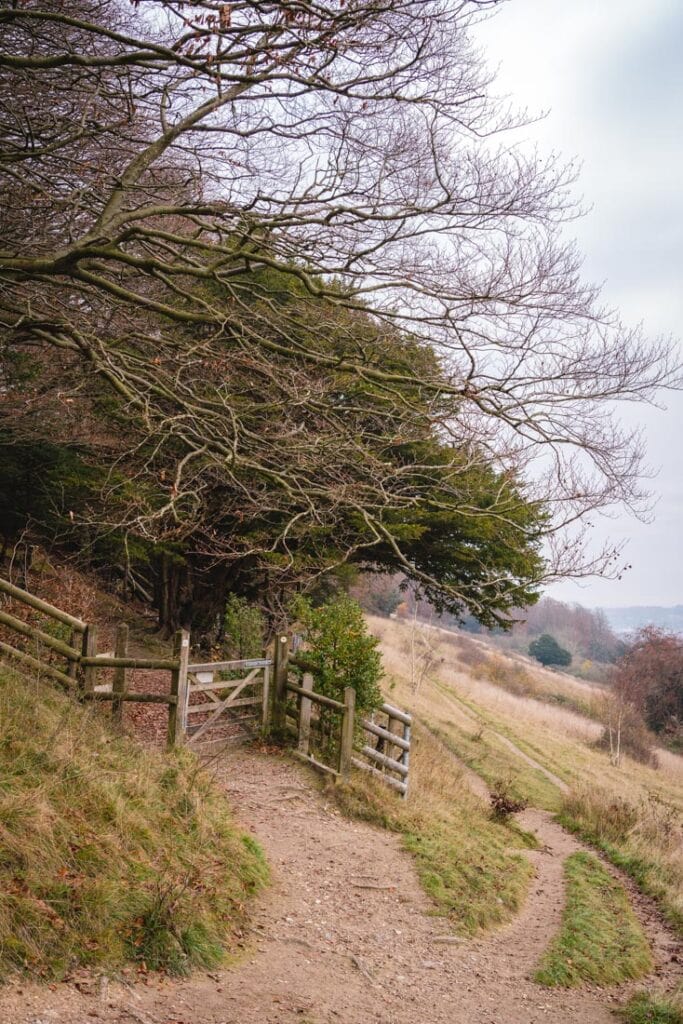 For our walk, keep on walking past the gate to the end of the track. Here you'll find another gate (metal this time) that goes uphill. After about 100 metres from the gate, take the right path towards the houses.
You'll quickly come to a signpost saying North Downs Way – left. This is where we're heading.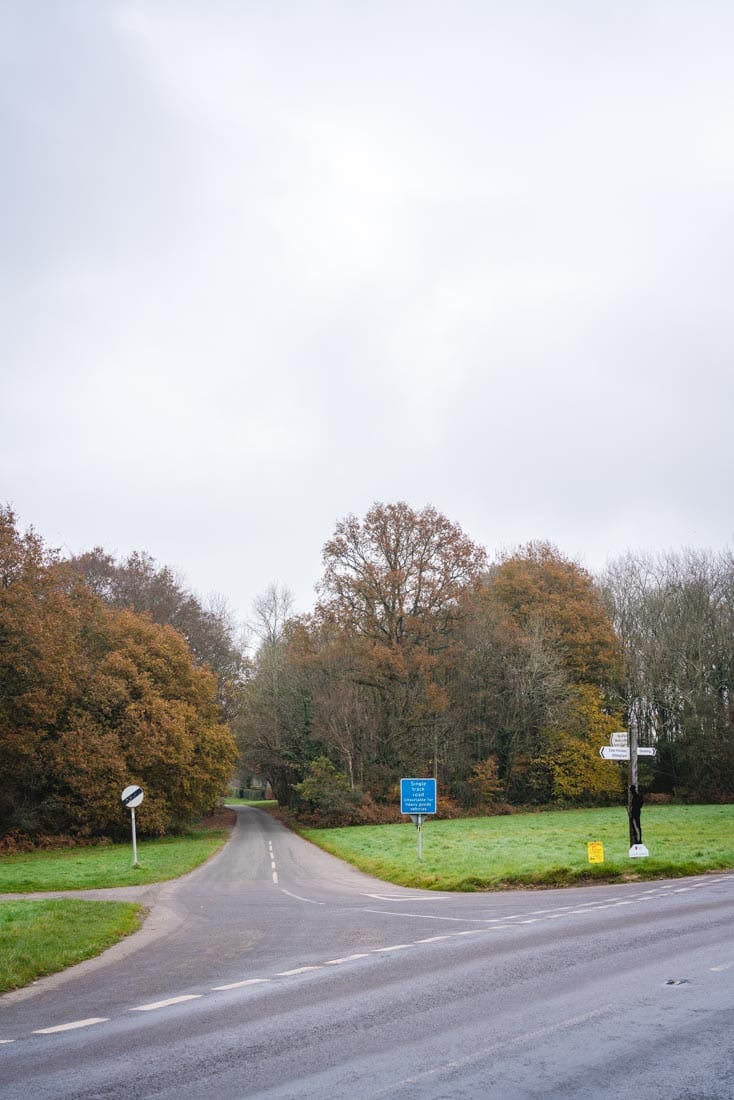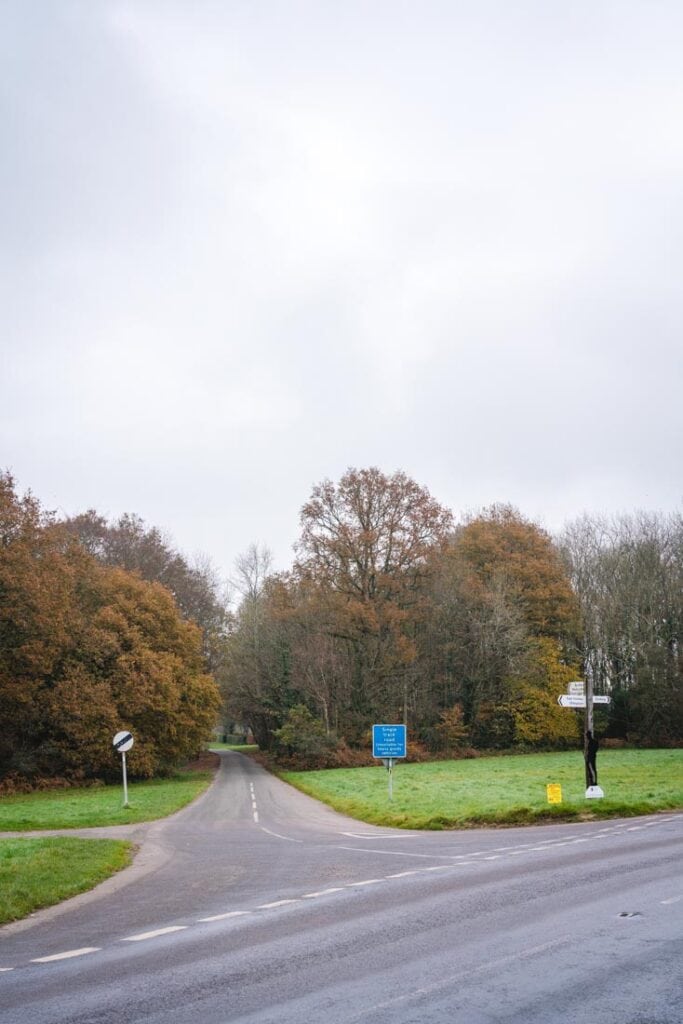 At this point, if you get lost, head towards the church spire. That's where we'll follow the next step of directions!
Section 3: Ranmore Common to Denbies Wine Estate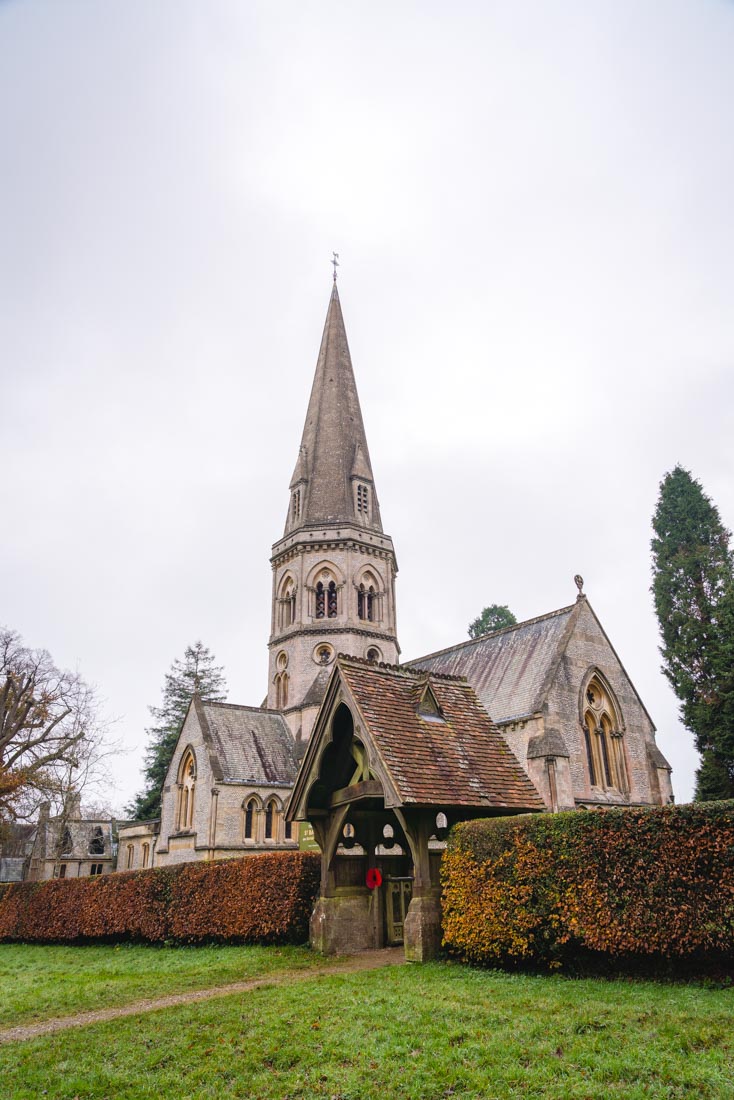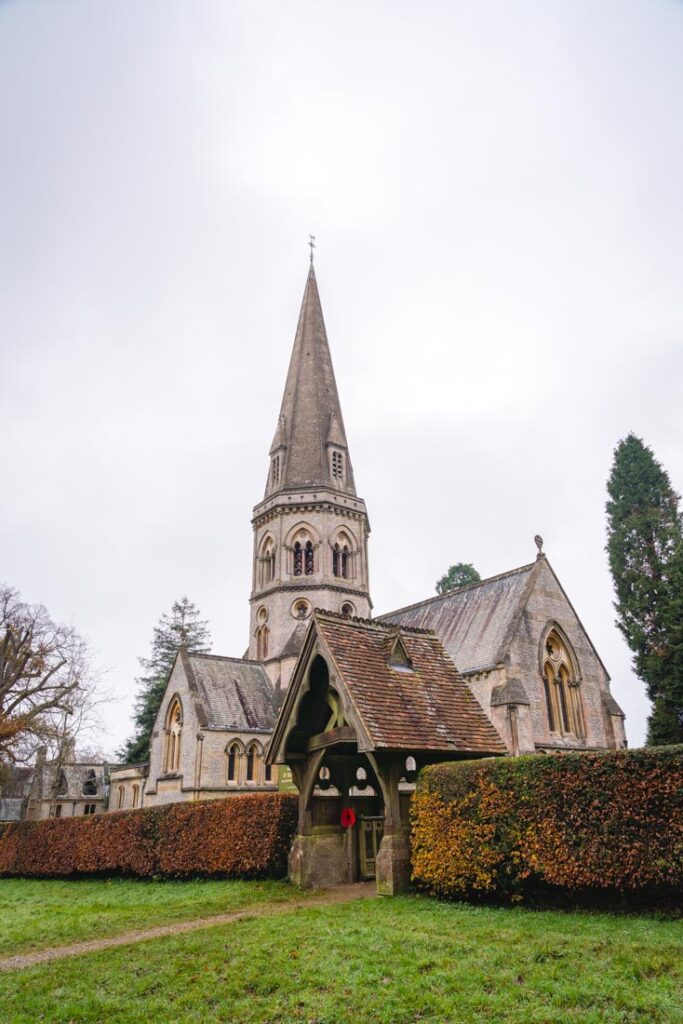 Once you come to Ranmore Common Road again, cross it and head towards the church. This is St Barnabas' Church, also known as "The Church on the North Downs Way".
The church was built in 1859 and it's surprisingly big for the surrounding parish. Whether you're religious or not, you have to admit the church spire is a beautiful piece of architecture.
Anyway, back to the walk. If you keep walking past the church, you'll eventually come to a public bridleway about 200 metres past the church on the left. This will take you on path through the woodland.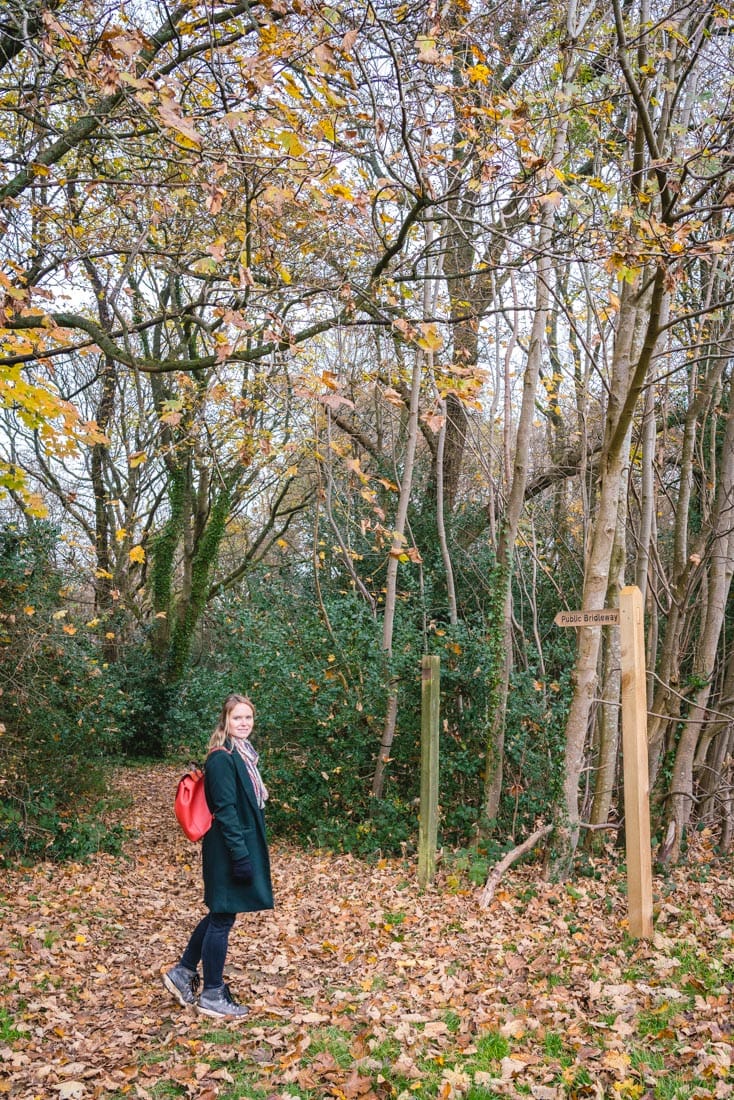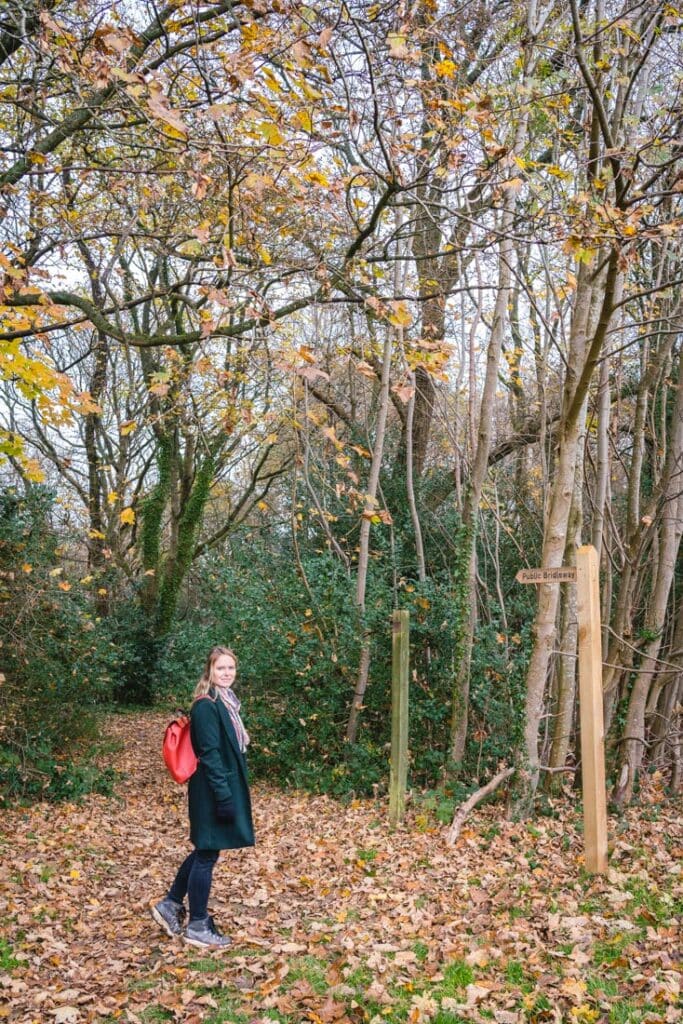 Once you come to a pond, cross the road, and keep on walking for about 5/10 minutes until you come to a folk – take the right fork. This will take you down a steep hill in enclosed woodland.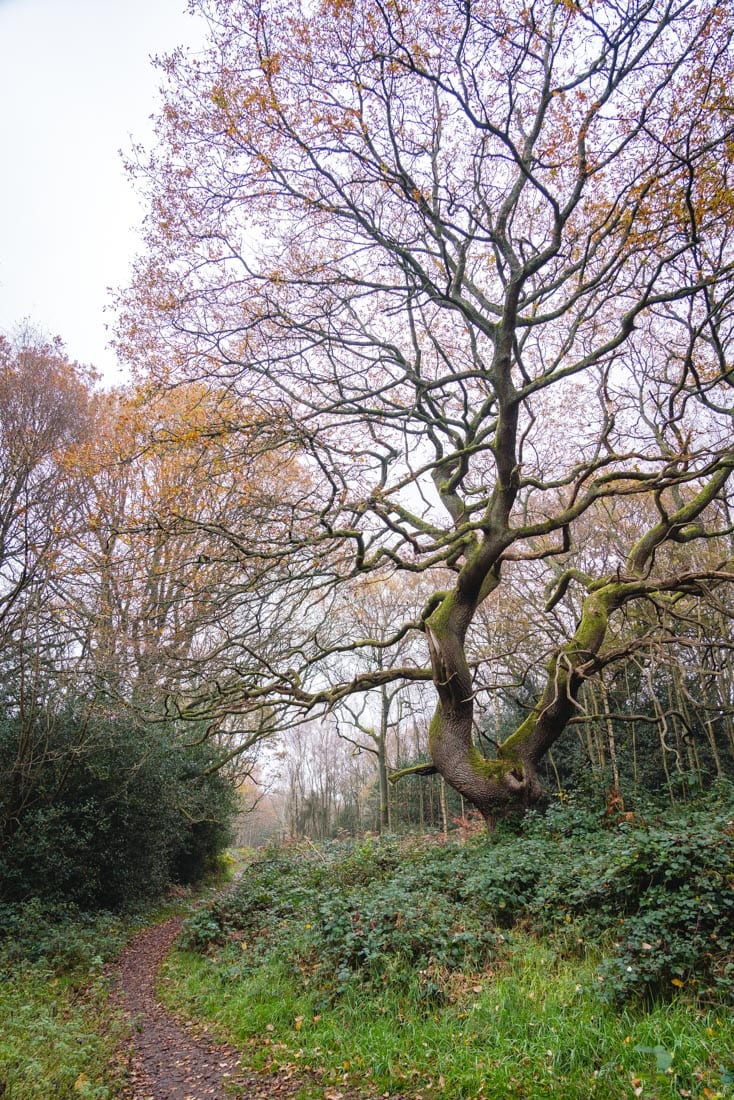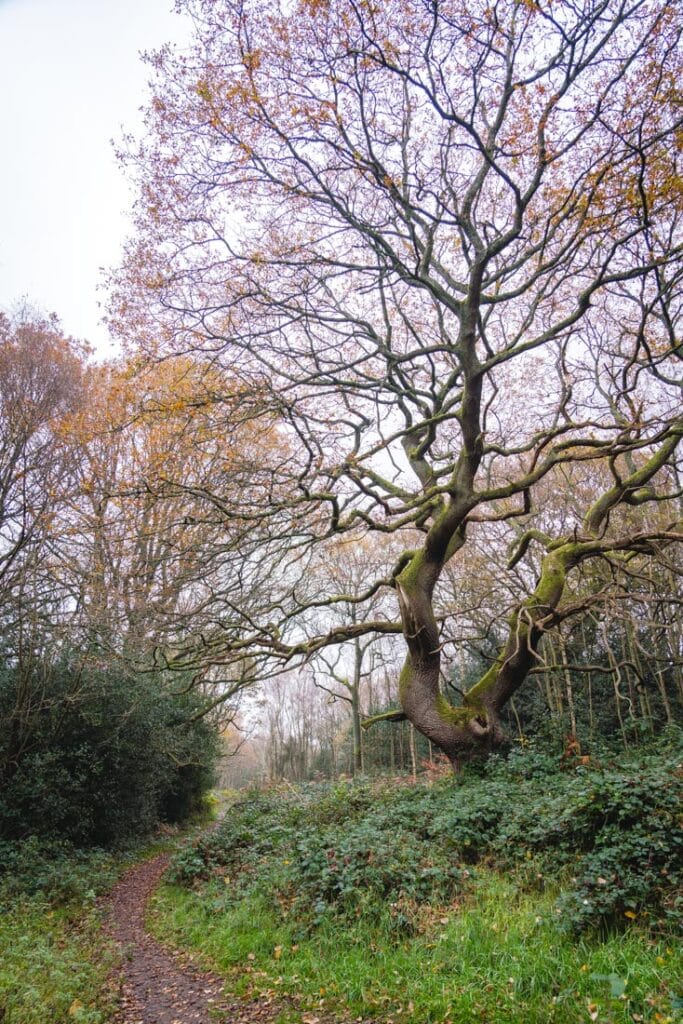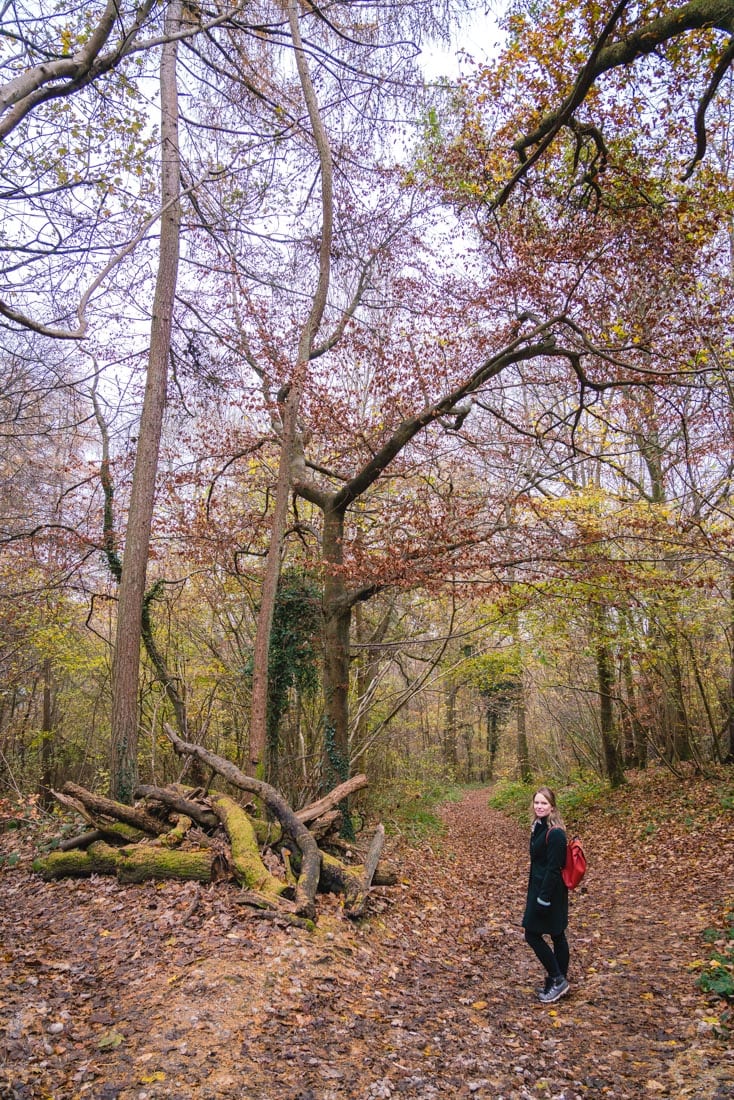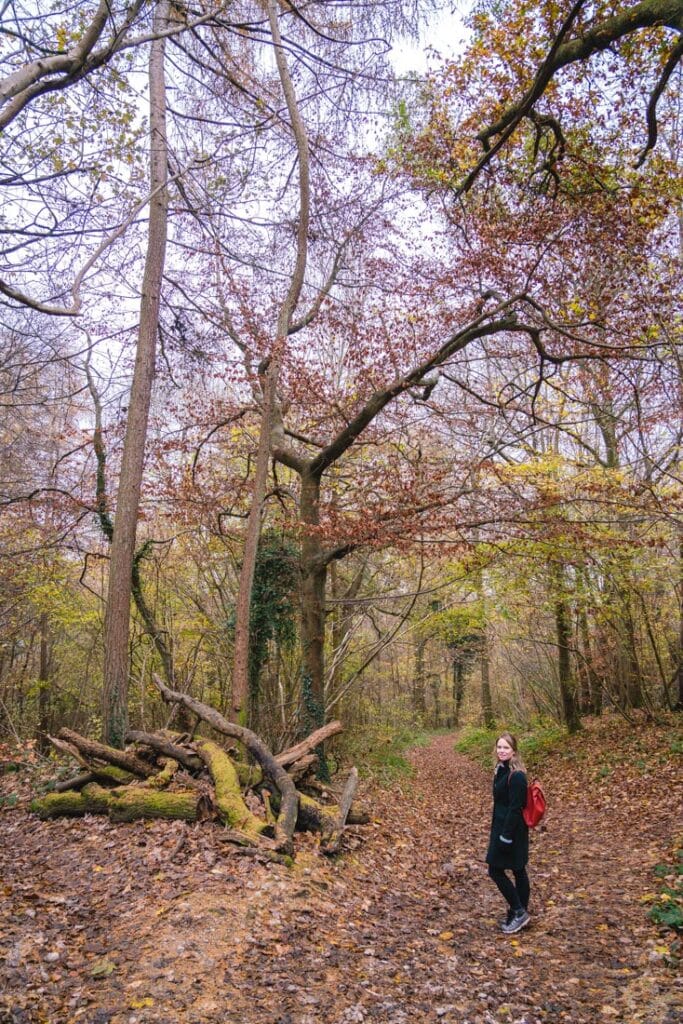 You'll pass a power station box on the right and a Denbies Estate sign on the left – this means you're almost at Denbies!
Cross the path and you'll starting seeing row after row of vines. And that means you're minutes away from lunch and a glass of wine.
Section 4: Lunch at Denbies Wine Estate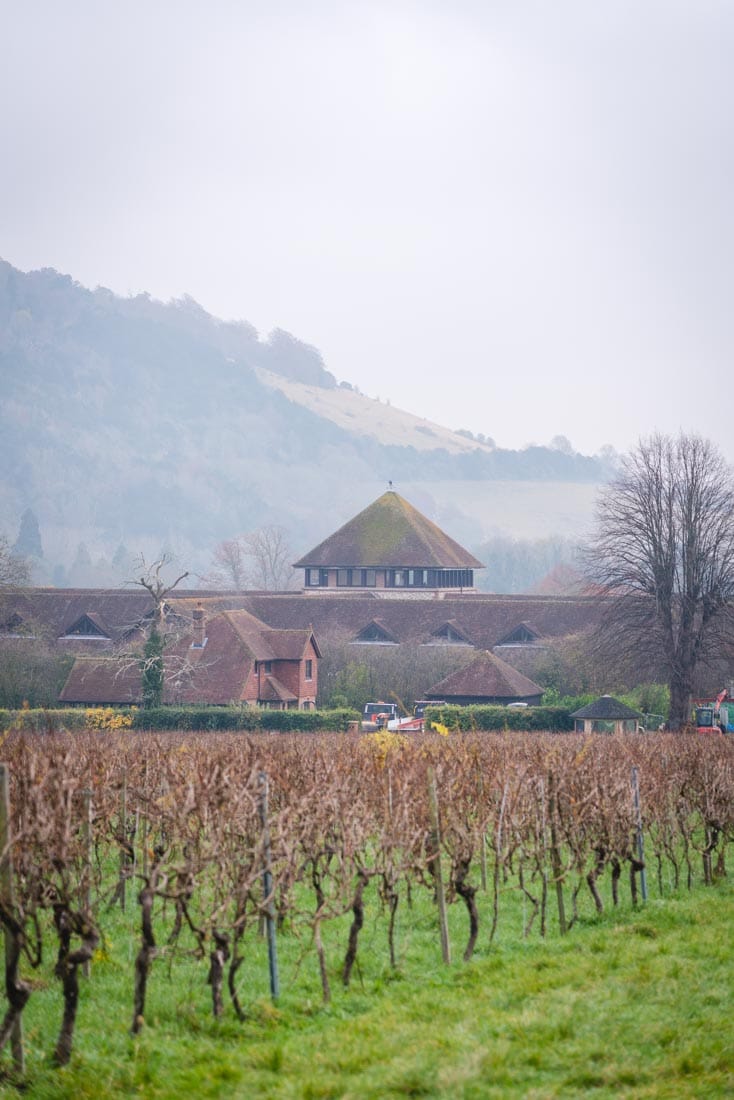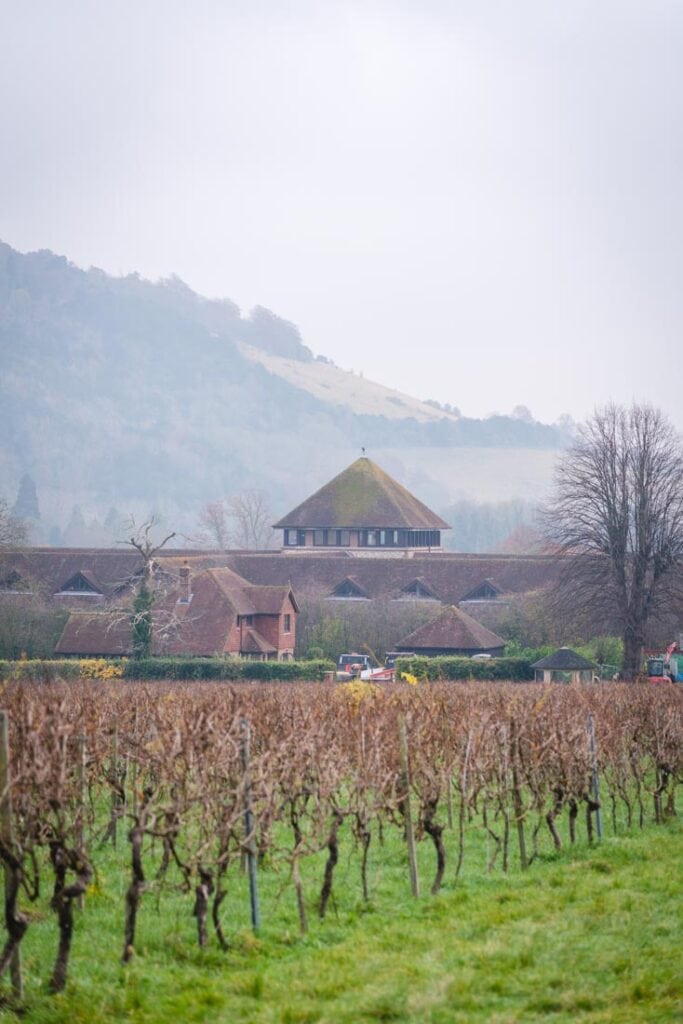 Denbies Wine Estate is one of the most popular vineyards in Surrey, and there's loads to do here.
There is an on-site hotel, a lovely fine-dining restaurant (the Gallery Restaurant), another more casual restaurant/canteen (the Conservatory Restaurant), a gift shop, oh, and there's the new Paradox Parlours Escape Rooms too.
And if that's not enough, Denbies is also home to Surrey Hills Brewery, so if you don't like wine then you can grab a beer!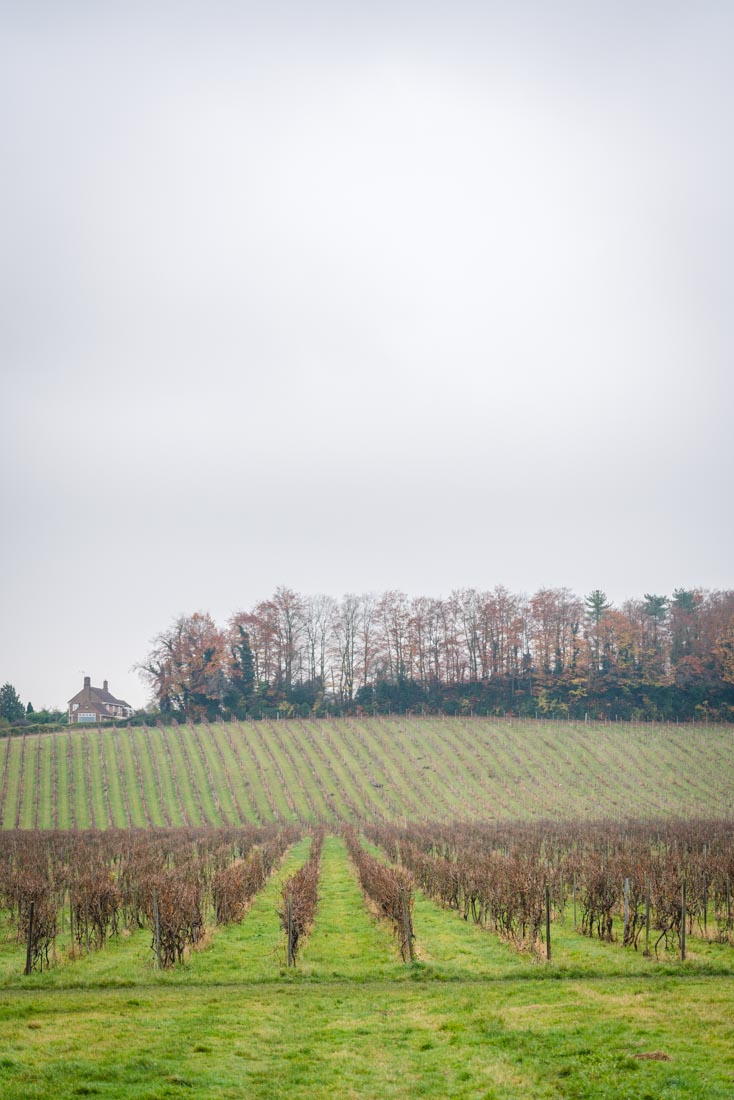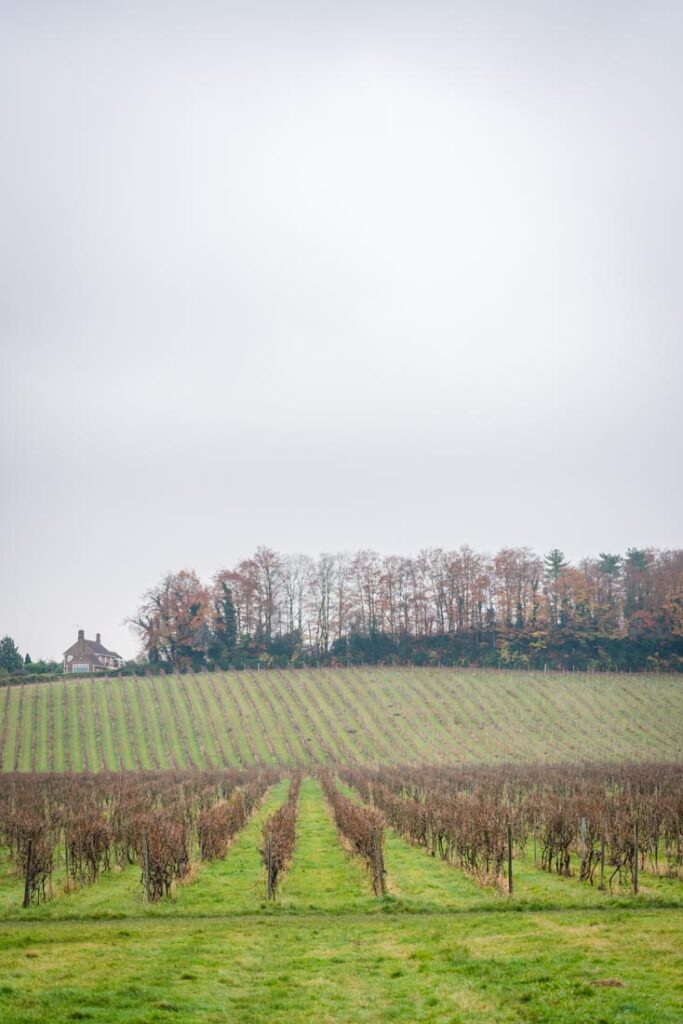 It took us around two hours walking from Polesden Lacey to Denbies, so we were ready for lunch.
The Conservatory Restaurant is much more like a canteen with sandwiches and soups, but they do have a few daily specials there too.
On the menu was a jerk chicken stew, and Chloe had the tuna steak with a delicious salsa. I have to admit the food was surprisingly good.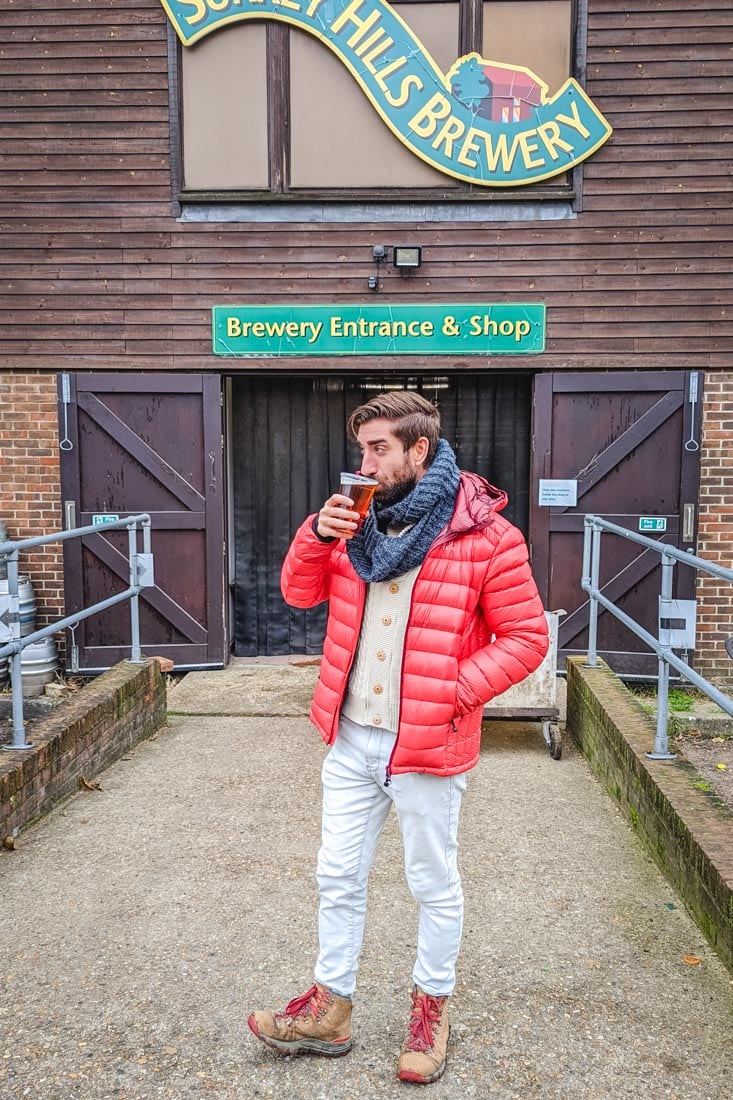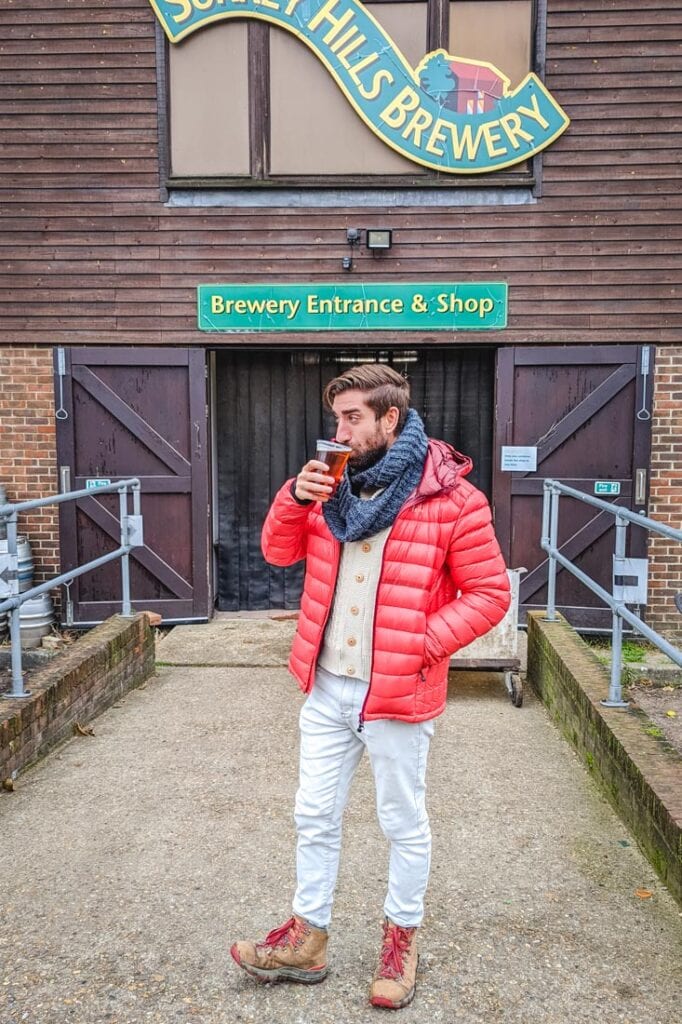 If you're interested in learning more about the wine at Denbies, you can take a tour of the vineyard. They also do wine tasting sessions too.
If you're more of a beer drinking, head behind Denbies and you'll find the Surrey Hills Brewery. I really fancied a thirst-quenching pint (despite the weather!), so that's where I headed.
I genuinely love a pint halfway through a walk, so I was a very happy boy indeed!
Section 5: Deenbies Wine Estatate to Bagden Lodge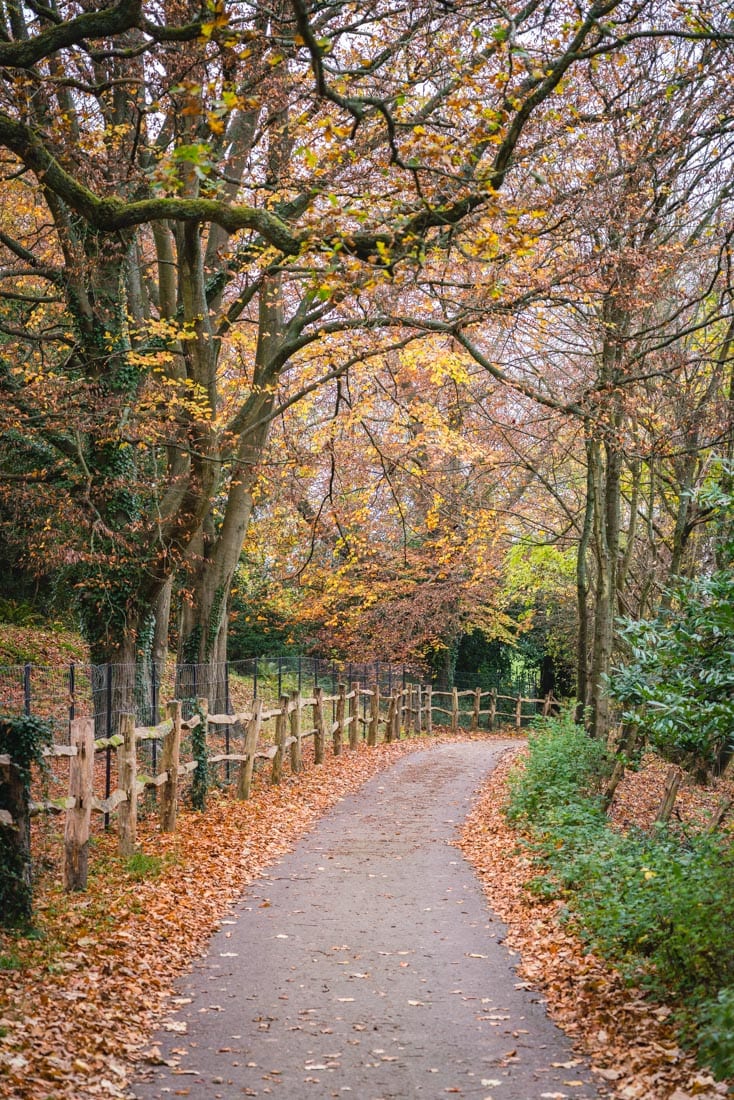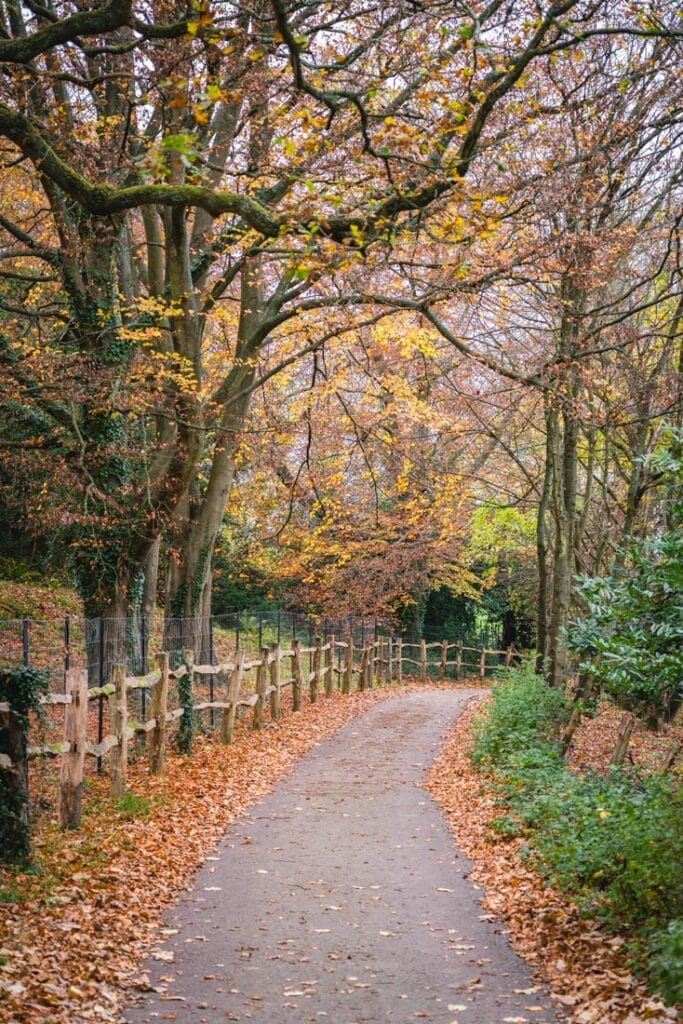 Once we finished lunch at Denbies, we walked back up the path we came in on, but at the top we turned right following a path by the vineyard. There's a gate in the corner that you're aiming for.
Once you walk through this, you'll immediately come to a crossroad of paths. Keep on walking straight and you'll follow a path past a few houses into a farmer's field full of sheep.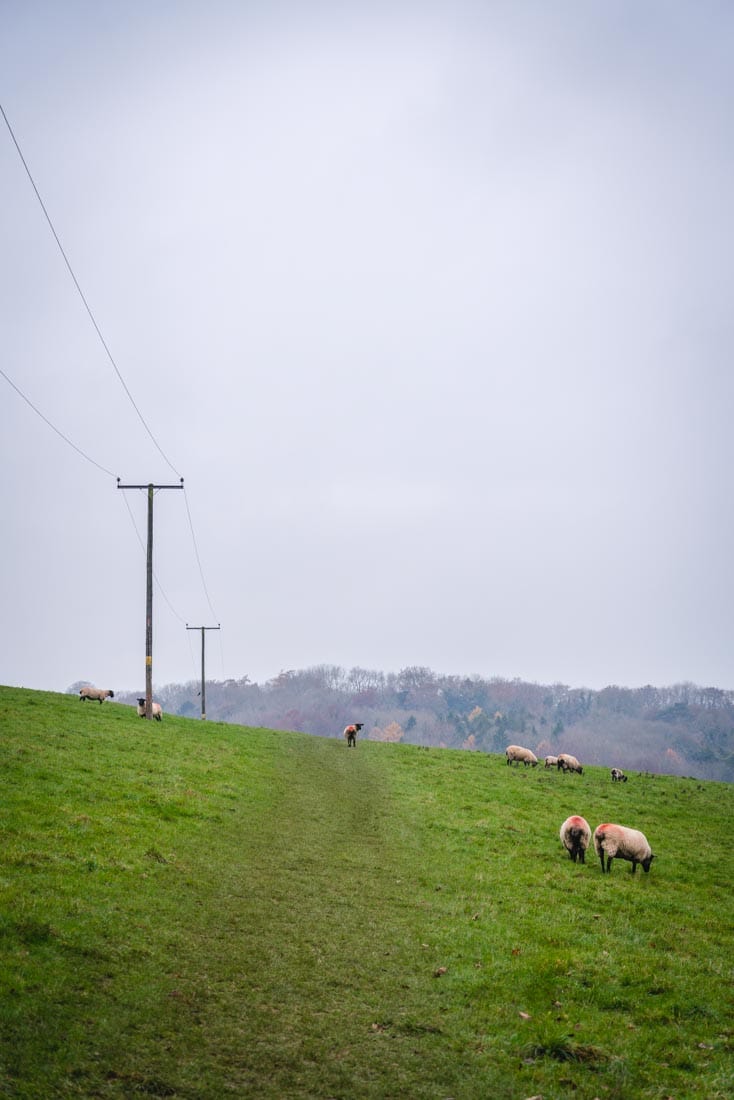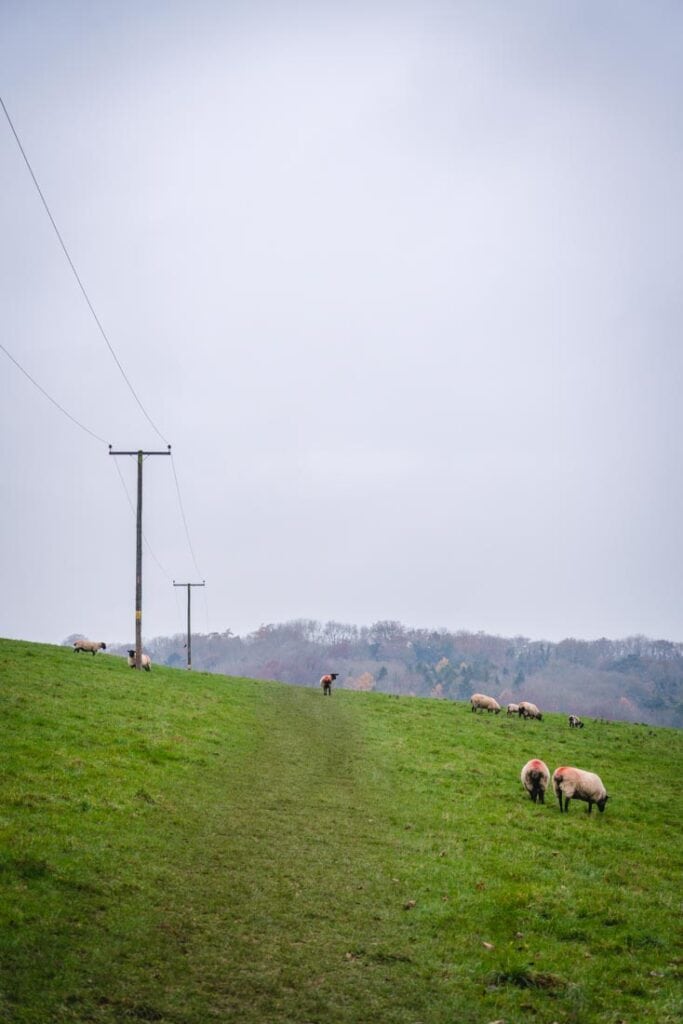 Cross this field (don't forget to baa at the sheep!), and walk through a metal gate. This path is beside a metal fence and slopes downhill. Keep on following this path as it takes you through another field of sheep.
Once you come to the road, turn right and follow the road past a couple of houses. This will take you to Chapel Lane. Turn left and follow the road past Badgen Farm for about 200-400 metres. This is the only section of the walk where you're walking on a road, so please be careful. Even though this is a quiet road, it's always good to be aware of cars.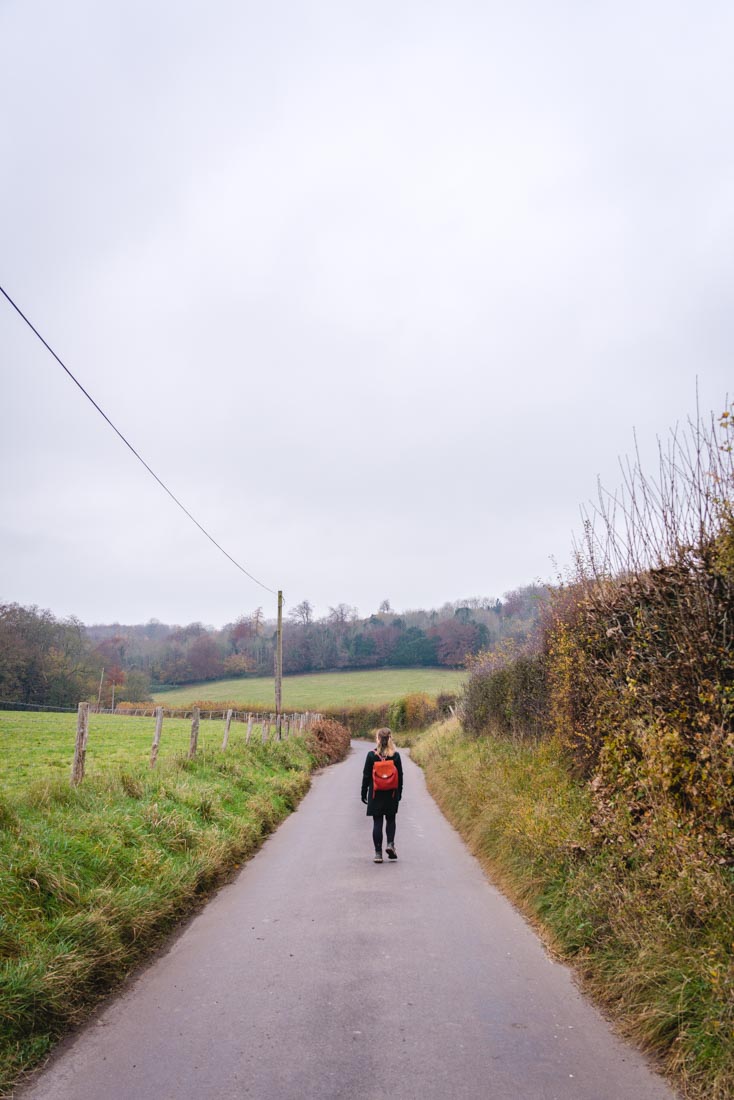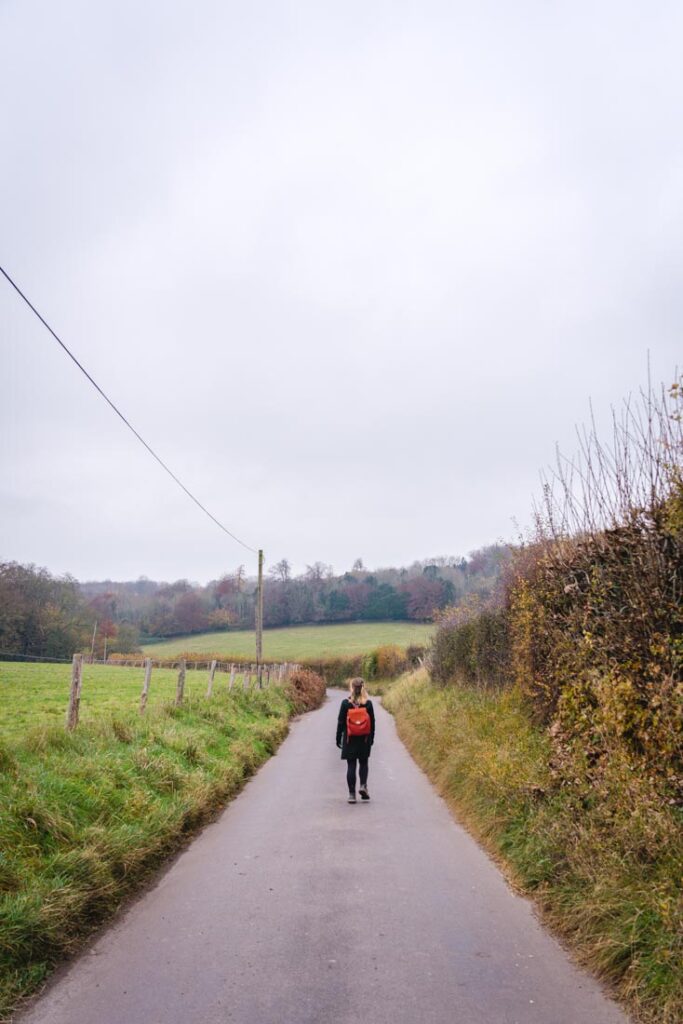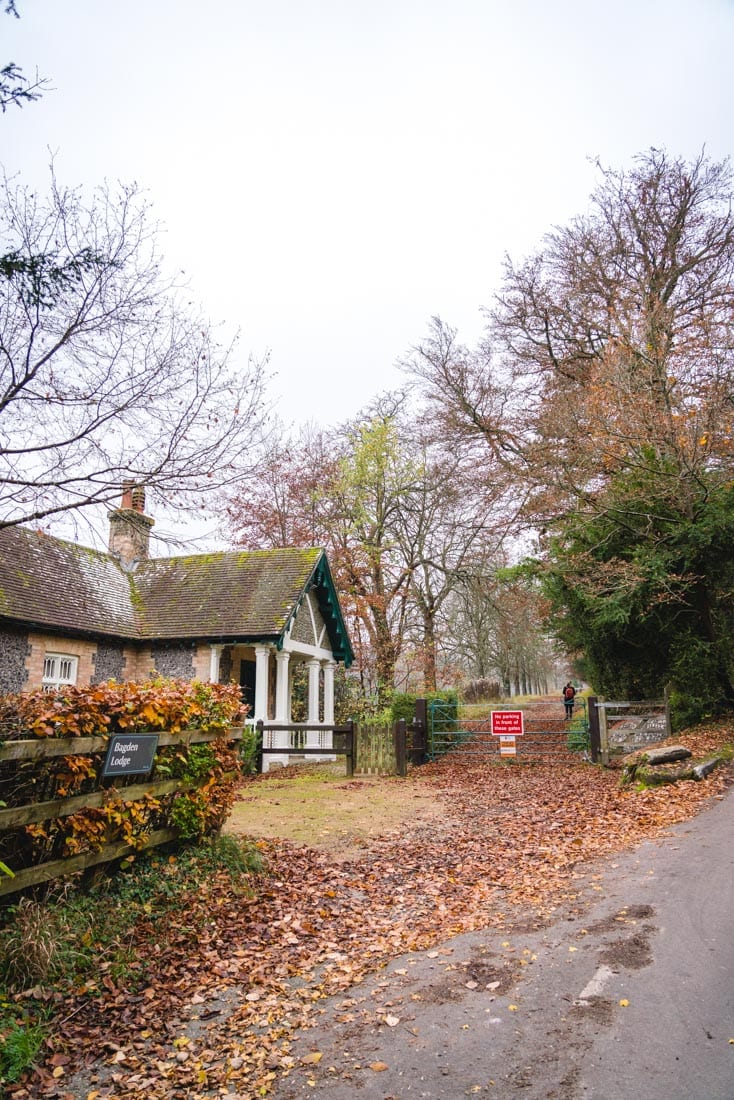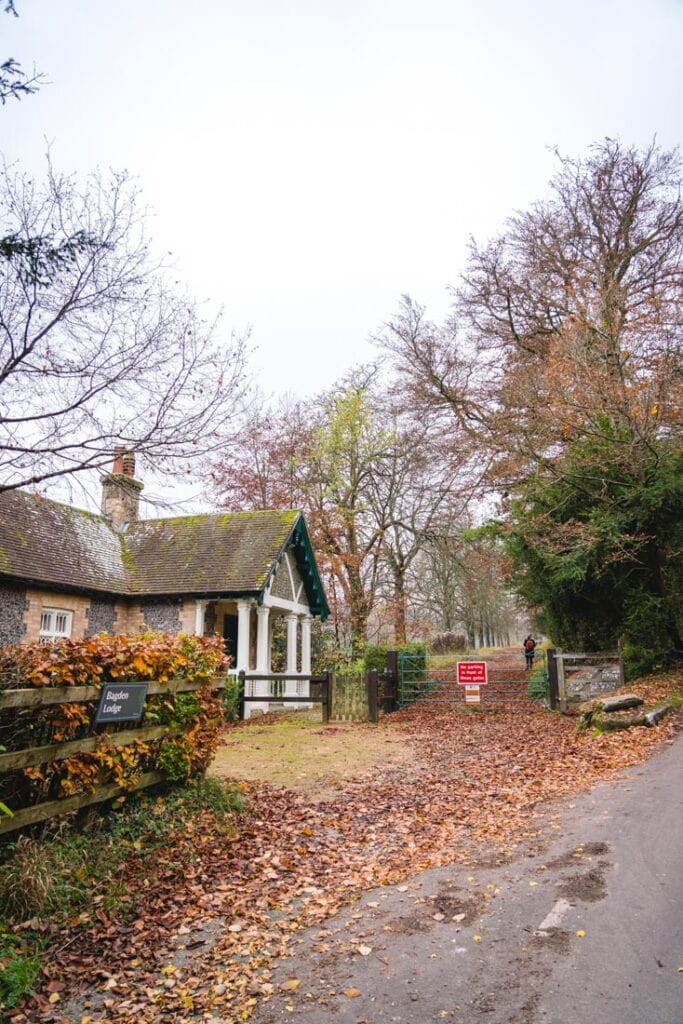 You'll eventually come to Bagden Lodge. Go through the gate and you'll be on Badgen Drive. There is a sign of Polesden Lacey to show you're nearly back!
Section 6: Bagden Lodge to Polesden Lacey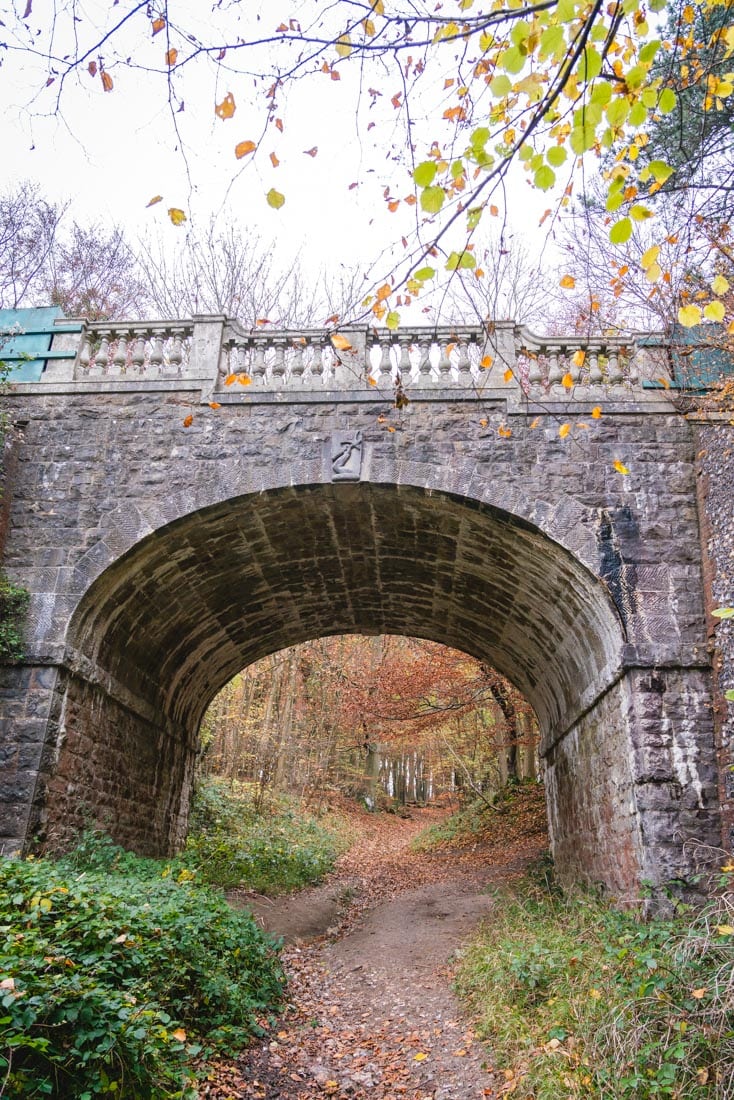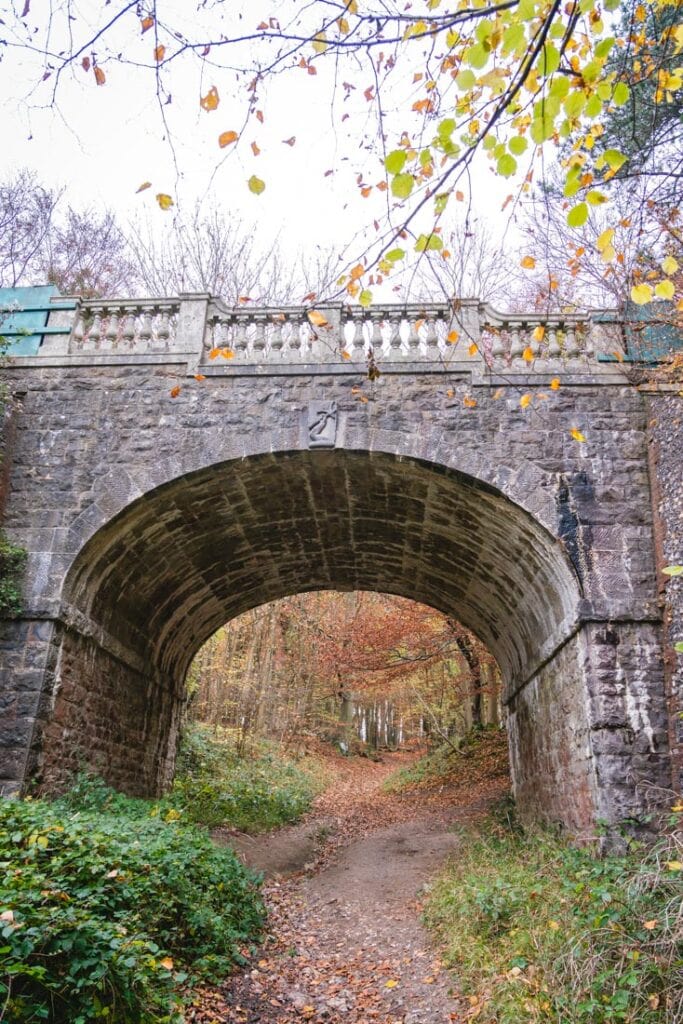 This is another section of walk I really enjoyed. Keep your eyes peeled because on the left side of the path you'll find a 'Wellness Walks' plaque. Flip it open and give it a read – there's some very good advice inside.
If you keep on walking, you'll eventually cross the Italianate Bridge. I couldn't find any information about this bridge, but I would love to know why there's an ornate stone bridge right in the middle of a forest!
Shortly after crossing the bridge, there is a gate on the right into a field. Go through here and then walk across the field until you come to another gate on the left saying 'Garden Boundary'. You can just about glimpse the grand house of Polesden Lacey through the trees.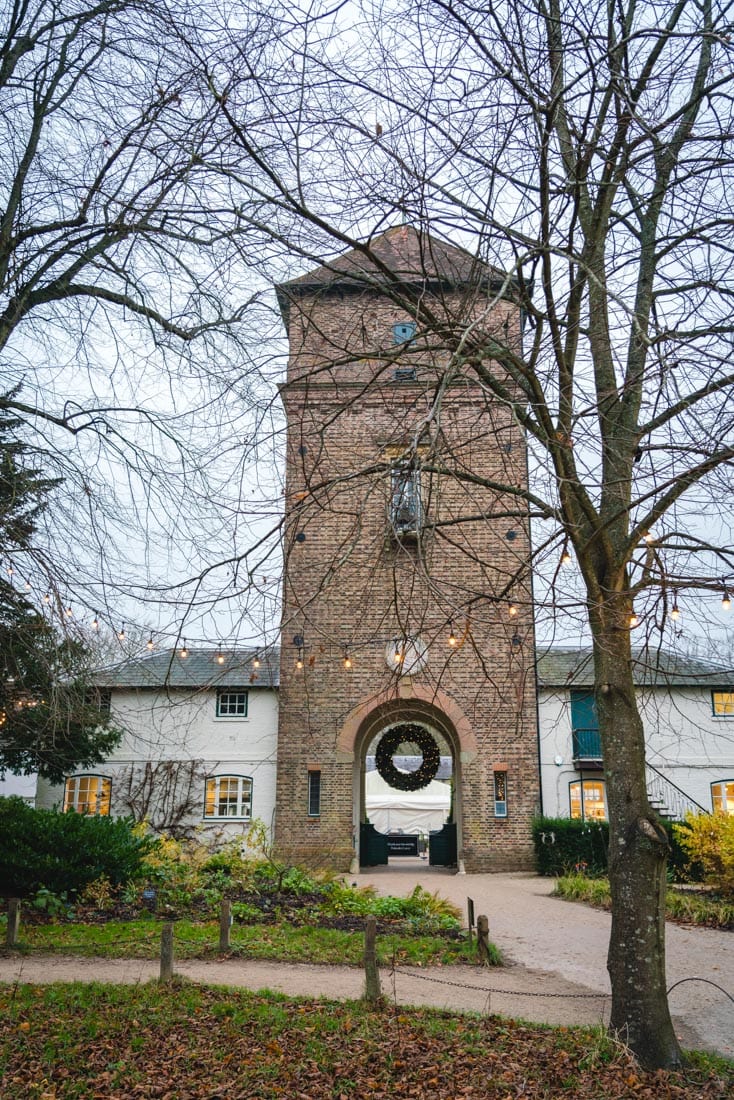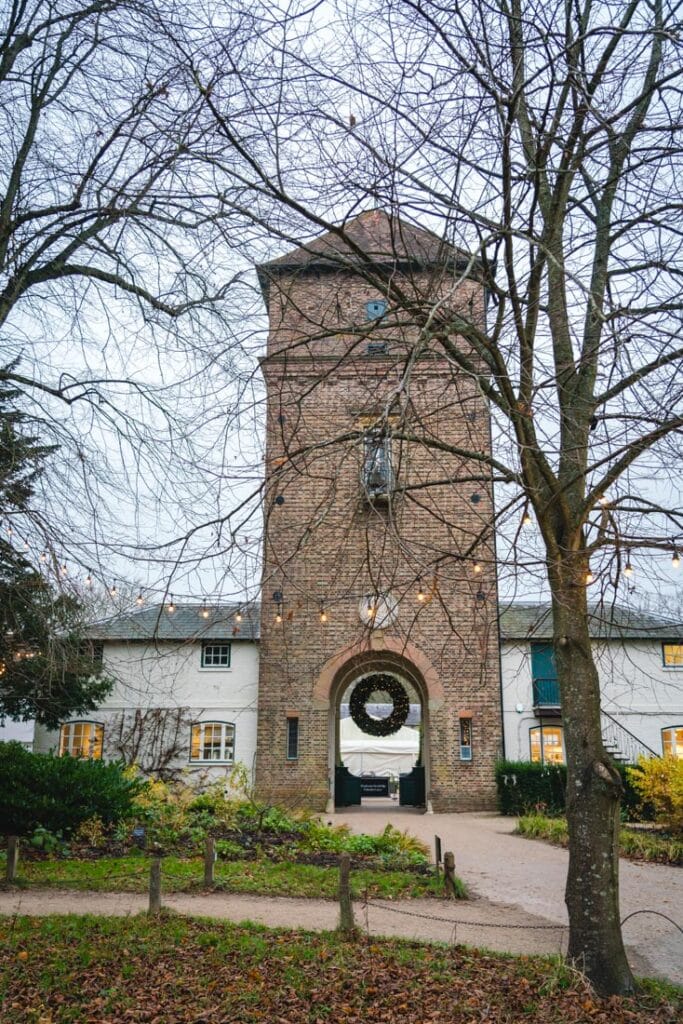 Follow this path back to the house. I really enjoyed walking around the grounds of Polesden Lackey, so factor in some time for that.
However, if you're tired, head straight to the café and get yourself a coffee and a slice of cake – you deserve it.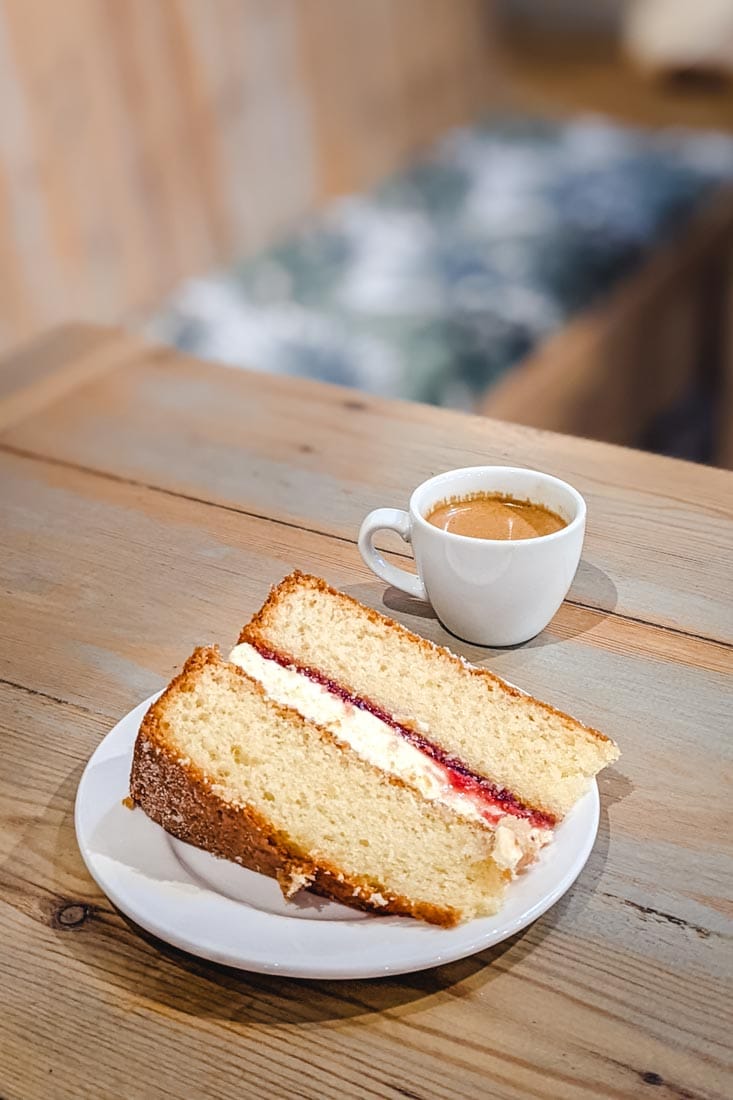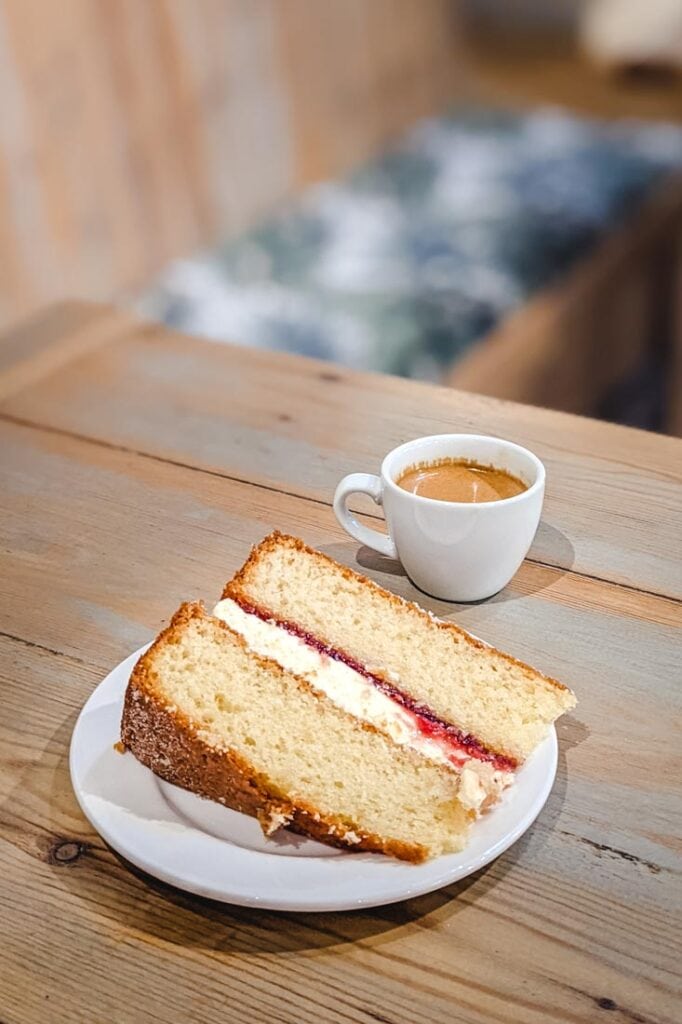 Walking packing list
Usually when we go out on these walks, we're spending all day out and about in the countryside. Because of that, there are some things that we always bring with us and recommend to others. Hopefully one or two of these items can help make your walk that little bit more enjoyable!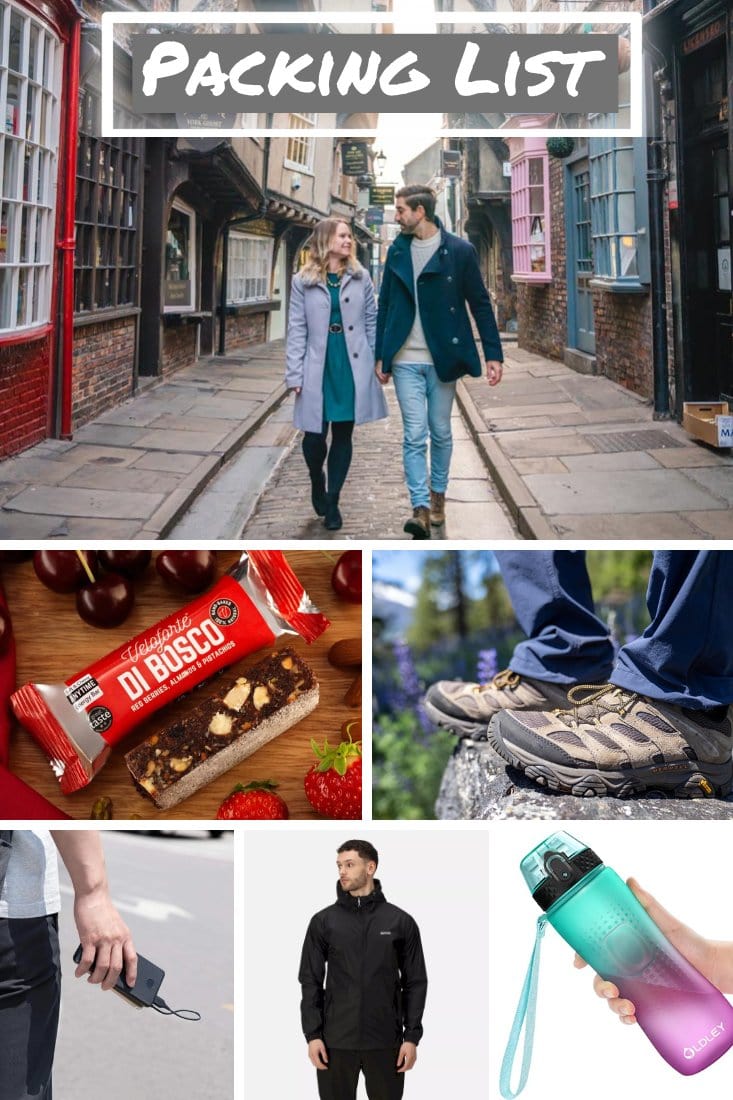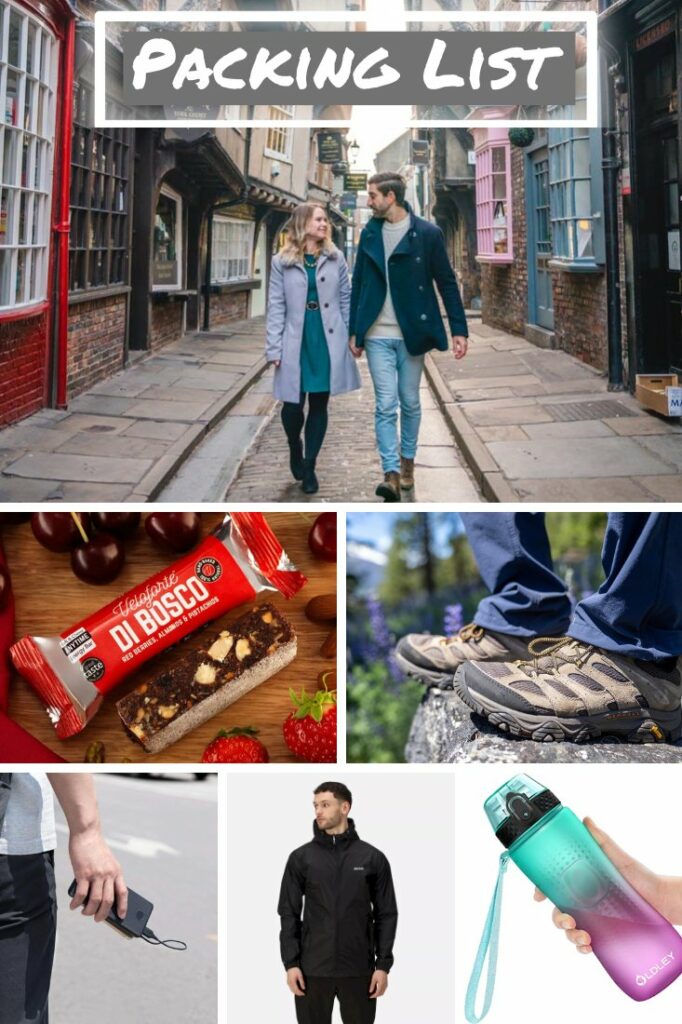 ---
---
It's a long walk but a great day out. This is one of our favourite walks we've done this year, so hopefully you'll enjoy it as much as we did!
If you're looking for other great day hikes from London, have a read of our guide to the Chess Valley walk, the Epping Forest Oak Trail, and the Henley circular walk.
As ever, if you have any questions about this walk or any of the other walks around Polesden Lacey, let us know in the comments below!
Like this blog post? Then Pin it for the future!