This Great British bucket list showcases the very best of Britain.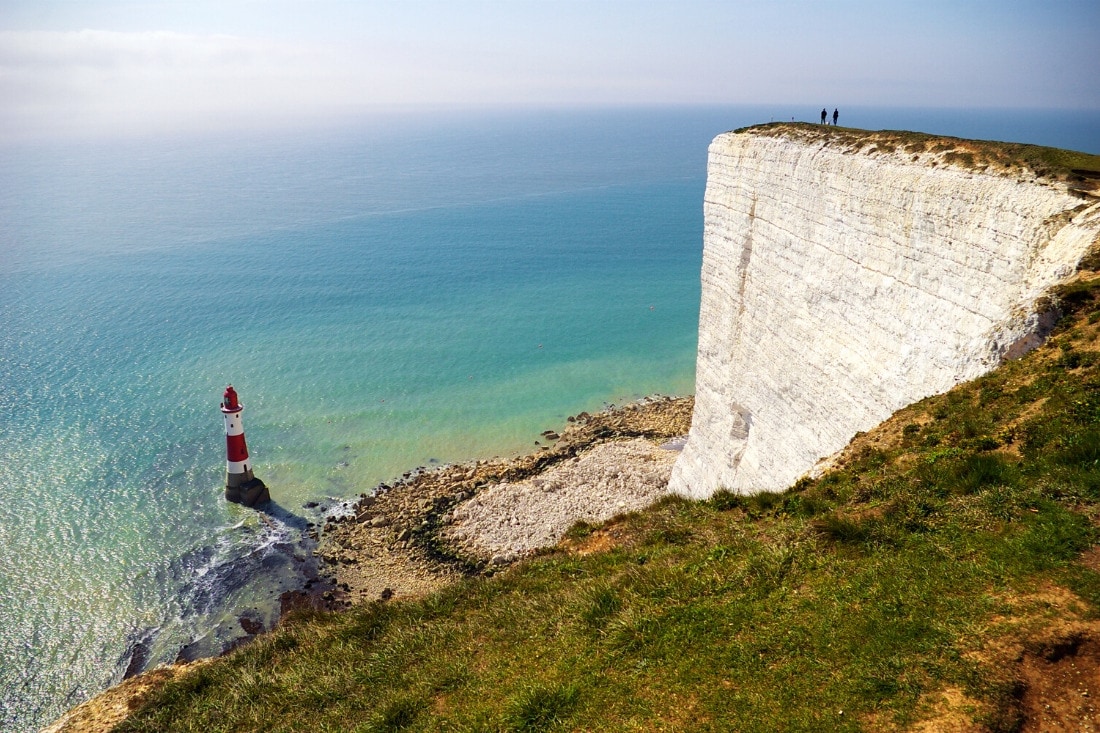 From rugged coastlines and incredible wildlife in Scotland, to mountain adventures in Wales, charming villages in the Cotswolds and awesome views on England's south coast, there's so much to love about travelling in Great Britain. We adore it!
Since we launched this blog, this is the post I've been most excited about writing. I wanted to create a post packed full of inspiration for anyone wondering why they should travel around Britain, and where exactly they should go. Hopefully you'll read it and come away with your very own British bucket list.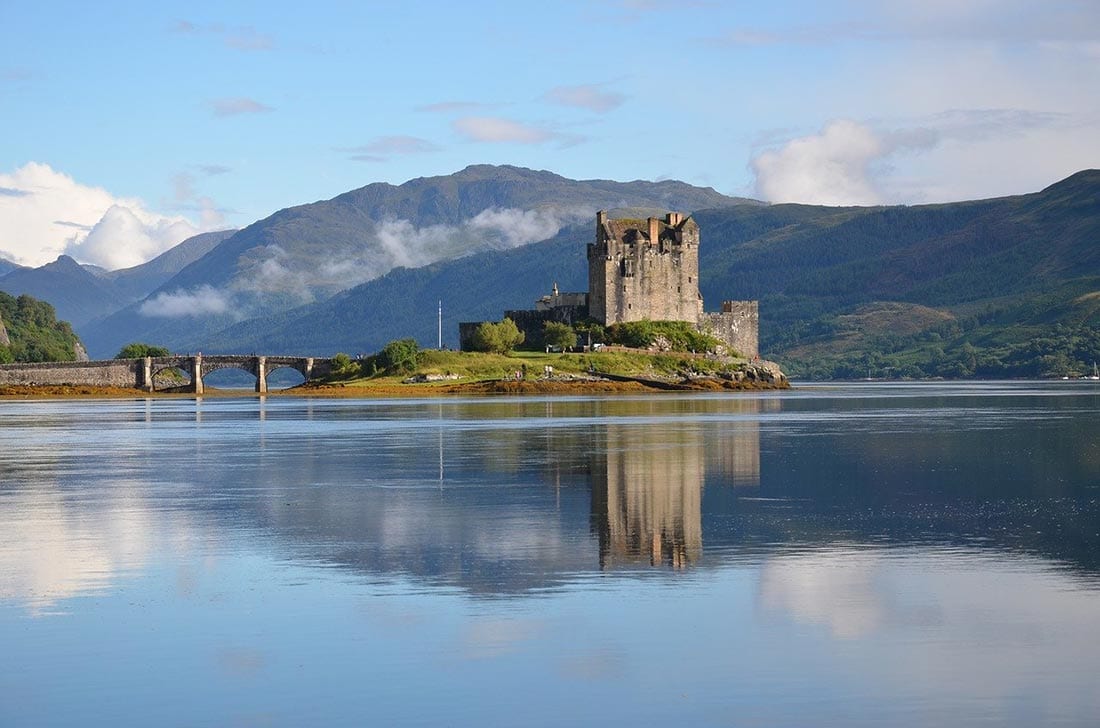 Don't count this as the definitive guide yet either; this is a post we plan to update regularly, as we explore different parts of our beautiful homeland and learn about what makes the different regions special. However, if you're looking for British bucket list ideas, there are enough here to create several years of amazing holidays, weekend breaks and adventures!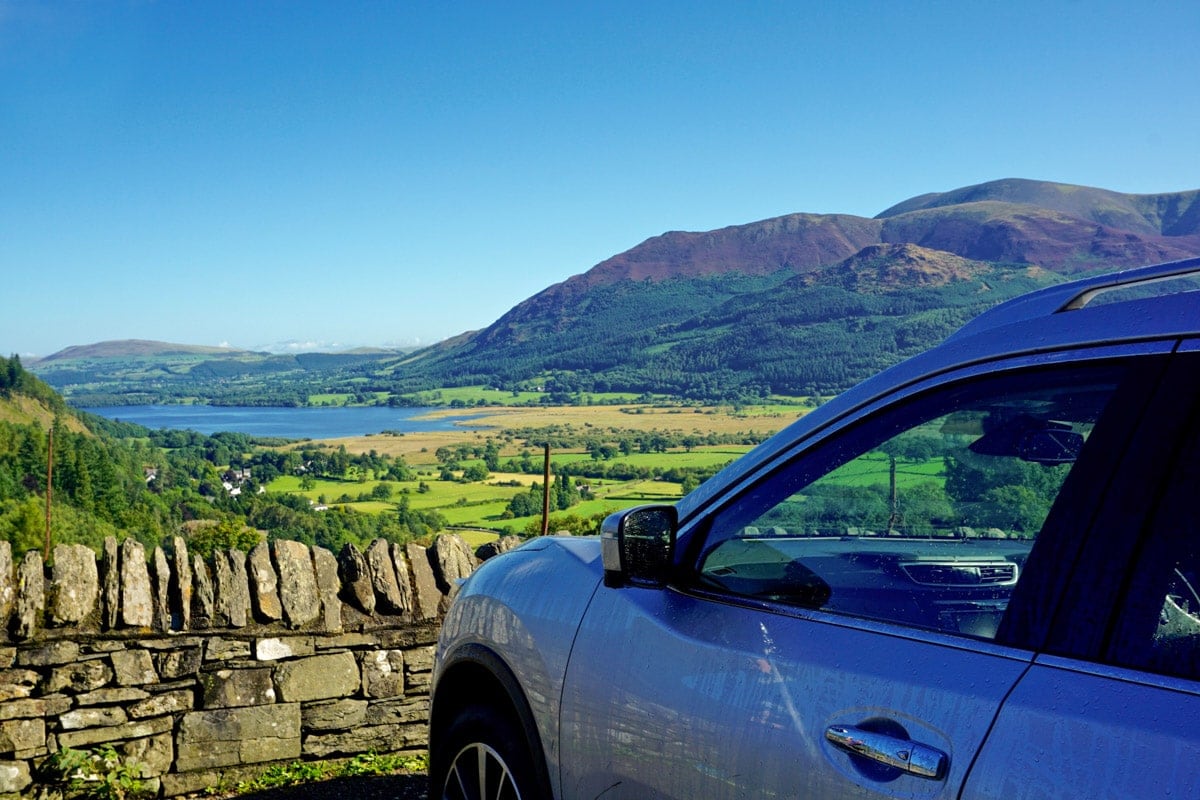 From walking the South West Coast Path in England, to stargazing in the Brecon Beacons in Wales and diving in the Orkney Islands in Scotland, it's time to reveal the best of Britain.
---
20+ Trips To Add To Your Great British Bucket List
BEST OF BRITAIN – ENGLAND
Walk The South West Coast Path
England's South West Coast Path is a 630-mile route starting at Minehead in Somerset, taking you along the Exmoor coastline then into Cornwall. It passes along the entire Cornish coastline, before looping back into Devon and finishing at Poole Harbour in Dorset. Lots of people break it up into lots of short trips over a few years, as to complete it in one go would take close to two months!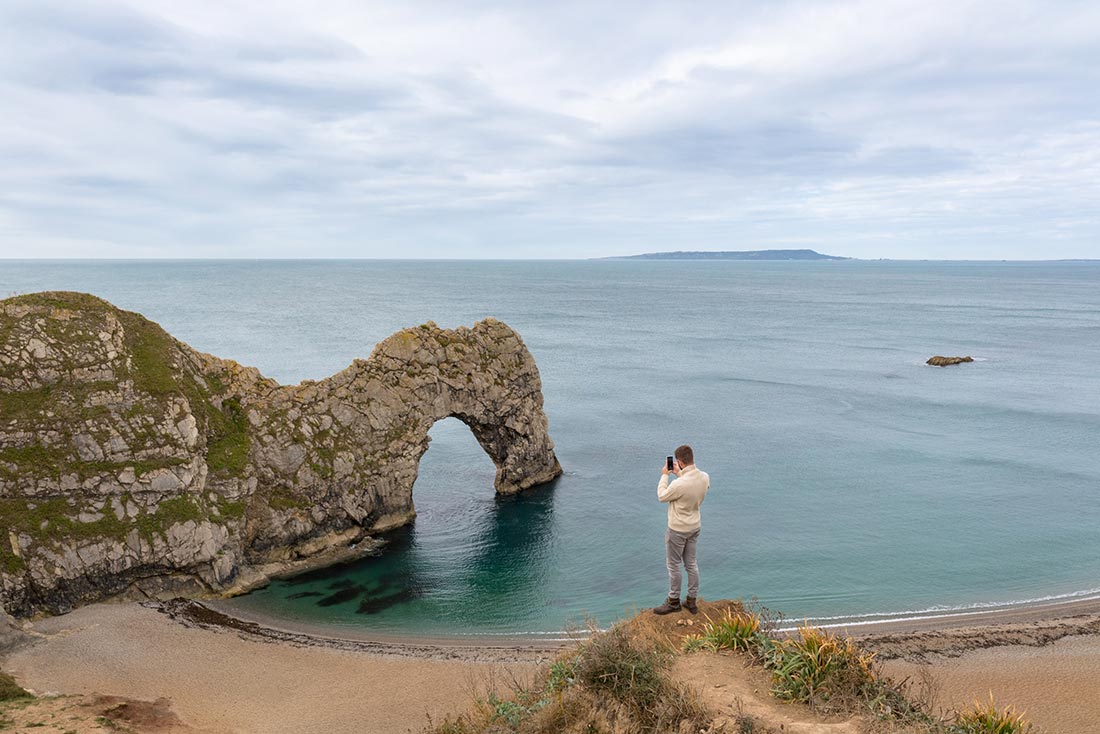 There are plenty of highlights along the way. If we were were to suggest one short trip, we'd start with a three or four day break walking from Exmouth to Lyme Regis. This takes in some of the beauty of the Jurassic Coast, including the fossil sites at Lyme Regis and the epic red sandstone cliffs in Devon.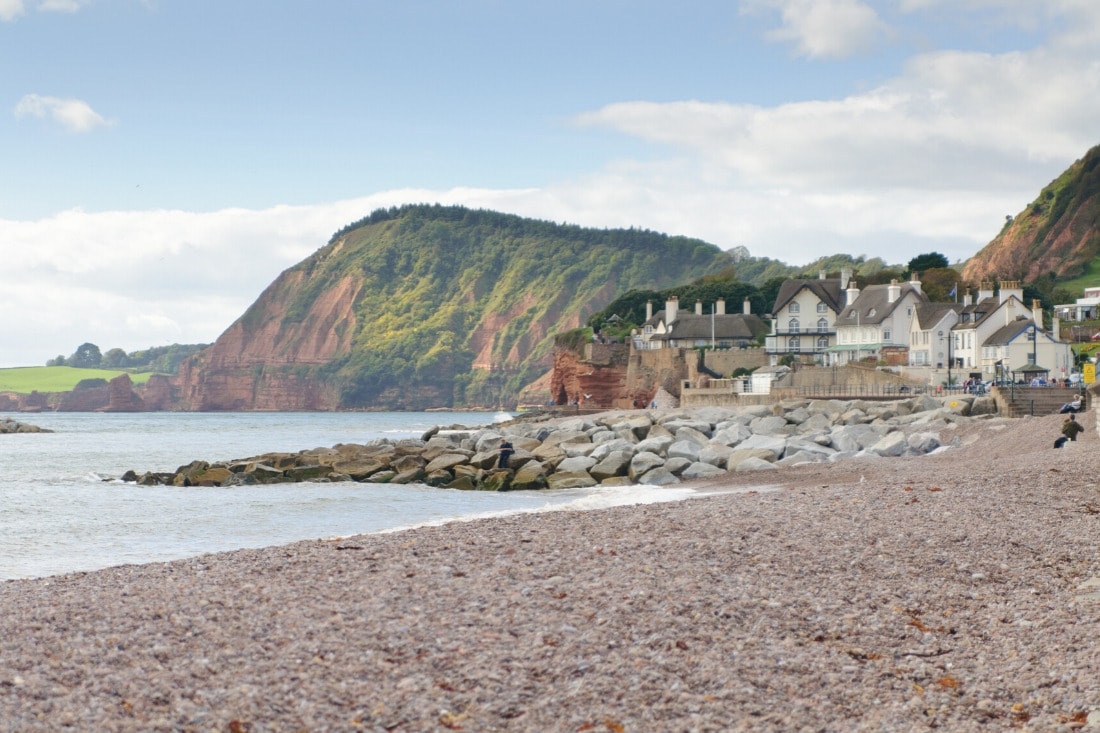 It passes pretty towns like Sidmouth and fishing villages such as Beer too. You're also likely to see some great wildlife around Otter Estuary Nature Reserve, so this part of the coast path offers a bit of everything, without being too challenging.
Explore the Lake District National Park
The Lake District is one of our favourite regions in England. It's stunningly beautiful, with rolling hills, pretty lakes and some of the best restaurants in the country. If we were going to recommend a few places to visit, we'd suggest staying near Ullswater (perhaps in Pooley Bridge) then enjoying the hiking and cycling trails in the region, as well as catching the Ullswater Steamer across the lake.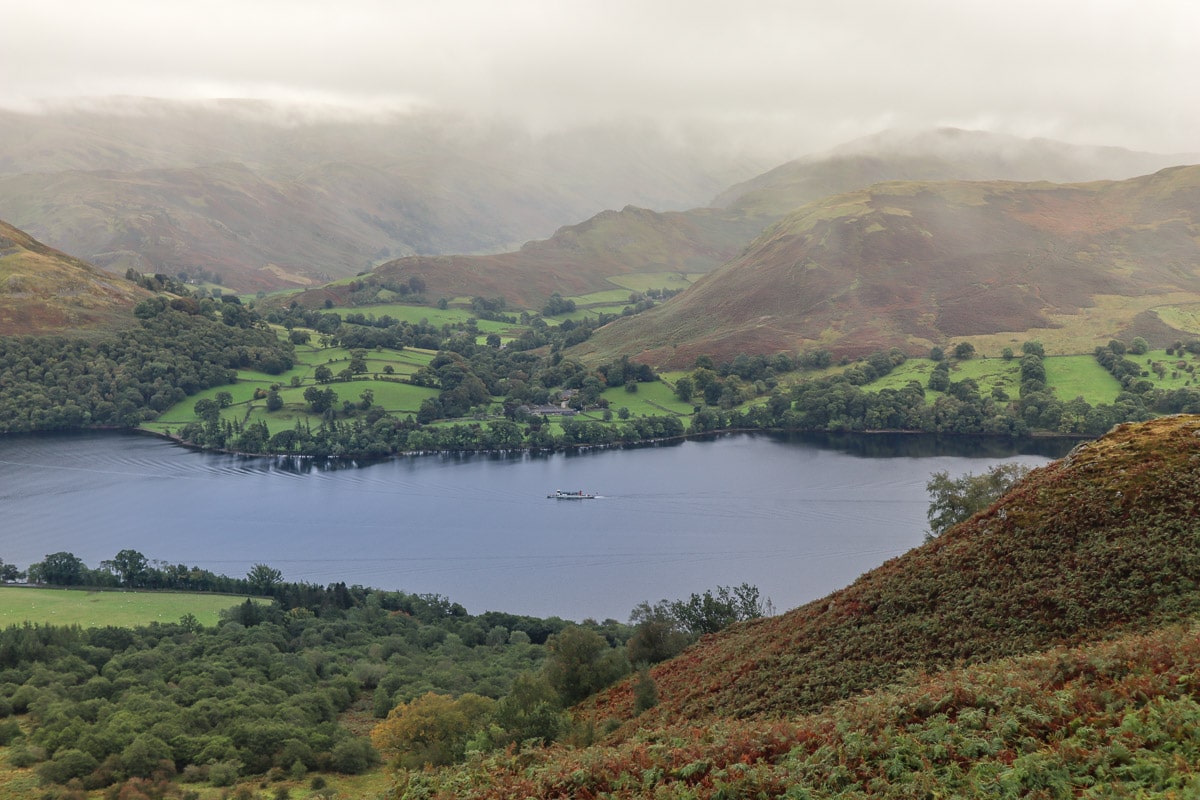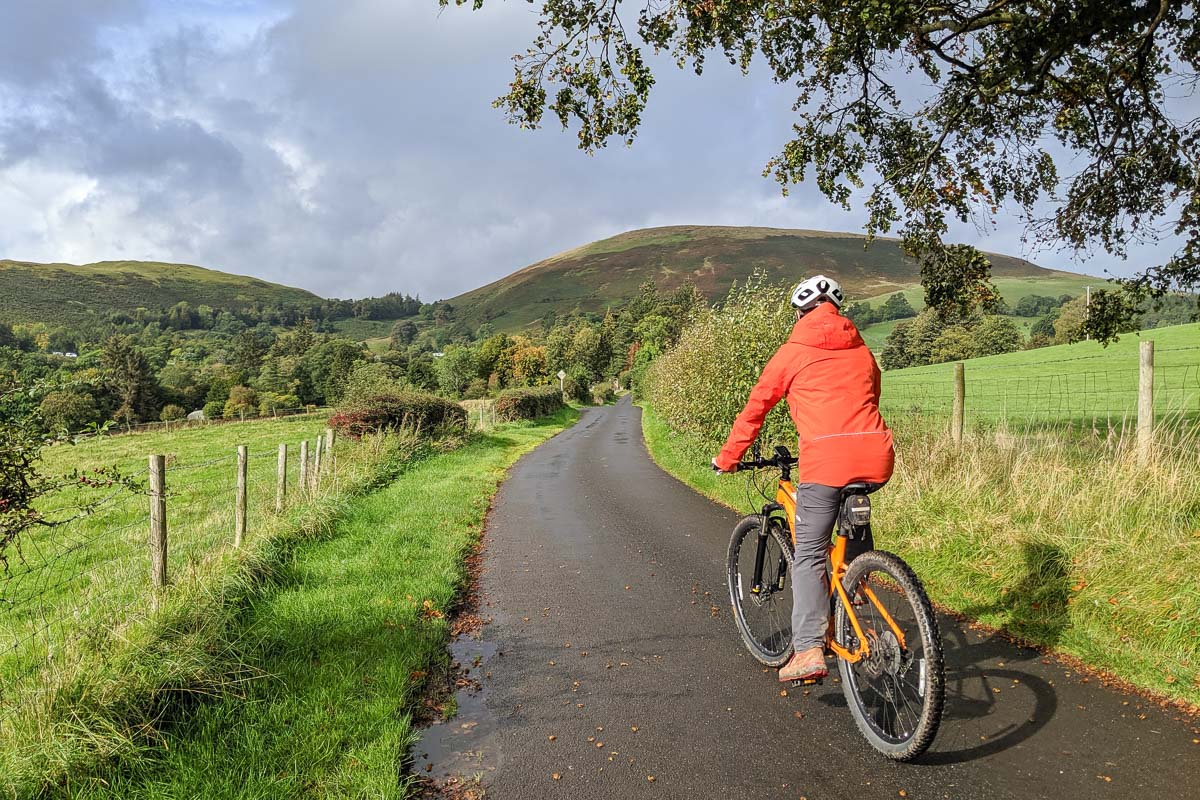 Then enjoy a bit of a road trip to see Windermere, Coniston Water and take a wander up Cat Bells for one of the ultimate Lake District views. If you like adrenaline, challenge yourself with the via ferrata at Honister, or if you love food, enjoy one of the Michelin star restaurants in the Lake District, including our favourite – Cottage in the Woods.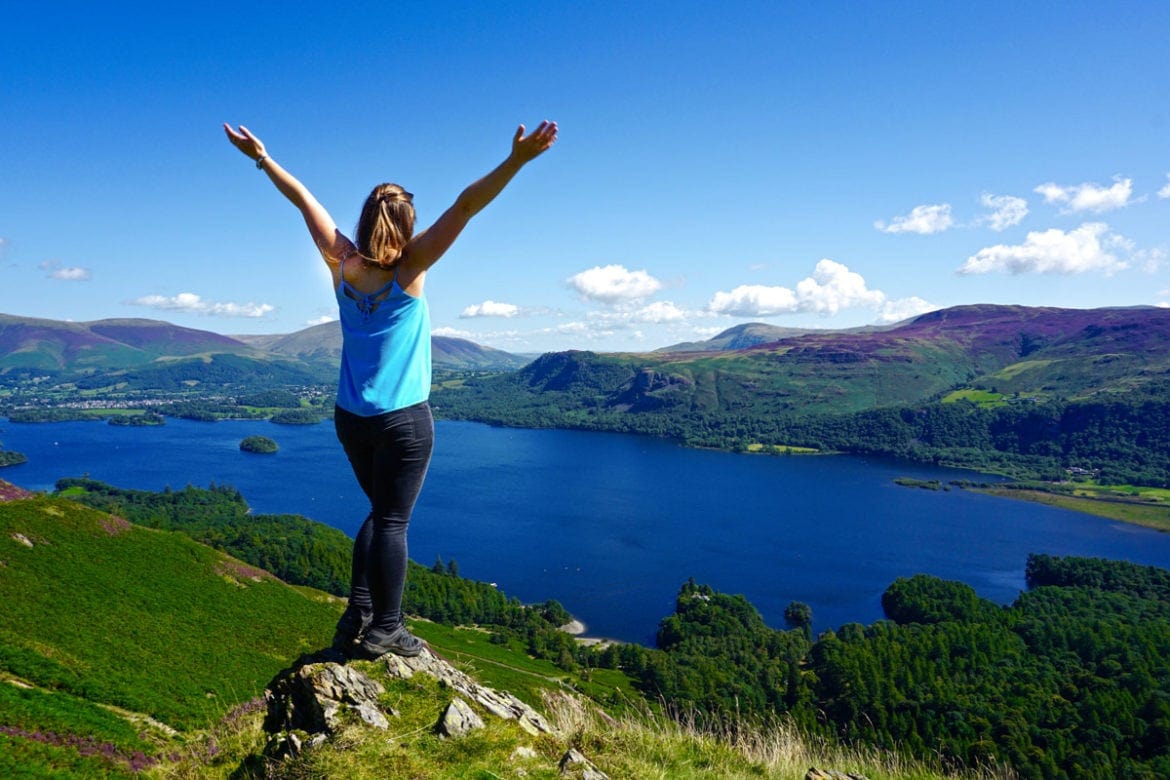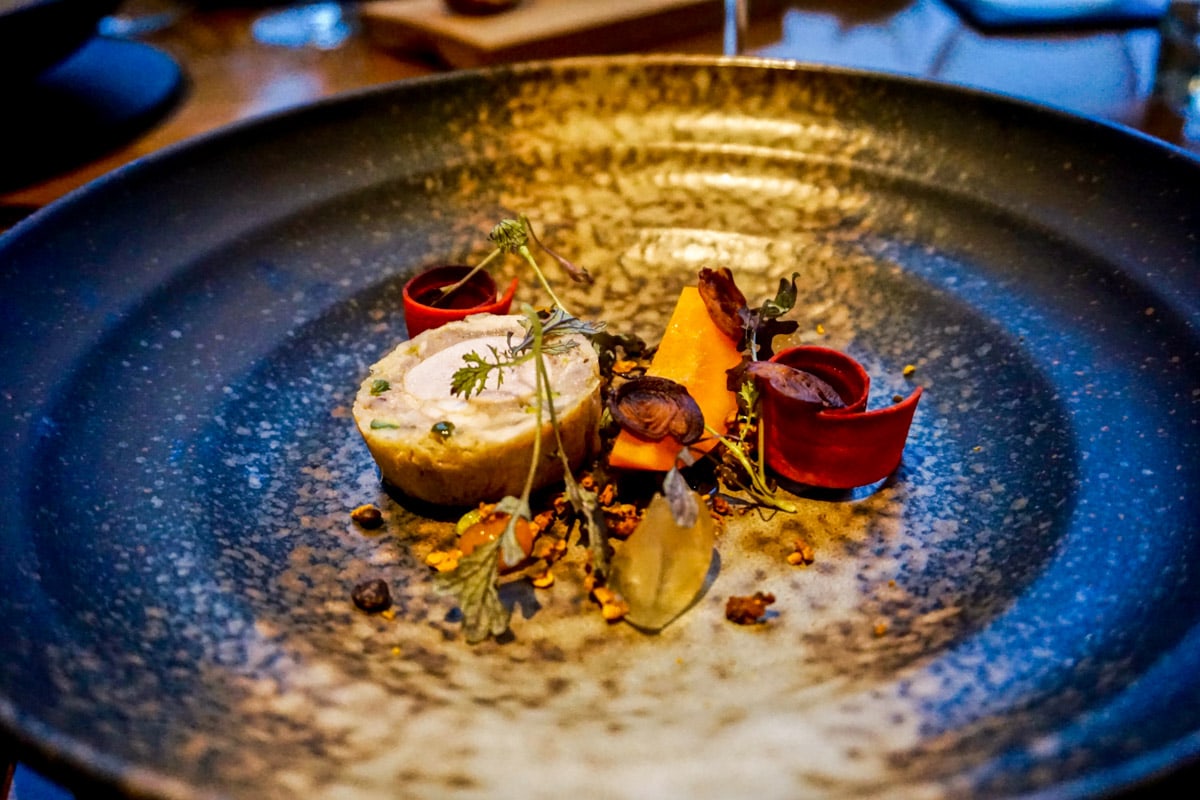 See The Sights In London
Obviously, you can't make a Great British bucket list without including London. You'll need several days in the capital to soak up all there is to see and do.
If sightseeing is your thing, watch the changing of the guard at Buckingham Palace, see London from a different angle from one of the 32 pods on the London Eye, check the time at Big Ben, wave to Nelson in Trafalgar Square, see Tower Bridge open for a tall ship, see the crown jewels sparkling inside the Tower of London and step inside St Paul's Cathedral.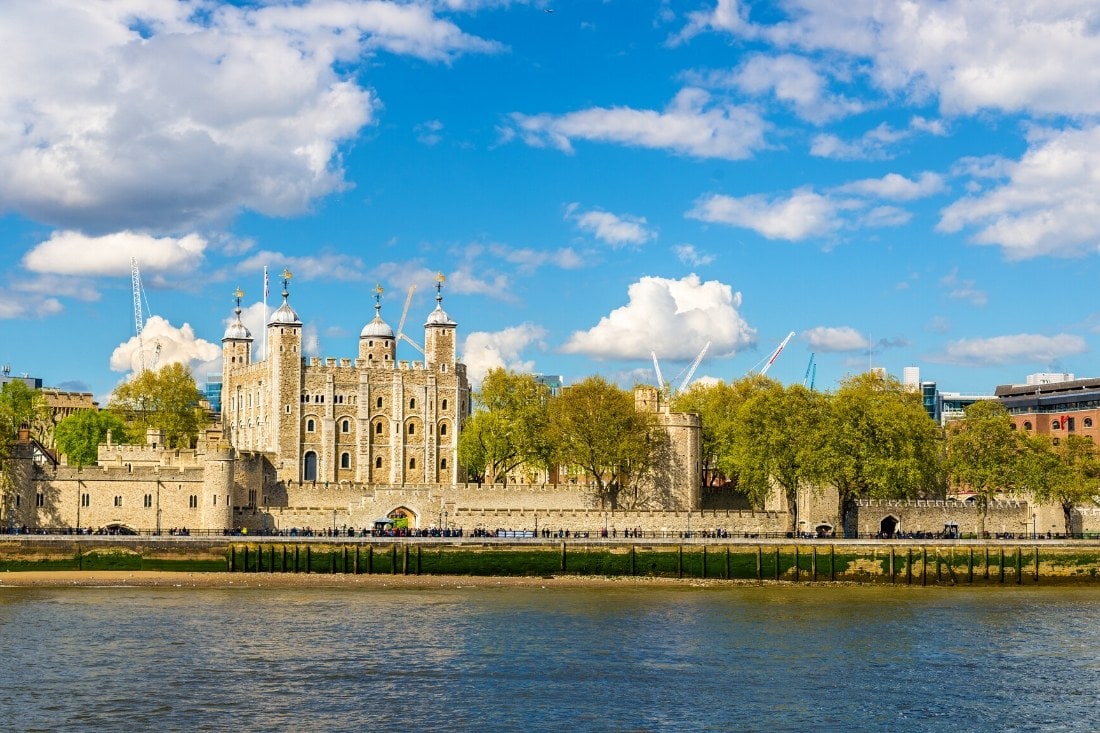 If you fancy an alternative or more local view of London, grab some street food from Camden Market and take a wander along the canal to Regent's Park. Then head up to the top of Primrose Hill for one of our favourite views of London.
Then hop on the tube over to Brick Lane and Spitalfields for buzzy markets and one of the most popular cuisines in England – curry! You could shop for vintage clothes on Portobello Road and enjoy the streets of colourful houses in Notting Hill. Or, head south of the river to Brixton for more street food markets and a cool music scene.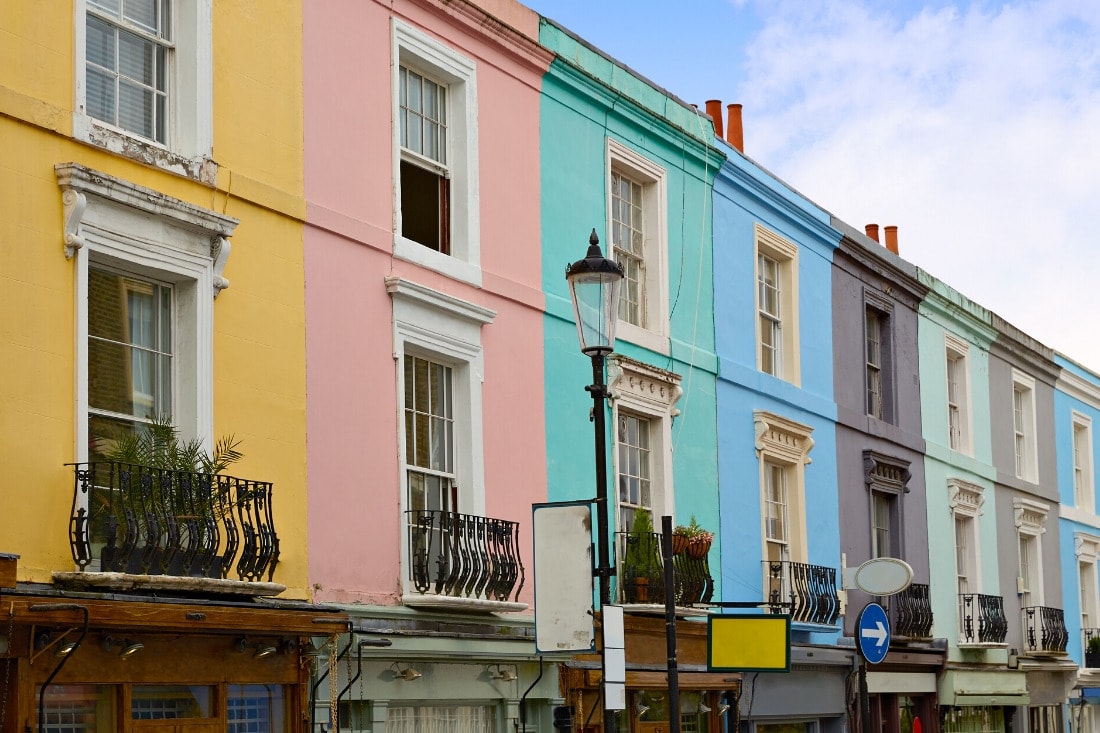 Enjoy A Cotswolds Road Trip
The Cotswolds are another of our favourite parts of England. Quintessential picture-postcard villages of historic stone houses, pretty countryside and bucket loads of charm make this a gorgeous destination for a road trip.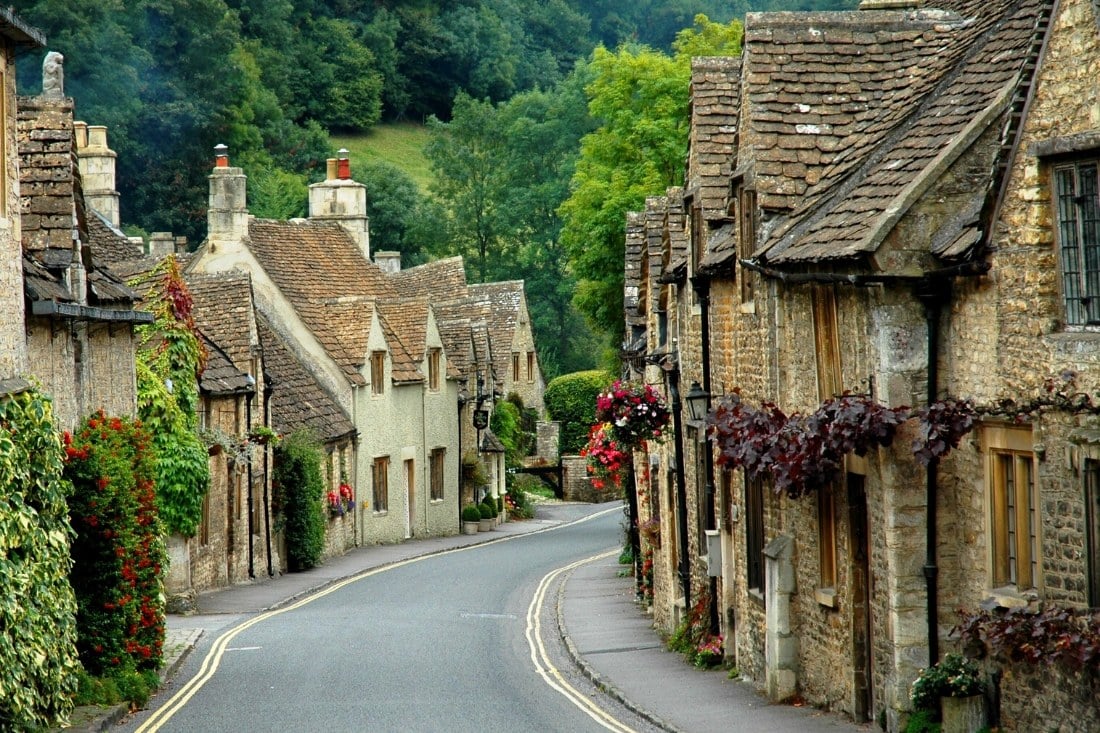 We'd recommend visiting Bibury, Moreton in Marsh, Bourton on the Water, Upper and Lower Slaughter and Broadway… but, there are so many more gorgeous spots to recommend. There are daily tours from London, but we'd recommend a longer trip. Book a hotel for a few nights, enjoy a country walk followed by a classic English cream tea, then cosy up in the evening in front of a log fire in a country manor.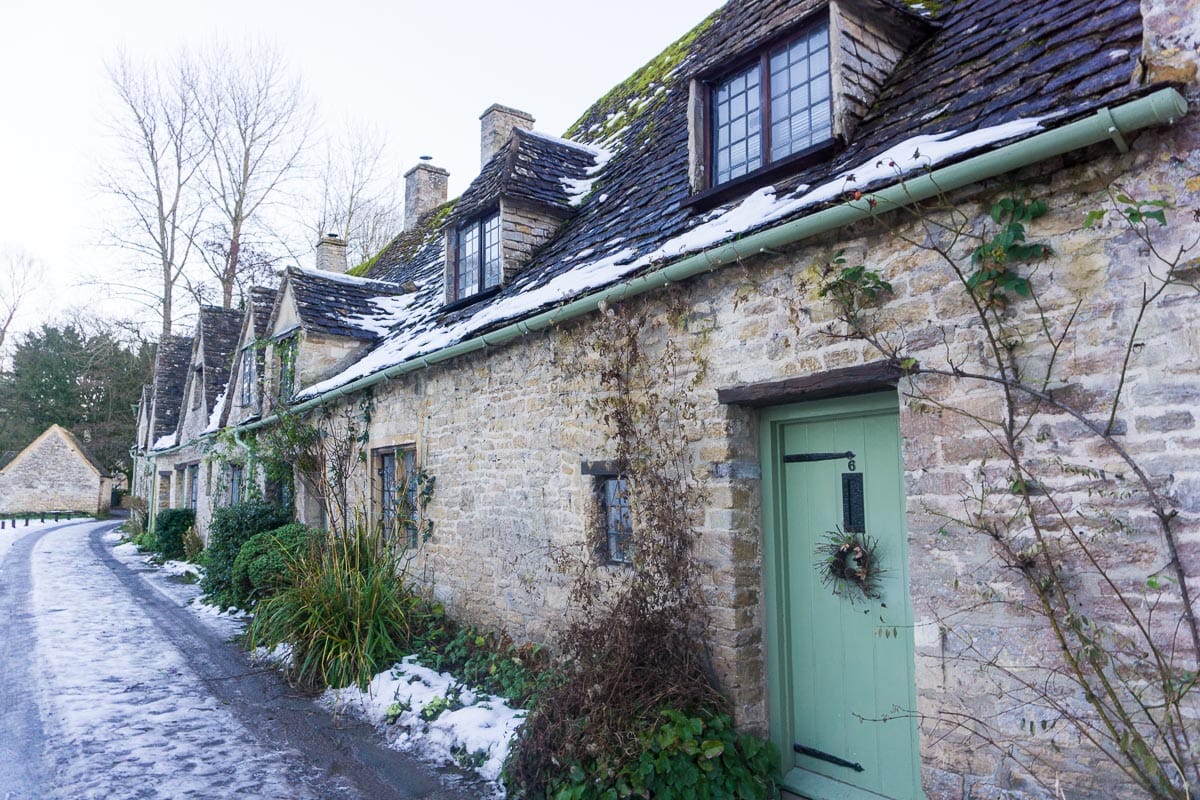 Fresh Seafood And Coastal Views In Cornwall
Oh Cornwall, how we adore you! A visit to this county is an absolute must for your Great British bucket list!
The most southerly part of mainland Britain is where you'll find a spectacular rugged coastline, top surf beaches and some of the best fresh seafood in the country. We've spent a lot of time around Newquay and Padstow, but have a few chunks of the county we're still longing to visit. Yep, even we have a bucket list!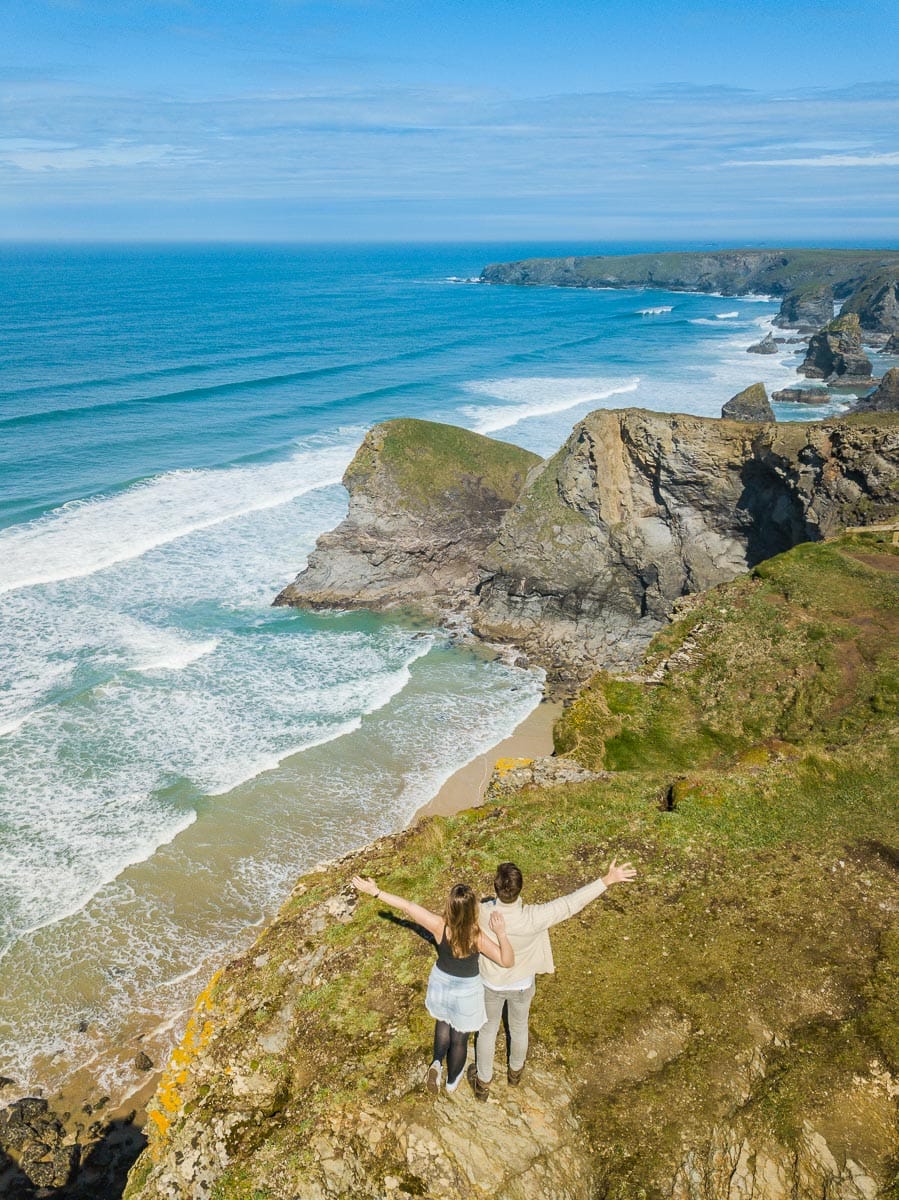 We'd recommend eating your way around the best local restaurants in Padstow, where top chefs Rick Stein and Paul Ainsworth rule the roost. You're guaranteed to have a few utterly unforgettable meals.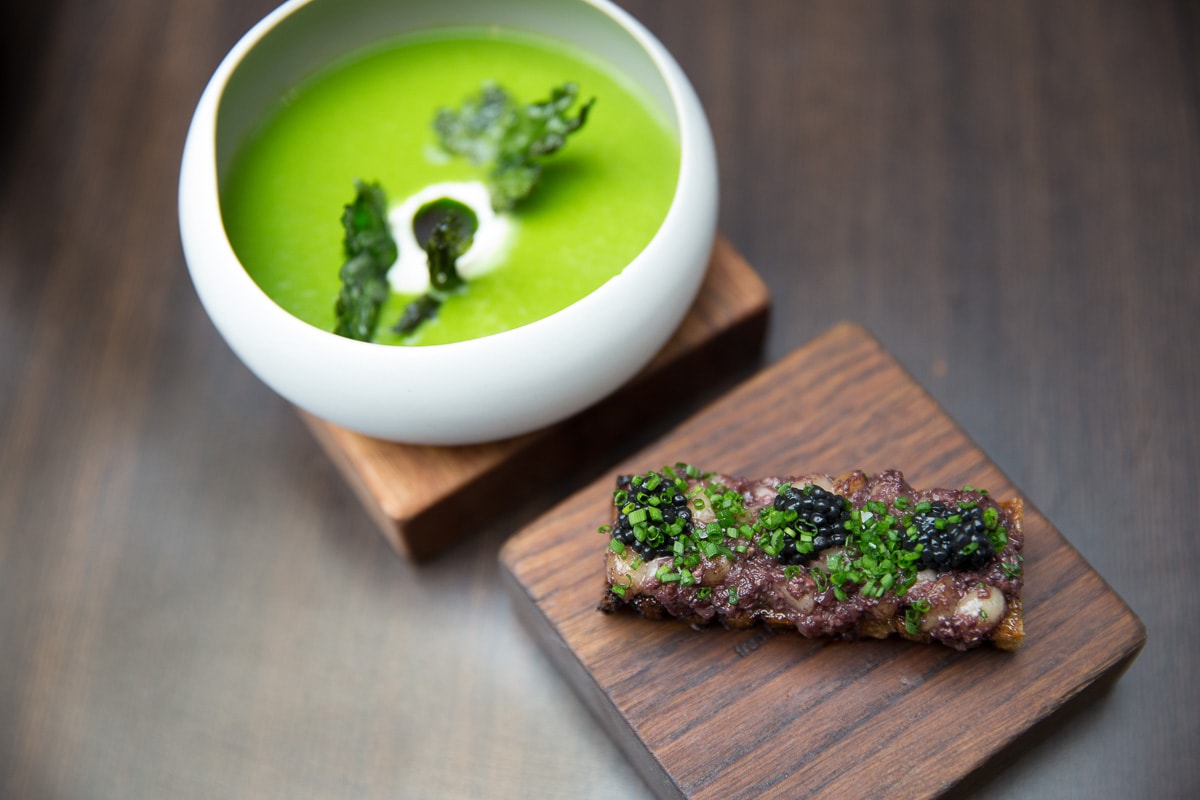 Then enjoy the north Cornwall coastline including the adorable fishing village of Port Isaac, epic beach at Bedruthan Steps, great walking trails at Crantock and perfect summer holiday beach at Perranporth. Oh, and if you're feeling brave, grab a surfboard and take on the waves on Fistral Beach in Newquay.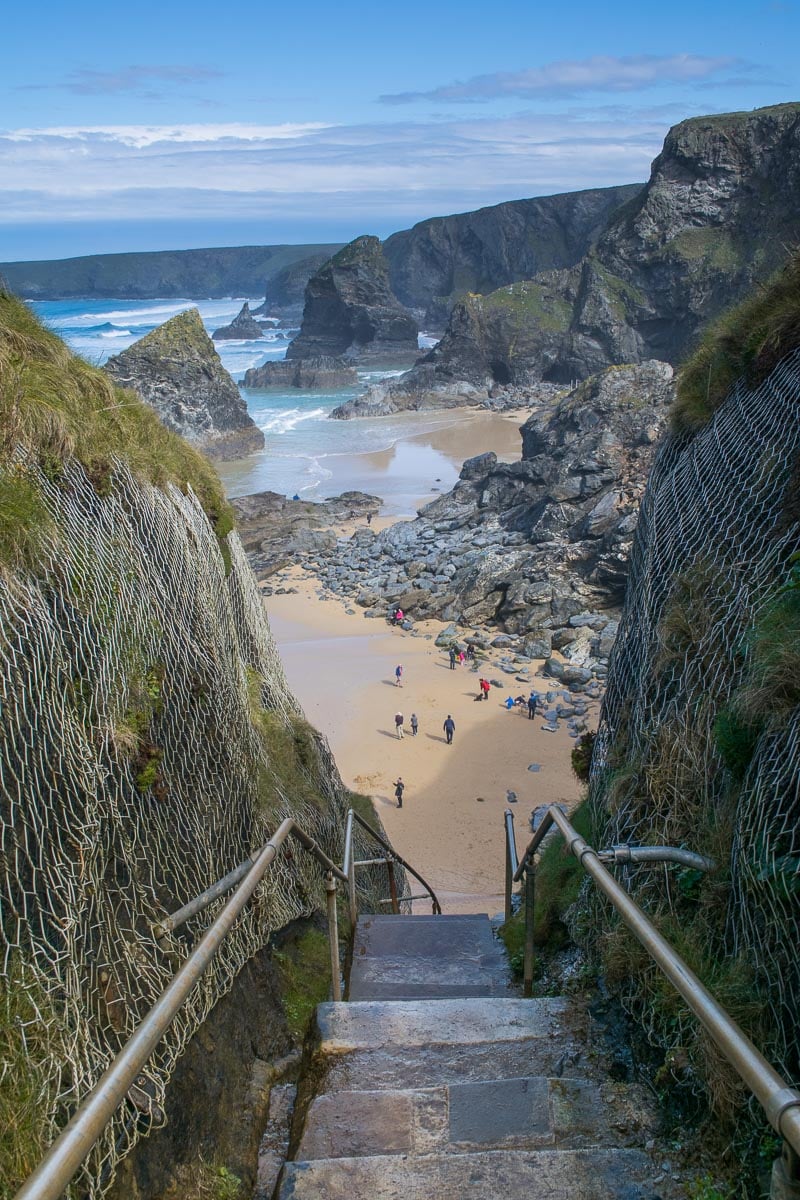 Visit Oxford Or Cambridge
For people who know both Oxford and Cambridge, it's often hard to separate them. History lovers will adore walking the grounds of famous university colleges. Others will enjoy the buzzy shops, restaurants and cafes. No doubt, if you grew up near one of these famous English cities, you'll have your favourite.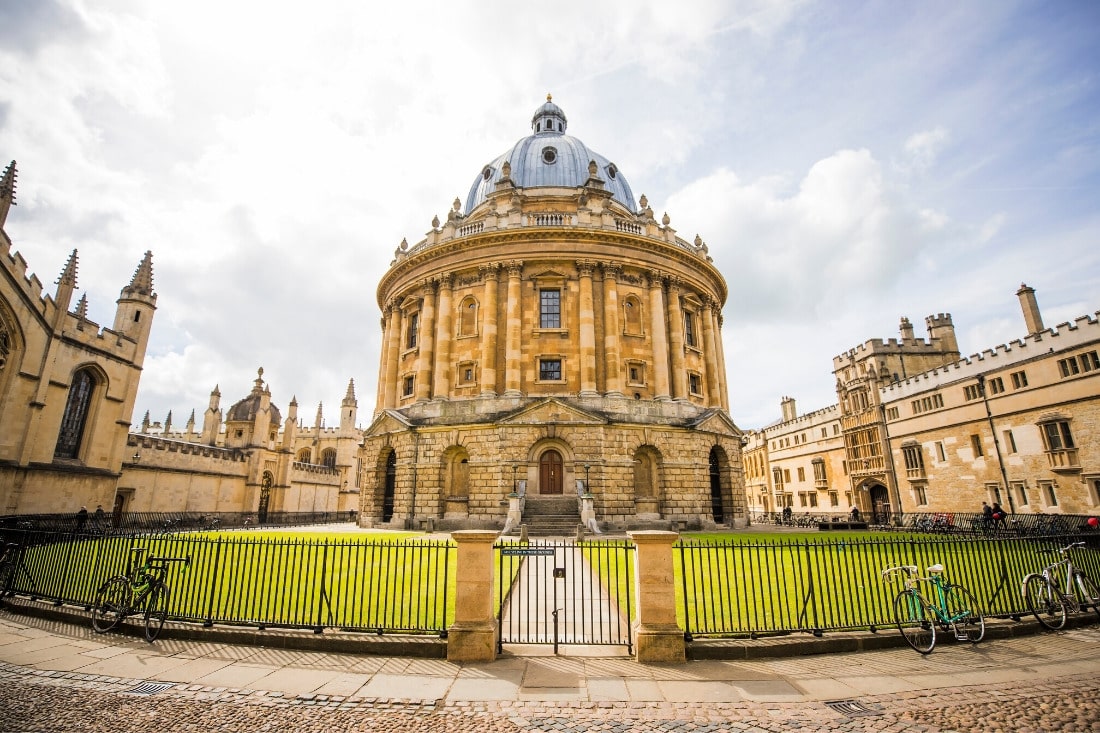 I grew up with Oxford close by, and absolutely adore it, yet I've never been to Cambridge! Macca grew up near Cambridge and raves about it. While I'd love to go punting in Cambridge, I think it'll be hard to knock my loyalty to Oxford!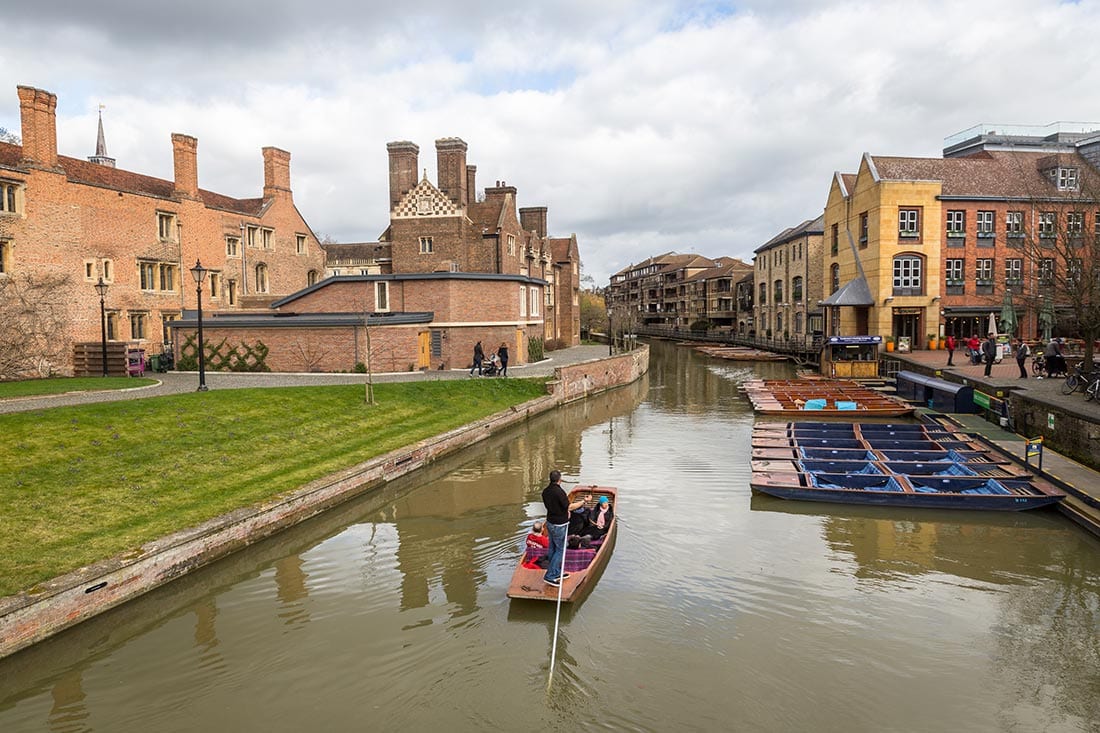 Explore The Peak District National Park
The Peak District is the United Kingdom's oldest national park, covering 555 square miles of glorious countryside right in the centre of the country. The region is best known for its wild moors, craggy peaks and wonderful hiking trails, but there's plenty more to explore too.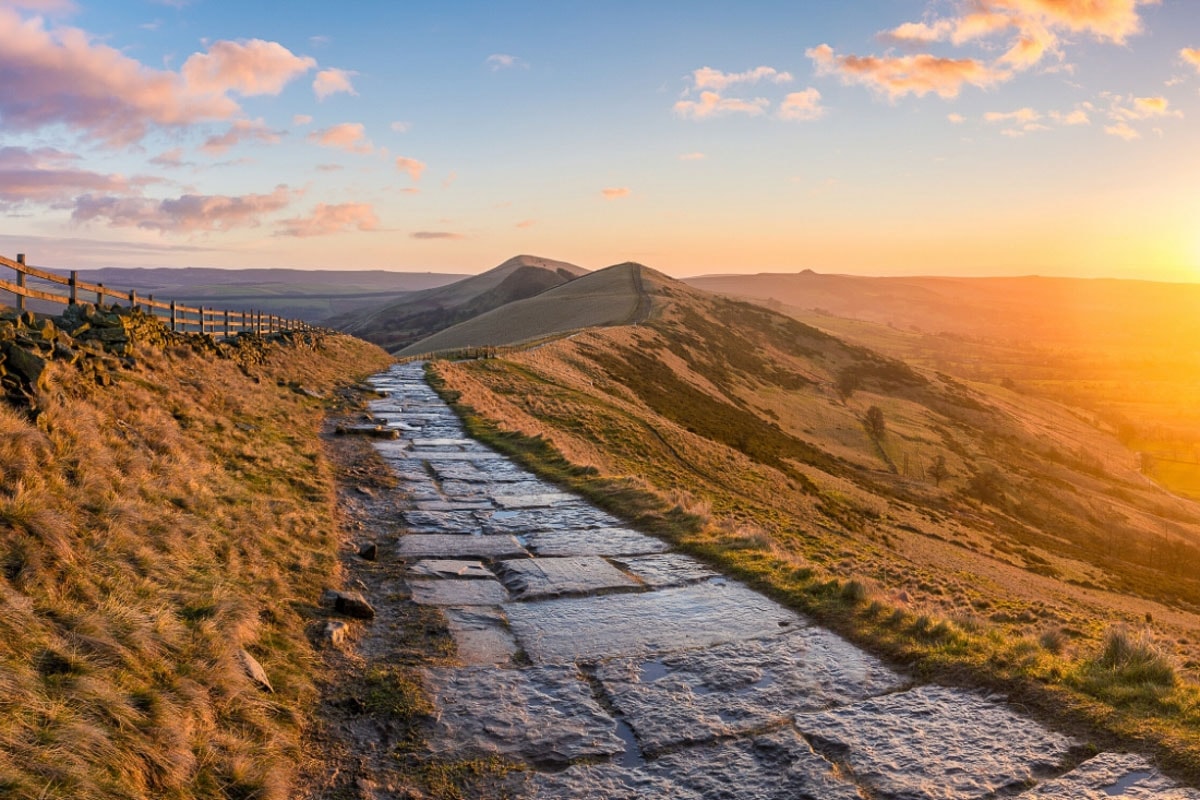 We'd recommend hikes to the Dark Peaks and Mam Tor. Although the routes are challenging at points, the panoramic views are worth it! No trip to the region is complete without a visit to Chatsworth House, which is home to over 1000 acres of beautiful parkland and gardens.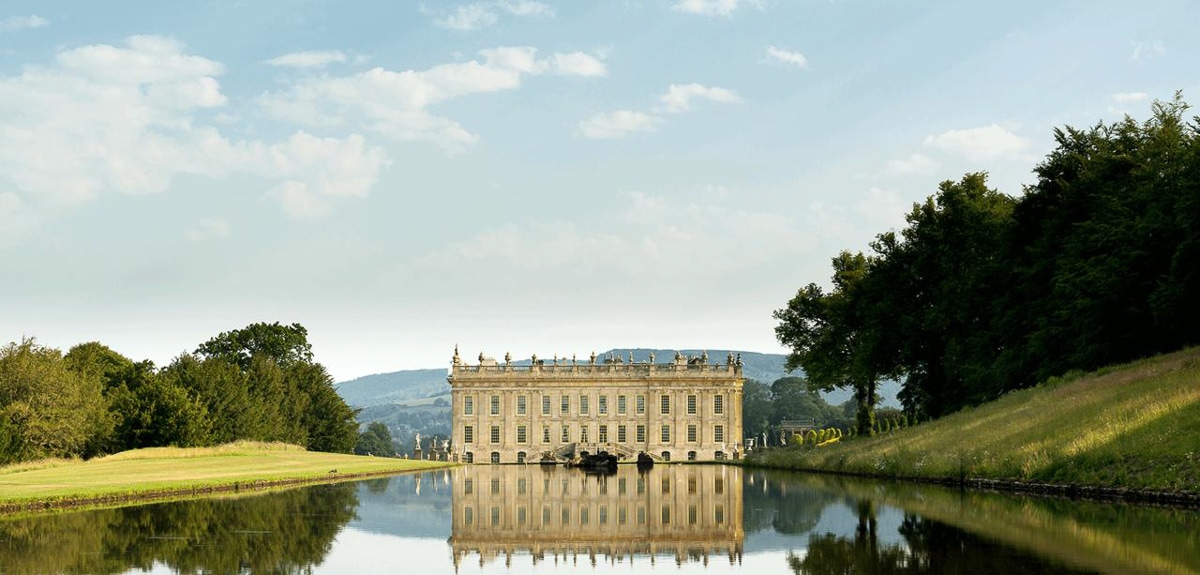 After all that walking, no doubt you'll be hungry, so it's time for a rewarding slice of Bakewell Pudding in Bakewell or a gourmet dinner at Fischer's at Baslow Hall. You can check out our top places to visit in the Peak District here.
Get Your Viking Fix In York Or Your Roman Fix In Bath
I've grouped these two together for now, as they both fall into the category of 'wonderful English cities with very long and interesting histories!' We can't choose between them – we love them both equally.
Visit Bath to delve deep into Roman history, with a trip to the Roman baths. Immerse yourself in the literature of Jane Austen, relax in the soothing waters of Thermae Bath Spa, climb the tower of Bath Abbey for spectacular cityscapes and take in the architectural elegance of the Royal Crescent.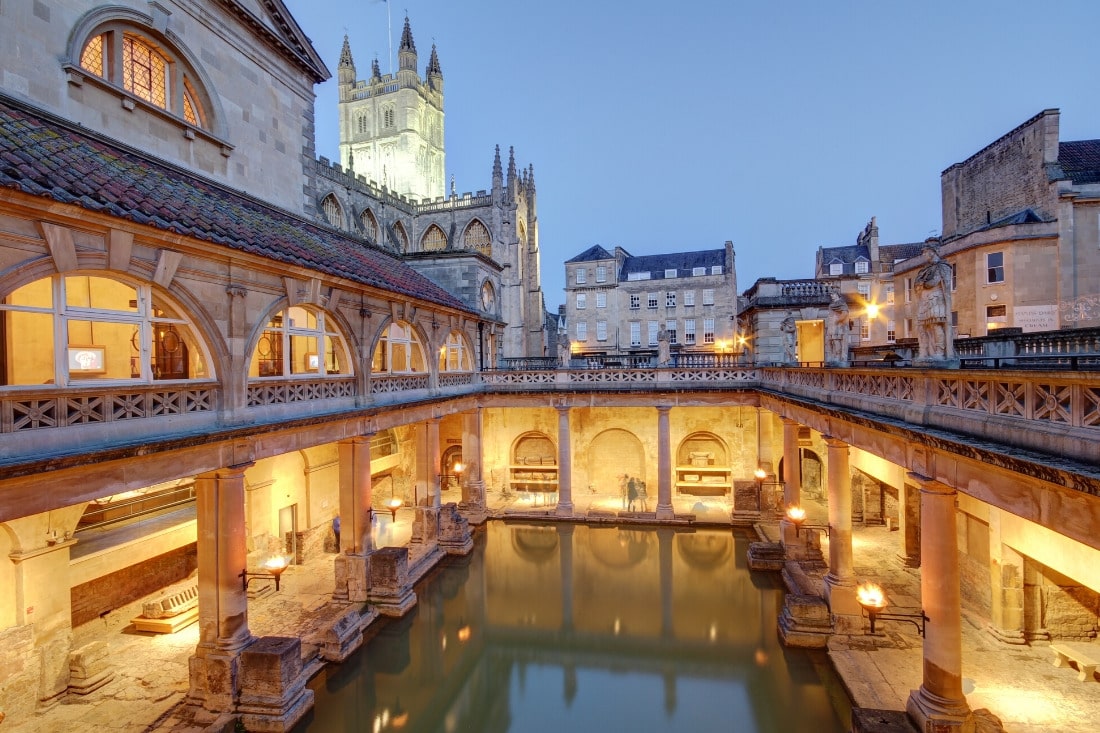 Alternatively, head north to York to uncover tales of the Viking city of Jorvik. Take a guided tour of the stunning York Minster, enjoy a cuppa and a 'fat rascal' at Betty's, walk a real life Diagon Alley (The Shambles) and entertain your inner train spotter at the National Railway Museum.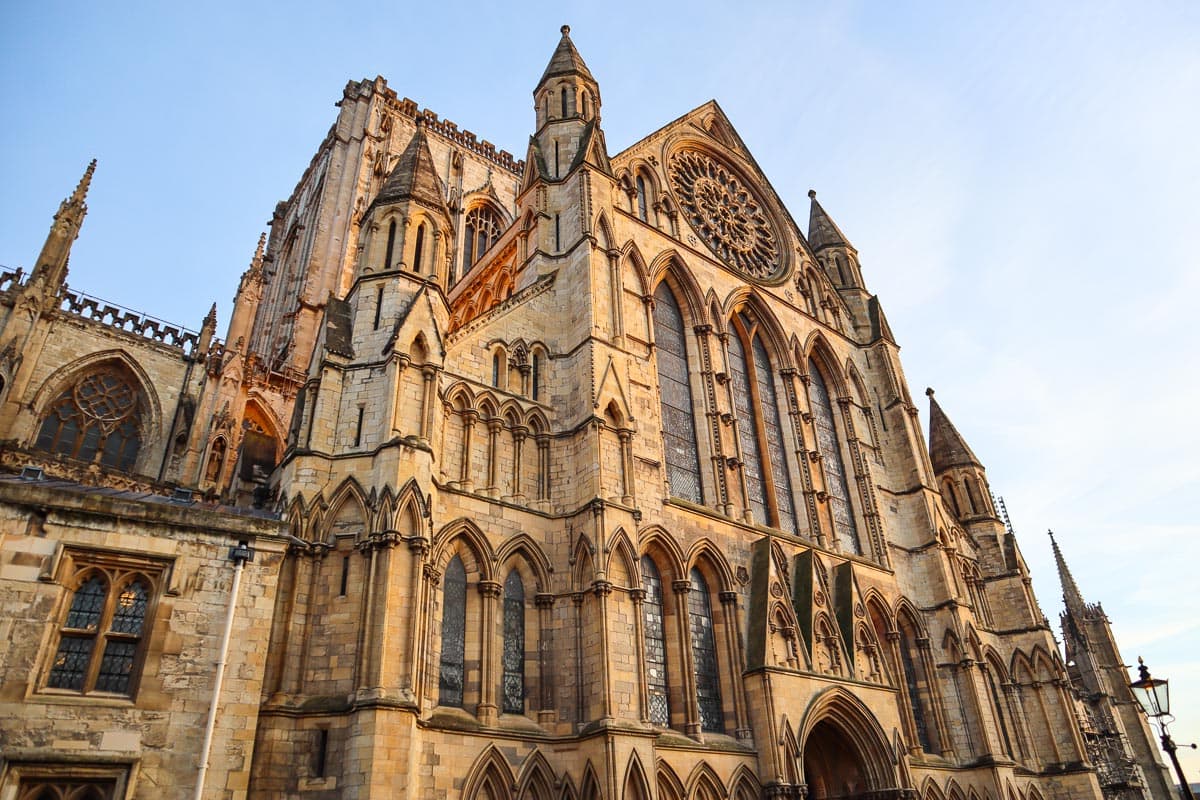 Both of these cities showcase the best of Britain and are worthy additions to your Great British bucket list. They're filled with beautiful architecture, have lots of options of things to do and are home to thriving restaurant, café and arts scenes.
Explore England's Islands
People sometimes forget about England's islands, but wow are they special. For a memorable island break, head to the Scilly Isles. This little archipelago is located 40 km off the southwestern tip of Cornwall.
There are 5 inhabited islands to visit, and the region is known for its incredible wildlife and warm microclimate. When you see the beaches, you could be fooled into thinking you're looking at photos of the Caribbean!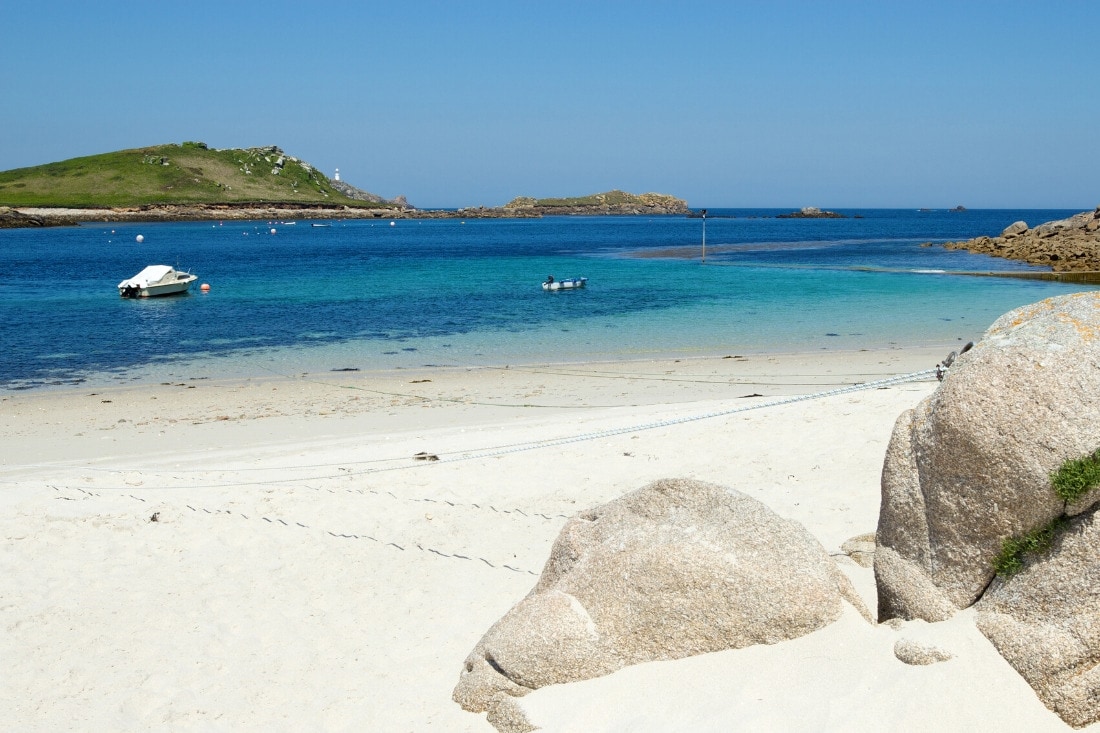 Or for something a little different, how about a trip across the English Channel to the Isle of Wight? I visited a few years ago and felt like I'd gone back in time. Life moves at a slower pace, and there's a real passion for the great outdoors. From wine tasting and kayaking, to relaxing on the beach and hiking, there's plenty to do on the island, making it one of the best family holiday destinations in Great Britain.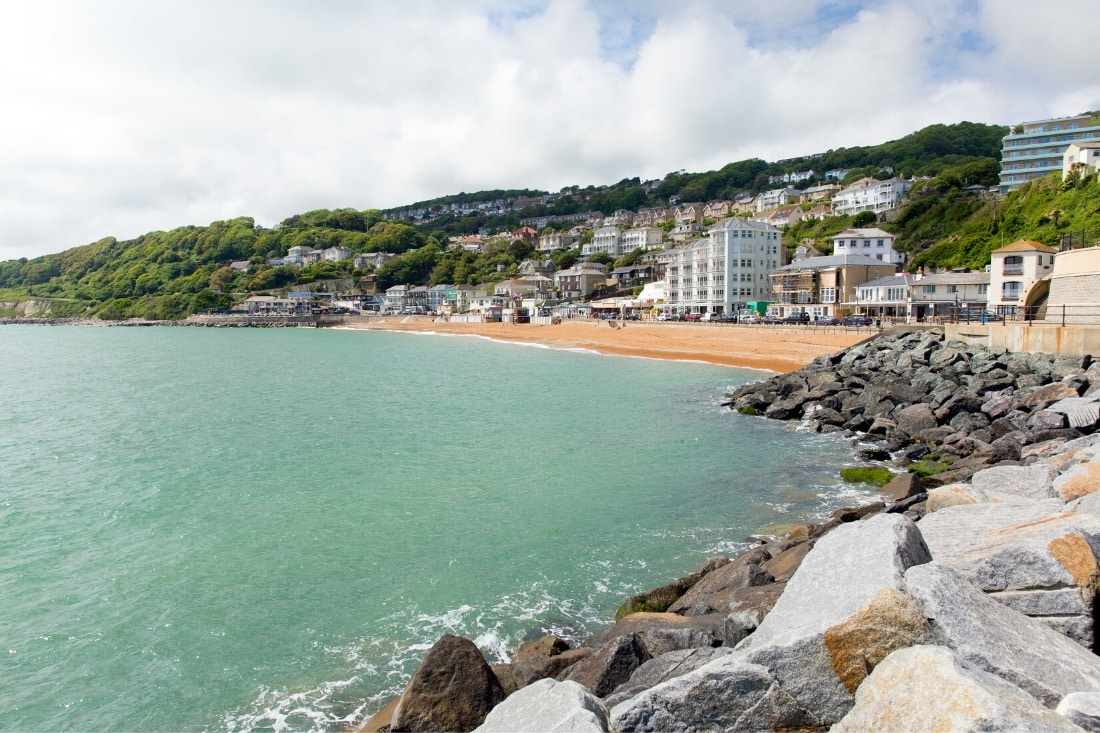 Go On A Jurassic Coast Adventure
While you might visit the Jurassic Coast as part of a trip along the South West Coast Path, I'd recommend dedicating an entire trip to visiting the region as there's so much to see. The Jurassic Coast stretches from Exmouth in Devon to Studland Bay in Dorset and is a UNESCO World Heritage Site.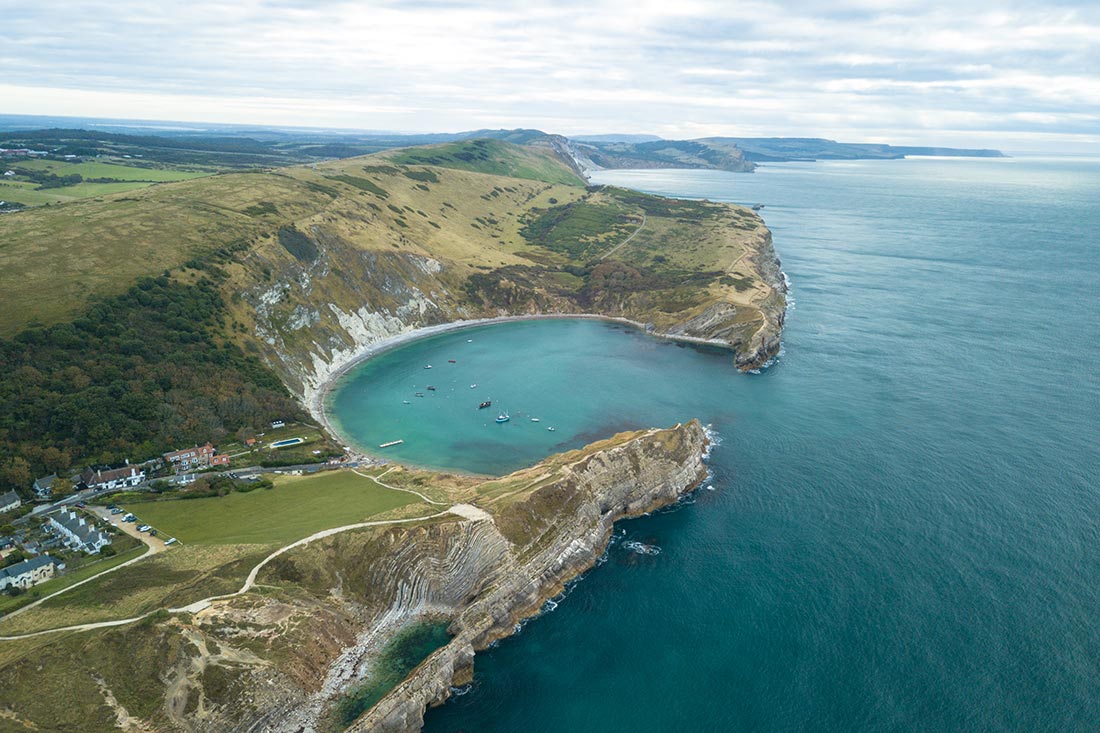 West Bay is one of my favourite spots. The ridges on the huge cliffs show the falling sea levels from over 175 million years ago – a reminder of why this is known as the Jurassic Coast! I'd also recommend the clifftop walk from Lulworth Cove to Durdle Door. Both spots are absolutely stunning.
You could also visit Old Harry Rocks, close to Studland Bay. Thousands of years ago, the chalk standing stones connected to The Needles on the Isle of Wight. The hike to see them is scenic, and will have you reaching for your camera over and over.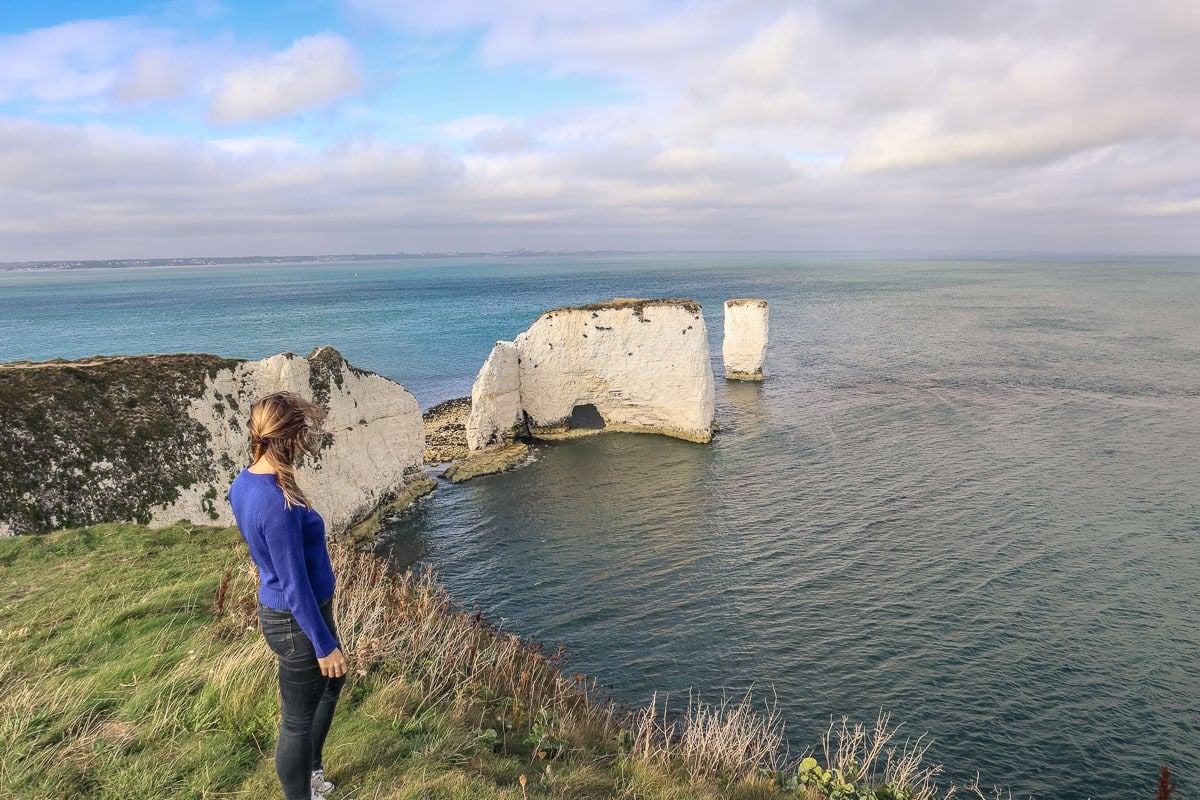 ---
BEST OF BRITAIN – SCOTLAND
Drive The North Coast 500
The North Coast 500 is Scotland's version of Route 66 and is a worthy addition to any list showcasing the best of Britain. Starting in the northern city of Inverness, the NC500 is a 516-mile road trip route taking you through some of the most beautiful places in Scotland. Usually it takes around a week to drive the route, so perhaps it's time to hire a campervan and convert to #vanlife!
Highlights along the route include the fairy-tale chateau of Dunrobin Castle, the pristine white sands of Balnakeil Beach, dolphin spotting in Moray Firth, water sports at Brims Ness near Thurso, and the route from Kishorn and Applecross which leads you to the most incredible views over Wester Ross, the Isle of Skye, Rum and the Outer Hebrides.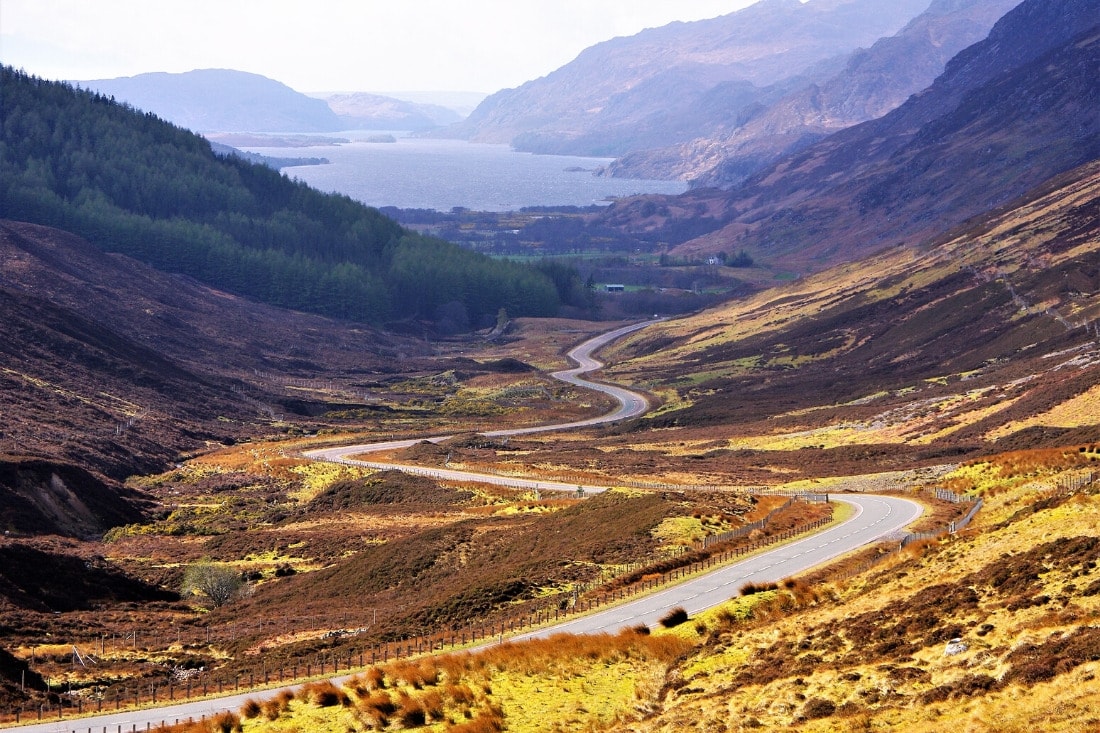 You don't have to drive the route either. If you fancy a challenge, how about hopping on a bike and spending a few weeks cycling the route? Or you could choose one area and walk a section of it.
Immerse Yourself In The Natural Beauty Of The Isle of Skye
The Isle of Skye absolutely has to be on your Great British bucket list. It might be a little remote and harder to reach, but it's 100% worth the effort. It's often named as one of the most beautiful places in Scotland.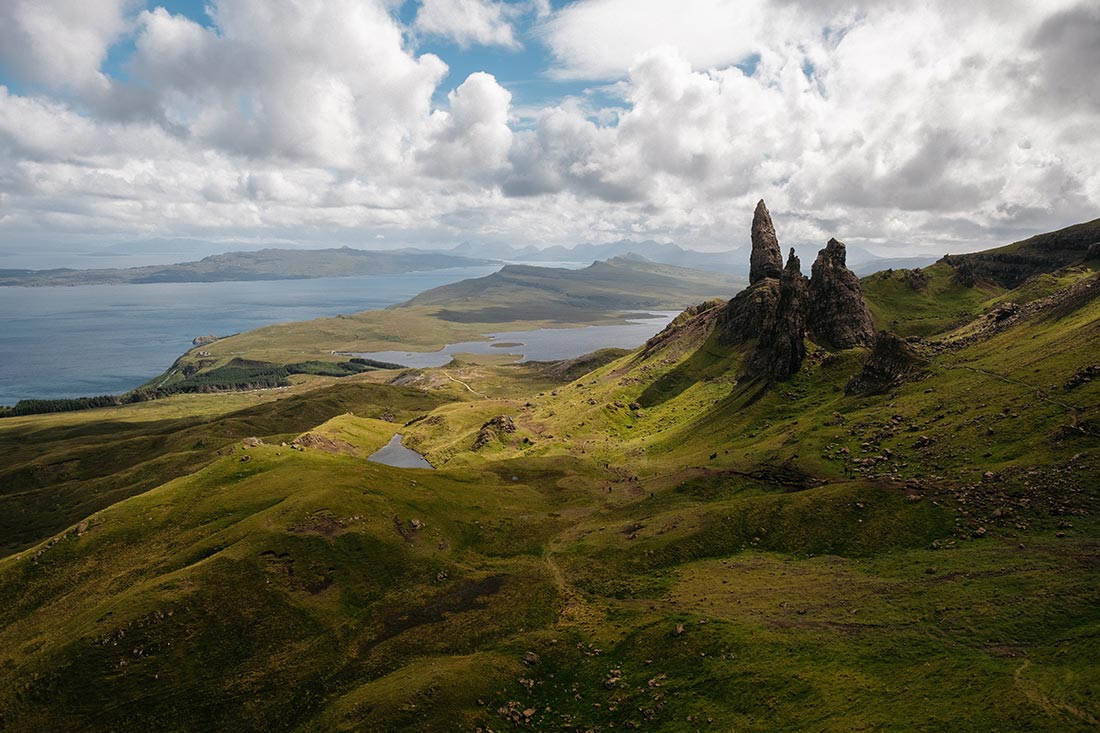 The Isle of Skye is famous for majestic geological features, such as the Old Man of Storr, the Quiraing and the Cuillin. This is proper hiking country so make sure you bring along your hiking boots. Skye is also home to the Talisker Distillery, so you can stop by for a wee dram when your legs get tired!
Search For Nessie At Loch Ness
Everyone knows about the legend of the Loch Ness monster, so at least once in your life, you should visit the loch and have a good old search for dear Nessie. You never know, you might spot her!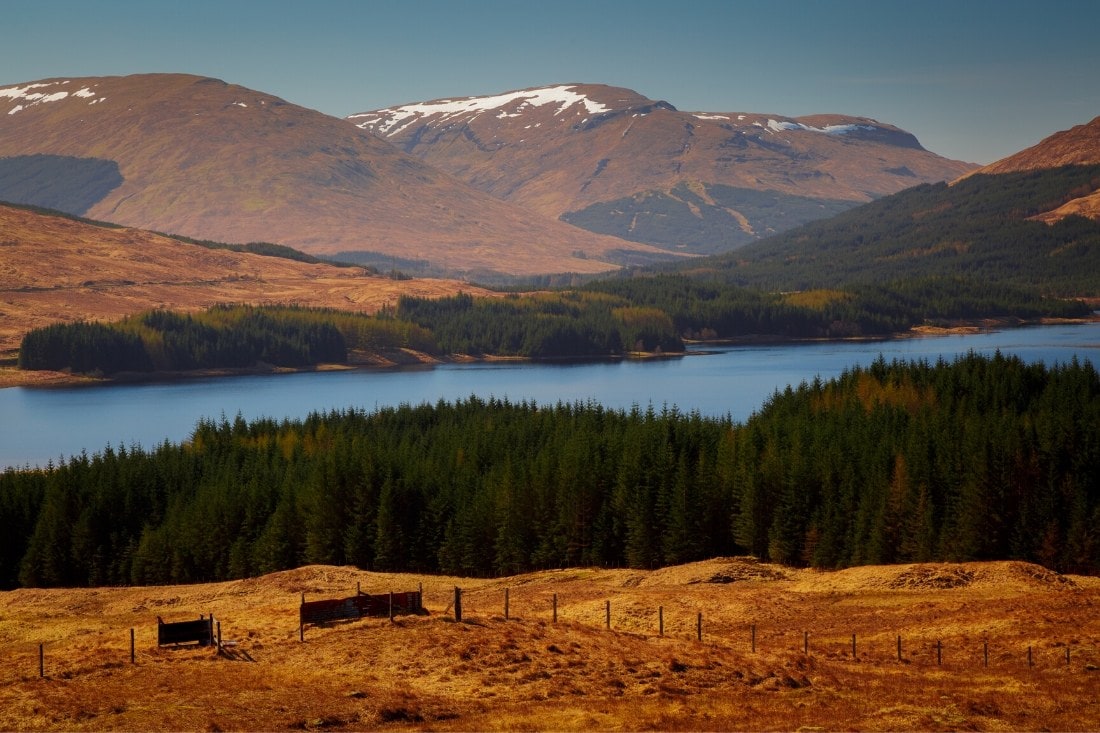 Understandably, Loch Ness is one of the most popular places to visit in Scotland, and is easily accessible by car from Inverness. It's a beautiful loch regardless of whether you spot Nessie. We'd recommend a relaxing walk around the perimeter or setting sail on a Loch Ness cruise from Inverness, Fort Augustus or Drumnadrochit.
Enjoy Edinburgh's Creative Scene At The Annual Edinburgh Fringe Festival
With its historic castle, natural beauty and buzzy city centre, Edinburgh is a great city to visit all year round. However, visit during the Edinburgh Fringe Festival in August and you're in for a real treat.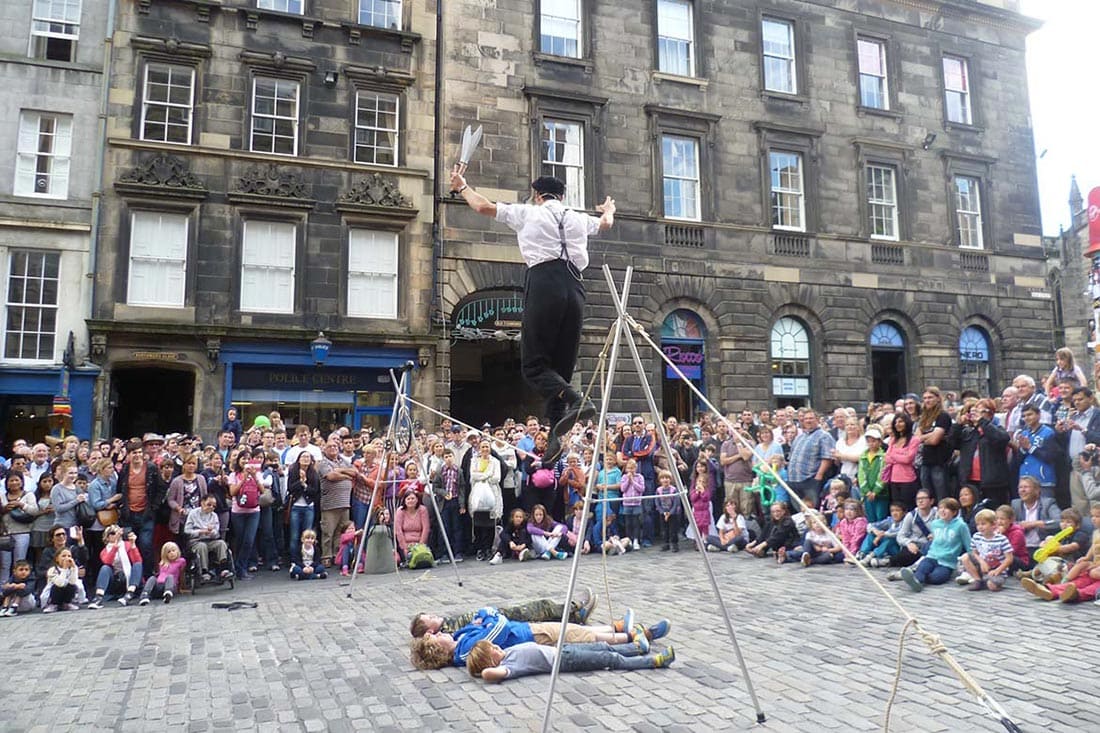 The city is at its most vibrant as the world's biggest arts festival takes over the city for most of the month. Usually there are around 55,000 performances across multiple different venues dotted across the city. It's famous for comedy, but the festival showcases a number of genres, from theatre and dance, to music and literature. There really is something for everyone!
Explore The Scottish Highlands
The Scottish Highlands, located in northwest Scotland are an absolute paradise for lovers of the great outdoors. The Highlands encompass a large area, including some of Cairngorms National Park, Fort William, up towards Skye and along the coast to John O' Groats.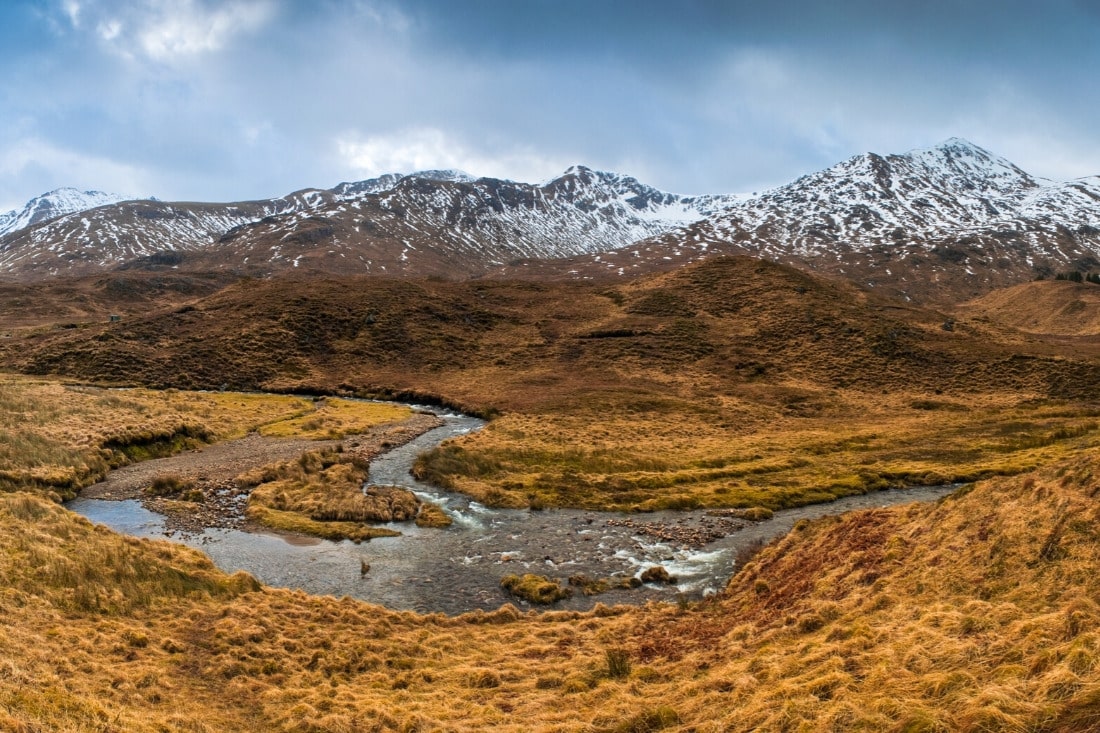 Highlights include the natural beauty of Glencoe and Loch Leven, the picturesque 13th century Eilean Donan Castle, the Glenfinnan Viaduct (famous for the steam train scene in Harry Potter) and the jagged cliffs at Duncansby Head.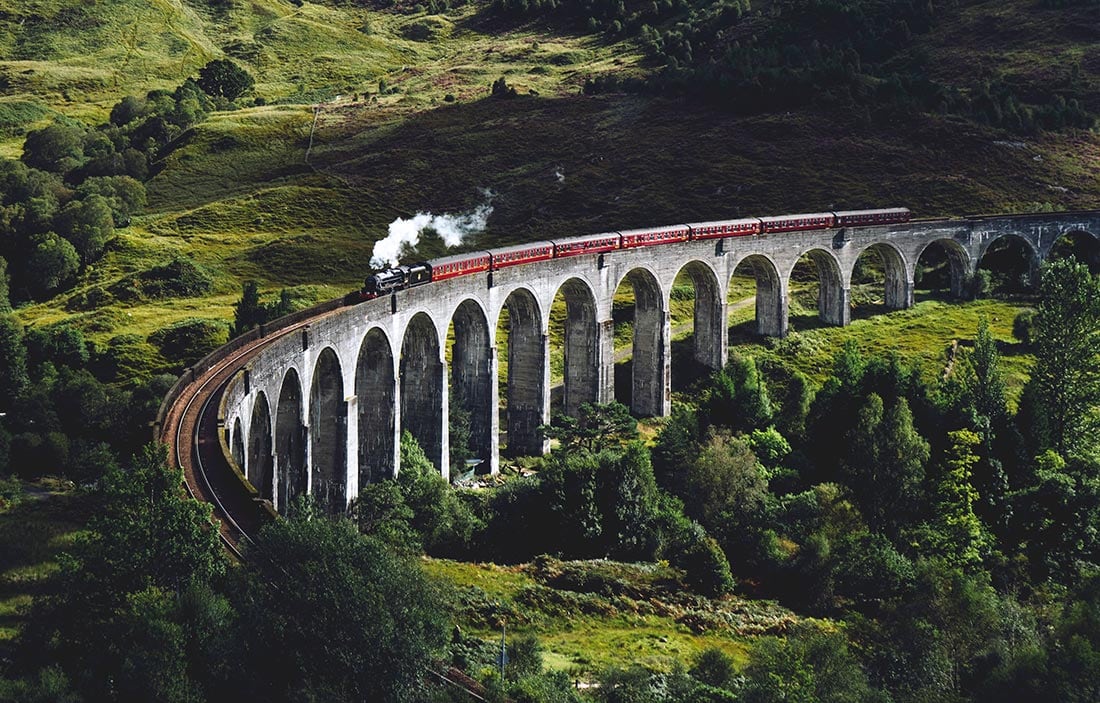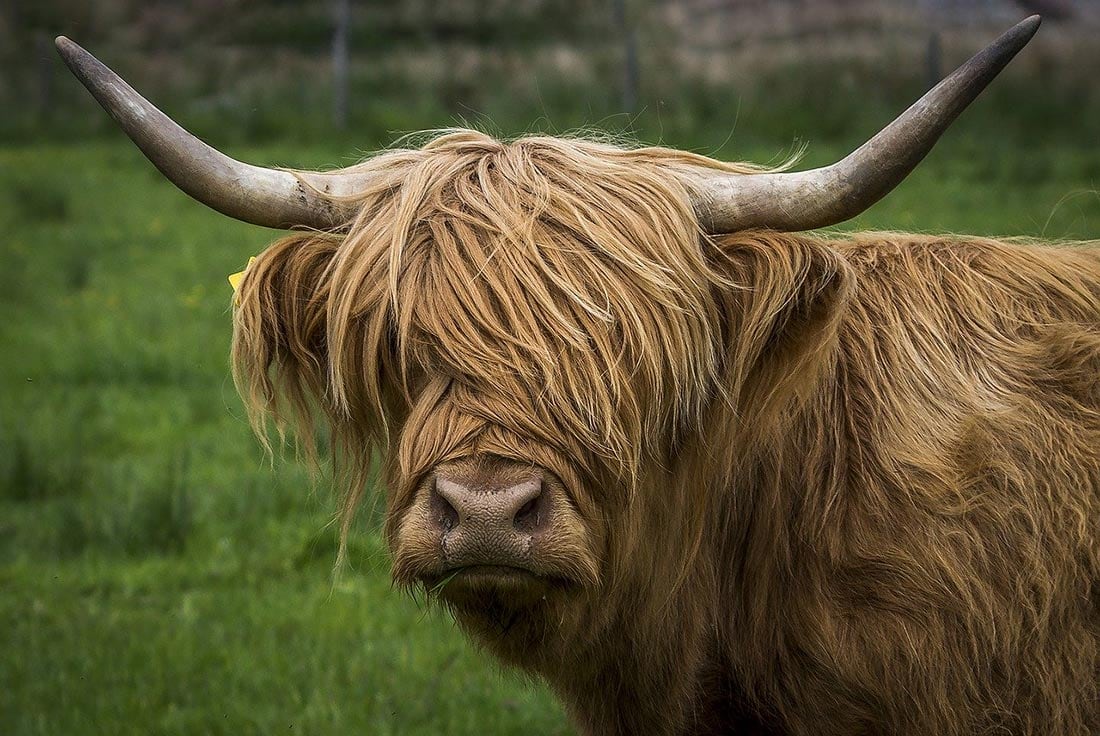 The best way to explore is on foot, with a backpack full of treats to keep your energy levels up. If you're lucky you might spot some Highland cows along the way!
Wildlife Spotting In The Shetland Isles Or The Orkney Isles
England has the Scilly Isles, while a little way north of Scotland's mainland lie the Shetland and Orkney Islands. You don't get more remote than this, so they make great getaways if you're looking for an escape from the stresses of everyday life.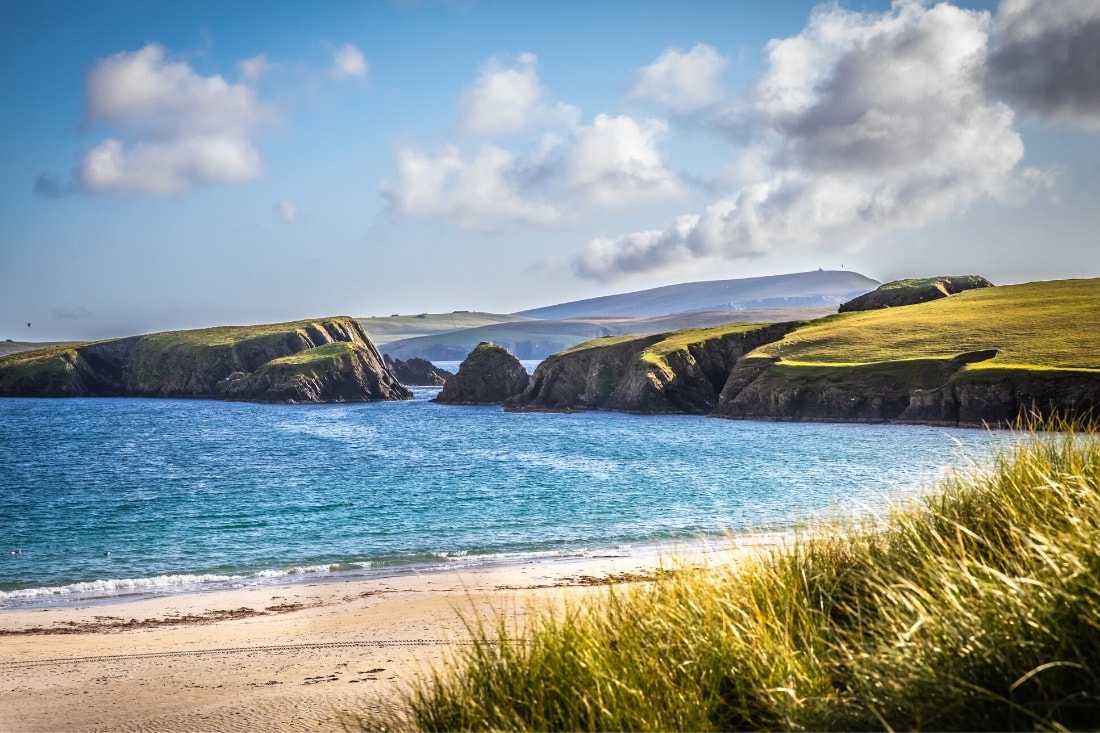 These picturesque islands are home to diverse landscapes, including beautiful moorland, rugged coastlines and wetlands – all of which are loved by animals.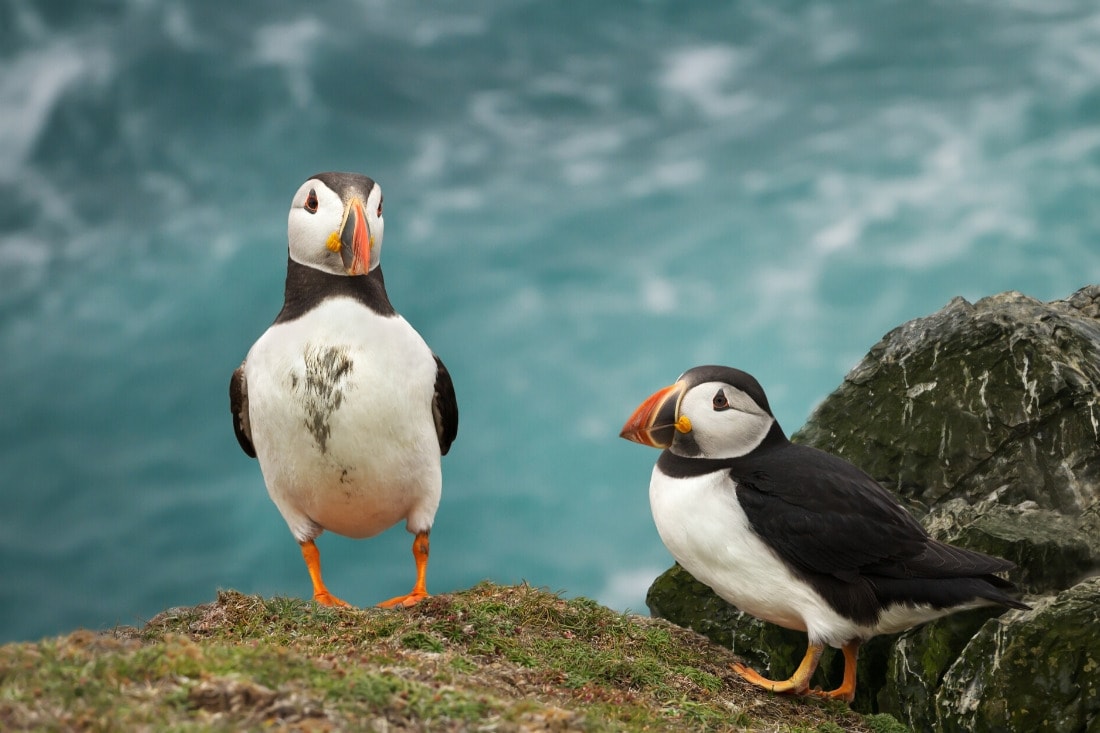 If you visit these islands you could spot dolphins, seals, otters, porpoises and even killer whales! They're also famous for birdwatching, with gannets, red-necked phalaropes, puffins, guillemots and white-tailed sea eagles all seen regularly.
Enjoy World Class Diving In The Orkney Isles
Did you know that the Orkney Isles are one of the world's best dive locations? In 1919, more than 70 ships from the German High Seas Fleet were scuttled. Seven of the vessels (now wrecks) are visible on the seabed in the natural harbour of Scapa Flow, and the surrounding areas.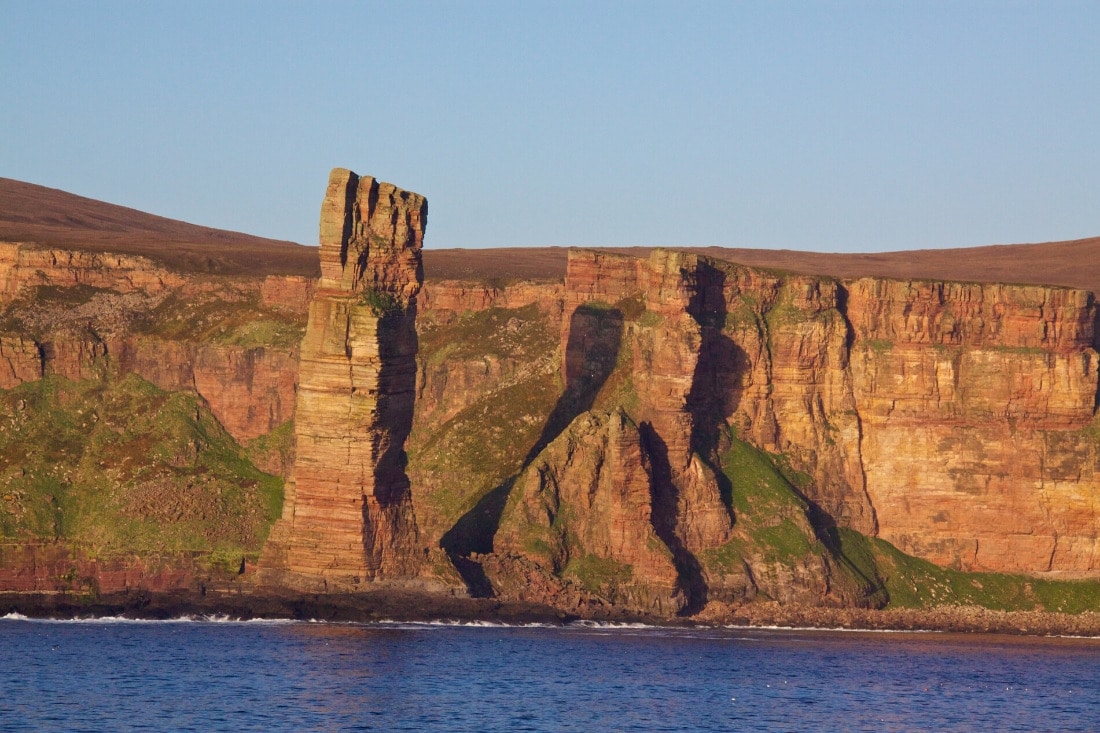 The waters may be cool, but they're totally worth the shock as you head deep under the water. The dive season runs between Easter and early November, and visibility is around ten metres in the warmer months.
The SMS Koln is a popular dive spot in the Orkney Isles as it's relatively intact. Meanwhile, there are three battleships upside down on the seabed at a depth of around 45 metres. It's a fascinating place to explore, and around 3,000 divers visit each year.
---
BEST OF BRITAIN – WALES
Explore Snowdonia National Park
This is a region that should be on anyone's Great British bucket list. Snowdonia National Park is the largest National Park in Wales, and is the perfect place to get your fresh air and mountain fix. Mount Snowdon is the tallest mountain in Wales, with its summit at 3,560 feet (1,085 metres). From the top you'll be greeted with incredible views over the country.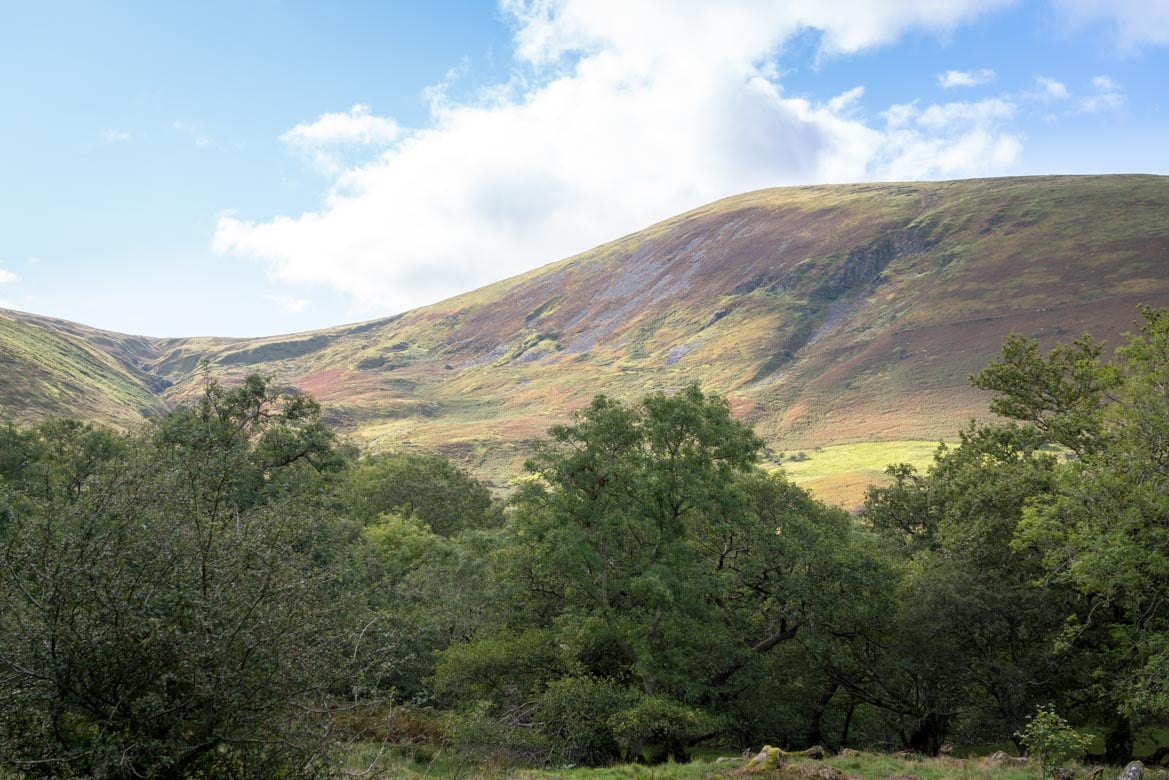 Hundreds of thousands of people attempt the hike each year, but if you're not sure you're up to the challenge, you could always hop on board the Snowdon Mountain Railway.
Also, while the mountain is fame for its high peak, Snowdonia National Park is large, with lots of other beautiful spots to explore, including more than 100 lakes.
Live A Colourful Life In Portmeiron
Located in the north west of Wales, Portmeirion isn't your average Welsh holiday spot. If someone blindfolded you and placed you here, you'd be forgiven for thinking you had been whisked off to a colourful Italian village!
Portmeirion village is the creation of Welsh architect Sir Clough Williams-Ellis. He began this lifelong labour of love in 1925 and deemed it to be complete 50 years later. It's colourful, quirky and oozes charm.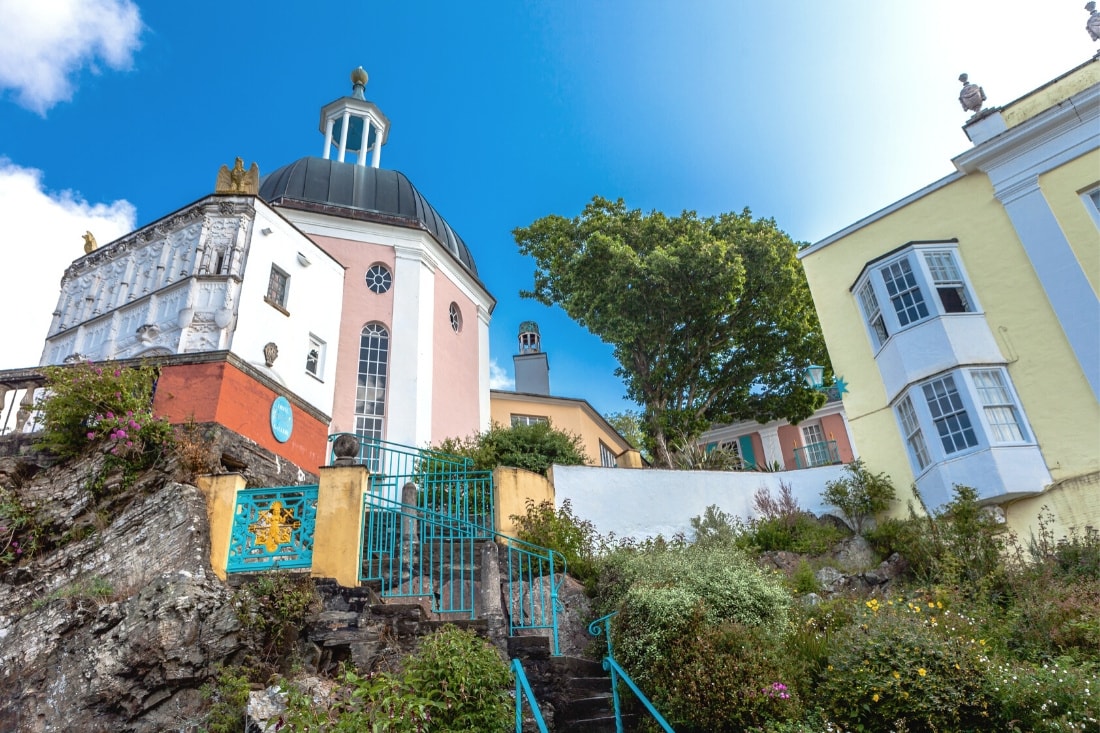 There are lots of things to do in and around Portmeirion, from delving into the depths of the earth visiting old slate mines, to taking a ride through the forest on a steam powered locomotive.
One of the most famous things about this special Welsh village? Shopping for Portmeirion Pottery, which was founded by Susan Williams-Ellis, the daughter of Sir Clough. You'll probably be familiar with the designs, as it's found in households around the world. You can plan your trip with our handy guide to visiting Portmeiron.
Explore The Gower Peninsula
The Gower Peninsula is one of the most regions in Wales. The scenery of this 70-square-mile area will amaze you, as you explore pretty beaches, dramatic cliffs and rugged forests and woodlands.
In terms of highlights, there are plenty! Take a trip to Rhossili for its three-mile beach and you'll see the rocks known as Worm's Head, serene sand dunes and a dramatic shipwreck.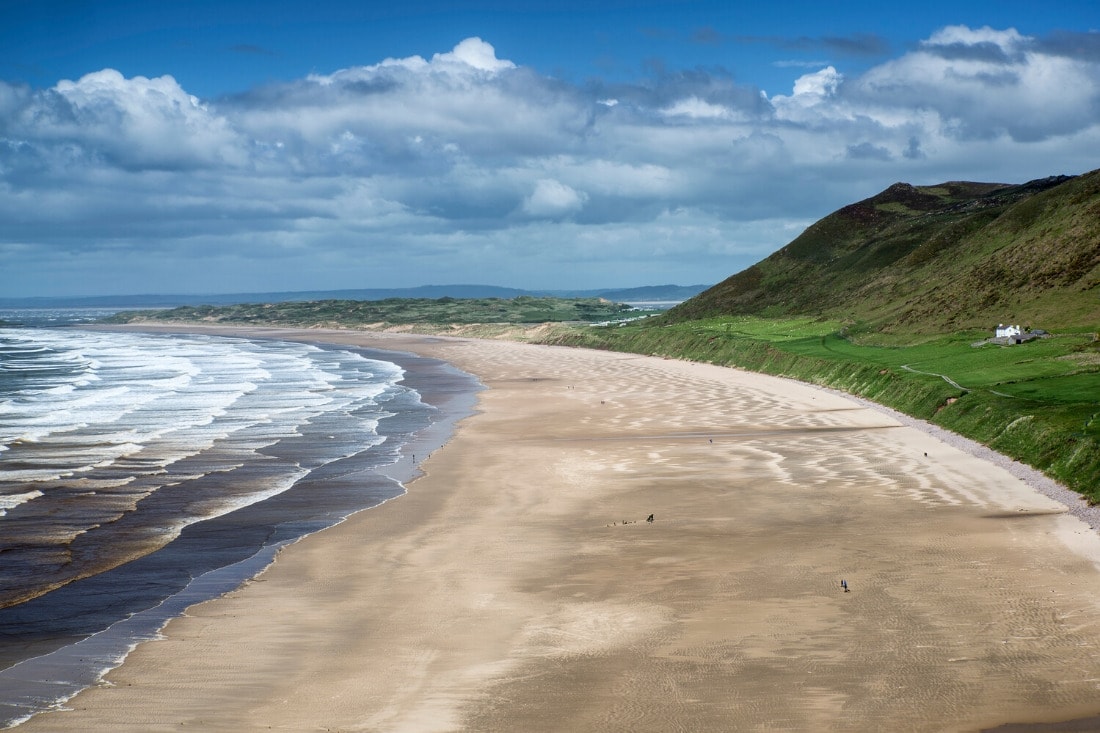 If you're a water baby, you can swim, kayak, paddle board and surf in the Gower Peninsula. Meanwhile, Swansea Bay is a popular spot for sailing, wind surfing and kite surfing.
Or if you want to explore on foot, join the Wales Coast Path which snakes around the coastline, or The Gower Way – a 35-mile trail that goes through the middle.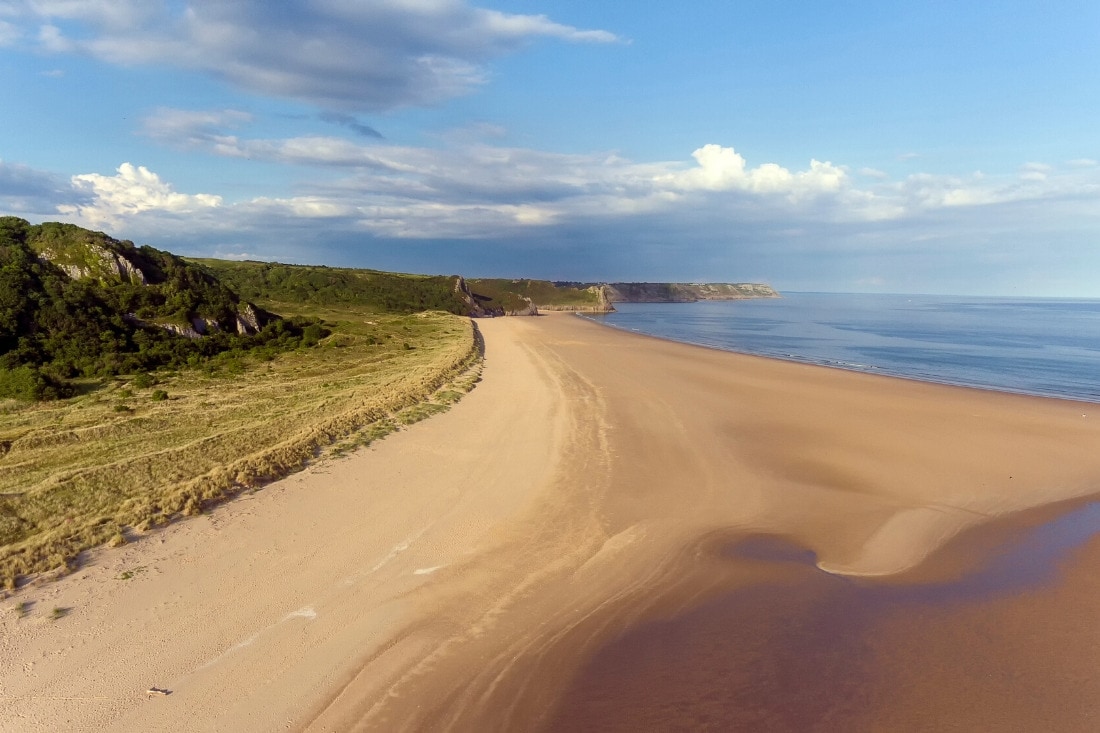 Stargaze In The Brecon Beacons National Park
Another place to enjoy Wales' exceptional natural beauty is in the Brecon Beacons National Park. It's a region known for its diverse landscapes, which include green fields, waterfalls, cute canals, old red sandstone peaks and rugged moorland. It's also a peaceful region to reconnect with nature and switch off from everyday life.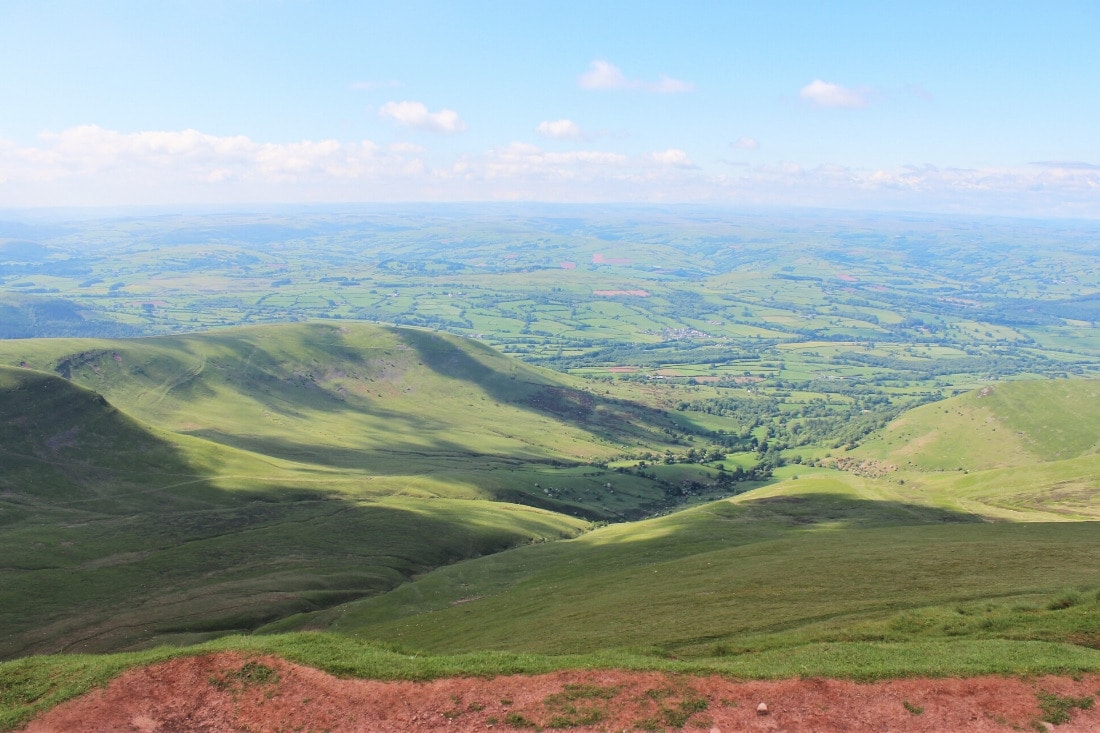 For something extra special, go stargazing in the Brecon Beacons National Park. It's the only International Dark Sky Reserve in Wales. There's very little light pollution, so on a clear night you'll see the stars shining brightly. You might even spot the milky way in all its glory.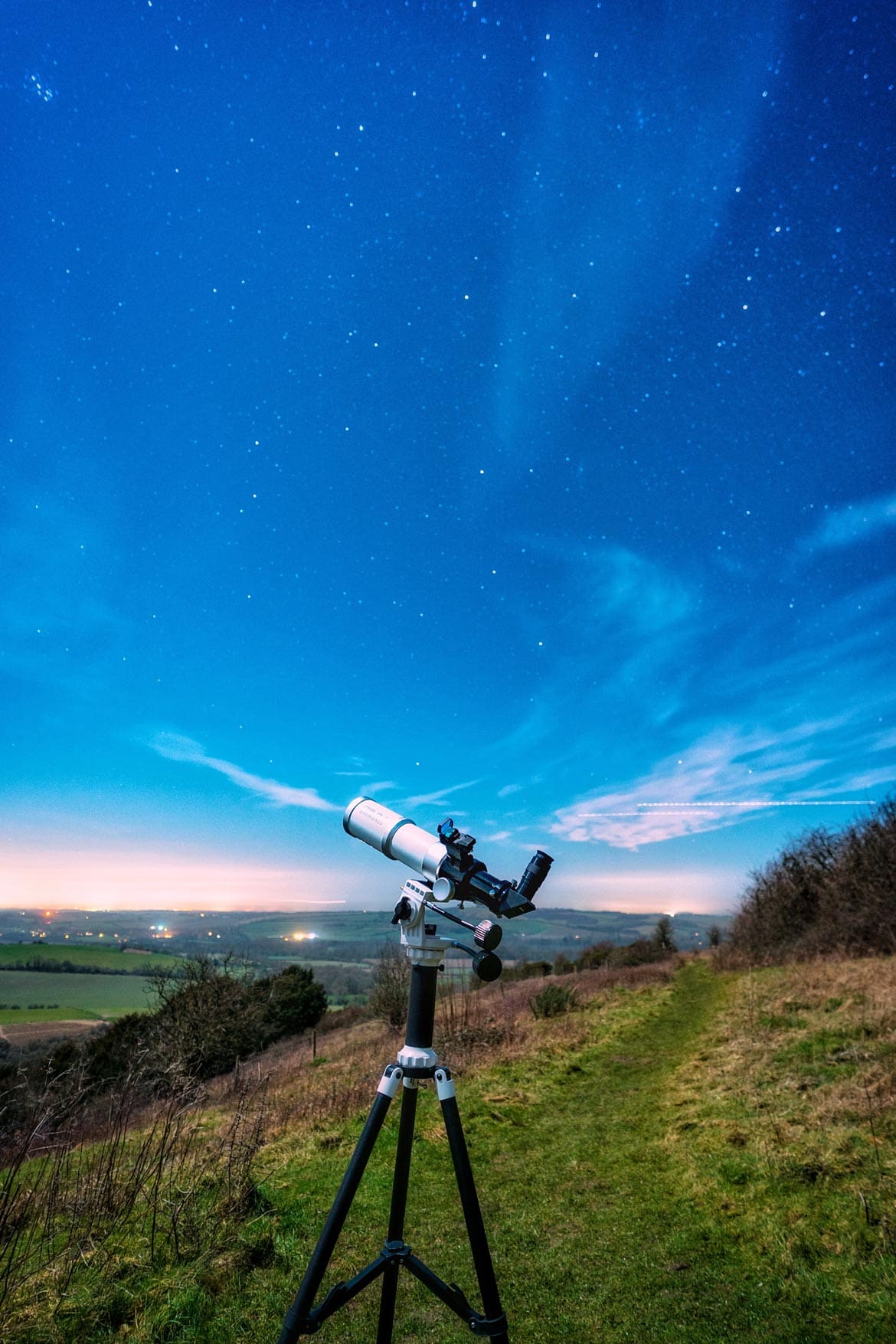 This Great British bucket list really does show you the best of Britain. Where's your favourite place?
Enjoyed this post? Pin it for later…