Full of beauty, history and with plenty of stories to tell – you're never going to believe these incredible York Minster facts.
The icon of the city, you can't visit York and not venture inside York Minster. It may be beautiful on the outside, but this cathedral is even more breathtaking on the inside. Constructed between 1230 and 1472, it's one of the best examples in the world of Gothic architecture.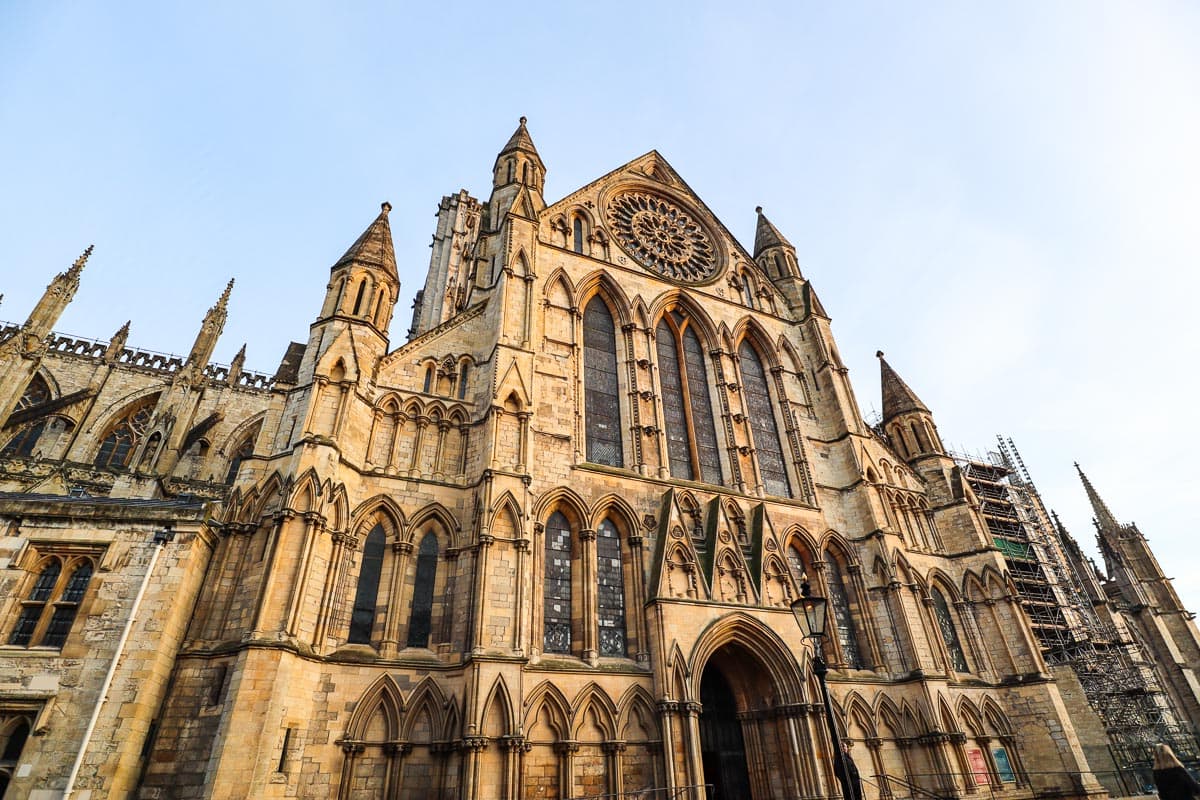 With over 2,000 years of history to explore, from roots in the Roman Empire to connections to Blue Peter, it's a building with plenty of interesting tales. Once inside you'll be immersed in a world of ancient clocks, spooky apparitions, tragic fires and numerous restoration attempts.
With its tower taking the trophy for the tallest point in the city, it's a somewhere to visit for the views alone. There's also the octagonal Chapter House – another amazing example of English gothic architecture, with its vaulted ceiling and intricate carvings.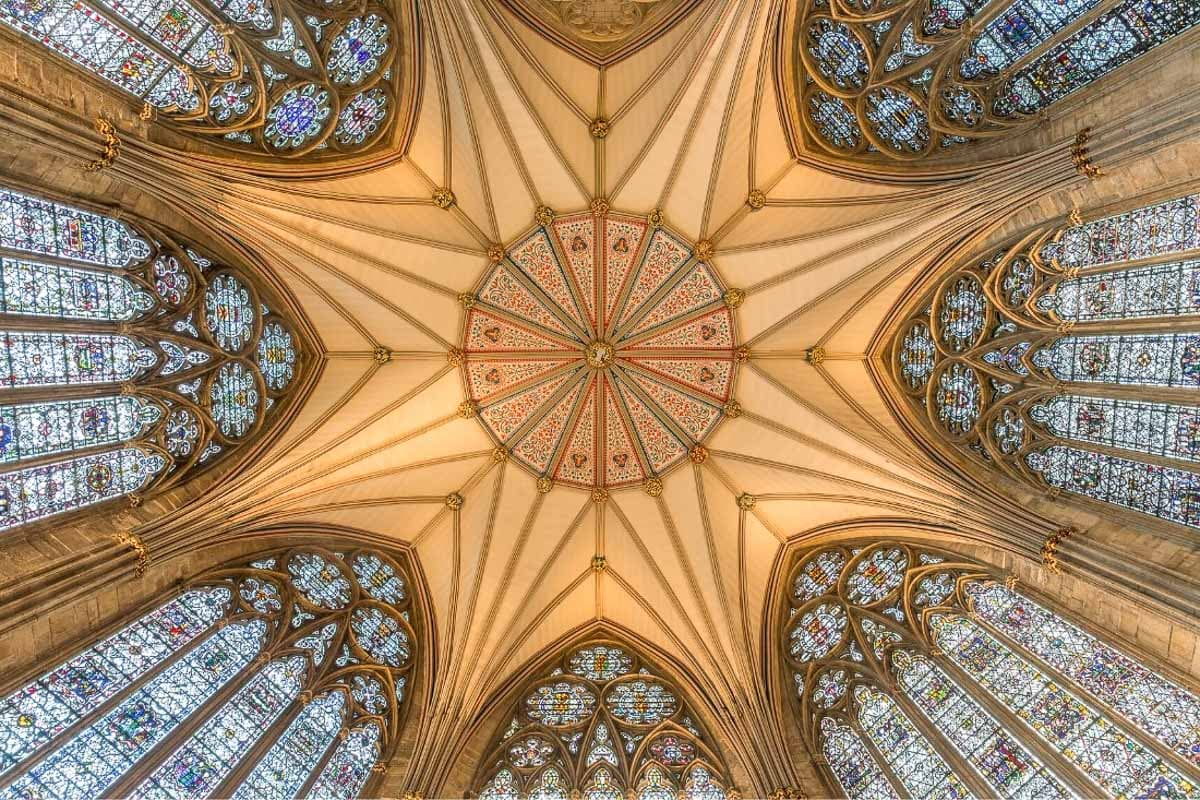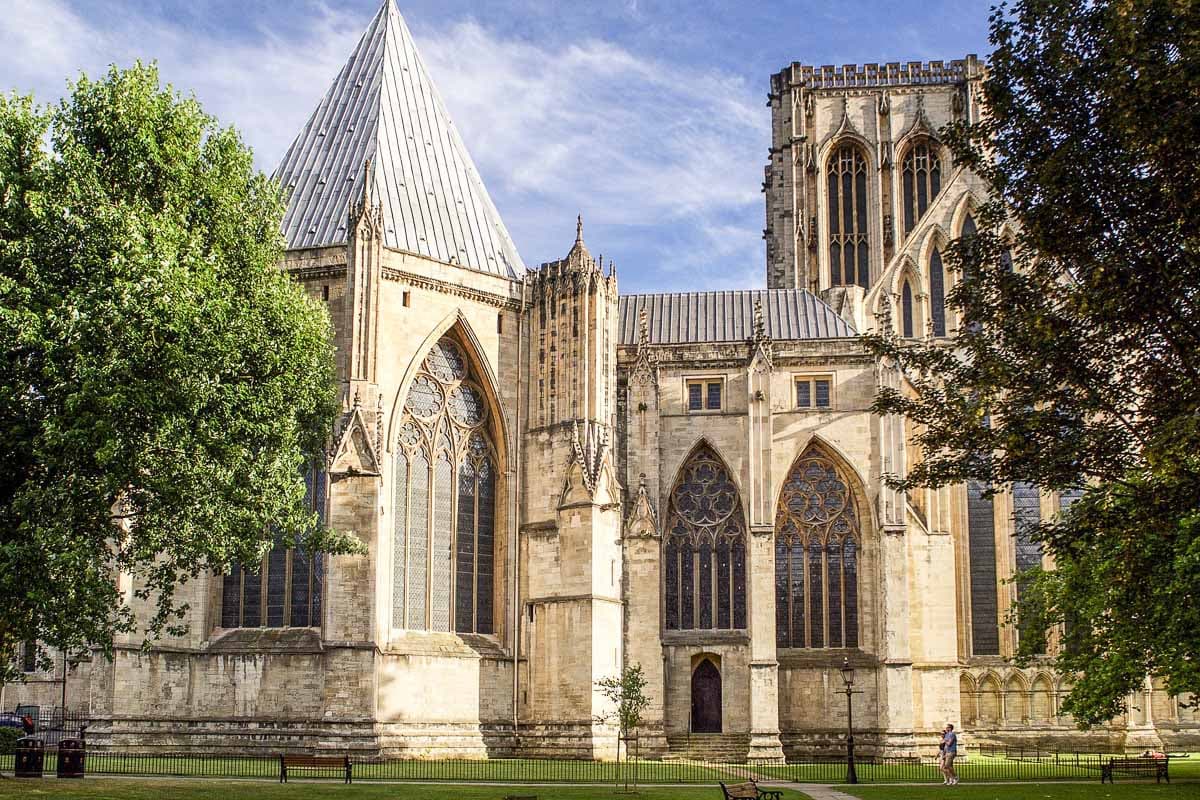 It's time to take you on a whistle-stop fact finding tour of York Minster. Listening carefully? These could come in handy for a pub quiz soon!
---
18 Incredible York Minster Facts
1. York Minster is the largest gothic cathedral in northern Europe.
Seville Cathedral is the largest in Europe, but York Minster takes the trophy for being the biggest in northern Europe. It's famed for its incredible gothic architecture, with work starting in the 1200s and not finishing until the 1470s.
The cathedral is 160m long, 76m wide and the tallest tower stands at an impressive height of 71m.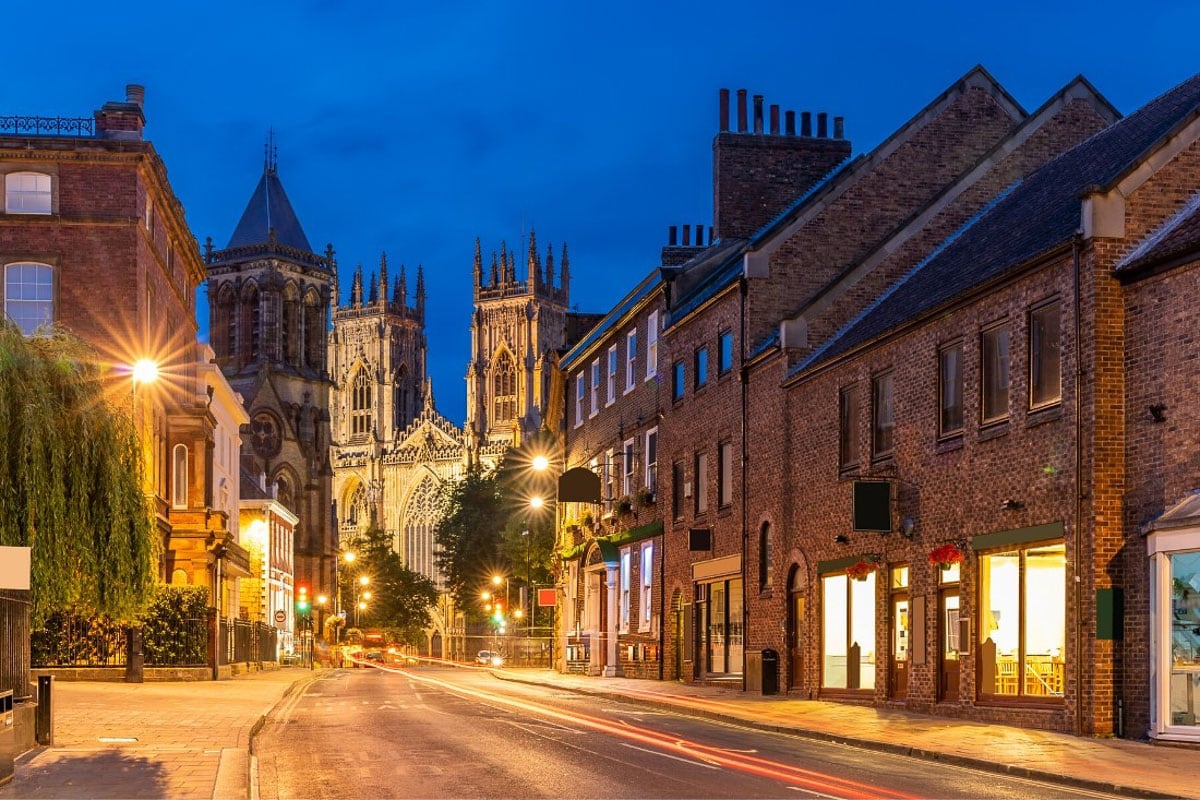 2. The Lantern Tower is the tallest landmark in York.
York Minster's impressive tower is 233 feet tall (71m), making it the tallest spot in the entire city of York. Once you reach the top, you'll be able to see the cathedral's impressive gargoyles and carvings up close.
You can buy a ticket to enter the Minster only, or a combined ticket which admits you to the Minster and the Lantern Tower. It's a steep climb up 275 steps, but the panoramic views from the top are absolutely incredible. It's a photographer's dream!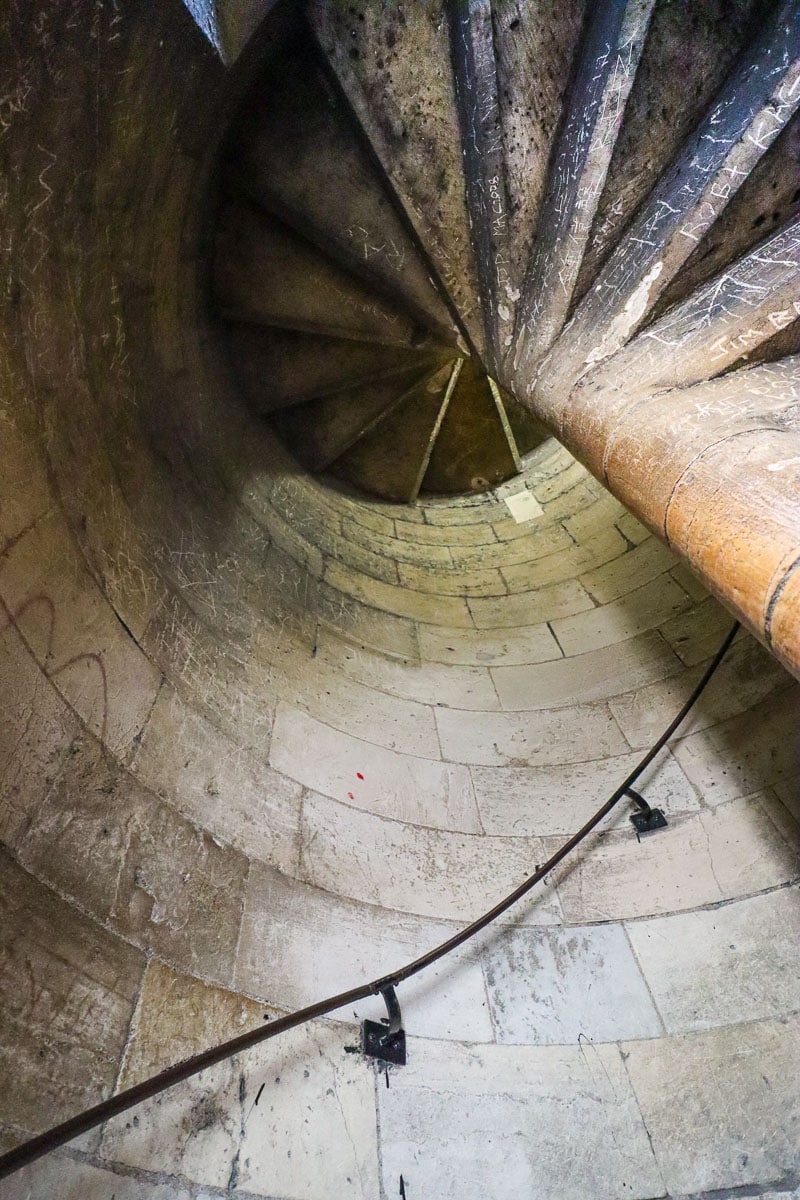 It's worth noting that there is only one route up and down, so you'll be booked onto a time slot and make the climb as a group. If you're claustrophobic, don't like heights, or have little kids, I'd avoid it! Find out more about climbing the Lantern Tower here.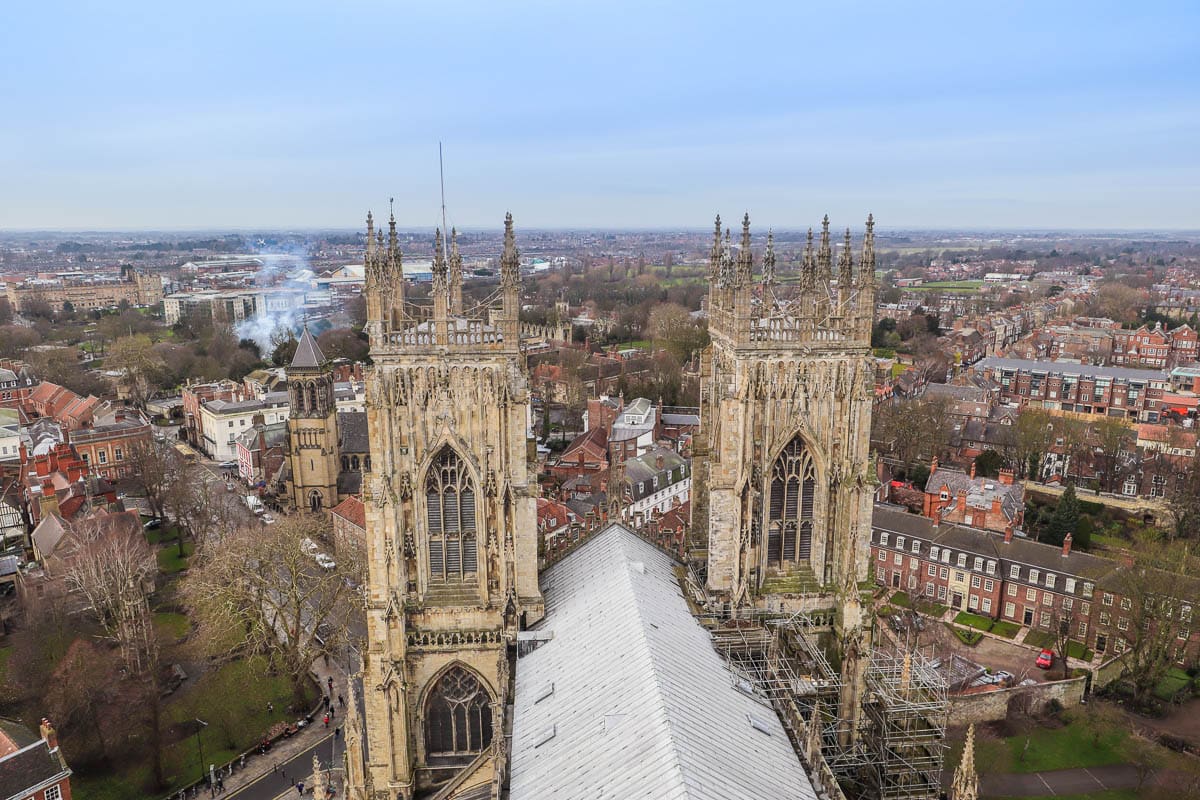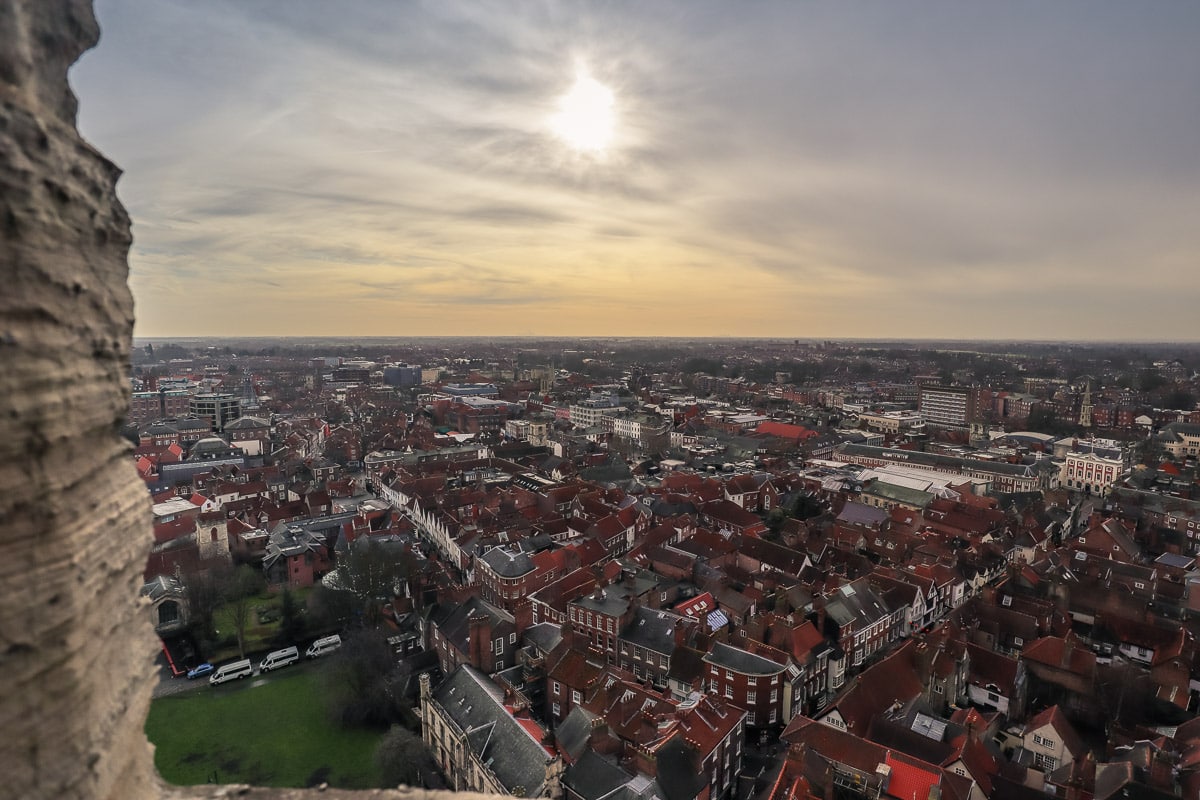 3. This cathedral's medieval stained glass windows are record breakers!
The Great East Window dates back to the 1400s, and is the largest window in the world which showcases medieval stained glass work. Take time to admire it in all its glory!
4. In the 1980s, York Minster was struck by lightning, which started a fire.
Early in the morning of 9th July 1984, York Minster suffered a serious fire in its south transept. It's thought that the building was struck by lightning, starting a fire in the roof, which later collapsed. The heat even cracked the beautiful fragments of glass in the Rose Window, but miraculously it stayed intact.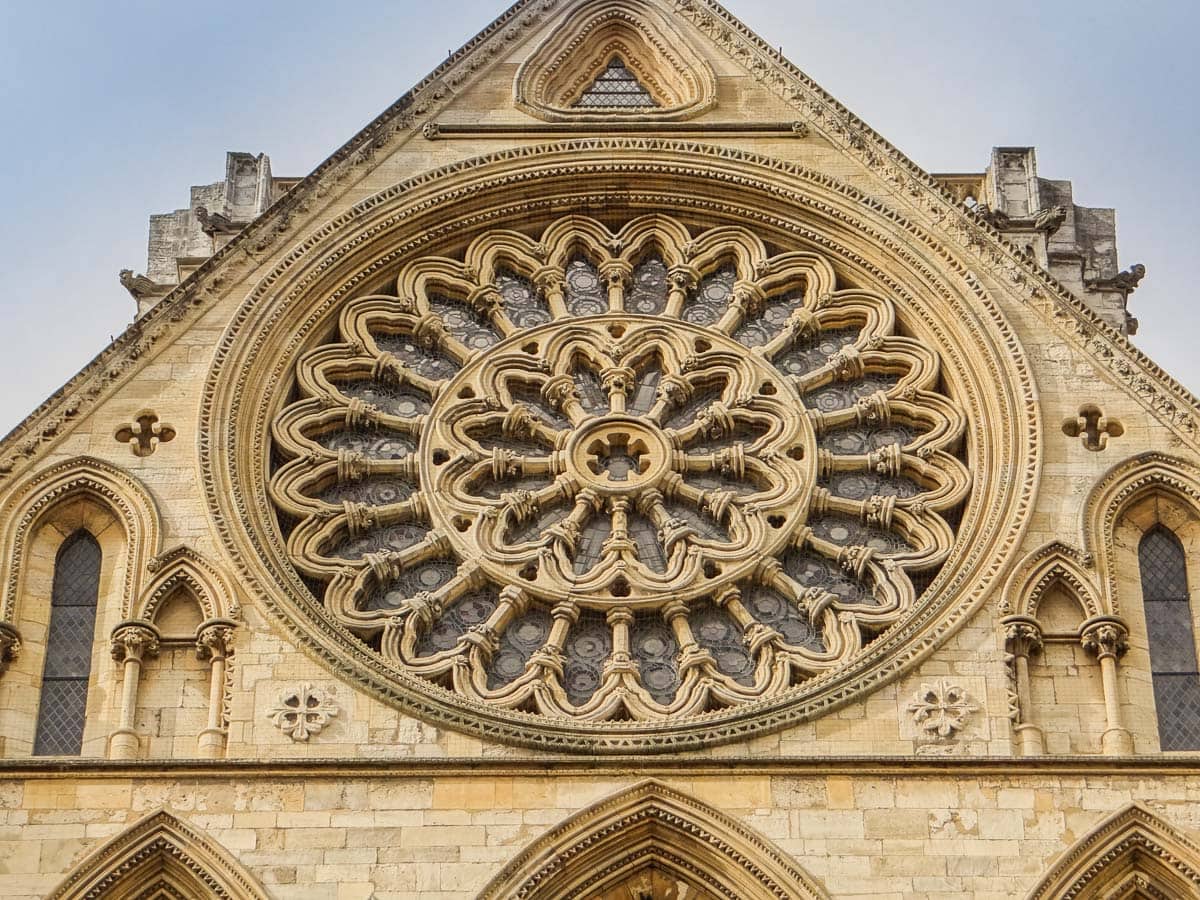 5. This wasn't the first York Minster fire.
Tragically, York Minster has several tales of terrible fires in its history. There was a fire in 741, which destroyed the original structure. A newer, Norman cathedral was damaged in 1137, then another fire in 1840 devastated the roof.
6. Some of York Minster's bosses (ceiling carvings) were designed by kids as part of a Blue Peter competition!
After the fire in the 1980s, the children's TV programme Blue Peter ran a competition for kids to design carvings, which would appear on the new ceiling. There were over 30,000 submissions, and six were selected. They included an image of an astronaut on a moon, a whale and a diver, and the Mary Rose. It was seen as a nice way to incorporate some modern elements to the historic building.
7. York Minster isn't the cathedral's official name.
Even York's residents might not be aware the cathedral has another name! Its official name is the Cathedral and Metropolitical Church of St Peter in York. Wow your buddies at a pub quiz with that expert knowledge.
8. 'Minster' is an Anglo-Saxon name for a settlement of clergy involved in daily prayer.
We don't hear it in relation to churches today much, but the term 'minster' was a lot more common in Anglo-Saxon period. The word 'cathedral' was used after the Norman Conquest in the 11th Century. There are a few other famous minsters around though, including Southwell Minster and, most famous of all, Westminster.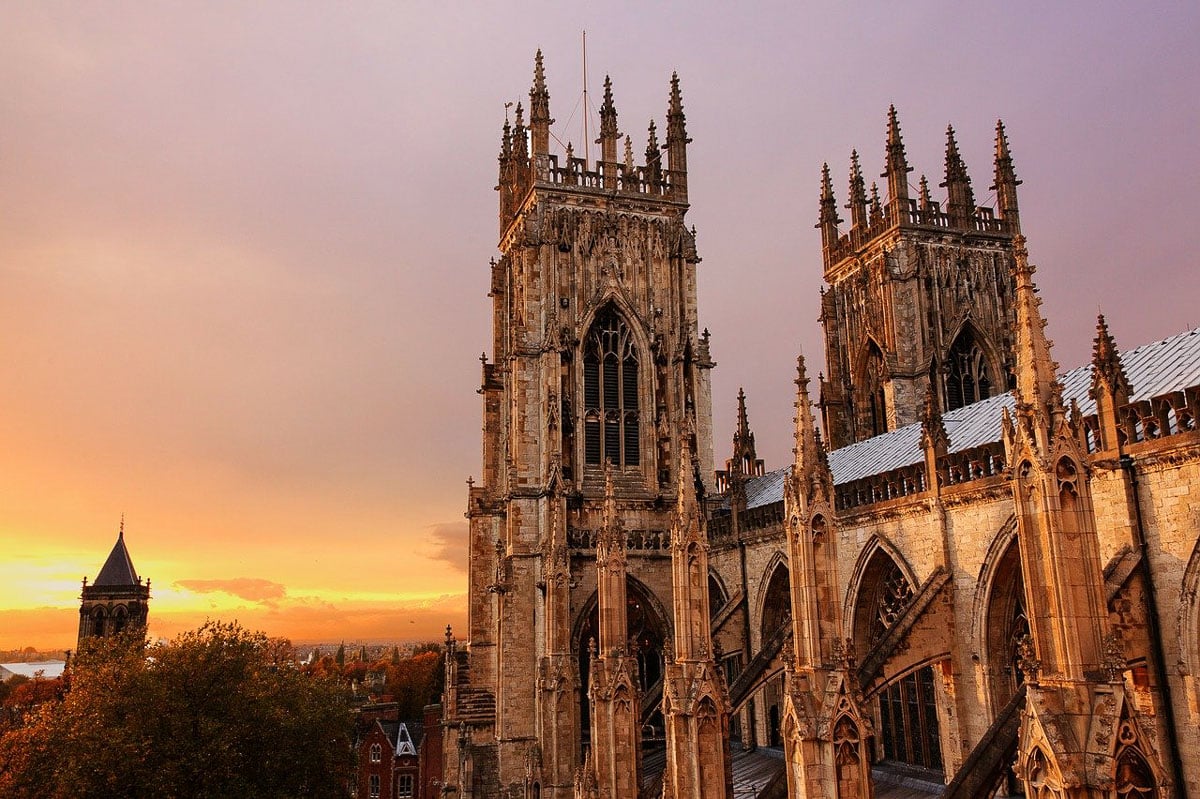 9. The cathedral is rumoured to be haunted.
With so many years of history under its belt, it's hardly surprising to hear of a few ghostly goings on inside the cathedral. One tale is that a man in naval clothing approached a lady as she walked through the cathedral, and whispered something to her. She later revealed that it was her brother who had died at sea, returning to tell her about the after-life.
There's another spooky apparition who has been spotted sitting in the pews, thought to be a man named Dean Gale who died in 1702, at the age of 26. York is reckoned to be one of the most haunted cities in Europe, so beware!
10. It costs a whopping £15,000 per day to keep York Minster open to the public.
Imagine the heating, lighting and staff costs for a huge architectural masterpiece like this. There's an admission fee to enter the cathedral as a visitor, and an additional cost to climb the tower. However, you can enter for free if you're attending a service, praying, lighting candles or you're a resident of York.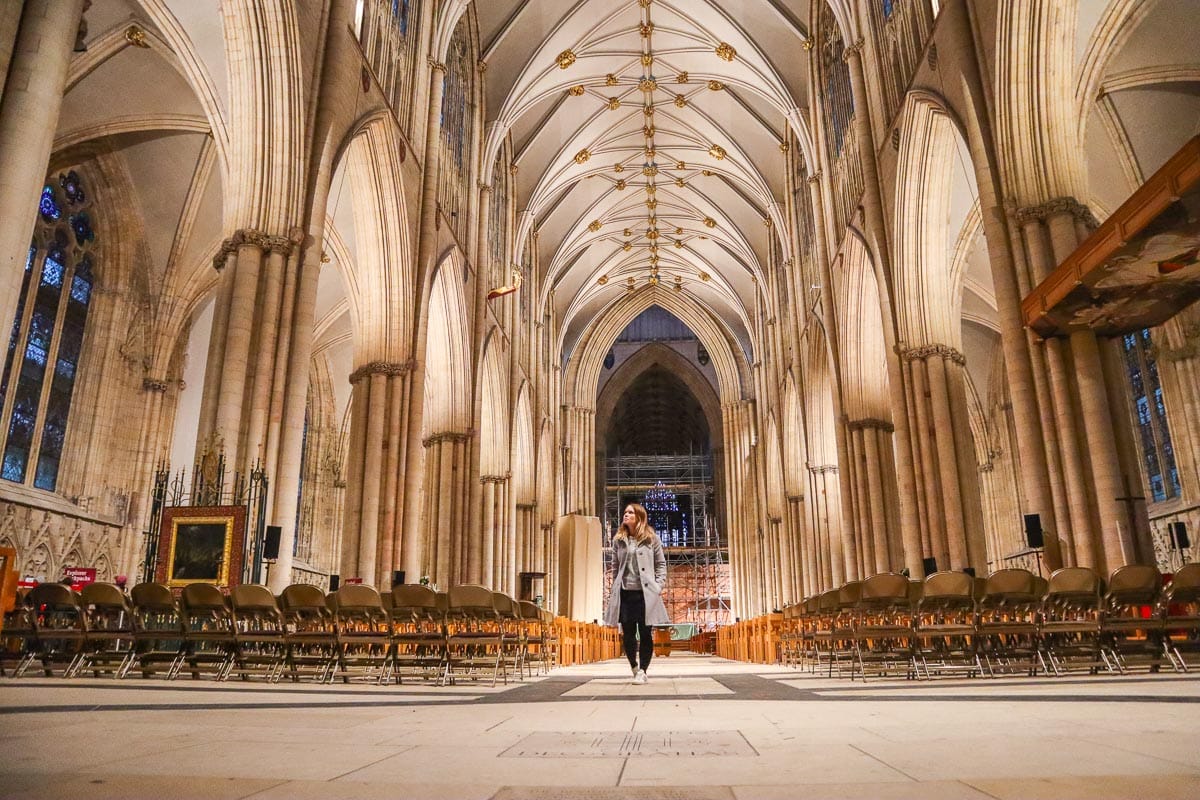 11. You can hear a choir singing in York Minster every single day.
Cathedrals are famed for their beautiful music, and York Minster is no different. Each evening during term time, the evensong service features music by the choir from the Minster School.
12. In 2005, Dr. John Sentamu became the first Archbishop in the Church of England from a black or minority ethnic group.
He was enthroned as the Archbishop of York and leads several services at the cathedral, as well as heading up the twelve dioceses in the northern province of the Church of England.
13. The cathedral's beautiful Great West Window is nicknamed the Heart of Yorkshire.
Rumour has it, any couple that kisses underneath it will stay together forever. How cute is that?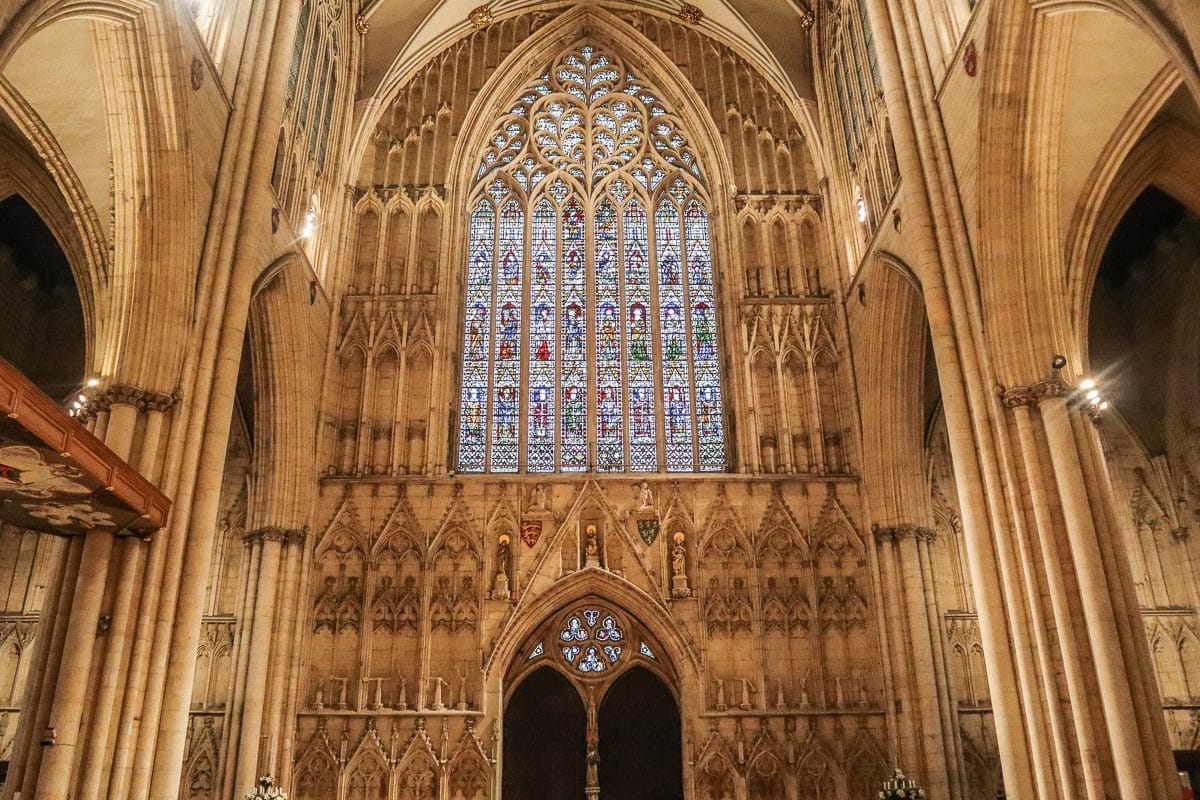 14. York Minster has 12 bells, but they were silent on Christmas Day 2017, for the first time in 600 years.
Locals are used to hearing the York Minster bells ringing out across the city, but they fell silent for a year after a controversial dismissal of 30 campanologists (bell-ringers). 40 applications were received and a new team were instated to take over the duties.
15. York Minster is home to a few unique clocks.
Head to the north transept and you'll see a large astronomical clock which charts the movement of the stars and sun around York itself. The clock was designed to commemorate men from the RAF who fought during WWII. If you spend time looking at it, you'll notice the clock is shown from the perspective of a pilot flying over the building.
There's also a 400-year-old mechanical clock close by, which shows two knights striking the quarter hours by striking each other.
16. York Minster is home to the only memorial in the country dedicated to all women of the British Empire who lost their lives during the First World War.
Don't miss a visit to the Five Sisters Window, which is made up of five panels containing over 100,000 tiny pieces. It was restored after donations by over 30,000 people and the names of 1,513 women who lost their lives were inscribed on oak screens in St Nicholas's Chapel.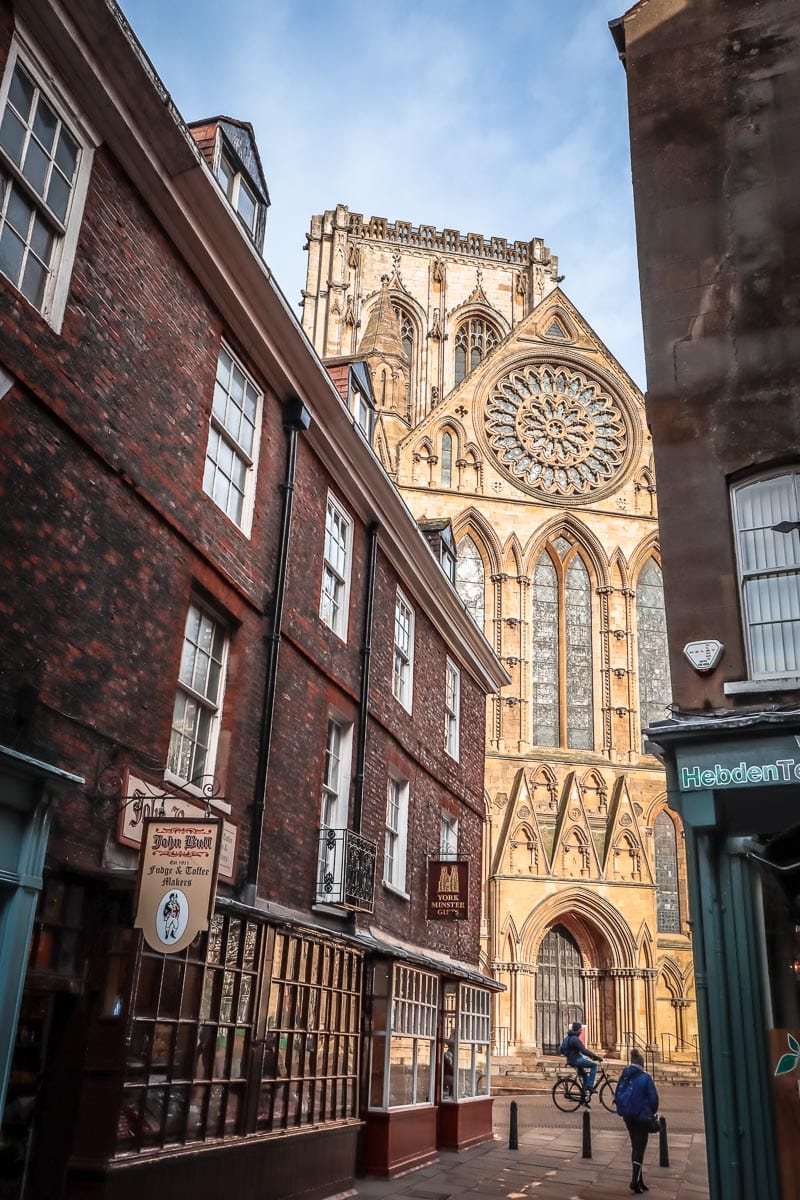 17. The cathedral has its own police force.
York Minster's police force was established in the 13th Century, and is one of just a few cathedrals in the world to have its own set of constables. In addition to patrolling the cathedral and its grounds, they sort out any problems, give first aid and keep a beady eye on CCTV.
18. If you attend a service at the cathedral anytime soon, you might not hear the York Minster organ.
York Minster's Grand Organ dates back to the early 1830s and is currently undergoing a £2m refurbishment. Work has been done on the 5,403 pipes, which has included cleaning, replacing anything that's beyond repair, as well as repainting. In the meantime, the cathedral has a spectacular grand piano to accompany key services.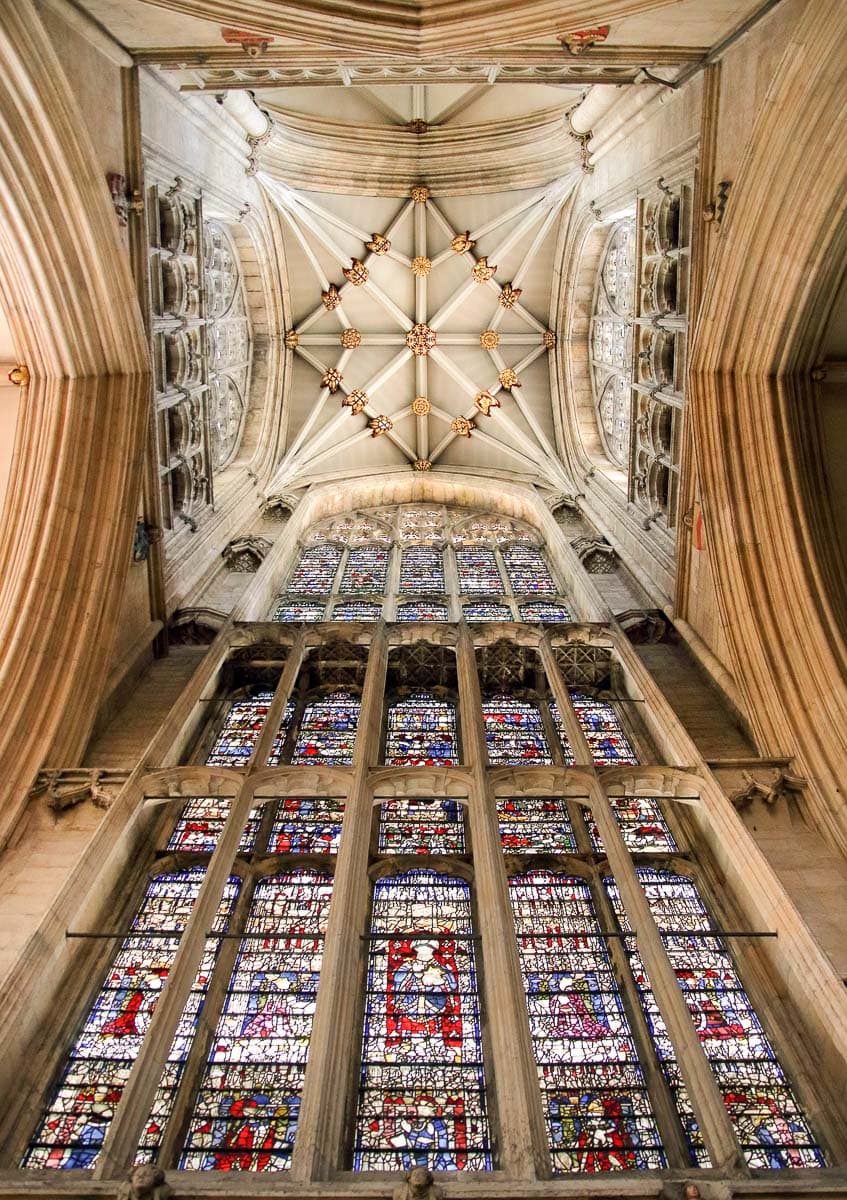 If you're planning a trip to York, have an amazing time. I hope you've enjoyed these York Minster facts too. Don't forget you can plan your visit here.
If you're looking for other travel inspiration, don't forget to see where else we'd recommend in England, Scotland and Wales.
Who's ready for some more fun facts?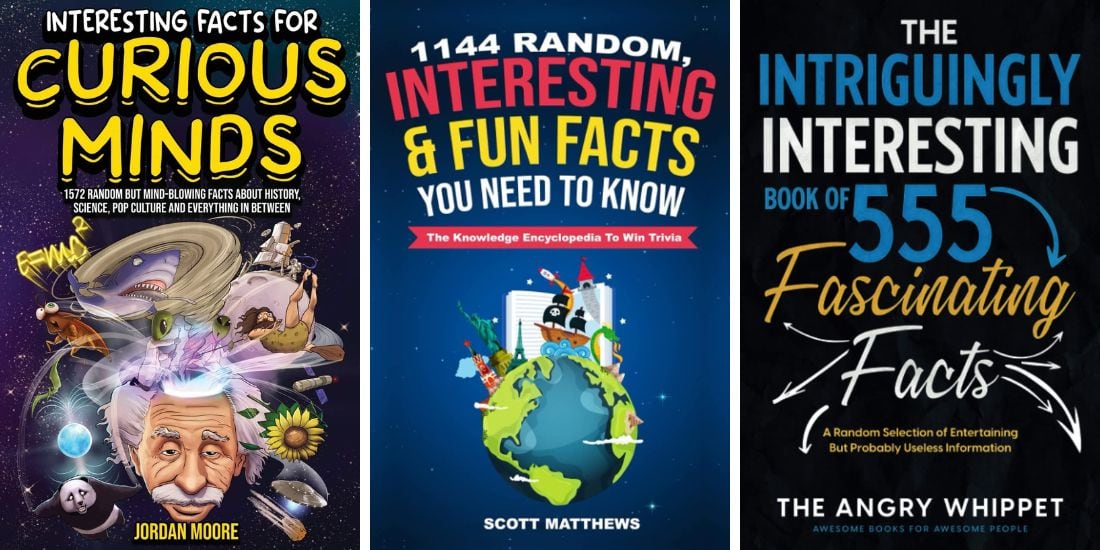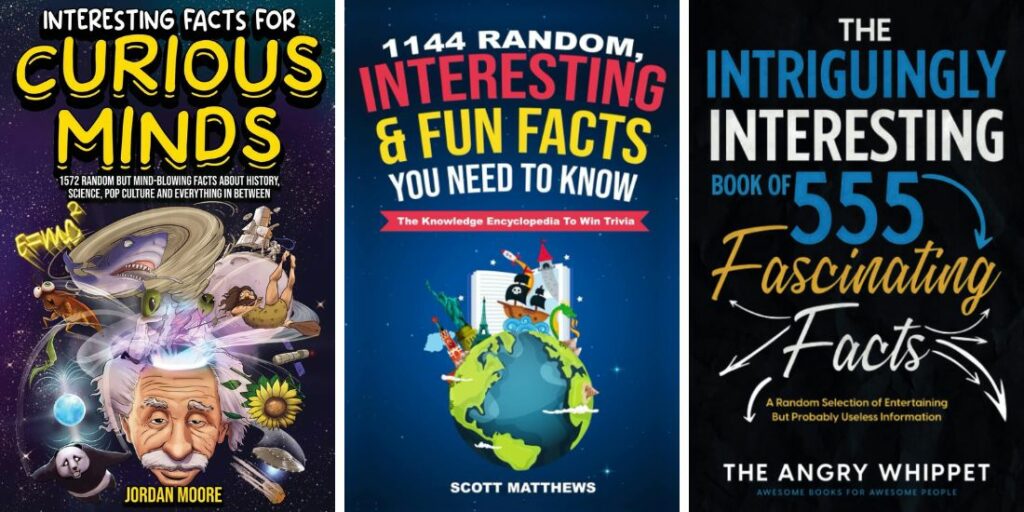 If you're looking for some recommendations, these are a few of our favourite fact books to buy. We use these when planning fun quiz nights with family and friends. They're also great for entertaining the kids too!
---
Enjoyed this post? Pin it for later…