A little piece of Italy set in the west of Wales, find out the best things to do in Portmeirion.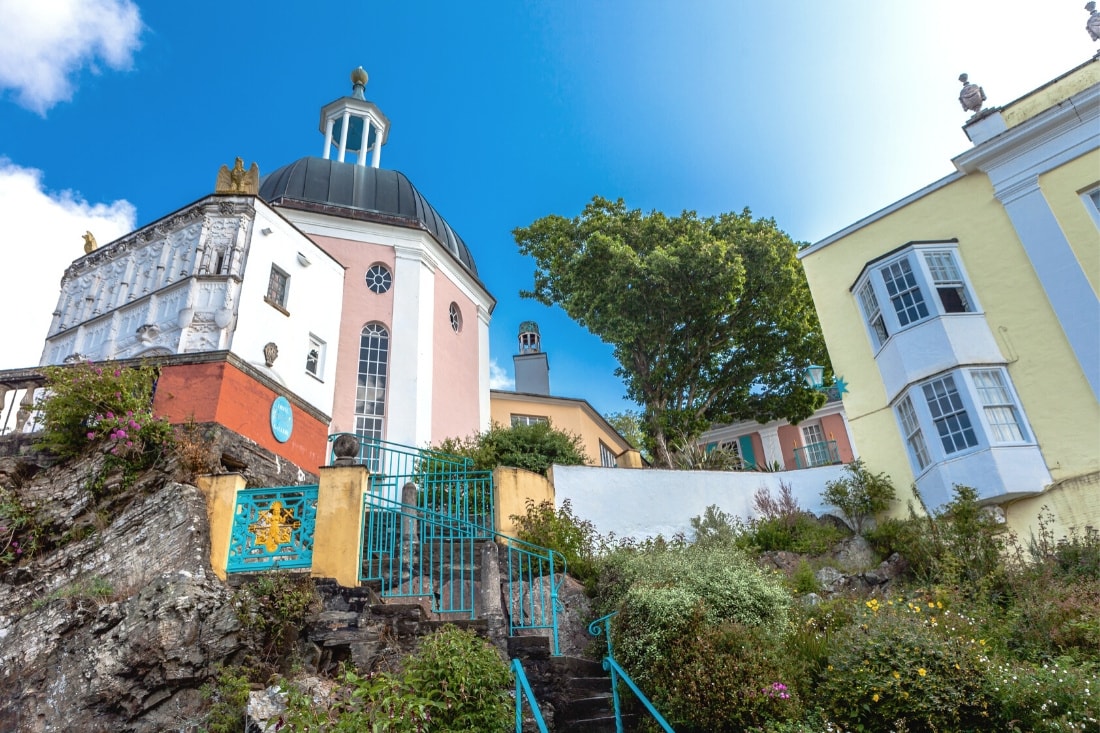 Located in the north west of Wales, Portmeirion isn't your average Welsh holiday spot. If someone blindfolded you and placed you here, you'd be forgiven for thinking you had been whisked off to a colourful Italian village!
Portmeirion village is the creation of Welsh architect Sir Clough Williams-Ellis. He began this lifelong labour of love in 1925 and deemed it to be complete 50 years later.
Embed from Getty Images
Unsurprisingly, there are absolutely loads of colourful and unique things to do in Portmeirion, from delving into the depths of the earth visiting old slate mines to taking a ride through the forest on a steam powered locomotive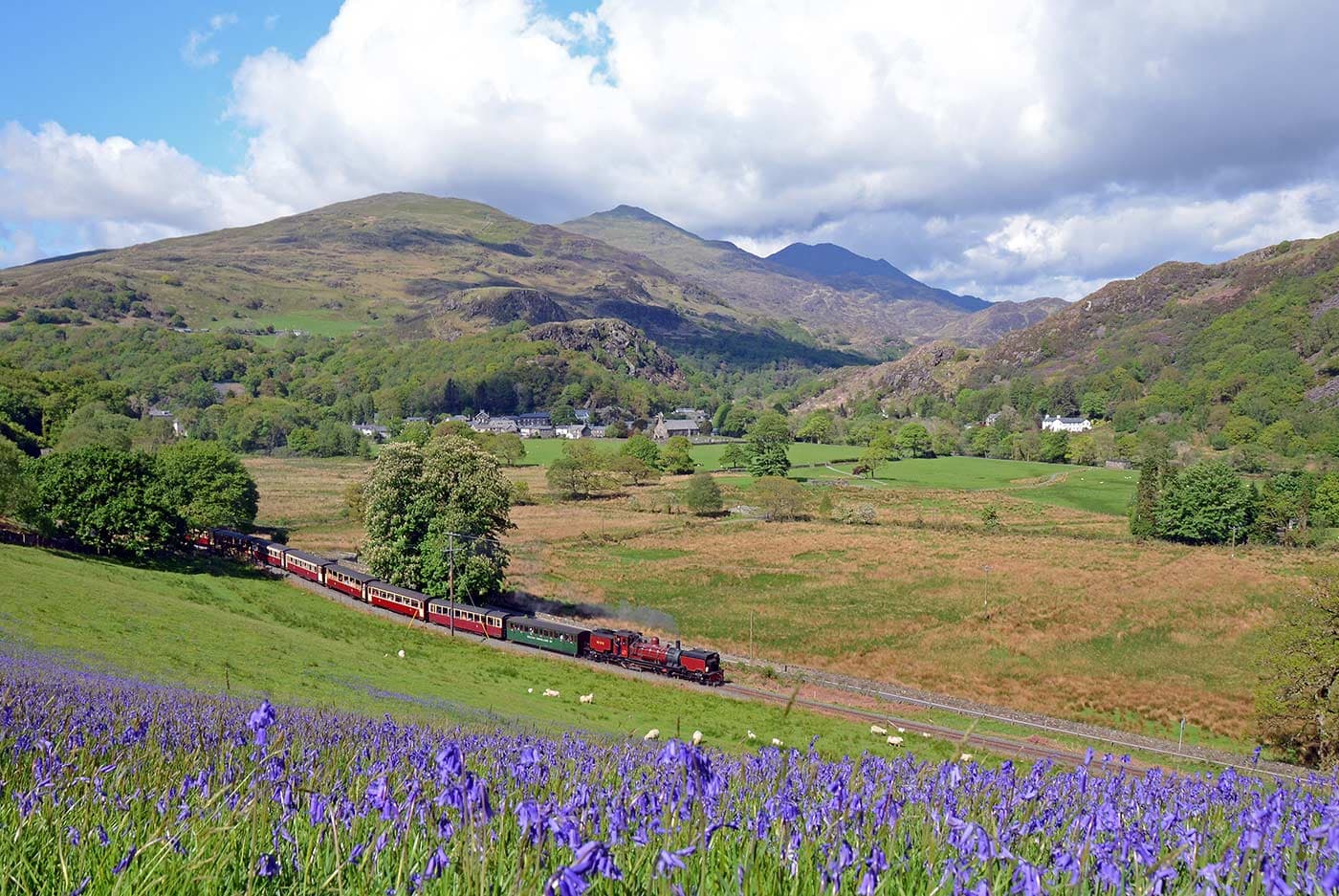 If you're planning a relaxing break, you could pop for afternoon tea at the Portmeirion Hotel or shop for some iconic Portmeirion pottery. Furthermore, fans of the cult classic series The Prisoner, which was filmed in Portmeirion, can take themselves on a self-guided tour.
So, if you're wondering what to do in Portmeirion, this travel guide will help you plan your visit.
Important info for visiting Portmeirion, Wales
The village is open daily from 9:30am – 3.30pm. However, if you want to explore the quiet streets after hours, you could check into into one of the village hotels. Peak season entry tickets cost £13 per adult and £8 per child.
Embed from Getty Images
Things to do in Portmeirion, Wales
Llechwedd Slate Caverns
Located in the middle of the Snowdonia National Park, Llechwedd Slate Caverns offers the chance to go deep underground and step inside a decommissioned slate mine. If you're fascinated by the natural wonders that lay beneath your feet, add this to your list of things to do in Portmeirion.
The best way to enjoy these slate mines is through the Slate Mountain Adventure Tour, which teaches you about the fascinating geological history of the area, as you traverse mines up to 300 years old.
It's not for the faint hearted or claustrophobic as you'll be entering tunnels and caverns deep below the ground. The tour also includes a ride on the steepest cable railway in Britain. Thinking of visiting? This video gives you a flavour of what to expect.
Ffestiniog and Welsh Highland Railways
Taking a trip on this old railway will make you feel like you've gone back in time! Chugging up and down mountains, passing through the glorious countryside of Snowdonia National Park, a trip on these 150+ year old steam locomotives is an incredible way to see the region.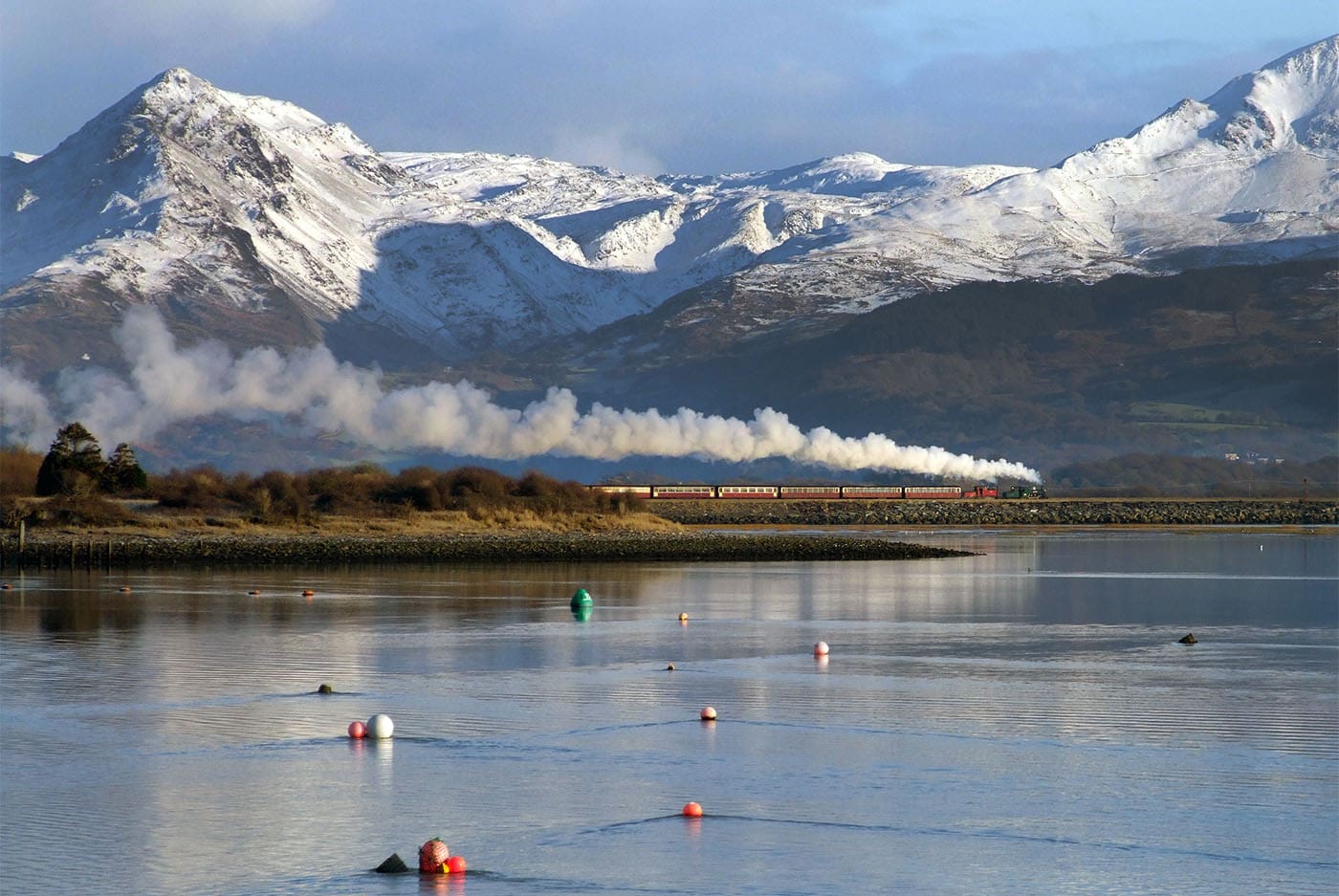 Starting at Porthmadog (a 10-minute drive from Portmeiron), there are two routes to choose from. Ride the scenic 14-mile trip through the delightful Snowdonia National Park on a narrow gauge steam train to Beddgelert. Alternatively, enjoy the two hour journey all the way to Caernarfon and take a walk along the harbour.
This is one of the best family activities in Portmeirion – great for all generations. Find out more and check ticket prices.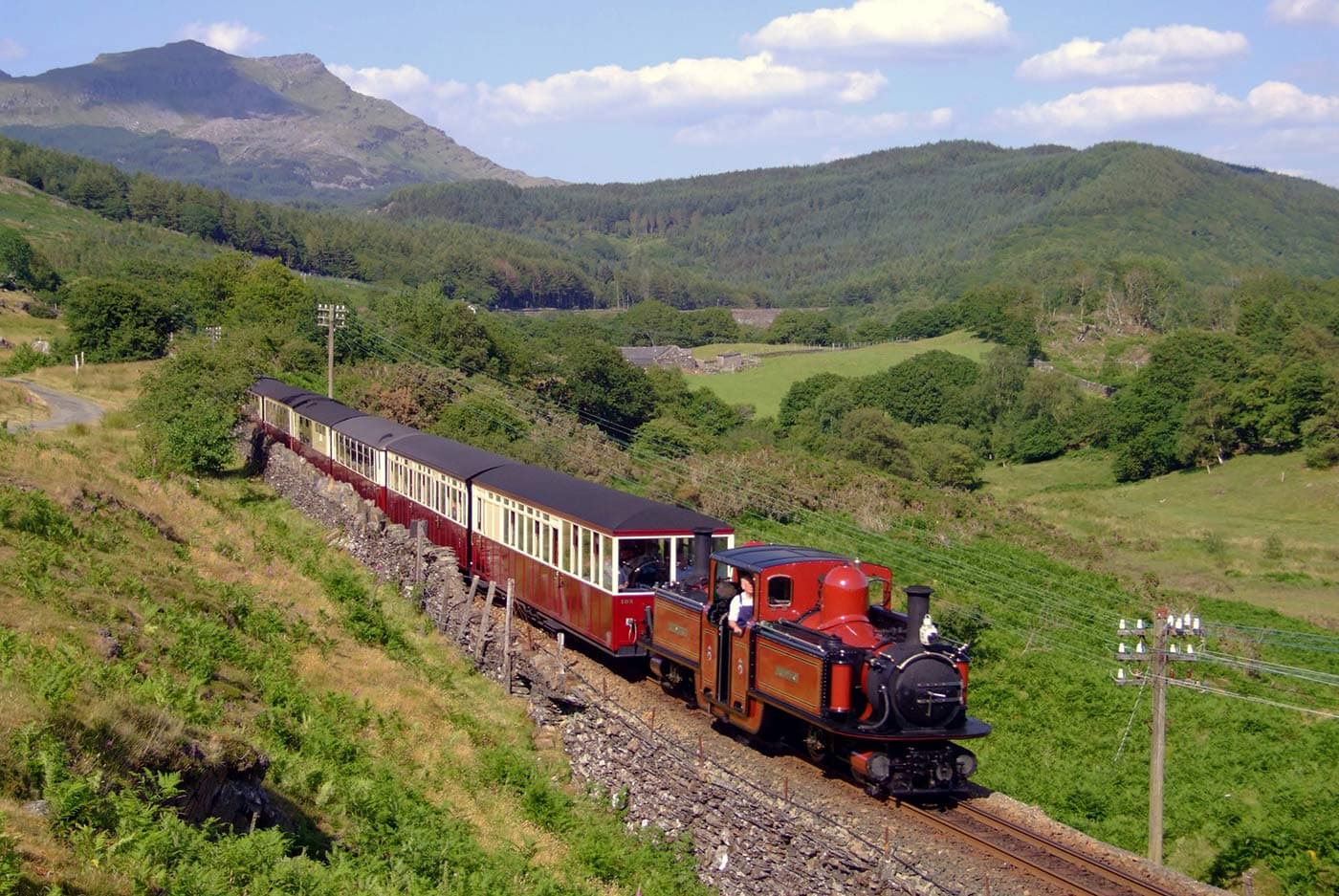 Harlech Beach
If you're looking for things to do in Portmeirion on a warm day, how about a trip to the beach? The village is only 10 miles from the beautiful Harlech Beach, which is over 4 miles long. You definitely won't be fighting for space, even in peak holiday season!
Offering views of the stunning Snowdonia mountain range, this dog-friendly beach is also a lovely place for walks all year round. In the summer you might even be able to spot leatherback turtles. While you're in the area, you can also visit the impressive medieval stronghold of Edward I – located in Harlech town.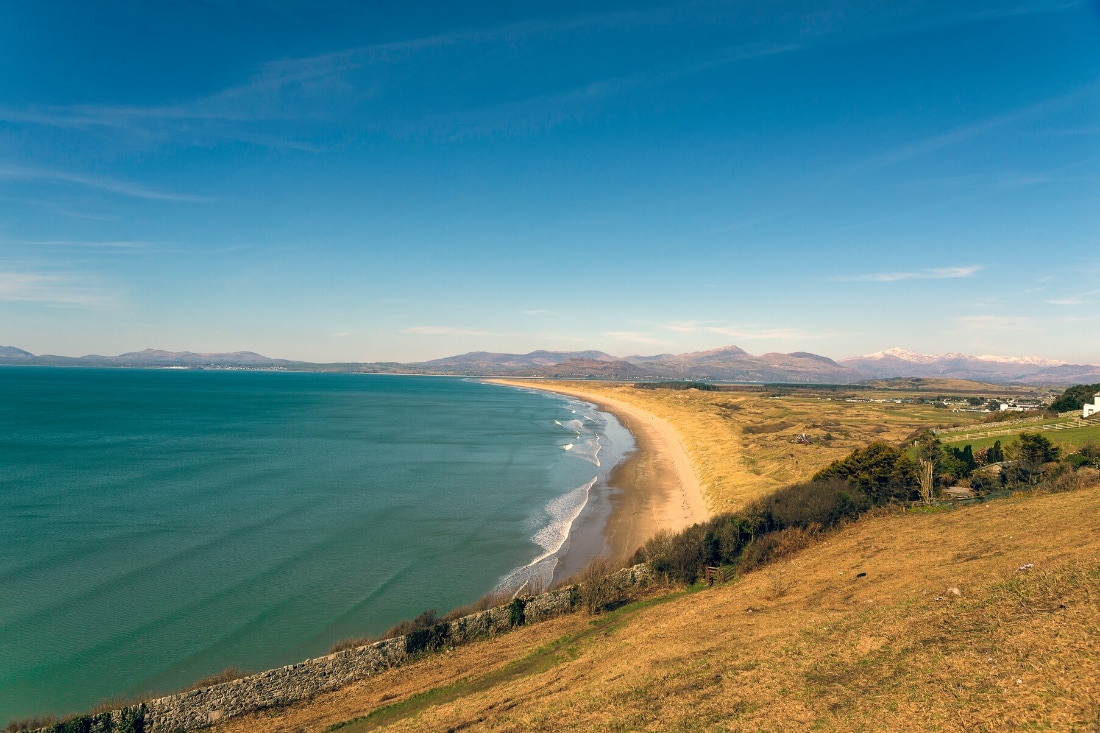 Buy some of this Welsh village's famous pottery
From humble beginnings Portmeirion has made quite a name for itself in pottery. Susan Williams-Ellis, the daughter of Sir Clough, founded Portmeirion Pottery in 1960 with the intention of making souvenirs for the village. The business has rapidly expanded over the last 60 years and Portmeirion Pottery's dinnerware is now found in households around the world.
As well as the iconic Botanic Garden range, you can find a plethora of other designs for sale in the village's pottery stores. It's a great opportunity to find some excellent gifts to bring back!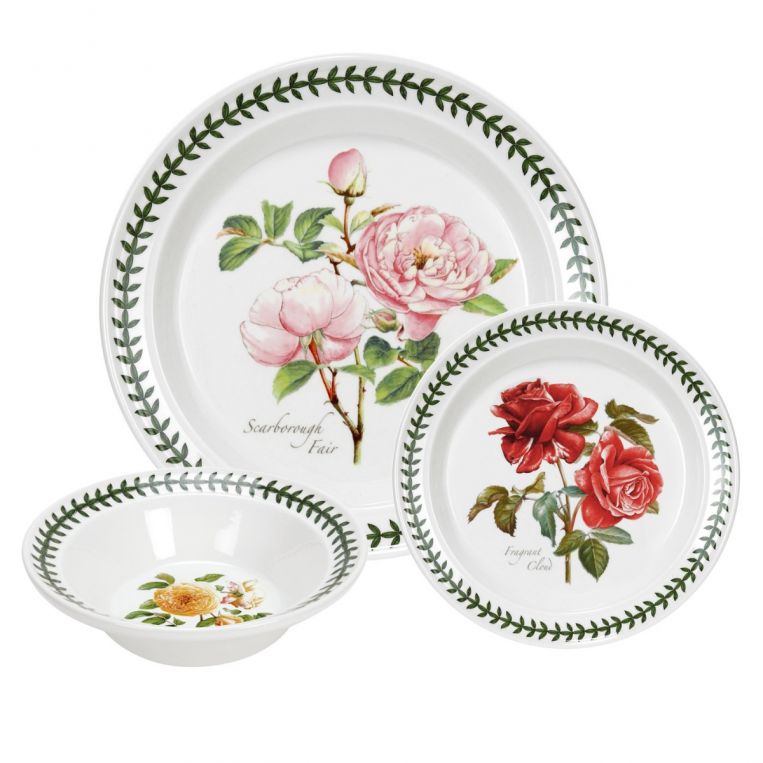 Afternoon Tea at Hotel Portmeirion
If you're looking for romantic things to do in Portmeirion, why not treat your other half to afternoon tea? Afternoon tea is served at Hotel Portmeirion between 2.30 – 4.30pm most days. Sit inside to admire the Art Deco style restaurant, or enjoy tea and cake on the terrace with the gorgeous estuary views.
Arrive hungry! Afternoon tea includes a delicious selection of sandwiches, scones, cakes, tarts, a pot of tea or a glass of bubbly. And it's not just any old tea on offer – this hotel has an impressive variety to choose from, so pick your favourite or try something new.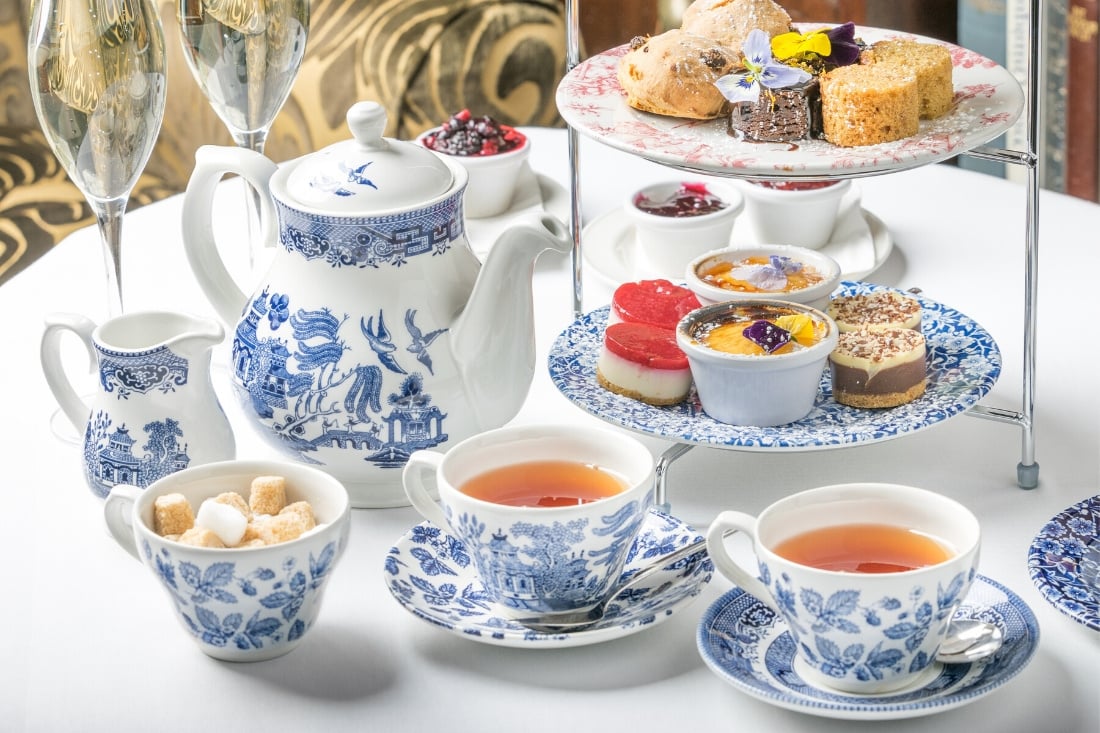 Castell Deudraeth
This mighty Victorian mansion turned hotel has a strong castle vibe about it. Fans of The Prisoner may recognise Castell Deudraeth, as it was featured in the show. If you're staying overnight in Portmeirion, sleeping here will add a bit of extra magic to your stay.
The manicured gardens are worth a wander through, even if you're just visiting Portmeirion for the day. Once you've worked up an appetite, why not enjoy lunch in the conservatory or settle in by the fire with a drink?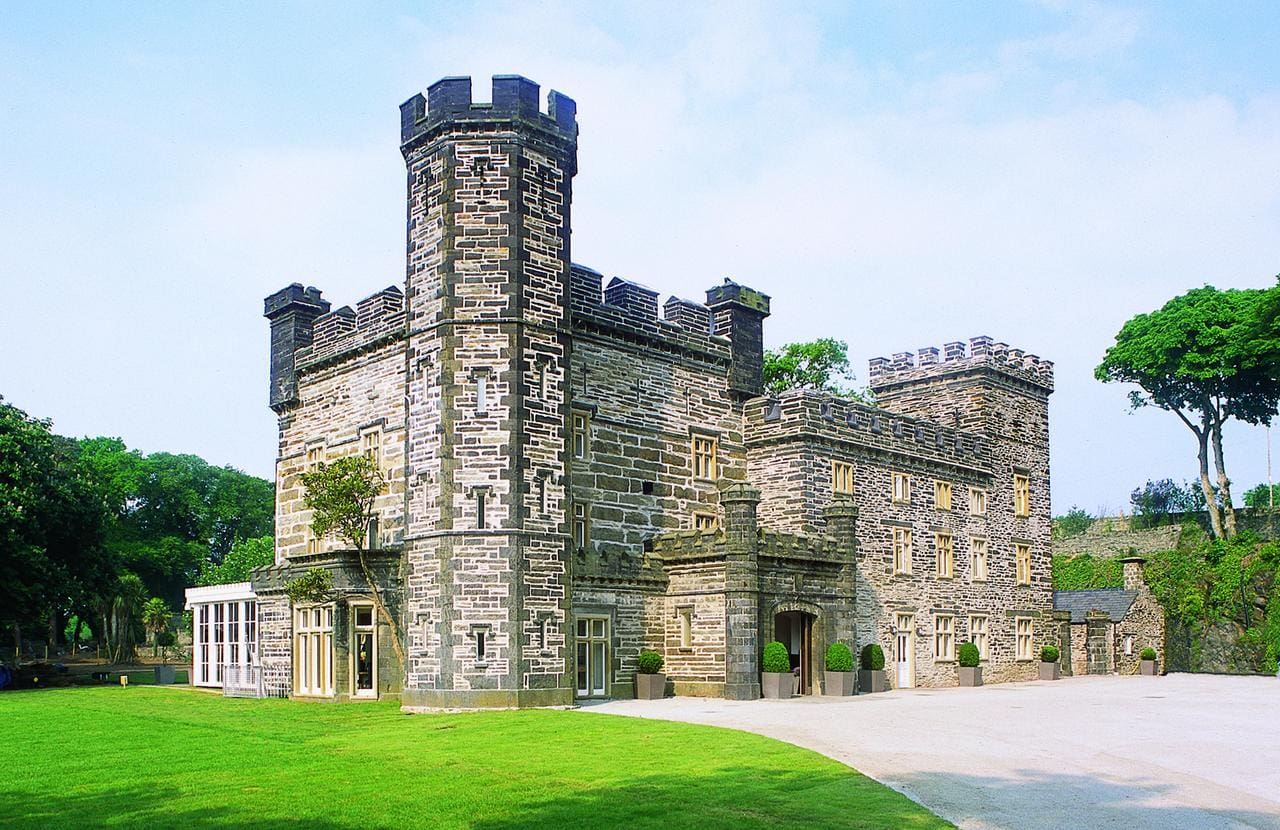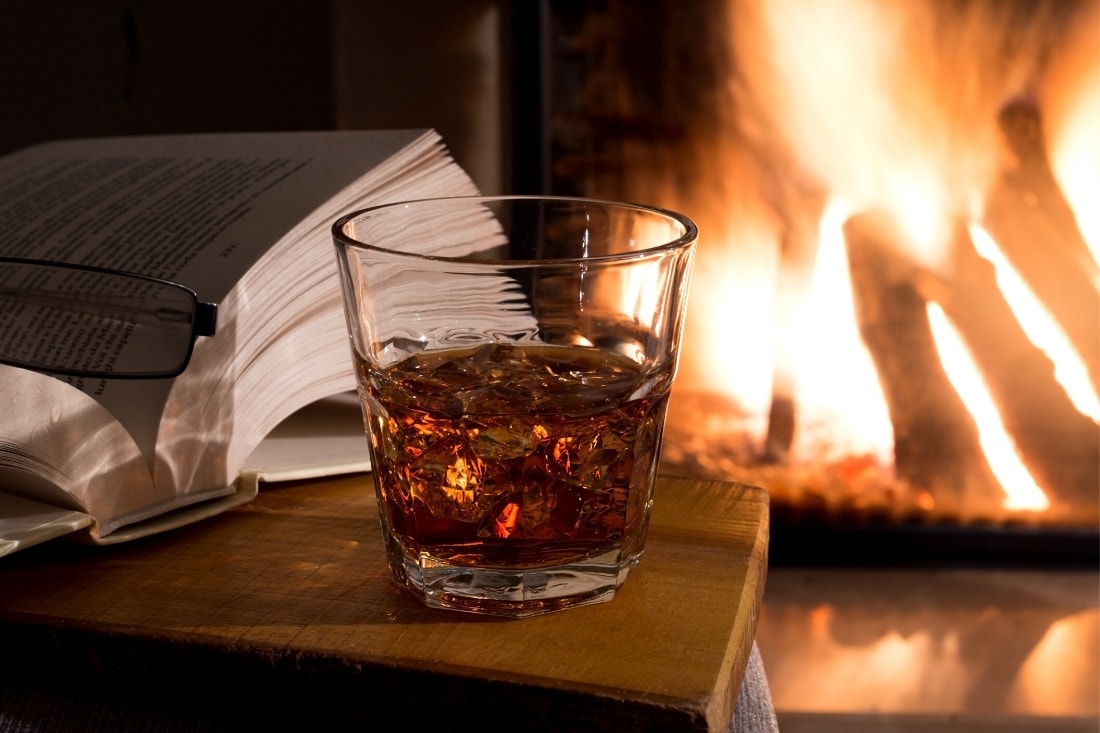 Purple Moose Brewery
In the nearby town of Porthmadog is Purple Moose Brewery. This microbrewery, founded in 2005, brews a selection of traditional, craft and seasonal beers.  There are a few unusual concoctions too, including  an elderflower ale and a chocolate stout.
On Wednesdays they offer a 1-hour brewery tour, where they walk you through the brewing process, answer your beer related questions and provide you with a tasty beer to try too.
If you want to sample more, head to The Australia bar, which has the Purple Moose on tap.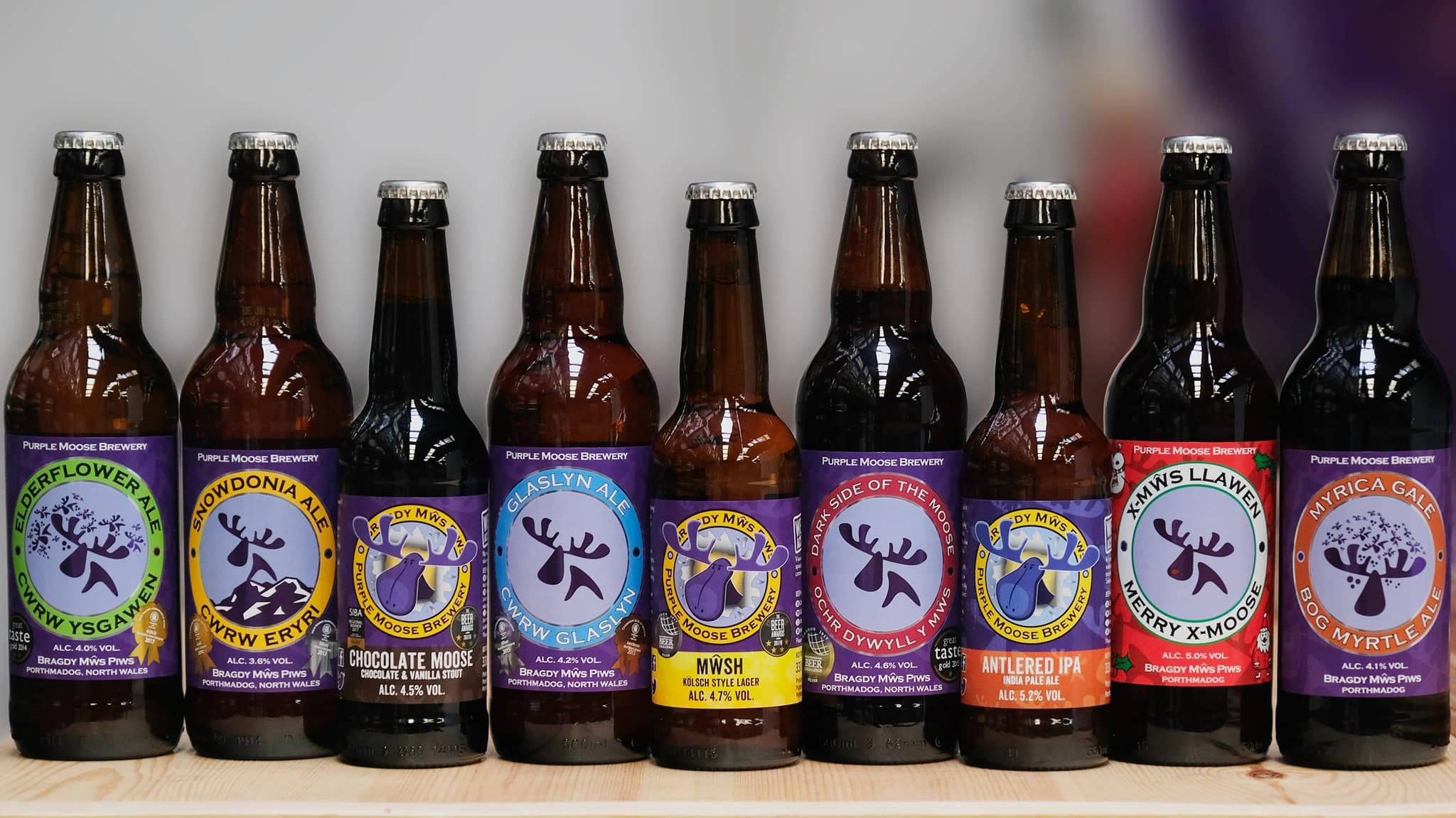 Go Below Underground Adventures
What to do in Portmeirion if you LOVE adventure? Look no further than the Go Below Underground Adventures. Once the site of a slate mine, nicknamed the Slaughterhouse, the 50+ miles of caverns and tunnels have been transformed into an incredible experience.
This underground adventure park will have you zip-lining through caverns, traversing an abyss, climbing waterfalls, free-falling into water, and abseiling deep into the earth. With special all day adventures designed for adults and big kids, this is one of the best family activities close to Portmeirion.
Go on a boat tour
Head to Beaumaris Pier for some refreshing sea air and a cruise to Puffin Island. This sightseeing trip takes around 75 minutes and includes an interesting commentary. It also offers incredible views of the Pennon lighthouse and Snowdonia Mountain Range.
This is one of the best things to do in Portmeirion if you love wildlife! On the island you'll see (you guessed it) the puffins that call the island home! You might also spot grey seals and at least a dozen different varieties of sea birds. Porpoises and dolphins are also known to live in the area, so if you're lucky they might pop up and say hello!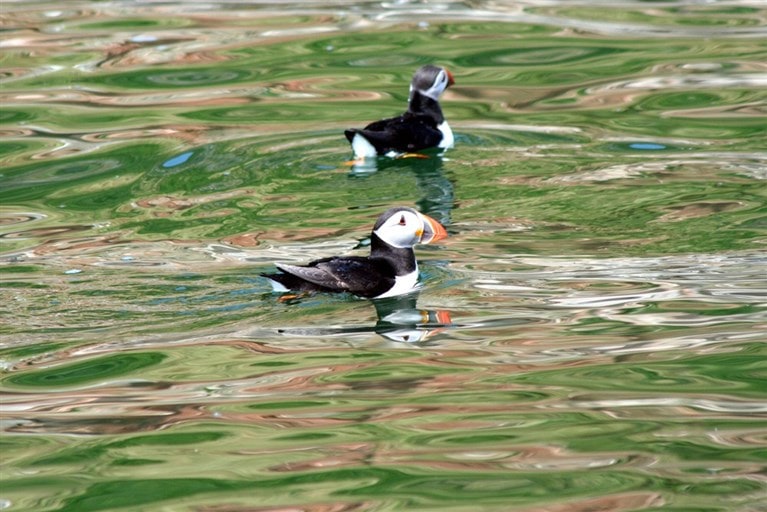 Eat at one of Portmeirion's coolest restaurants
If you're spending the day in the village, you might be wondering where to eat in Portmeirion. There are a few cafes in the village, but do note that they all close by 5.30pm. The hotel restaurants are open later for people staying overnight.
To dine in style, while looking out over Victorian gardens, make your way to Castell Deudraeth.  Enjoy delicious and well-presented Welsh classics, which looking out at the castle style surroundings. Meal times are set, so it's advised to book in advance.
To keep with the Italian feel, head to Caffi Glas and enjoy some freshly made pizza, pasta and salad. Then for dessert, wander over to retro style ice cream parlour Caffi'r Angel and indulge in some of their home-made gelato.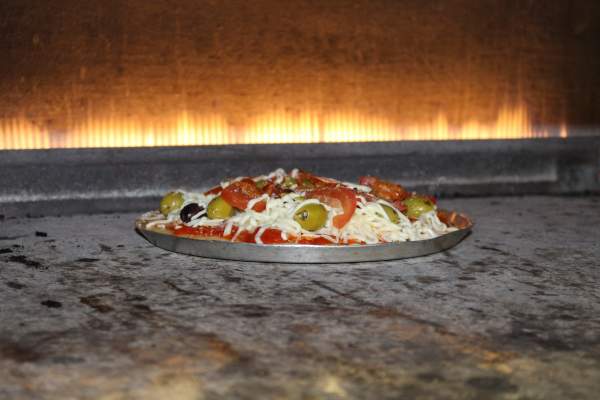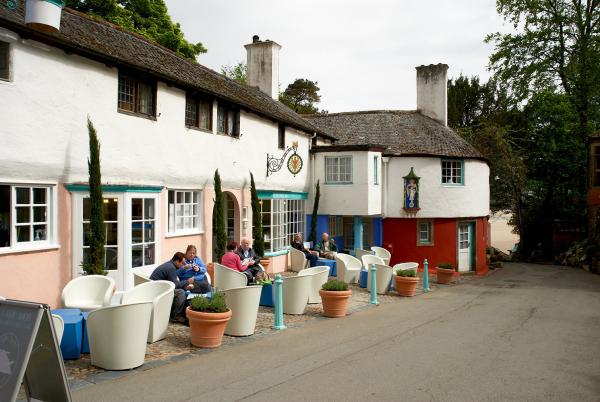 Drink at one of Portmeirion's coolest bars
During the daytime you can sit on the terrace at The Town Hall, a retro style bar and cafe, sipping on a fine cask ale and enjoying the views.
If you're looking for things to do in Portmeirion at night, there are a few options available. The first is tasting your way through the excellent cocktail menu at Hotel Portmeirion. For seating, there is a bar, terrace and lounge to choose from, some of which offer views over the Dwyryd Estuary.
Alternatively, head to Castell Deudraeth and enjoy a drink by a roaring fire. Perhaps give the local Welsh liquors a taste while you're there?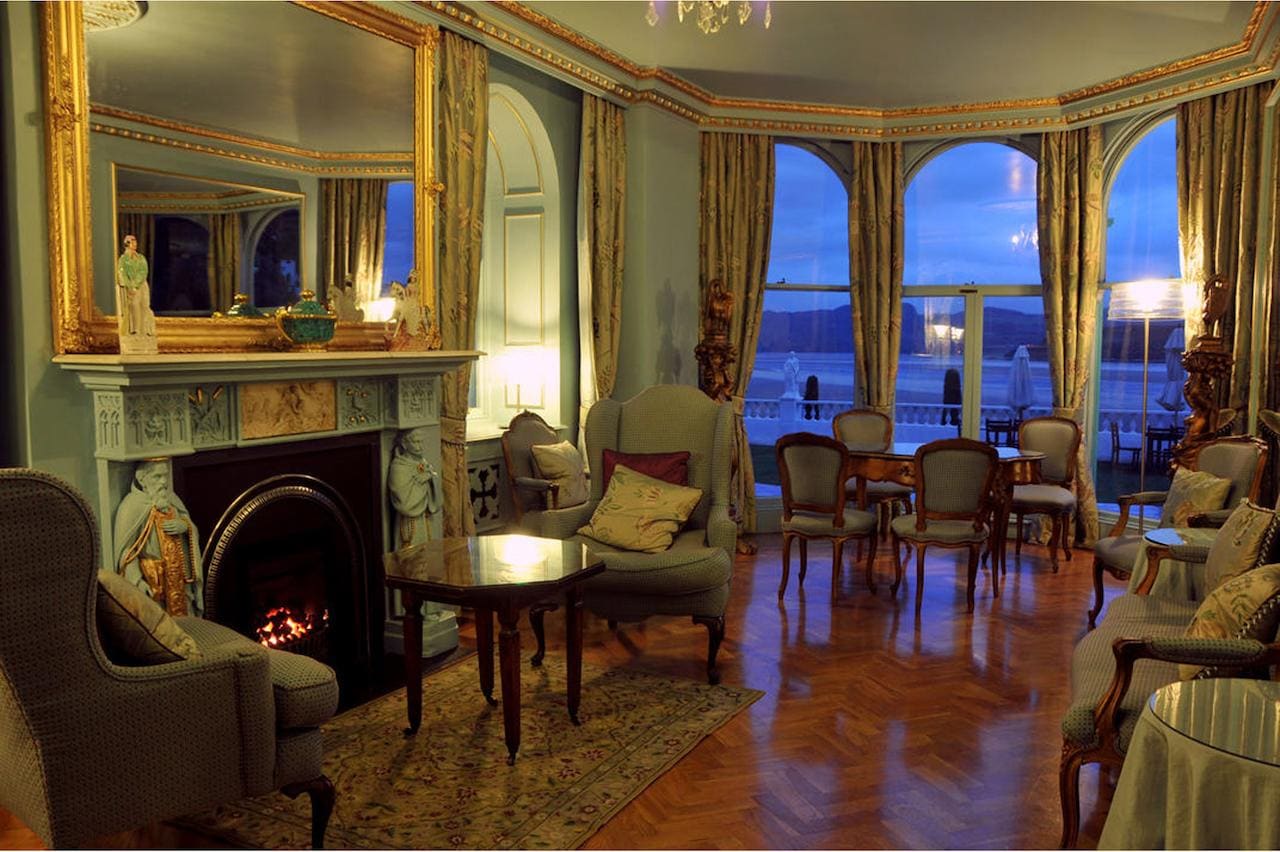 Enjoyed this post? Pin it for later…