Looking for themed hotels in the UK? From magical Harry Potter wizarding chambers and Art Deco wonders, to rooms for chocoholics, train spotters and movie lovers, there's a hotel for every interest.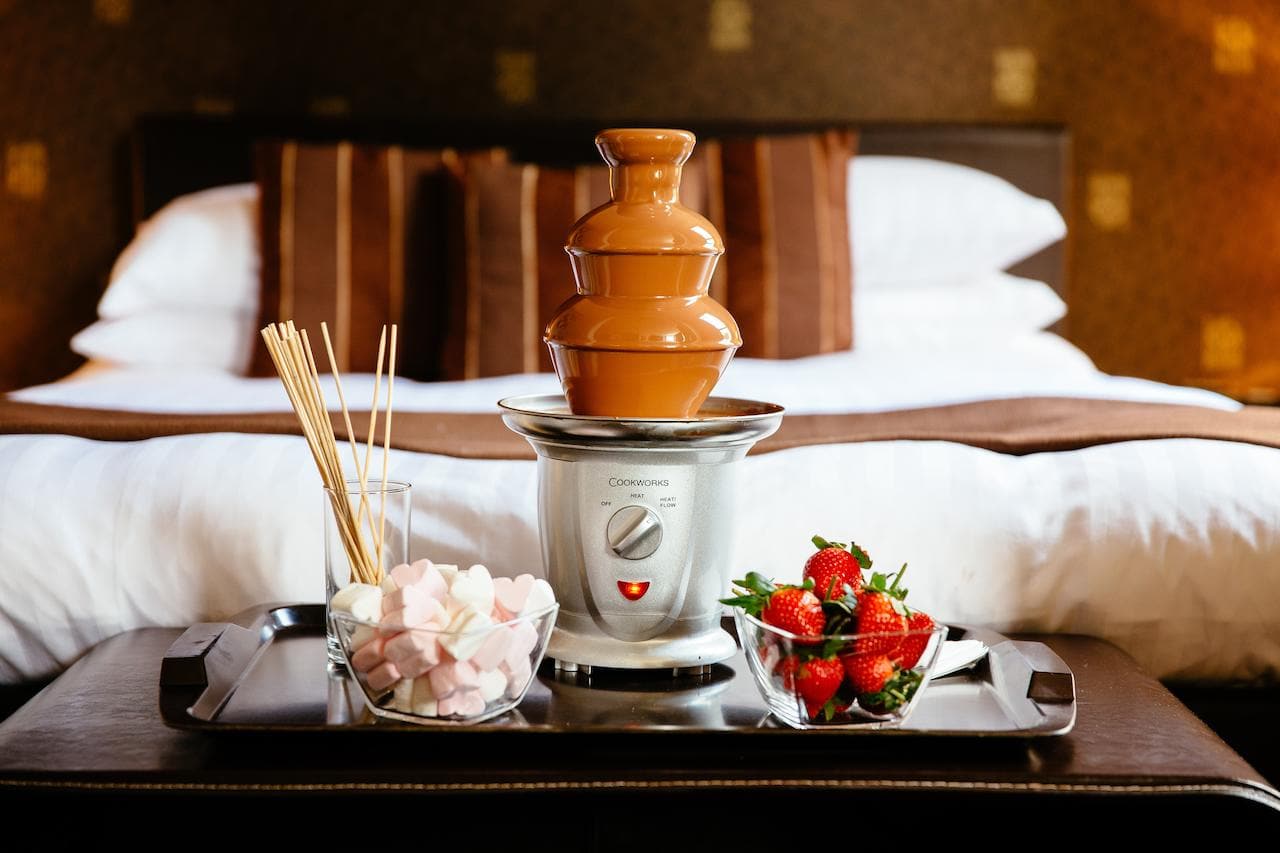 When it comes to unique places to stay in Britain, we really are spoiled for choice. We've loved sharing some of our favourite quirky accommodation (from treehouses to dragon's eggs!) but now it's time to shine a light on the coolest themed hotels in the United Kingdom.
It turns out there's a hotel for everyone! Do you love beer? How about staying in a brewery! Love planes? How about an aviation-themed hotel with runway views?
Personally, I love Art Deco design, and I've just discovered a hotel I'm dying to visit. It's on a tidal island too – how cool is that?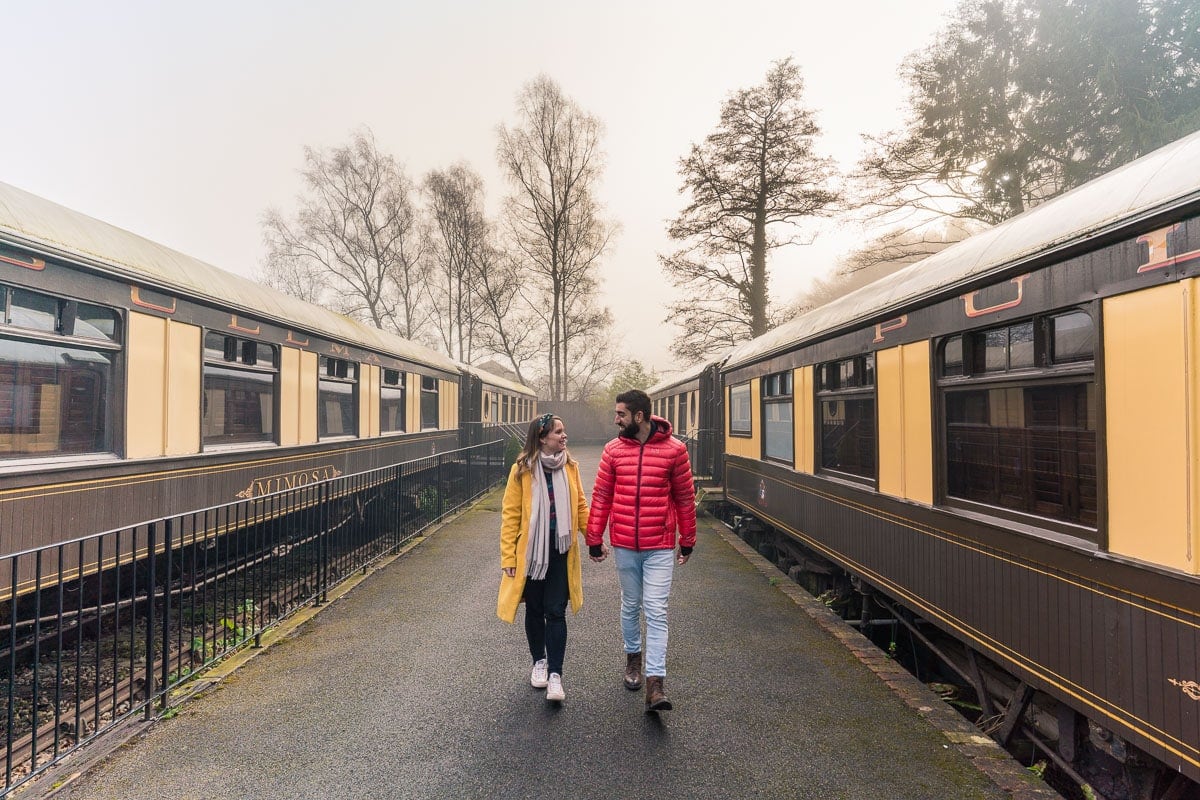 A friend of mine is really into films, and I've found a hotel in Liverpool that has rooms themed around different movies and directors. It's the perfect place for our next meet up!
So, whether you're looking for a special hotel for a birthday or anniversary stay, or a room fit for a princess (yes there's a Princess Suite coming up!), this guide to the coolest themed hotels in the UK will come in handy.
A good option when planning your trip is by using CozyCozy. This site compares all the top accommodation providers for the best deals around, so it can be a great way of saving some money.
---
15 Coolest Themed Hotels In The UK
Harry Potter fans, listen up! While this isn't an official HP endorsed hotel, this hotel definitely has an air of magic to it!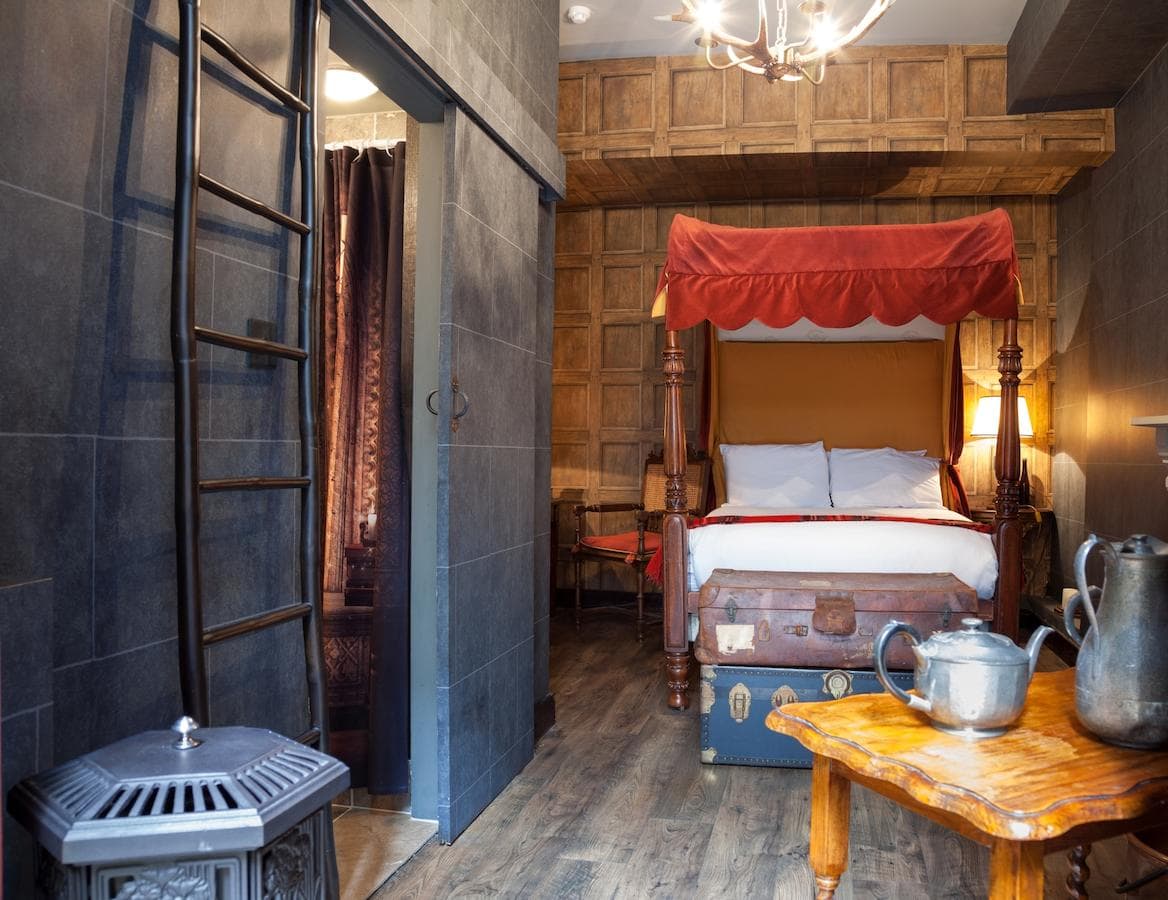 Dating back to 1851, there's more to this five-star London boutique hotel than meets the eye. Rooms are concealed behind a secret bookcase and feature stained-glass windows, spooky archways, potions, cauldrons and a range of magical artefacts.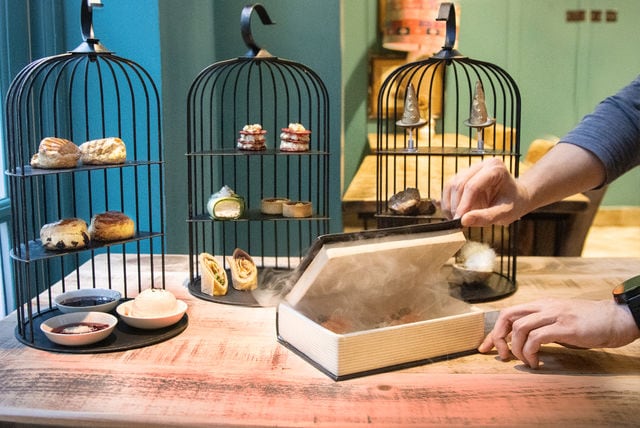 This hotel offers Wizard Experience packages too, which feature magical cocktails, immersive dining experiences, bewitching breakfasts and a magical afternoon tea. Oh, and forget hotel dressing gowns, at this hotel you'll be kitted out with wizarding robes!
Check availability and latest prices now
Wine Themed Hotel: The Vineyard, Newbury, Berkshire
This 5-star English hotel has dedicated itself to wine. Once a 19th-century hunting lodge, the luxury hotel describes itself as a 'temple to Californian wine'.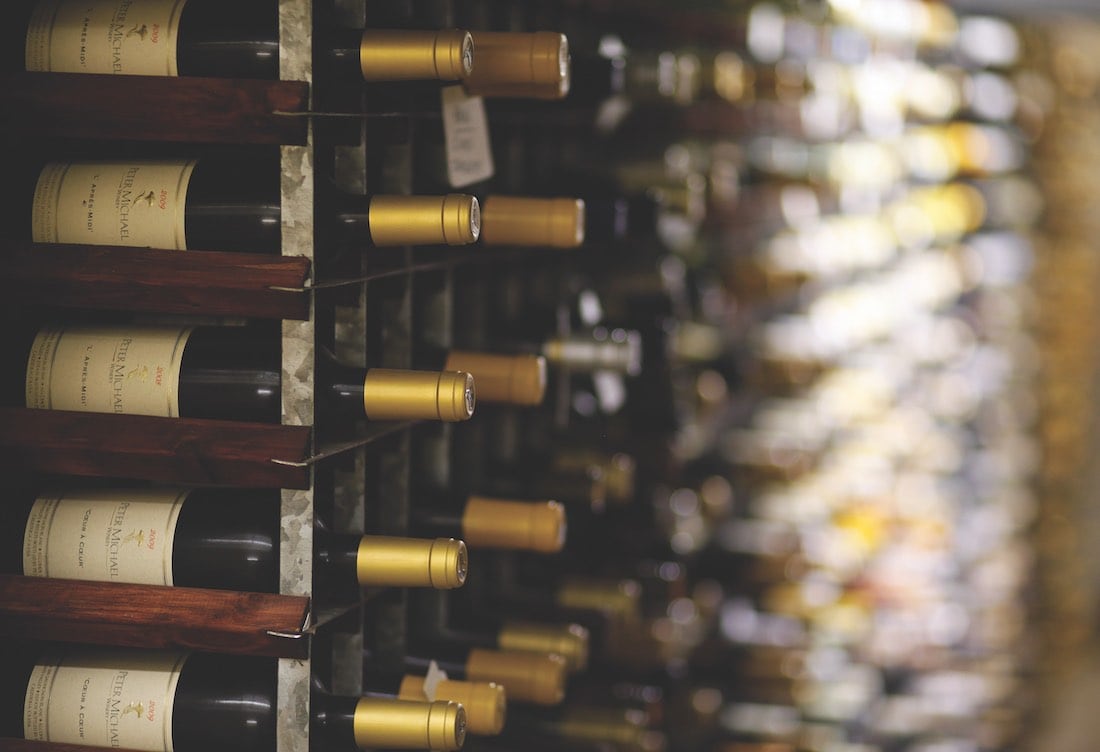 As you can imagine, the hotel has a pretty impressive cellar, featuring around 30,000 bottles including 800 from California, where the owner has his own vineyard.
The best way to enjoy a stay here is to book in for a wine tasting (£30 per person), then go on a gastronomic journey with a tasting menu at the hotel's restaurant, complete with wine pairings by the sommelier.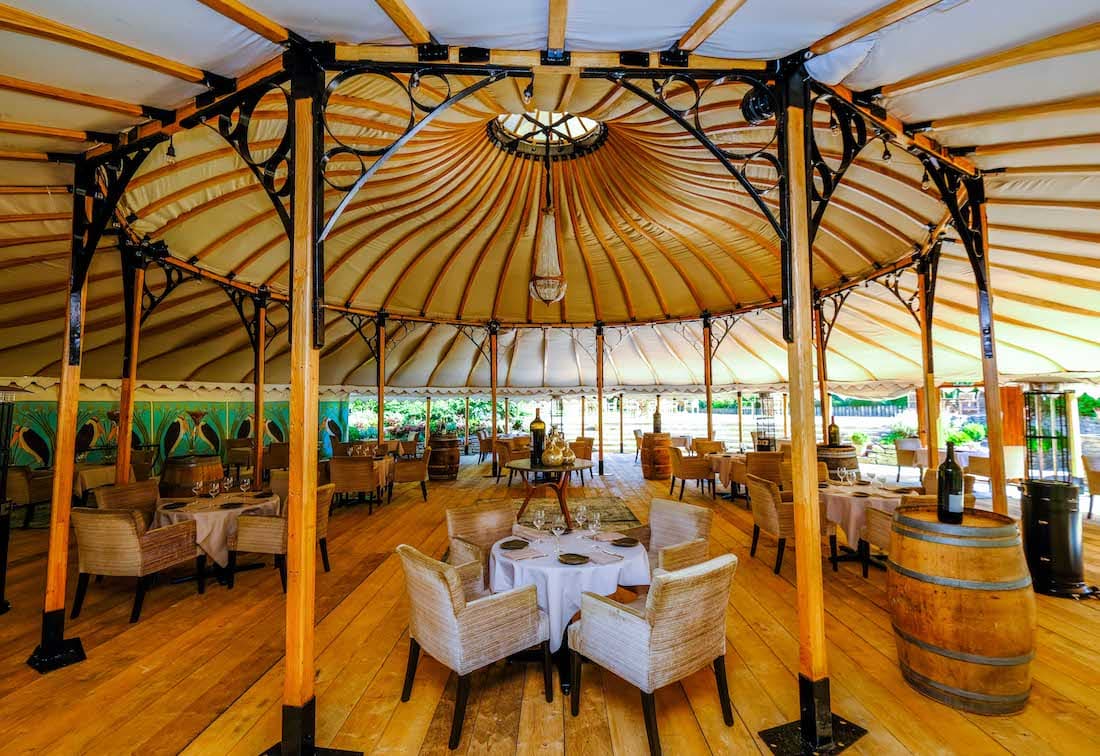 The best bit? Your bedroom (complete with wine-themed décor) is within staggering distance!
Check availability and latest prices now
Head down to everyone's favourite English seaside town and you could enjoy a rock and roll themed stay! Hotel Pelirocco has 19 individually themed bedrooms to choose from across two historic Regency townhouses. They're seriously quirky, with so many cool details – you'll struggle to choose which one you fancy most!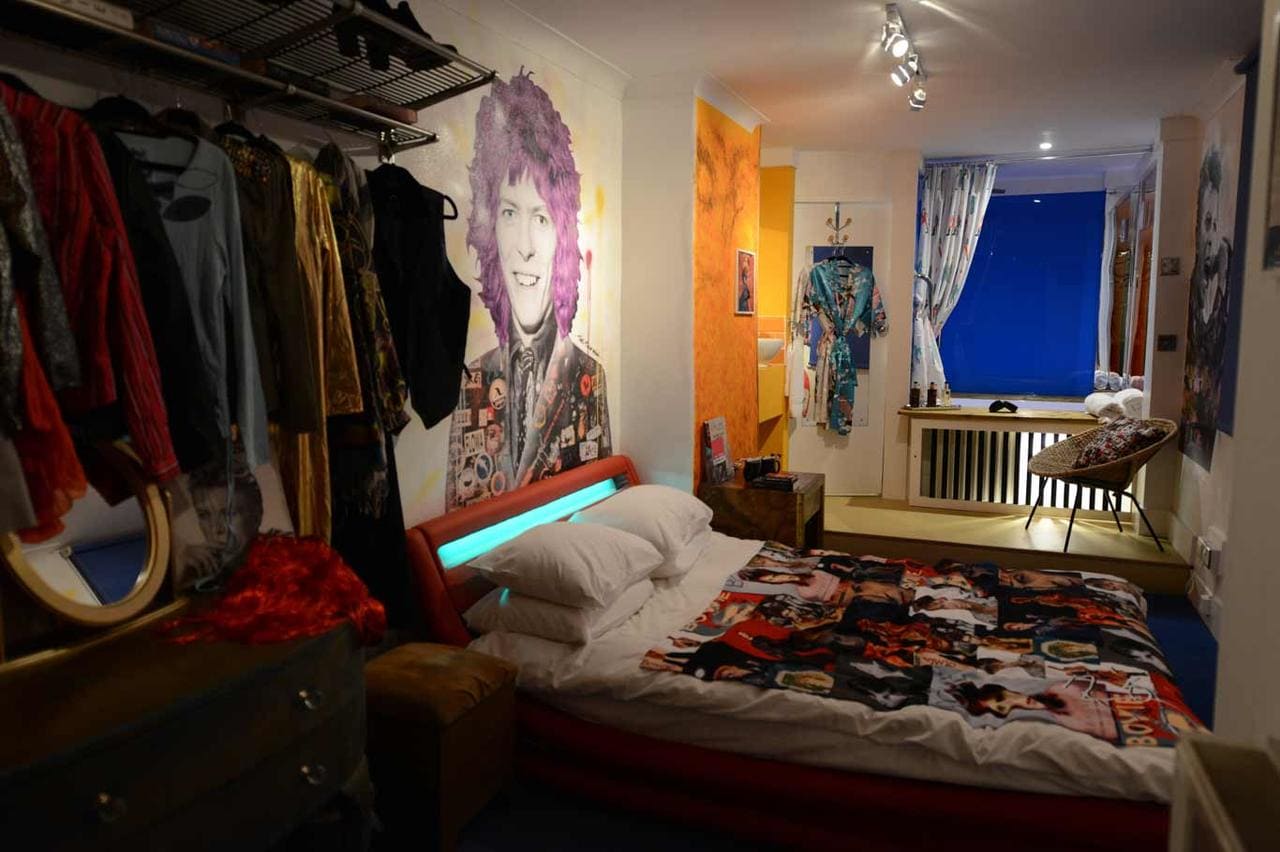 There's Rebel Rebel – a David Bowie themed room which is styled as one of the legend's LPs, and features a dressing-up area with a selection of suitably outlandish outfits.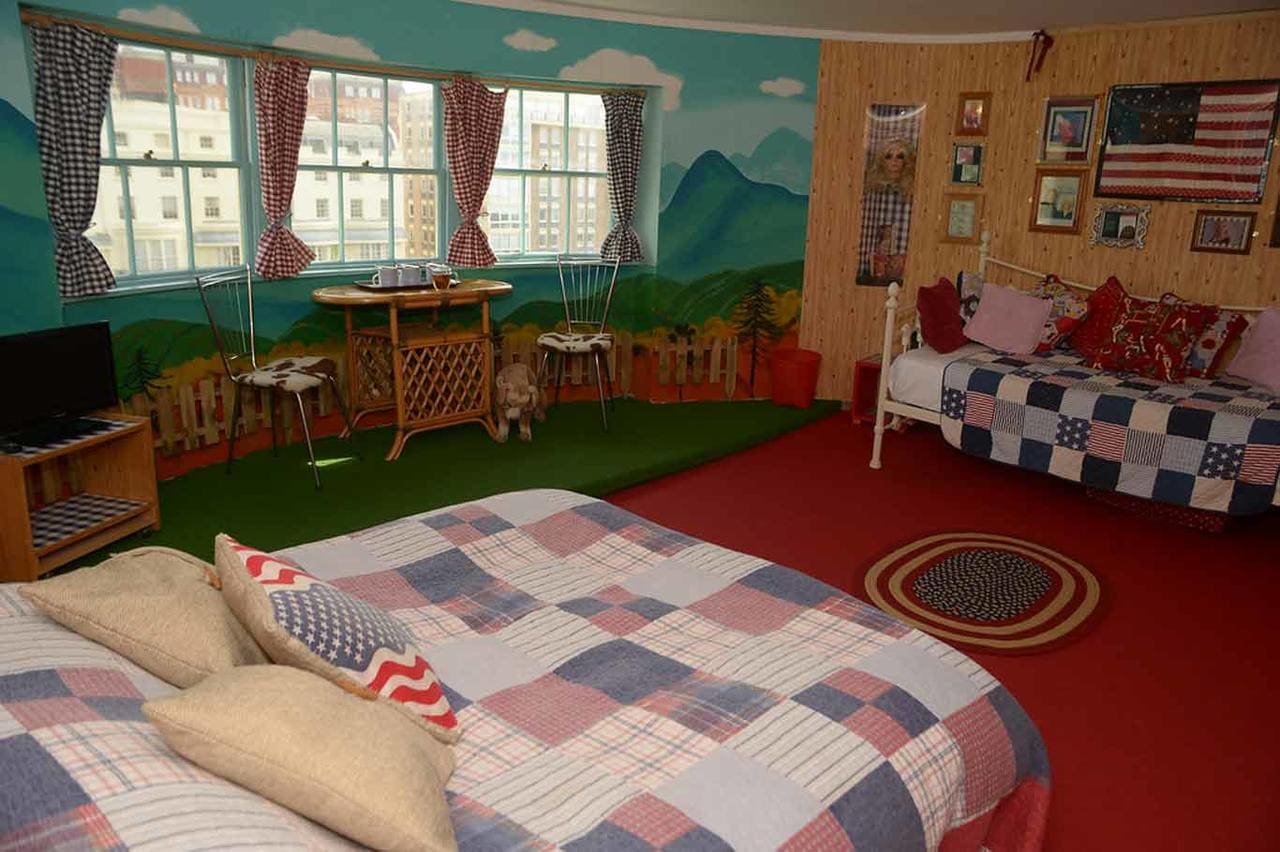 Then there's Soul Supreme – a Motown-themed room with a hand-painted mural of the Supremes above the bed.
Or if Dolly Parton is more your jam, check into Dollywould – a themed room which has all the gingham, sparkle and glam you could dream of.
Check availability and latest prices now
This is a seriously unique hotel! The Burgh Island Hotel is a beautiful art deco hotel located on… its own island! Burgh Island is a tidal island, connected by a sand bar to the mainland at Bigbury-on-Sea when the tide is out, or by sea tractor at high tide. Just reaching it is a bit of an adventure!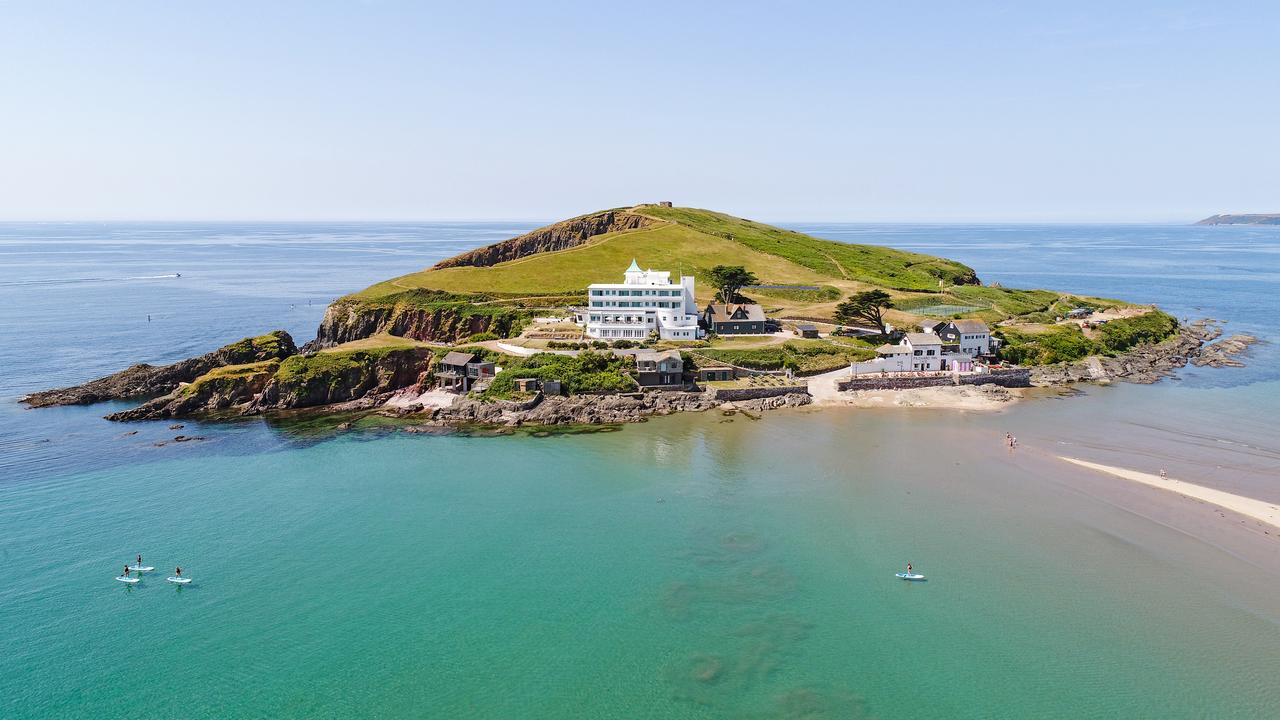 If you love Art Deco architecture, this is one of the best hotels in the UK for you. The hotel was built in 1929 and is steeped in 30s glamour. From stunning chandeliers and an old-fashioned billiard table, to the beautiful furniture and the spectacular glass dome roof of Palm Court Lounge, there are so many details to soak up.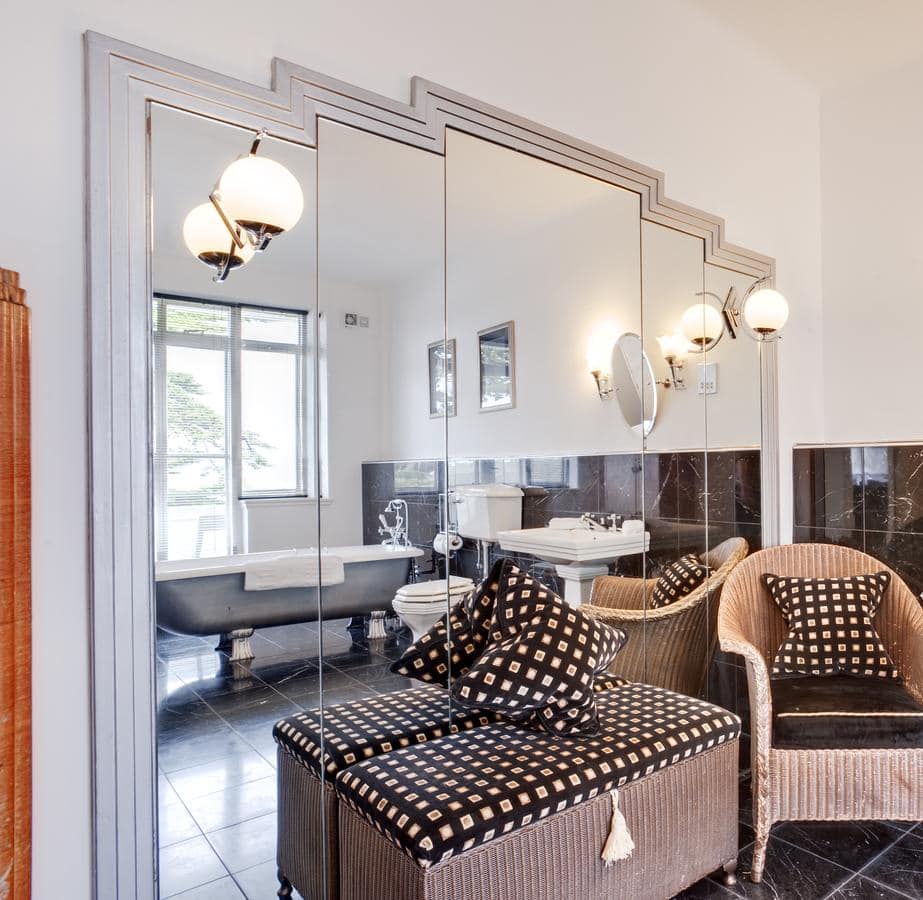 For something extra special, book onto one of the hotel's special murder mystery nights. Agatha Christie wrote two of her books here so it's the perfect place for it.
Check availability and latest prices now
Movie Themed Hotel: Arthouse Hotel, Liverpool
If you're a fan of the silver screen, it's time to transport yourself to Hollywood, via Liverpool! The Arthouse Hotel has several movie themed rooms, from Mary Poppins and My Fair Lady, to some eerie Hitchcock styled abodes. In fact, there are quite a few bedrooms styled around famous musicals, including The Sound Of Music and Chicago.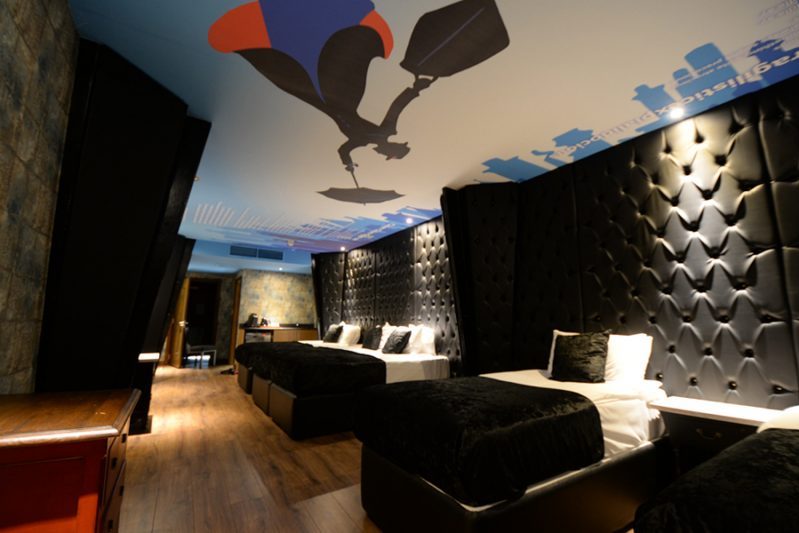 Would you dare stay in the Psycho themed room? Don't worry, this experience will be nothing like checking into Bates Motel!
One of my favourites is the Marilyn Monroe themed room. It's bright red throughout, with Warhol's famous Marilyn painting repeated across the ceiling.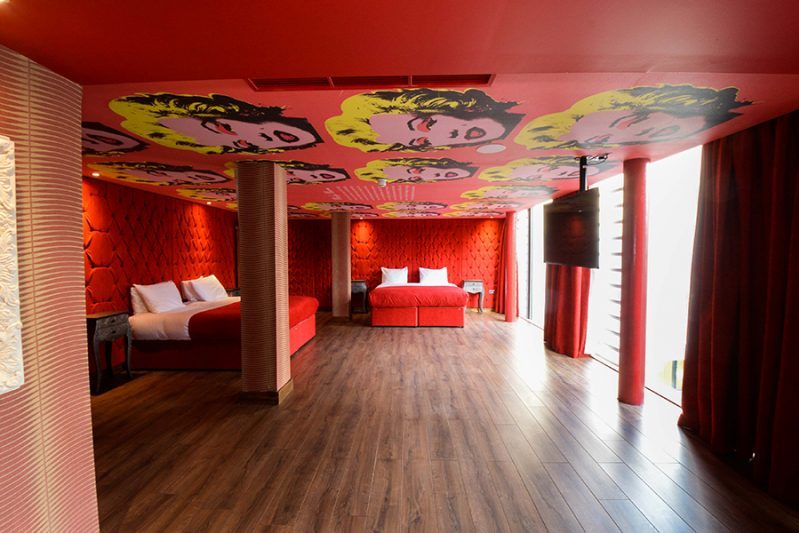 This hotel is in a great location for all key sights in Liverpool, and is perfect for group trips, hen dos and celebrations, especially as many of the rooms sleep 4 or more. Some even have hot tubs!
Check availability and latest prices now
How dreamy does this hotel sound? If you have a sweet tooth, you're going to love your stay at The Chocolate Boutique Hotel in Dorset.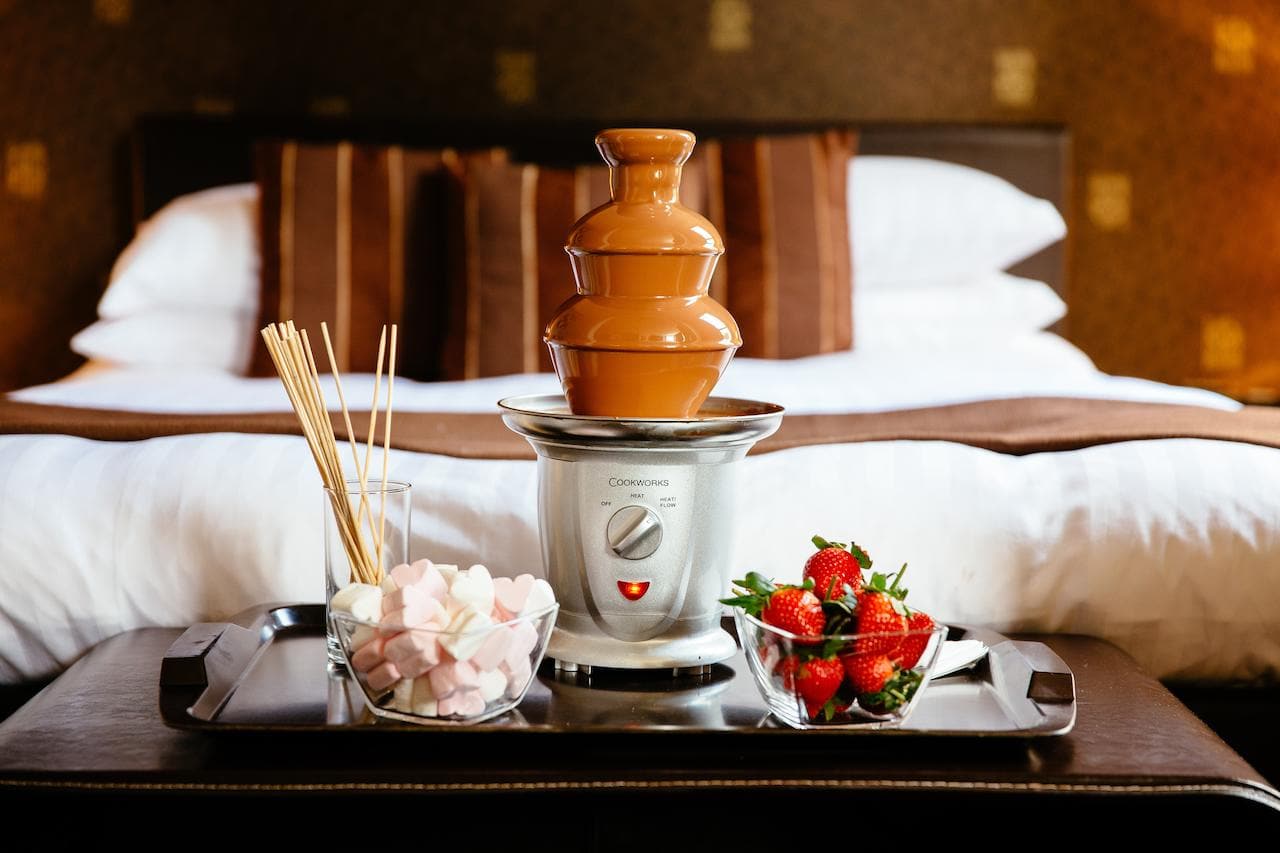 All of the bedrooms have a luxurious chocolate theme, with an indulgent colour scheme plus, the best bit, daily helpings of chocolate!
For the ultimate chocoholic experience, book onto one of the hotel's workshops, which include truffle making, a chocolate cheesecake masterclass, and the ultimate one-day introduction to chocolate.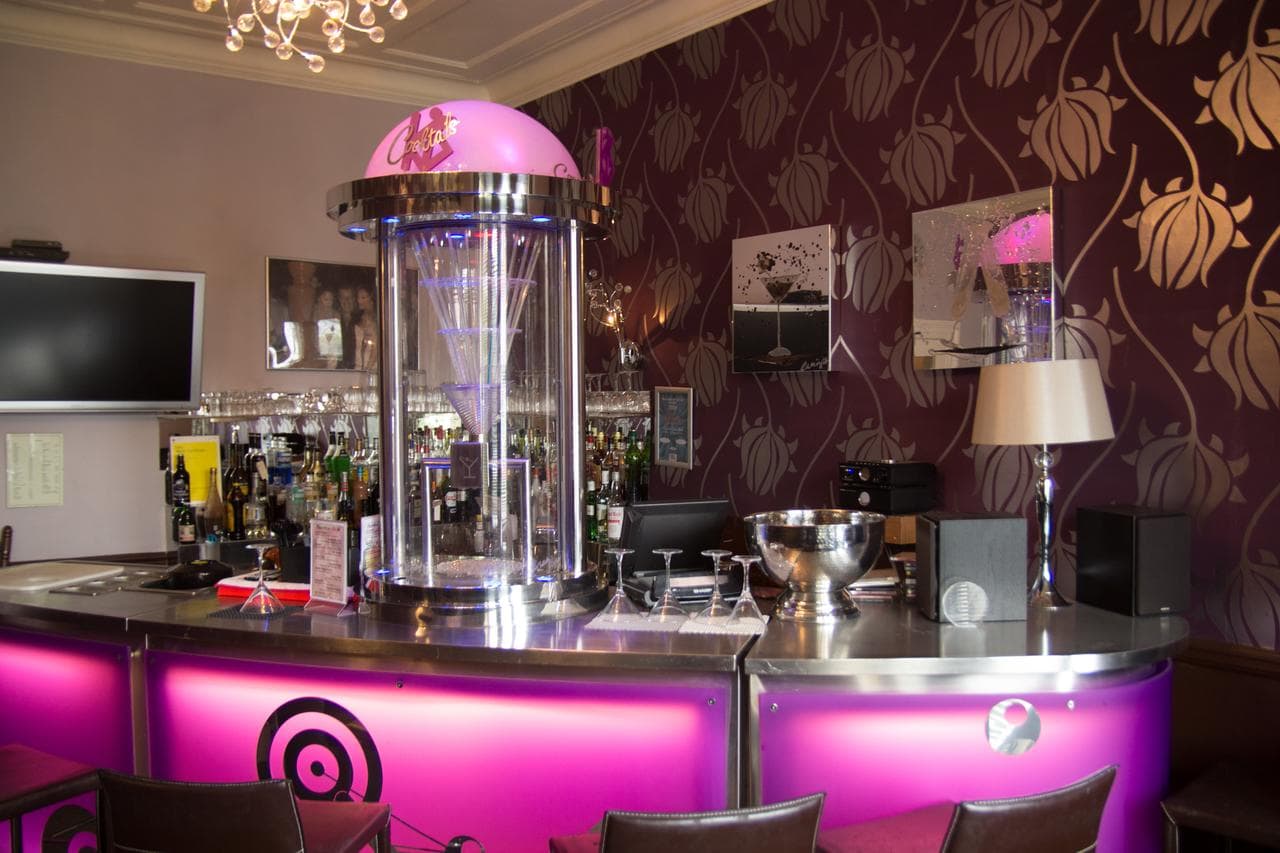 If you or your partner is a total chocoholic, this is an ideal hotel to book. It's also only ten minutes to the seafront, so you can enjoy some time on the beach too.
Check availability and latest prices now
Did you know you can stay on board an old Pullman carriage in the South Downs? On one of our recent UK adventures, we stayed at The Old Railway Station, Petworth's former railway station, which was closed in the 1960s. Since then it's been converted into an incredible B&B with old Pullman carriages for bedrooms.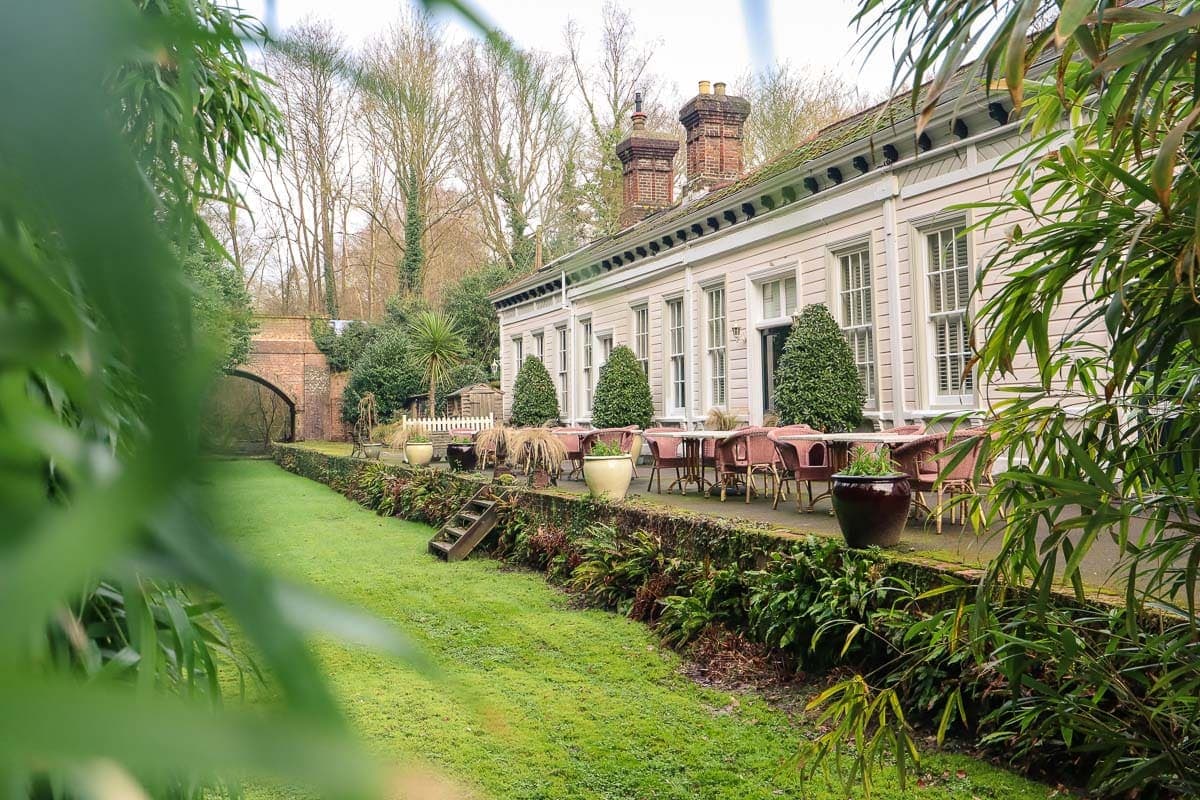 Train spotters and vintage enthusiasts will love the details. Breakfast is served in the old waiting room, complete with cosy log fire, historical memorabilia, and old tunes playing through a record player. The platform has been converted to an outdoor patio with chairs and tables laid out for sunny days. Peer over the edge and you'll see the tracks have been turned into a pretty garden too!
We loved hopping on board our historic carriage for the night! It's such a unique space, with a comfy bed, wooden interior and retro posters.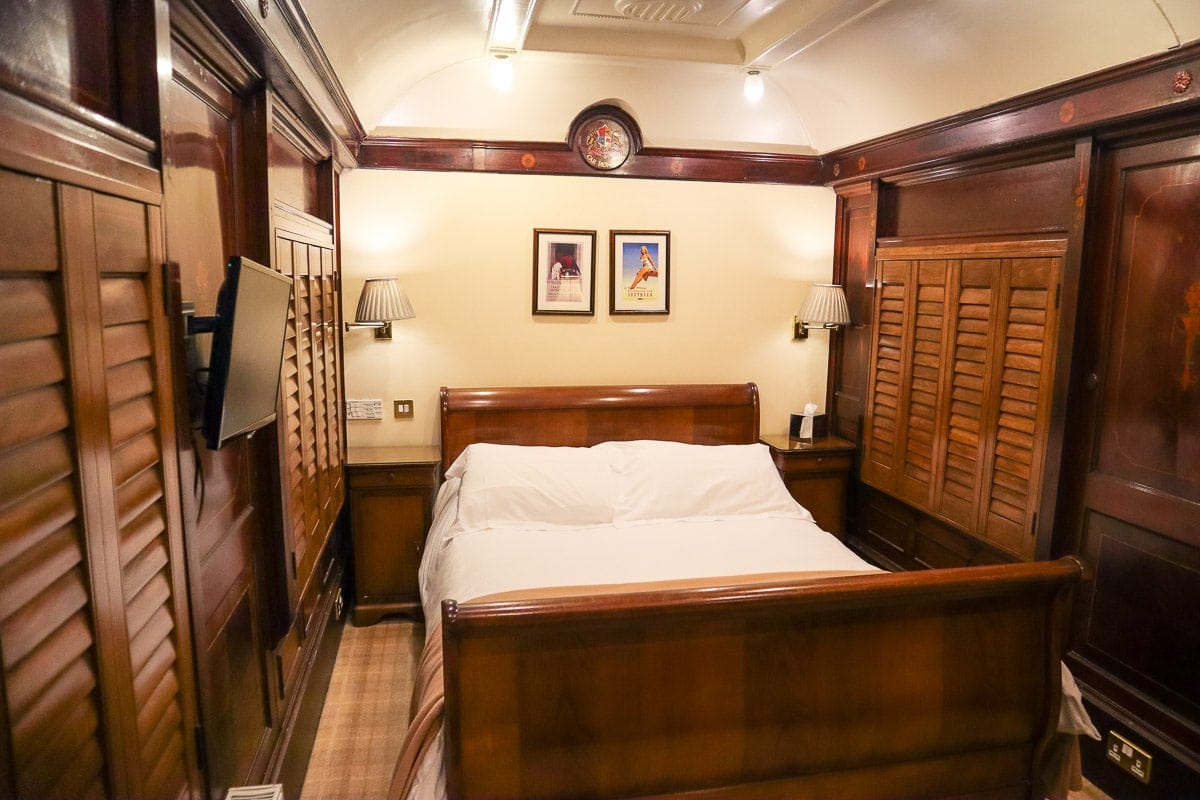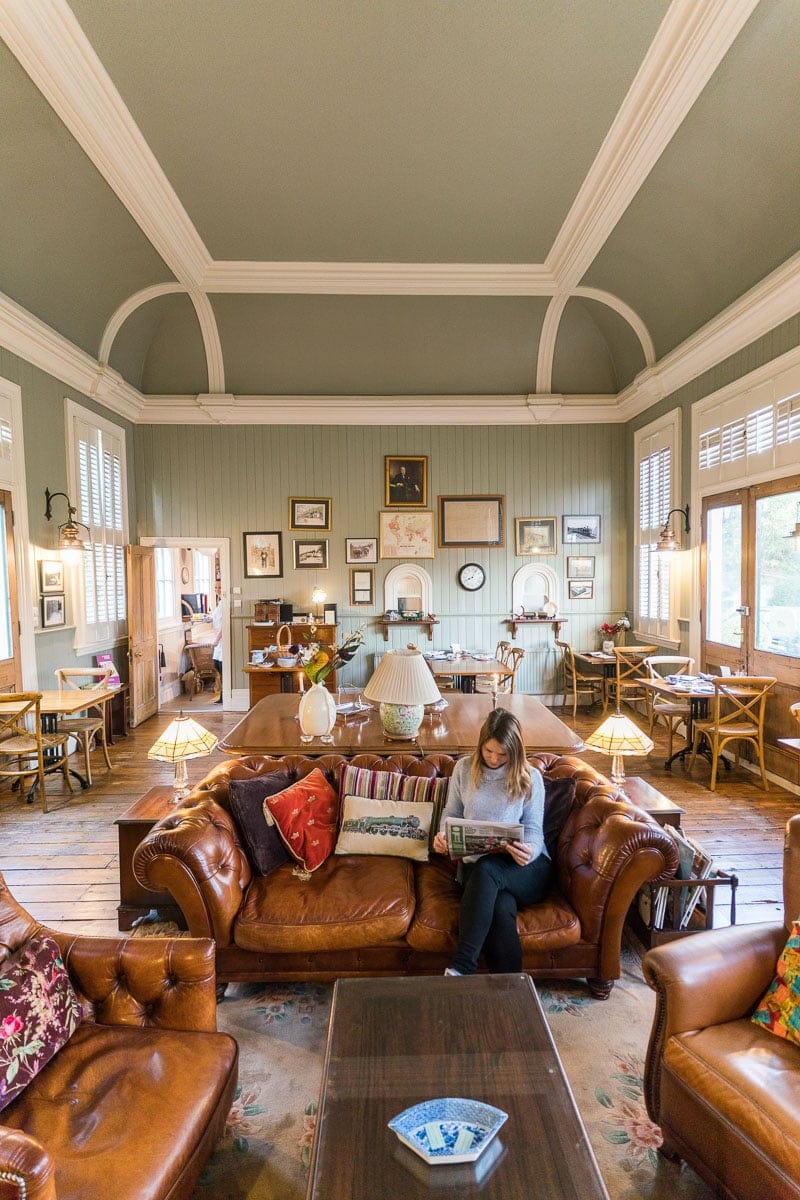 This hotel is also in an ideal location for exploring the South Downs National Park or visiting Petworth House – one of the most famous National Trust properties in the region.
Check availability and latest prices now
Plane Themed Hotel: The Aviator, Hampshire
From trains to planes, down in Hampshire you can stay at a hotel overlooking the runway at Farnborough Airport.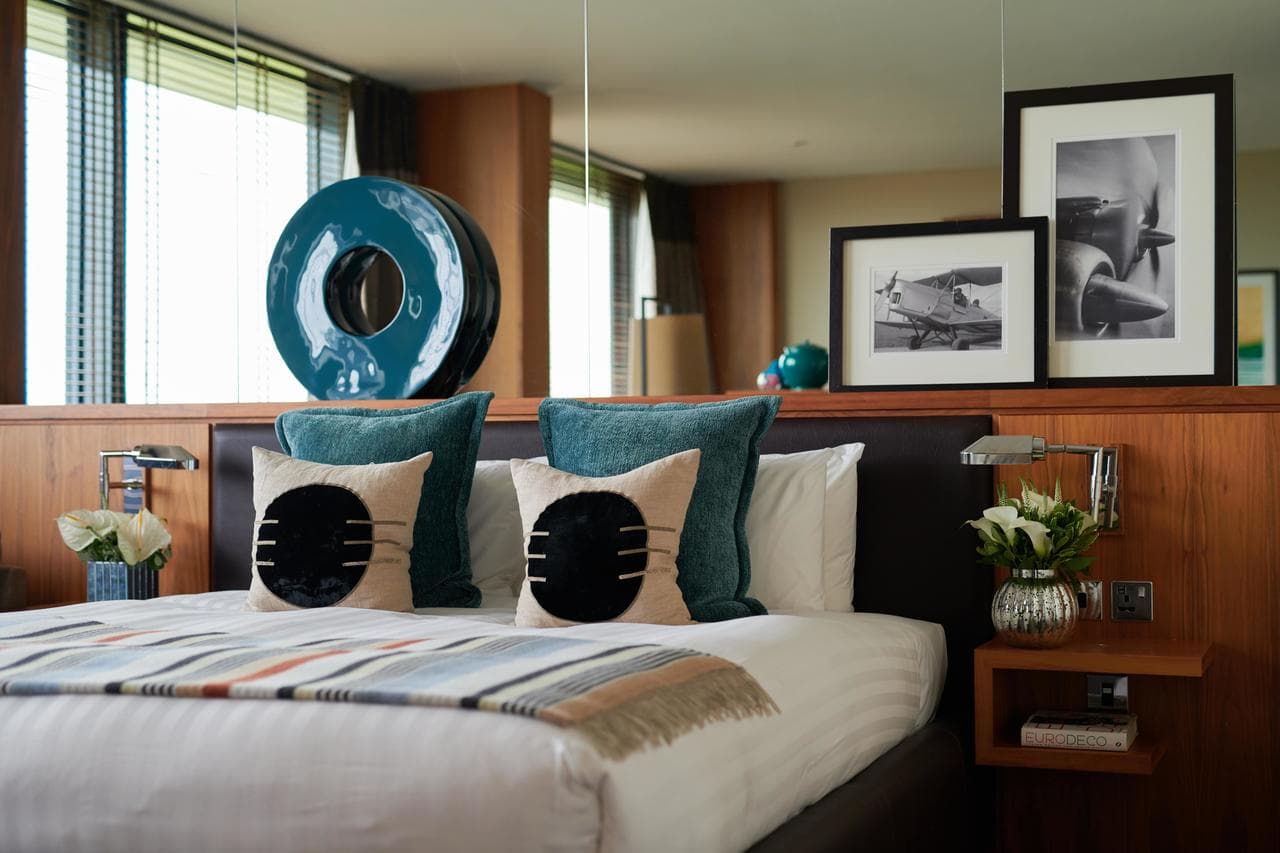 The luxury plane themed hotel offers panoramic runway views, and is right next to the Farnborough Air Sciences Trust Museum where you can learn all about the airport's aviation history.
It's not all about novelty here though. It's a sophisticated space with some incredible architecture. For example, there's a main rotunda which spans several floors. When you peer over from the top it resembles an aircraft propeller!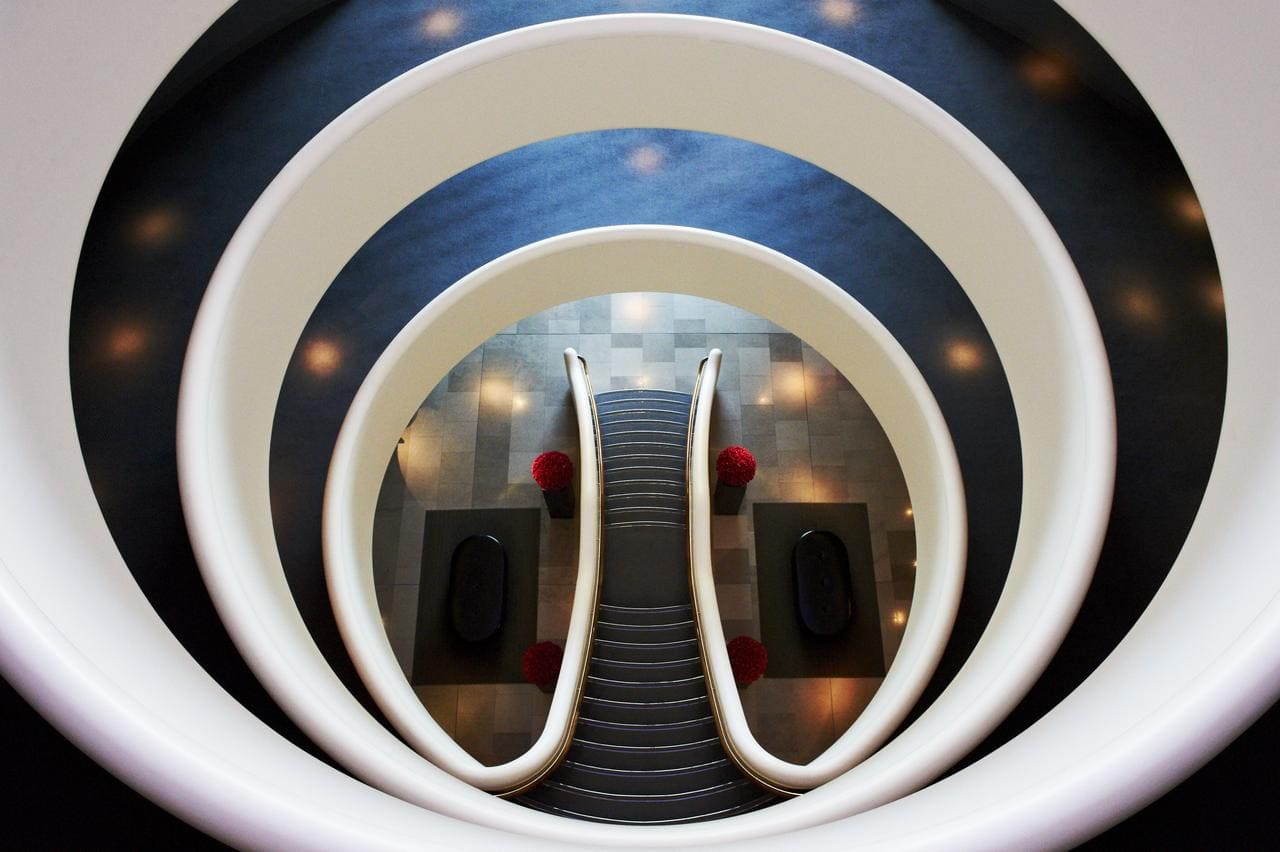 There's a fine-dining brasserie plus a Sky Bar – a great place for cocktails. You can also book in for afternoon tea.
As Farnborough is a private airport it has seen plenty of famous faces over the years. You'll spot photos of a few of them, in on the walls in the restaurant, including Angelina Jolie and Lewis Hamilton. Maybe you'll even bump into a megastar during your visit?
Check availability and latest prices now
There are plenty of themed hotels in the UK with spooky pasts. This luxury hotel in Norwich is one of the most fascinating, with a history dating back to the 13th century. When Queen Elizabeth I visited the city in 1587, it's said she stayed here.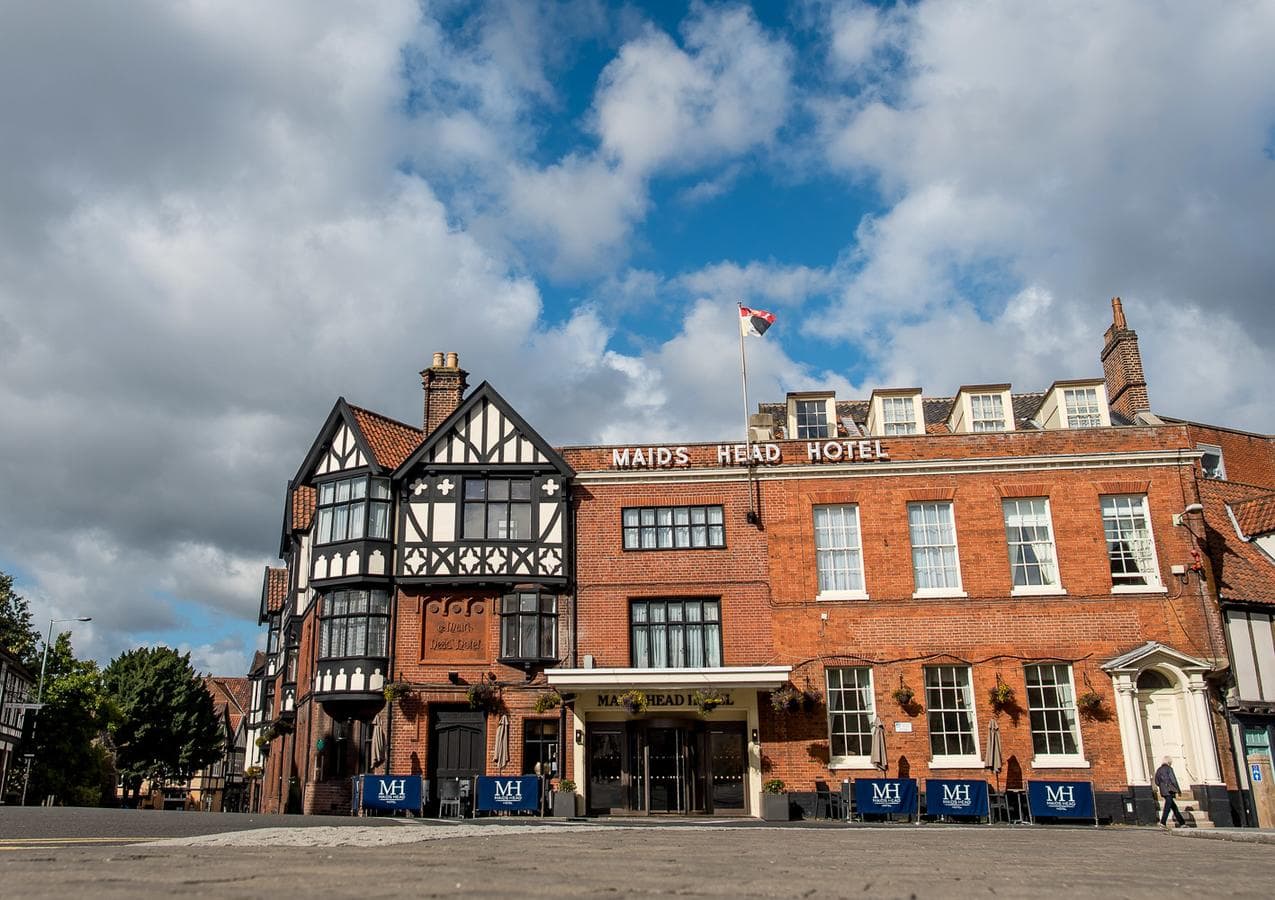 We stayed at the hotel on our recent trip to Norwich. We loved the city so much we named it one of our top places to visit this year too. As well as being steeped in history, it's beautifully decorated and in the perfect location for a weekend in the city. But with such a long past, I wanted to know whether the hotel has a paranormal side.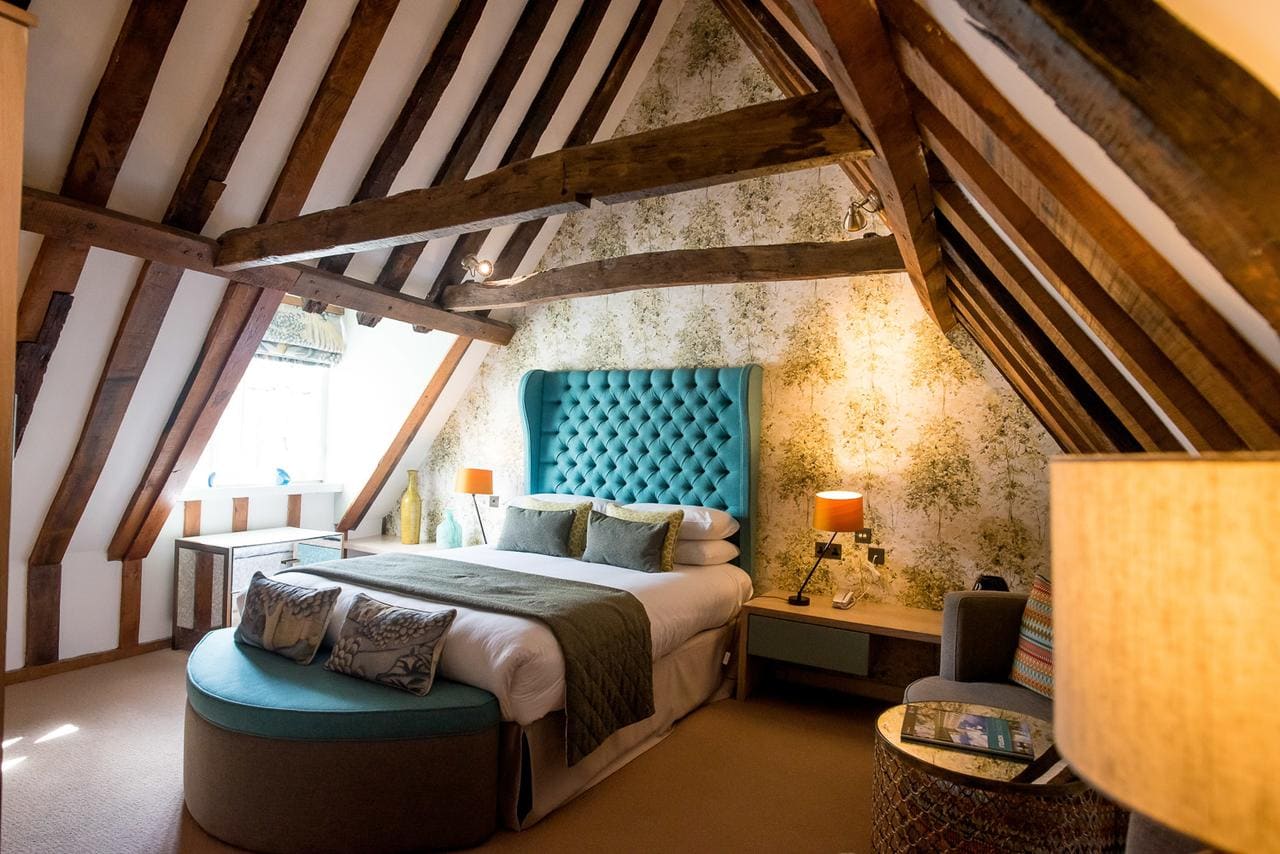 It turns out there have been lots of spooky sightings, including a maid in her 60s wearing grey, going about her daily chores, with the smell of lavender wafting close by.
Other sightings include the ghost of former mayor, spotted in the courtyard area. When he's been seen before he's been disgruntled and angry, shaking his head as he walked around.
Check availability and latest prices now
Check into Legoland's very own hotel in Windsor and you could be treated to a swashbuckling stay on the high seas! There are several pirate themed rooms which feature skull and crossbones décor, red and white stripy bedcovers and hidden treasure chests.
As these rooms are perfect for families, many sleep up to 5 people, with kids sleeping in cute LEGO themed bunk beds!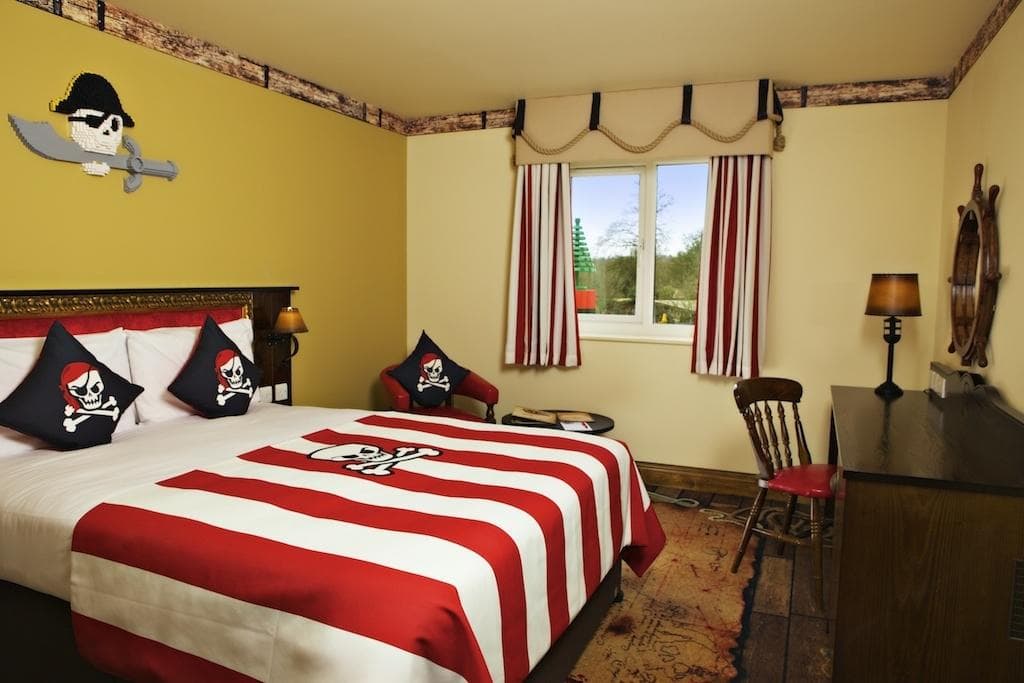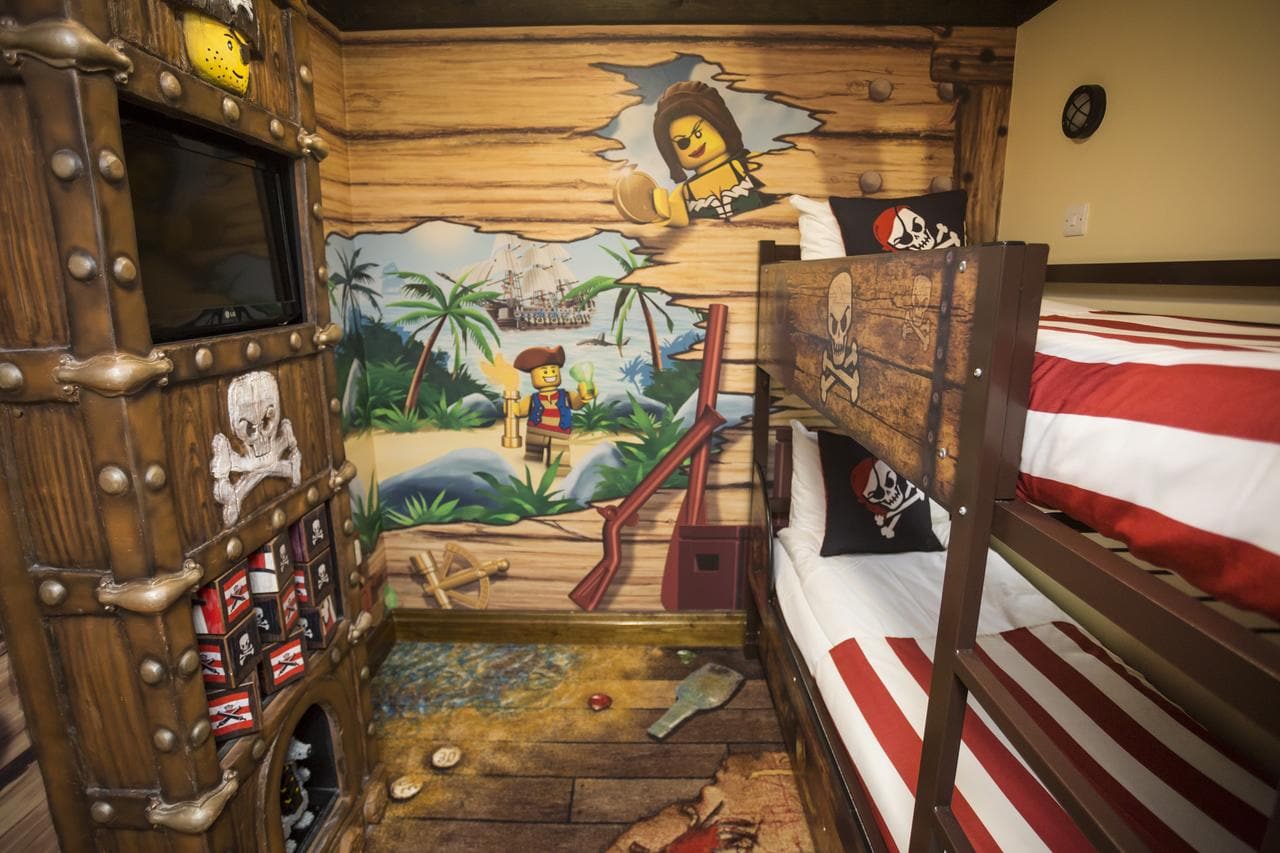 The hotel is moments from the theme park attractions, so this is a great option if you want to have a fun overnight stay with your family.
Check availability and latest prices now
If you're obsessed with all things Japanese, why not check into the UK's first capsule hostel? If you're remotely claustrophobic, I wouldn't recommend it, but if you love tech-first pads, this is a seriously cool place to stay in London.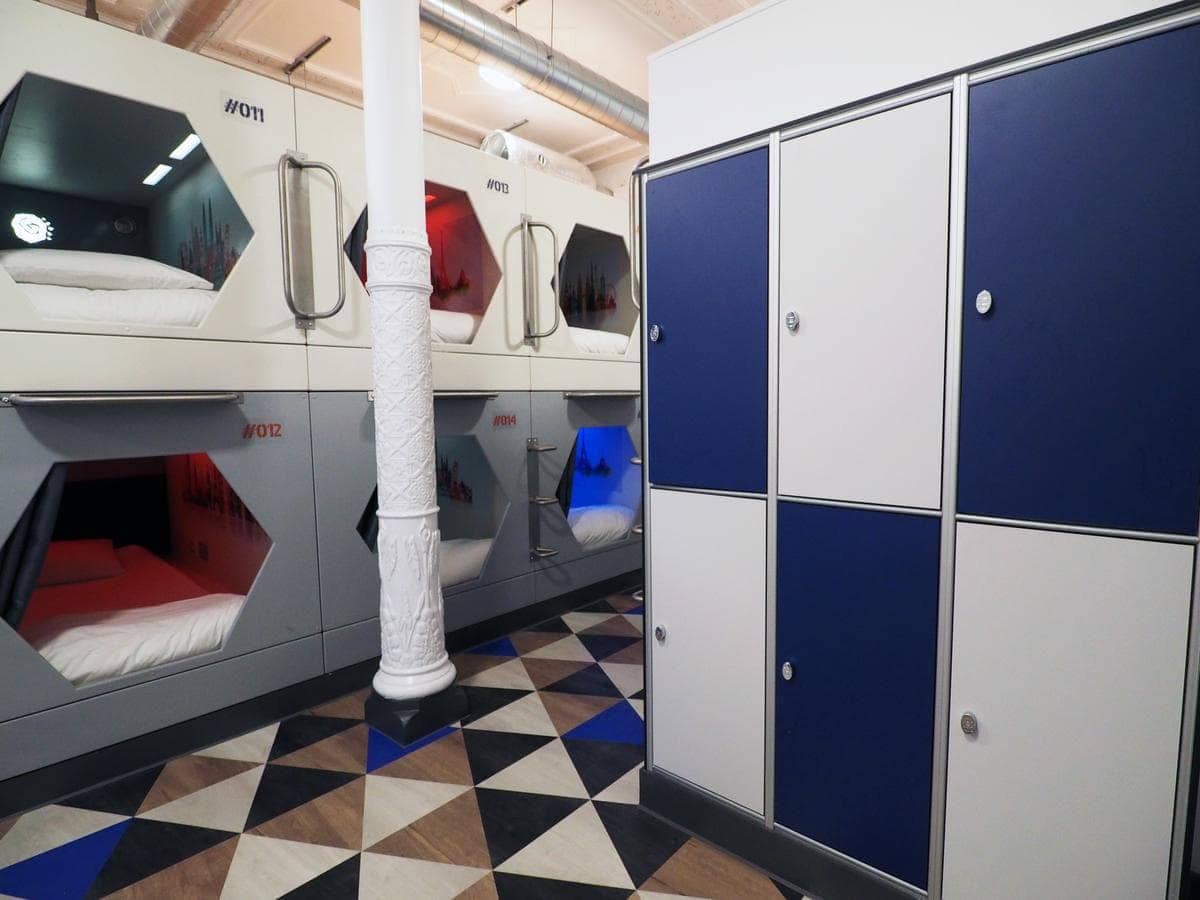 The Japanese-style capsules are hi-tech too, with USB ports, ventilation and mood lighting. It's officially a hostel, so you'll have other people in the room. However, the capsules provide a surprising amount of privacy. Prices start around £25 per night, which is a bargain considering how central it is.
Check availability and latest prices now
Beer And Gin Themed Hotel: The Swan, Southwold, Suffolk
Beer is synonymous with the town of Southwold in Suffolk. The drink has been brewed there for over 650 years, and the biggest name locally is Adnams.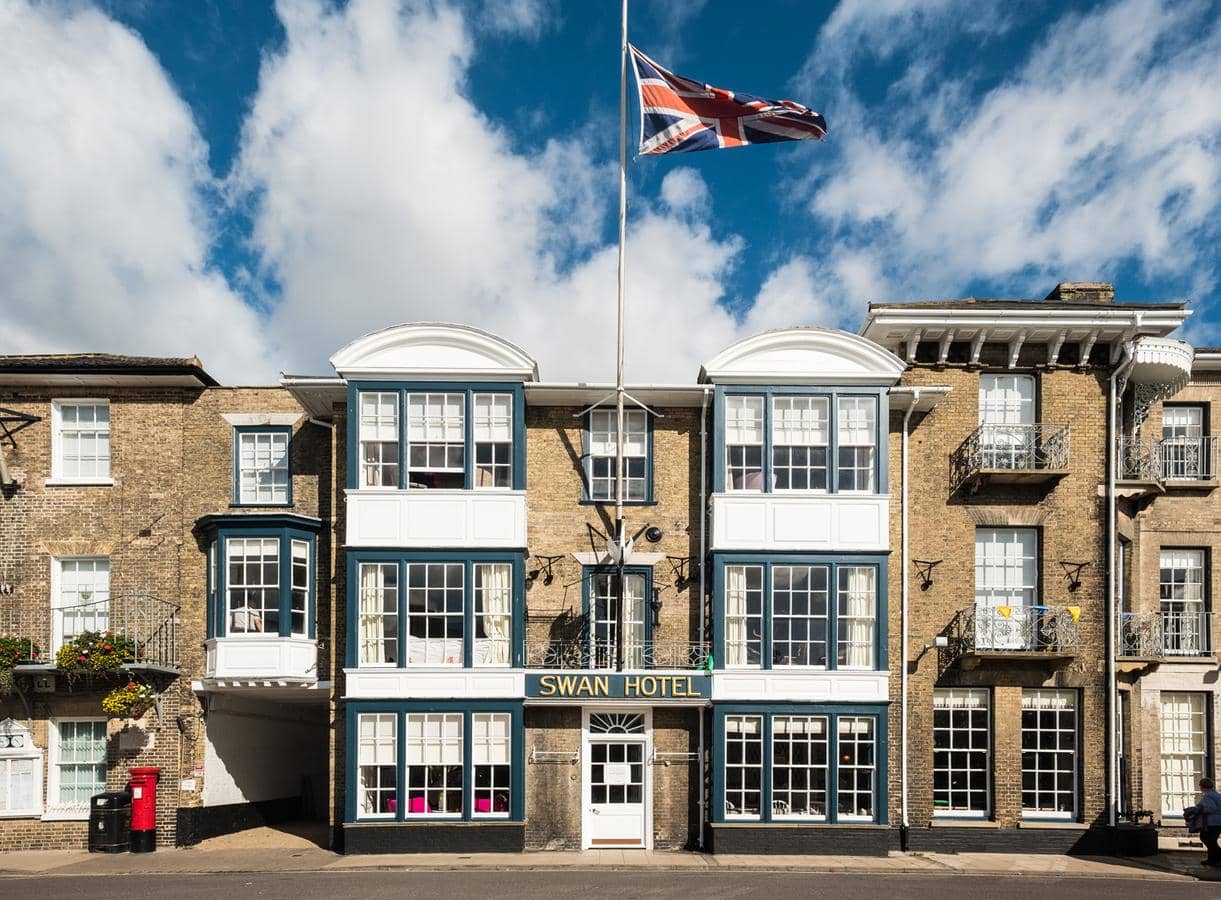 Ernest Adnams bought The Swan and a brewery next door in 1872. When you stay at the hotel you'll definitely want to book in for a tour of the world-famous brewery and distillery. You'll learn how Adnams create their award-winning beers and spirits, plus you could even get creative and make your own gin to take home with you.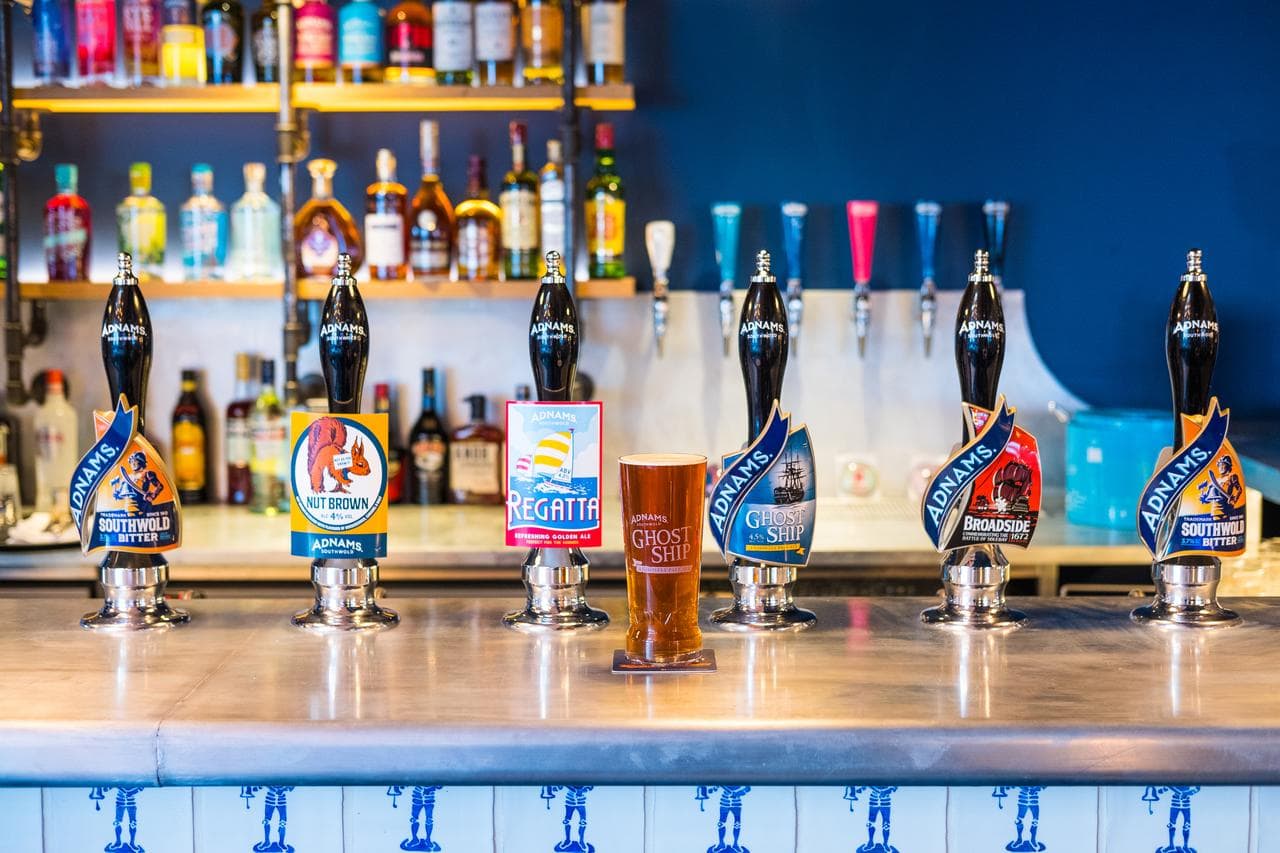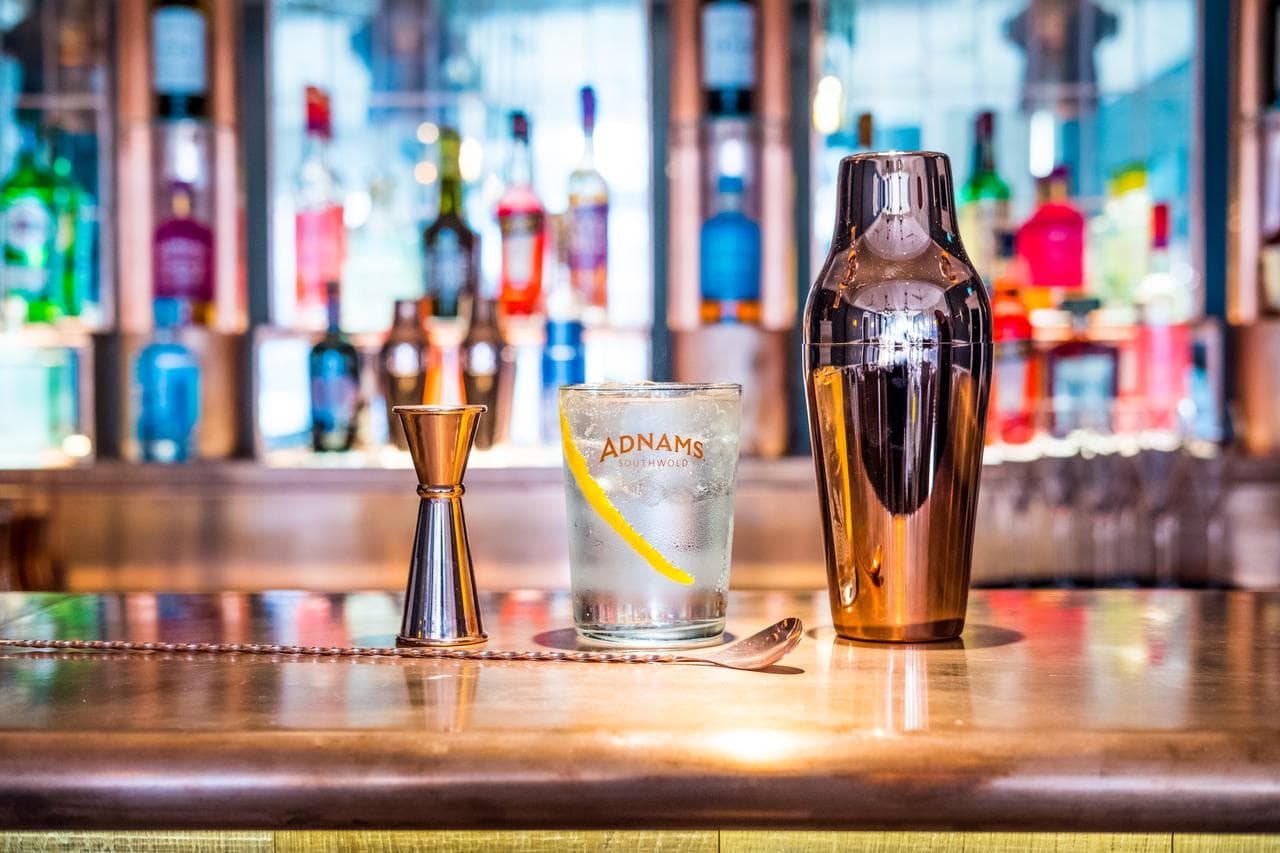 The quirky beer theme is evident inside the hotel's bar and restaurant too, where you'll see items from the old still and tap rooms.
If you're looking for a luxury break near the beach, but with a bit of a quirky theme, this hotel is perfect.
Check availability and latest prices now
Craft Beer Themed Hotel: Brewdog Kennels, Aberdeen
Alternatively, if you're a craft beer lover up in Scotland, you could head to Brewdog's new hotel in Aberdeen. Brewdog Kennels is located in the city centre, just ten minutes from the beach.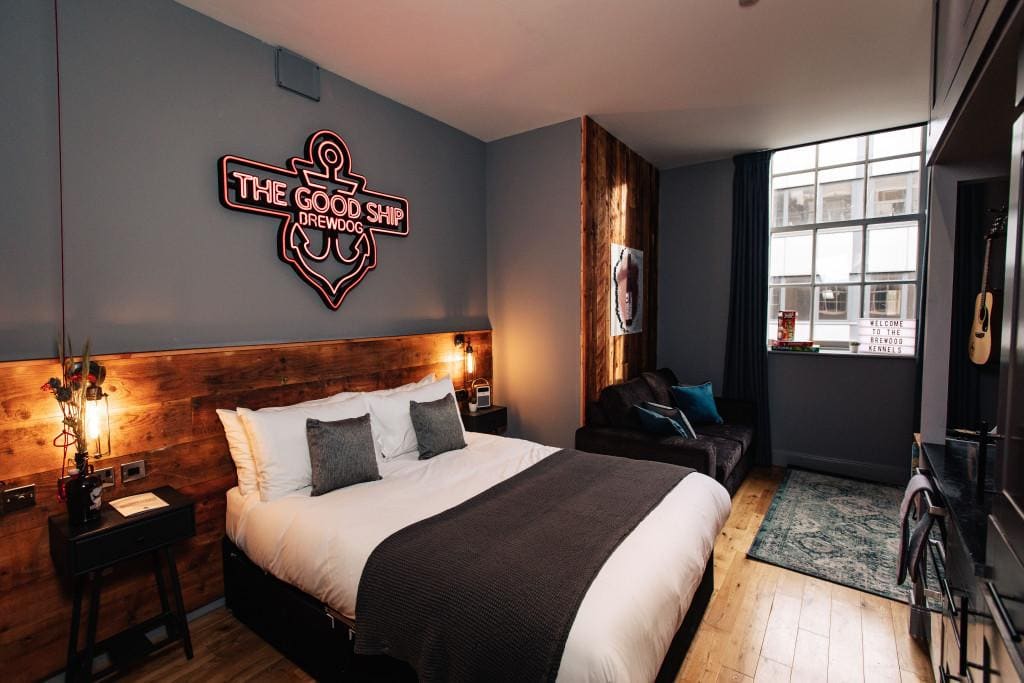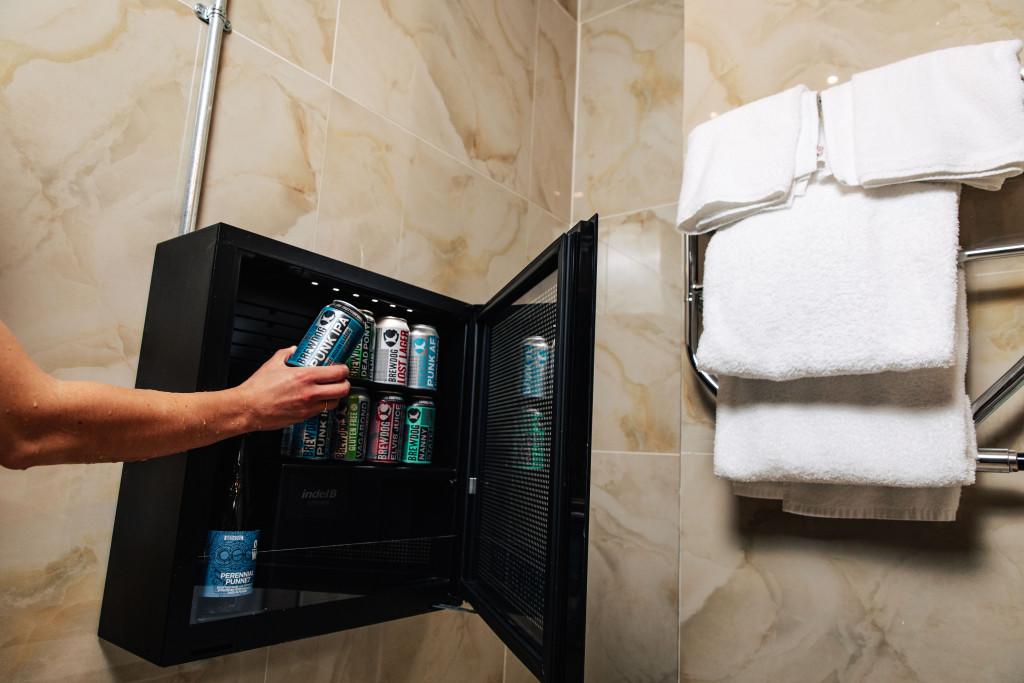 The cool and urban rooms are kitted out with everything you could need to satisfy your love of craft beer, including shower beer fridges and draft beer via room service!
To add to your themed stay, you could also book into Beer School or visit state-of-the-art brewery just in Ellon.
Check availability and latest prices now
Prison Themed Hotel: Clink78 Hostel, King's Cross, London
While this one is officially a hostel, I decided it'd be a shame not to include it. Clink78 Hostel is house in a building which was used as a London courthouse. The Clink team have taken care to preserve a few elements from its former use.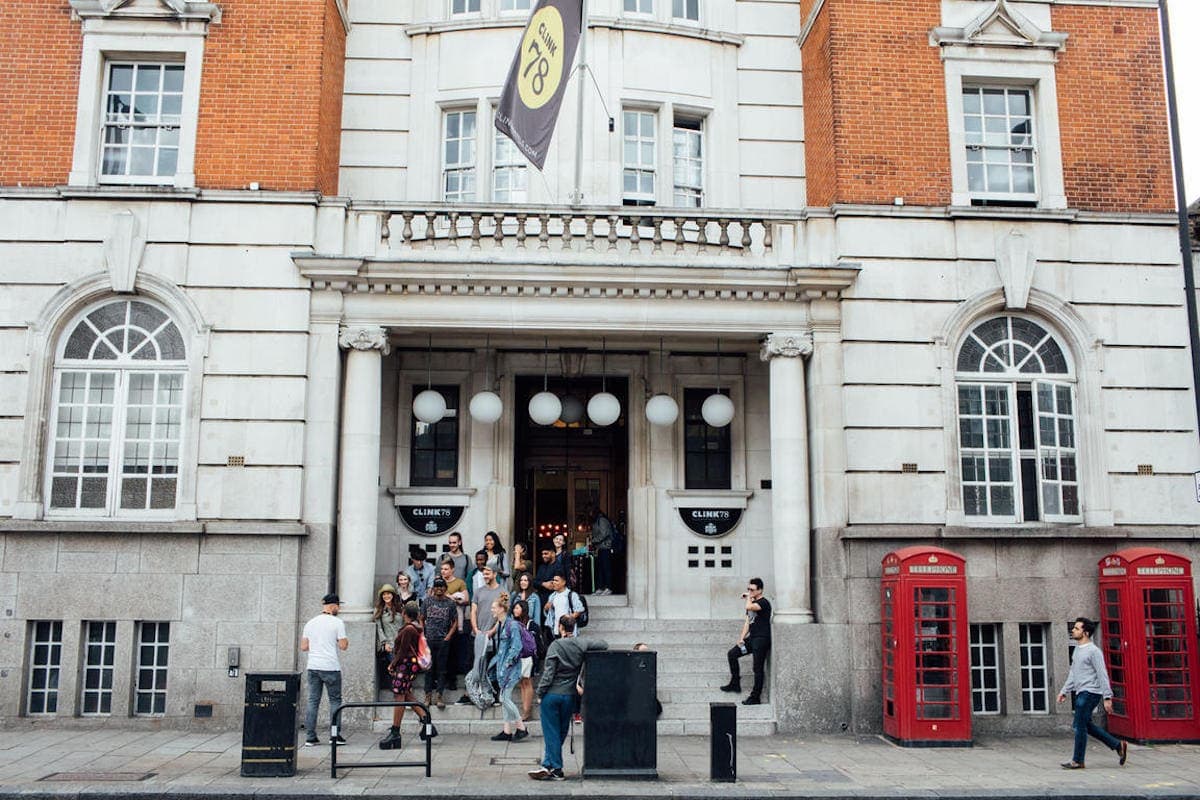 If you're feeling brave, you could choose to sleep in a former prison cell or take a seat on one of the old courtroom pews in the TV area.
Check availability and latest prices now
Princess Themed Hotel: Gulliver's Hotel, Warrington, Cheshire
If your little ones have dreamed of being princesses, this is the hotel to stay at! Gulliver's Hotel in Warrington has a number of themed rooms, including a country and western room and a sweet shop room! The Princess Family Suite is one of the cutest options though.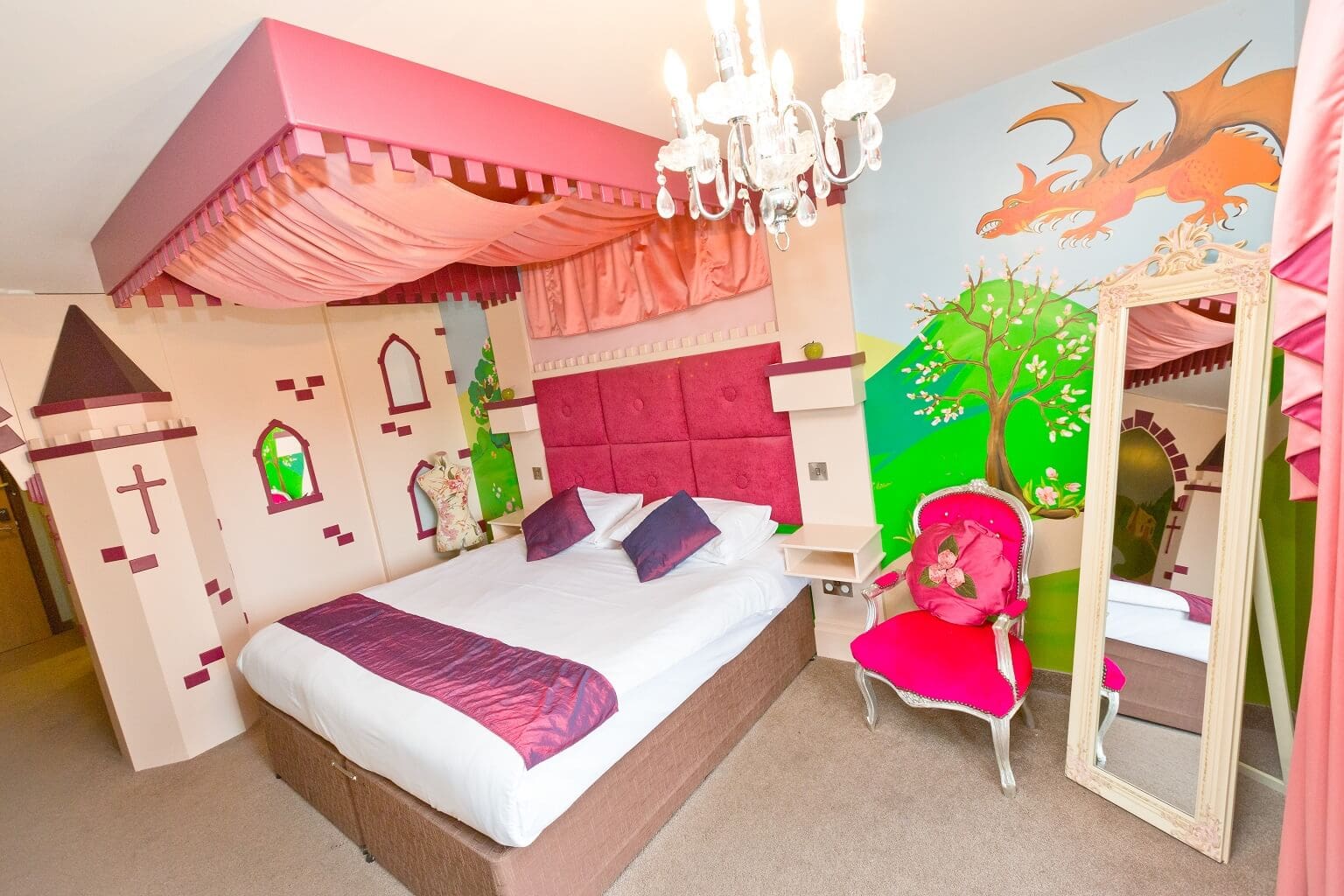 It has a fairy-tale theme throughout, is decorated with pink accessories, and has a double bed, bunk beds and a magical castle tower. It's ideal if you're visiting Gulliver's World as a family.
Check availability and latest prices now
If you're looking for other quirky places to stay in the UK, check out our guides to the most unusual romantic weekend breaks in the UK and our guides to most unusual places to stay in Wales and Scotland.
Enjoyed this post about the coolest themed hotels in the UK? Pin it for later….