Looking for one of the best places to go stargazing in the UK? Then check out our South Downs stargazing guide packed full of advice and information.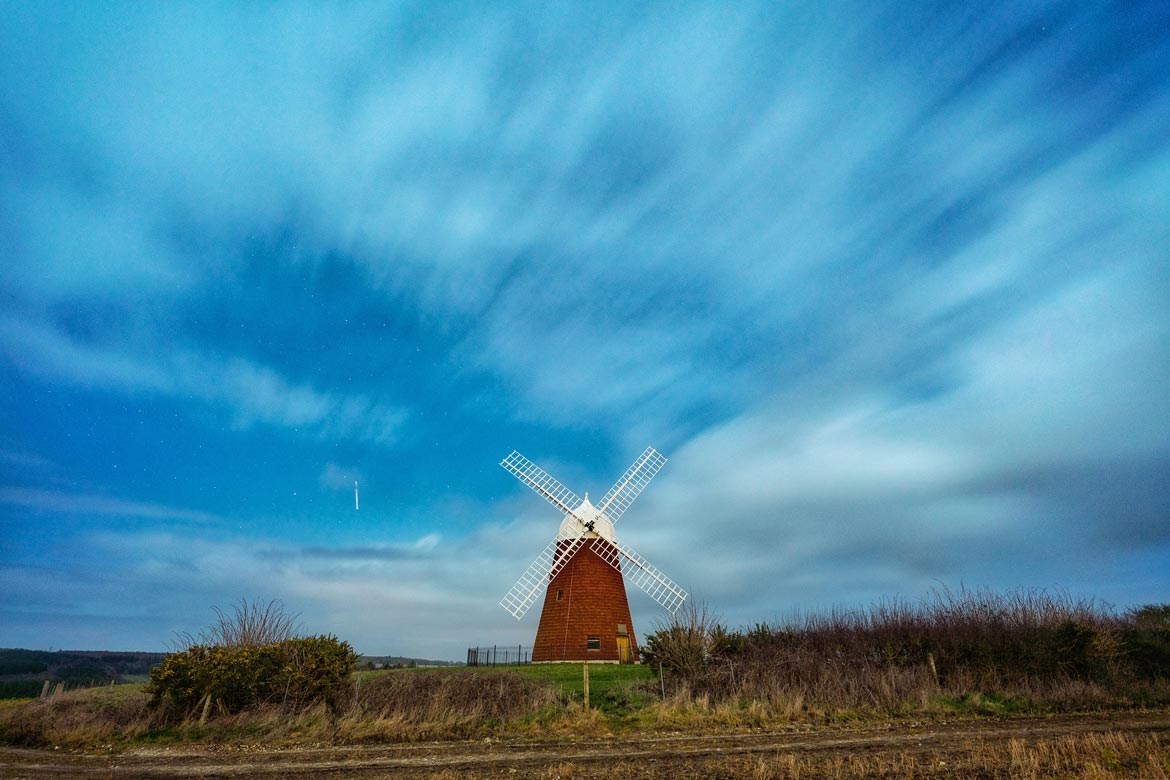 Even though it was only 9pm, I could barely see one foot in front of the other as I walked to a viewpoint at Old Winchester Hill. Off in the horizon I could just about see the outline of a forest, but the valley below me was a dark pit. My fingers were starting to go numb from the cold, but I just couldn't resist taking one more photo of the night sky.
Even though it was dark and freezing cold, I could see hundreds, if not thousands of stars above me. The whole sky was lit up like diamonds strewn across a black blanket. And then there was that ethereal silence, like I was the only person in the world looking up at the stars at that moment in time. That was my moment.
To me, this is what stargazing in the South Downs National Park is all about. I knew it would be beautiful, but I never expected to see stars like this in England.
Why you should go stargazing
What I adore about travelling is it completely opens you up to new experiences. I remember staring up at the night sky on Fraser Island in Australia years ago and just being completely taken aback at how beautiful everything was.
I had never so many stars before and it was a moment in my life that I'll always remember forever. The thing is, I never expected to see night skies like that in England either.
That's why when I saw there was a Dark Sky reserve just a couple of hours away from me in London, I knew I had to see it for myself.
I promise you this is an experience like no other. It doesn't matter if you've never been stargazing before and you're completely new to it, there's nothing quite like staring up at the stars and contemplating life. I always feel that nothing makes you feel so inconsequential and insignificant than staring up at space. It can certainly put your life into perspective too. Or maybe that's just me. You're getting too deep Macca…
Anyway, for those of you looking for a South Downs stargazing guide, this is the post for you. In this post I'll tell you all about the stargazing here, where to find some of the best spots, when is the best time to see the stars and loads of other tips too.
I really hope you find this blog useful so keep on reading!
What is the South Downs Dark Skies reserve?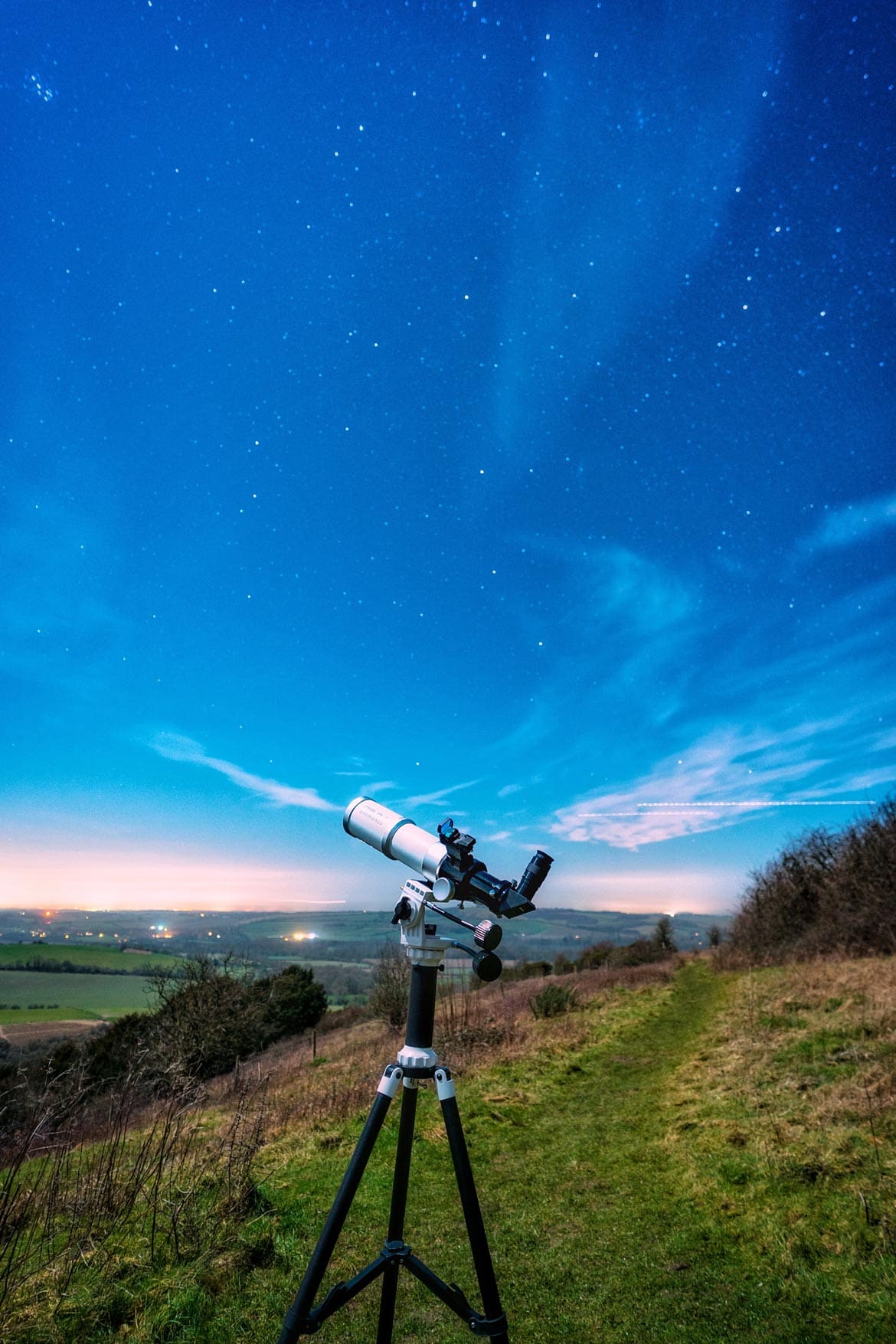 Like I've already mentioned, the South Downs is one of the best places in the world to go stargazing.
The South Downs National Park covers 618 square miles of rural Sussex and Hampshire. This is essentially everywhere from Winchester all the way to Eastbourne, so it's a huge area.
As of May 2016, the South Downs National Park was awarded Dark Sky Reserve status by the International Dark-Sky Association (IDA), a non-profit organisation dedicated to helping "bring back the night".
There are only 16 Dark Sky reserves around the world so it's amazing that we've got one on our doorstep. This status will ensure the region's light pollution remains under control if not reduced. There's very little light pollution in the South Downs National Park, so it's a special place to visit when you're used to city life!
For those of you who live in a big city, you'll know it's really difficult seeing the stars. In London I'm always genuinely shocked when I see a star because there's so much light pollution (which in itself is really sad fact). That's why it's so great having this location less than a two hour drive from London.
For those of you driving from London, here is a little map for you. This is to Old Winchester Hill which is one of the most popular spots to go stargazing in the SDNP.
By the way, the other Dark Sky reserves in the UK are Exmoor in England and the Brecon Beacons and Snowdonia in
Wales
.
Recently I went to Aber Falls in Wales which is one of the most beautiful waterfalls I've seen for a while – just something else for you to do in Great Britain!
When is the best time to go stargazing in England?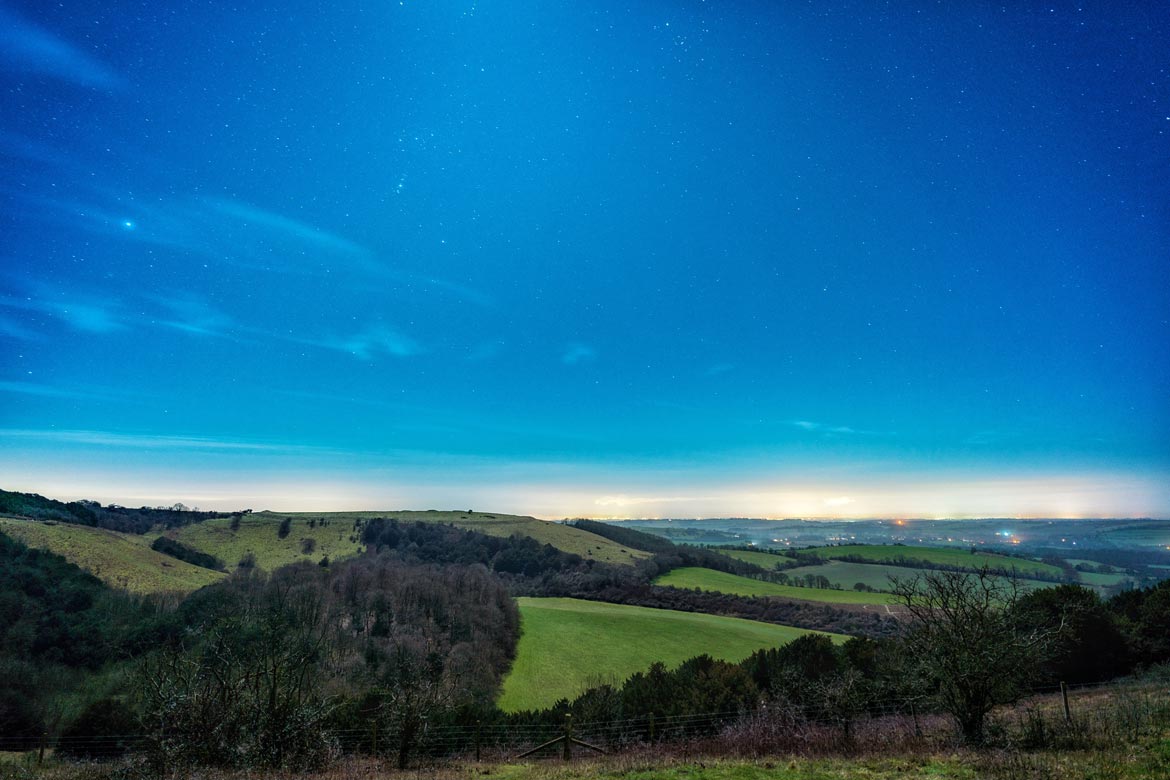 The best conditions for stargazing are very dark skies and lots of time to marvel at the stars. That's why winter is always considered the best time for it.
When I went stargazing at the beginning of February, it was pitch-black by around 8pm. That meant I could get in a good couple of hours stargazing before it got too late. Remember, a lot of the places you'll visit are out of the way, so you have to factor in driving to and from them.
In summer, because the sun sets around 9:30pm, it can get very late before the sky is dark enough to see the full spectrum of stars. Also, the sun rises a lot earlier too, so that window of opportunity for stargazing is a lot smaller.
Basically, that means the best time to go stargazing in England is December, January and February. Unfortunately it does mean it can be cold, but I promise you it's worth it!
Going stargazing in the national park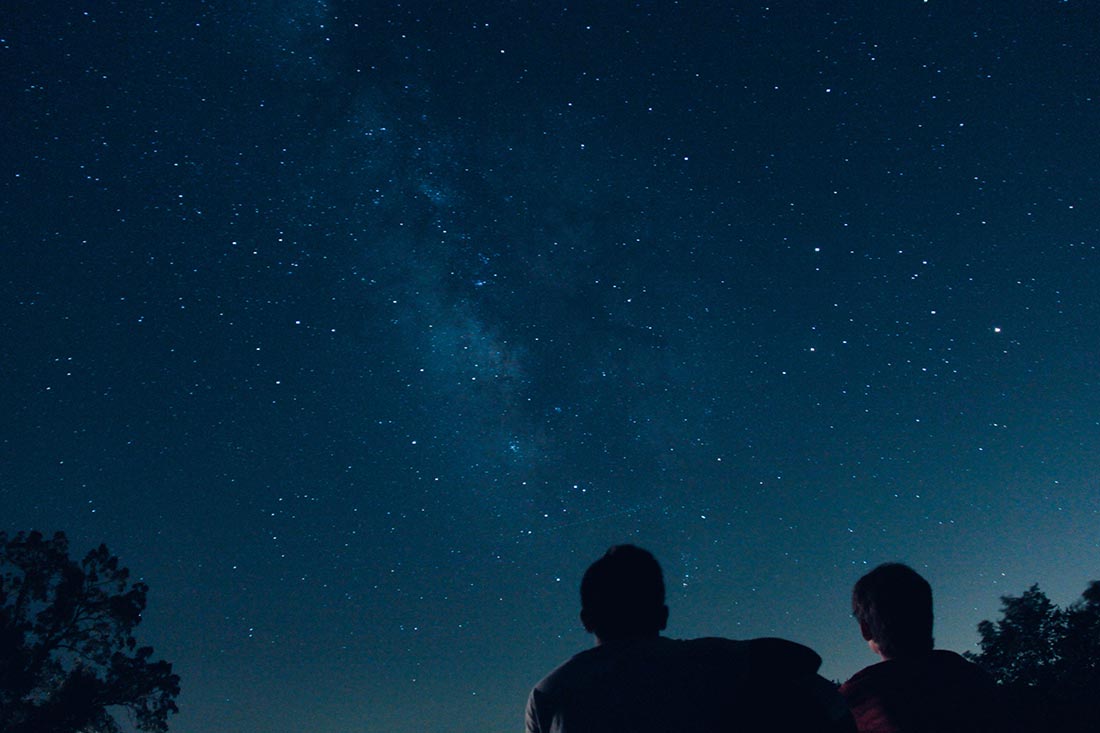 While I was on my Visit England microgap in the South Downs, I went stargazing a couple of times. One was on my own and one was with a guide.
The session I had with a guide was incredible. We met our guide Dan Oakley (unofficially known in these parts as Dark Skies Dan) at Old Winchester Hill and he taught me so much about the night skies.
For example, Sirius, the dog star, is the brightest star in the sky. I always thought this was the north star but I was completely wrong. Also, J.K. Rowling named Sirius Black after the dog star – a lovely little Harry Potter fact that one. It was great learning all about the constellations and Dan was so enthusiastic. He really made me want to learn more about our night skies.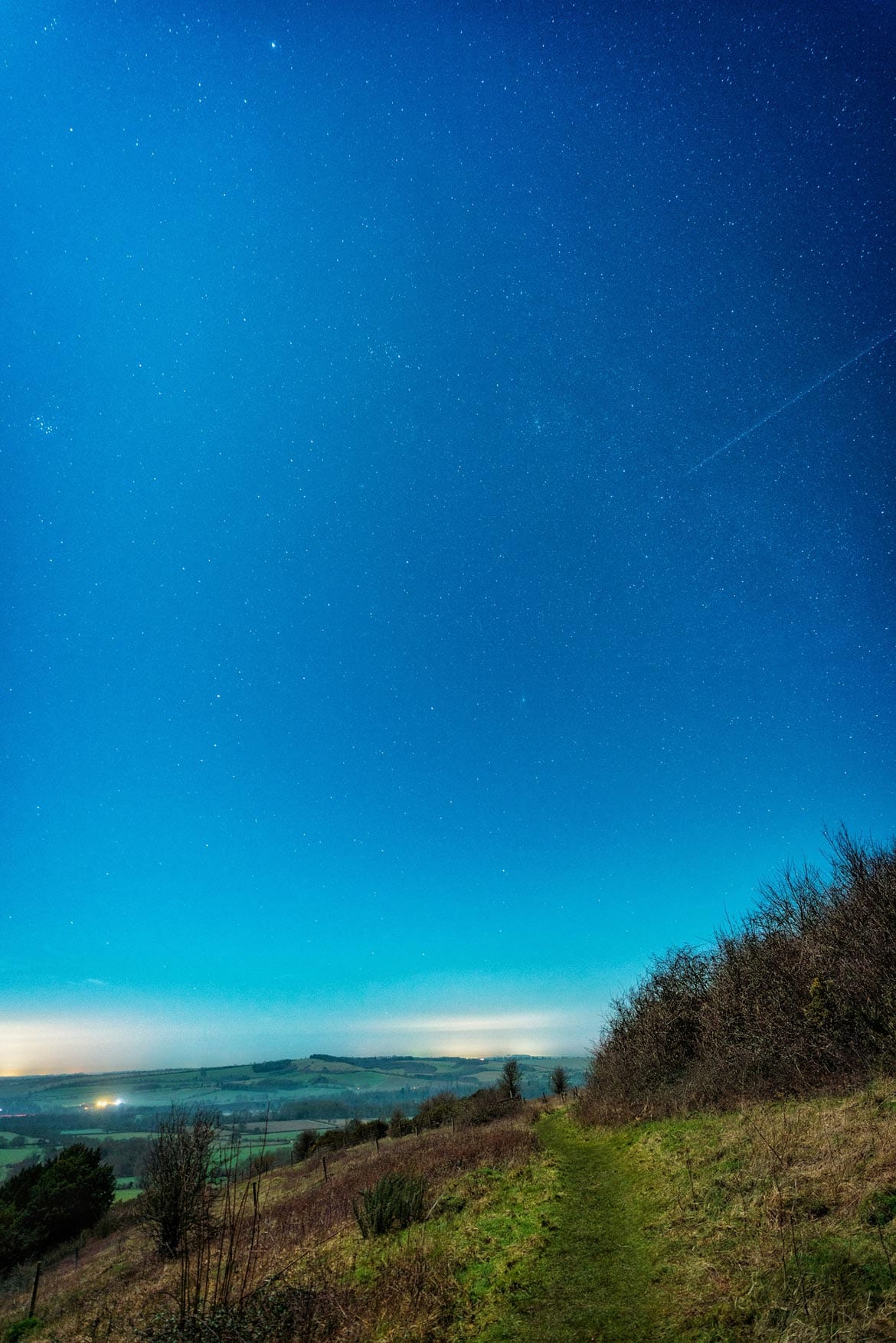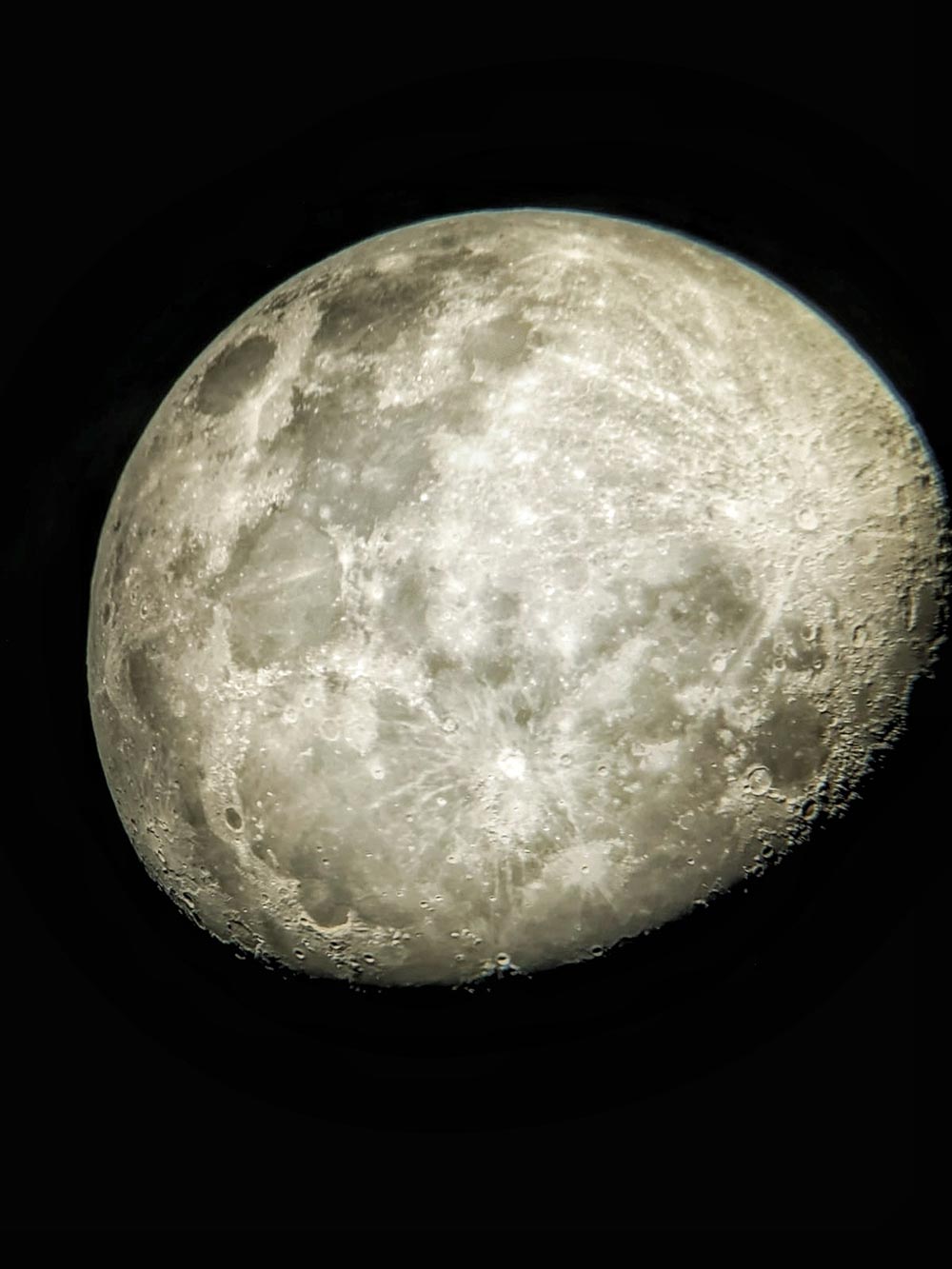 Dan also brought a couple of his telescopes along so we could study space in a bit more detail. First we looked at the moon which was unlike anything I've seen with my naked eye. Just being able to see all the lumps and bumps on the moon make this experience worthwhile. Hopefully this photo will show you what it's like – I took this on my phone through the telescope itself. How crazy is that!?
We also learned about nebula and what to look out for in different stars. Unfortunately we didn't see the Milky Way as it was a little too light. Dan said this is the most beautiful thing you can see in our night sky, so I guess that means we'll have to come back again!
A few other spots that are fantastic for stargazing within South Downs National Park are Bignor Hill, Ditchling Beacon and Devil's Dyke.
South Downs Dark Skies Festival 2021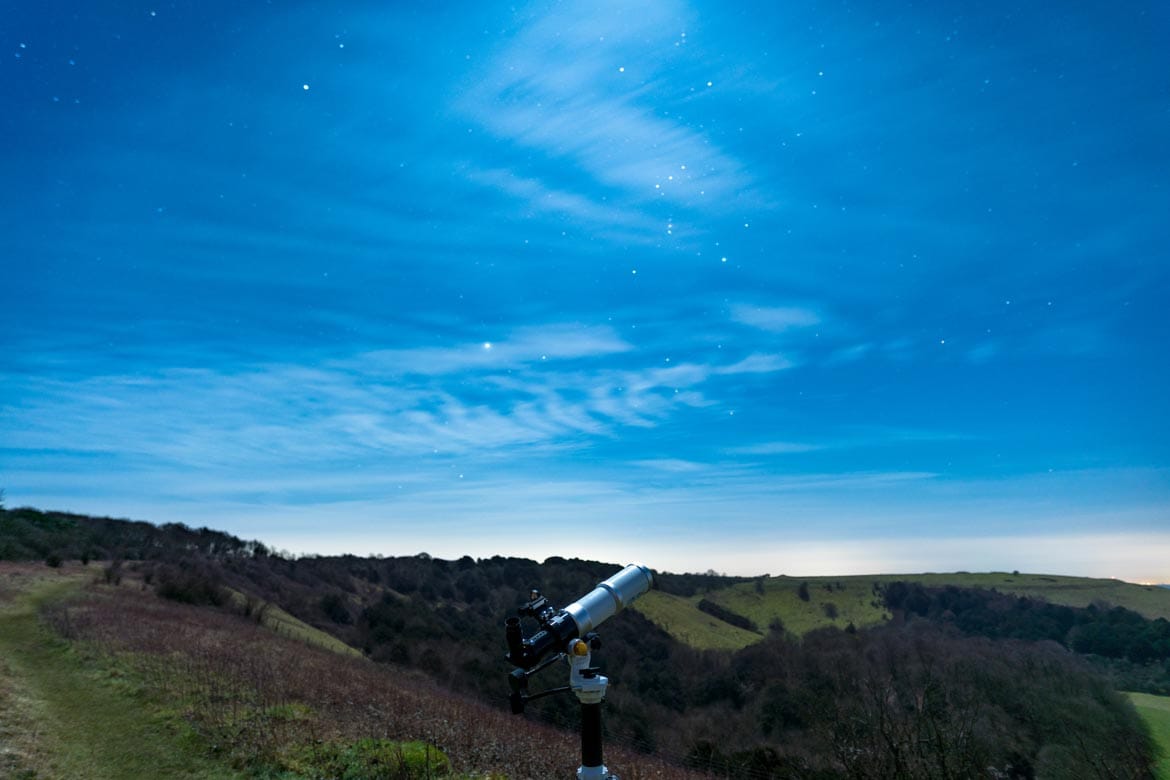 One of the best ways of going stargazing and learning about our night skies is at the South Downs Dark Skies Festival. This is a two-week festival held every year in February. The dates for the South Downs Dark Skies Festival 2021 haven't been announced yet, but I'll be sure to update this post as soon as they are.
Usually there are loads of events, talks, seminars and sessions at the dark skies festival. The best thing is that even though you have to pay for some events, the majority of them are free. They really want you to learn all about stars in a safe and enjoyable environment, so it's a great way to get a taster. Also, this makes it absolutely perfect for families with little ones.
Some events are weather dependent, so make sure you check before you go, especially if it's going to be cloudy. Also, some events need to be booked in advance. The free ones can be pretty popular, so make sure you sign up early.
Obviously if you're not around for the South Downs Dark Skies Festival then you can still go stargazing on your own. I'd recommend visiting the Old Winchester Hill. This is one of the most popular spots to visit in the national park.
Top tips for South Downs stargazing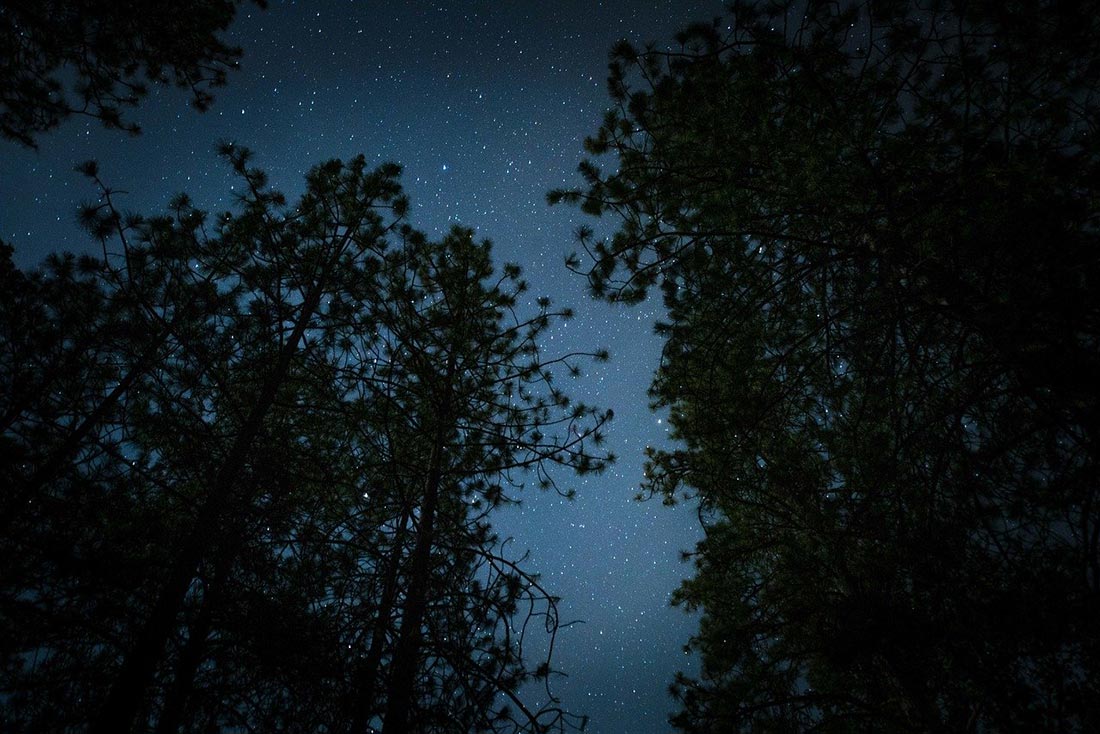 It goes without saying, but wrap up very warm. I would recommend bringing a hat, scarf, gloves and a thermal under layer too. I had about 4 different layers on and I was still a bit cold.
If you want to get the full experience, take a blanket or mat to lie on. Then you can lay back and try and count all the stars above you.
If you can, bring along a thermos of hot chocolate. It's a really good way of warming up and it adds a little bit of magic to the night too.
Don't forget to take a torch with you. You'll need this for walk back to and from the car park when you're stargazing.
If you're on your own, I'd recommend using a star constellation map. This uses your phones GPS location to work out the constellations above you. The Google Skymap is a fantastic app for your phone.
Check the phase of the moon to help plan your trip. Stargazing is best when the sky is darkest, so you want the moon to be a tiny slither. Usually the moon is far too bright for stargazing when it is a full moon.
Always allow time for your eyes to adjust to the darkness around you. This usually takes around 20 minutes, so turn off any lights, torches and put your mobile phone away.
Make sure you enjoy it! Stargazing in South Downs is one of the most mesmerising experiences I've done; I'm sure you'll think so too!
---
I really hope you found this guide useful, and if there's anything I can help with at all just let me know in the comments below. Oh, and enjoy the stargazing – this really is one of the best places to do it in!
Enjoyed this post about stargazing in the South Downs? Pin it for later…