From abandoned forts to luxury glamping sites, these are some of the most unusual romantic weekend breaks in the UK for your next trip.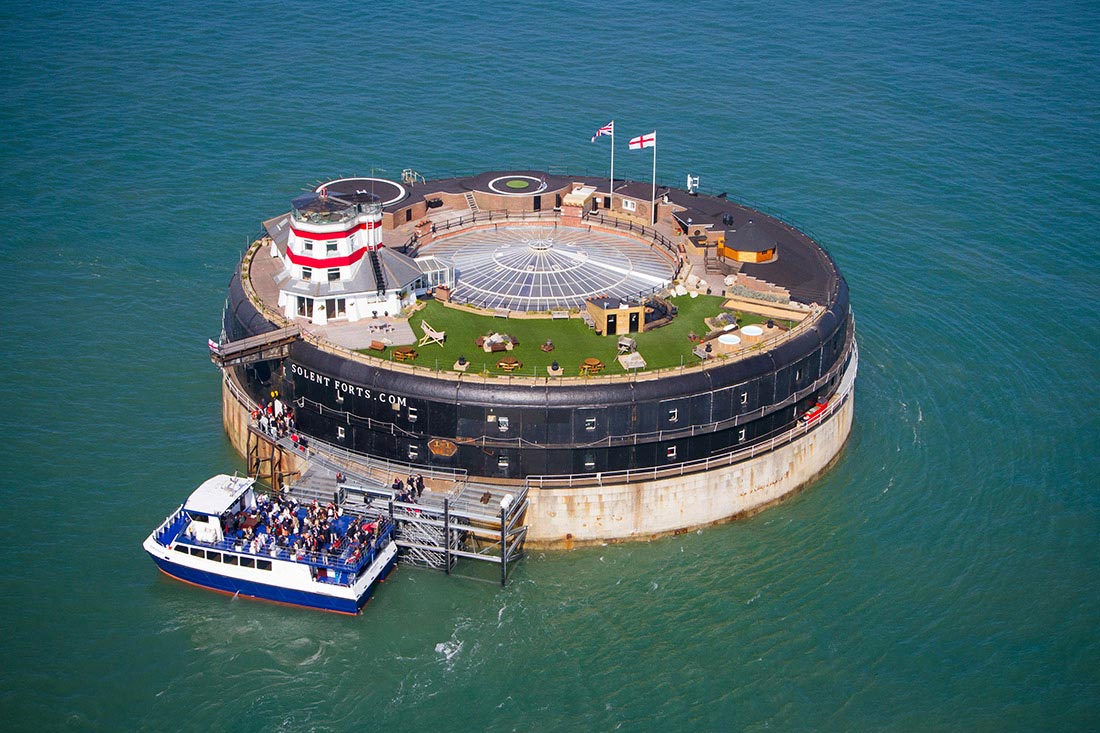 I think it's fair to say Chloe and I have clocked up a fair few unusual romantic weekend breaks in the UK since we first started dating 5 years ago. Obviously it comes with the territory of being travel bloggers, but we genuinely love finding unique places to stay at close to home.
Over the last few years people have been moving away from traditional weekends away towards something much more memorable.
From luxury glamping sites to staying in a haunted house, these are the types of places you want to tell your friends about, not the posh 5* hotel that everyone's stayed at.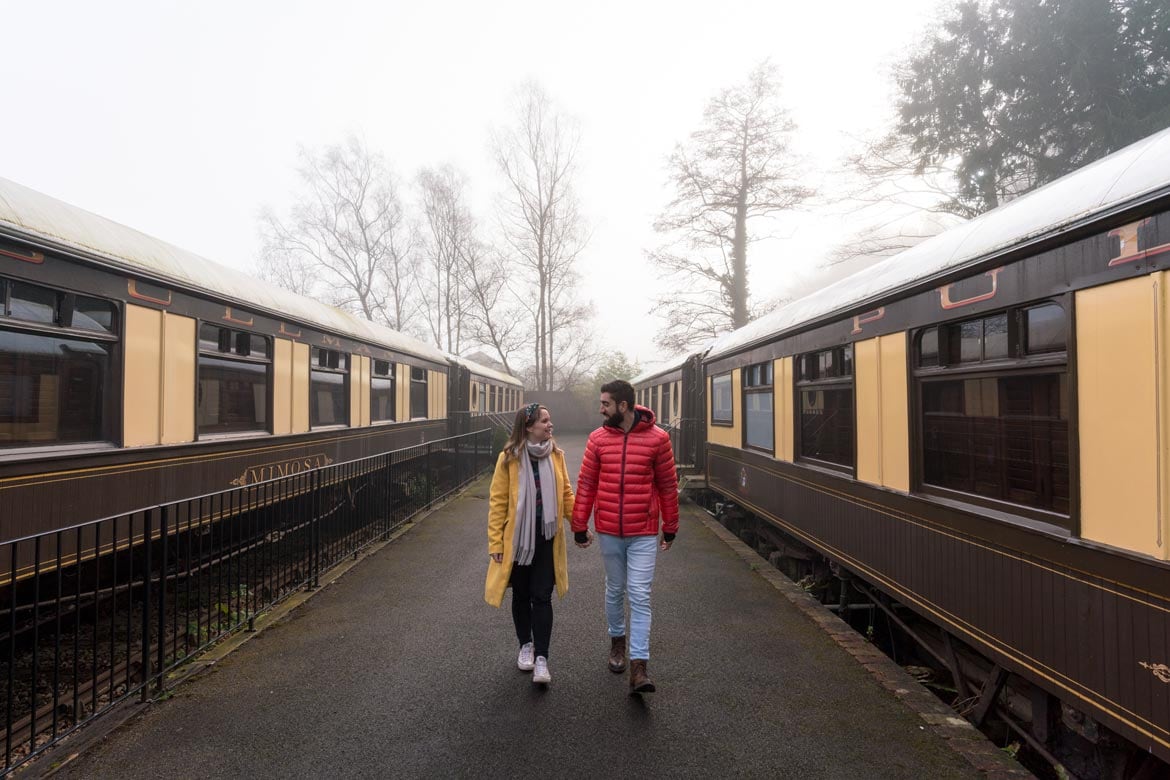 It sounds strange, but some of our most popular trips have been while travelling around Great Britain. Yes, places like Dominica and Indonesia are beautiful to look at, but only a fraction of people follow in our footsteps and travel there.
However, everyone loves it when we stay someone much closer to home. Everyone always seems so amazed when they find out that there are all these unique places to stay at in the UK.
That's why we wanted to put together the most unusual romantic breaks in the UK. For those of you looking for a unique romantic getaway then this is a great place to start.
Hopefully this will inspire you to stay in somewhere completely different. One thing's guaranteed – stay in one of these places and you're in for an amazing time!
---
Unusual Romantic Weekend Breaks, UK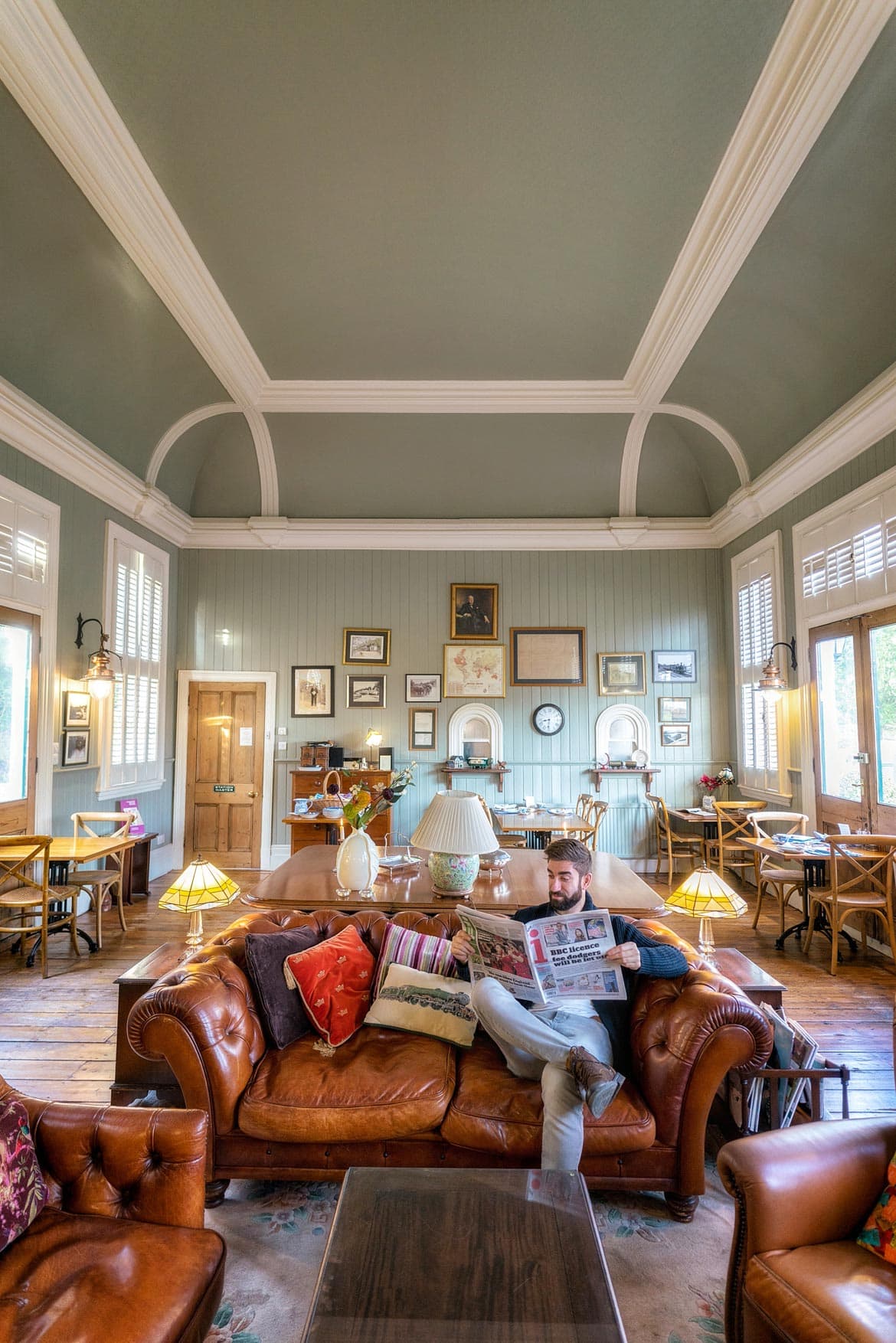 First up on our list is The Old Railway Station in Petworth in the South Downs. This is genuinely one of the coolest places I've ever stayed at.
As the name suggests, The Old Railway Station is, well, an old converted railway station. The Old Railway Station became a hotel in the 1980s and its been charming passengers ever since. The old waiting room is now the breakfast area. The platform is an outside terrace perfect for afternoon tea in the summer. But best yet, the old Pullman carriages are the bedrooms. How cool is that!?
Going to sleep on an old train carriage was such a cool experience. It felt like I was on the Orient Express, just stationary. If you're looking for a unique place to stay I really can't recommend this place enough.
Also, it's the perfect place to base yourself when exploring all the South Downs has to offer.
Check availability & latest prices now
AirShip 002, Drimnin, the Scottish Highlands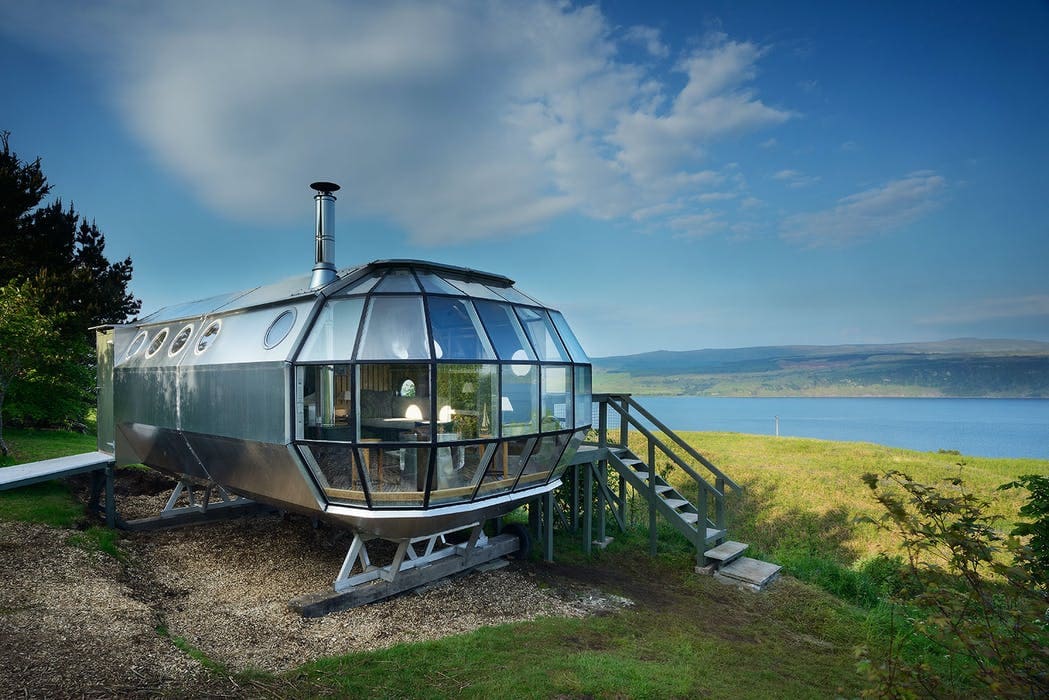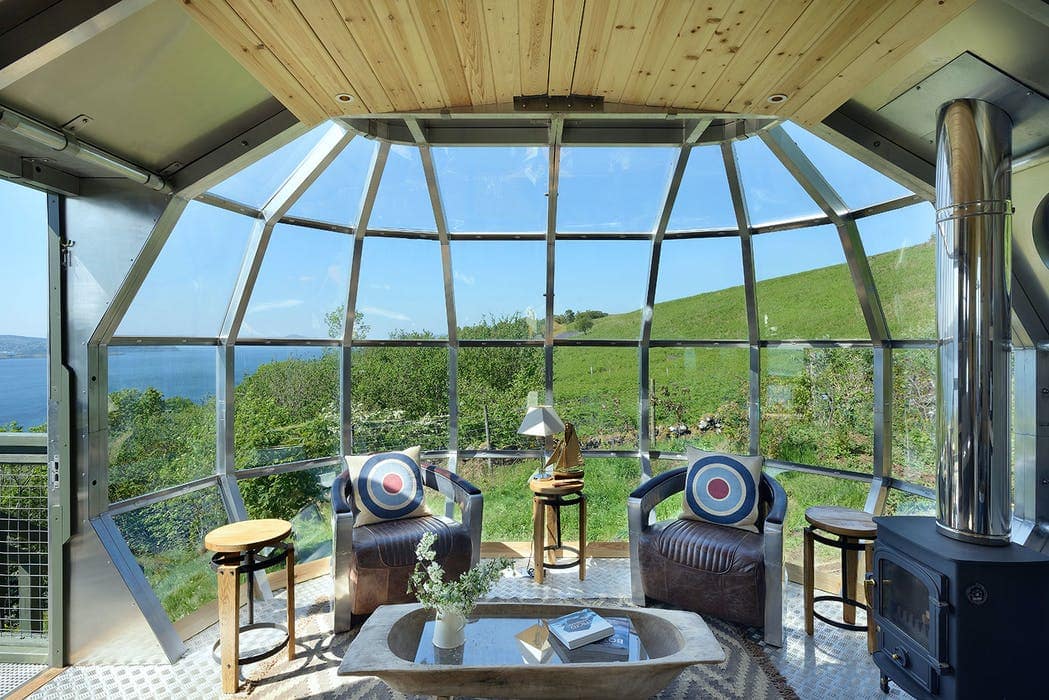 For those of you looking for a romantic remote Scottish retreat, then this is the place for you.
Dubbed the most unusual accommodation in Scotland, the AirShip 002 is a contemporary cabin up in the Scottish Highlands.
With stunning views over the Sound of Mull, the AirShip is just gorgeous. It's almost a cross between a James Bond lair and a futuristic space pod. The building has curved glass windows at either end providing views of the Isle of Mull. There are a number of portholes dotted throughout the offer glimpses of the landscape too. This is particularly beautiful at night when you can stargaze. And yes, you can sleep directly under the stars.
The kitchen is simple but contains all you need for a self-catered stay, including an induction ring, combined oven/microwave, fridge, toaster and Nespresso coffee machine. Obviously you can't beat those views with a cuppa in the morning.
The AirShip is on a 4-acre site, so as you can imagine there are some fantastic walks in the area too. As I said, this really is the perfect place for a romantic getaway in Scotland.
Check availability & latest prices now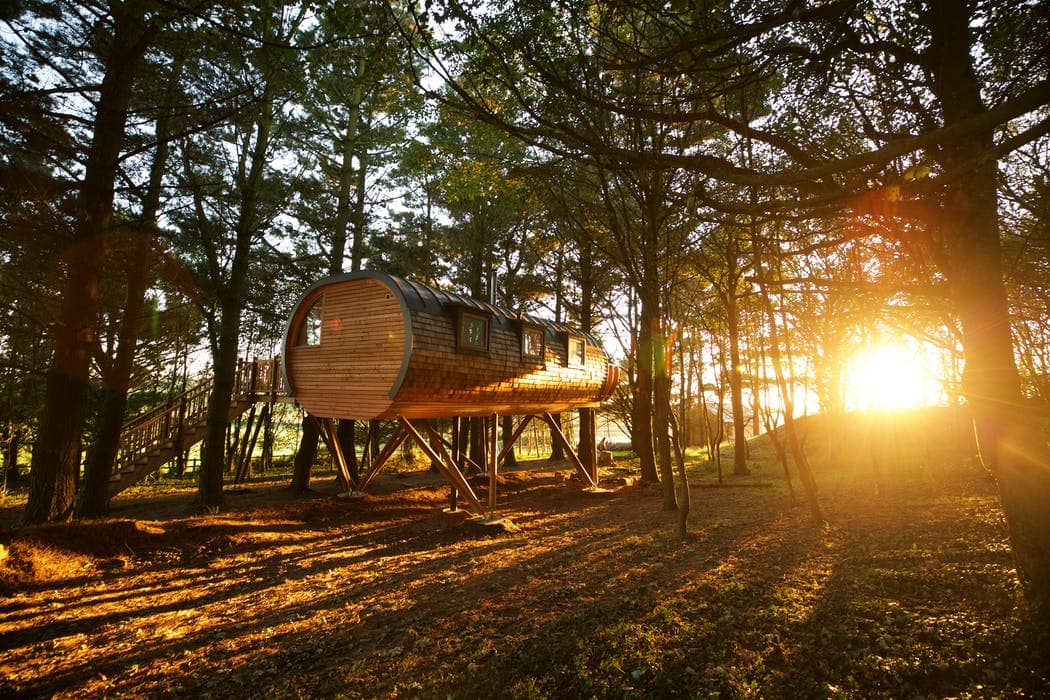 When I was younger my brothers and I tried to build our own treehouse in the back garden. All it essentially was was a few planks of wood very badly hammered into a tree, but we absolutely loved that treehouse (if you can call it that). I feel like The Treehouses at Pickwell Manor might be step up on our one though!
Hidden deep in the woods of Pickwell Manor in Devon, a 10th century mansion with gorgeous views of the ocean, are these treehouses that'll enchant anyone who visit here.
There are three treehouses that look like they are suspended in the trees and they completely blend in with their surroundings. Each treehouse comes with its own woodland terrace too perfect for afternoon drinks or dinner.
The interiors ooze with a natural luxury and boast sumptuous beds, modern kitchens and cosy wood burners. This is such a unique romantic getaway and perfect for all those big kids who love being in the heart of nature.
Check availability & latest prices now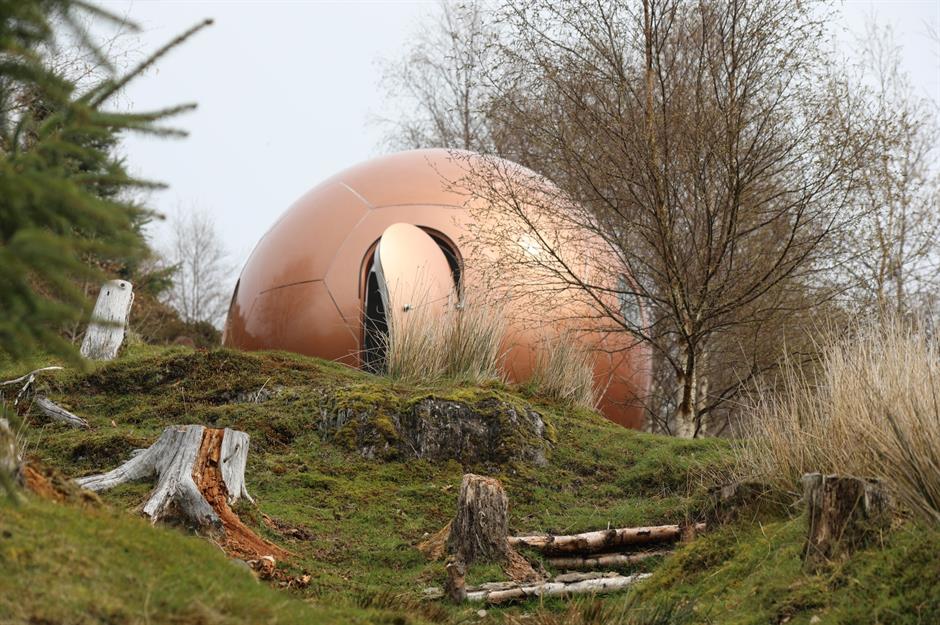 This one is pretty out there. The Conker is, well, a weird giant conker house in the middle of Powys, Wales.
It might not look it but The Conker is actually a state-of-the-art copper house that's packed full of mod-cons. Located on an 80-acre conservation in a remote Welsh valley, the Conker is an eco-friendly and sustainable house which is completely waste free.
The conker features a Scandi-style log cabin bathroom with countryside views, a Swedish-style composting loo and a woodfired pizza oven if you fancy a homemade slice.
The views of the Welsh countryside are just amazing. This is definitely one of those places where you can switch off from the world around you and just immerse yourself in nature.
This is a truly off-the-grid experience and definitely one to share as opposed to on your own. I would say this place is perfect for those lusting after some creative thinking, wildlife-watching or a digital detox.
Check availability & latest prices now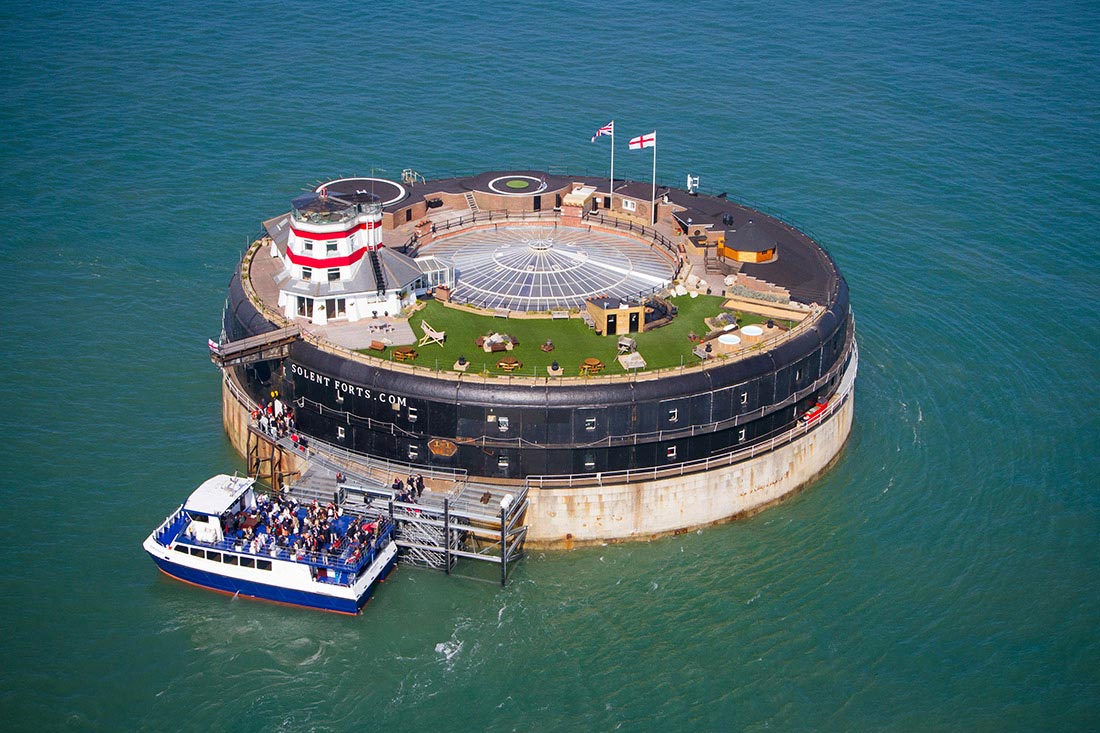 I think No Man's Fort looks like a villain's lair from a James Bond film.
As the name suggests, No Man's Fort is a Victoria-era fort out at sea between Portsmouth and the Isle of White.
Originally built between 1867 and 1880 to protect Portsmouth from attack from Napoleon III, today it has been turned into a modern luxury hotel.
With 22 bedrooms to choose from, a lighthouse penthouse suite at the top, a nightclub, a hot tub and a laser quest arena (yes, you read that right), No Man's Fort is one of the most unusual romantic weekend breaks in the UK.
The restaurant here is top notch and it's surprisingly much more secluded than you might think being in a fort. Also, you get some amazing views of Portsmouth and the Isle of White too.
As I said, it's a bit like James Bond's lair out in the middle of the water… just a lot more luxurious.
Check availability & latest prices now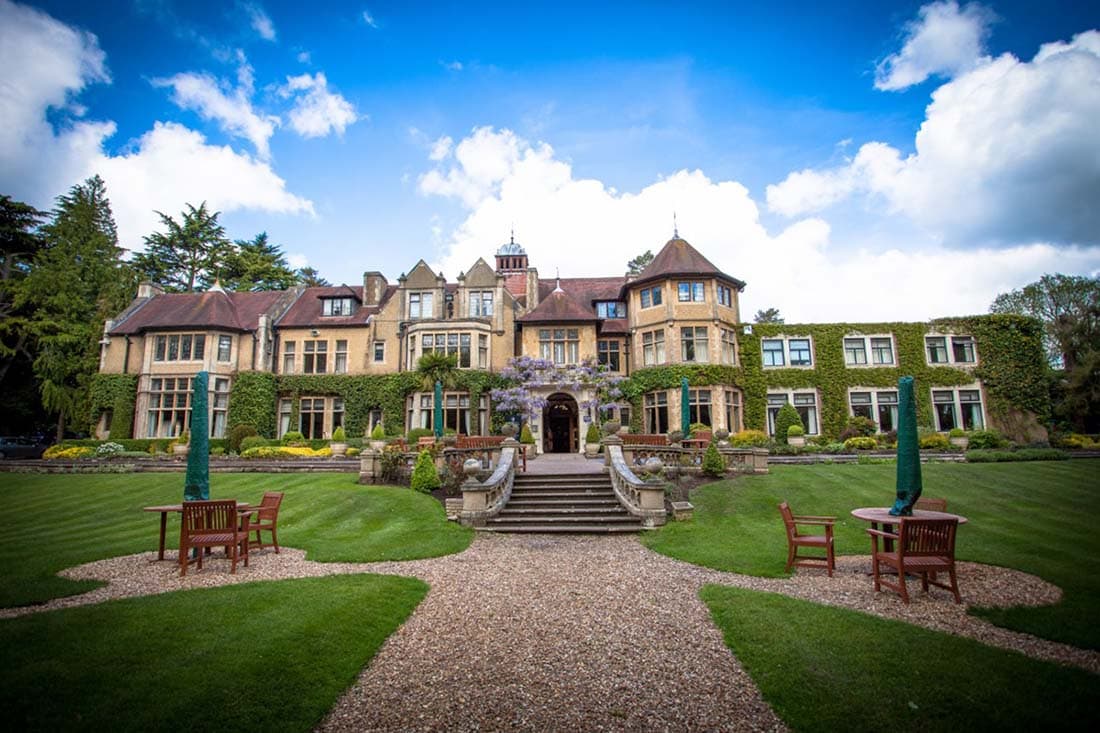 I couldn't resist adding in this Murder Mystery Break into our list of unique weekends away in the UK. This is definitely something Chloe & I would absolutely love to do.
This is a one-night murder mystery break at a gorgeous hotel in England. This experience begins with a cream tea where the mystery will start to unravel, and continue through to the next morning when it will wrap up at 11.00. You will also enjoy a three-course dinner and a full English breakfast.
Among the guests present there will be a number of professional actors playing the parts of the victims and suspects. What you need to do is work out who is the murderer and put forward your theory at the end. After the culprits have been revealed awards will be given for the best answers.
I mean, that sounds so much fun. For those of you looking to surprise your other half, this really would be a weekend to remember.
Check availability & latest prices now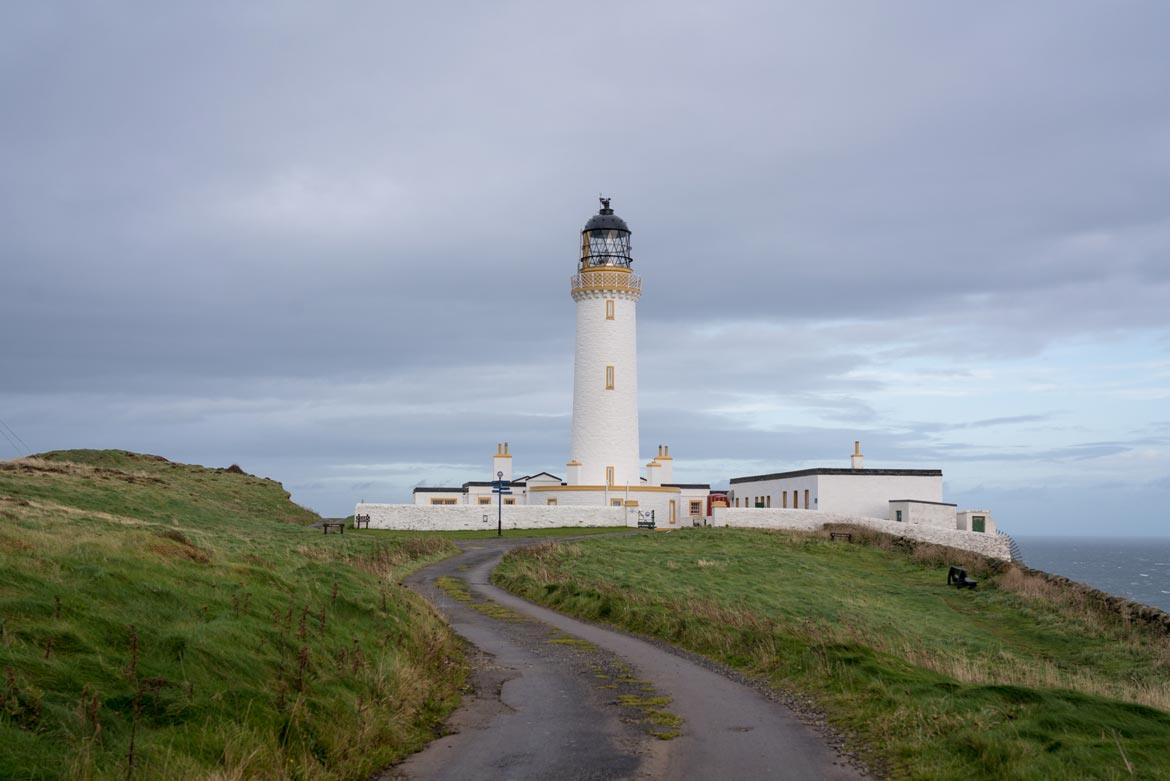 If you're looking for a remote place that's away from it all then this is the place for you.
One of the most popular places to visit in South West Scotland is the Mull of Galloway Lighthouse. This is the most southerly point in Scotland and it's really worth visiting on the South West Coastal 300.
A lot of people visit the lighthouse to climb to the top. From this vantage point, on a good clear day, you can see England, Ireland and the Isle of Man all from one spot. If you're lucky you'll also see porpoises and dolphins too so keep your eyes peeled.
However, there are a few rooms to rent in the old lighthouse keeper's cottage. This means you can stay in a working lighthouse right on the cliffs. The views of the coastline are something else and are what makes this region in Scotland so special. This is the only place for miles around so you really do have the place to yourself.
There's also a really nice café on the cliffs by the lighthouse so this is a good spot to stop for breakfast/lunch too. I feel like the Mull of Galloway Lighthouse has a bit of everything.
Check availability & latest prices now
The Edge, Cornwall, England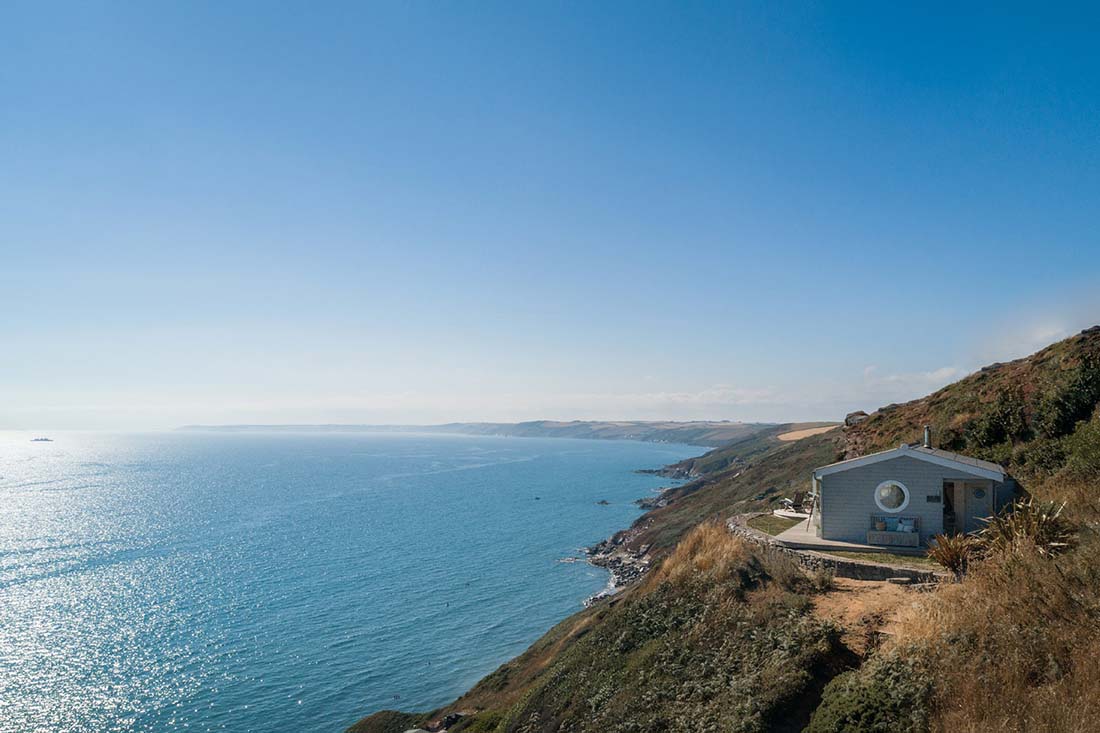 Cornwall is one of my favourite places to visit in the UK, especially on a romantic weekend away. Well, let me introduce you to this little lovenest – The Edge.
Nestled on the cliffs with a bird's eye view of Whitsand Bay, The Edge is the perfect place to rent for couples on their mini-moon or couples looking for a bit of seclusion.
One of the best things about this place is the hot tub with a view of the moon over the ocean. A relax soak at night with a bottle of bubbles is a must.
The views from this place are absolutely stunning. Most of the house has floor-to-ceiling windows so you really take in the views. To be honest with you, this is one of those places where doing nothing is doing something. As you can see, you'll struggle to find a more beautiful spot for a romantic weekend away.
Check availability & latest prices now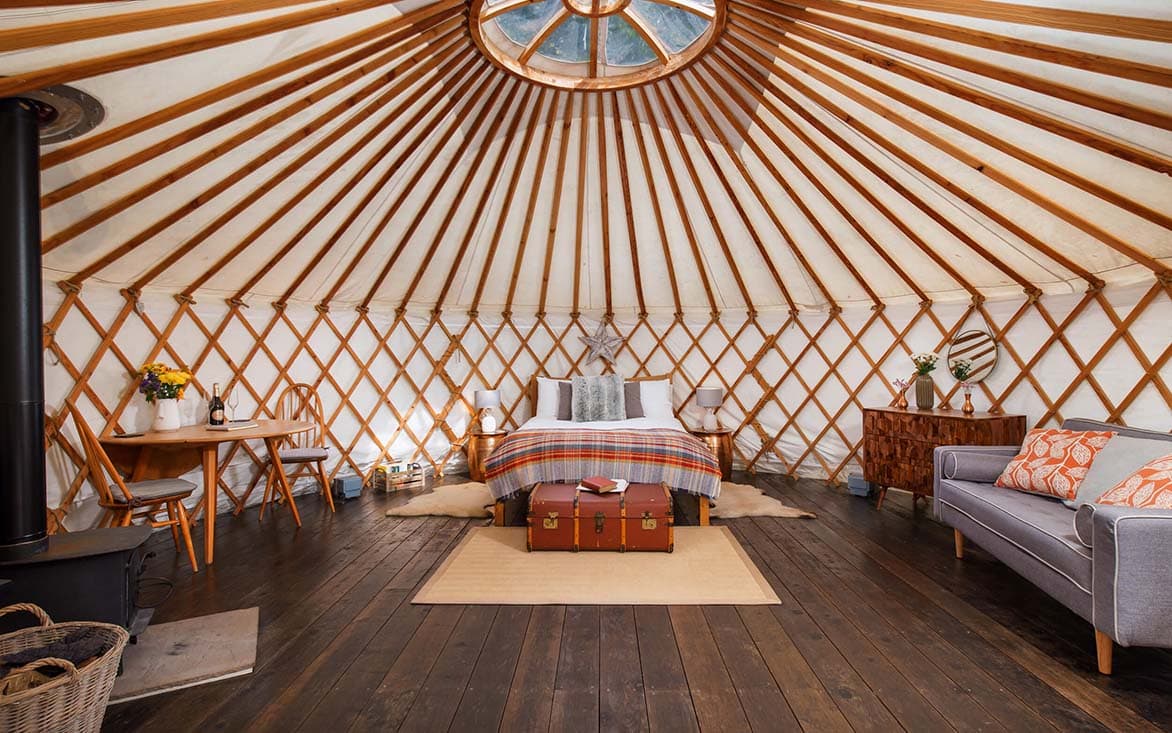 Obviously I had to feature a luxury glamping site somewhere here.
Larch Yurt in Somerset is a bit of a glamping spot with a difference. Part of a working organic dairy farm, the Yurt Retreat is home to two yurts and two roundhouses (each of which sleeps 2 people).
Stylish and cosy, the yurts and roundhouses themselves are the height of glamping luxury, with comfortable beds, handmade furniture, hot showers and beautiful redwood decking. And yet right outside your door there is birdsong, an unspoilt view and a clear sky full of stars. It's hard to imagine a more enchanting setting.
One of the best things about this place is the woodland sauna where you can really relax and unwind for the afternoon. This is one of the best glamping sites in the UK. If your partner doesn't like camping, then they'll love glamping.
Check availability & latest prices now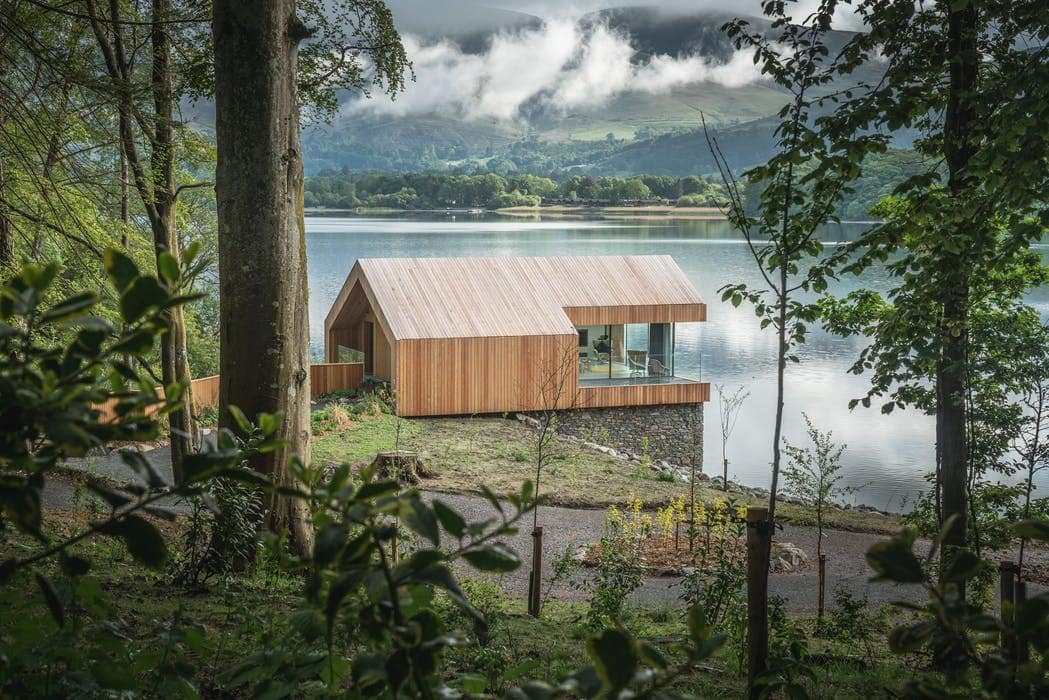 For me, this is one of the most romantic weekend getaways in the UK.
Lingholm Boathouse is a modern one-bedroom apartment overlooking a lake at Derwentwater. One side of the apartment is full glazed with floor-to-ceiling windows giving you uninterrupted views of the lake and surrounding fells. Honestly, the views from this place are absolutely astounding.
The beautiful, modern apartment features a kitchen, living room, bathroom and bedroom with views over Derwentwater and the landscape beyond from every room.
One of the best spots is on the balcony. Grab yourself an early morning coffee and you can watch the mist rise off the lake. Magical doesn't do this place justice at all.
Check availability & latest prices now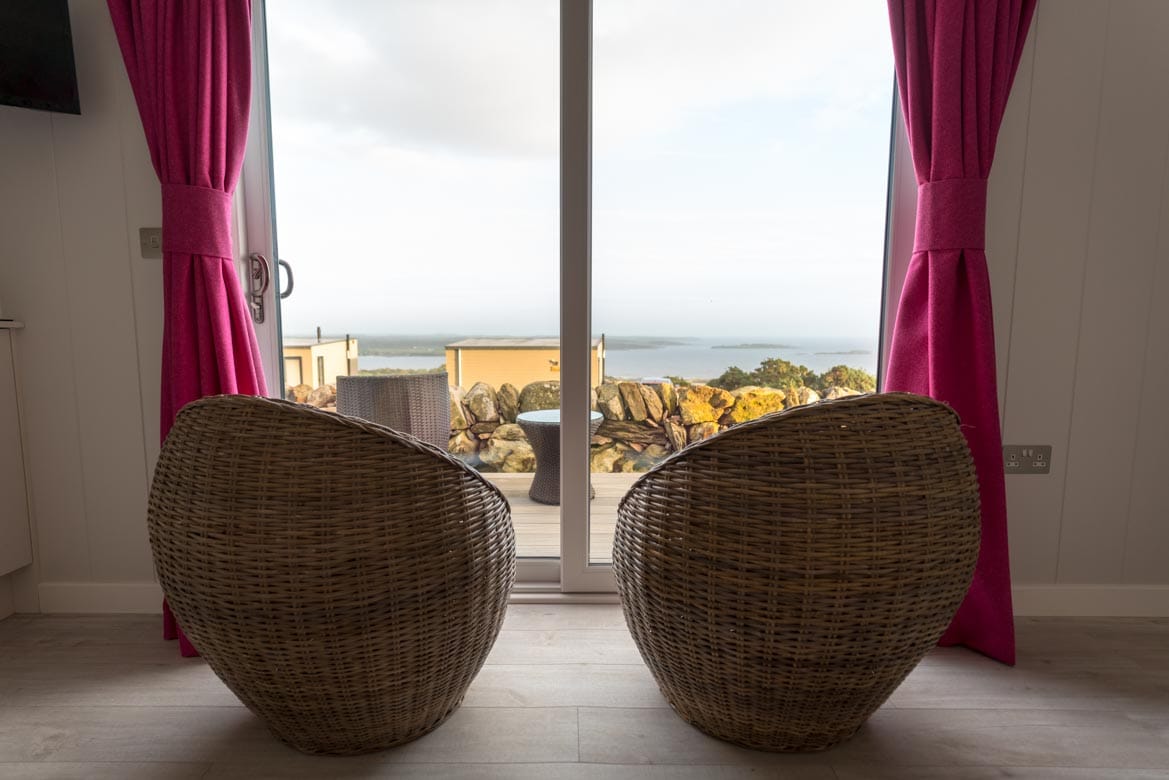 A place that is packed full of adventure activities in South West Scotland is Laggan Outdoors. Here you can do activities like archery, clay pigeon shooting, off-road segwaying (which looked so much fun), but I was here for something else.
Laggan Outdoors is home to the longest zipline in Scotland. This is 820m of fast-paced, adrenaline-fueled fun. There's nothing quite like throwing yourself off the top of a hill to get the blood pumping that's for sure.
At Laggan Outdoors they also have their own Sea View Snugs. There are 16 different cabins in total all overlooking the Irish Sea.
I stayed in the Heather Hut which was a really cute cabin perfect for solo travellers or couples. However, if you fancy a bit of luxury, a couple of the snugs come with their own hot tubs. Add in a bottle of wine, with that view, and you've got yourself the making of the perfect night in.
All the cabins are decorated differently and come with amenities like towels, toiletries and tea & coffee making facilities. Once again it is all about the views here.
Check availability & latest prices now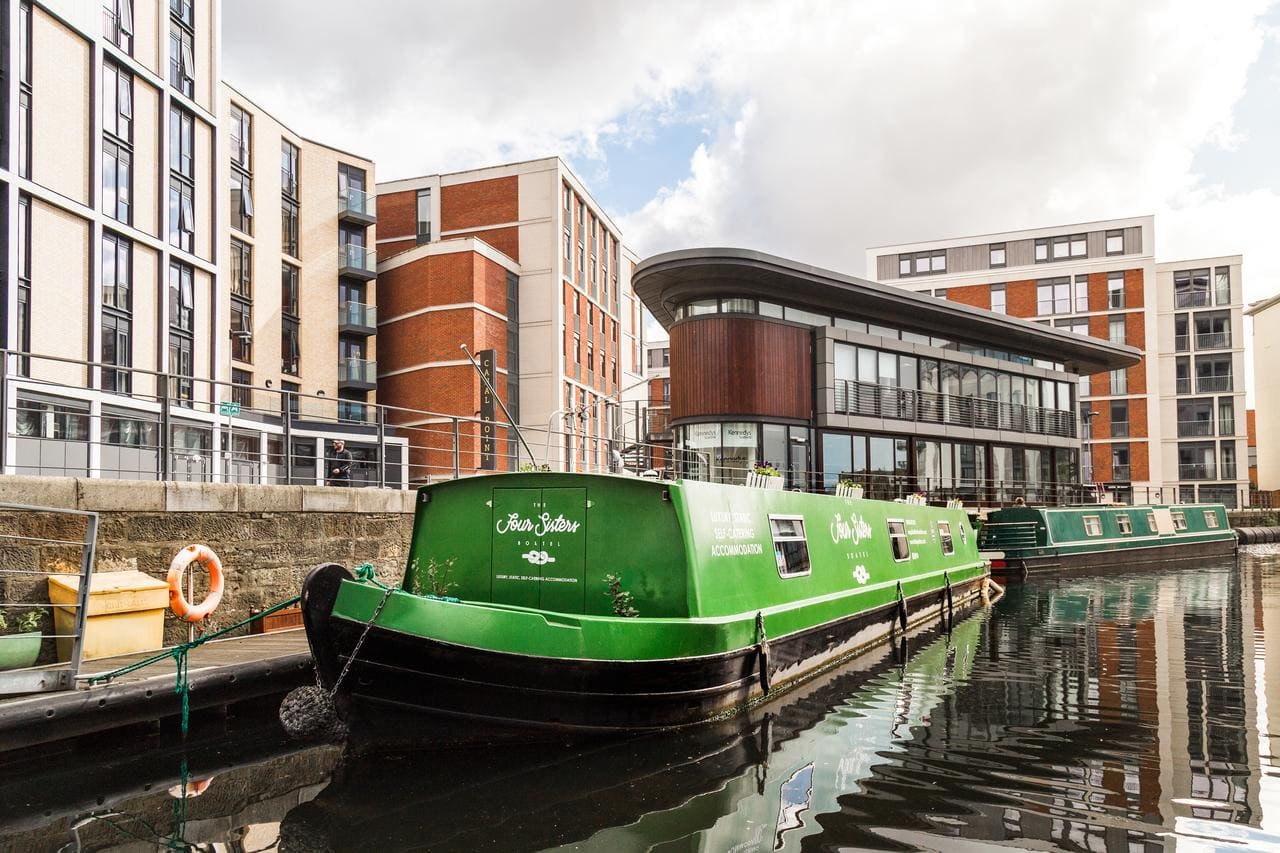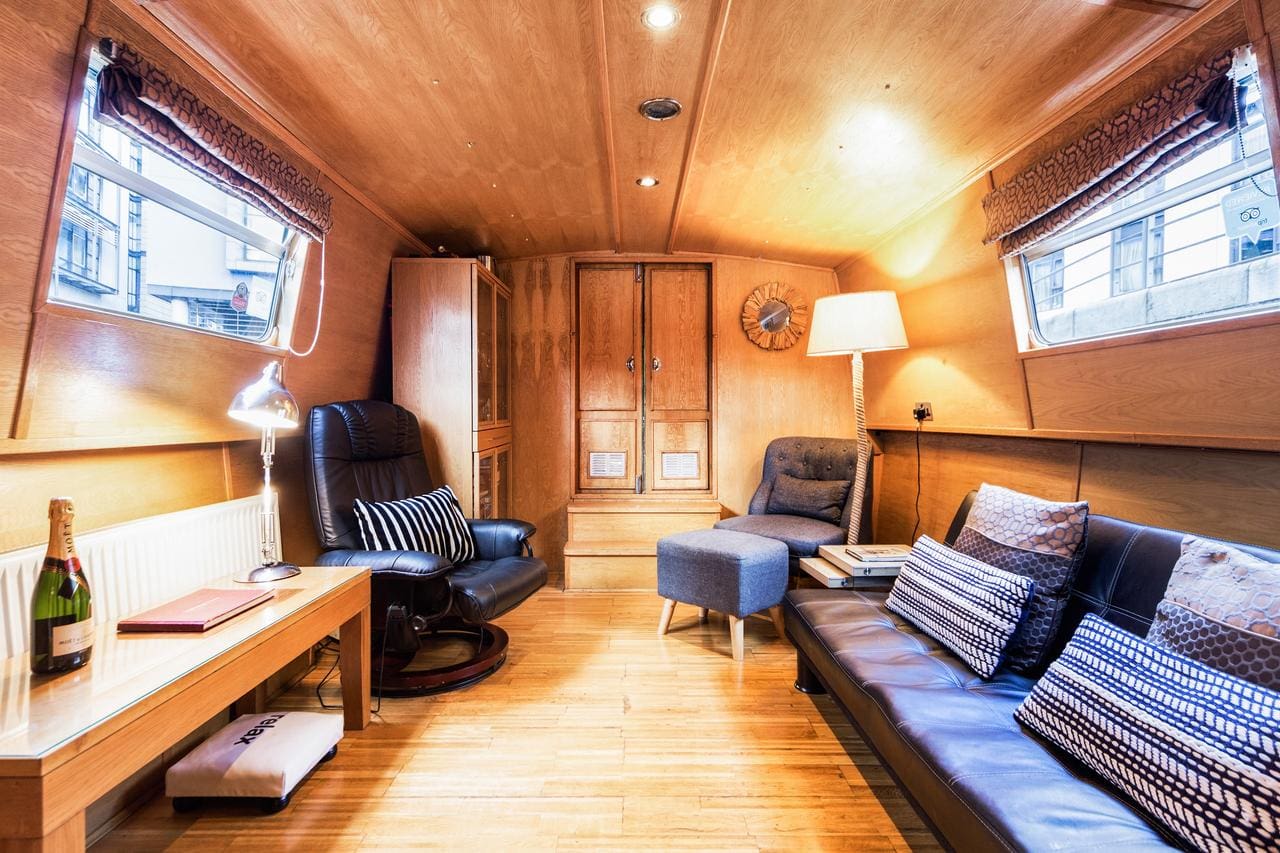 Obviously hotels and AirBnbs are 2 a penny in Edinburgh. However, if you're looking for a really quirky place to stay in Scotland then check out the Four Sisters Boatel.
This is a 4* self-catering houseboat located right in the heart of Edinburgh. Based in Edinburgh Quay, this place is only a 10-minute walk to Edinburgh Castle and 10-minutes from Princess Street. There are also some amazing restaurants all within walking distance too.
Inside the Four Sisters is a fully-equipped kitchen with a breakfast bar. The 2 separate cabin bedrooms are elegantly decorated, and there are 2 double bedrooms and a children's bunk bedroom making this perfect for a large family. It goes without saying but there's a heavy nautical theme throughout this accommodation.
For me, this is what fun and quirky accommodation is all about. You can't ask for a better location than this, and you get to stay on a houseboat. How cool is that!?
Check availability & latest prices now
Like this post? Then make sure you Pin it for the future!