The most unusual places to stay in Wales include a dragon's egg suspended from a tree, a hobbit house and an ancient castle.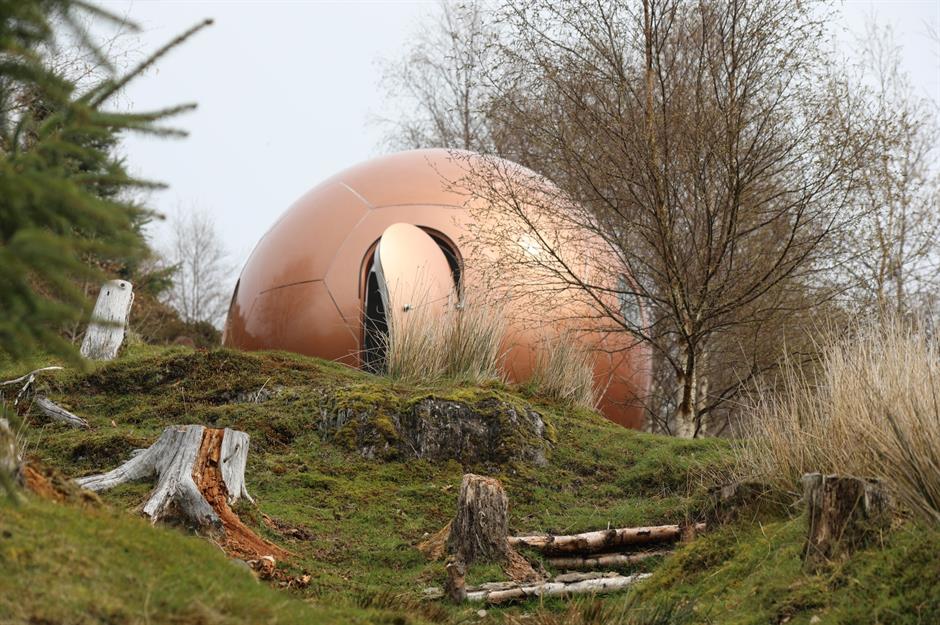 When it comes to unique accommodation, you really are spoiled for choice in Wales. There are weird and wonderful spots dotted around the country. You could enjoy a night in a yurt in west Wales, a weekend break in a castle in south Wales or even stay on board a floating hotel in north Wales.
We think a holiday is 100 times more fun when you stay somewhere memorable. We've had quite a few fun glamping experiences, in tipis, hobbit holes and even an old Pullman train carriage! We returned home from these trips desperate to tell our friends and family all about the experience!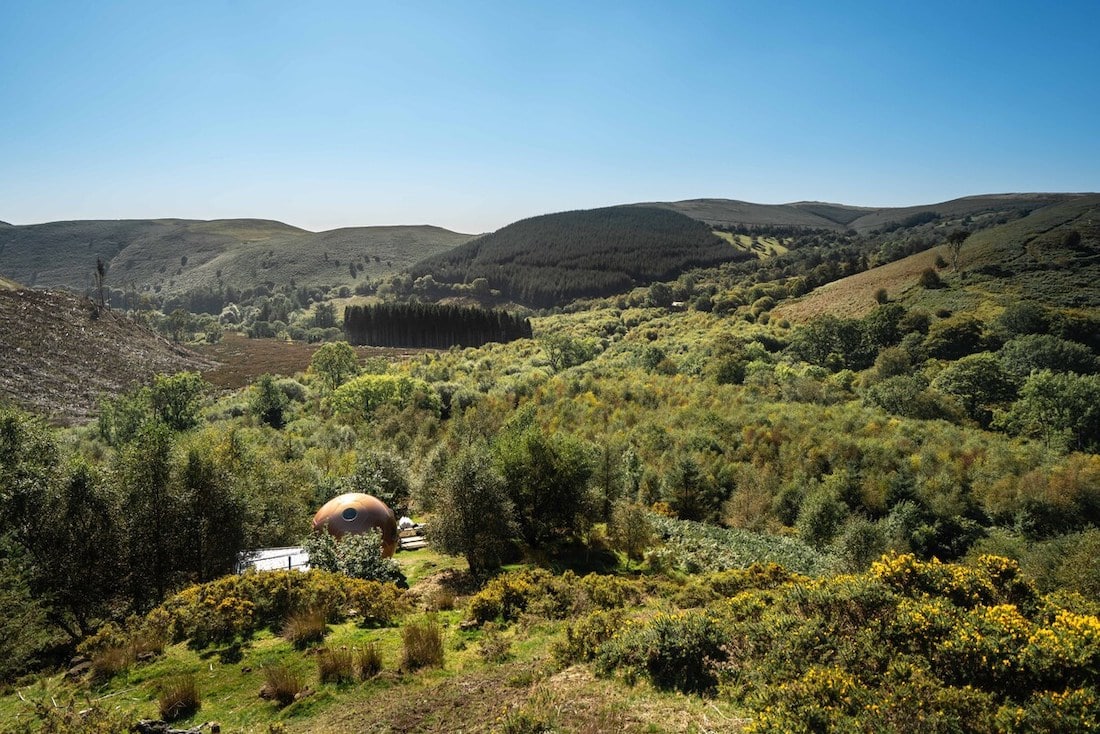 Thankfully there are plenty of options across Wales, all with great reviews and very reasonable prices per night. Most have stunning views, are dog friendly and great for couples or families.
So, whether you're feeling adventurous and want to get out in the wild, or you fancy playing king or queen of your very own castle, here are some of the most unique places to stay in Wales.
The Most Unusual Places To Stay In Wales
One of the most unusual places to stay in Wales is inside one of these tree tents suspended high above the canopy! You might recognise them, as they were featured on George Clarke's Amazing Spaces. They're seriously quirky and unlike anywhere you'll have stayed before.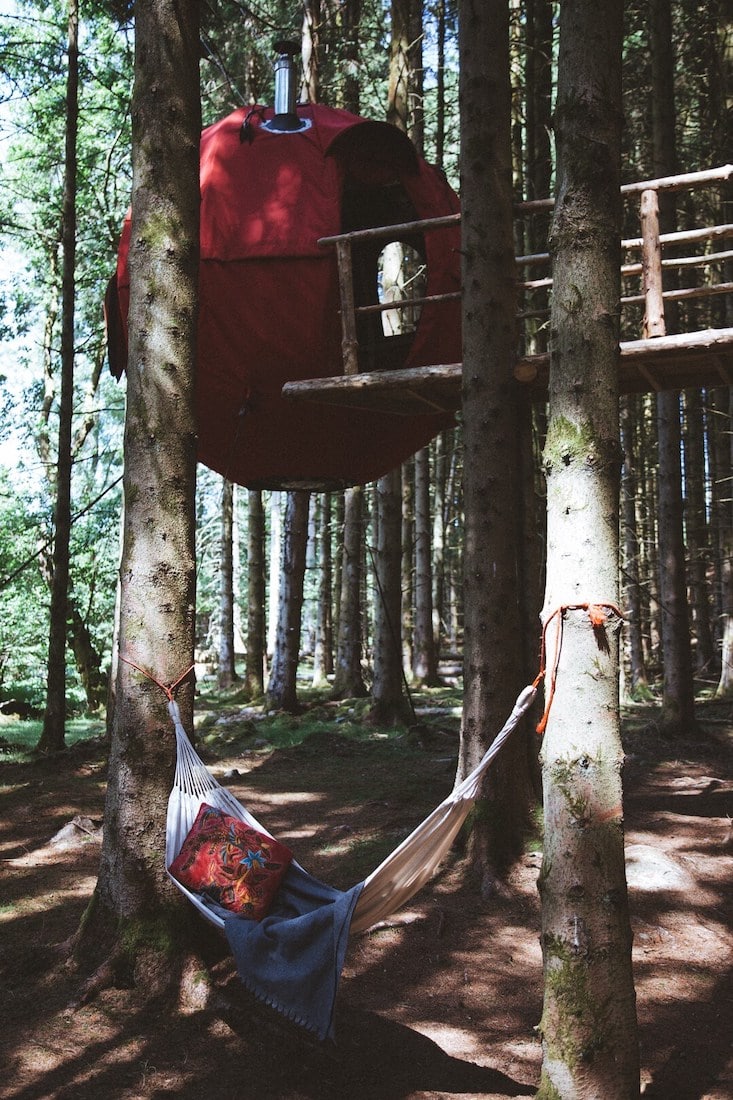 Inside the bizarre tents (themselves a feat of aviation technology) is a comfy bed and a cosy wood burning stove. Surrounding you is beautiful woodland, with a fire pit, outdoor kitchen and warm showers.
The tree tents are located in the beautiful region of Powys on the Red Kite Estate, where there are plenty of opportunities to see the wondrous birds for yourself.
This is one of the coolest and quirkiest places to stay in Wales, and perfect for a digital detox, or a break from the stresses of day to day life.
Check availability and latest prices at the Red Kite Tree Tents now
This adults-only beautifully-crafted glamping pod for two is located on a 90-acre farm, which is packed full of wildlife.
The pod itself has a luxurious feel, with its very own kitchenette, wood burning stove and an en-suite bathroom. During the day, enjoy walks through the Radnor Valley and Black Mountains. If you love nature, then you'll adore getting to know the resident herd of alpacas that roam freely on the land! There's plenty more to see here too, including woodpeckers, kites, deer and hares.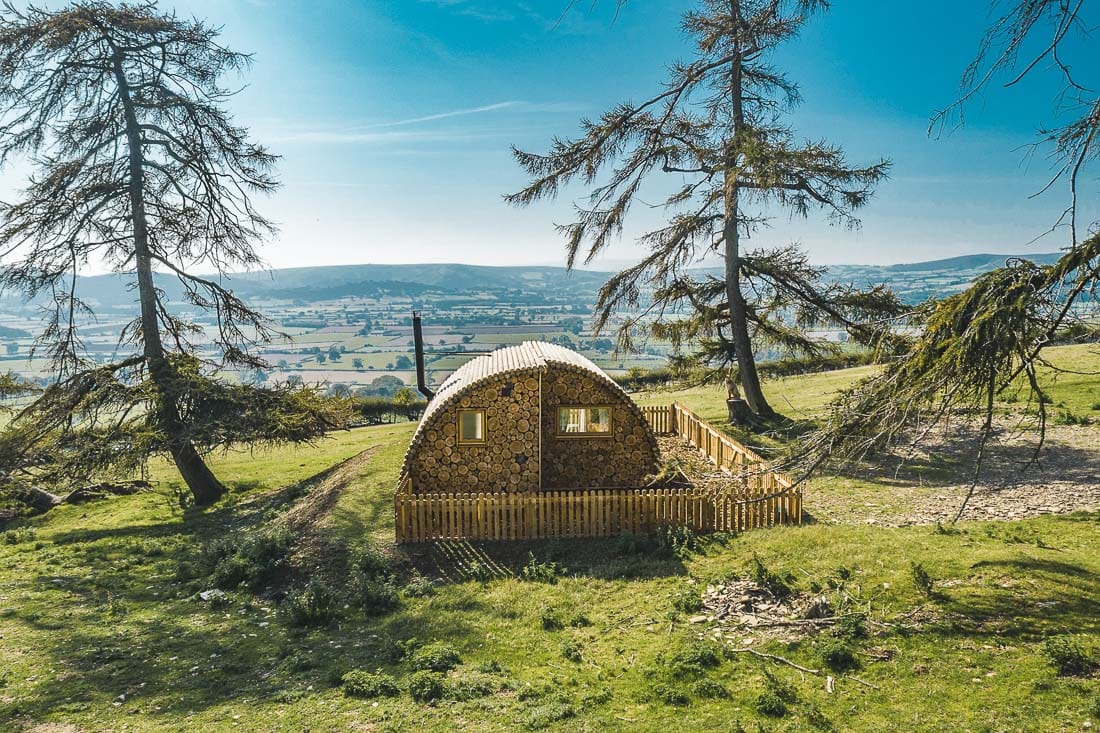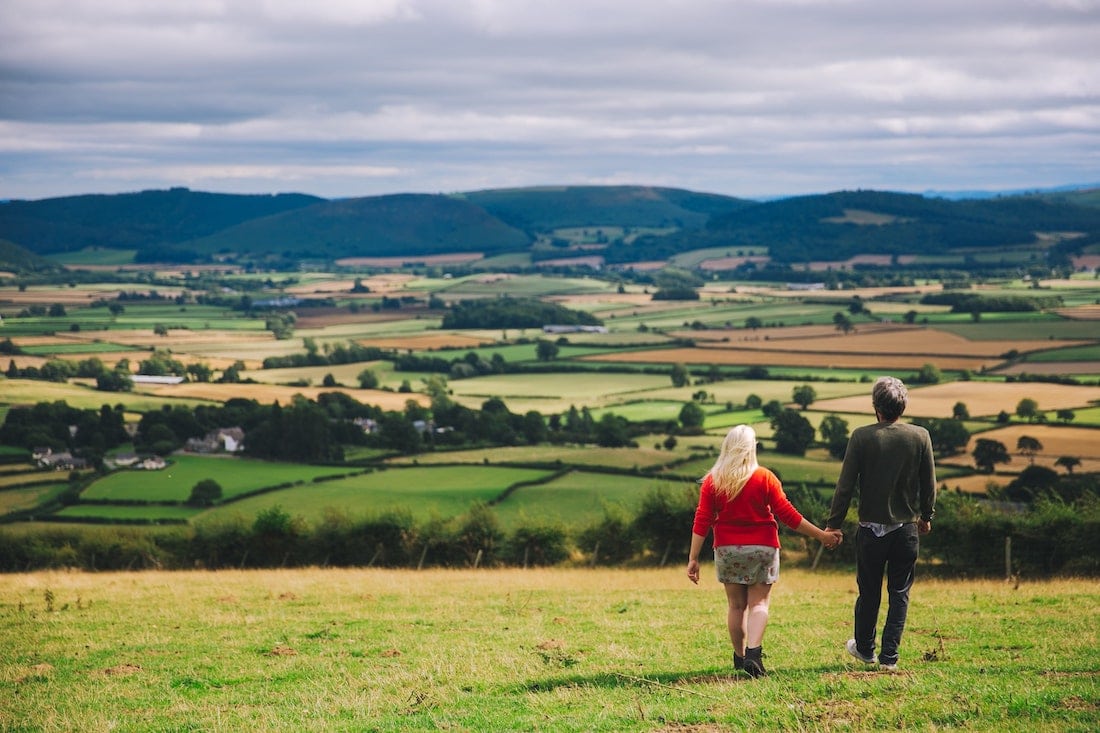 At night, this is the perfect place to snuggle up and get cosy with your other half. It's also in a dark sky area, known for its impressive night sky views. Gaze up in wonder as you spot shooting stars and planets from your adorable home from home in the mid-Wales countryside.
Check availability and latest prices at Hush Hush Glamping now
This gorgeous retreat makes a peaceful place for a weekend away in north Wales. The cabin itself has a double bed, but there's another space too – a Bodhi House made from recycled materials. This makes it perfect for two outdoor-loving couples!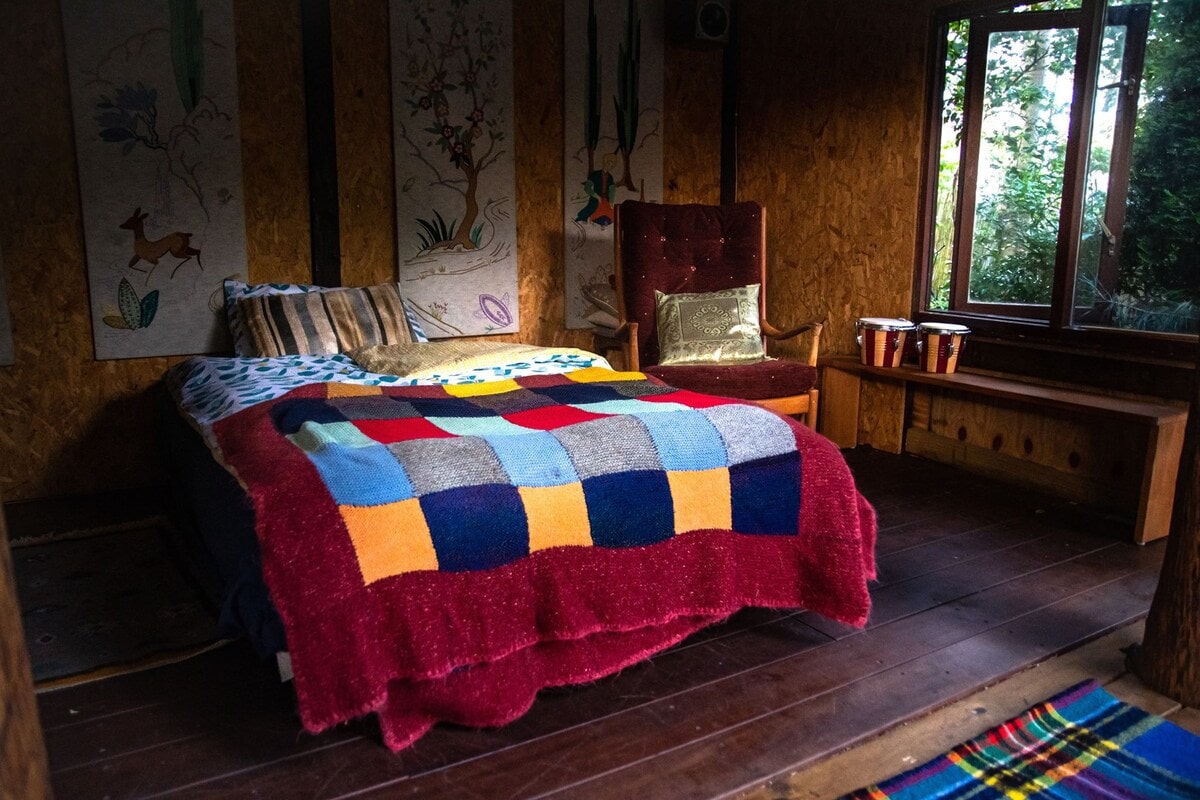 The two cabins are set within gardens, and have access to a hot tub, sauna and hammock.
The location is great too as you're close enough to Wrexham to have everything you need on the doorstep, but you'll feel world's away when you venture to bed in the adorable hut! If you're looking for a unique place to stay in north Wales, this secret garden retreat is perfect.
Check availability and latest prices at the Secret Garden Retreat now
Who hasn't dreamed of staying in a treehouse? This quirky tree-top glamping spot sleeps up to 6 people and is a super special place to stay. This characterful accommodation consists of 3 buildings all linked together via steps and decks.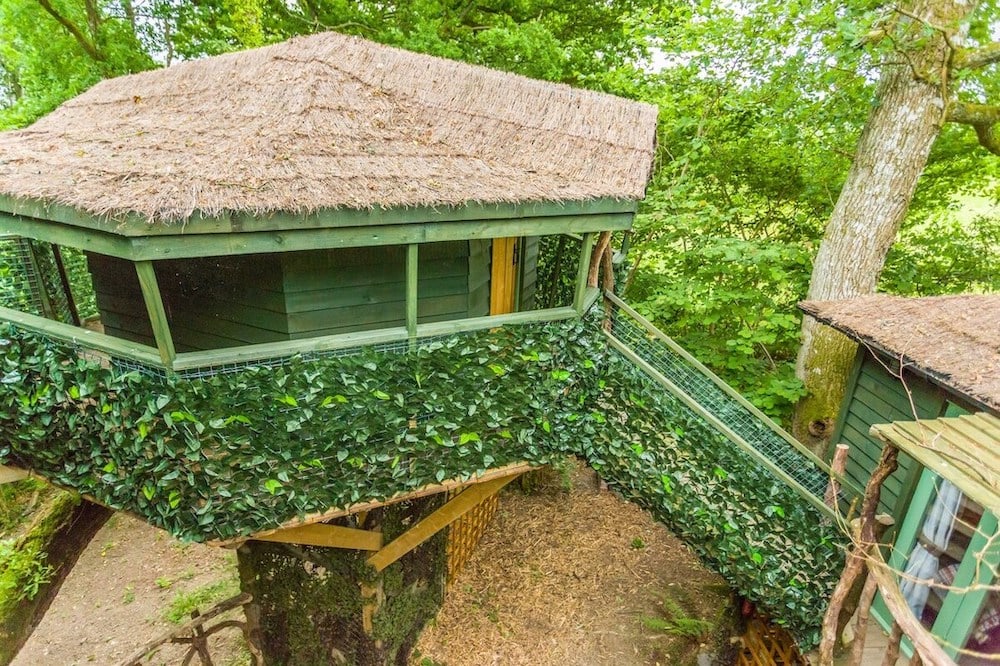 Inside you'll find everything you need for a short break, including bedrooms, a lounge area, kitchenette, TV and heating. Plus, outside in the forest is a communal BBQ area, pizza oven, fire pit and a games room.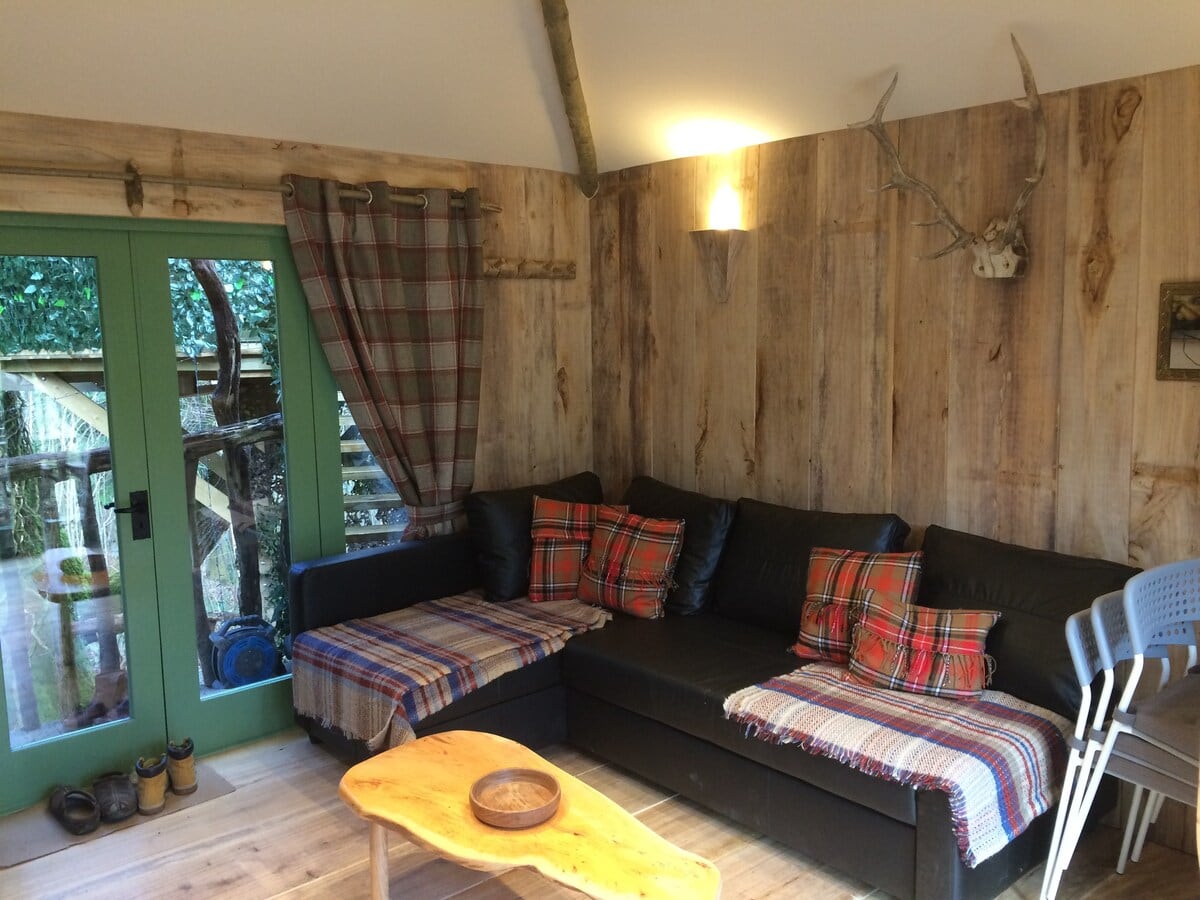 Kids will absolutely love the magic of staying somewhere like this. I read a lot of the reviews, and most of them mention how excited the kids were when they first lay eyes on the treehouse! It's definitely one of the most unusual places to stay in Wales.
Check availability and latest prices at Ty Coeden now
Time to play king or queen with a break in your very own castle, well a folly anyway! The Glanusk Estate is located in the Brecon Beacons National Park in the heart of the Black Mountains, and was established in 1825. After huge restoration work, it reopened recently and you can now stay inside this historic tower.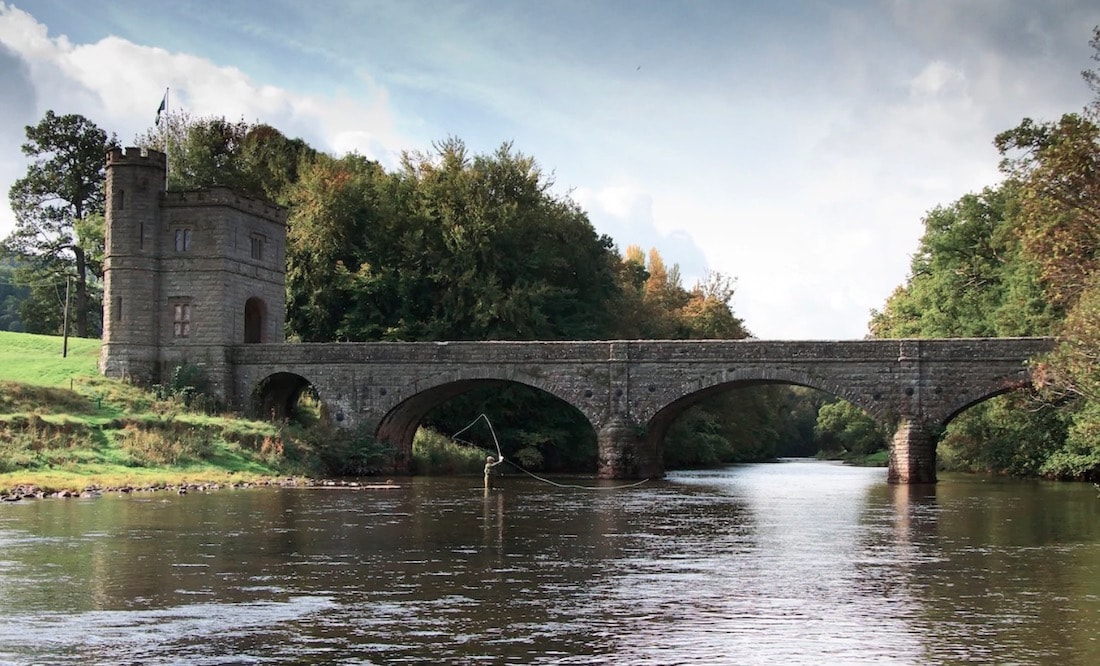 The tower sleeps 2 people and has a bedroom, en-suite bathroom and a fully fitted kitchen. One of my favourite features is the way the bedroom is hidden behind a wall with secret door! Very James Bond…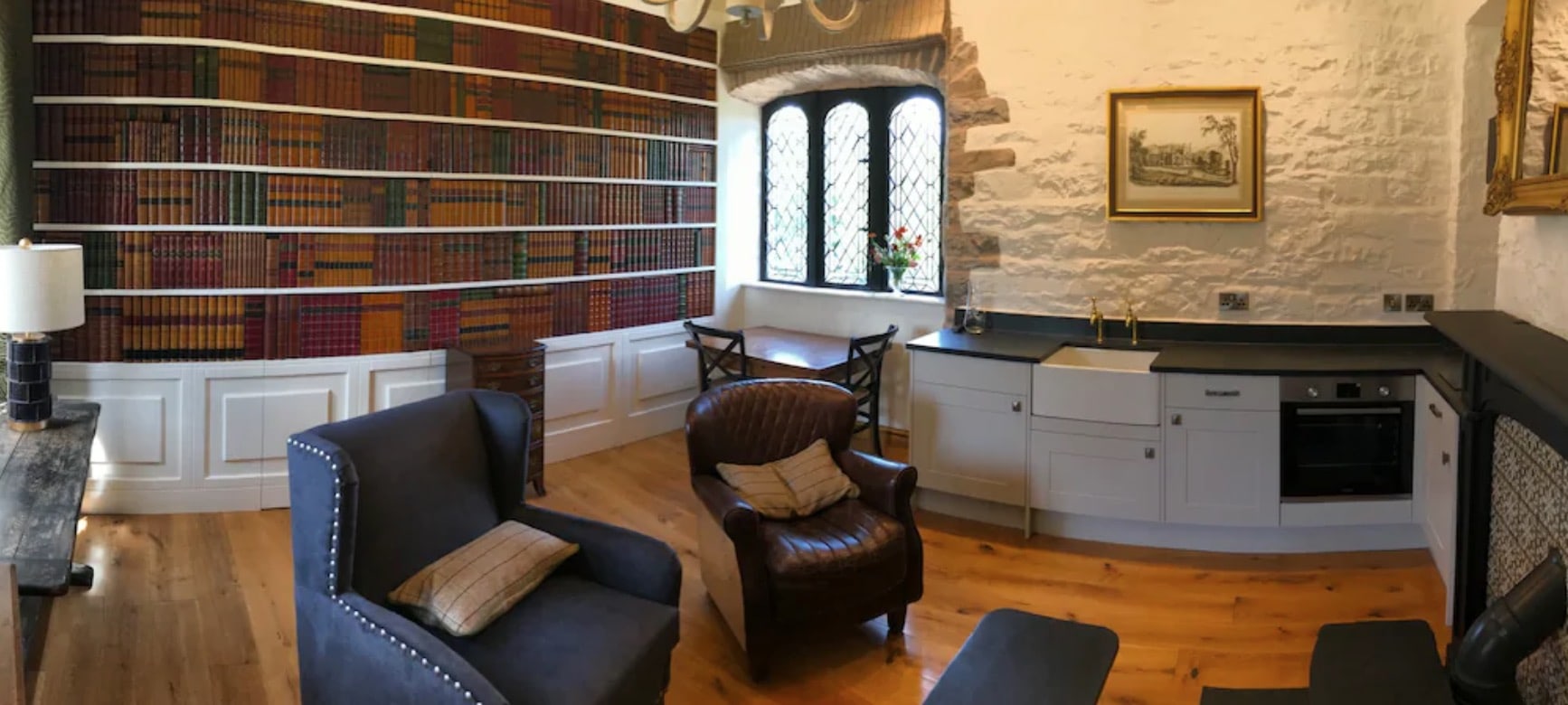 This is a beautiful part of Wales, so no doubt you'll want to venture out on some country walks around the estate (and beyond). Plus, it's a great region for mountain biking, horse riding and sailing.
If you're looking for a really romantic and unique place to stay in Wales, perhaps as a treat for your other half's birthday, this would be perfect.
Check availability and latest prices at Glanusk Tower now
How about this for a unique place to stay in Wales? This quirky hobbit house sleeps 2, and is also located in the beautiful countryside of the Brecon Beacons, just 15 minutes from Hay on Wye.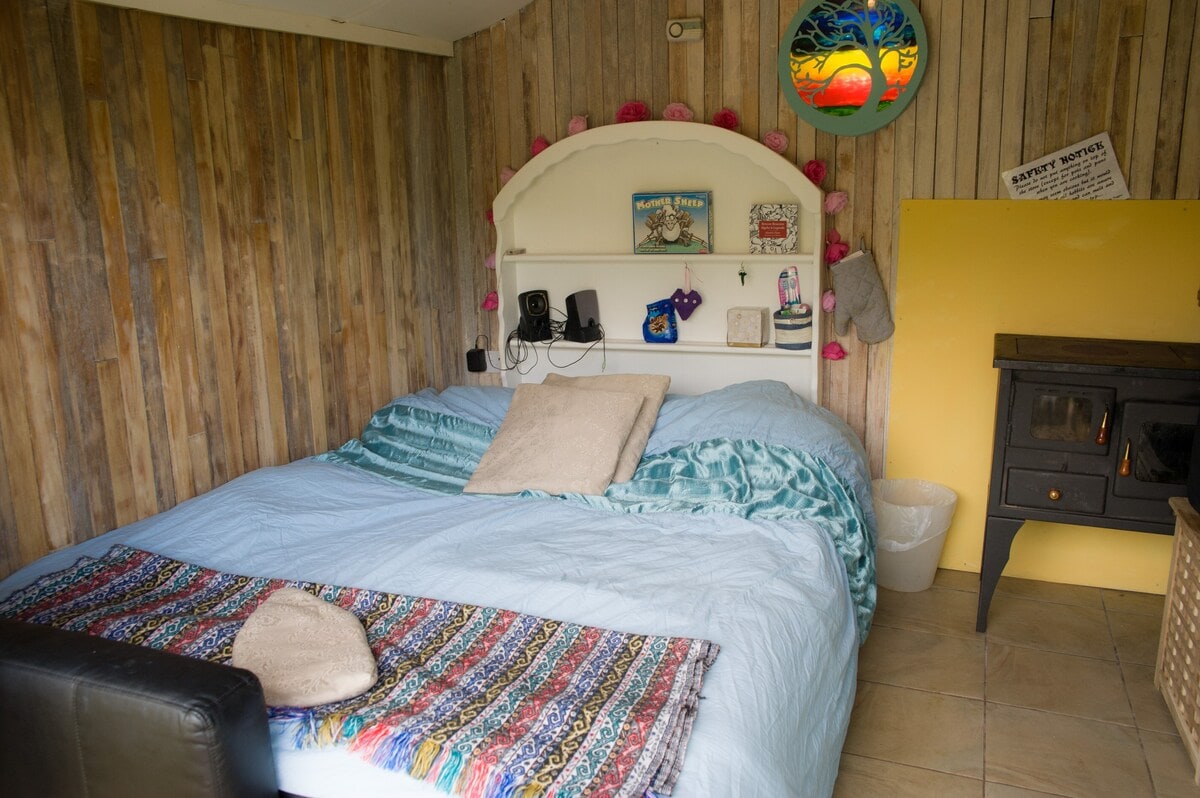 Inside this quirky accommodation you'll find a full-sized double bed, plus a wood-fired cooker. It's a cosy and romantic place to enjoy a break with your other half.
The views are lovely too, as are the nearby walks. There's even a country pub close by, so you don't have to worry about cooking if you don't want to!
Check availability and latest prices at the Hobbit House now
Ever stayed in a church before? Now is your chance! Old Trinity Church is a 19th Century village church and is one of the most unique places to stay in Wales. It sleeps up to 8 people across 3 bedrooms and has everything you could need (plus some quirky extras!) for a holiday with friends or family.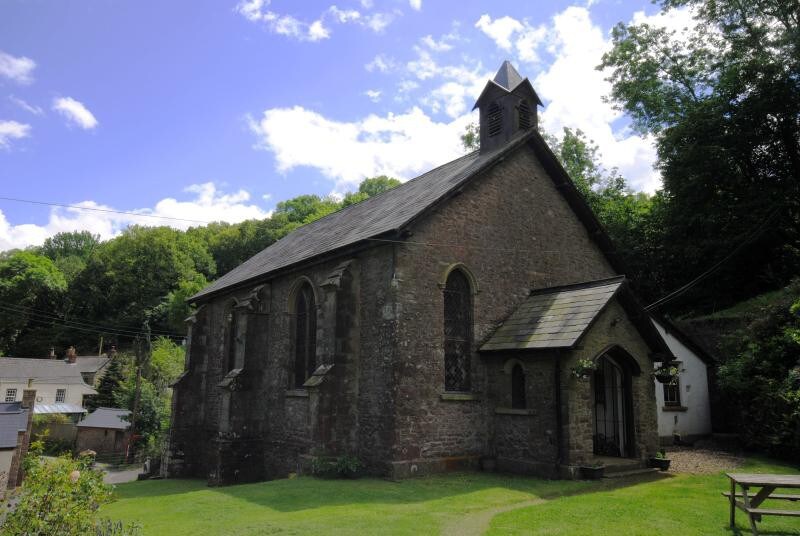 The space itself is full of character, with lots of original features, including the pews, pulpit and stained-glass windows. I love the look of the open plan living space, which has a long table that seats 12, a lounge area, plus a mezzanine overlooking the action.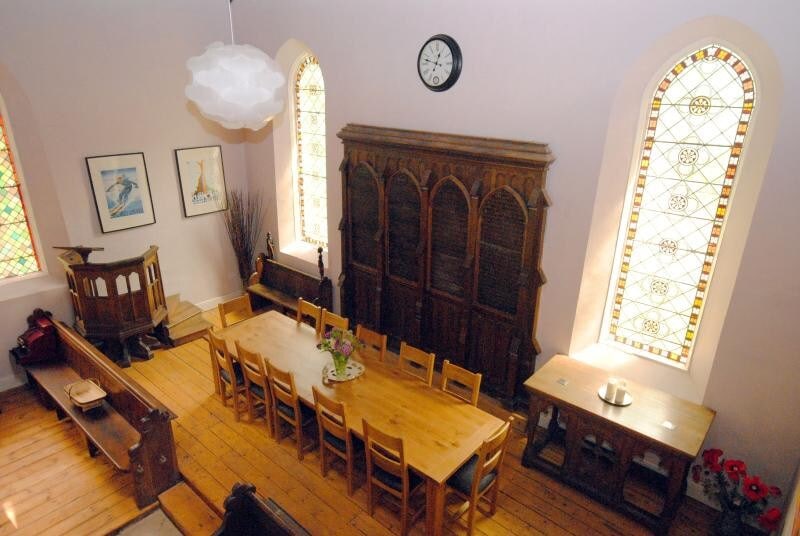 Outside you have access to a garden and BBQ area. Plus, this is a beautiful area of Wales, so it's great if you fancy some country air and a stretch of the legs.
Check availability and latest prices at Old Trinity Church now
I can guarantee you've never seen anywhere like the Conker Treepod before!
The Conker is a state-of-the-art copper house that's packed full of mod-cons. Located on an 80-acre conservation in a remote Welsh valley, the Conker is an eco-friendly and sustainable house which is completely waste free.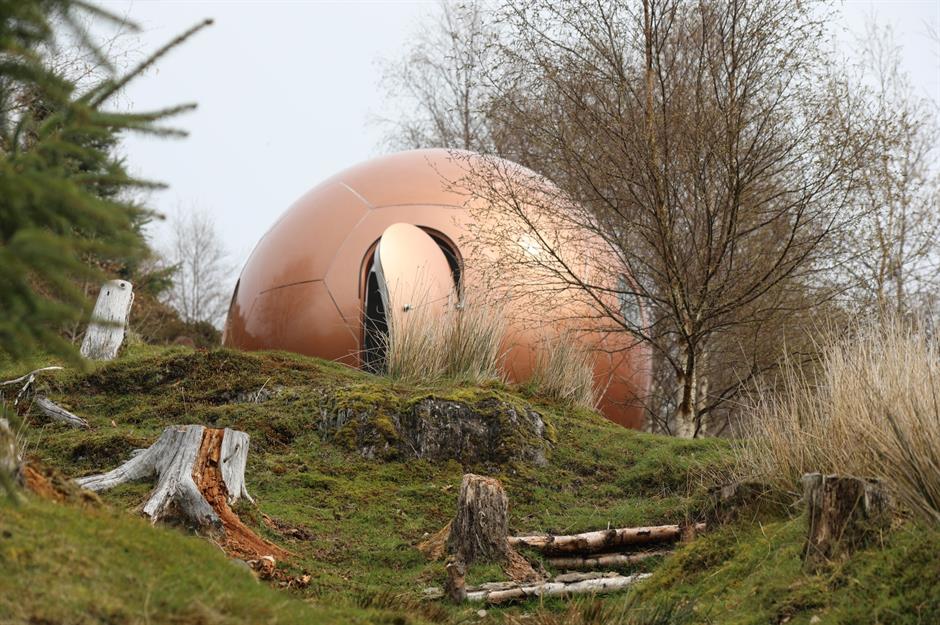 It features a Scandi-style log cabin bathroom with countryside views, a Swedish-style composting loo and a wood-fired pizza oven.
The views of the Welsh countryside are just amazing. This is definitely one of those places where you can switch off from the world around you and just immerse yourself in nature.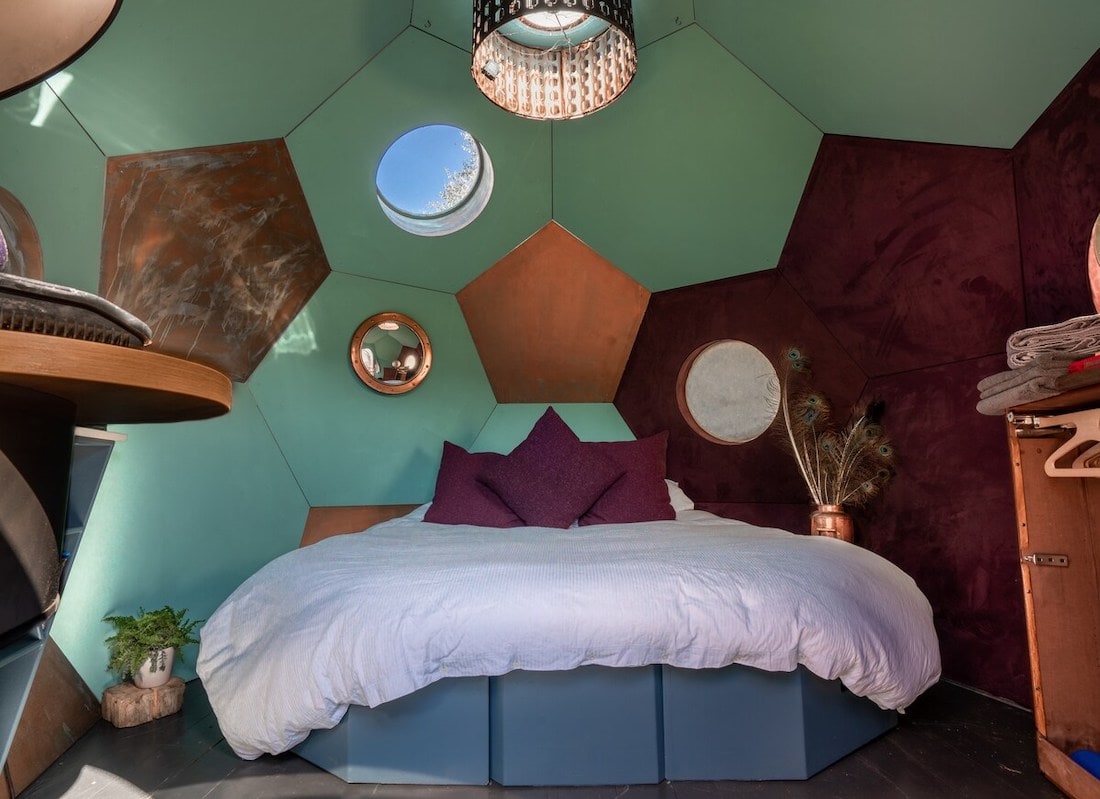 It's the perfect place for those lusting after some creative thinking, wildlife-watching or a digital detox.
Check availability and latest prices at the Conker Home now
If you're looking for unusual places to stay in Wales for big groups, this is one of the best options I've come across. This incredible medieval manor house sleeps at least 16 people across 7 individual bedrooms, and is absolutely stunning.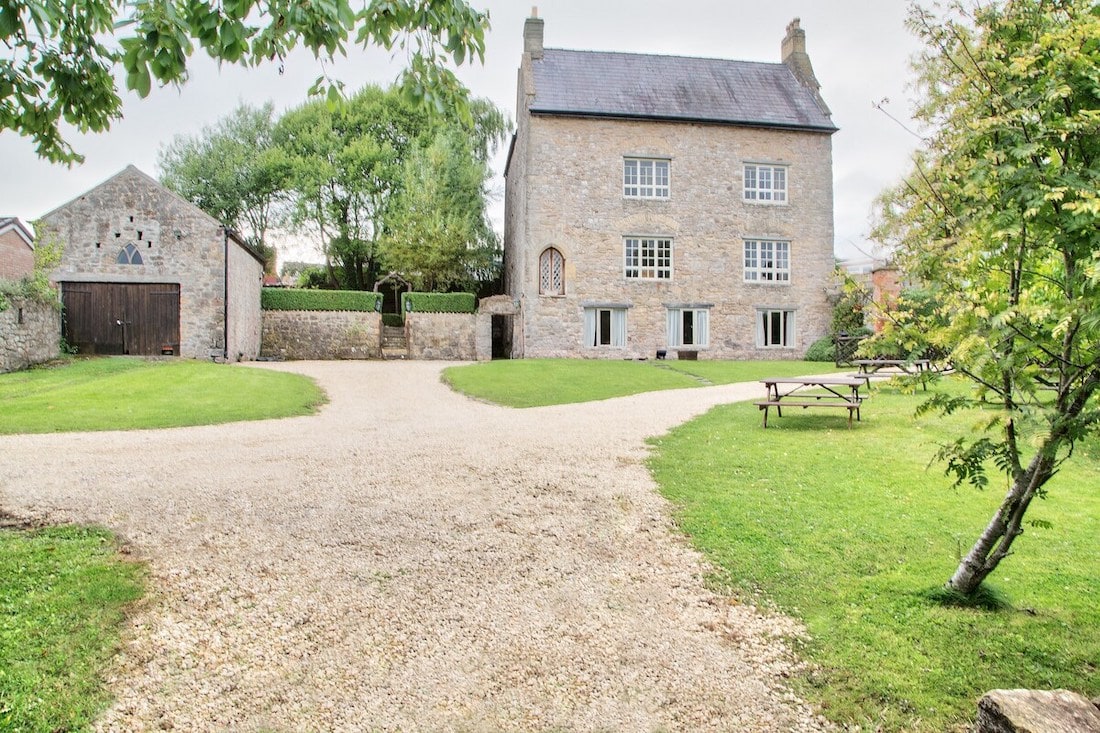 As you wander the stone manor you'll feel like you've gone back in time. There's the great hall with an intricately beamed ceiling and a large kitchen (complete with an AGA), which is big enough to prepare meals for big groups. Some of the bedrooms have elaborate 4-poster beds, plus the lounge looks wonderfully cosy with its roaring log fire.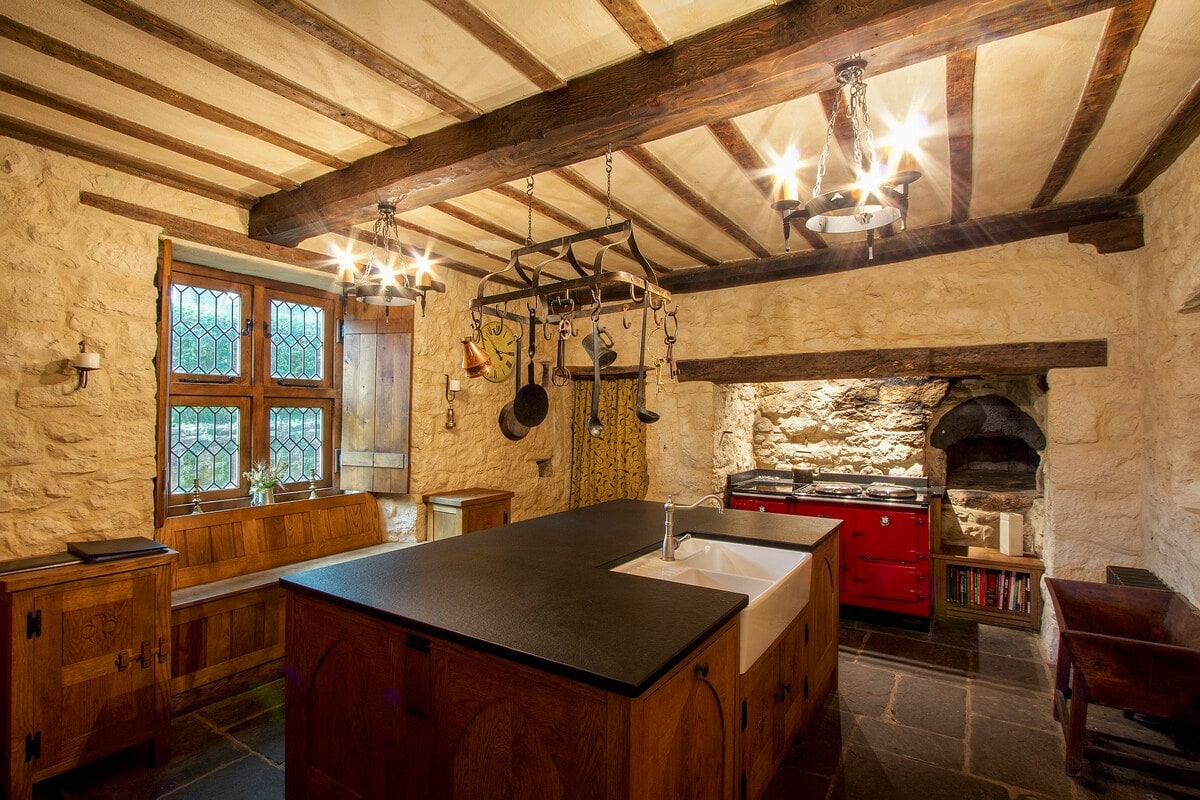 In terms of location, it's close to Caldicot Castle if you fancy a day trip, plus there's a pub next door. The historic manor is one of the oldest in Wales available for rent (over 900 years of history!) so it really is a special place to stay.
The hosts are very experienced and the property has lots of 5-star reviews, so you can't go wrong!
Check availability and latest prices at Caldicot Chateau now
Another great accommodation option in north Wales, this magical roundhouse has been constructed out of materials found within the woodland. It looks like it's been lifted straight out of the pages of a fairy tale.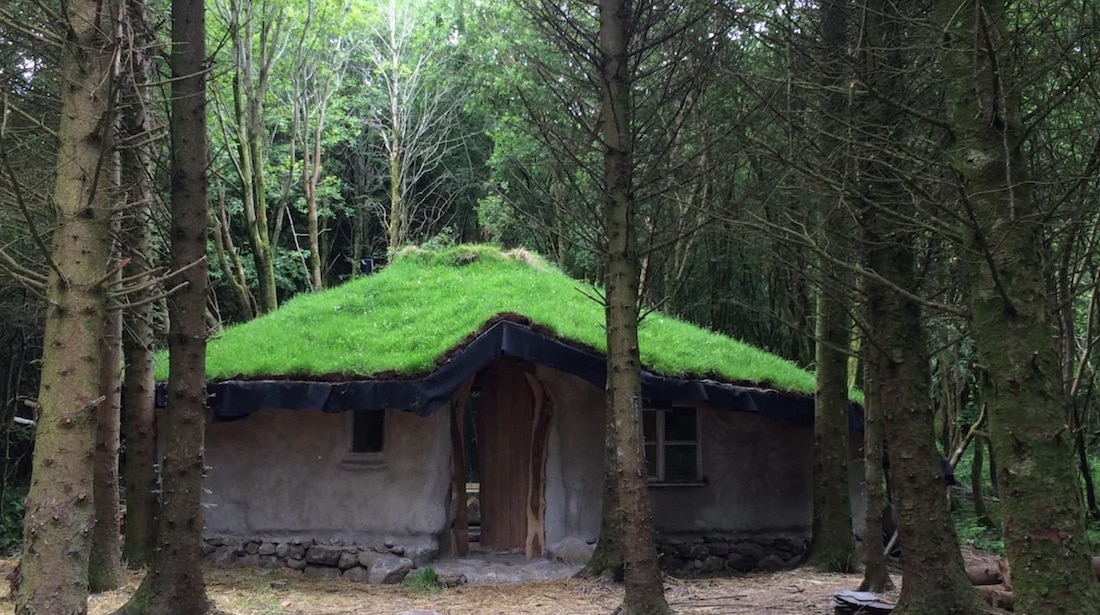 The woodland cabin has just as much character on the inside, where you'll find a double bed, a double sofa bed and big single bed. Yep, it sleeps 5, so is perfect for an adventurous family weekend break in Wales. If you love quirky glamping spots, you'll love it here.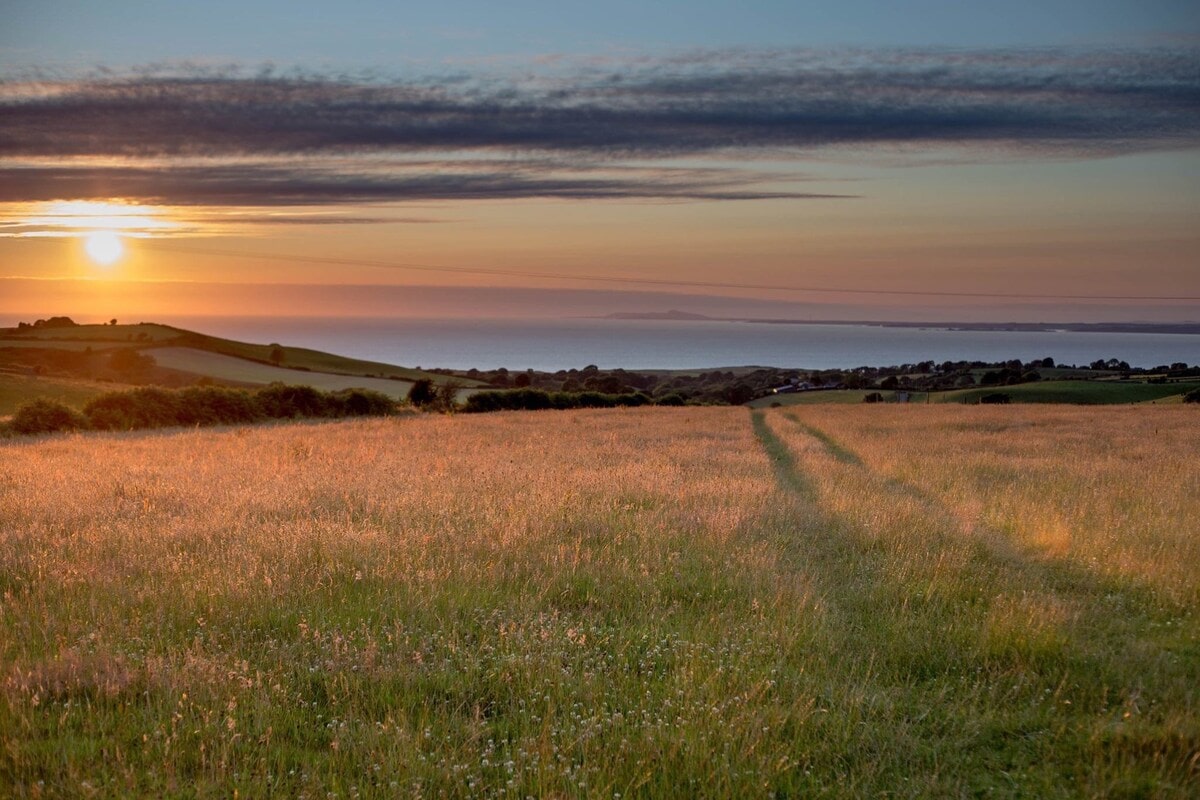 Inside you'll find a basic cooking setup, including two gas burners and some crockery, plus outside is a BBQ area.
If you're looking for things to do locally, there are some beautiful walking trails nearby, plus a lake where you can enjoy a bit of wild swimming (if you're feeling brave!) The roundhouse is based on a farm, so you could also go and meet some of the adorable lambs on site.
Check availability and latest prices at the Woodland Fairy Roundhouse now
Time to leave dry land behind for something a little different! These eco-cabins are located in the tranquil waters of Neyland Marina within the Milford Haven waterway.
There are two pods on offer – The Haven Pod and the Pod Plus (which is slightly larger). Both are floating, and have double beds, room for kids and a lovely outdoor deck area.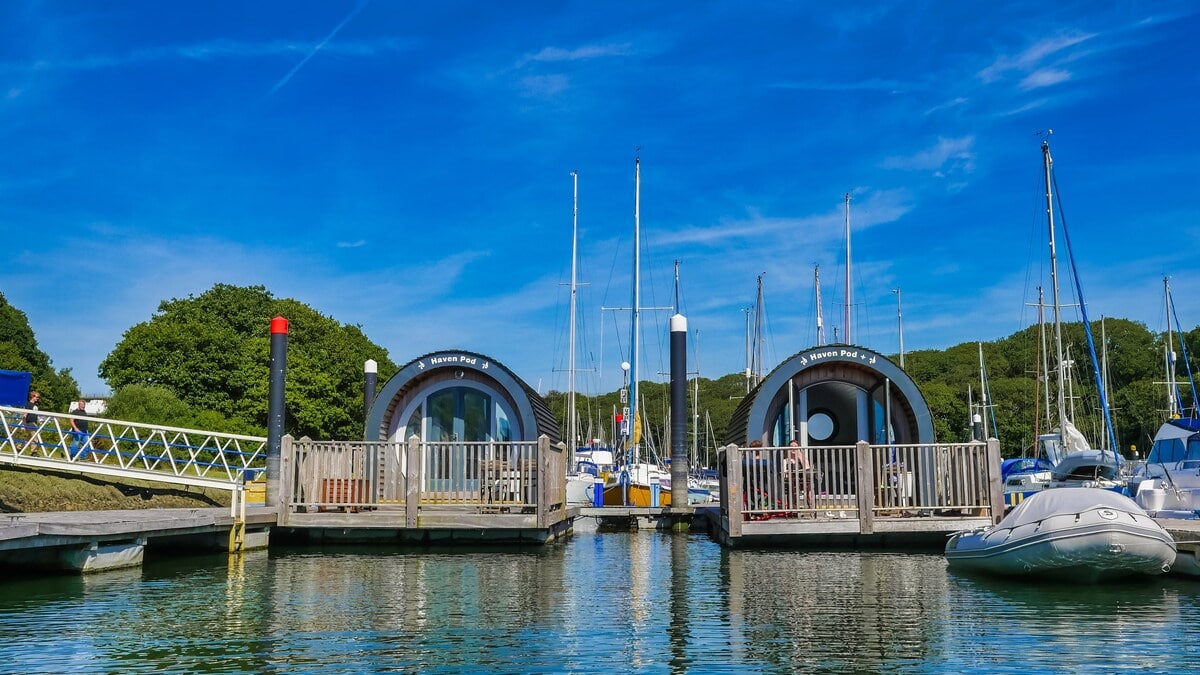 They're well-insulated and double glazed, so stay nice and cosy even in winter. Inside you'll find a kitchenette with everything you could need to whip up a quick meal on your holiday. If you're travelling as a group you could book both pods, which could make for a really fun adventure away.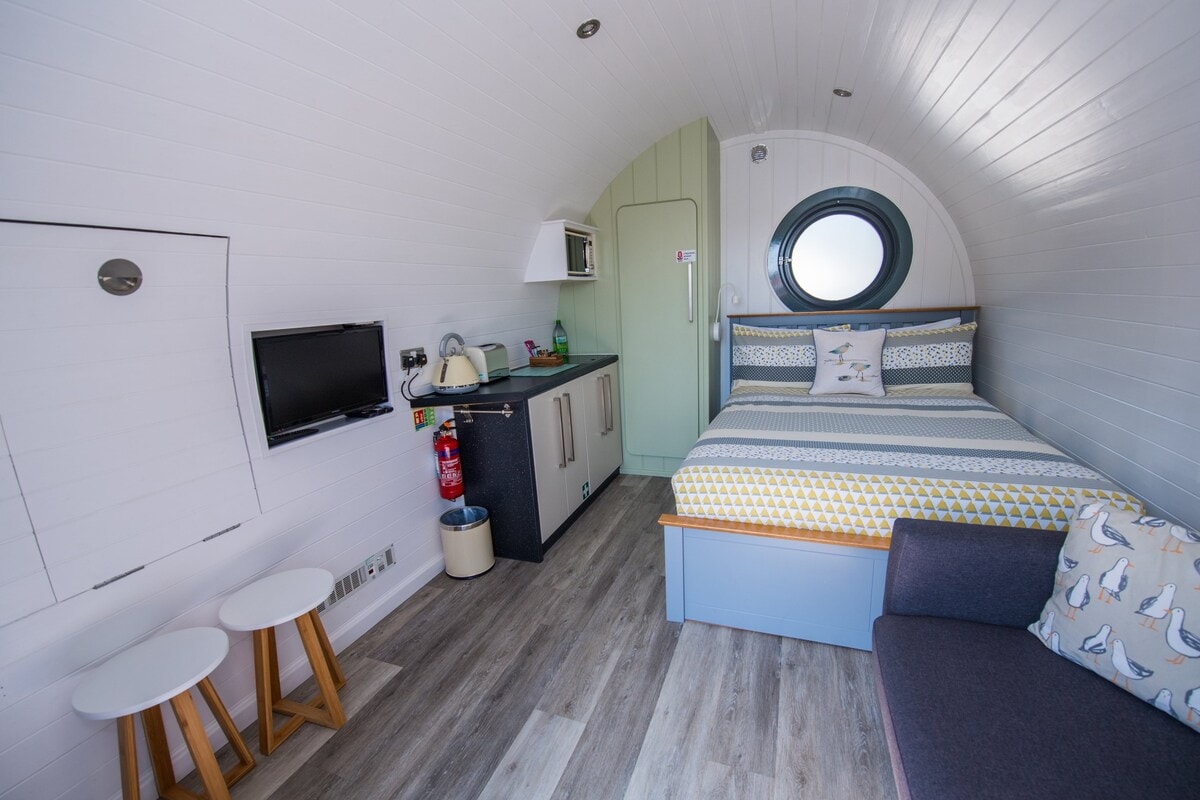 The pods are set within the Pembrokeshire Coastal National Park – a beautiful part of Wales for a break, and a great area for walks and cycle rides.
Check availability and latest prices at the Haven Pods now
If you've ever dreamed of staying in your very own castle, now is your chance! One of the more unusual places to stay in Wales, Manorbier Castle is a 12th century castle located in Pembrokeshire. It's just a 5-minute walk to the spectacular Pembrokeshire beaches and National Trust coast path.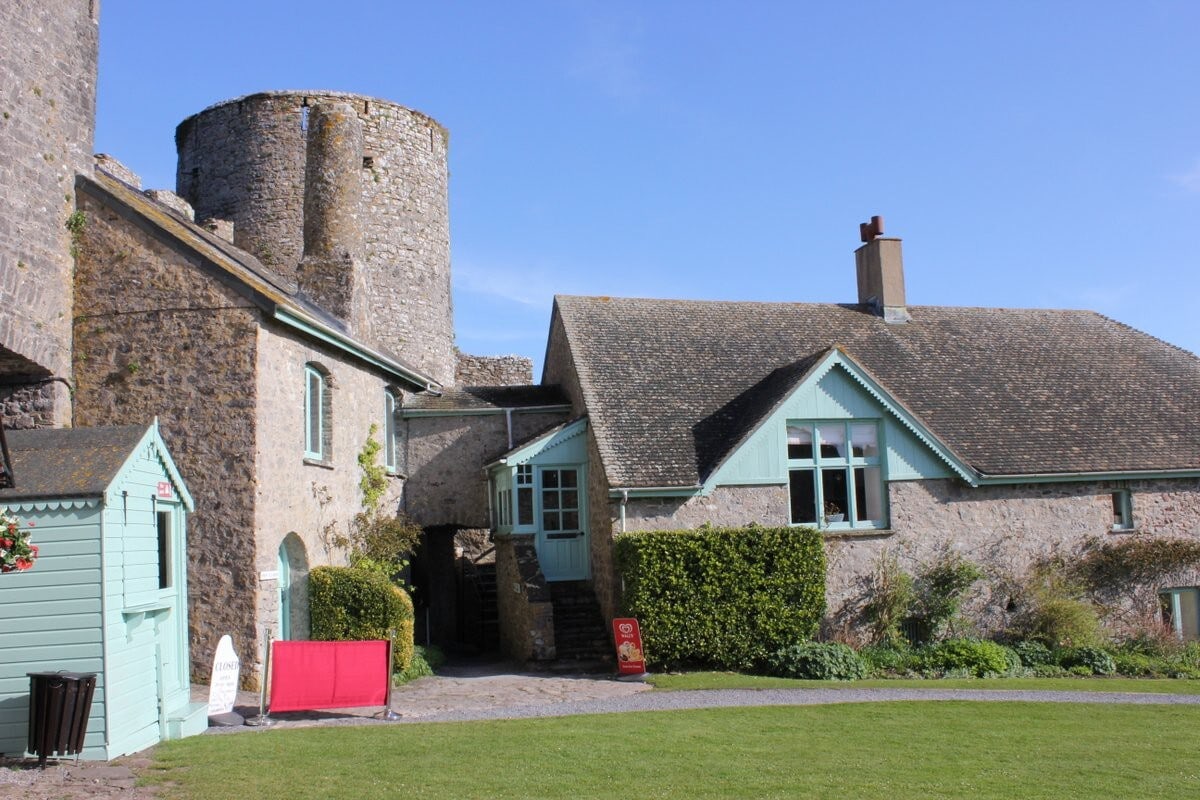 The castle house sleeps 8, plus there's an annexe which sleeps another 4. The main castle is open to the public during the day for some of the year, but this Airbnb includes plenty of private space. There's a private courtyard, plus you can access the main castle garden too.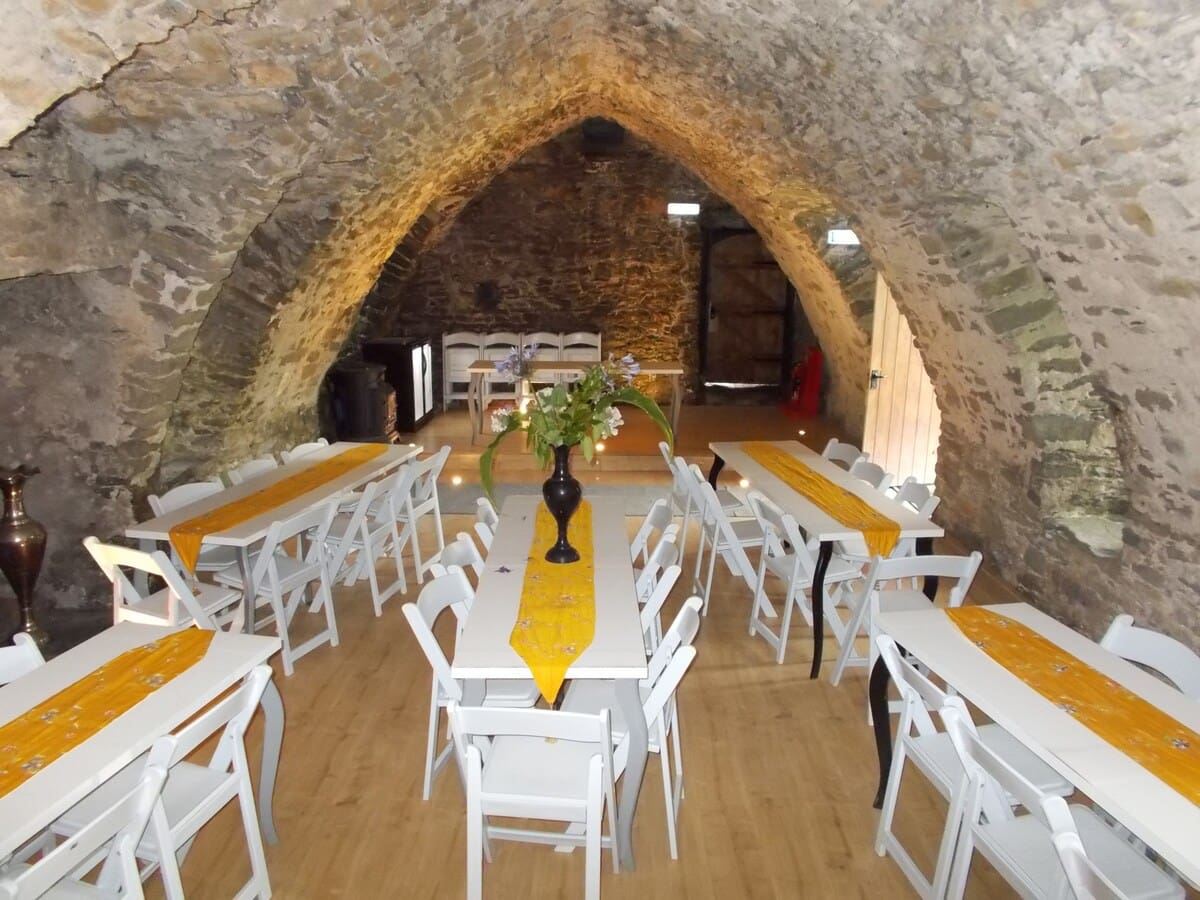 One of my favourite things about staying here? The fact you van book the crypt in the main castle as a private dining room during your stay. How about that for a memorable meal? As unique places to stay in Wales go, this is one of the best for a big group holiday.
Check availability and latest prices at Manorbier Castle now
Wales has plenty of cool and quirky glamping spots, but this is one of my favourites. The Willow is set in rolling countryside, around 3 miles from beautiful beaches, cute towns and everything else you might need for a fun weekend away.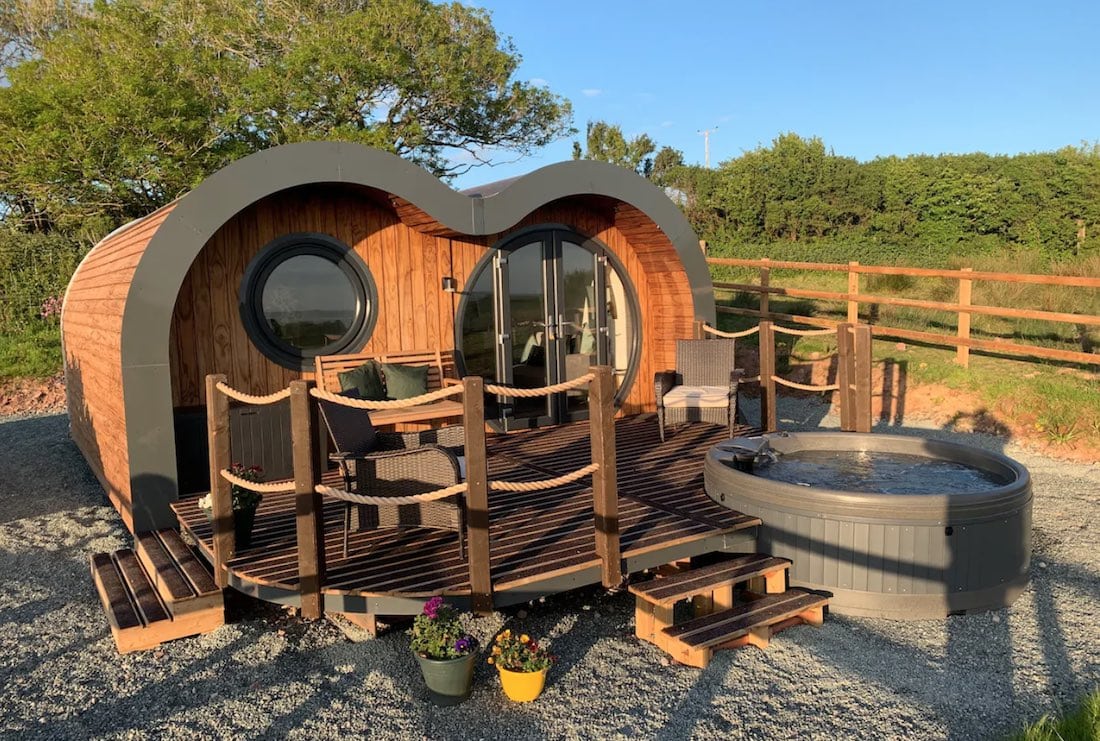 The pod is on the luxurious end of the scale, with a full kitchen, TV, WiFi, a comfy bed plus two single beds. It would be perfect for a cosy weekend with your other half, or a family getaway with the kids.
The best part? The hot tub outside on the deck. What a relaxing place to unwind after a day exploring the Wales countryside.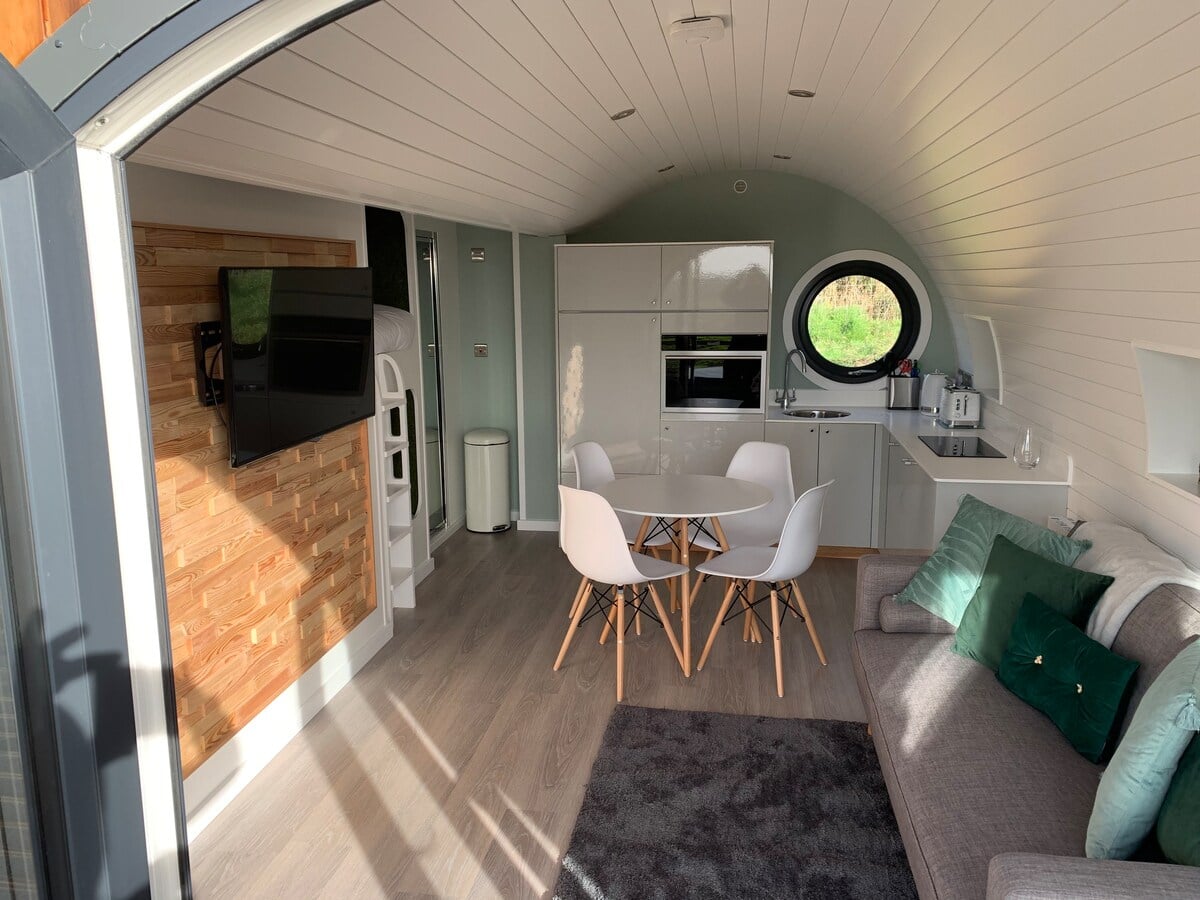 If you're more of a glamper than a camper, this is a great option, as it's super stylish inside, with all the home comforts you're used to.
Check availability and latest prices at The Willow now
Don't forget to take a look at our other posts about Wales including our guide to visiting colourful Portmeiron Village and our informative post about visiting Aber Falls in Snowdonia National Park.
Enjoyed this post about unusual places to stay in Wales? Pin it for later…