Looking for a remote Scottish retreat? From cute castles to crazy treehouses, these are some of the most unusual places to stay in Scotland.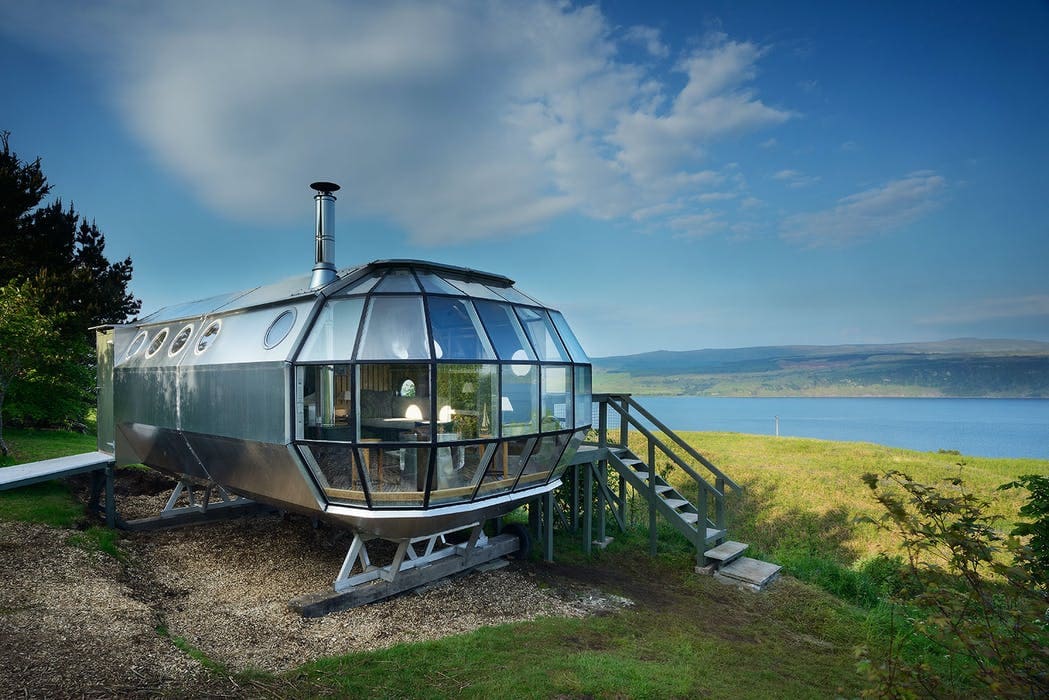 If you're looking for somewhere to get away from it all then you can't go wrong with Scotland. With jaw-dropping landscapes of jagged mountains, sweeping coastlines and beautiful beaches, Scotland has got something for everyone. You can see why we love Scotland so much already!
On my travels I've been lucky enough to stay in some pretty unique accommodation. From sleeping in converted railway stations in England to cave hotels in Morocco, I've always been drawn to unusual hotels and accommodation.
I always want places with that "wow" factor, places you just can't find anywhere else in the world. I mean, these are the ones you always want to tell your friends and family about, aren't they?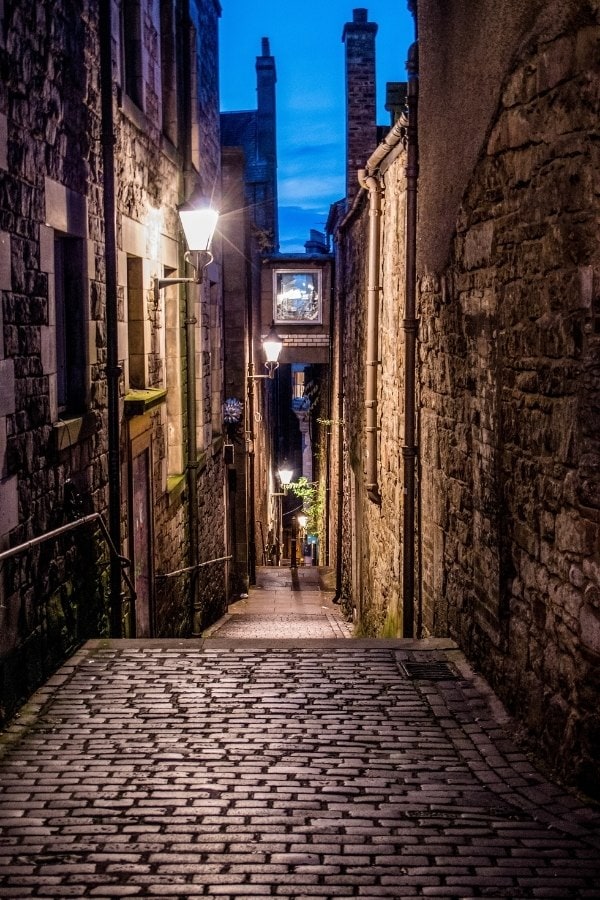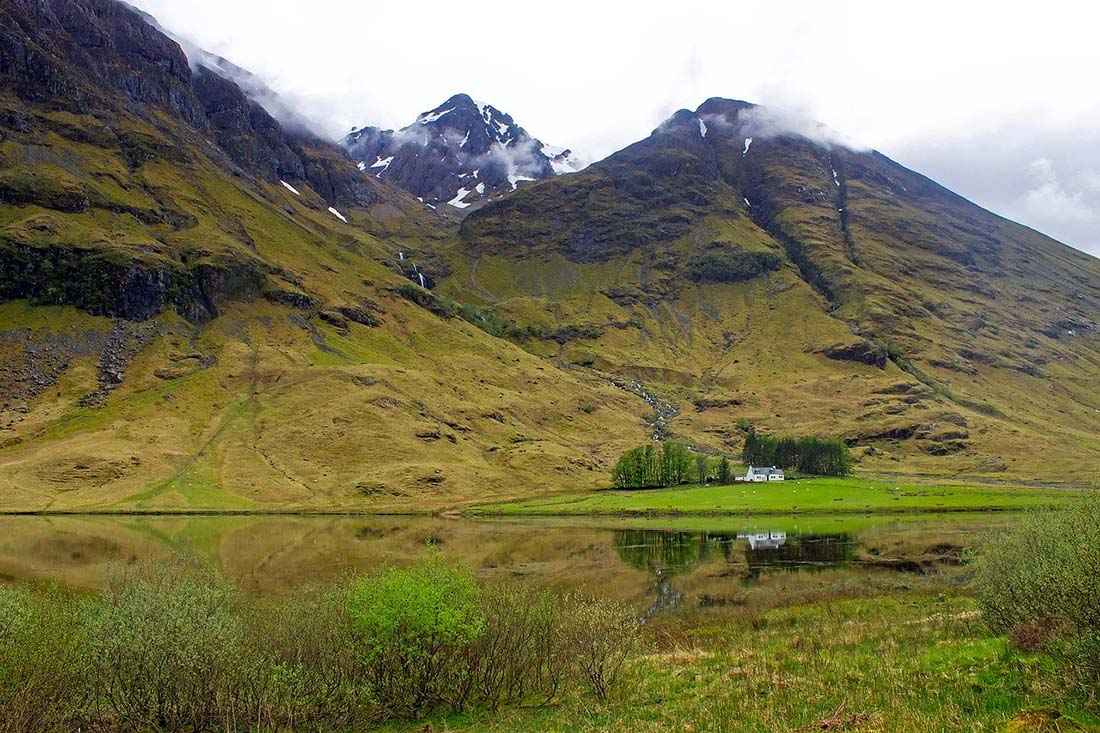 That's why I wanted to shine a light on the most unusual places to stay in Scotland. From camping on remote islands to off-the-grid cabins, there are so many unique Scottish retreats to choose from.
With that in mind, here are 12 unique accommodation options that'll show you the best of Scotland. Stay in one of these on a romantic weekend away or on a family trip, and it'll definitely be one to remember.
If you're looking for somewhere a little quieter and more sedate, then check out our guide to remote cottages in Scotland. All of these are very secluded and have the most beautiful views!
Unusual Places to Stay in Scotland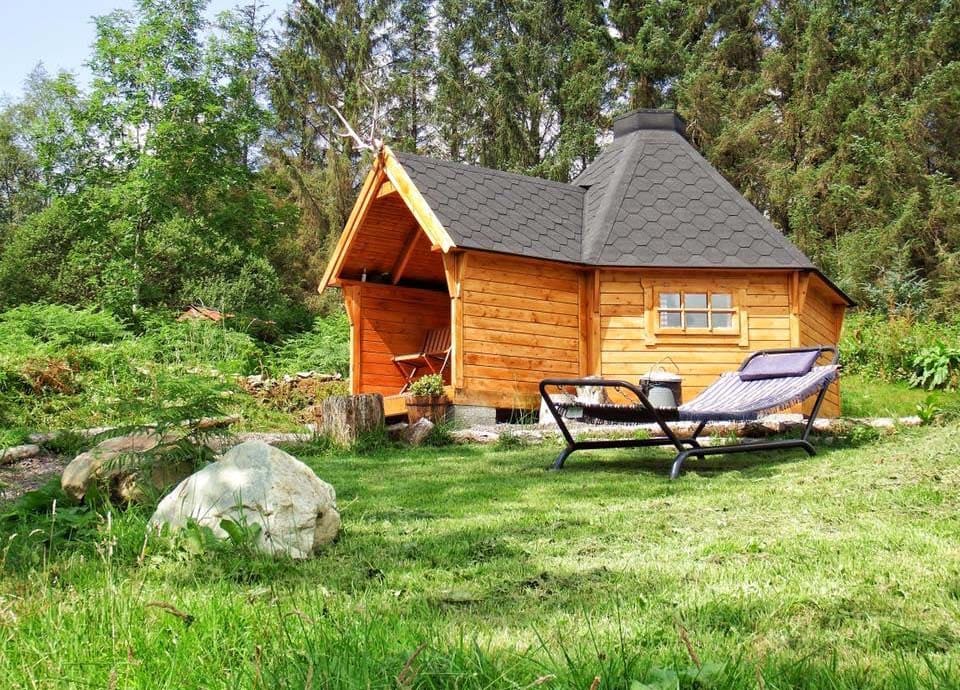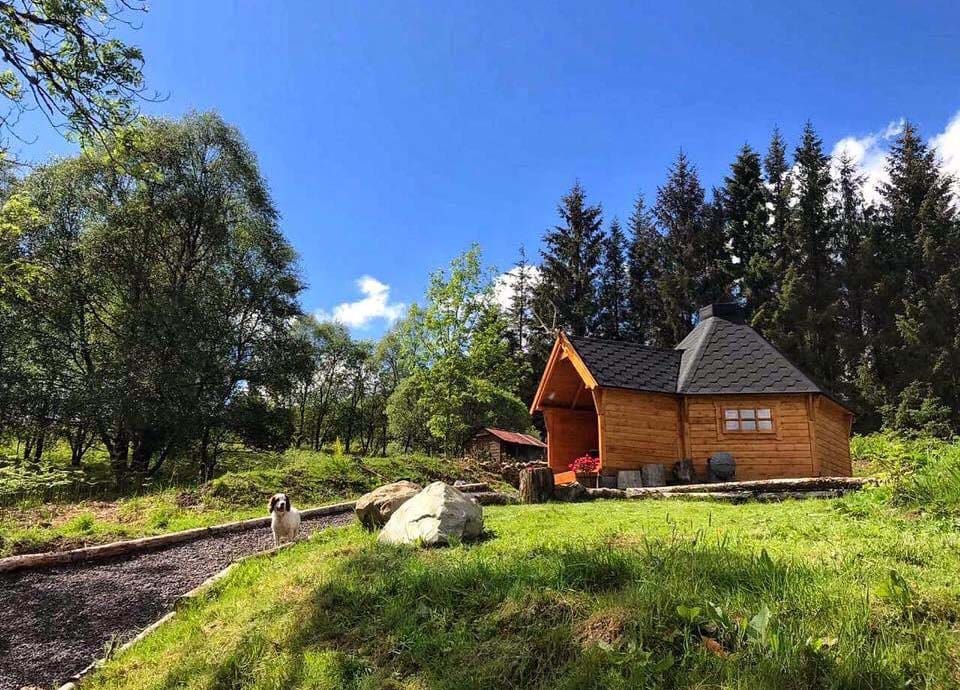 If you're looking for a remote cabin cut off from the world, then look no further than the Nest Glamping Pod.
Located in Ardteatle in the Scottish Highlands, you'll be hard pushed to find a more beautiful spot on this one. Opened in 2019, this gorgeous little cabin allows you to relax, get back to nature, and enjoy the beautiful views. There's even a bbq outside for when the weather is nice.
There is absolutely zero light pollution in the area which makes this an amazing place for stargazing too. The whole point of the Nest is to enjoy a digital detox and to get back to nature. The cabin is cosy for 2 people but that means extra cuddles to warm up in the mornings. There is also an en-suite bathroom here, so it's definitely a step up from camping.
The Nest overlooks stunning scenery in a secluded spot 2 miles from Dalmally, 15 miles from Tyndrum and 40 mins from Oban. There are also some excellent hikes in the area for those of you who love the great outdoors.
Check availability & latest prices now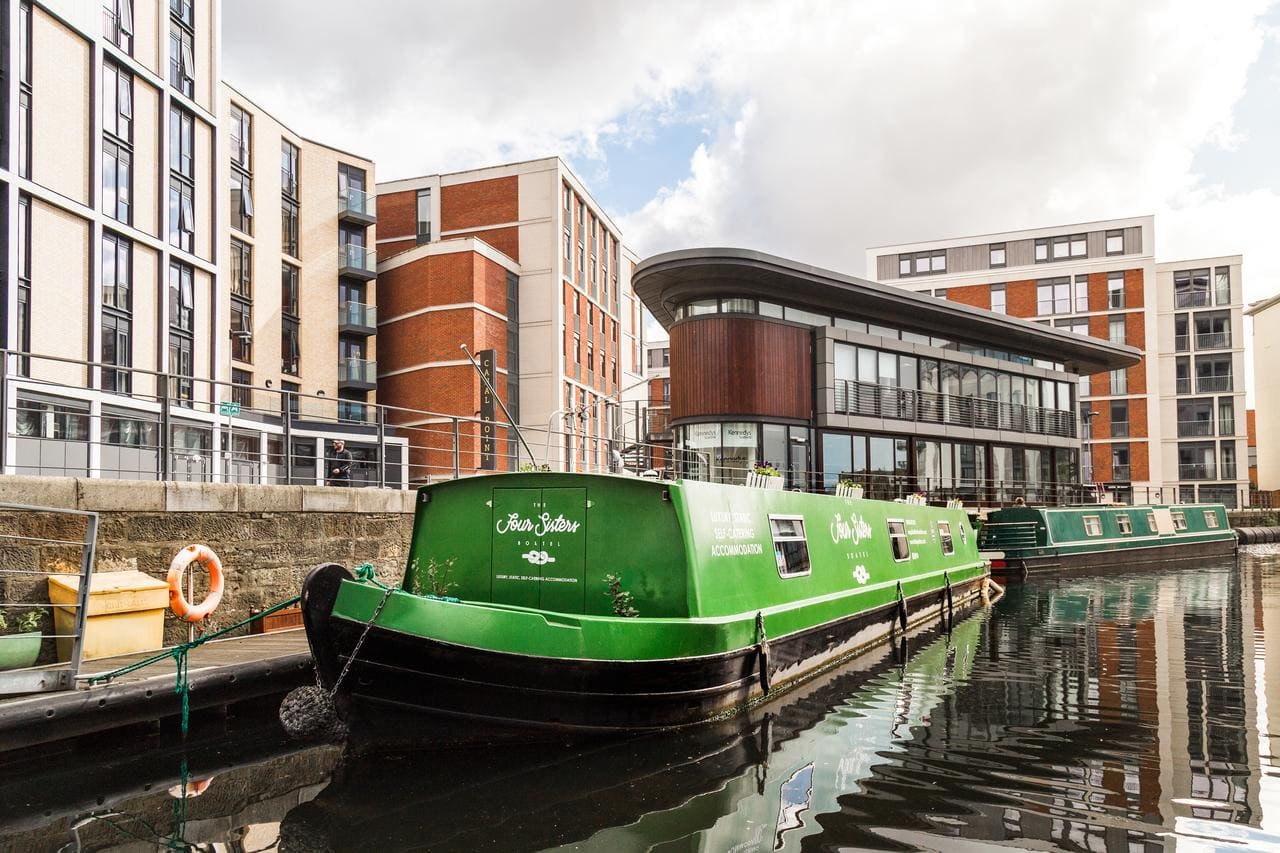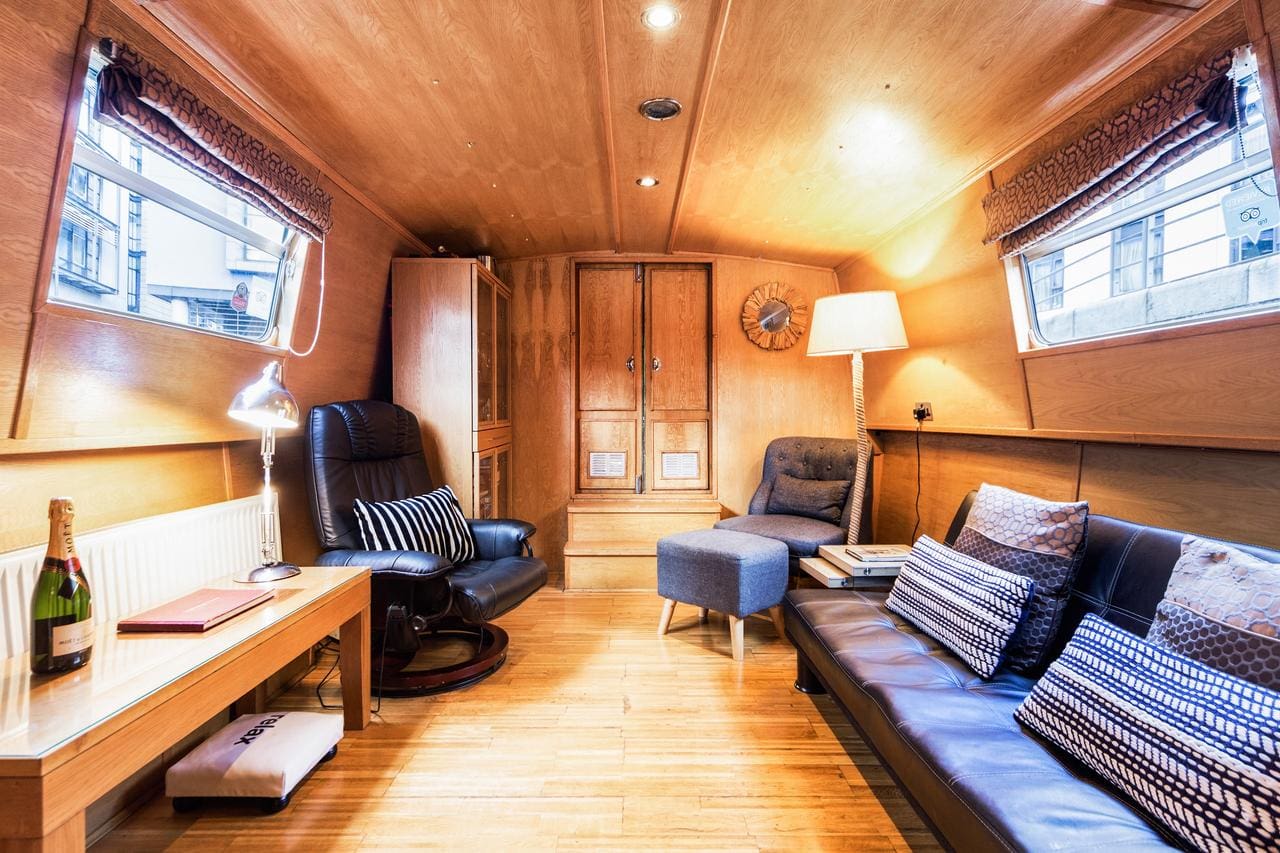 Obviously hotels and AirBnbs are 2 a penny in Edinburgh. However, if you're looking for quirky accommodation in Scotland, then check out the Four Sisters Boatel.
This is a 4* self-catering houseboat located right in the heart of Edinburgh. Based in Edinburgh Quay, this place is only a 10-minute walk to Edinburgh Castle and 10-minutes from Princess Street. There are also some amazing restaurants all within walking distance too.
Inside the Four Sisters is a fully-equipped kitchen with a breakfast bar. The 2 separate cabin bedrooms are elegantly decorated, and there are 2 double bedrooms and a children's bunk bedroom making this perfect for a large family. It goes without saying but there's a heavy nautical theme throughout this accommodation.
For me, this is what fun and quirky accommodation is all about. You can't ask for a better location than this, and you get to stay on a houseboat. How cool is that!?
Check availability & latest prices now
AirShip 002, Drimnin, the Scottish Highlands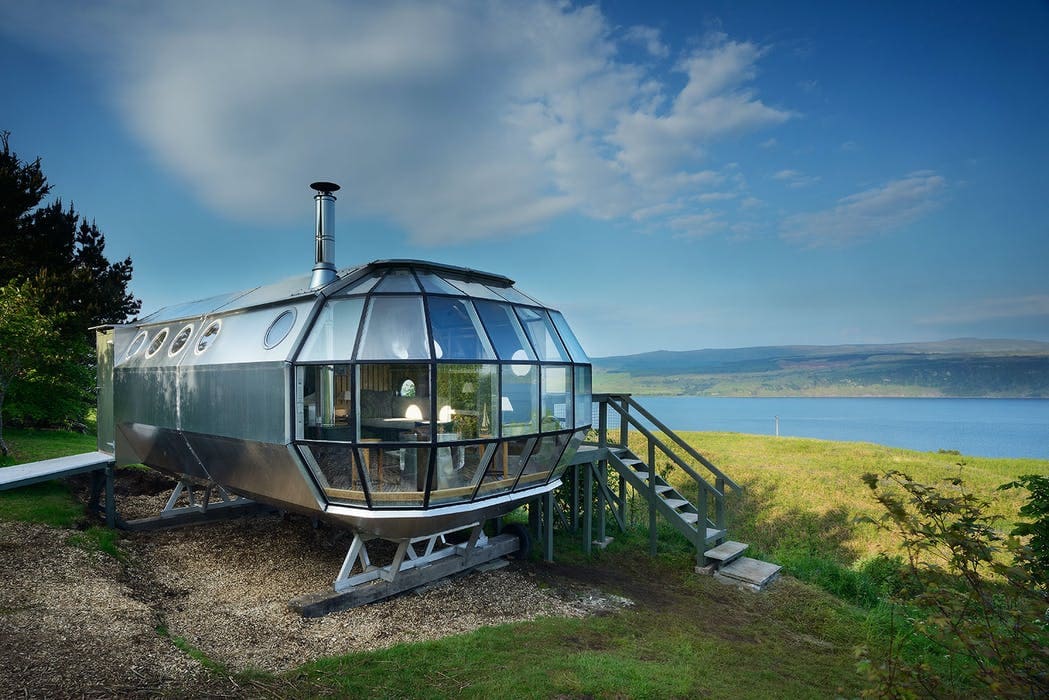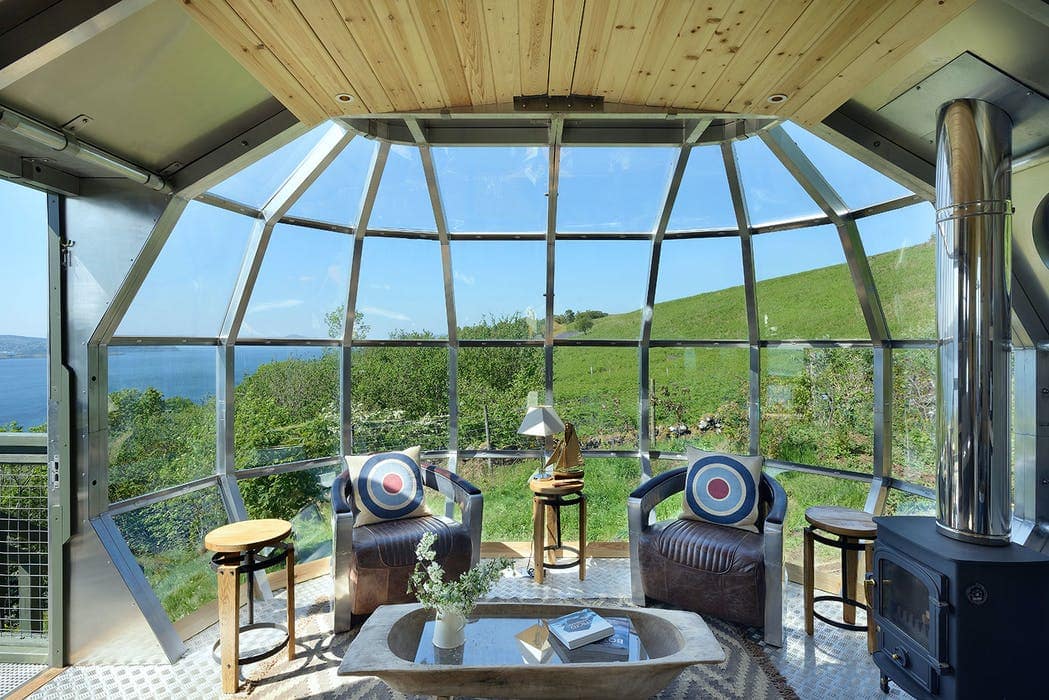 For those of you looking for a romantic remote Scottish retreat, then this is the place for you.
Dubbed the most unusual accommodation in Scotland, the AirShip 002 is a contemporary cabin up in the Scottish Highlands.
With stunning views over the Sound of Mull, the AirShip is just gorgeous. It's almost a cross between a James Bond lair and a futuristic space pod. The building has curved glass windows at either end providing views of the Isle of Mull. There are a number of portholes dotted throughout the offer glimpses of the landscape too. This is particularly beautiful at night when you can stargaze. And yes, you can sleep directly under the stars.
The kitchen is simple but contains all you need for a self-catered stay, including an induction ring, combined oven/microwave, fridge, toaster and Nespresso coffee machine. Obviously you can't beat those views with a cuppa in the morning.
The AirShip is on a 4-acre site, so as you can imagine there are some fantastic walks in the area too. As I said, this really is the perfect place for a romantic getaway in Scotland.
Check availability & latest prices now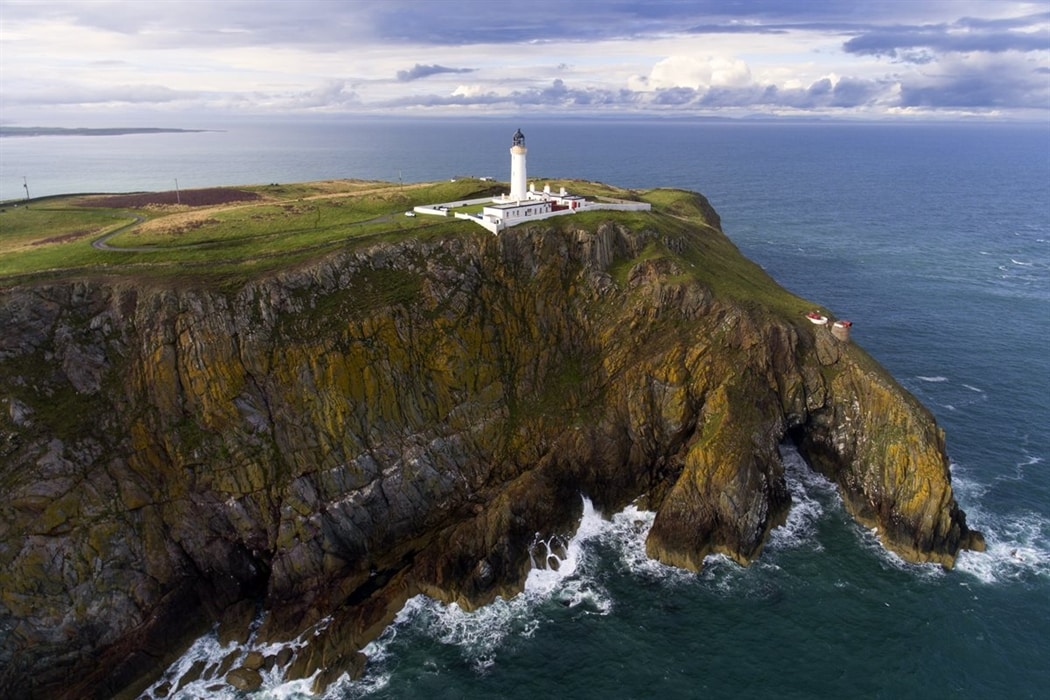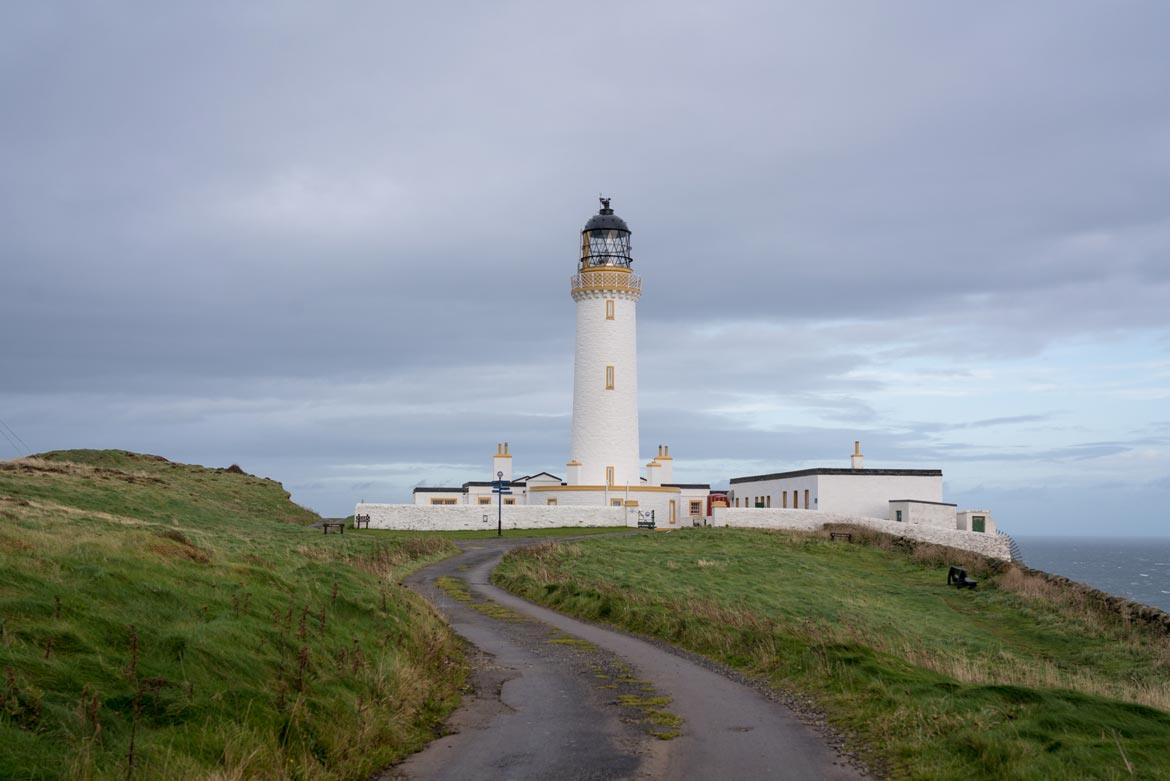 Have you ever wanted to stay in a lighthouse and watch the boats pass by? Well you can at the Mull of Galloway lighthouse!
One of the most popular places to visit in South West Scotland is the Mull of Galloway Lighthouse. It's the most southerly point in Scotland and it's really worth visiting if you're driving the South West Coastal 300.
A lot of people visit the lighthouse to climb to the top. From this vantage point, on a good clear day, you can see England, Ireland and the Isle of Man all from one spot. If you're lucky you could also see porpoises and dolphins too, so keep your eyes peeled.
However, there are a few rooms to rent in the old lighthouse keeper's cottage. This means you can stay in a working lighthouse right on the cliffs. The views of the coastline are something else and are what makes this region in Scotland so special. This is the only place for miles around so you really do have the place to yourself.
There's also a really nice café on the cliffs by the lighthouse so this is a good spot to stop for breakfast/lunch too. I feel like the Mull of Galloway Lighthouse has a bit of everything.
Check availability & latest prices now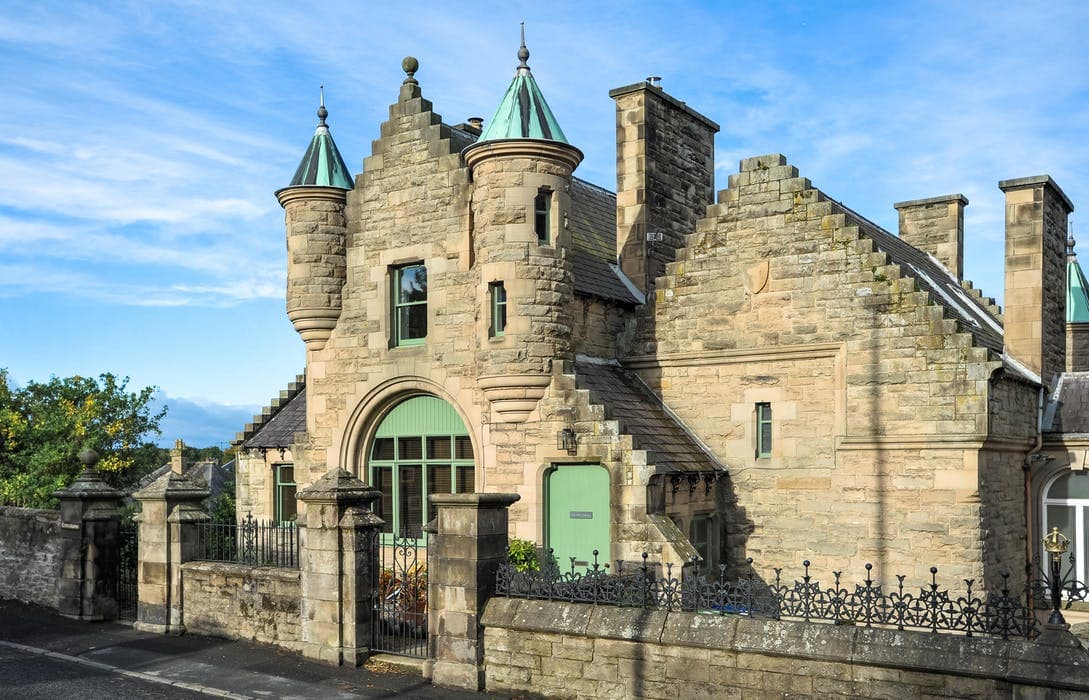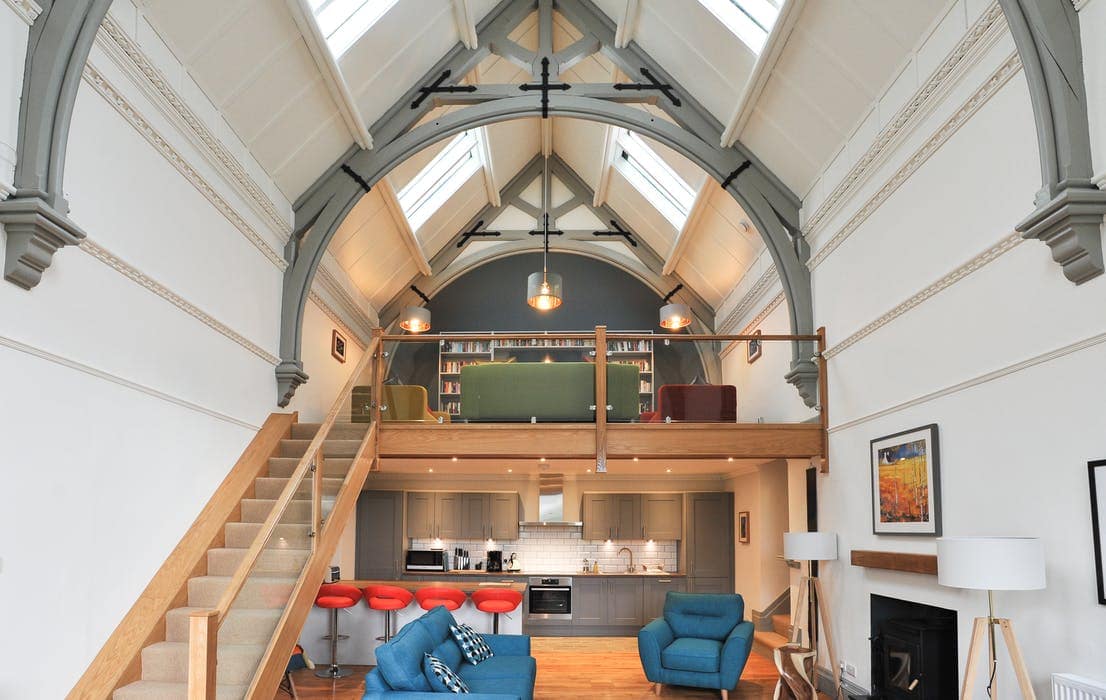 If you're looking at where to stay in Scotland, the Five Turrets in Selkirk is right up there.
The Five Turrets is a grade-II listed building with a fairy-tale exterior complete with its own medieval turrets. However, as soon as you step inside you'll be greeted with a bright, contemporary and modern interior that looks straight out of a design magazine.
Located in Selkirk on the edge of the Scottish Borders, this is an amazing place to explore Scotland. Eildon Hill is one of the best hikes in the area or you can learn more about Sir Walter Scott who lived in Selkirk. It's only an hour's drive to Edinburgh too.
Inside the townhouse, the open-plan living area is framed by high vaulted ceilings and includes an array of comfy chill-out spots and large social spaces. A couple of the rooms also have their own turrets too making this one of the most unique places to stay in Scotland.
The Five Turrets accommodation has 4 bedrooms and 2 bathrooms, so it can sleep up to 8 people. This makes it great for a very large family or for two smaller families looking for a Scottish holiday to remember.
Check availability & latest prices now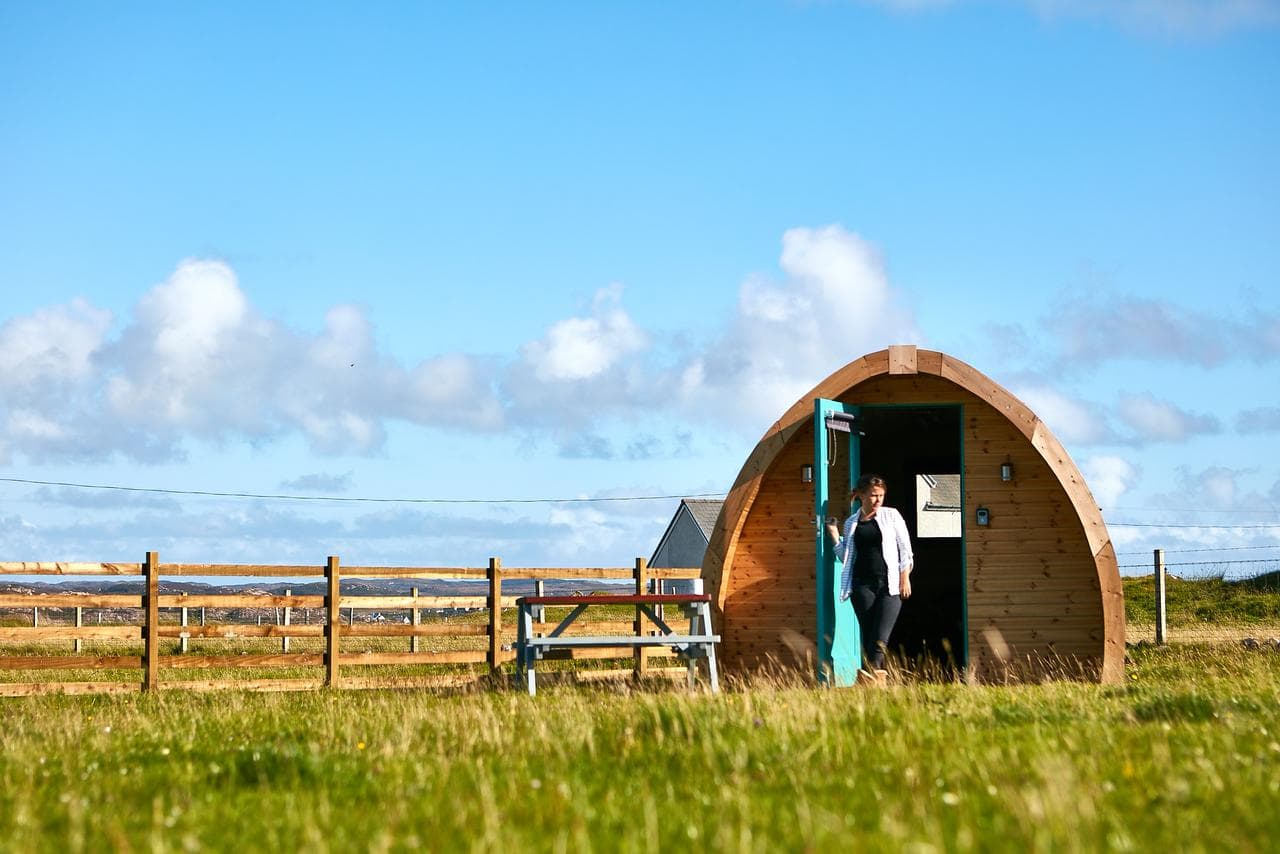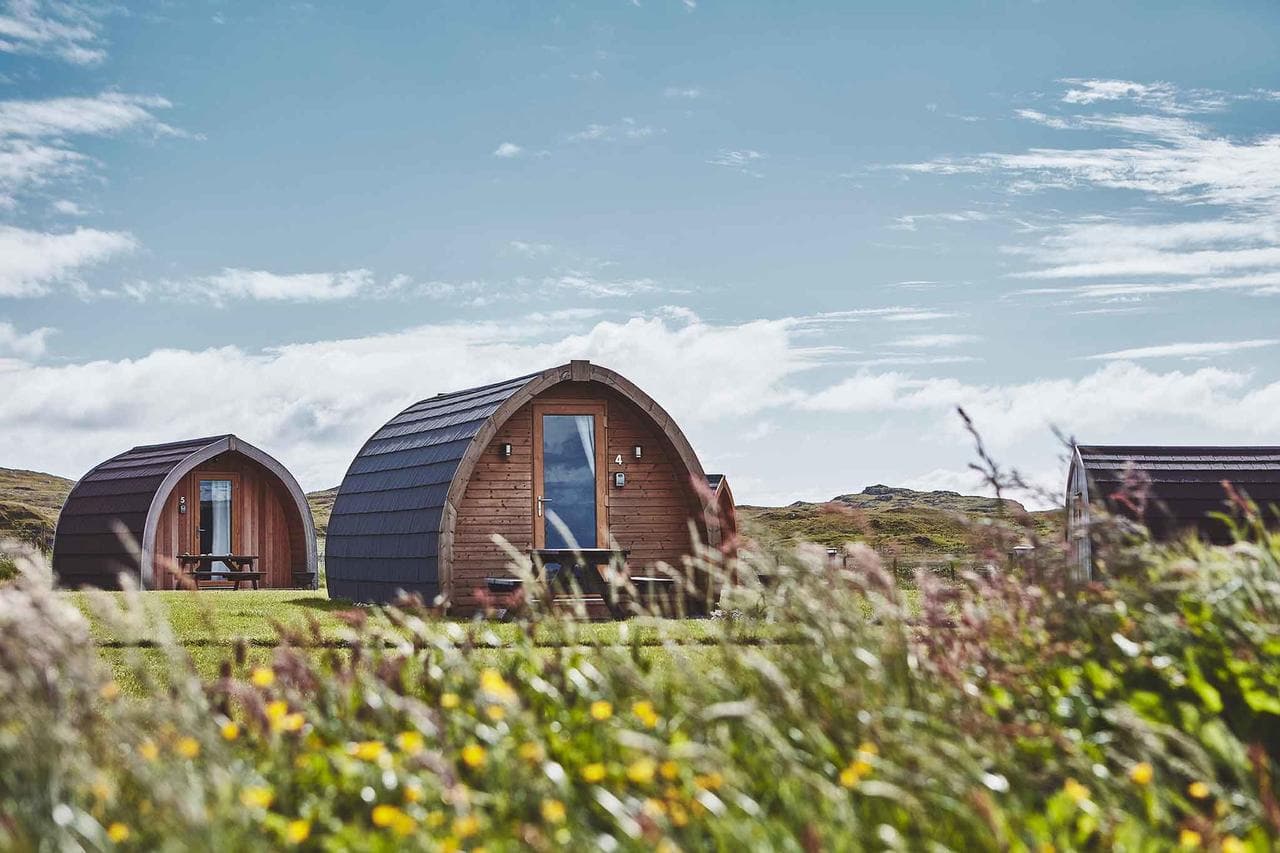 Iona is a tiny island off the southwest coast of Mull in the Inner Hebrides, and it is considered one of the most beautiful spots in Scotland.
The island is only 1.5 miles wide and 3 miles long, so when I say it's tiny, I really mean it! Also, it's home to just 120 permanent residents. If you're looking for a remote spot in Scotland to get away from it all, you've found it! Not to mention the views from Iona are just stunning.
For somewhere a little different to stay, check out the Iona Pods. This is a campsite where you can stay in these adorable glamping pods. Each pod consists of a large open space with either a double bed or two/three single beds. Each pod also features power sockets, a microwave, fridge, electric hob, kettle, kitchenware and cutlery, so you've got all the basic amenities you'll need.
The best thing about this place are the mountain views and being just a 10-minute walk from the beach. If you like being in the heart of nature then you will absolutely love this place.
Check availability & latest prices now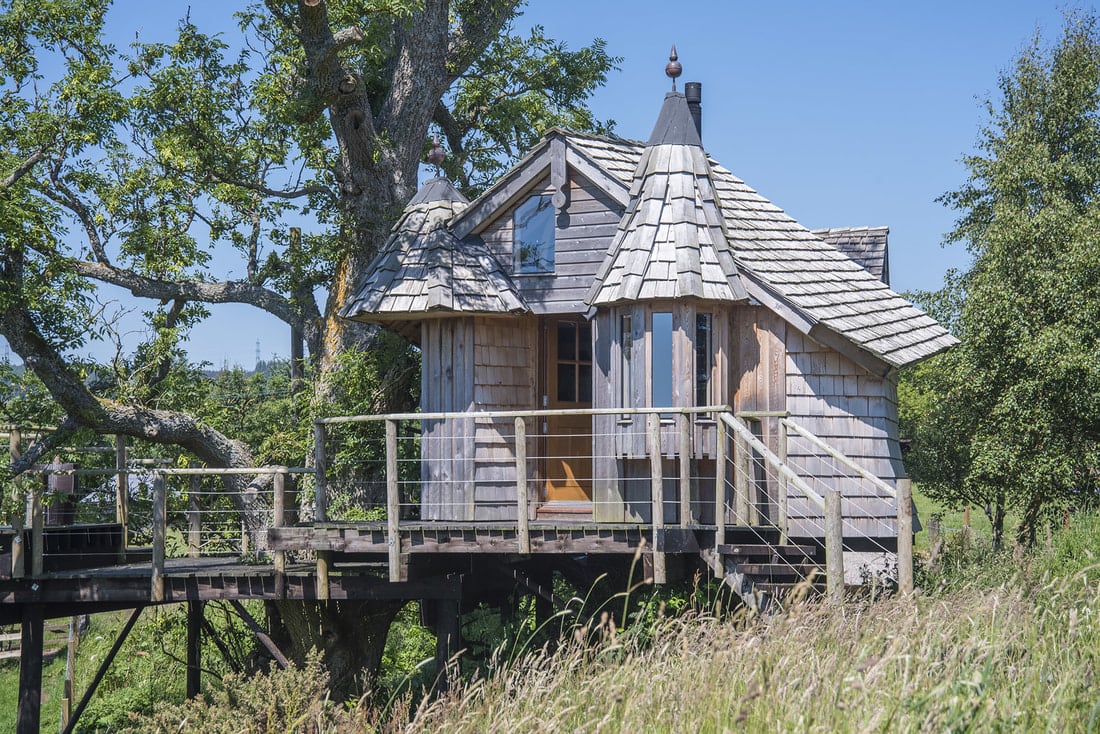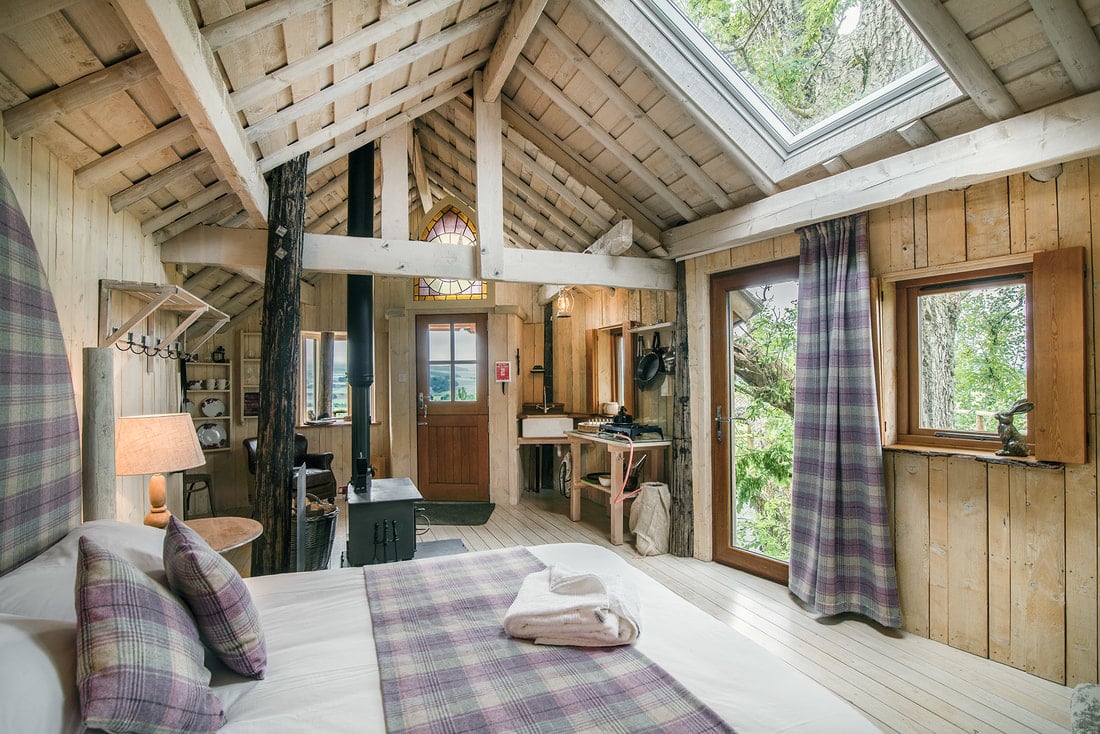 This is a remote treehouse like no other. Near Dunblane, the Tree Howf is built in the branches of an ancient ash tree and offers uninterrupted views of the surrounding Perthshire countryside.
The best bits are inside though. Inside there is a handmade rustic king size bed and a large star / tree gazing window above the bed. This is the perfect spot to turn off all the lights and watch the stars without getting blisteringly cold outside.
A wood-burning stove and oven keeps the whole place warm, plus there's an antique Belfast sink. There is also a luxurious hot shower and outdoor Eco-friendly compost WC.
Guests also have access to the Wash Howf which has more cooking and washing facilities and a small honesty shop selling wood, charcoal and other items.
Check availability & latest prices now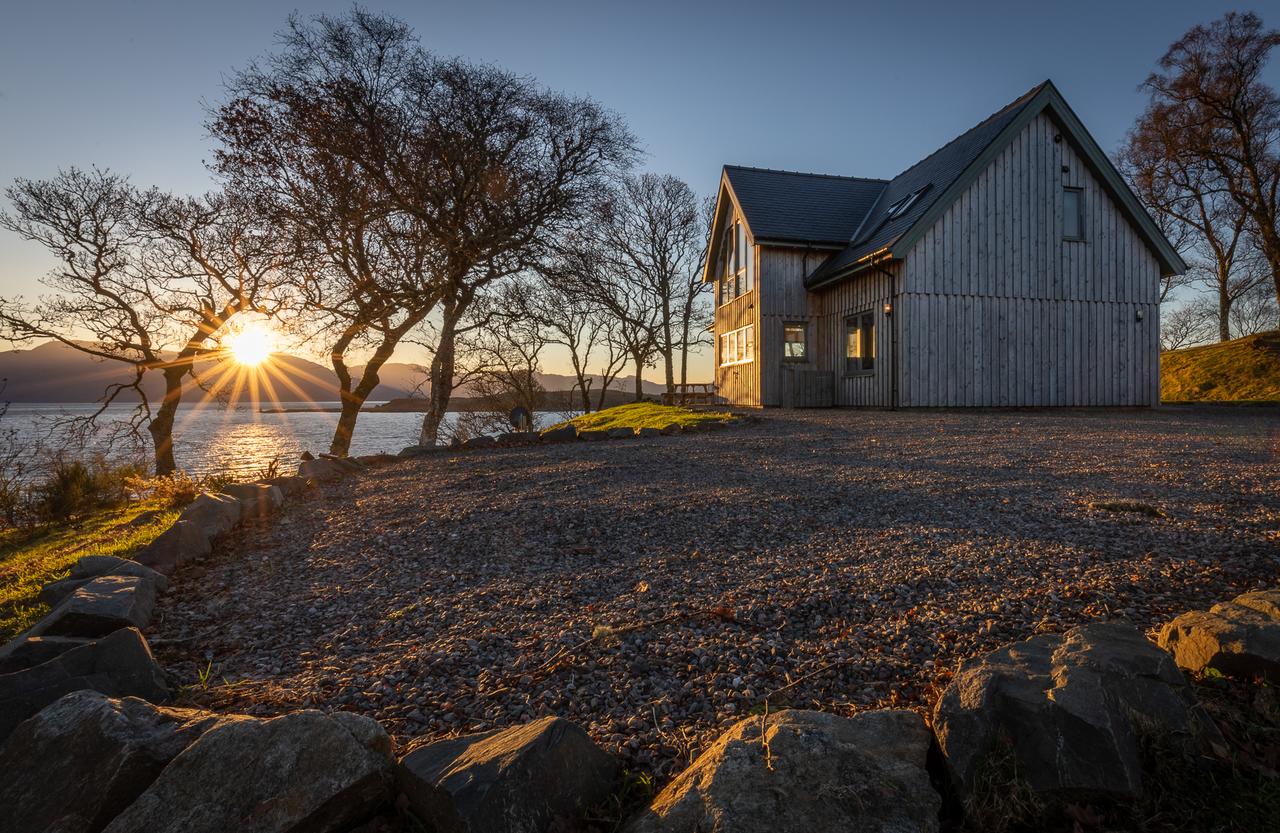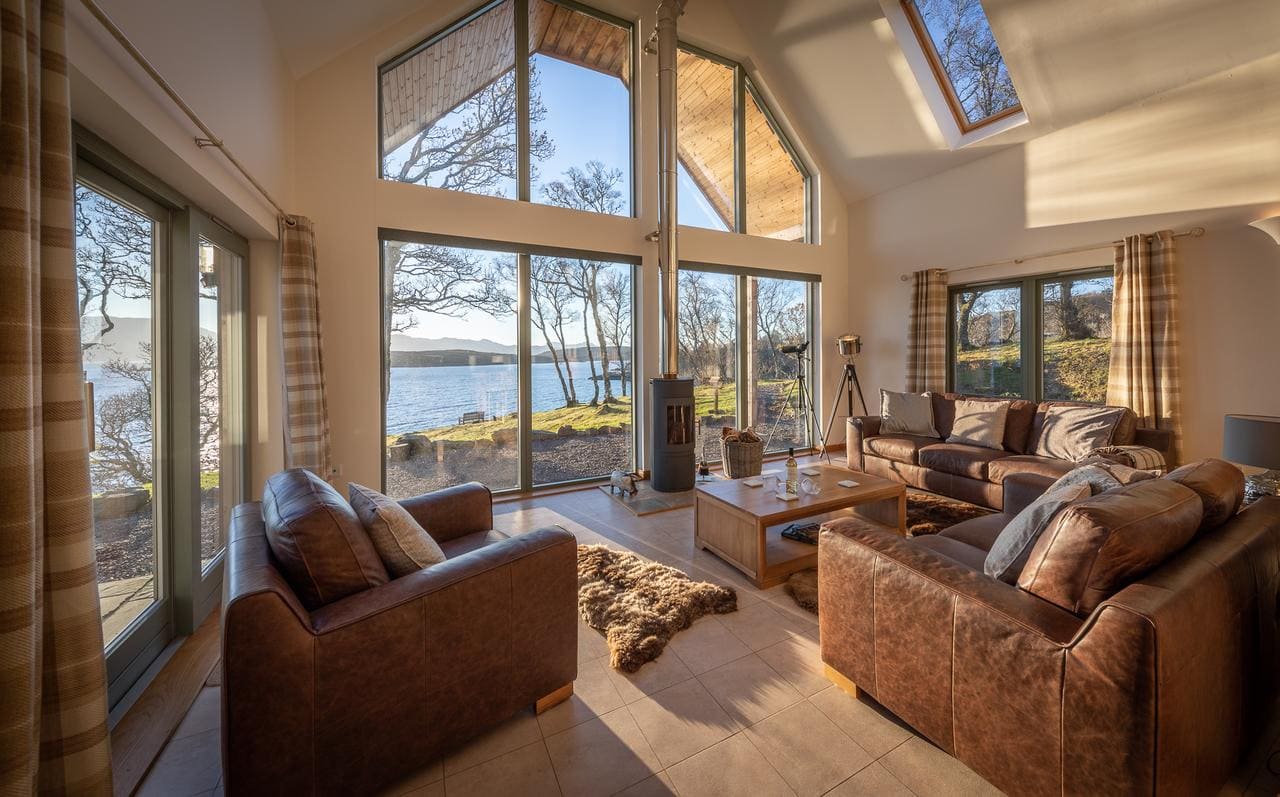 If you've come to this post looking for a remote Scottish cottage to rent, then I'd say The View on the Isle of Skye fits the bill perfectly. This luxurious cottage is located on the Sleat Peninsula, and is in an amazing location for exploring the region.
As for the holiday home itself, it's an architectural dream set over two floors, with two en-suite bedrooms, two beautiful lounge areas and a vaulted ceiling with floor to ceiling windows in the living room.
This area is also famed for its wildlife spotting opportunities. Otters, dolphins, pine martens and many other animals have all been spotted from the house!
As well as wonderful walking and cycling routes nearby, it's just a 15-minute drive to Armadale Castle and Armadale ferry terminal. There are also some great restaurants within a short drive. This is definitely one of the most stylish and romantic Scottish holiday homes in Scotland.
Check availability and latest prices at The View now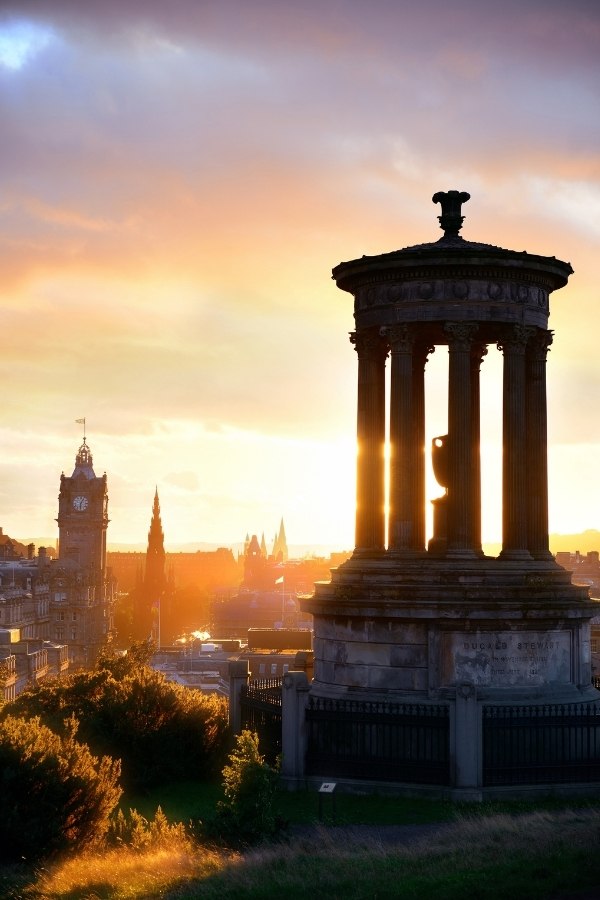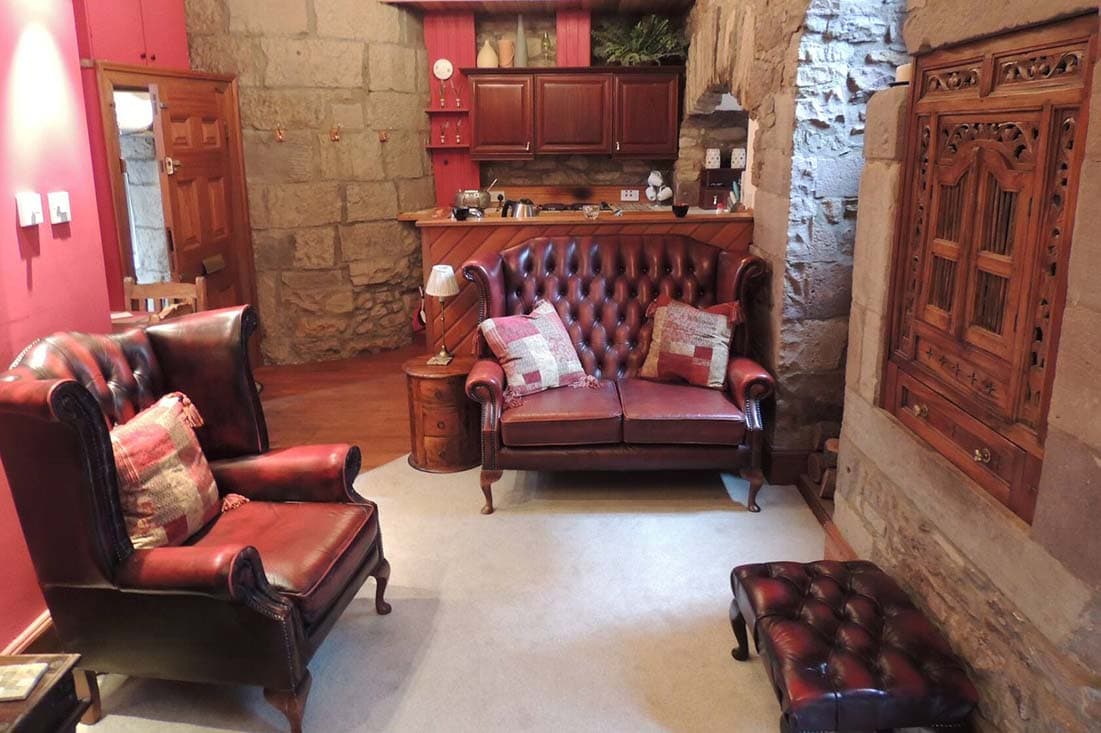 I think this really is one of the most unusual places to stay in Scotland. It's basically like having your own micro-castle but inside an inner-city apartment. It sounds weird but hopefully the pictures will give you more of an idea.
Located in the heart of Edinburgh, only 200 metres from Edinburgh Castle, the Castle Snug was once home to writer James Boswell. What makes this place so unique is it's been designed to look like a castle. The best bit is there's a secret pull-out double bed hidden in a bookcase!
To complete the castle picture there's a wonderful wrought iron balustrade, stained glass window and hanging tapestry. There's even a small courtyard outside where you can have a cuppa in the morning.
You can't beat the location of this place for exploring all Edinburgh has to offer, so if you're looking for something a little different then I can't recommend this place enough.
Check availability & latest prices now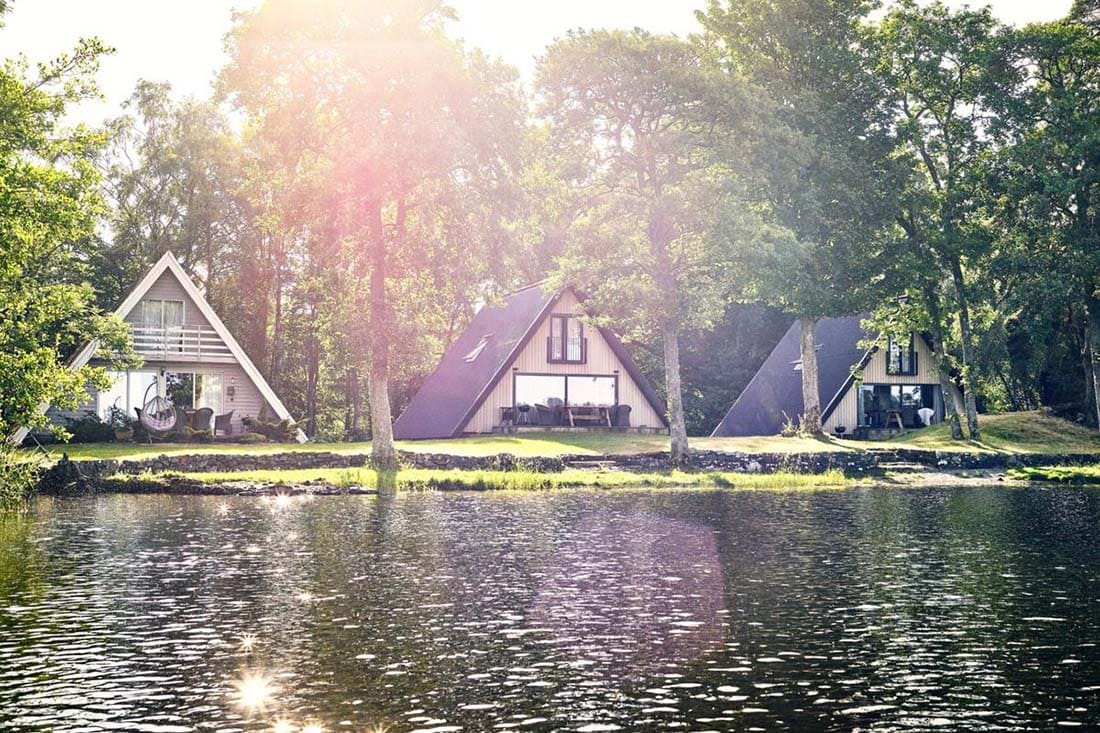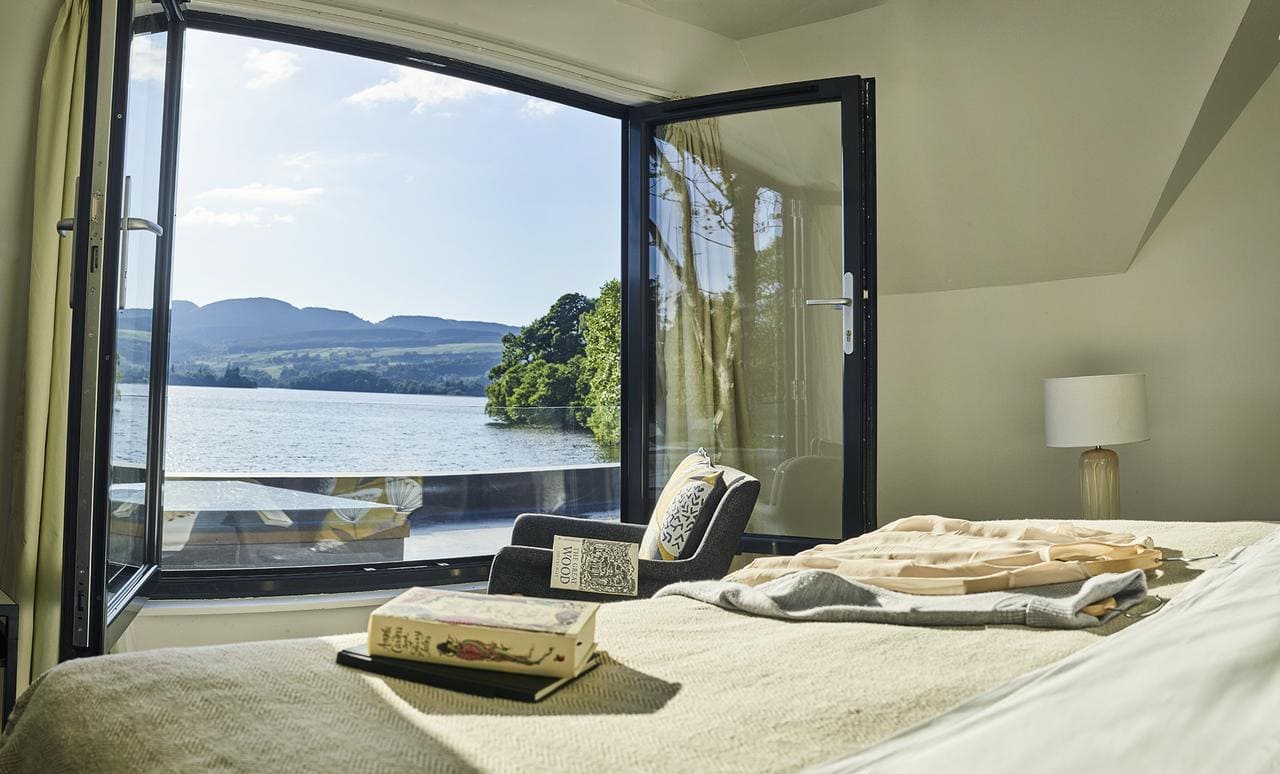 Lochend Chalets in the Port of Menteith are a cross between luxurious glamping and a self-catering holiday park. Hidden away on a tranquil corner of the Lake of Menteith with spectacular views across the water to Ben Lomond, there are a number of cabins, chalets, cottages and lodges to choose from here. All come with stunning views offering a peaceful countryside escape.
Lochend also has a tennis court and games room, a bike park and rowing boats, and is home to the Nick Nairn Cook School for those of you who want to up your cooking game.
This accommodation is only an hour from Glasgow and Edinburgh, so it's a great base if you're looking to tour the wonderful Scottish countryside with the Highlands and Islands, St Andrew's and Cairngorms all just a day trip away.
Still, it's very easy staying put by the lake and taking in the surroundings. As there are a few chalets to choose from, I would say this is a great option for families looking to get away on a Scottish adventure.
Check availability & latest prices now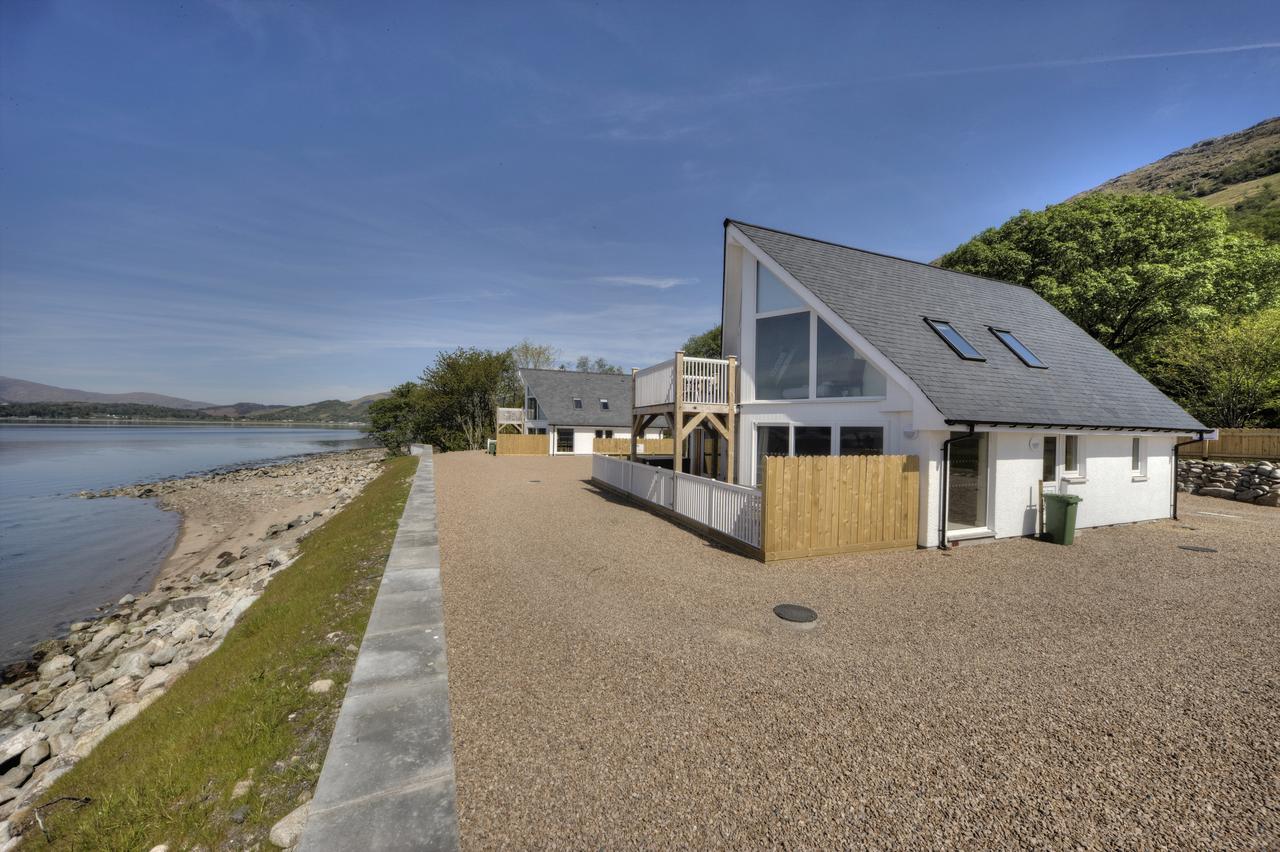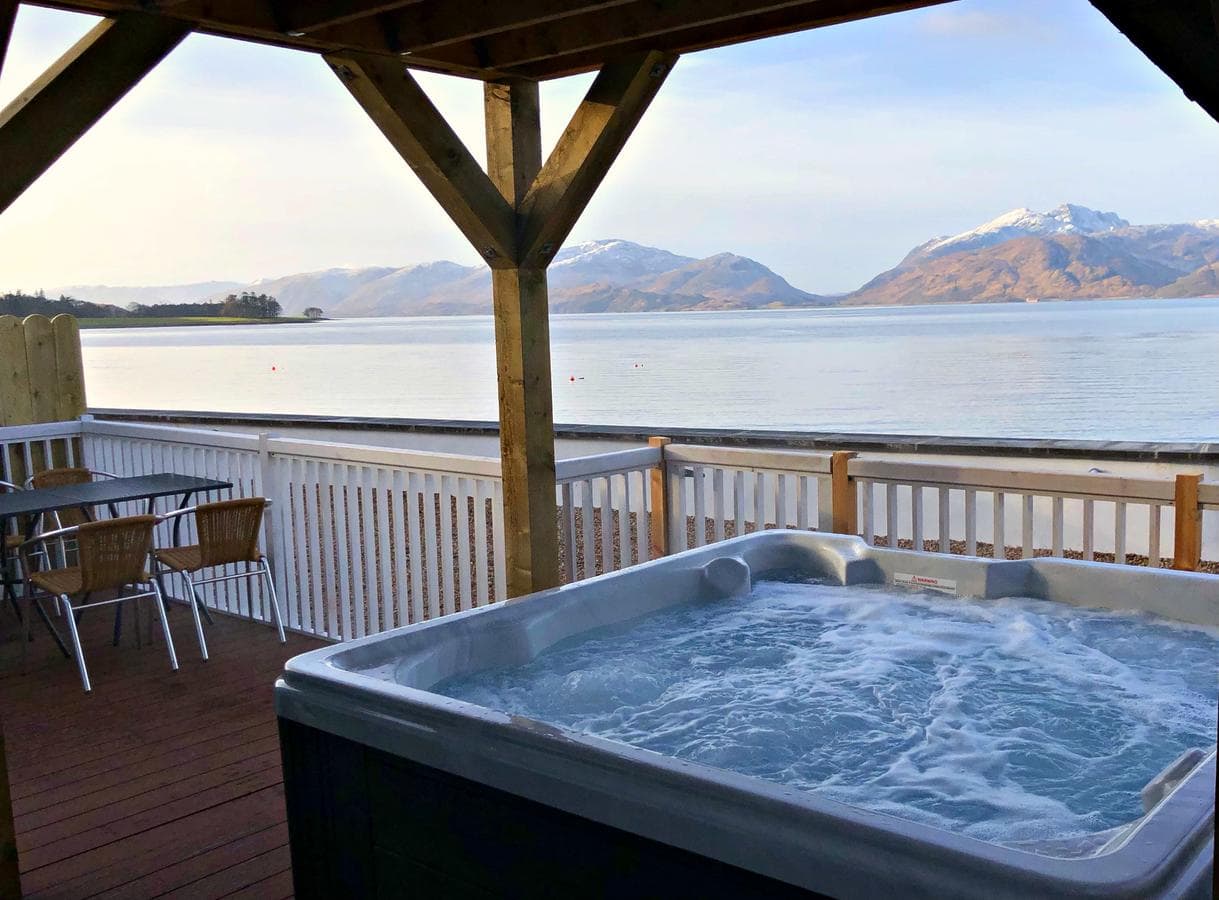 There are two modern holiday homes on offer in this gorgeous spot by Kentallen Pier, just a short drive to Glencoe. They have smart décor, all the mod-cons you could need for a self-catering holiday in Scotland, and even boast a hot tub on the terrace.
It's the view that will draw you in though. The location of the Beach Houses is just incredible, with wraparound balconies to sit out enjoying the view over the water. There are floor-to-ceiling windows in most rooms to make the most of the setting too.
It's in a great location for a family holiday too. It's close enough to a lot of key sights, activities and great trails, but immersed in nature enough to feel like you're getting away from it all.
Check availability and latest prices at the Beach Houses now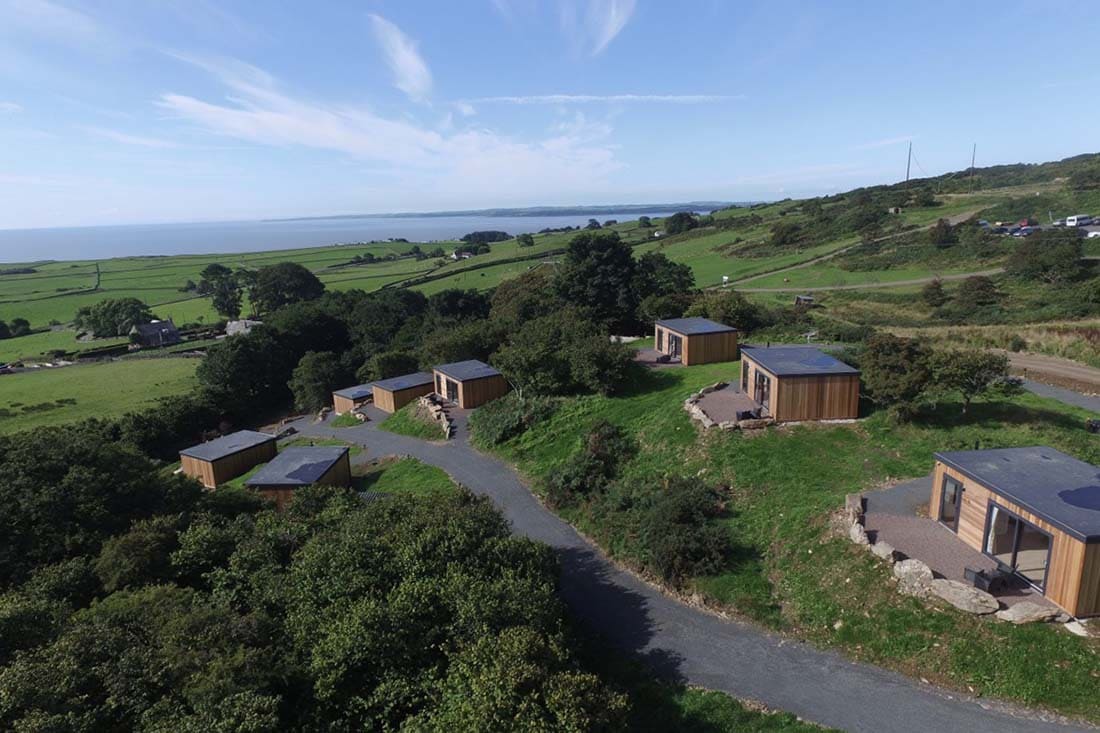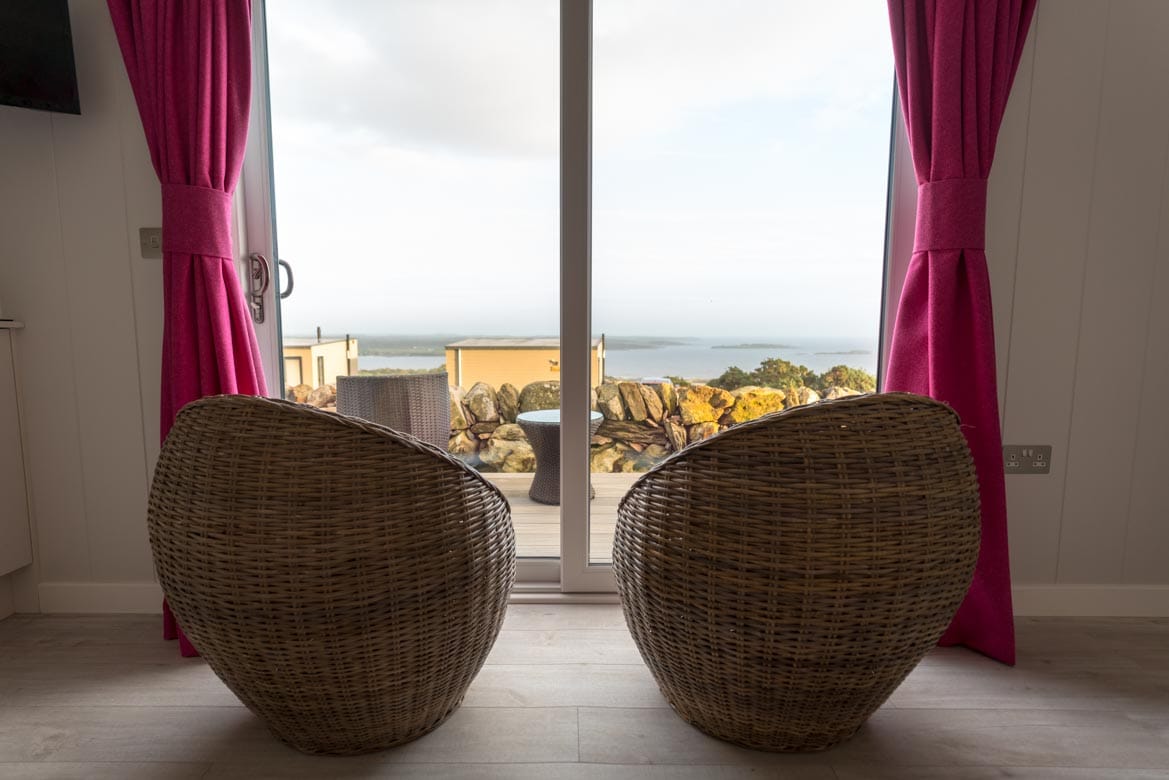 A place that is packed full of adventure activities in South West Scotland is Laggan Outdoors. Here you can enjoy activities like archery, clay pigeon shooting, off-road segwaying (which looks so much fun). However, when I visited I was there for something quite different.
Laggan Outdoors is home to the longest zipline in Scotland. This is 820m of fast-paced, adrenaline-fuelled fun. There's nothing quite like throwing yourself off the top of a hill to get the blood pumping that's for sure!
At Laggan Outdoors they also have their own Sea View Snugs. There are 16 different cabins in total, all overlooking the Irish Sea.
I stayed in the Heather Hut which was a really cute cabin perfect for solo travellers or couples. However, if you fancy a bit of luxury, a couple of the snugs come with their own hot tubs. Add in a bottle of wine, with that view, and you've got yourself the making of the perfect night in.
All the cabins are decorated differently and come with amenities like towels, toiletries and tea & coffee making facilities. Once again it is all about the views here.
Check availability & latest prices now
---
If you're looking for unique hotels in Scotland, I'm sure one of these places will take your fancy.
Or, if you want to see some more self-catered options, check out our pick of the best remote Scottish cottages. This blog post is packed full of unusual holiday cottages for a holiday to remember.
We've also got a blog post on the most unusual places to stay in Wales, so check out that post too!
Like this post? Pin it for later…