Dine with style at one of the eight Michelin starred restaurants in Yorkshire, including those owned by acclaimed chefs Tommy Banks, Michael O'Hare and Shaun Rankin.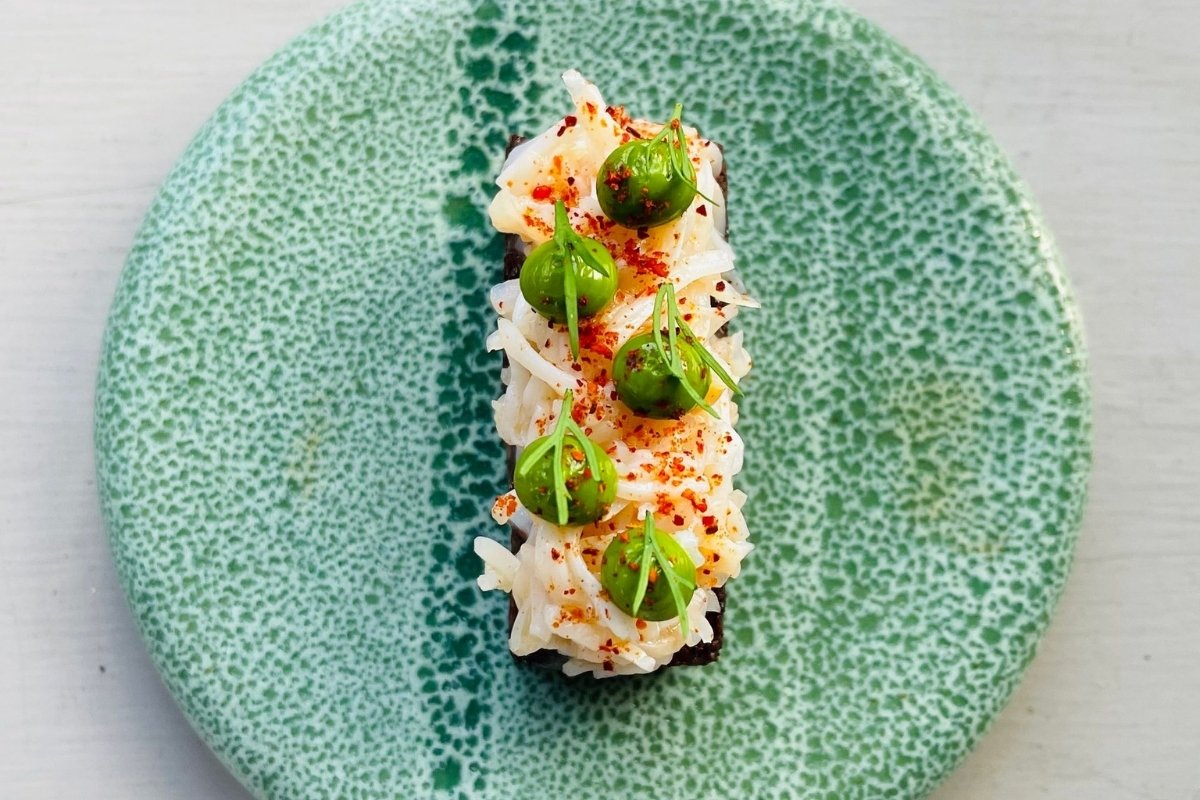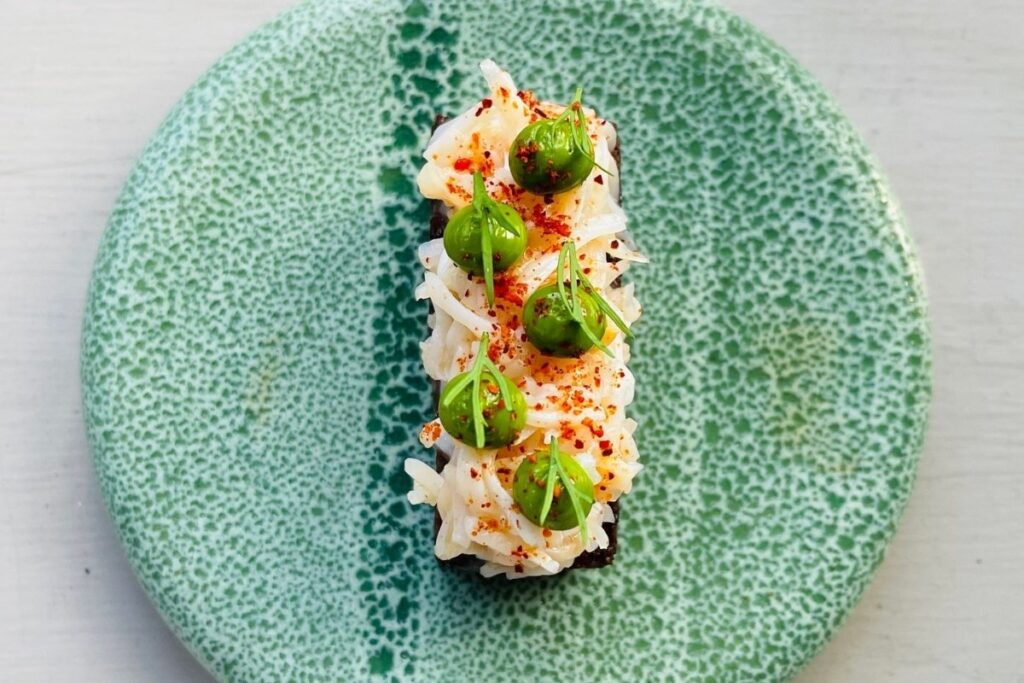 When you think about British food, you might be surprised to know how much of it comes from Yorkshire. From Yorkshire puddings to Wensleydale cheese and custard tarts, Yorkshire is the home of some of Britain's most beloved foods.
Yorkshire is a proud farming county with some of the largest farms in the UK. If you ask any Yorkshireman about food, they will proudly tell you about the finest quality produce grown right there!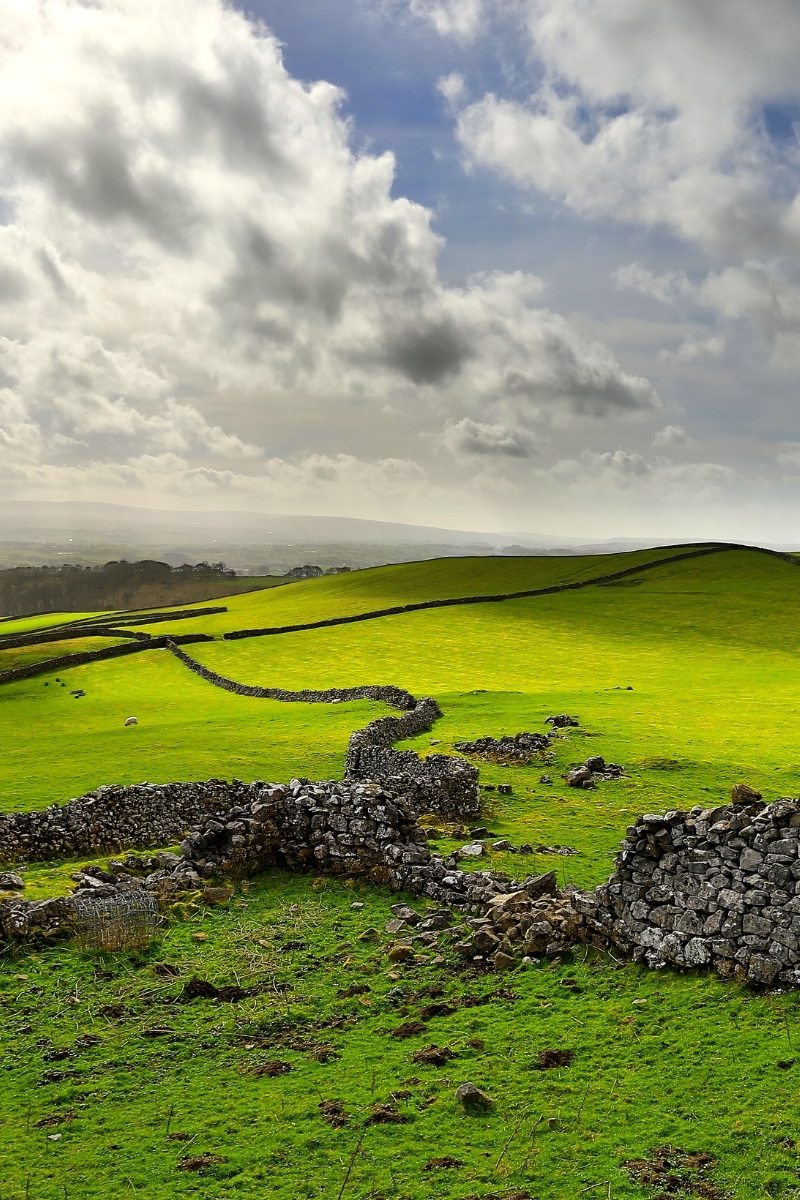 But when it comes to bringing the farm to the table, there's no better way to enjoy the culinary delights of the county than by dining at one of the best Michelin star restaurants in Yorkshire.
There are plenty to choose from too! In fact right now there are eight incredible Michelin starred restaurants in Yorkshire. Each offers something special and unique, so choosing which one to visit won't be an easy task!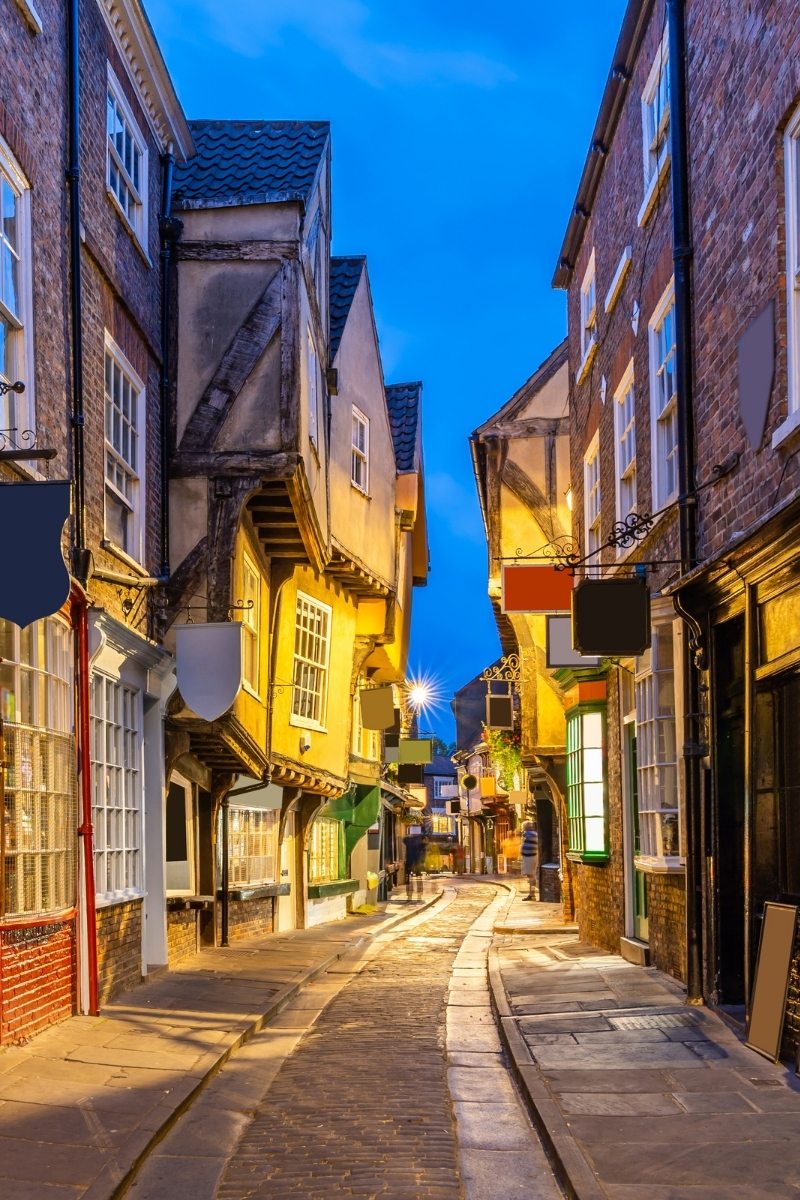 Whether you're looking for a top-notch meal for a special occasion or you're passing through the county looking for exceptional pub grub, you'll find a Michelin Starred restaurant in Yorkshire for you!
Ready to dive in? Be warned, this will definitely make you hungry!
If you're looking for some gorgeous places to stay in this region, don't miss our comprehensive guide to the best luxury and boutique hotels in Yorkshire.
---
8 Amazing Michelin Starred Restaurants in Yorkshire
Nestled in the heart of the North York Moors National Park, is this highly-acclaimed Michelin starred restaurant.. The man behind The Black Swan is acclaimed chef Tommy Banks, who not only holds a Michelin star but also four AA Rosettes.
Tommy Banks was Britain's youngest Michelin starred chef back in 2013 and has also cooked some of the winning dishes on Great British Menu over the years. In fact, The Black Swan has so many awards, that it would take all day to list them all!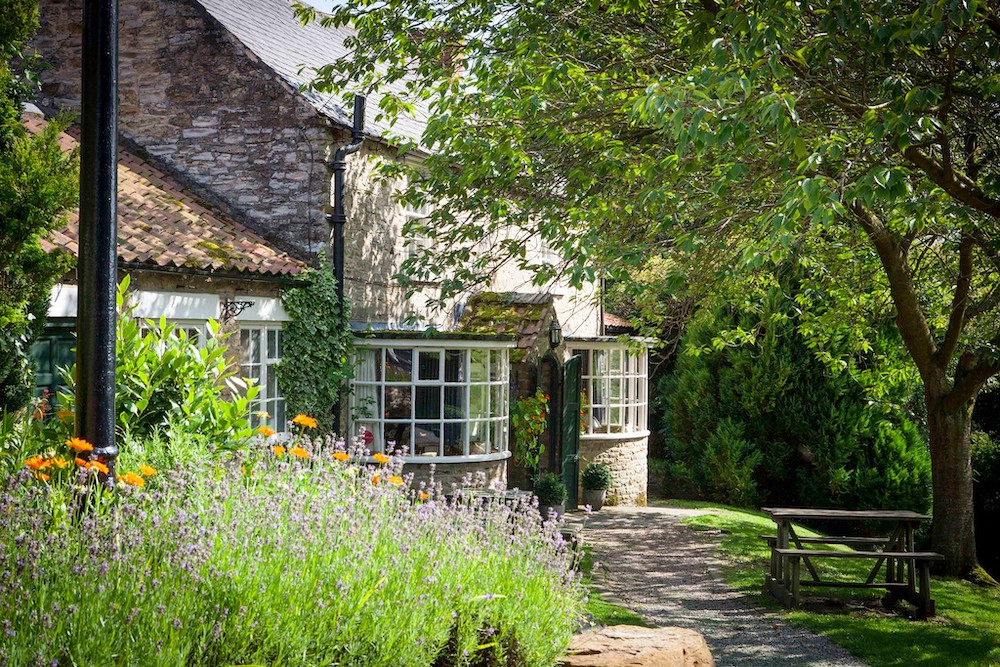 One thing that makes this restaurant special is that it is still family-owned. The Banks family have been running The Black Swan for generations. Not only is the family history evident in the decor of the restaurant, but you'll feel its presence in the dishes too.
Each dish has been lovingly prepared with fresh produce grown and foraged from the Banks Family's very own twenty-acre farm and three-acre garden.
The tasting menu, in particular, is an ode to the family's history in the farming industry. They pride themselves on developing new ideas and using the produce they gather to determine what goes on the menu. No two days are ever the same here, and that's what makes it such an appealing and exciting dining experience!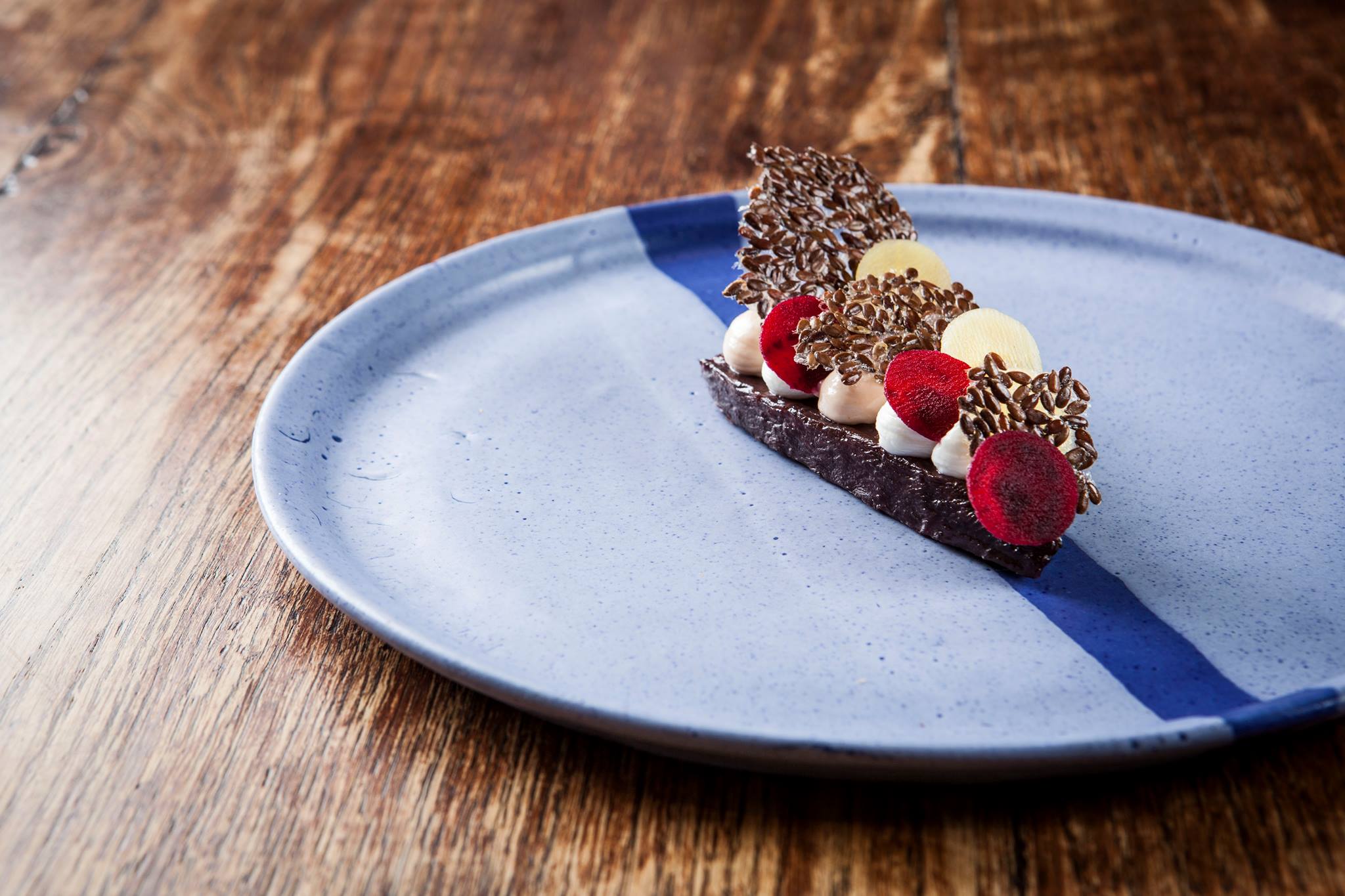 As the menu is constantly changing, every visit is different! In fact, you'd be hard-pressed to find another Michelin starred restaurant in Yorkshire that keeps visitors coming back more often than The Black Swan.
Looking for quirky and unique dining experience? Then book a table at The Man Behind The Curtain.
The man in question here is Michael O'Hare, an award-winning chef known for producing high-quality dishes with a touch of magic. Each plate is carefully crafted and presented as a piece of art.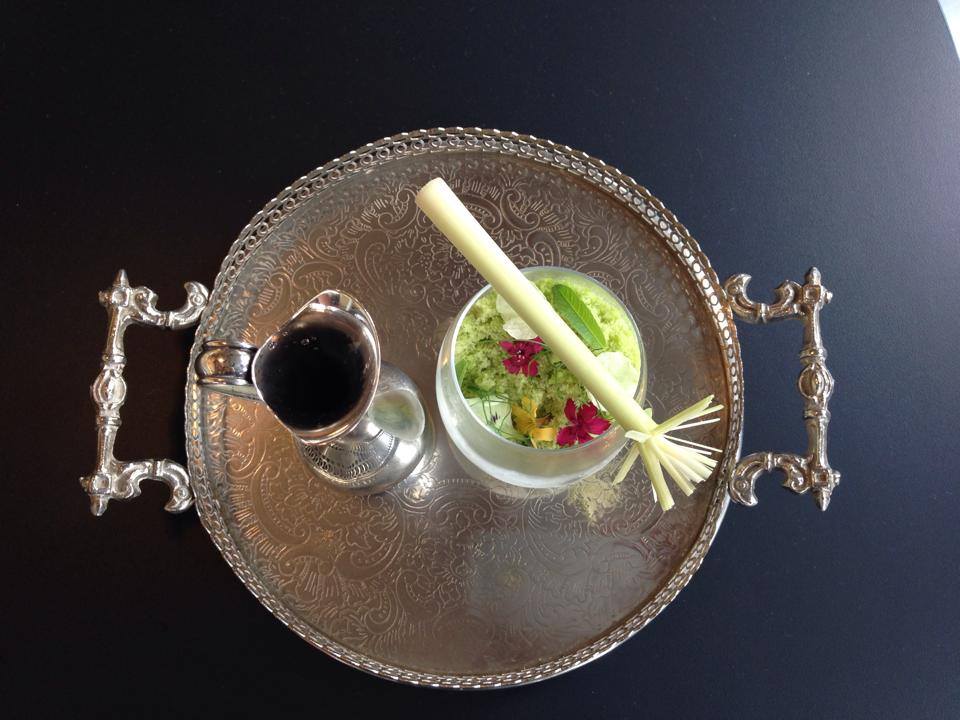 The menu showcases a variety of cuisines, including some incredible Asian fusion dishes. Some dishes simply focus on a colour… you never know what you're going to get here and that's all part of what makes this exceptional restaurant special.
Forget the historic buildings where many of Yorkshire's best restaurants are located. Here, things are a lot more modern! In fact, the interior of the restaurant has a creative and industrial design, with graffiti and skateboards on the walls!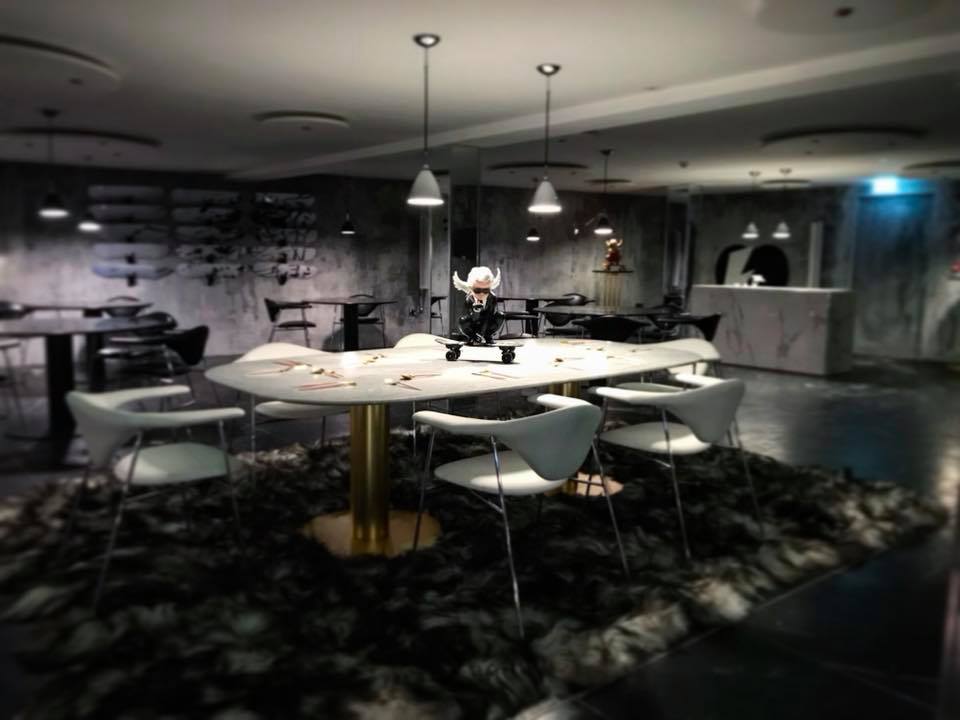 Unlike many Michelin starred restaurants in Yorkshire that are a little more casual, there's a bit of an air of pretentiousness at The Man Behind the Curtain. However, once you have sampled the flavours, you won't really care.
At the end of the day, it's art… in food form.
Since The Black Swan has been so successful in North Yorkshire, it would be rude not to expand, right?
If you'd love to dine at The Black Swan but are struggling to get a table, don't worry! You can enjoy the culinary delights of Tommy Banks at his second Michelin starred restaurant, Roots.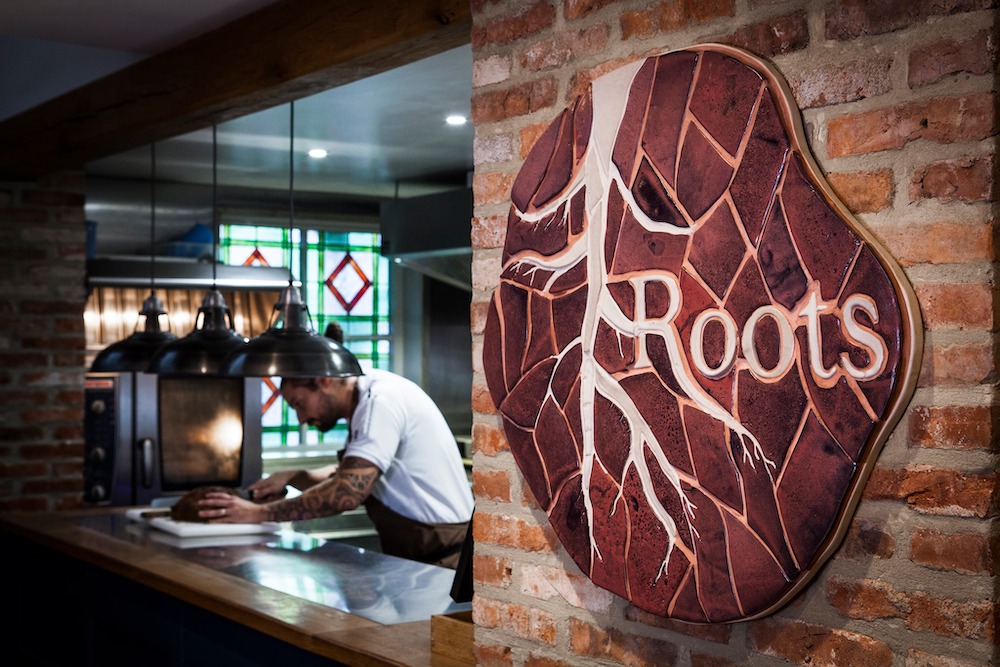 He opened Roots in 2018, in the historic city of York with his business partner Matthew Lockwood.
It was named after the family's long history of bringing the best from their farm to the table – an ethos going right back to their "roots." This ​​popular restaurant offers a similar vibe to what you might find at The Black Swan. It's warm and cosy, but with modern touches that scream of sophistication.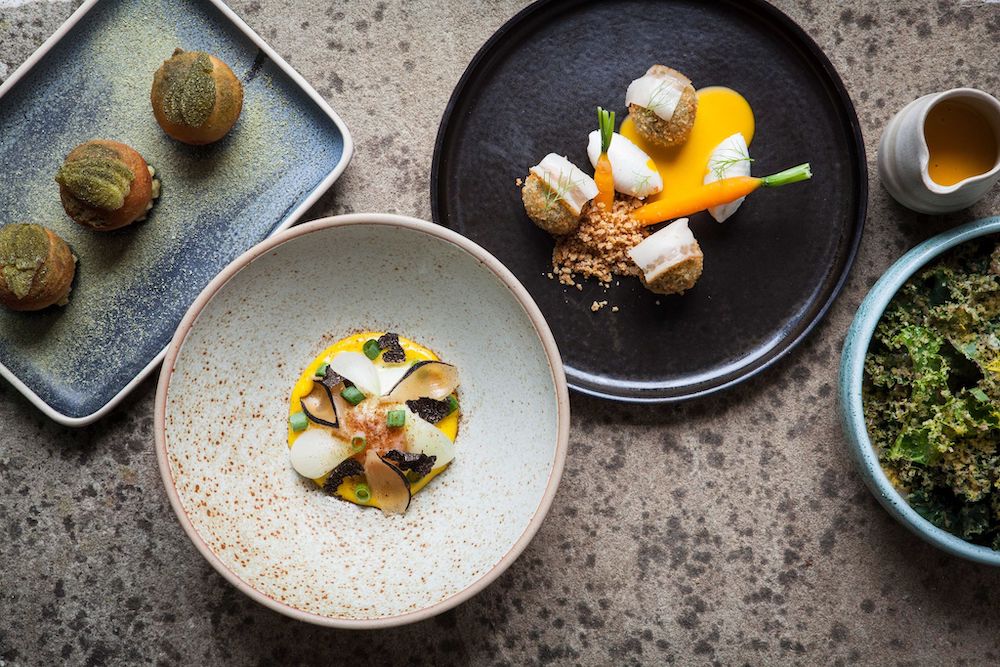 Set in a charming nineteenth-century building, the restaurant has a relaxed and inviting atmosphere. There is only one menu, a tasting menu, which just like The Black Swan brings the Banks family's evolving palate of fresh produce to the table in innovative ways.
Sadly, this restaurant is currently closed following a major fire on 24th November 2021. Rebuilding works are underway and the restaurant will hopefully reopen in late autumn 2022.
Another one of the top Michelin starred restaurants in Yorkshire that deserves a visit is The Star Inn in Harome. This gorgeous ​​14th-century thatched cottage is the perfect countryside setting for a memorable pub meal.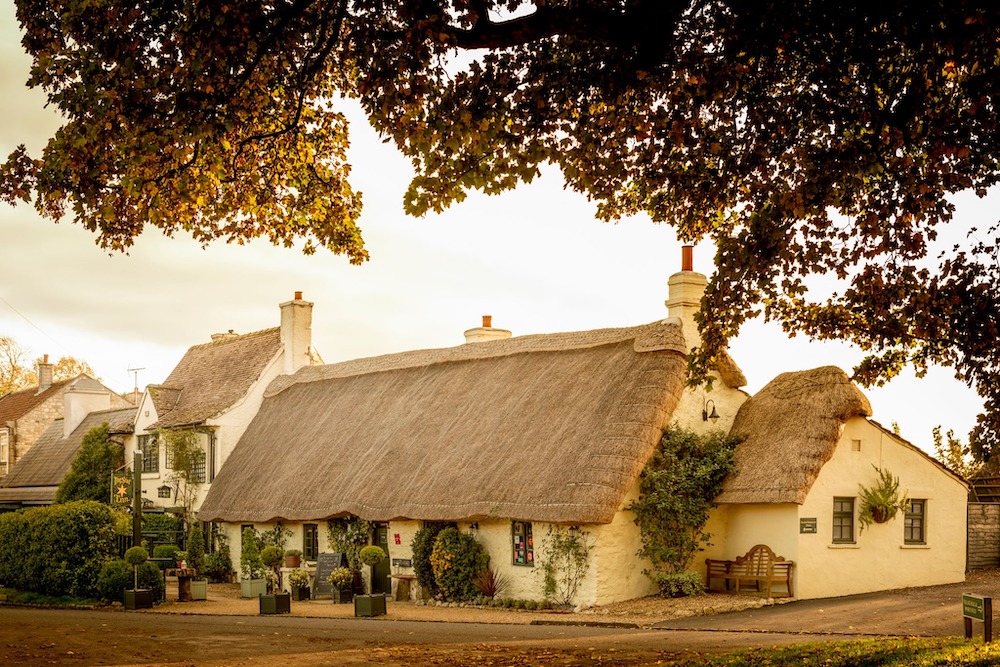 The low beamed ceilings and warming fireplaces instantly welcome you and make you feel at home. There's friendly service (as to be expected in Yorkshire!) and a relaxed ambience. This is a reminder that Michelin starred restaurants don't have to be stiff or stuffy!
Despite its quirky, old-world character, the restaurant still feels luxurious. At the same time, you could feel completely comfortable sitting at the bar sipping a pint after a long day.
The master behind the menu here is head chef, Andrew Pern. Pern is highly acclaimed for bringing modern touches to traditional British cuisine.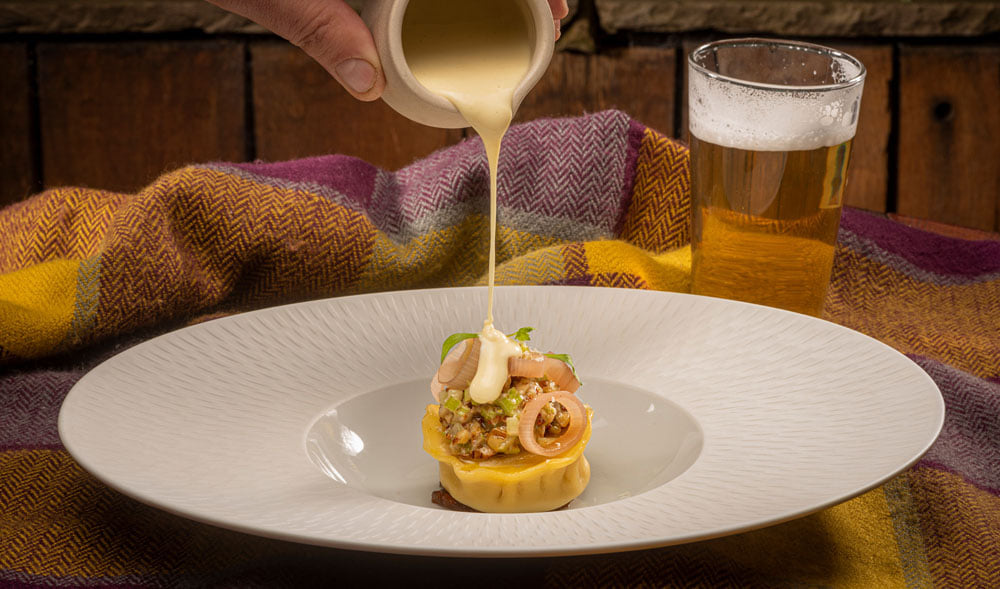 In fact, what makes The Star Inn so famous is that it proudly offers home county dishes. They only serve top-quality produce, including locally sourced fish from the harbours of Whitby and game from the Yorkshire Moors. They even grow herbs and vegetables in the kitchen garden.
It was the second pub in the world to be awarded a Michelin star in 2002, which for unknown reasons they lost in 2010, two years after receiving the Gastropub of the Year Award by Pub Chef Awards. In 2014, they regained their Michelin star and were back on top.
Nestled amongst the rolling hills of the Yorkshire Dales is one of the quaintest Michelin starred restaurants in Yorkshire. The Angel was awarded its first star in 2019, just after it was awarded four AA Rosettes. It's a traditional gastropub in style, but with a more refined menu.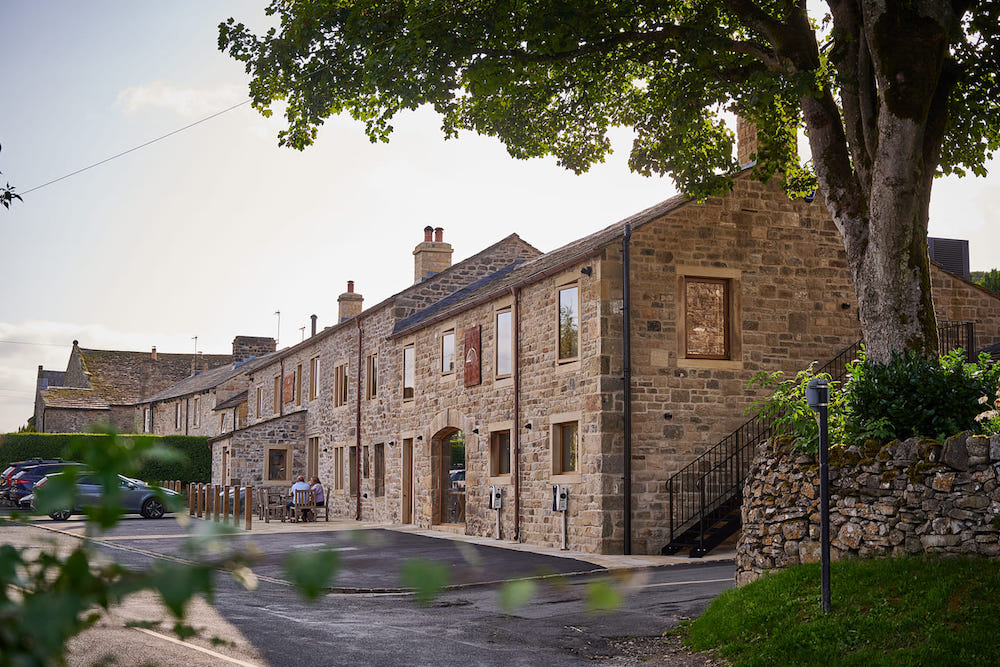 The inn itself is a piece of local history, dating back to the 15th century. On the inside, guests are greeted by cosy fires and plush furnishings. It's one of those places you dream of visiting on a cold winter day!
The man behind the culinary curtain is two-time Michelin starred chef and patron, Michael Wignall. When he took over the pub in 2018, he wanted to keep everything that made the restaurant famous – its delicious food and historic roots. It's clear to say he has done that.
Wignall is always evolving in his culinary style and creates inventive dishes full of flavour. He is known for making modern meals with a technical flair. He produces flavour combos that simply delight the taste buds.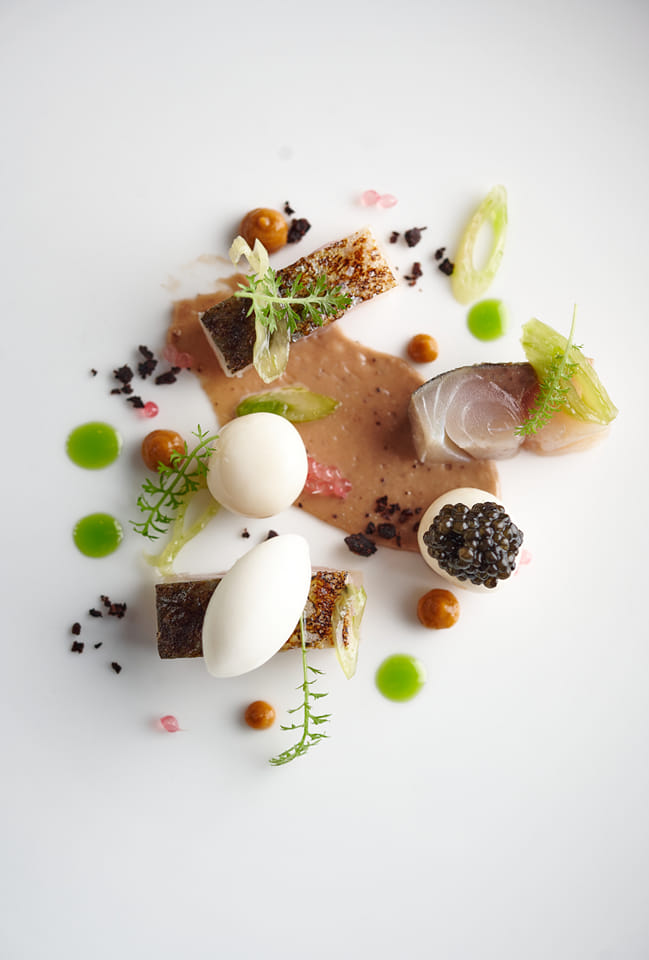 Despite its elevated culinary status, the restaurant has a less formal approach to dining, focusing on the flavours rather than the art. That being said, the dishes are Instagrammable too!
The Angel was ranked Number 2 in the National Restaurant Awards Top 100 Restaurants in 2021 and was also nominated for Gastropub of the Year in 2022 so it's continuing to tot up the trophies!
Looking for somewhere special for date night? This is one of the best restaurants in Yorkshire for a romantic dinner! Those who love the fine dining scene in London will love what Shaun Rankin is brings to the countryside of Yorkshire at Grantley Hall.
Rankin is a Yorkshire-born chef who learned his culinary arts at The Mayfair Hotel in London. He was awarded his first Michelin Star in 2005 and has received three AA rosettes.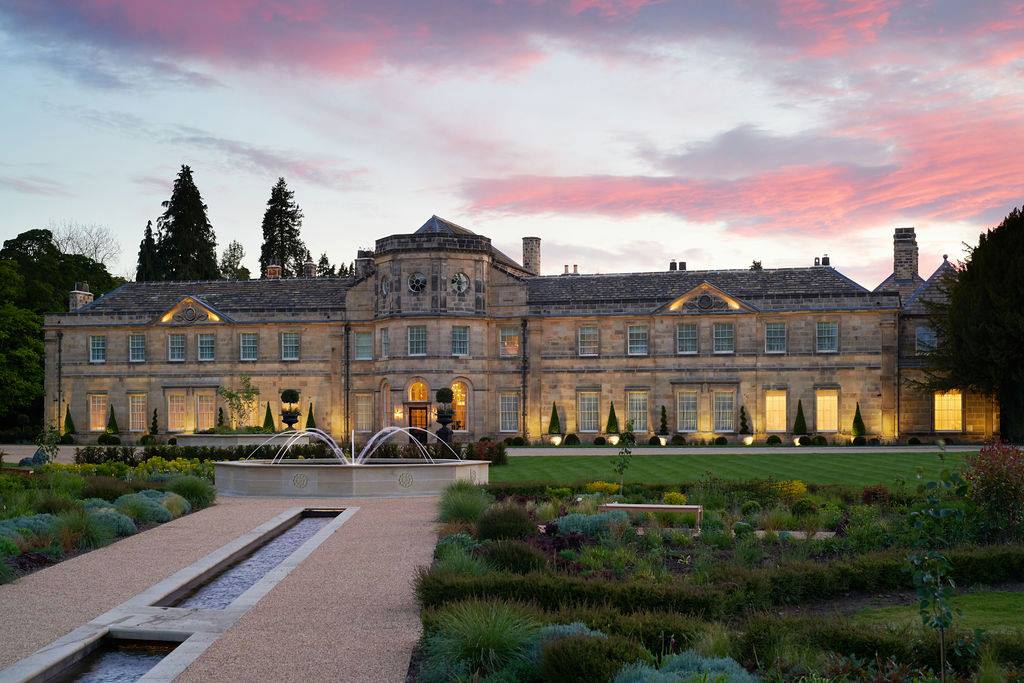 Now, he's brought his skills home to Yorkshire! Here you will find a plethora of outstanding dishes made with locally grown ingredients, some of which come from the stately home's kitchen garden. All meat and seafood come from top-quality suppliers in Yorkshire, and all the cheeses are produced in the UK.
Grantley Hall itself is an elegant stately home in Ripon, Yorkshire. Think crystal glass, chandeliers and gold trimmings. If you're celebrating a special occasion, you could book an overnight stay at the hotel with dinner. That would certainly be a night to remember!
If you're looking for a Michelin starred restaurant in luxurious surroundings, the kind that has more forks on the table than you know what to do with, then this is the place for you!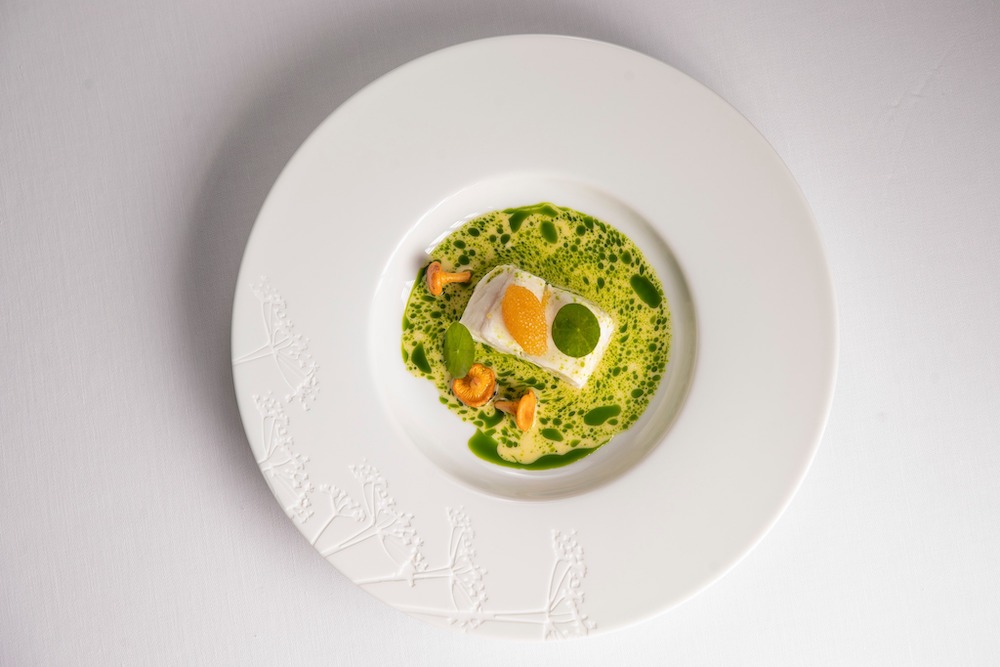 Guests can dine in the main dining room, reserve a suite for up to 20 guests or book an intimate table of 8 at Rankin's "kitchen table."
The Box Tree was one of the first Michelin Star restaurants in Yorkshire to appear in the Michelin Food Guide. In 2020, it received an AA Notable Wine List Award and picked up the Travellers' Choice Award.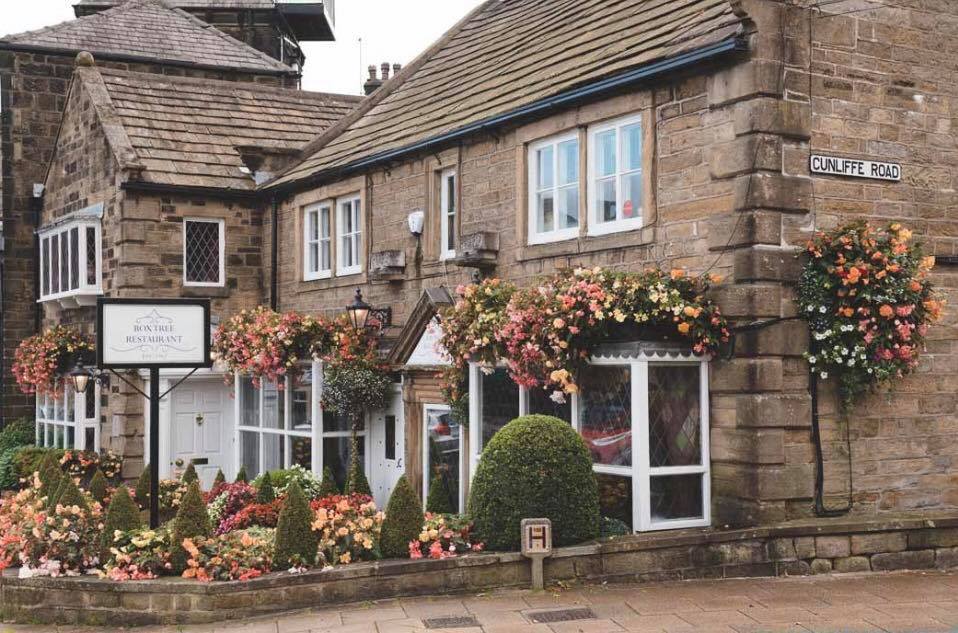 The restaurant offers 21st-century meals in a fine dining setting. While the kitchen boasts the state of the art equipment, the dining hall is full of antiques and works of art.
The Box Tree is located in one of the oldest buildings in Ilkley, which dates back to 1720. It was originally home to gentleman farmers and businessmen, and it wasn't used as a restaurant until the nineteenth century. At that point the box trees were first planted, hence the name, The Box Tree.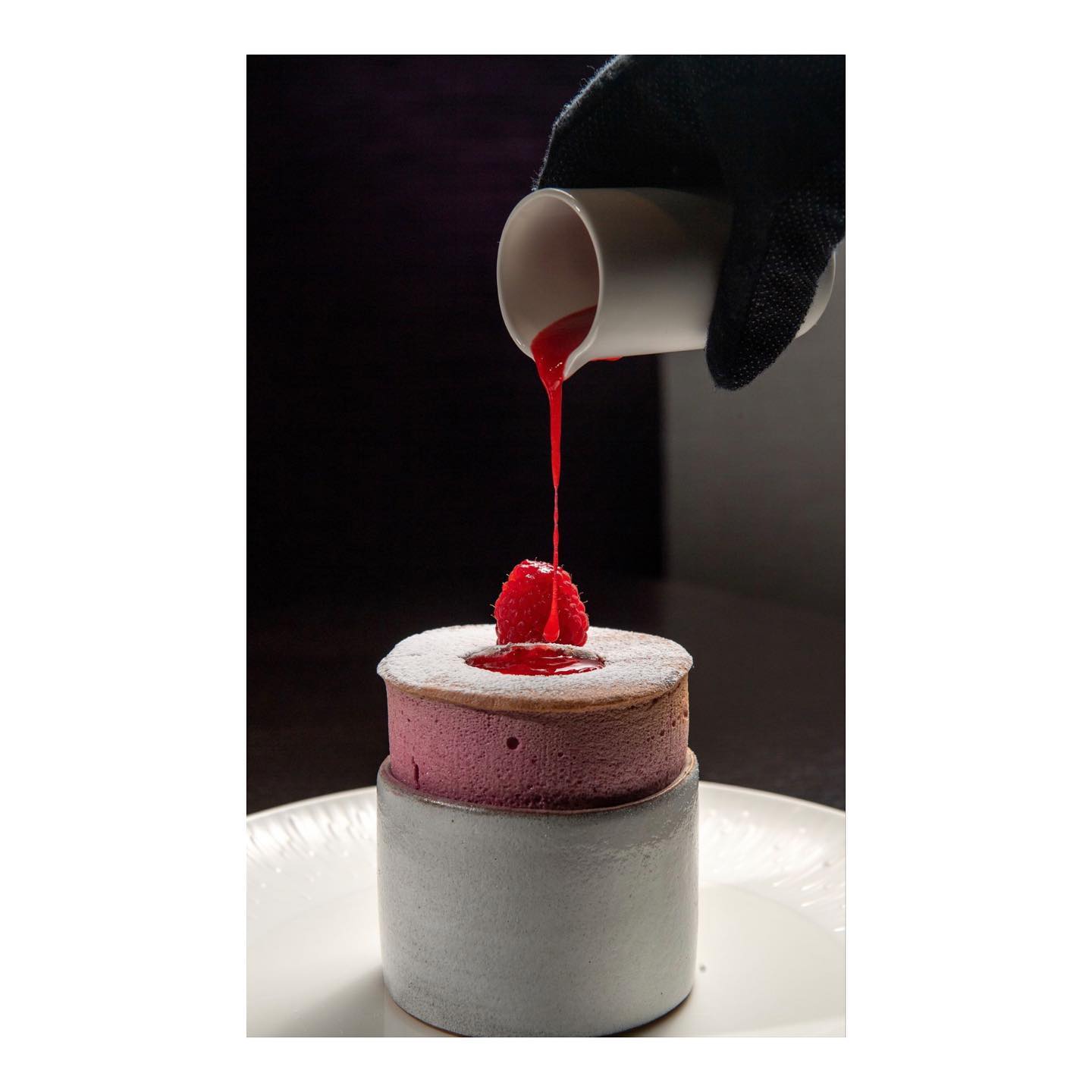 Over the years award-winning chefs such as Michael Truelove, Edward Denny and Marco Pierre White have each added their influence to the restaurant. Since 2006, the restaurant has been in the hands of Simon Gueller and his wife Rena.
Gueller has not one, but three Michelin starred restaurants under his chef's hat. He is known for creating trailblazing and exceptionally high-quality meals, which you can enjoy in the sophisticated environment at The Box Tree.
The Pipe and Glass Inn is a cosy, family-friendly pub in East Yorkshire. It was awarded its first Michelin star less than a year after it opened in 2006. Since then, it has gone on to win a plethora of other awards, such as The Good Pub Guide's National Dining Pub of the Year.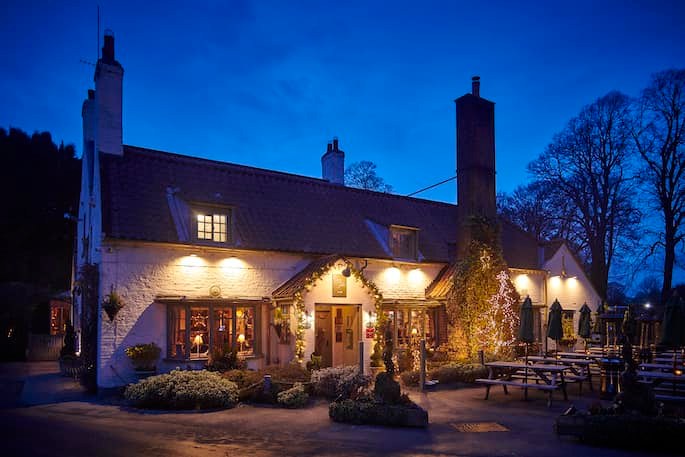 The restaurant is nestled inside the old coaching house on the 17th-century Dalton Estate. The restaurant's owners, James and Kate Mackenzie, have upgraded the restaurant into a homely and relaxed dining space.
On the menu, you'll see fresh local produce that has been carefully picked and foraged by the chefs themselves.
If you are looking for a fancy evening meal, you can reserve the exclusive private dining suite. Or on warm summer days, you could book a table in the kitchen garden for some sophisticated al fresco dining.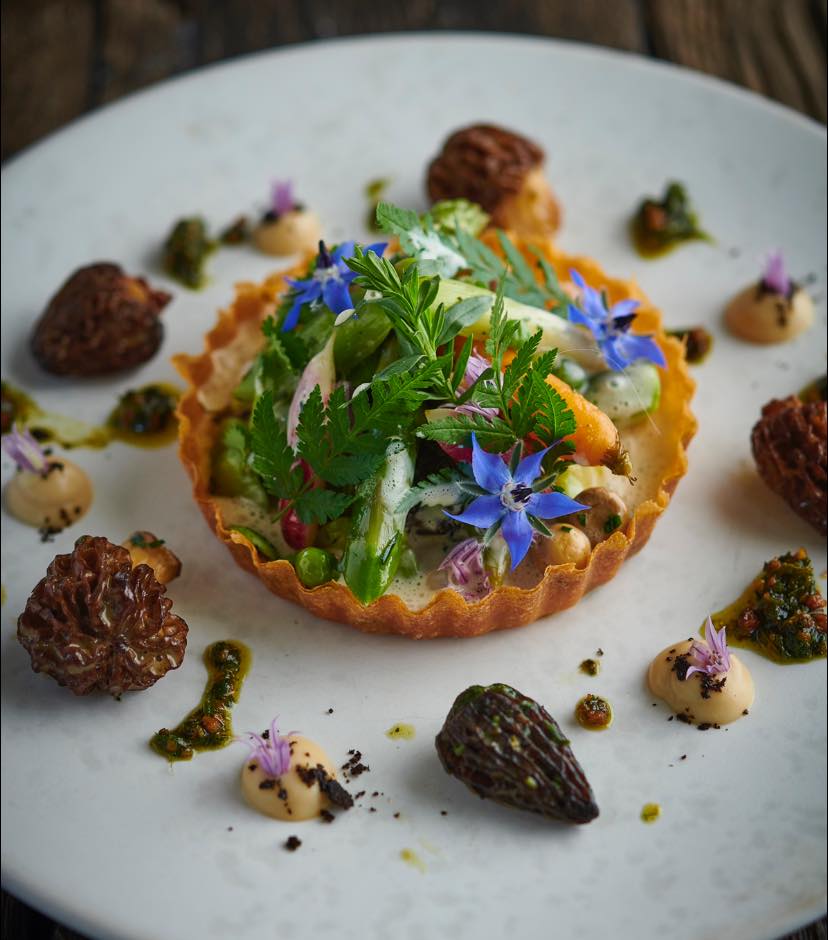 As well as offering world-class food, the McKenzie family also give back to the community. They regularly fundraise for the South Dalton village hall and have also worked with Hull College to train the brightest chefs of our future generations.
If that doesn't make The Pipe and Glass Inn one of the best restaurants in Yorkshire, then nothing will!
---
I hope you've enjoyed reading about all of these amazing Michelin starred restaurants in Yorkshire. If you're a total foodie, we'd also recommend reading our guides to the best restaurants in Wales, the Lake District and Birmingham.
Enjoyed this post? Pin it for later…