From fine-dining on the seafront, to quirky and creative cuisine in the mountains, these Michelin star restaurants in Wales deserve a special trip.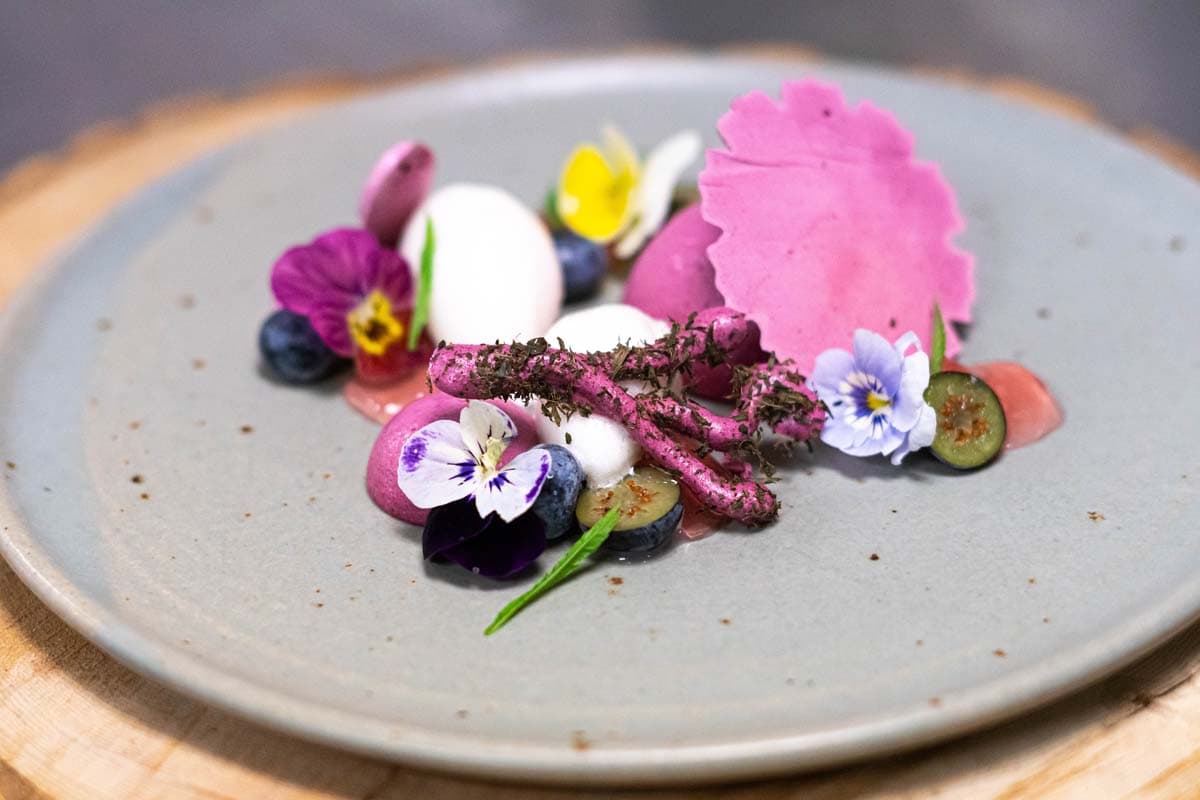 When it comes to gourmet food in Great Britain, Wales is often overlooked. London might be the hub of the food scene in England, Cornwall might have a bunch of great restaurants in Padstow, but Wales has plenty to be proud of too.
There are currently 7 Michelin star restaurants in Wales. Combined they have over 20 AA Rosettes too. The restaurants have unique influences and menus that bring local Welsh flavours to the plate, in a dainty and creative way.
For us, the food is one of the biggest reasons to plan a trip to Wales!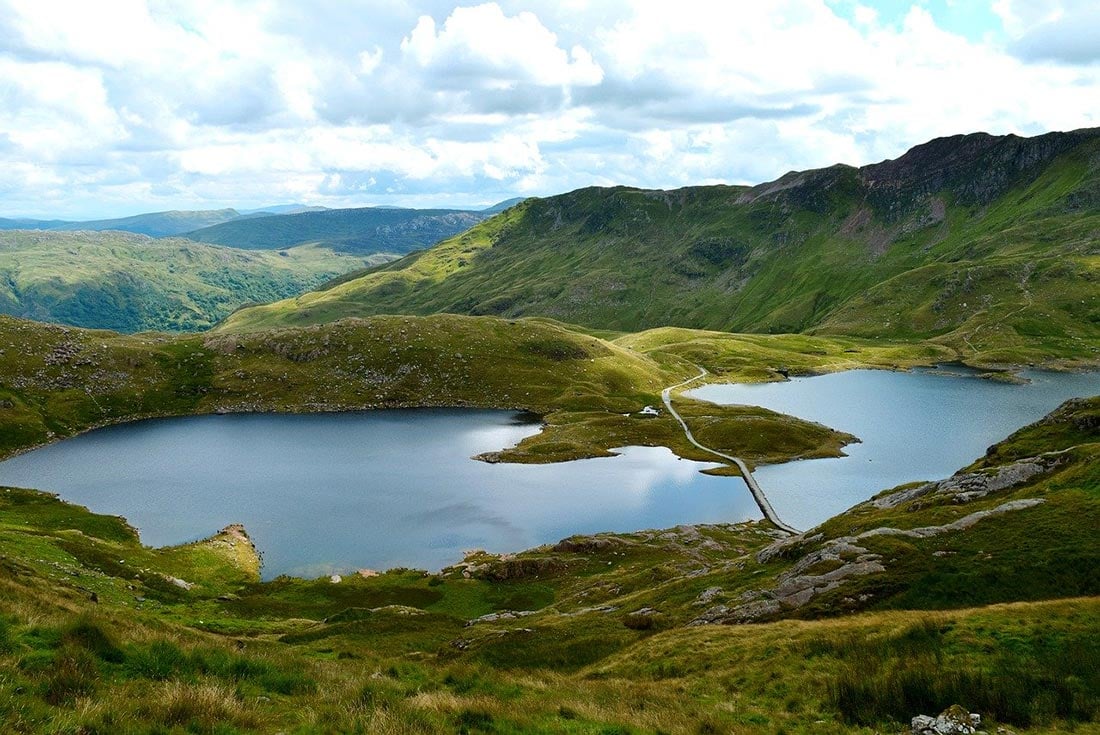 There's Beach House near Swansea in south Wales, with its beautiful sea views and Gower-inspired cuisine. In Penarth, James Sommerin has opened wonderful family-run restaurant, Home.
At Sosban and The Old Butchers, Stephen Stevens concocts fine-dining experiences (which are booked up months in advance) in a tiny restaurant on the Menai Bridge.
Meanwhile, The Walnut Tree draws gourmet-lovers for its food that's as far from pub grub as you can get. Head to The Whitebrook and you'll feast on freshly-foraged ingredients, that bring the Welsh countryside straight to your hungry tummy.
Then there's Gareth Ward's Ynyshir – a restaurant pushing the boundaries with its creativity and dedication to foraging, pickling, fermenting and fire. In turn this has influenced former head chef Nathan Davies to set up SY23 in Aberystwyth, with a charcoal grill as its focal point.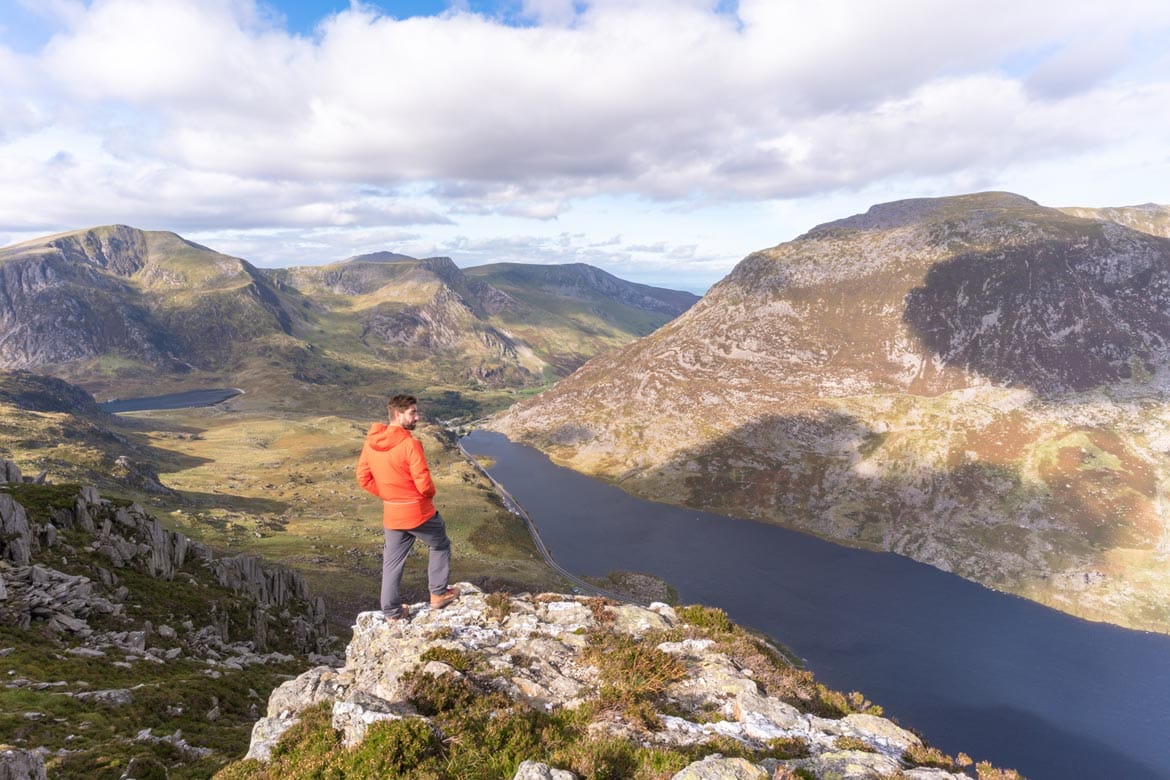 These Michelin star restaurants in Wales are unique, and while some might think a restaurant of this standard will be stuffy, the Welsh know how to make the experiences relaxed, enjoyable and ALL about good food!
So whether you're visiting Snowdonia or Tenby, Aberystwyth or Cardiff, start planning a special meal for your break in Wales!
---
Michelin Star Restaurants In Wales
I first became acquainted with this restaurant after seeing it on Masterchef. As I watched head chef Gareth Ward cook on TV, I was googling the restaurant, checking prices and wondering how soon we could visit! It looked incredible.
Located in mid-Wales near Snowdonia National Park, the unpronounceable Ynyshir now has two Michelin stars and 5 AA Rosettes. It's a restaurant at the top of its game, and a destination in itself.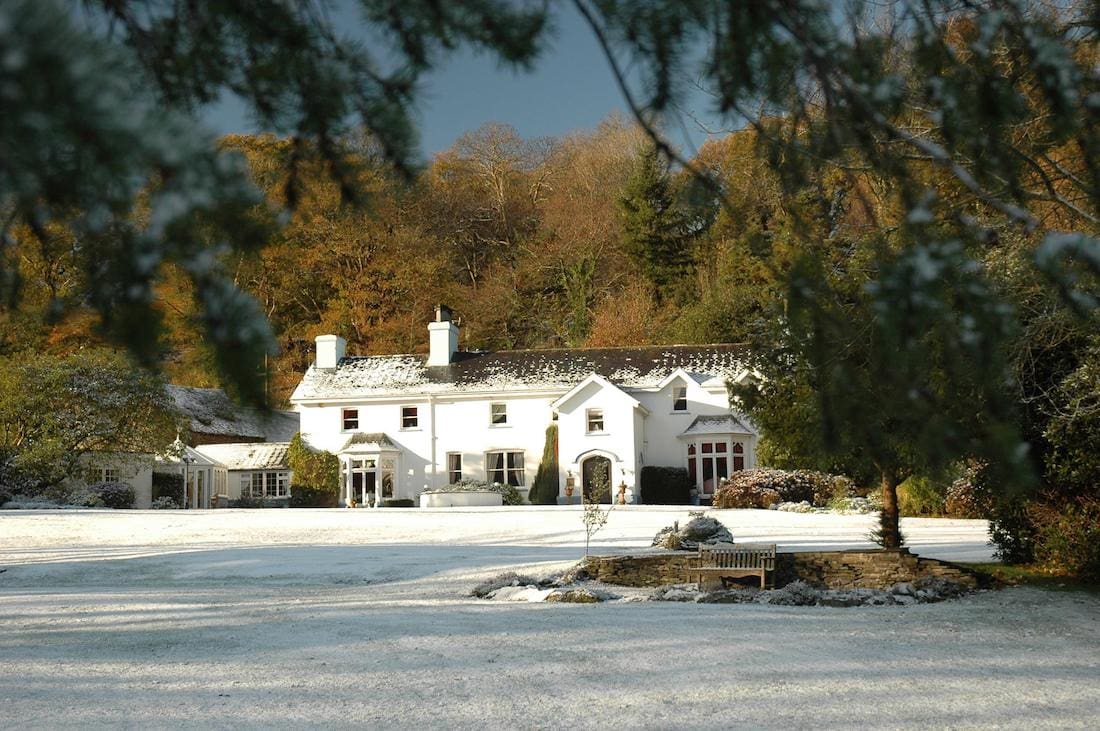 There's a little more of a theme to the cuisine here than at the other restaurants on this list. At Ynyshir, the chefs like fire, foraging and fermenting. There's also a heavy Asian influence along with a dedication to seasonal and local ingredients. When something isn't in season, it's served pickled or fermented!
The tasting menu has around 20 courses, and while I couldn't find the menu online, there are a few ingredients that are likely to feature if you plan to visit. Some of the most popular dishes feature Welsh Wagyu beef, which the chef ages himself. There's also the 'Not French Onion Soup' – a rich concoction of miso, fermented fruit, seaweed and shiso-pickled vegetables.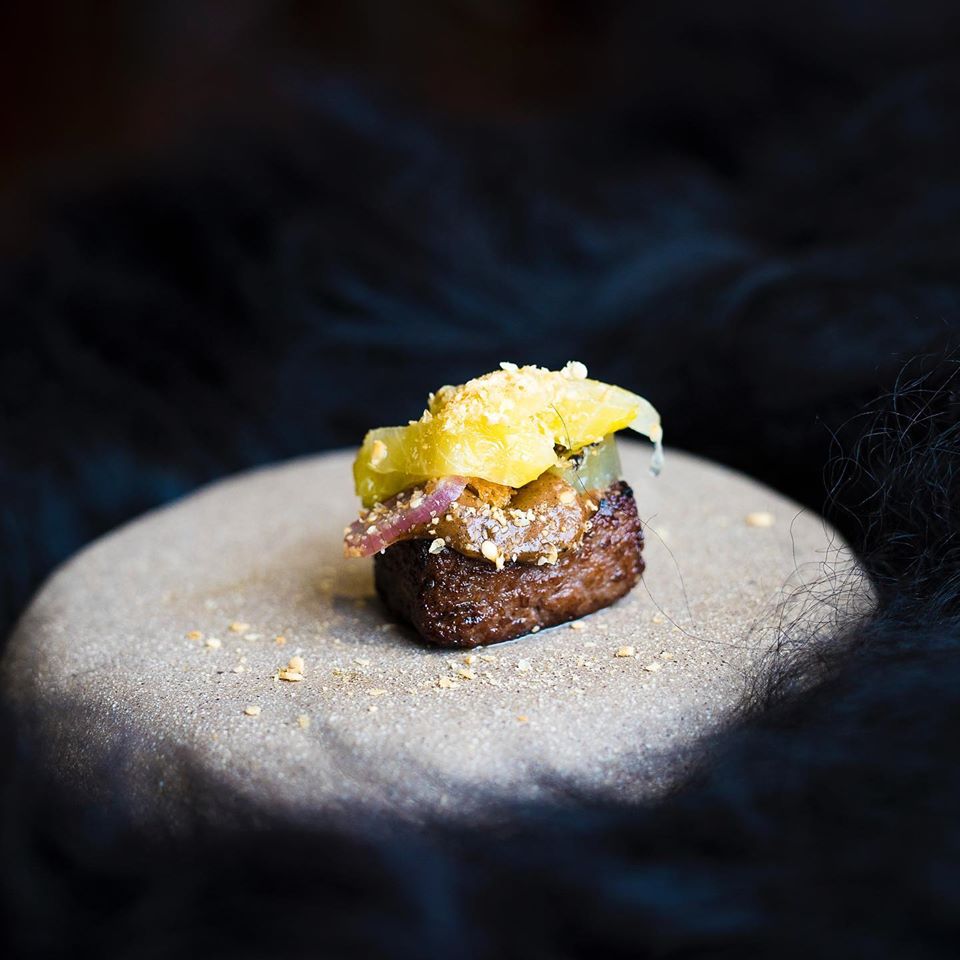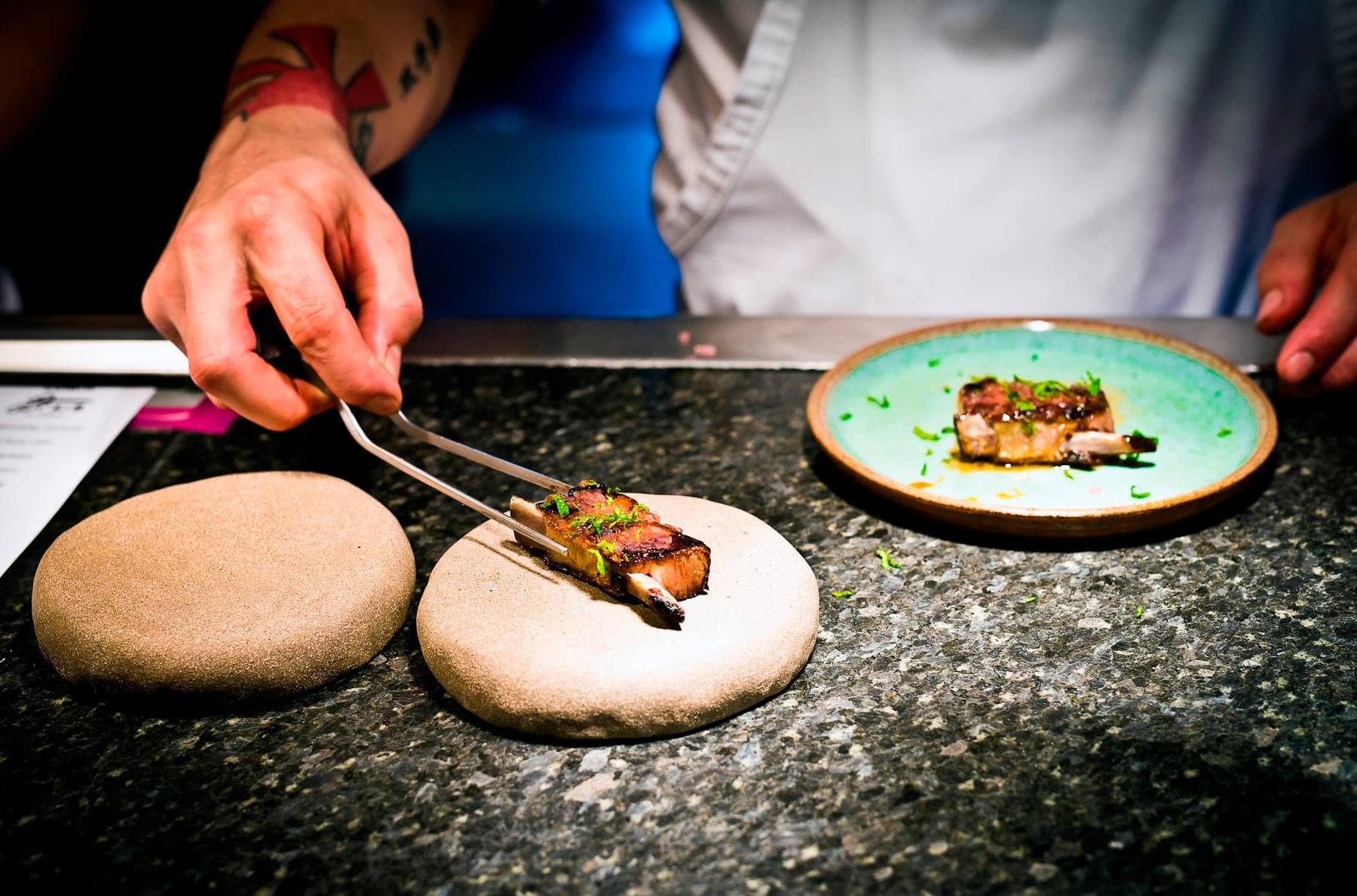 The open kitchen makes the dining experience even more theatrical and exciting to be a part of.
This is a special dining experience, and if I had to pick one on this list to dine at for a special occasion, this would be it. But I wouldn't just have dinner. I'd book one of the rooms available too and make a weekend of it, especially after reading that breakfast is a 6-course affair!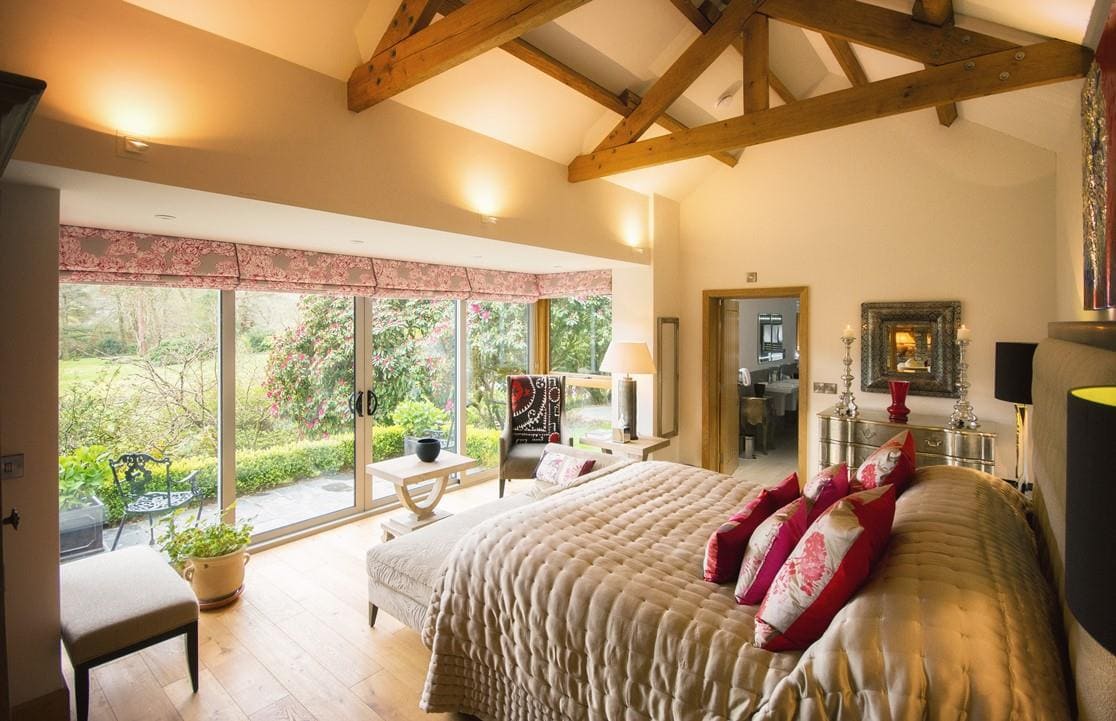 Beach House, Oxwich, Glamorganshire
Beach House, located on Wales' Gower Peninsular is one of the top Michelin star restaurants in Wales. It received its star last year and boasts some of the best views of all of the places on this list. Yep, this one is right on the beach in Oxwich Bay.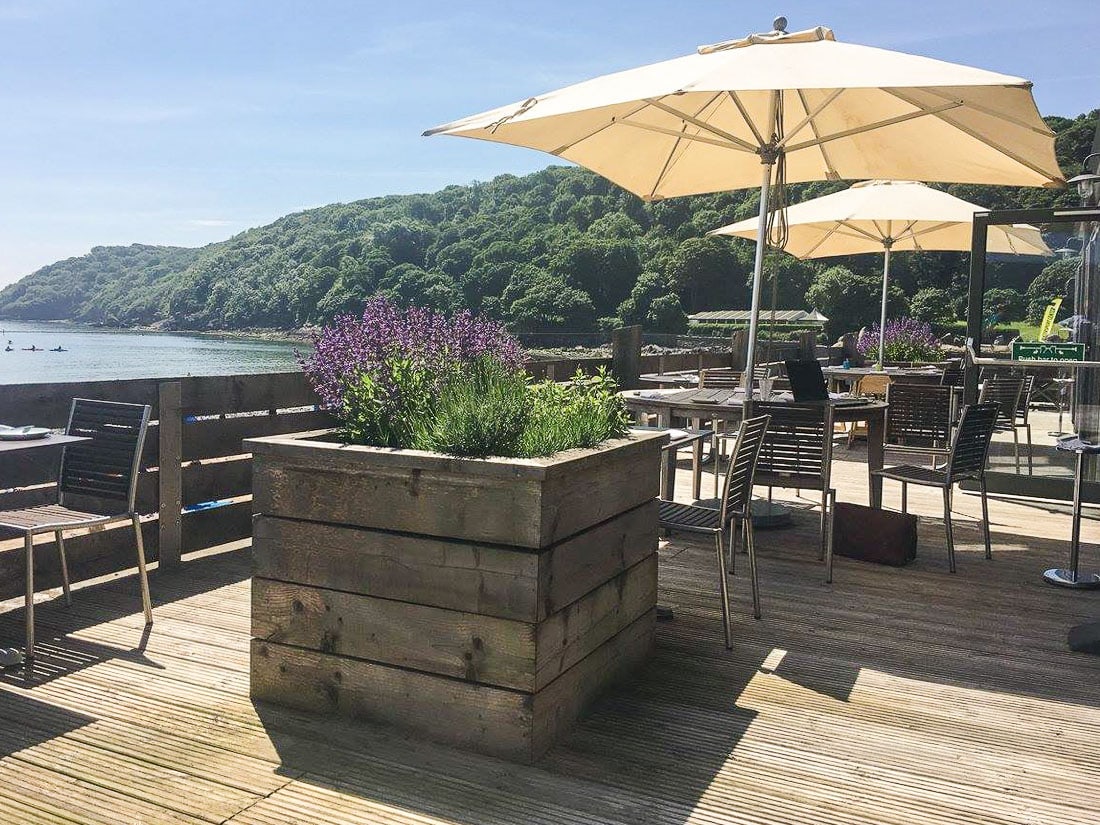 The man in charge is Hywel Griffith, a chef with an excellent reputation – he was sous chef at several top restaurants in London before he took the reins as sous chef at Ynyshir.
The restaurant itself is light and airy, with chic décor complemented by beautiful sea views.
With a Michelin star and 3 AA Rosettes to its name, you know that a meal at Beach House is going to be something special. When I last checked, there were several different menus to choose from, including a seasonal Gower-inspired tasting menu, a choice of 5 or 8-course tasting menus and an a la carte. Plus there's a lunch menu and vegetarian menu. I mean, with all of this on offer, you're bound to find plenty you want to try!
Highlights include local duck served with celeriac, savoy cabbage and pickled rhubarb, Welsh deer with braised red cabbage, swede, pickled pear, parsnip, chestnut and harissa sauce, and salmon served with a menai mussel curry, apple, pickled potato and coriander. The flavour combinations sound creative and delicious!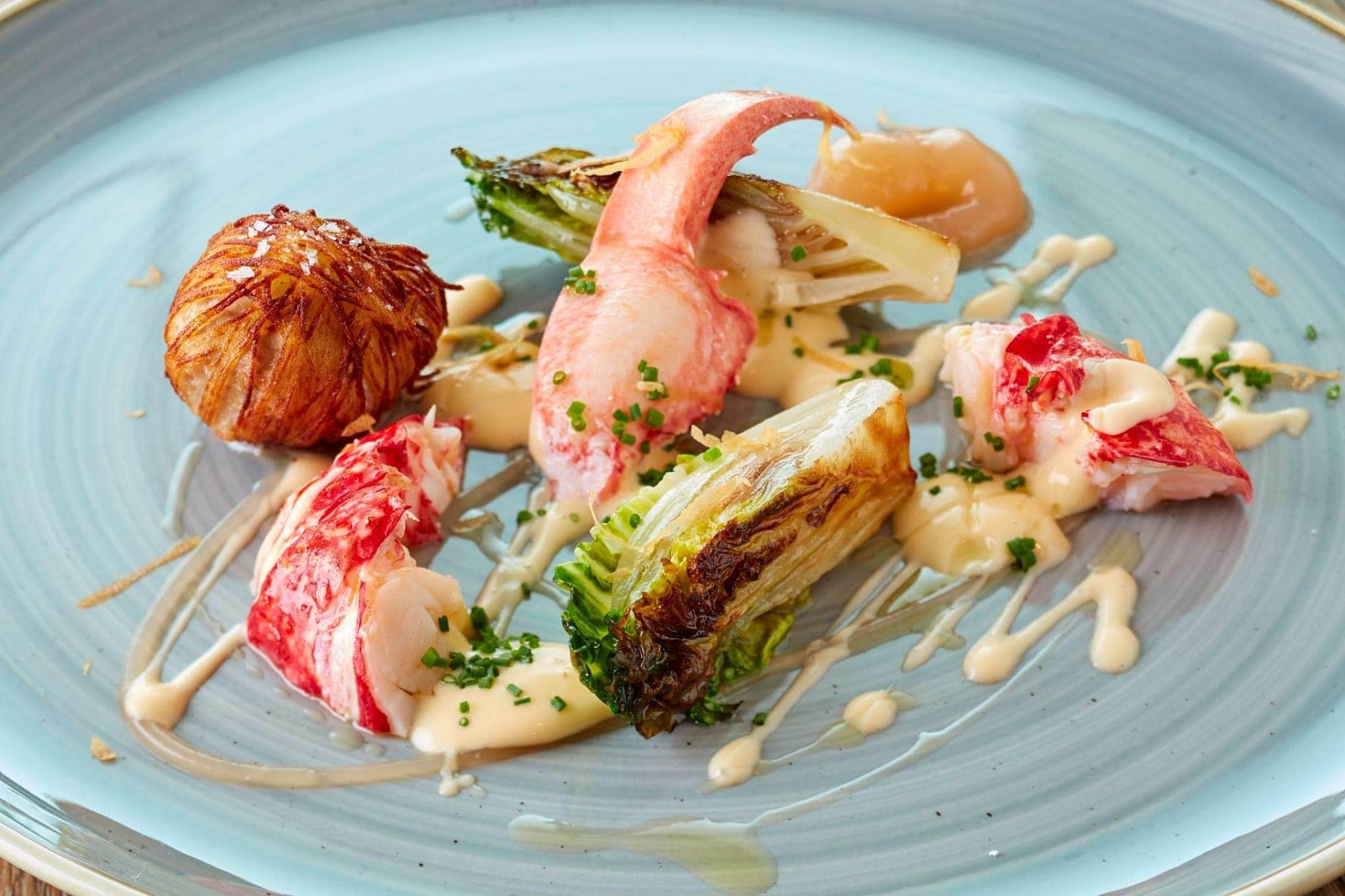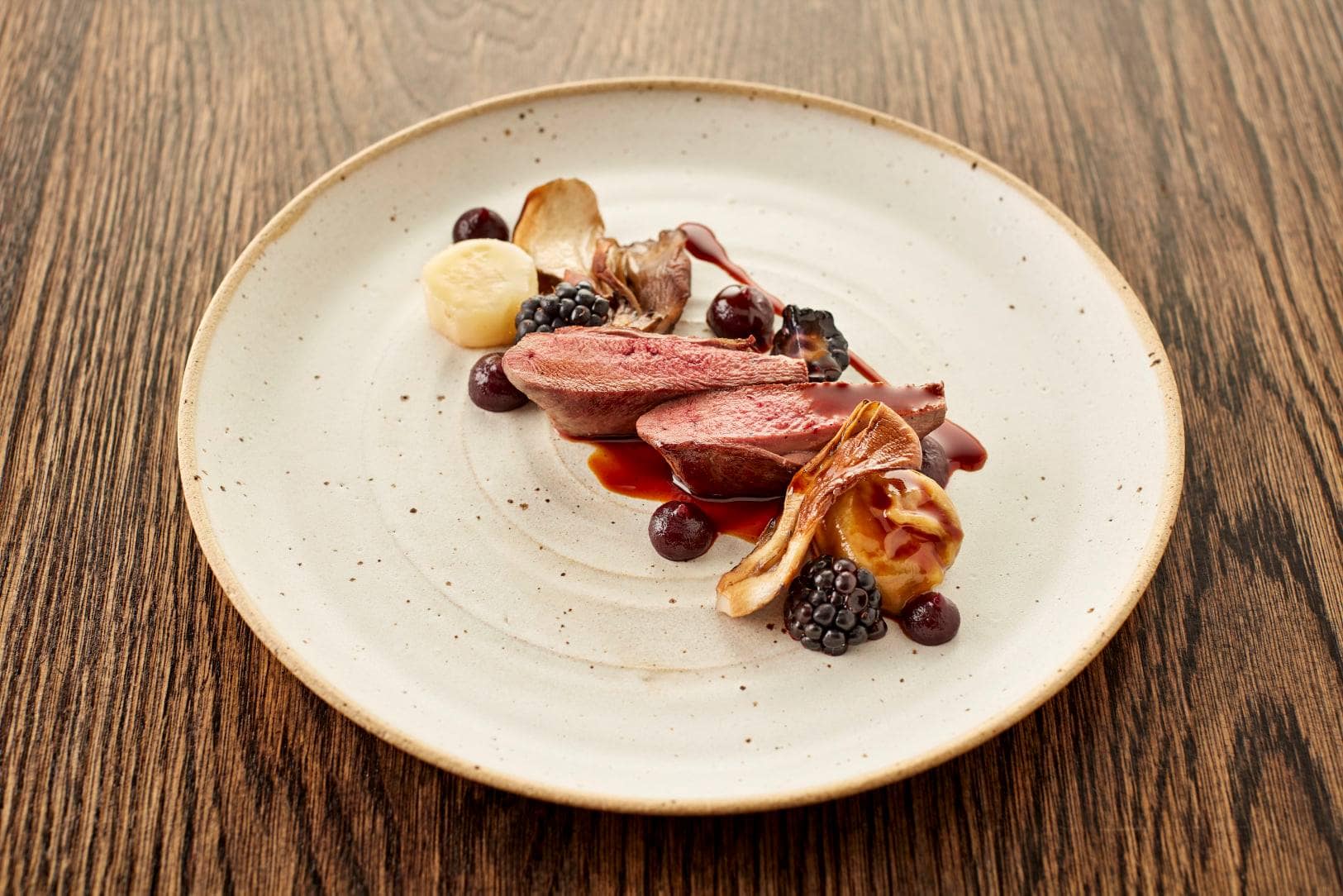 If you're looking for a budget-friendly way to visit, book a table for lunch. The lunch menu at Beach House is £29.50 for 3 courses.
Home, Penarth
James Sommerin is one of the top chefs in Wales. His restaurant, Home in the seaside town of Penarth is the closest Michelin star restaurant to Cardiff. After his previous restaurant (which also earned a star) closed due to the pandemic, he took some time to help the NHS and think through his next move. He decided to open this new spot dedicated to the joy of 'home cooking'. After just four months, the restaurant picked up its first Michelin star. It's fair to say, this isn't home cooking as any of us know it!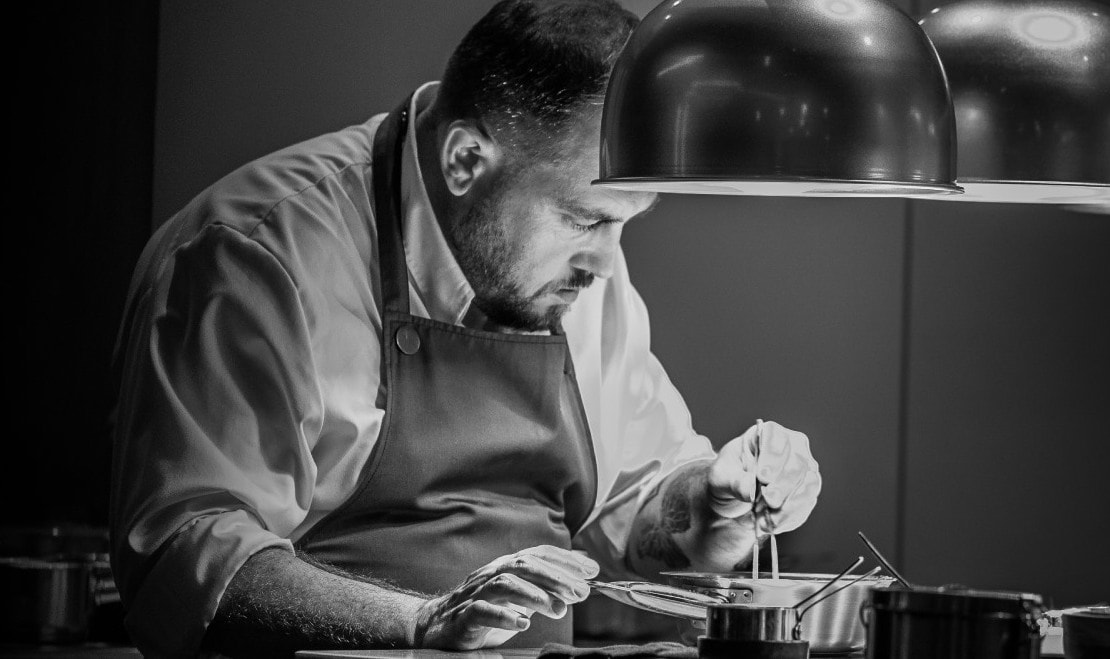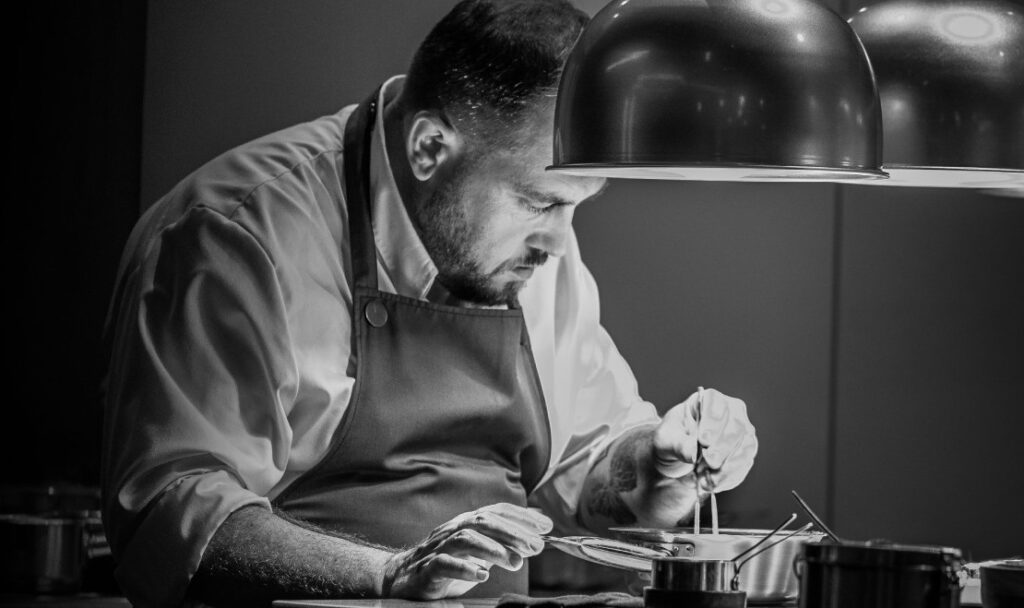 He's created a home from home, and runs the restaurant with his daughter Georgia. It's a small place with an open kitchen, so you'll always have a view of the action.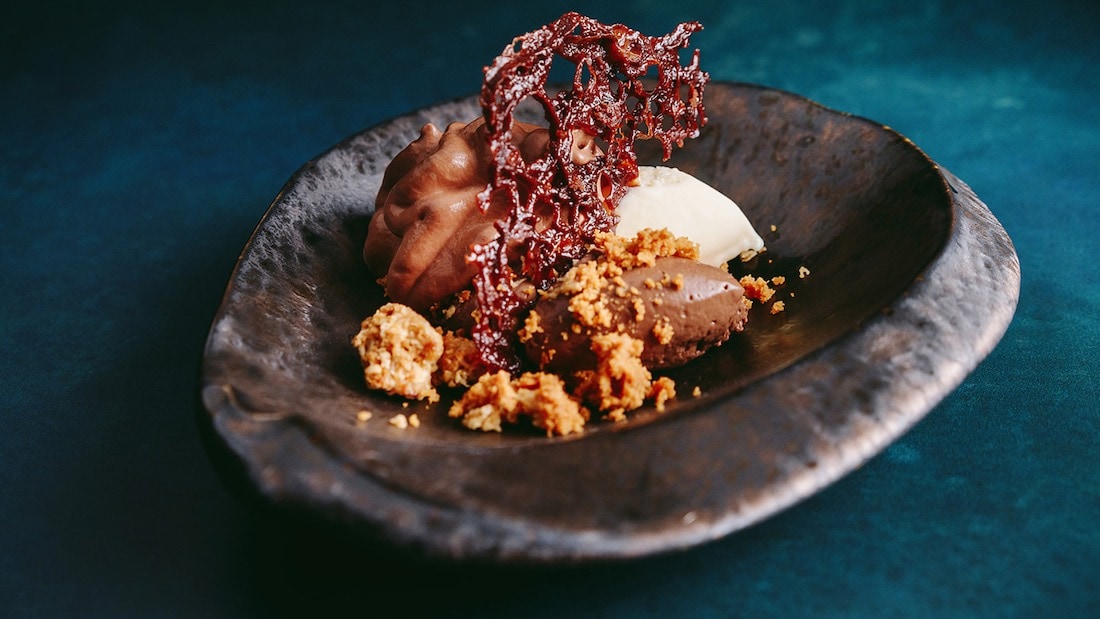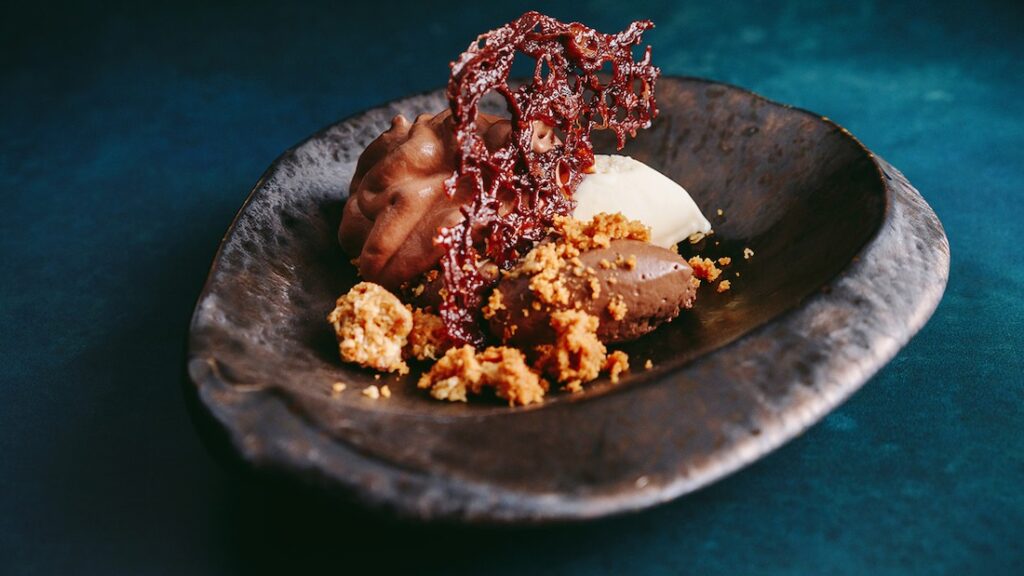 I love the creative concept at Home. He serves a surprise tasting menu… or it is a surprise if you can wait for the food to arrive! Otherwise, you can get a sneak peek by opening the envelope on your table. With just a few tables available, you'll need to book well in advance.
SY23, Aberystwyth
One of the newest additions to the Wales' Michelin stars, SY23 is a restaurant that showcases the best local produce, cooked simply over a fire. Head chef Nathan Davies and his team have poured the spirit of Wales into this dining concept. Many ingredients have been foraged from the nearby coast, mountains and forests.
Kick off your unique dining experience with a drink in the bar downstairs, before heading upstairs to the main dining room, which has a charcoal grill as its focal point.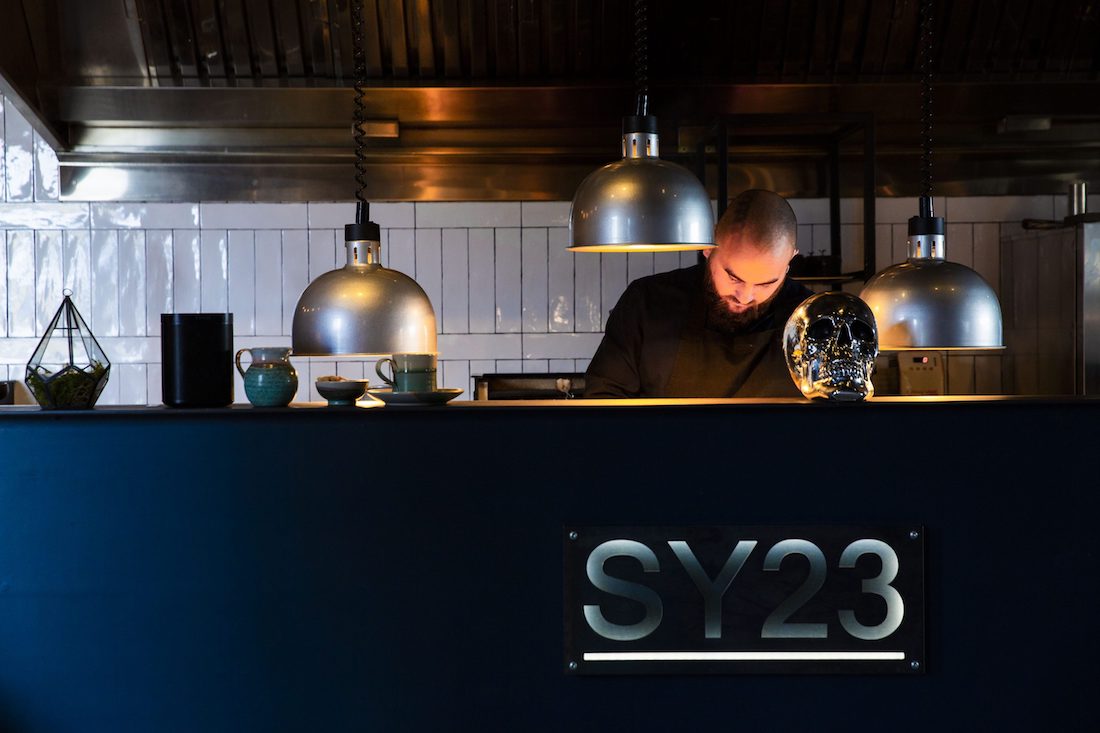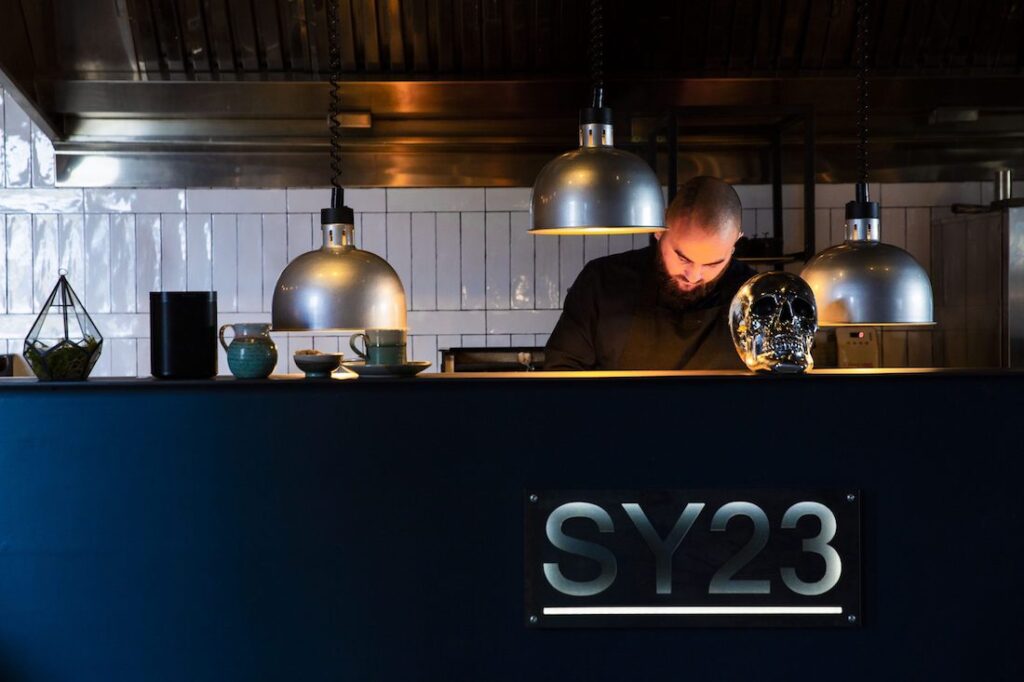 The sample 10-course tasting menu includes dishes such as crab with preserved elder, local grains with cultured miso butter and cox apple with wood sorrel. Alongside smokey flavours from the fire, you'll also find the tartness of pickles and the freshness of herbs and flowers. If you're thinking this fire technique is sounding a little familiar, Nathan was the former head chef at 2-star restaurant Ynishir. It's lovely to see him introducing his cooking techniques and culinary style to another part of the country.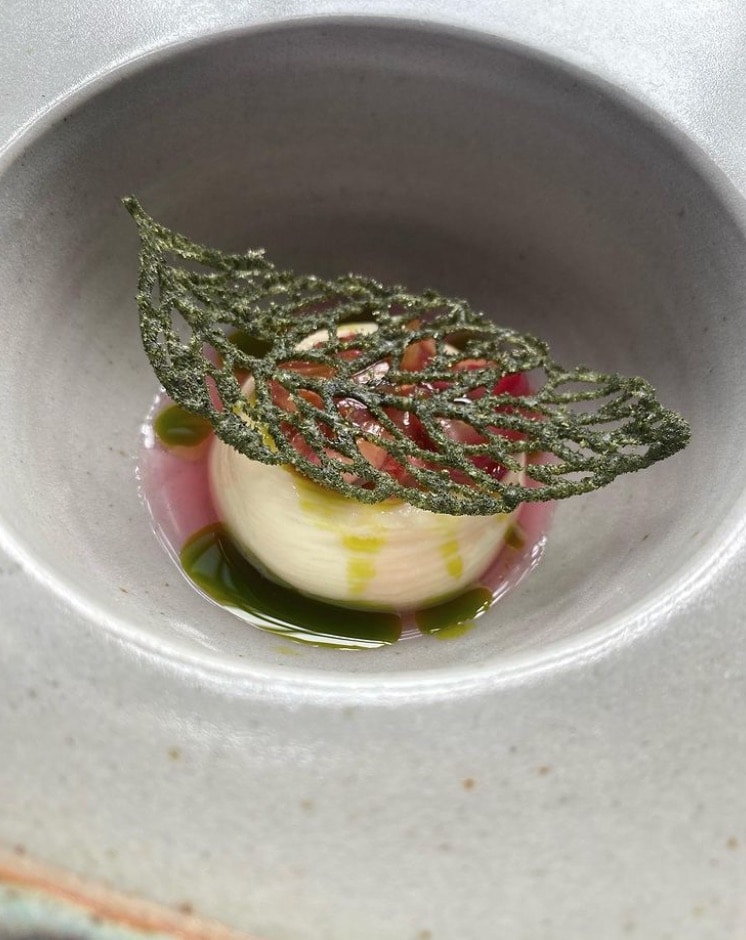 For more delicious cuisine, head to north Wales and visit the Menai Bridge on the island of Anglesey. There you'll find this teeny tiny restaurant with a big reputation, Sosban and The Old Butchers. Sosban means saucepan in Welsh, and yep, you've guessed it, it's located in an old butchers' shop.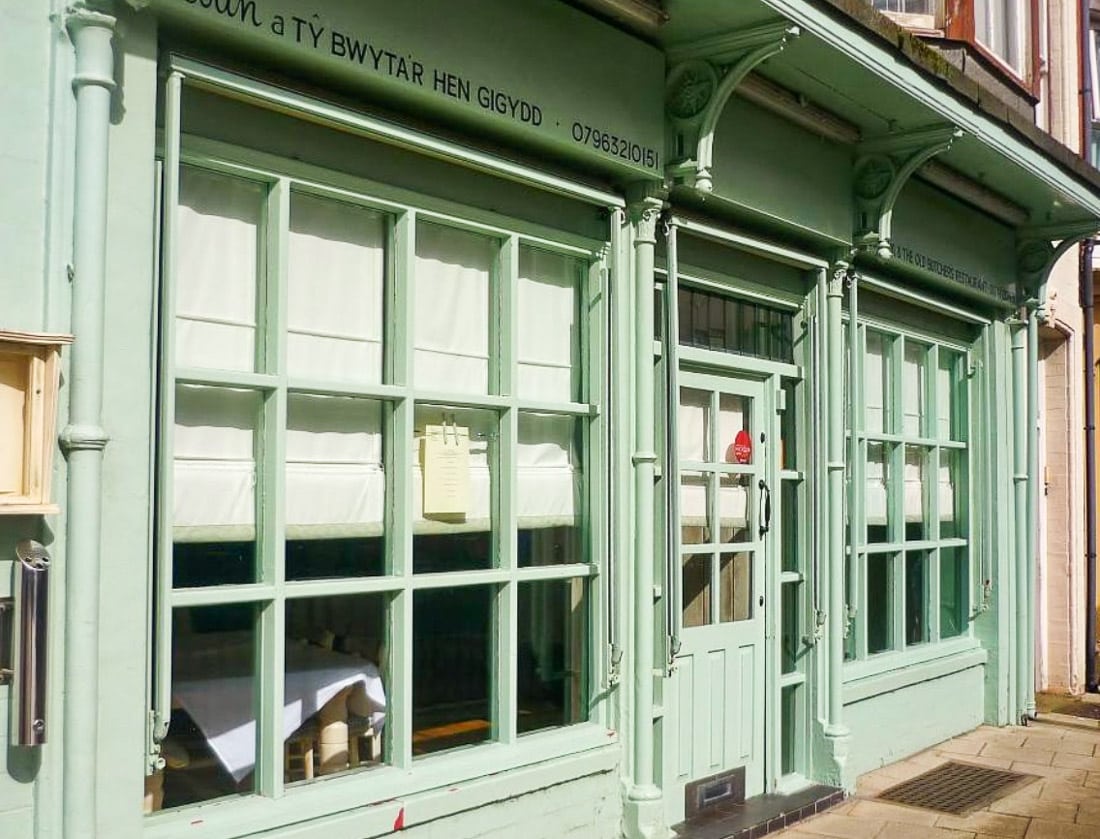 It is by far Anglesey's most talked-about restaurant. With only 10 covers, it's tricky to get a table, but worth the wait. It's also one of those places you'll be excited to visit, or a little nervous, as it doesn't have a menu. You'll get what you're given (but don't fear – it'll all be delicious!)
Sosban and The Old Butchers is run by husband and wife Stephen and Bethan Stevens. She runs front of house while he cooks up a storm in the kitchen. The menus are innovative with bold flavours, and lots of ingredients sourced from Anglesey and north Wales.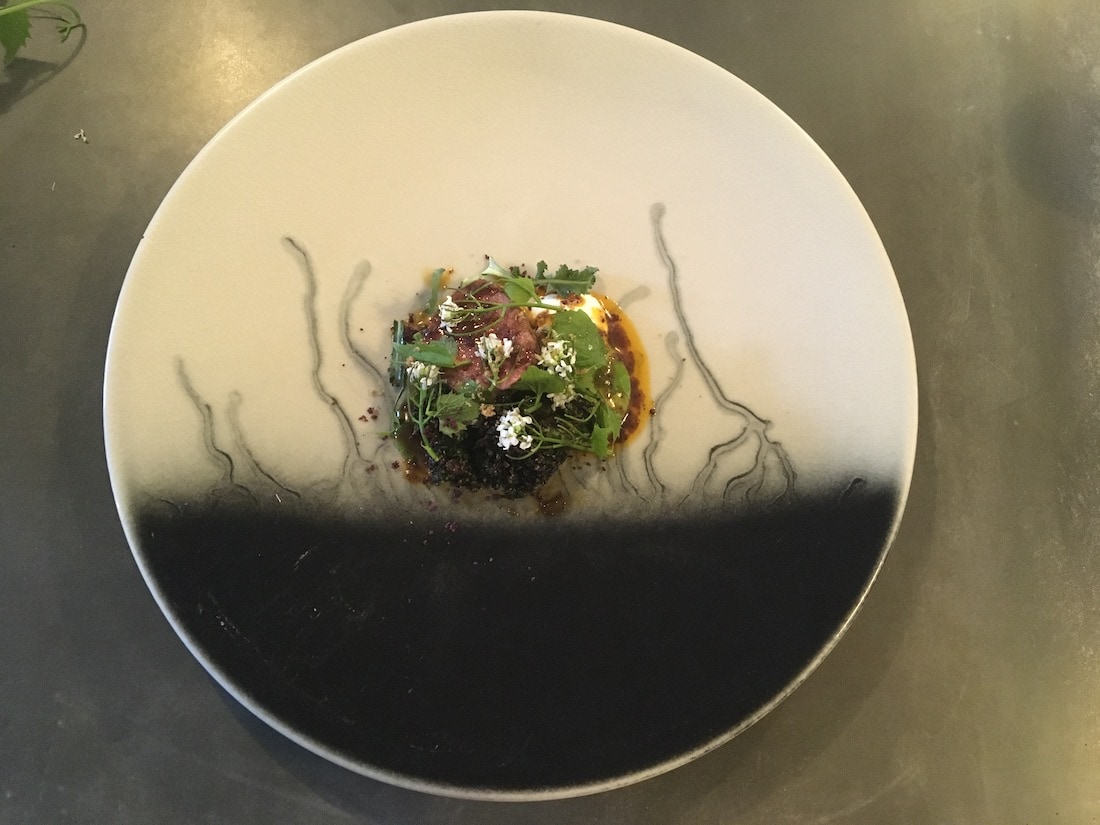 Previous dishes have included crispy cod crackling with banana, fenugreek, cardamom and roasted peanut; Jerusalem artichoke with black truffle, cheese and ham powder; and Bramley apple with caramel crumble, a buttermilk and cream base served with sorrel and a celeriac sorbet.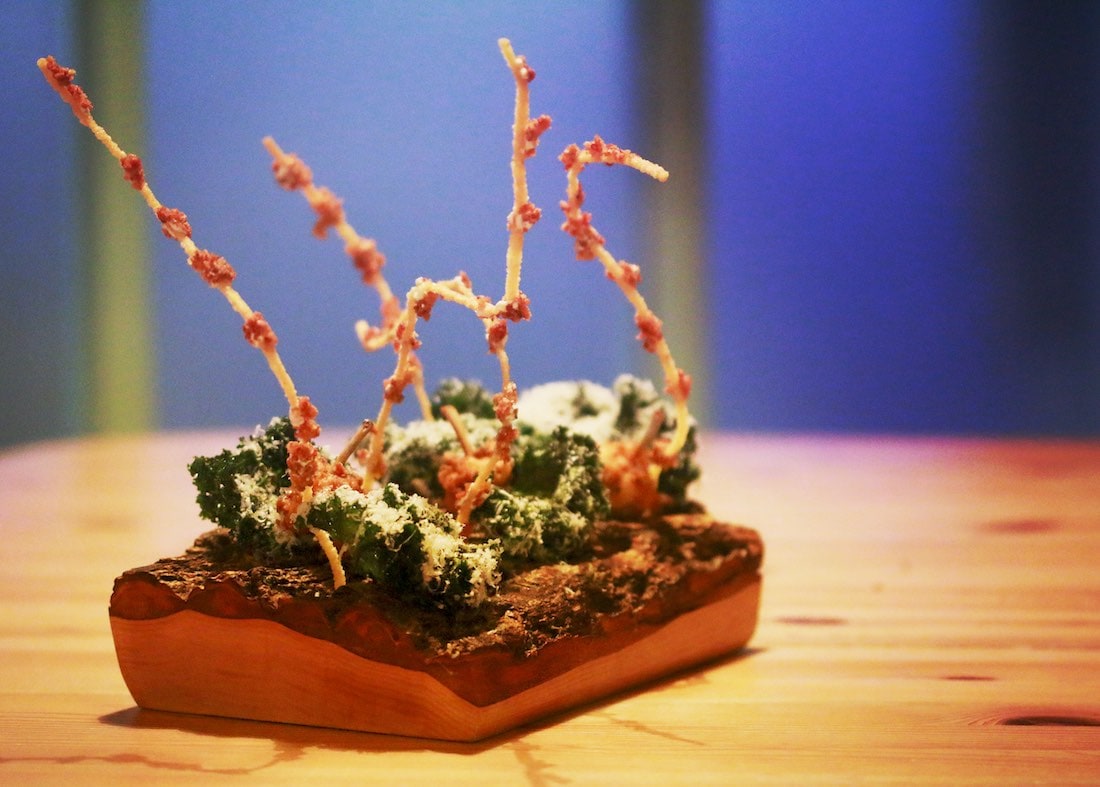 I love how creative the menu sounds, with flavour combinations I've never tried before. I guess as soon as the next batch of dates are released, I'll have to be quick to get a table.
A short drive from Abergavenny is The Walnut Tree Inn. It looks like a traditional country pub, but the menu is a big step, no make that a giant leap, from pub grub!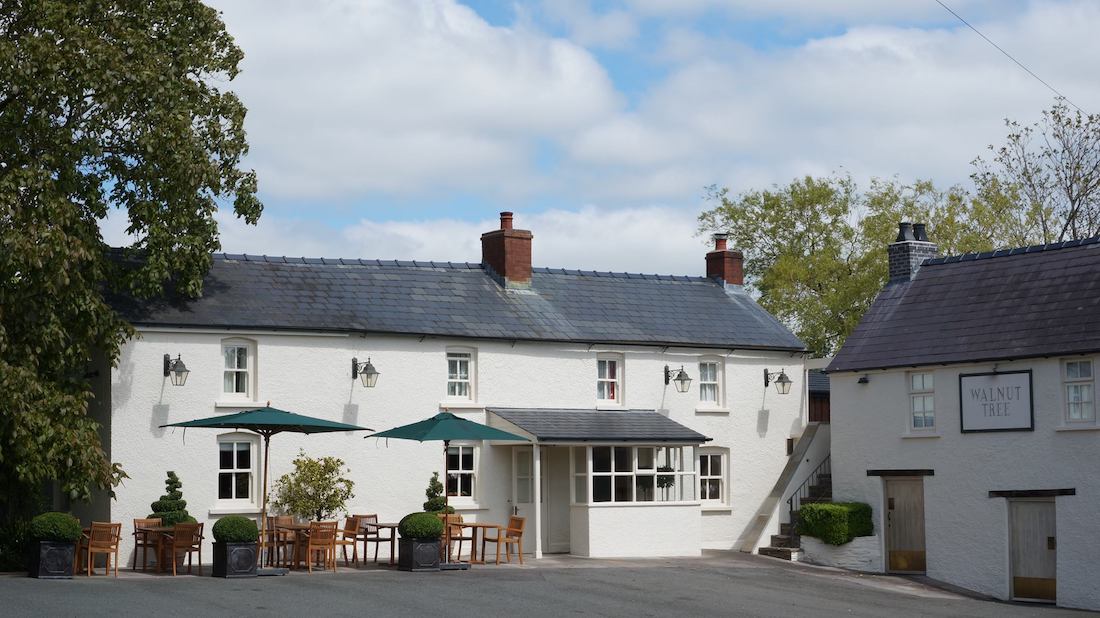 Heading up the kitchen is Shaun Hill – one of the most celebrated chefs in Great Britain. He'd already clocked up Michelin stars at his previous restaurants, and it's no surprise to hear The Walnut Tree also has a Michelin star plus 3 AA Rosettes.
The head chef is a master of flavour and menus change daily, depending on what's available. There's a French influence and a dedication to sourcing the best British ingredients.
Start your dinner with squab pigeon with petits pois à la française, or a twice baked Lancashire cheese bomb soufflé. Follow it with duck breast with confit leg and pommes Anna, or halibut with turnip and a shrimp bisque. If you've still got room for dessert, the white chocolate and caramel fondant, served with a tangy apple sorbet sounds divine!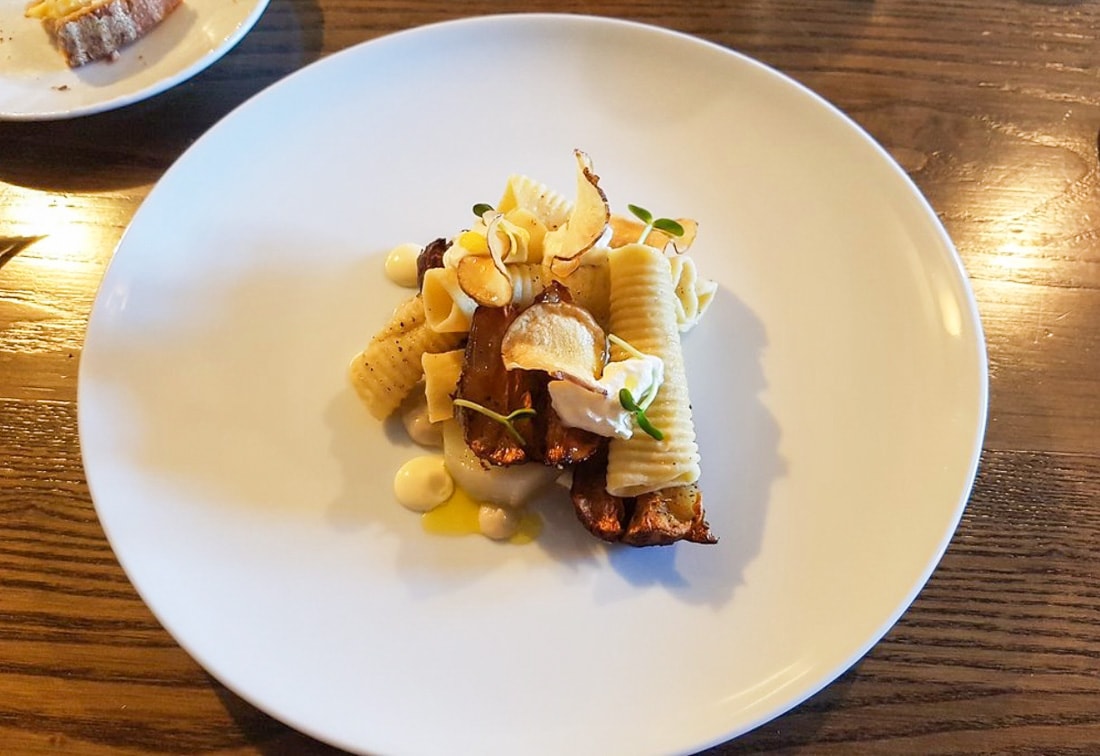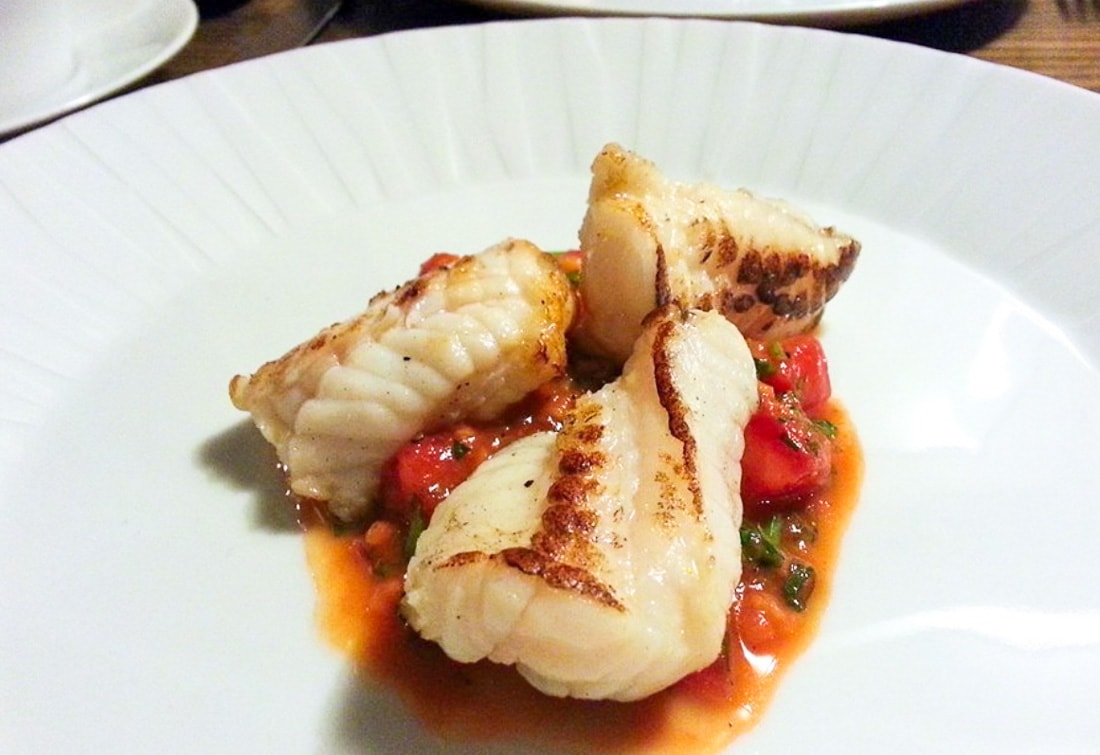 The restaurant has an informal feel, with wooden tables and stripped back décor… after all it's time for the food do the talking! However, your eye may be drawn to the paintings on the wall during your visit. The Walnut Tree has a relationship with The Art Shop in Abergavenny, and showcases the work of local artists.
The set lunch is amazing value at just £27 for 2 courses or £32 for 3 courses. The Walnut Tree also has two cottages next door – a great option if you fancy working your way through the wine list during your visit!
The Whitebrook is located in the stunning Wye Valley, and is run by Chris Harrod and his wife Kirsty. As with many of the Michelin star restaurants in Wales, there's a huge dedication to local ingredients here.
Many ingredients are foraged, including herbs such as pennywort, three cornered garlic, bitter cress and wild onion. What better way to bring Wales to the plate than by eating tasty morsels found on the doorstep!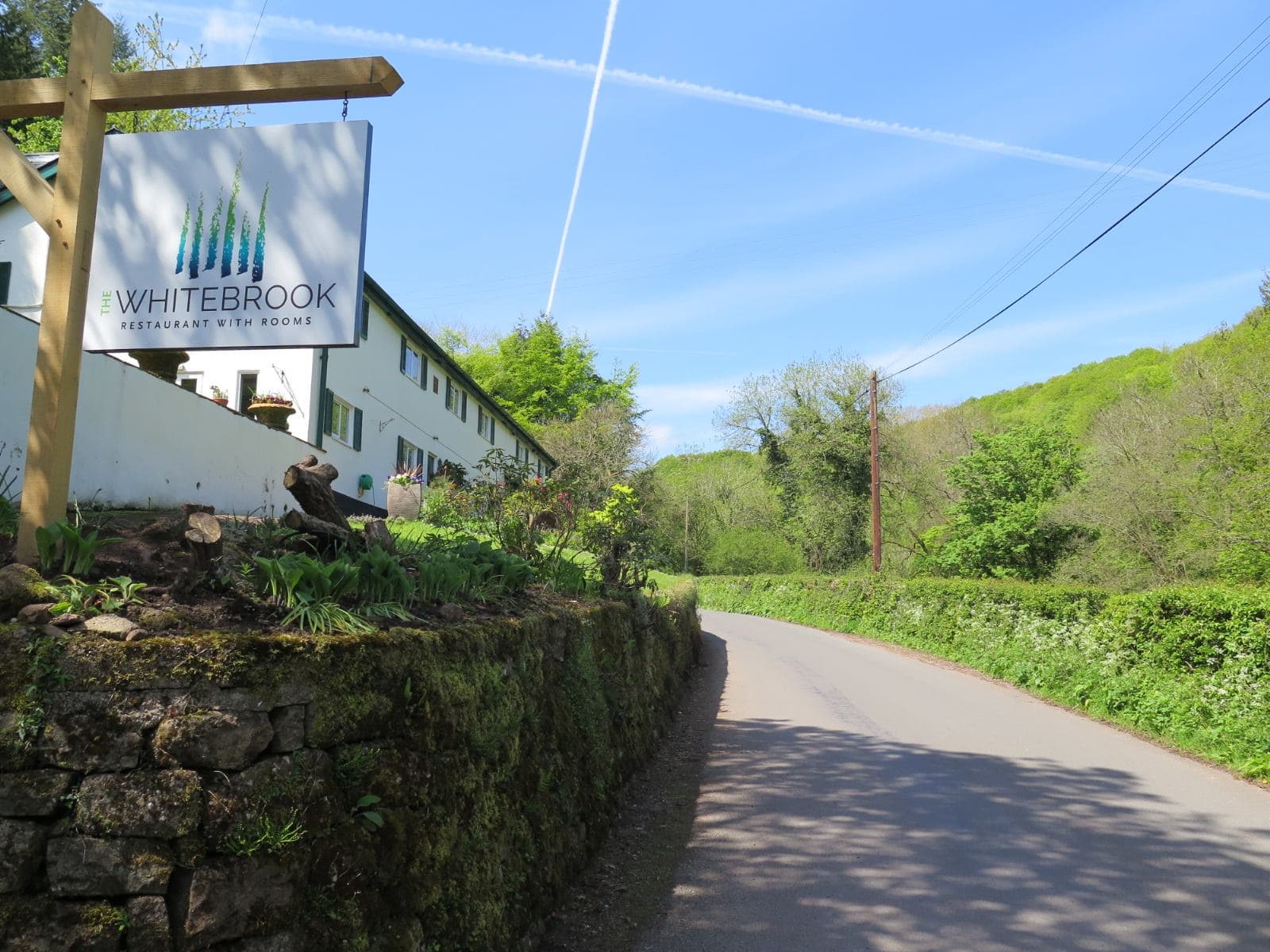 Chris combines classic flavours with a few twists, all beautifully presented in a dainty and professional way. The 7-course tasting menu has lots to love, including a dish of squab pigeon with cauliflower, forced rhubarb, charred kale and wild chervil.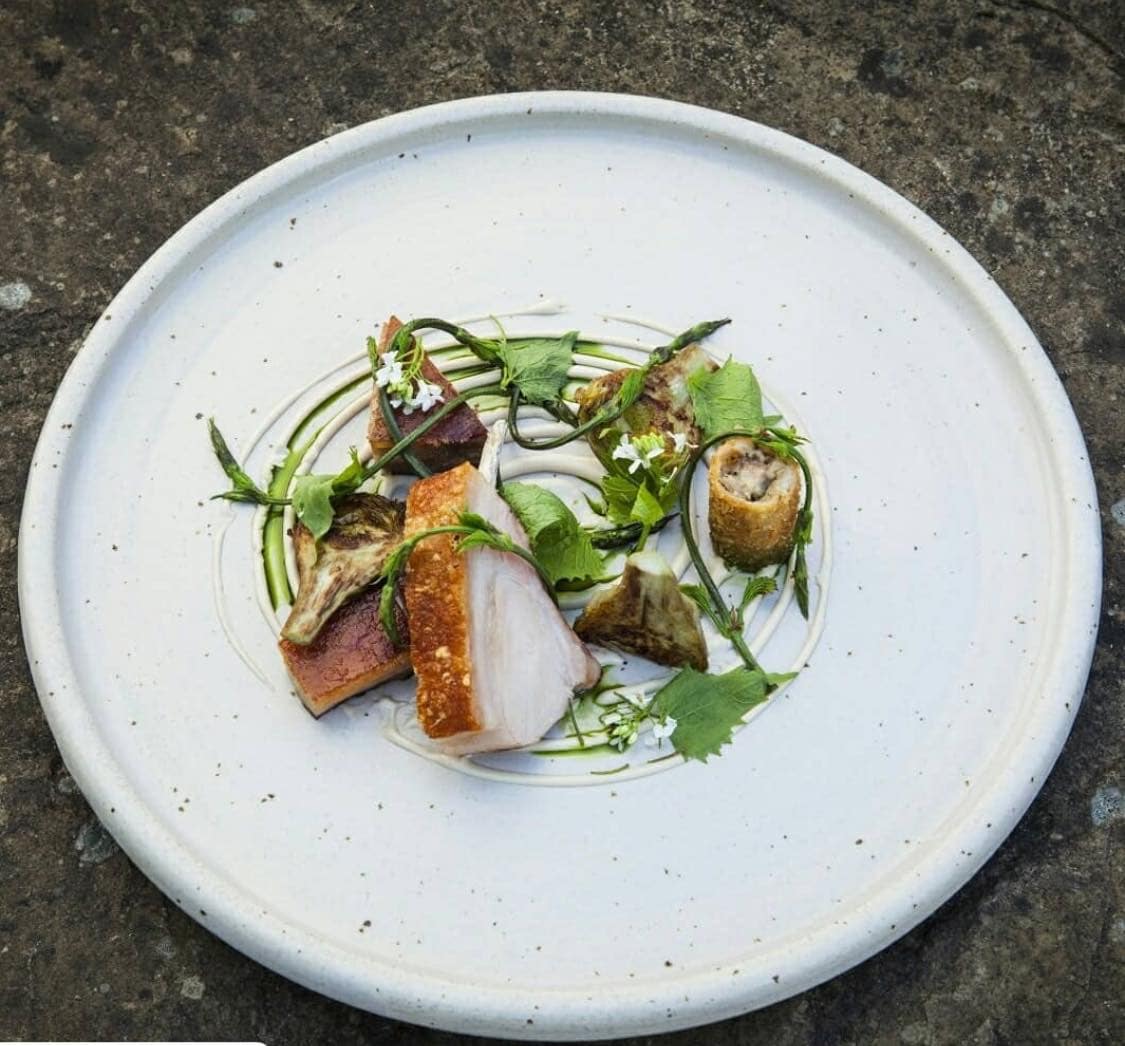 I was also drawn to the Cornish brill with mussel cream, purple sprouting brassica and three-cornered garlic. And yes, that may be partly because I want to know what three-cornered garlic tastes like!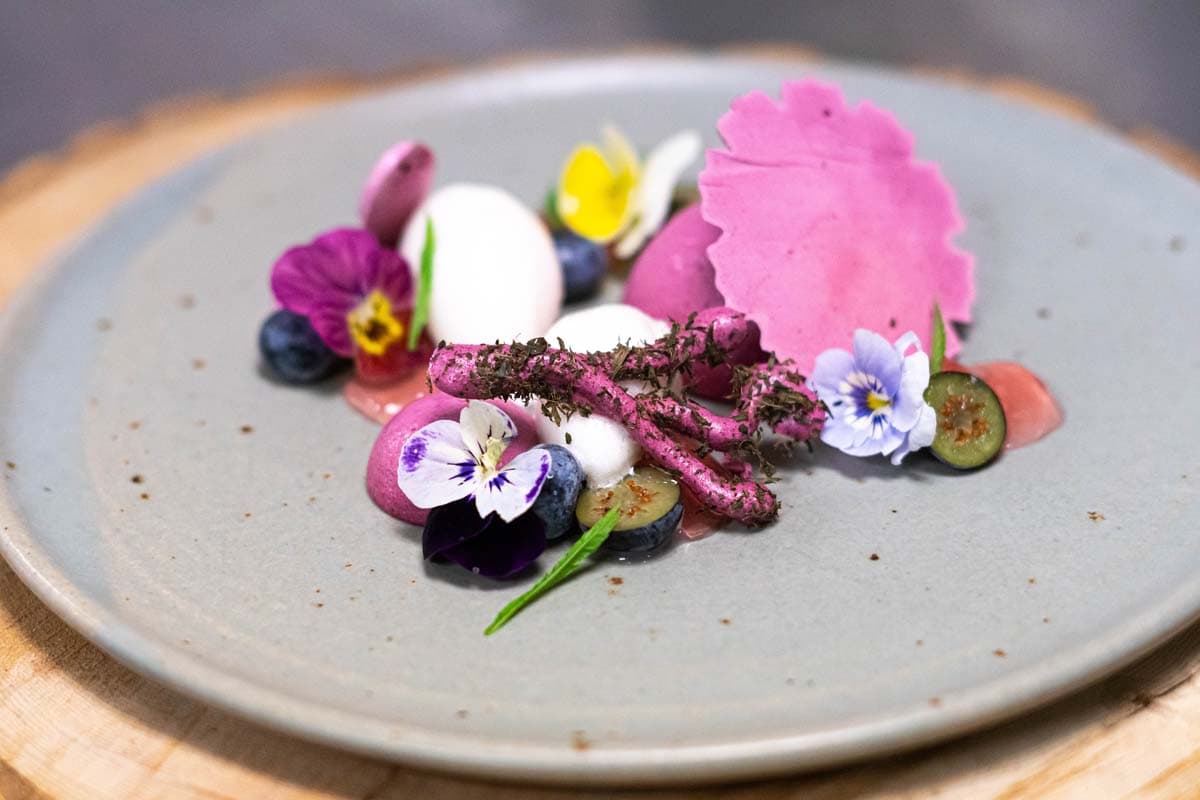 While dinner will set you back £85 (before wine), the set lunch menu is a little more purse-friendly at £42 for 3-courses.
I hope you've enjoyed reading about all of these fabulous Michelin starred restaurants in Wales. You can search for restaurants in Great Britain on the Michelin Guide's website or check out our other foodie recommendations here. Plus, if you're planning a holiday in Wales, we have plenty of tips on places to visit here.
Enjoyed this post about Michelin starred restaurants in Wales? Pin it for later…