These National Trust houses in Cornwall are well worth a visit. Find out all you need to know about visiting Trerice, Lanhydrock, Cotehele Manor and more.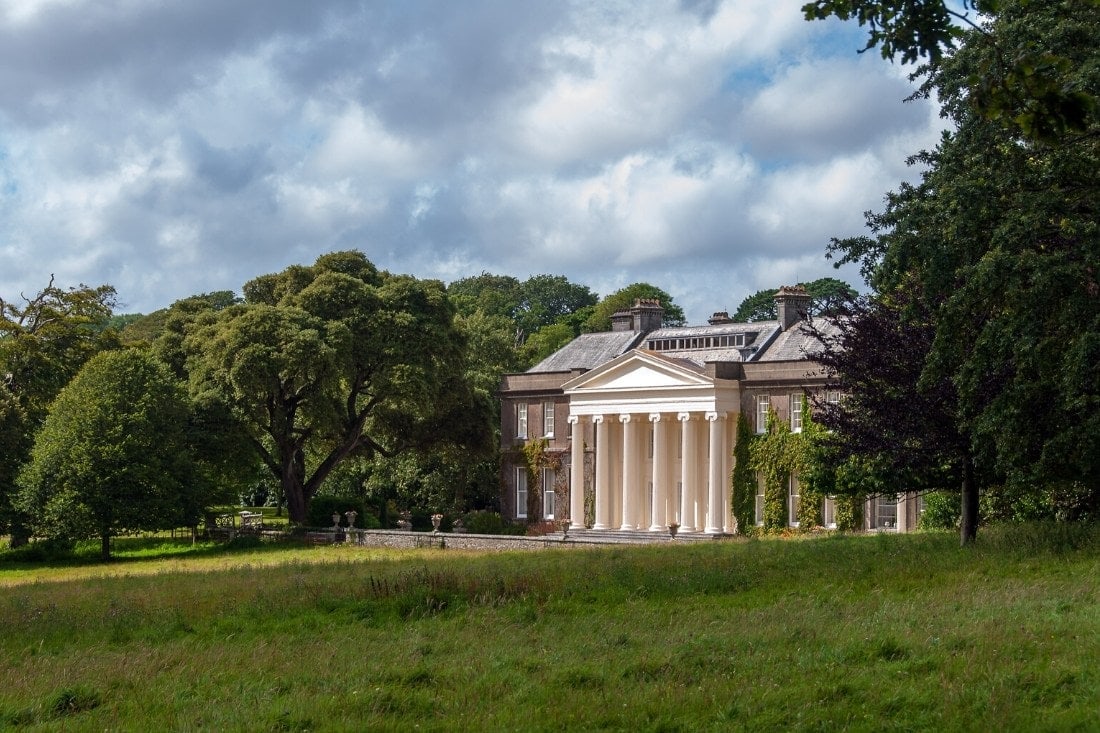 Cornwall is one of our favourite parts of England for a number of reasons. The coastline in south west England is absolutely stunning, the seafood is some of the freshest we've tasted, and there's absolutely loads to see and do. Food lovers can spend their time eating their way around the harbour town of Padstow, while families will enjoy exploring the biomes at the Eden Project.
Photographers will enjoy snapping pictures of the rocks at Bedruthan Steps as well as the famous view across to St Michael's Mount. Anyone who loves walking will enjoy exploring the South West Coast Path – a route we feel really showcases the best of Britain.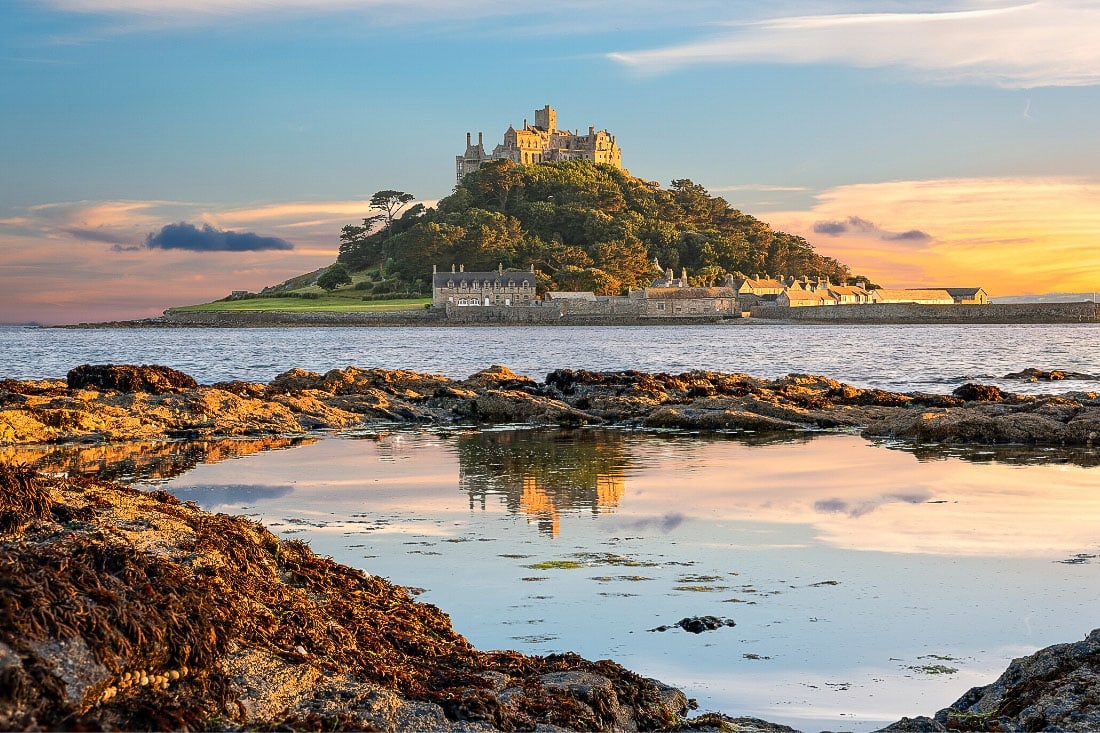 For history lovers, there are also a number of stunning National Trust houses in Cornwall. There's the spectacular Elizabethan manor house at Trerice, the castle-like façade at Lanhydrock and the medieval manor house at Cotehele, with a long history dating all the way back to 1458.
Accompanying most of these spectacular mansions and grand country houses are picturesque gardens. Sunken lawns, apple orchards, beautiful colourful borders, ponds, topiary and more await visitors. Many of the gardens are dog friendly, so you can enjoy a nice stroll with your four-legged friend, while taking in picture-perfect views.
Plus, the majority of these National Trust properties in Cornwall have parking, gift shops, tea rooms and restaurants, so you can enjoy a comfortable day out.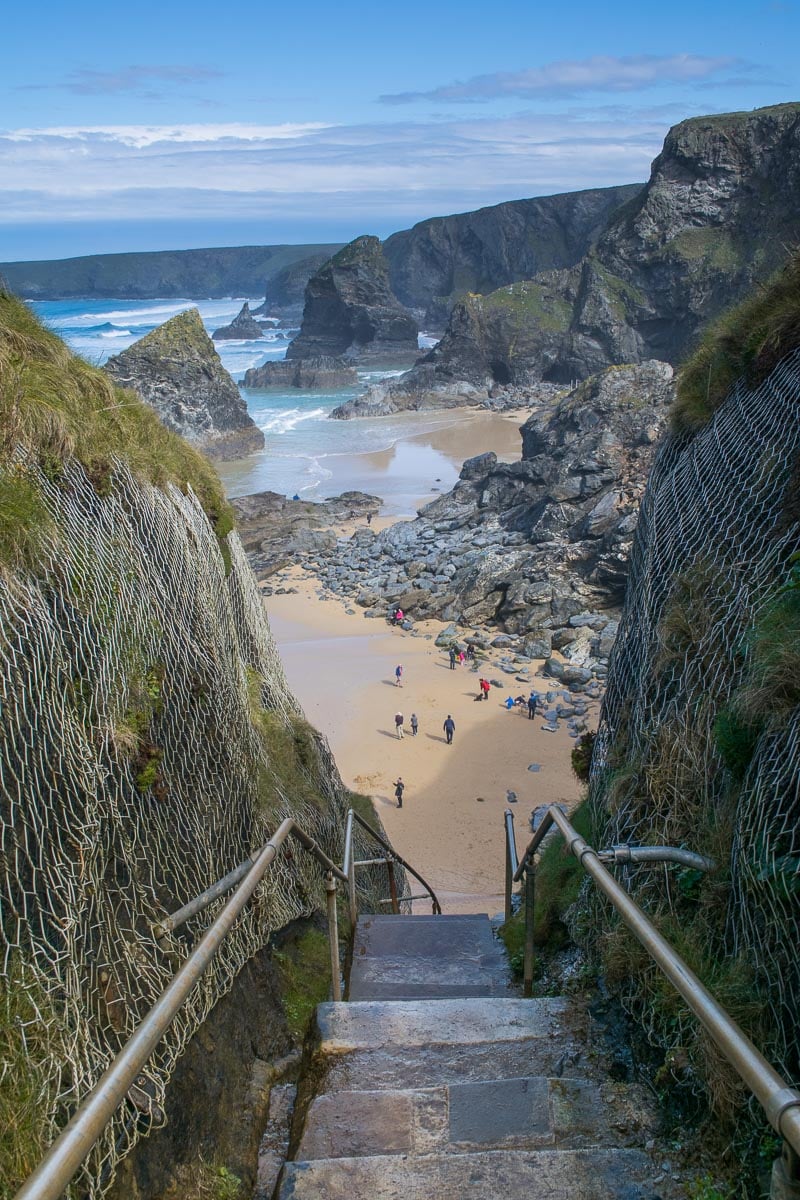 Time to take you on a quick tour of all of the National Trust houses in Cornwall, England. If you're spending a bit of time in the region, maybe you can visit them all!
This waterside estate boasts a stunning country house and a 40-acre garden filled with beautiful blooms all year round.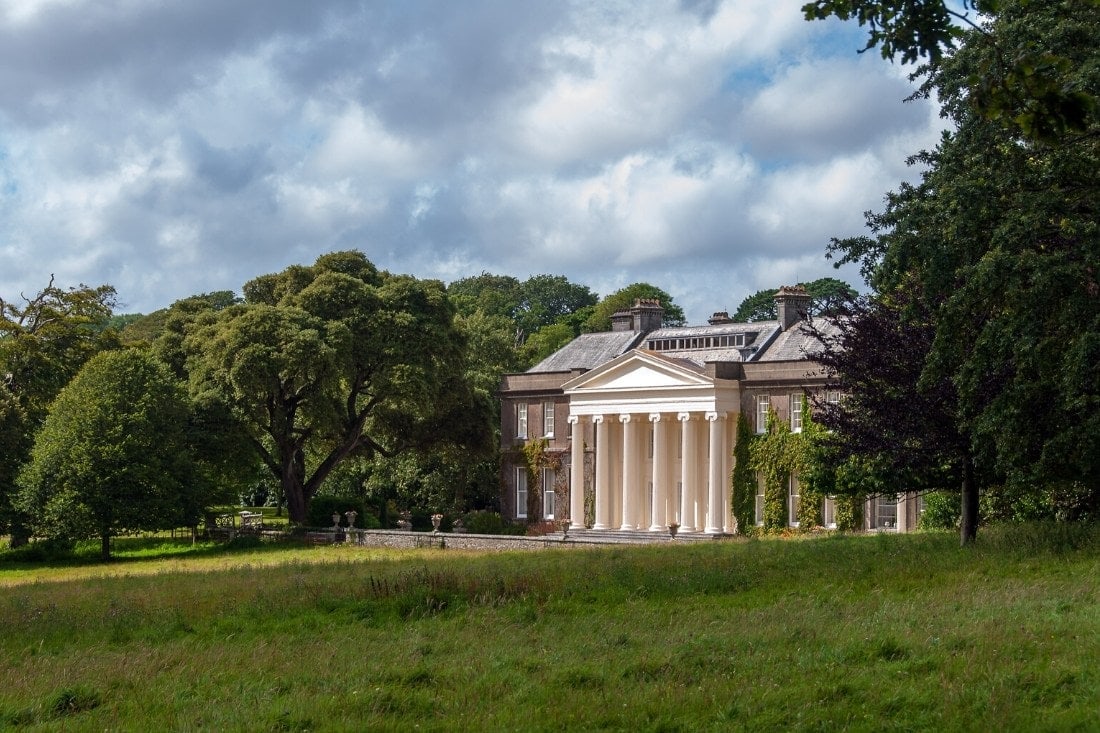 The house itself was built in 1755 and features a smart façade featuring neoclassical columns. The exterior was a show of the owners' wealth and status at the time, however step inside and things become a little more casual.
Visitors can wander on their own time, take a seat in the drawing room and admire the views of the Fal Estuary towards Falmouth, or even play the piano.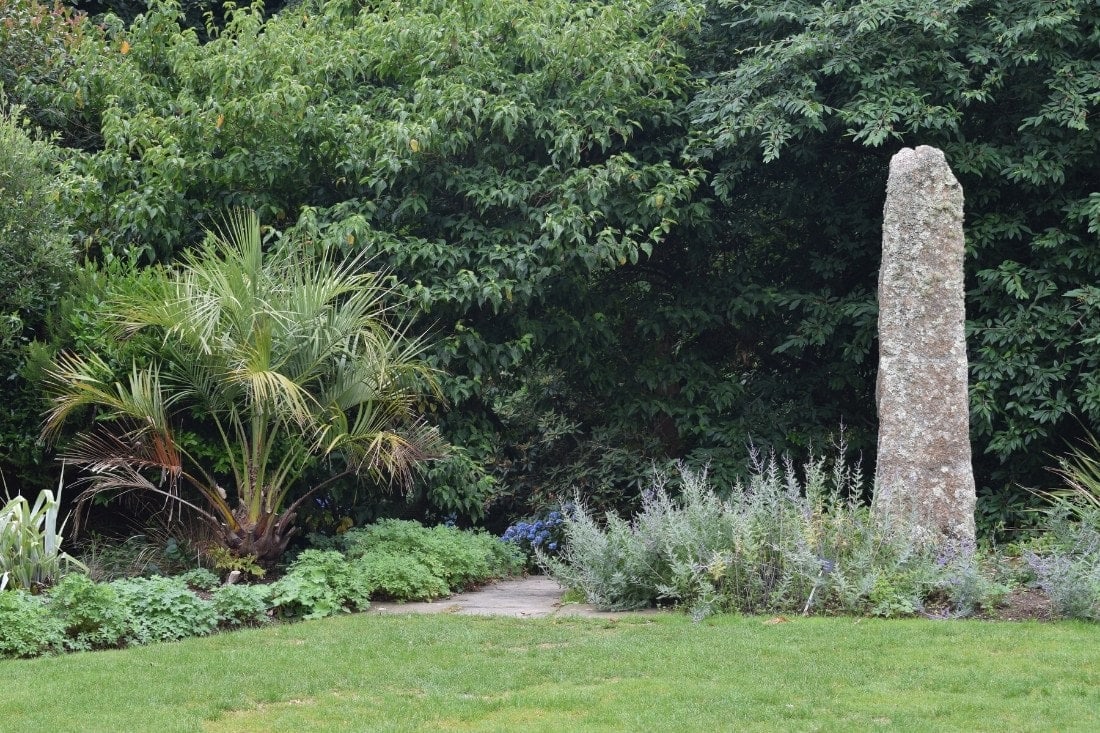 For art lovers, Trelissick has its own art gallery showcasing a range of work from local Cornish artists. Beyond the property's gardens, you can also explore a further 375-acres of parkland and woodland.
There are gorgeous little trails that take you through the woodland and along the river's edge. It's a great spot for walkers and dog owners, and many park up and explore, without venturing to the house itself.
Useful Information For Visiting Trelissick
Address: Dicky Ln, Feock, Truro TR3 6QL.
Opening times: 10am – 5pm for main areas. The car park, parkland and woodland walks are open from dawn 'til dusk. Check the website for up to date times.
Trelissick entrance prices: Adults £13.60 / Children £6.80
This is one of the prettiest National Trust houses in Cornwall. The late Victorian country estate is home to a beautiful country house with a castle-like façade, gatehouse and large gardens, all set in perfect rolling countryside.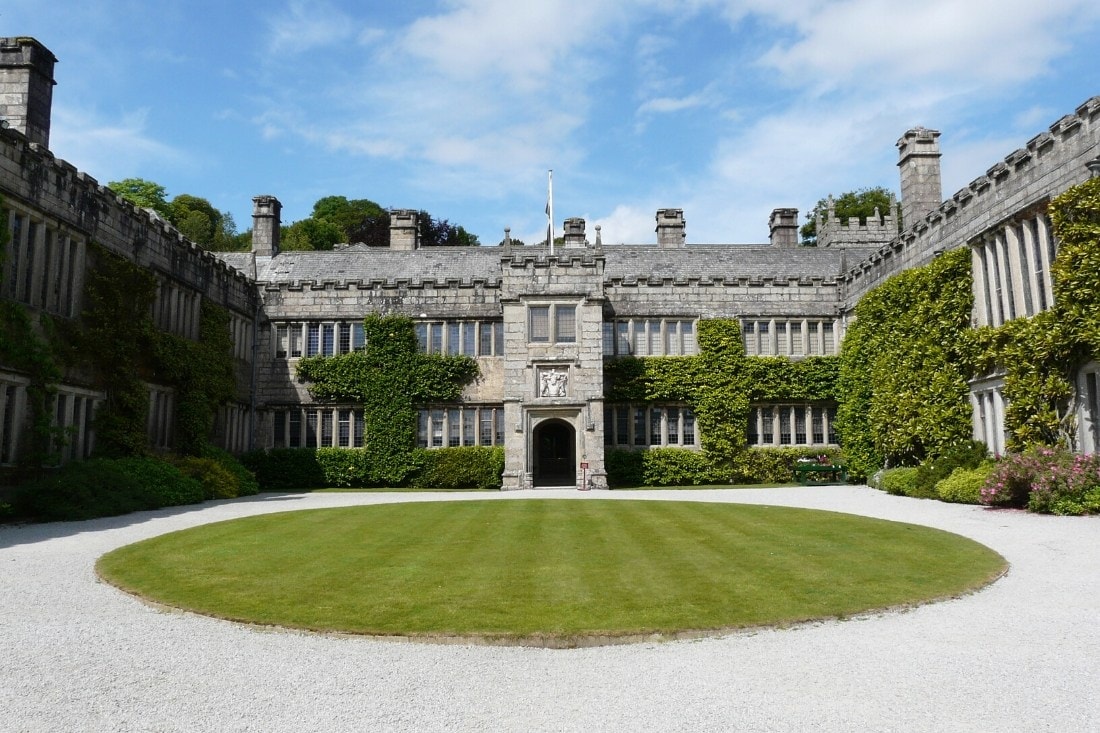 If you loved Downton Abbey, this is the place for you! You'll be able to delve into the upstairs / downstairs life, with chic dining rooms and bedrooms in one area and the kitchens and servants' quarters in another.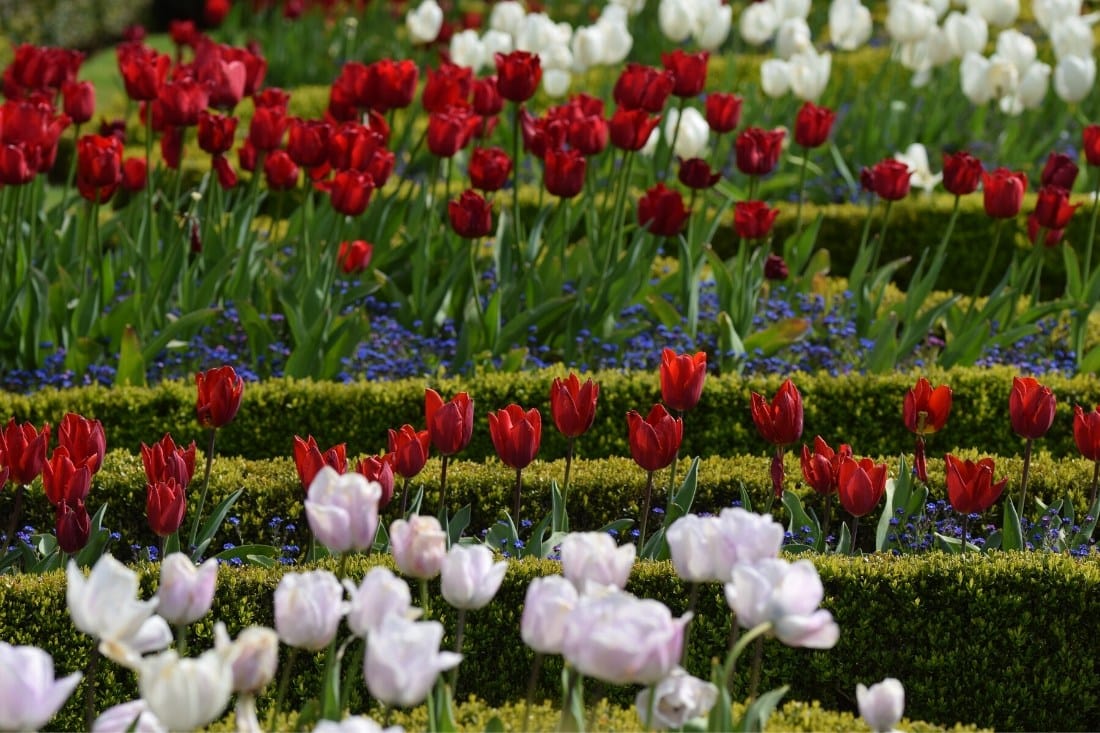 There are over 50 rooms to explore, with highlights including the 17th-century Long Gallery and the Billiard Room.
Many visit purely for the gardens, which are well-tended and feature a lot of vibrant displays throughout the year. If you visit during tulip season, you're in for a real treat! You'll also find beautiful herbaceous borders and colourful higher gardens filled with camellias, magnolias and rhododendrons.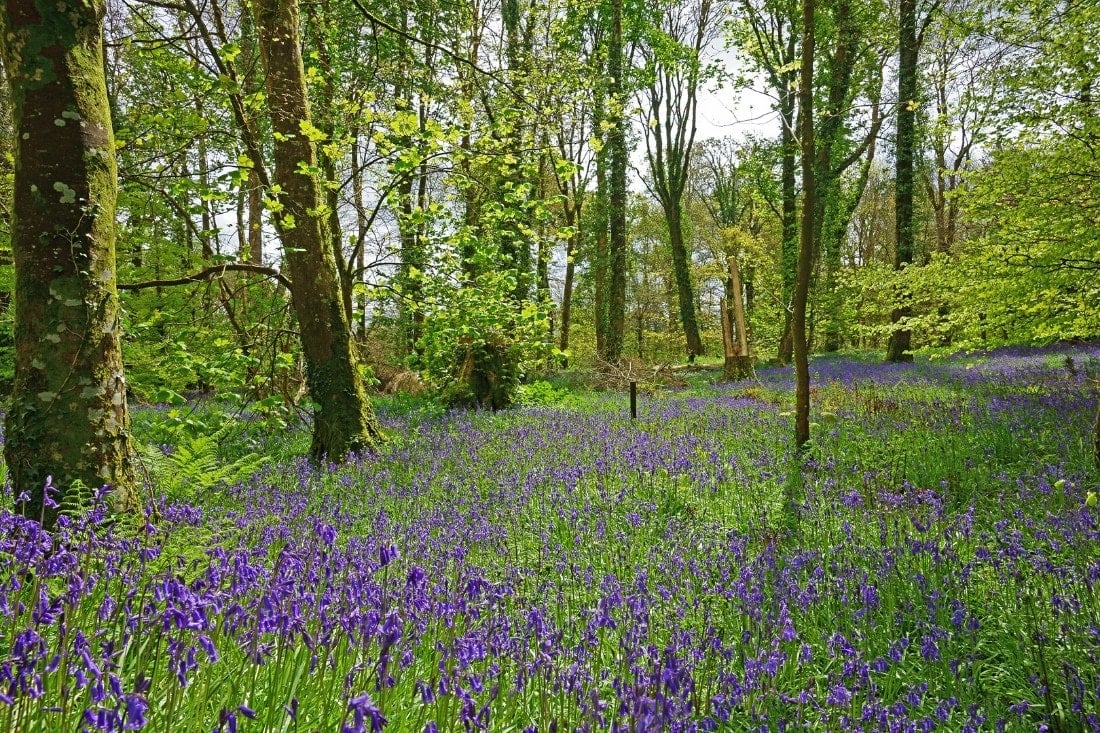 As with many of the National Trust properties in Cornwall, Lanhydrock is set in a large area of natural beauty, with 1,000 acres of woodland to explore. We chose this as one of our favourite places to visit in Cornwall, so don't miss it!
Useful Information For Visiting Lanhydrock
Address: Bodmin, Cornwall, England, PL30 5AD.
Opening times: Usually 10am – 5pm, but check the website for up to date times.
Lanhydrock entrance prices: Adults £16.45 / Children £8.25
Cotehele is a medieval granite and slate-stone manor house on the banks of the River Tamar with a history dating back to 1458.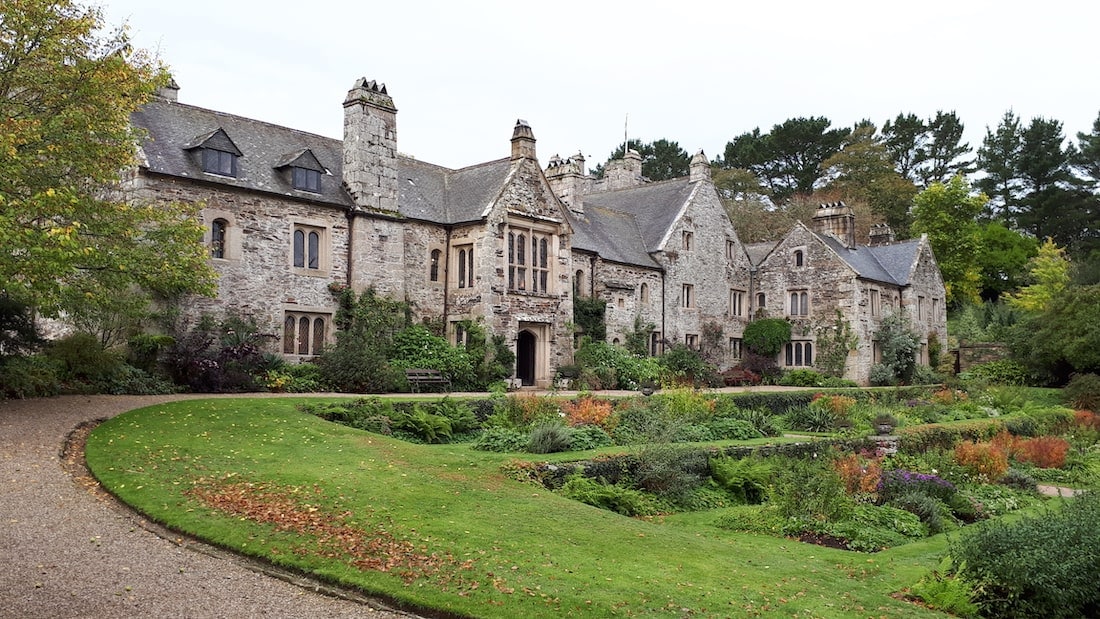 Cotehele is home to some of the best National Trust gardens in Cornwall. Explore the formal gardens, a medieval dovecote, pond, orchards, a Victorian summerhouse and an 18th century tower. The estate is even home to an old mill, which once ground the grain brought from Plymouth. Cotehele Mill has been fully restored and now produces flour, available to buy in the shop and used by the restaurants on site.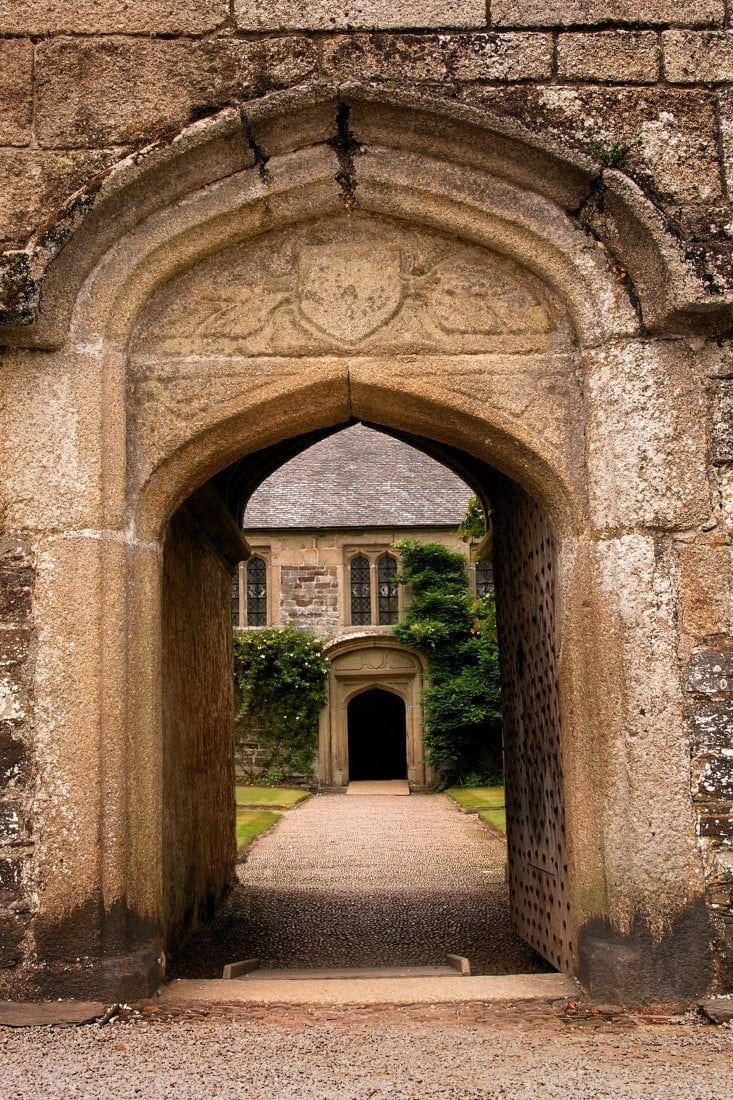 Down by the water at Cotehele Quay you'll also find the restored Tamar sailing barge Shamrock.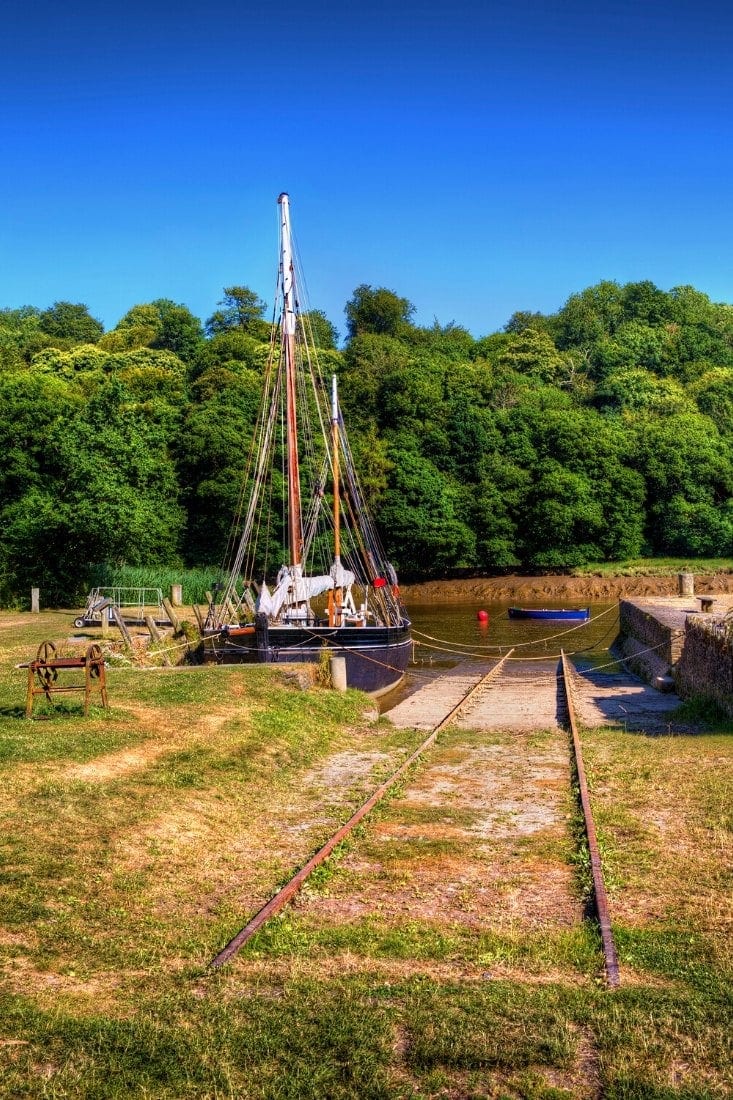 There's a lot to see at Cotehele, so whether you want to delve into history in the manor house, or simply enjoy a day out in the beautiful gardens or by the river, there's something for everyone!
Useful Information For Visiting Cotehele Manor And Gardens
Address: Cotehele, St Dominick, Saltash, Cornwall, PL12 6TA.
Opening times: House is open from 11am – 4pm, grounds, shop, tea room and restaurant from 10am – 5pm.
Cotehele Manor And Gardens entrance prices: Adults £8 / Children £4
If you're a history lover, this is one of our top picks of National Trust houses in Cornwall.
Tintagel Old Post Office was first constructed over 600 years ago, as a stone farmhouse. It's had a number of uses over the years, including becoming the post office in the late 1800s. It's wonderfully wonky, and feels like a hotch potch of design from the different periods of history. That's what makes it special!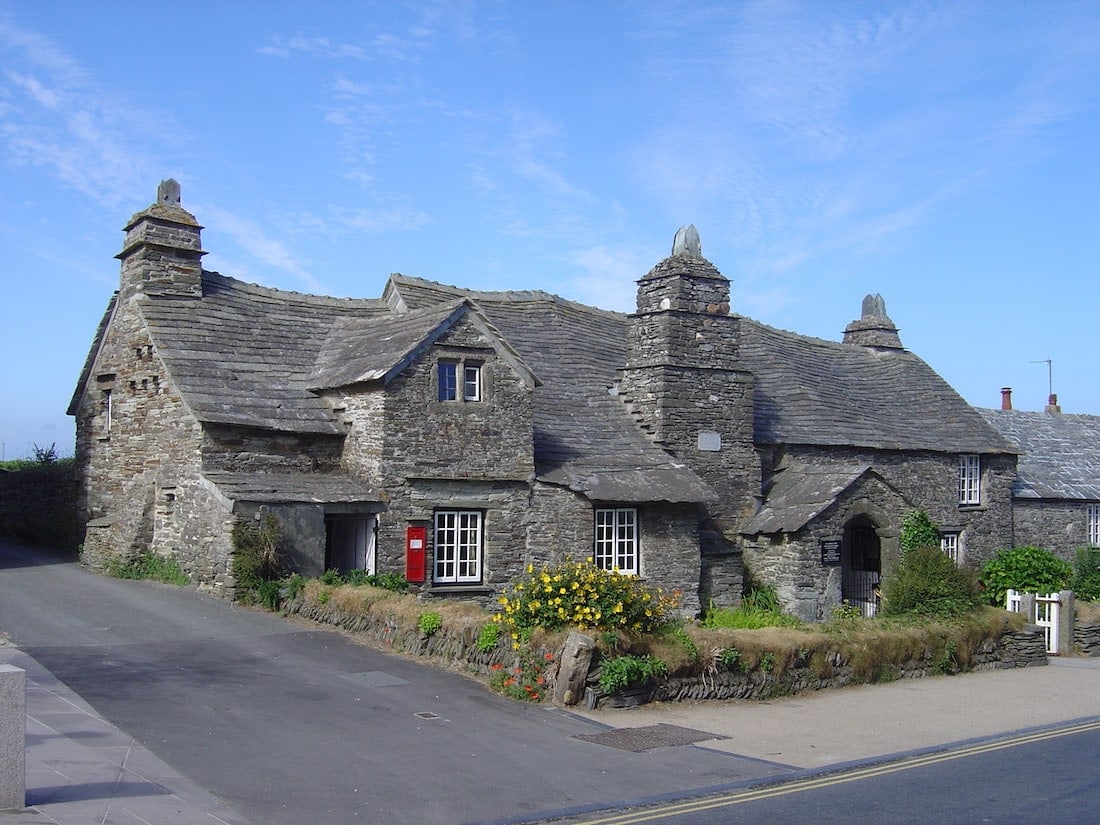 There are five rooms within the building – the parlour, north bedroom, south bedroom, hall and of course, the postroom. The postroom still contains Victorian postal and telegraph equipment, and you can even personalise a card with one of Tintagel Old Post Office's stamps.
Surrounding the building is a cottage garden. This is a small property to look around, but you could combine a visit with a nice pub lunch at the pub next door, or enjoy the 5-mile circular walk which goes from Tintagel Church to the cliffs and then on to Trebarwith Strand Beach.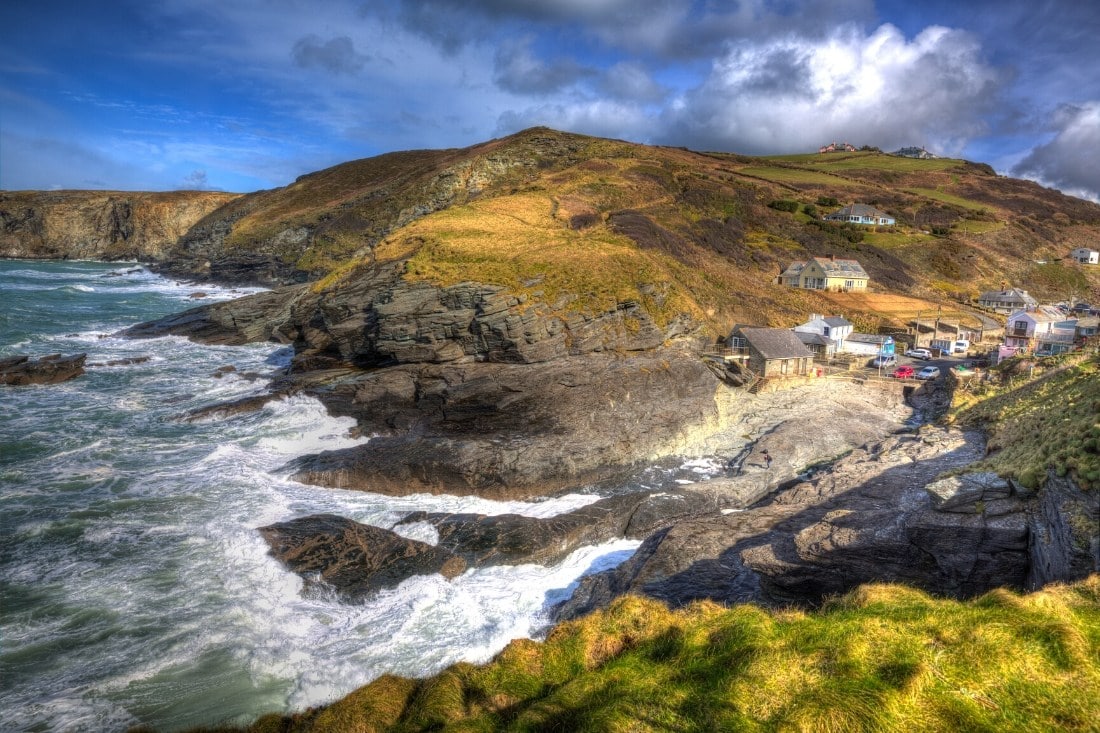 Useful Information For Visiting Tintagel Old Post Office
Address: Fore Street, Tintagel, Cornwall, PL34 0DB
Opening times: 10.30am – 5.30pm, but check the website for up to date times.
Tintagel Old Post Office entrance prices: Adults £5 / Children £2.50
If you love exploring huge country mansions, dreaming of a life where you could inhabit such a place, definitely take a trip to Godolphin House and Estate in Cornwall. The imposing Tudor/Stuart granite mansion has an interesting history to get to grips with. The Godolphin family who owned the estate up until the 18th century, made their fortune from the Cornish mining industry.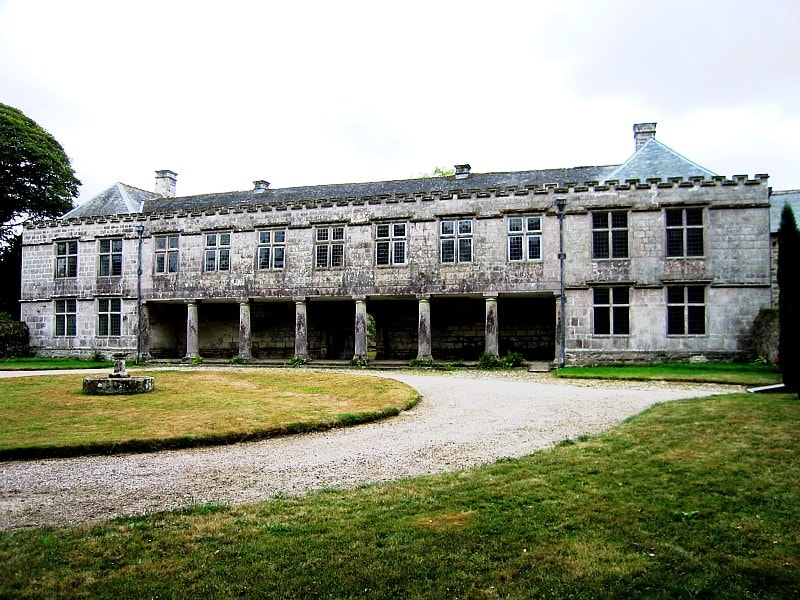 As well as several farm buildings, including the original Elizabethan stables, there are spectacular gardens on the estate. Wander the terraced lawn areas before looking at the sunken gardens. There are some lovely walks to do in the area too, taking in the views from Godolphin Hill, and looking out over St Michael's Mount and St Ives Bay.
As a little extra you can even book to stay on the estate! One of the 17th century cottages is available for hire. It sleeps 12 people, has a grand panelled dining room fit for a king as well as gorgeous gardens! If you're looking for other quirky places to stay in Cornwall, don't forget to check out our guide to the best holiday cottages in Cornwall.
Useful Information For Visiting Godolphin House and Estate
Address: Godolphin Cross, Breage, Helston, Cornwall, TR13 9RE.
Opening times: 10am – 4pm, but check the website for up to date times.
Godolphin House and Estate entrance prices: Adults £9.50 / Children £4.75. There are cheaper options if you just want to explore the gardens and outbuildings.
Trerice is a beautiful Elizabethan manor house, with stunning interiors and gardens to explore. It looks like something out of a classic novel, or perhaps a horror film! At the time of construction in 1572, it was owned by the Arundell family – a well-connected family in the southwest of England.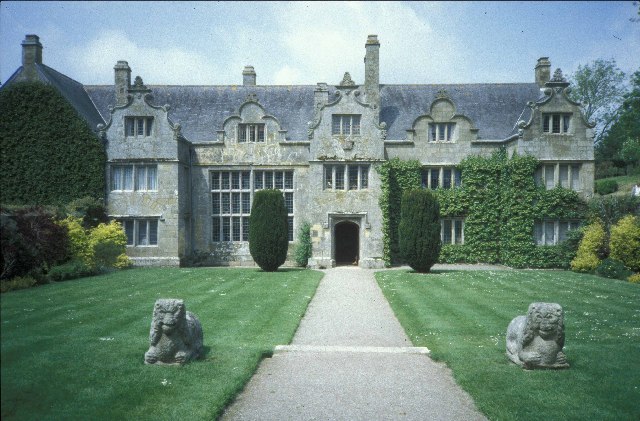 The manor has been built using 'Growan' stone, a local limestone which has turned a pretty shade of silver/grey due to weathering. There are a few key features to look out for, including the great hall window.
It has 576 panes, mostly from the original 16th-century glass and stretches for two storeys in height. The great hall itself is pretty special too, with its wonderfully ornate ceiling and large fire place.
Inside Trerice you'll find plenty of original artefacts, from 17th century furniture to embroidery and a collection of old clocks. Don't forget to explore the gardens too. There's an apple orchard, maze and terraced lawns.
Useful Information For Visiting Trerice
Address: Kestle Mill, Newquay, Cornwall, England, TR8 4PG
Opening times: The garden, shop and tea room open at 10.30 each day, and the Trerice house opens at 11. All areas close by 5pm. Check the website for up to date times.
Trerice entrance prices: Adults £11 / Children £5.50 (peak season) or £7.90 / £3.95 (winter)
A little different to many of the National Trust houses in Cornwall on this list, Lawrence House is located right in the middle of the town of Launceston. This Georgian building dates back to 1753, and is a wonderful example of Georgian history.
There are several collections inside the house, including toys from different periods of history, a working polyphon (a predecessor to the classic juke box) and 3mm scale model of the Launceston Southern Railway Station.
Useful Information For Visiting Lawrence House Museum
Address: Lawrence House Museum, 9 Castle Street, Launceston, Cornwall, PL15 8BA.
Opening times: 10am – 4.30pm, but check the website for up to date times.
Lawrence House Museum entrance prices: Free, but donations are appreciated
This 18th century country house is a little different to some on this list, as it is still inhabited.
Overlooking the beautiful Lynher River, the grand 18th-century mansion is constructed from from silver grey stone, and is surrounded by picturesque landscaped gardens and parkland.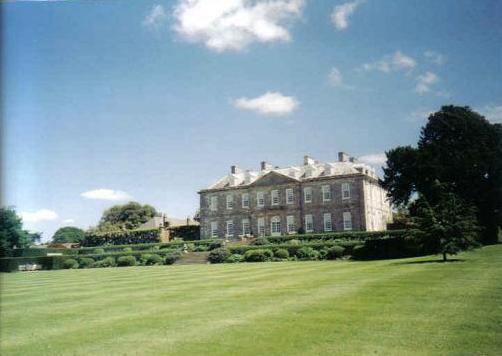 The house itself was built for Sir William Carew in 1718 and has remained the primary residence of the Carew Pole family. The National Trust look after the property, and it's open to the public between March and October each year.
Inside you'll find a large collection of portraits, period furniture and tapestries. The gardens are one of the biggest draws with topiary, modern sculptures, a historic dovecote, grand lawns, the National Collection of Daylilies and a huge cork tree.
Film buffs might be particularly interested in visiting Antony House And Gardens, as it was the location of some of the scenes in Tim Burton's Alice In Wonderland.
Useful Information For Visiting Antony House And Gardens
Address: Antony House, Ferry Ln, Torpoint, Cornwall. PL11 2QA.
Opening times: Limited opening times, usually just in the summer months, so check the website before visiting.
Antony House entrance prices: Adults £11 / Children £5.50
If you're thinking of visiting a number of National Trust properties in Cornwall, it may be worth taking out a membership. There are four types of National Trust membership available: individual, couple, family and lifetime. An adult membership currently costs £72 a year. Check the website for all the other prices.
---
We hope you've enjoyed reading about these amazing National Trust houses in Cornwall. If you're planning your trip, definitely read our guides to the best places to visit in Cornwall, our Cornwall road trip itinerary, 21 fun facts about Cornwall and the best places to eat in Padstow. We adore Cornwall so it's one of the most written about counties on our site!
The Ultimate Cornwall Trip Planner
Planning a holiday in Cornwall? These handy travel guides will help you decide where to stay, what to do and where to eat on your trip.
Enjoyed this post about National Trust houses in Cornwall? Pin it for later…