Are you looking for the best glamping sites in Cornwall? From wooden cabins with hot tubs to shepherd's huts, this is where to glamp in Cornwall.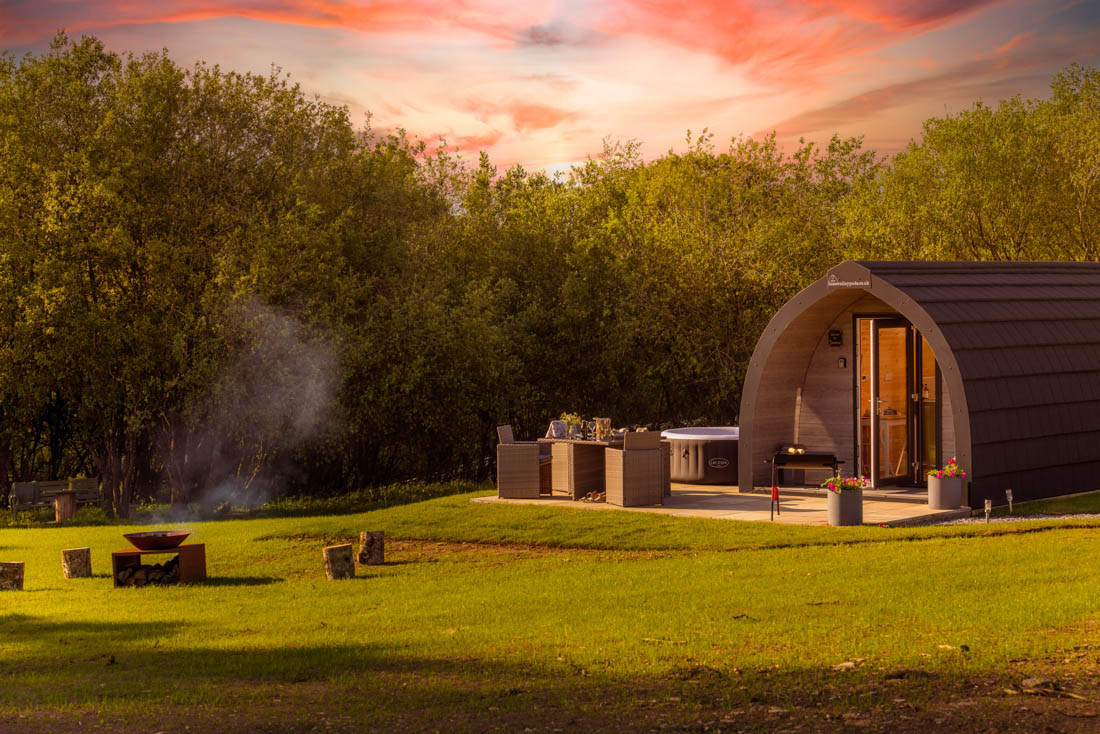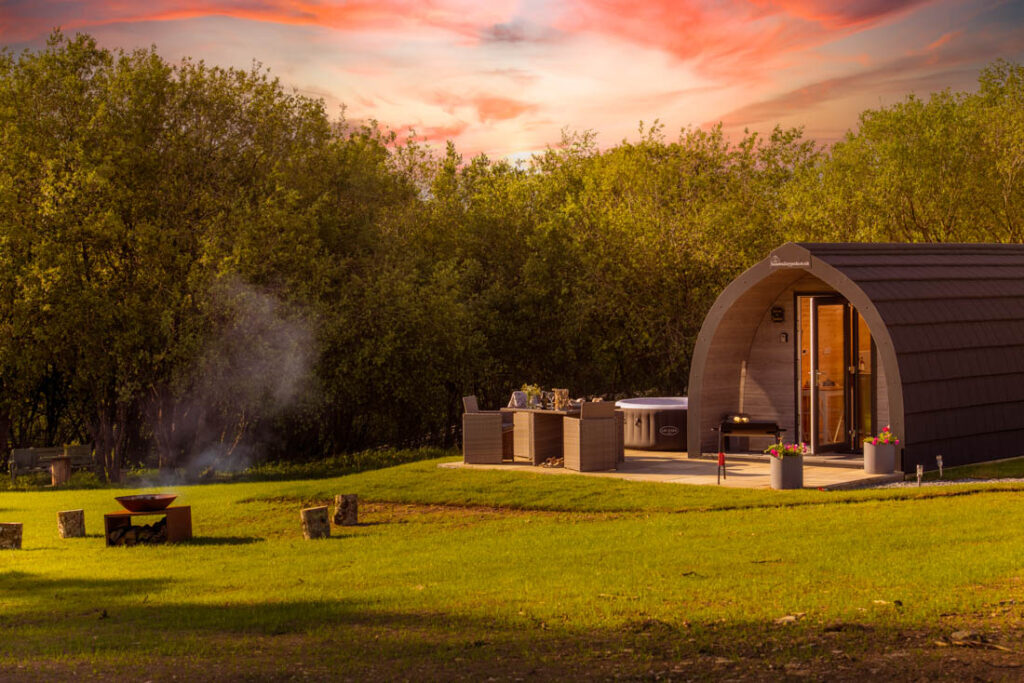 There's a reason why Cornwall is one of the most visited counties in Great Britain – it is absolutely stunning in every sense of the word.
There's something so perfect about holidays in Cornwall. From the mosaic of moorlands surrounding the area to the captivating coves with sand-filled activities, there is something for everyone here.
With a seemingly endless array of possibilities, a trip through Cornwall will allow you to transition seamlessly from the rush of surfing waves to enjoying a Cornish pasty. This seaside county offers travellers from all walks of life a splashing time in this English gem.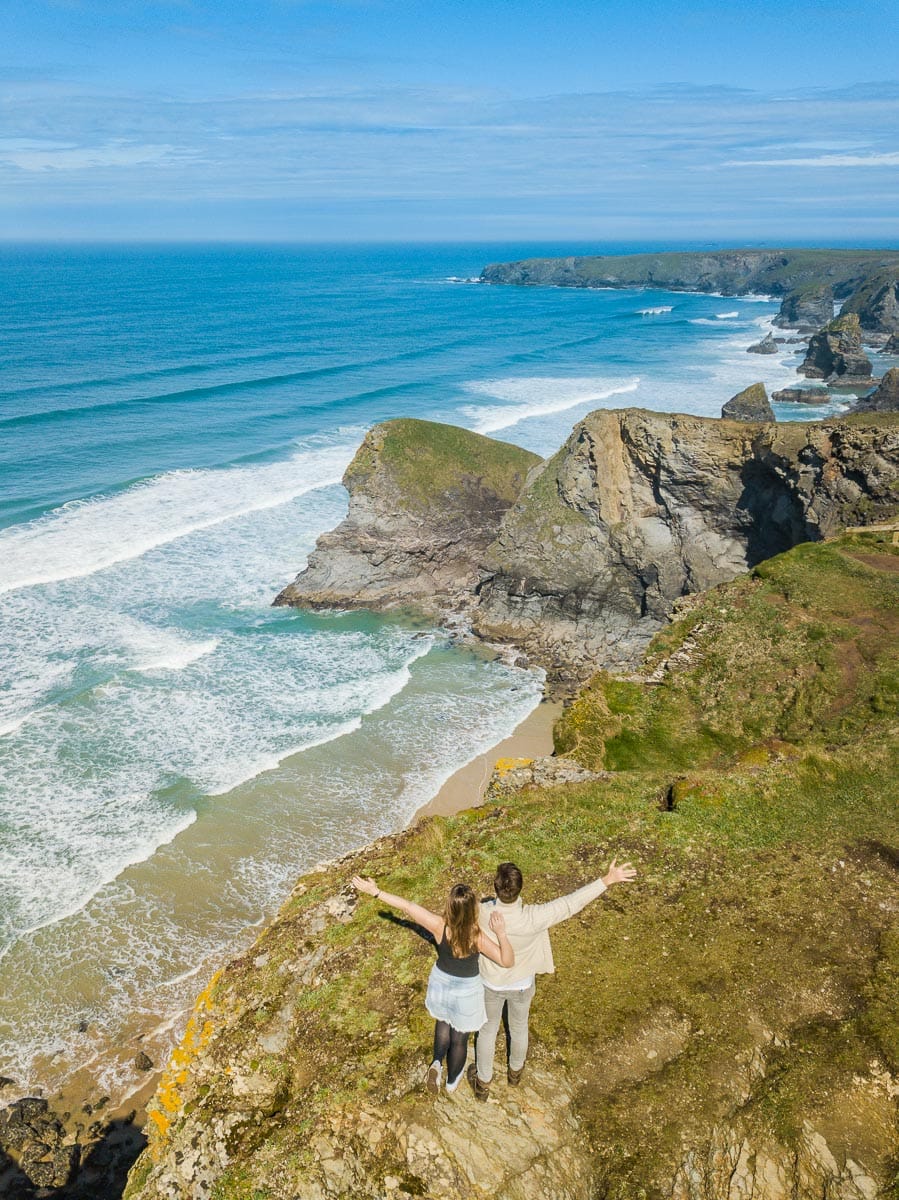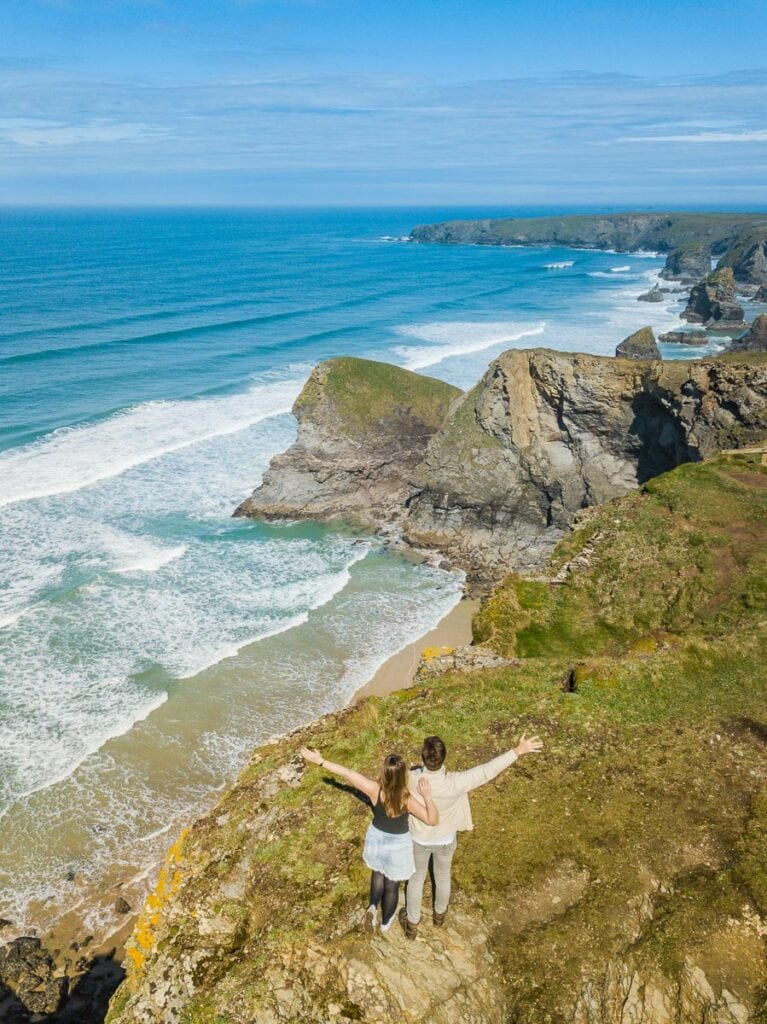 When deciding between getting down and dirty in the splendours of nature or living it up in a slice of luxury — why not opt for both?
Glamping offers wandering in the wonders of the diverse nature settings of Cornwall while still feeling cocooned by the embrace of convenience (no wifi? No, thank you).
In this blog post we've put together our favourite glamping sites in Cornwall with Unique hideaways. These are the ones you'll want to stay at for an amazing holiday to remember.
And remember, just because you're glamping doesn't mean you have to scrimp on the luxury. A glass of bubbles in the hot tub? Sign us up!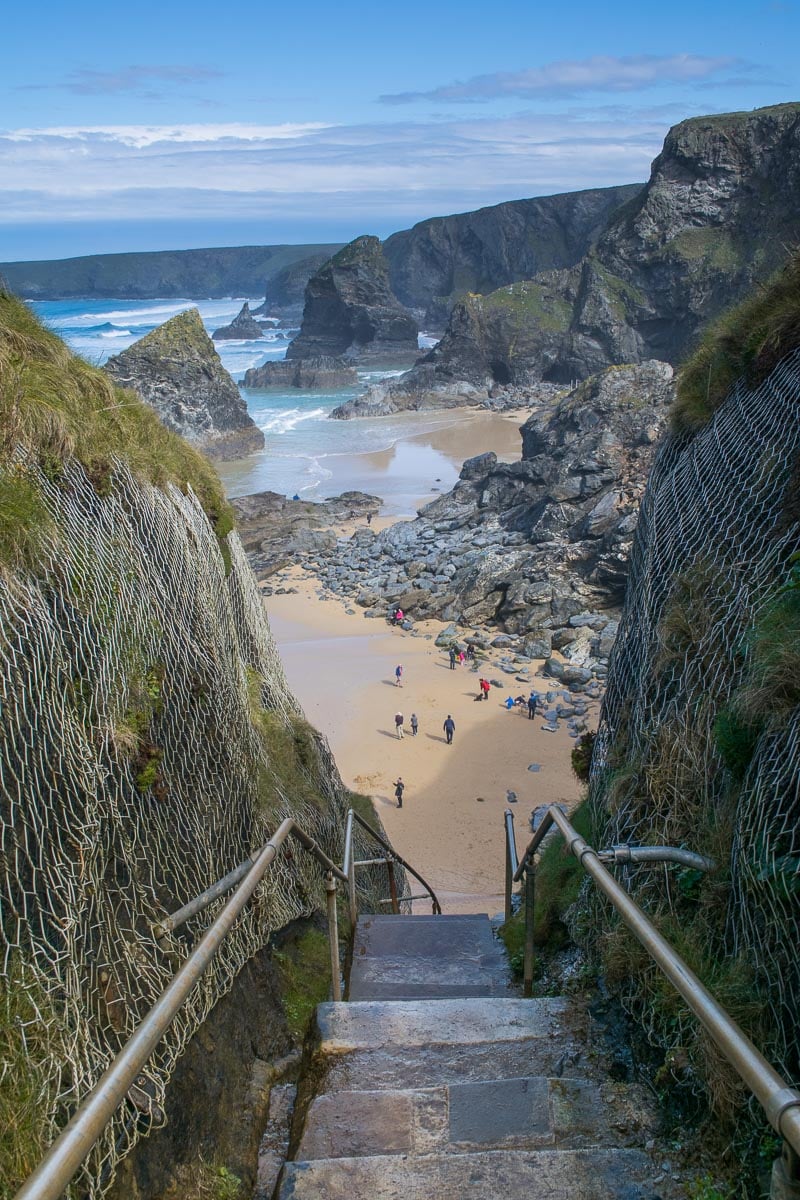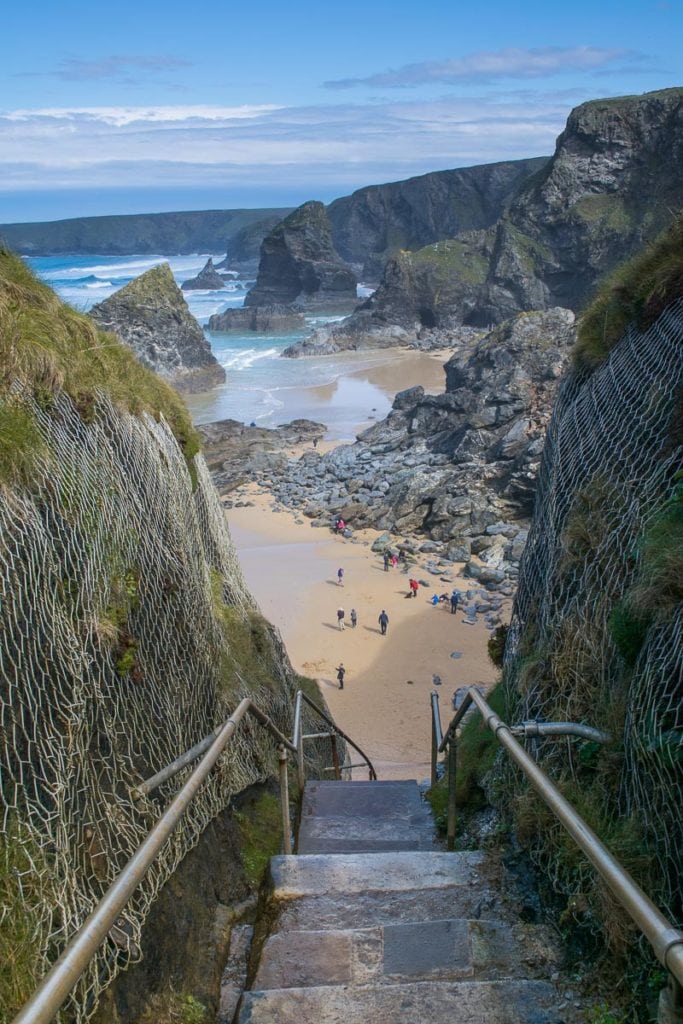 ---
Best Glamping Sites in Cornwall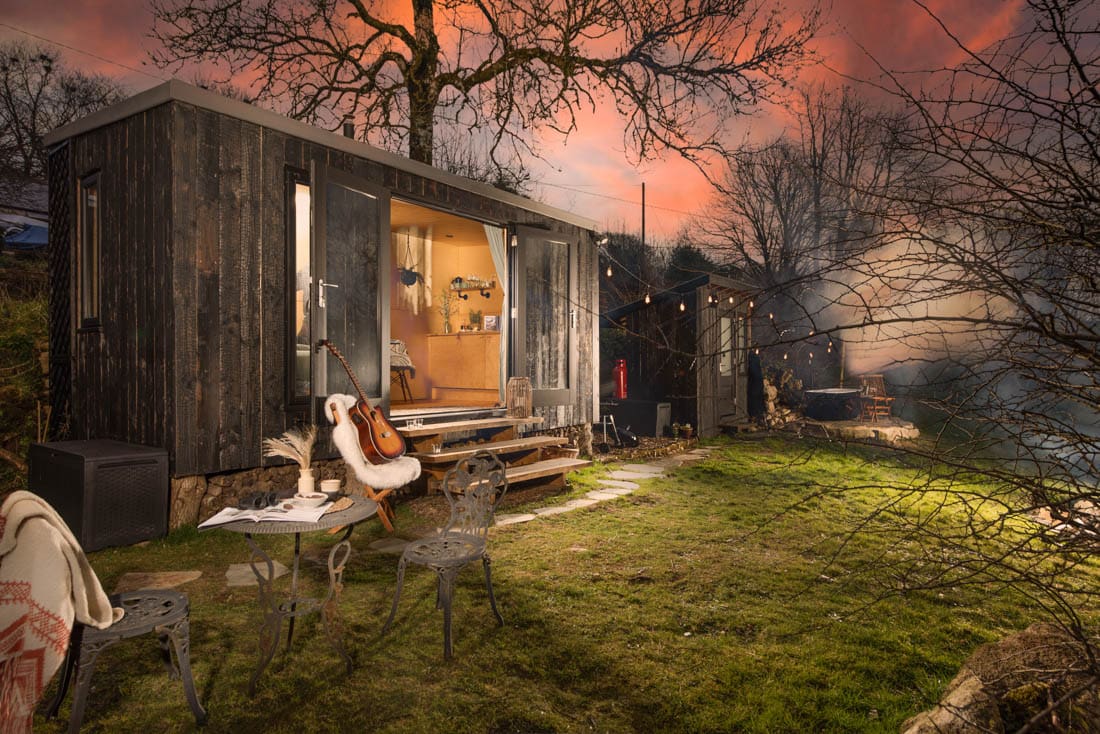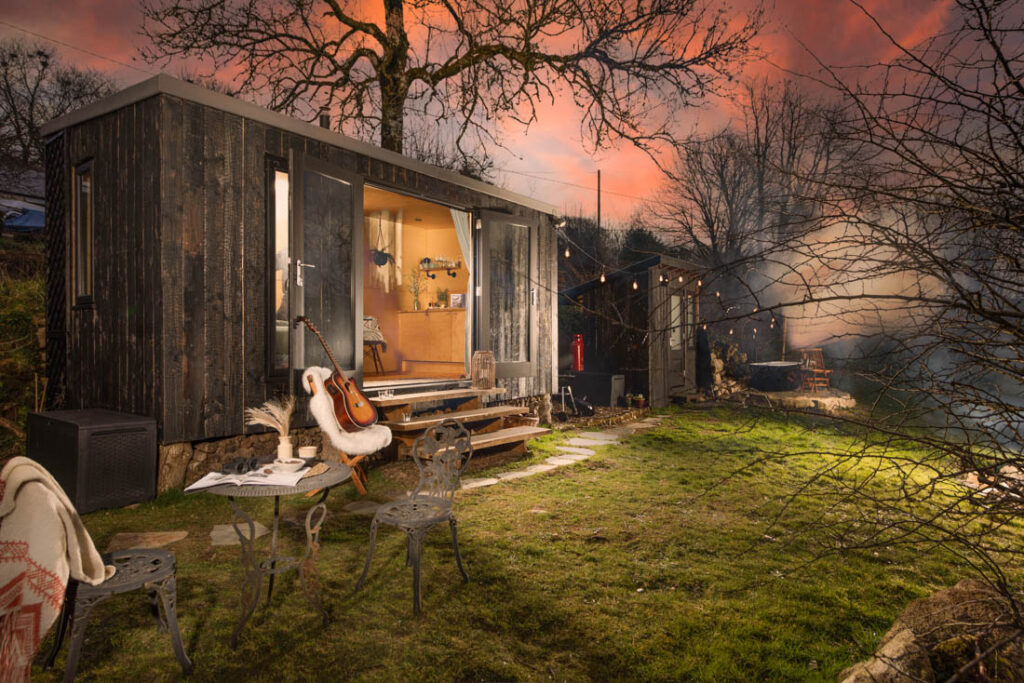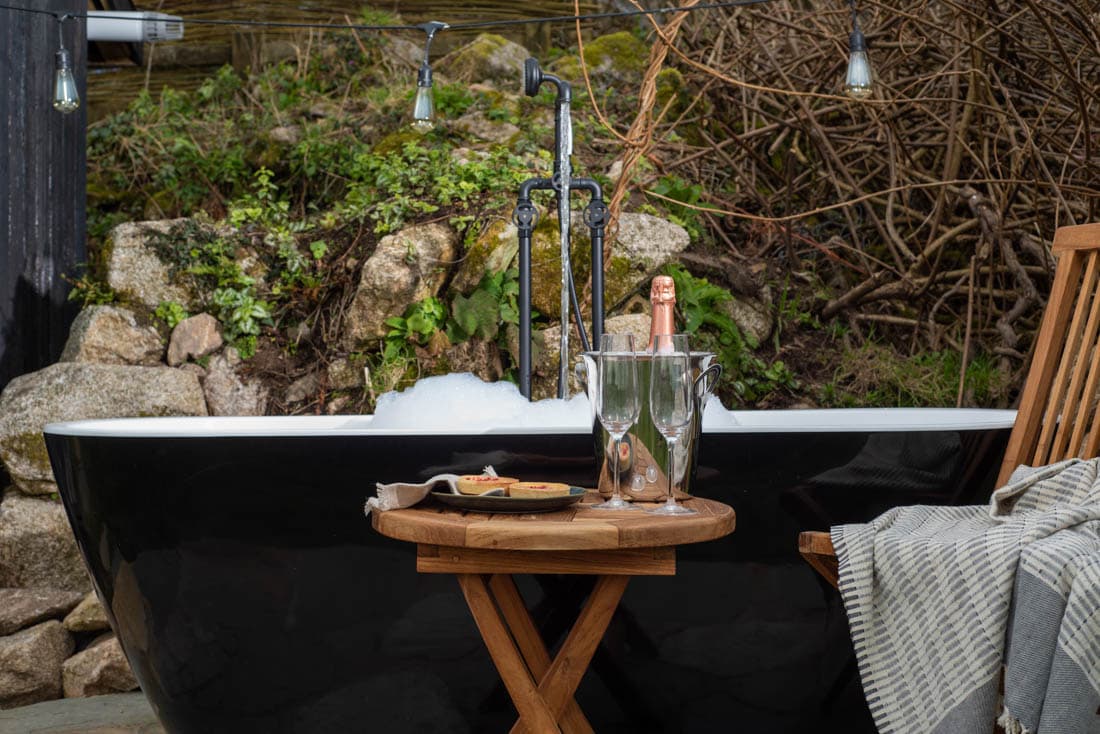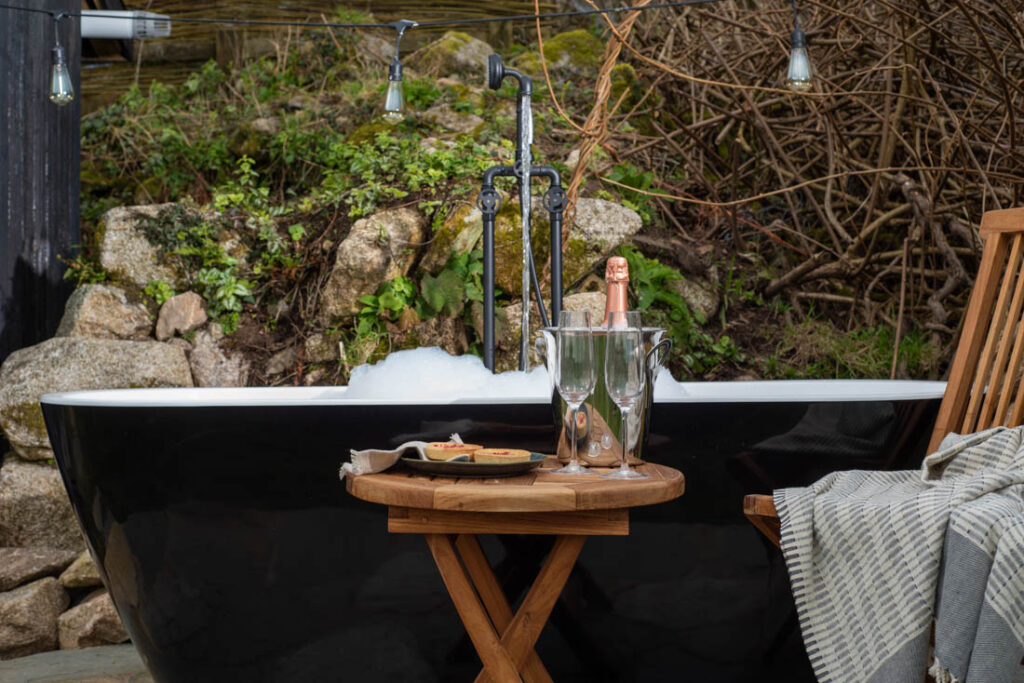 Near Liskeard
Sleeps 2
Dog friendly
A simple cabin with a 'diamond in the rough' feel, you won't be disappointed when you unearth and stay at this north Cornwall haven.
Who says having a getaway in the wild needs to be all about bugs and bare basic living? You'll connect with nature in a different way, from sipping a glass of champagne in the outdoor tub to enjoying the crackle of fire at the fire pit.
The Bird Box is the ultimate sanctuary for couples in any season. You can light the tiny wood burner above the chic dining table for two during the winter months. This will have you both cosy and warm in no time.
Come summer, this cabin has great added amenities to enjoy the gentle breeze of warmer weather. This includes a secluded outside bench to enjoy your first cup of coffee and a hammock to read or laze the day away.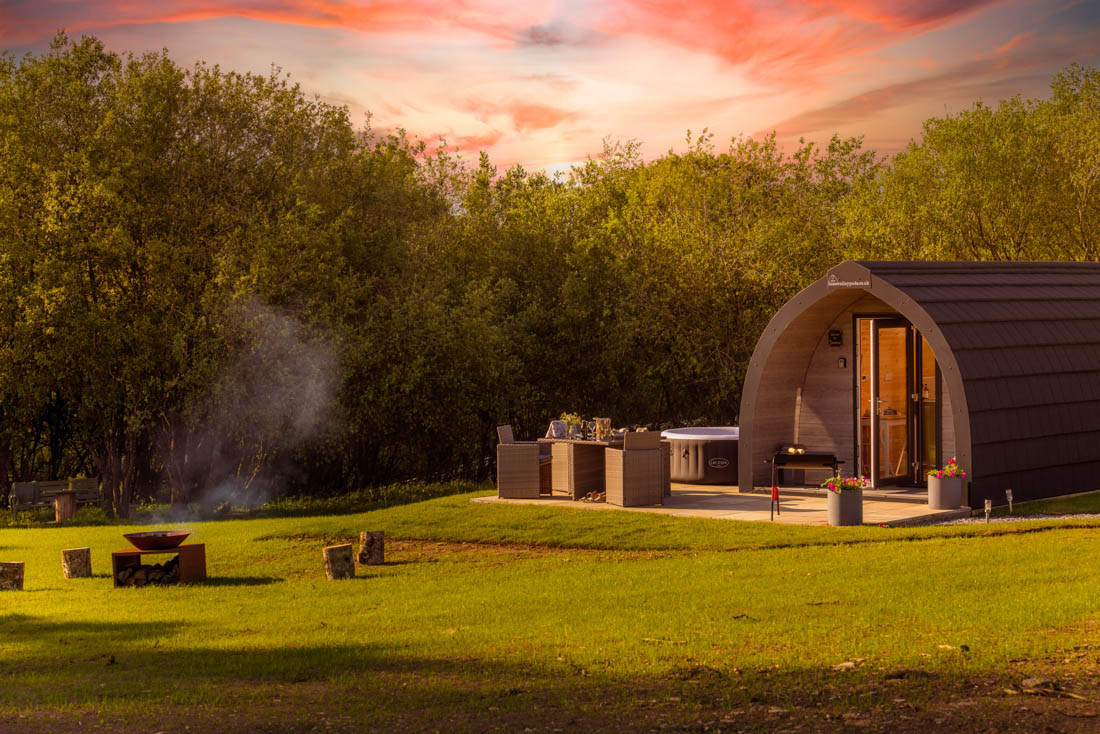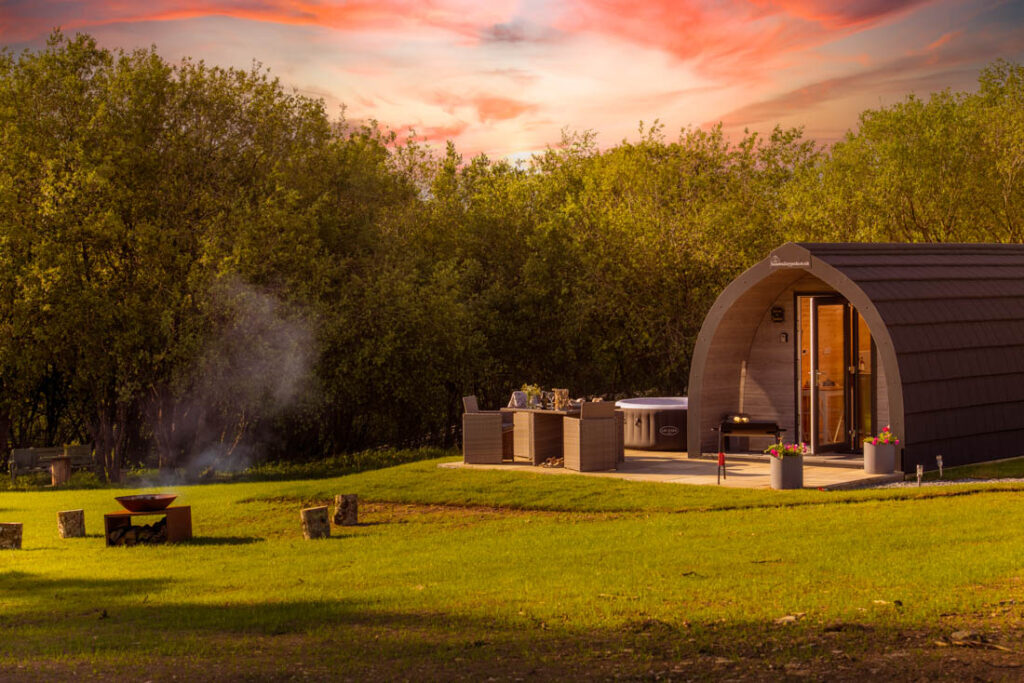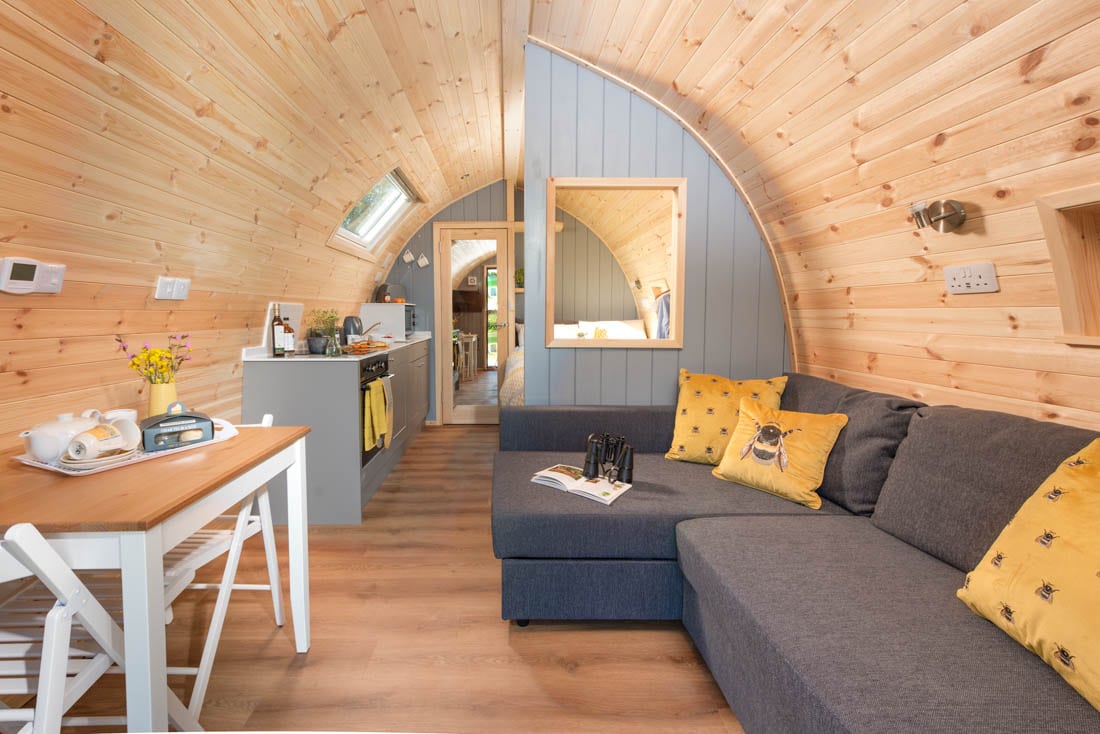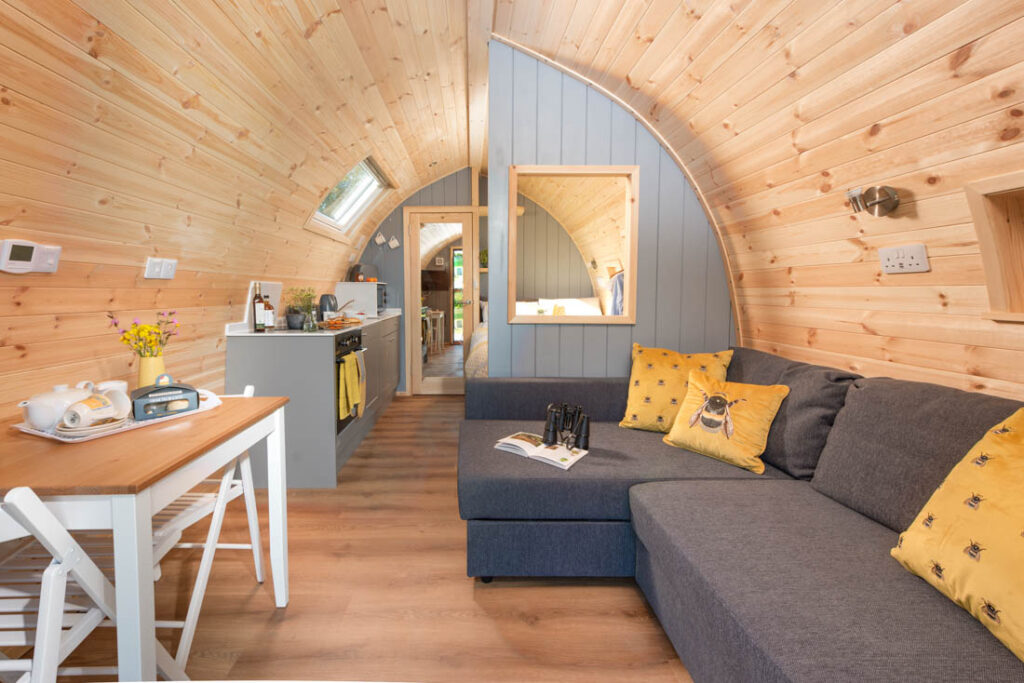 Near Lostwithiel
Sleeps 2
This unique glamping accommodation is an excellent pick if you're looking for something a little different. It's a picturesque pod made to ponder the world outside from within.
Demelza has the appearance of a forgotten hive waiting to be filled with the bustling nature of its new inhabitants, and this theme is carried through by its bee-utiful (wink, wink) decor. From throw pillows with bees on them to the vases with fresh flowers dotted in the pod, you're in for a sweet-as-honey time while staying here.
With Lostwithiel a few miles away, you'll be able to explore a lovely town with a storybook feel. You'll soon picture your entire retirement plan here — it's a serene space to wander through stone cottages and antique and craft shops. Be sure to explore the Restormel Castle for a historical adventure.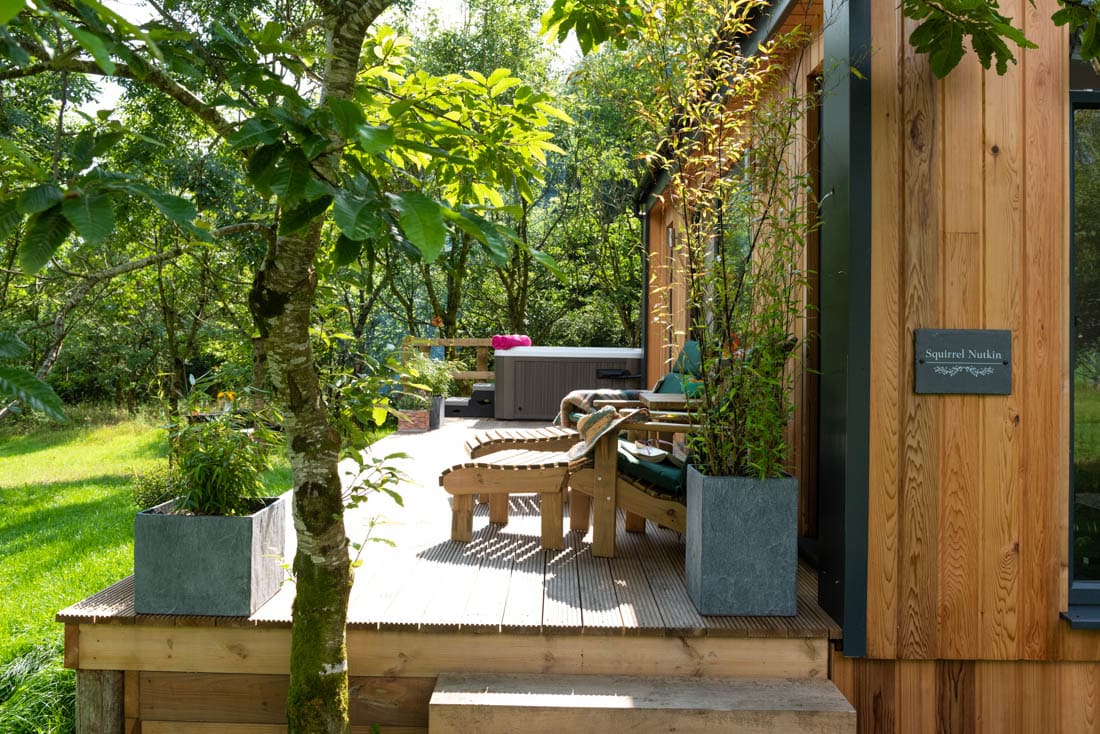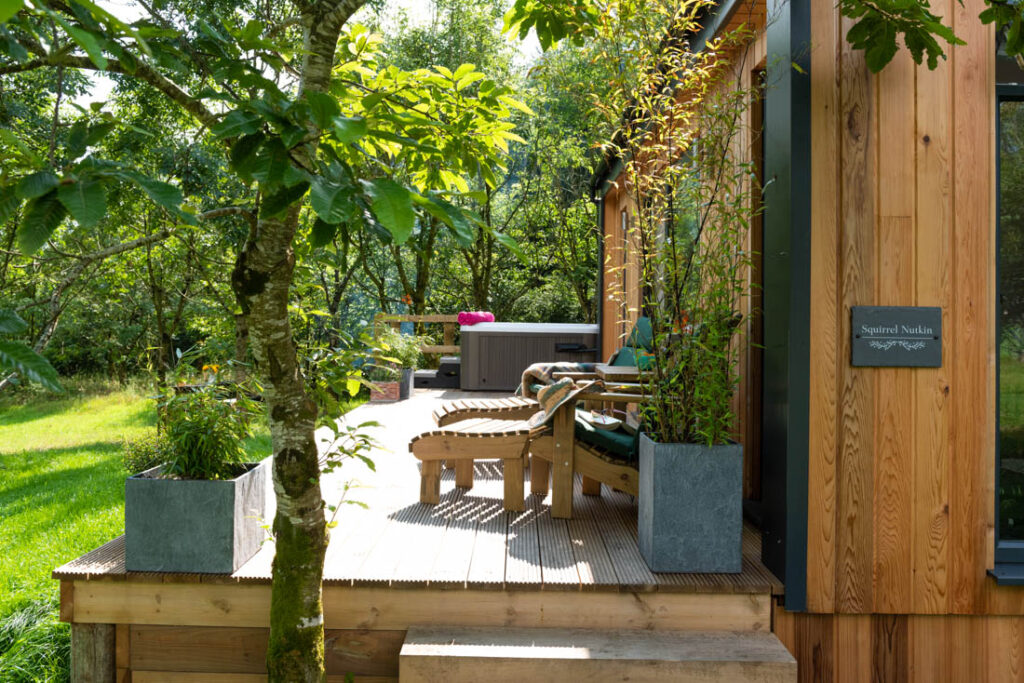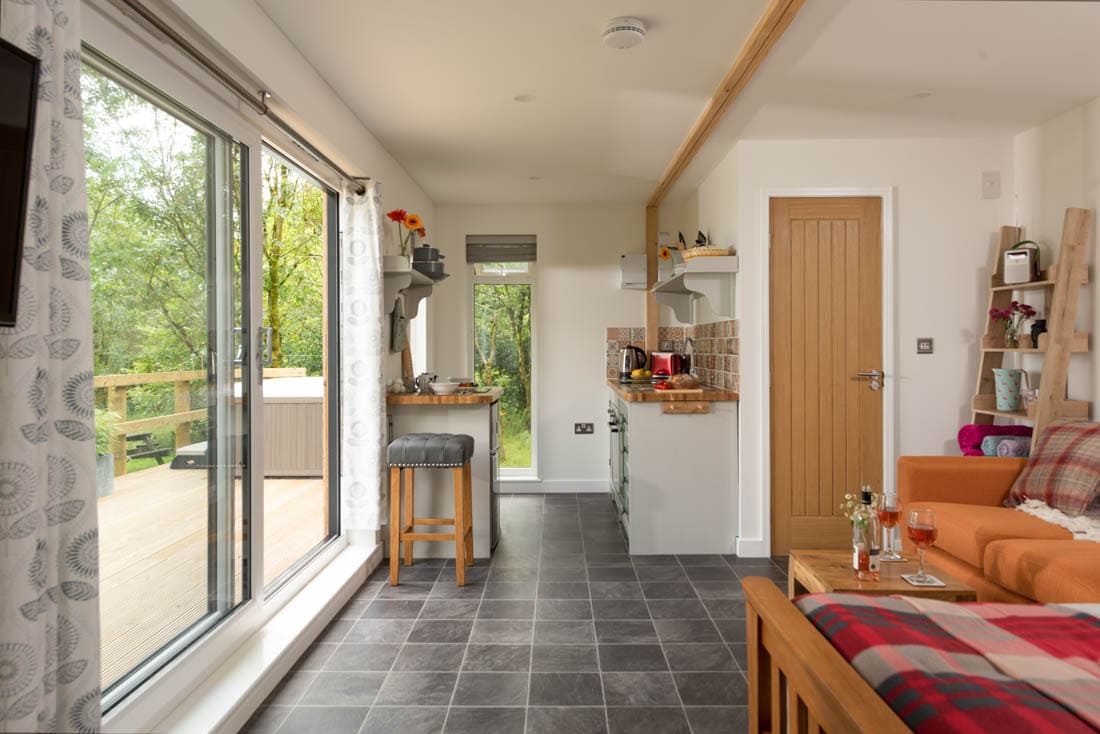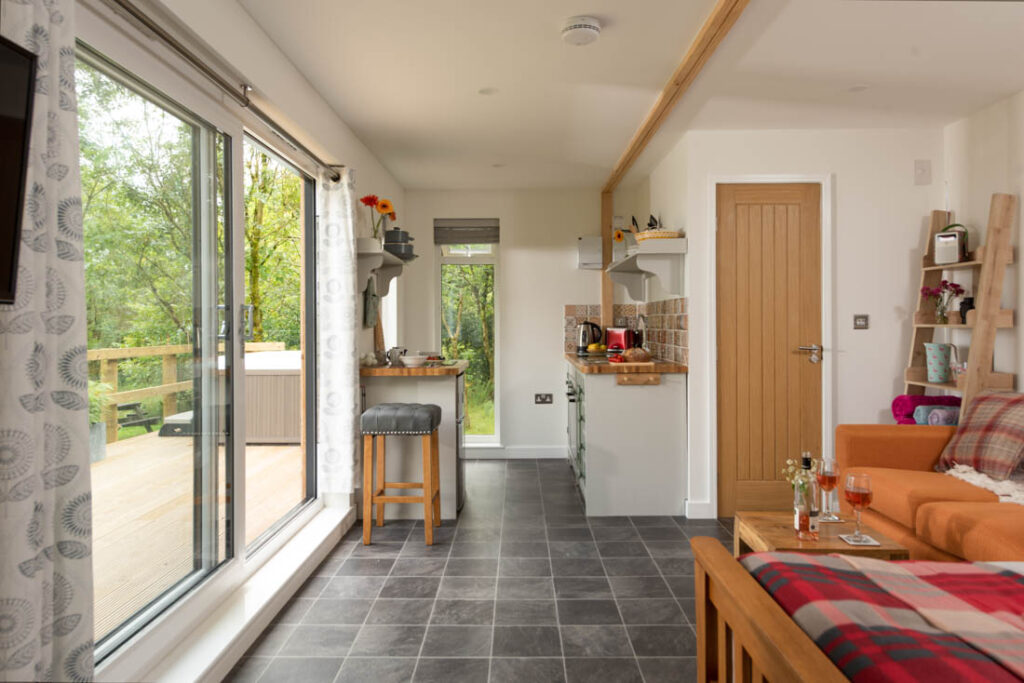 Few miles from Fowey
Sleeps 2
A sleepy hollow nestled with scurrying adorable wildlife creatures and stunning views, Squirrel Nutkin will have you nuts for its quaint charm. Equipped with big windows and tiled floors, this tiny cabin in nature will make you feel right at home.
This cabin will have you sorted for all weather conditions, with outdoor loungers and an inside panel heater. Once you step out on the deck, you'll find a hot tub to melt away any remaining stress you've encountered before your trip to the Squirrel Nutkin.
If you're looking to stretch your legs and explore your surroundings, there are various trail paths and coastal walk options nearby to venture on.
For us, this is one of the best glamping sites in Cornwall with a hot tub, especially for a romantic weekend away.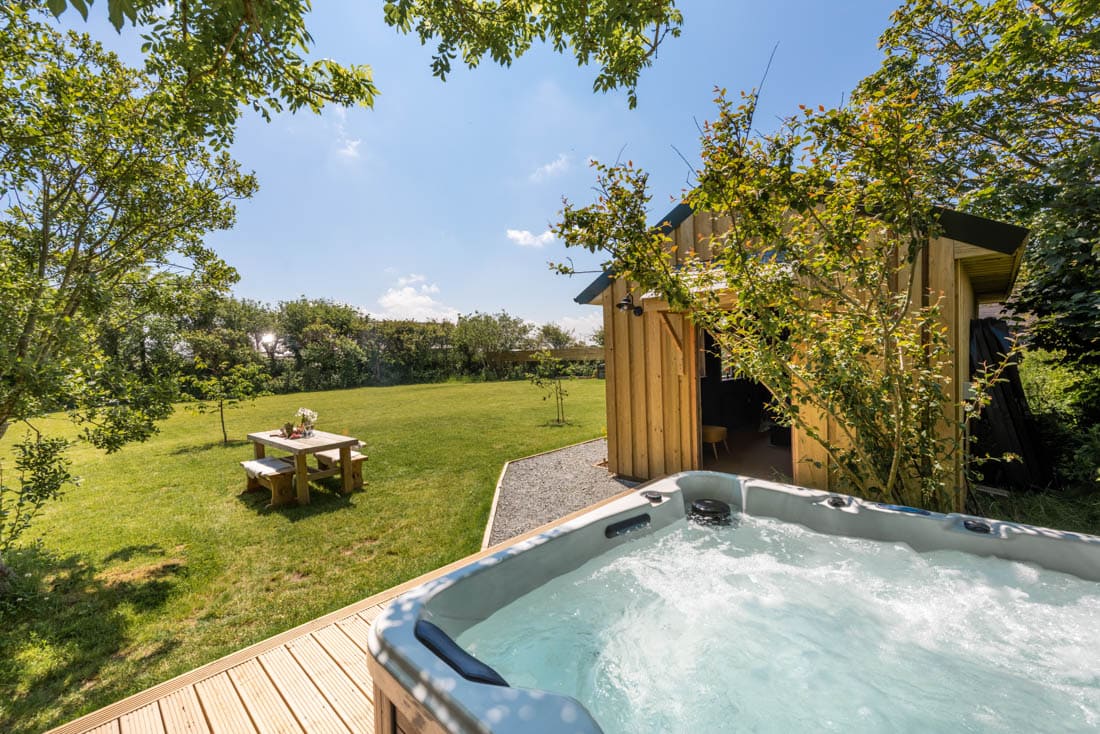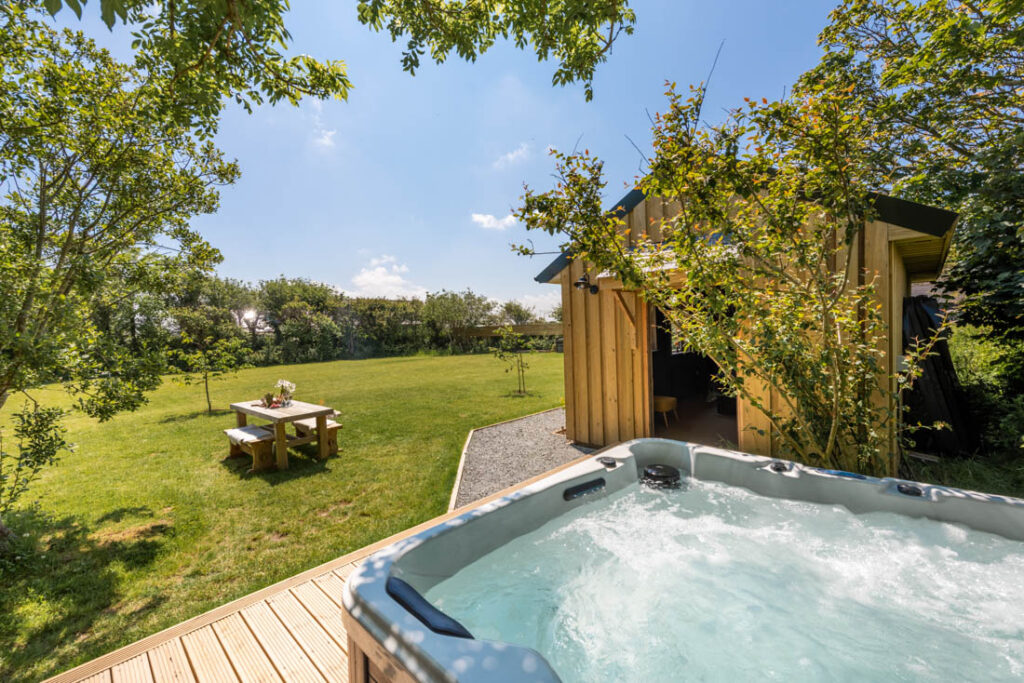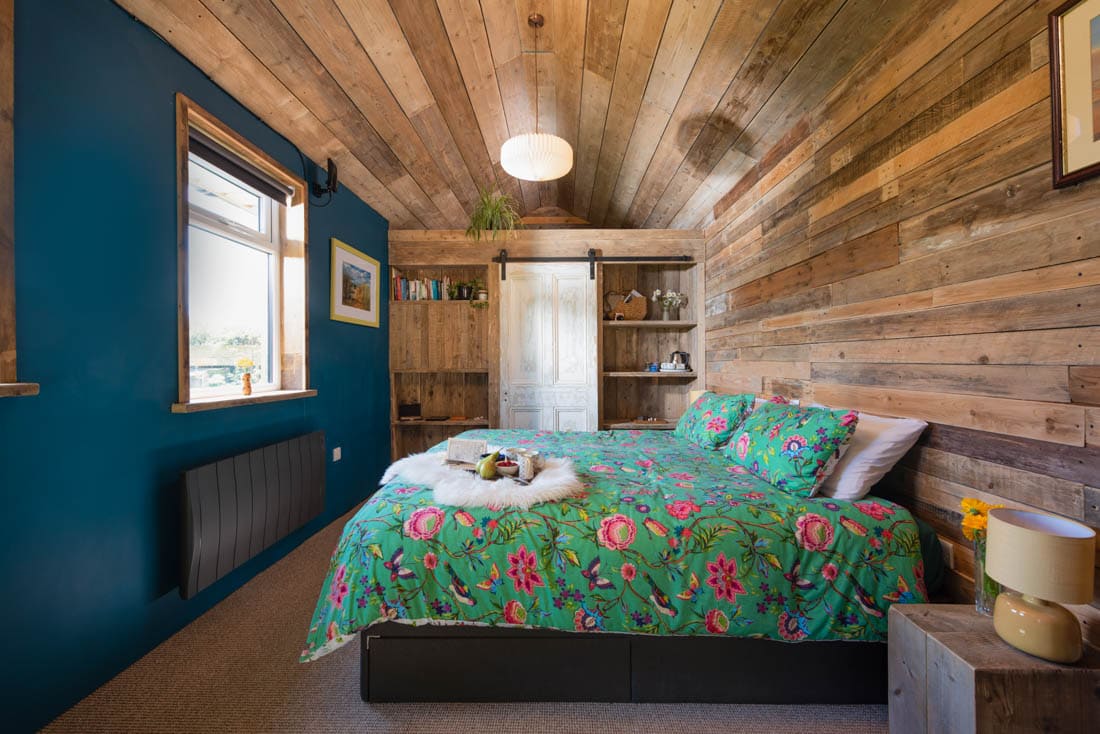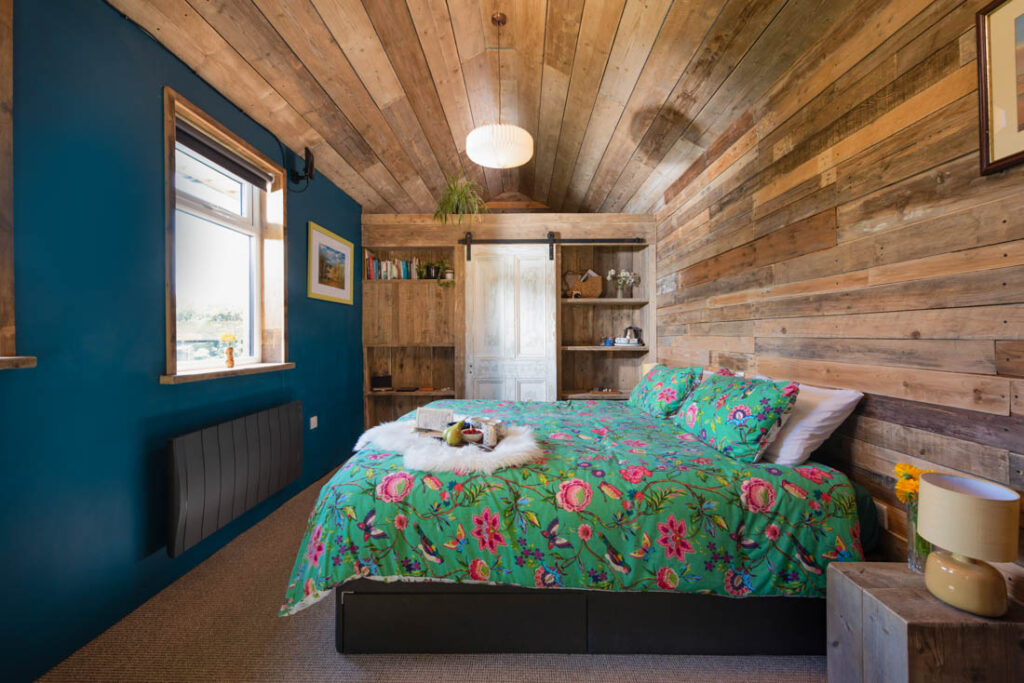 Near Perranporth
Sleeps 2
Situated on the north coastline of Cornwall, this enchanting wood-crafted retreat awaits the weary traveller. From the soft chirp of bird songs to the sound of bubbles brewing in the hot tub on-site, Clover Cabin is made to experience wildlife within a carefully crafted capsule of cosiness.
A nature excursion meets lavish living blended to perfection. You'll enjoy the super king-size bed within the cabin and a fire pit outside to enjoy marshmallows.
Clover Cabin is located a bit over a mile away from the seaside town of Perranporth, which is known for its scenic beaches and outdoor activities, such as hike trails. Whether you choose to go on various adrenaline-fuelled adventures or rather lounge around in a blissful escape of doing nothing, we won't tell you not to.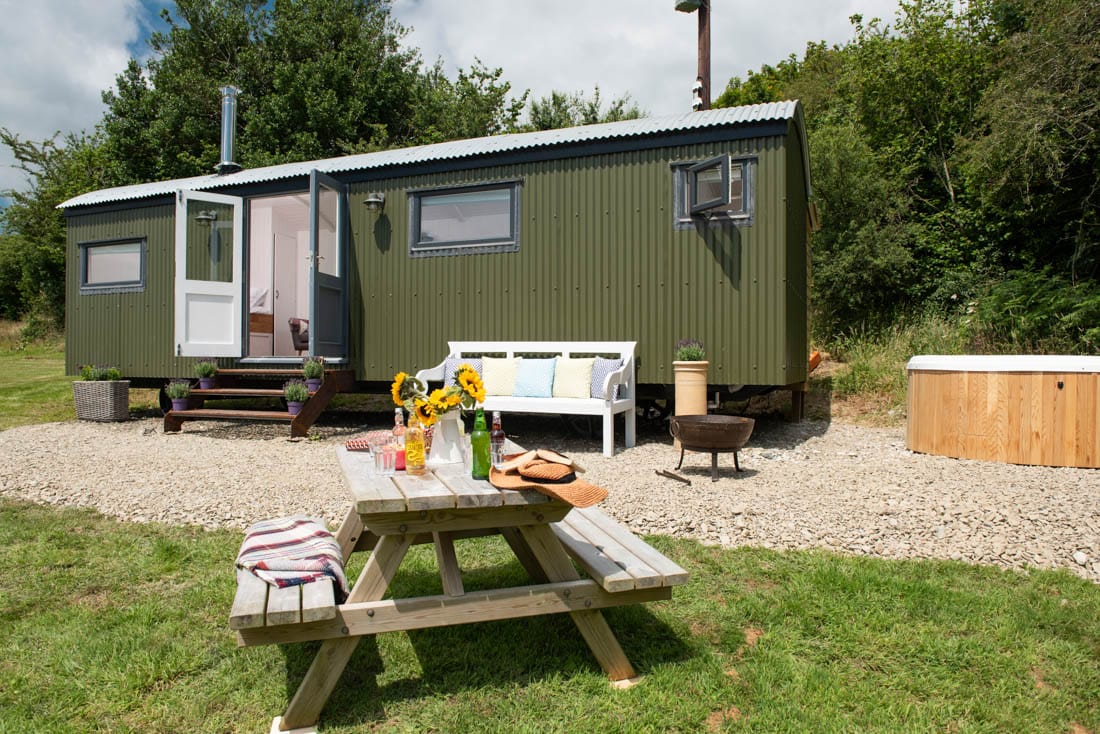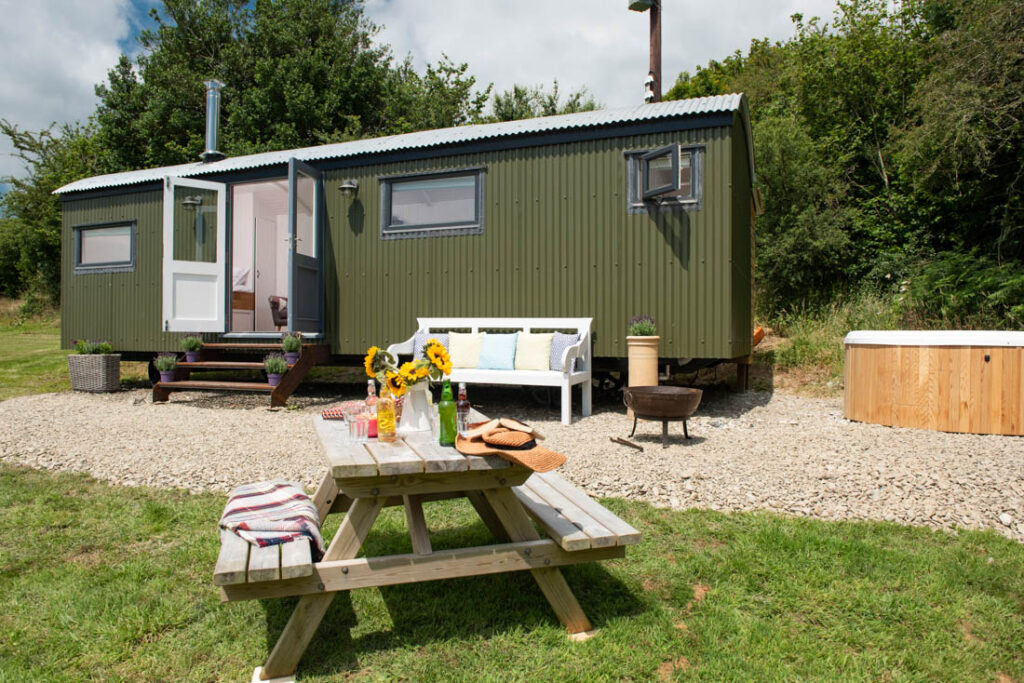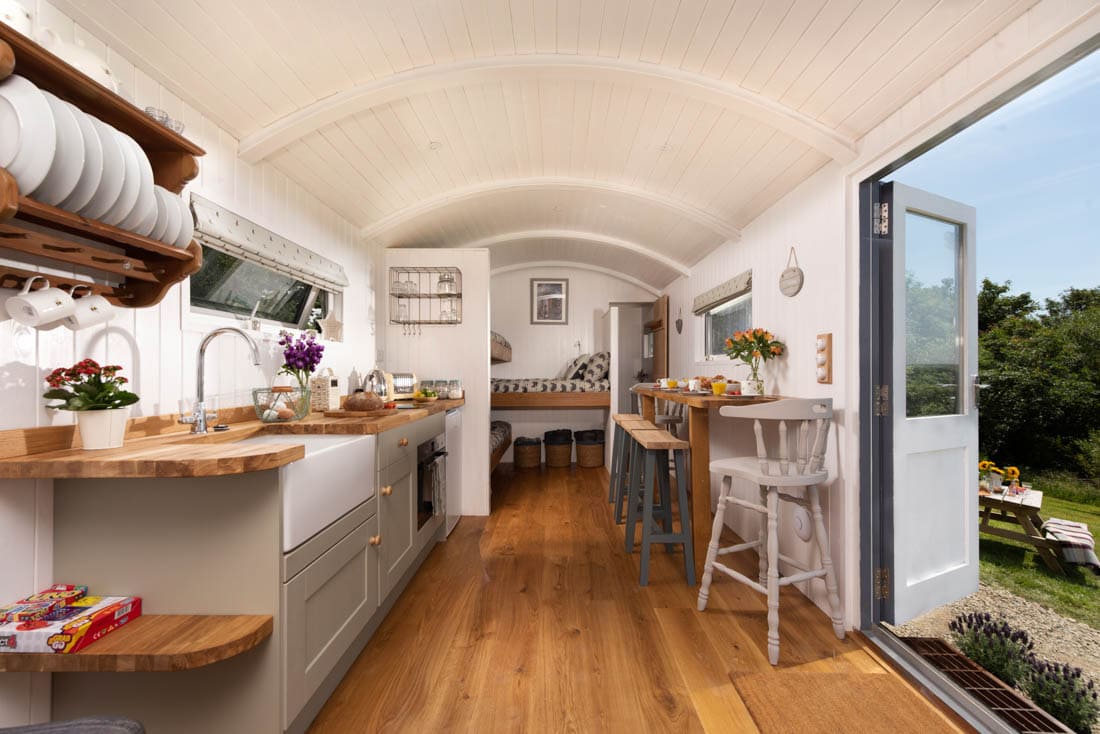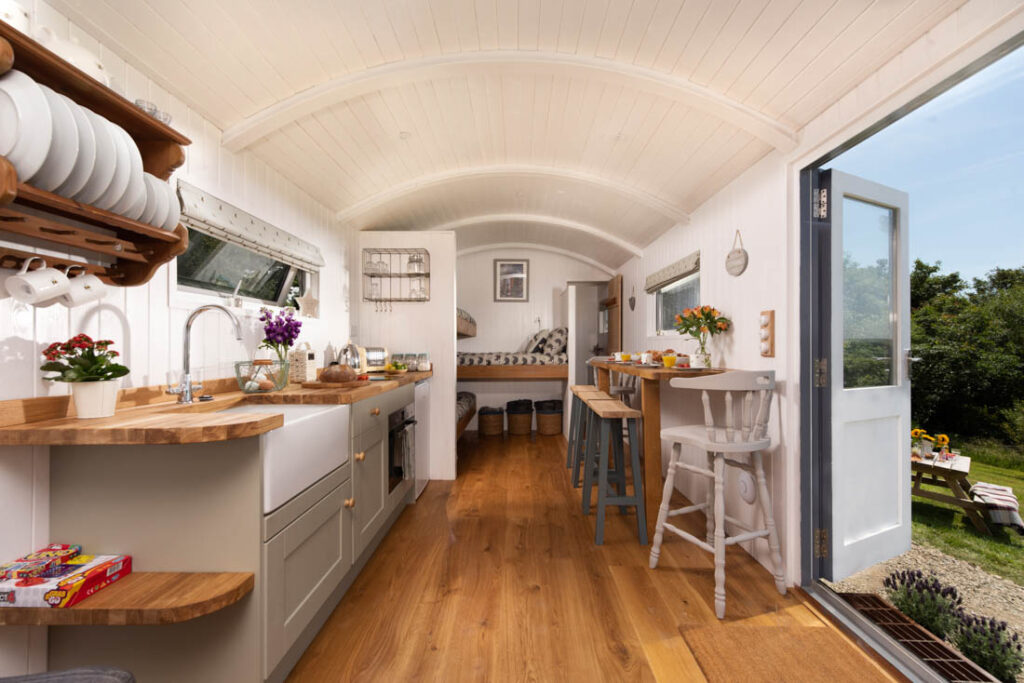 A few miles Northeast of Lostwithiel
Sleeps 5
Dog friendly
A shepherd's hut with a name that resembles the magical object within the children's book The Lion, The Witch, and the Wardrobe; you'll feel its mythical draw with each step into this fortress.
On the same premises as The Witch's Wagon listed below, you'll be able to book out this sublime space with friends and family. This cabin is the epitome of peaceful living in a meadow in the countryside.
With a hot tub to soak in and a picnic table to nibble at from sunrise to sunset, The Enchanted Wardrobe is a hard place to leave after spending a few nights in its midst.
If you're looking to delve into the enduring corners of the Cornish countryside even further, you can travel to the nearby Bodmin Moor. Here you'll find spectacular sights, including exciting rock formations and Moorish ponies.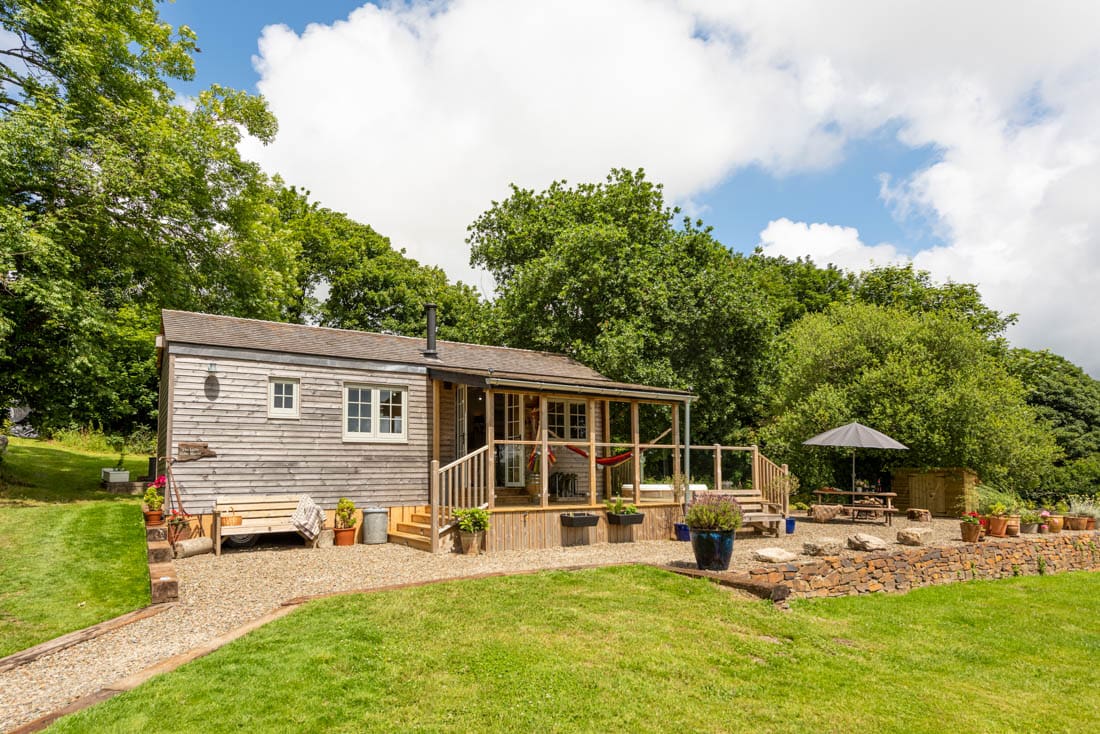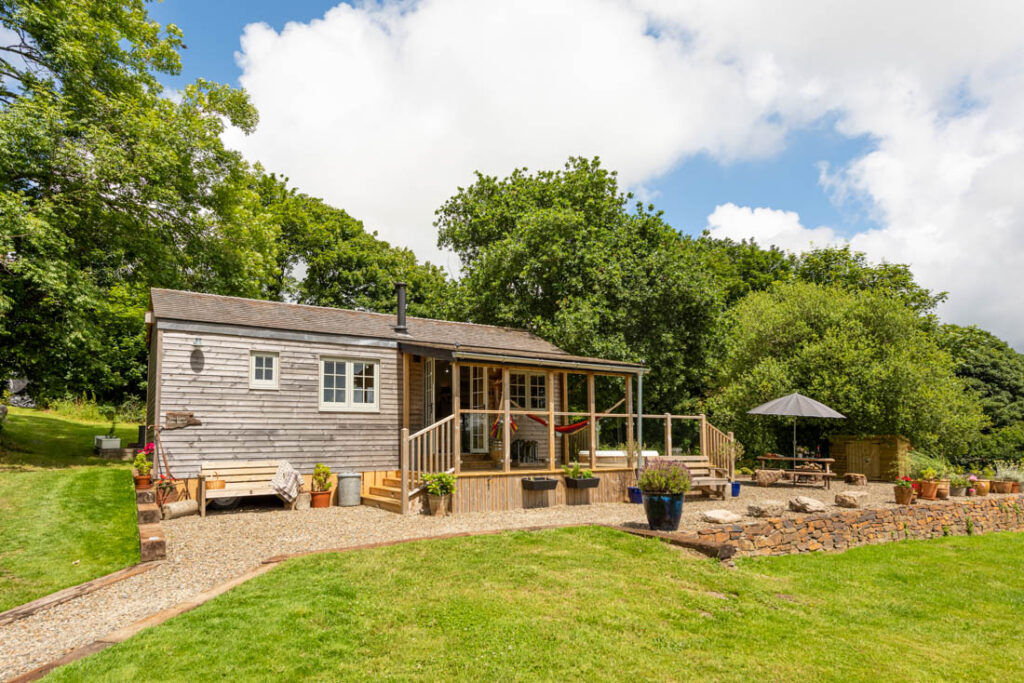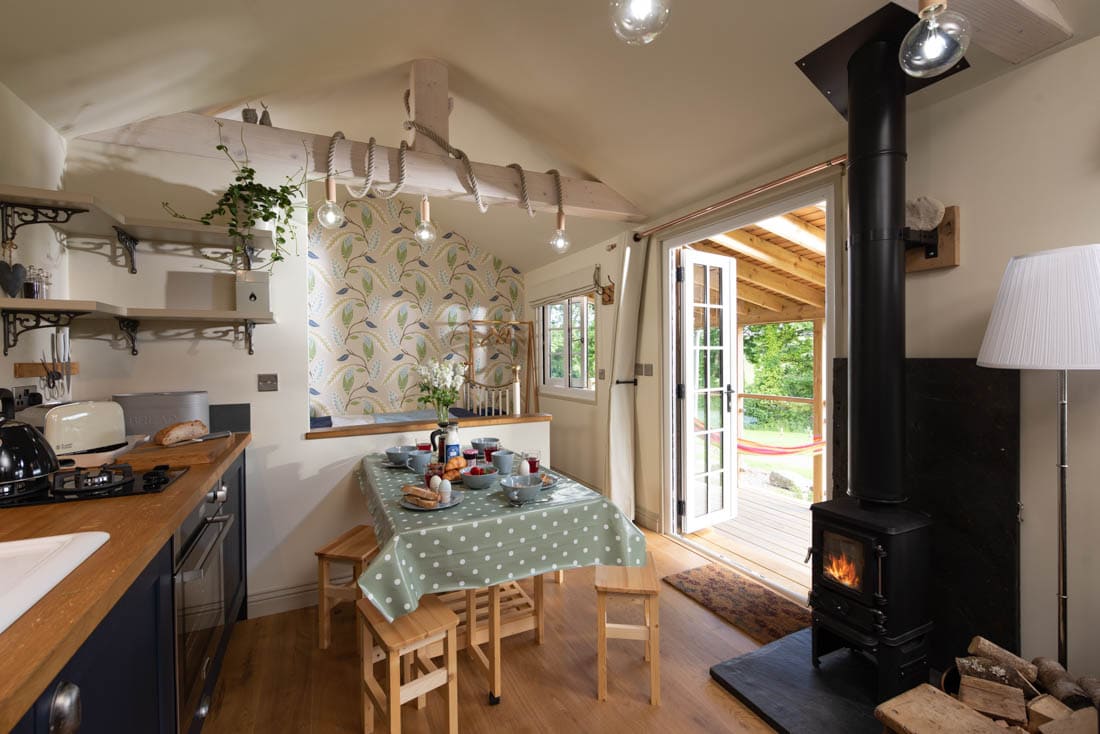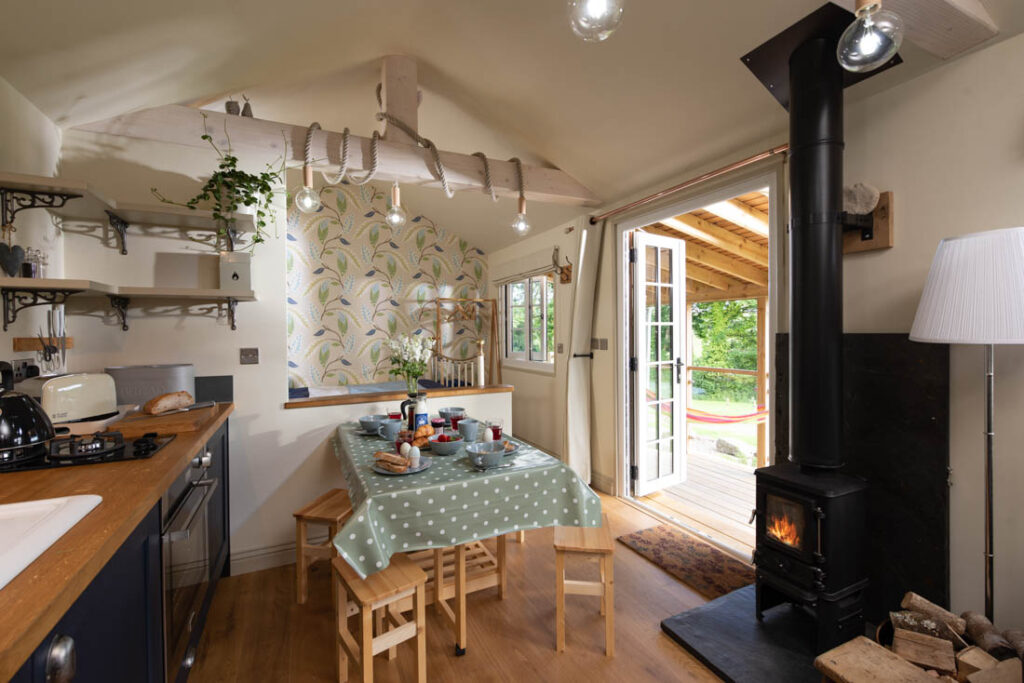 Near Fowey
Sleeps 5
Dog friendly
A harmonious hideaway for the whole family (furry pals included), The Little Cider House is the place to rehabilitate your tech-hungry clan with the thrills of nature.
Boasting a hot tub in the backyard and a nearby pub, this house allows even parents to escape from their everyday routine. The interior provides preppy decor, including stunning wallpaper and navy blue accents.
One of the most famous attractions is The Lost Gardens of Heligan, one of Cornwall's best places to visit. An oasis of thriving greenery and budding blooms, these gardens live true to their name, as you'll be sure to get lost in its sheer magnitude and beauty.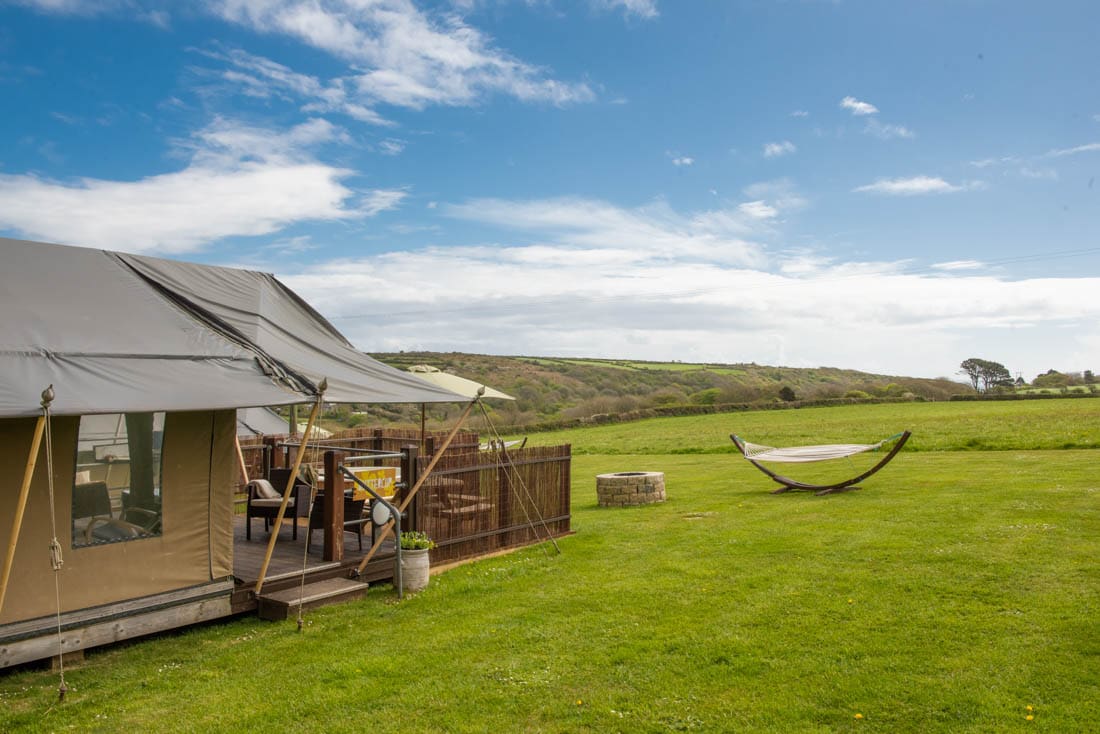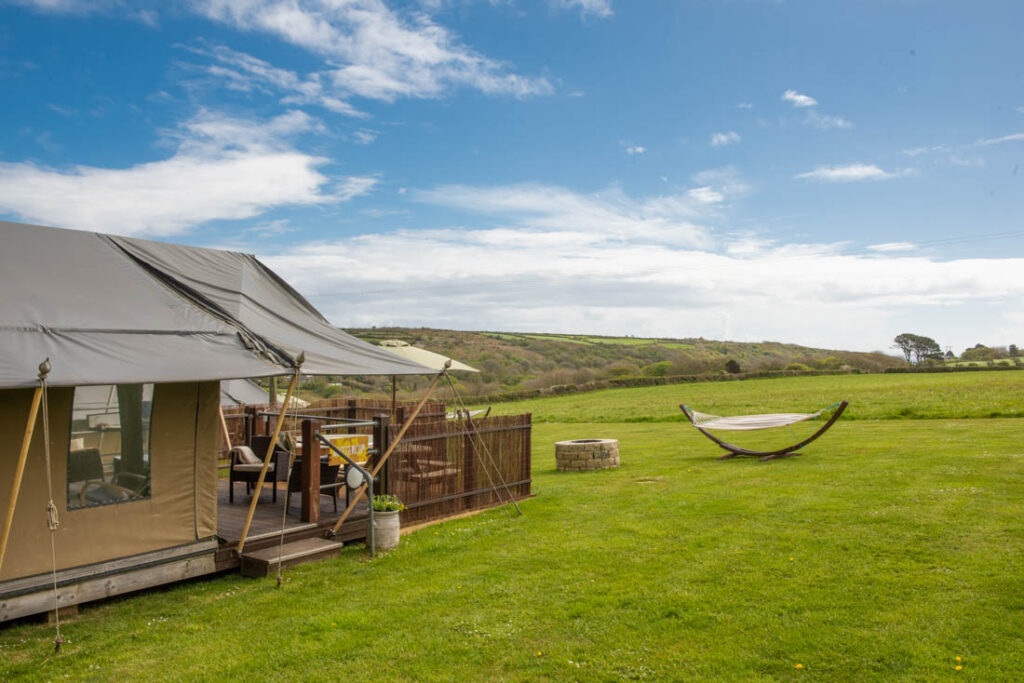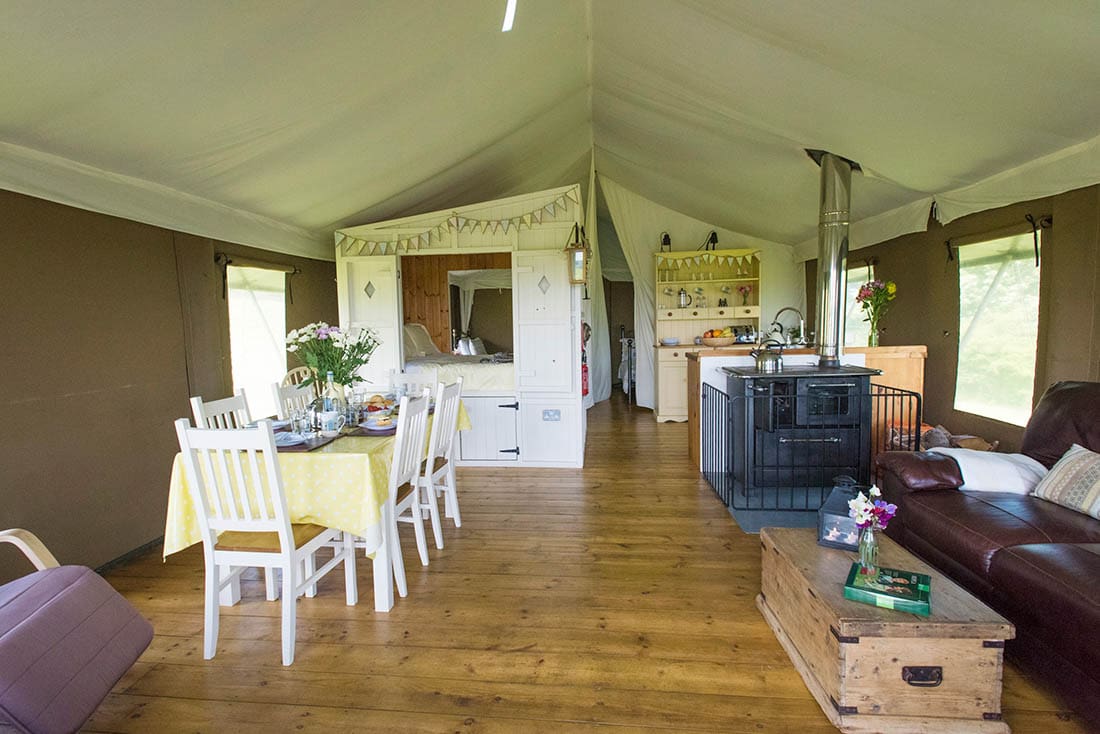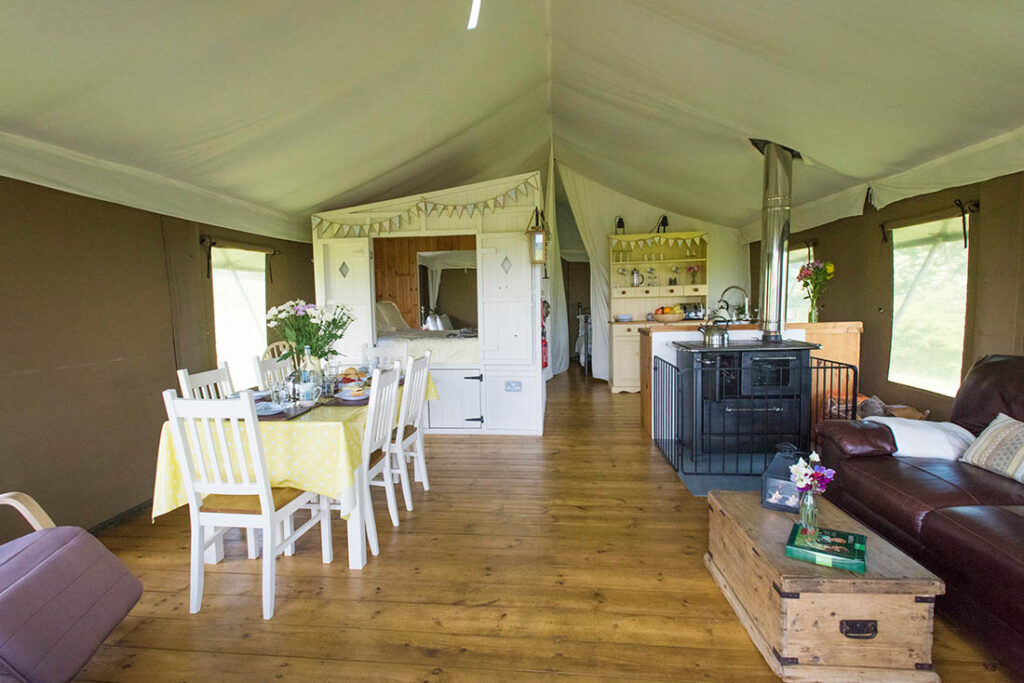 Lamorna Cove
Sleeps 6
Dog friendly
Are you looking to take a walk on the wild side without the danger? Buttercup is the ultimate unique glamping spot to stay in Cornwall to experience a rugged yet wonderful setting. Within the cascading walls of a safari tent, you'll experience that camping feel within a well-equipped home.
From the double bed at the back of the tent to the closing cabin bed that can shut out the world, Buttercup will enable you to drift off in a peaceful slumber surrounded by nature.
To add a nautical twist to your getaway, you can make your way to the nearby village of Mousehole to walk along a few charming coastal paths.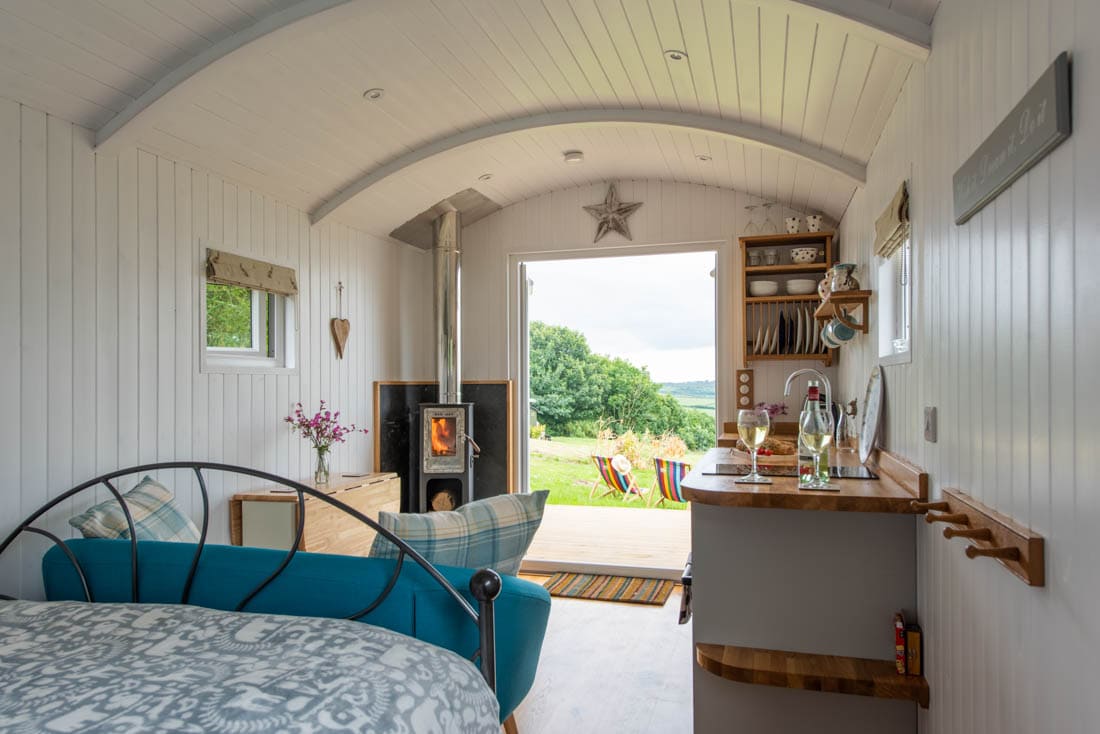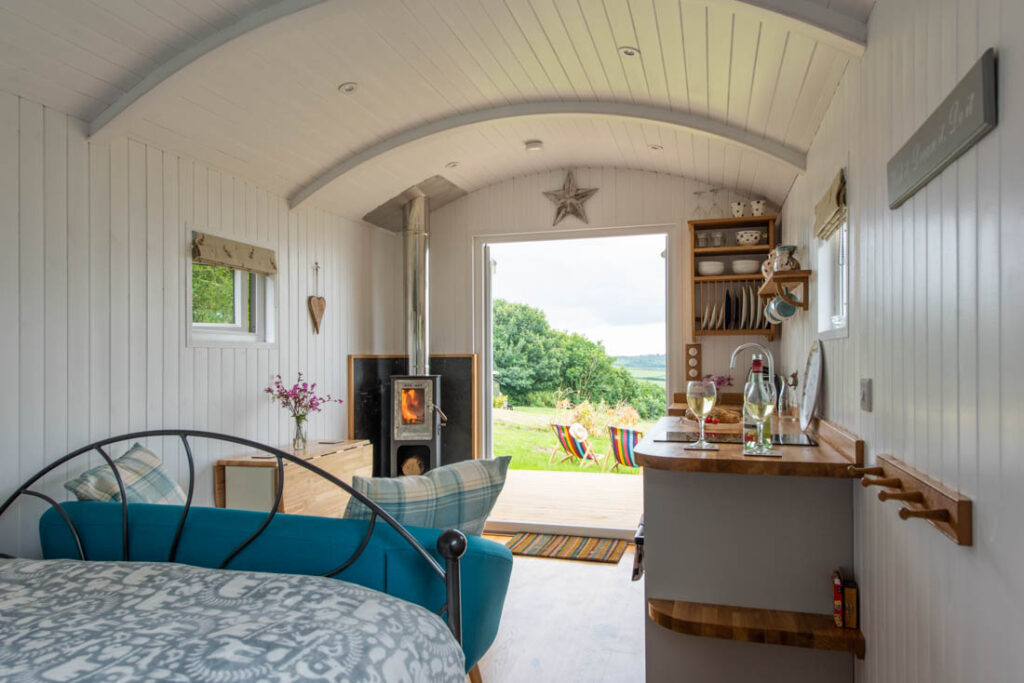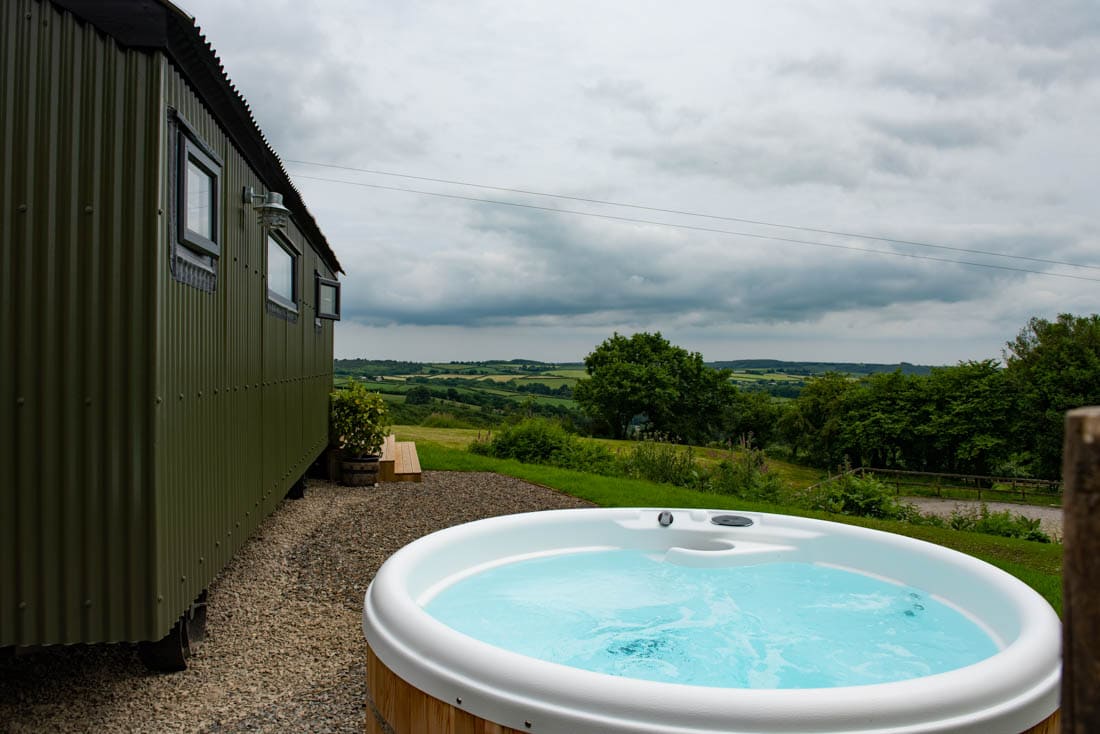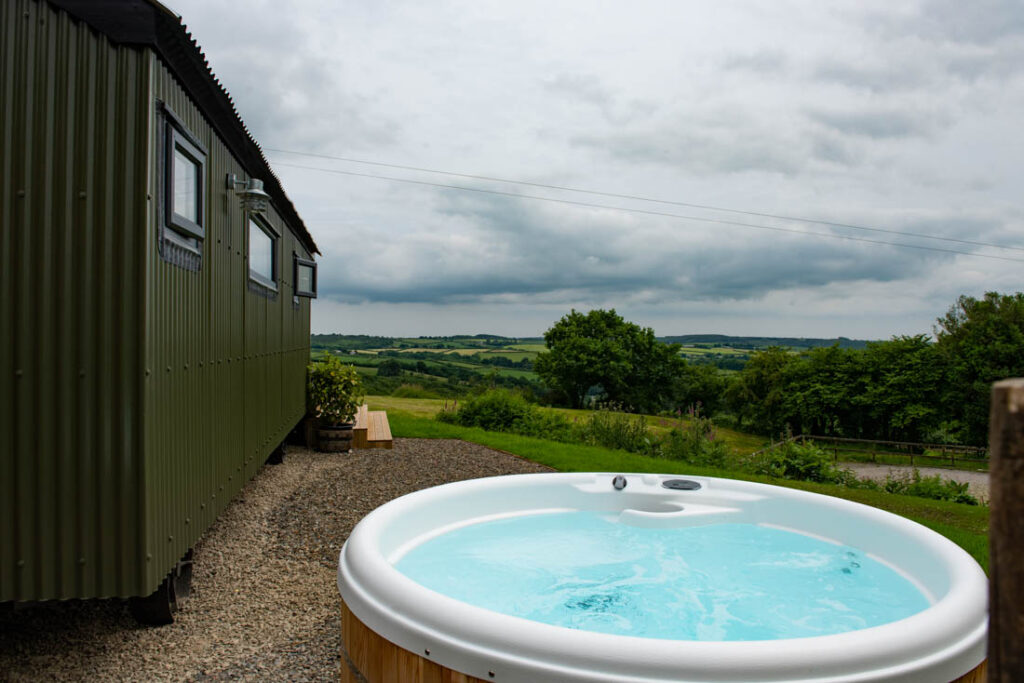 Near Lostwithiel
Sleeps 4
Dog friendly
A marvel to behold and encounter when it comes to the tranquillity of secluded living, you'll surely want to pitch your wagon to this vacation accommodation. This wagon of wonders is a great place to soak in the healing powers of nature in a comfortable setting.
Be sure to use the picnic bench outside, made to eat breakfast with the pleasures of gazing at the meadow. Settle down with a cup of tea and your favourite book in hand.
Hear something brewing? That's the sound of a glorious bubbly time you'll encounter in the hot tub on this glamping option. It sounds, bliss, doesn't it!
---
This post was in association with Unique hideaways promoting some of the best places to stay in Cornwall. As always, all views are entirely my own and without bias.
Which one of the glamping sites in Cornwall was your all-time favourite? Let us know in the comments below!
Like this blog post? Then Pin it for later!