Looking for the best day trips from Brighton? From exploring ancient Arundel Castle to the Seven Sisters, check out these amazing Brighton day trips.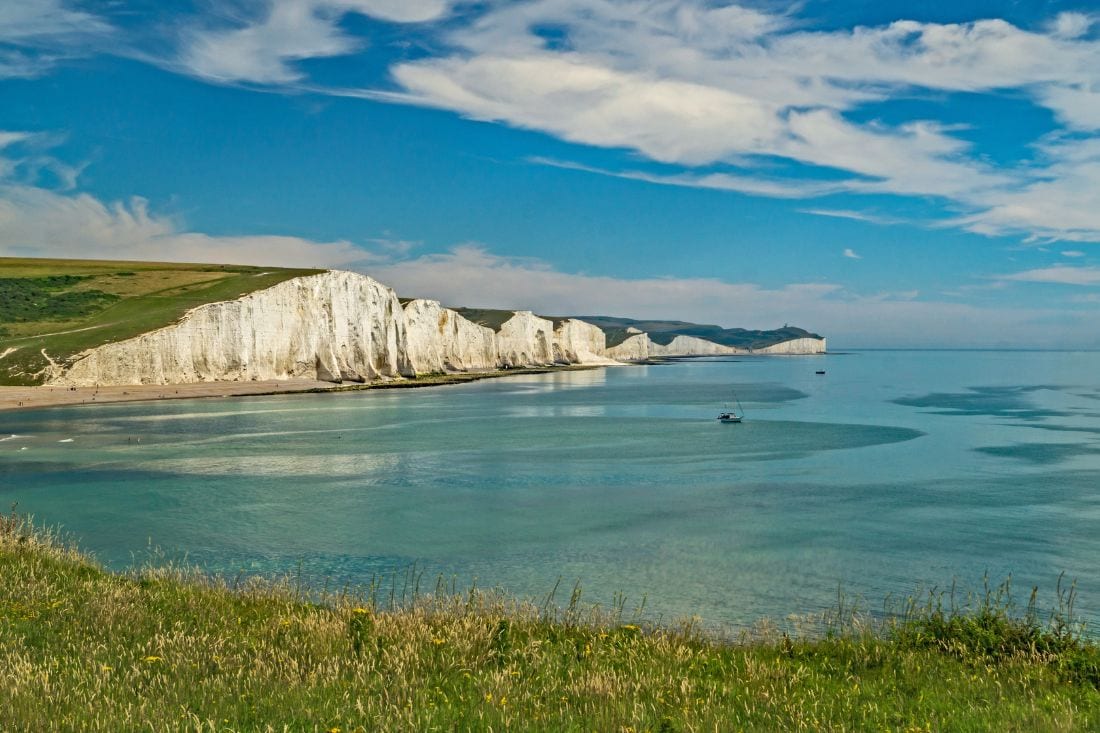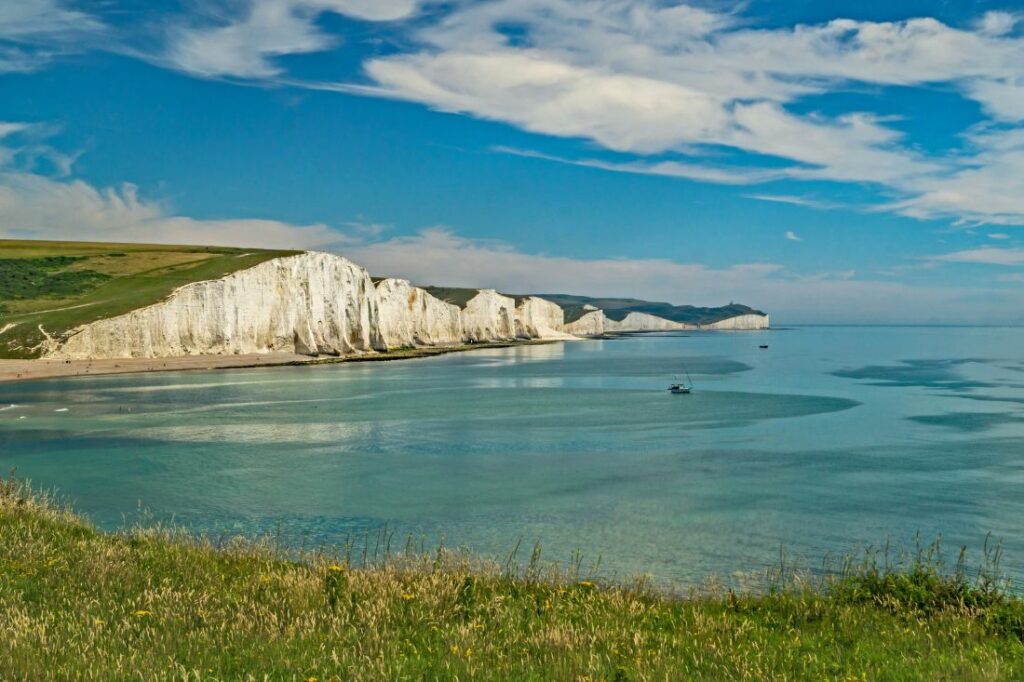 Everyone knows and loves Brighton, right? It's got this buzzing excitement like few other places in England. There are some incredible restaurants, you can't help but feel like a kid again at Brighton Pier, and the views along the coast are stunning. I for one absolutely love it there, and I know I'm not the only one!
Due to its location, there are plenty of amazing day trips from Brighton that you can visit within a couple of hours' drive from the city itself. And if you don't have access to a car, don't worry. There are also loads of train routes out of Brighton on a daily basis. That means you'll be able to visit all of these places listed very easily!
So, where are you heading, that's the question?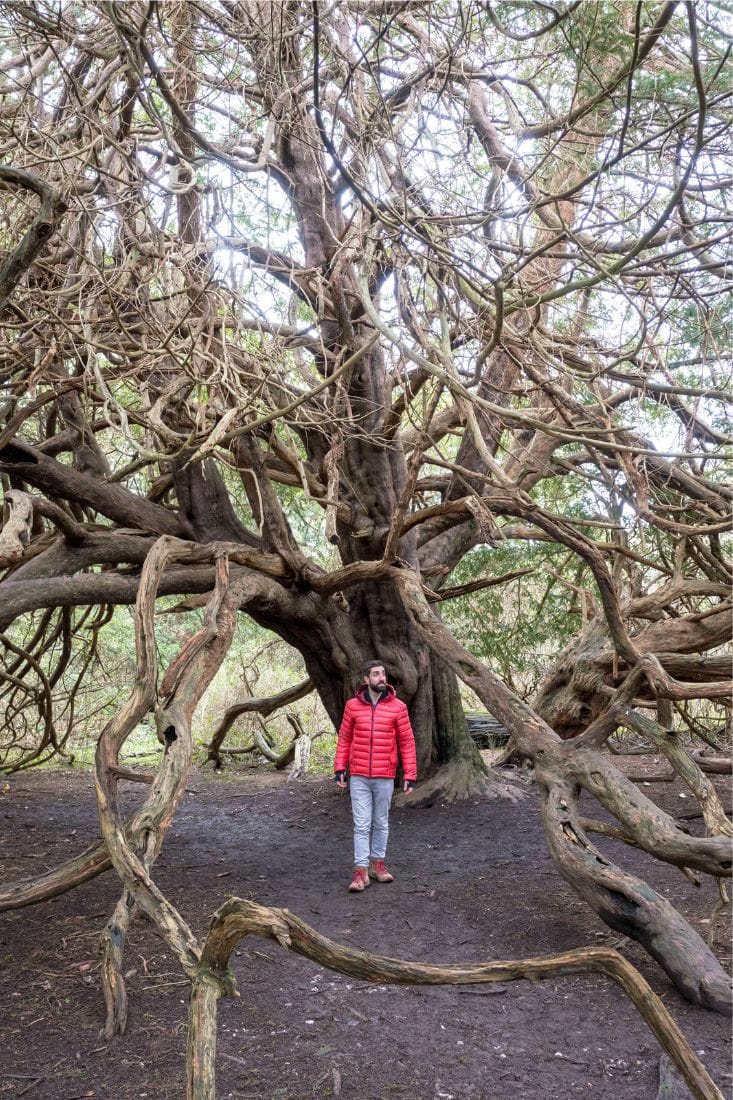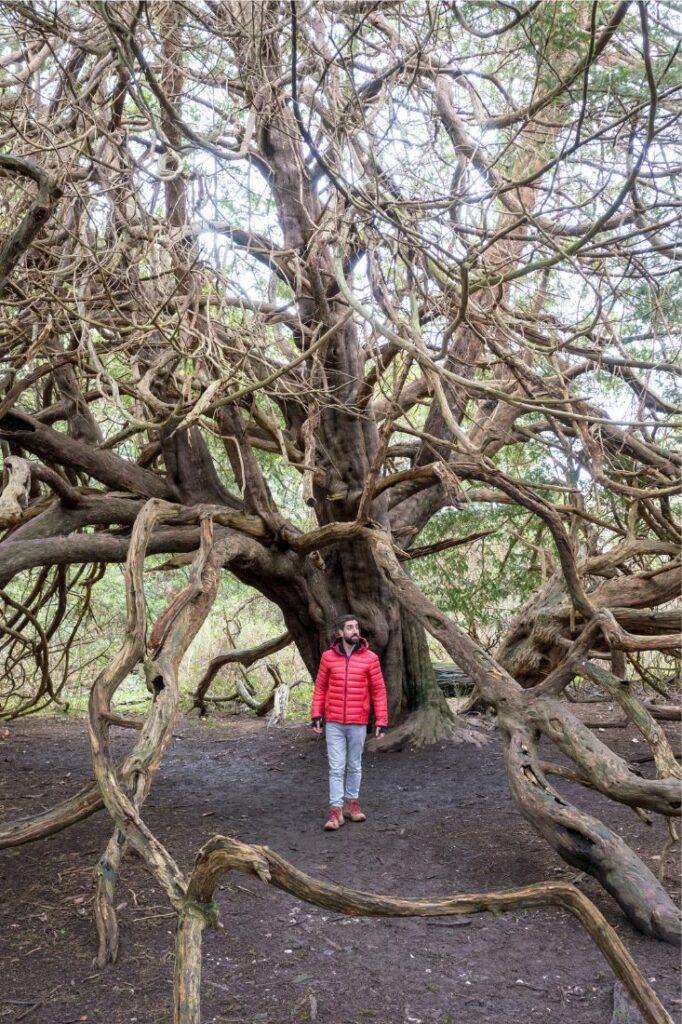 Whether you want to dive into history at Anne Boleyn's old house at Hever Castle, or you want to breathe in the fresh English air in the South Downs National Park, you can easily find something to fit all interests and budgets.
I love that the wider Sussex area is filled with quaint towns, shops, pubs and excursions, but if you want something a little more fast-paced, you can get into London in about 45 minutes.
So, what amazing and inspiring activities can you expect to discover on a Brighton day trip? Let's dive in and find out more!
---
Day Trips from Brighton
South Downs National Park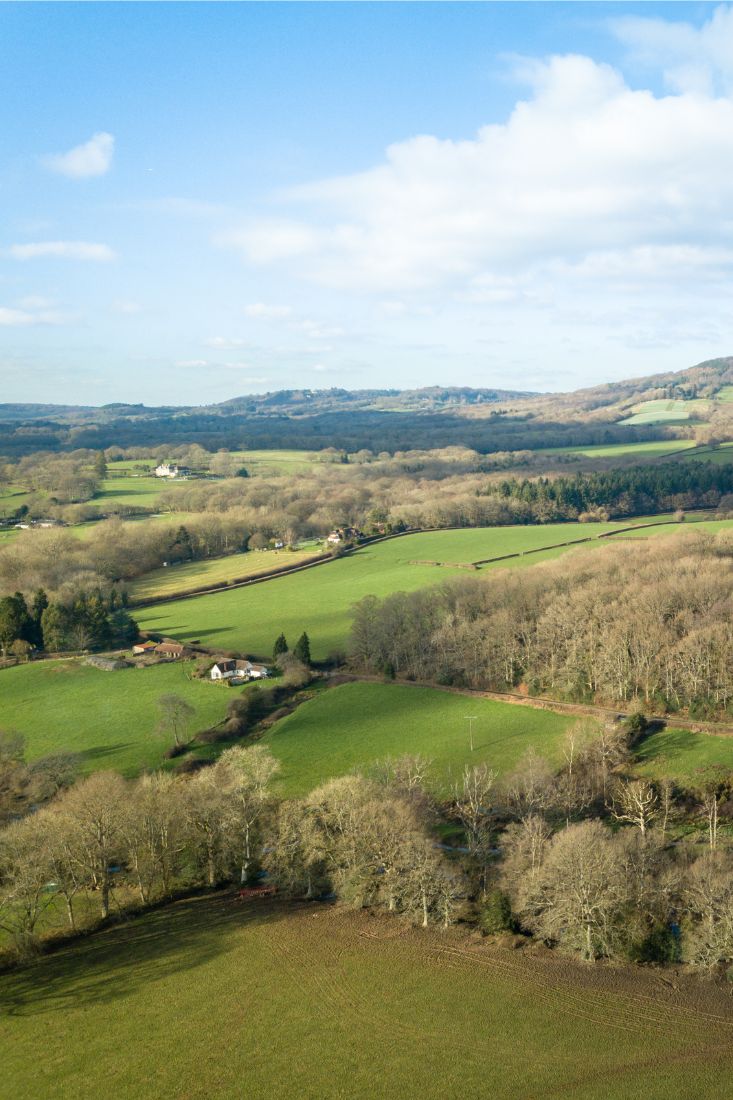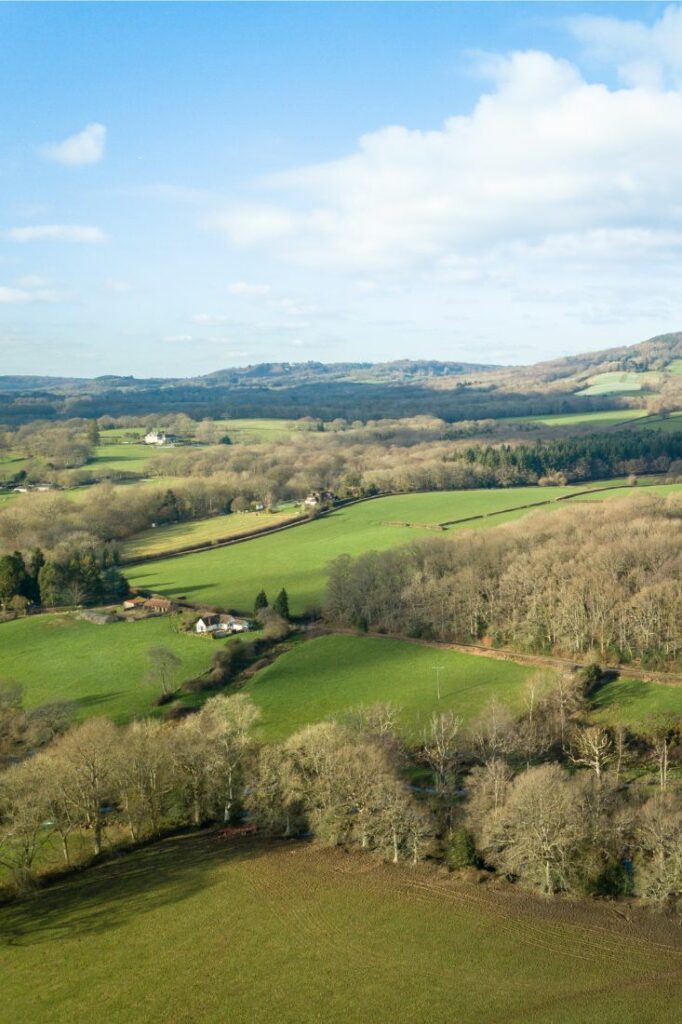 One of the best things about being in East Sussex is that you're only around half an hour by car away from the lush greenery of the South Downs National Park.
Whether you just fancy a slow walk around some of the more popular trails, or you've come prepared with a bike to work up a sweat, you're almost guaranteed a lovely day out just a short distance from the city.
One of the walks we'd really recommend is Kingley Vale. Just wait till you see the ancient yew forest here – it's amazing!
Arundel Castle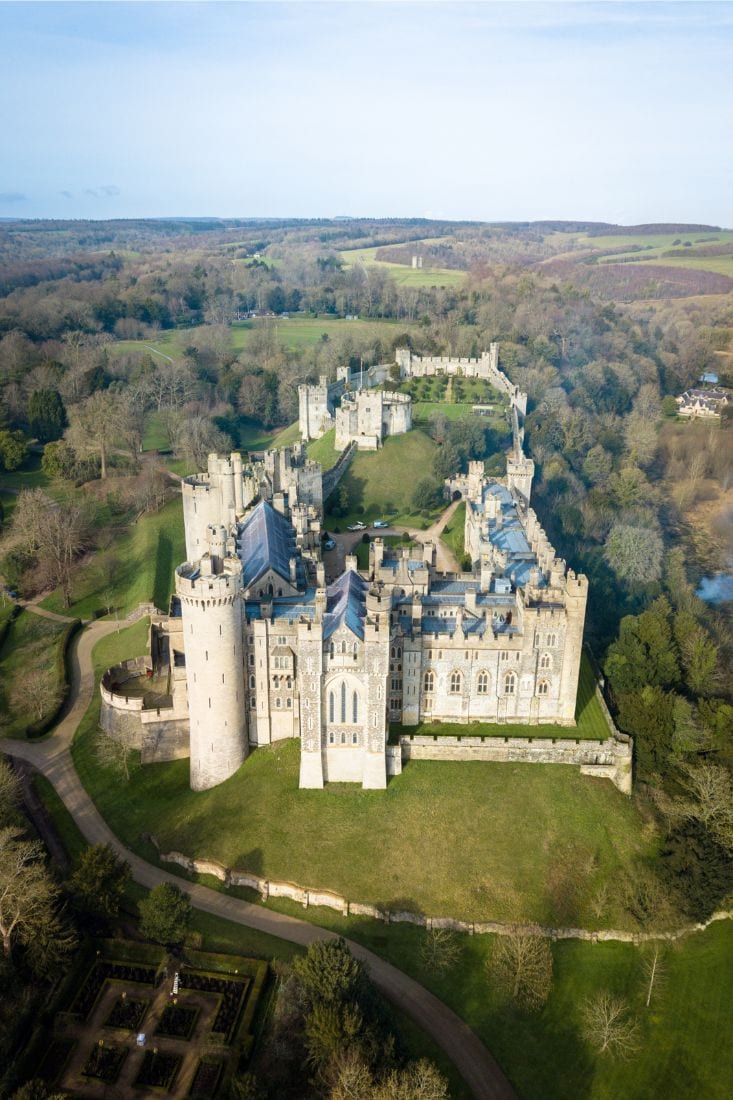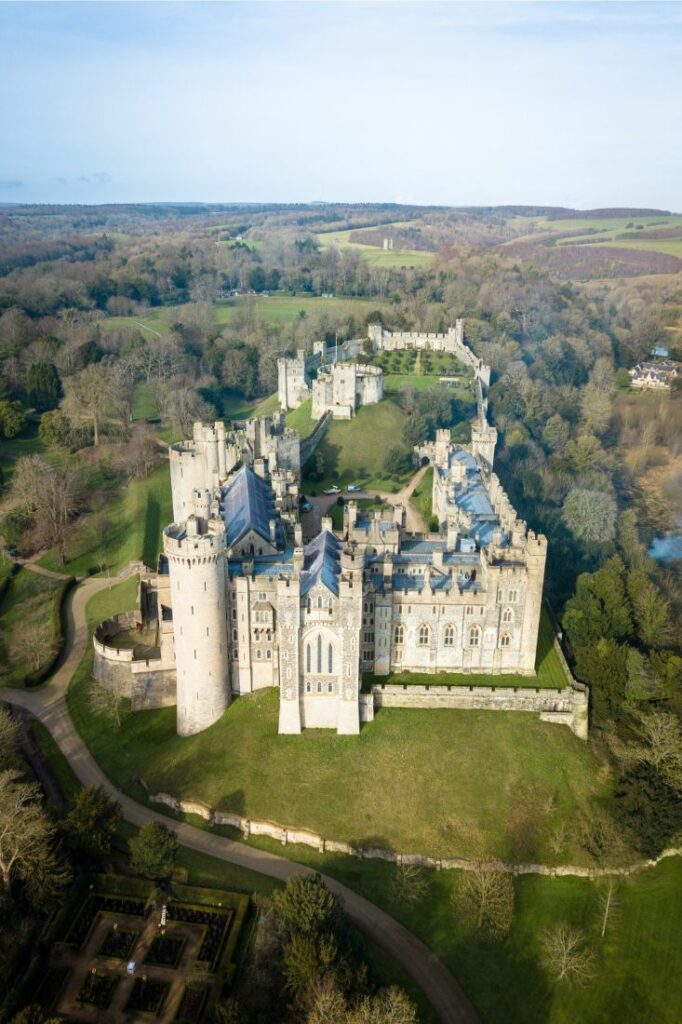 There is no shortage of beautiful castles in the area surrounding Brighton, but Arundel Castle is up there with the best. Town around it are picturesque and bring to mind fairytale imagery.
With almost 1,000 years of history spread throughout the castle and the accompanying gardens, this site has seen so much. Take a guided tour to fully appreciate everything that's gone on here.
You can get here in 40 minutes by car from Brighton, or change at Barnham on the train. This really is one of the best places to visit near Brighton, so check it out!
Rye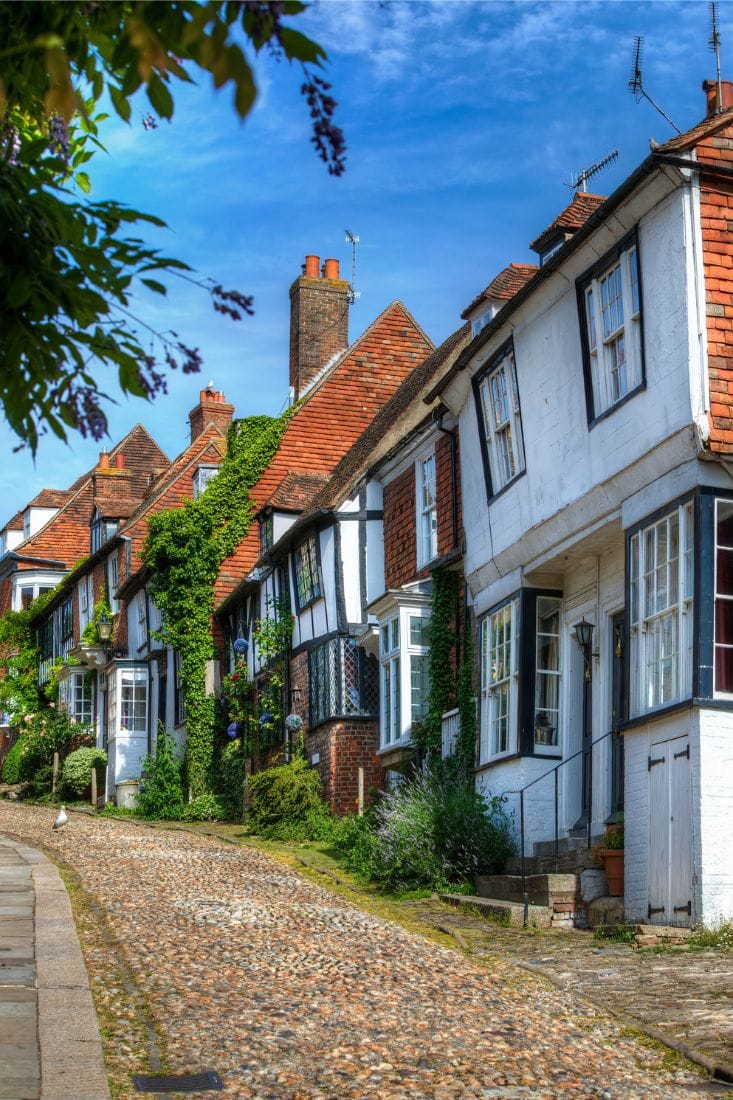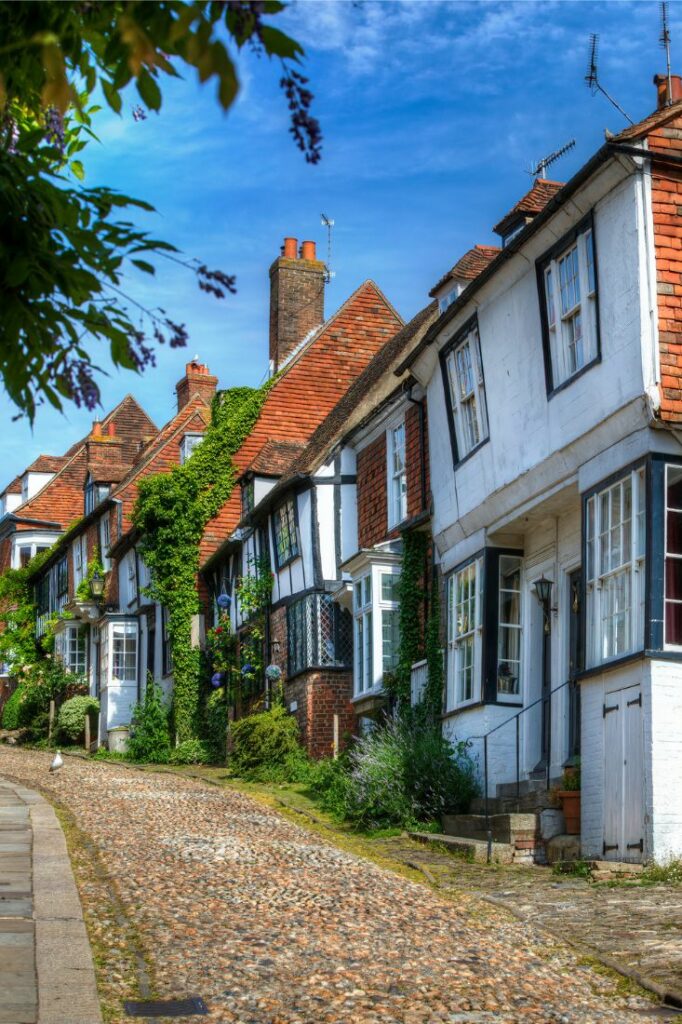 Quaint, postcard towns are scattered across East Sussex, but the seaside town of Rye is something else entirely. Known for its cobblestone streets and independent shops and restaurants, Rye is a pleasant place to while away the day.
If you're feeling adventurous, it's also a popular spot for watersports such as windsurfing. Get that adrenaline pumping before finding a cosy pub to warm up in with a meal and a pint. Sounds perfect, right?
Hever Castle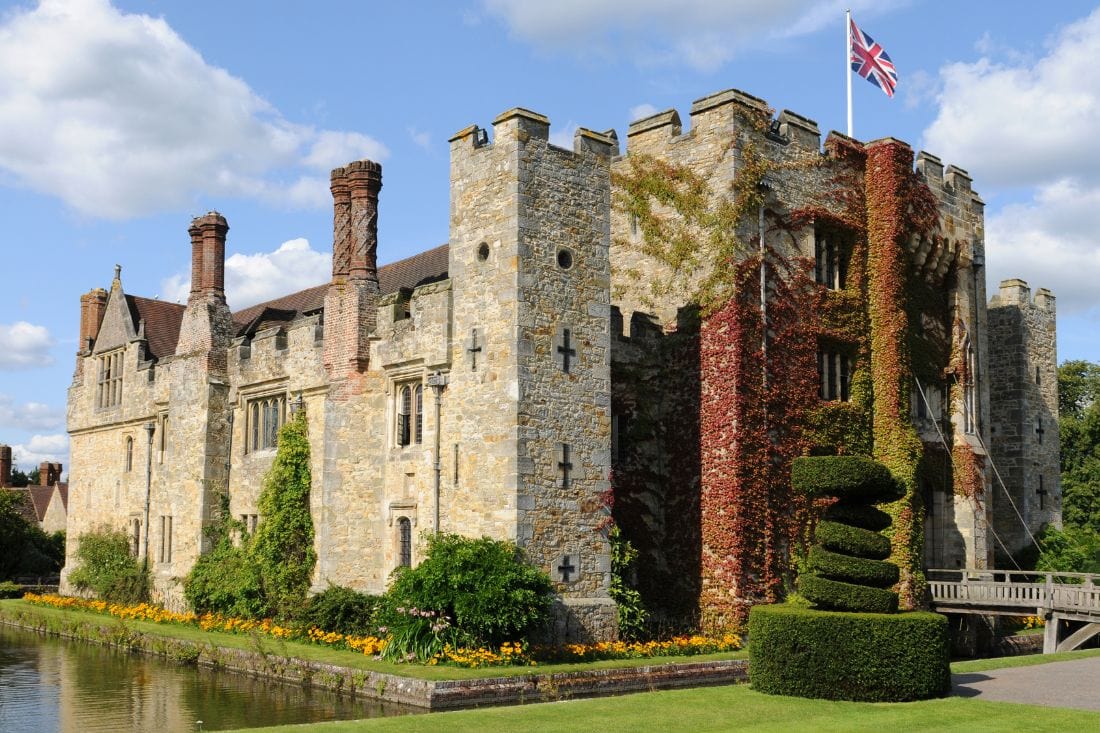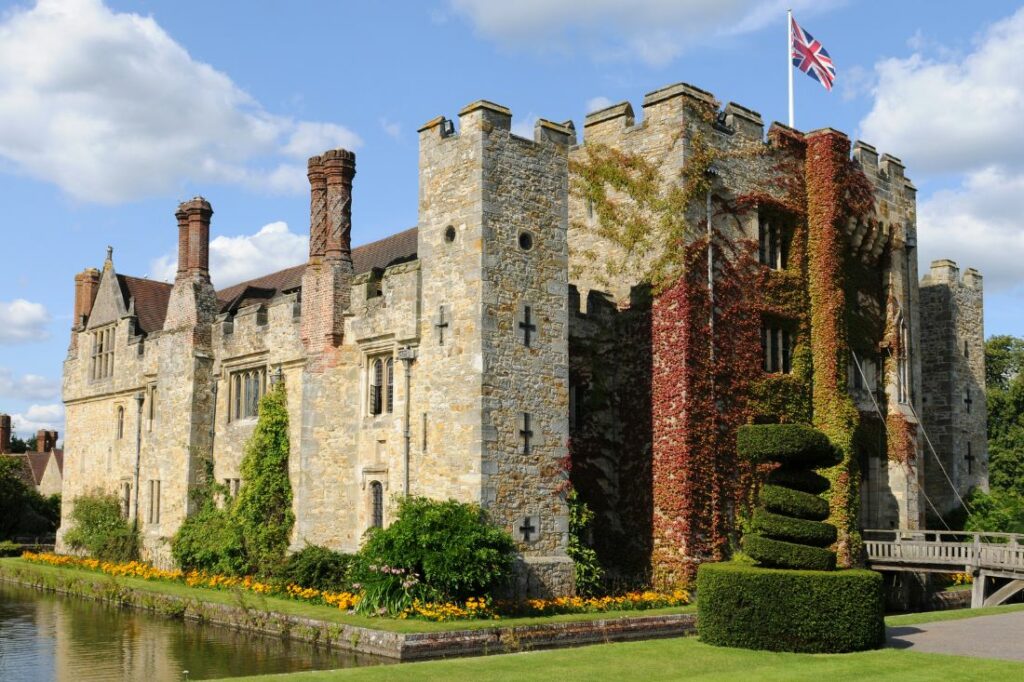 Harking back to the 13th century, Hever Castle is a beautiful castle in neighbouring Kent, but it's the residents of the castle that makes it interesting.
As the childhood home of Anne Boleyn, Henry VIII's second wife, Hever Castle is forever tied into the bloody royal history of Tudor England.
Here you can explore the medieval and renaissance-era rooms before wandering around the expansive gardens. Honestly, you have to see them to understand how beautiful they are. For me, this is definitely one of the best day trips from Brighton!
The Seven Sisters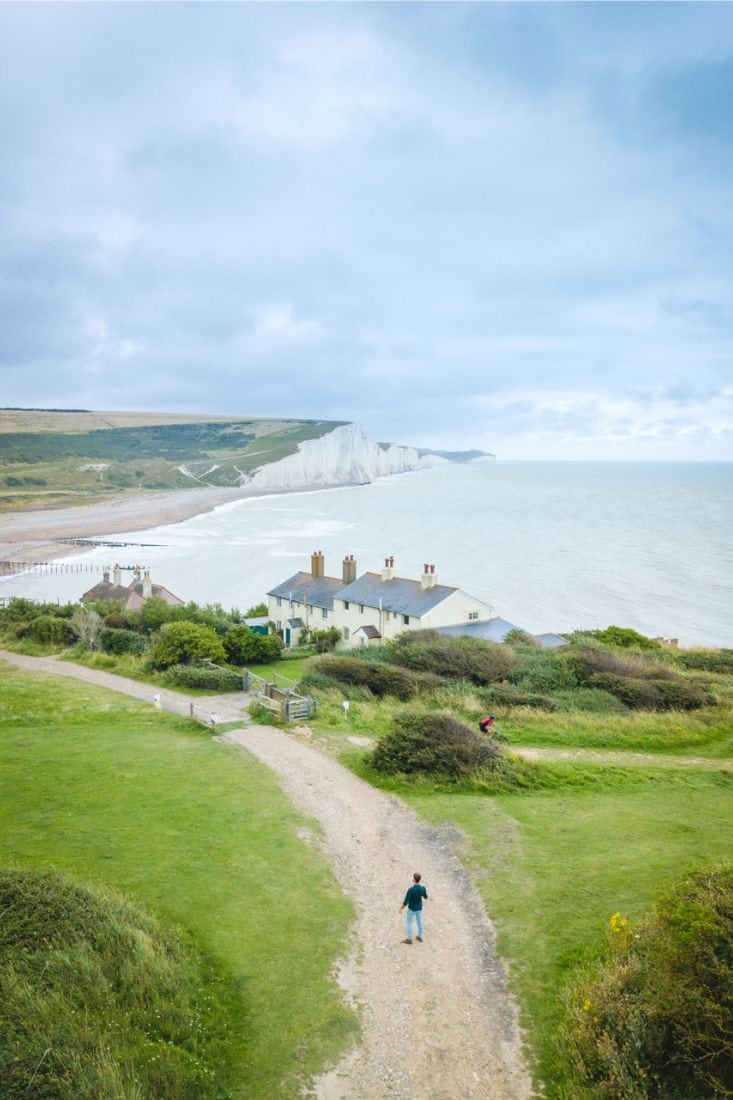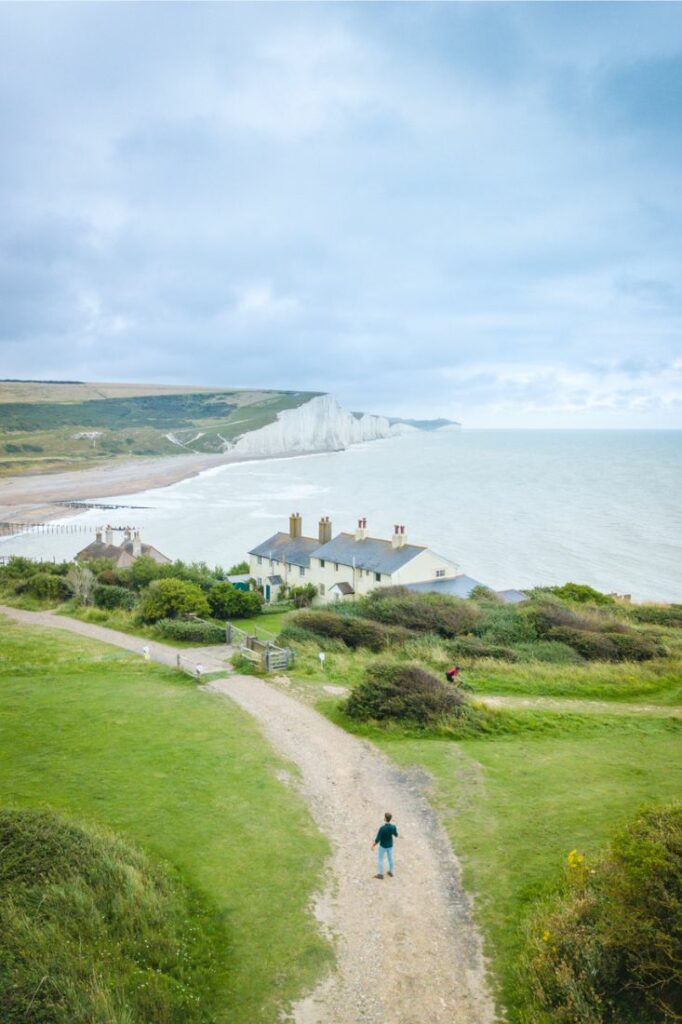 Do you love looking out over stunning coastal views? Then head to The Seven Sisters area. This is a series of chalk cliffs that are an iconic image of England.
From here you can see out across the English Channel towards France. One of my favourite walks here is the Beachy Head walk. This is the highest section of the cliffs, and once again the views are just magnificent.
It's a geological marvel and has been studied for centuries. Pack a picnic and your hiking boots and explore this patch of coastal paradise. Just make sure you're ready to have sore legs the next day!
If you're looking for a tour from Brighton, then this one is the best around. It even includes visit the South Downs National Park too!
Lewes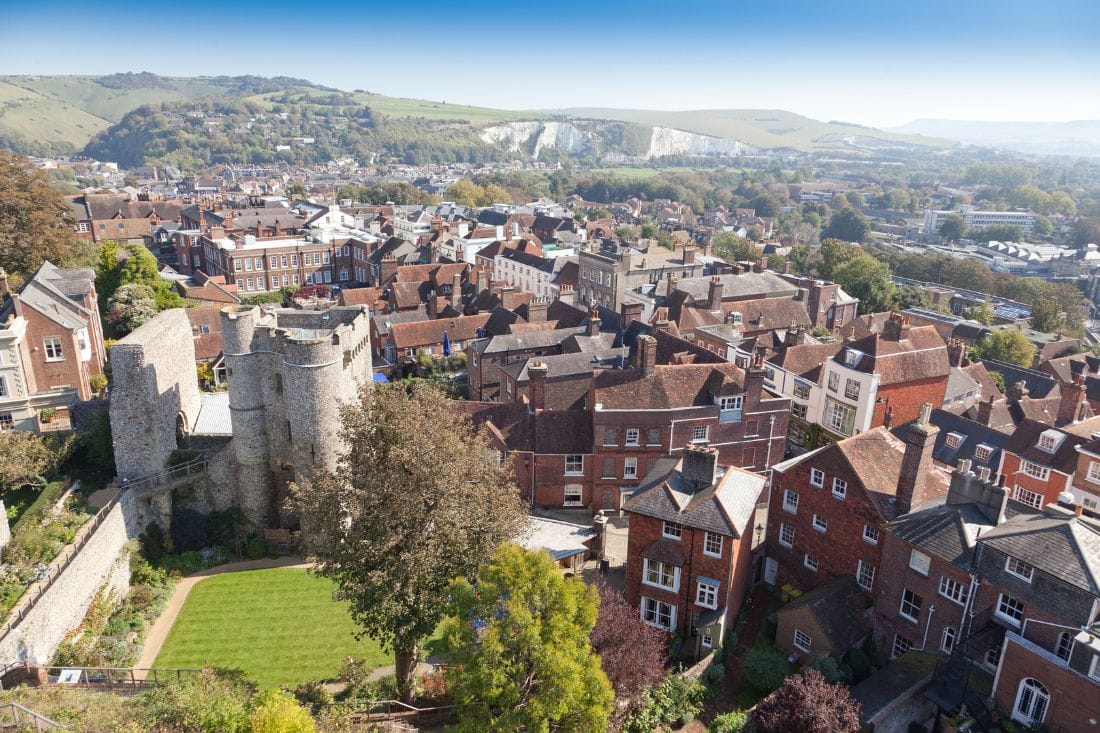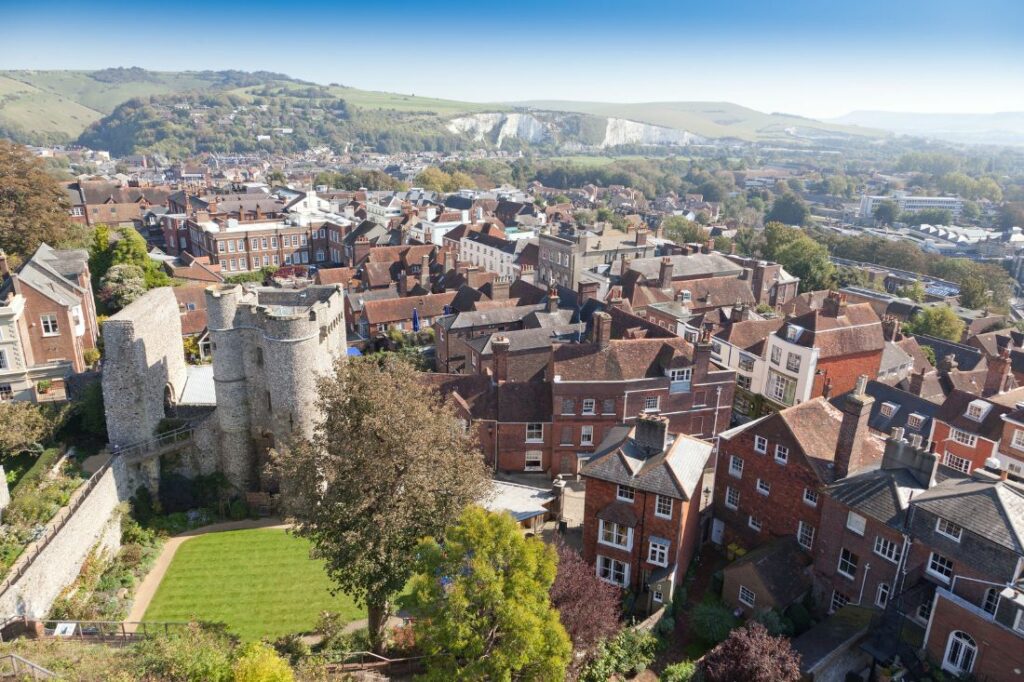 I love a small English town, but the best time to visit the nearby town of Lewes is on Bonfire Night. The 5th November celebrations are on a whole other level in Lewes with effigies of disliked figures being burned, huge bonfires, firework displays, parades, and more all occurring.
The rest of the year, Lewes is a pleasant and historic market town, filled with cosy and delicious pubs, a beautiful castle, and even another house belonging to one of Henry VIII's wives – Anne of Cleves house, King Henry VIII's fourth wife.
Hastings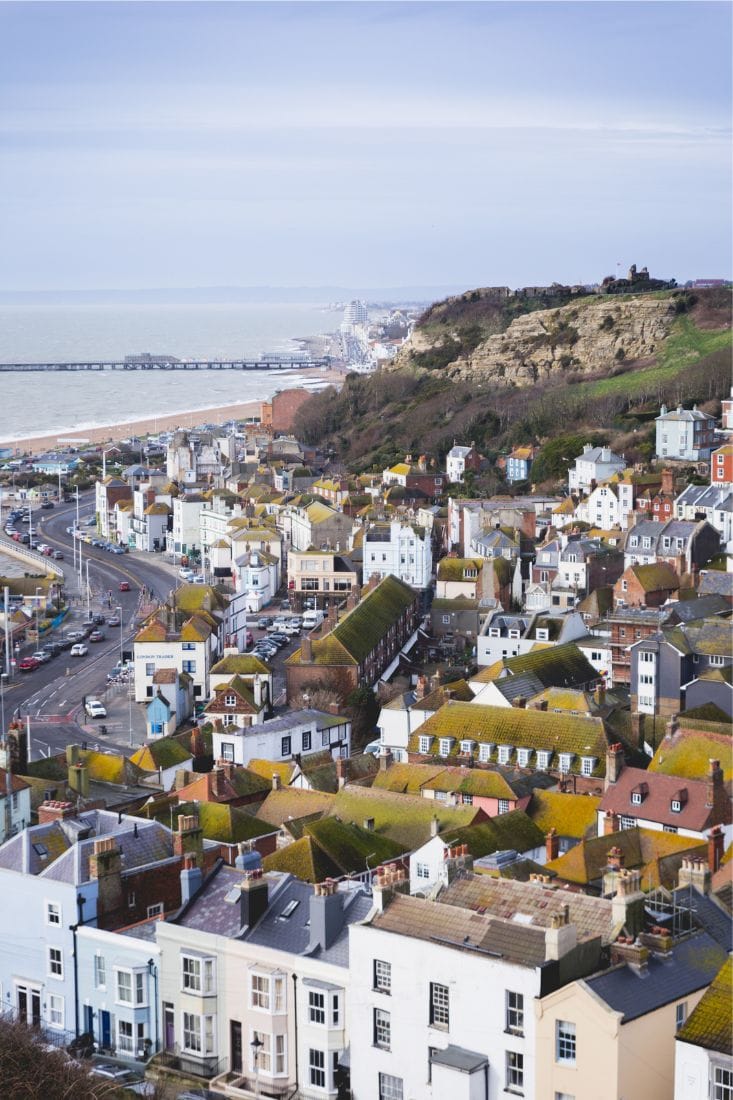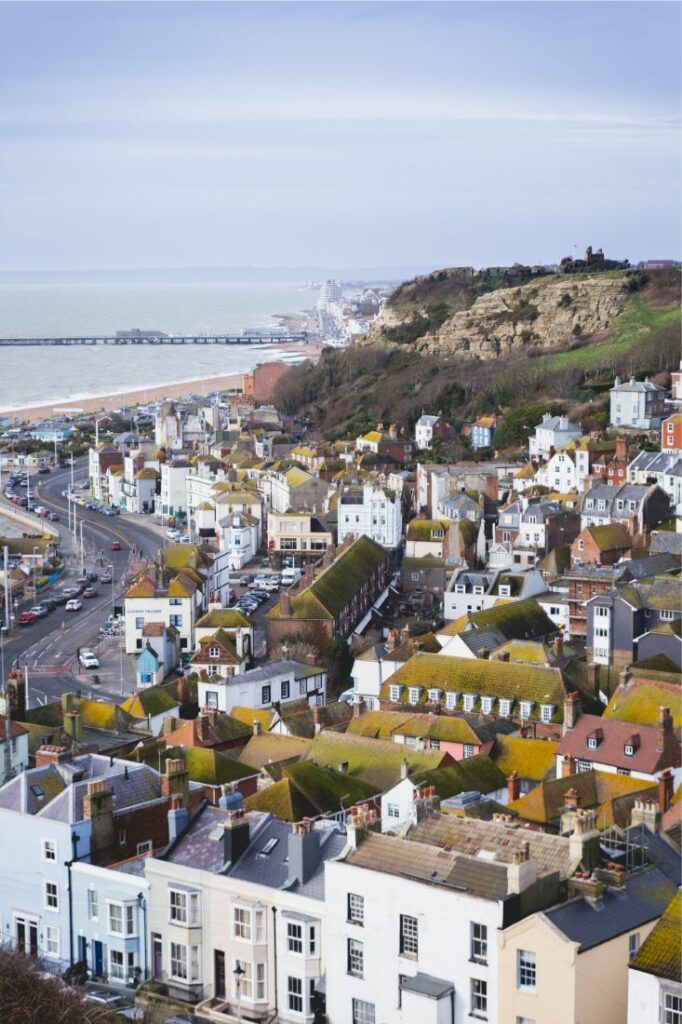 If you're looking for a quirky seaside town to visit that's only an hour away from Brighton, a day trip to Hastings might be just what you're after. This historic town was made famous by the 1066 Battle of Hastings, where William the Conqueror became King of England.
Nowadays, you can wander the pebbled beaches, explore the independent shops, and take the cliffside funicular railway up the face of the cliff, giving you expansive views over the bay.
Afterwards, wander around the town and call into one of the many amazing restaurants and bars that litter the quaint streets.
London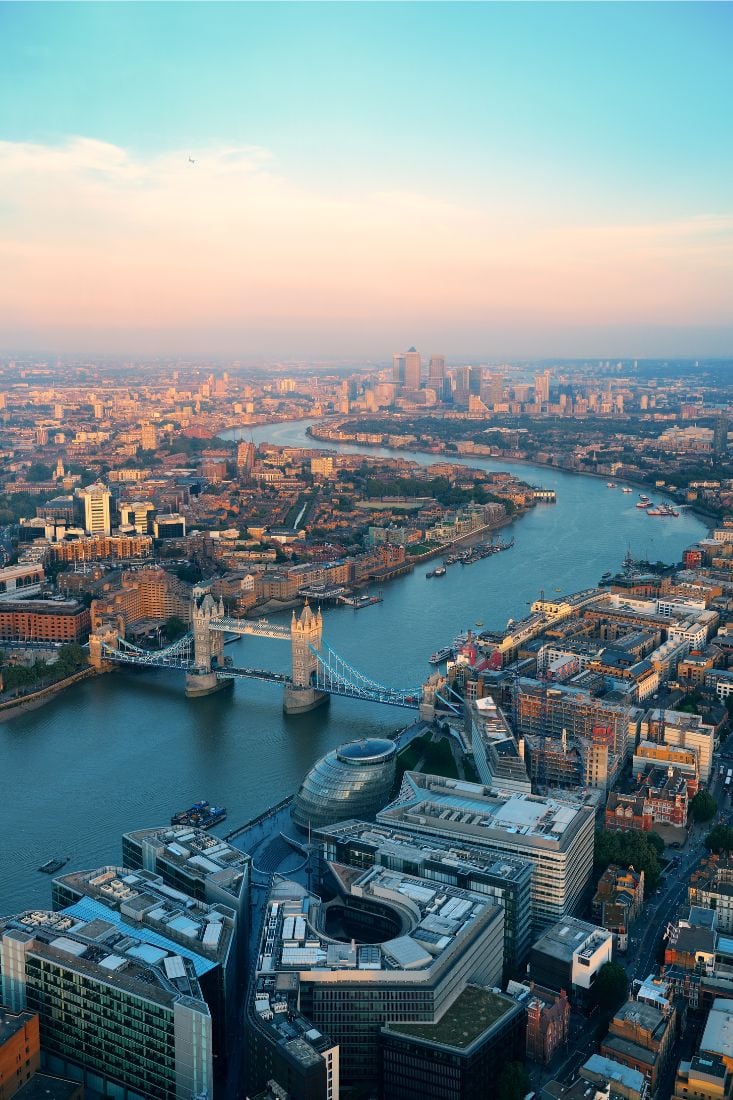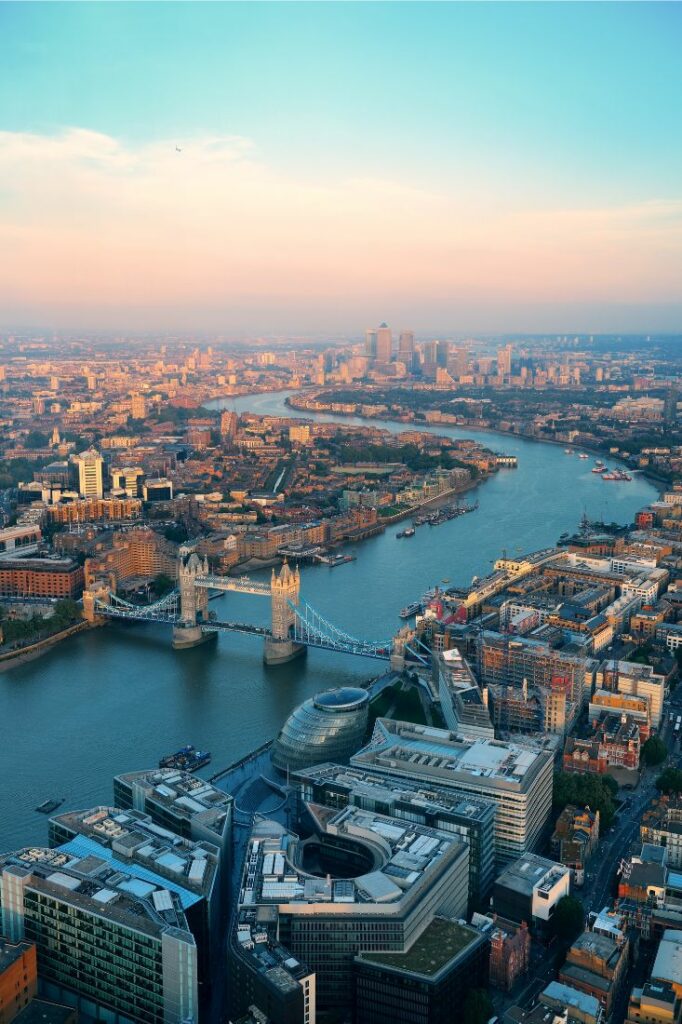 What can be said about London that hasn't already been said? The bustling and vibrant capital of the UK is one of the most visited places in the world, so it's no surprise this is one of the most popular Brighton day trips.
From iconic museums to world-class restaurants to exhibitions and attractions, and more, you can visit a dozen times over and still not see and do everything.
You can get to London in just over an hour on the train from Brighton, and with the traffic and congestion charges in London, I would not recommend driving!
One of the best ways of seeing London is on a Thames River cruise. These tours are always a great way of ticking off a lot of the major sites in London like Big Ben and the Houses of Parliament.
Wine Tasting Tours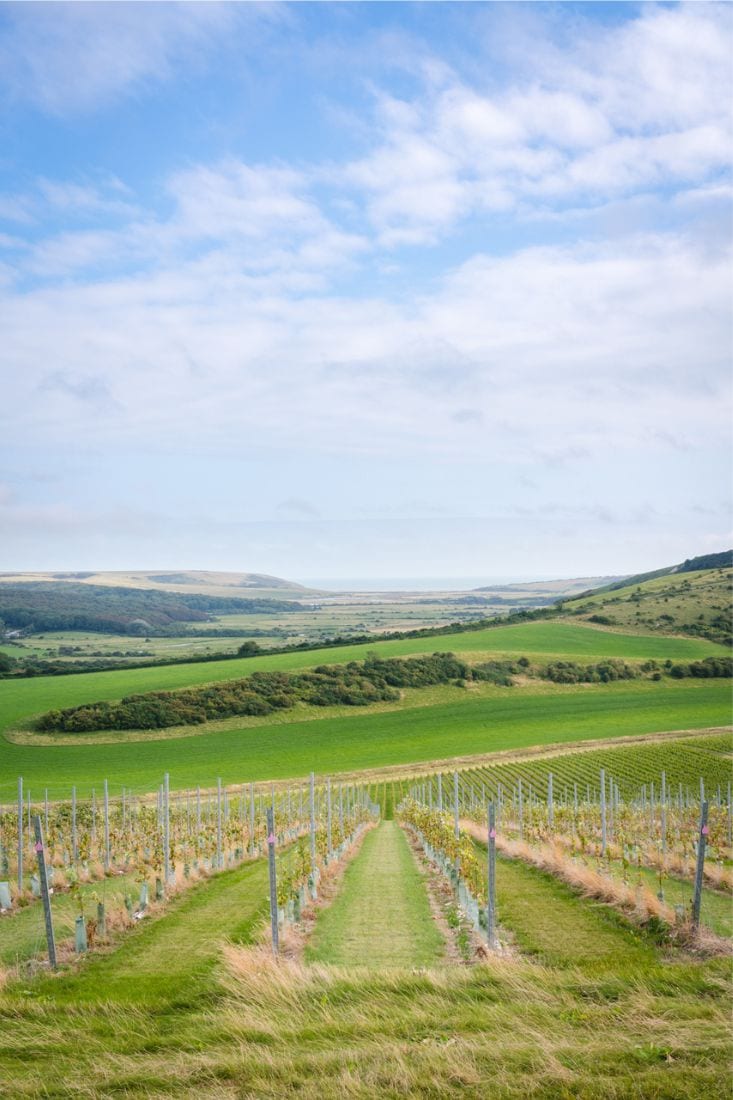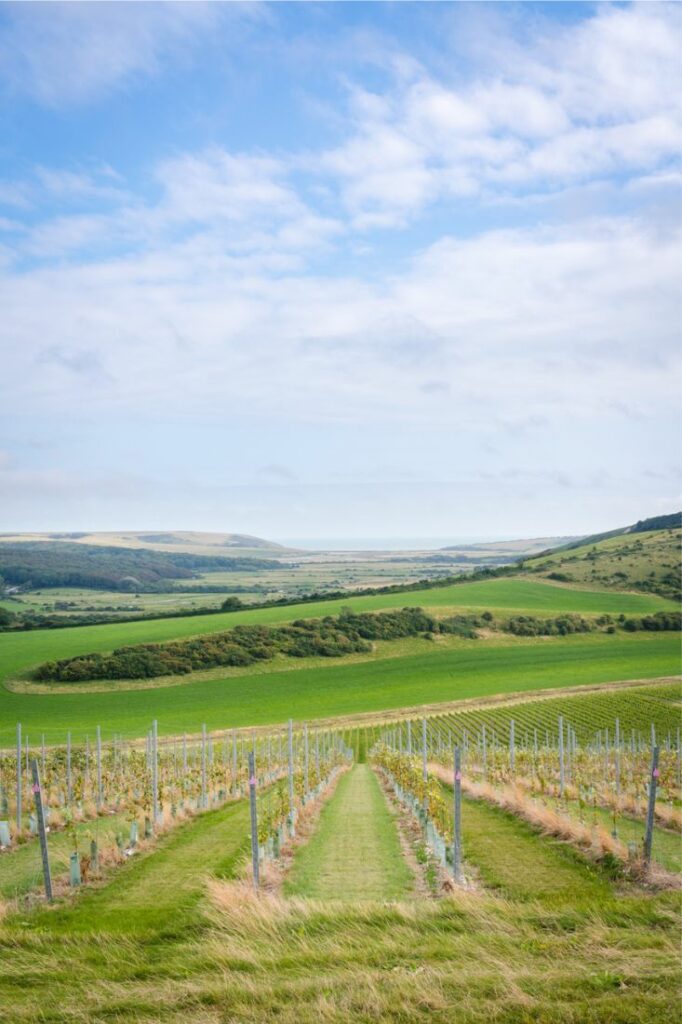 Okay, so English wines might not be as famous as French or Italian wines, but they're definitely coming up through the ranks and making waves. The area around East Sussex is one of the warmest and driest parts of the country, making it perfect for growing grapes.
Mostly specialising in dry white wines and sparkling wines, there are a handful of popular vineyards within an hour's drive of Brighton. Take a tour of the premises, have a tasting, and maybe buy a bottle or two to have when you get back to your Brighton base. Just make sure to have a designated driver at the ready!
Bournemouth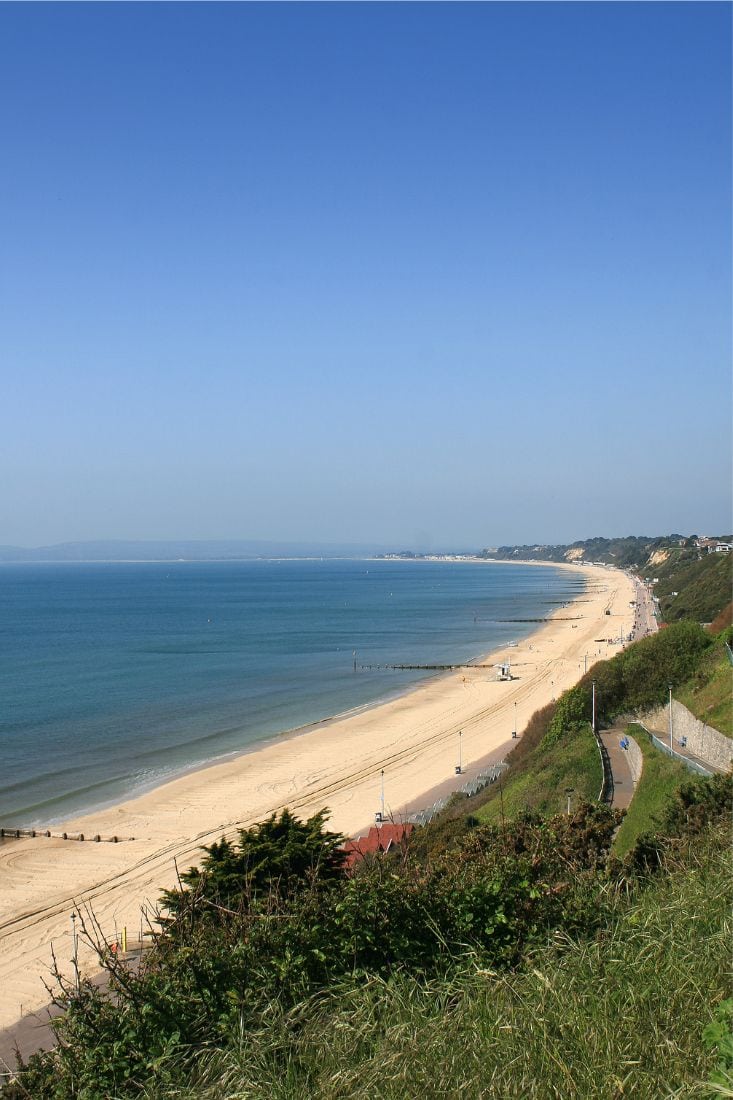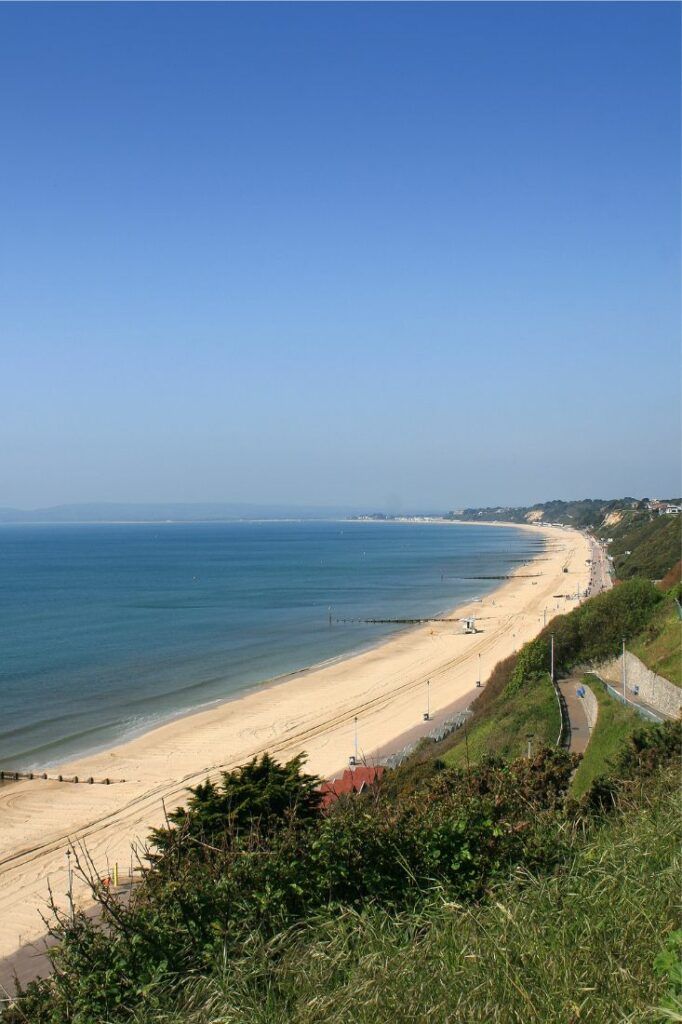 As lovely as the Brighton beaches are, they are pebble beaches rather than soft golden sand. For that, you can go on a day trip to Bournemouth.
Another popular holiday spot, Bournemouth is one of the furthest day trips on this list being around two to two and a half hours away from Brighton by car in Dorset.
Located on the south coast of England, you can spread out along the seven miles of sand or wander the iconic pier and take in the sea views. If you're looking for a quintessential family day out at the beach, this is the place to be!
Herstmonceux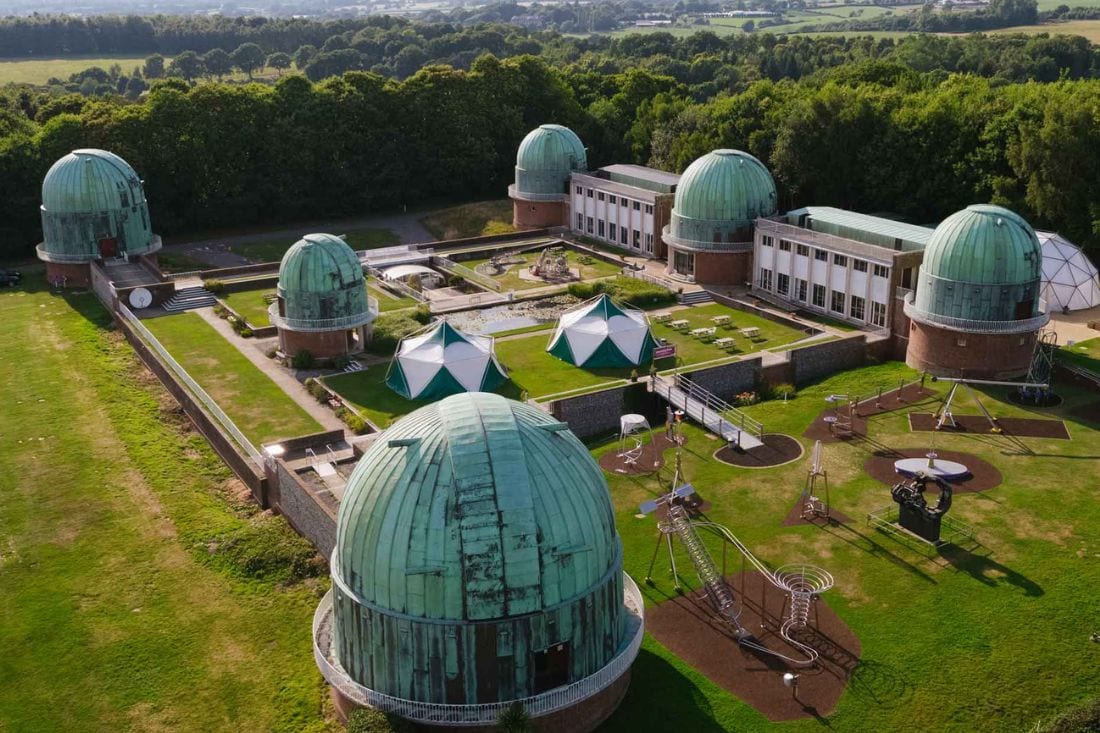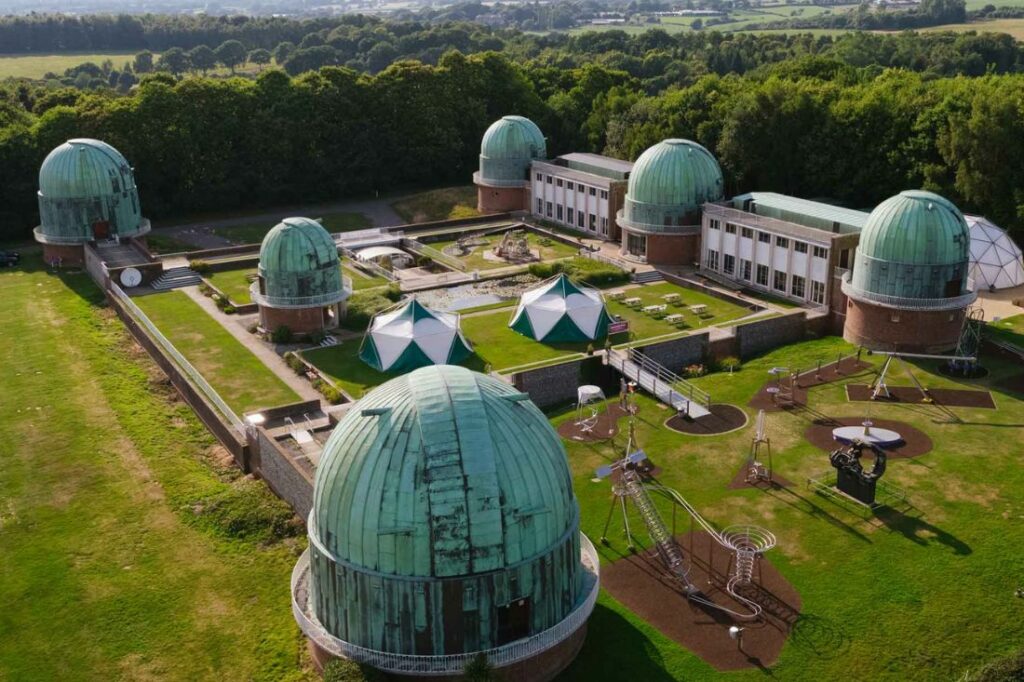 Are you interested in the world of astronomy and space travel? Located a short 50-minute drive outside of the Brighton city limits you'll find the Herstmonceux observatory. Even though it's less than an hour away from Brighton, this part of the Sussex countryside is famous for its dark skies status.
You can take part in guided tours of the observatory, and learn about the history and science behind the site. The real magic happens when the sun goes down and you can see the stars in all their glory. If you don't mind wrapping up warm, clear Winter days may be best as it gets dark earlier.
Devil's Dyke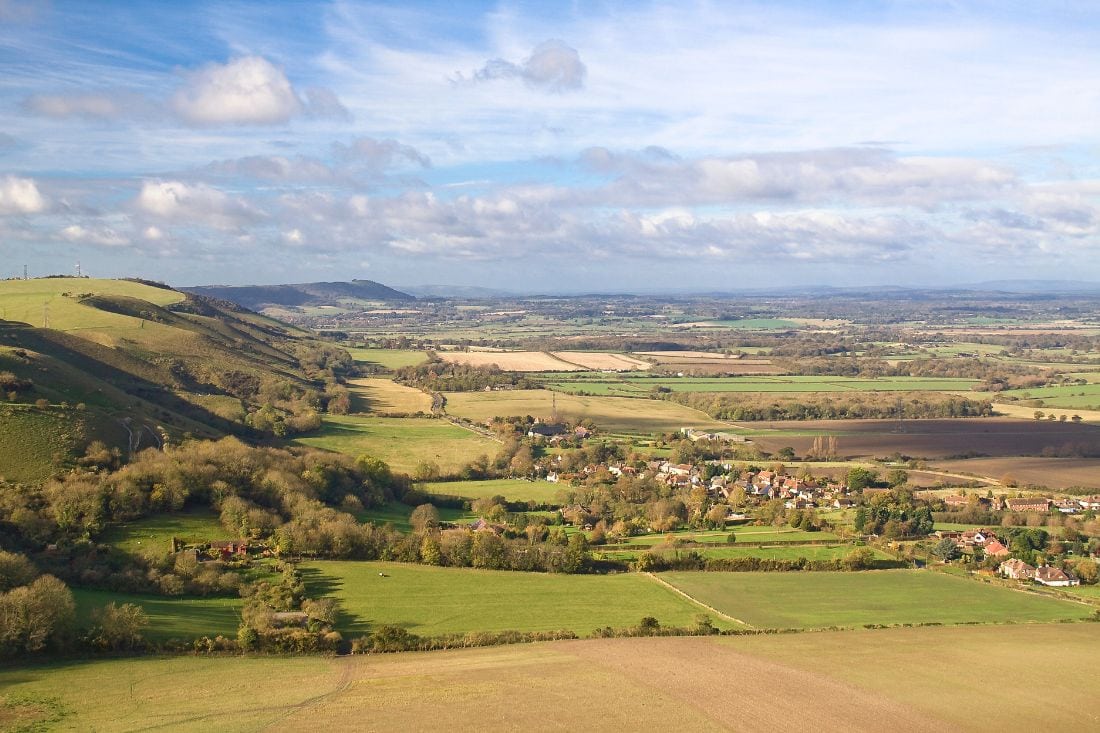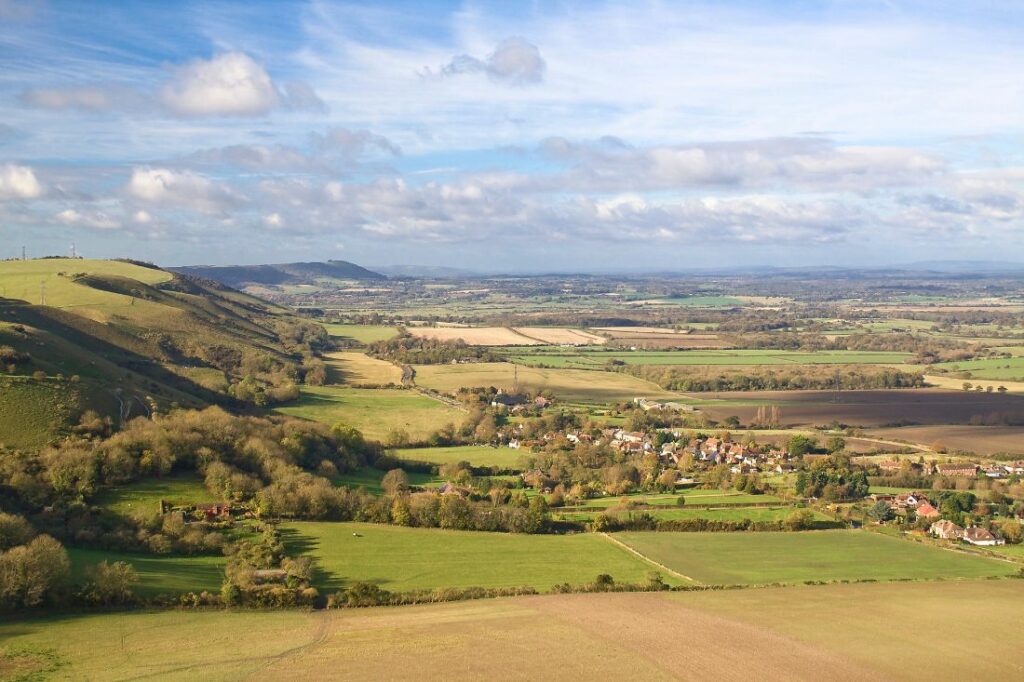 Despite the odd name, Devil's Dyke is a hugely popular V-shaped valley within the South Downs National Park. Filled with exciting and varied hiking trails, designed to suit a range of abilities and time restraints, this area is popular with dog walkers, runners, cyclists, and more.
With a car park operated by the National Trust, you can take advantage of free parking if you're a member. After you've finished wandering, head to the Devil's Dyke pub for a refreshing pint and a well-earned pub lunch before journeying back to Brighton.
Portsmouth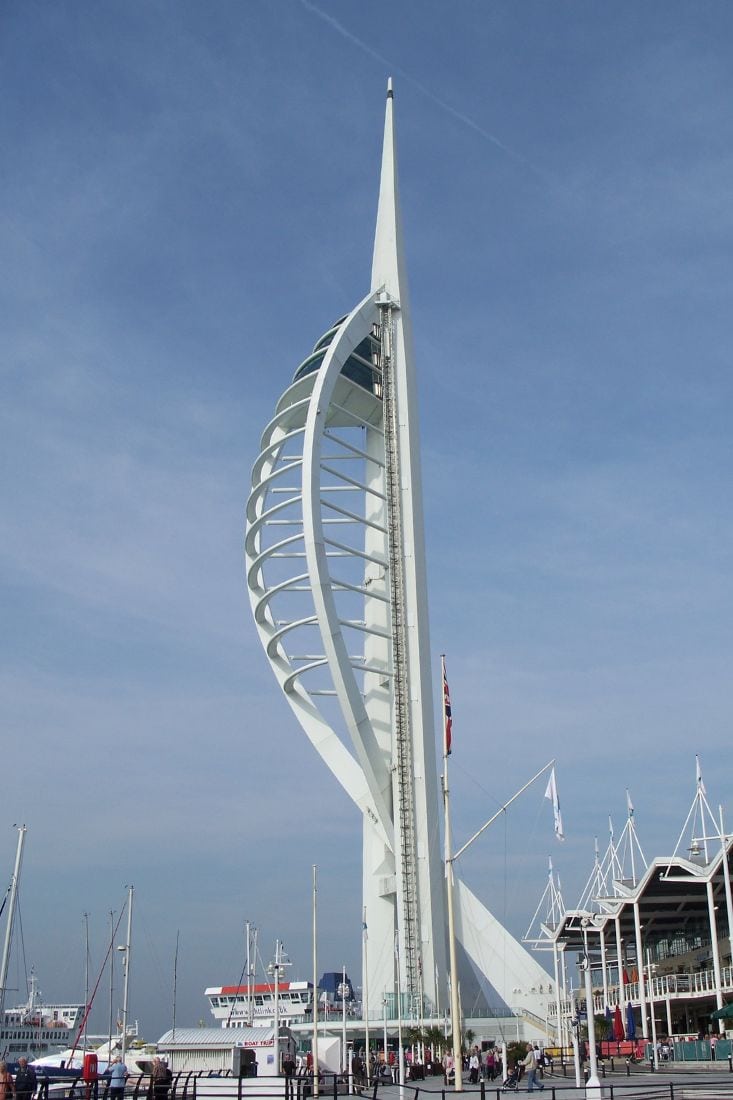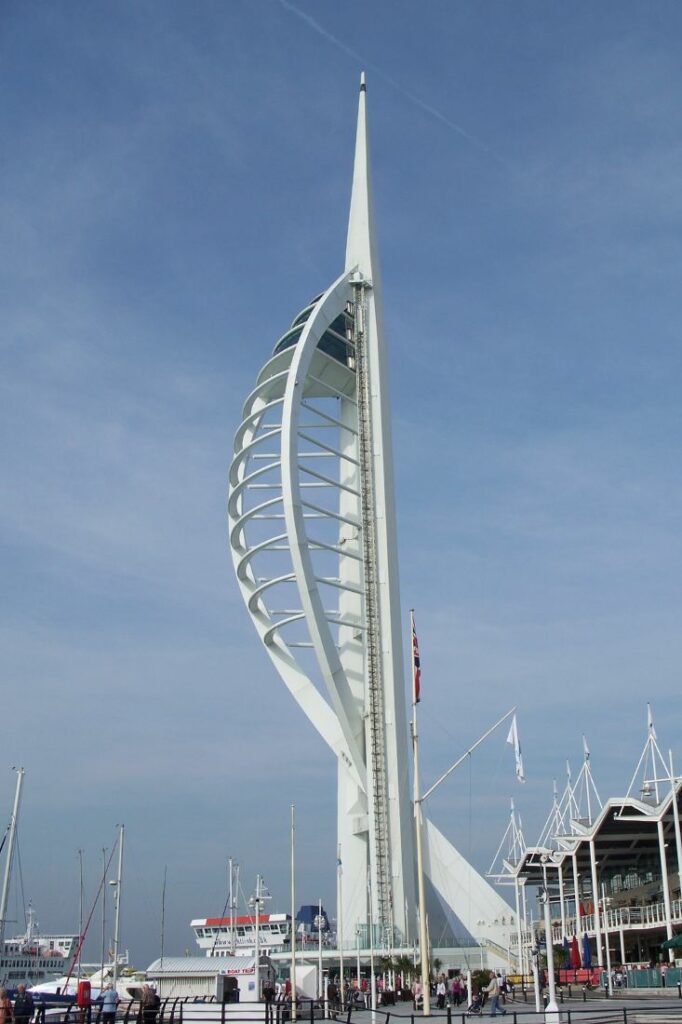 If you're interested in naval or maritime history, there is no better palace to visit in the UK than Portsmouth. As the hub of a lot of British Naval activity throughout history, you can explore plenty of amazing sights, including the HMS Victory, an old naval ship that is docked in Portsmouth Harbour. It's definitely an impressive place to walk around and learn about, even if you're not a fan of boats or military history!
If you want more Tudor history, check out the restored Mary Rose that has been raised from the ocean floor after it was sunk back in the 16th century and has been painstakingly restored and displayed in Portsmouth.
You can get here in just over an hour by car and an hour and 20 minutes by train.
---
So, whether you're looking for history, culture, or adventure there are so many amazing tours and day trips from Brighton to explore. Which one of these are you most looking forward to doing? You can let me know in the comments below!
Like this blog post? Then Pin it for the future!