From dramatic Norman keeps and fairytale castles, to jousting events and falconry displays, these are the best castles to visit near London!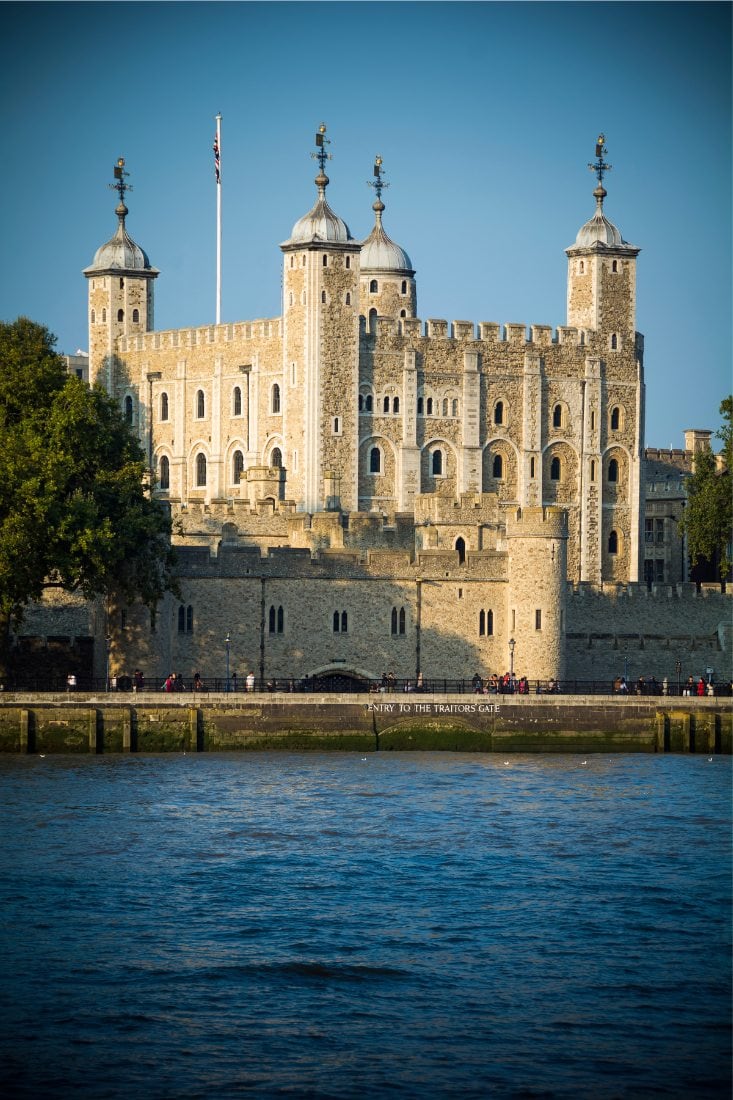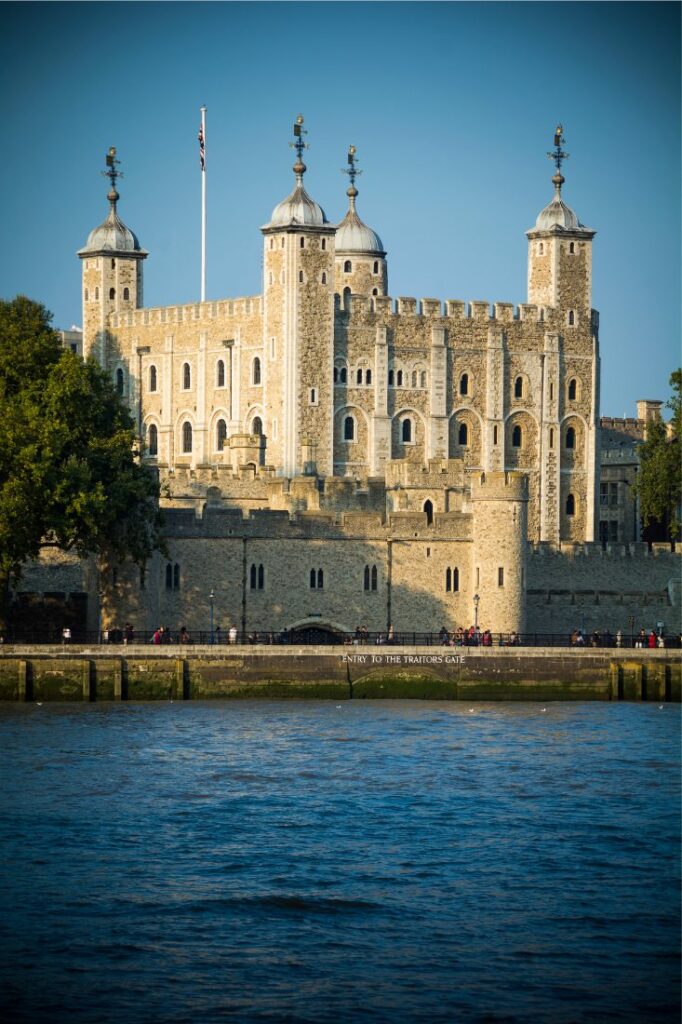 With the name 'United Kingdom' it's no surprise foreign visitors associate the UK with kings, queens and castles. But castle visits aren't just for tourists! Packed with history, stunning gardens and fun activities, castles make great destinations for day trips and family days out.
In case you didn't know (we didn't until we googled!) there's a difference between a palace and a castle. Both can be home to royalty and nobility, but to qualify as a castle, the building must have been fortified and built for defence. Hampton Court Palace and Buckingham Palace therefore don't qualify for our list of the best castles near London! They're lovely places to visit though, so don't feel like like you have to cross them off your list of potential day trips.
So, which are the best castles to visit near London? And what do they offer to visitors? This is the ideal travel guide to read to start planning your fun and historical day trip!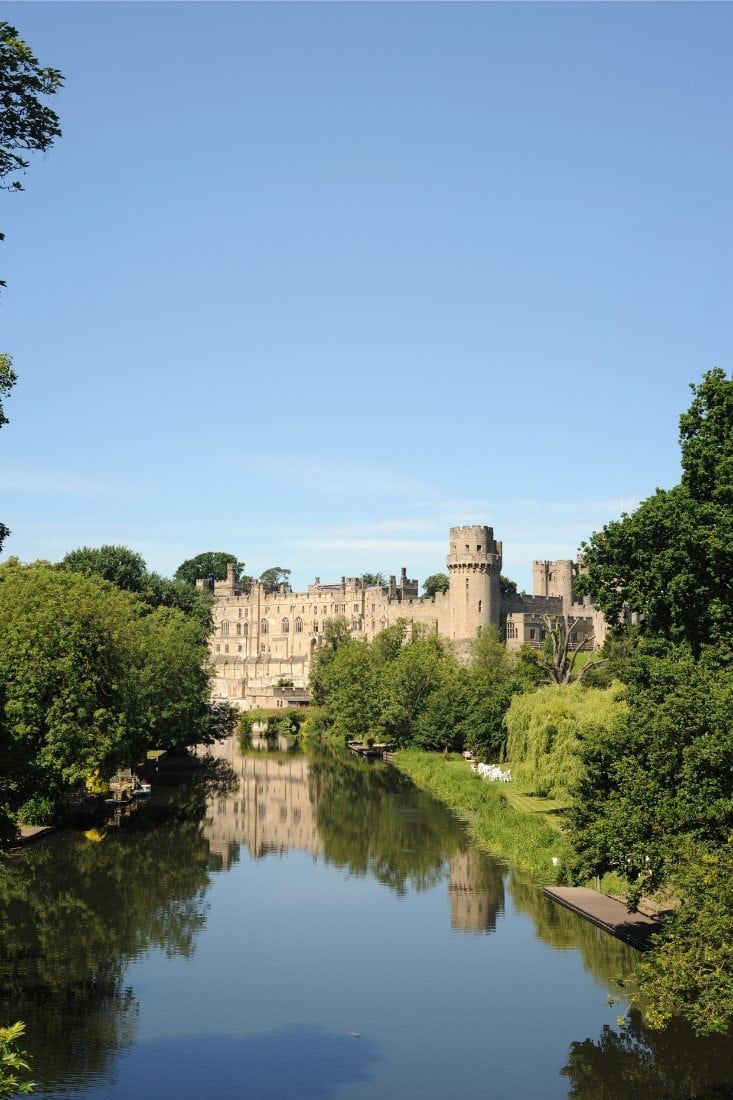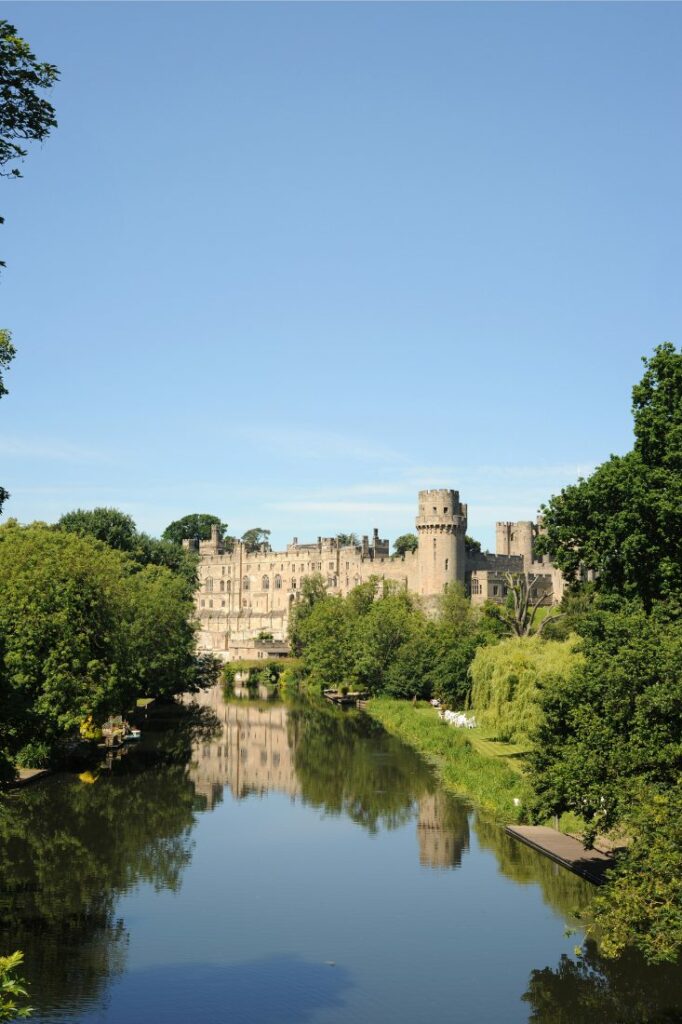 ---
11 Beautiful Castles Near London – Perfect For Day Trips
The Tower of London is the only true castle in central London. Founded in 1066, the buildings are in concentric rings, with defensive walls and a moat. The Tower of London is a world heritage site, cared for today by Historical Royal Palaces.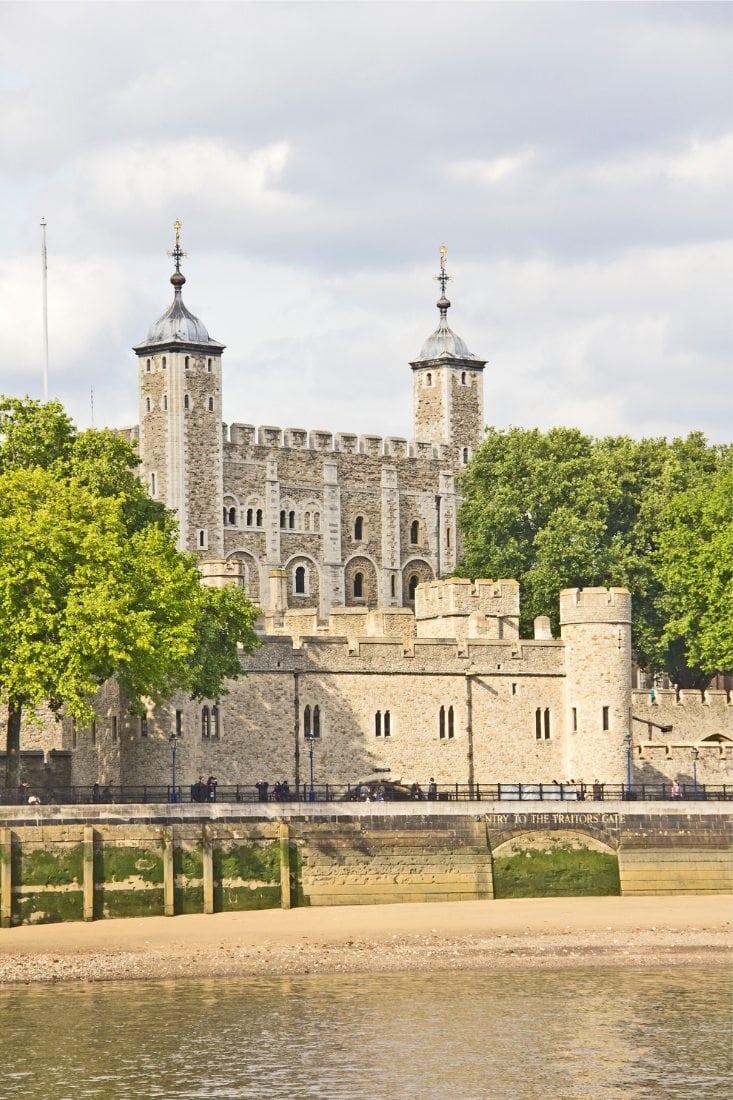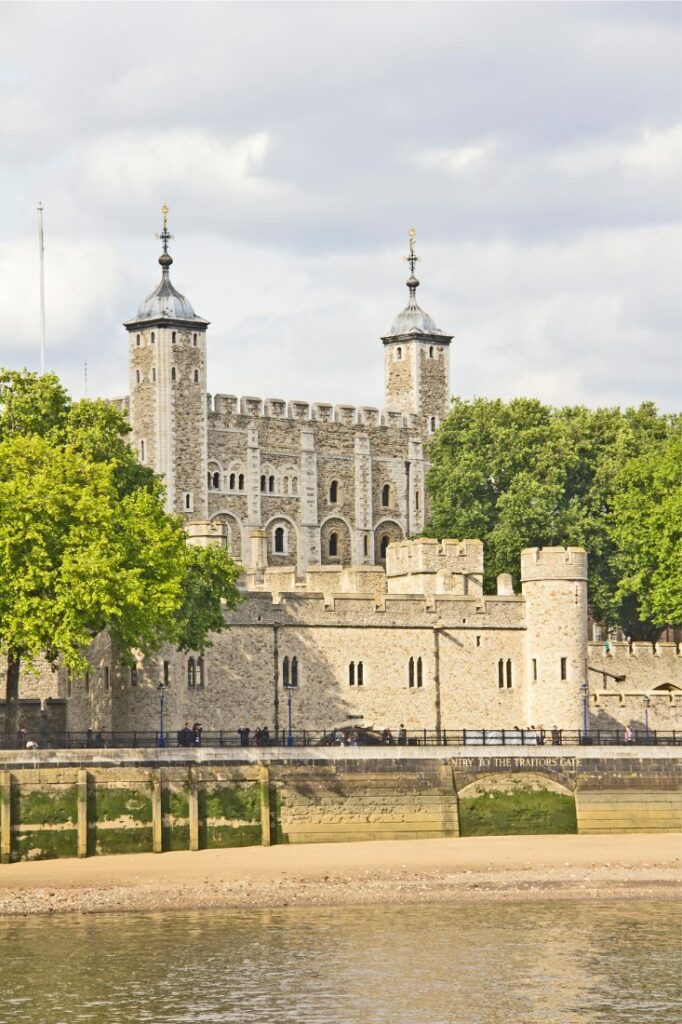 As well as the White Tower, tickets to the tower give you access to see the famous Crown Jewels. Also included are the medieval palace, battlements, Bloody Tower, chapel, Fusiliers Museum, Royal Mint Exhibition, and Torture at the Tower Exhibition. It really is one of the best castles to visit near London, with enough to keep you busy all day!
Tours of the tower are given by Yeomen Warders, more popularly known as 'Beefeaters'. These tower guards not only wear amazing uniforms, but are informative guides too. They live on site in the grounds of the Tower, so they know all of the secrets. Ask them about the superstitions of the tower's ravens and the chapel's ghost of Anne Boleyn!
Windsor Castle was founded in the 11th century, making it not only the oldest but also the largest occupied castle in the world. It's one of the best castles to visit near London, especially if you can time your visit with the 'Changing of the Guard' ceremony. This takes place on Thursdays and Saturdays just before 11am. Other highlights include the ceremonial rooms, state apartments, and luxurious grand reception room.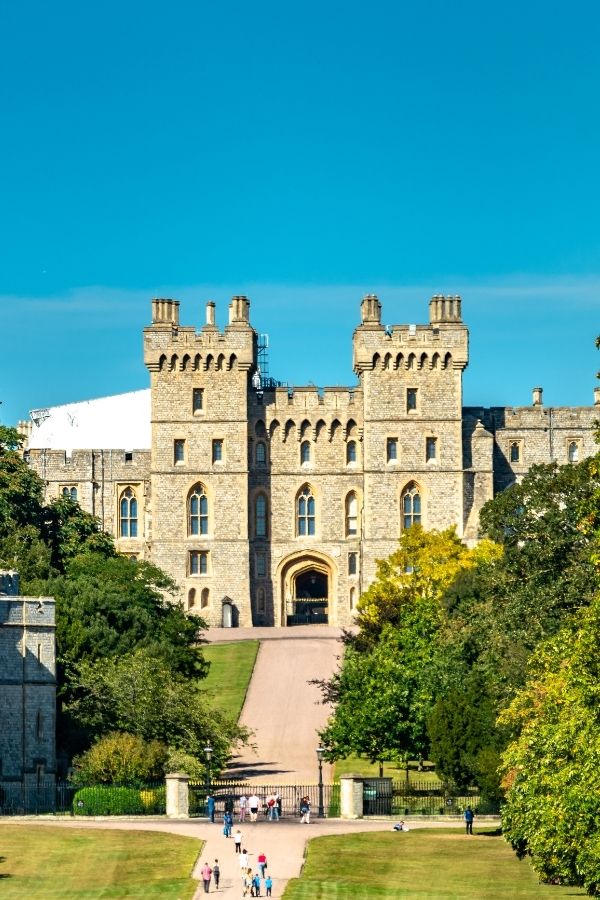 Windsor Castle is part of the Crown Estate and is owned by the royal family. The grounds of the castle include St George's Chapel, where eleven former monarchs, including Queen Elizabeth II are buried. It's also where Prince Harry and Meghan Markle got married.
Another popular attraction at the castle is on a much smaller scale! It's an amazing doll's house built for Queen Mary in the 1920s which contains work by over 1,500 craftsmen. Not many dolls have their own running water, electricity and fully stocked wine cellar!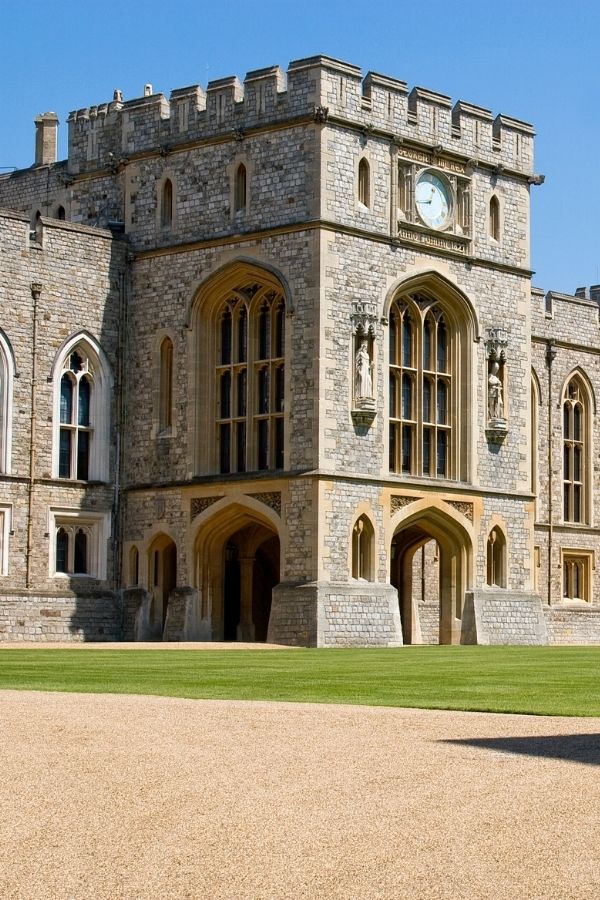 Windsor Castle is a one-hour train journey from central London (London Waterloo to Windsor and Eton Riverside), making it one of the easiest castles day trips from the capital. If you want to learn more, don't miss our fascinating facts about Windsor Castle.
Hever Castle is on the border of Kent, Surrey, and Sussex. It was built for defence in 1270, and the Tudor style living quarters were added in the 15th and 16th centuries by the powerful Boleyn family. King Henry VIII's second wife, Anne Boleyn, grew up here.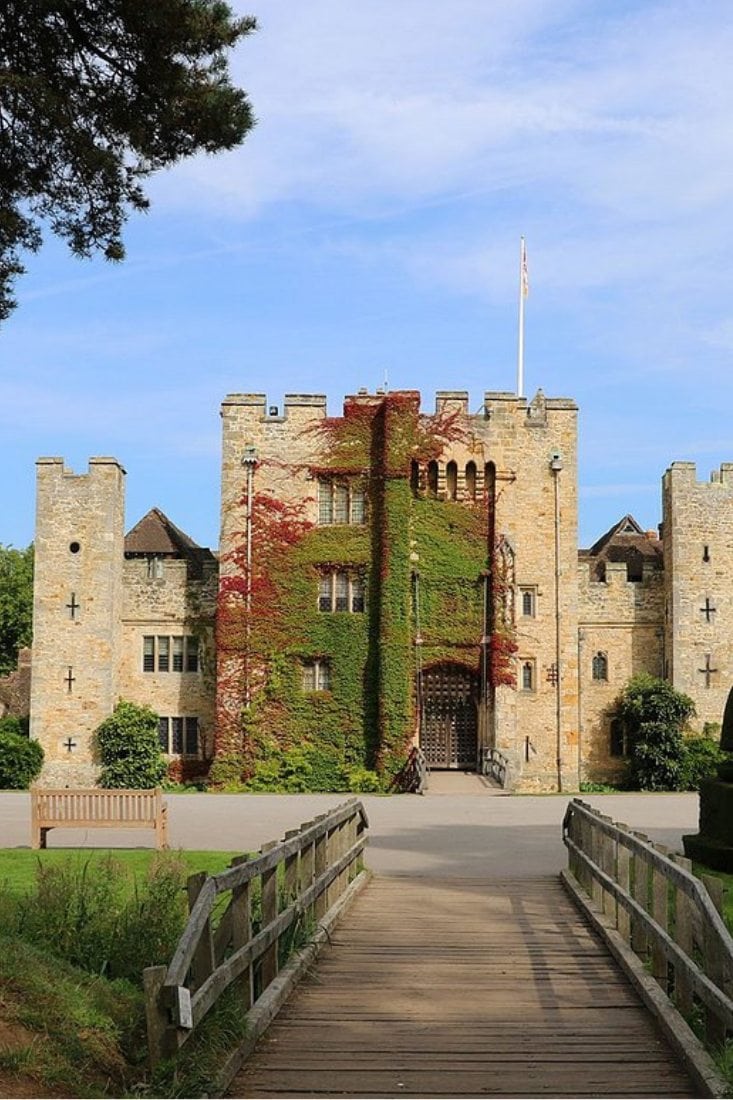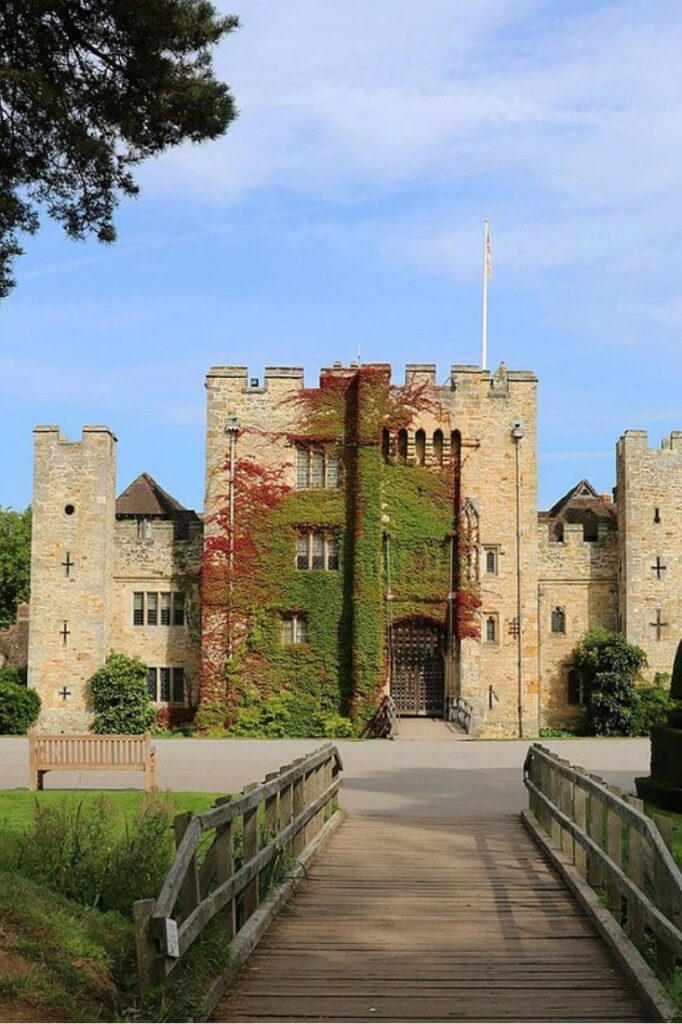 Hever Castle was bought in 1903 by one of the era's richest men, William Waldorf Astor. Astor turned the crenulated castle into his family home, adding the Tudor village, a lake, and magnificent gardens. You'll now find panelled rooms, Tudor portraits, fountains, grottoes and over 5,000 rose bushes!
Hever Castle is a forty-five-minute train journey from London. It's a great family day out, and kids will love the playgrounds and boating on the lake. Look out for their popular jousting events too!
Arundel Castle in West Sussex was built in 1067. Its original Norman Keep, Medieval Gatehouse and Barbican (outer defence) survived, but the rest was rebuilt between 1870 and 1890. It is in the gothic style and one of the great works of Victorian architecture.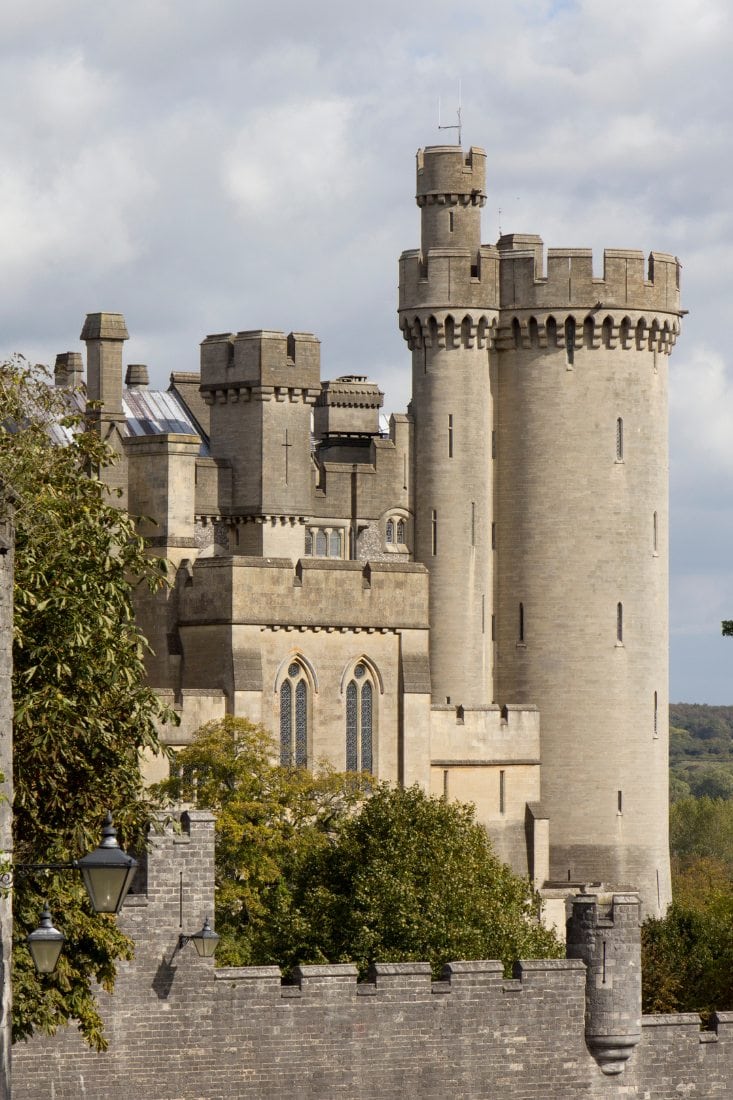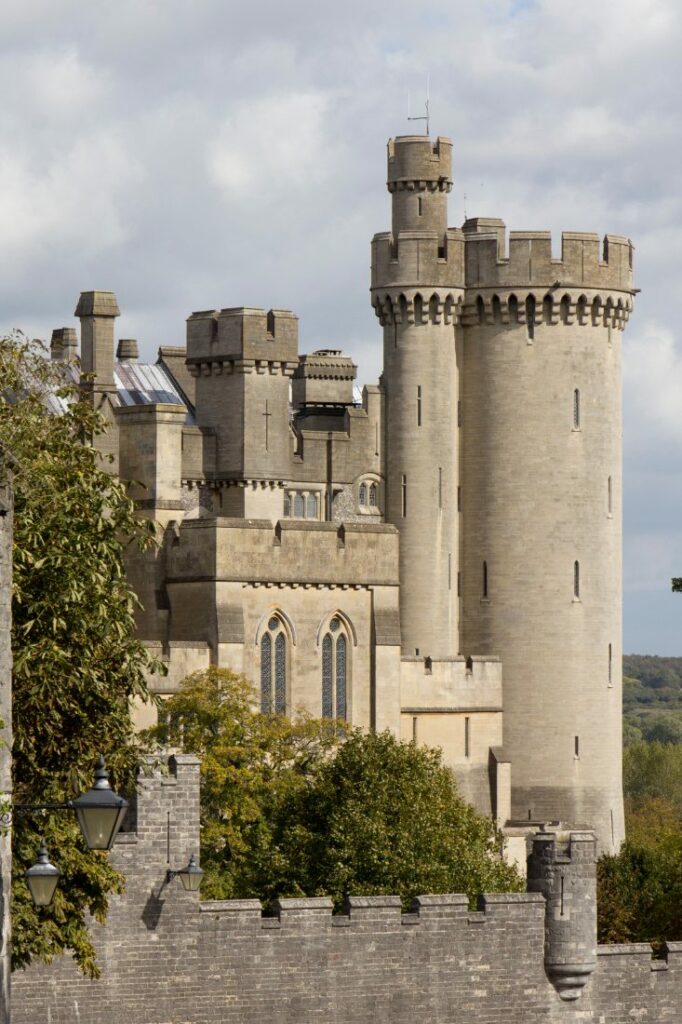 The castle has been the seat of the Dukes of Norfolk for 850 years. Book onto a guided tour to learn about the fine furniture, paintings and tapestries of the Baron's Hall, library and state rooms. The garden and glasshouses are also open to visitors, and there is a varied programme of history, gardening and theatre events.
Trains run to Arundel from London Victoria. The castle is then a ten-minute walk from the train station. This is a great castle for summer visits, as please note it's usually closed to visitors over winter.
This picturesque 14th-century castle in East Sussex, England, sits in the middle of a large moat. It was built to defend against French invasion during the Hundred Years' War. The interior is now in ruins, but the huge towers and exterior walls are largely complete, making it easy to imagine its medieval splendour.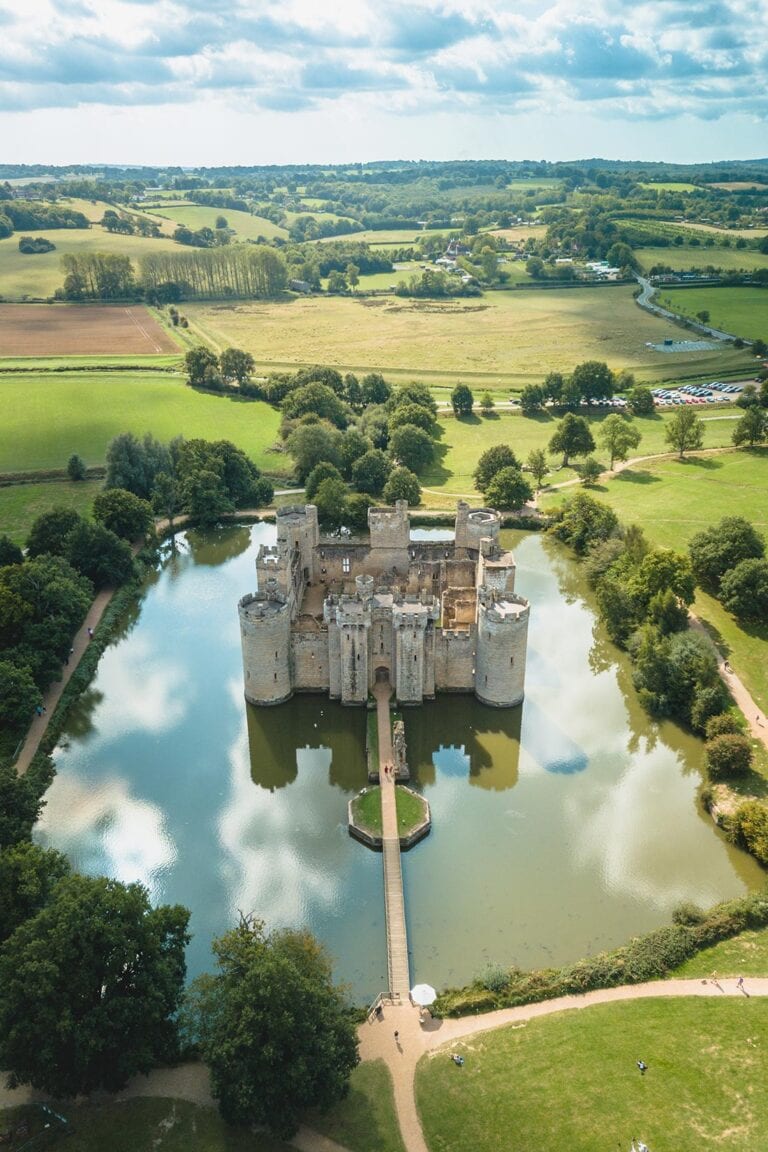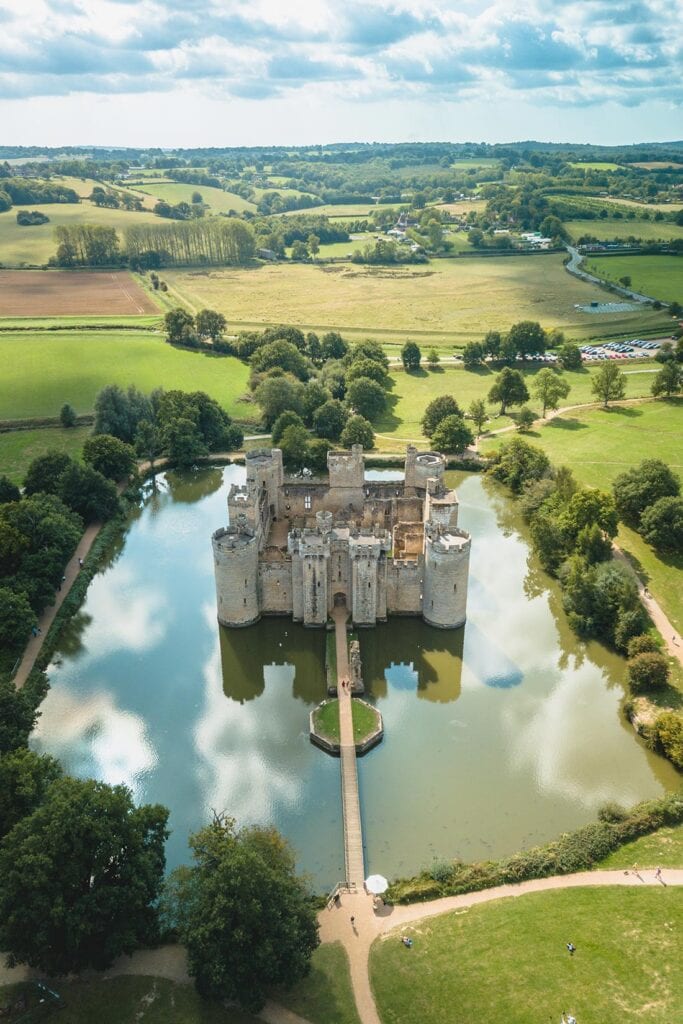 The nearest train station is at Robertsbridge, five miles from the castle. If you have time, combine your visit with a fun trip on the Kent and East Sussex heritage steam train. This runs from Tenterden to Bodiam in the summer season and takes 50 minutes one way.
Want to learn more about this beautiful castle? Don't miss our guide to Bodiam Castle.
Leeds Castle (which confusingly is in Kent!) is one of the best castles near London. Built on islands in a lake, the fairytale setting makes it one of the most romantic English castles. In fact, you might be interested to know they arrange couples' retreats and candle lit dinners!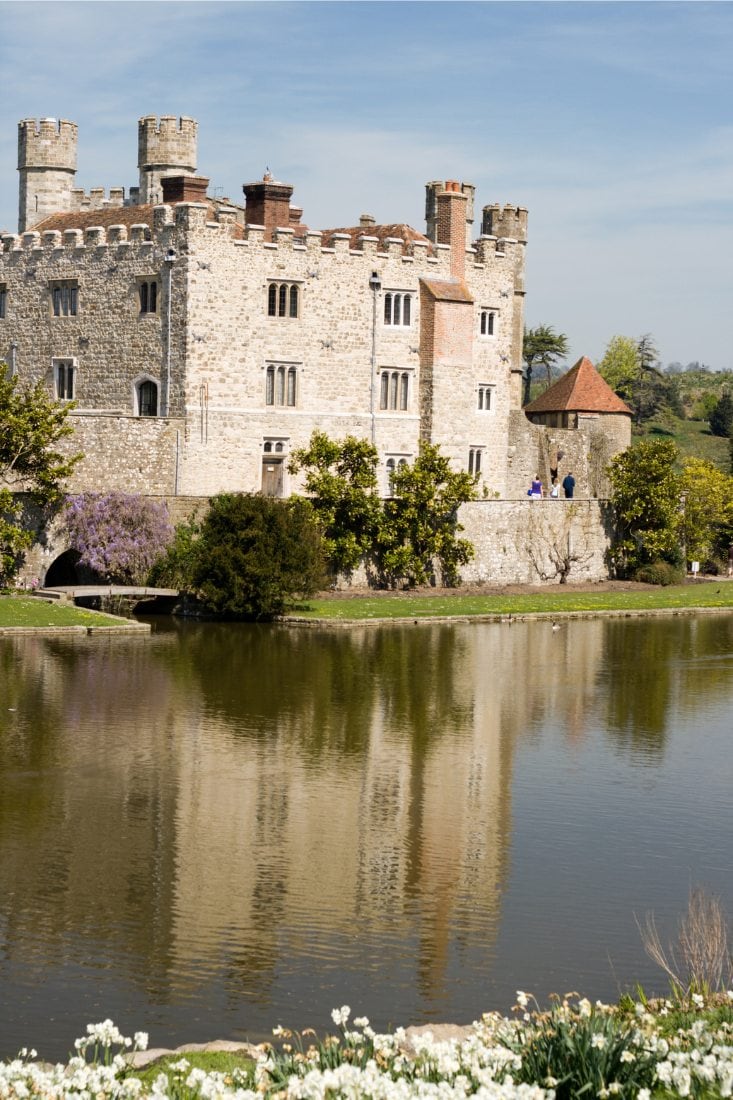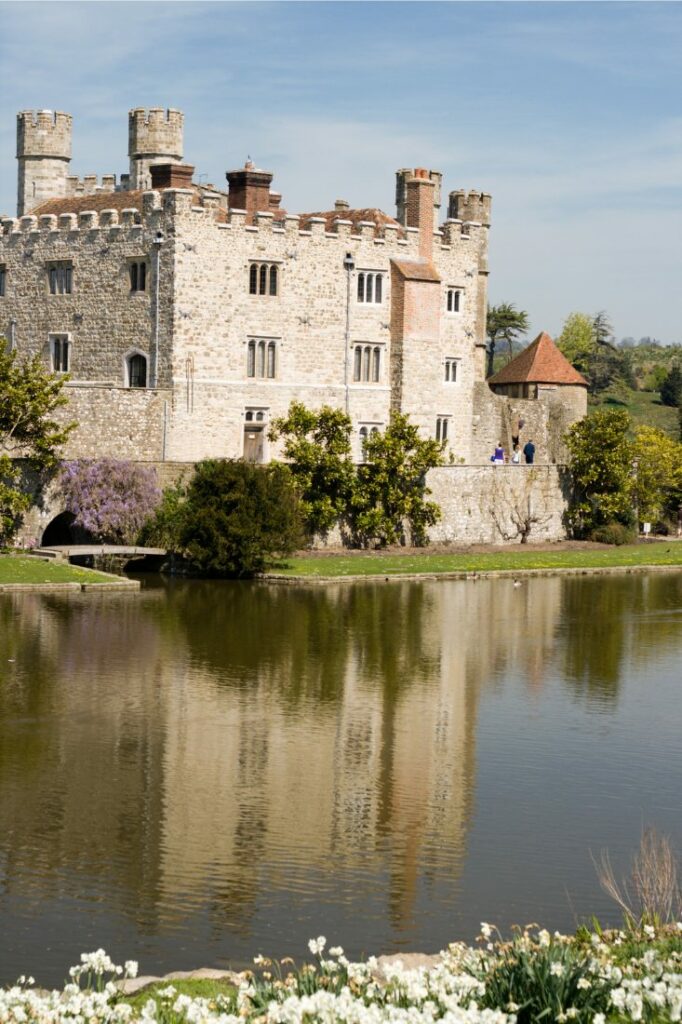 A ticket to Leeds Castle allows you to enter as many times as you like for one year. This covers the main castle, the grounds, sculpture trails, grotto, maze and even some special events. You'll also find hotel accommodation, 1930s themed house parties, falconry displays, segway tours and a Go Ape on site.
Rochester Castle
Rochester Castle was built in stone in 1080 to guard a crossing point on the River Medway in Kent. The Norman tower-keep was added in 1127, and is the tallest surviving medieval building in Europe. The castle has been under siege many times, while the rest of the castle has been destroyed and rebuilt several times.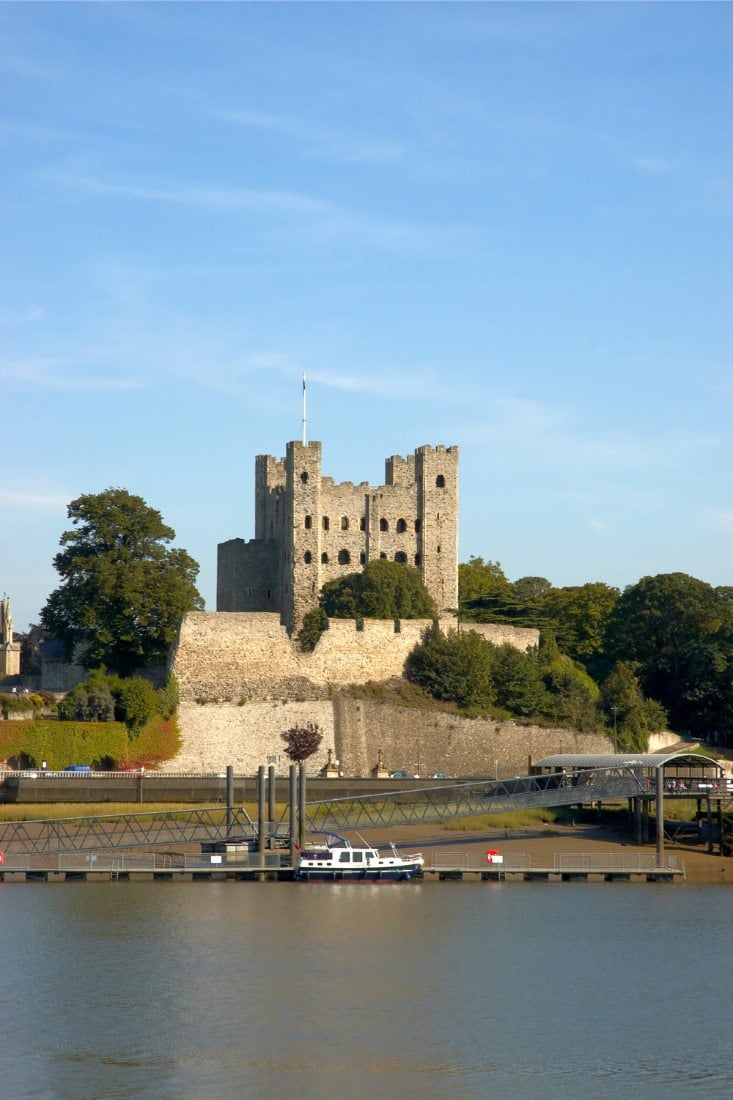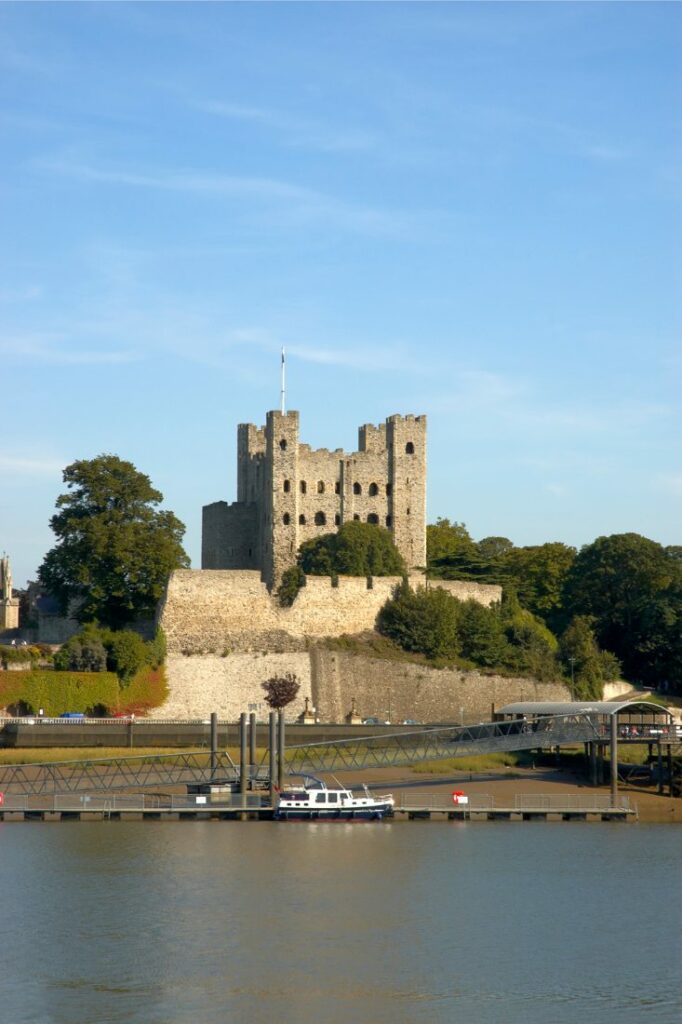 In a more ruined state, Rochester Castle doesn't top the list of the best castles near London. It is however worth a visit, especially if you combine it with Rochester Cathedral and the rest of the pretty town which are within walking distance. The fastest trains to Rochester from London take just 45 minutes from London Victoria too, so it's a very easy journey.
Dover Castle, perched on the white chalk cliffs of Dover in Kent, is one of the best castles to visit near London. The site has played a vital role in English defence since the time of the Romans, who built a lighthouse here to help cross the channel from France. You can still see the lighthouse, an Anglo-Saxon church, and visit the castle's medieval 'Great Tower'.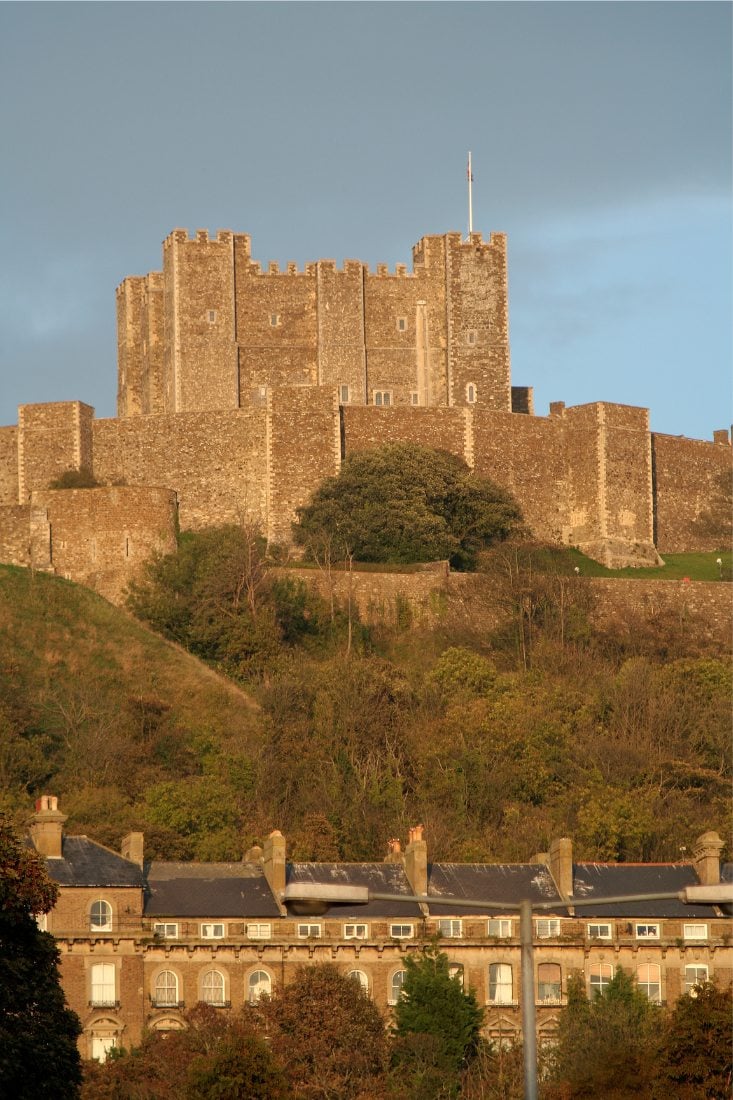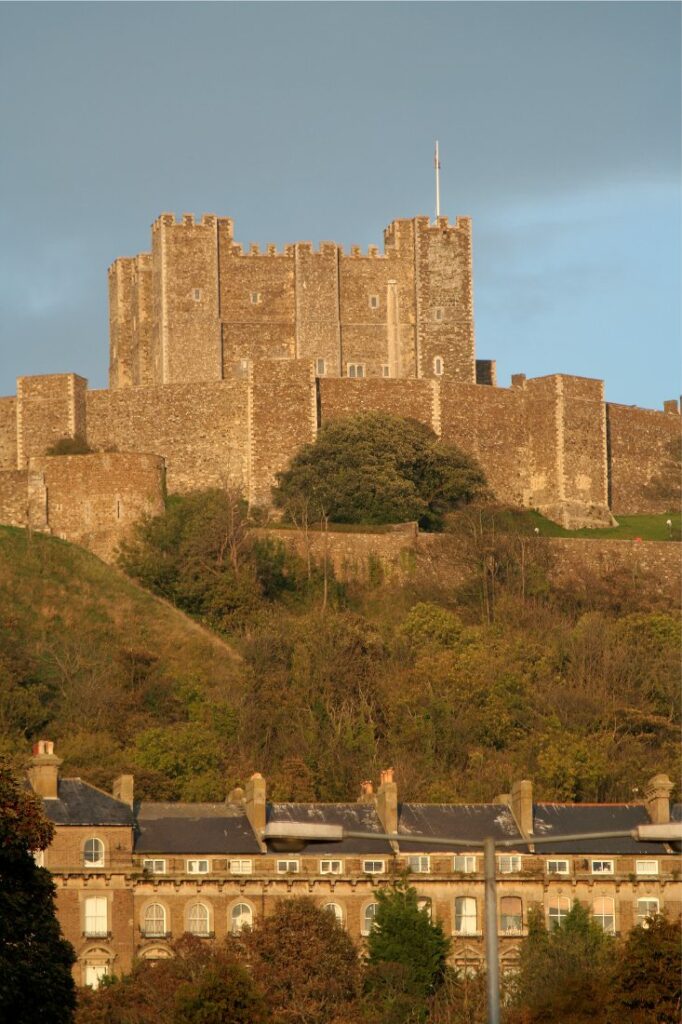 As one of England's greatest fortresses, Dover Castle was called upon again during World War I as a fire command post and signal station. During World War II, tunnels underneath the castle were used as the headquarters to coordinate the rescue of the British and allied troops from Dunkirk. Multi-sensory exhibitions at the castle help bring all of this amazing history to life.
Dover Castle is managed by English Heritage. Trains from London Blackfriars to Dover take 1 hour 25 minutes. It's then a one mile walk from the station to the castle, or you can hop on the 80 or 81 bus.
Warwick Castle is in the Midlands, but can still be reached by train from London in just over two hours. The castle is managed by an entertainment company, and offers plenty of live shows and family experiences. You'll find at least 200 days of events a year, including jousting performances, music concerts and bird of prey shows.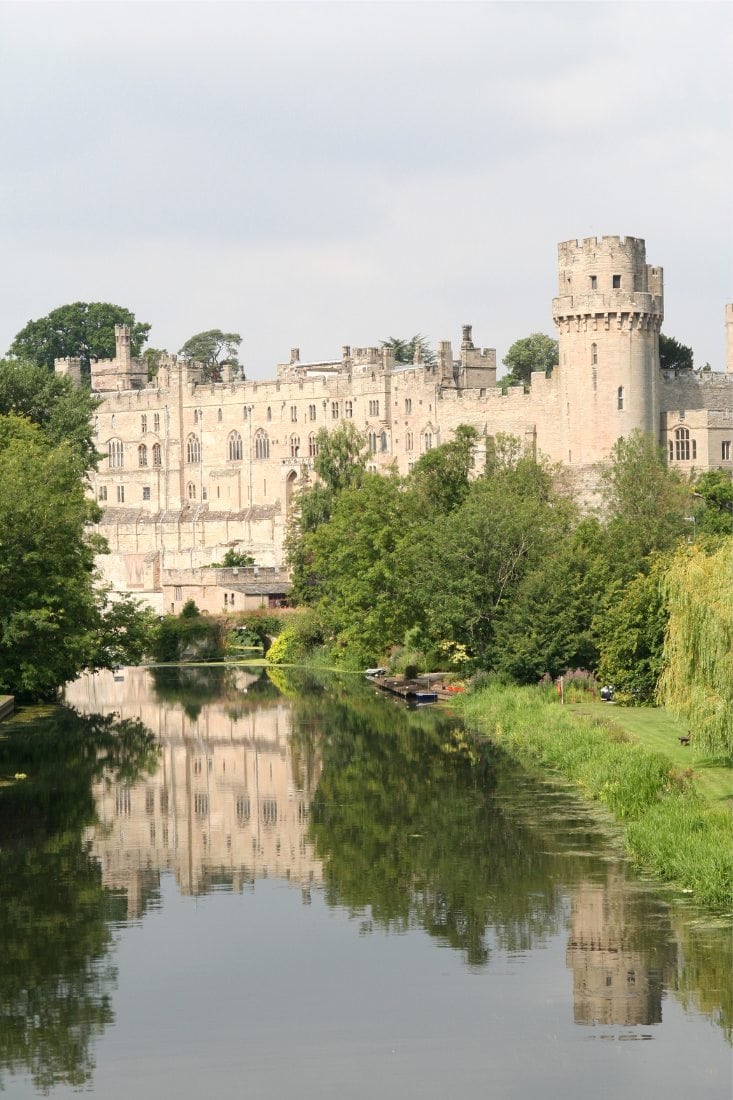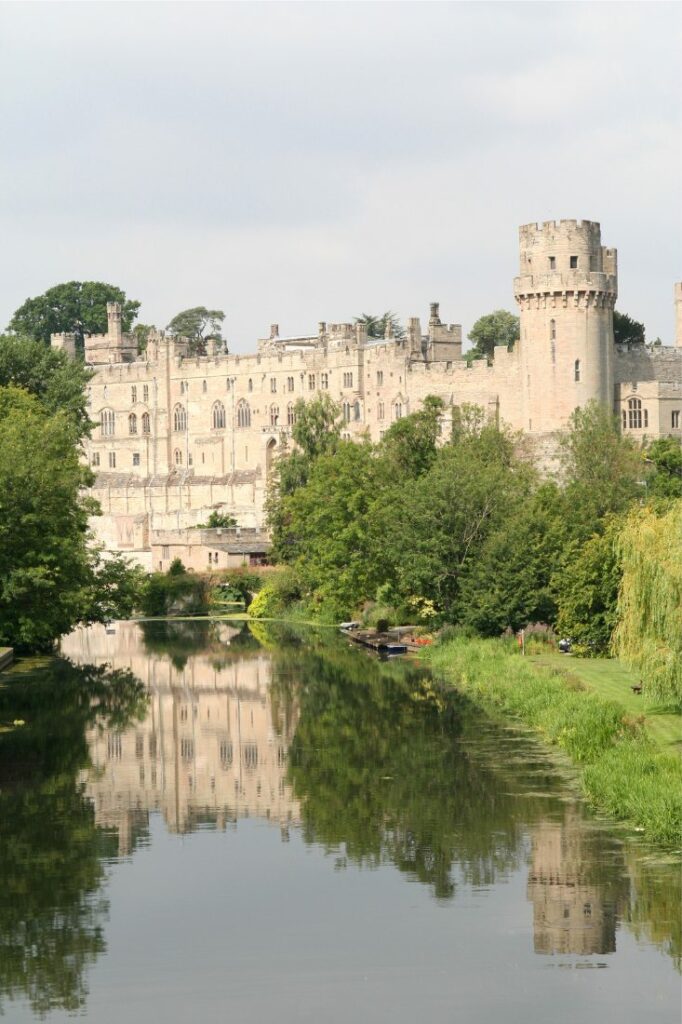 The site was originally home to a wooden fort built for William the Conqueror. That became a stone motte-and-bailey castle in the 12th century. Further reinforcements were then made in the 14th century during the Hundred Years War.
Highclere Castle
Written records show there was a castle here on the Hampshire / Berkshire border as long ago as 749. The house you see today was built in 1679 and expanded in the 1840s. It is in the style of a country house and has over 250 rooms!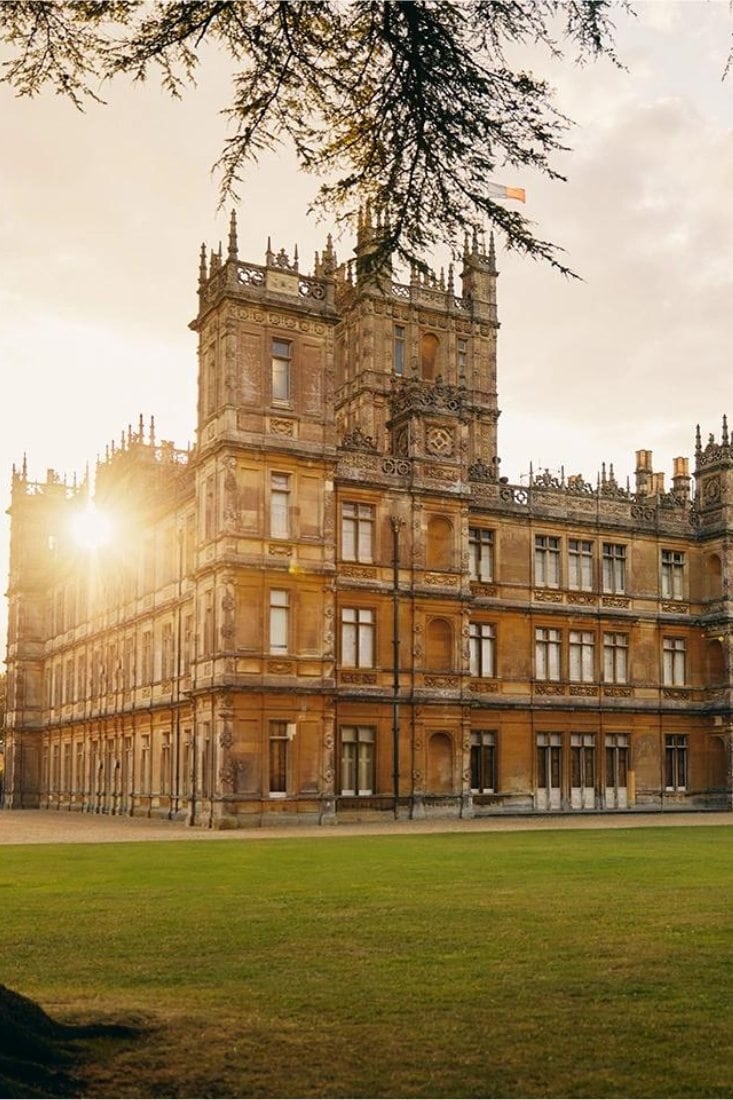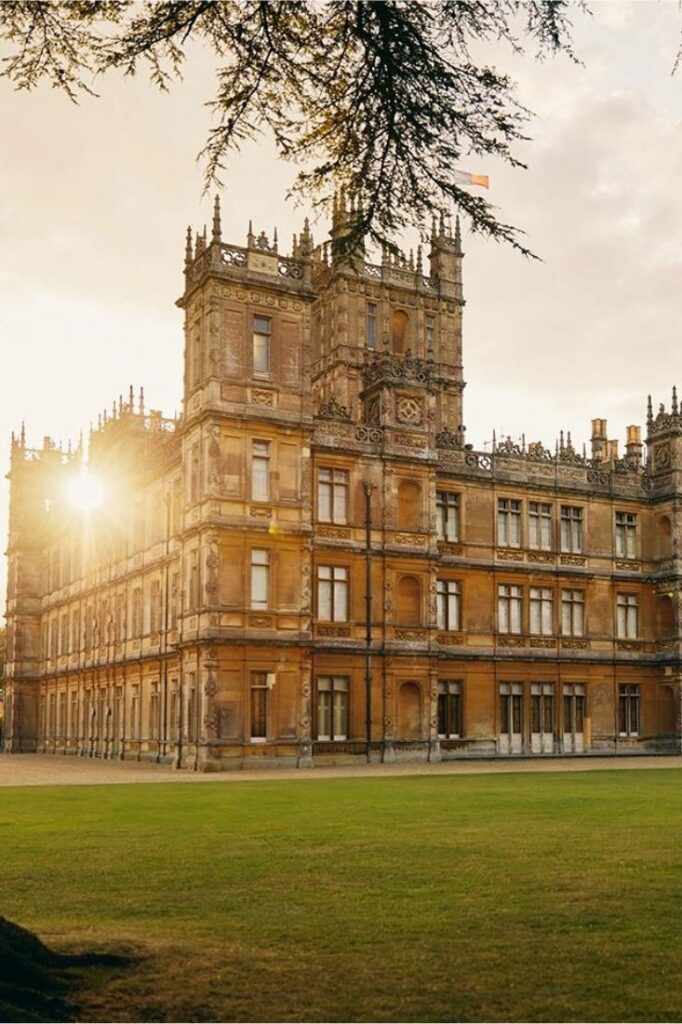 The castle and the 5,000 acre garden park are familiar to millions around the world as 'Downton Abbey'. Both the TV series and the films were shot here. If you tour the castle, you'll be able to step foot in some of the bedrooms used in the show, as well as seeing the grand staircase and the staff quarters.
Highclere Castle is owned by the 8th Earl of Carnarvon and his wife. The castle is six miles from Newbury train station, so you might prefer to travel here by car. It's also possible to stay overnight at lodges in the castle grounds!
Alternatively, we'd recommend a great tour like this one, which will take you to Highclere and a few other local landmarks too.
It's not the best castle near London, but if you're visiting Highclere Castle, Donnington Castle is just a fifteen-minute drive away. Built in 1386, this medieval castle is largely in ruins, but the dramatic twin towers of the gatehouse still stand. This is a good place for a walk or picnic and you'll find great views over Newbury from the top of the hill.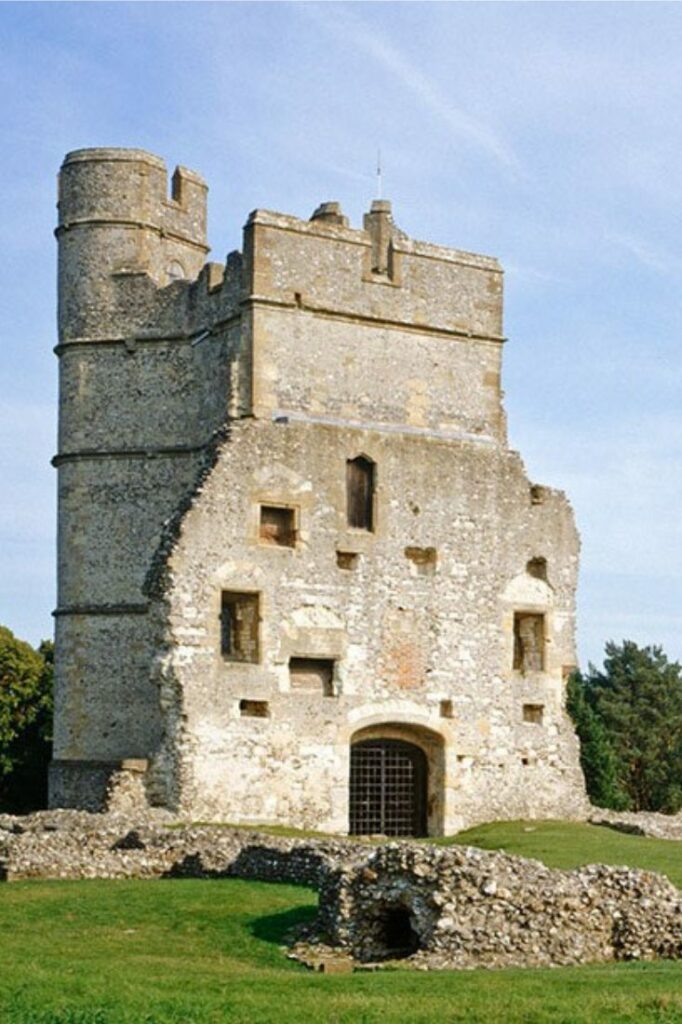 ---
Which of these castles near London are you excited to visit first? Will it be the famous Tower of London or one of the lesser-known options such as Bodiam Castle? We hope you have a great time, wherever you choose!