Find out the best time to visit Scotland based on the different seasons, the weather and special events across the country.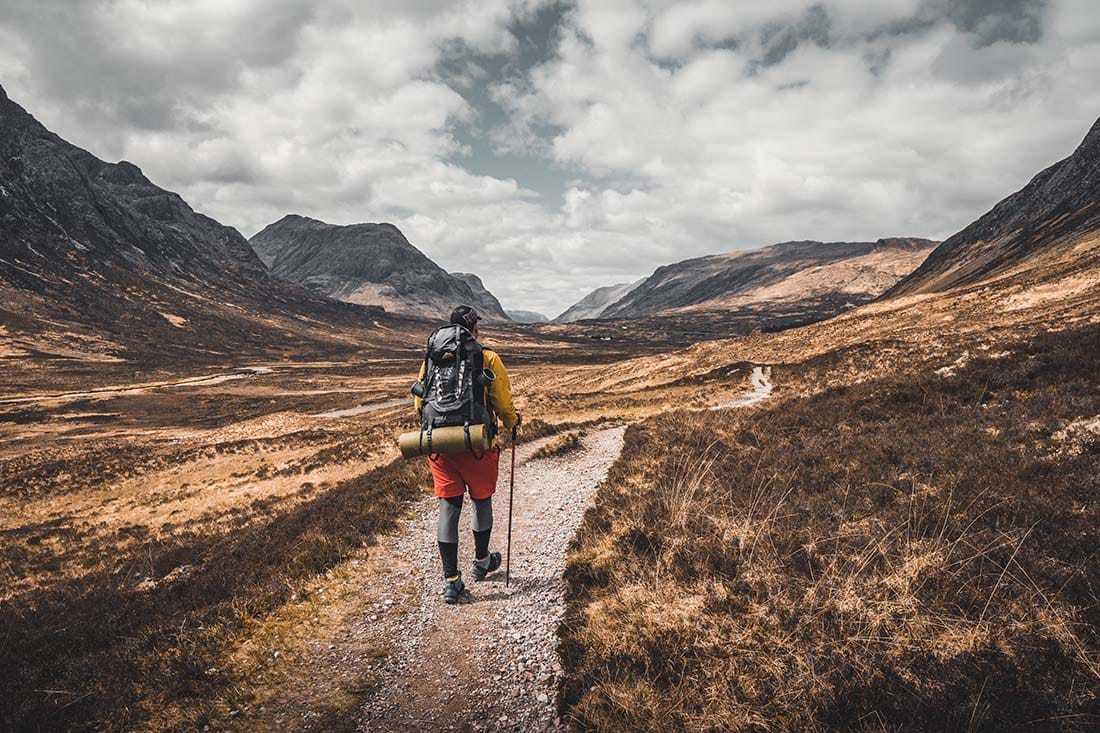 I genuinely think that when it's bright and sunny, Scotland is one of the most beautiful places in the world. It doesn't matter if you're hiking on the Isle of Skye, lazing on the beaches of the north coast or wandering through the streets of Edinburgh, everything looks better bathed in glorious golden sunshine.
On the flip side, when it's grey and miserable in Scotland, it can be pretty depressing. That what we want you to avoid when planning a trip to Scotland.
There's an old Scottish saying that goes, "there's no such thing as bad weather, only the wrong clothes." Put it this way, it's always good to be prepared for 4 seasons in one day here.
That's why when planning a trip, it's very important to know when's the best time to visit Scotland.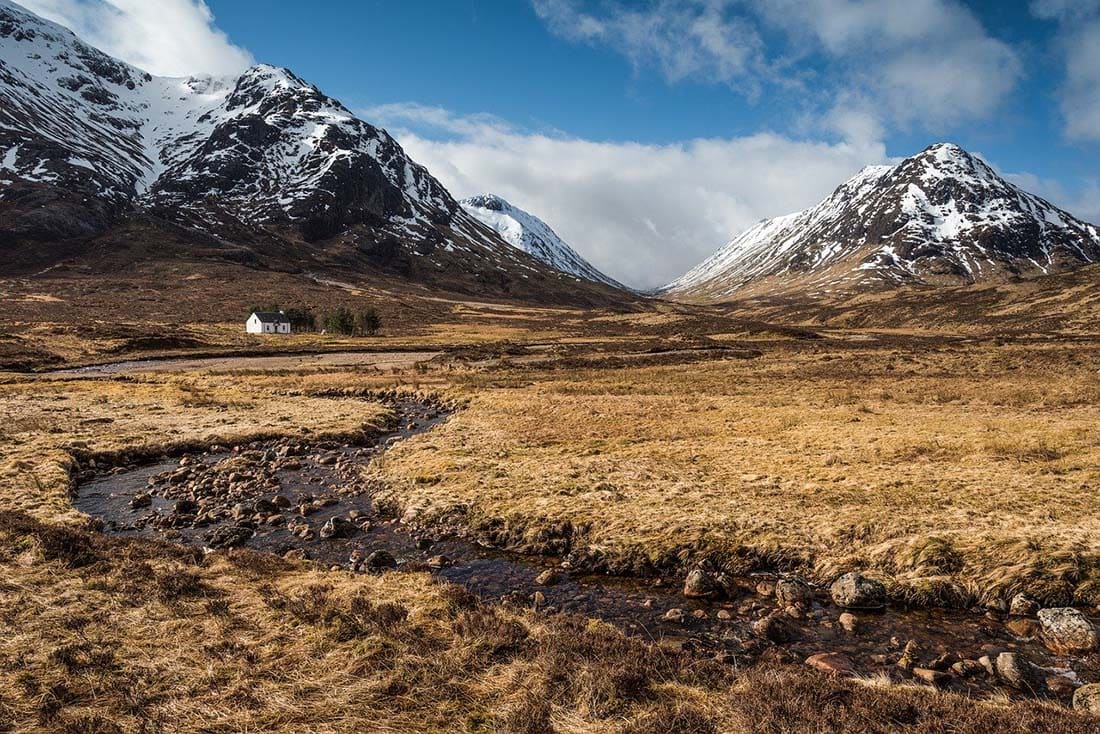 Don't worry though, that's where we come in. In this blog post we'll take a look at the weather, when are the major events happening, and our own personal experiences so you can make an informed decision on when to visit.
No matter what you're looking for, we're here to help you decide the best time of year to visit Scotland. Once you've decided that, then you can continue planning your trip by checking out some of the best things to do in Scotland!
Weather in Scotland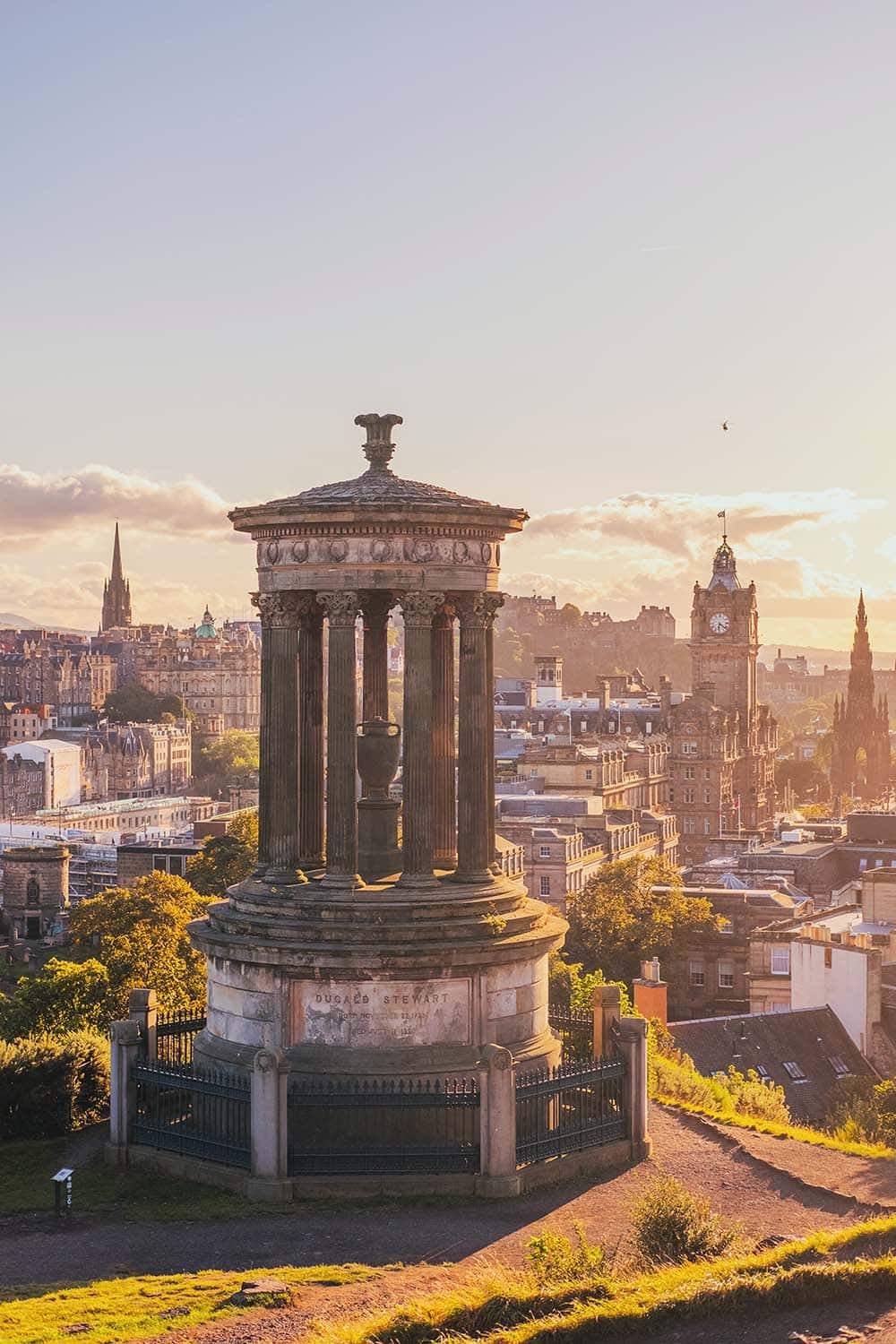 Compared to England and Wales, Scotland is by far the coldest and wettest country in Great Britain. However, DO NOT LET THAT PUT YOU OFF. I had to get all cap locks on you there because it's very easy to overlook Scotland just because of the weather.
As I've mentioned, when Scotland is sunny, it really is such a stunning place to visit. And when it's rainy, it really isn't all that bad. For some reason, Scotland is one of those places that looks good in the rain.
In terms of extremes, the hottest recorded temperature in Scotland was at Greycrook on the 3rd August 2003 when it hit 32.9 °C (91.2 °F).
At the other end of the scale, the lowest temperature recorded in Scotland was at Braemar in the Grampian Mountains in 1982 when it dropped to -27.2 °C (-17.0 °F).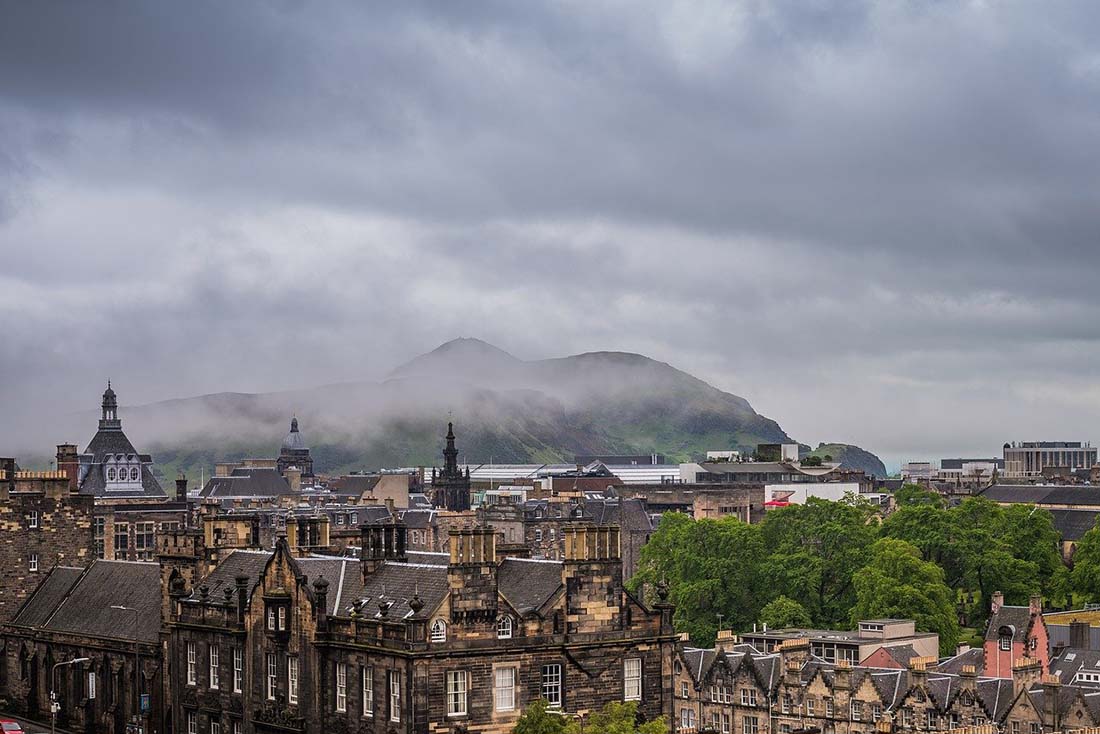 Saying that, those are obviously the two ends of the scale. Even though temperatures have crept up slightly over the last 10 years, the average daytime temperature in Scotland in January is around 3.4°C. The hottest month is July with temperatures of 13.9°C. However, daily temperatures are much more like 16-18°C throughout June, July and August. That means these months are considered among the best times to visit Scotland.
The driest months in Scotland are April and May, and the wettest months are November through to January. During winter it can rain quite a lot. You have been warned!
Obviously you can expect snow anytime from November to March, though it's common in December and January, especially up in the Scottish Highlands.
Spring in Scotland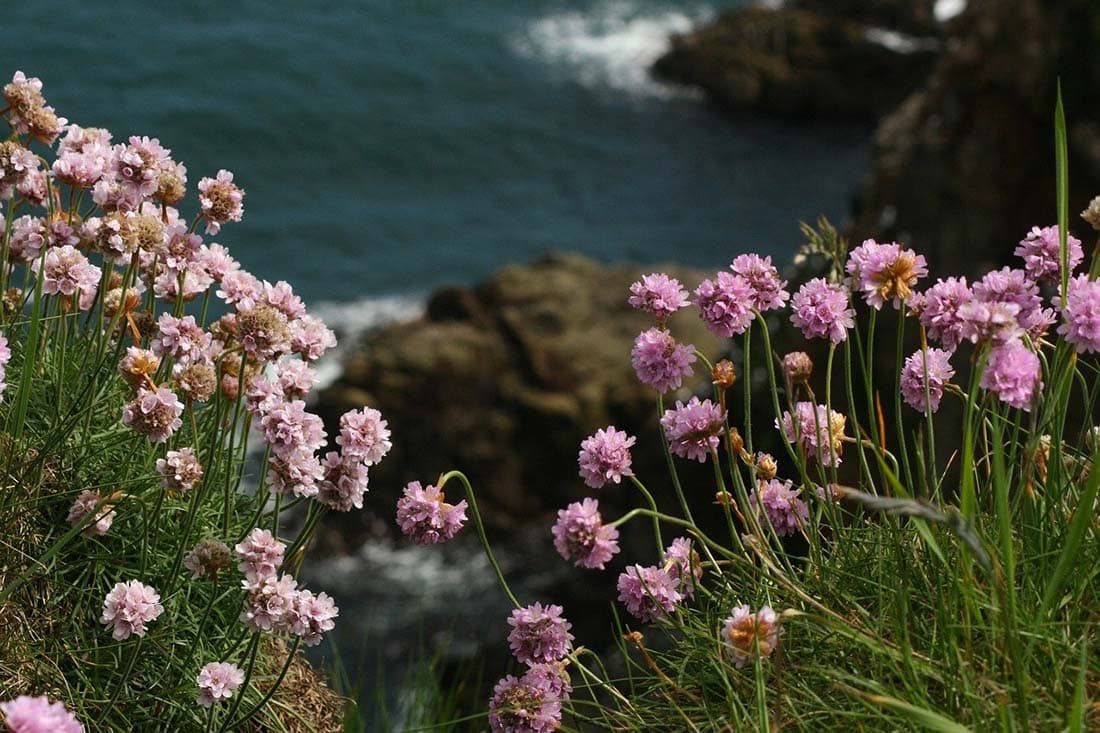 Spring in Scotland runs from March to May. This is one of our favourite seasons as the number of hours of daylight increases, the weather warms up, and everything starts to blossom and bloom making the countryside look gorgeous.
April and May are lovely months to explore Scotland's coastlines. It's a lot quieter on the beaches as it's out of peak holiday season. That means you can genuinely have the beaches to yourself in certain spots. Also, as I've already mentioned, April and May are the driest months in Scotland.
There are a few national holidays during spring in Scotland, including the Easter break and two bank holidays in May. These are popular times for Brits to travel, so if you can avoid these key holidays as a tourist, you might enjoy sightseeing without the crowds.
Easter in particular is one of the busiest times of year to travel with lots of cars on the road.
Special events in spring in Scotland
Edinburgh Science Festival – April
Beltane Fire Festival (Edinburgh) – April
Shetland Folk Festival – April/May
Festival of Museums (all across Scotland) – Mid to late May
Orkney Folk Festival – May
Summer in Scotland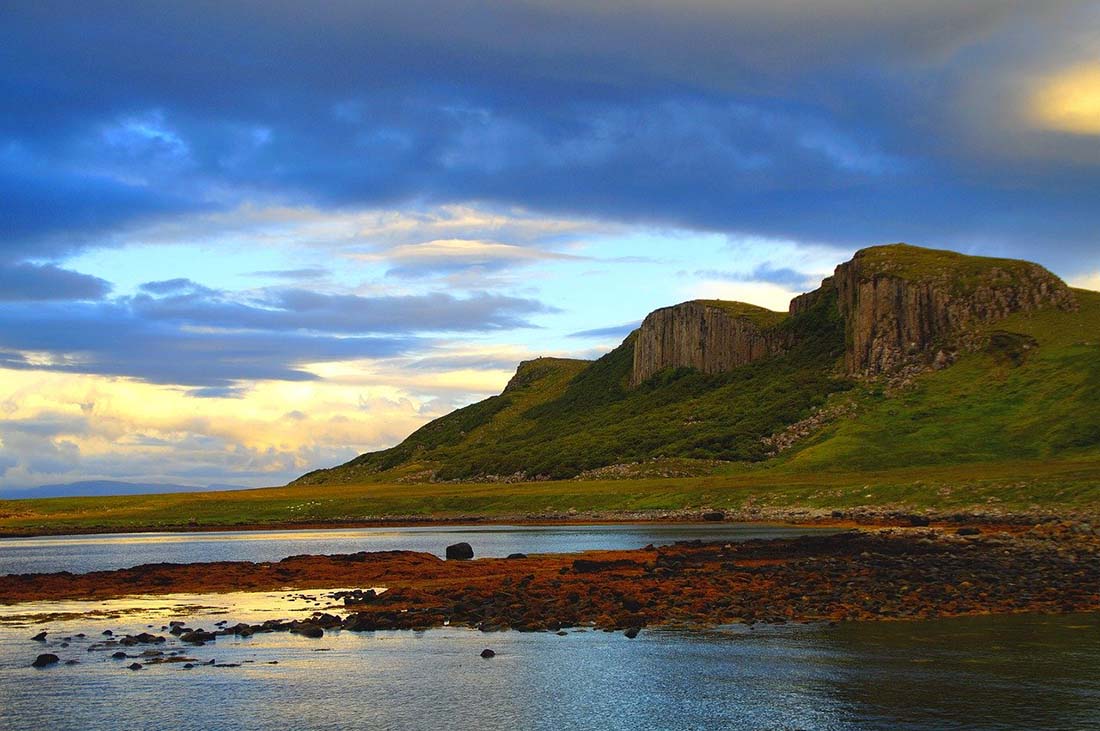 Summer is Scotland runs from June to August.
Summer is often considered the best time to visit Scotland because that's when the weather is the hottest. Even though the average daily temperature is only around 16/17°C, it actually feels a lot hotter than this in the sunshine.
The North Coast 500 – this is a road trip route that follows the northern coastline for 500 miles – is one of the most popular places to visit during the summer. If you're looking for an epic adventure, we can't recommend the North Coast 500 enough. You can spend a week driving along the NC500 stopping off at some lovely hotels along the way.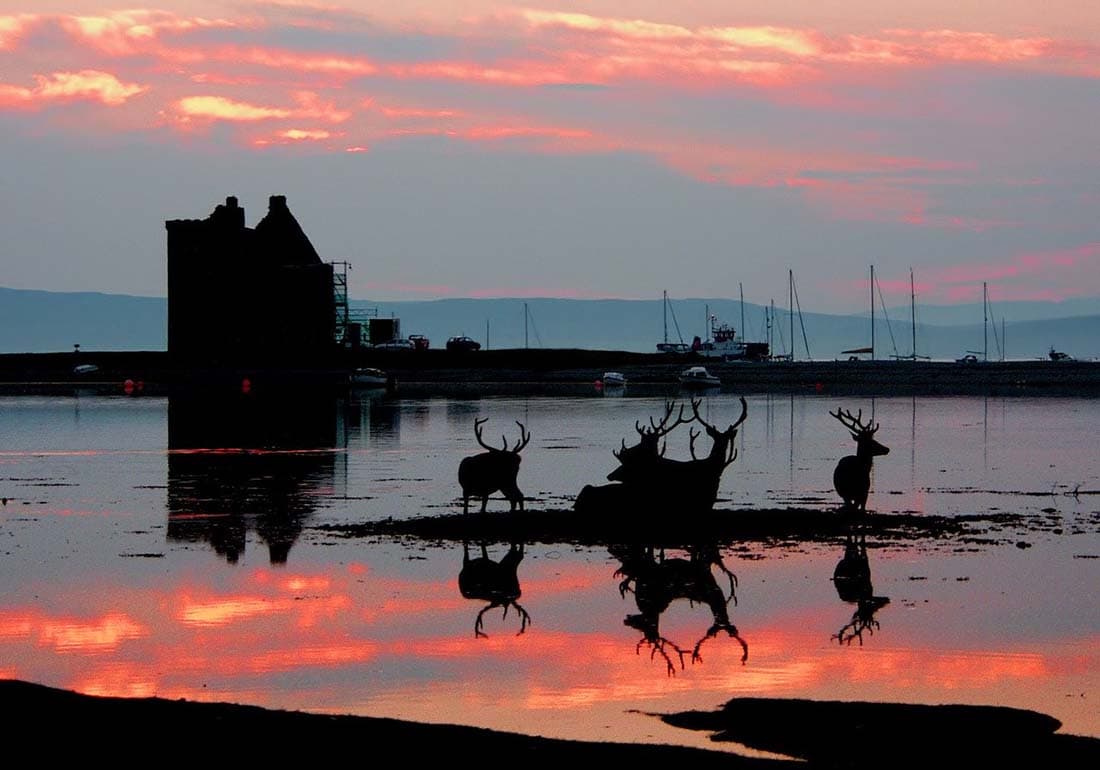 We think June is a lovely month to visit Scotland. The longest day is around 20th June every year, so it's a time of year you can enjoy maximum daylight hours exploring. It's also before the school holidays have started, so tourist attractions will be quieter and hotel prices will be a little lower than peak season in July & August.
The Edinburgh Fringe Festival, which is up there with the best arts & cultural festivals in the world, happens during summer. Every year Edinburgh is the place to be in August, and you can see shows such as comedies, spoken poetry and theatre performances with everything else in-between. We've been to the Edinburgh Fringe Festival before and honestly, this is such a fantastic time to visit Scotland.
Special events in summer in Scotland:
Royal Highland Show, Edinburgh – June
Scottish Traditional Boat Festival, Portsoy (east of Inverness) – June
Selkirk Common Riding – June
Edinburgh International Film Festival – late June
Edinburgh Fringe Festival – August
Edinburgh Military Tattoo – August
Cowal Highland Gathering (Dunoon) – late August
Largs Viking Festival (west of Glasgow) – August/September
Autumn in Scotland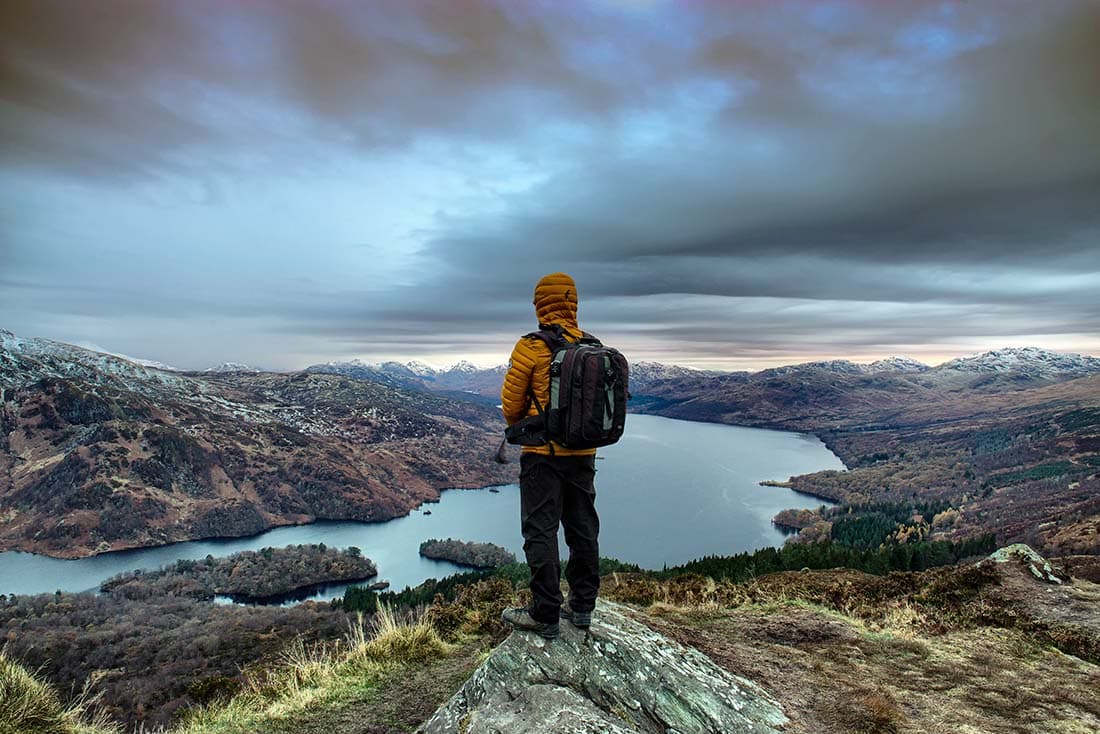 Autumn in Scotland runs from September to November. This season can be really up and down with the weather, so make sure you pack for everything from sunshine to sleet.
Personally, we think September is a really great time of year to visit Scotland. This is just outside of peak summer season, so often you'll have places to yourself. Also, the weather can be really nice in September too. The colours of autumn in the Scottish Highlands are just spectacular.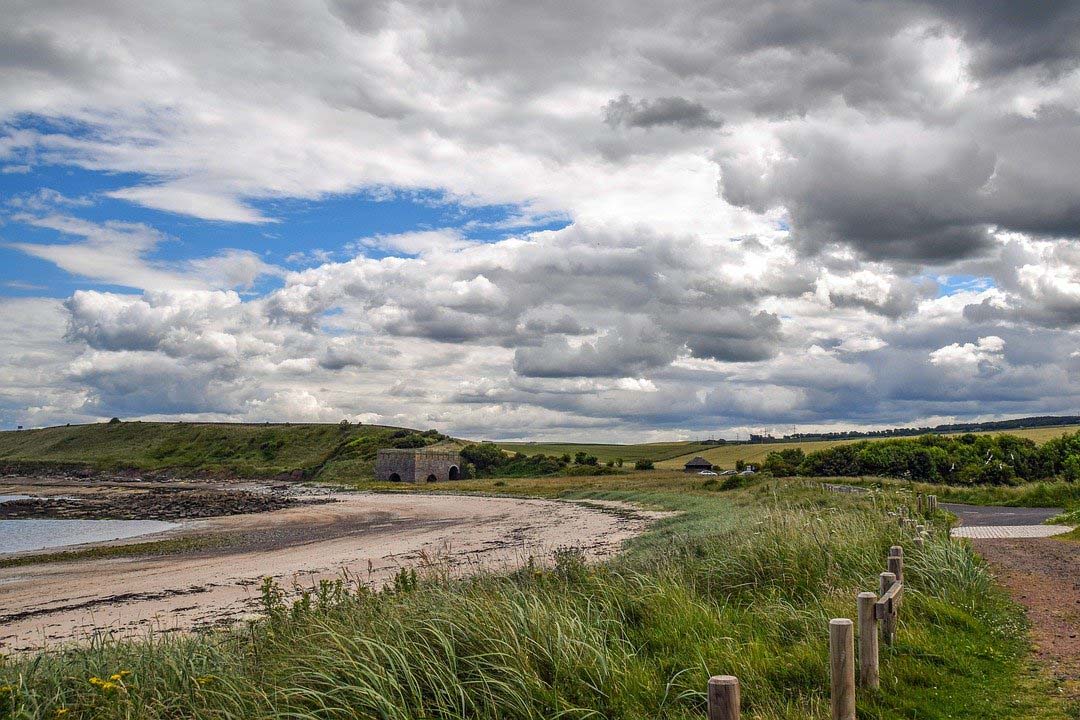 We wouldn't really recommend visiting Scotland in October and November though if you can avoid it. This is when you've got unpredictable weather, high rainfall, colder temperatures and much shorter days. It doesn't exactly make for the best holiday.
However, if you're planning a trip where you'll be indoors a fair bit (museums, galleries, etc) it's a great time to visit. Crowds are reduced and sometimes you can get a really good deal with hotels.
Special events in autumn in Scotland
Scottish International Storytelling Festival, Edinburgh – October
St. Andrew's Day – 30 November 2020
Winter in Scotland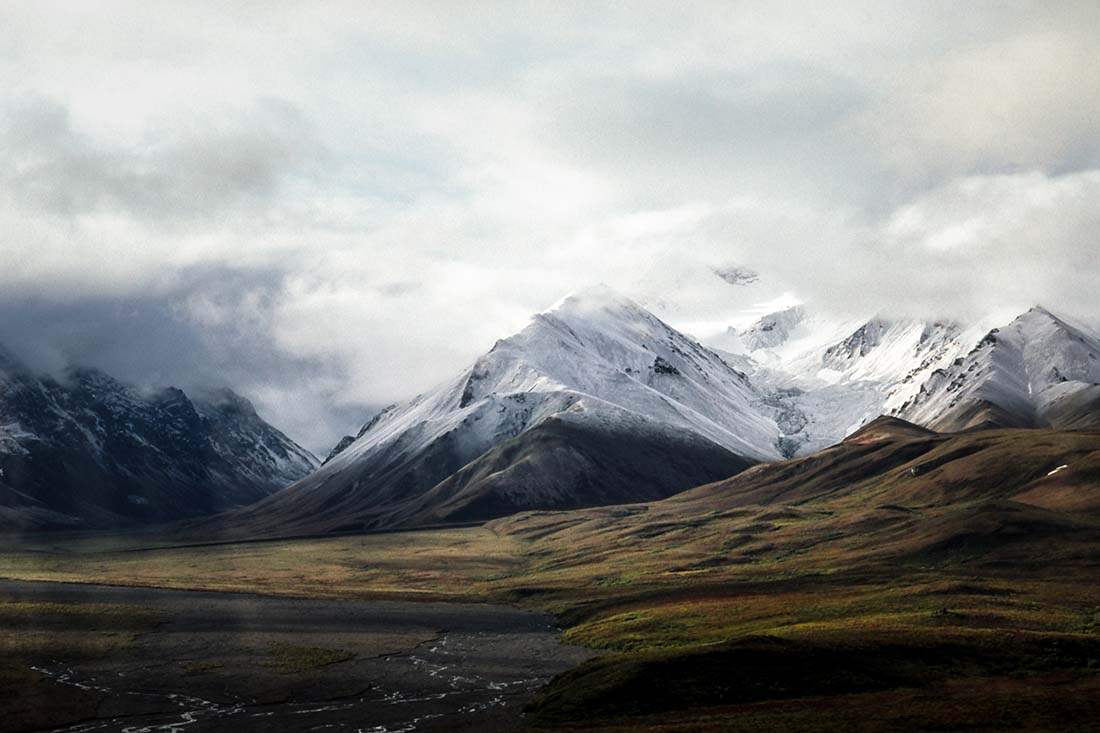 Winter in Scotland runs from December to February. The secret to travelling to Scotland in winter is to bring lots and lots of layers. This is the coldest time to visit, so make sure you wrap up warm and bring your rain jacket.
However, this makes it the perfect time of year to cosy up by a pub fire or other indoor activities. Both Edinburgh and Glasgow are packed full of galleries and museums to explore, and the restaurant scene is quality too. Scotland isn't all about adventure and the outdoors, there are so many activities you can do inside too.
Despite the cold temperatures, December is a really nice time to visit Scotland because of Christmas. All the major cities are really magical lit up with Christmas lights.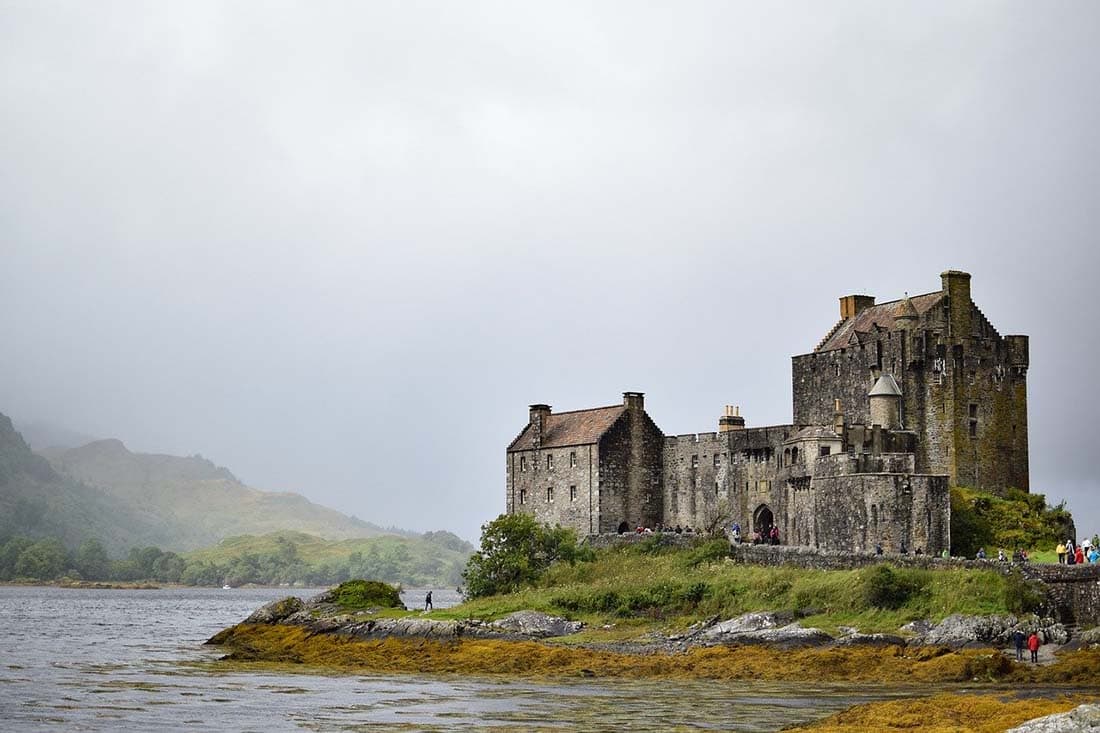 Christmas and New Year's Eve in Edinburgh is a particularly special time to visit. Hogmanay is one of the world's best New Year's Eve celebrations. About 150,000 people descend on the city a couple of days before NYE and party through to the new year. There are always a load of fantastic events on, so we'd can't recommend visiting for Hogmanay and NYE enough!
The winter months of January and February are often very cold and wet, so this isn't the best time to visit. However, this is when it's most likely to snow in Scotland, so if you'd like to see places like the Highlands blanketed in snow, this is the time for you. We've been to the Highlands in February before and the weather was actually okay, so you can get lucky.
Special events in winter in Scotland
Hogmanay (Edinburgh) – December 30-January 1
Up Helly Aa, Shetland Islands – January 28
Fort William Mountain Festival – February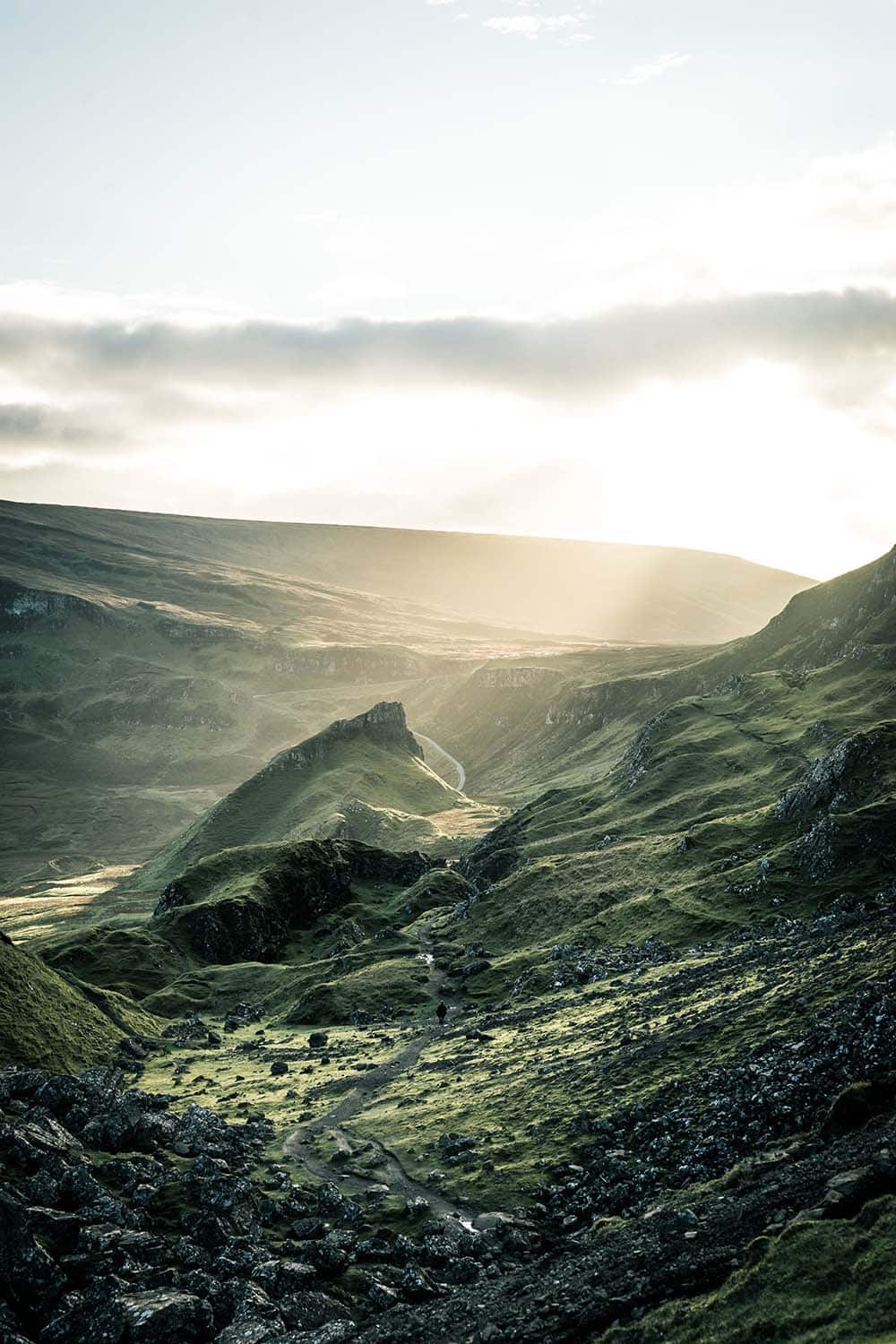 Anyway, we really hope you've found this post useful for deciding when is the best time to visit Scotland.
To be honest with you, we absolutely love Scotland and we don't think there's a bad time to visit. As long as you plan your trip and plan for the weather, we're sure you'll have an amazing time there! If there's anything else we can help with at all when planning your trip, just let us know!
Enjoyed this blog post? Then make sure you Pin it for later!