These remote Scottish cottages are ideal for those looking to enjoy Scotland's stunning landscapes.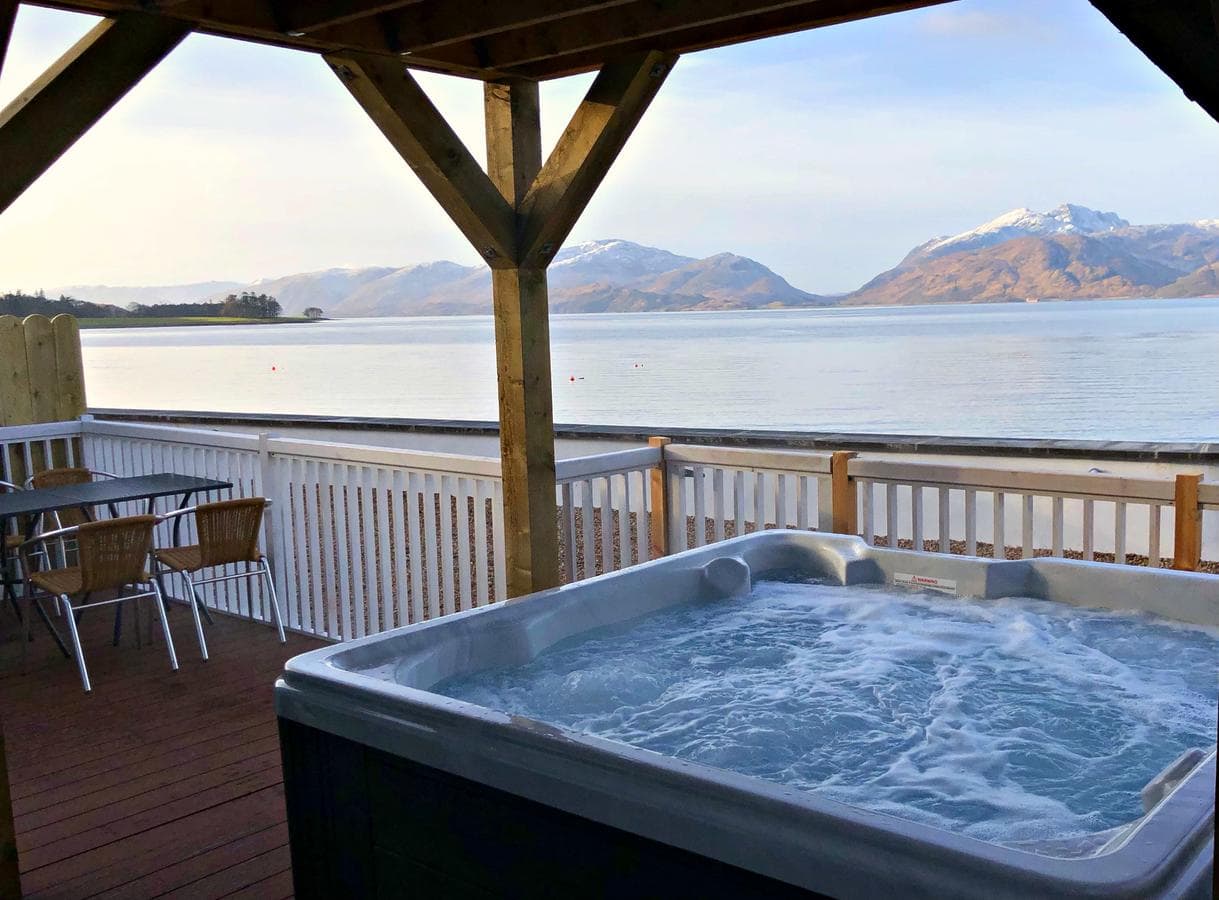 Scotland is somewhere to explore with all your senses. Take in the beauty of the lochs and mountains, enjoy the scent of seawater, listen to the lapping waves… you get the idea. It's a country with nature at its core. The best way to experience it is to escape the crowds and do your own thing.
There are so many amazing reasons to visit Scotland. Fill your days with epic hikes, enjoy road trips to spectacular views, challenge yourself with some water sports, get your culture fix at the country's ancient castles and go to sleep watching the stars illuminate the clear night skies.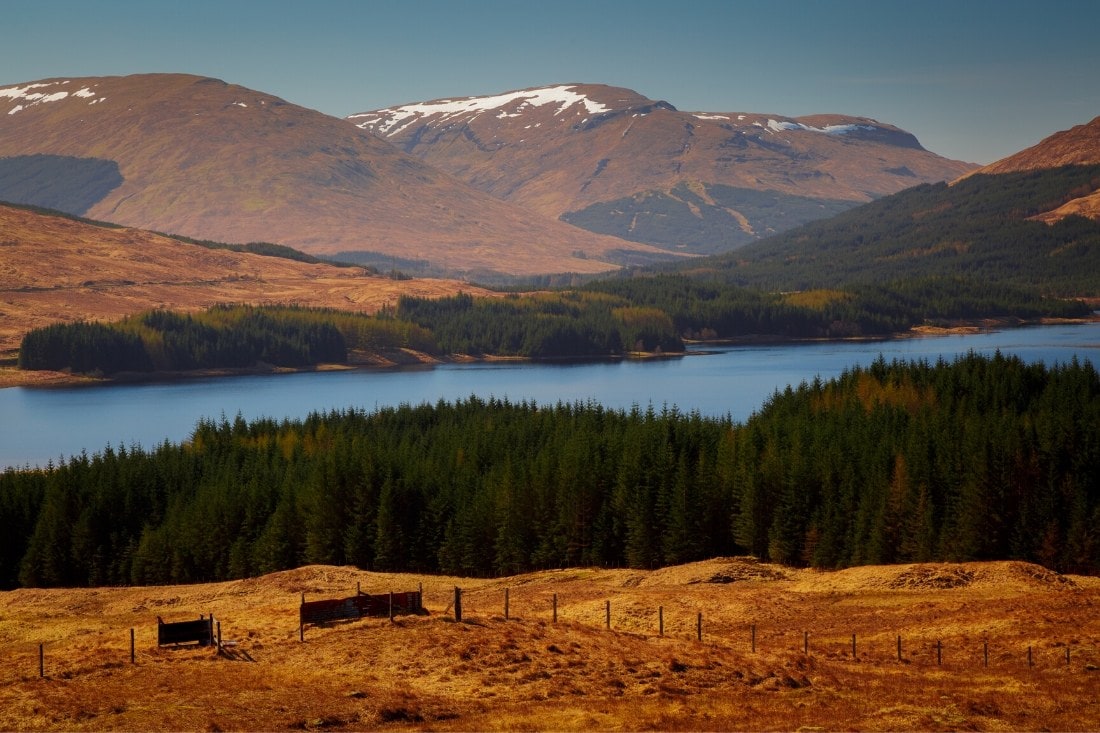 To accompany your dream trip, you need accommodation that gives you the freedom and access to nature that you deserve.
All of these remote Scottish cottages are immersed in the natural wonders that make Scotland special. They offer unparalleled views of lakes, lochs, mountains and countryside. Some are cosy, others are chic and luxurious, with surprising additions including hot tubs and saunas.
No matter what you're looking for, you're guaranteed to find somewhere on this list that takes your fancy!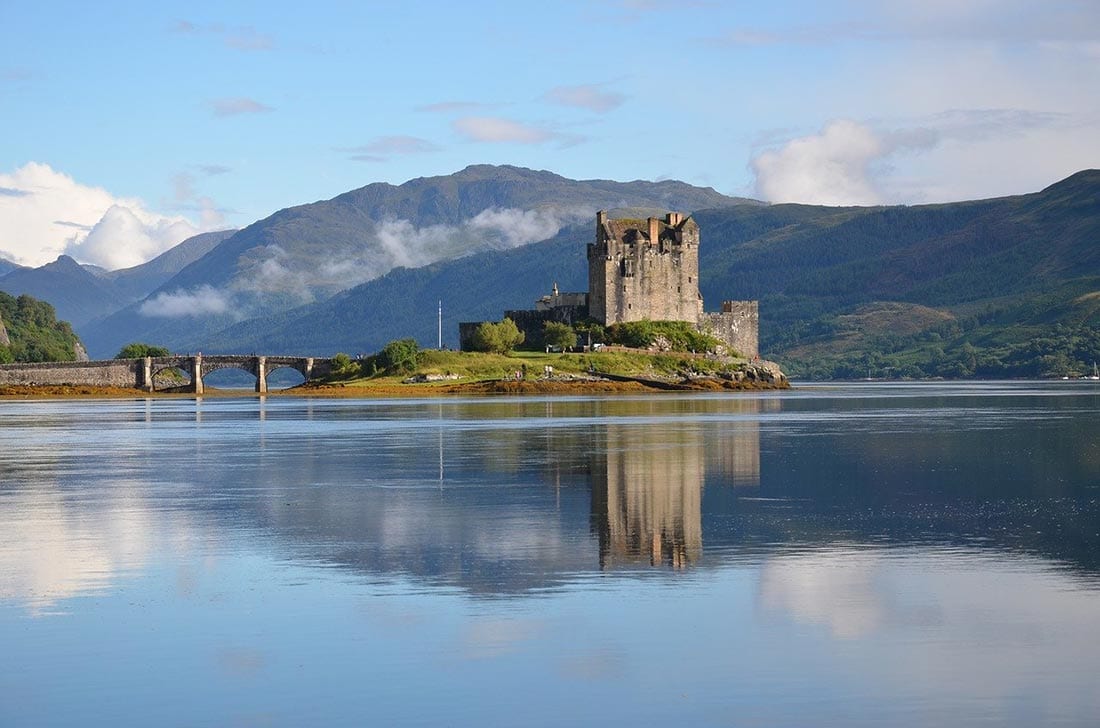 ---
The Most Amazing Scottish Cottages For Rent
If I had to pick one of these remote Scottish cottages to book right now, this would be it! Dalveich Cottage is located on the banks of Loch Earn in the Stirlingshire region. It's in an absolutely mesmerising setting, plus it offers a touch of luxury.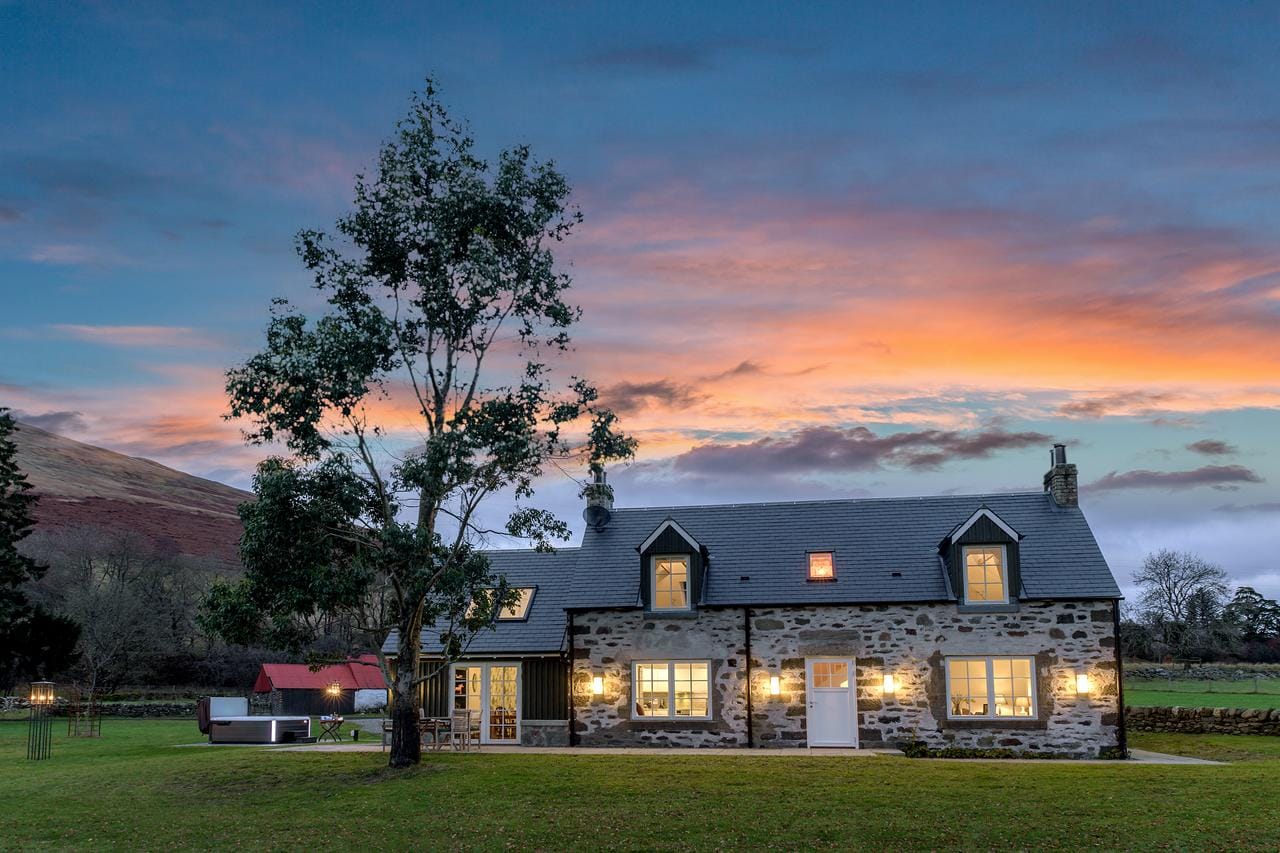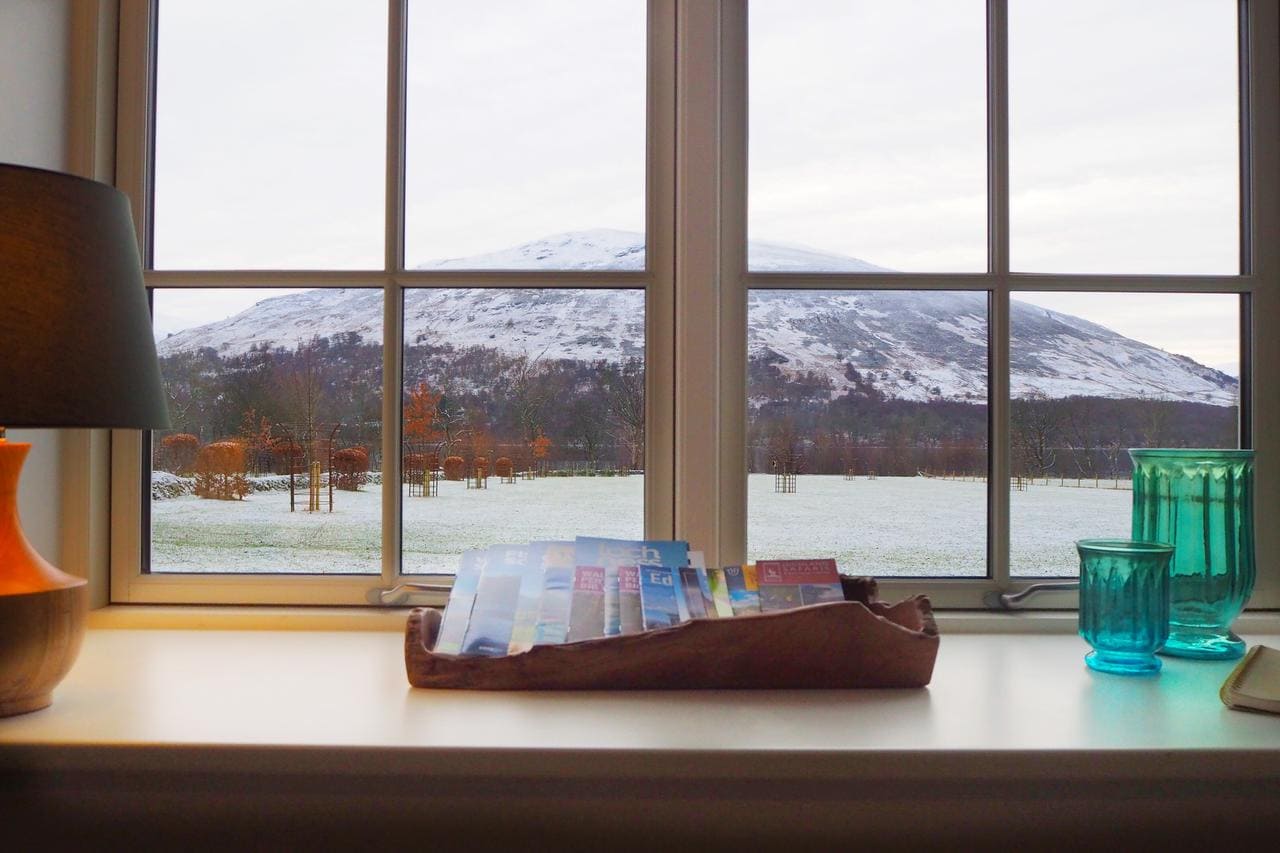 The stone cottage is spacious, with two bedrooms, a decent kitchen and a great dining area looking out at the view. The luxurious part? The hot tub on the patio where you can relax and unwind after a busy day exploring the Scottish countryside.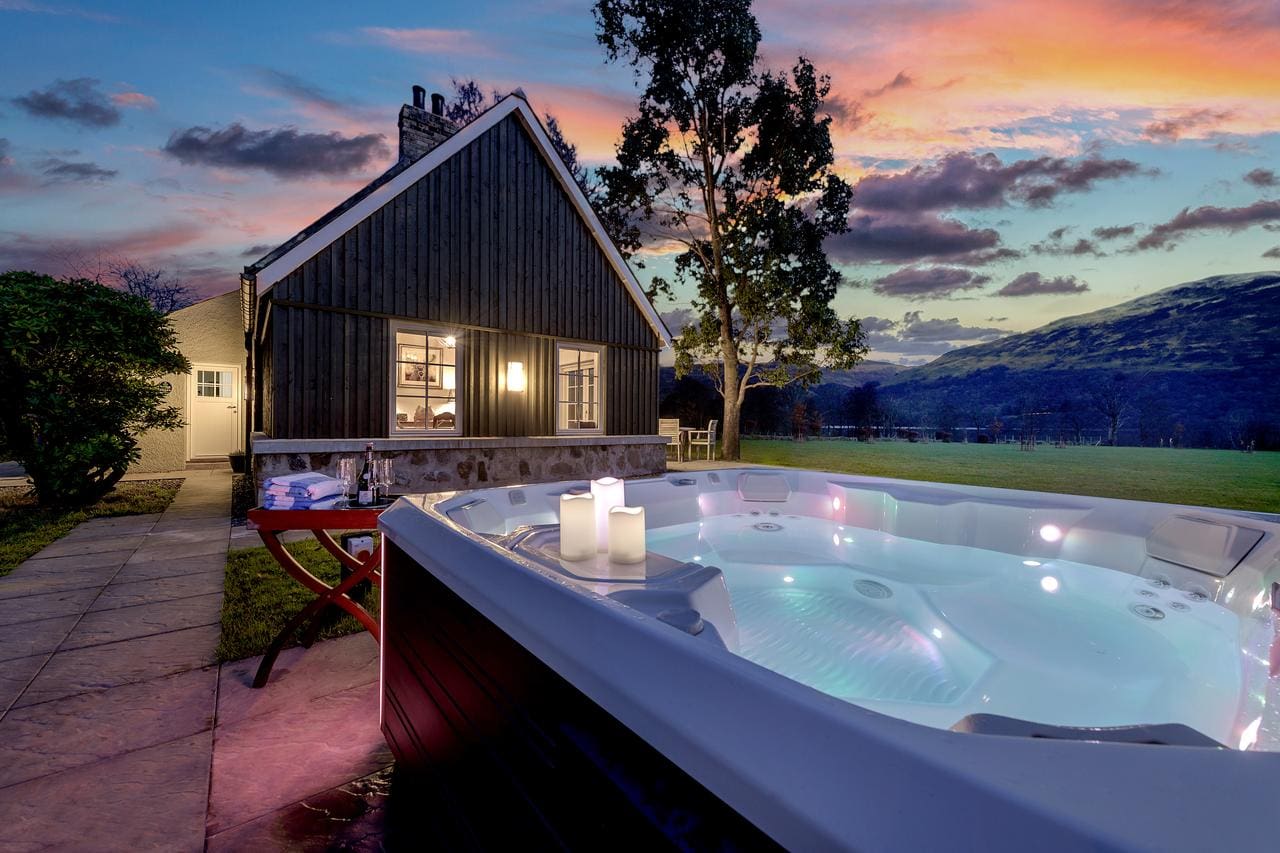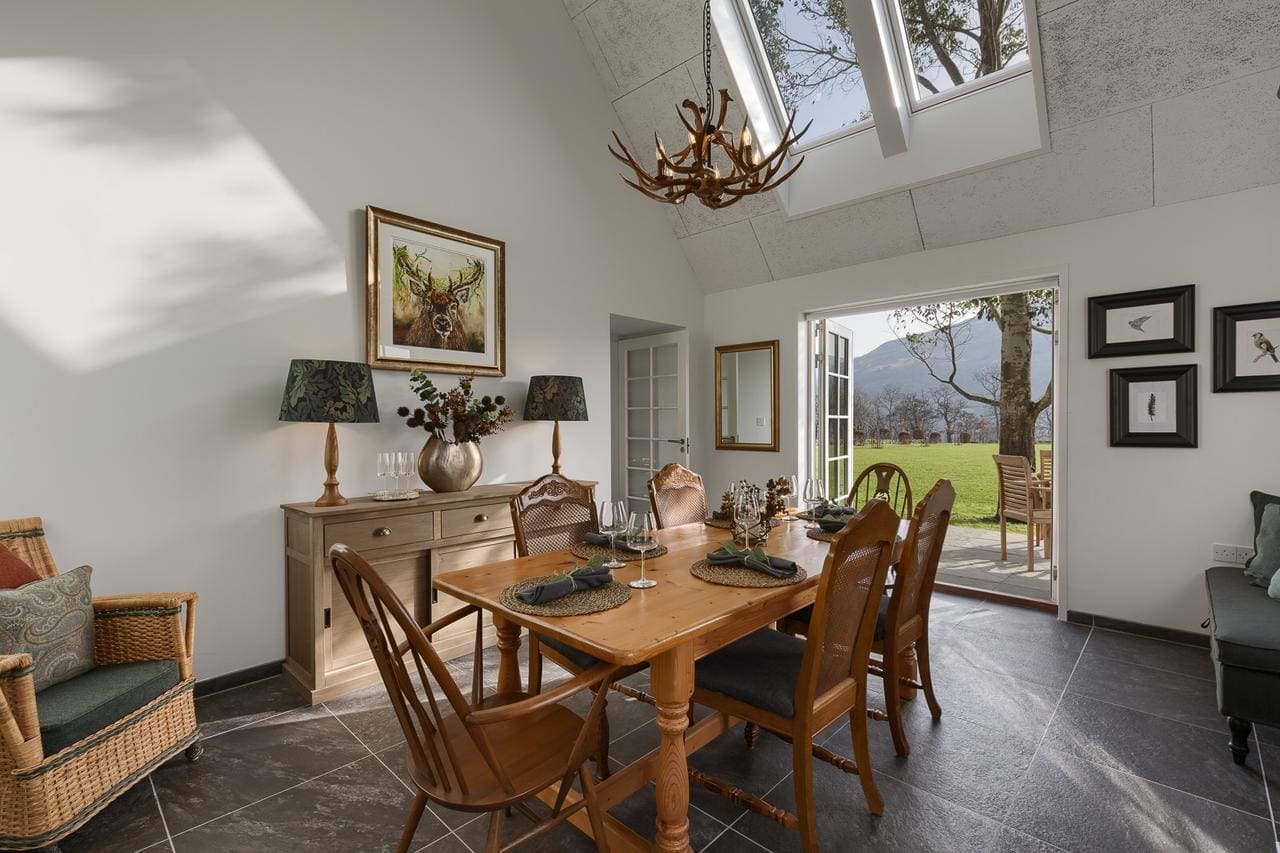 With the water so close, this is a paradise for anyone interested in wild swimming or water sports. Hop on a kayak or paddle board and explore the loch, before returning and enjoying a cosy BBQ dinner on the patio. If you're interested in hiking or cycling in the region, Dalveich Cottage is located on the main path from Comrie to Callander.
Check availability and latest prices at Dalveich Cottage now
If you've come to this post looking for a rundown of the most remote Scottish cottages for rent, then I'd say The View on the Isle of Skye fits the bill perfectly. This luxurious cottage is located on the Sleat Peninsula, and is in an amazing location for exploring the region.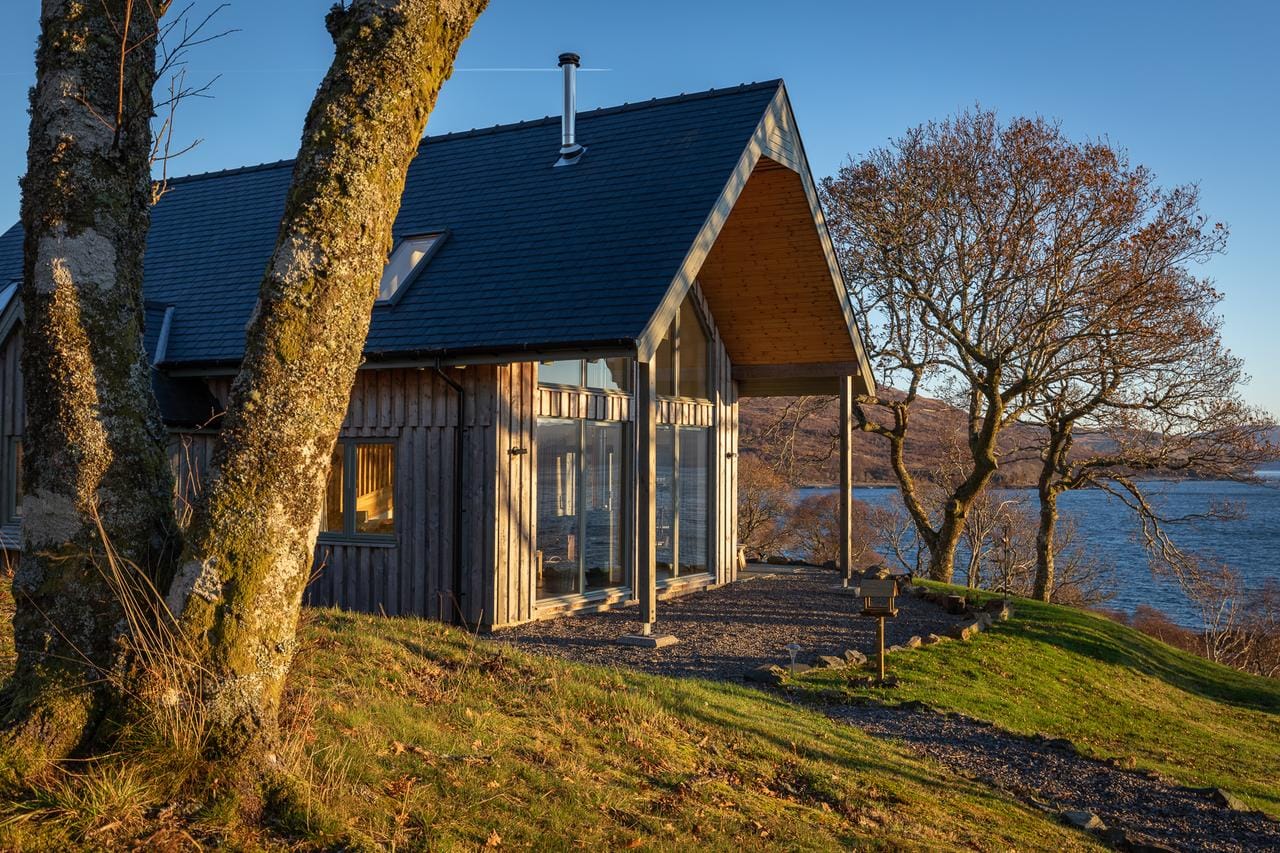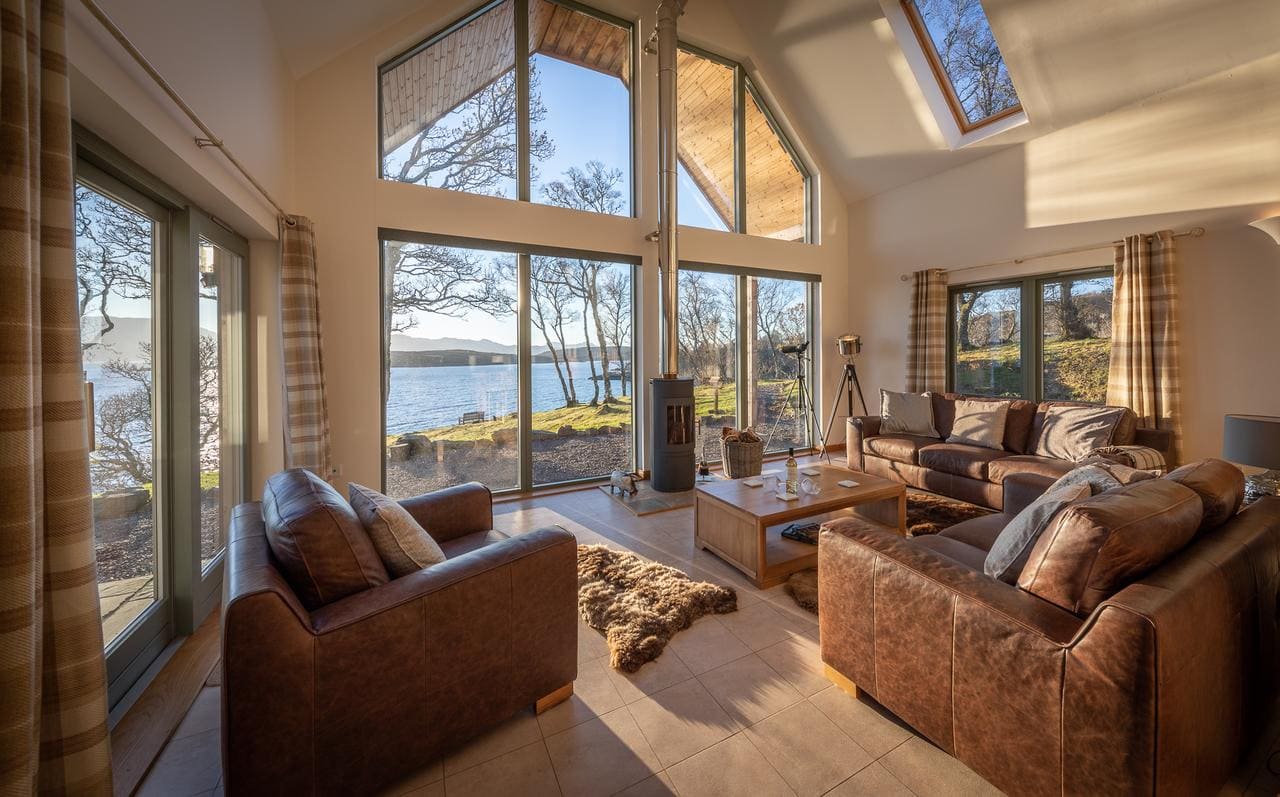 As for the holiday home itself, it's an architectural dream set over two floors, with two en-suite bedrooms, two beautiful lounge areas and a vaulted ceiling with floor to ceiling windows in the living room.
This area is also famed for its wildlife spotting opportunities. Otters, dolphins, pine martens and many other animals have all been spotted from the house!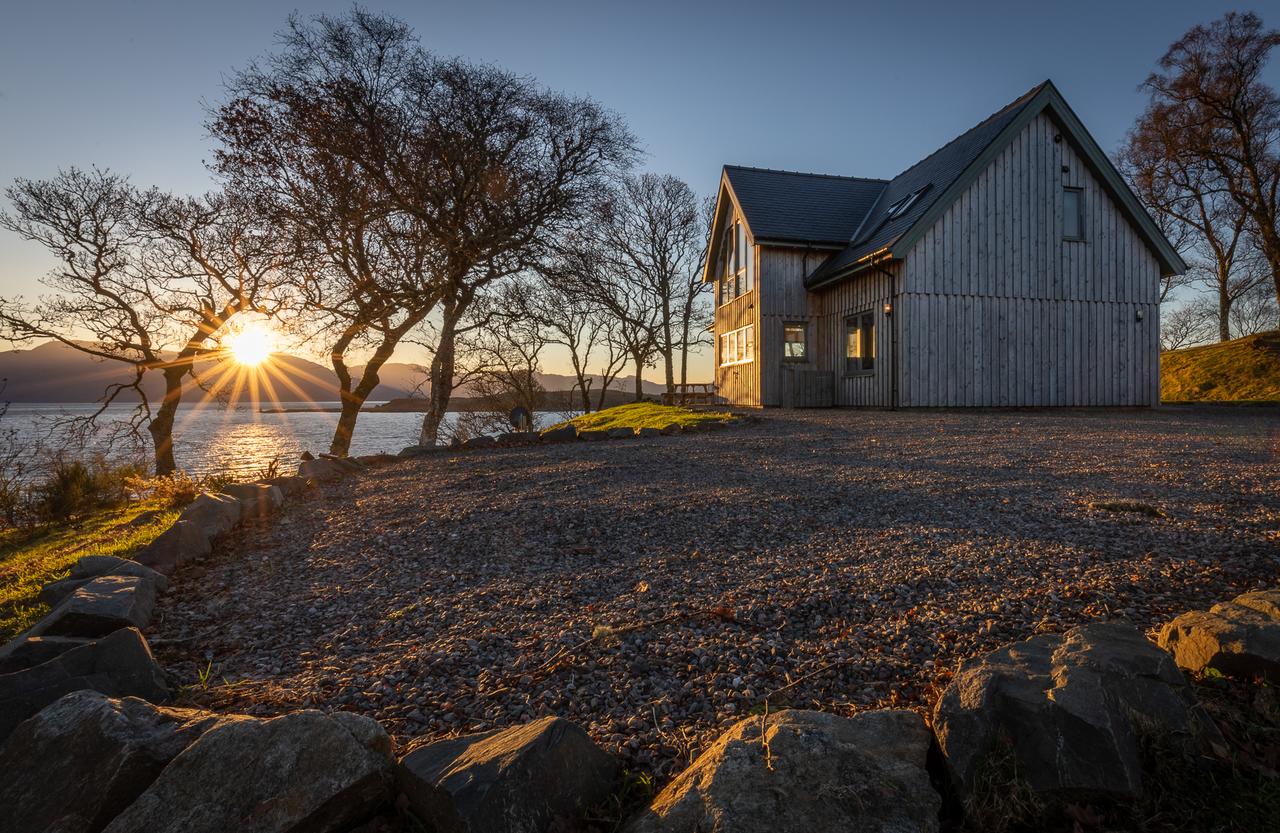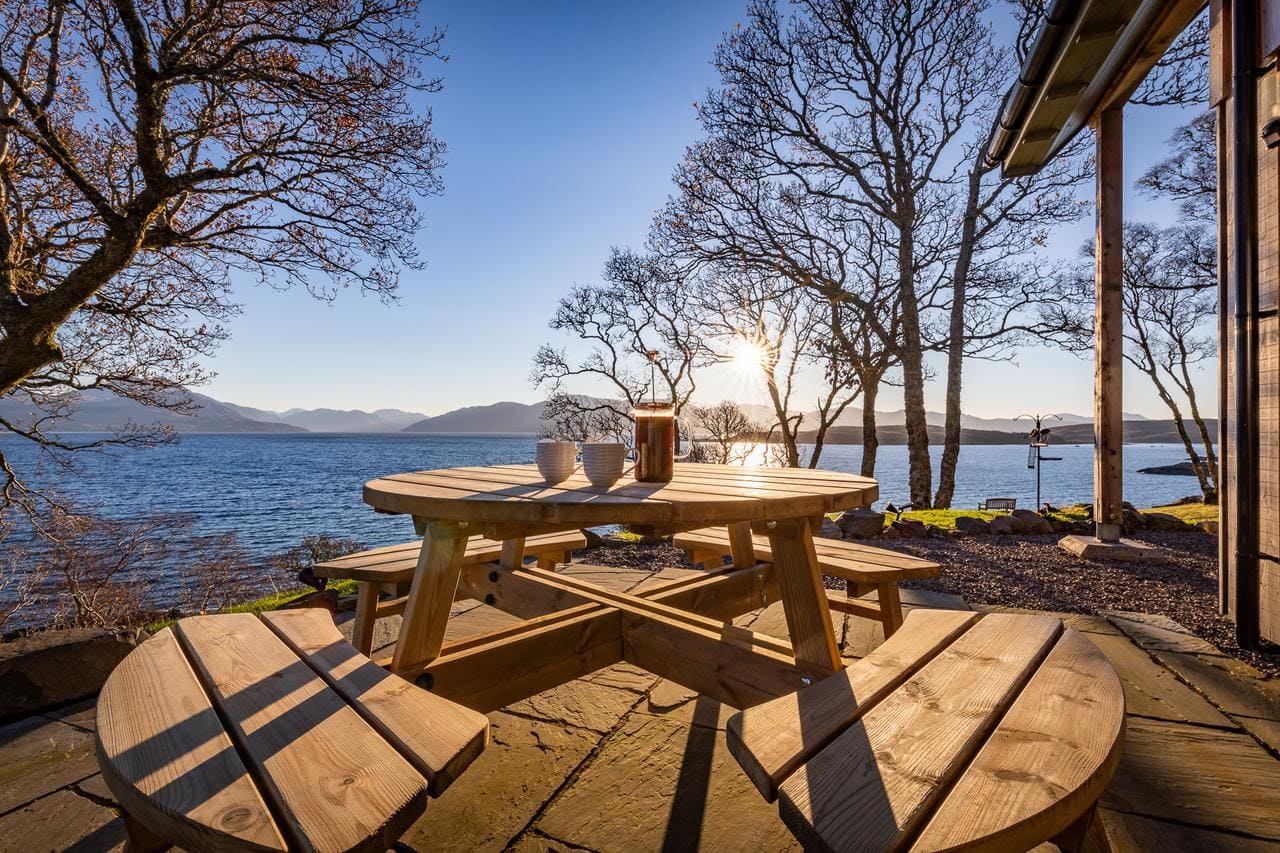 As well as wonderful walking and cycling routes nearby, it's just a 15-minute drive to Armadale Castle and Armadale ferry terminal. There are also some great restaurants within a short drive. This is definitely one of the most stylish and romantic Scottish holiday homes in Scotland.
Check availability and latest prices at The View now
With incredible reviews and a stunning location, this is one of the best Scottish holiday cottages for a family trip to Scotland. There's a choice of a 2-bedroom cottage and a 1-bedroom cottage, so if you have a larger family, you could take both and have a variety of spaces to move between.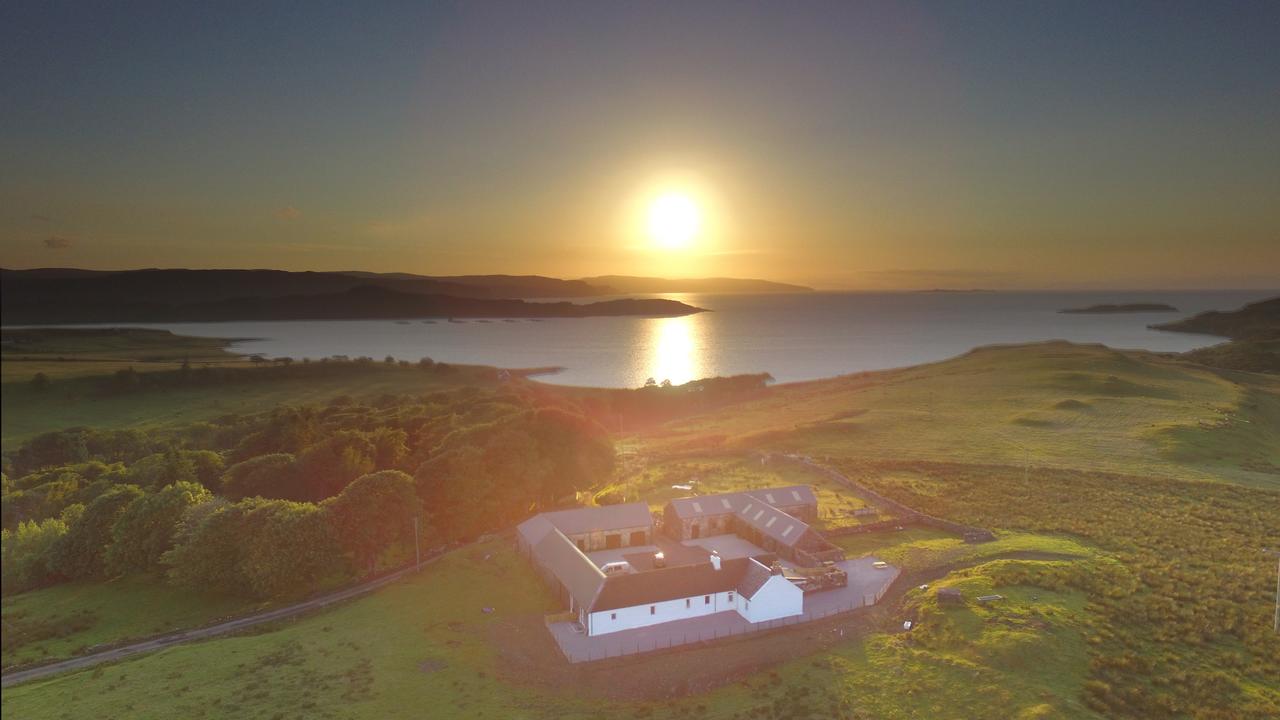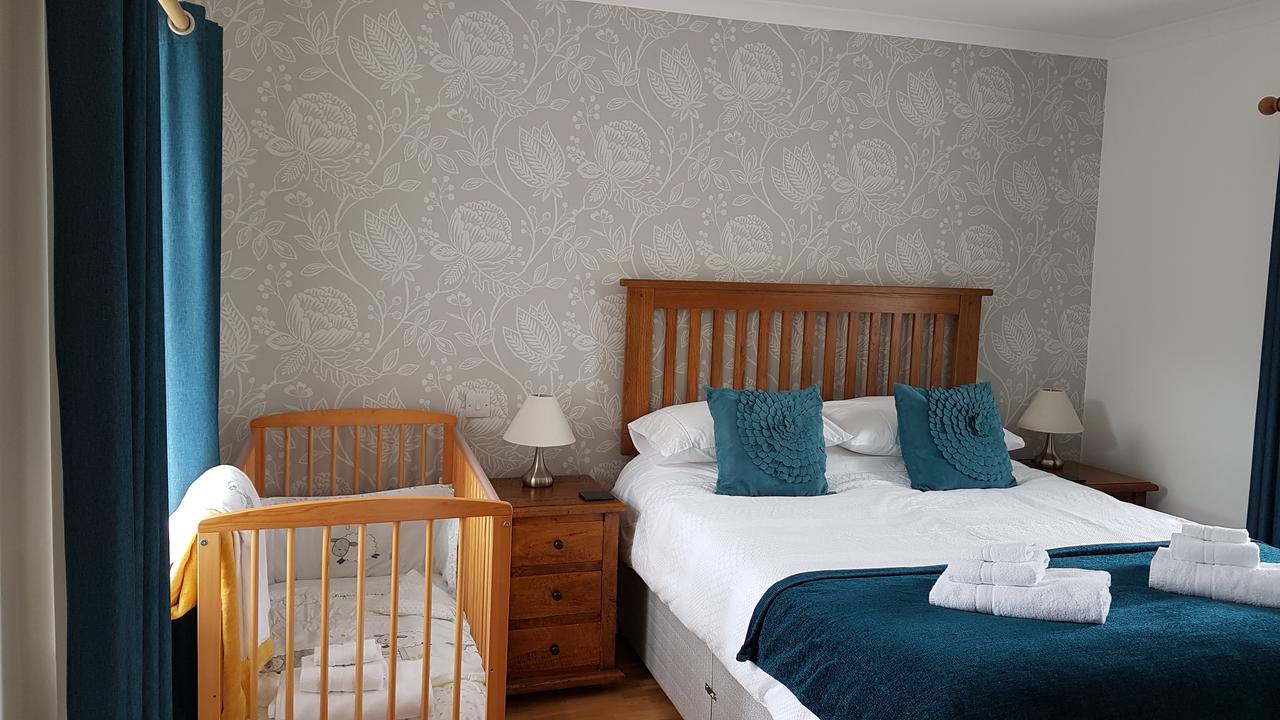 Located on the water in northern Scotland, you'll feel closer to nature than ever. The two stone cottages are set within the old courtyard of Lyndale Farm. Many visit for the beautiful walks and hikes in the area as well as its rich wildlife. It's a great place for birdwatching in particular, with a variety of eagles and buzzards spotted over the water.
Check availability and latest prices at Cottages Lyndale Farm now
This is one of the cosiest remote Scottish cottages I've come across. Located right on the beach in Kirkton, the holiday home has three bedrooms, a living room with a fireplace, an ample kitchen and a dining area.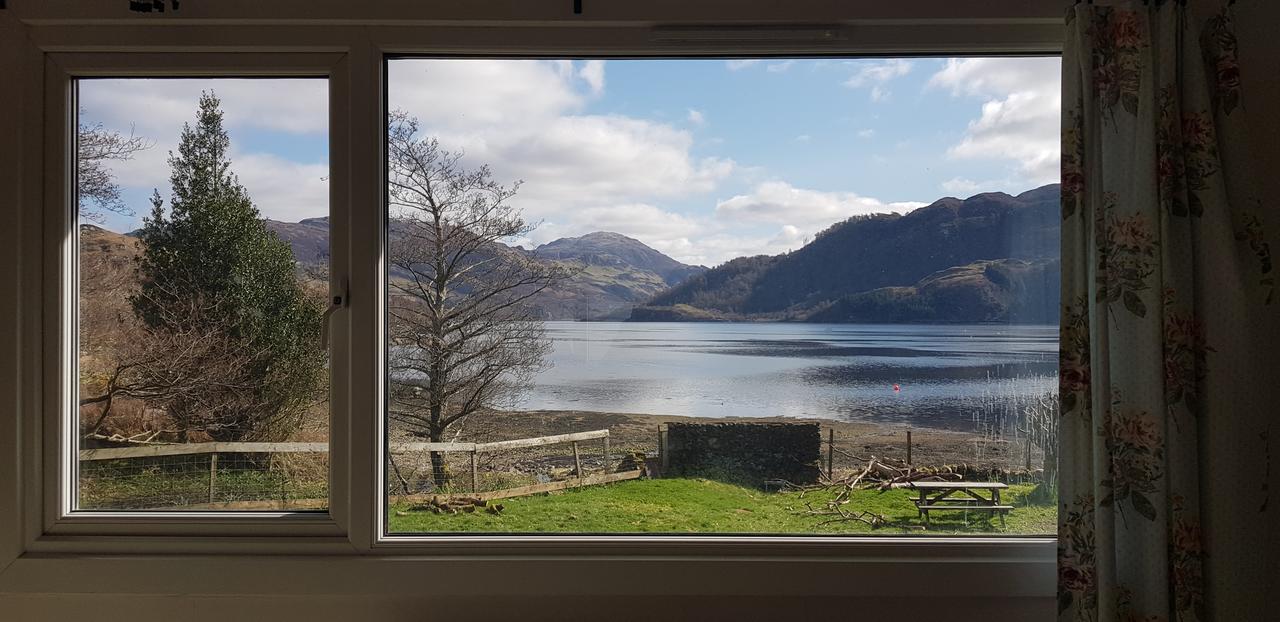 It's got everything you could need for a relaxing break by the water, but the best feature by far is the view. I can imagine spending days hiking and cycling, followed by afternoons and evenings taking in the breath-taking views over the water.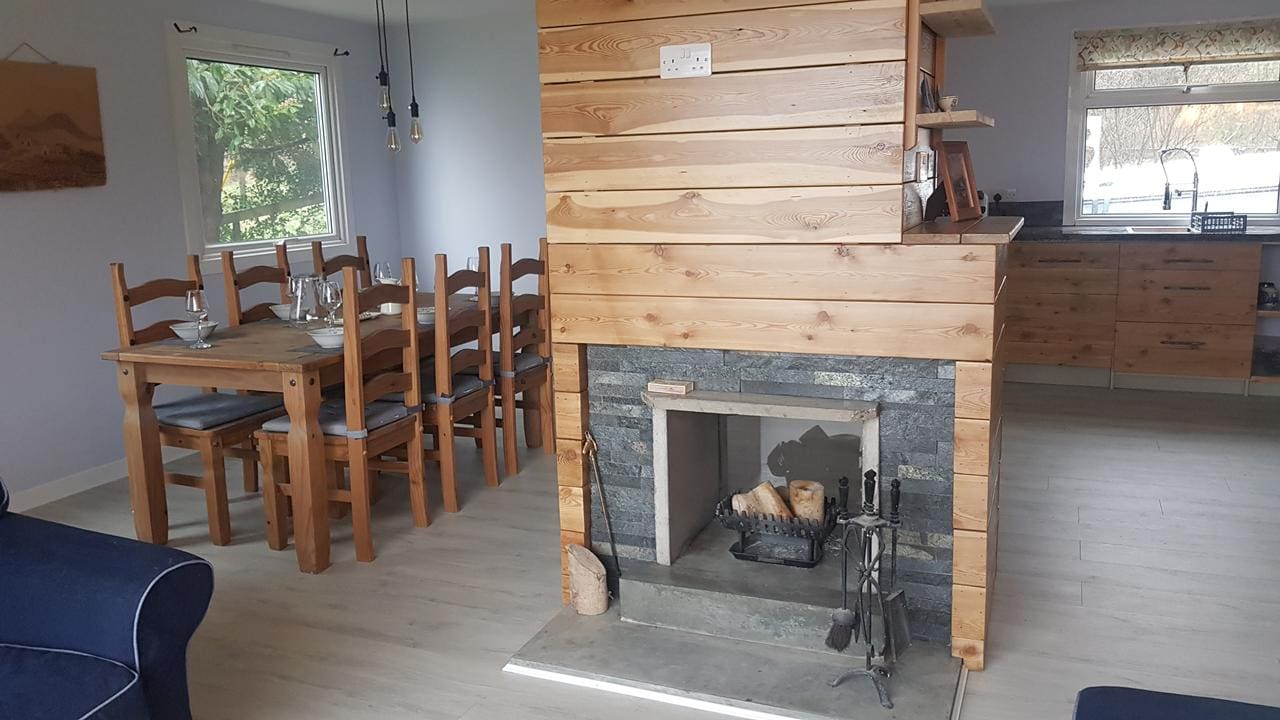 It may be in a secluded spot, but it's only a few miles from one of Scotland's most famous castles, Eilean Donan Castle. Also, if you're into water sports, you could bring your own kayak or paddle board and set off from the garden!
Check availability and latest prices at Ceol Na Ron now
If you're looking for something a bit special, Stag's View has it all. This 3-bedroom holiday cottage enjoys panoramic views of some of Scotland's most striking landscapes. It's close to Scotland's top ski resort, 9 Munroes, plus has a handful of scenic trails on the doorstep.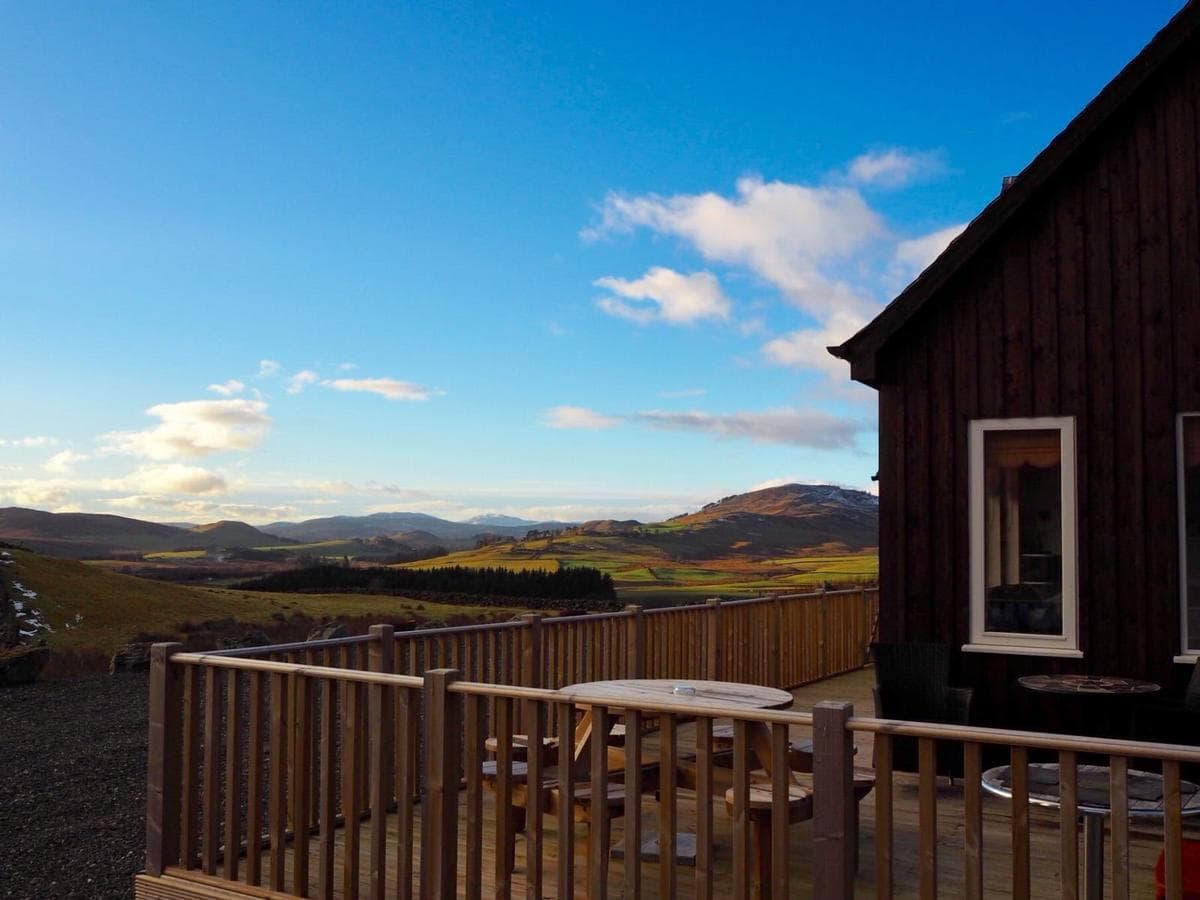 One of my favourite things though? This remote Scottish holiday cottage has its own hot tub. Imagine tiring yourself out during the day on a 20km hike through nature, and then soothing your aching muscles in the warm bubbles as you look out over the hills.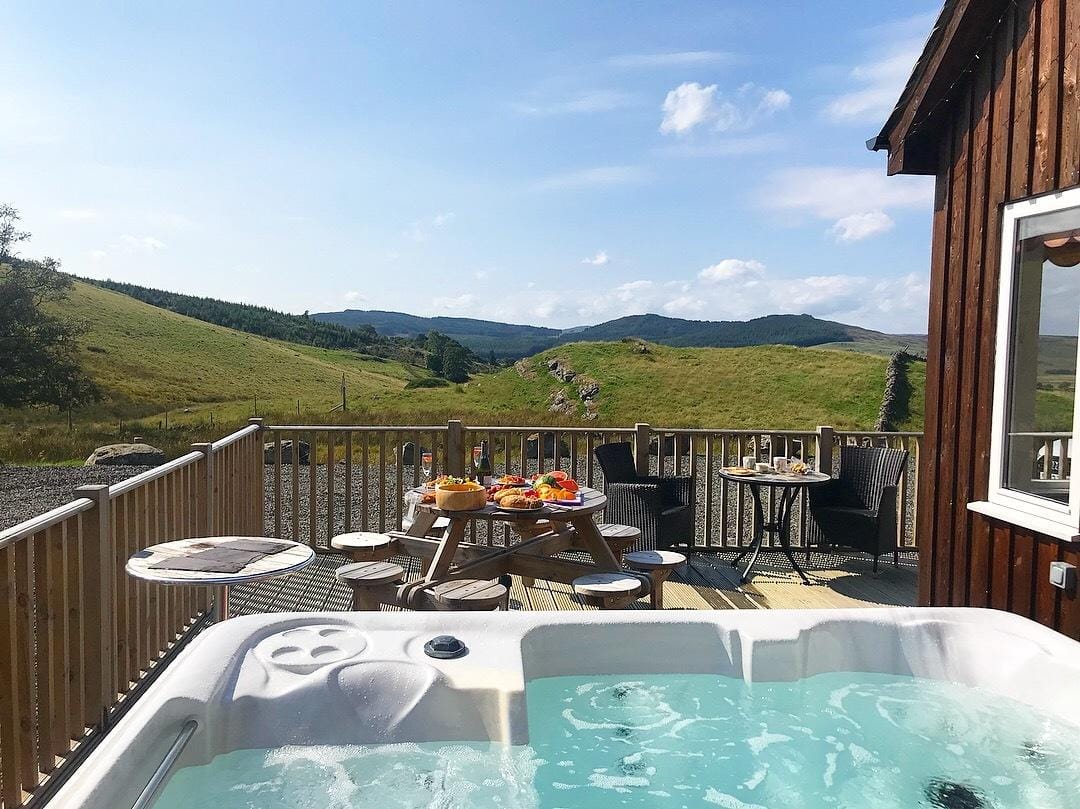 This property is also close to Cairngorms National Park – one of the most spectacular places in Scotland to go hiking.
Check availability and latest prices at Stag's View now
On the banks of Lock Duich in the Scottish Highlands, this isolated Scottish holiday cottage sleeps 6 people, and is in a wonderful location for views and outdoor activities. The name An Comaraich is Gaelic for The Sanctuary, and when you step inside, you'll feel more relaxed than ever! It's in a quiet, peaceful location, with no traffic noise or unwanted interruptions.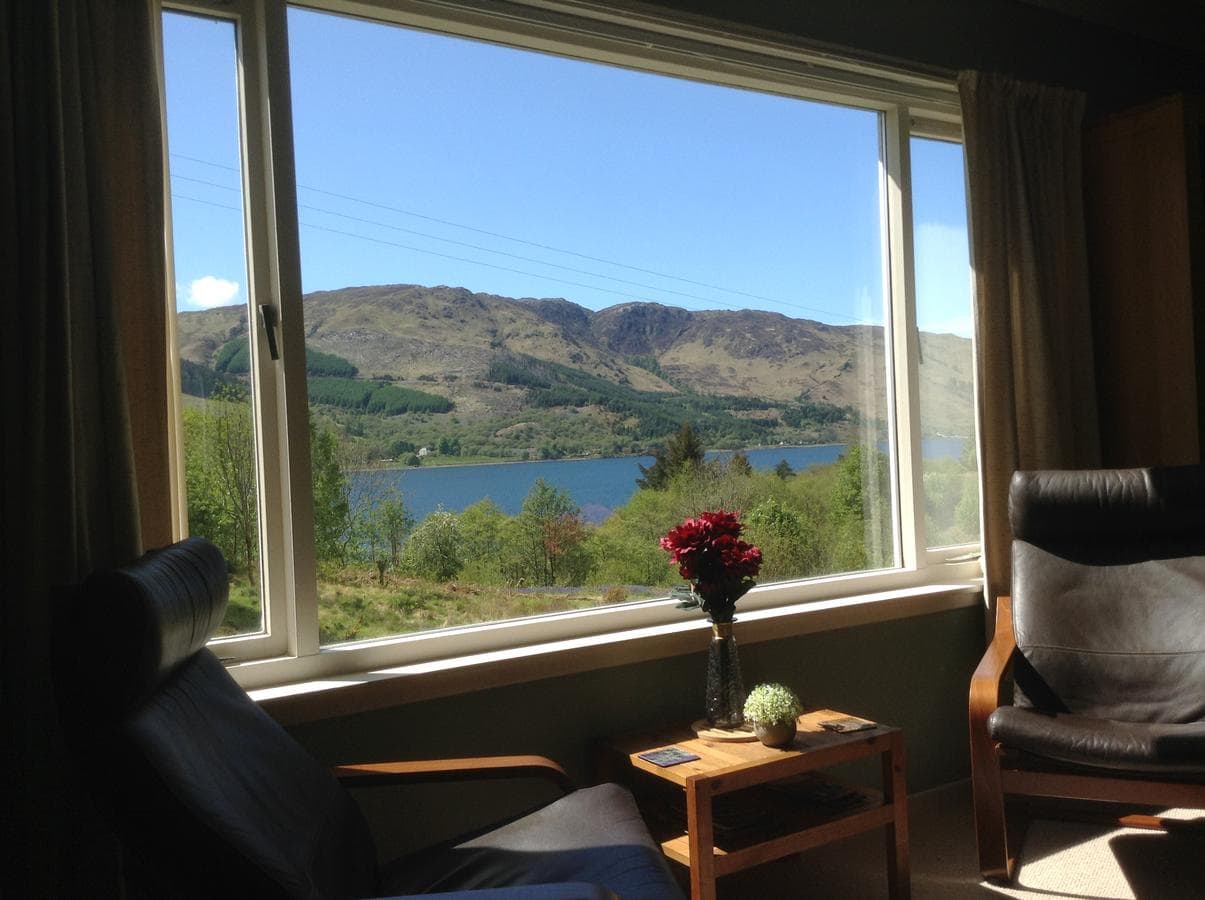 This cottage has all the mod cons you could need for an easy self-catered break, from speedy internet to flat screen TVs and a dishwasher.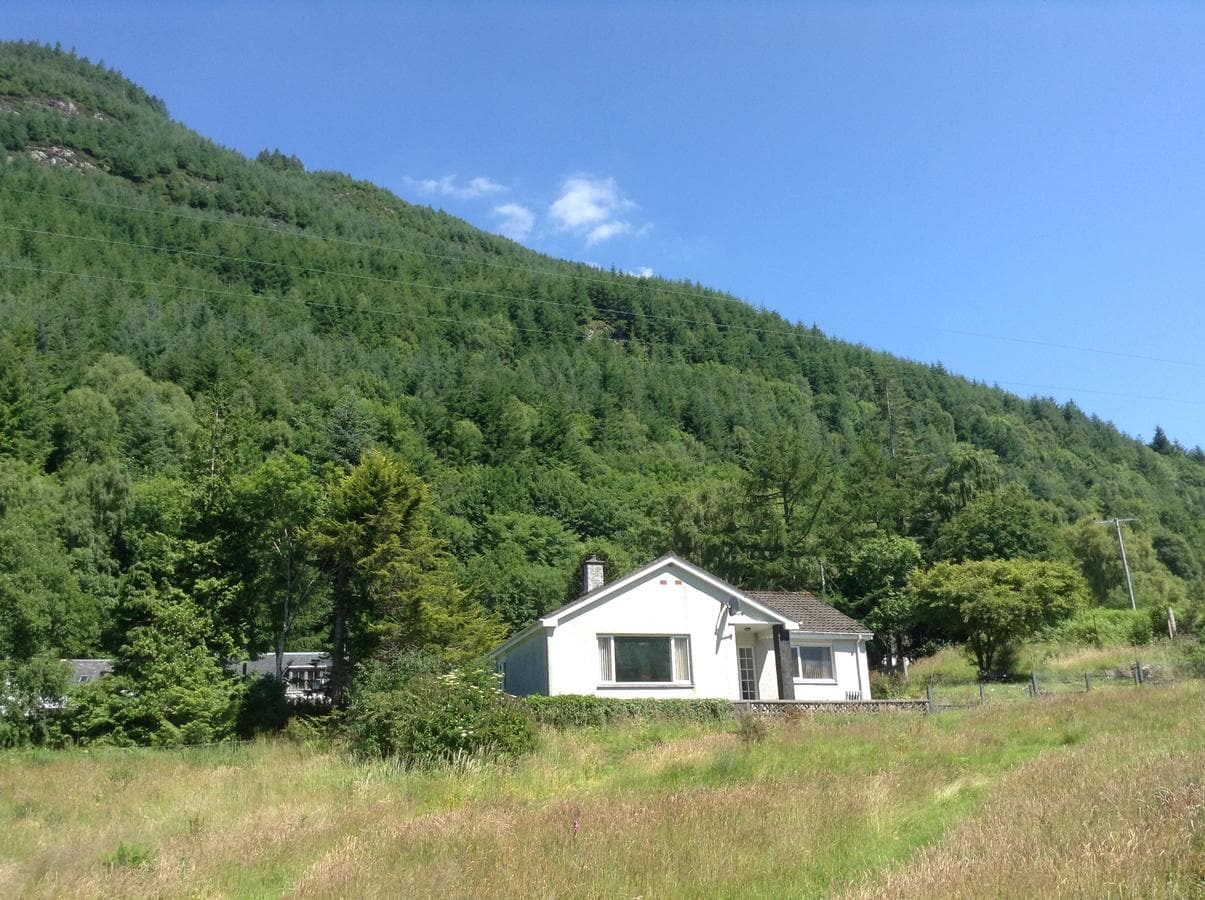 The best feature by far is the cottage's uninterrupted view of the loch and mountains. It's also in a great location for visiting other famous spots in the region. Eilean Donan Castle is a few miles away, while you can reach the Isle of Skye in 20 minutes and Loch Ness or Applecross in one hour.
Check availability and latest prices at An Comaraich now
If you're looking for something a little quirkier for your trip to Scotland, how about these adorable log cabins near Glencoe?
Packed full of charm, a stay in these woodland cabins would be ideal for a romantic break with your other half. They're set in pretty bluebell woods, close to Loch Linnhe and have big windows looking out at the woodland and mountains.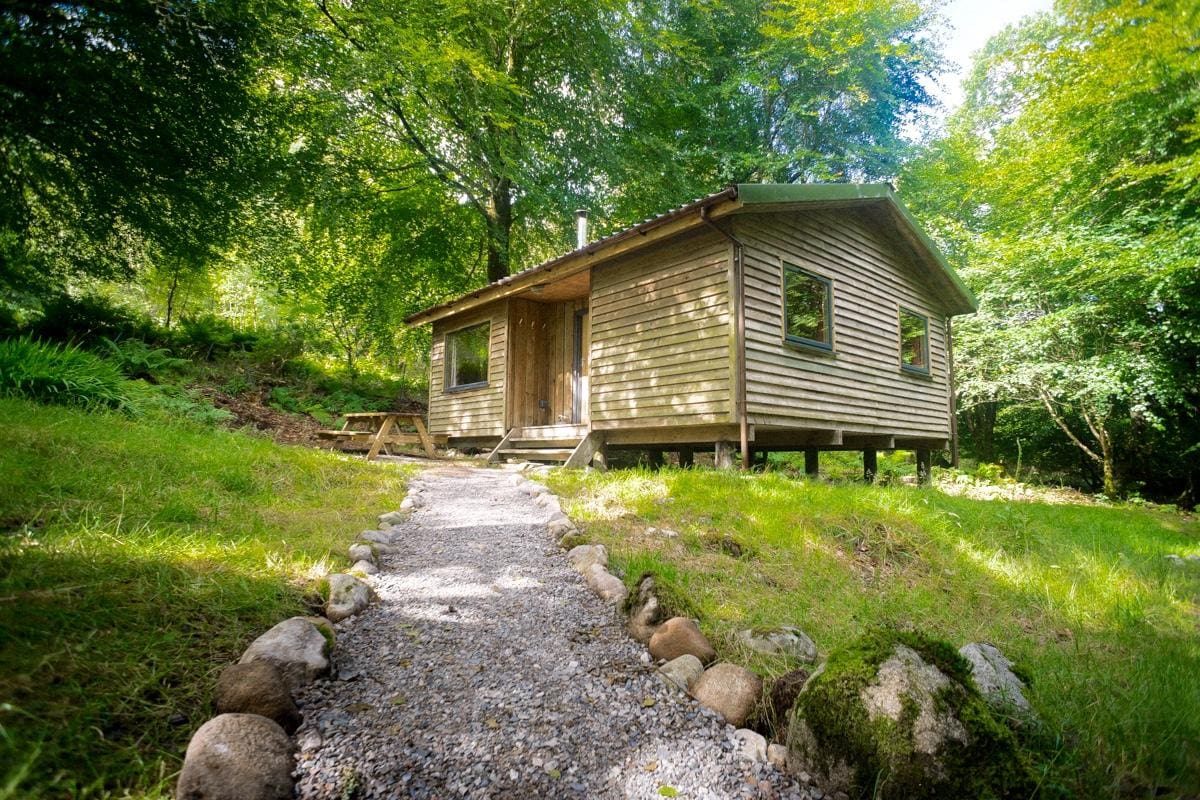 This is a lovely family run business with a strong story too. The dad built the cabins from scratch, the mum's paintings are displayed on the walls and now the kids run the business.
There are four cabins in total, and they come with everything you could need for a self-catered break in the West Highlands. This is a fab location for nature-lovers too, with plenty of trails, day hikes and viewpoints nearby, taking you to see lochs, islands, mountains and forests.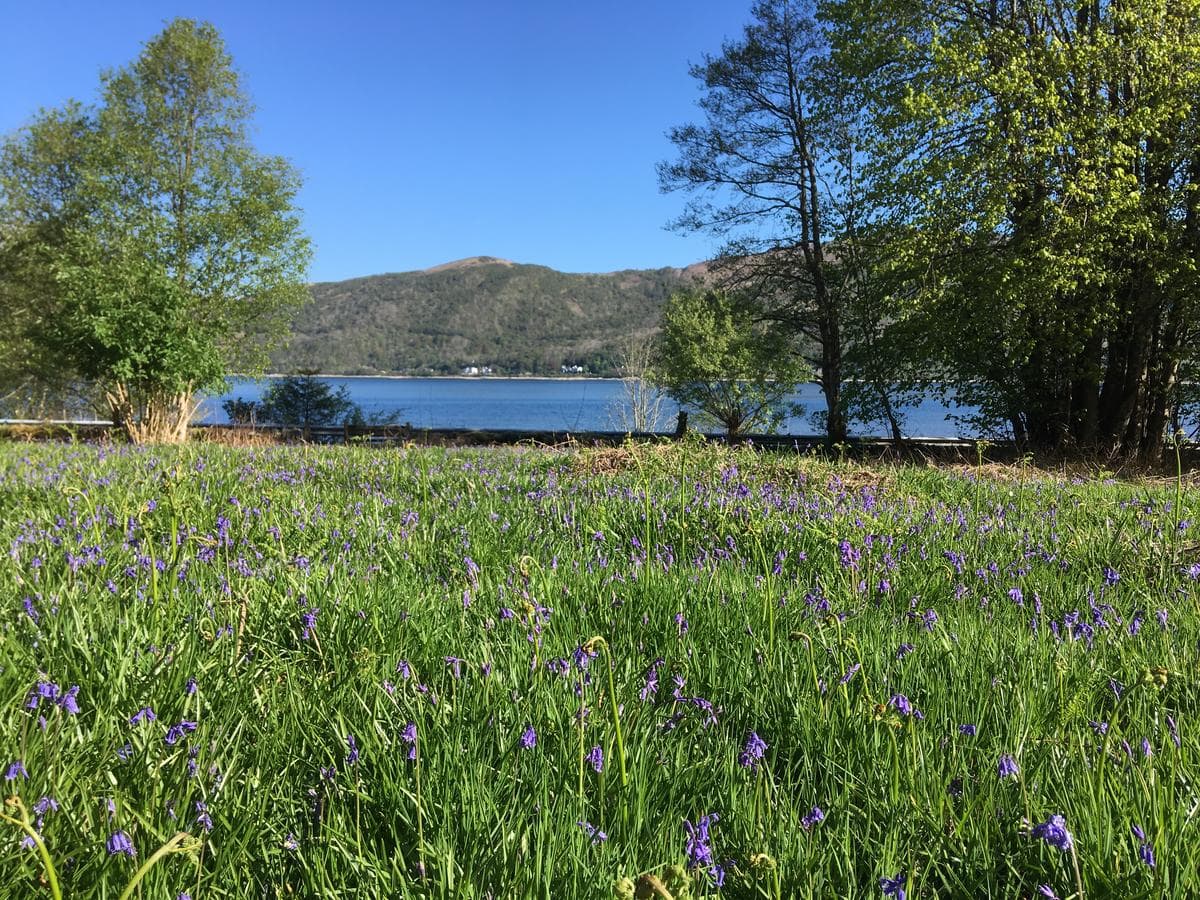 It's also not far to Ben Nevis or the Glenfinnan Viaduct where you can live out your Harry Potter dreams of taking the steam train over the impressive route.
Check availability and latest prices at the Woodland Cabins now
There are two modern holiday homes on offer in this gorgeous spot by Kentallen Pier, just a short drive to Glencoe. They have smart décor, all the mod-cons you could need for a self-catering holiday in Scotland, and even boast a hot tub on the terrace.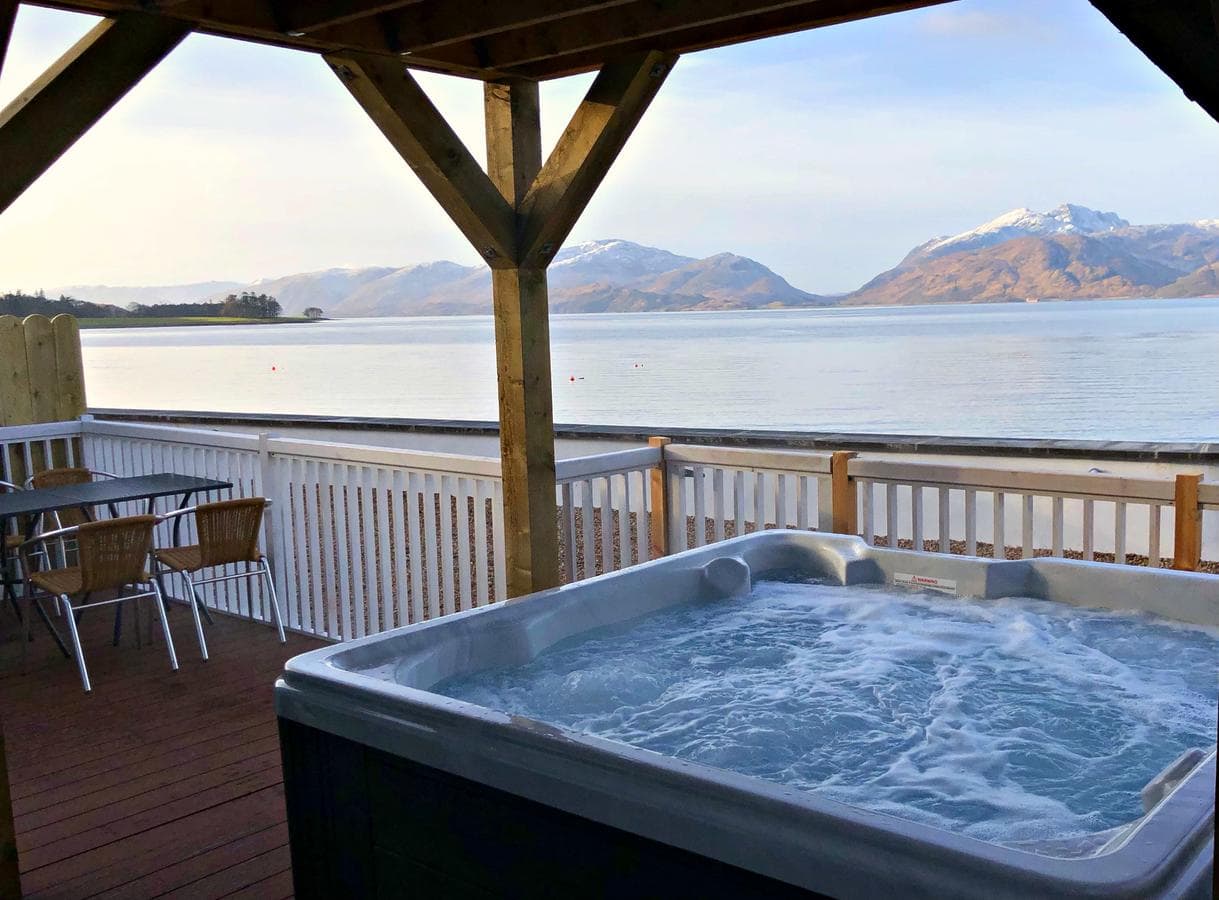 It's the view that will draw you in though. The location of the Beach Houses is just incredible, with wraparound balconies to sit out enjoying the view over the water. There are floor-to-ceiling windows in most rooms to make the most of the setting too.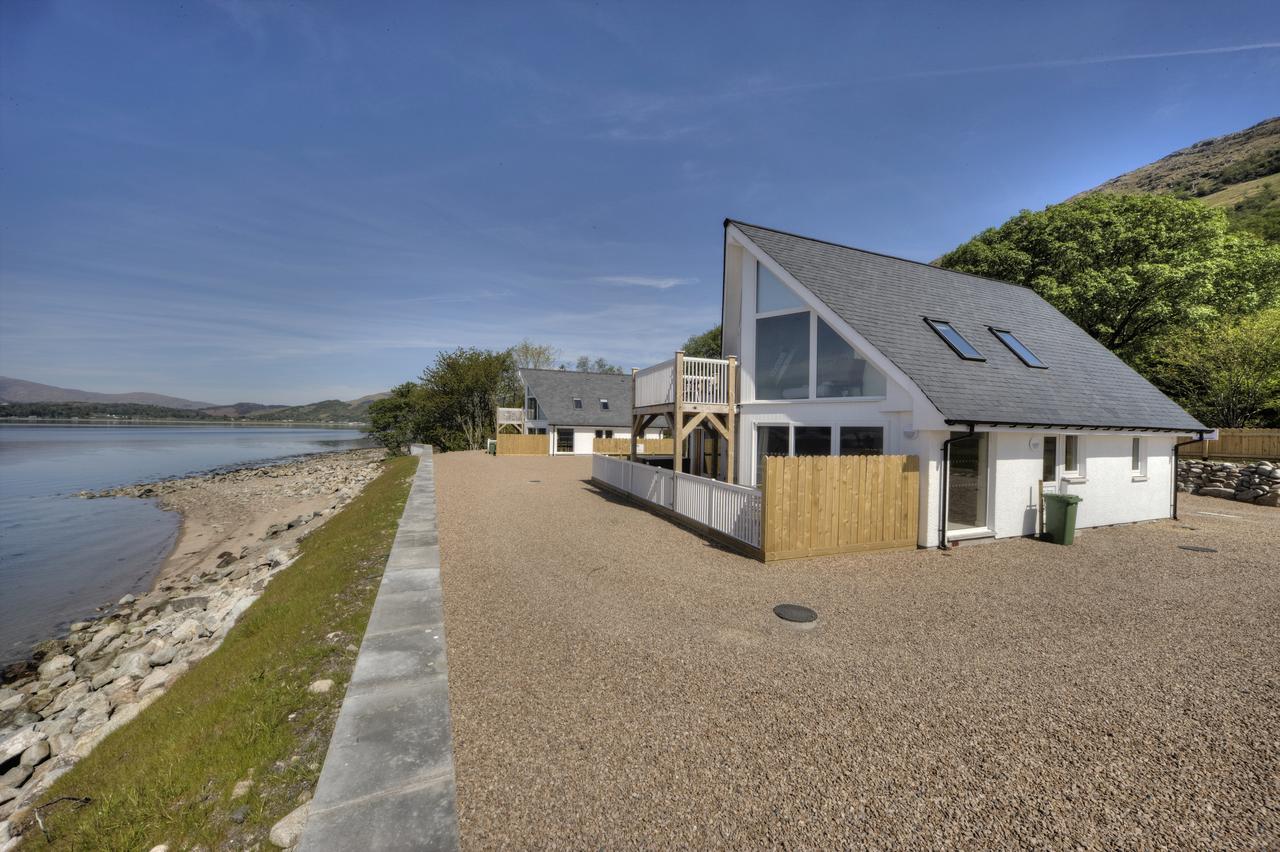 It's in a great location for a family holiday too. It's close enough to a lot of key sights, activities and great trails, but immersed in nature enough to feel like you're getting away from it all.
Check availability and latest prices at the Beach Houses now
This remote Scottish cottage is one of my top recommendations – it's absolutely stunning inside and out! Located on the Isle of Skye, this beautiful hideaway is perfect for those looking for a luxurious stay, but still be fully immersed in nature.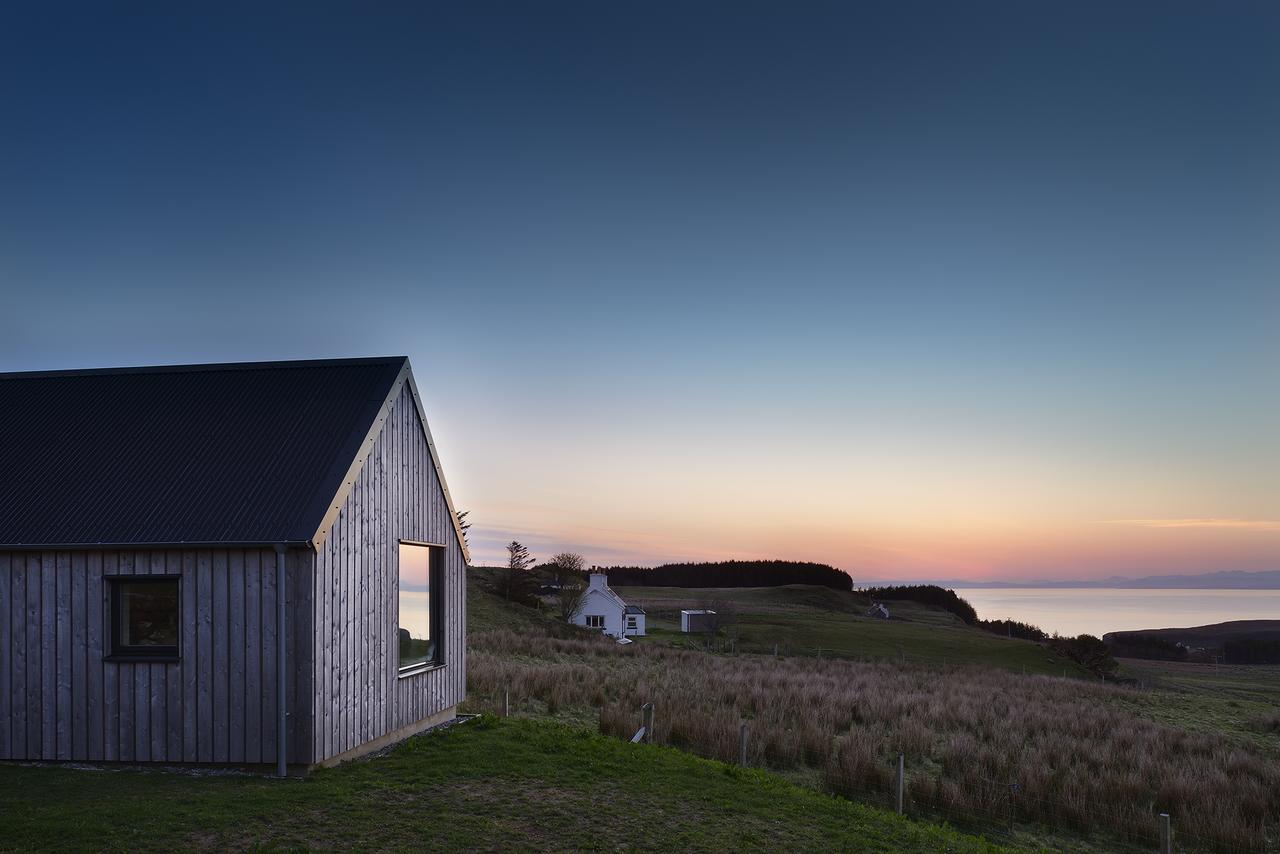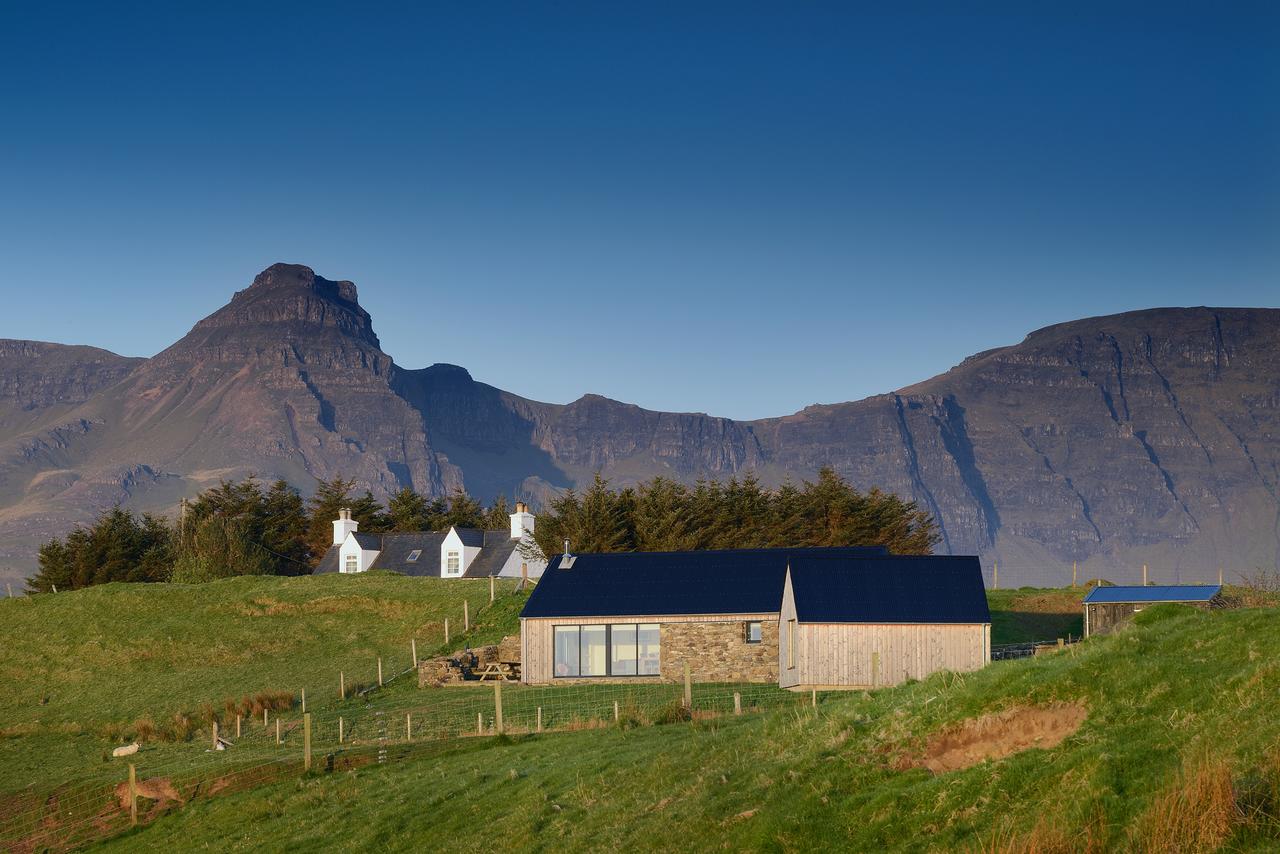 Sleeping up to four people, the rooms are set over two buildings with two double bedrooms, two bathrooms, a large open plan kitchen/dining/living area with wood burning stove and floor-to-ceiling windows looking out over the Minch to Torridon.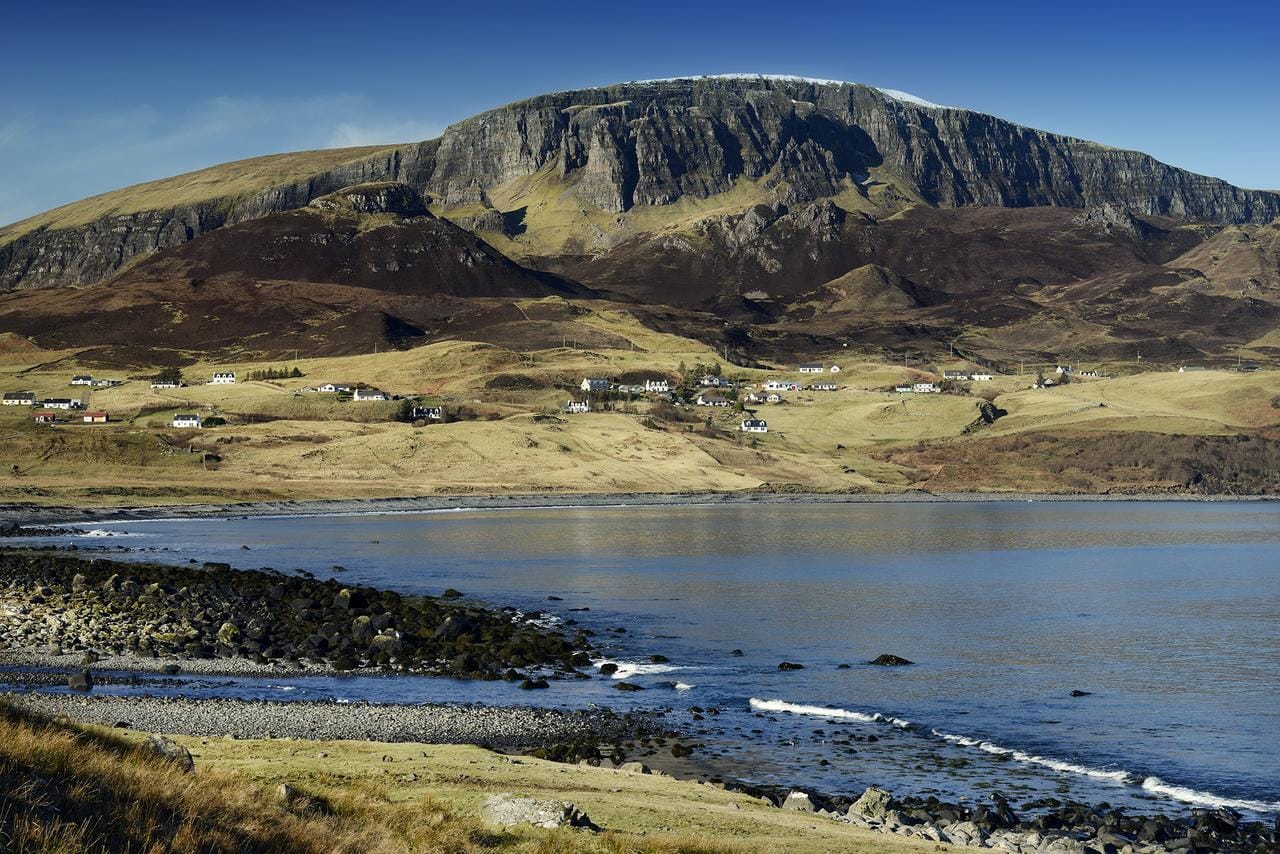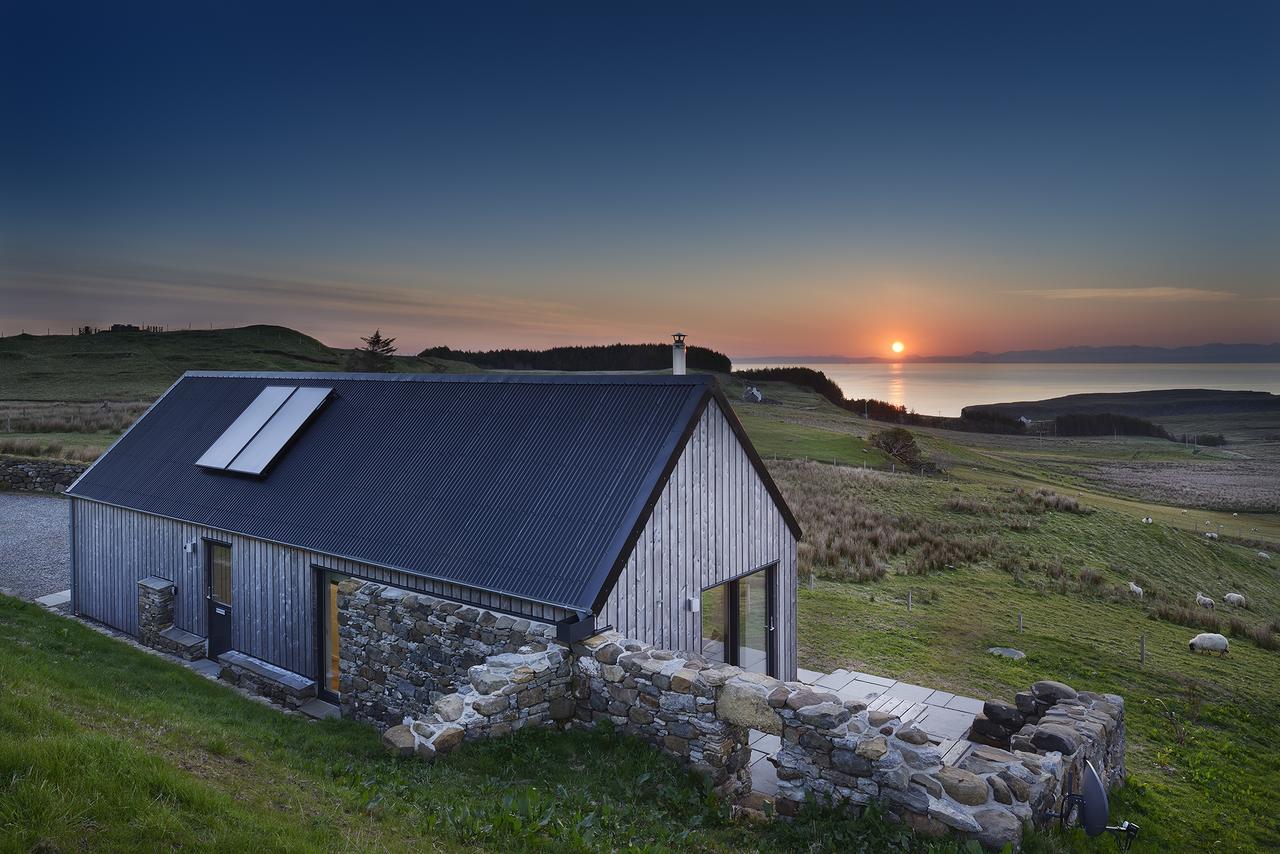 This part of Scotland is known for its epic scenery. You don't visit Skye for busy streets, shops and restaurants, you visit for magical Fairy Pools, waterfalls like Lealt Falls, epic viewpoints like the jutting rocks at the Old Man of Storr, and stunning hikes like the Quiraing Loop.
Check availability and latest prices at Skye Eyrie now
If you're looking for somewhere unique and remote to stay in Scotland, this is the perfect house for you. The Boathouse is located right on the waterfront overlooking Loch Leven, so you're guaranteed the most incredible views over the water to the hills and mountains that surround it.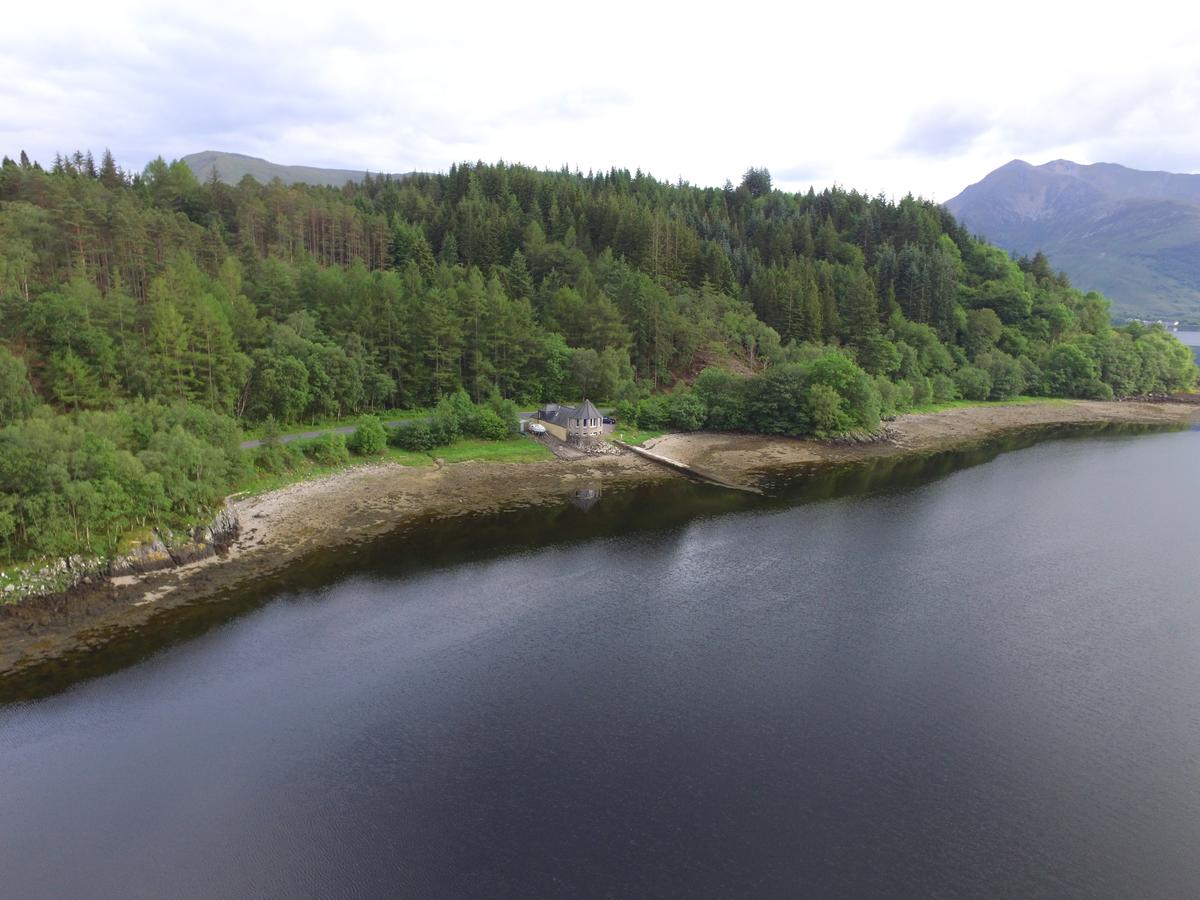 The house itself is unique in its design. It's a cute watchtower, with windows going all the way around the front, offering great panoramic views in the region.
If you love the great outdoors, you can enjoy kayaking, boat trips, hiking, skiing and fishing close by. You could even enjoy a dip in the water, from your very own private beach.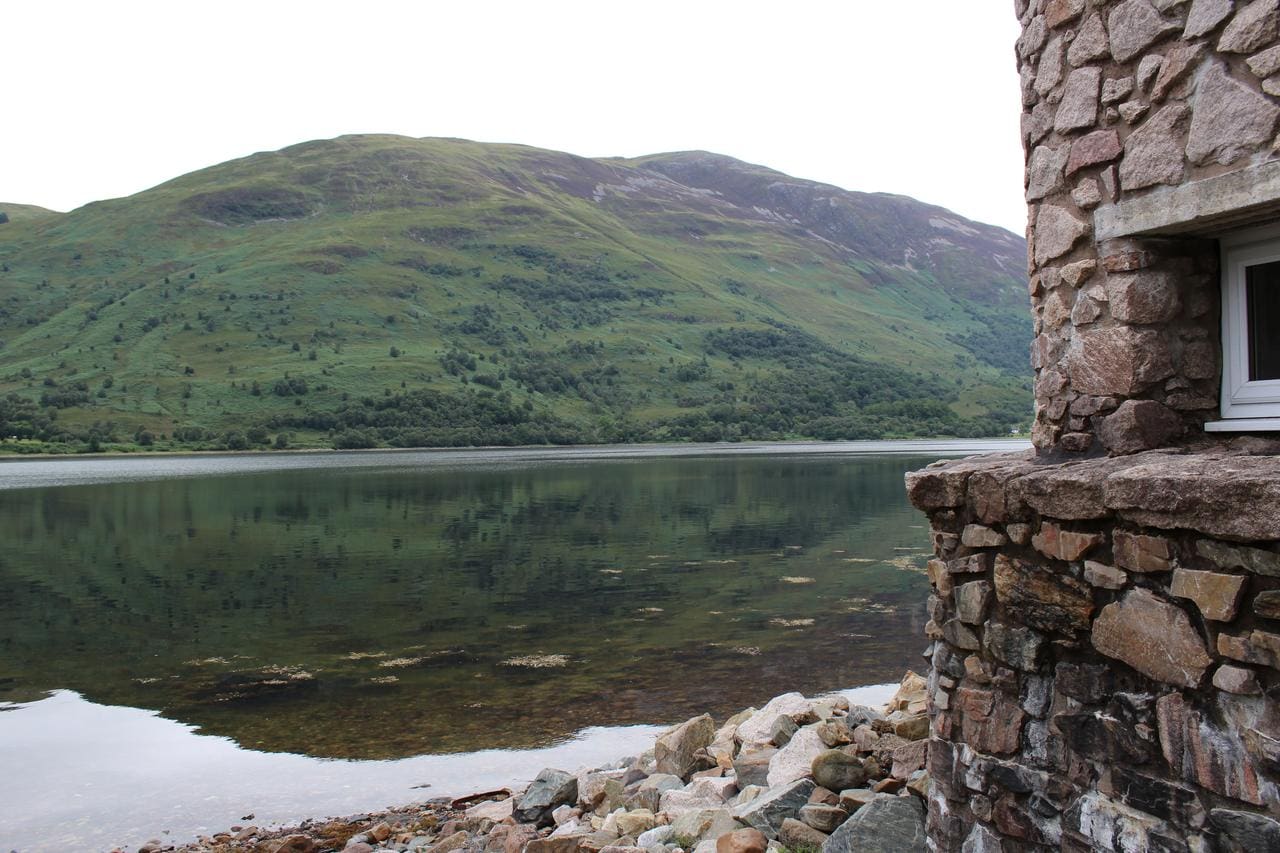 Or if you fancy a bit more action, you can drive to Oban and Fort William, both reachable in under 30 minutes by car.
Check availability and latest prices at The Boathouse now
I was drawn to this remote Scottish cottage from the photos of the sunsets over Loch Earn. It looks like an absolutely magical place to stay.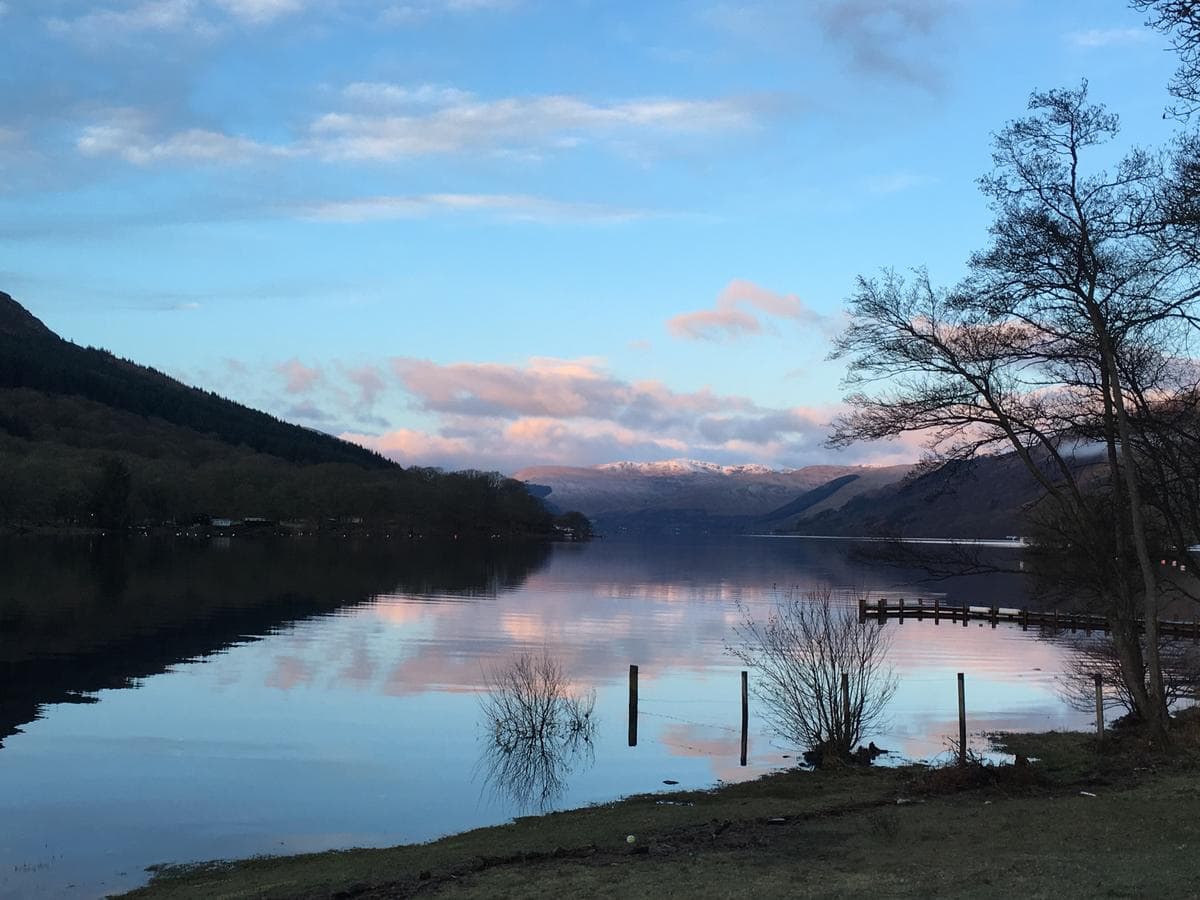 With three bedrooms, two bathrooms, a garden, BBQ area and a sauna, this is holiday home which offers a little bit of luxury too.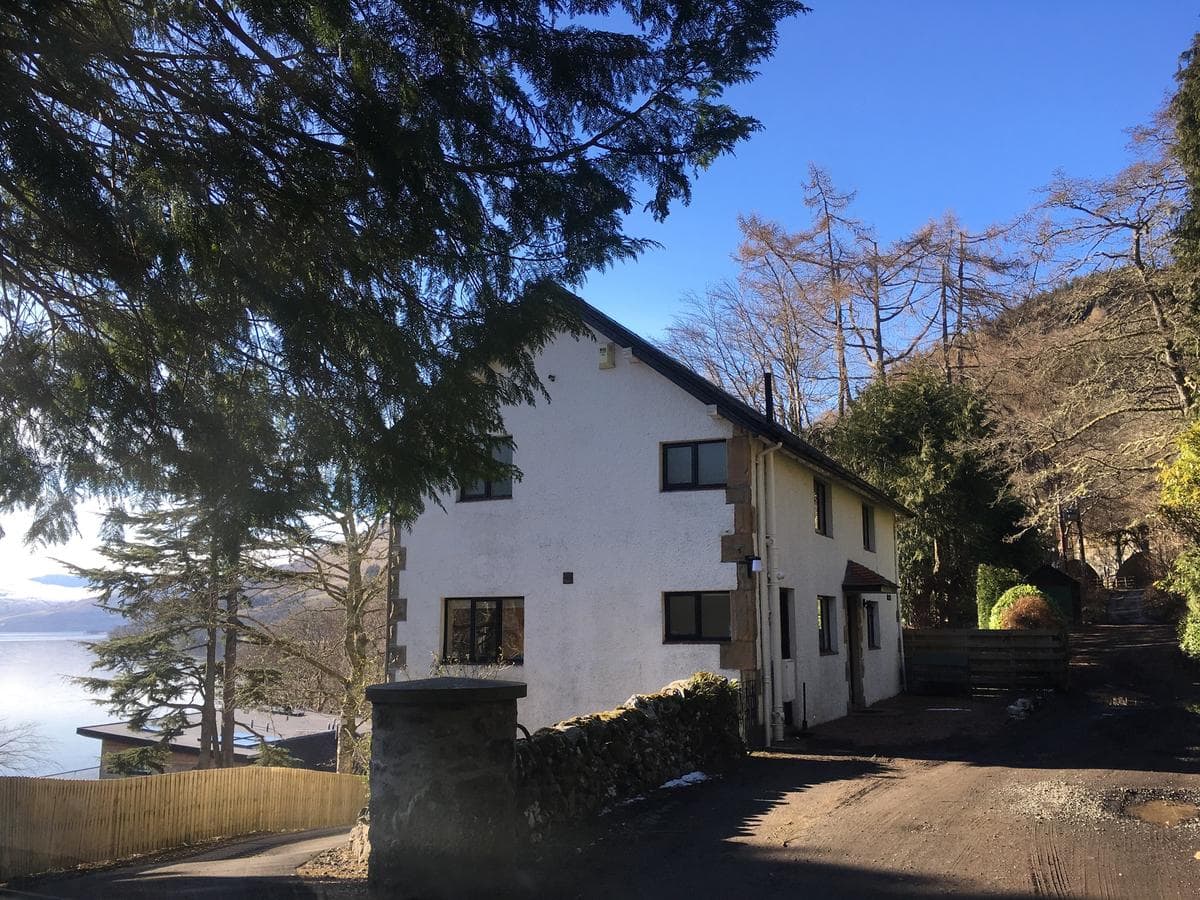 It boasts great hiking spots and wildlife too. Red squirrels can be spotted outside the front door, as well as deer, eagles and more. It's a wonderful place to truly go off-grid and enrich yourself in the beauty of Scotland.
Check availability and latest prices at The Sheiling now
Time for something a little different! Ever fancied staying in a house fit for a hobbit? Well, I think I've found it! Hillside Havens is a glamping spot with several adorable cabins, kitted out with everything you could need for a short break.
Each pod has a bedroom, bathroom, dining area, kitchenette and a BBQ area too. The cabins are cute and compact, but comfortable too.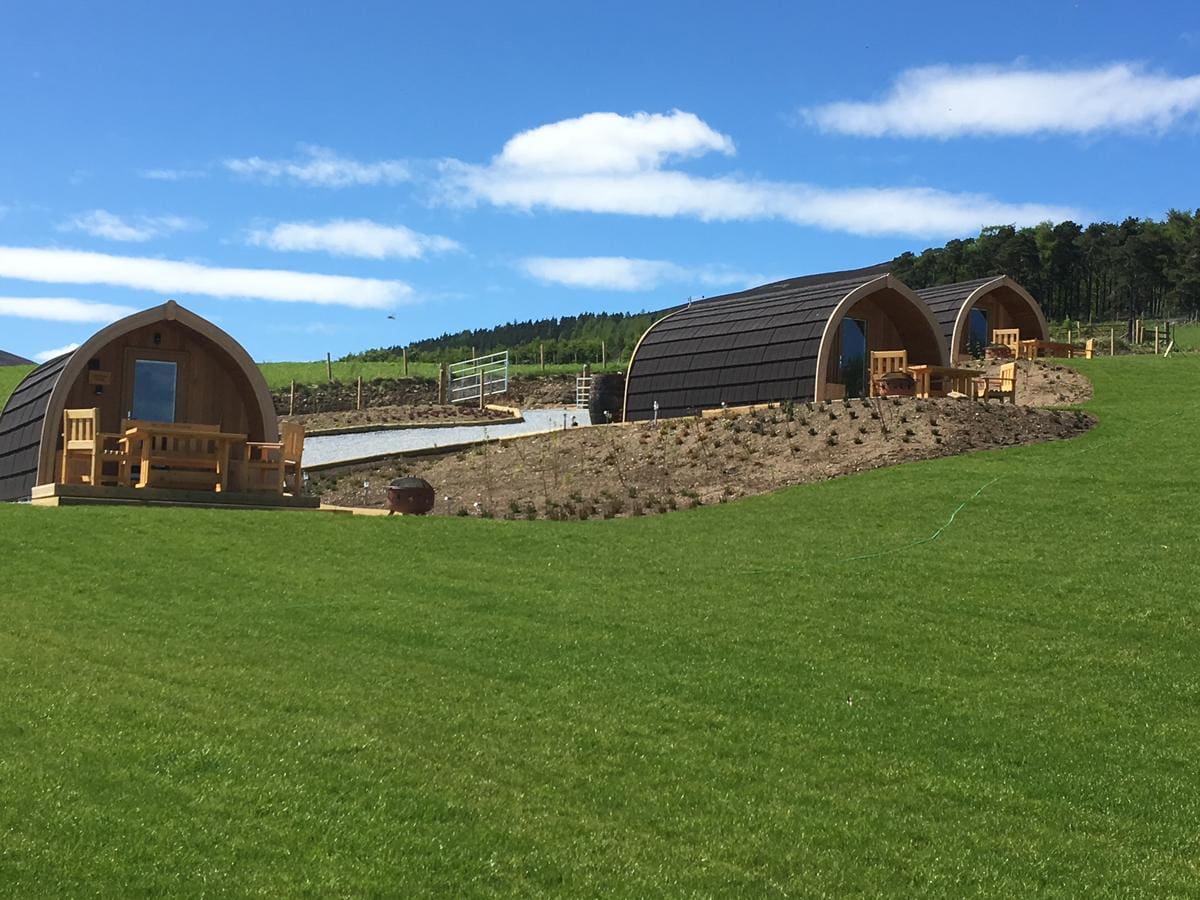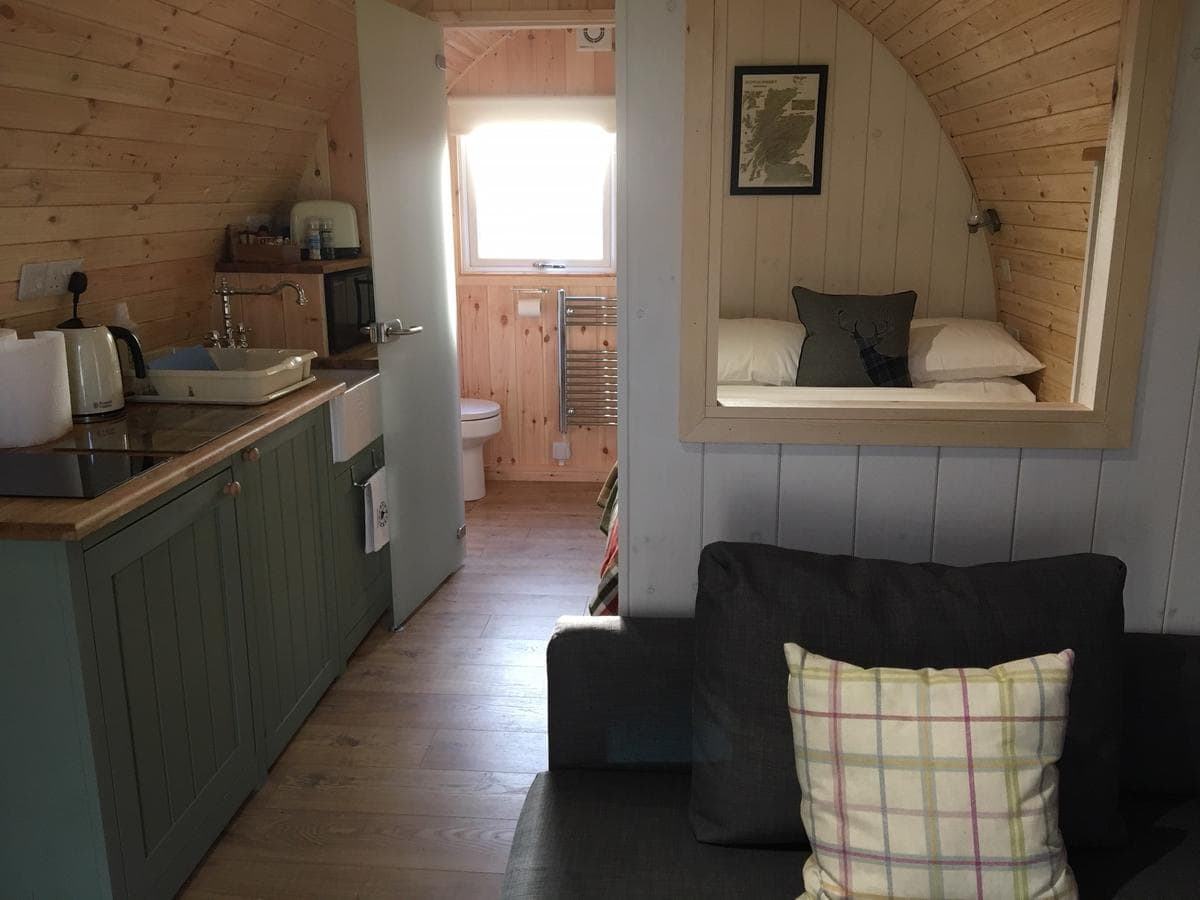 The location is great for those who want a few amenities close by. It's not far from Dufftown, but is in a good position for exploring the gorgeous countryside and wildlife. If you're looking for other things to do in the area, there are distilleries, castles and golf courses close by.
For me though, having stayed somewhere similar in the Lake District, I can say it was super cosy, and this would be perfect for a romantic break in Scotland.
Check availability and latest prices at Hillside Havens now
Still looking for a unique or remote Scottish cottage for your adventure? Use the map to search…
Looking for more things to do in Scotland? Check out our detailed post packed full of reasons to visit Scotland and check out our other posts on Scotland here.
Enjoyed this post about remote holiday cottages? Pin it for later…