Fancy seeing one of the most beautiful waterfalls in Great Britain? Then check out our definitive guide to visiting Aber Falls in Wales.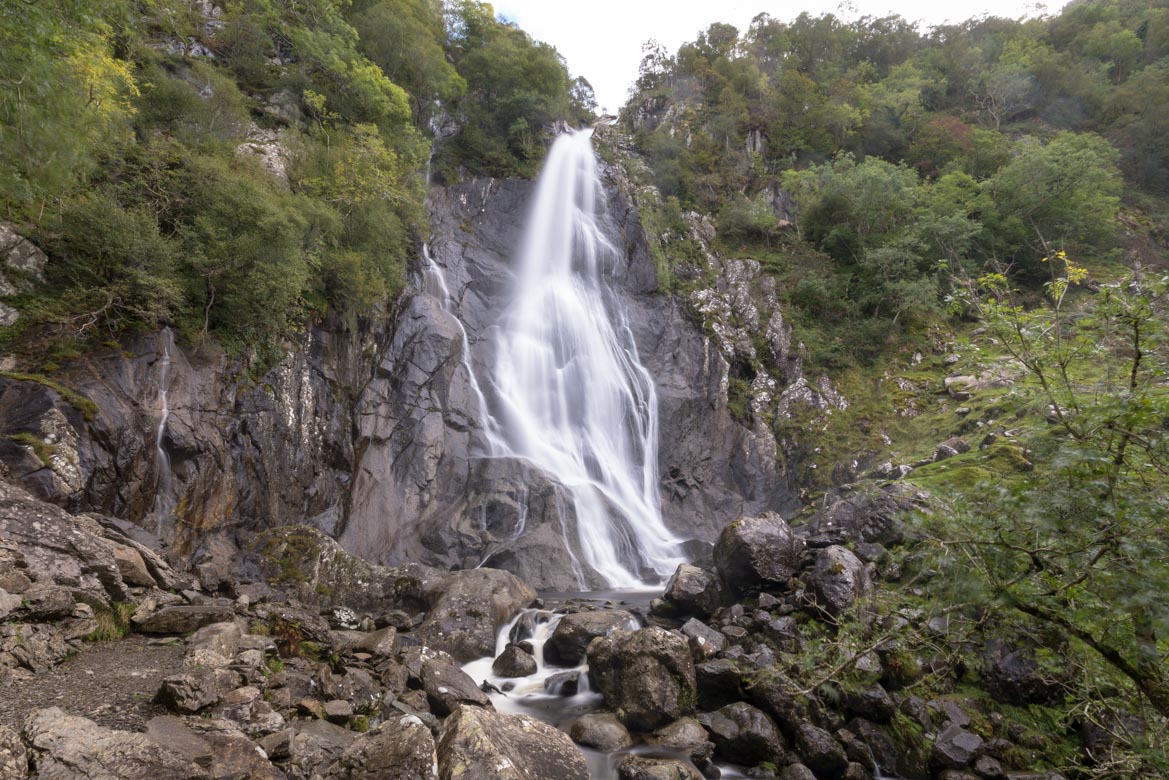 Think of a waterfall right now. I bet you're thinking of Niagara Falls in North America or Victoria Falls in Zambia, right? Well what about Aber Falls in Wales?
It's funny, I've travelled all over and I feel I've seen some of the most beautiful waterfalls in the world. But sometimes I have to remind myself that I don't need to travel halfway around the world to see something spectacular. Aber Falls is a reminder of that.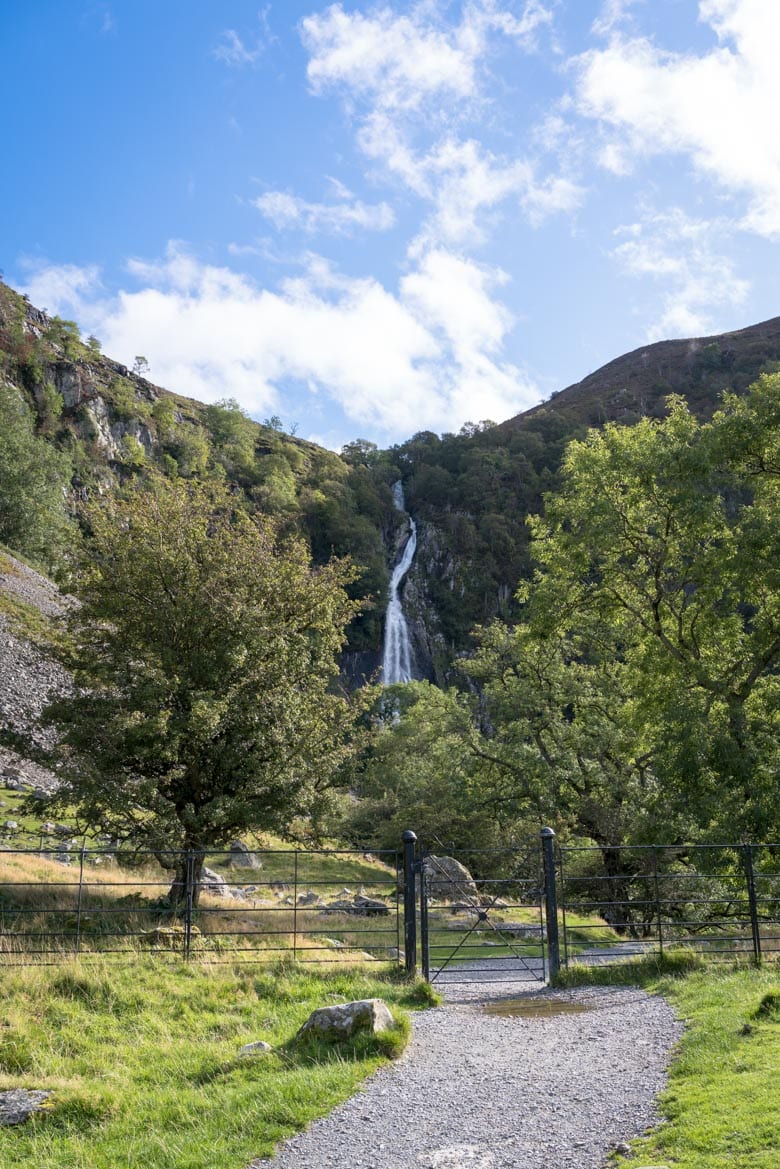 Located in North Wales, Aber Falls is genuinely one of the most beautiful waterfalls I've ever seen. I think that's partly because I didn't expect to find a waterfall like this in Great Britain.
Getting to the falls from the car park takes around 30 minutes. But because you're not following a river, it's hard to imagine that there are any waterfalls in the area. Then, as you come through a clearing of trees, you see this magnificent waterfall in the distance.
I just love that sense of anticipation when you're seeing something like Aber Falls for the first time. There's a reason it's one of our best walks in North Wales.
If you've never been to Aber Falls in Wales then this is the blog post for you. In this post I'll go through where you can find Aber Falls and what you can do there.
Honestly, I can't recommend this place enough and I really hope you enjoy it here!
---
Where is Aber Falls in Wales?
Aber Falls (also known as Rhaeadr Fawr in Welsh) is located in Snowdonia National Park in North Wales. It's a 25-minute drive from Bangor or a 30-minute drive from Conwy. I came from Conwy which is a really nice town to stop off in before visiting the waterfalls.
Aber Falls is only 3 kilometres from the tiny Welsh village of Abergwyngregyn. This is where you'll find the Aber Falls Distillery, a distillery producing single malt whisky using water from the waterfalls. How cool is that!? Visiting the distillery is one of the top things to do at Aber Falls so if you've got time I'd really recommend visiting here.
Can you park at Aber Falls?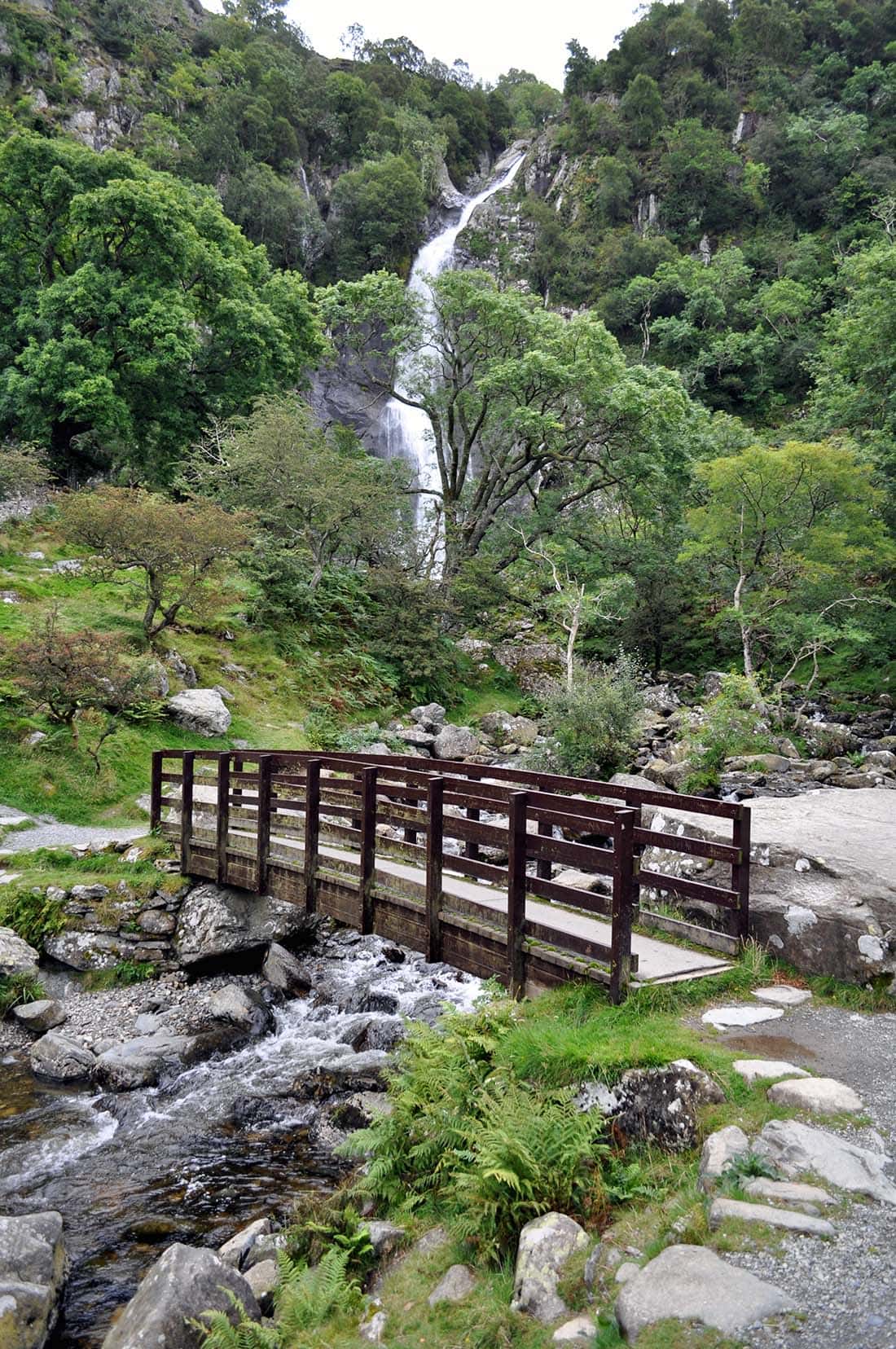 Yes you can. If you follow signs from Abergwyngregyn then the road takes you directly to the car park.
There are actually two car parks here – the lower car park and the upper car park. The lower car park takes you past a nice stream before you get onto the main path to the waterfalls. The upper car park probably saves you 5-minutes of walking if you're in a rush. If you're disabled, I would say the upper car park has slightly better access. There are also toilets at the upper car park.
Even though the waterfalls are free to visit, you do need to pay for the car park. This was only £3 when I visited so it wasn't too bad.
How high is Aber Falls?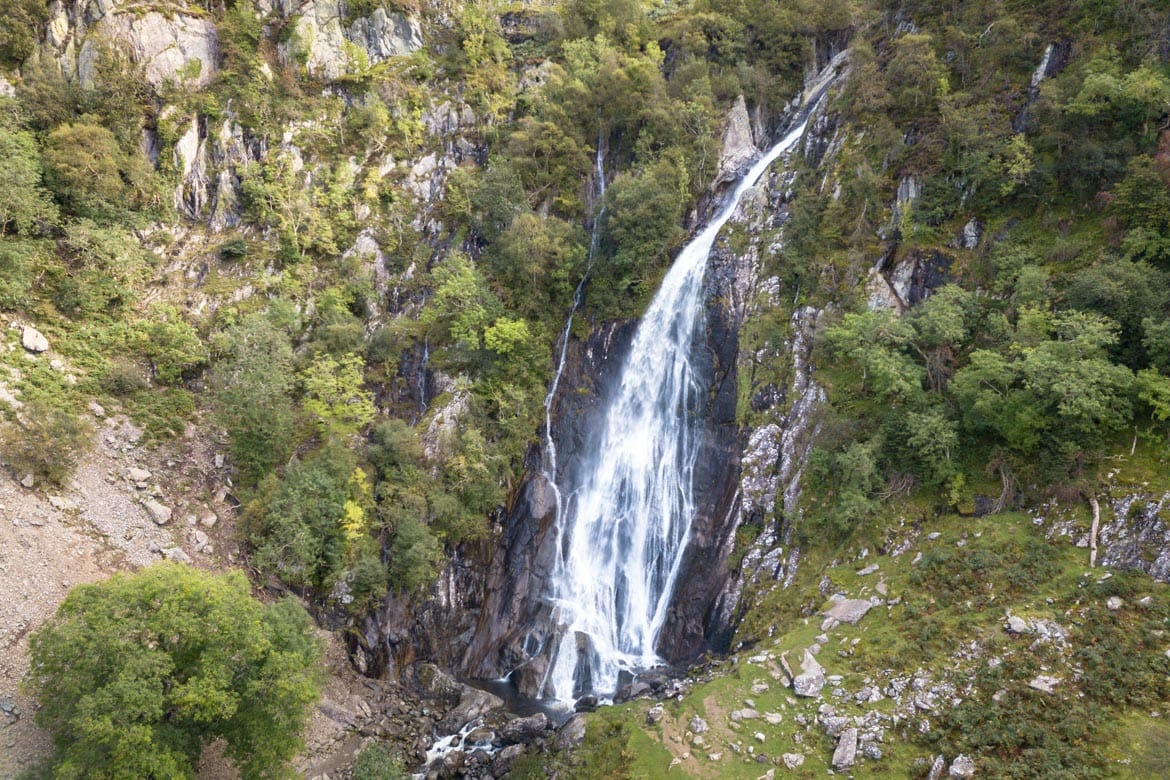 The waterfall is formed as the Afon Goch plunges about 120 feet (37 m) over a sill of igneous rock in the foothills of the Carneddau range.
Two tributaries merge; the enlarged stream is known as Afon Rhaeadr Fawr; from the road bridge, Bont Newydd ("New Bridge"), the name becomes Afon Aber.
Walking to the waterfalls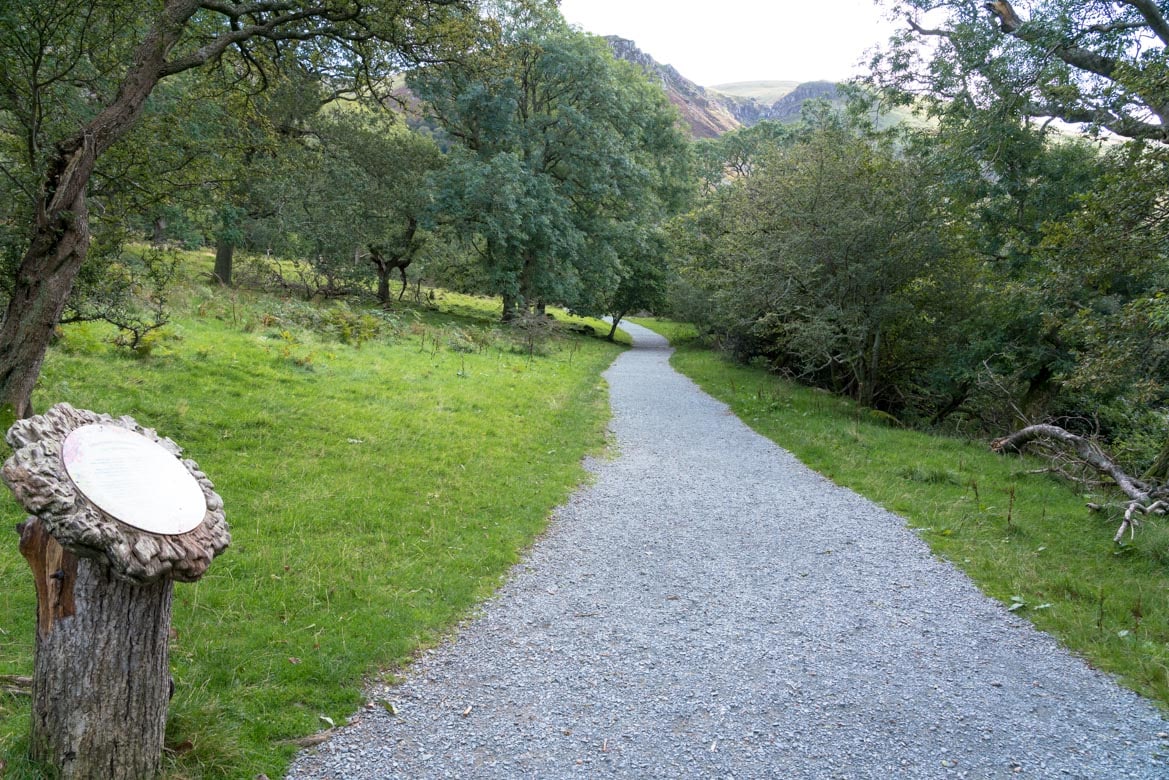 Obviously Snowdonia National Park was made for hiking. I can't tell you how many amazing hikes there are in the area. Well, Aber Falls is just another example of that.
The main path to the waterfalls is approximately 2 kilometres long. Depending on how quickly you walk, this will take you around 30 to 40 minutes. However, I'd really recommend at least an hour.
Along the main footpath there are several small Bronze Age settlements which you can see. These include an excavated roundhouse and a smithy. Most of these sites have information plaques giving you the ancient history of the area so it's perfect for teaching the kids.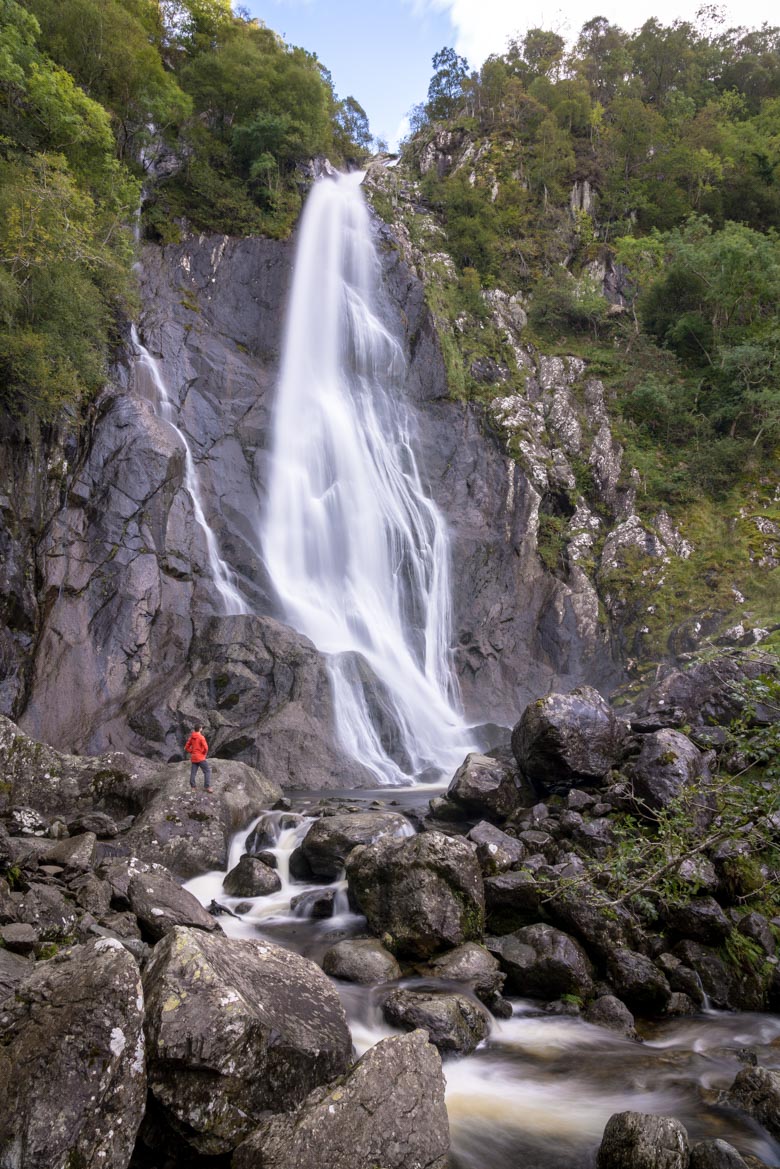 Once you get to the waterfalls itself, there is a bridge that takes you up to a lovely viewpoint. There are a few benches here so it's the perfect picnic spot too.
For those brave enough, you can actually go swimming in the waterfalls. However, the water is absolutely freezing even in the height of summer. You have been warned. Also, please be careful at the rocks can be slippy when wet.
There are a number of benches and picnic areas all along the main pathway, so there are plenty of opportunities to stop for a break.
In total, I would factor around 2 hours for visiting Aber Falls in Wales.
Other things to do at Aber Falls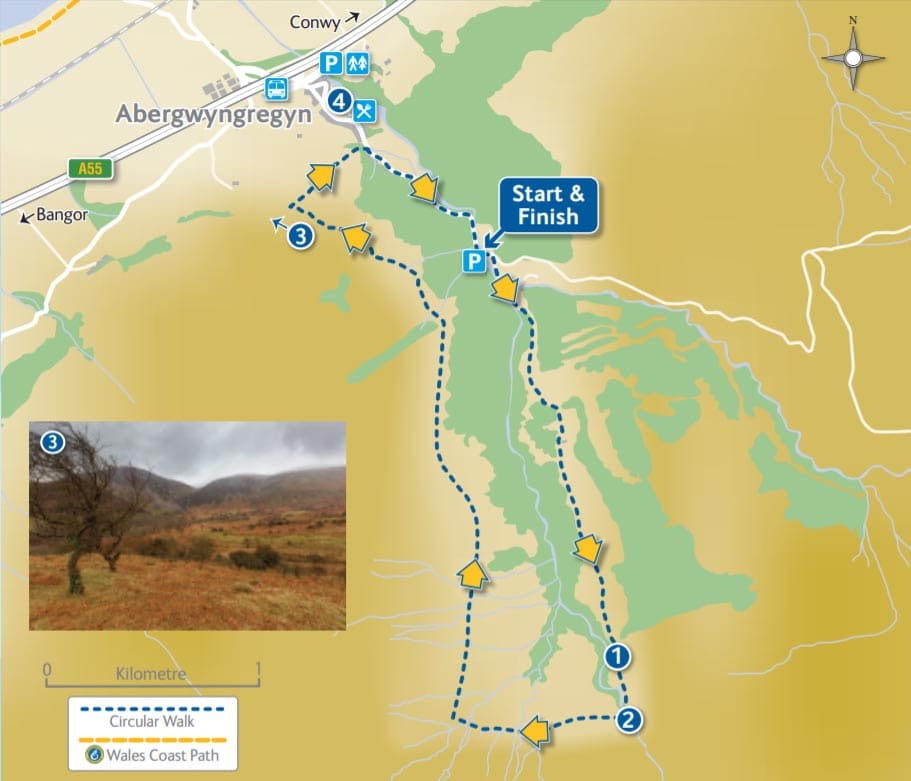 You can download this map which has some more information about the falls here.
There are some fantastic hikes in the surrounding area for those looking for a longer hike.
One of the most popular hikes is from the village of Abergwyngregyn itself. You can park your car here instead of the main car park and follow the pathway to the falls.
The start of the path is at the bus stop opposite the Aber Falls Tavern. You really can't miss it. Once you're on the path you just need to follow it all the way to the falls.
This Aber Falls walk follows the North Wales Path (one of the main hiking routes in the area) on the way back. As this is a circular loop it doesn't follow the same path back which is good.
In total, this loop is approximately 7.5 kilometres long and takes around 2.5 hours of hiking. This is perfect for those of you looking for a longer hike to the falls.
Top tips for visiting Aber Falls in Wales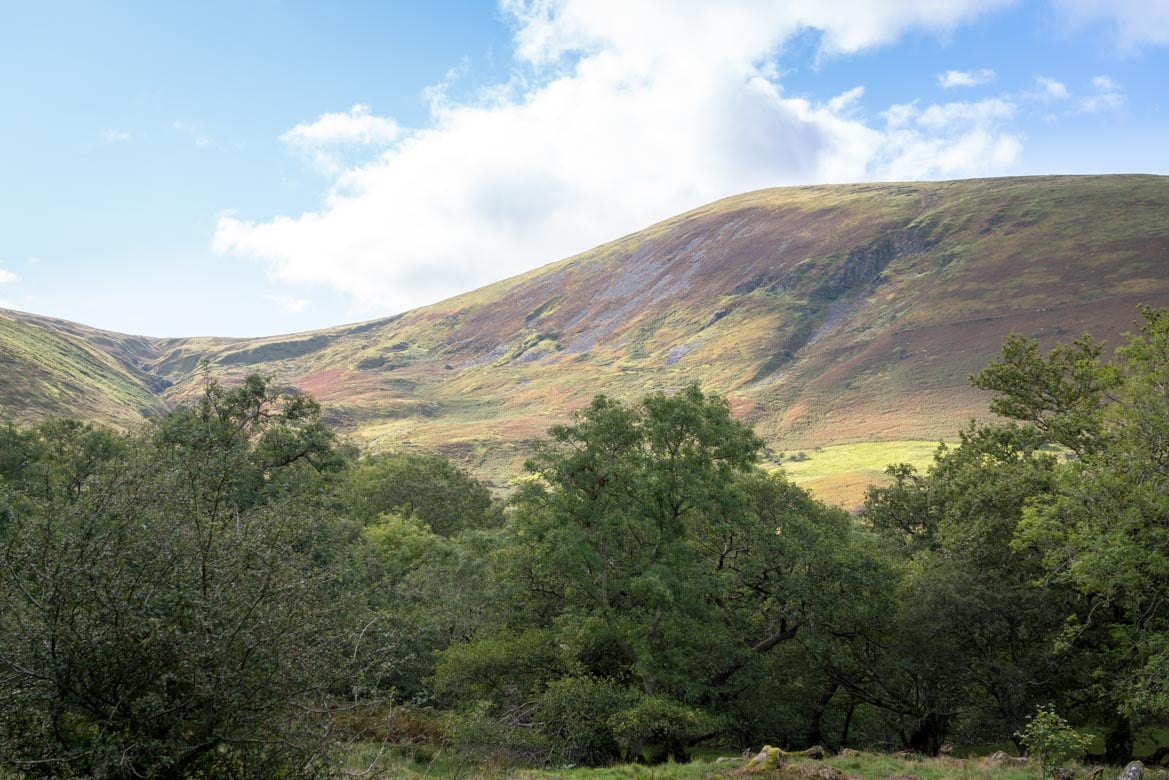 The best time to visit the waterfalls is just after there's been heavy rain. This is when you'll see lots of water cascading over the edge of the falls to the pools below.
The falls can get quite busy during summer. However, if you visit here early in the morning or late afternoon you can have the place to yourself.
Make sure you're wearing comfortable shoes. Trainers or hiking shoes are best in my opinion.
As I said, there are plenty of places to stop along the way for a picnic, so I'd recommend bring some food and drink along for the trip.
---
I hope you enjoyed finding out about this gorgeous spot. It's one of our favourite walks in North Wales. Don't forget to check out where else we included on our list!
Also, if you're looking for other things to do in Wales, then check out our guides to the best beaches in North Wales, best castles in North Wales and where to stay in Snowdonia.
Enjoyed this post? Pin it for later…