Are you looking for the best remote cottages in Wales to get away from it all? Then check out these places for your next Welsh holiday.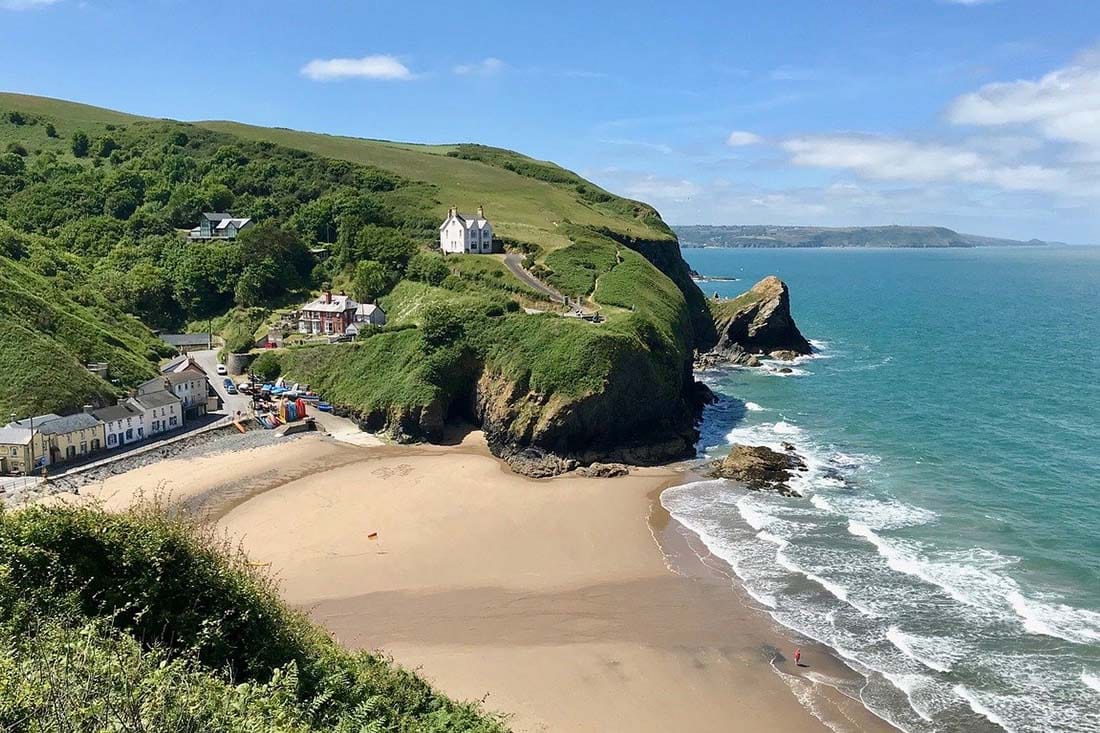 Let's be honest, sometimes there's nothing quite like finding a secluded spot far away from it all and immersing yourself in the beauty of your surroundings. Well, for those of you who like some quiet downtime, you'll absolutely love this blog post.
From Conwy to Snowdonia National Park, these are just some of the most beautiful remote cottages in Wales for you. These are the places that you can really kick back, relax and forget all about your worries.
Wales is one of my favourite places to visit in Great Britain. Well, for me, no trip to Wales would be complete without hiking in the Welsh countryside. That's why all of these remote Welsh cottages are all in the heart of the countryside with gorgeous views and amazing hiking spots all around.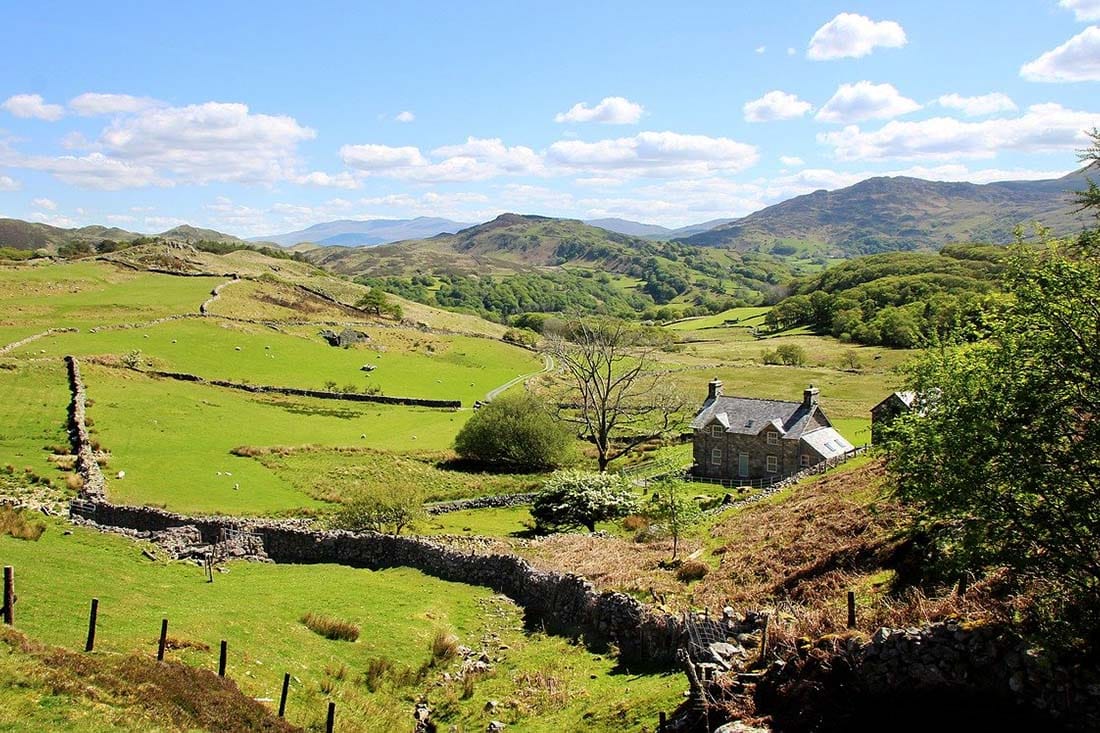 Saying that, if you're looking for a place where you can read in the garden and eat in the local pub, then there are a couple of cottages here for you too.
So, if you're looking for remote holiday cottages in Wales then keep on reading. Hopefully you'll find the perfect place for your holiday in Wales.
Also, if you're wondering when is the best time to visit Wales, make sure you check out our blog post (just click on the link). In this post we break down what we think is the best month to visit.
---
The Best Holiday Cottages in Wales To Rent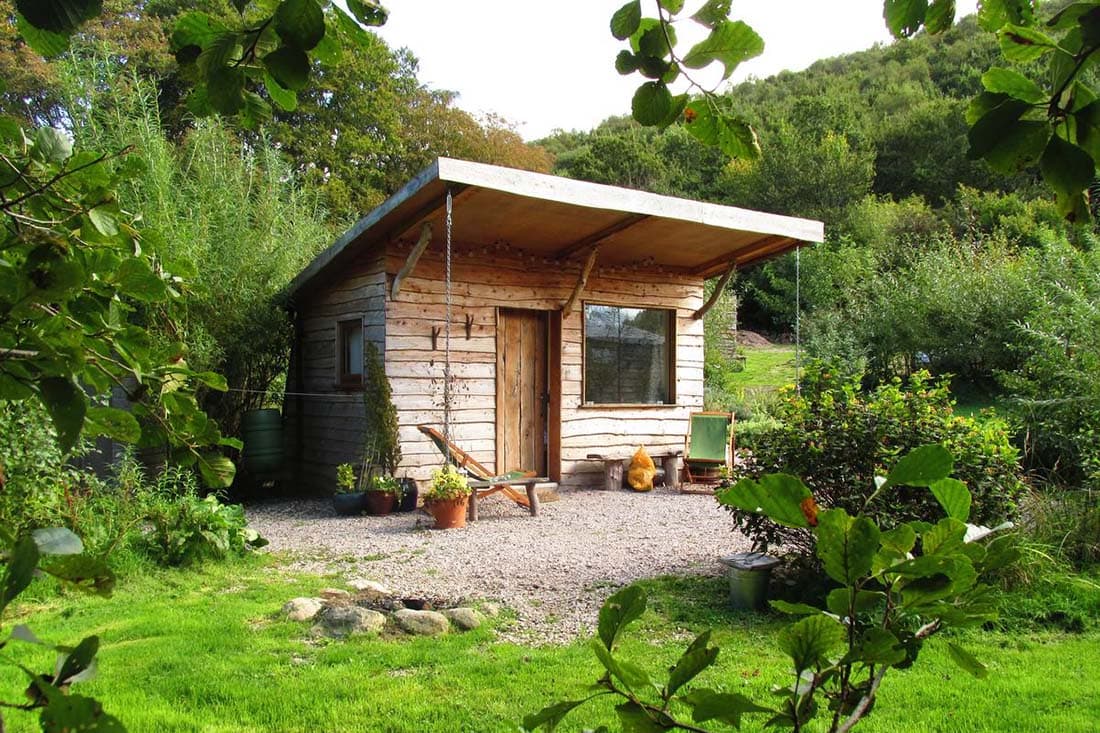 When I think of remote cottages in Wales, this place is right up there. Located in the heart of the Welsh countryside near Conwy you'll find The Cabins. These are cute wooden huts completely cut off from the world.
The eco-cabins are completely self-sufficient. They might not look it but they come with a fully equipped kitchenette including a fridge, a stovetop and toaster. There's also a lovely bbq area outside making this the perfect place for those who love camping but want a proper bed to sleep in at the end of the day.
This really is an amazing place for those of you who like to be surrounded by nature. Also, being on the edge of Snowdonia National Park, there are loads of quality hiking trails in the area too.
Oh, and there are a couple of top notch pubs within walking distance of the cabins too. What more could you want!
Check availability & latest prices now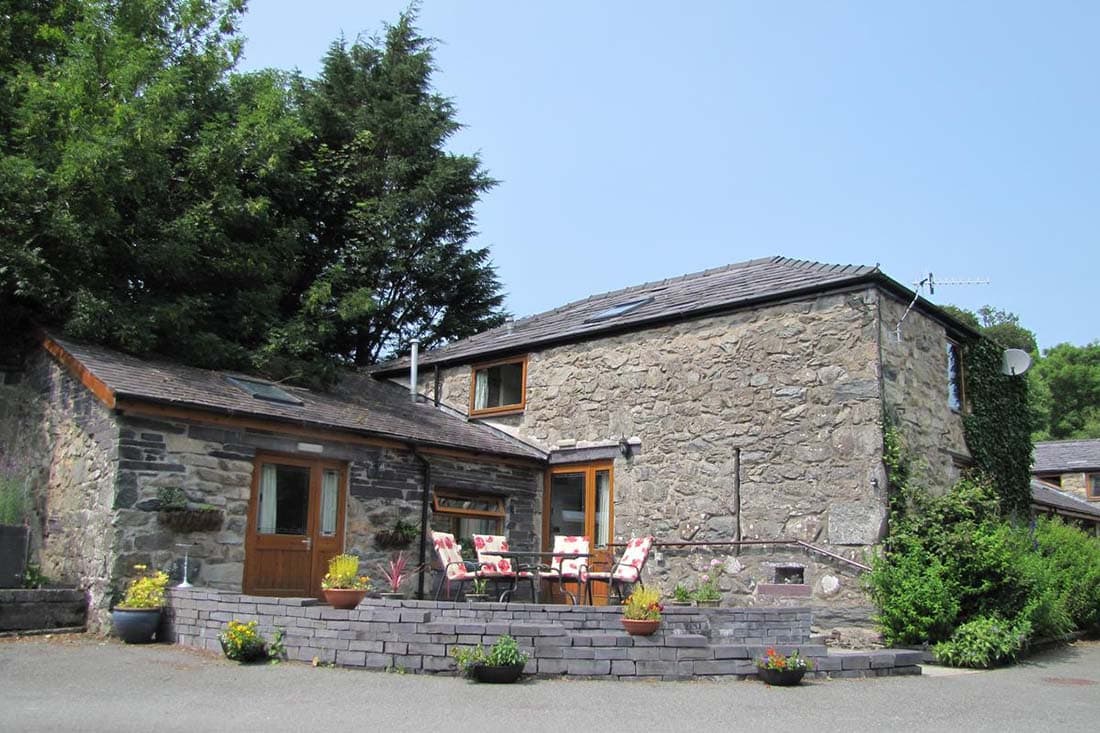 Located in North Wales, Hafan Country Cottage is perfect for those of you with young ones who love adventure.
This cottage is just 1.2 miles from Zip World, the fastest zipline in the world where you can reach top speeds of 125 mph. That's about 5 mph faster than when someone skydives. Zip World is a really great place for some family fun with loads of activities on offer like exploring the quarry and caving.
Back at Hafan Country Cottage, the gardens here are just stunning. In summer there's plenty of space for drinks outside or a bbq. You've also got some views of the surrounding mountains too.
Guests are welcome to roam around the 10 acres of parkland in the grounds that include a lake and nearly half a mile of 5 inch ride-on railway with signal boxes and a tunnel. A woodland walk leads to Bethesda in about 12 minutes.
This is one of the top-rated private properties in Wales and it comes very highly recommended by everyone who's been. There's also good disabled access which is a plus too.
Check availability & latest prices now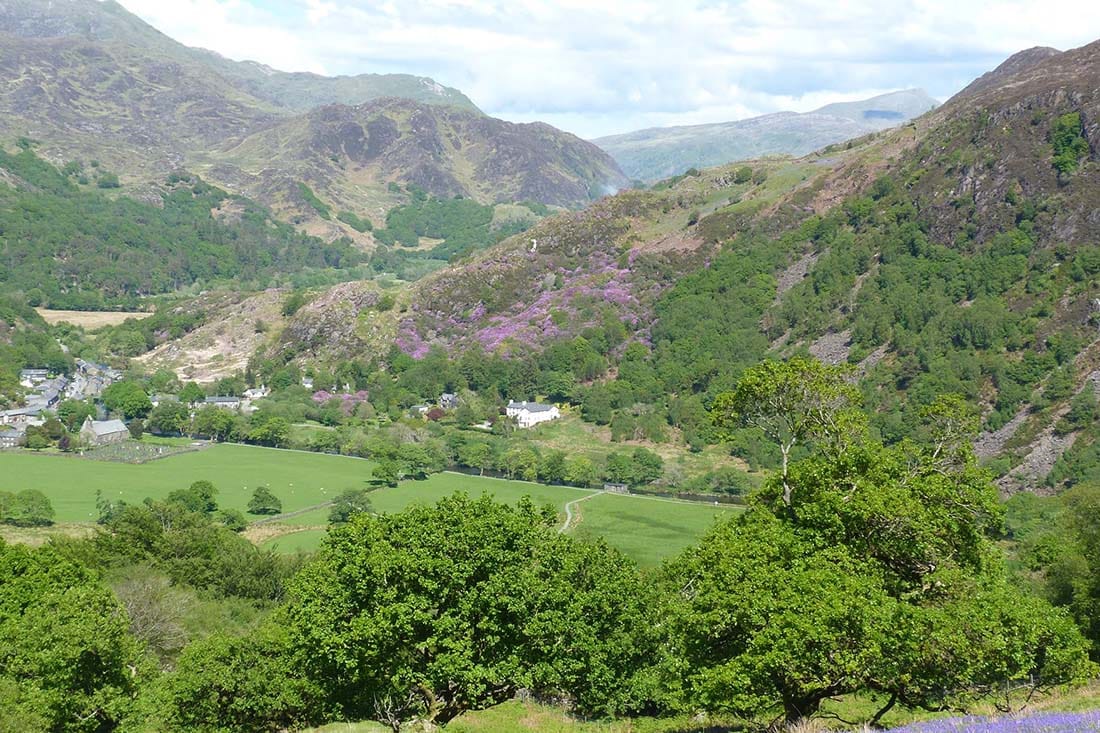 For those of you looking for a bit more of a hotel stay, take a look at Bryn Eglwys Hotel. This is a really old-school hotel with some of the most gorgeous views of Snowdonia National Park. Honestly, the photos don't do this place justice.
A former Georgian country farmhouse, the Bryn Eglwys Hotel is very traditional in design. The restaurant has panoramic views over the River Glaslyn, and offers a wide range of cuisine. Food is freshly made from local produce, and breakfast is provided each morning.
The popular Snowdon Horseshoe walking route is 25 minutes from Bryn Eglwys Hotel. The scenic North Wales coastline, and a variety of castles and golf courses, are less than 20 miles away.
Portmeirion is also really close too, so I'd recommend visiting there if you've got time. If you do, check out our blog post on the best things to do in Portmeirion.
Check availability & latest prices now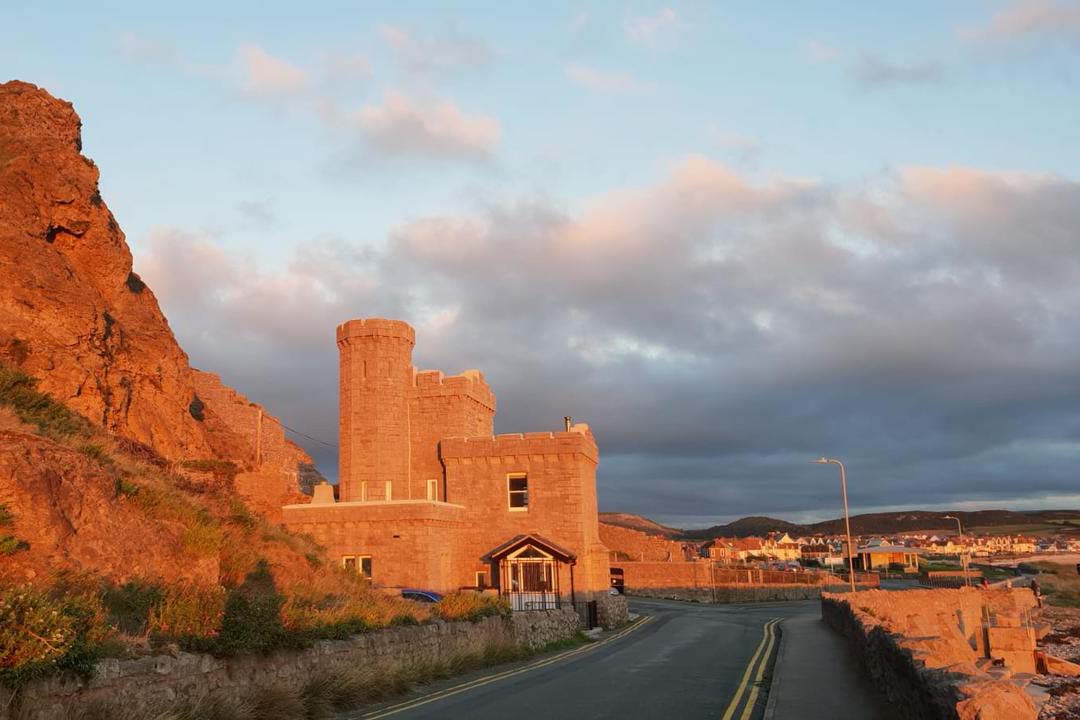 How about this as a remote holiday cottage in Wales!? It's your very own mini-castle situated right on the beach!
Located 1.2 miles from Llandudno North Shore Beach, Tollgate House is a beachfront property in Llandudno. This holiday home is perfect for a family of 4. It's also pet friendly too so you can bring your dog along for the ride.
Like most holiday homes you'll find all the mod-cons and appliances you'll need. There's also a nice terrace for outside too.
This place is all about the views of the beach though. Just having access to the beach is amazing. You can even organise to go horse riding on the beach too as one of the activities.
Other activities include hiking, fishing and windsurfing, so perfect for those who love being outside!
Check availability & latest prices now
The View, Welshpool, Shropshire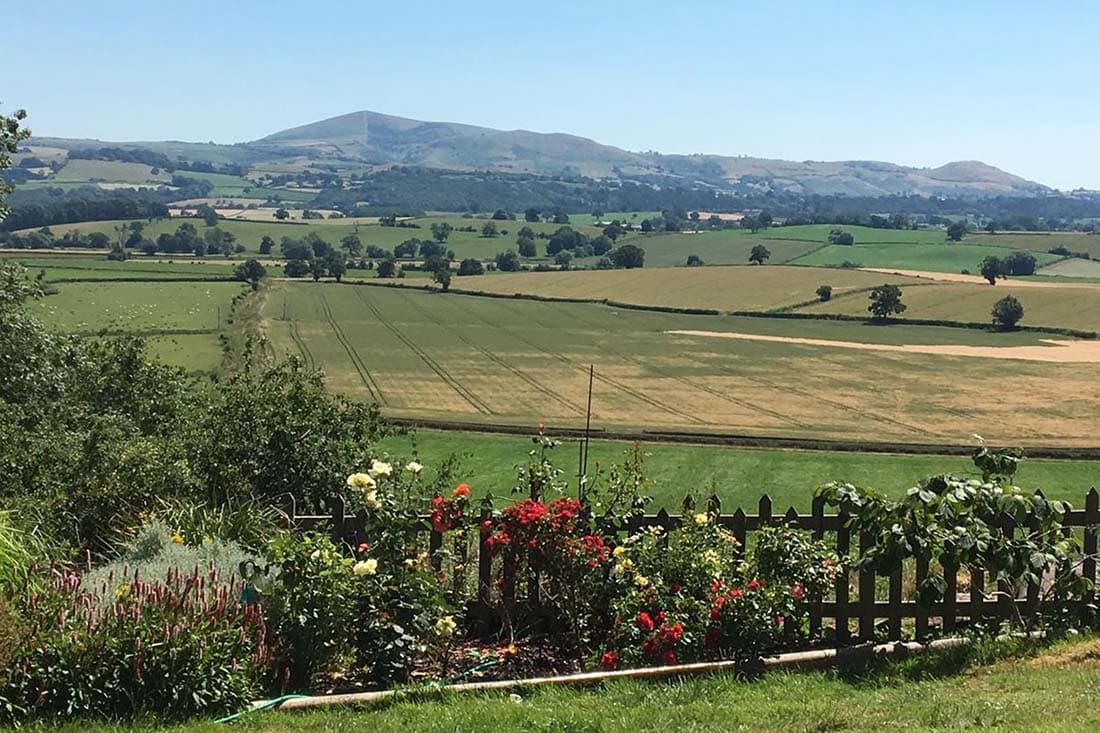 As the name suggests, 'The View' is all about the view. This is what the Welsh countryside of green rolling hills is all about.
Located on Offa's Dyke path in Shropshire, this newly renovated two bedroom property is set in a uniquely tranquil spot. This holiday home comes with two bedrooms (so enough room for 4 people), a fully fitted kitchen and a really lovely outside seating area. This is the bbq spot when the weather is nice.
A couple of really nice nearby spots are Montgomery Castle and Powis Castle. It's well worth checking out these two places while you're in the area.
As you'd expect with views like this, there are some really great hikes in the area. Also, there are lots of horse riding trails too, so this property is ideal for walkers, riders or anyone who loves the countryside.
It doesn't matter where you're standing in this holiday home, your eyes are constantly drawn to the view outside the window. Just sit back and enjoy it.
Check availability & latest prices now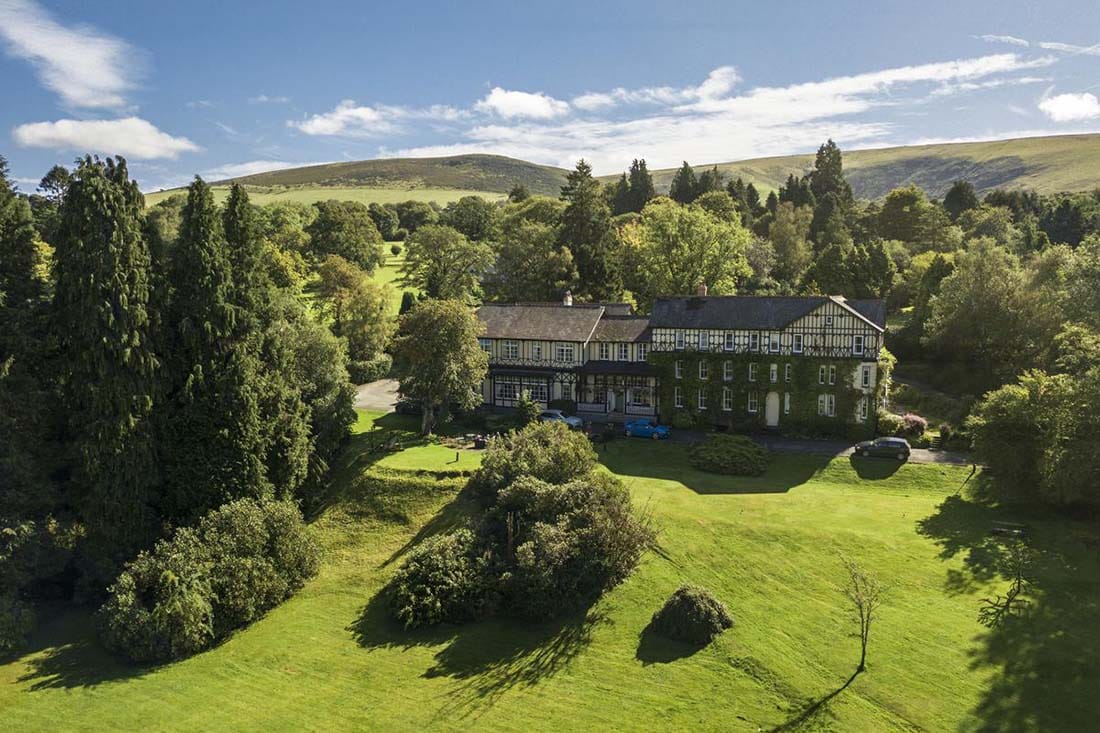 I've included this place as one of the top remote holiday cottages in Wales because it really is out the way.
Set in 50-acre grounds, The Lake Country House Hotel & Spa lies in the heart of the Welsh countryside of Llangammarch Wells.
This sophisticated 19th-century retreat offers beautiful lounges and thoughtfully furnished rooms. Throughout the Lake you will be surrounded by fine antiques, paintings and sumptuous furnishings.
The Kingfisher Spa offers a huge swimming pool, sauna, gym and an outdoor balcony hot-tub. As you'd expect with a posh hotel, a range of beauty treatments all you to properly relax and unwind.
The hotel's restaurant is all about using local produce to create modern Celtic cuisine. The views from the restaurant, especially at morning, are just stunning.
This really is an amazing place to stay for those of you looking to get away from it all with a fair dose of luxury too.
Check availability & latest prices now
Rhydspence, Herefordshire, Hay-on-Wye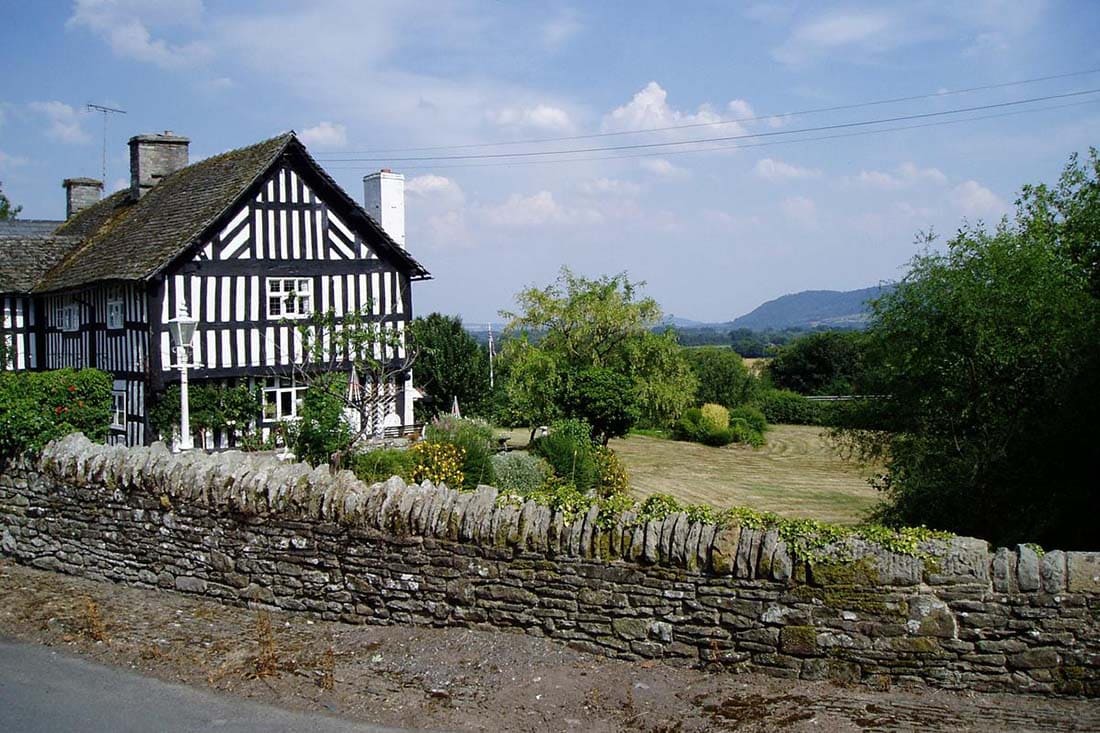 For those of you who like out-the-way pubs in the middle of the countryside, this is the one for you.
Rhydspence is an old 14th century former inn situated on the Welsh border of the Wye Valley. With stunning views of the Brecon Beacons National Park, this is a great place to base yourself before exploring all this amazing area has to offer. Also, the local market at Hay-on-Wye is just a short drive away too.
One of the best things about staying at Rhydspence is the restaurant. This is an AA Rosette award-winning restaurant and the food is simply delicious. It's worth coming here just to eat in the restaurant. Oh, and the views are pretty good too.
This is such a charming place to stay in Wales, especially if you're a foodie. I really can't recommend it enough!
Check availability & latest prices now
Welsh Gatehouse, Moynes Court Mathern, Mathern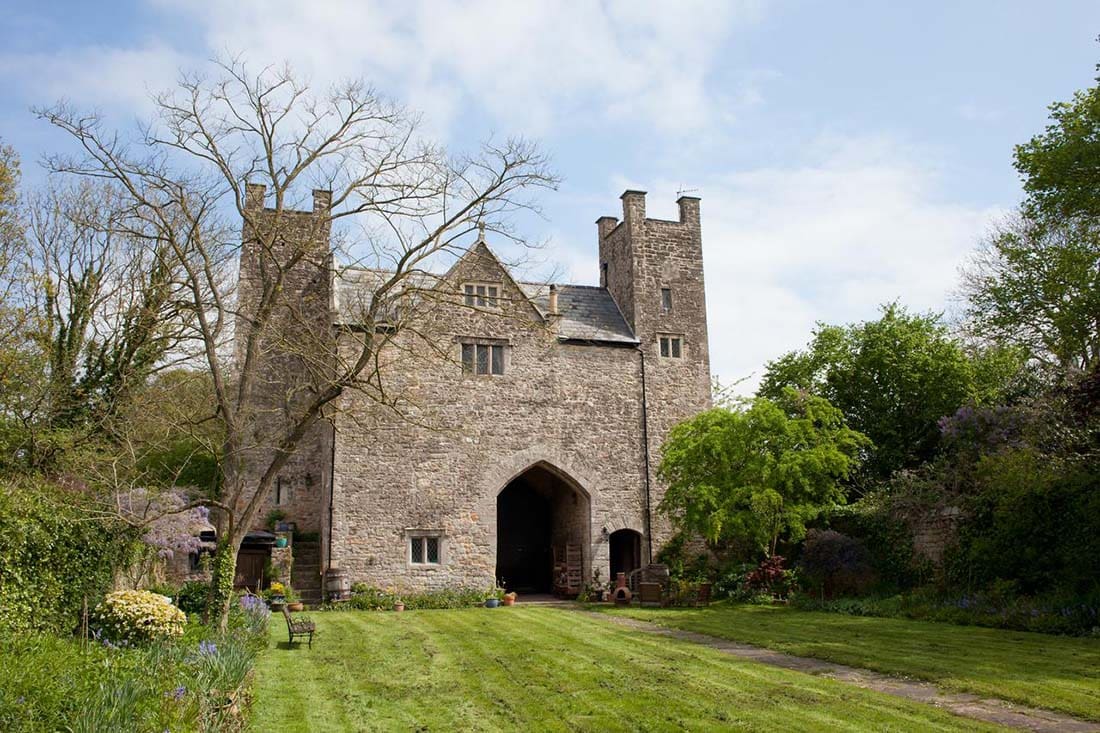 This holiday home looks like it's been plucked from the pages of a fairy-tale. The Welsh Gatehouse is a grade II listed building that has a huge amount of history to it.
Built by Sir Bogo de Knovil, the Gatehouse is over 700 years old. Inside there is a spiral stone staircase, and you'll find stunning views of the countryside from the top of the tower.
However, despite its old medieval appearance from the outside, the inside is packed full of mod-cons for your Welsh getaway.
I would say this is the perfect remote cottage in Wales for couples looking for a romantic weekend away. It's also a great place to base yourself and explore South Wales and the Wye Valley.
There's also a pub within walking distance in the local village. What more could you need than that!
Check availability & latest prices now
Are you still looking for a unique hotel or cottage in Wales? Then see if you can find somewhere using the map below:
Enjoyed this post about remote holiday cottages? Then Pin it for later…