The best ways of learning all about Scottish gin is on a tasty gin tour. With that in mind, here are the best gin distilleries in Scotland for you.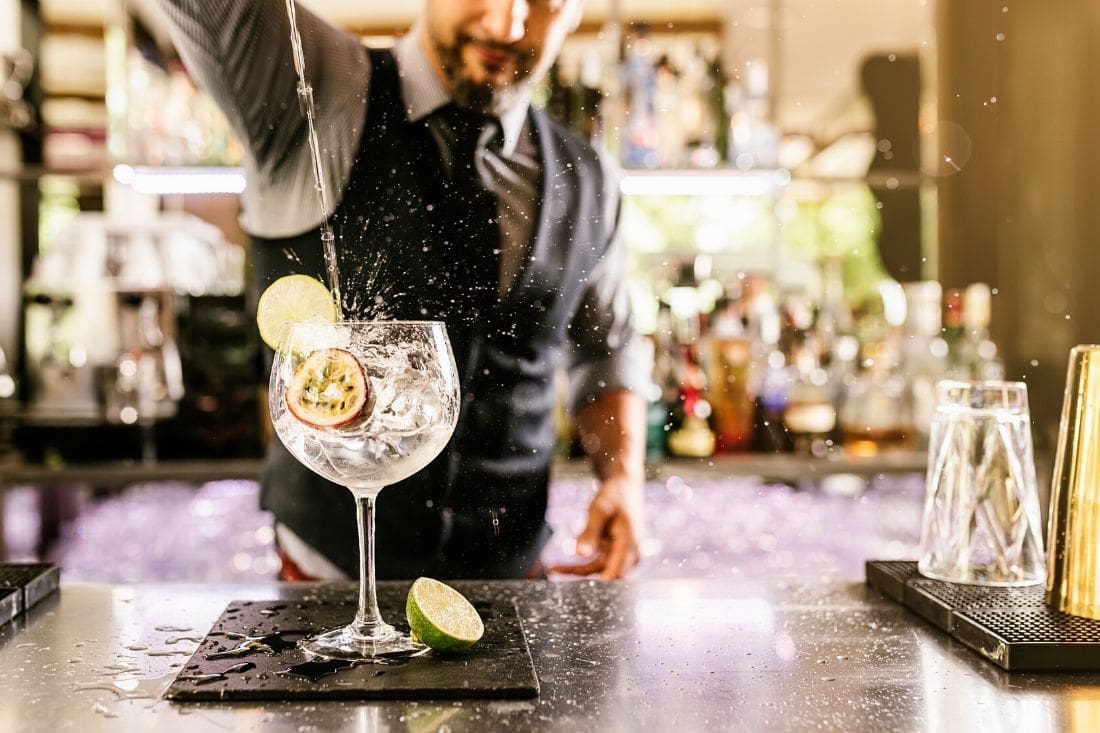 Put your hands up if you love gin! You've certainly come to the right place if you do.
I was on a gin distillery tour in Scotland recently and I made a huge mistake. Not knowing a great deal about Scottish gins, I piped up saying "I thought Scotland was famous for whisky? I didn't even know you produced gins as well!"
That's when my tour guide started reeling off a few names. Gordons. Henricks. Tanqueray. The Botanist. Yep, as you've guessed, these are all Scottish gins. Made me feel like a right fool.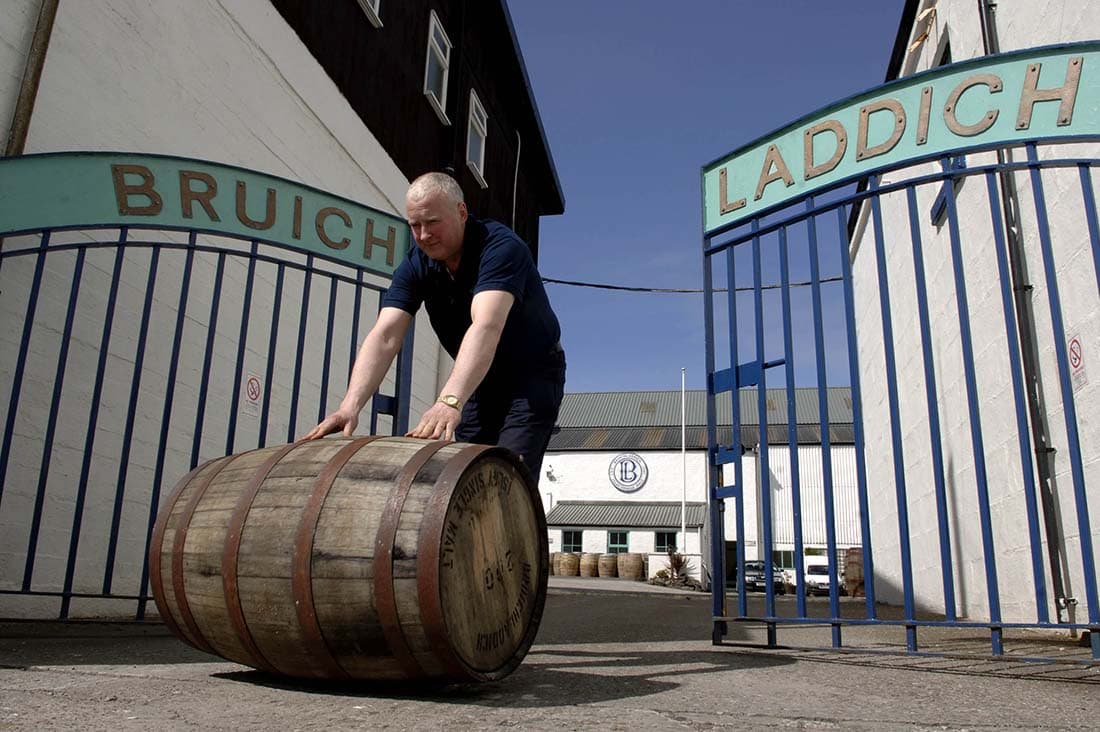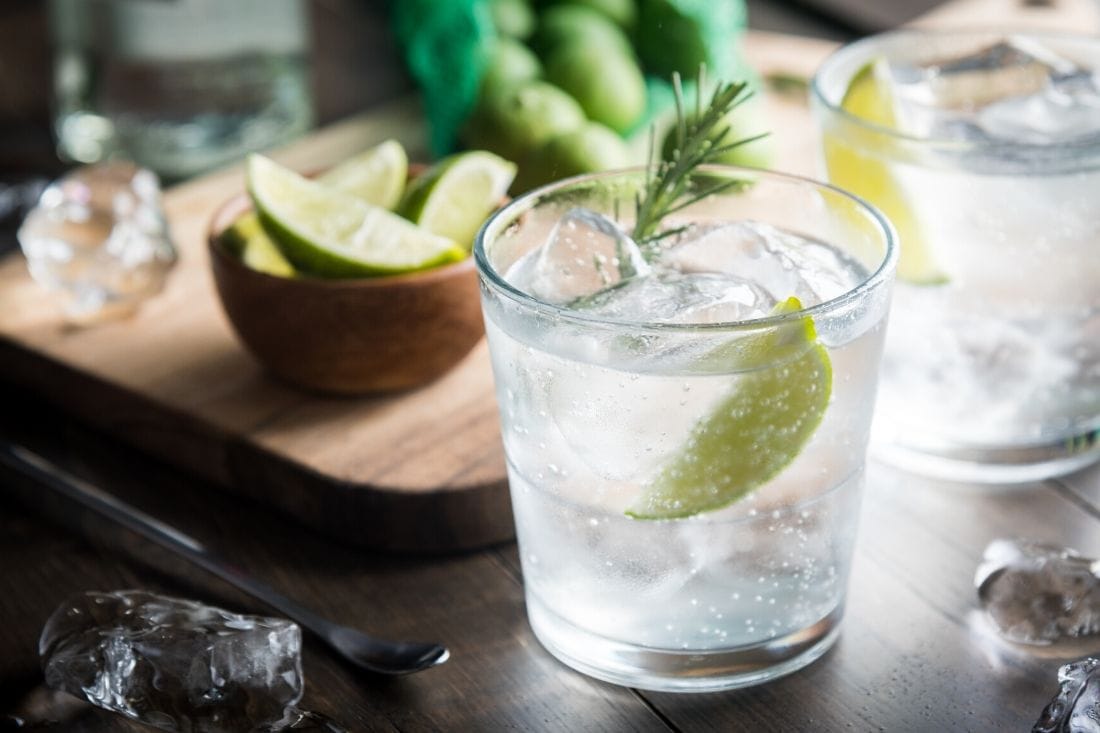 Not only does Scotland produce gin, it produces some of the world's best gin. Places like Hills & Harbour and The Botanist have picked up a number of awards at the World Gin Awards over the years, so you know they're good.
Basically, what I'm trying to say, is don't make the same mistake as me. The gins you can get in Scotland are just incredible. Trust me, I've drunk my way through a fair few.
There's even a gin map where you can take a tour around all the best gin distilleries in Scotland. That would be such an epic trip. It's one of my ambitions to visit all of them or at least have a bottle in my cupboard.
In this blog post I'll take you through some of the best gin tours in Scotland. Each distillery is surprisingly different with a completely unique approach so it's fascinating seeing how each one produces gin.
As I said, if you love gin then keep on reading! Also, if you want to order a bottle to enjoy from the comfort of home, don't miss our guide to the best Scottish gins right now. These are all available with speedy delivery and make great gifts for gin lovers too!
Plus, if you fancy branching out from a classic gin and tonic, how about giving one of these classic British cocktails a go? From gin gimlets to brambles, there's something for every taste!
---
7 of the Best Gin Distilleries in Scotland
Crafty Distillery, Hills & Harbour gin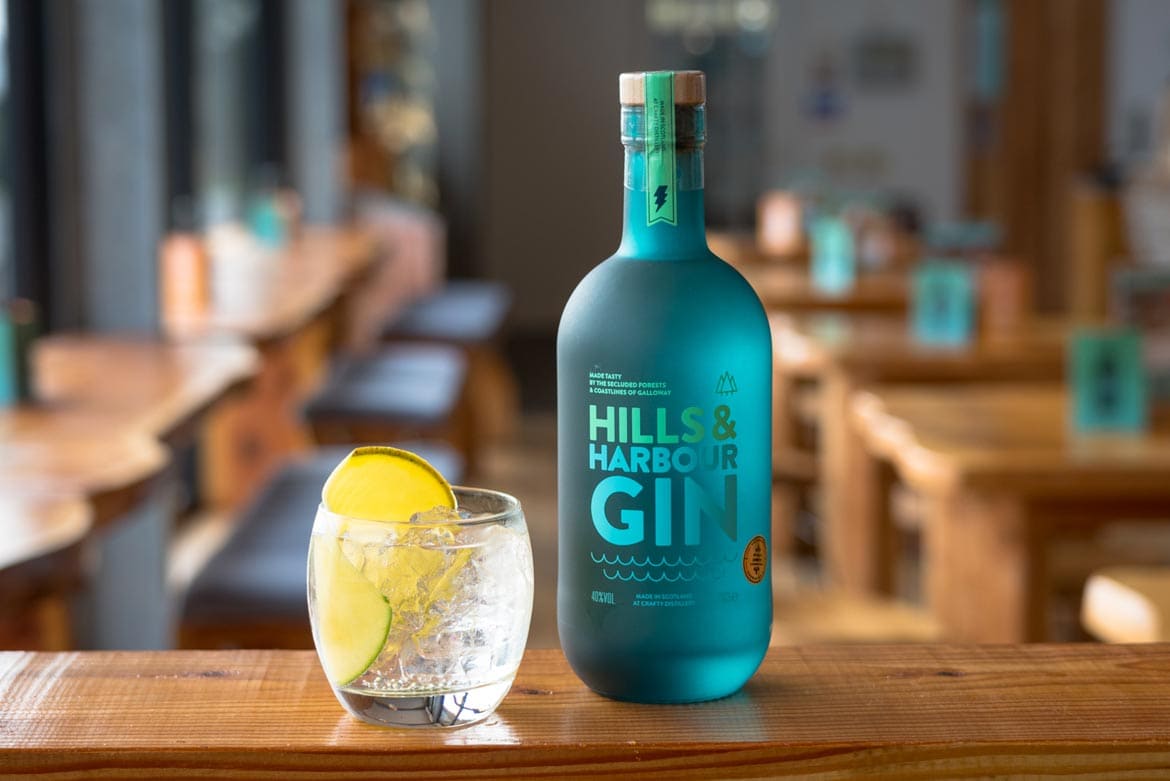 Crafty Distillery, located in Dumfries & Galloway in south west Scotland, is producing one of the world's best gins right now. In 2019 they picked up Double Gold at the San Francisco World Spirits Competition. I've got a bottle sitting proudly in my cupboard and I can confirm it is absolutely delicious.
For me, this is one of the best gin distilleries in Scotland and they're really pushing the boundaries with flavour and sustainability.
Their award-winning gin, Hills & Harbour, represents the best of Scotland. For their botanicals they use noble fir pine trees from the hills and seaweed for the harbour to give an incredibly clean taste. I love how this gin is flying the flag for south west Scotland.
On a tour here you'll be taken around the distillery learning how Craig and his team produce their gin. Then, like all good gin tours, you'll end up in the bar afterwards sipping on a G&T overlooking the surrounding forest. For me, this was my perfect introduction into Scottish gin.
Tours run at 12noon & 3pm daily, Tuesday to Saturday. Tickets cost £12.50 per person and include a G&T at the end of it.
Bruichladdich Distillery, The Botanist gin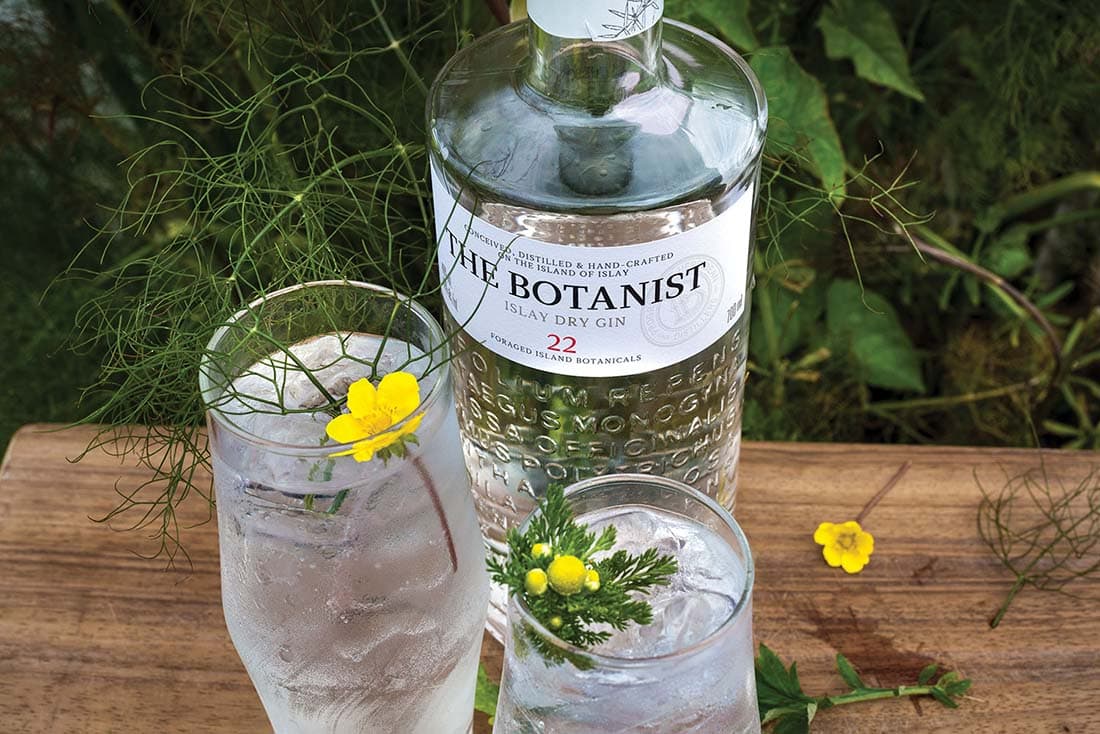 The Botanist is such a popular gin right now. It seems I can rarely go into a bar before someone's ordering a double next to me (who am I kidding, that's usually me).
Bruichladdich Distillery is located on the island of Islay. More famous for producing single malt Scotch whisky, this is also home to the Botanist gin. The distillery has been here since 1881 so obviously they know what they're doing.
On this tour you'll discover the story of how a reclaimed whisky still was altered to create Islay's first dry gin. Today, the Botanist is make up of 22 hand-foraged botanicals to give its distinct flavour. You can also go on an excellent cocktail making masterclass here creating some old-school gin cocktails.
The gin tour runs every day at 1pm. Tickets cost £7.50 per person and the tour lasts 1 hour.
Dunnet Bay Distillery, Rock Rose gin
This is another distillery tucked away in a remote part of Scotland. You can find Dunnet Bay Distillery next to John o'Groats in Thurso. This makes it the furthest northern distillery on mainland UK.
Dunnet Bay Distillery produce Rock Rose gin, considered one of the best craft gins in Scotland right now. The name comes from one of their rare botanicals Rhodiola rosea which means rock rose. This grows on the nearby cliffs of Caithness.
Even though this is a gin people now love, it took they guys a Dunnet Bay no less than 55 experiments to come up with the final Rock Rose recipe. That means this gin has been tried and tested over and over.
During the summer you can go on a distillery tour where you learn all about how they produce gin in northern Scotland. Usually, a tour takes 45 minutes and includes a little tasting session at the end. Tickets cost £6 per person.
If you're on the North Coast 500 then this is definitely one of the best places you can visit.
Summerhall Distillery, Pickering's Gin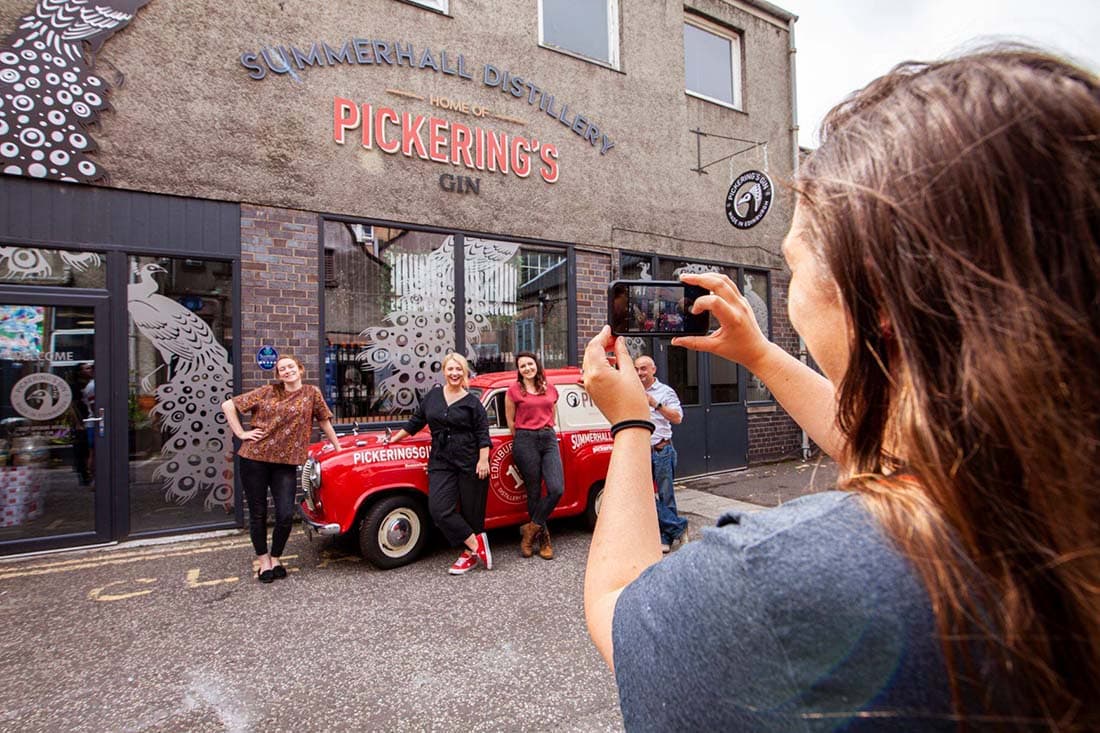 Summerhall Distillery is home to Pickering's Gin, a hugely popular gin in Scotland. This distillery opened its doors in 2013 becoming the first gin distillery in Edinburgh for over 150 years.
Since then their Navy strength gin has been picked up a gold award at the Scottish Gin Awards. The distillery has also been voted as Visit Scotland's 'Best Visitor Attraction in Edinburgh' so it's well worth visiting here.
On this gin tasting in Edinburgh you'll sample all the different gins at Summerhall seeing why each one is so different.
Tours at Summerhall Distillery run from Thursday to Sunday and last one hour, including a 15-minute gin tasting in Edinburgh. Tickets cost £10 per person.
Isle of Harris Distillery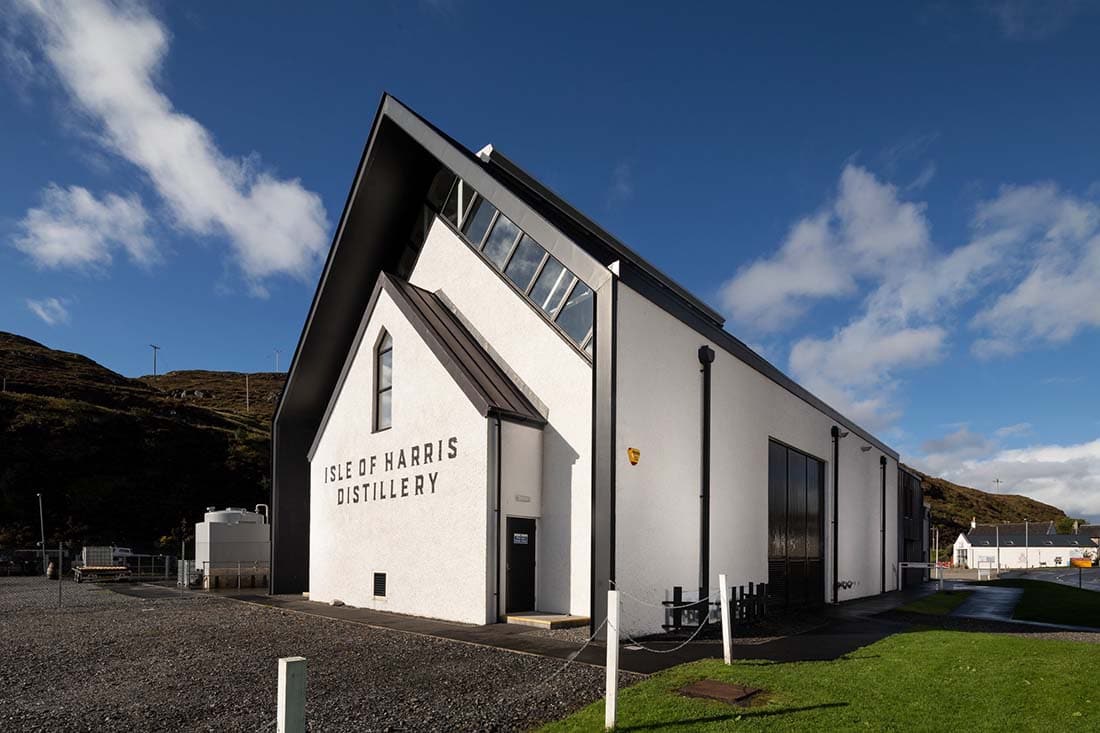 This might just be the hardest distillery to get to in Scotland, but I promise you it's worth it. The Isle of Harris is a beautiful island that epitomises everything that is great about Scotland. At the heart of that is the Isle of Harris Distillery.
What I love about the tours here is they're run by the locals. Hearach, one such guy, lives and breathes Scottish gin. A tour with him will show you his passion for the distillery and for the gin itself too.
Even though this place is very much out the way, it's still well worth visiting as one of the best gin distilleries in Scotland.
Tickets cost £10 per person for an 1.15 hour tour of the distillery.
Edinburgh Gin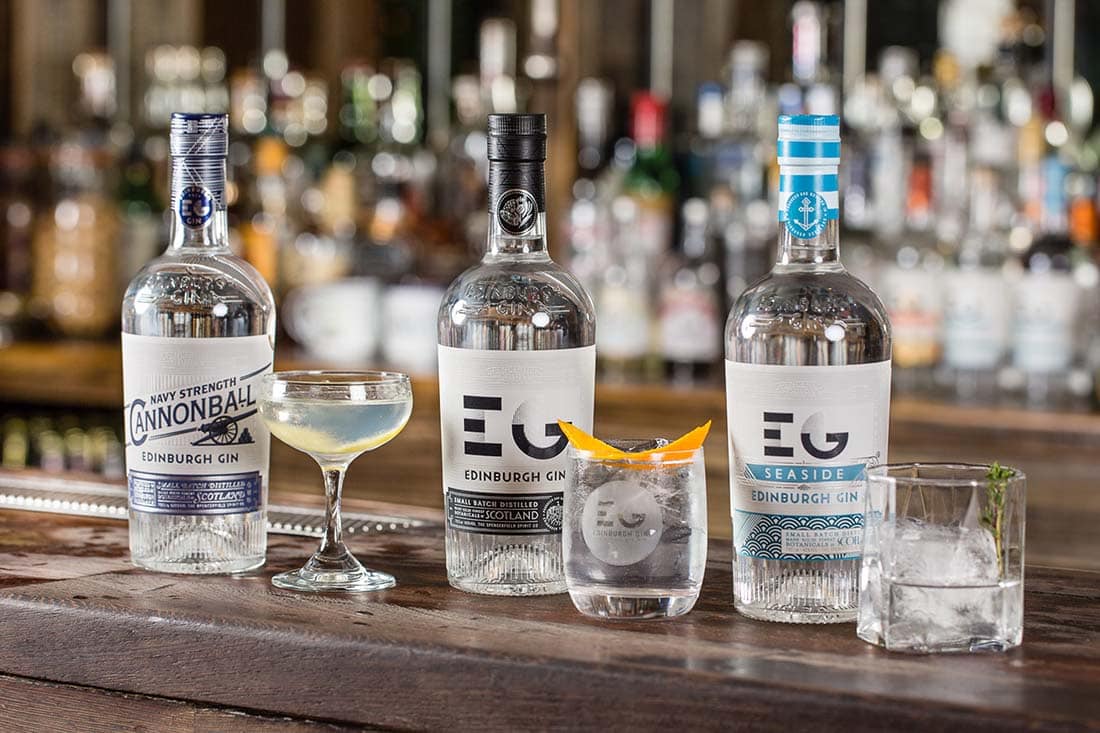 Now this is one of the most famous on the list – Edinburgh Gin. The range of gins they have at Edinburgh Gin is incredible. Their rhubarb & ginger gin is one of the best-selling flavoured gins in the world. Also, they produce their own flavoured liqueurs too. I've got the elderflower liqueur in the cupboard and it's really nice neat or with a splash of tonic. Obviously these are much sweeter gins.
The brand new visitor centre at East Market Street offers three great tours including a basic tour, a tasting tour and a distilling tour. This really is such a state of the art distillery – it's rare to see one as modern as this.
The Gin Discovery tour takes you around the distillery and gives you the back story. The Gin Connoisseur tour includes more samples of the gins and the liqueurs. But the Gin Making Experience is the one for gin aficionados. This is where you'll learn all about the gin distillation experience before creating you very own gin complete with personalised label.
Strathearn Distillery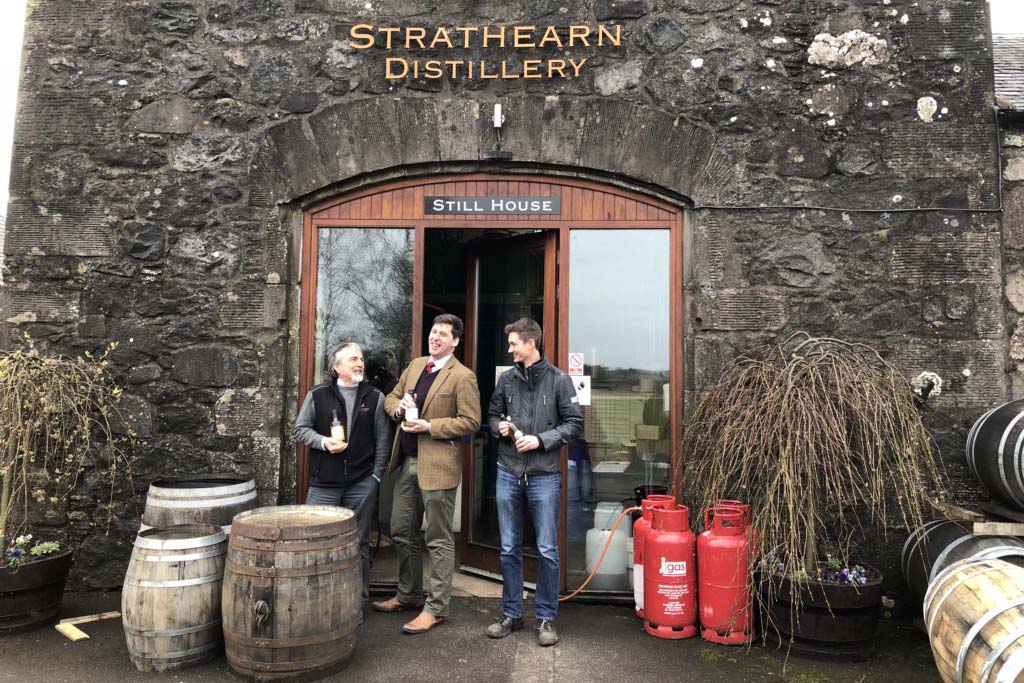 Strathearn Distillery always pops up as one of the best small gin distilleries in Scotland. This place is so small each batch only produces 280 bottles. However, what they lack in quantity they more than make up for in quality.
One of the most popular tours here is the Gin Lovers Experience. They greet you with a G&T in hand and then take you a full tour of the distillery. The gin tour involves numerous tastings, a history of gin and the chance to add your own choice of botanicals to Strathearn base gin and create your own bottle.
Strathearn Distillery is situated in Perth which means it's close to both Edinburgh and Glasgow. This makes it the perfect place for people looking for a gin tour from either of these cities.
Enjoyed this post? Pin it for later…