Looking for the ultimate gimlet cocktail recipe? This one makes fresh, zingy cocktails with a boozy kick.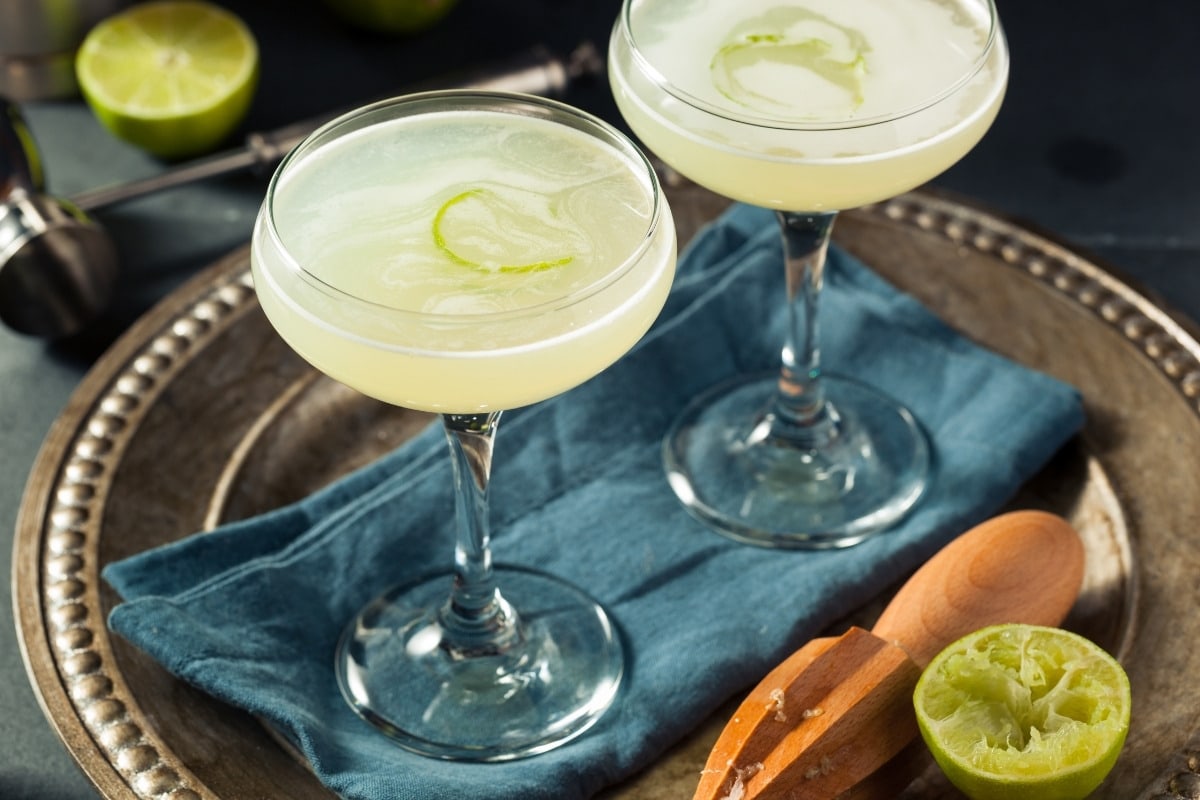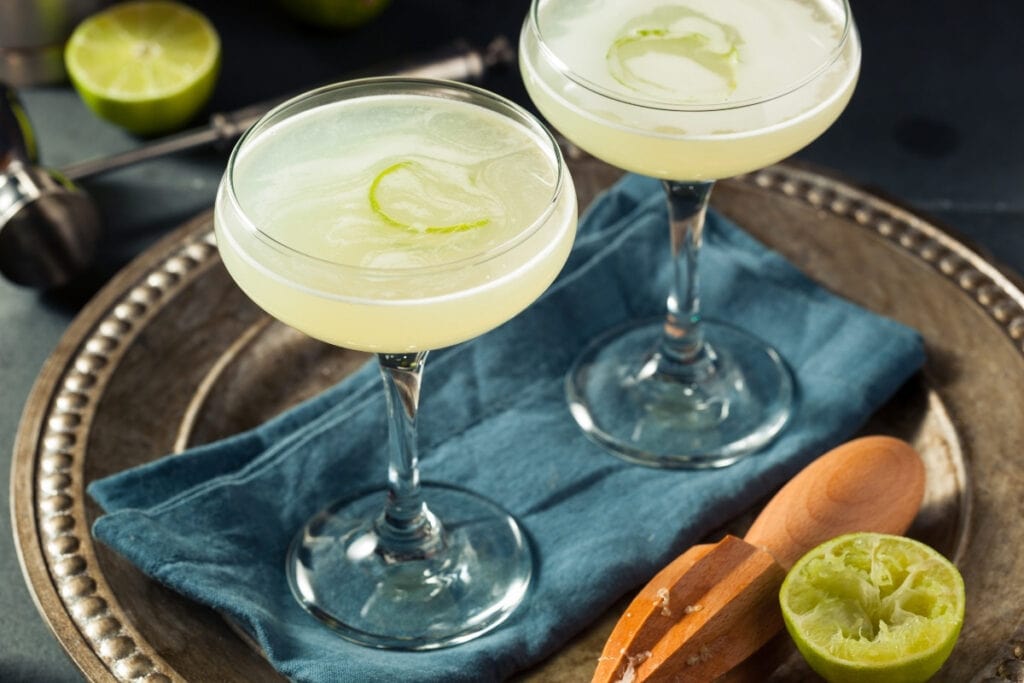 The gin gimlet cocktail is one of the ultimate classic British cocktails. We've loved learning more about the delicacies that have shaped Britain's past, especially when it comes to alcoholic beverages!
The gimlet has its roots in the world of sailing. It's a surprising tale, involving people trying to stay healthy by drinking. Now that's my kind of medicine!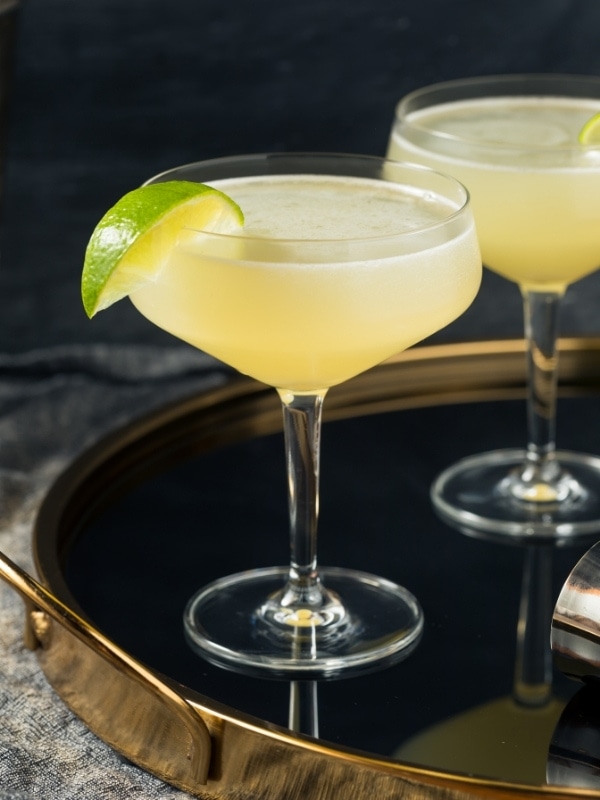 One thing I love about this recipe is that it's so simple. It only contains a few ingredients, and it's pretty likely you'll have all of them in your house already.
I think it's the perfect drink for a warm day, but even if it's chilly, this citrusy cocktail is guaranteed to warm you up.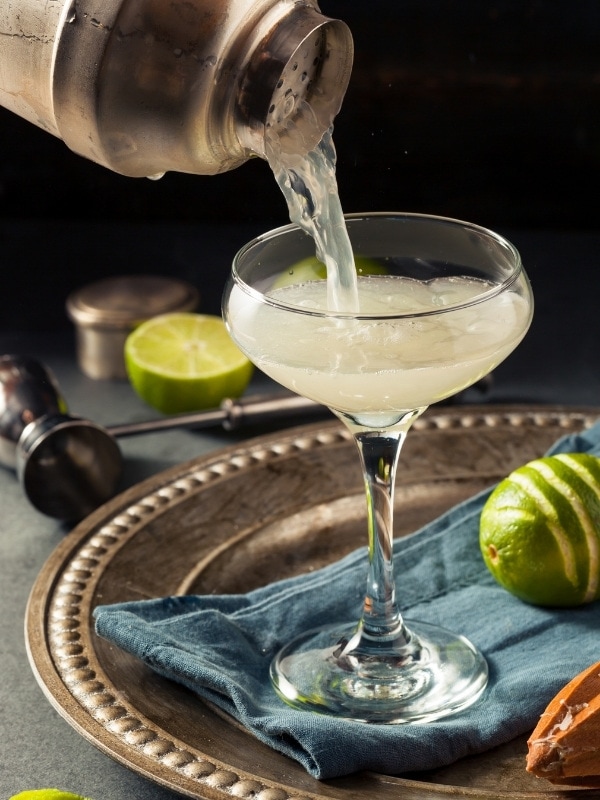 ---
Classic gin gimlet cocktail history
To learn about this classic British cocktail we have to take a trip back to the 18th century. It was a time when sailors were out on the high seas, but unfortunately lots were developing scurvy.
Over time, it was discovered that drinking citrus juices seemed to reduce the number of sailors suffering from the disease. It became so important that British sailors and members of the navy got their citrus fix that a law was written into the 1867 shipping act. It made it mandatory for all British ships to carry rations of lime juice on board.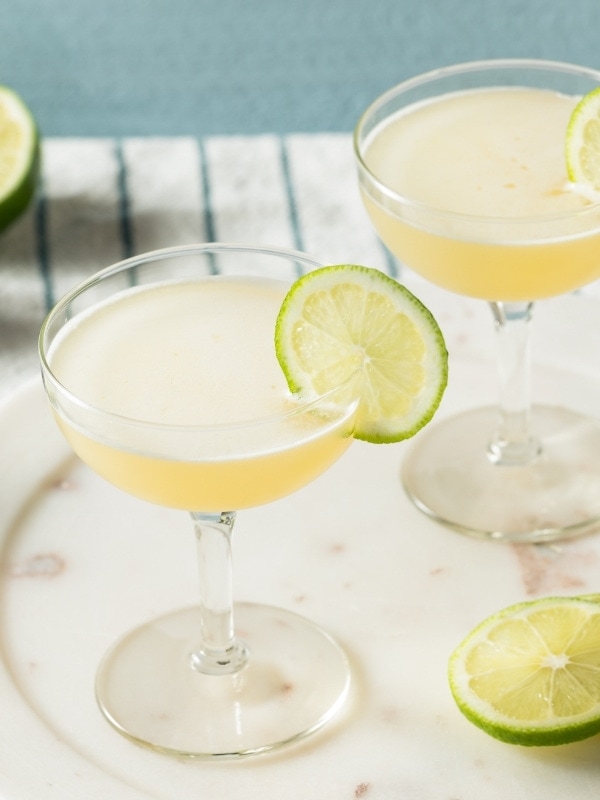 So, how does this connect to the classic gin gimlet recipe? Well, it's all to do with preservation. Much of the time fresh lime juice was preserved by adding rum, which was cheap at the time. One shipyard in Leith discovered that it could be preserved by adding sugar. Thus, Rose's Lime Juice Cordial (a sweetened lime juice) was created.
This was carried on board some ships. While the lower ranks on board would still mix their lime with rum, it's thought that the top officers and admirals enjoyed their lime mixed with gin.
And so, the classic gimlet was created.
I love hearing the history behind these drinks that are commonly seen on cocktail menus today. I'll raise a toast to an admiral next time I sip a gimlet!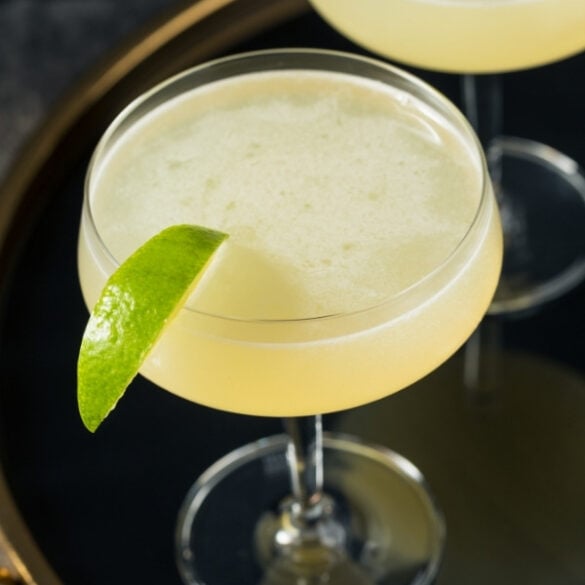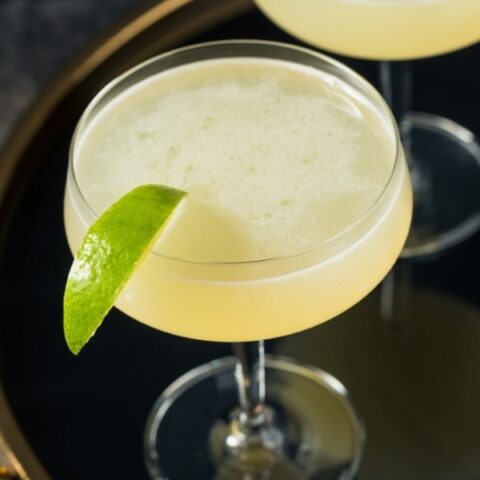 Gimlet Cocktail Recipe - Classic British Cocktails
Citrusy, fresh and wonderfully boozy.
A classic gin gimlet is a zingy British cocktail, perfect for warmer days.
Ingredients
1 part gin
1 part lime cordial (ideally Rose's Lime Cordial)
3 ice cubes
A slice of lime to garnish
Instructions
Chill a coupe glass or martini glass in the fridge.

Combine the gin, lime cordial and ice in a glass or cocktail shaker.

Stir for two minutes until the ingredients have combined and cooled.

Strain into your chilled cocktail glass.

Garnish with a slice of lime.
Notes
If you can't get hold of Rose's Lime Cordial, you can make your own at home. For this, we'd recommend making a lime syrup using the zest and juice of 1 lime, 20ml of water and heating it with 100g of caster sugar, until the sugar dissolves. Leave it to cool before following the Gimlet recipe.
There are plenty of ways to customise this drink according to your taste. Scroll down to find out some of our favourite Gimlet flavour combinations.
Nutrition Information:
Yield:

1
Serving Size:

1
Amount Per Serving:
Calories:

137
Total Fat:

0g
Saturated Fat:

0g
Trans Fat:

0g
Unsaturated Fat:

0g
Cholesterol:

0mg
Sodium:

3mg
Carbohydrates:

14g
Fiber:

4g
Sugar:

2g
Protein:

1g
Variations on a classic gimlet cocktail
If you've enjoyed your classic Gimlet, we've come up with a few twists on the original.
Vodka Gimlet Recipe
While I love gimlets made with gin (as it's the classic gimlet recipe) I know some of you prefer vodka. To make a vodka Gimlet, simply substitute the gin for vodka.
Basil Gimlet Recipe
For this variation, I recommend muddling some basil leaves (3 leaves per glass) before adding the other ingredients. You'll strain the bits out when you serve.
Save a few small leaves to garnish with too!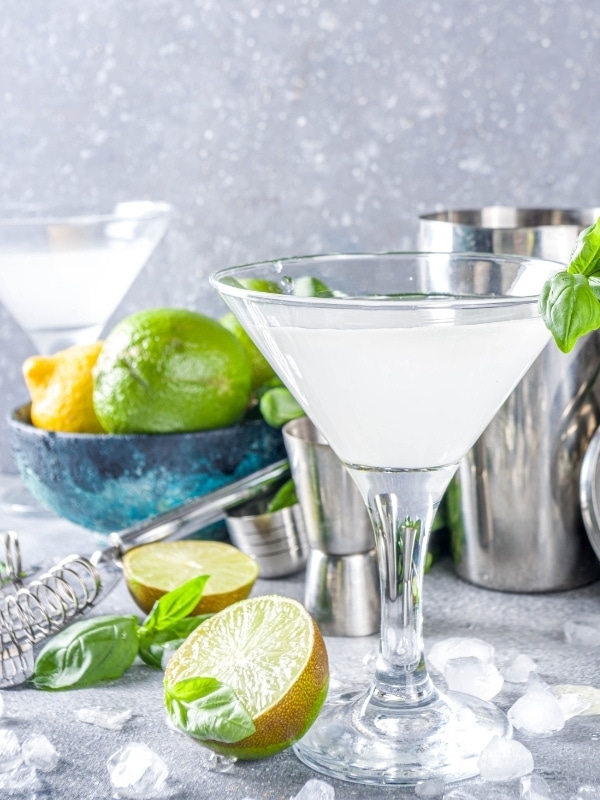 Cucumber Gimlet Recipe
For this variation, muddle three slithers of cucumber in a glass before adding the other ingredients.
For the garnish, roll a slither of cucumber up and attach with a cocktail stick.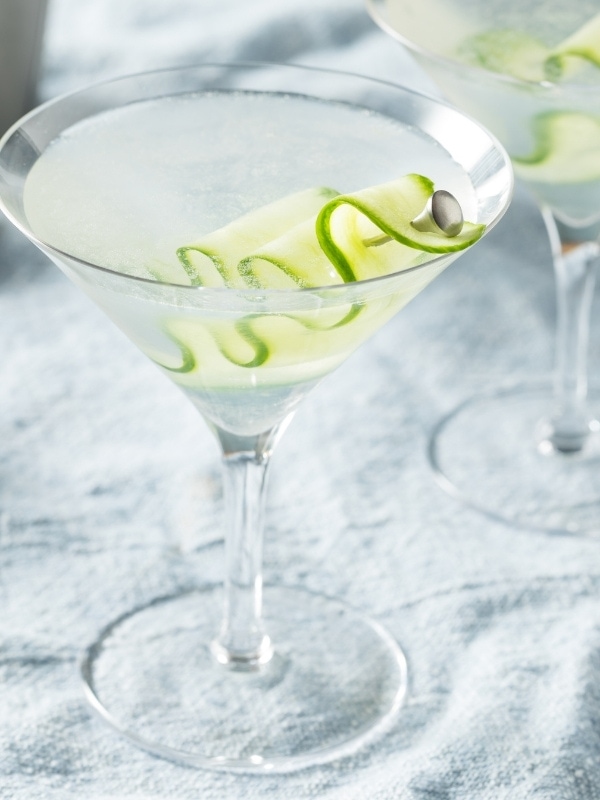 Elderflower Gimlet Recipe
For this twist on the classic gimlet recipe, I'd recommend adding in 1/2 part of Elderflower liqueur. St. Germain or Chase make a good one, but I prefer the one produced by Edinburgh Gin Distillery.
If you can't get hold of a gin liqueur you could add 1/2 part of elderflower cordial instead.
Cucumber Basil Gimlet Recipe
This is one of my favourite twists on the classic gimlet recipe. It's really fragrant and summery. For this one I'd recommend 3 basil leaves and two slices of cucumber per person.
As with the basil gimlet, it's best to muddle these two ingredients together first. You'll strain the bits out when you serve.
Garnish with a few small basil leaves. Then roll a slither of cucumber up and attach with a cocktail stick.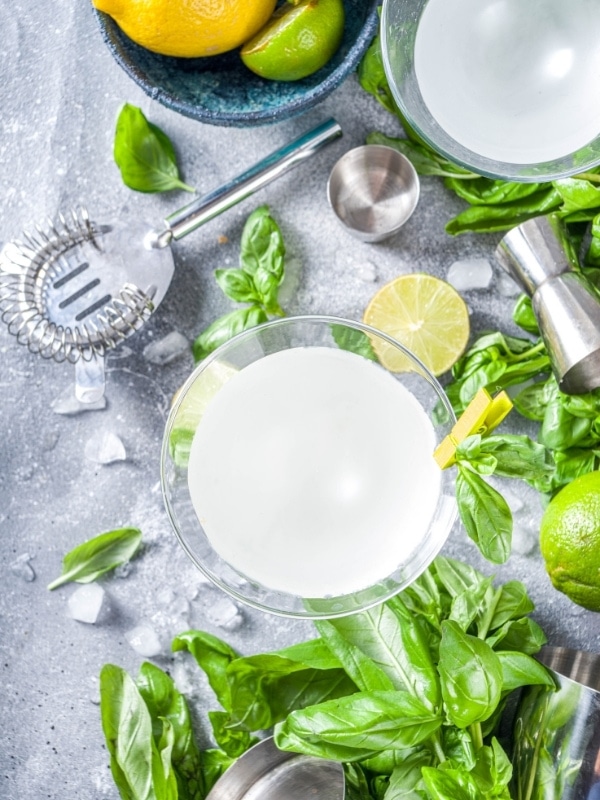 Raspberry Gimlet Recipe
For those who like their cocktails on the sweet side, this gimlet recipe is for you! It's pretty in pink too.
To make a raspberry gimlet I recommend using four raspberries per person. Mash them up before adding the other ingredients, then use a strainer to filter the bits.
Garnish with a fresh raspberry and a twist of lime.
Cucumber Mint Gimlet Recipe
Similarly to the other variations, muddle the cucumber and mint at the start, then add the other ingredients.
Be sure to strain all the bits out. Then serve with a garnish of a rolled up slither of cucumber and a few mint leaves.
Cucumber Elderflower Gimlet Recipe
Start by muddling the cucumber to release its juice. Then add 1/2 part of elderflower liqueur to the classic gimlet recipe.
Rose Gimlet Recipe
For this feminine twist on the classic, I recommend adding in a few drops of rose water to the recipe. You can add to the prettiness by topping with dried rose petals.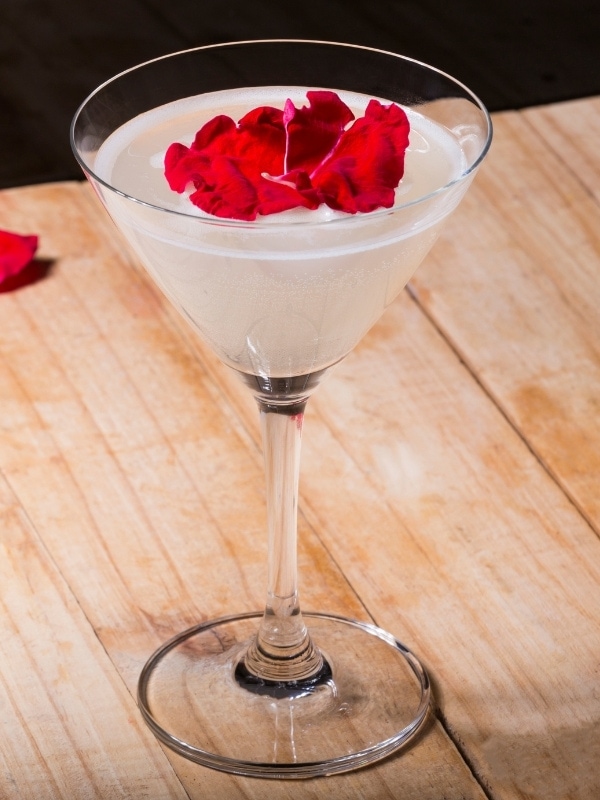 Lemon Gimlet Recipe
As a classic gimlet is made with lime, it's simple to switch it to a lemon flavoured cocktail. For this one I recommend making your own lemon syrup (juice and zest of 1 lemon, 20ml of water and 100g of sugar).
Then you can follow the classic gimlet recipe, garnishing with a slither of lemon at the end.
Rum Gimlet Recipe
Lime and rum are a marriage made in heaven. For this twist you can switch your gin for rum. Used spiced rum for an extra punchy kick!
Tequila Gimlet Recipe
This Mexican inspired gimlet is moving into margarita territory. Add a salt rim for an even closer match!
Rosemary Gimlet Recipe
We're big fans of herb-infused cocktails. For this one, I recommend smashing a few rosemary fronds with a pestle and mortar, before adding to the main cocktail mix. You can garnish with a little stick of rosemary too.
---
I hope you've enjoyed these gimlet recipes as well as giving you some ideas on how to customise this British classic cocktail! Don't forget to check out a few of our other favourite British cocktails including our amazing Bramble cocktail recipe.
Enjoyed this post? Pin it for later…