Ready to go walking? From exploring the Peak District National Park to visiting Peel Tower, these are the best walks near Manchester.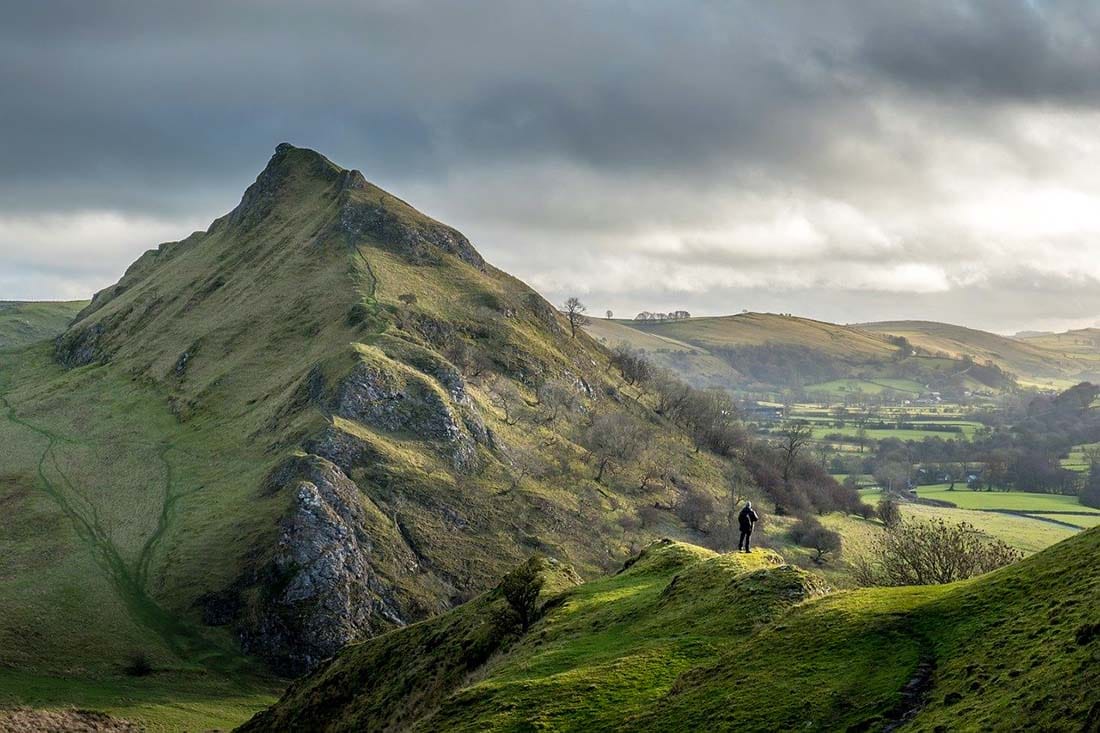 Manchester is one of our favourite cities in Great Britain. With places like the Trafford Centre, Salford Quays and a nightlife that can easily rival London's, the city has so much going for it.
The thing about any city though is if you spend long enough in one you start dreaming of the countryside. Don't worry, that's where this post comes in handy.
I wanted to put together some of the best walks near Manchester so you can get your countryside fix without straying too far from the city.
All of these walks are doable in a day making them perfect day trips. And even if you don't live in Manchester these are still some fantastic walks for you to go on.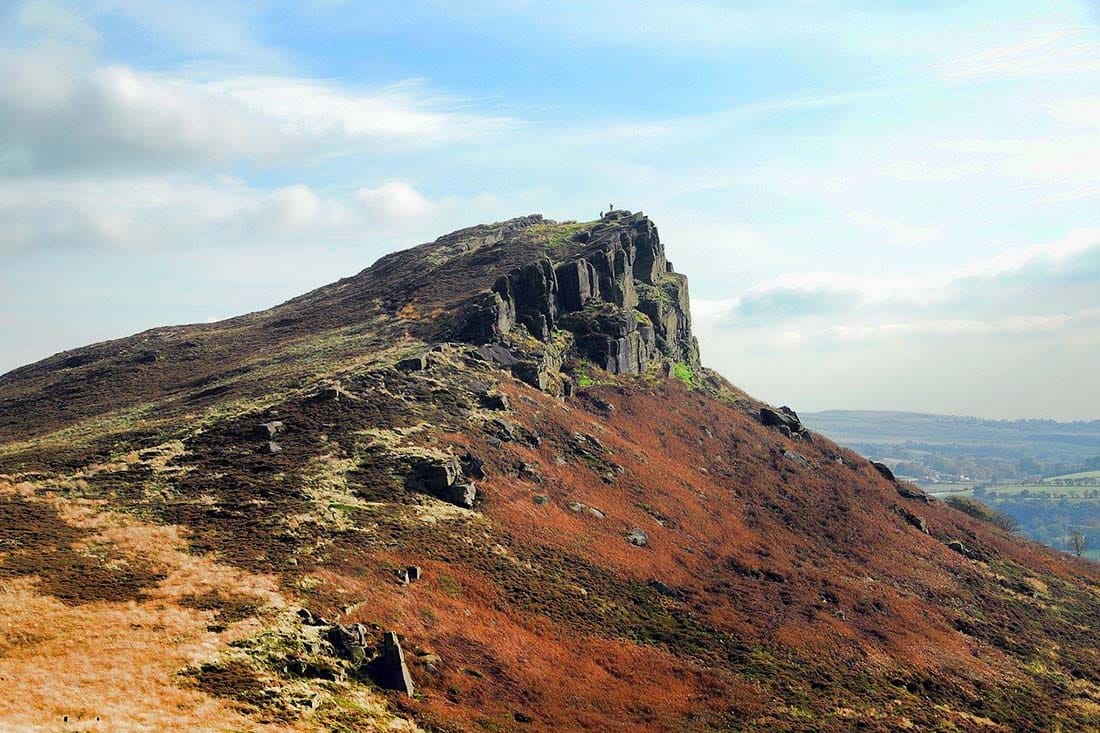 One of the best things about Manchester is its location in England. If you've got a car, it doesn't take long before you're in the Yorkshire Dales or the Lake District National Park. North Wales is really close by too.
Basically, what I'm saying is there are some stunning Manchester walks for those of you who love going on a bit of an adventure.
So, pack you walking boots, choose one of these hikes and get out the city for a bit. Trust me, you really can't beat some of these views!
Chorlton Ees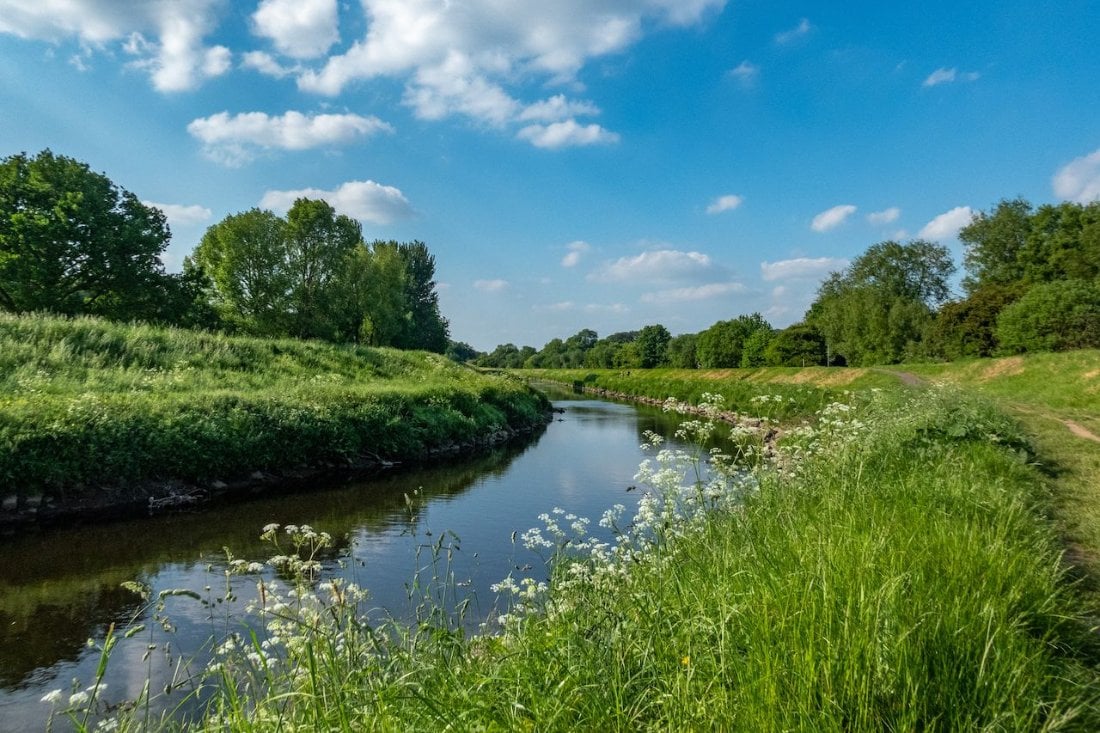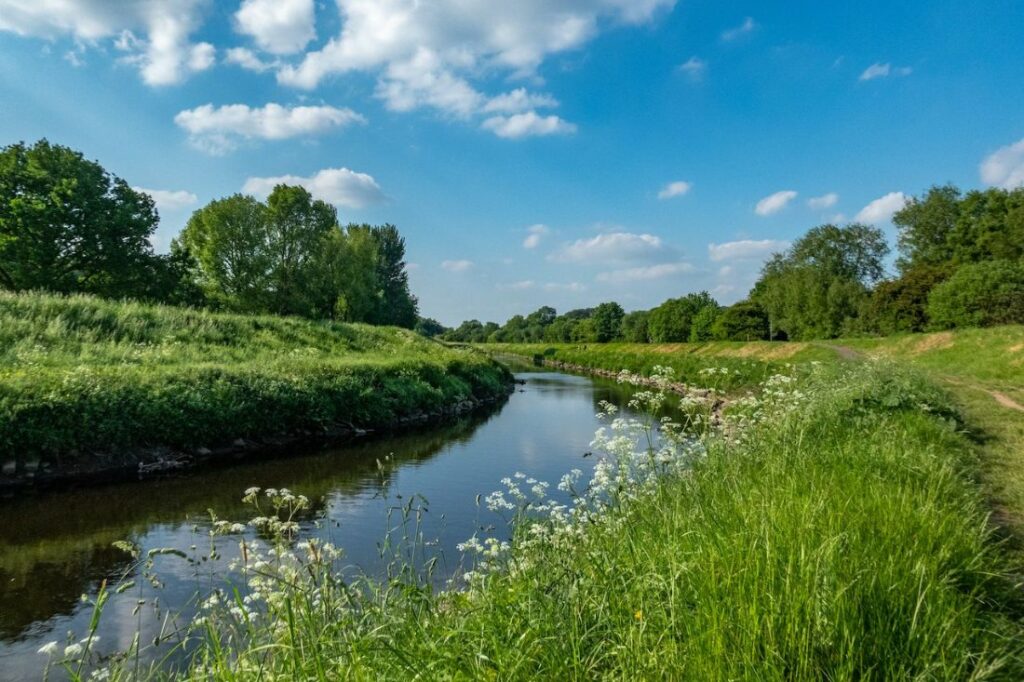 Right, let's start you off with a fairly sedate walking trail near Manchester. Just south of the city and about a 25-minute drive, Chorlton Ees is a wonderful woodland that feels a million miles away from the city.
Chorlton Ees Nature Reserve is a 58-hectare site that's full of woodlands, meadows and lakes. This makes it perfect for a ramble through the forests or for a summer picnic by the lake.
One of the best walks is along the banks of the River Mersey with a stop off at the pub Jackson's Boat for a swift pint outside. Yes, this place even has a pub right in the heart of it.
The walk following the river is really beautiful though and definitely a highlight in the area, so I recommend you head there first.
Cave Dale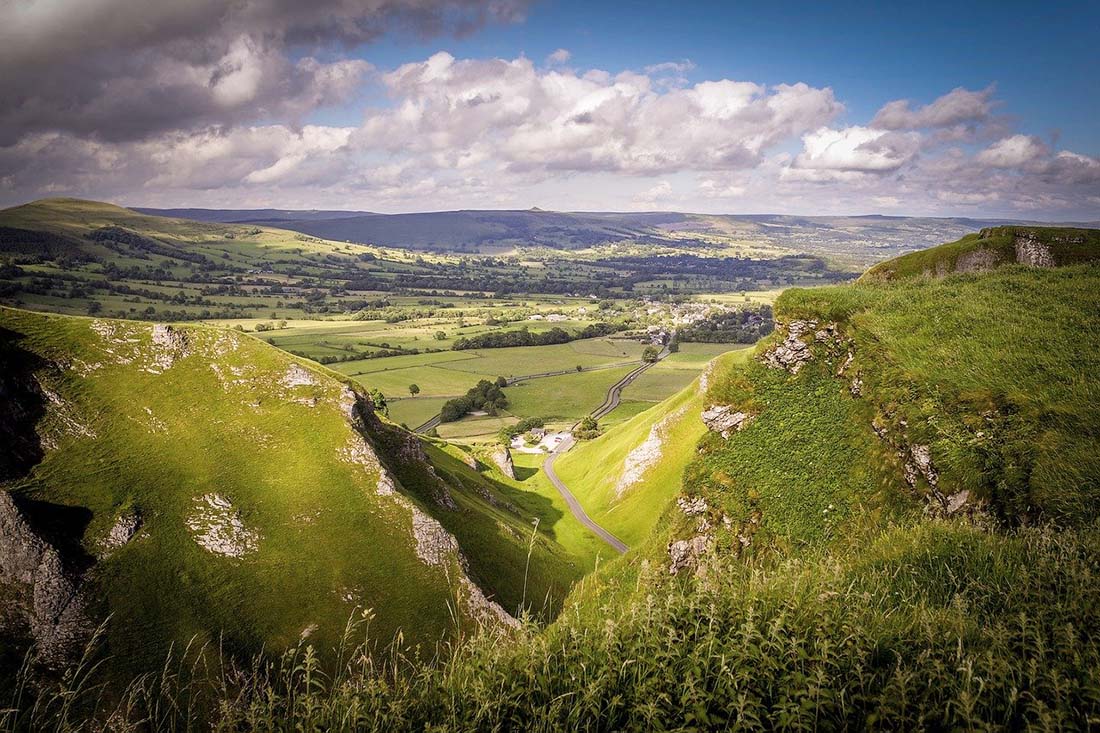 I think the views of Cave Dale are up there with the best that you'll find around Manchester. This is a circular walk from Castleton in the Peak District with the highlight being the ravine of Cave Dale.
The route starts in the village of Castleton itself – you enter the dale through a narrow rocky opening near the village centre which is quite cool. You then follow signs towards Cave Dale which are clearly marked.
The ravine itself was formed by glacial meltwater carving through the limestone, creating the deep valley that stands today. To make things even better, there's an old Norman fortress overlooking the valley that you can explore too. The ruins of Peveril Castle date back to 1086 making it one of the oldest castles in Great Britain.
There's some wonderful limestone scenery and great views of the Derbyshire Dales countryside from the high points. This really is one of the best places to walk near Manchester!
Bridestones Moor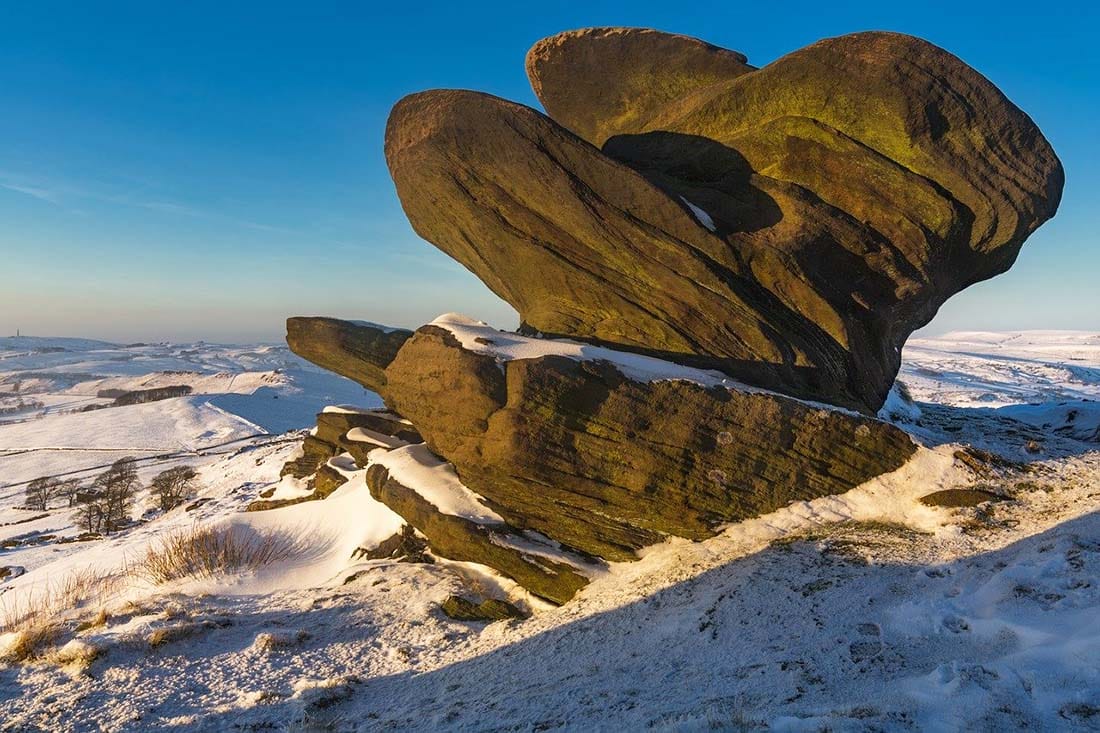 Bridestones is a moorland nature reserve with some of the most unusual rock formations you'll find in England. This makes it a fantastic place to explore near Manchester, especially as it's about an hour away from the city.
At Bridestones there are these giant rock formations that date back to the Jurassic period 150 million years ago. It's quite hard to describe but hopefully the photos do it justice, but basically they're the only rocks for miles and miles around.
You can even climb on top some of these boulders for the best views of the surrounding green rolling hills.
There are 300 acres of nature reserve to explore here, so you can make a full day of it if you want to. There are plenty of marked paths and hiking trails to follow.
The area is run by the National Trust so there is a paid car park off Dalby Forest Drive near Staindale Lake and Adderstone Wood. From here you can pick up the walking trails taking you up to the stones.
South Pennine Water Trail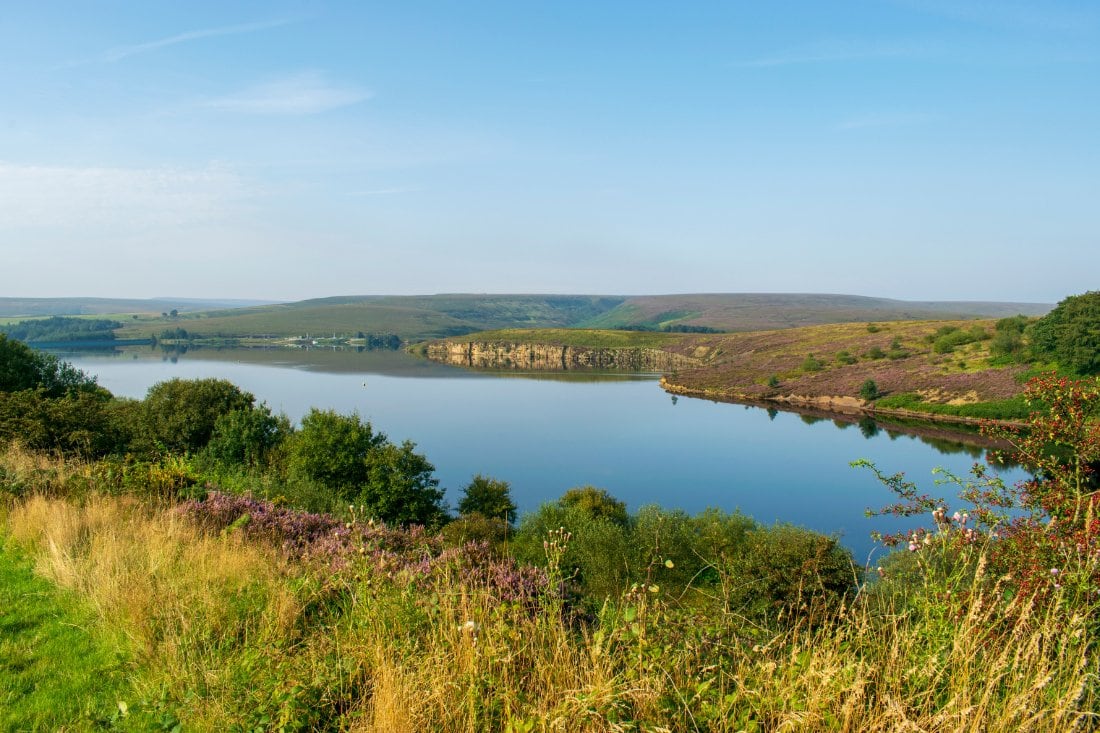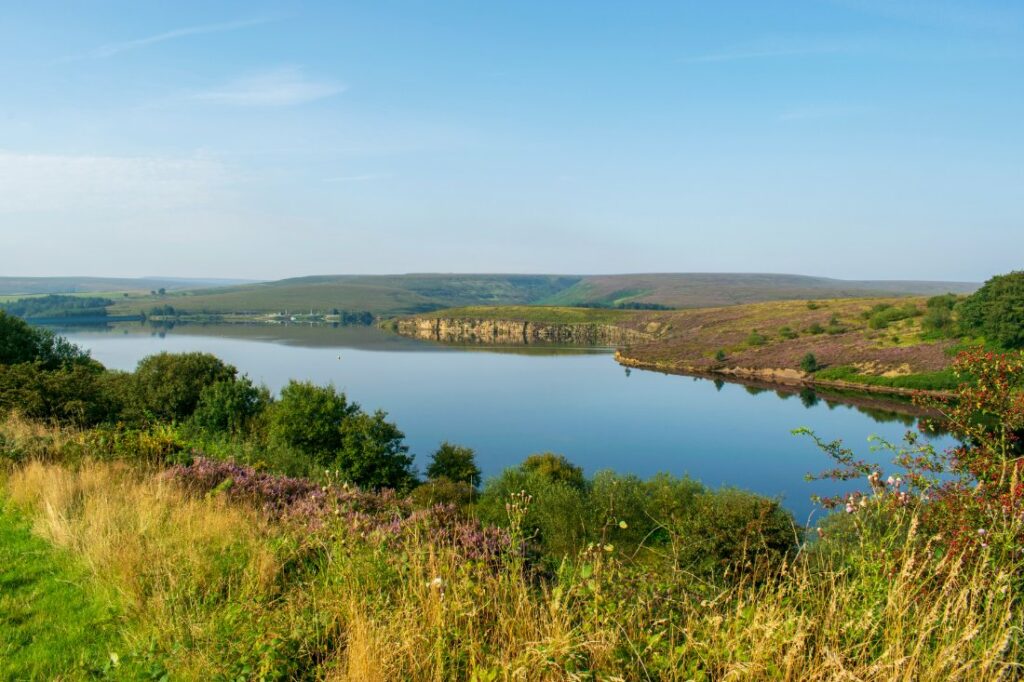 On this walk you can discover Hollingworth Lake in Littleborough on a really relaxed 8-kilometre walk. With scenic views over the Pennines, this circular route takes in some of the best countryside the area has to offer.
The walk starts and ends at Hollingworth Lake and you'll want to follow signs towards Rochdale Canal. Strangely enough, Rochdale Canal is actually known as the 'Everest of Canals'. This is because the canal rises over 55 locks to its highest point of 600ft above sea level. At the time this was a huge engineering feat.
Along the way, take time to wander around Littleborough. This small Pennine town has a rich history of both wool and cotton trading and it's a really charming town to explore.
This is the perfect activity for those of you looking for a half-day hike.
Holcombe Moor to Peel Tower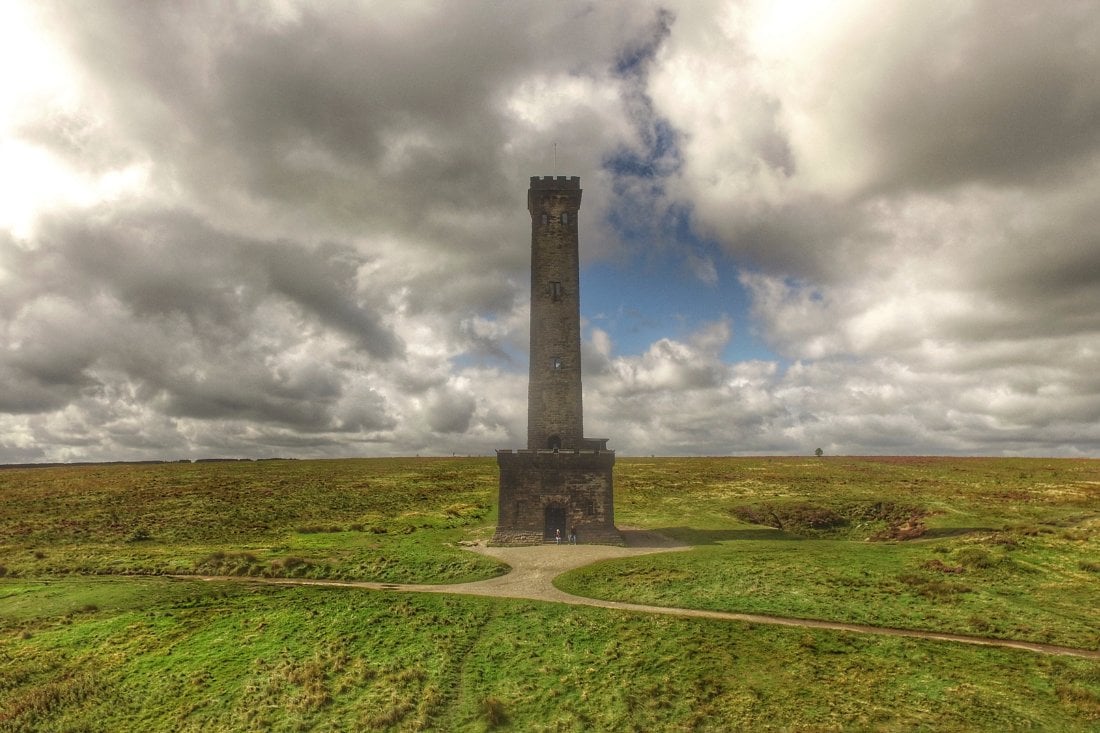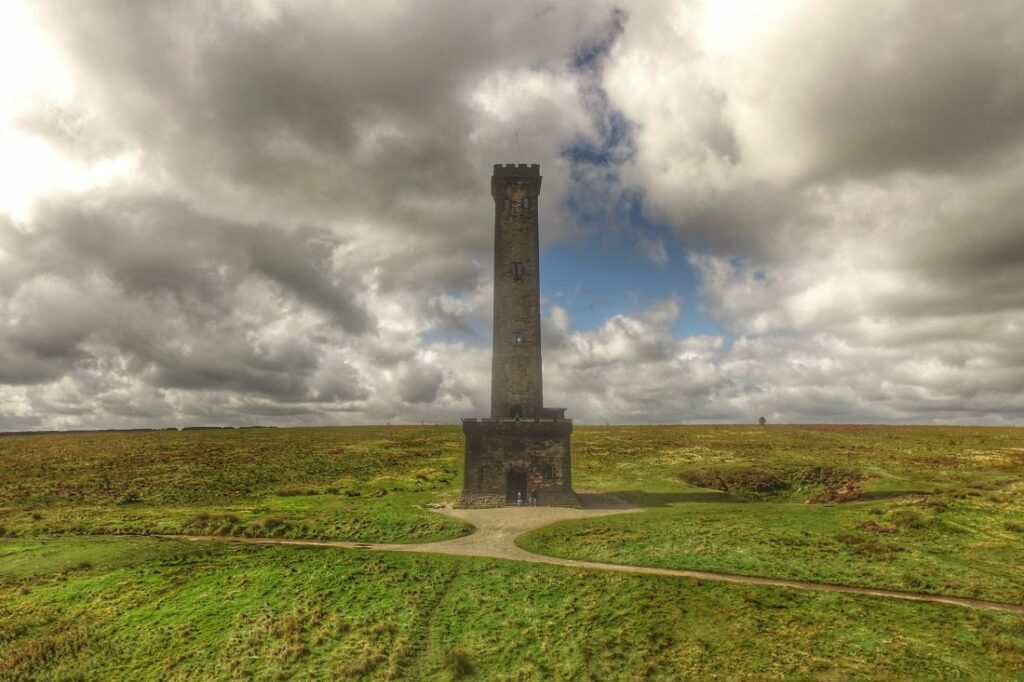 This is up there with the best walks near Manchester. The Holcombe Moor to Peel Tower has spectacular views of woodlands, riverside rambling and the gorgeous English countryside.
The payoff is when you get to Peel Tower. This is a 39-metre high tower commemorating former British prime minister Sir Robert Peel – he founded the modern Metropolitan police force that we have today. It was built in 1852 and it has perfect views over Bury and Holcombe.
The walk beings at Ramsbottom station. If you time it right you can leave the car in the car park and catch the East Lancashire Steam Rail. Parts of the walk cross farmland, and so walkers need to keep to the footpath and make sure any accompanying dogs are on a lead.
It total, this walk will take you 2-3 hours to complete, so perfect for a sunny afternoon.
Kinder Scout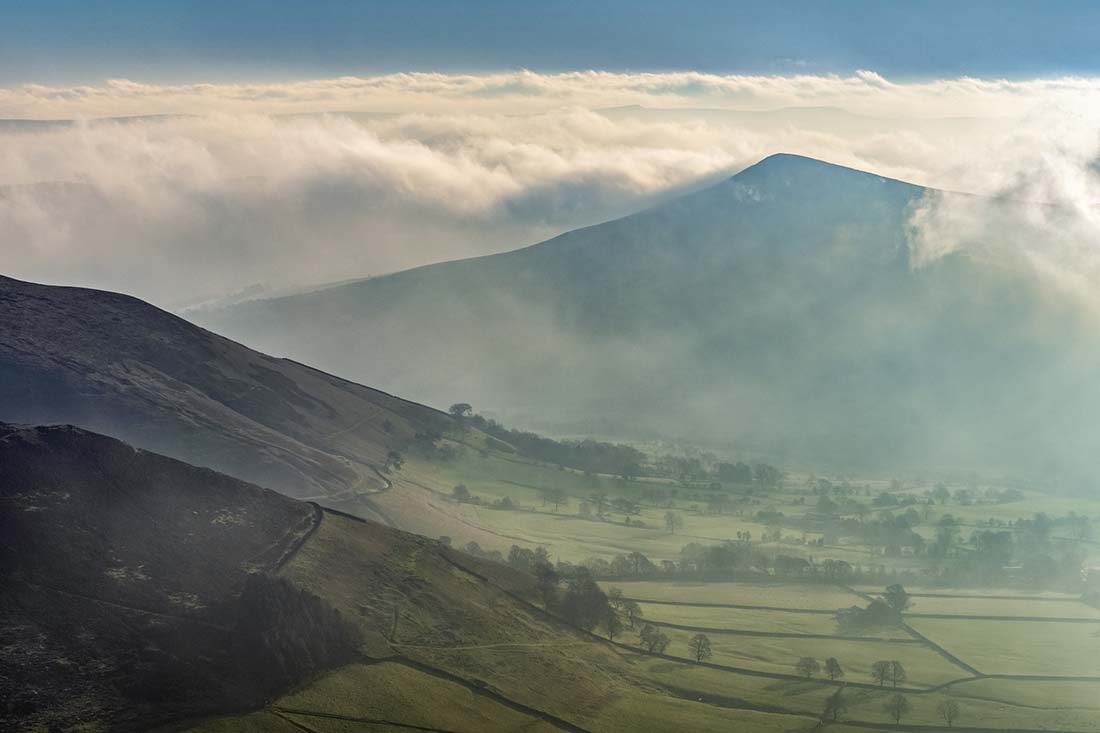 Even though this sounds like a chocolate made by Kinder, Kinder Scout is in fact a beautiful moorland plateau.
Located in the Derbyshire Peak District, this is one of the more difficult hikes you can do in the area. Hiking up Kinder Scout has some tricky ascents and descents, so be careful when taking this one on. Honestly, it's tricky.
Once you get to the top though you'll be treated with some spectacular views. On a clear day you can see all the way to Snowdonia in North Wales. At the top you'll see all of these weird rock formations scattered around that this area is famous for.
The best feature of Kinder Scout is Kinder Downfall; this is where the Kinder River flows off the plateau to create an amazing waterfall.
The most popular route is the one that starts at Edale village. Follow the signs and take the scrambly ascent up Grindsbrook Clough. From there you can follow the Pennine Way. If you're up for it then this is definitely one of the best hikes near Manchester.
Mam Tor Circular Walk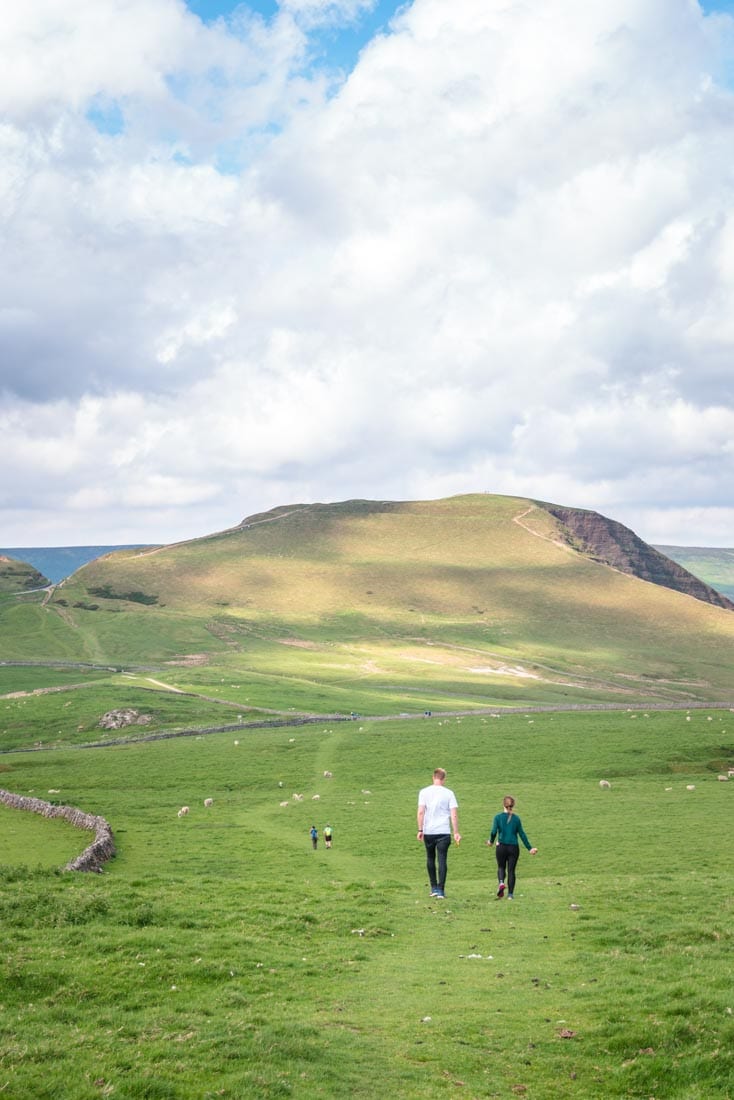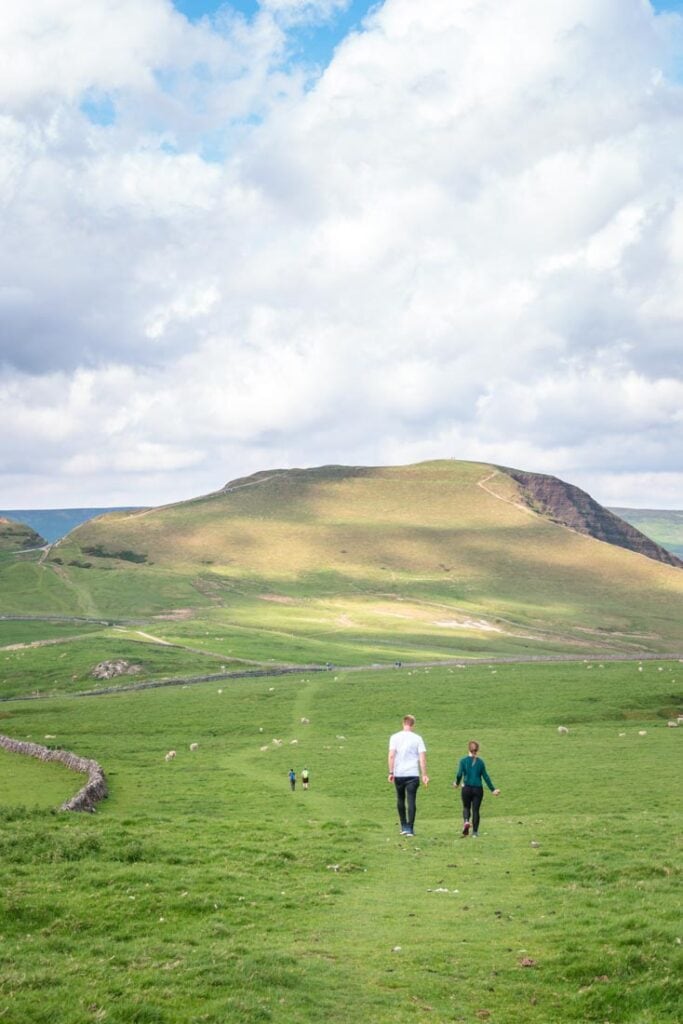 The Mam Tor circular walk is another fantastic option in the Peak District National Park and one of our top places to visit in the Peak District.
If you head to Castleton again, this walk takes you to the viewpoint at Mam Tor where you can see the landscape stretching from Edale Valley to Kinder Scout and the Derwent Waters. Views like these are what the Peak District is all about!
Once you've made it to the top of Mam Tor you can follow the ridge along Loose Hill and follow the path back to Castleton. If you're doing the full circular route it can take you around 6 hours, but it is possible to do a shorter route in just 2 hours.
The Mam Tor circular walk is thought to be one of the best ridge walks in the UK so make sure you add it to your list of things to do around Manchester.
Roddlesworth Woods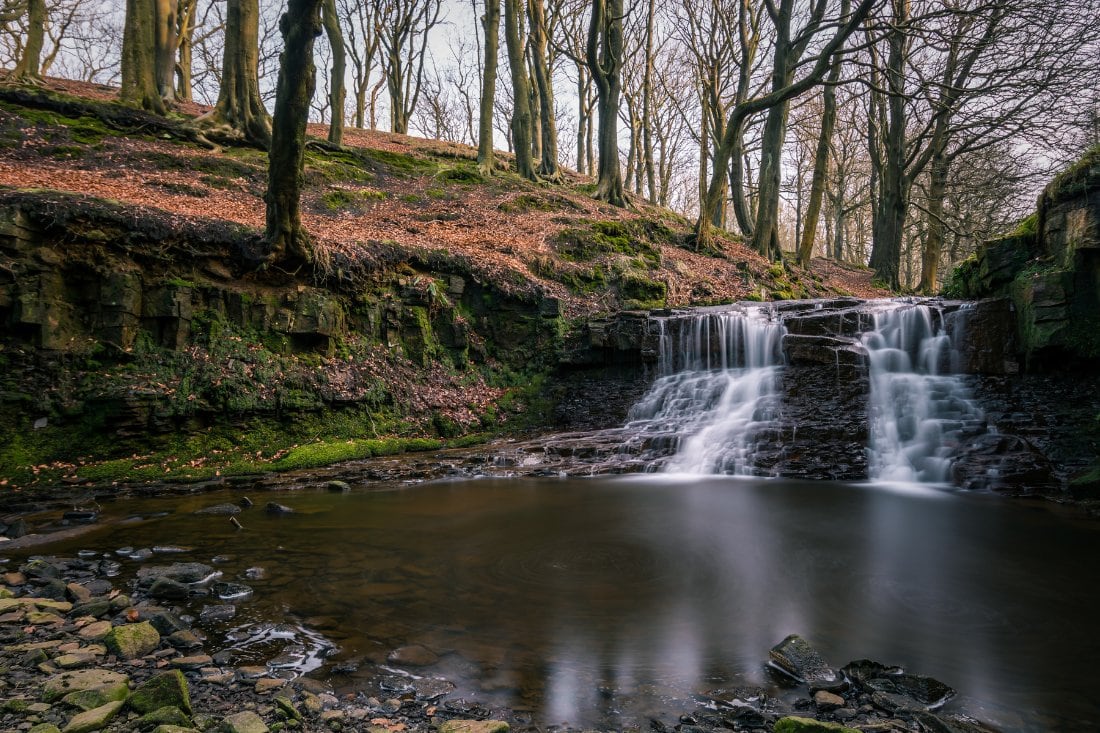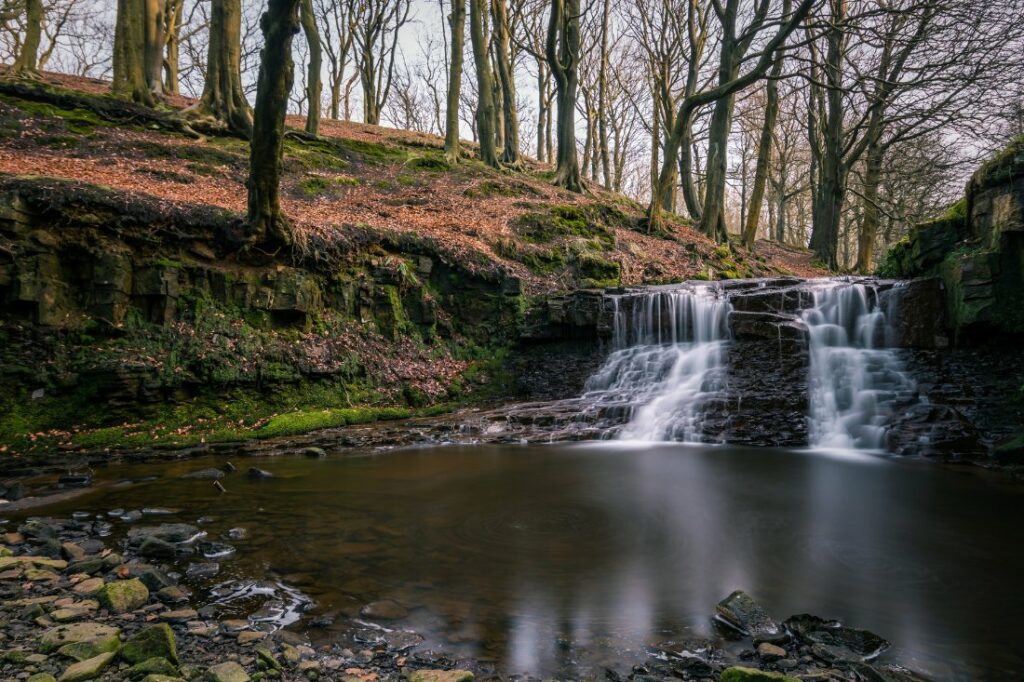 Roddlesworth Woods is a particularly beautiful walk for those of you who want to be among the trees.
Starting in Riverton, this walk follows a path through the forests where you'll eventually discover what was once Hollinshead Hall, an 18th century manor house owned by the wealthy Hollinshead family.
You can wander around the ruins here. The best bit is there used to be a holy healing well that supposedly cured people from far and wide.
There are good footpaths running around the water and through the surrounding woodland. If you can, try and visit Roddlesworth Woods in spring. That's when all the beautiful bluebells are out in bloom making the woods look extra magical.
In total, the walk here will take around 3 hours. Oh, and there's a pub in Roddlesworth that's worth visiting too!
Drinkwater Park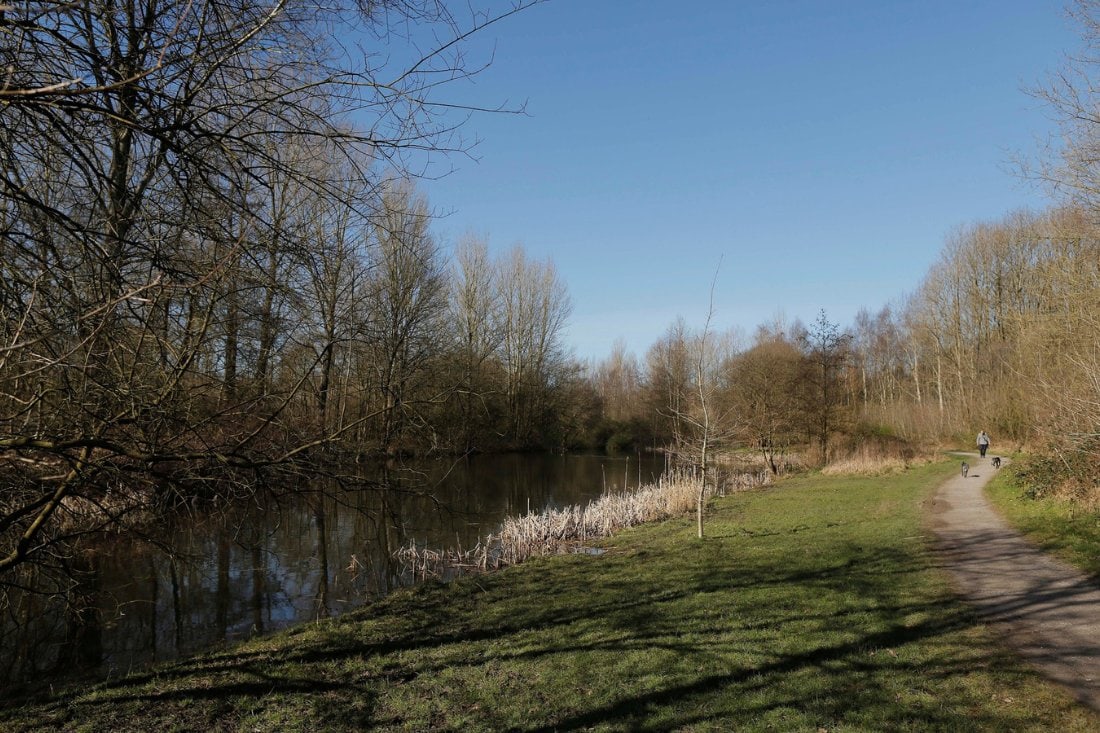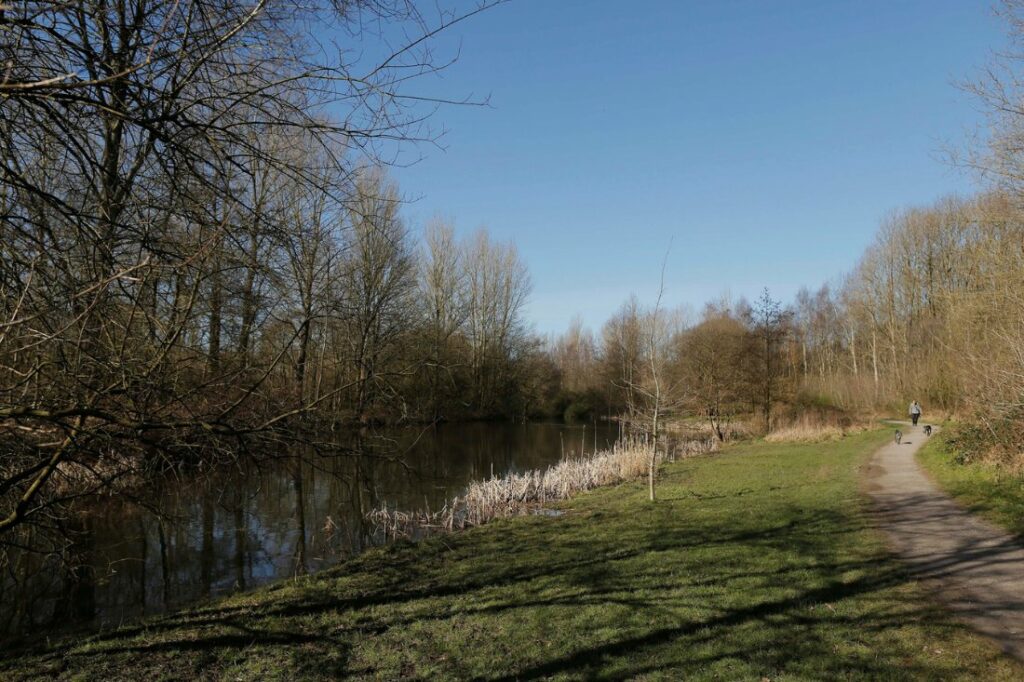 Drinkwater Park is one of the longer hikes near Manchester.
The whole loop at Drinkwater Park is 18.3 kilometres long, so this is a proper full day hike that'll put you through your paces. Saying that, obviously you don't have to do the full 18.3 kilometres. Alternatively, this is a quality place to go cycling too.
The best thing about Drinkwater Park is the iconic viaduct. This is a magnificent 13 arch viaduct that looms large over the surrounding countryside. This is actually a really good spot to see kingfishers and even peregrine falcons, so make sure you keep your eyes peeled.
The car park at Drinkwater park is sometimes closed, but there is another car park near the entrance to Forest bank prison.
Aber Falls, Wales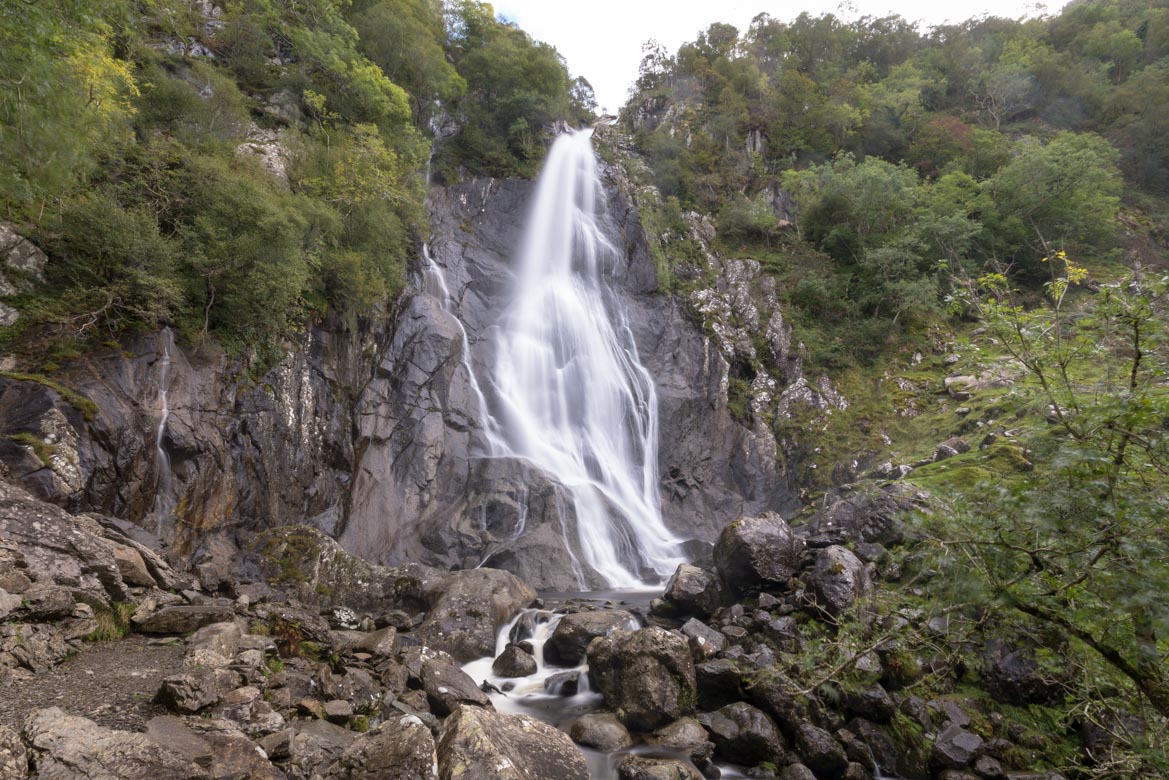 This one is pushing it in terms of being near to Manchester – it takes about 2 hours to drive to Aber Falls in North Wales – but it really is a beautiful place to visit.
The main path to the waterfalls is approximately 2 kilometres long. Depending on how quickly you walk, this will take you around 30 to 40 minutes. However, I'd really recommend at least an hour.
Along the main footpath there are several small Bronze Age settlements which you can see. These include an excavated roundhouse and a smithy. Most of these sites have information plaques giving you the ancient history of the area so it's perfect for teaching the kids.
Once you get to the waterfalls, there is a bridge that takes you up to a lovely viewpoint. There are a few benches here so it's the perfect picnic spot too.
As I said, this really is such a stunning spot to visit in North Wales and it's definitely worth the journey in my opinion. I've written a guide to visiting Aber Falls, so if you're heading here then give it a read.
Walking packing list
Usually when we go out on these walks, we're spending all day out and about in the countryside. Because of that, there are some things that we always bring with us and recommend to others. Hopefully one or two of these items can help make your walk that little bit more enjoyable!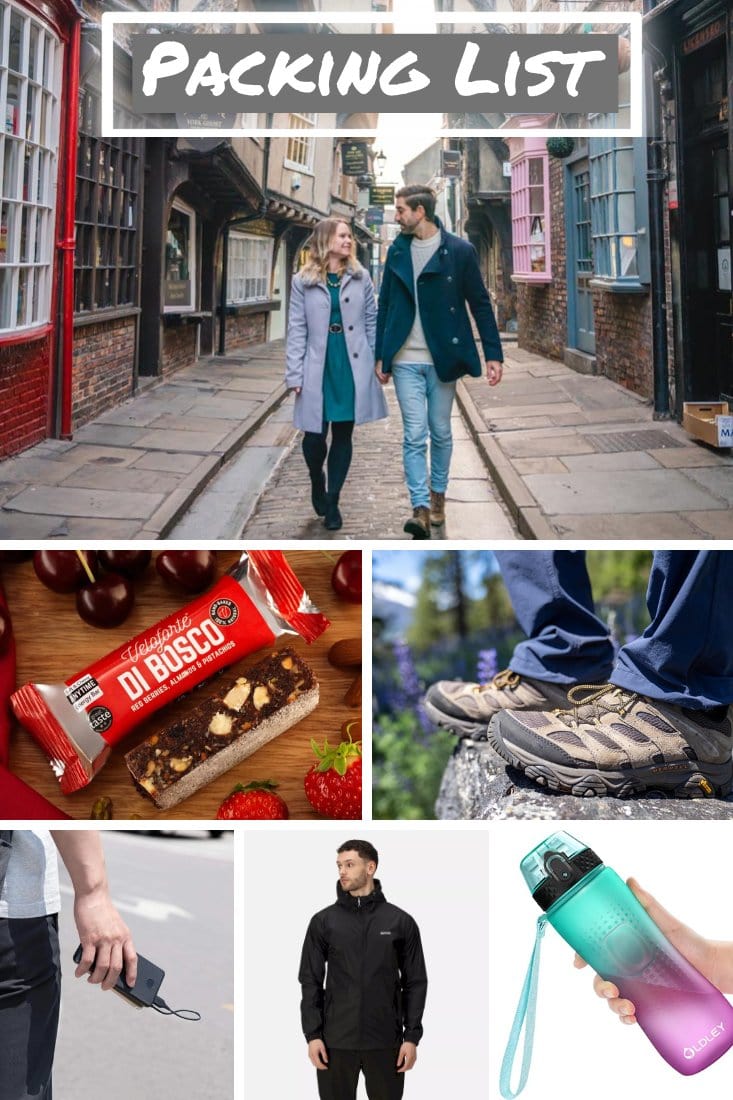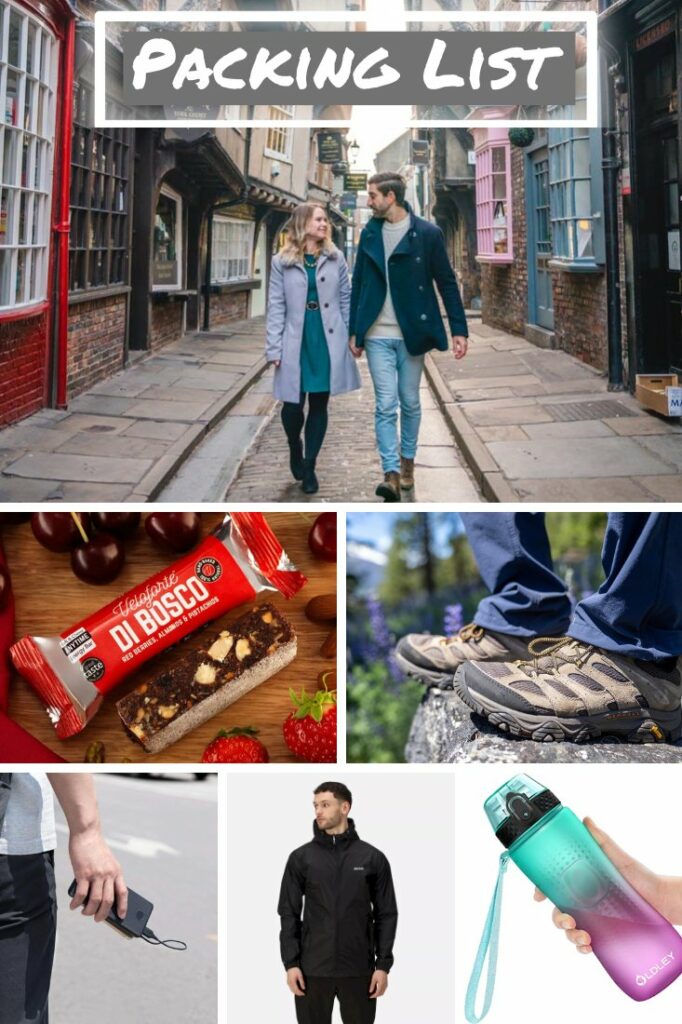 ---
Like this post? Pin it for later…