The Mam Tor walk is easily one of the best walks in the Peak District. This guide has everything you need to know about walking Mam Tor.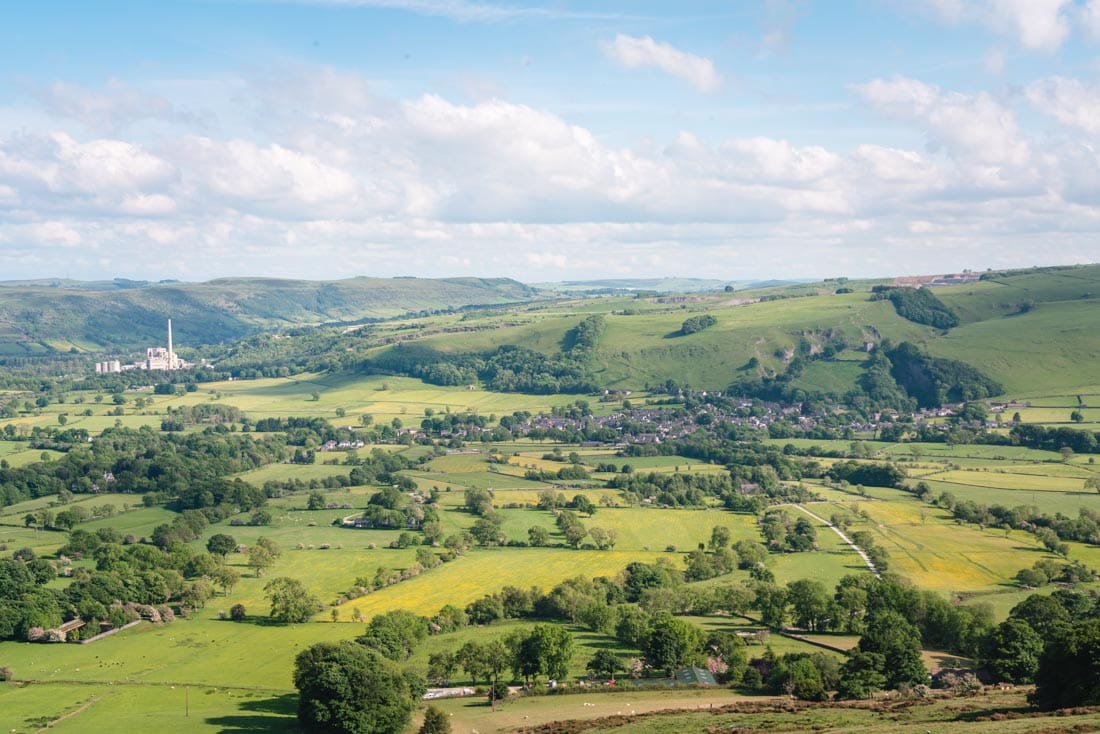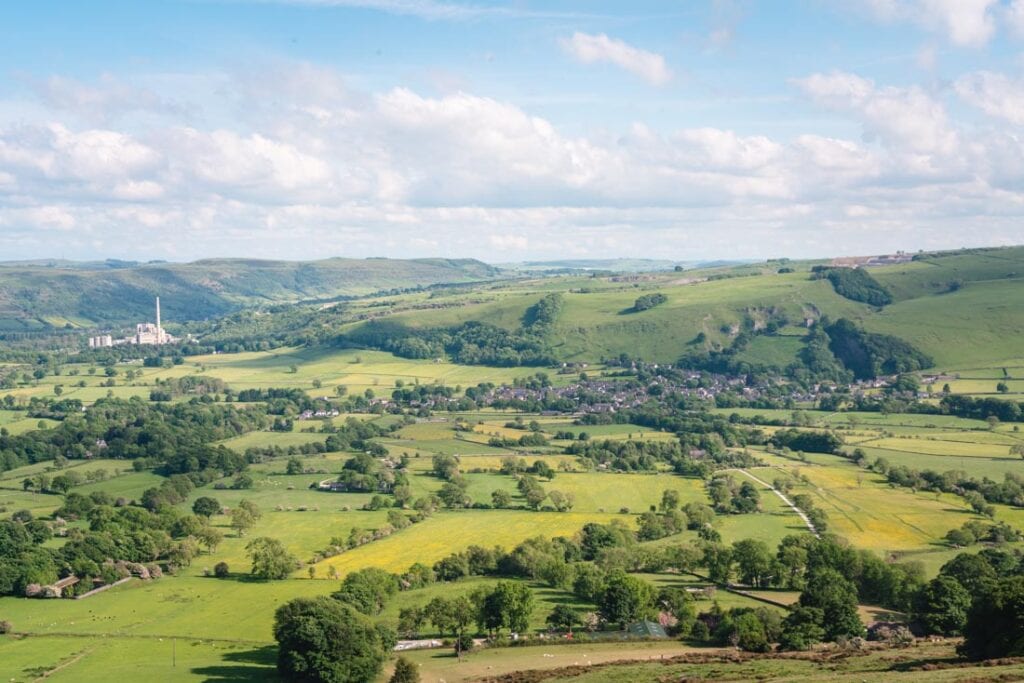 The Mam Tor walk is regarded as one of the best walks in Great Britain. I'm not just saying this as hyperbole, and I really don't want to over exaggerate it, but this is such a stunning walk.
It is the very best of the Peak District. Rolling green hills, crumbling castles and cute villages, and just the most incredible views. You can probably tell already how much I love this walk!
I've done the Mam Tor circular walk a couple of times now, and I just can't get enough of it.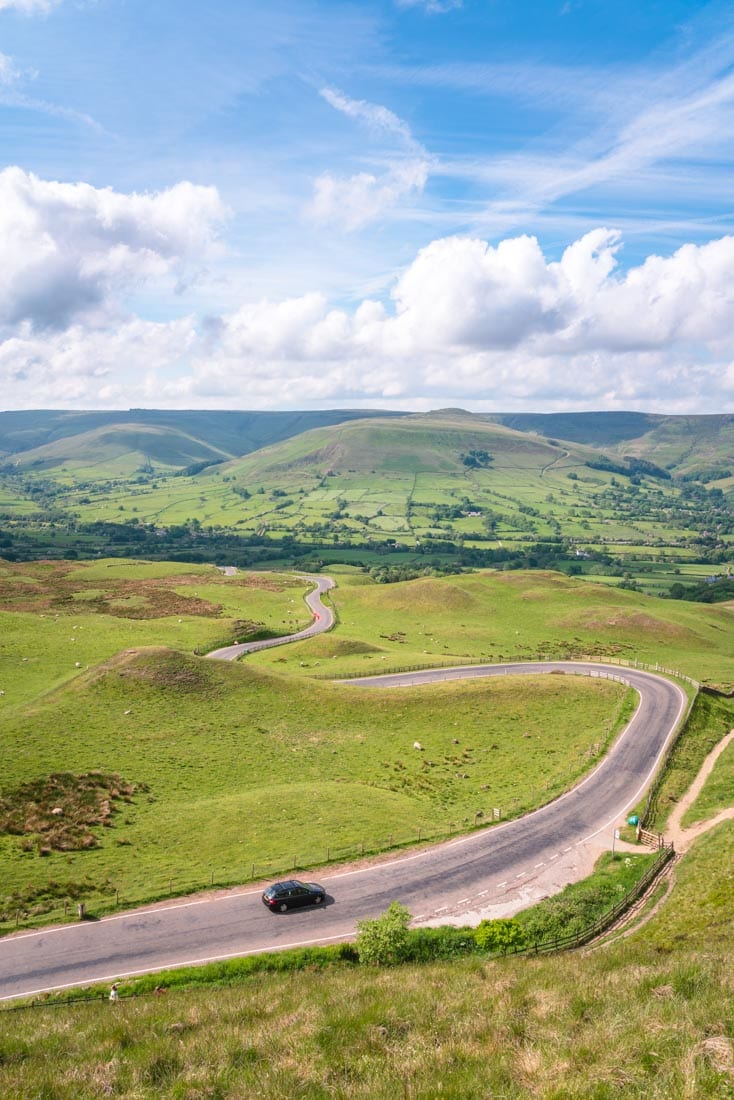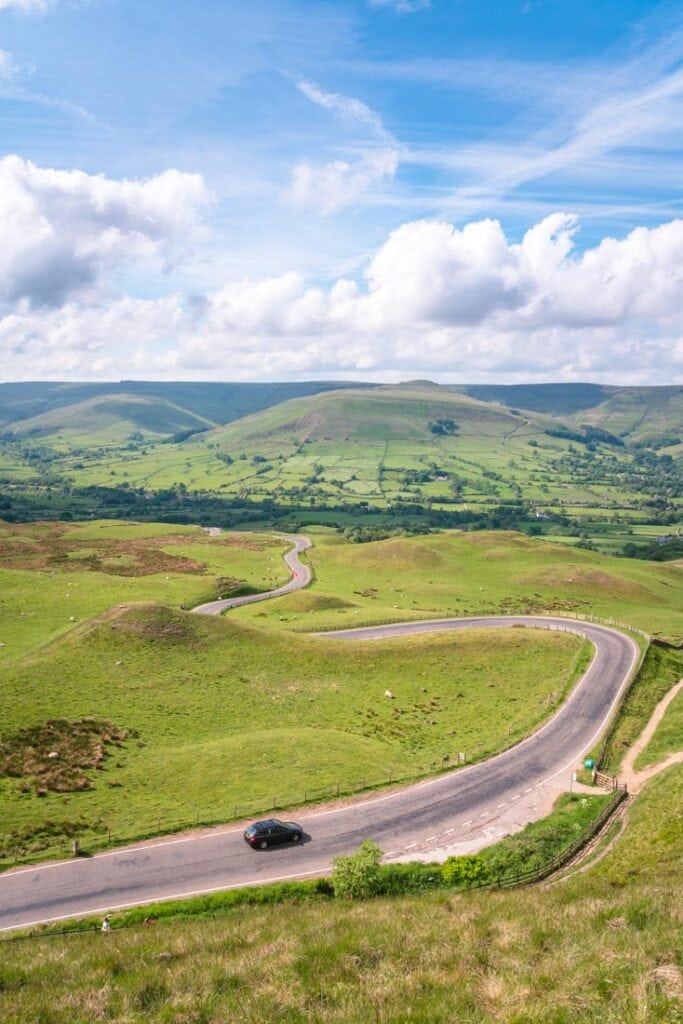 Starting in Castleton, this 6½ mile circular walk will take you up Mam Tor, and along the ridge where you'll have views over Edale, Hope Valley and even the edge of Kinder Scout.
Once you've made it back to Castleton, there are some quality pubs to have a celebratory pint at. After spending a few hours on the trails, you'll have deserved it.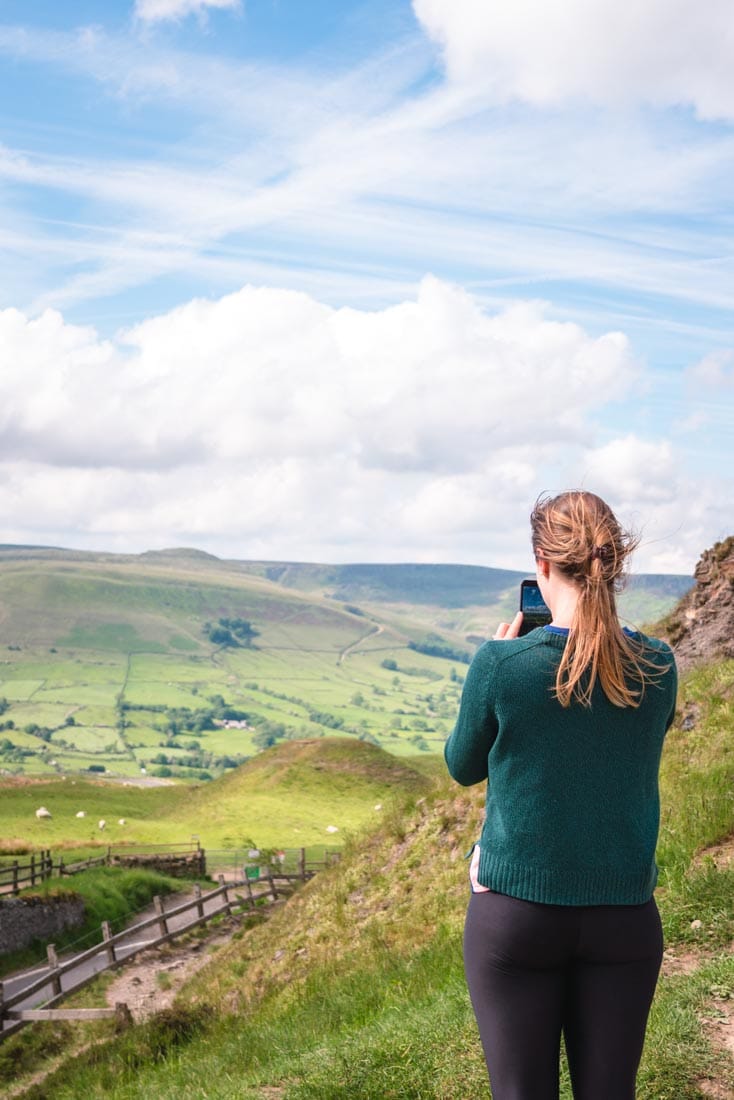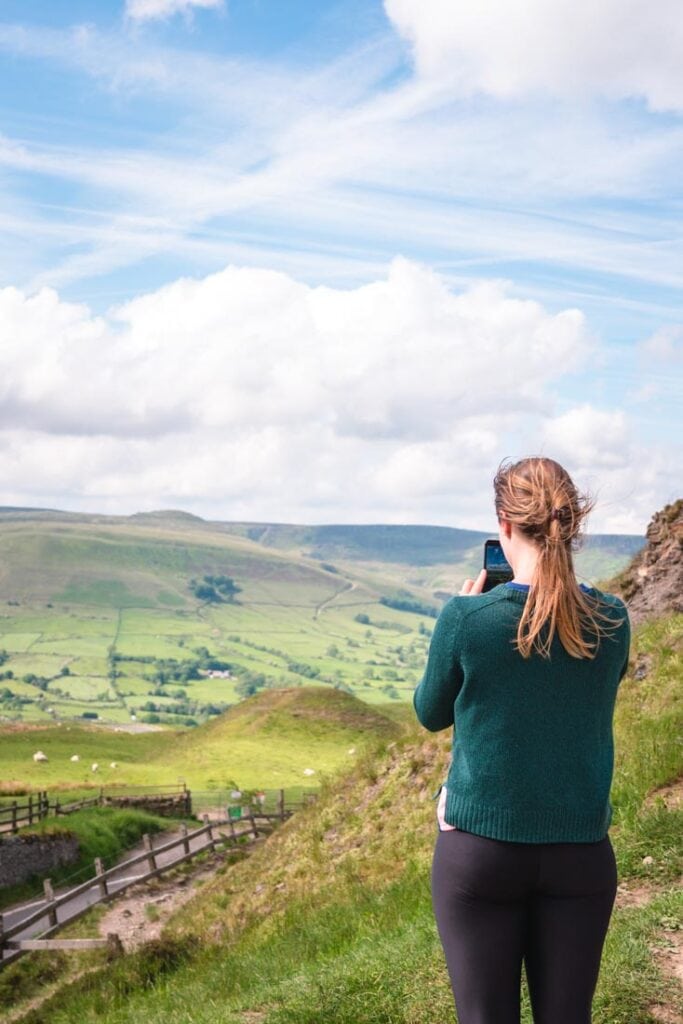 In this guide I'll give you everything you need to know about the Mam Tor walking route. There are a couple of sections where people usually go wrong, so I'll give detailed instructions with photos on where to go.
Hopefully I've got you excited to take on this walk. I promise you I'm not over-hyping it – this really is one of the best walks around!
What is Mam Tor?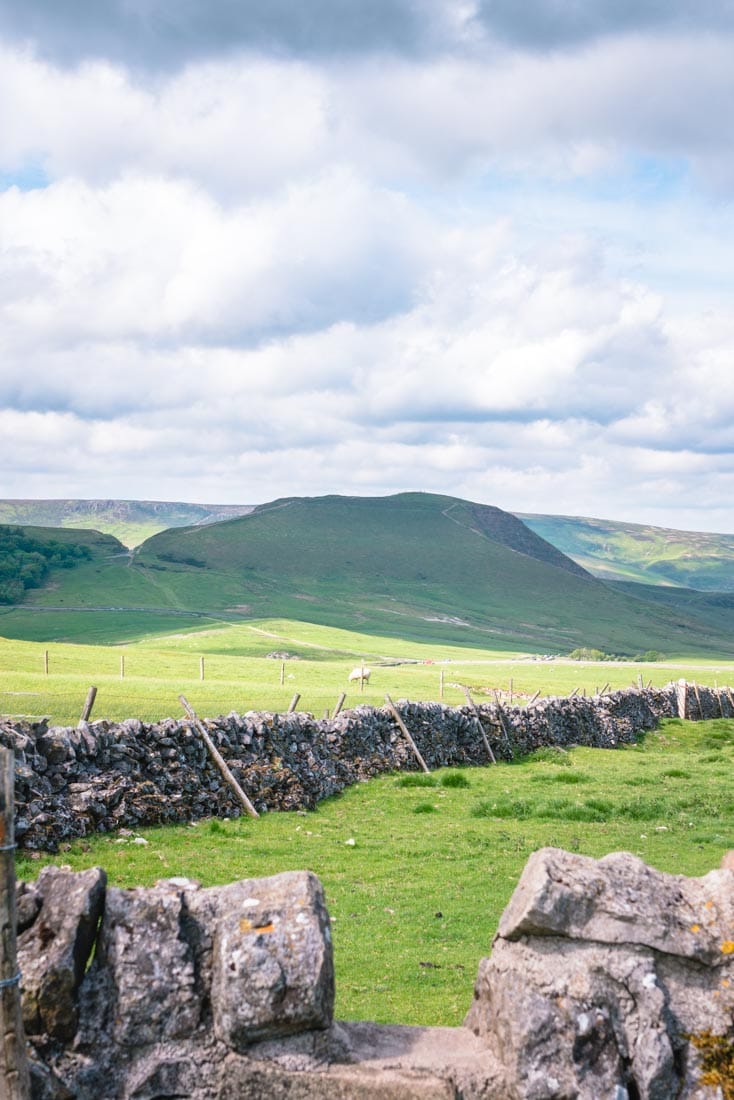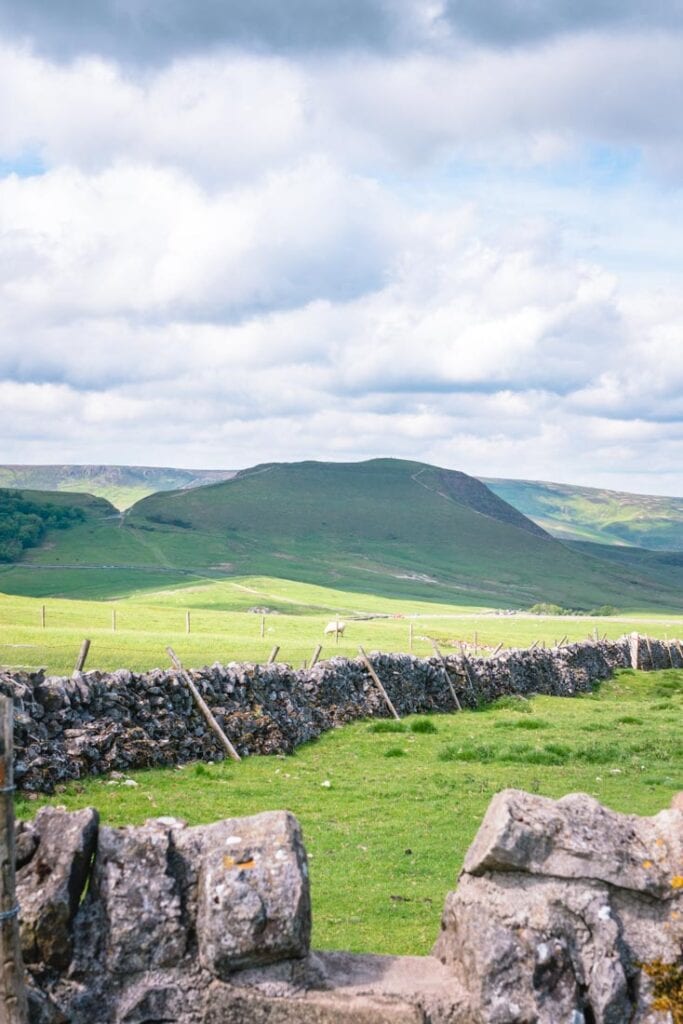 Mam Tor is known as the 'Shivering Mountain', and it dominates the landscape around Castleton.
Standing at 517 metres, it is one of the highest mountains in the Peak District. Once you make it to the top, you have these stunning views of the White Peaks and the gorge at Winnats Pass.
Mam Tor gets its name from "mother hill". This is from the fact it is prone to landslides, meaning it has inadvertently given birth to several smaller hills in the area. Don't worry though, it has since been stabilised to prevent from any further landslides from happening.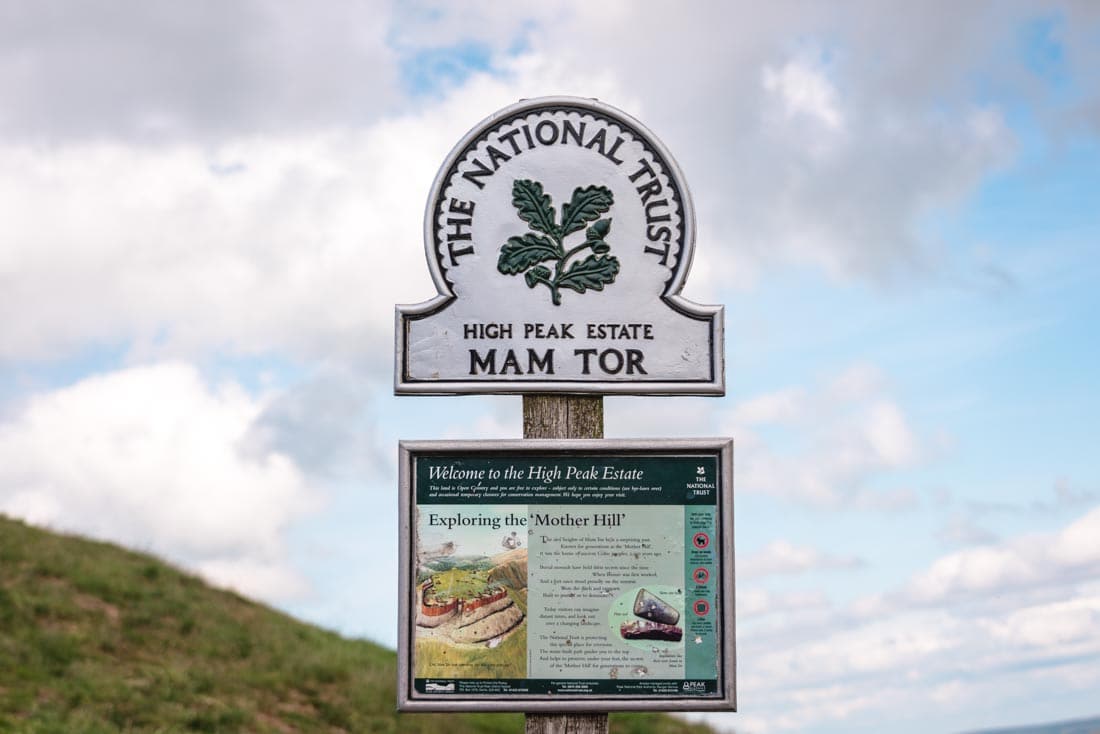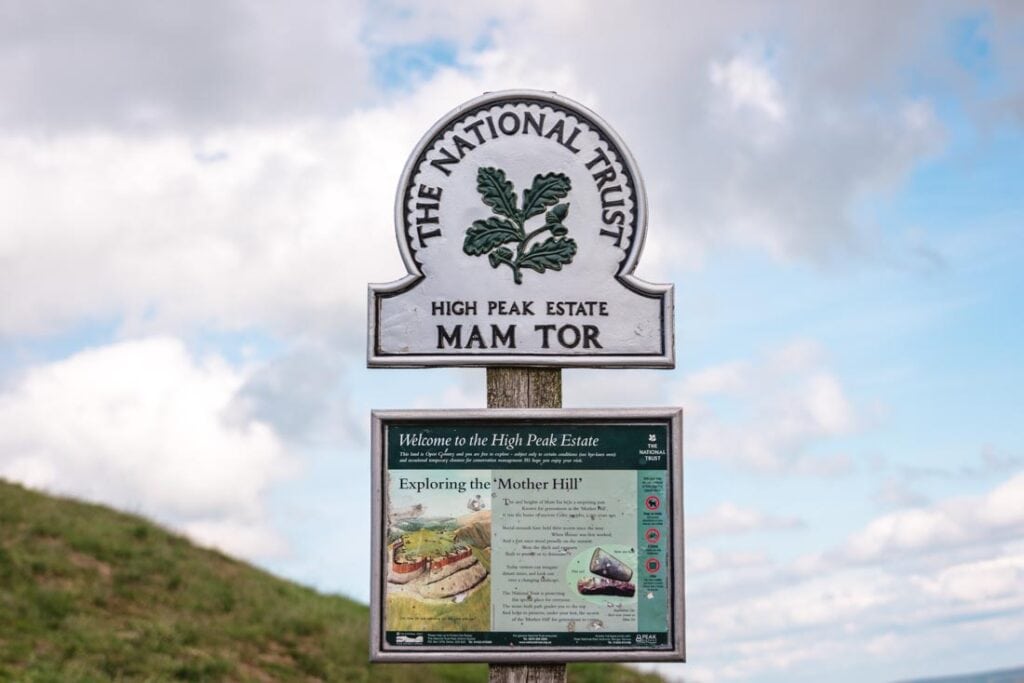 Mam Tor is steeped in ancient history too. There's evidence of occupation dating back to around 1200BC.
The summit is surrounded by two well-preserved ancient hill forts, one dating from the late Bronze Age and the other from the early Iron Age. This means it is one of the earliest hill forts in the UK. As I said, there's some serious history here!
There is an information plaque on the way to the top of Mam Tor that gives you more history on the area.
How long does the Mam Tor circular walk take?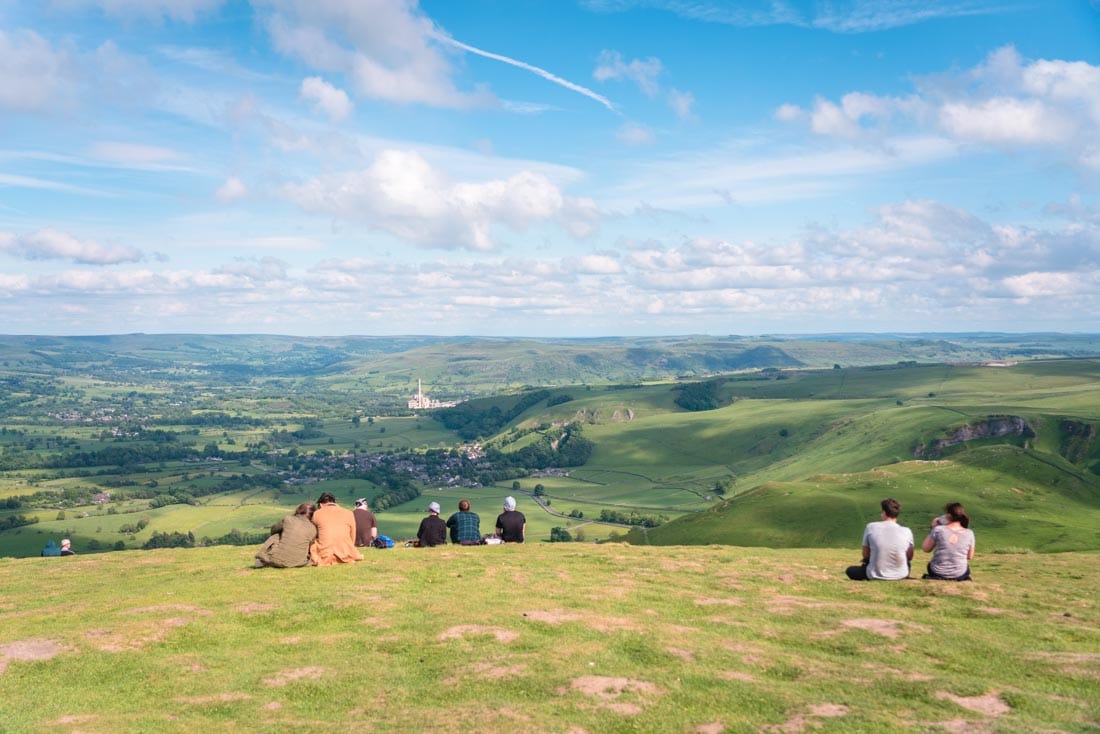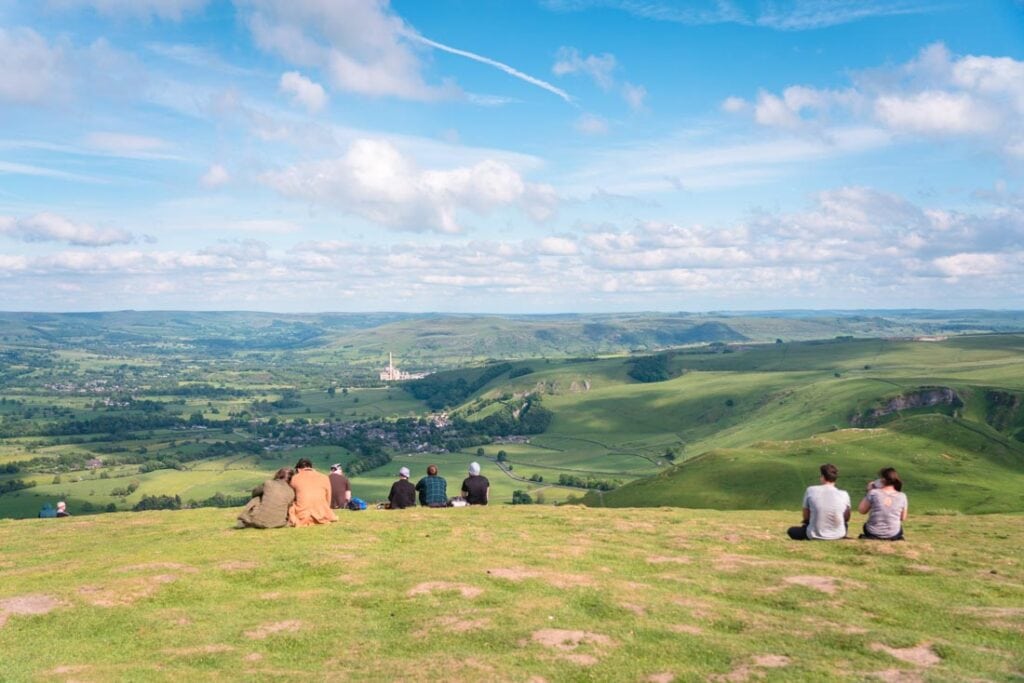 In total, the circular walk around Mam Tor is 6½ miles long. Usually, this will take anywhere between 3 and 5 hours. Both times I've walked it, it took me just over 4 hours, so that's a rough guide to go with. By the way, this is for the circular walk starting in Castleton.
There is a more direct route where you can park at the bottom of Mam Tor. From here, it only takes 20/30 minutes to walk to the trig point. This is best if you're short of time and you just wanted to take in the views from the top.
Once you're at the top, the Great Ridge of Mam Tor runs for approximately 2 miles from Mam Tor to Lose Hill. This overlooks the villages of Castleton and Hope. To be honest with you, this is probably my favourite section of the walk, but more on that later.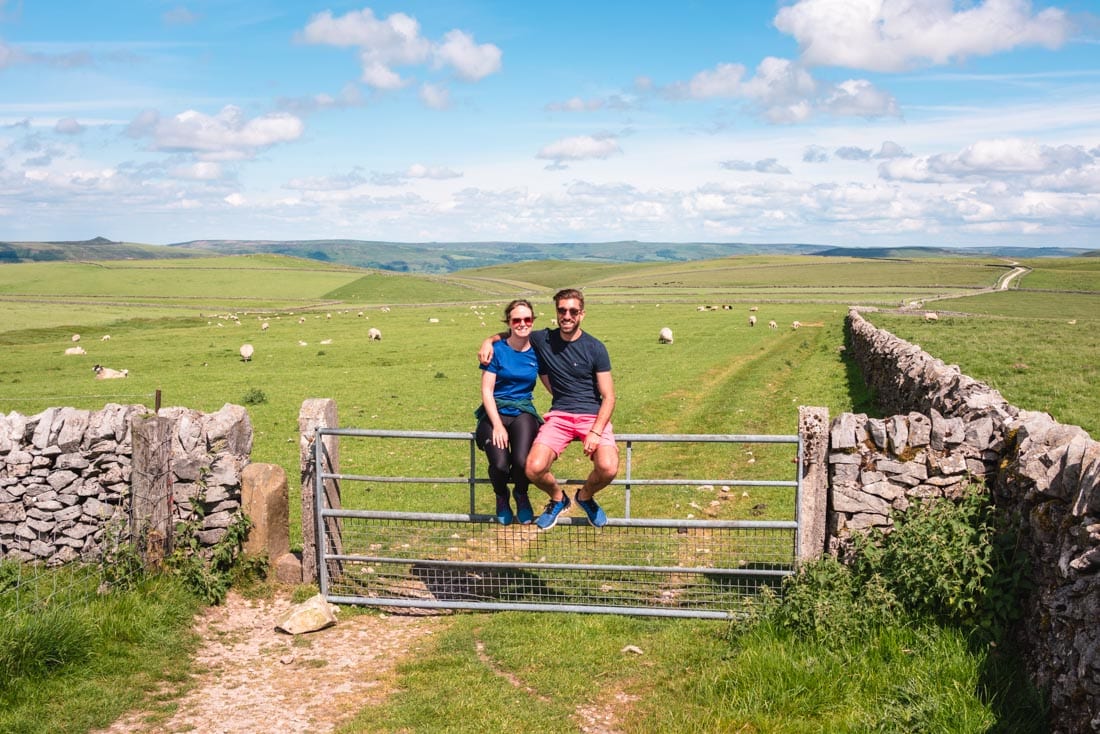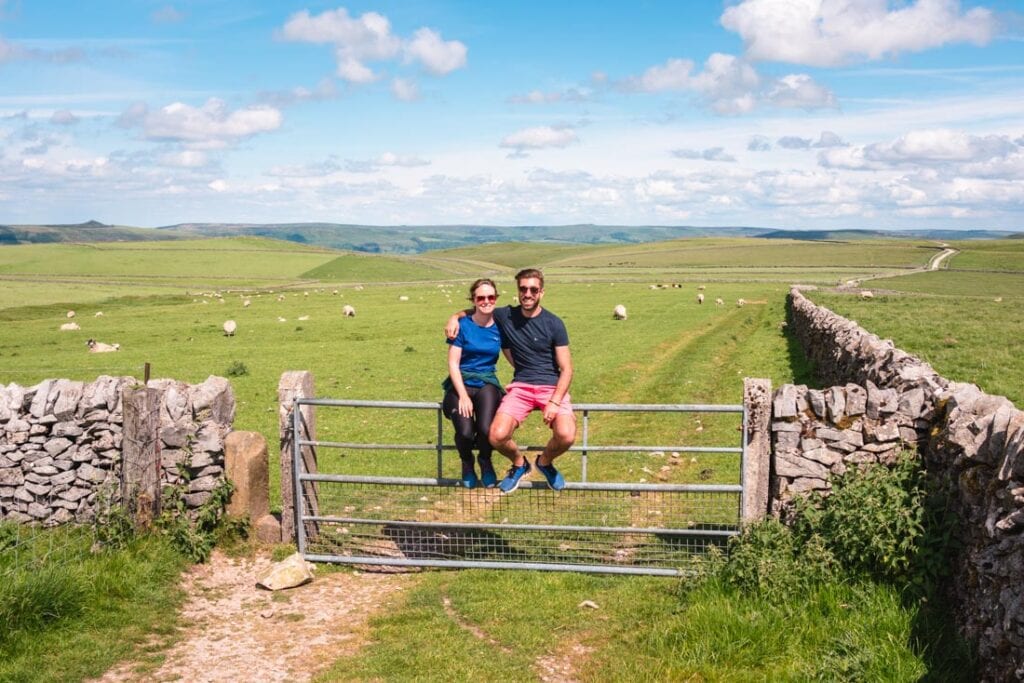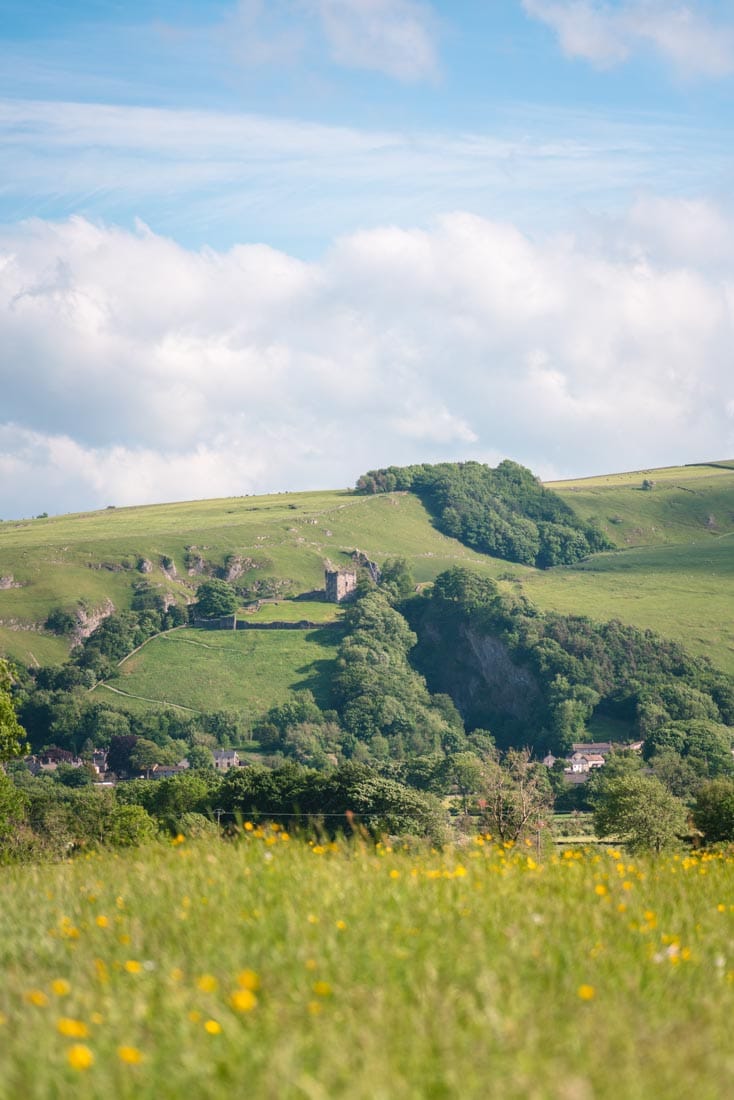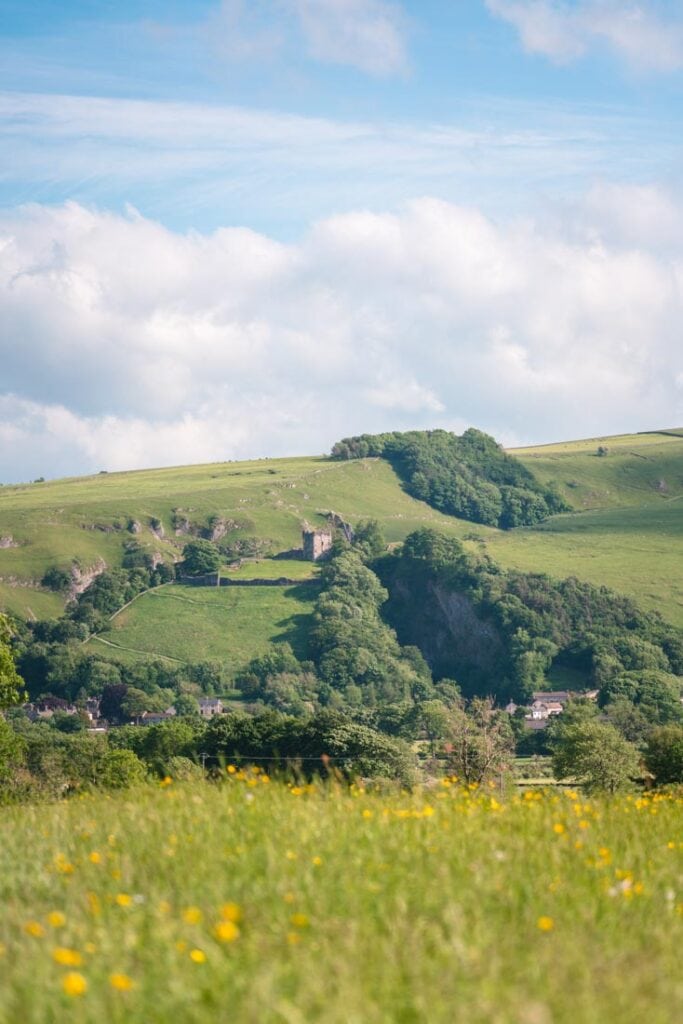 Beware: As Mam Tor is one of the most popular hikes in the Peak District, it can be super busy on the weekend. The layby at the bottom of Mam Tor is usually full by 9am, and the other car parks can get busy too, so bare that in mind when planning your trip here.
I would say this walk is for all ages and abilities. There are a couple of steep bits, particularly up Mam Tor itself, but otherwise it's an easy walk.
Parking in Castleton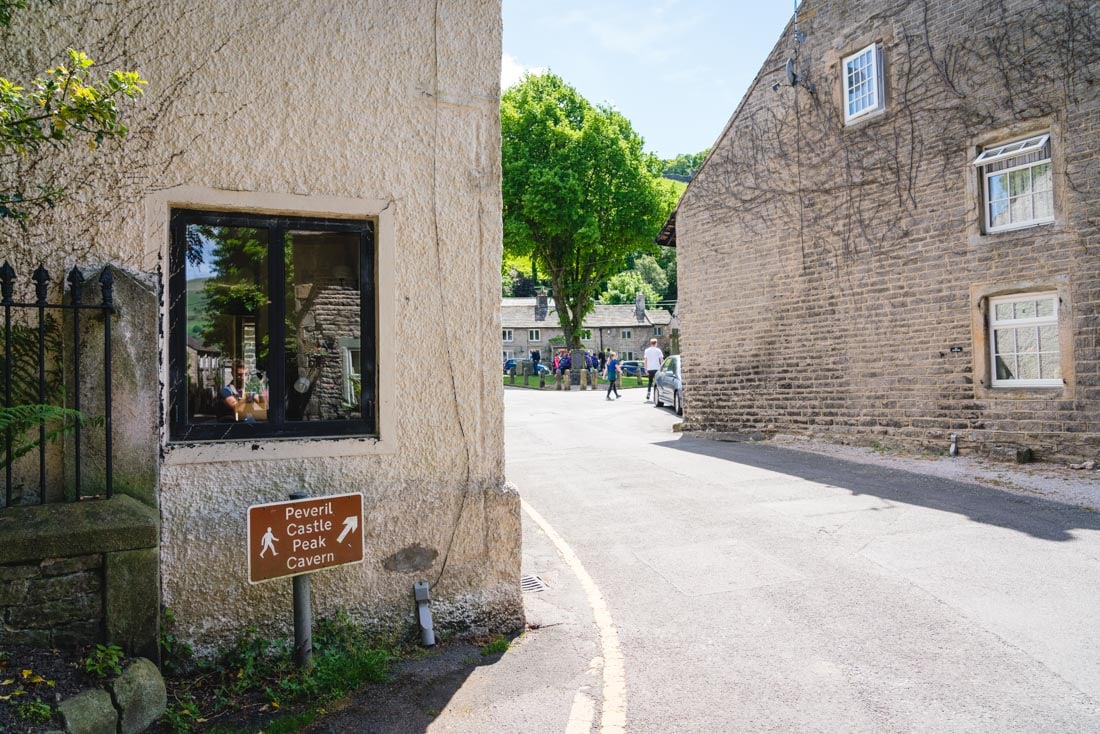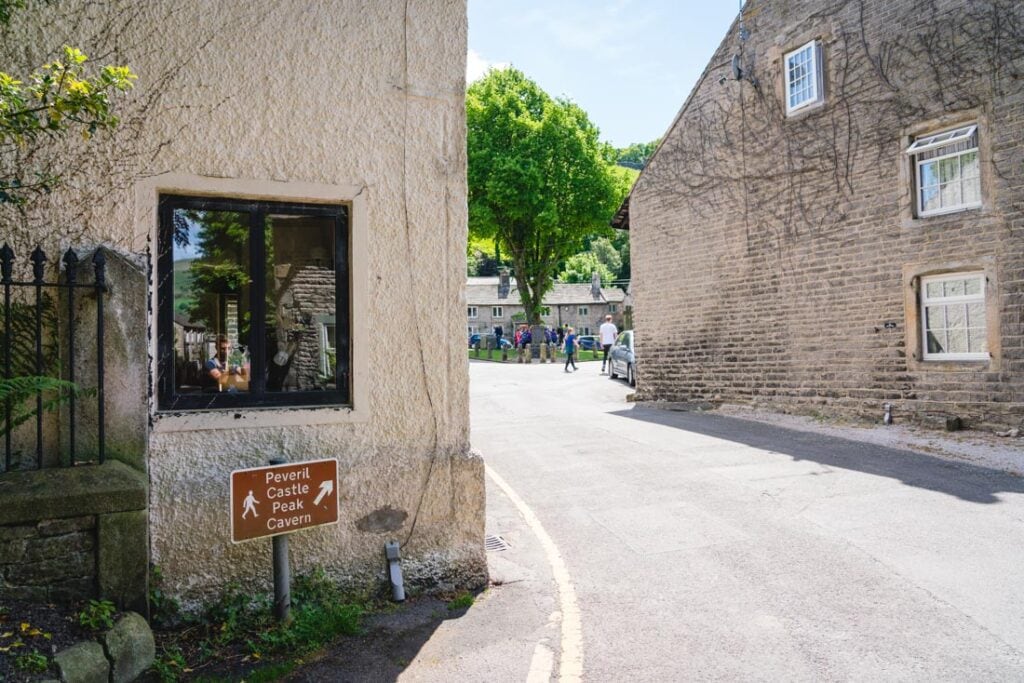 I would suggest parking in Castleton. There are two car parks here. The main one is just off Buxton Road as you're coming into Castleton. This has the most number of spaces.
The other car park is opposite the Peak Hotel. If you park here, you can get your parking validated for free is you spend over £15 in the hotel. It's quite handy if you think you're going to be parking all day.
The Mam Tor car park prices are £2.50 for 1-2 hours, £4 for 2-4 hours, and £6 for up to 10 hours.
Another thing – you cannot pay contactless for either car park in Castleton, so make sure you've got some change with you.
If you are just looking to do the short walk up Mam Tor, then you'll want to head towards the Mam Tor car park. This is at the base of the mountain. You can find the car park here on Google Maps.
Highlights of the Mam Tor hike
Section 1: Peveril Castle & Cave Dale walk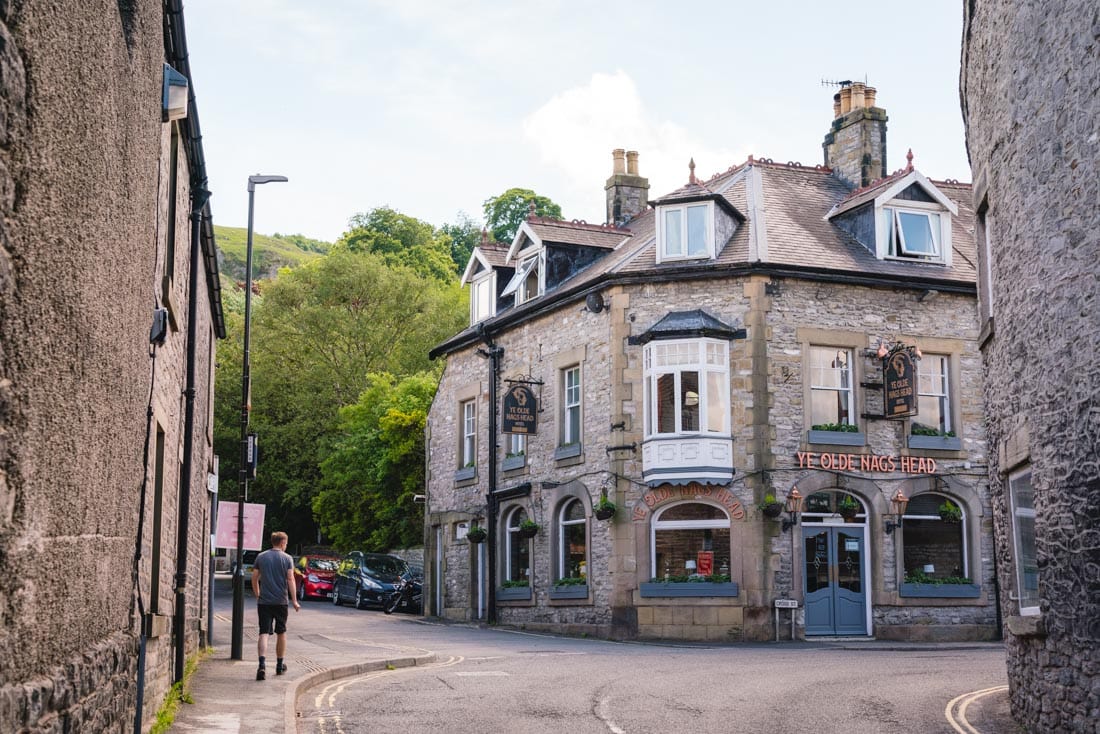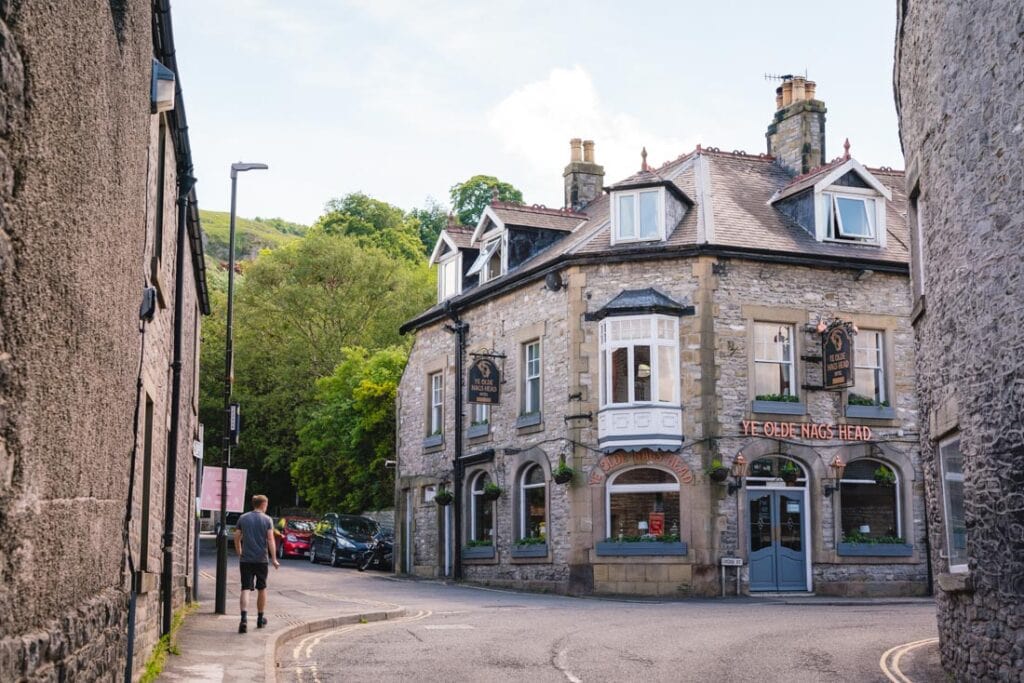 Standing sentinel over Castleton is Peveril Castle. This crumbling relic dates all the way back to the 11th century. Mentioned in the Doomsday Book, Peveril Castle is one of England's earliest Norman fortresses. You can go into and explore the castle, but that's for another time.
Depending on where you parked, you want to walk through the village to Ye Olde Nags Head on the corner. With the pub on your right,walk up the hill towards Peveril Castle. After 100 metres you'll come to a sign pointing right towards the castle. Ignore that sign and keep on walking straight with the triangular green on the right. You'll eventually come to a sign for Cave Dale. This is where we're heading.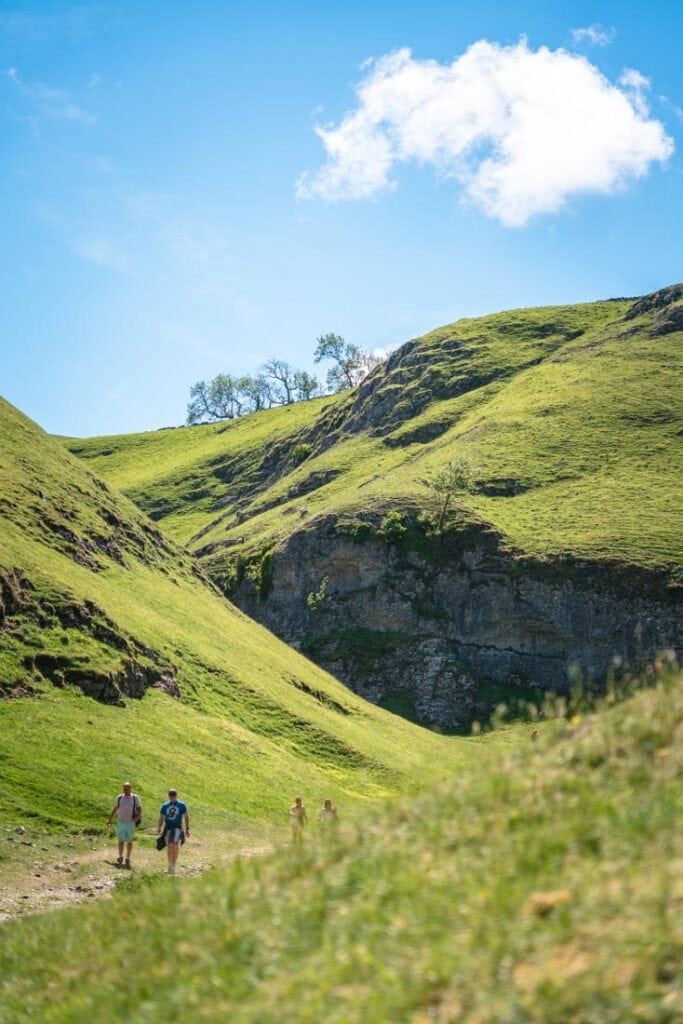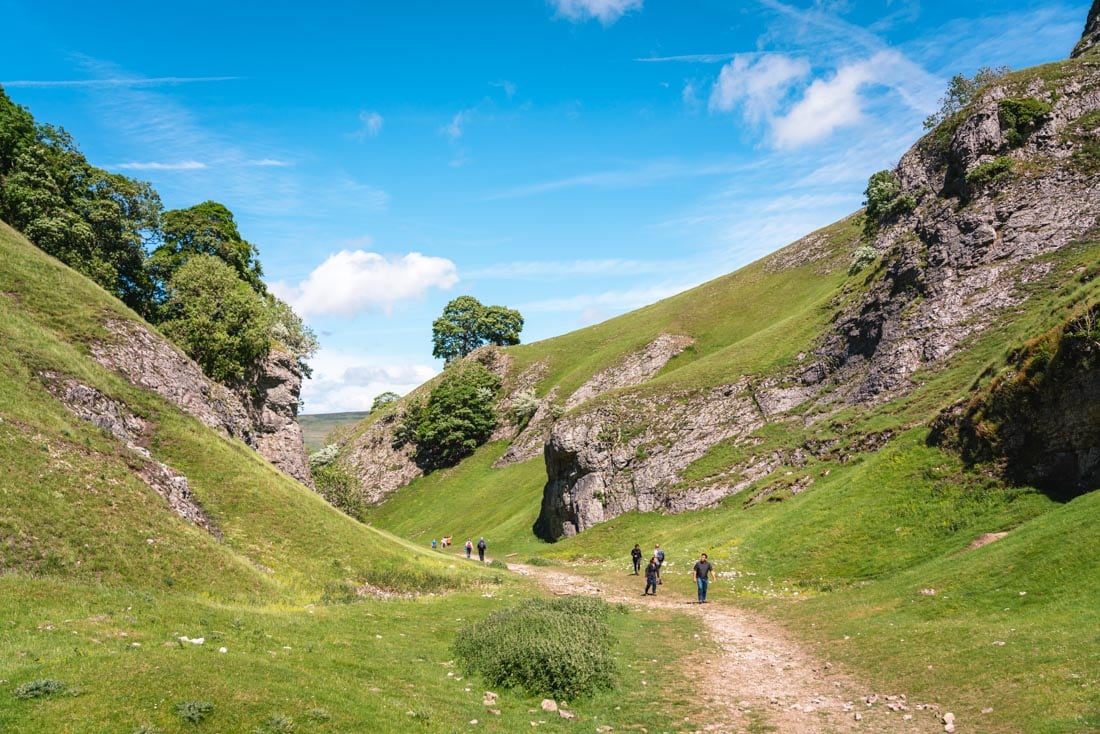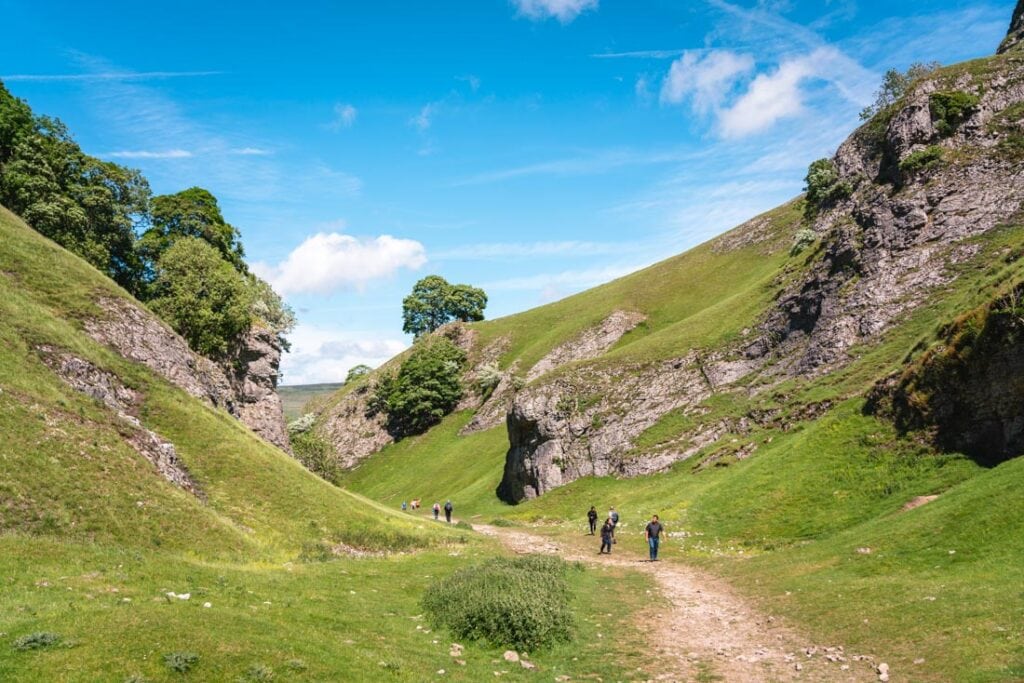 As soon as you enter Cave Dale, you are greeted with these gorgeous views of the valley and the rugged peaks all around you. A lot of people who do the shorter walk and head straight to Mam Tor miss this bit which I think is such a shame.
The directions are pretty self-explanatory here – just keep on walking up hill! This is probably the hardest section of the walk, so it's good to get it out the way early on.
Also, don't forget to look back behind you for some more stunning views of Peveril Castle.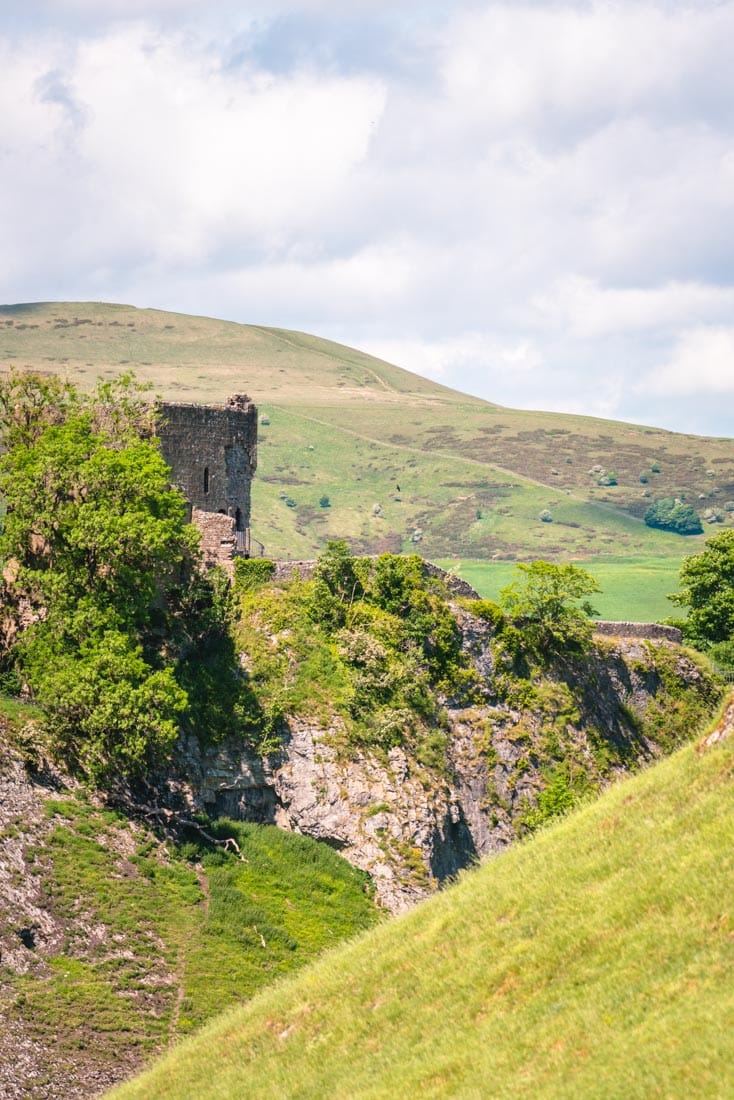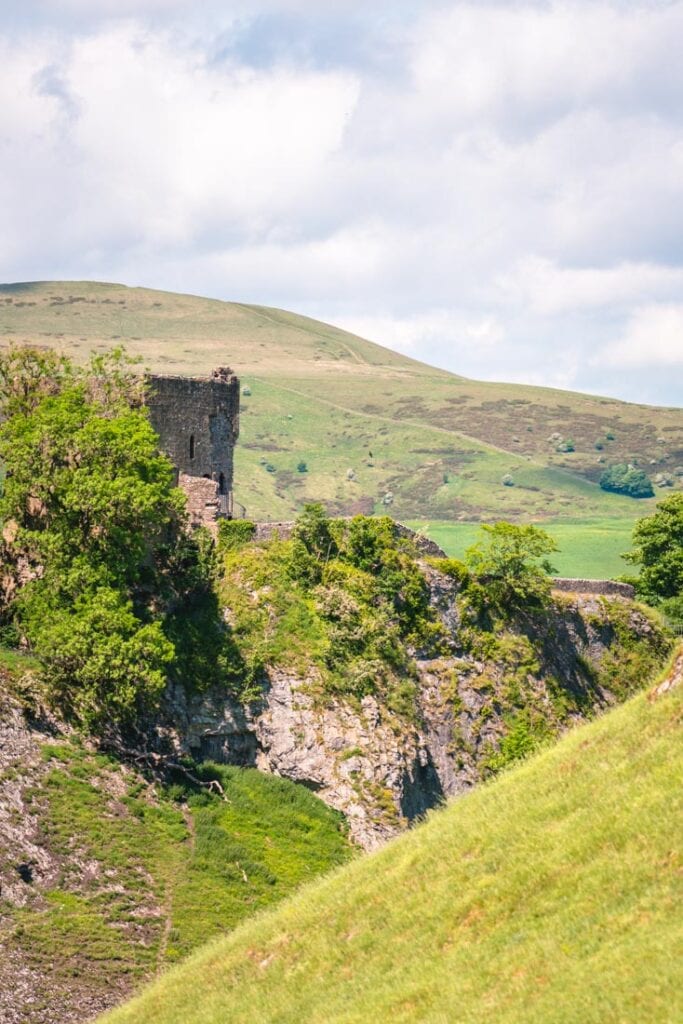 If you keep on going, you'll eventually walk through a gate with a stone wall on your right. Keep on following the wall uphill – don't worry though, it's a much gentler incline here.
After about 300 metres, you'll come to another metal gate with luscious green fields beyond. Head through this gate.
Section 2: The Limestone Way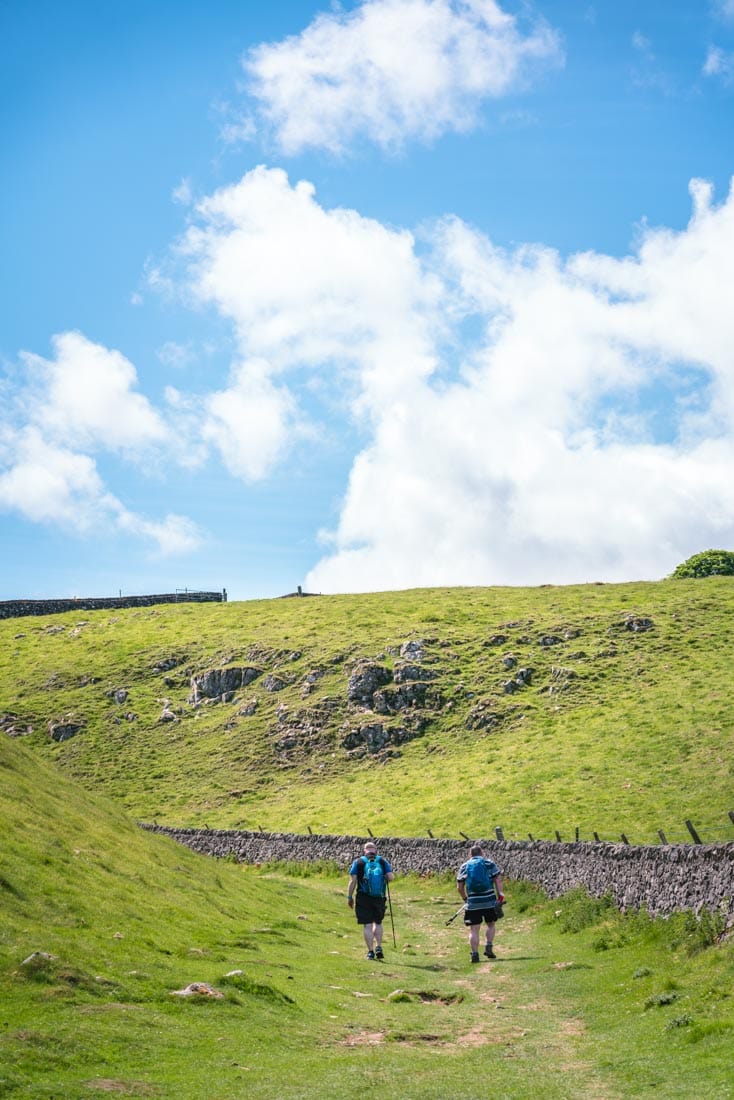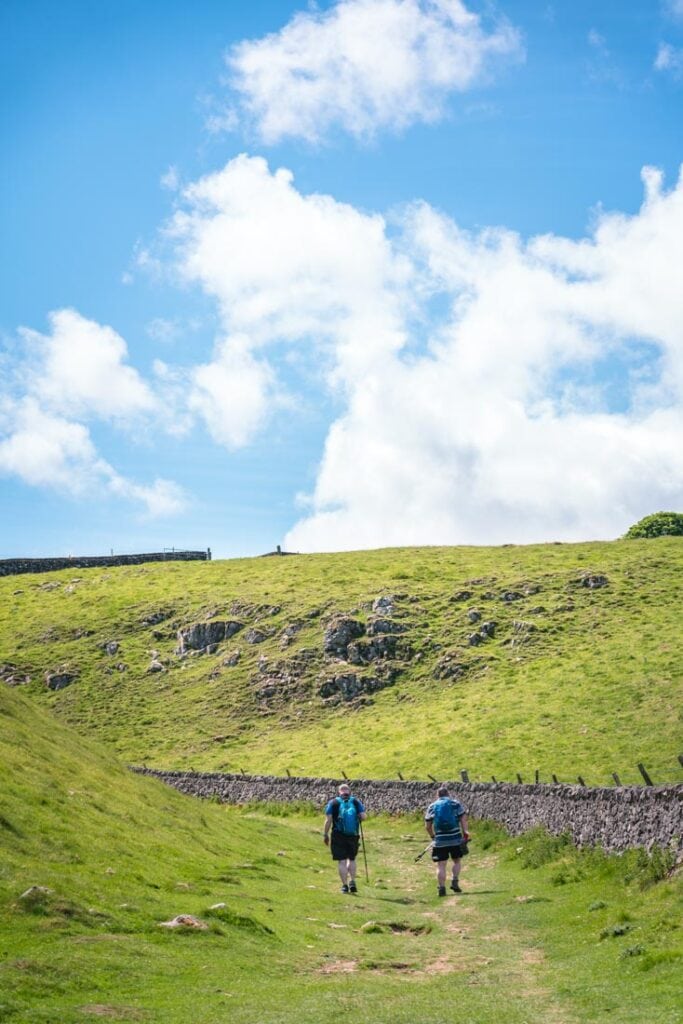 This is a really pleasant section of the walk. It seems counterintuitive, but at this point you're actually walking away from Mam Tor. It does mean you get to see some more of the Peak District though.
This section is known as the Limestone Way. Very shortly after passing through the first metal gate, you'll come to a signpost with 3 signs. You want the one pointing diagonally left across the fields.
The route will take you past cows and sheep – don't forget to say hello and give them a wave!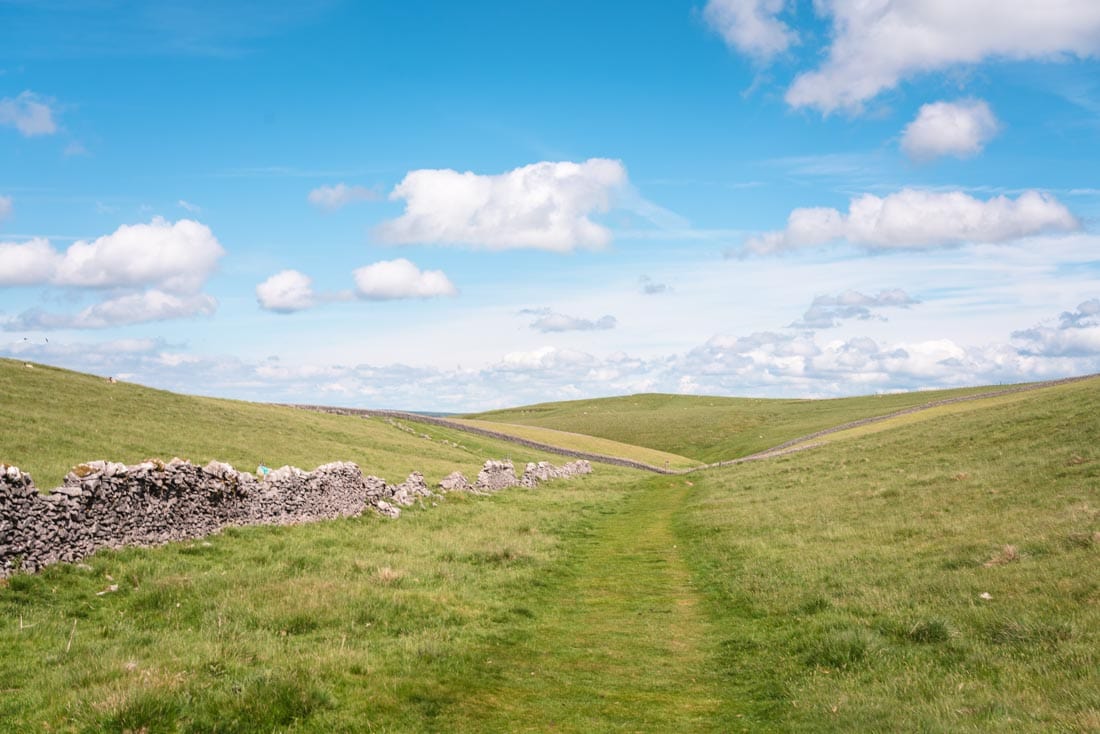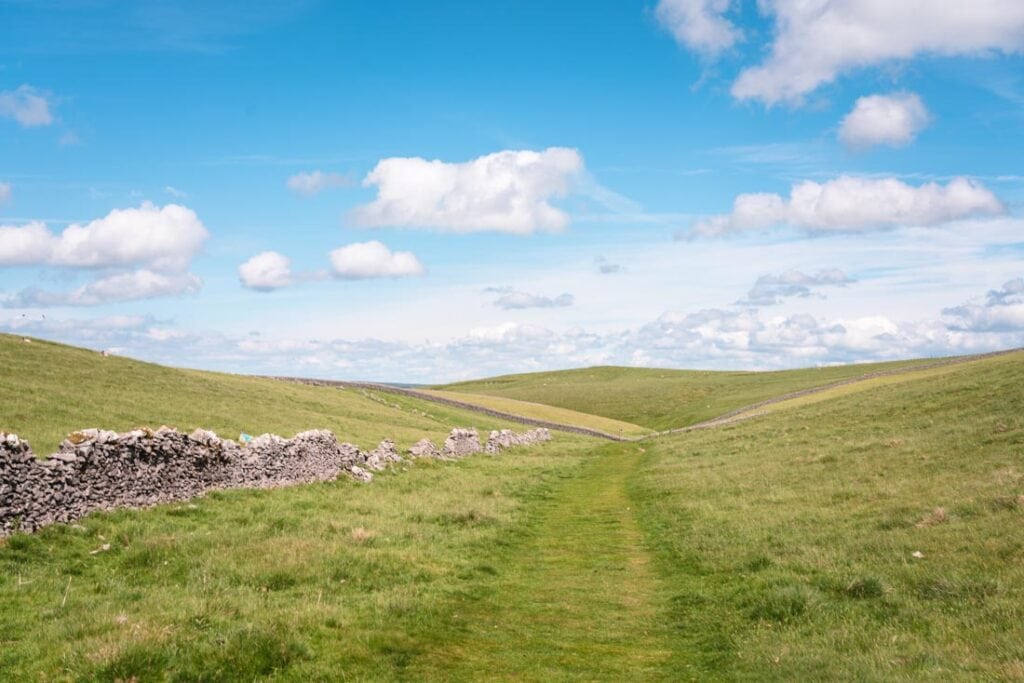 Now we are coming up to the section that confuses everyone. Don't worry though, I've got your back.
After walking over a stone wall, there will be two farming gates – one directly in front of you, and one on your right.
Now, despite the fact there's a public footpath sign pointing to the gate in front of you, you actually want the gate on the right. Sometimes this is open – if it's not just climb over the wall.
Hopefully these photos will show you which way to go.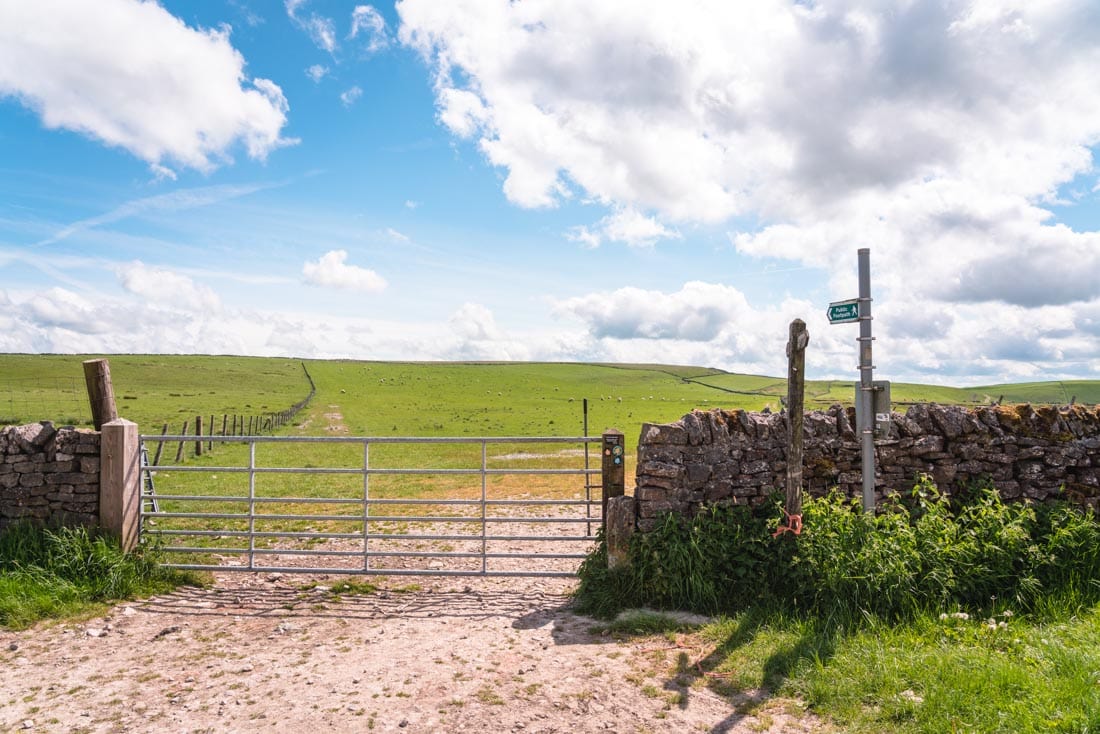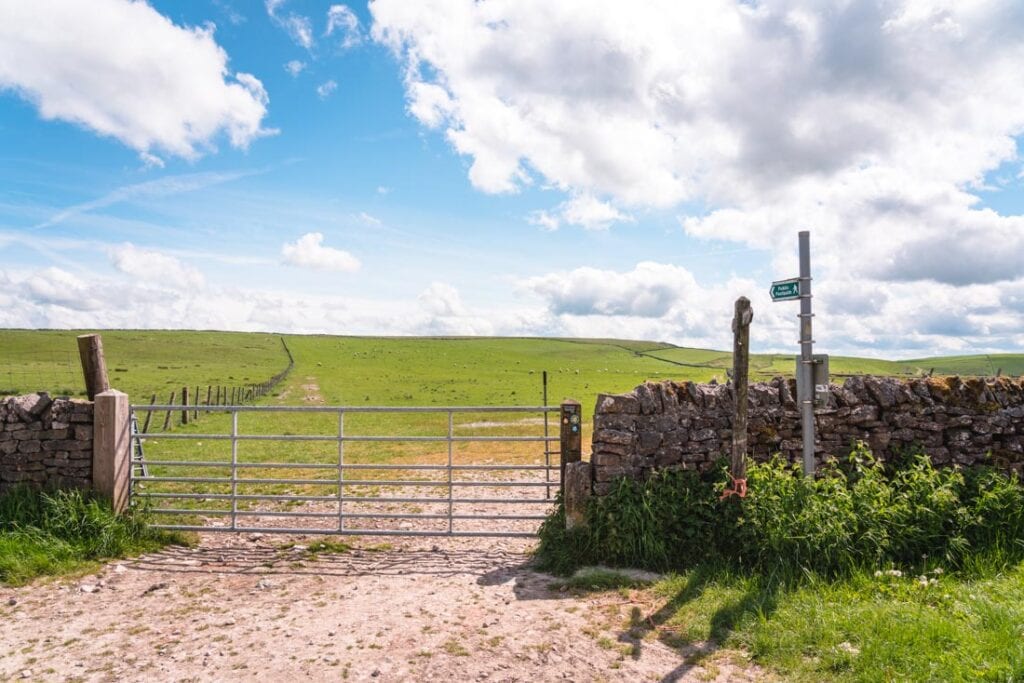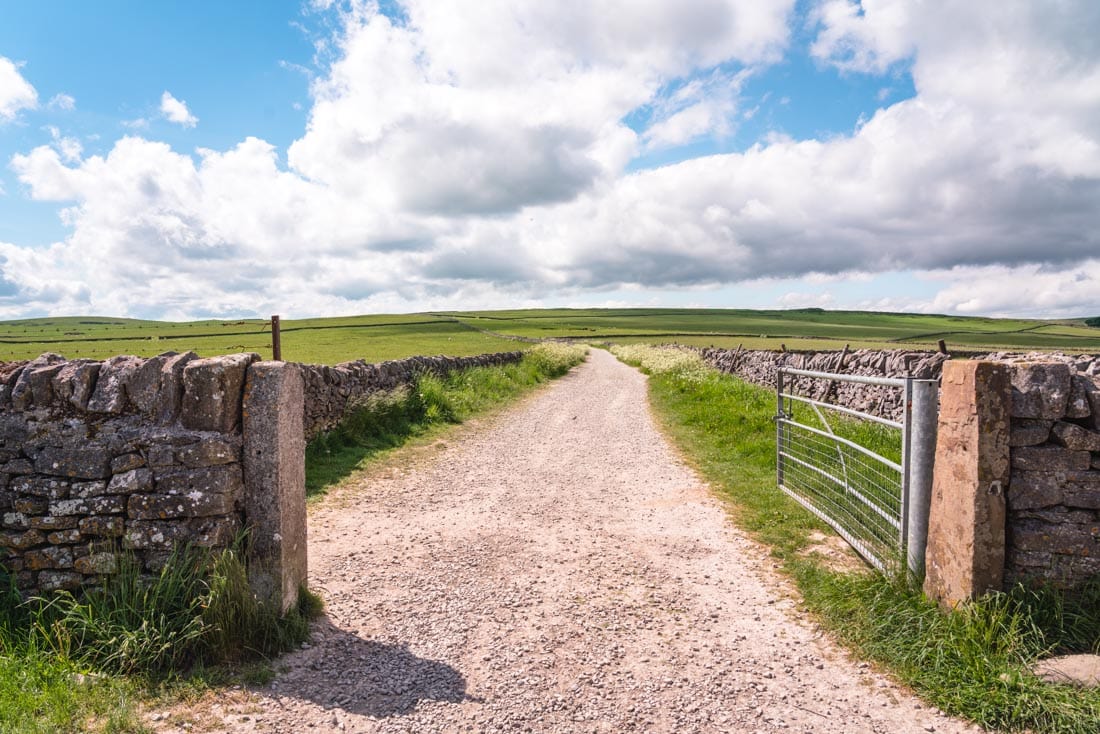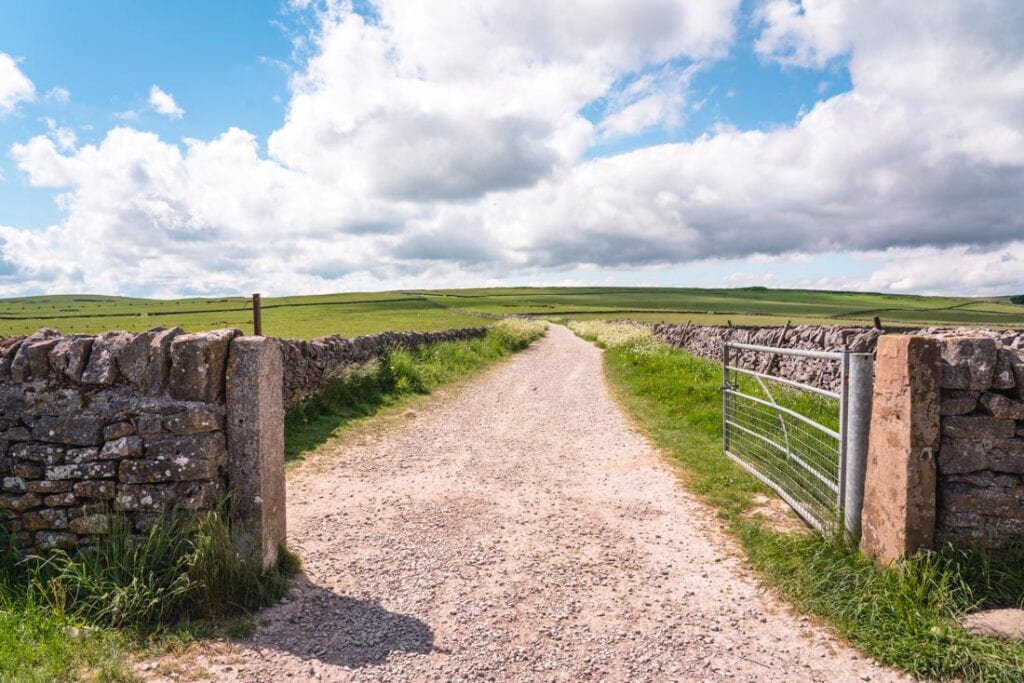 From here, walk through the field following the stone wall on your left. You'll climb over another gate until you eventually come to a stile and public footpath sign on your right. Go right here. This is now pointing directly towards Mam Tor, so you know you're on the right track.
I absolutely love this little stretch walking towards Mam Tor. I think these are some of the best views of the mountain. You definitely get the perspective and size of it, that's for sure.
Once you pass through this field, you'll come to the road. Cross the road, walk through the gate just opposite, and keep on going until you come to the very bottom of Mam Tor. It's now time to climb up Mam Tor!
Section 3: Mam Tor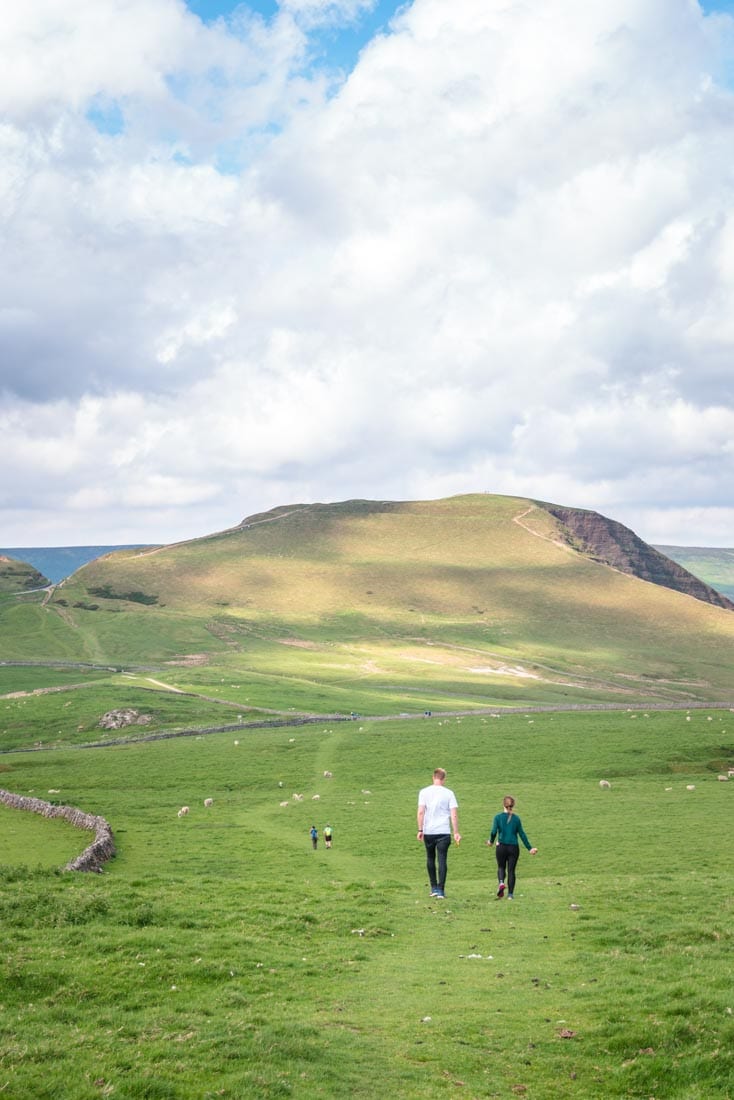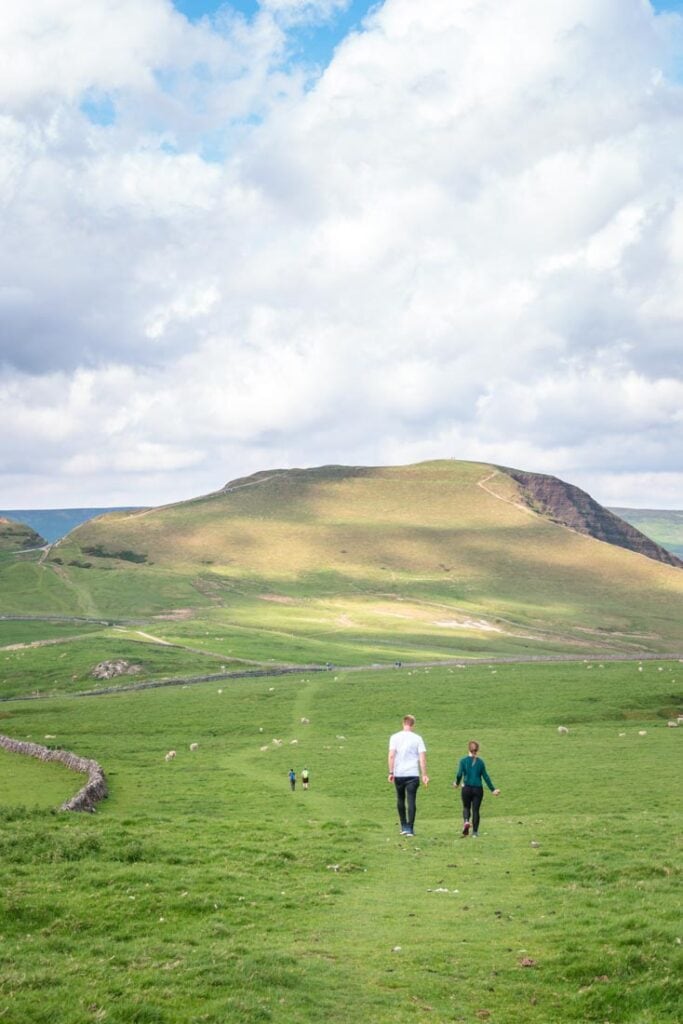 As I said before, the walk up Mam Tor only takes around 20 minutes to the summit. There are well-paved stone steps leading all the way up to the trig point.
As you're walking up, don't forget to look left. This is one of the most iconic views in the Peak District and is a landscape photographer's paradise. That leading line of the road heading towards the hills… yep, she's a real beauty.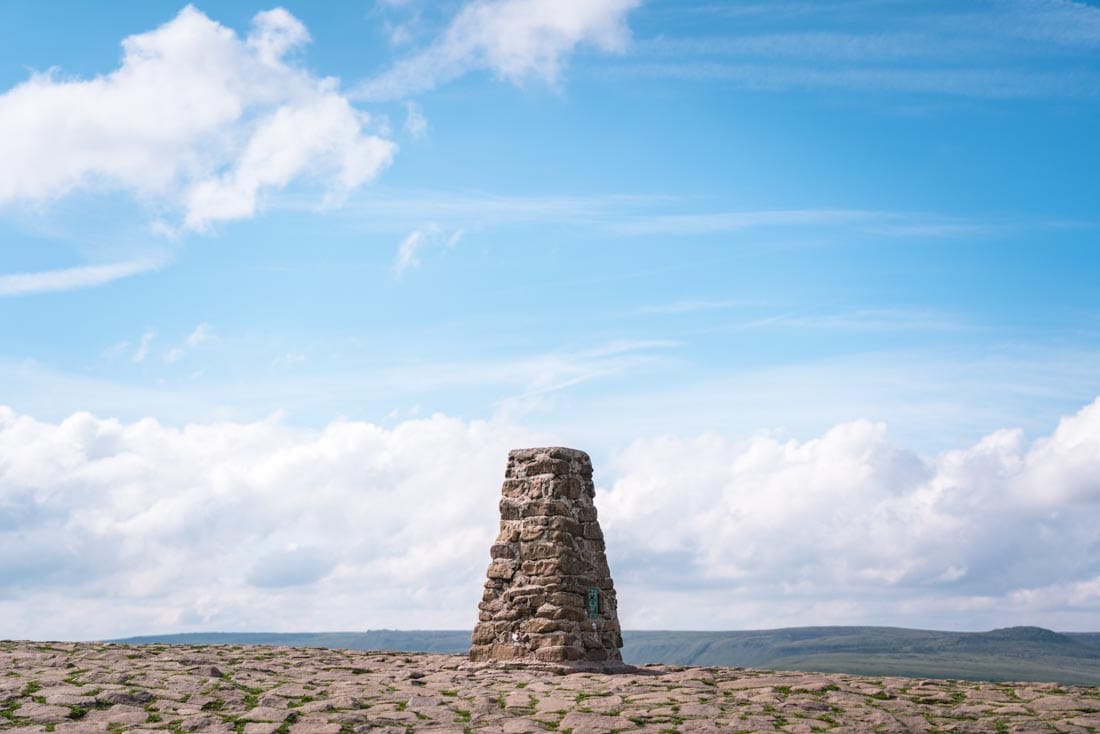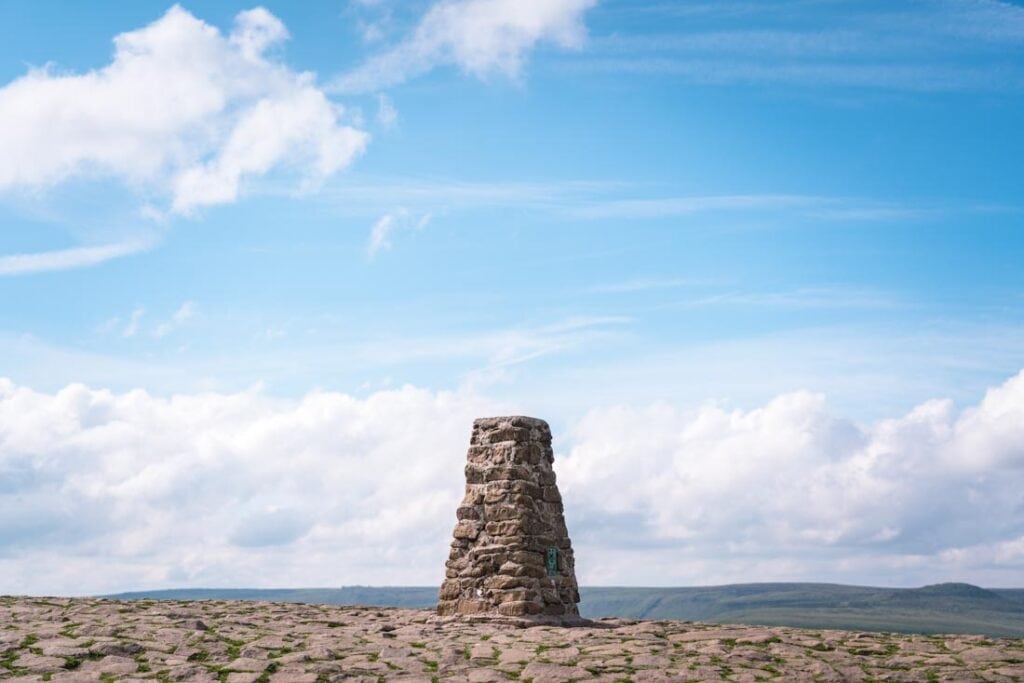 The trig point stands at 517 metres. Over to the right of it, you've got another amazing view overlooking Castlerton and Hope. This is a great place to stop for some snacks and to enjoy the views.
A lot of walkers will head back down the steps at this point towards the Mam Tor car park, but as we're on the circular walk we want to keep on going.
Section 4: Black Tor and Lose Hill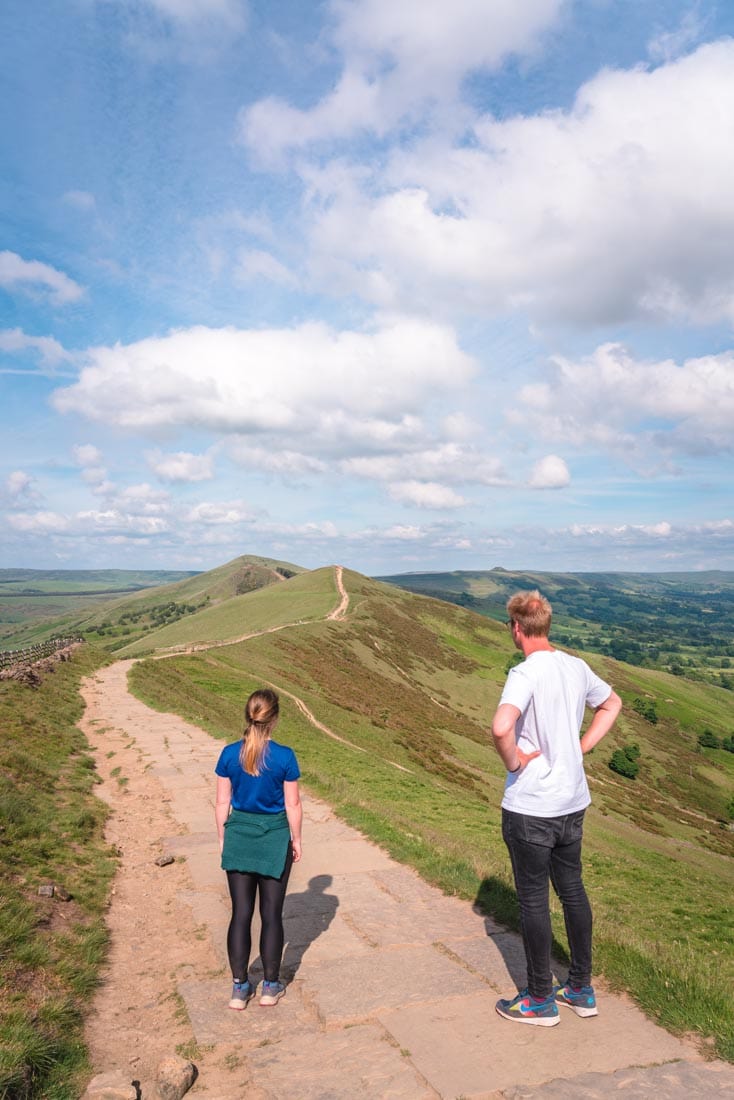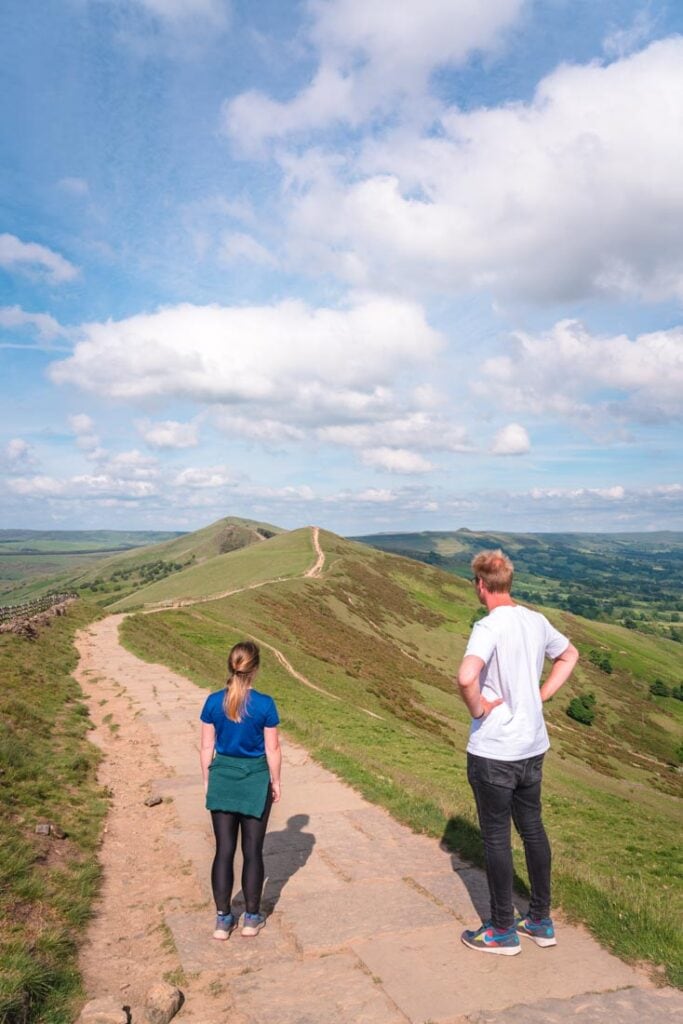 With views of Castleton on the right, keep on following the path along the Mam Tor ridge walk.
This is another section I can't get enough off. This is billed as one of the best ridge walks in the Peak District, and you can see why.
If you keep following the pathway, you'll get first to Black Tor, and then to Lose Hill. These are two other peaks along the ridge.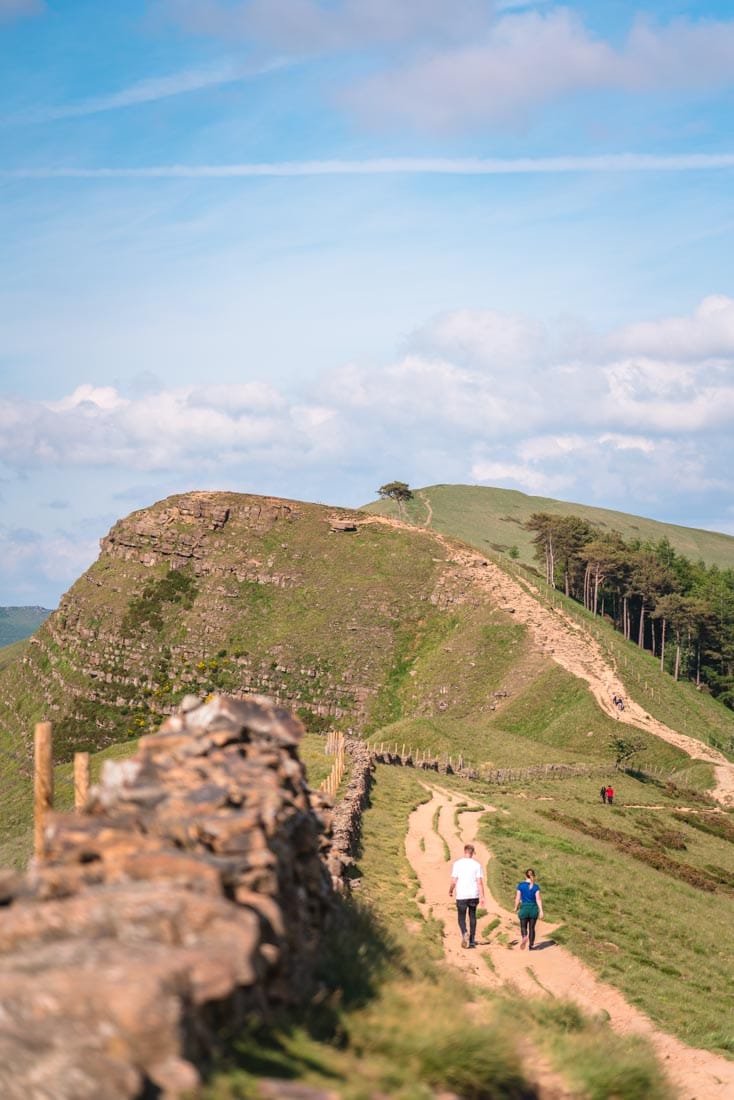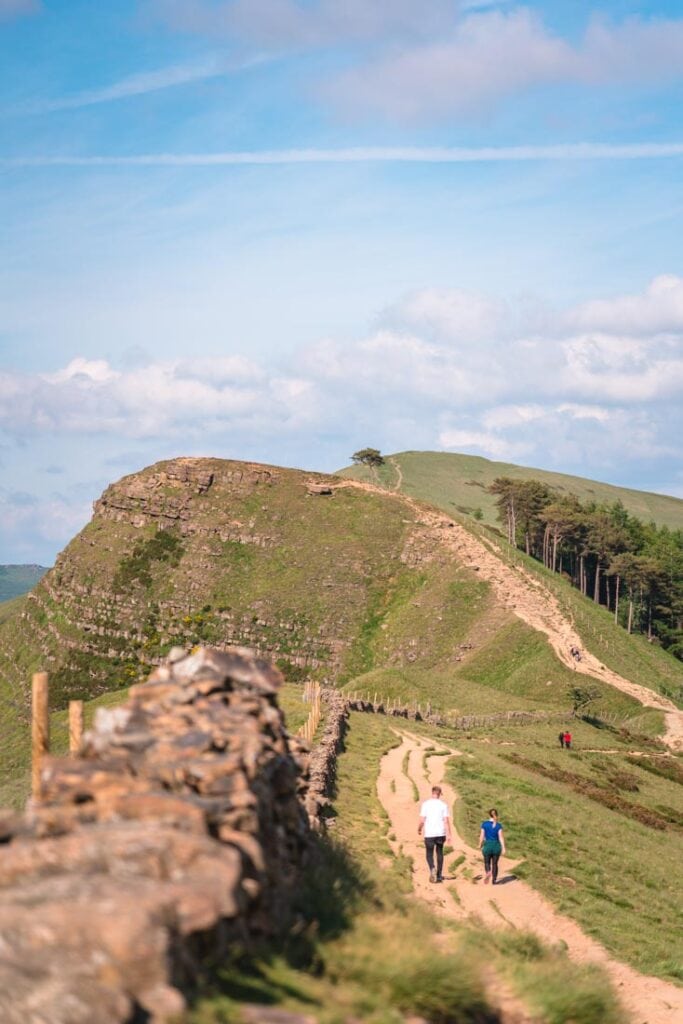 Now, when you get to Black Tor, you can actually follow the footpath back down the hill towards Castleton. Even though it looks miles away, it only takes 30 minutes walking back to the village.
However, if you've got the time and energy, I would suggest to keep on going up Black Tor and along to Lose Hill.
Section 5: Looping back to Castleton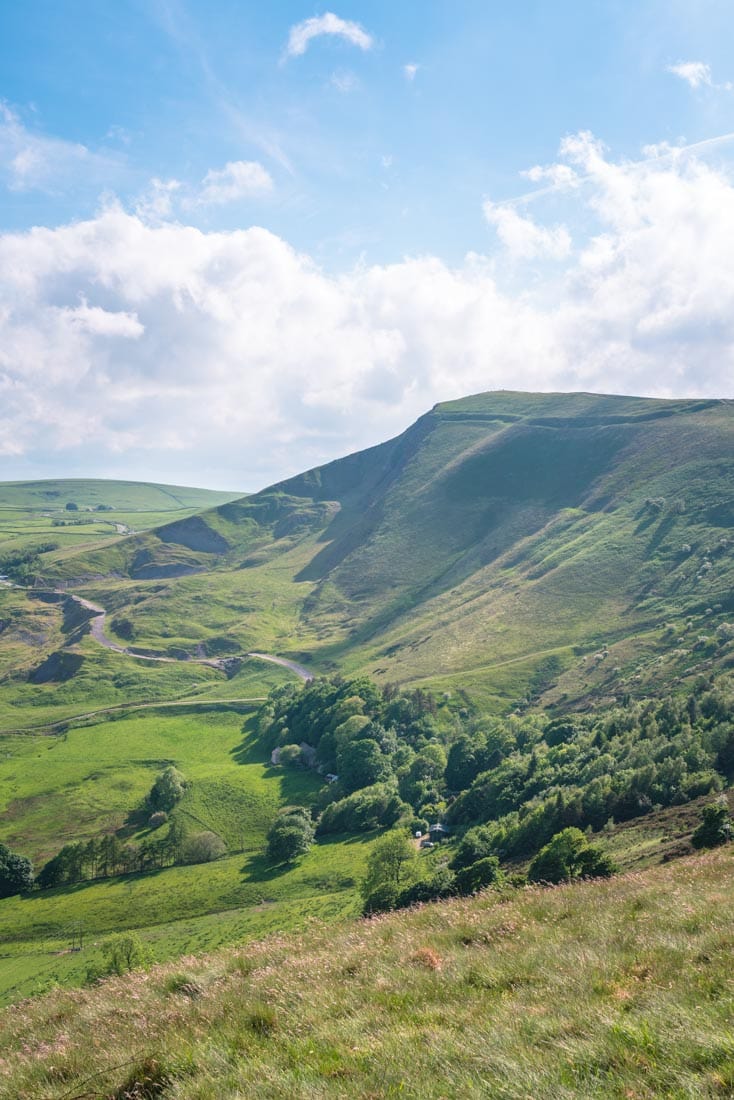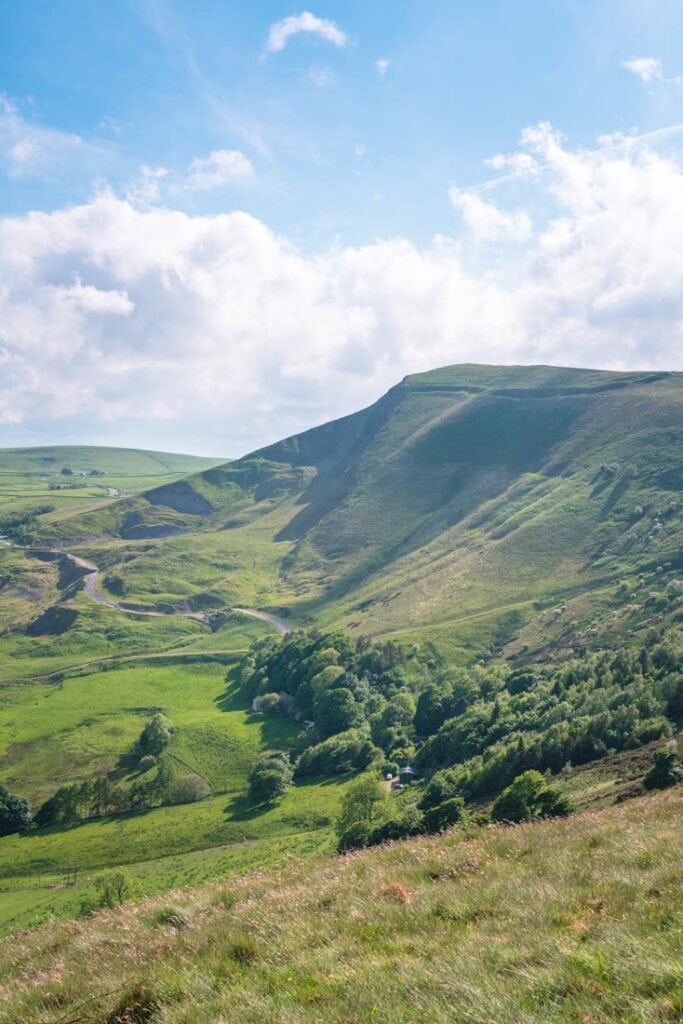 Once you get to Lose Hill, there's another trig point. This is the last stop on the Mam Tor circular walk – from this point it's straight back downhill towards Castleton.
It can be quite steep in places, so be careful underfoot. There are actually a number of footpaths here back towards Castleton. One of them continues onto the village of Hope, but if you just keep on walking back to Castleton you'll eventually come to either Squires Lane or Hollowford Road.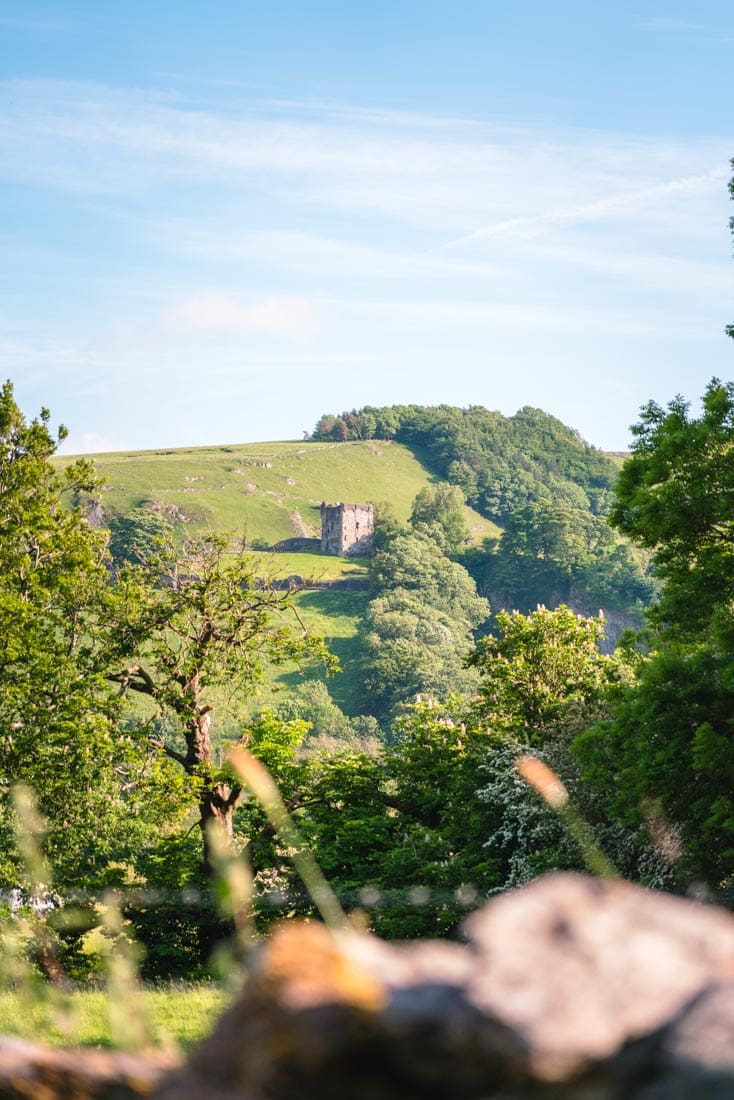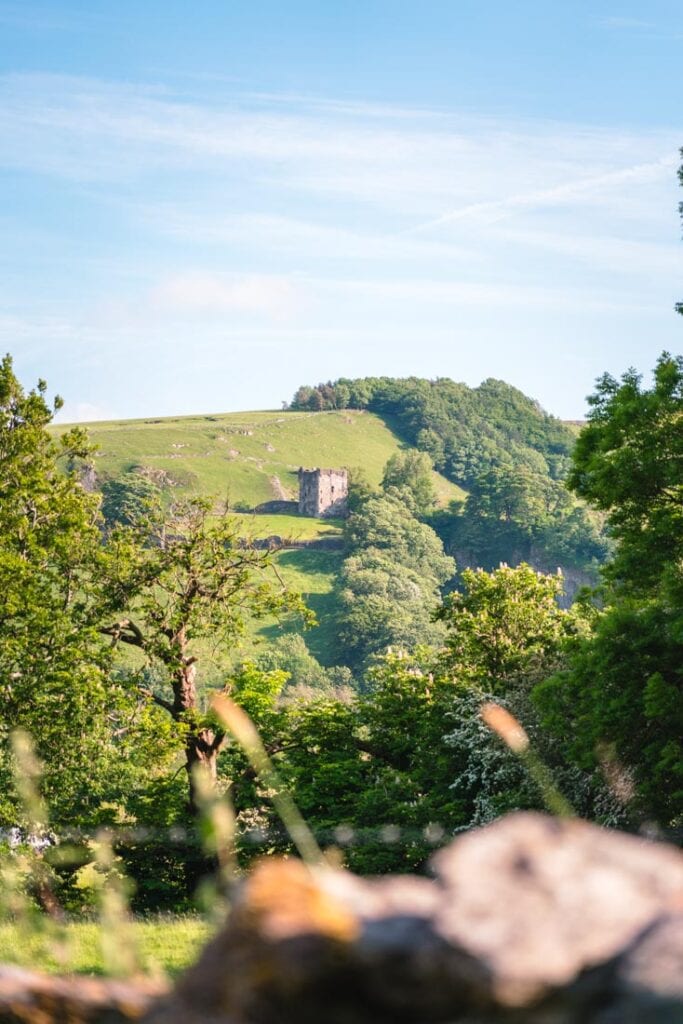 From here, it's just a short 5-minute walk and you're back in Castleton.
Despite being a tiny village, Castleton has five pubs to choose from. I really like Ye Olde Cheshire Cheese for their ales, but The George has the best pub garden with views of Peveril Castle.
Get yourself a drink guys, you just completed the Mam Tor walk.
Further information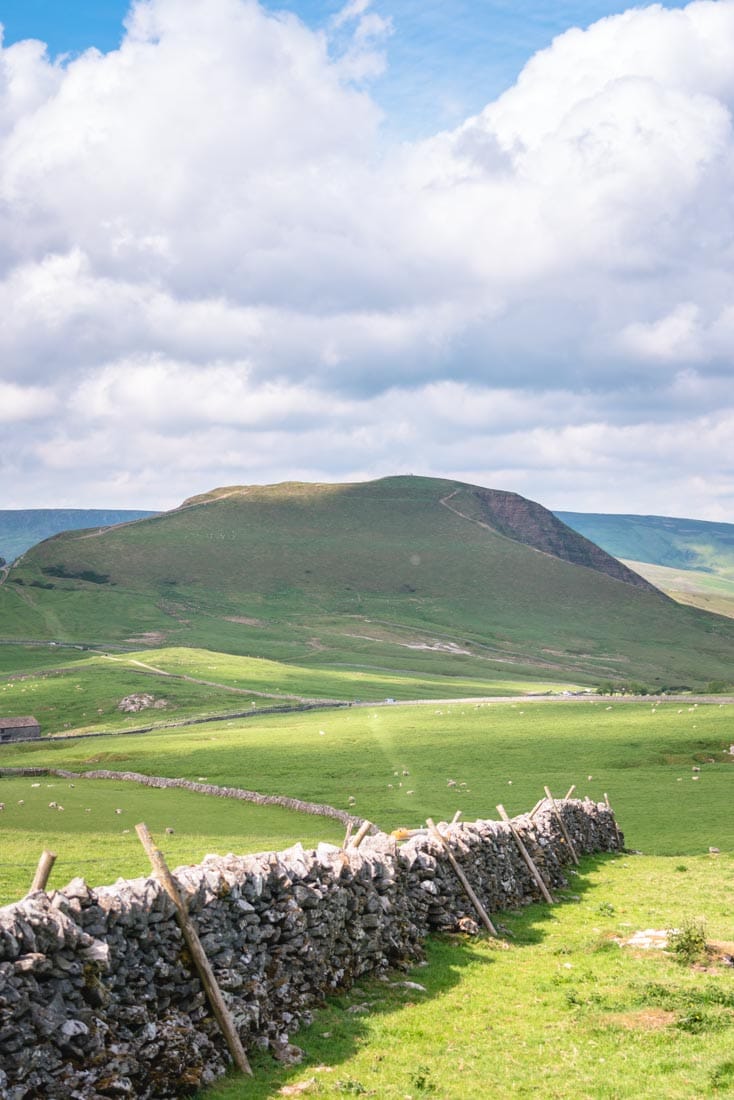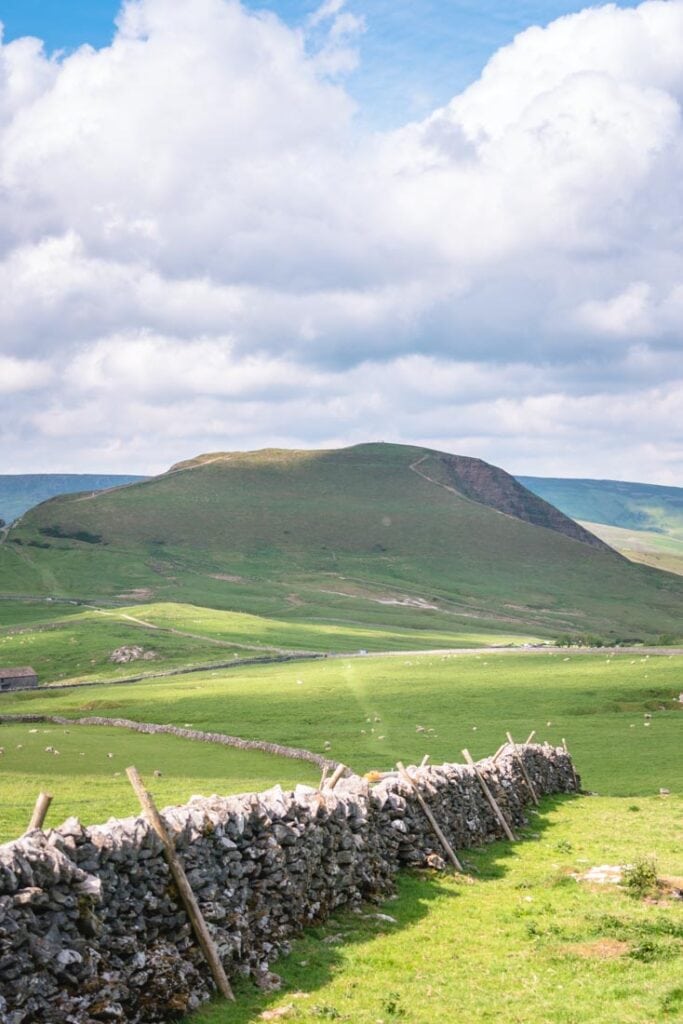 If this is your first time walking this route, here are a few tips…
Pack some water and a snack. As you're walking for 3 to 5 hours, it's always a good idea to bring a snack and lots of water. Sweets are great for an energy hit.
Check the weather. This isn't a walk to do in bad weather just because the visibility is so poor. As this is all about the views, it'd be a shame to miss them.
Wear supportive footwear. The gradient and steps take their toll, so make sure you wear suitable
---
I really hope you've found this guide useful when planning your walks in the Peak District. As ever, if you have any questions at all, just let me know in the comments below.
Like this post? Then make sure you Pin it for the future!