Looking for a relaxing holiday in Herefordshire? With cosy cottages, incredible views and hot tubs galore, these Herefordshire Airbnb rentals can't be beaten!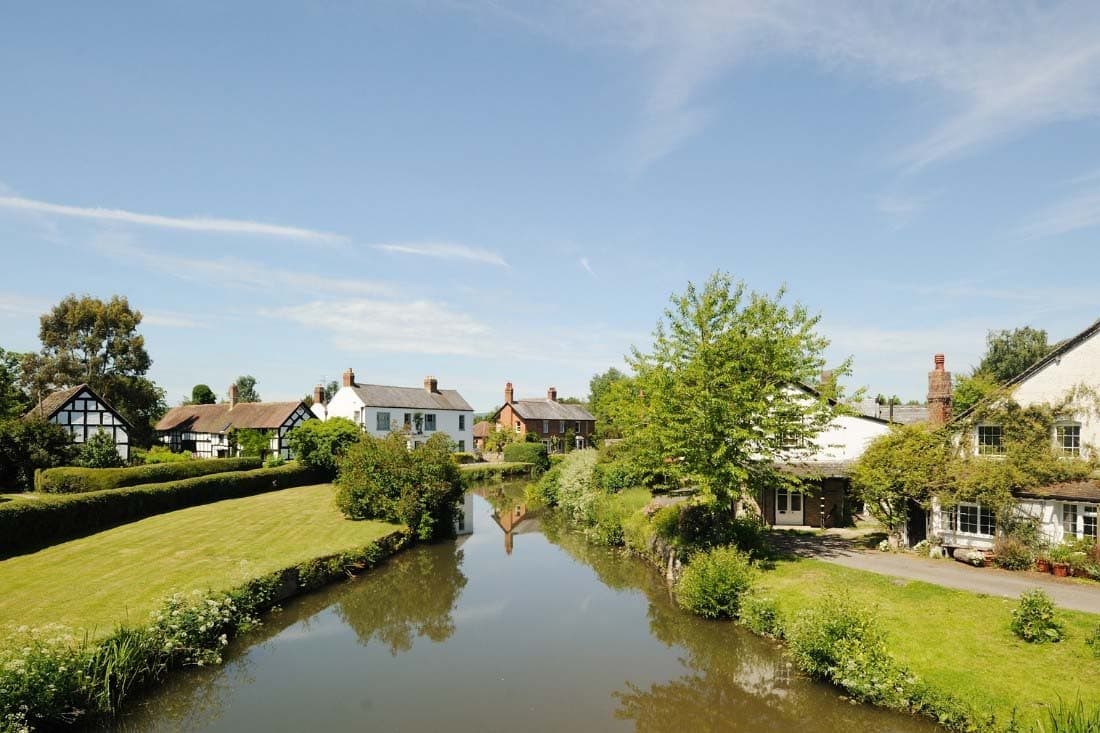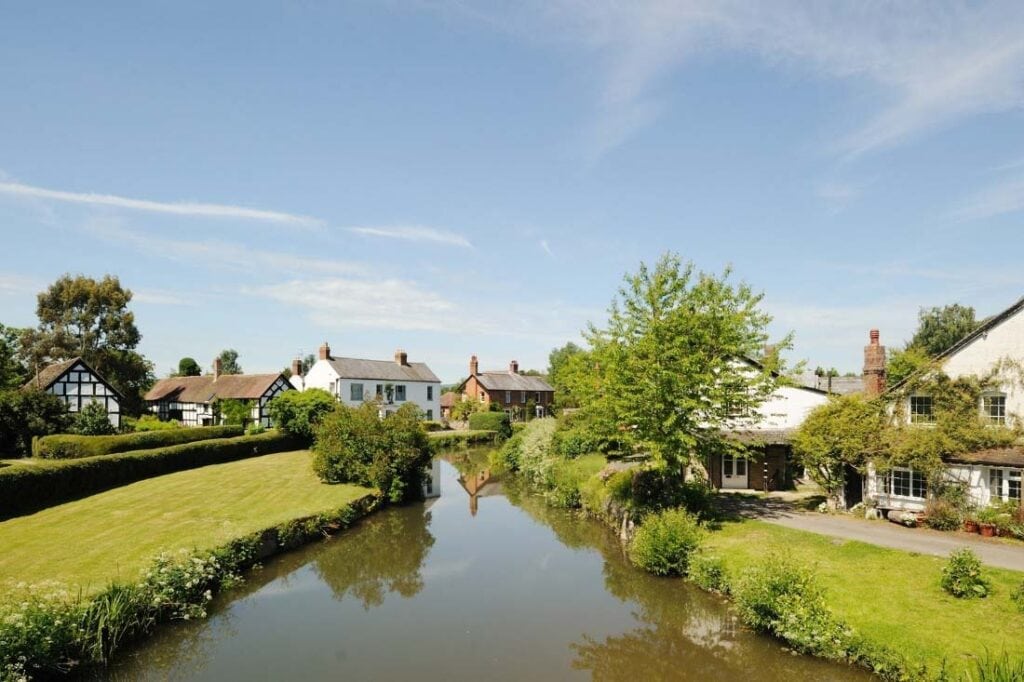 Nestled next to the border of Wales, Herefordshire embodies all the best things about Great Britain. This cracking county is home to villages with cobbled streets and Tudor style homes, stunning landscapes, and a wealth of outdoor activities.
To sweeten this deal, there are incredible breweries and distilleries serving up delicious local drinks, some even made from local produce. There are definitely lots of fun things to do in Herefordshire for all ages.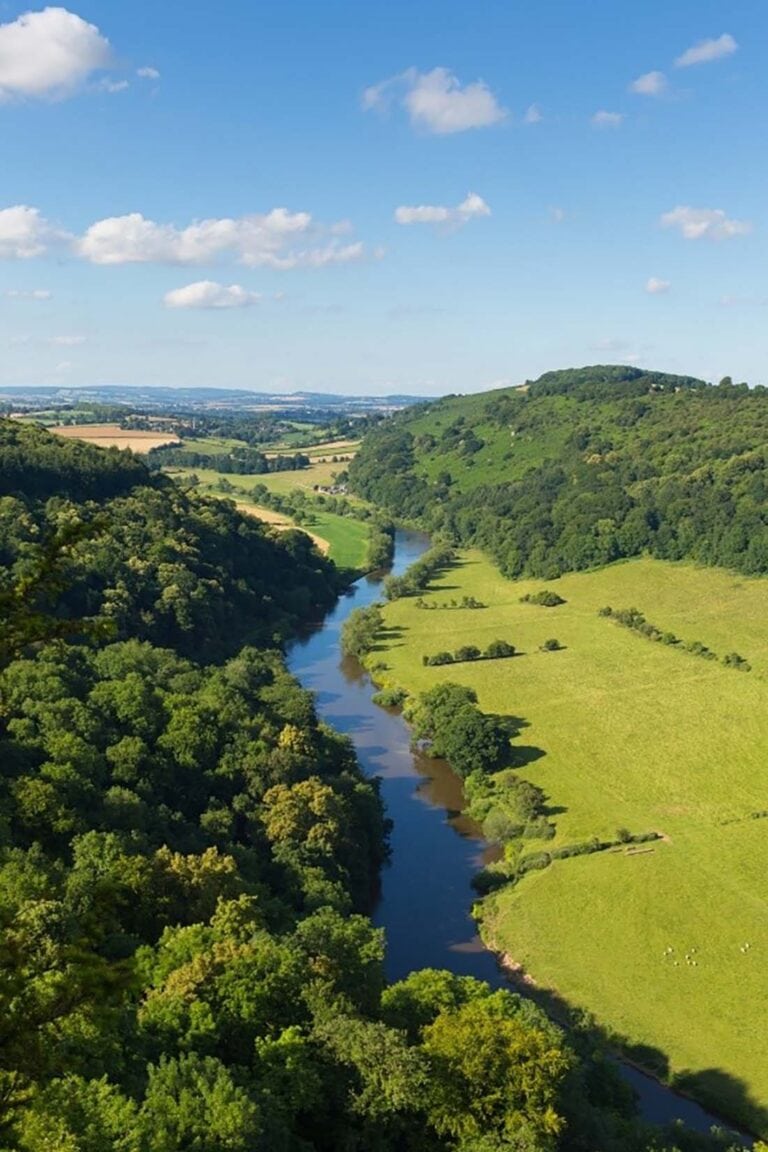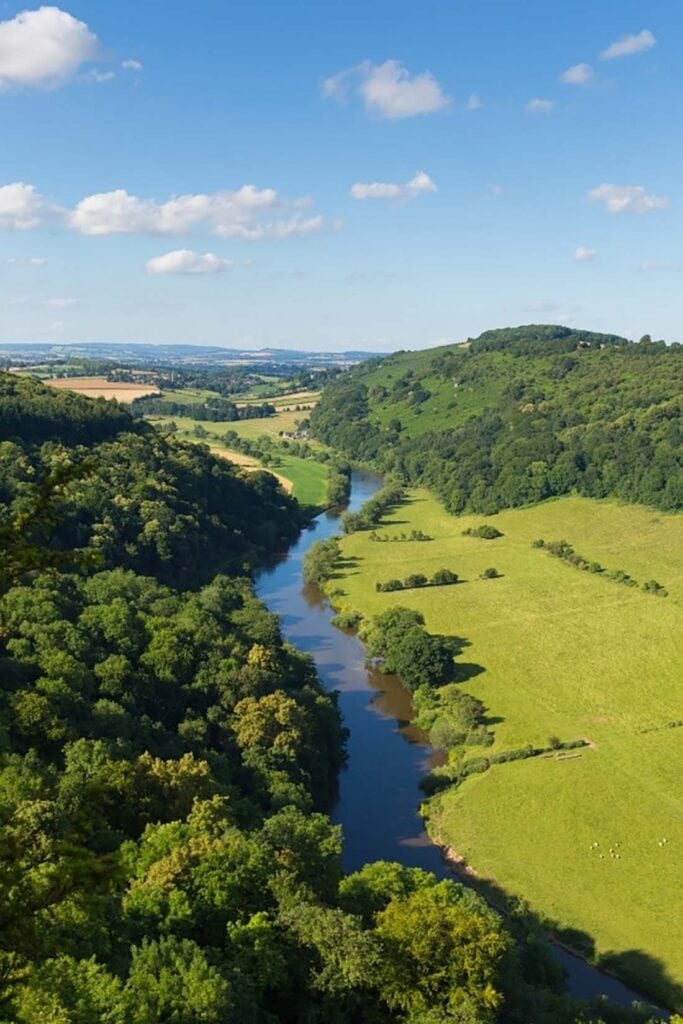 Picking the right location and comfort level are so important when deciding where to stay. So naturally you might be thinking, which is the perfect Herefordshire Airbnb for my trip?
Are you looking for something that is completely off the grid and in the middle of a private forest? Or something with more of a home style feel with a fireplace and magnificent views? Cute cottages, eco-domes, hunter's cabins, and an abundance of hot tubs, Herefordshire holiday homes have got it all.
Whether you're headed on a fun packed family adventure filled with days in the forest, or you're going on a romantic weekend away, there is something in Hereford for you.
Read on to see my top picks of Herefordshire apartments and holiday homes. Hopefully you'll find the special somewhere for a staycation to remember.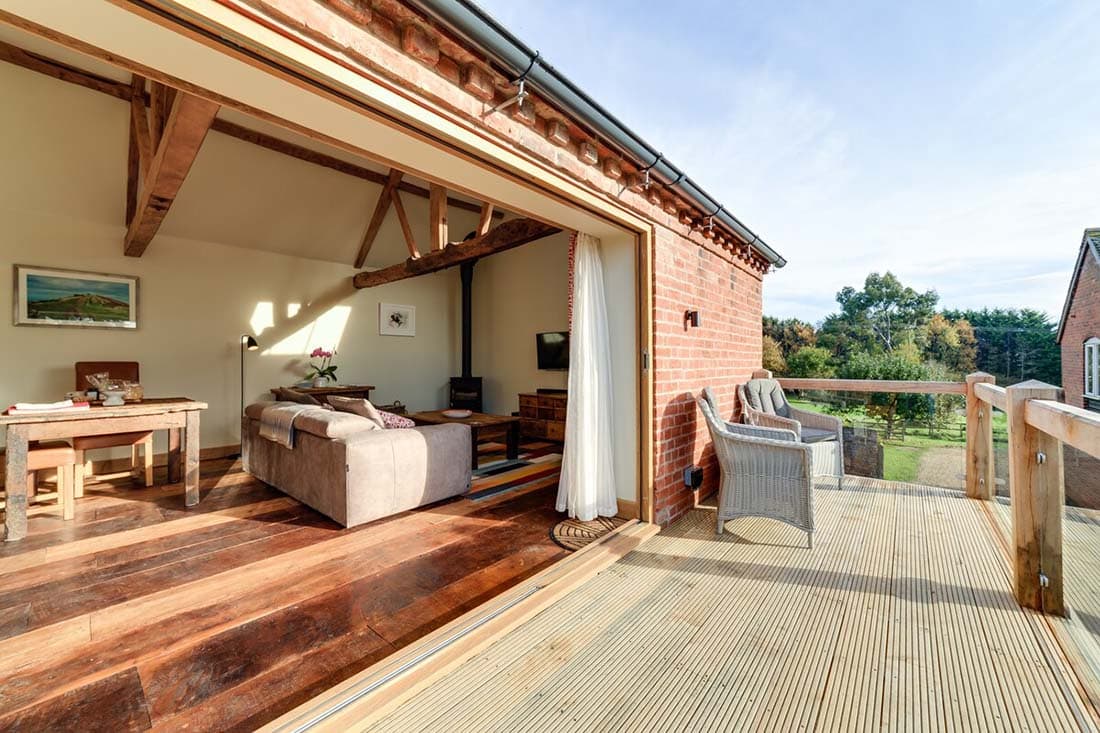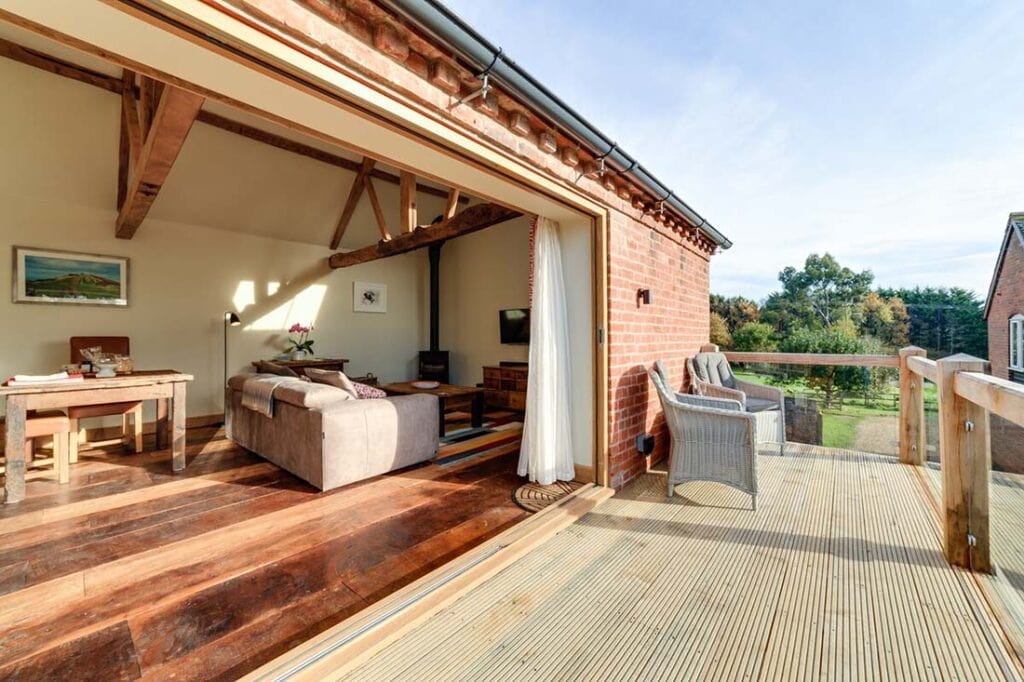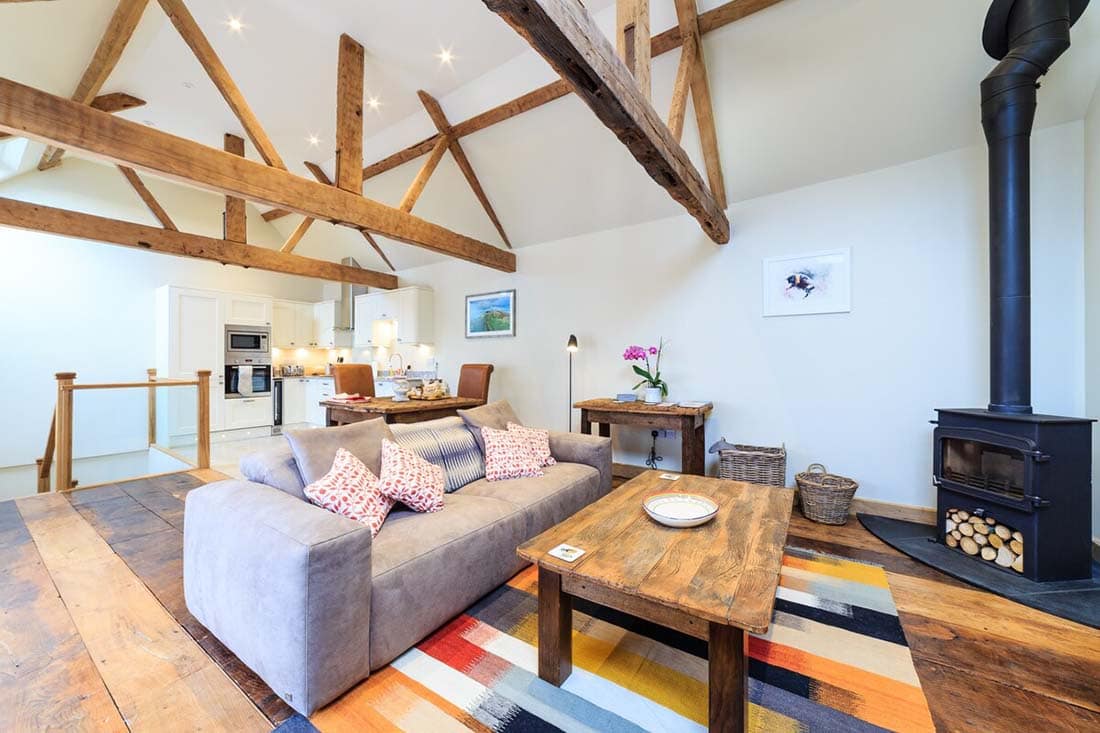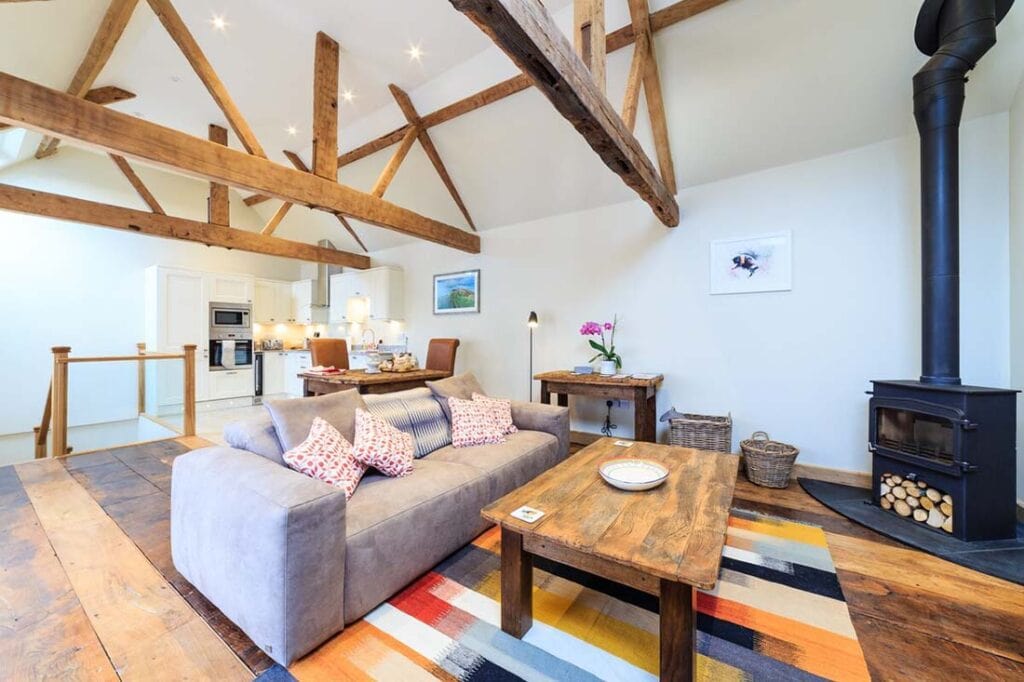 The Stables and Hayloft is located in the old market town of Ledbury.
Ledbury displays a number of gorgeous timber-framed buildings, adding to that country getaway feel. As far as town based Herefordshire Airbnb locations go, you can't get much better than this.
These stables have been converted into a modern, spacious and inviting area. It's so enticing you might find yourself opting to stay in, rather than going out to explore.
The hosts here include thoughtful touches including a continental breakfast hamper featuring local produce. This is a fantastic choice for couples looking for a relaxing weekend getaway.
This place really is as gorgeous as it looks and we can't recommend it enough.
Check availability & latest prices now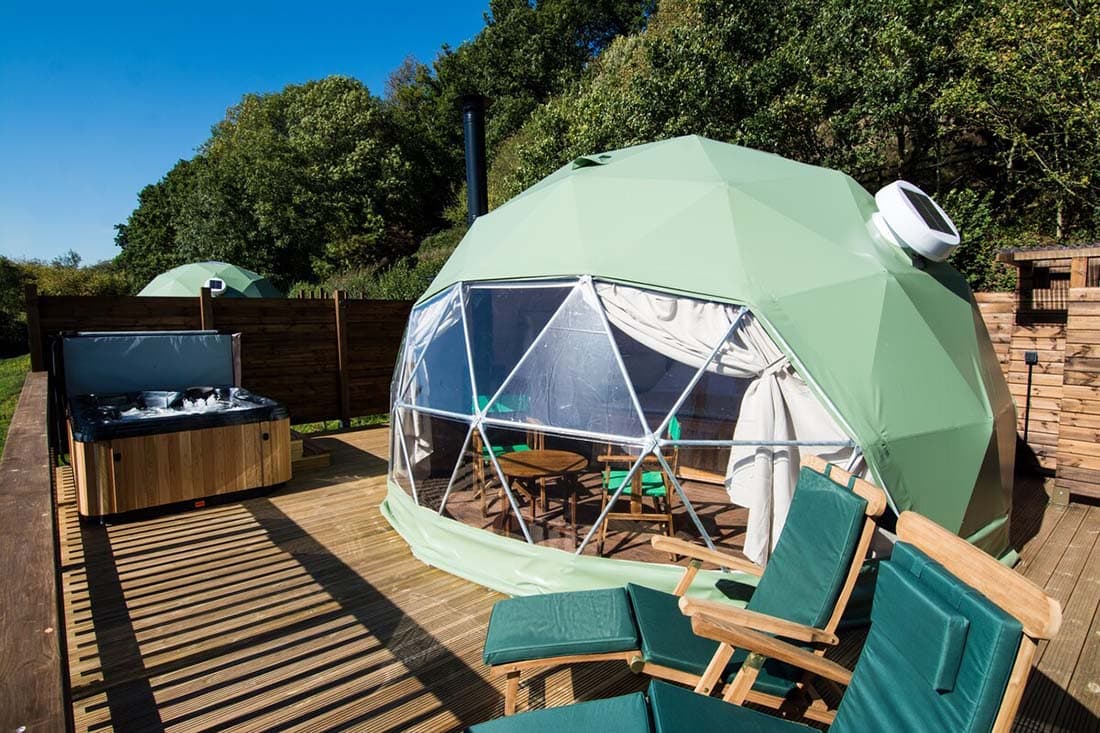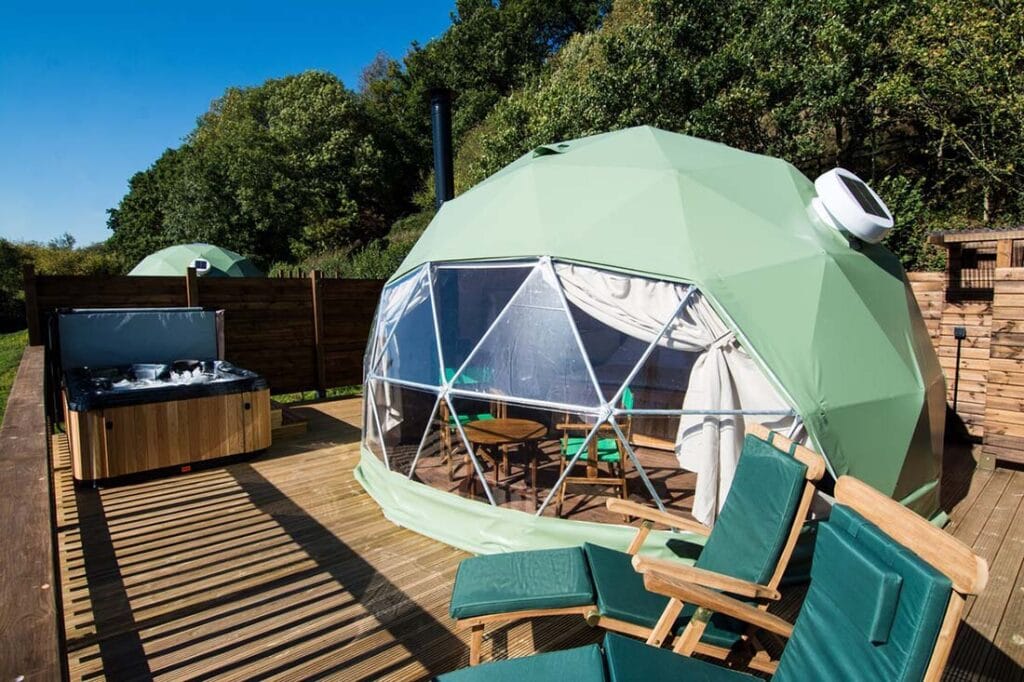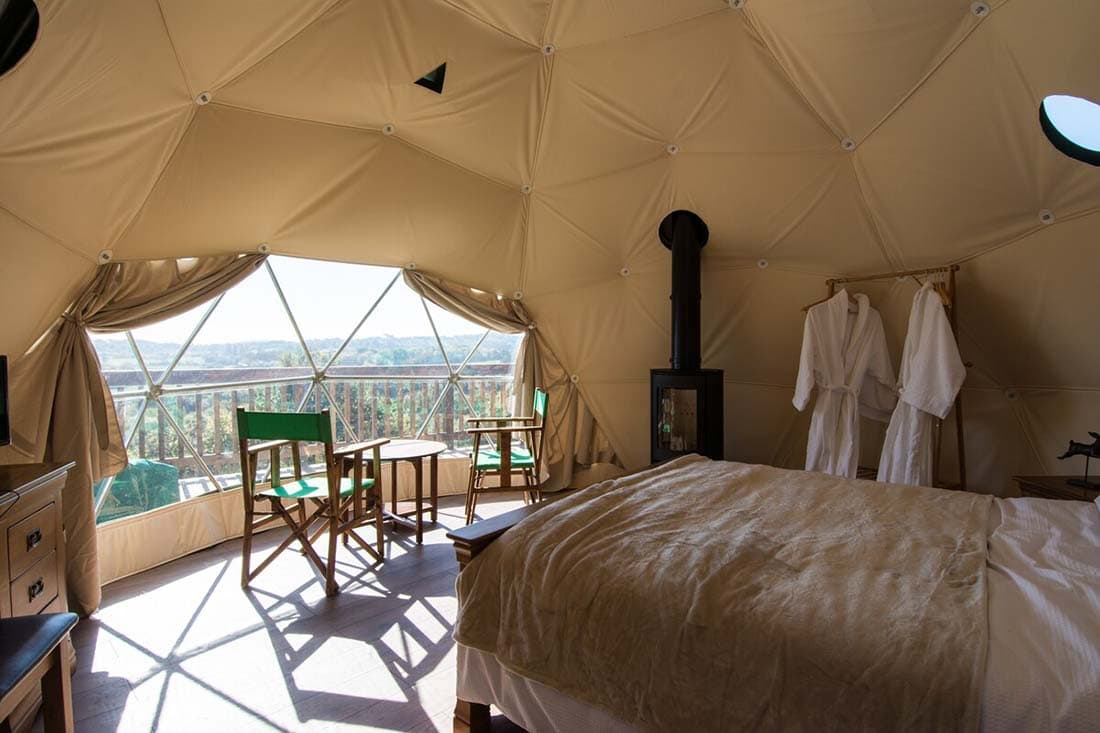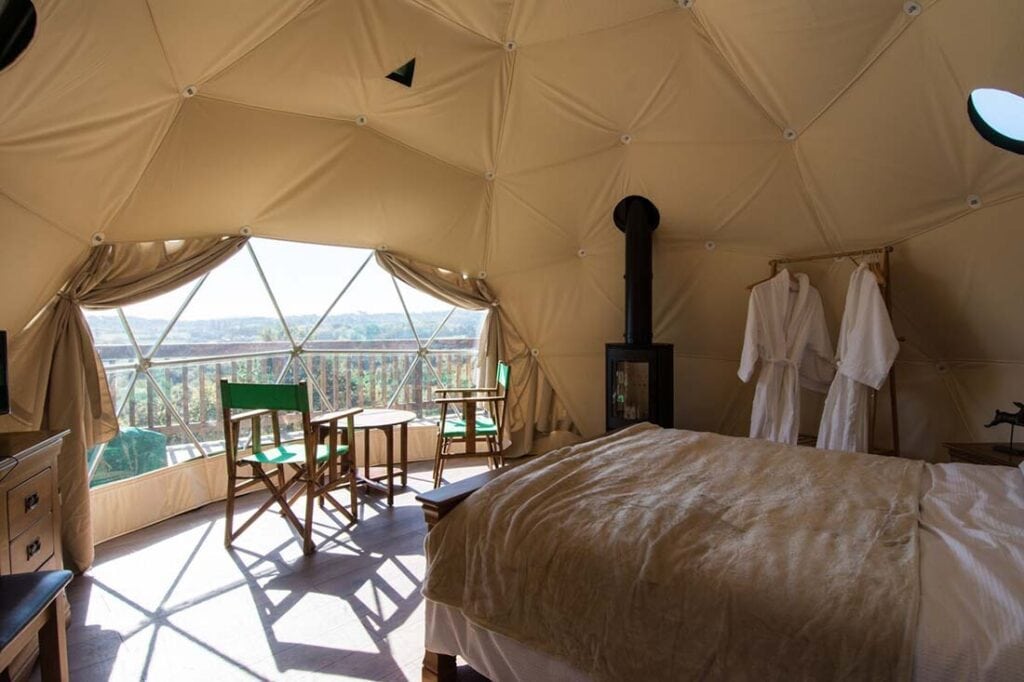 If you're looking for something outside of the regular Herefordshire holiday homes, The Bredon is the place for you! Set in the countryside outside of Whitbourne, this luxury eco-dome experience will give you something to write home about.
Each of the four domes has a private deck with hot tub, covered outdoor kitchen, and spectacular views over the Malverns. Inside, the domes include a double bed, log fire and electricity.
This adults only retreat takes all the quiet, stillness and privacy of camping, then throws in all the things you'd like from a luxury stay. Bliss!
Check availability & latest prices now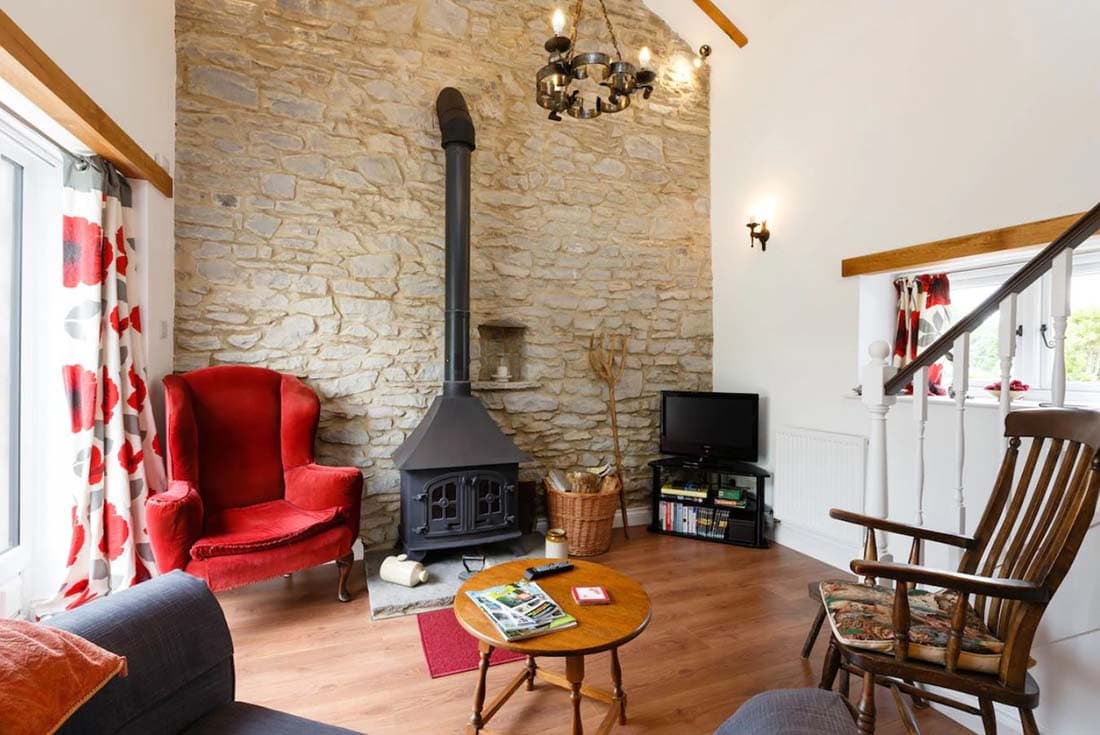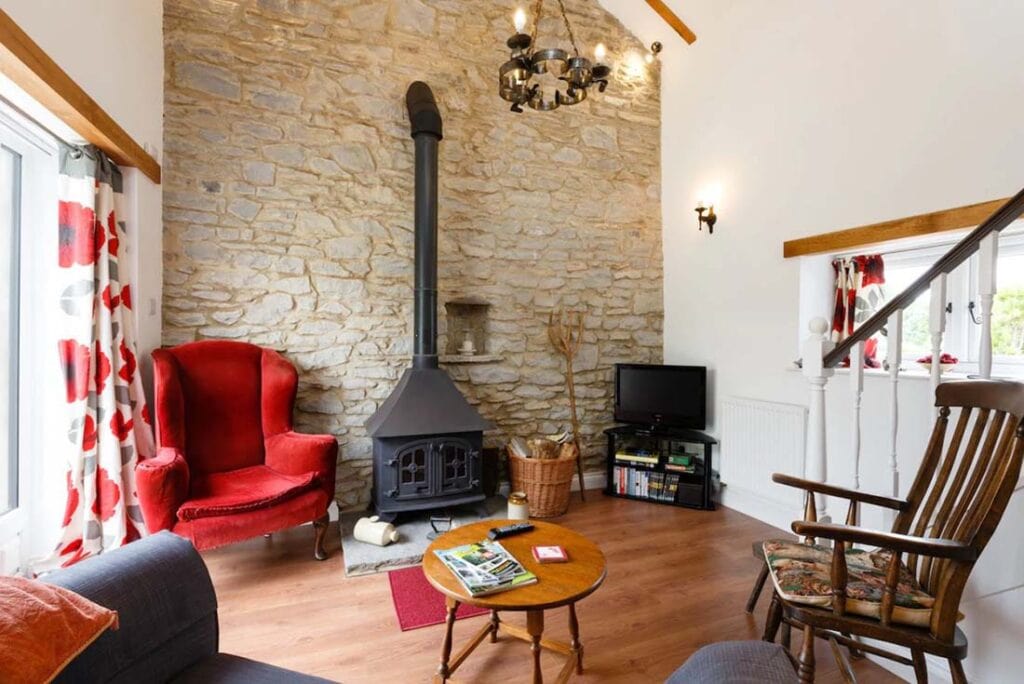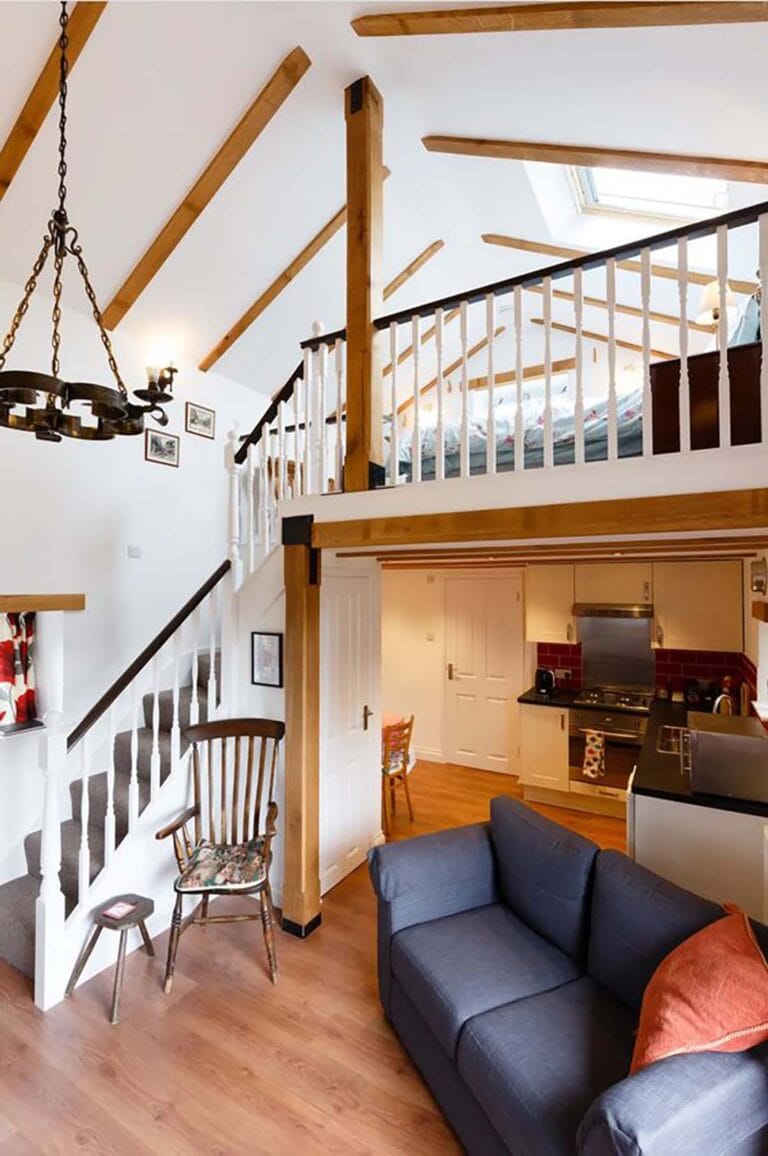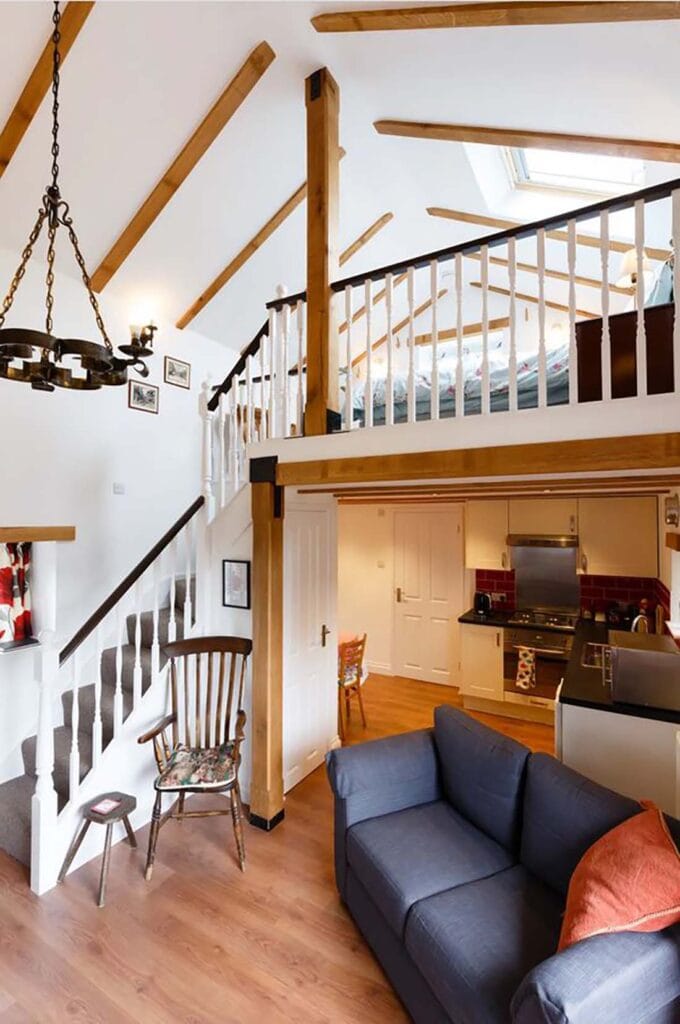 This Herefordshire Airbnb is perfect for couples searching for a quiet retreat. Located in Ross-on-Wye, on the edge of the Forest of Dean, the Wenslow Barn is surrounded by natural beauty.
This refurbished cider barn has a fantastic set up with a really great use of space. The interior design is modern, while still maintaining some country flair. It also features an indoor fireplace, so you'll be warm and cosy during a winter stay.
There are pubs and fine dining locations within easy reach. So no need to ruin the romance arguing over whose turn it is to do the dishes!
Check availability & latest prices now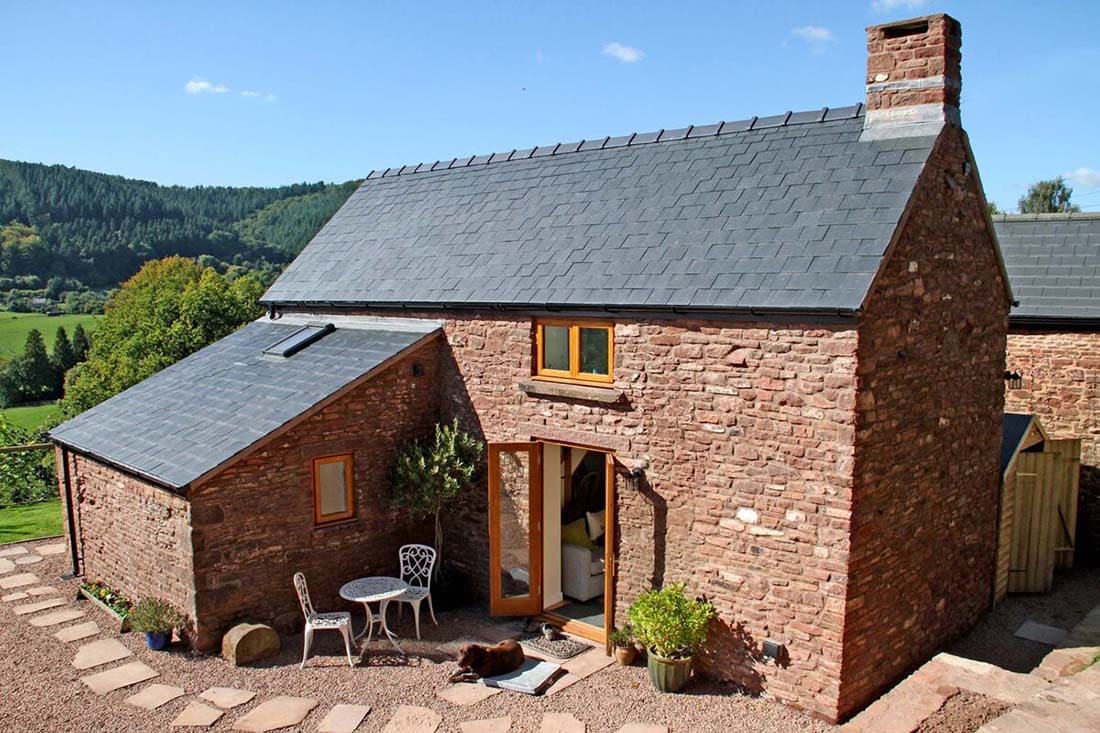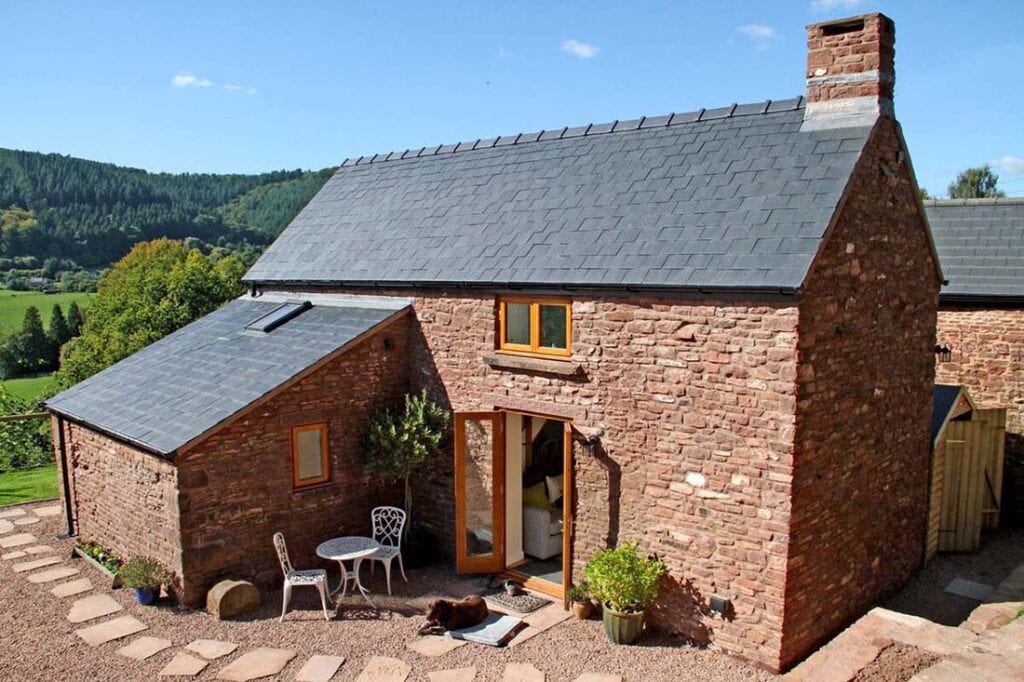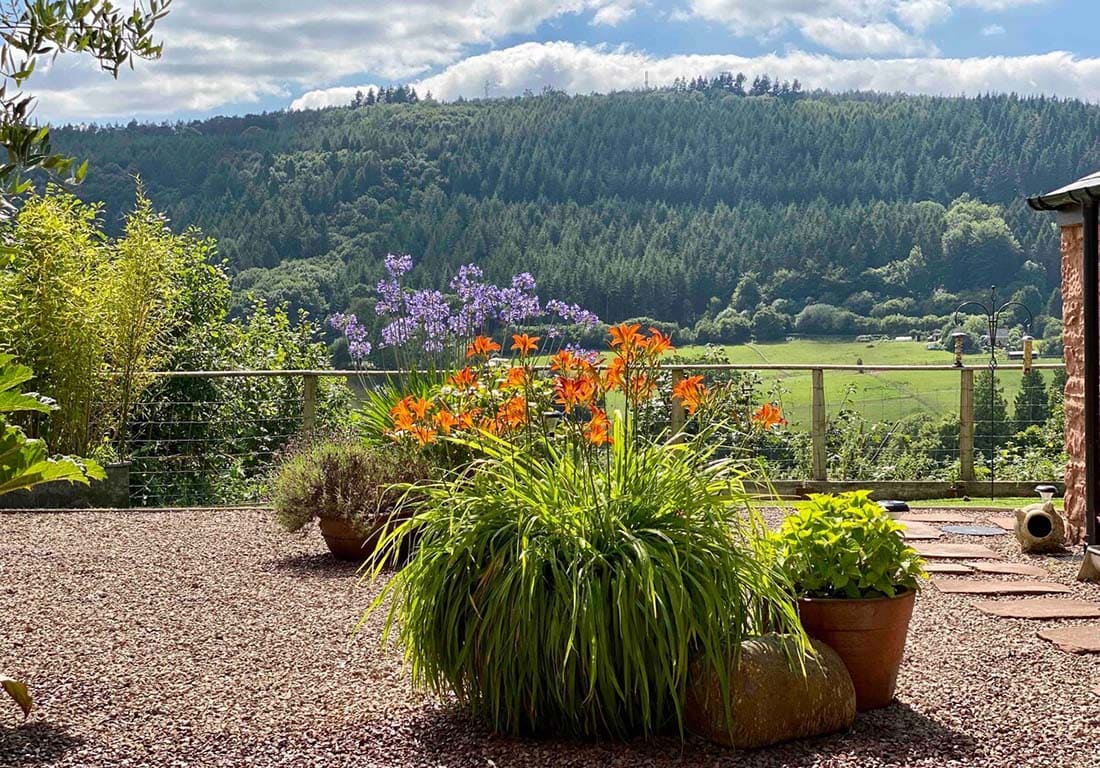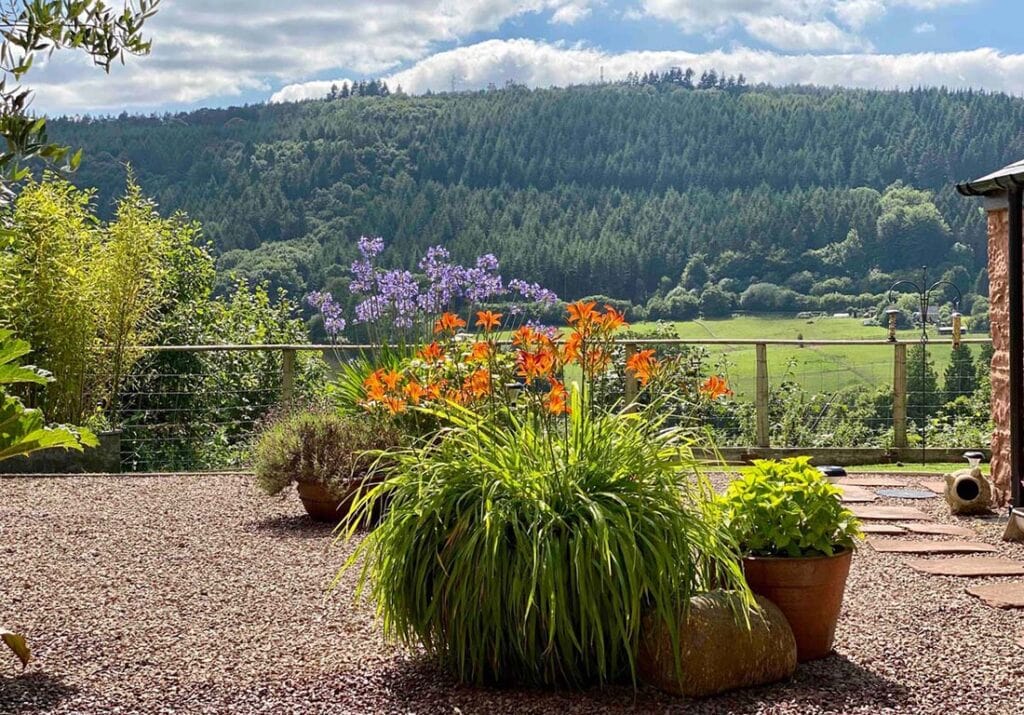 Live your country life dreams as you enjoy this entire cottage to yourself. The former forester's cottage comes complete with an oak staircase, a wood burning stove, and incredibly comfy beds.
Outside you'll find a gorgeous garden, a gazebo, and fantastic views. At night you'll be able to enjoy peace, quiet, and the occasional hooting of an owl.
This Herefordshire Airbnb has the forest essentially on its doorstep, making it great location for forest based activities. Furthermore, its setup makes it great for couples and families who are looking to self cater.
Check availability & latest prices now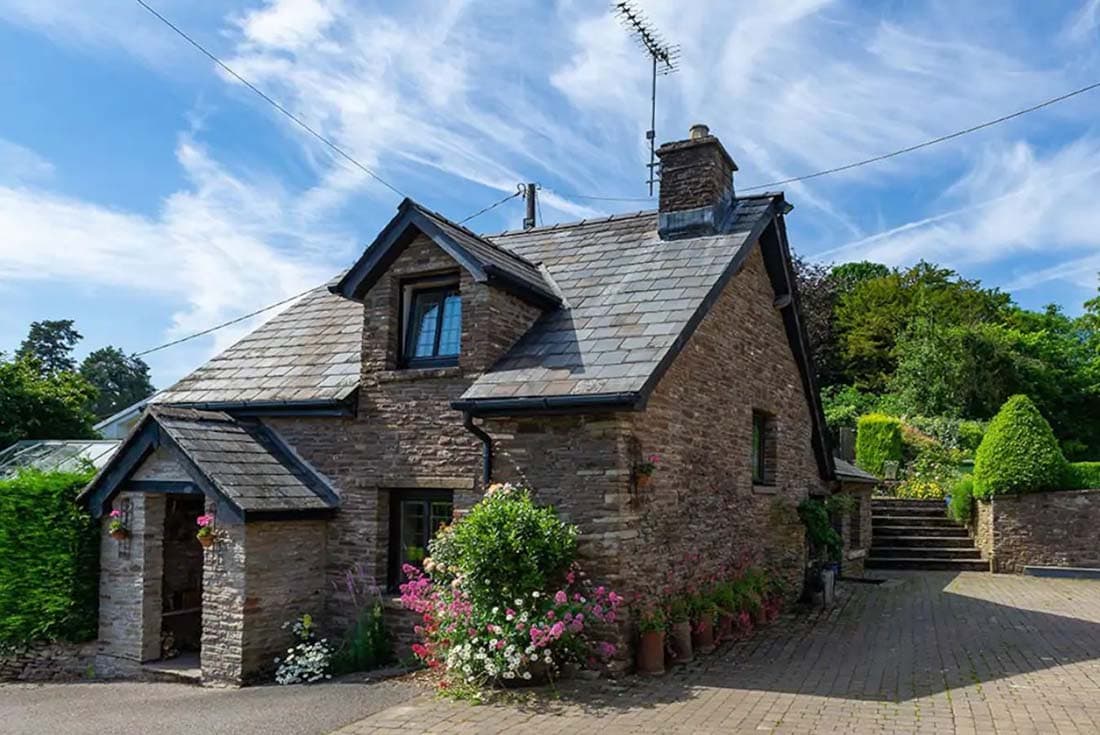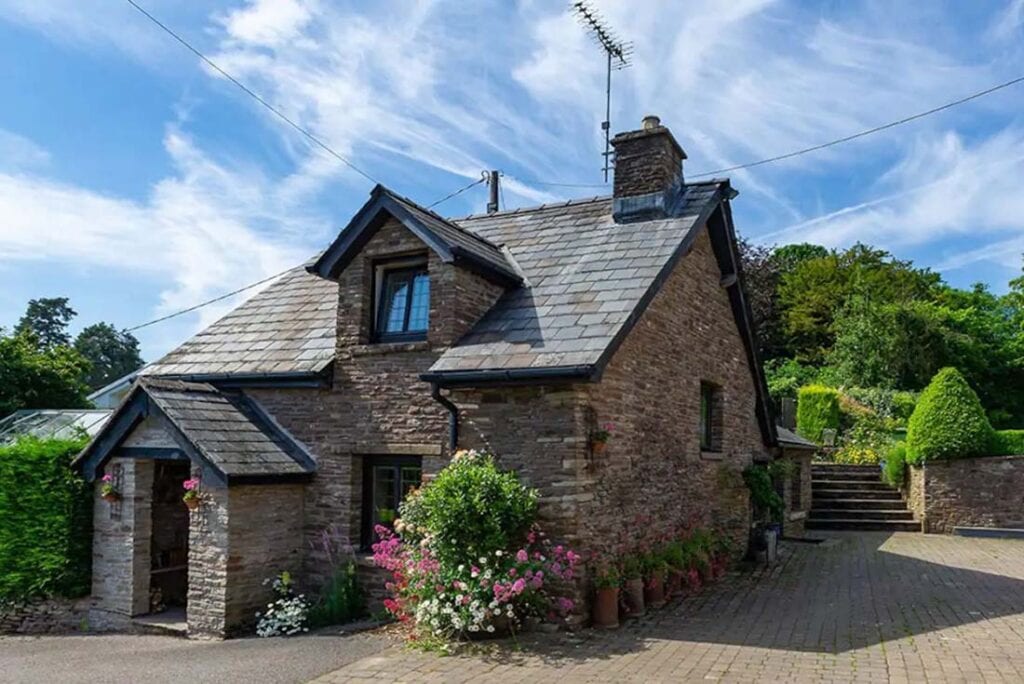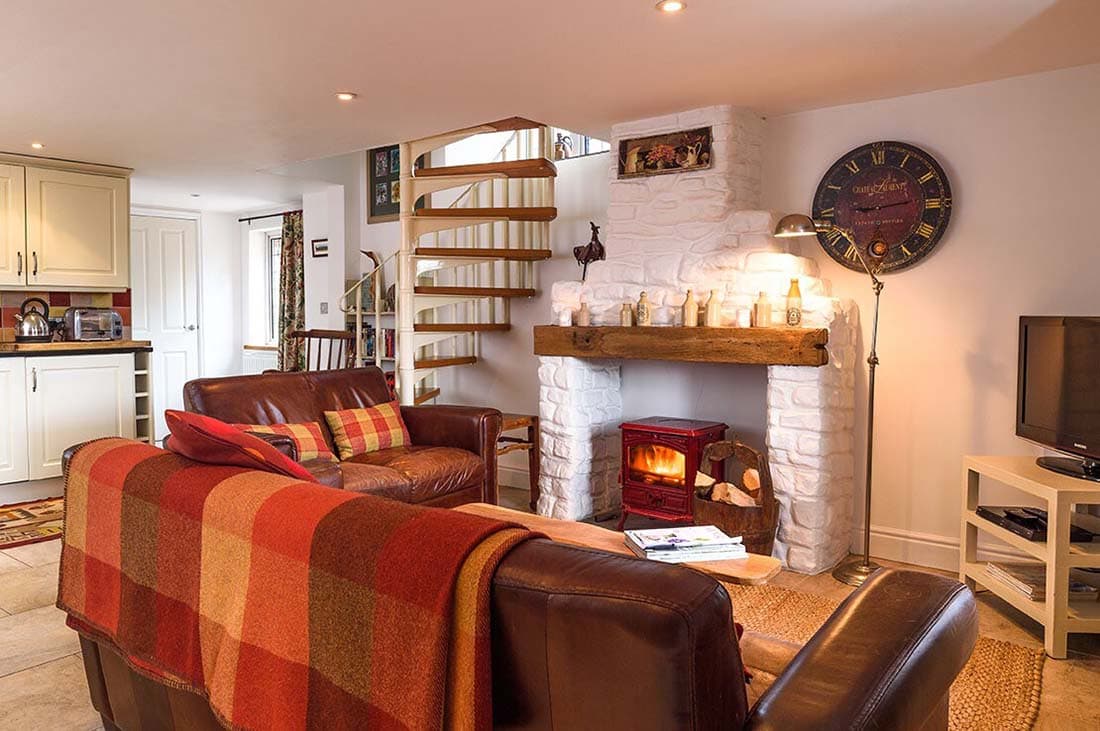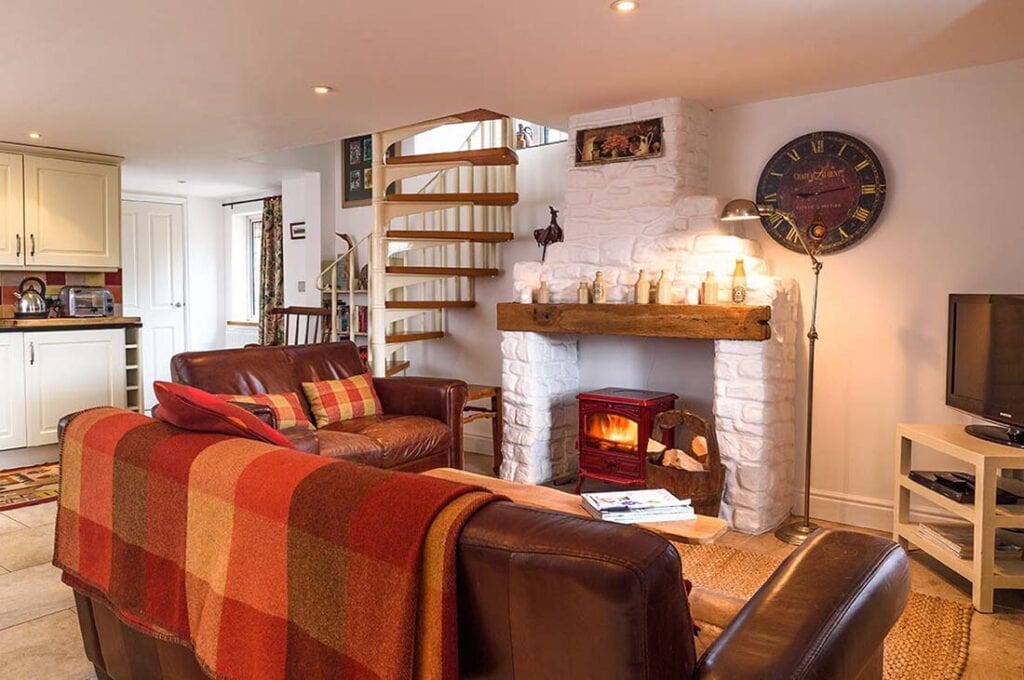 Just over the border in Wales' Llangattock Lingoed, this luxury cottage is a top choice for families going on holidays in Herefordshire. This home away from home is warm, cosy and one of the bathrooms even has a bath.
Outside you enjoy access to a spacious garden with outdoor furniture and a water feature. So there is plenty of space for the whole family to enjoy.
The village itself has lots of character and includes a pub and church, both of which are from the 13th century.
With welcome Welsh Cakes on arrival, you and your family will settle in here in no time!
Check availability & latest prices now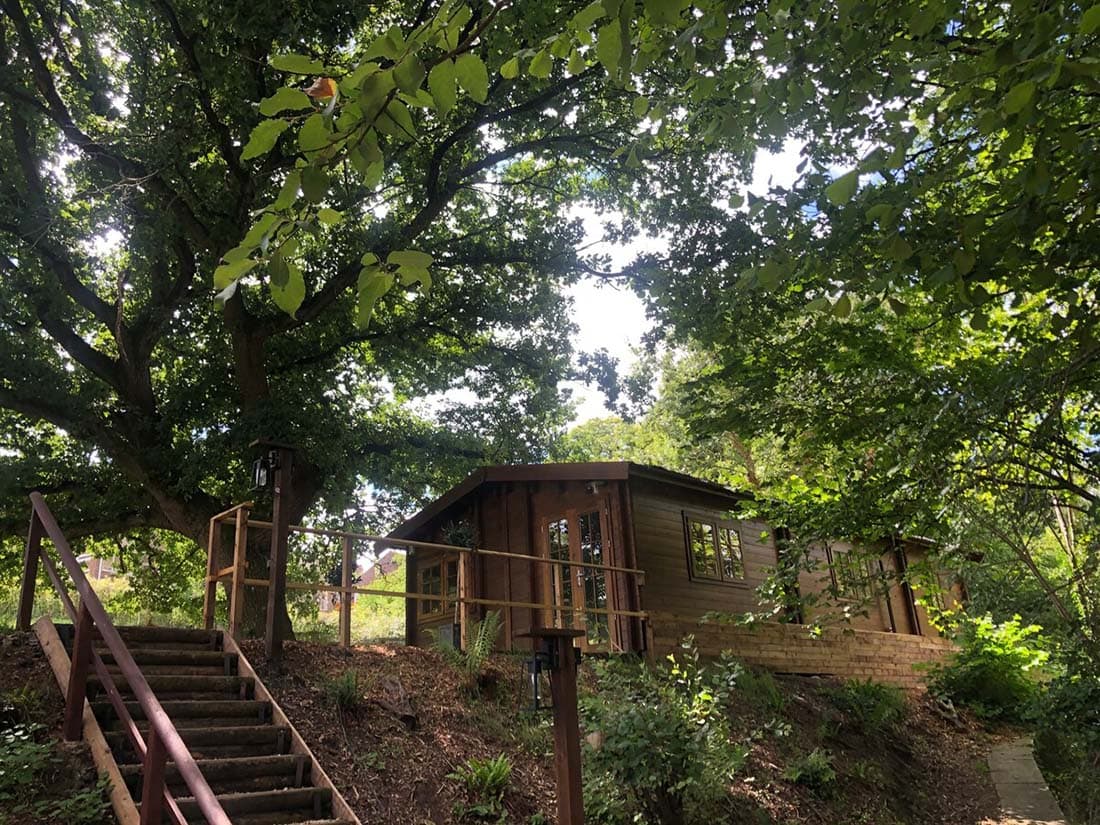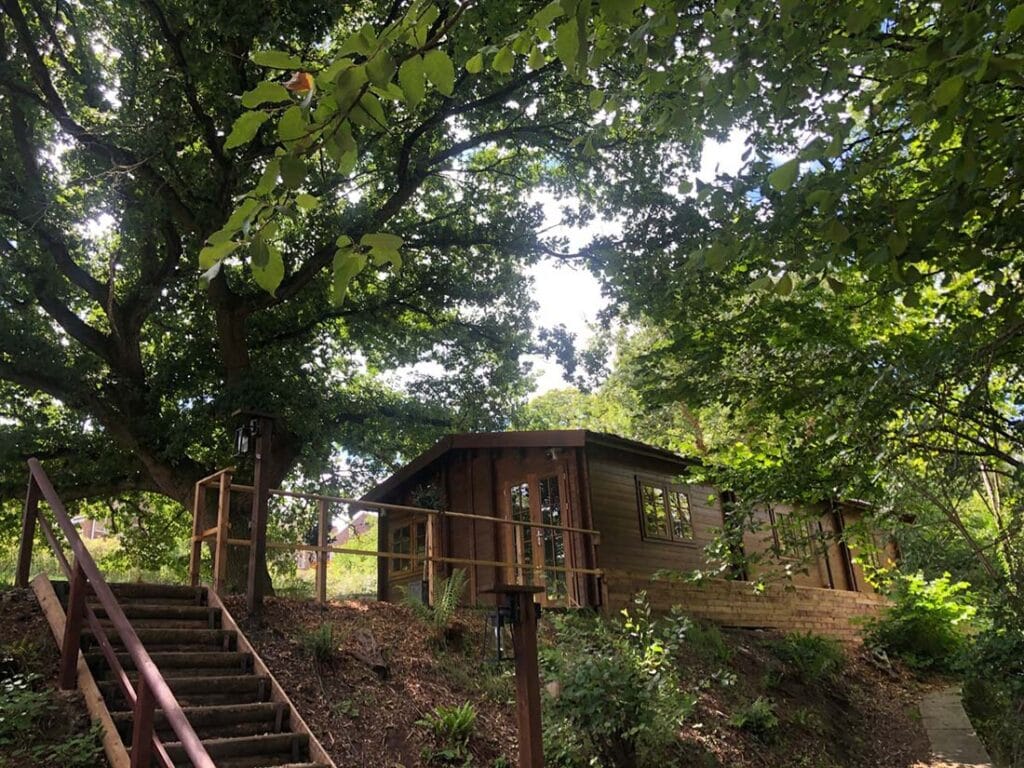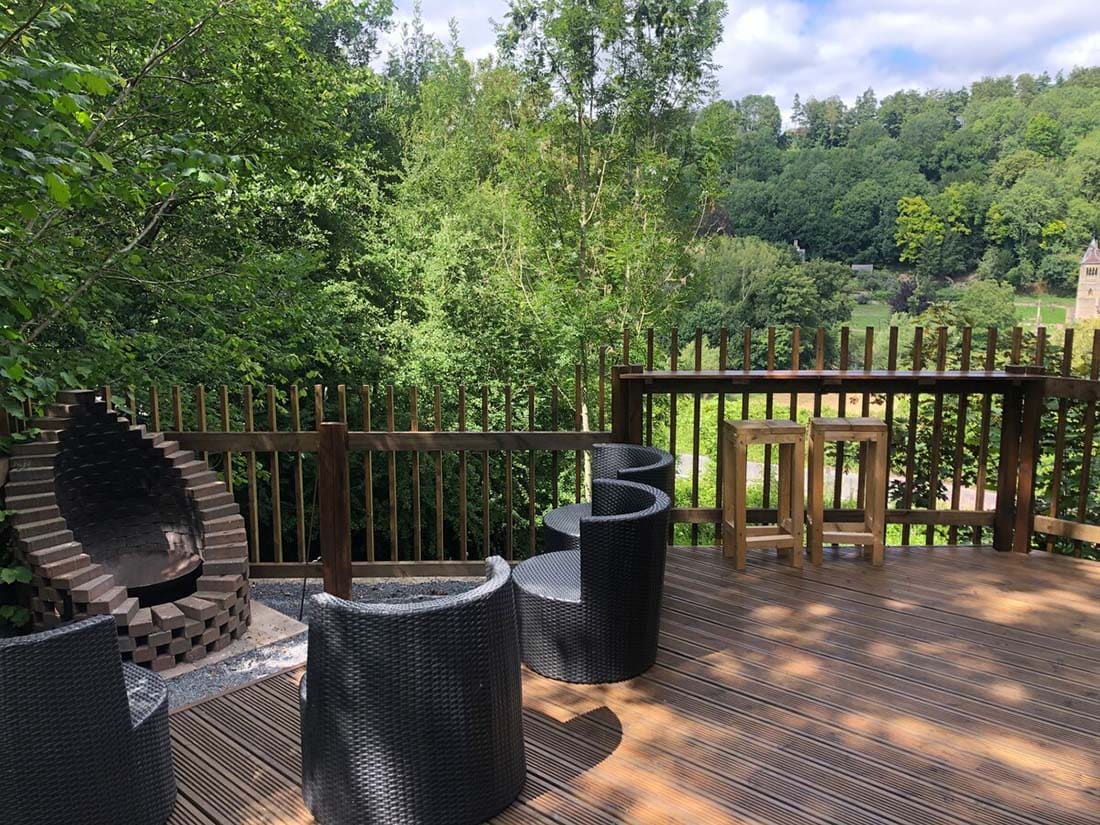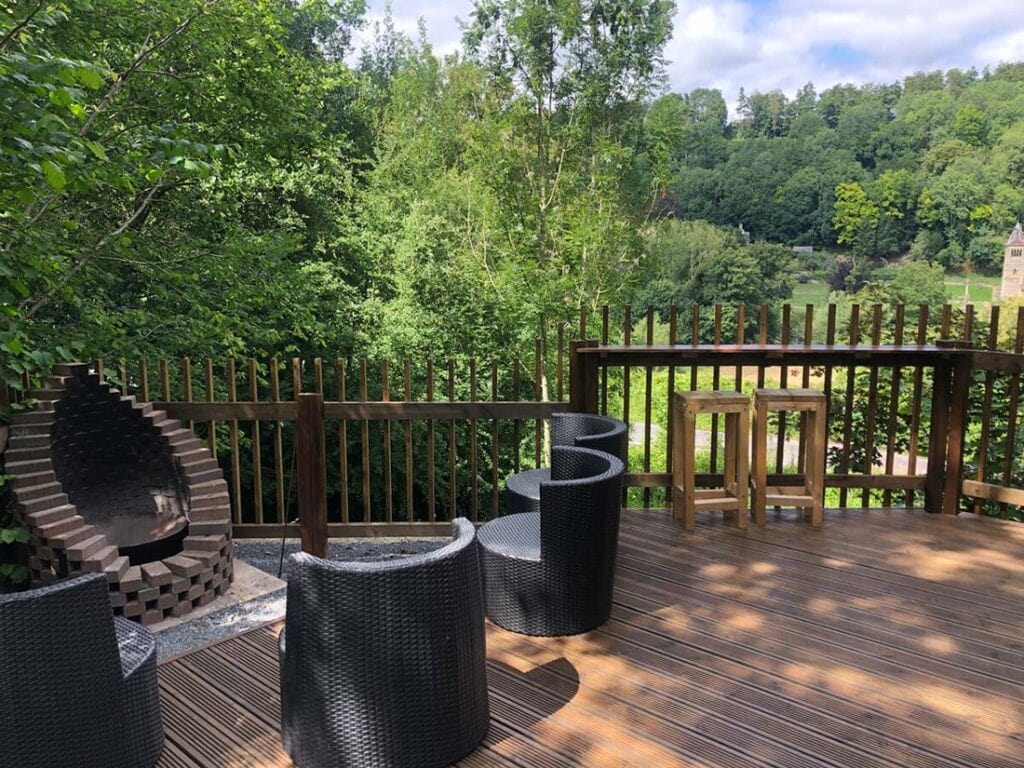 This stylish and spacious 2 bedroom wooden lodge offers wonderful views of the River Wye.
Nestled amongst the trees and with it's own outdoor fireplace, you'll really get the forest cabin experience at this Herefordshire Airbnb – without having to skip on the comfort!
A fantastic place to base yourself if your personal list of 'where to go in Herefordshire' includes lots of activities in the Forest of Dean and Wye Valley. The lodge is equipped with a washer, drier and kitchen, making it ideal for people planning longer stays. Featuring a dedicated workspace, it's also a great remote working hideaway.
Check availability & latest prices now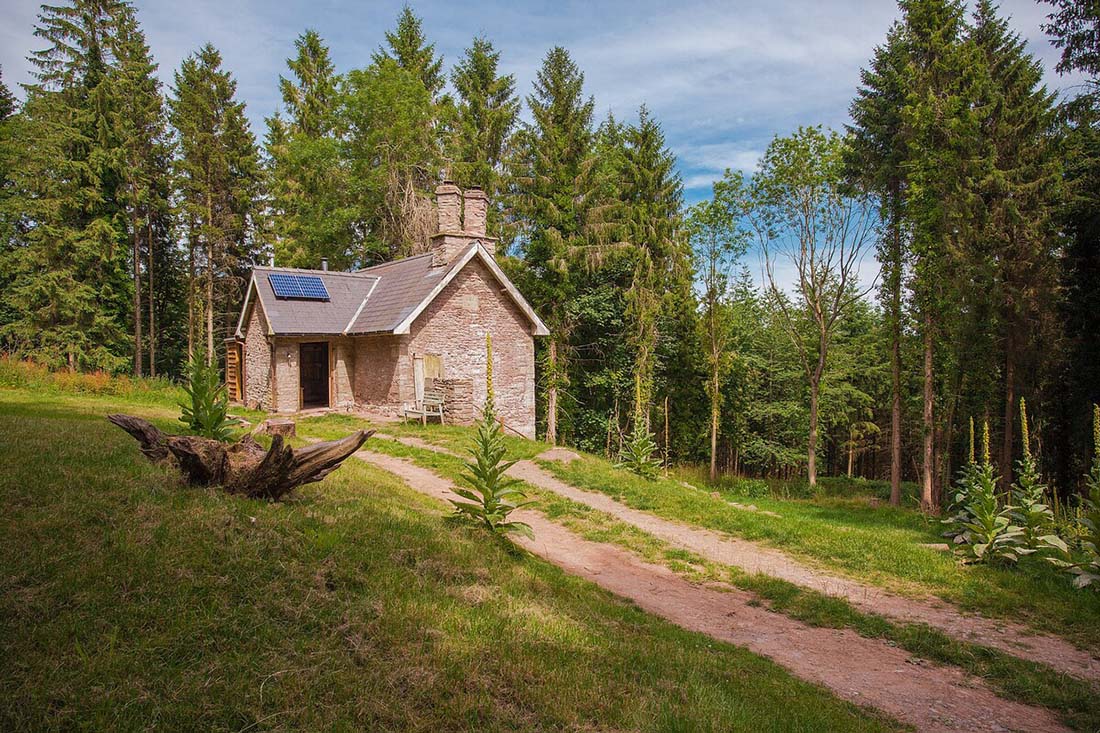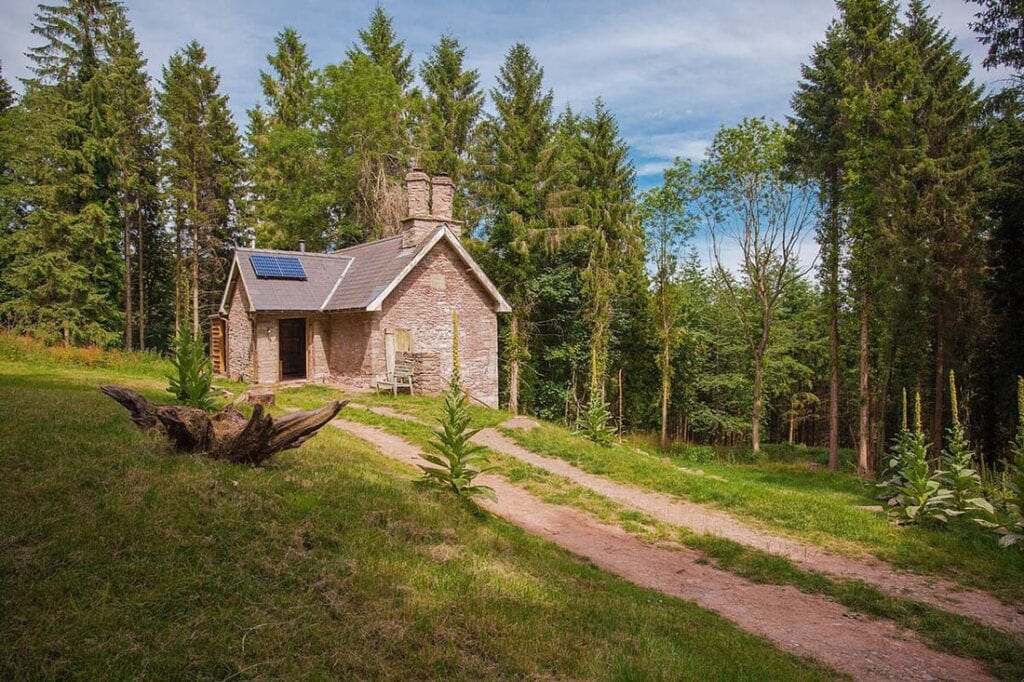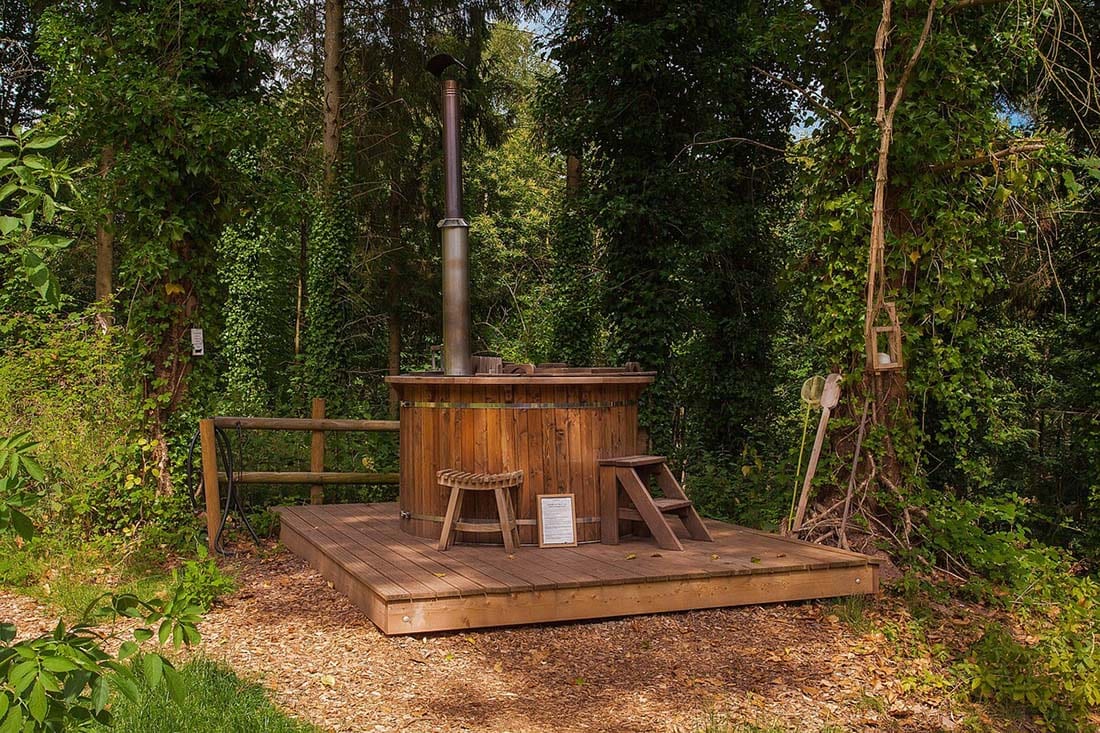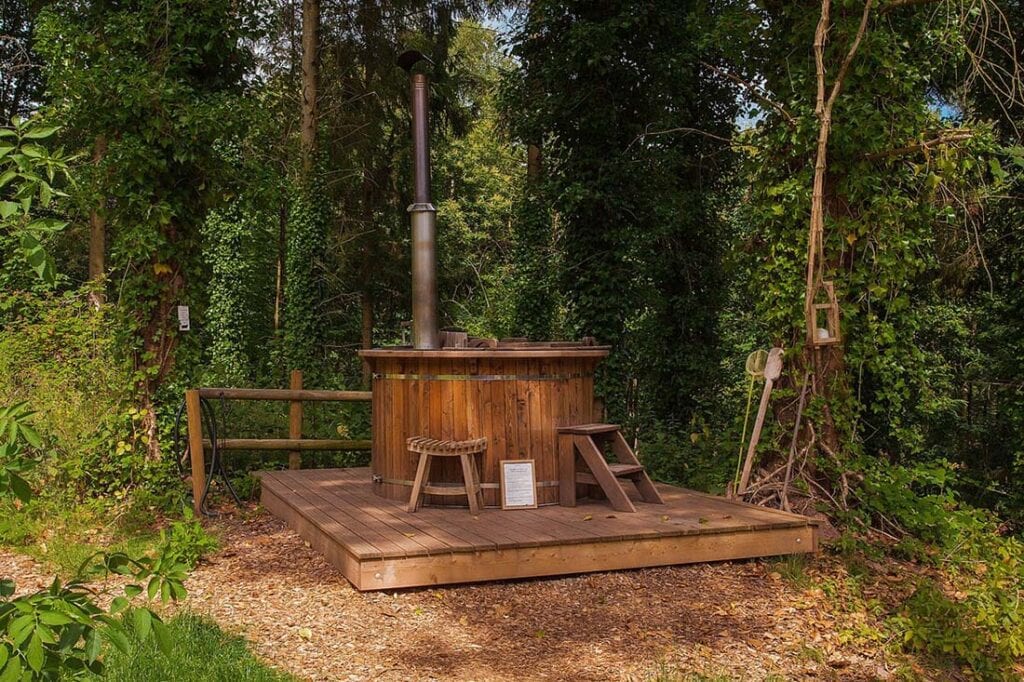 As far as Herefordshire holiday homes go, this one really takes the cake in terms of seclusion! Get off the grid, away from the WiFi, and spend a few nights enjoying the serenity of 300 acres of private forest in an ancient hunting lodge.
While some modern features like solar power, comfy beds and a fridge have been added, this lodge maintains its original charm. The furnishings themselves are also true to character.
Don't worry, you won't be completely roughing it though. There is an outdoor hot tub for your exclusive use, so you can spend your evenings soaking under the stars, listening to nothing but forest sounds.
Check availability & latest prices now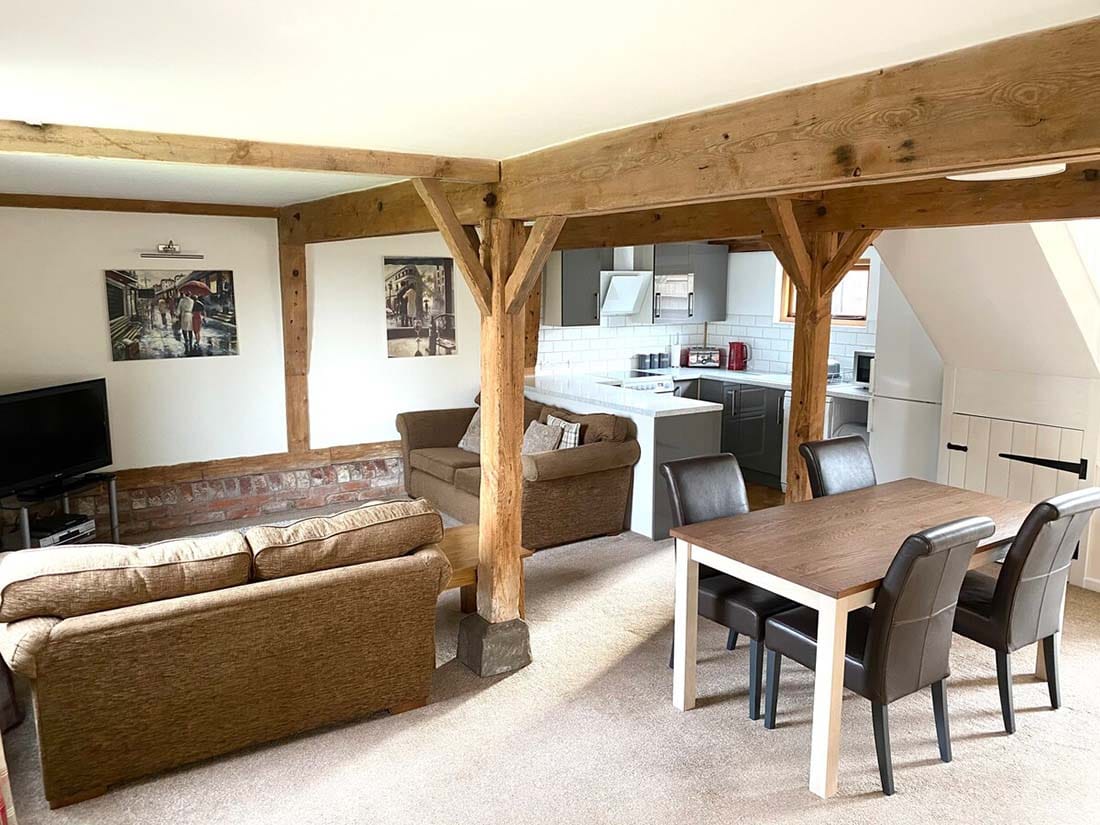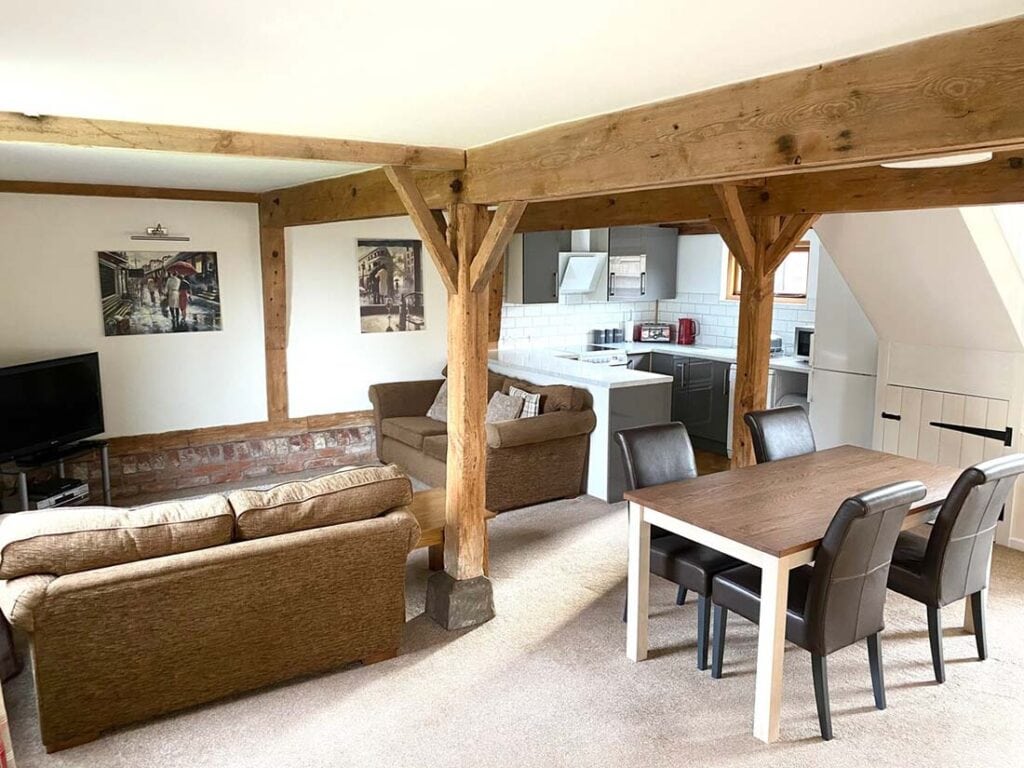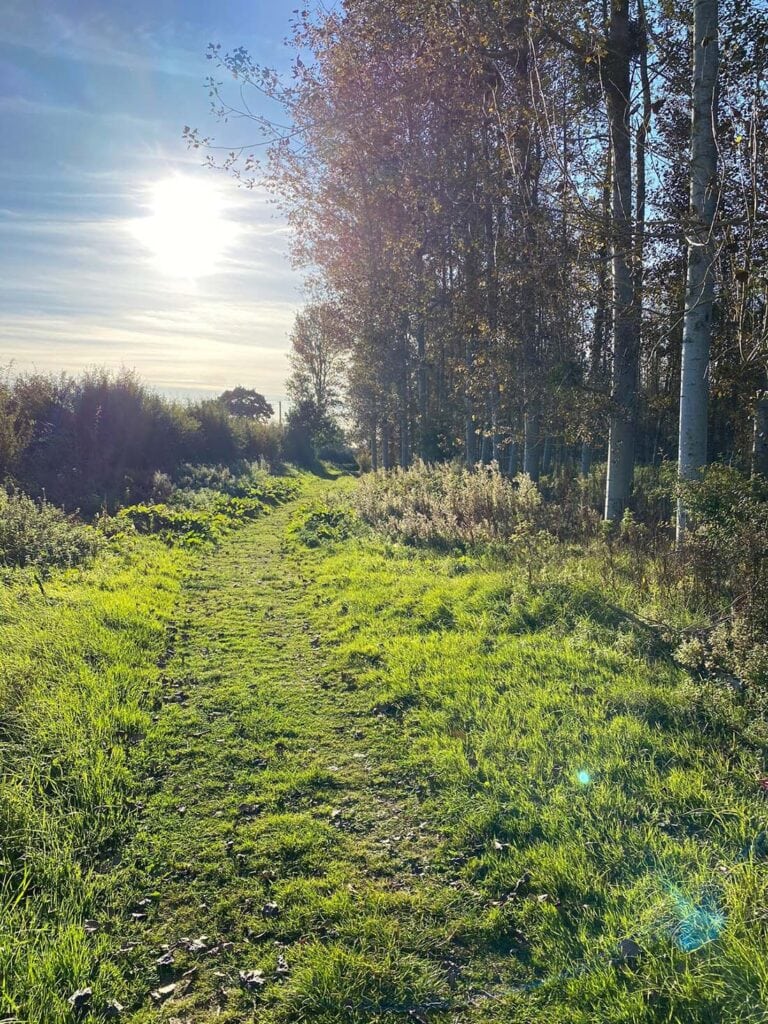 Located in Brierley, this countryside cottage is a great option for people looking a place to stay in Herefordshire in a country hamlet. From here, Leominster, Hereford and the Malverns are all within easy driving distance.
There are also some really nice walks near by. In the spring and summer you'll be greeted by a wealth of wild flowers.
This cottage is open and spacious. It has a modern kitchen and two tastefully decorated bedrooms. Outside there is a wonderful private wooden terrace with hot tub, perfect for soothing those aching muscles after a long hike!
Check availability & latest prices now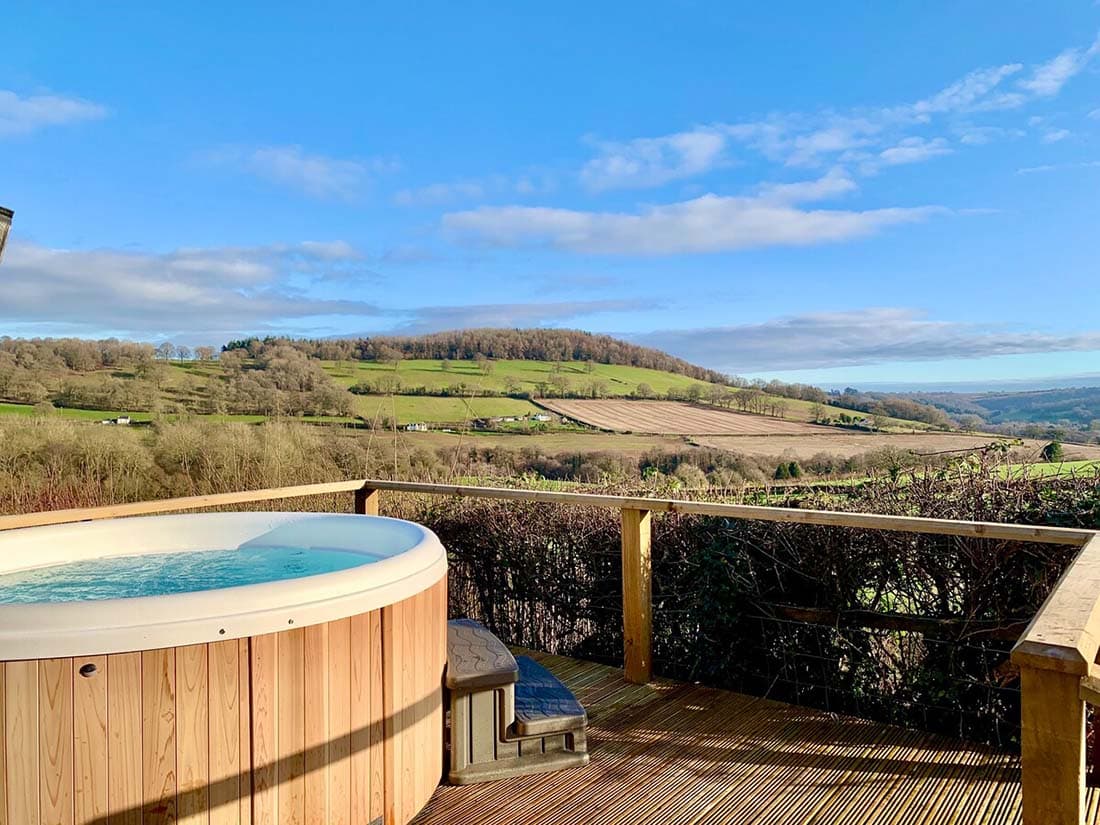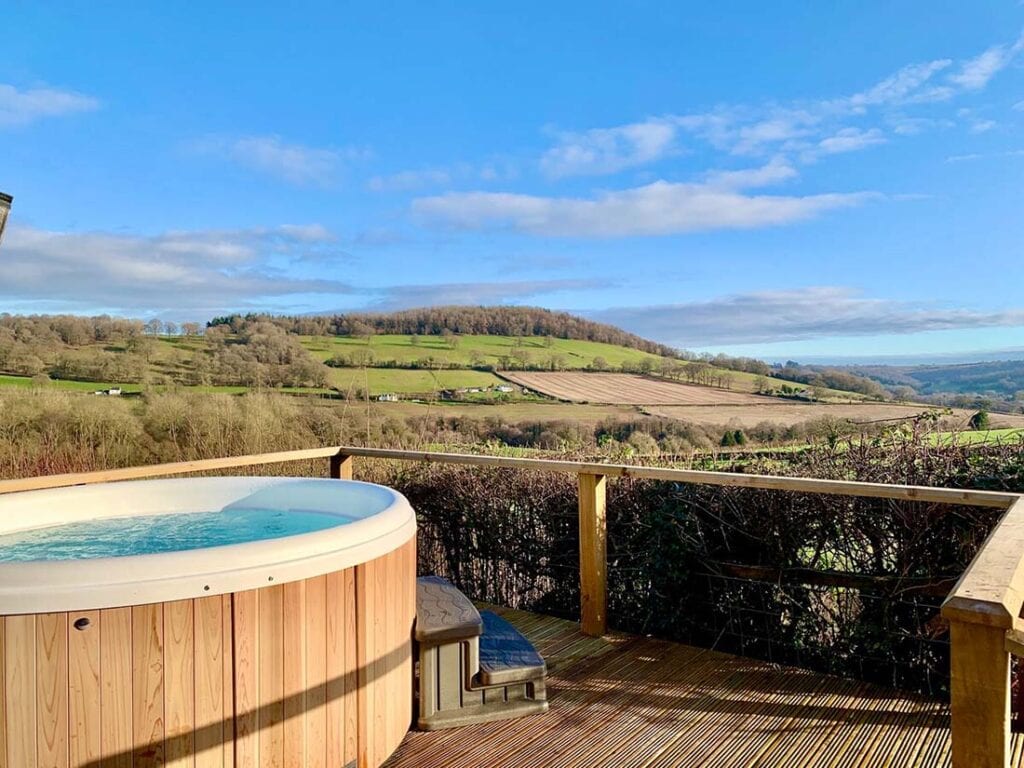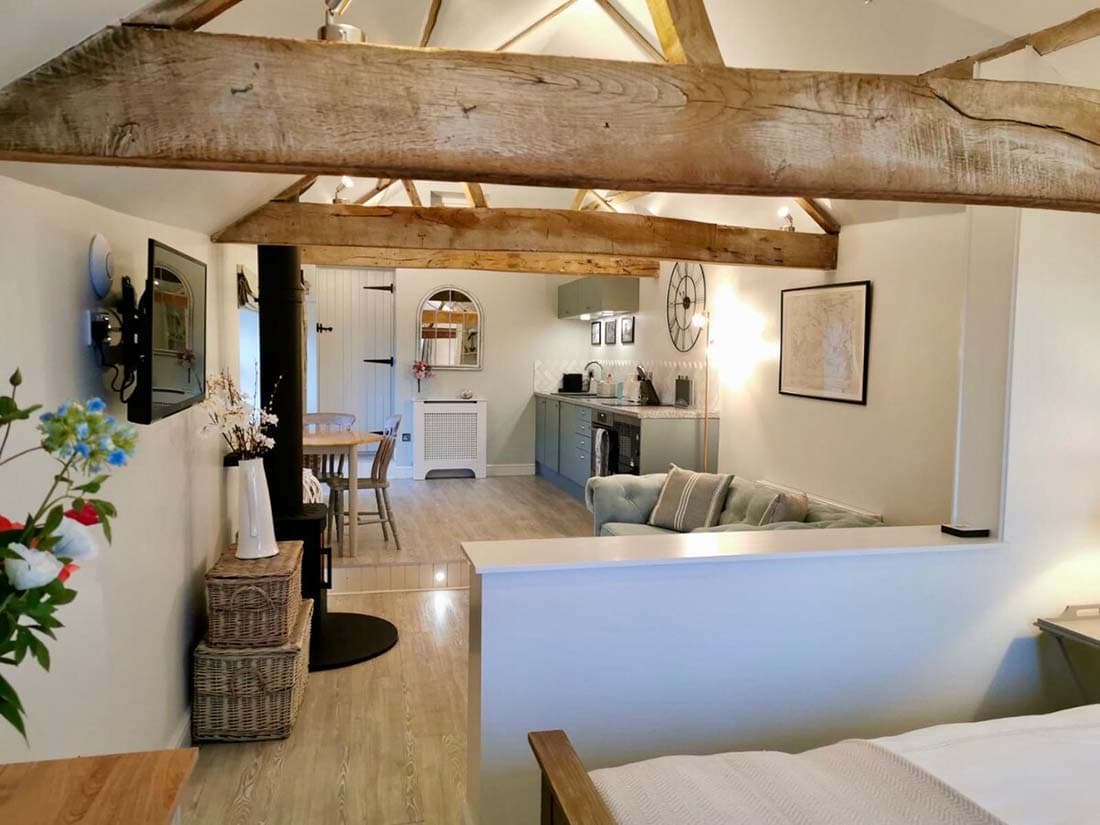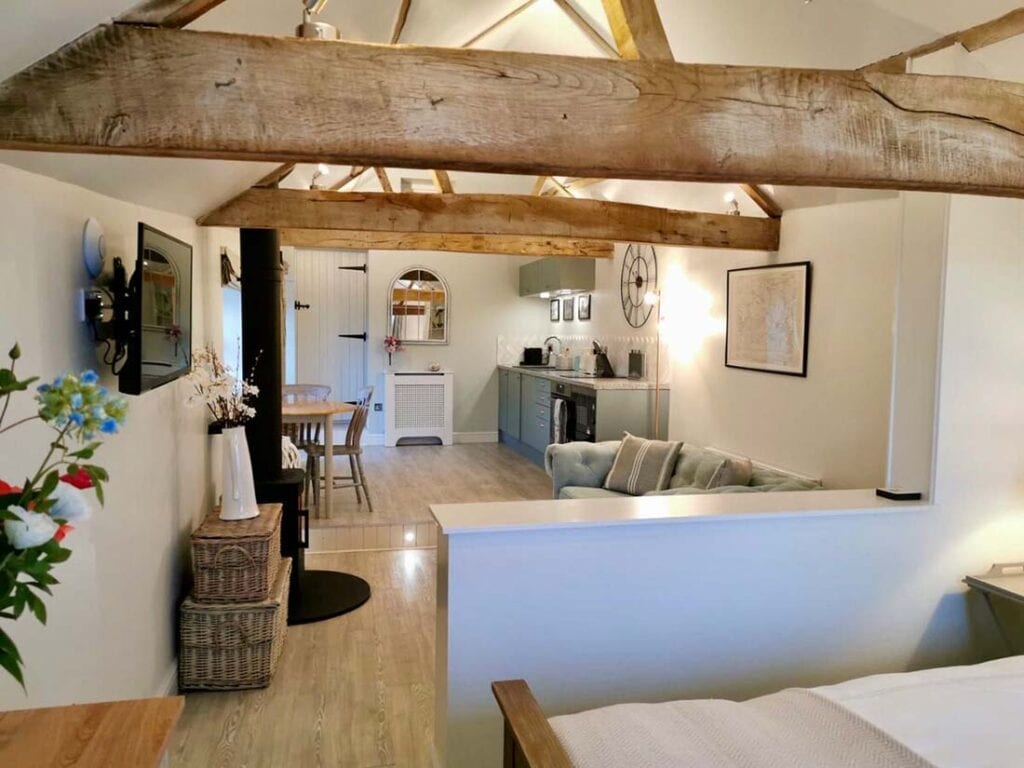 A cosy cottage built for two, set in the Welsh countryside. These converted stables will provide a warm and relaxing place to stay during your trip to Herefordshire.
The cottage offers fantastic views from the private balcony and hot tub, and even right from your bedroom window! Warmth and comfort are at the utmost here. There is a fireplace, a comfy king size bed, and a delightfully decorated bathroom featuring a free standing bath.
Breakfast basics are provided. So enjoy a lazy morning brunch and enjoy the views before heading off on your adventures.
Check availability & latest prices now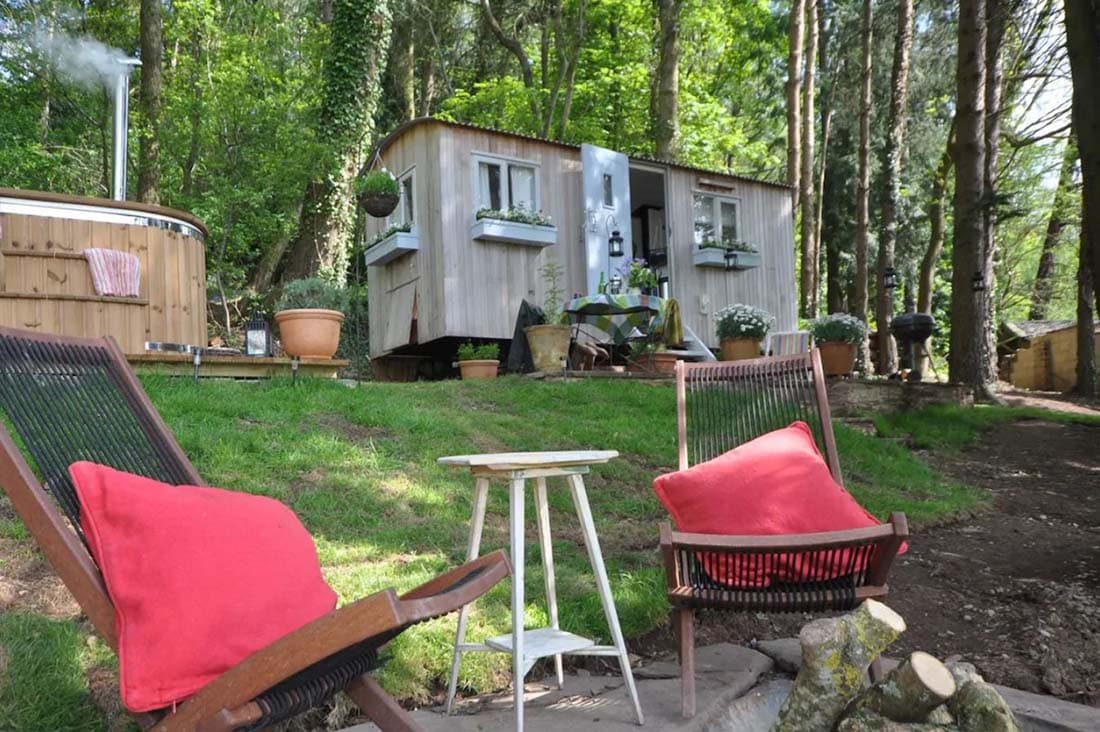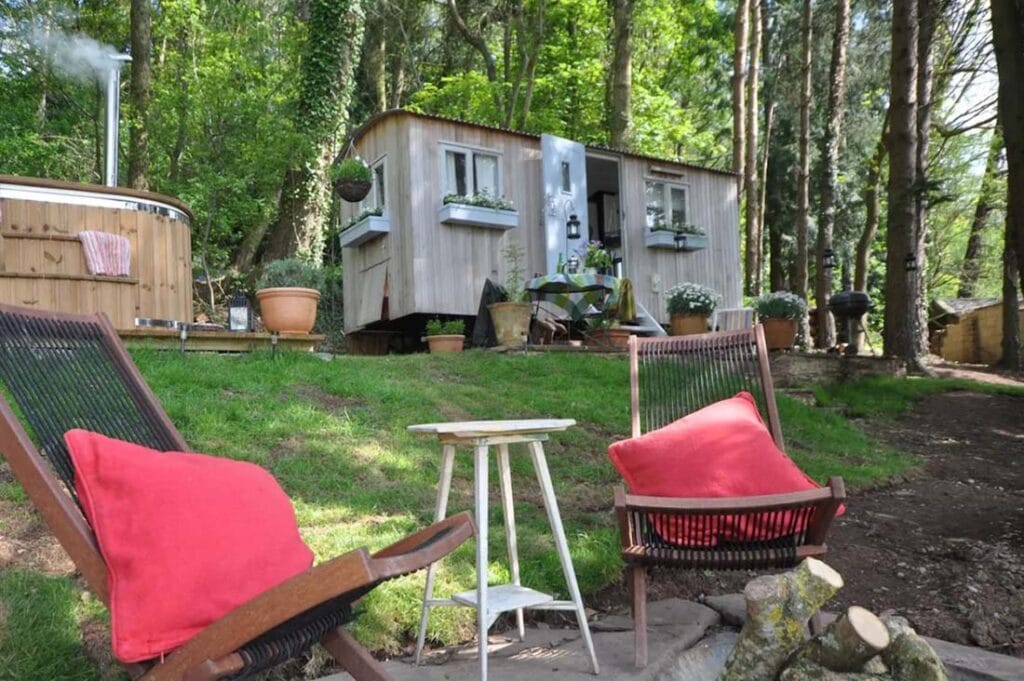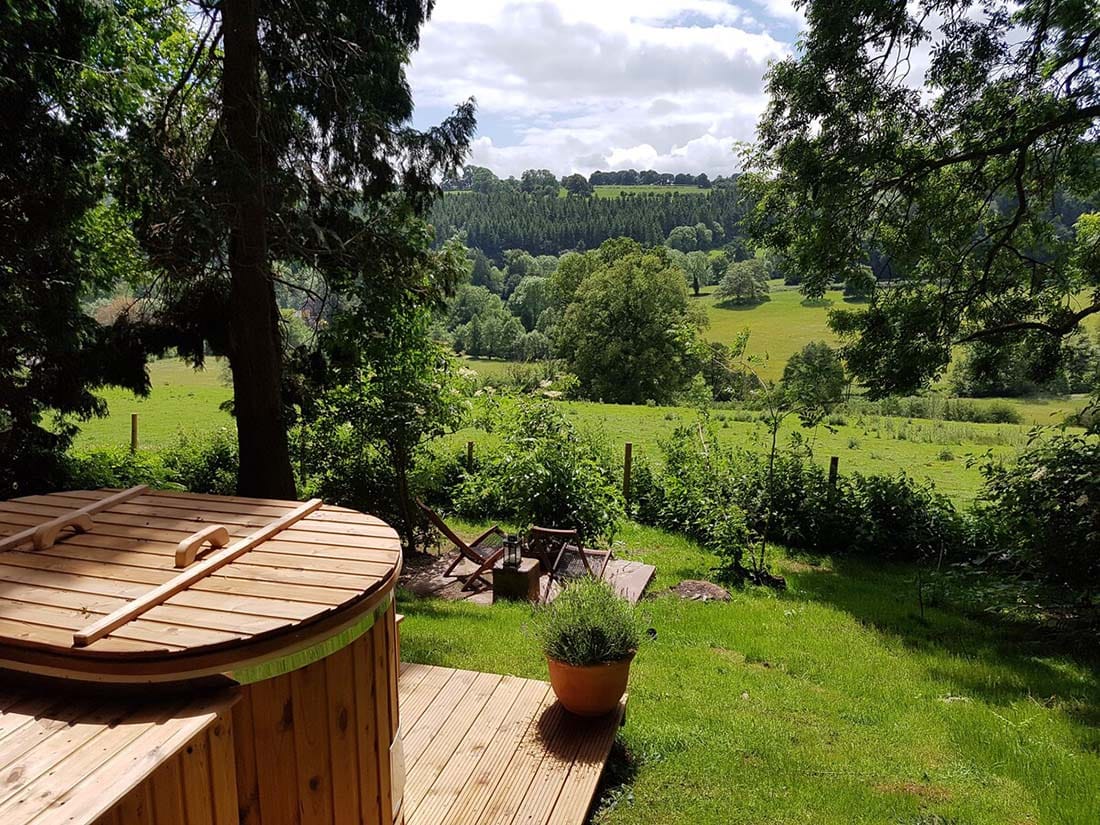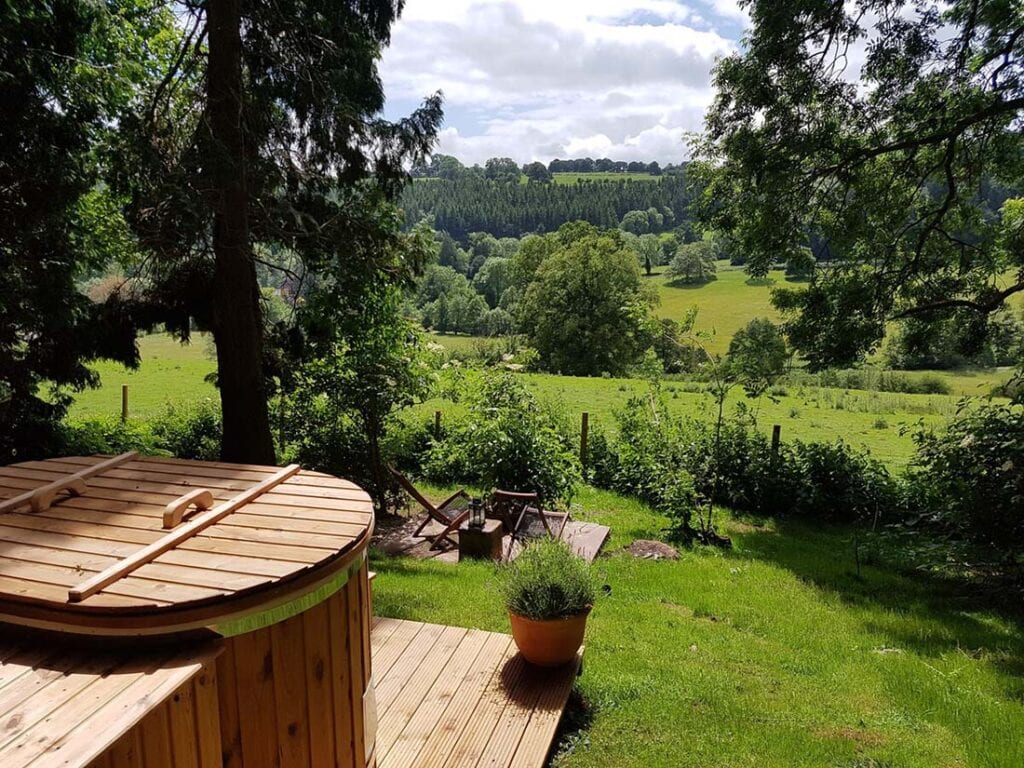 This gorgeous cedar clad shepherd's hut is what romantic, fairytale country getaway dreams are made of. In the spring you'll be surrounded by bluebells, adding even more to the fairytale magic of this Herefordshire Airbnb.
The Bluebell Hut is situated on a working farm, however the hut itself is completely private. Hidden amongst the trees in calm, stunning surroundings, you can soak away your troubles in the wood fired hot tub.
This country hut is centrally located, so it's a great base if you're attending the Hay literary festival, the Abergavenny food festival, or just planning to visit the area.
Check availability & latest prices now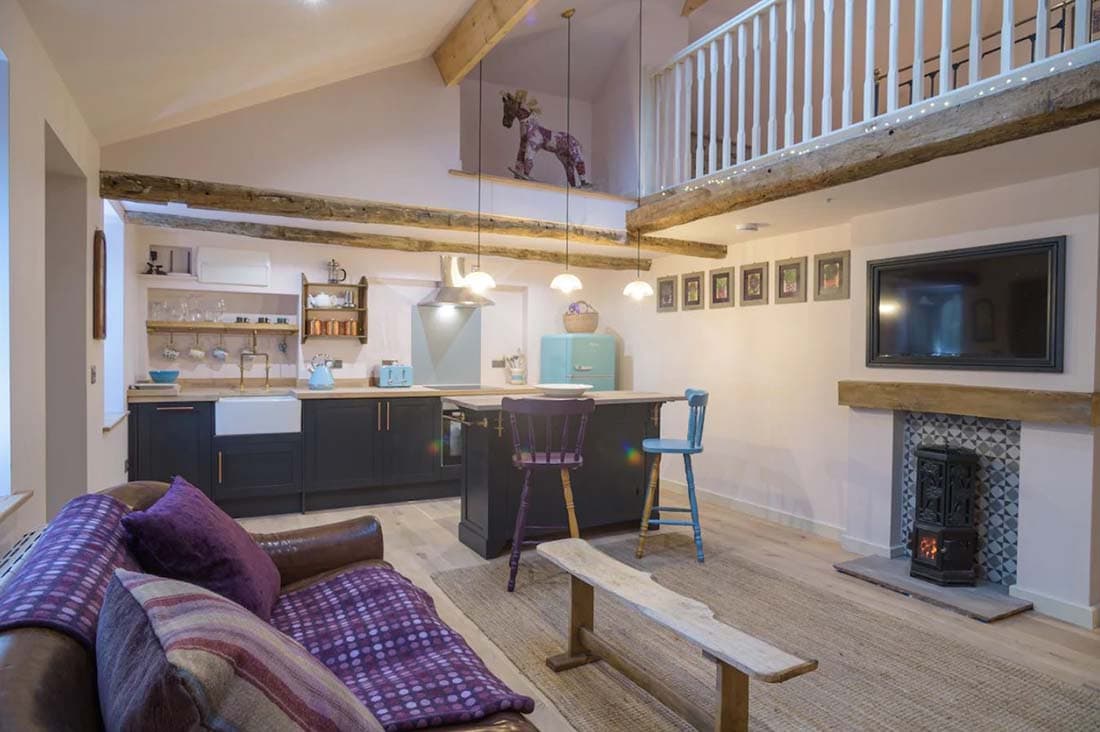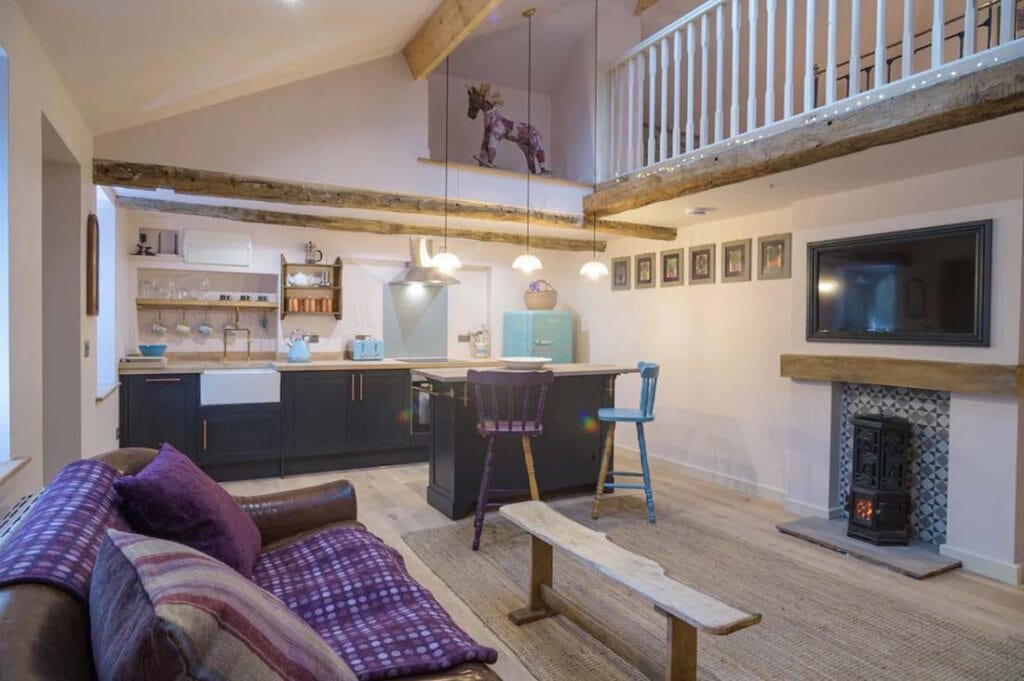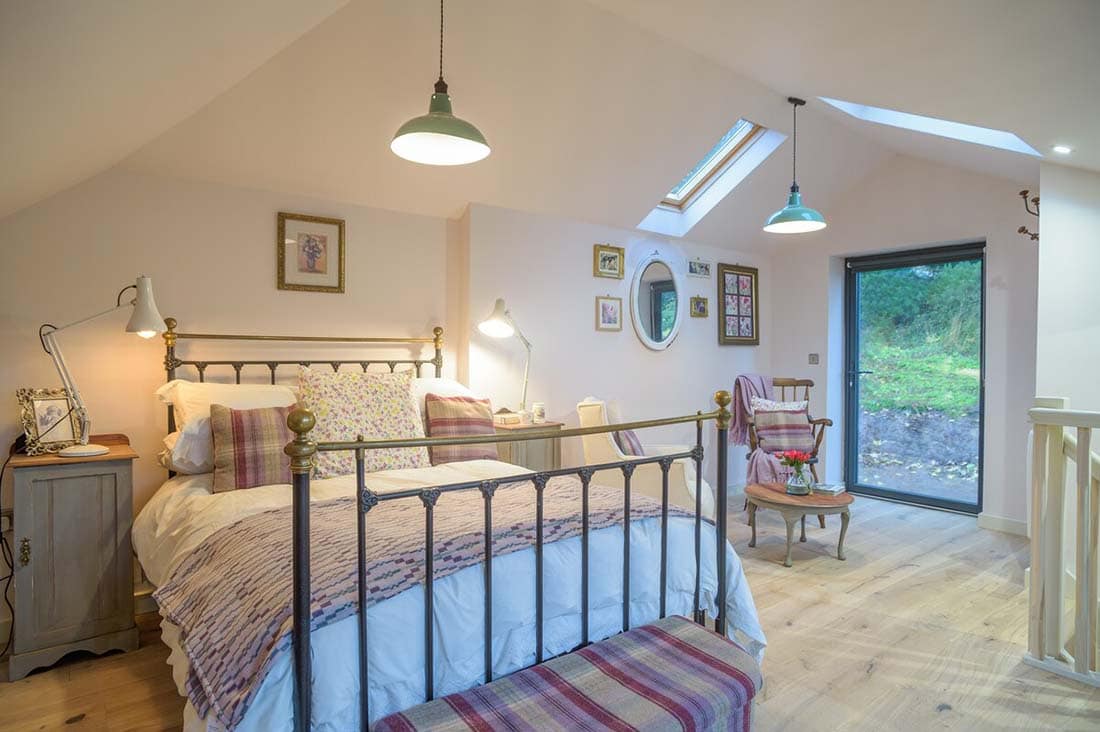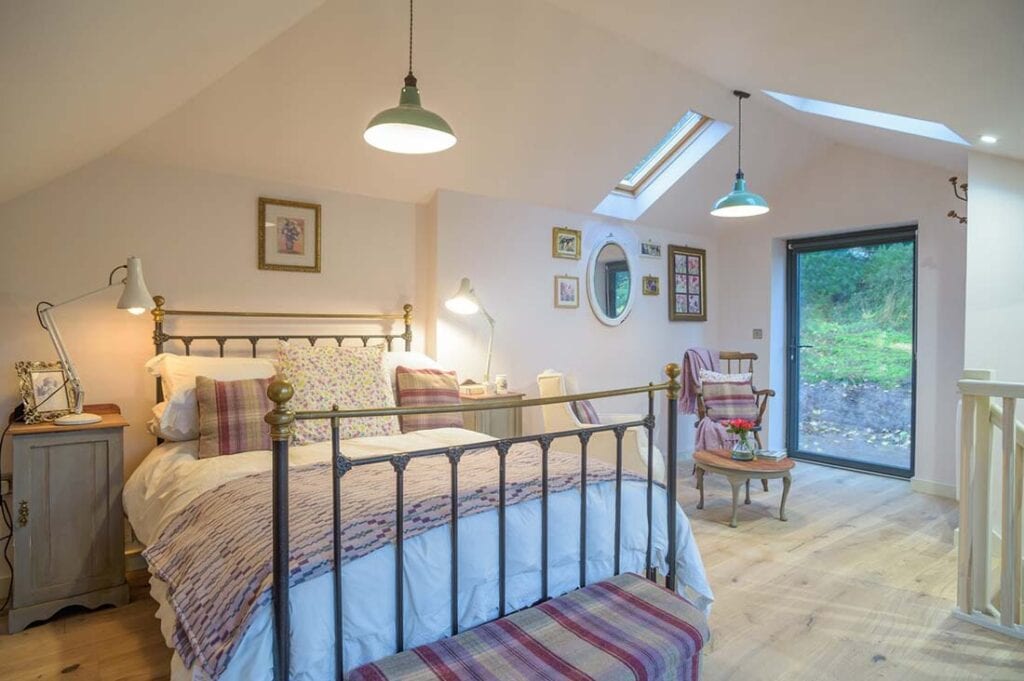 As you may guess by its name, this renovated Potting Shed is perfect for couples, has easy walking distance to a friendly pub and has plenty of great walks surrounding it. What more could you want for your weekend away?
Set in Llangattock Lingoed in Wales, this is a great choice for people wanting to hike the Offa's Dyke path.
Surprisingly spacious, stylishly decorated and with a well maintained garden to enjoy, this is a great location to spend your days reading books in the sunshine.
In the evenings you can wander down to the friendly pub, where you can enjoy a delicious dinner and chat with the locals.
Check availability & latest prices now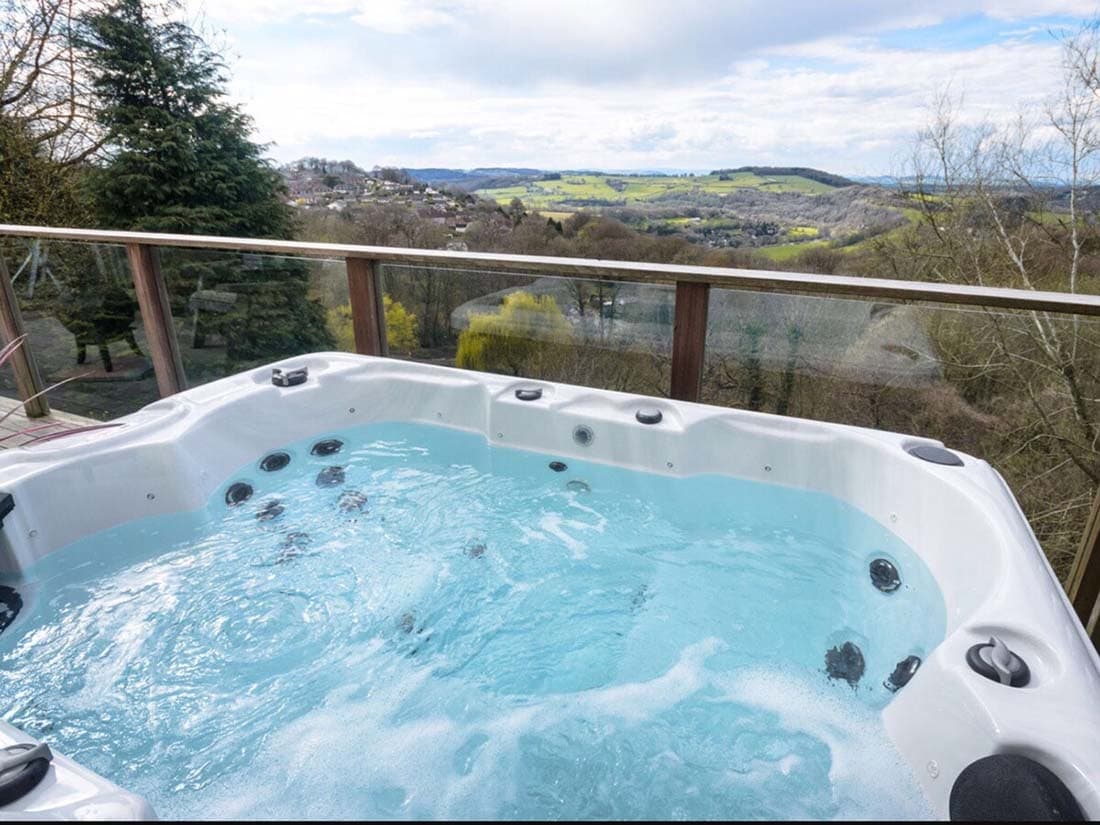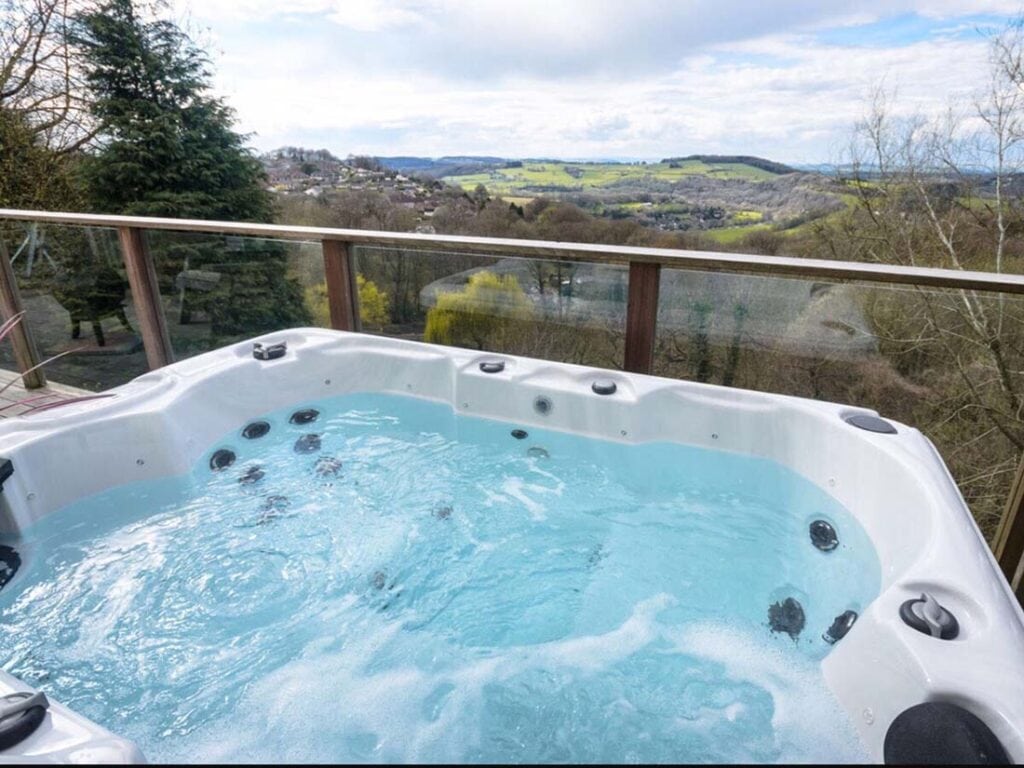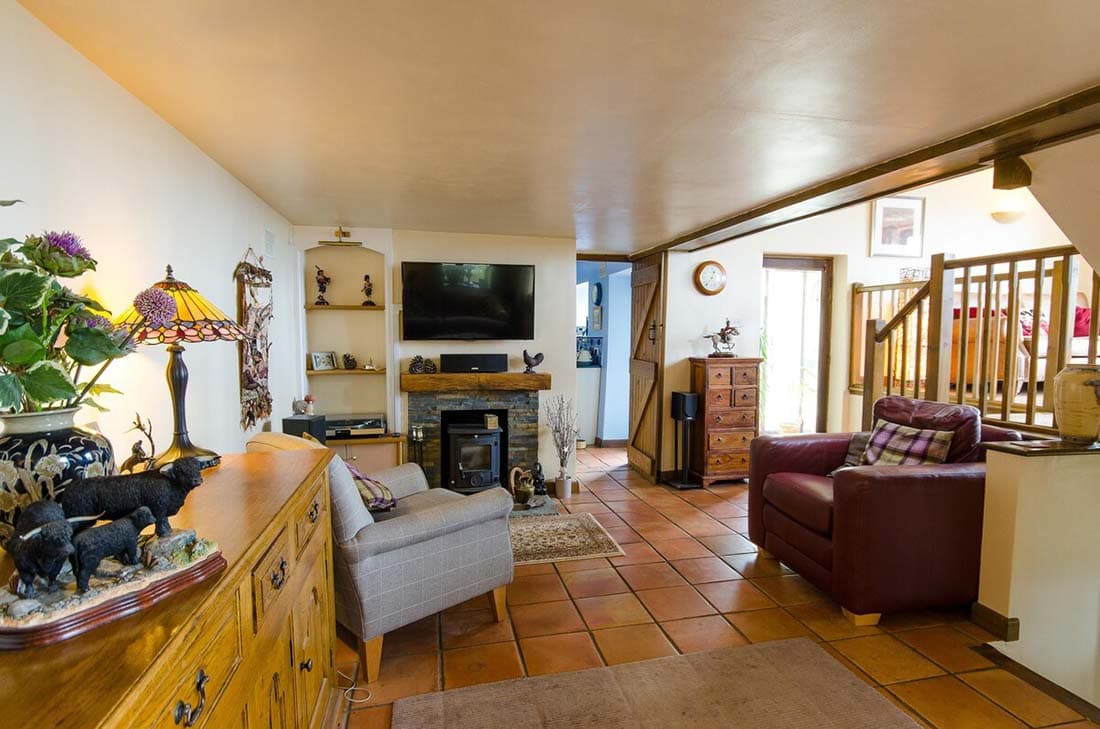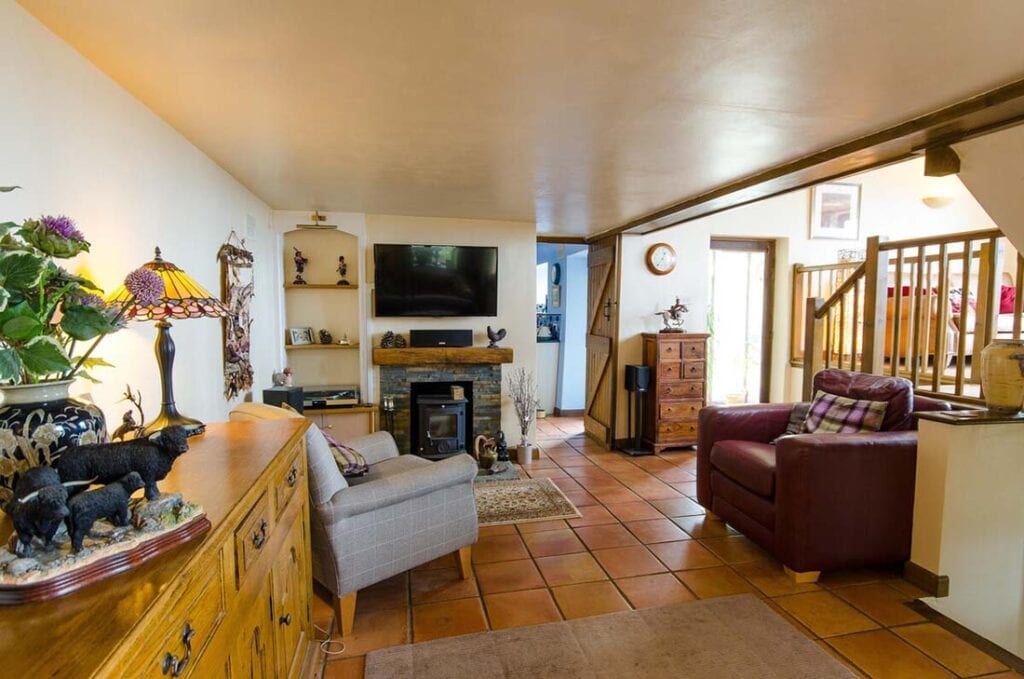 Are you travelling in a larger party and looking for Herefordshire holiday homes that can accommodate up to 6 people? This is the place for you.
Sitting high up in the Forest of Dean, you'll be treated to amazing views. To ensure you're super cosy and relaxed, this retreat features not only a hot tub and fireplace, but also a sauna. You can even organise massages on site!
This is a wonderful place for anyone looking to spend their days exploring the forest, or for people who just want to relax in style and breath in the fresh forest air.
Check availability & latest prices now
Like this blog post? Then Pin it for the future!