With stunning white sandy beaches, shallow turquoise waters, deserted bays and great hiking trails, here's the ultimate guide to visiting Herm Island in the Channel Islands.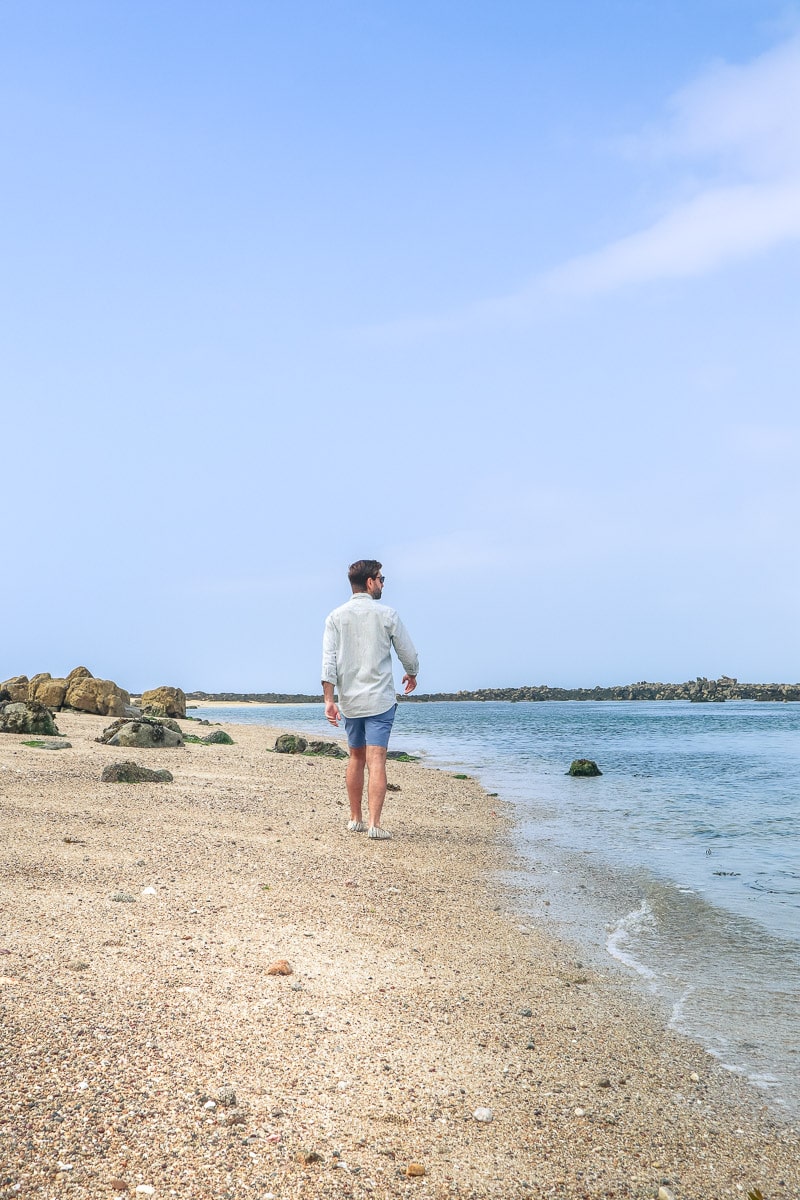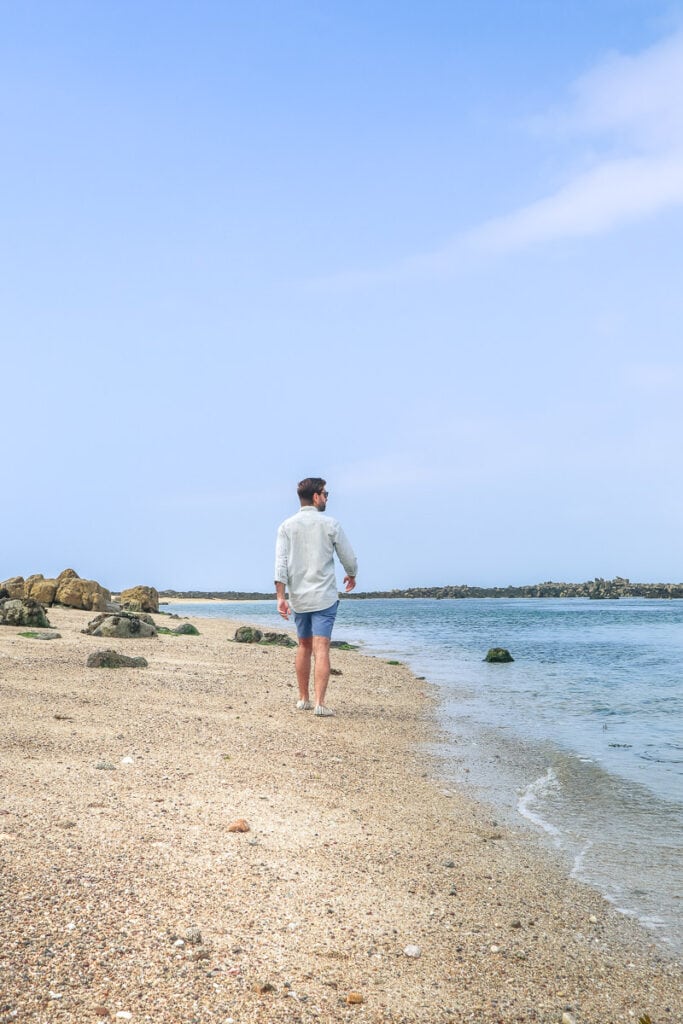 We've just returned from a beautiful trip to the Channel Islands, where we spent time in Guernsey and Herm. While lots of people might know about Guernsey, we're excited to share a little more about Herm and how to visit this lesser-known island.
Herm might be tiny (just 1.5 miles long and less than half a mile wide) but it really is a slice of paradise. Visiting Herm takes a little bit of organisation. You'll need to plan your ferry crossings, check the weather, decide where to eat and drink, plus plan some activities.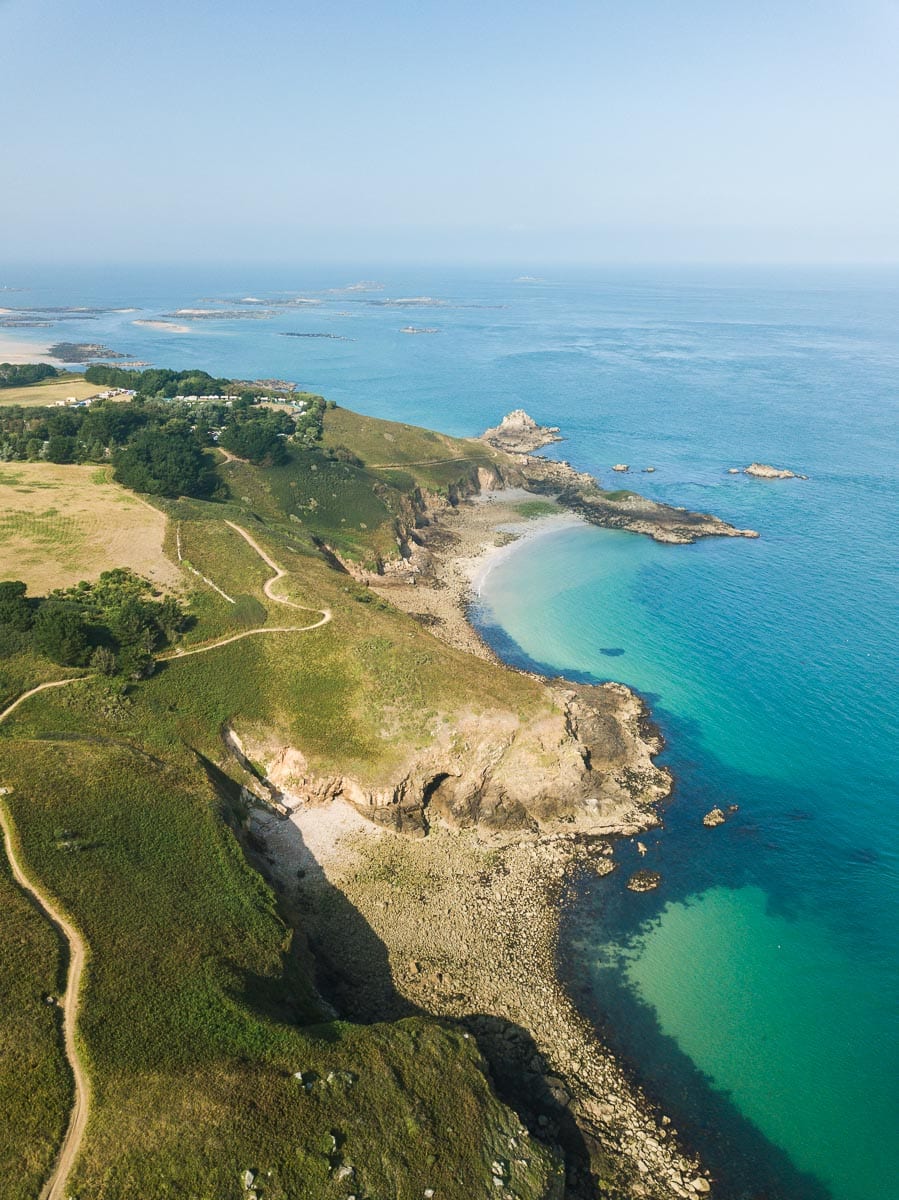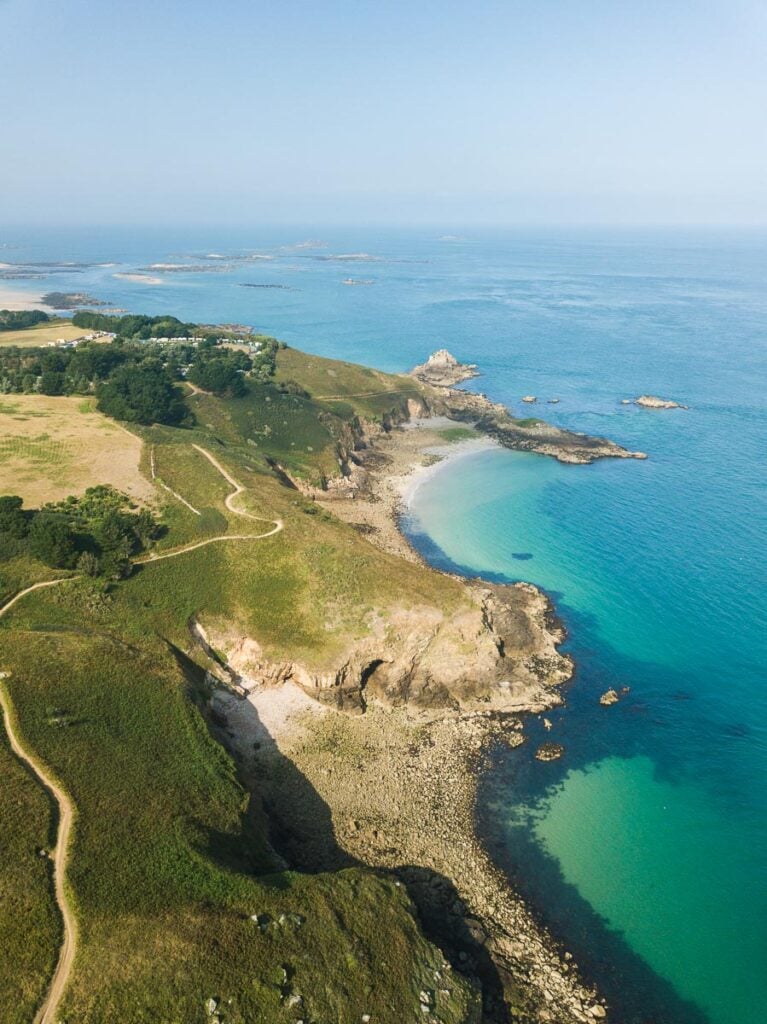 It's the kind of place you can happily do nothing. Just wander the trails, soak up the views and switch off. Alternatively, you can swim, explore the coastline on kayaks, take a boat trip or go in search of wildlife.
The population of Herm is around 60, and many of those living on the island work in tourism, either renting out cottages, working at the pubs and cafes, or as tour guides. It's a close-knit community, but a welcoming one!
Whether you're planning a holiday on Herm or a day trip, this travel guide will help you plan your trip to the island.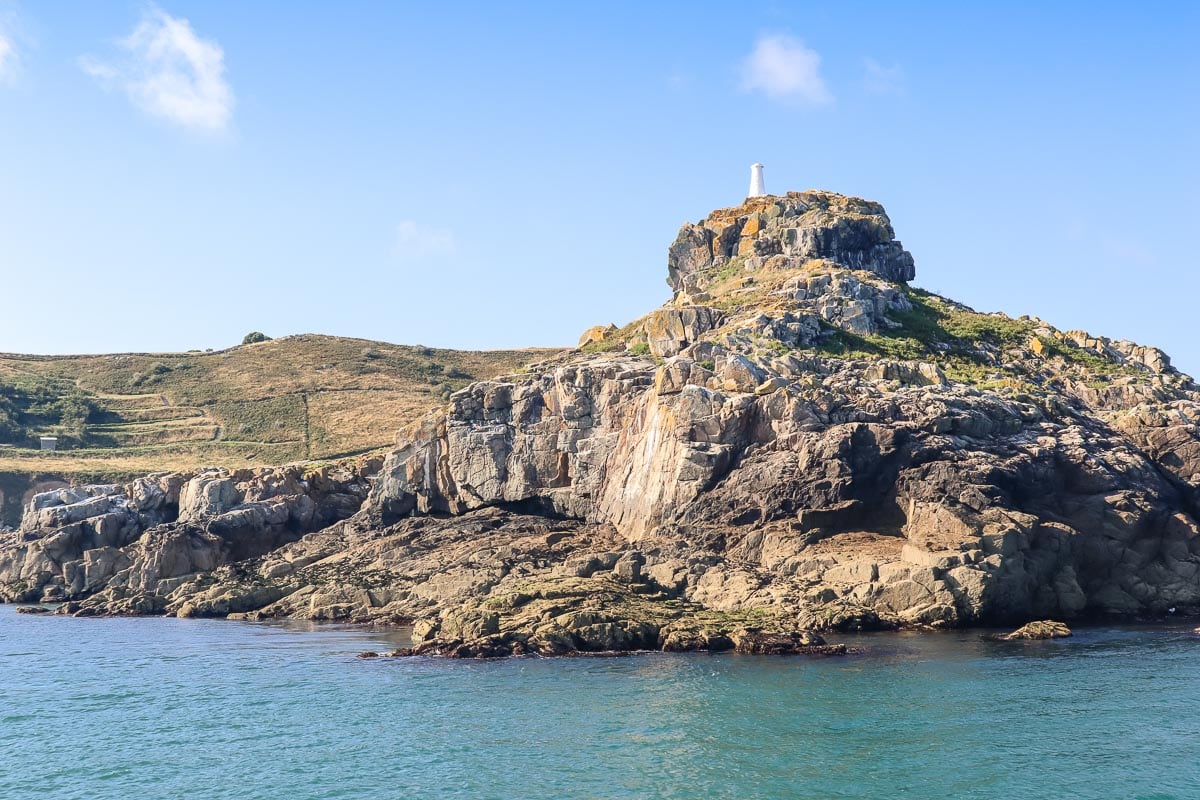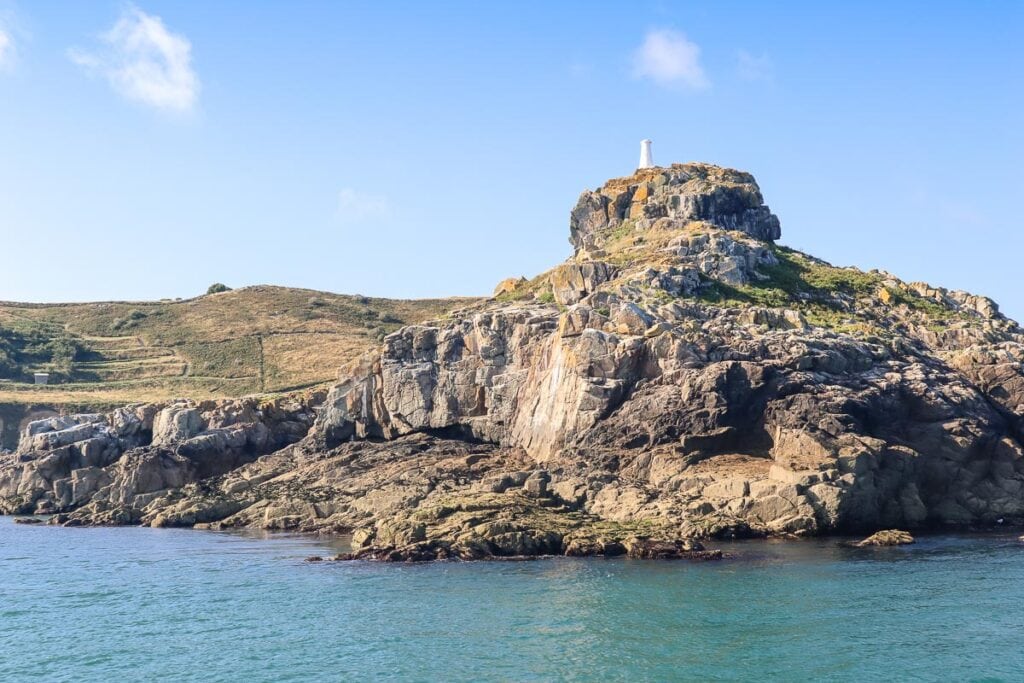 ---
Where is Herm?
Herm is one of the smallest inhabited Channel Islands. It's officially part of the Bailiwick of Guernsey and is located 3 miles from Guernsey's capital St Peter Port, in the English Channel. Its name is said to come from the Old Norse word for arm, as its shape resembles a limb!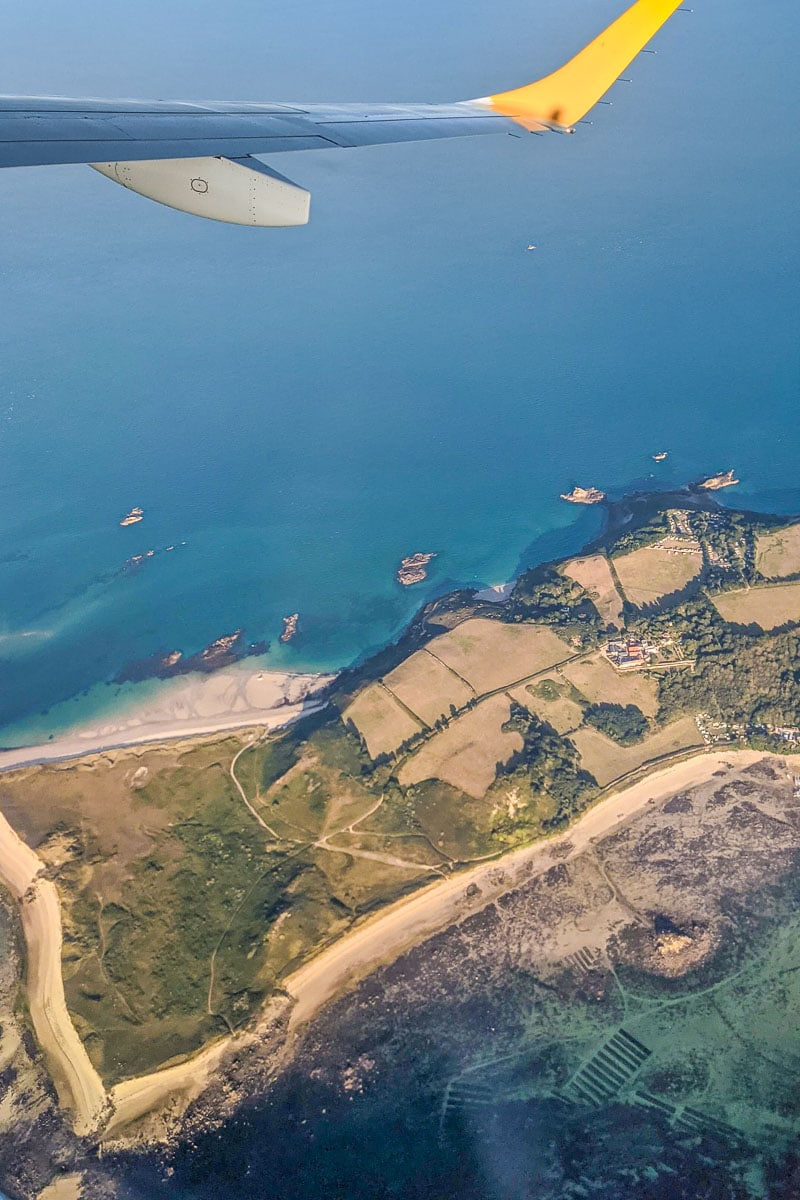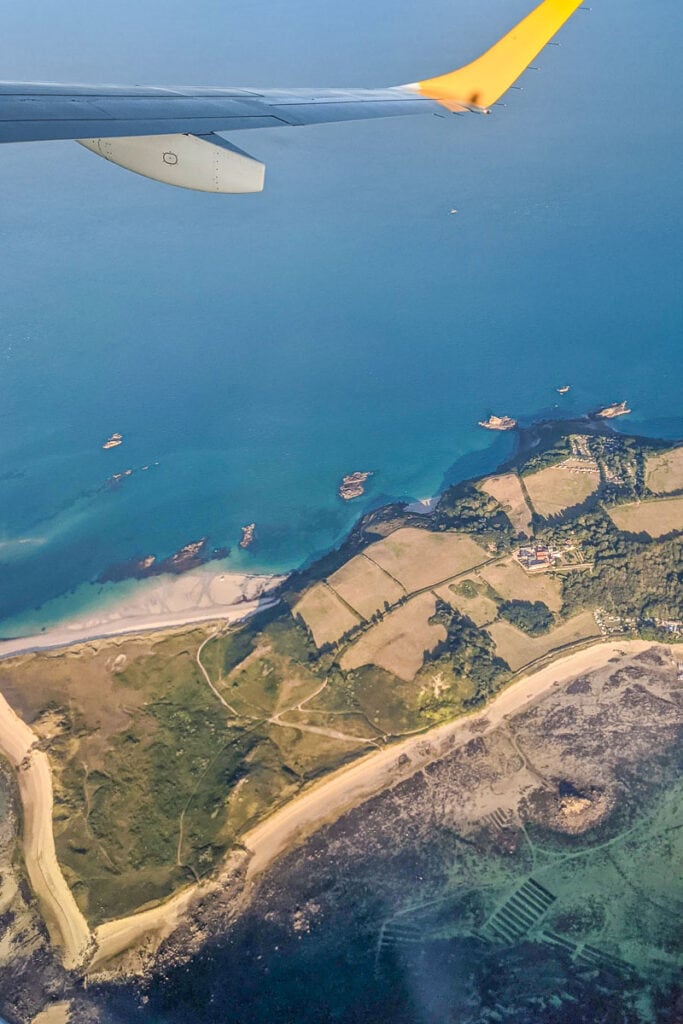 ---
What is Herm like?
Herm is as close to an unspoilt island paradise as you'll find in the British Isles. At low tide, perfect white sandy beaches appear, with turquoise water glittering in the sunshine. On one side of the island are pretty beaches, coves and flat ground, while on the other are epic cliffs, rugged rocks and picturesque hiking trails.
It's clean and safe, making it popular with families. It's also one of the most popular day trips for tourists visiting Guernsey.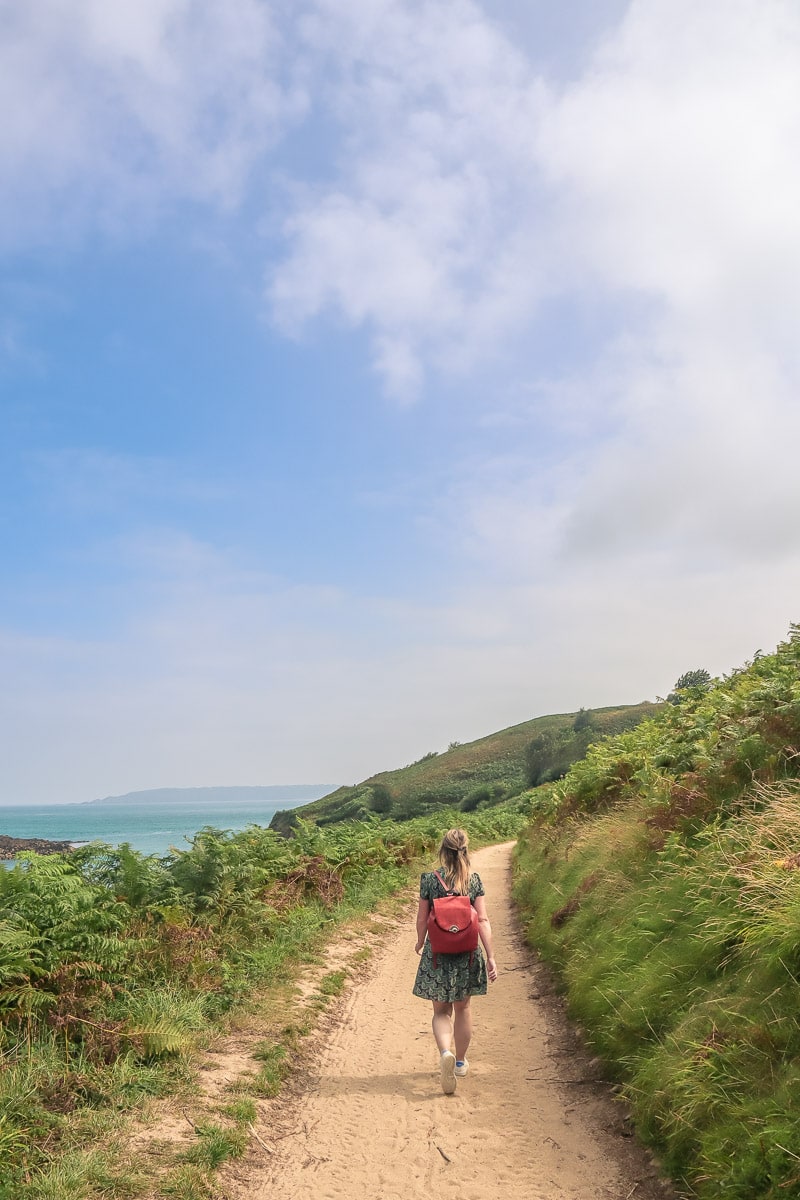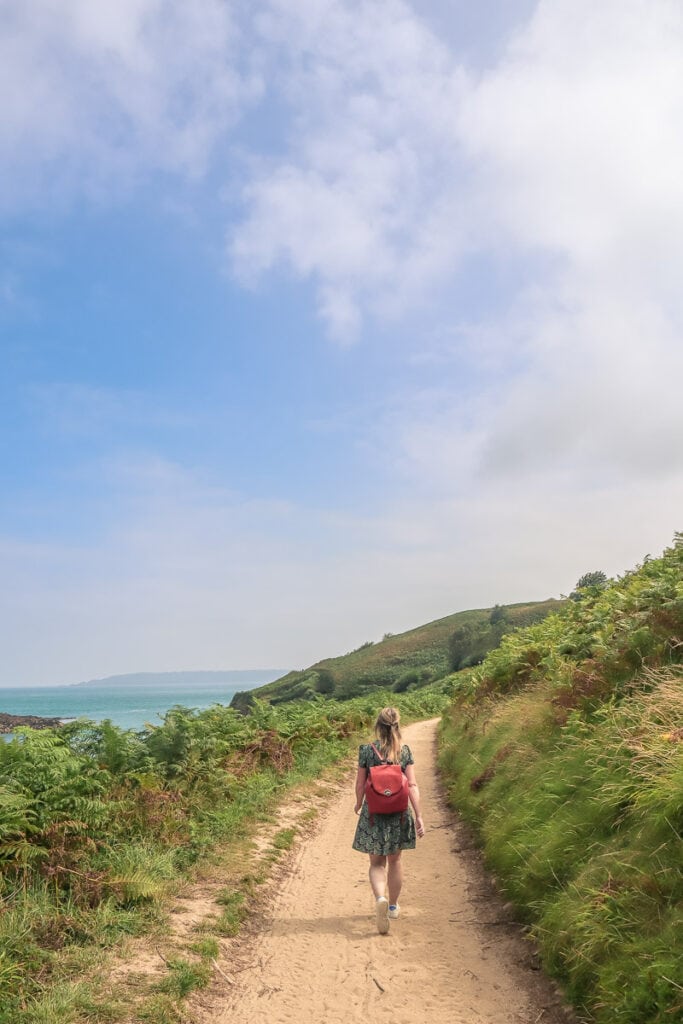 ---
How to get to Herm by ferry
To visit Herm, you'll need to catch the Travel Trident ferry which departs from St Peter Port Harbour in Guernsey. The crossing takes just 20 minutes. Depending on the tide, there are two departure and arrival points, so double check at the kiosk when you buy your tickets.
The departure locations from St Peter Port are the Inter Island Quay and the Weighbridge Steps (just a few minutes apart). In Herm, the ferries run from the Rosaire Steps or Herm Harbour (around eight minutes apart).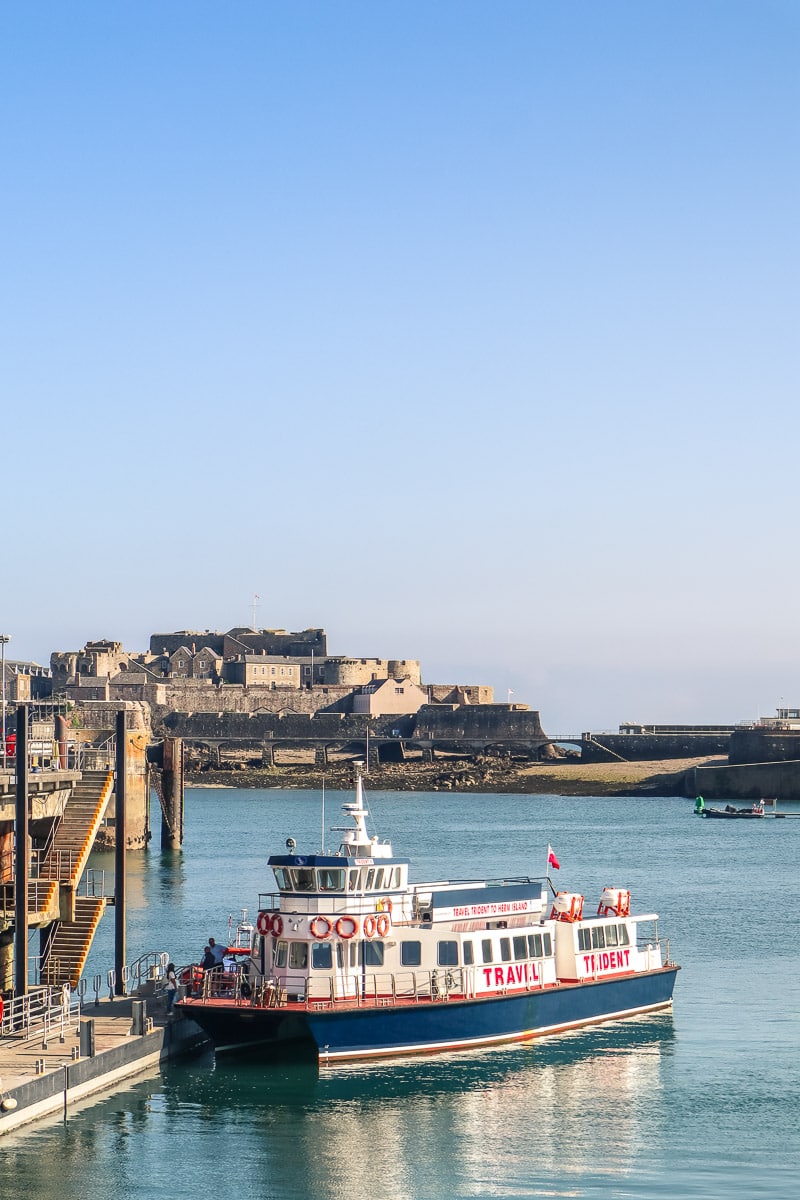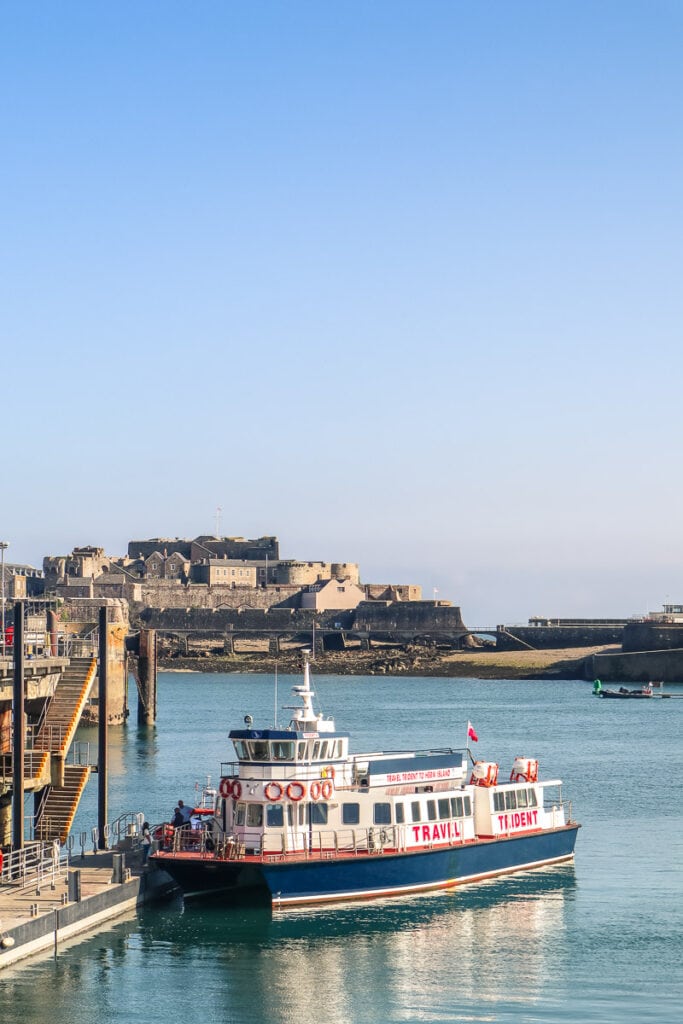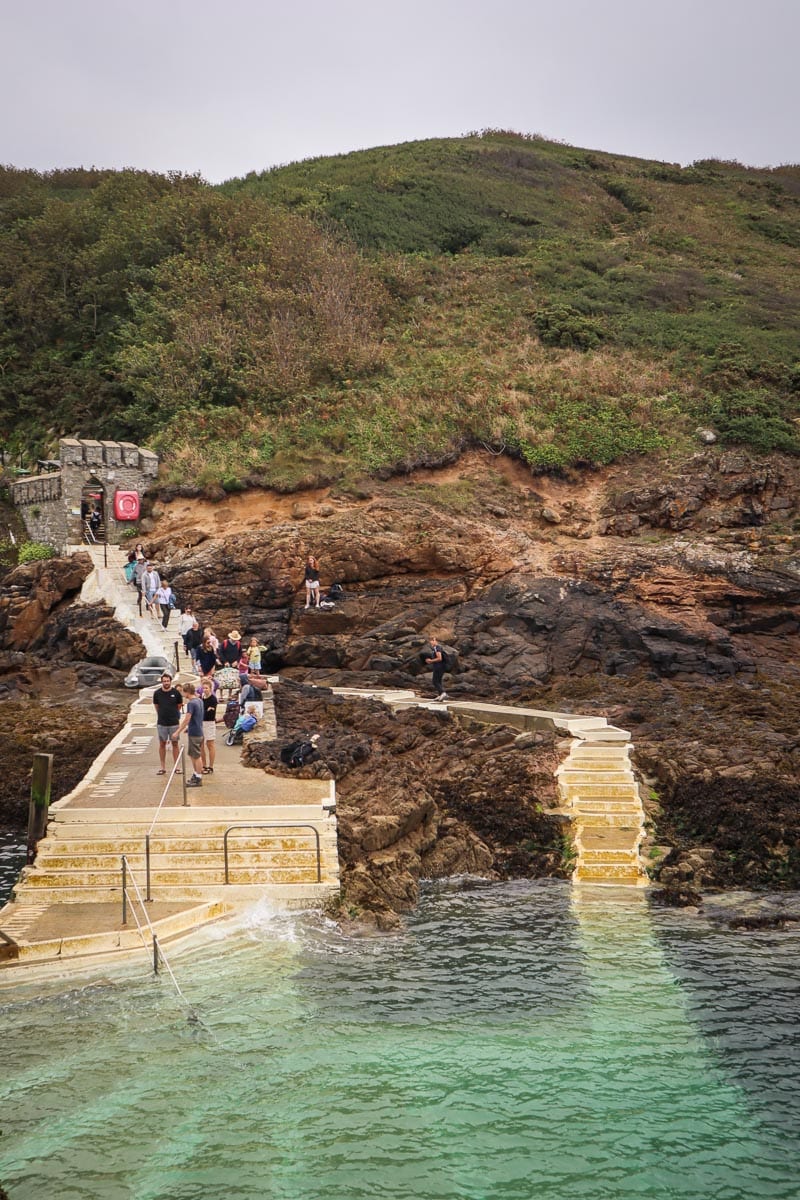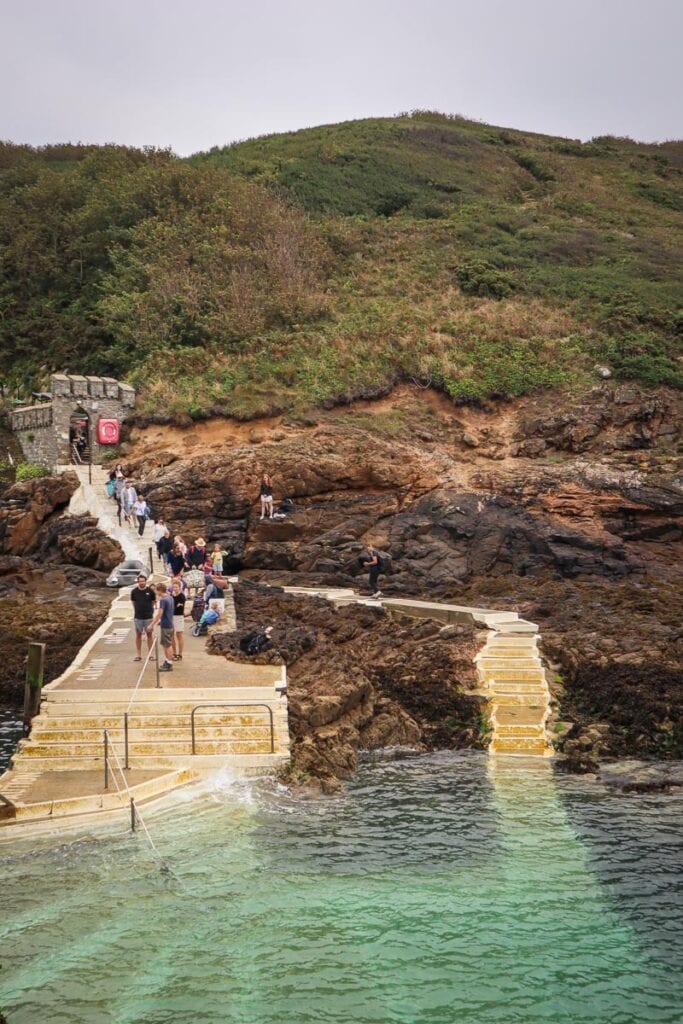 Amazingly, this ferry service has been running since 1969, and operates 364 days a year!
As most of the top things to do in Herm are outdoors, it's a popular day trip in the summer months. In May, June and September there are 6 ferries per day, and in July and August there are 8. Even in April and October there are 5 ferries per day, so if you're planning a half term visit, you could still include a day trip to the island.
If you're looking to travel to Herm between November and March, I'd recommend checking the Travel Trident website or calling +44 1481 721379 for the latest sailing times.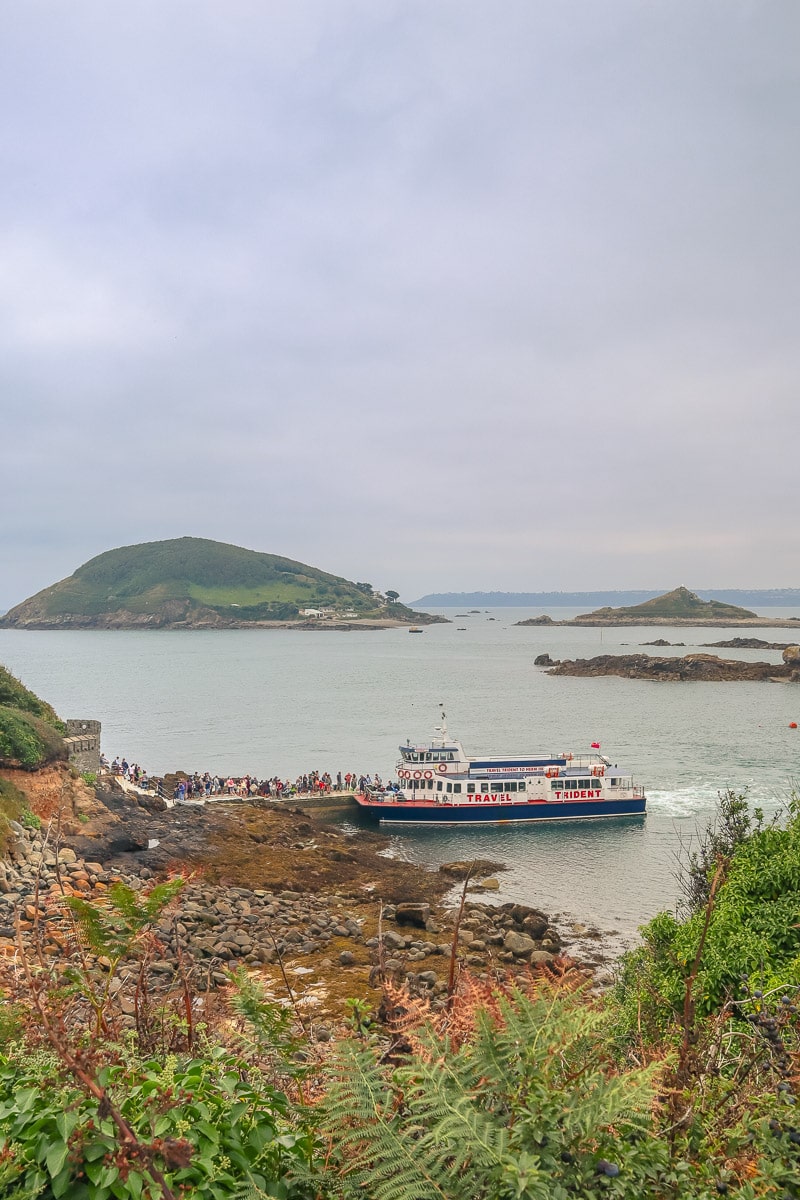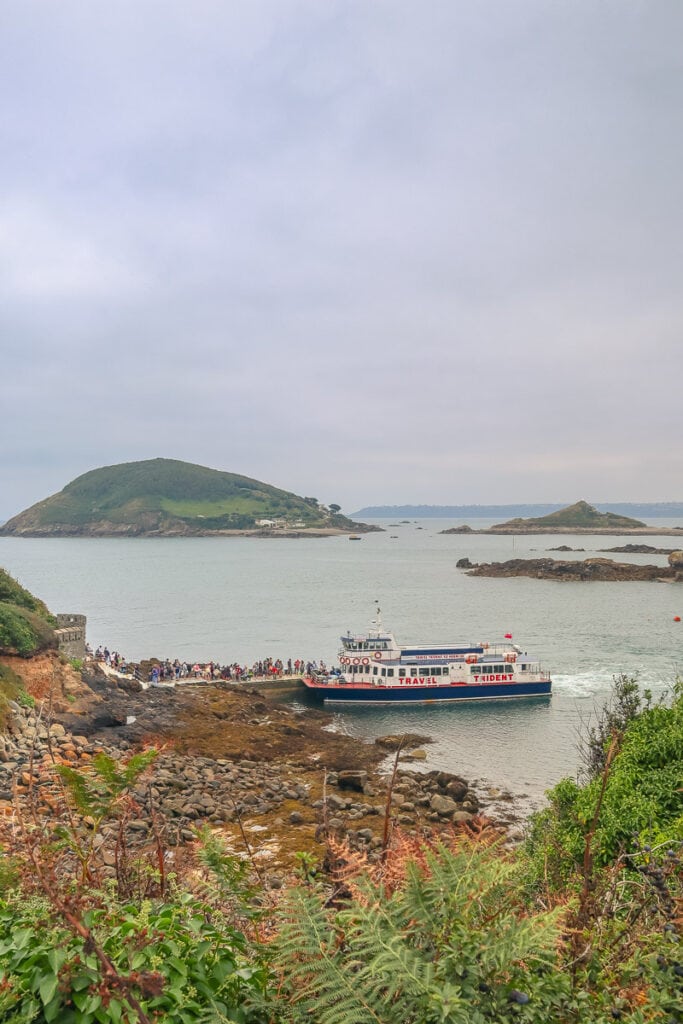 ---
How to buy tickets to visit Herm (and how much are they)
The best way to buy tickets to Herm is at the Travel Trident Kiosk located by the Weighbridge Clock Tower in St Peter Port (Postcode: GY1 2ND).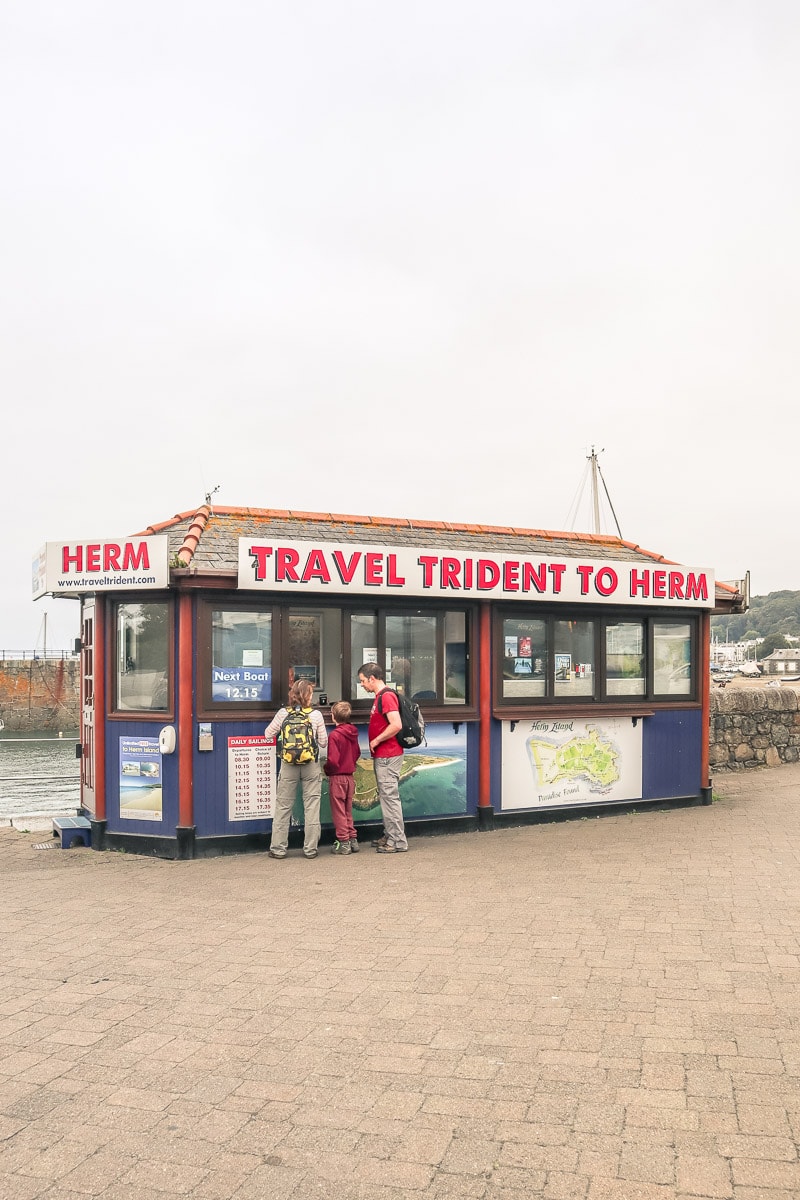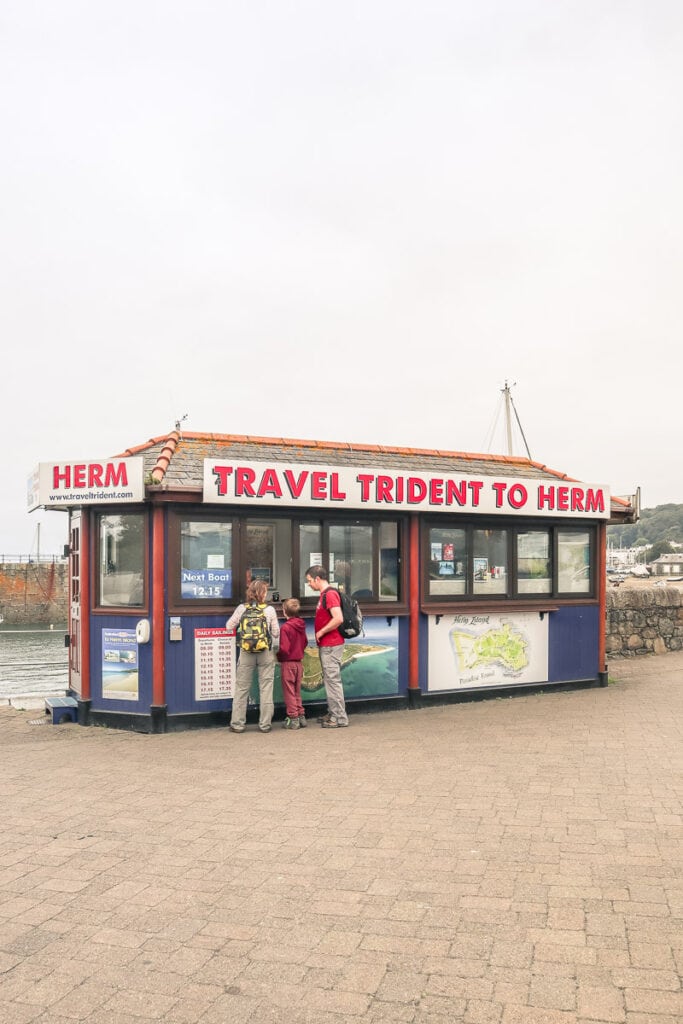 The staff were very helpful, providing us with information and a map of Herm, as well as telling us the departure and return times.
As of 2021, the cost of a return ferry ticket is:
Adults – £14.00
Children – £7.00
Infants – £1.50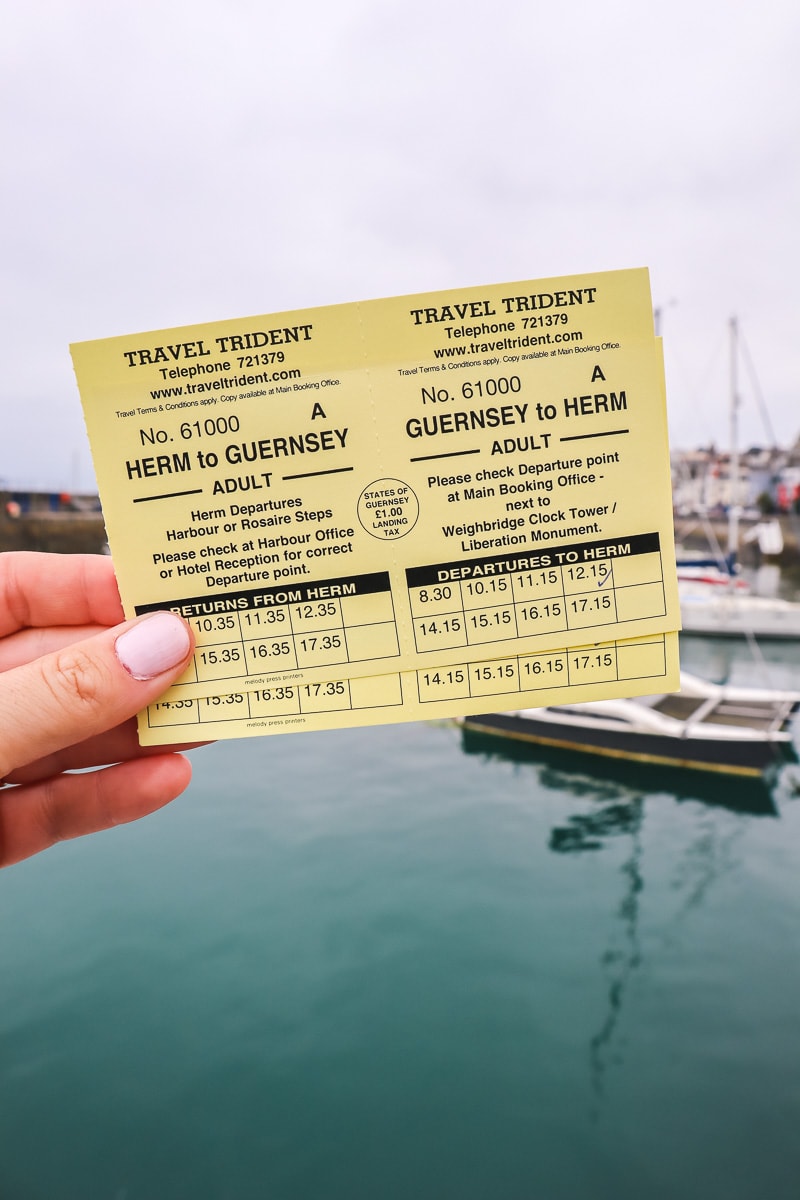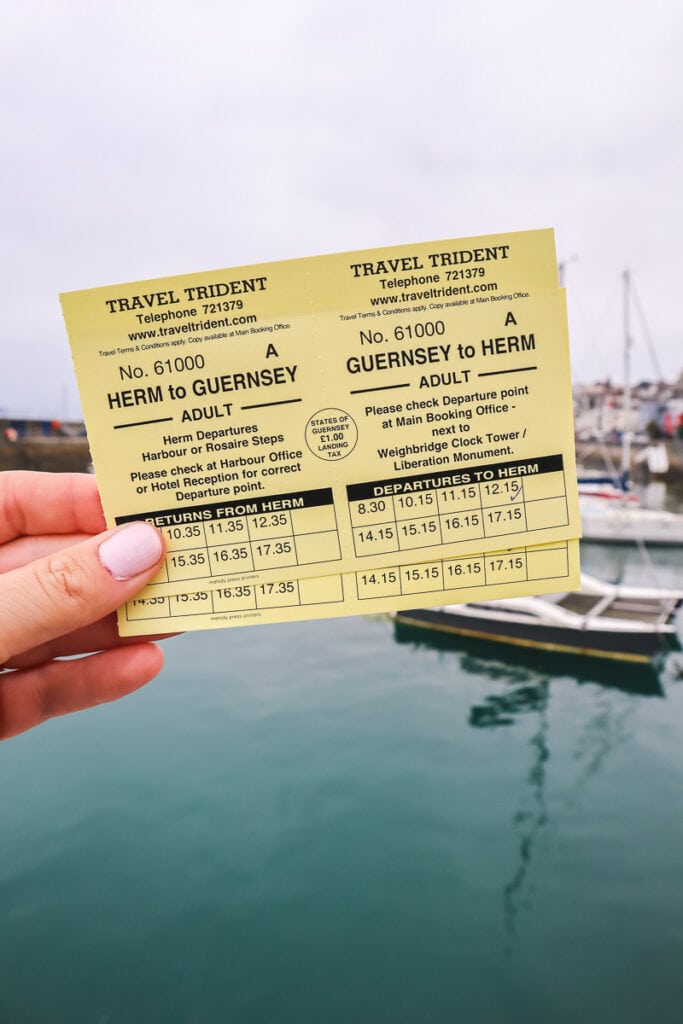 ---
Does the Herm ferry run in the evening?
During the summer months there's a late 'dinner boat' service on Wednesday, Friday and Saturday. This ferry departs Guernsey at 7pm to take people to the island. It then goes from Herm to Guernsey at 10.45pm.
These ferries are subject to change (it wasn't running the day we visited), so definitely double check the latest schedules before making plans. If it is running, it'll allow you to go for dinner at one of the pubs in Herm.
---
When is the best time to visit Herm?
As with anywhere in the British Isles, the best weather comes in the summer months. July and August are the warmest months, with temperatures sometimes reaching the high 20s. In general, if you travel to the island between June and September, you're likely to experience highs between 16 – 22 degrees, dropping to 10 – 16 degrees at night.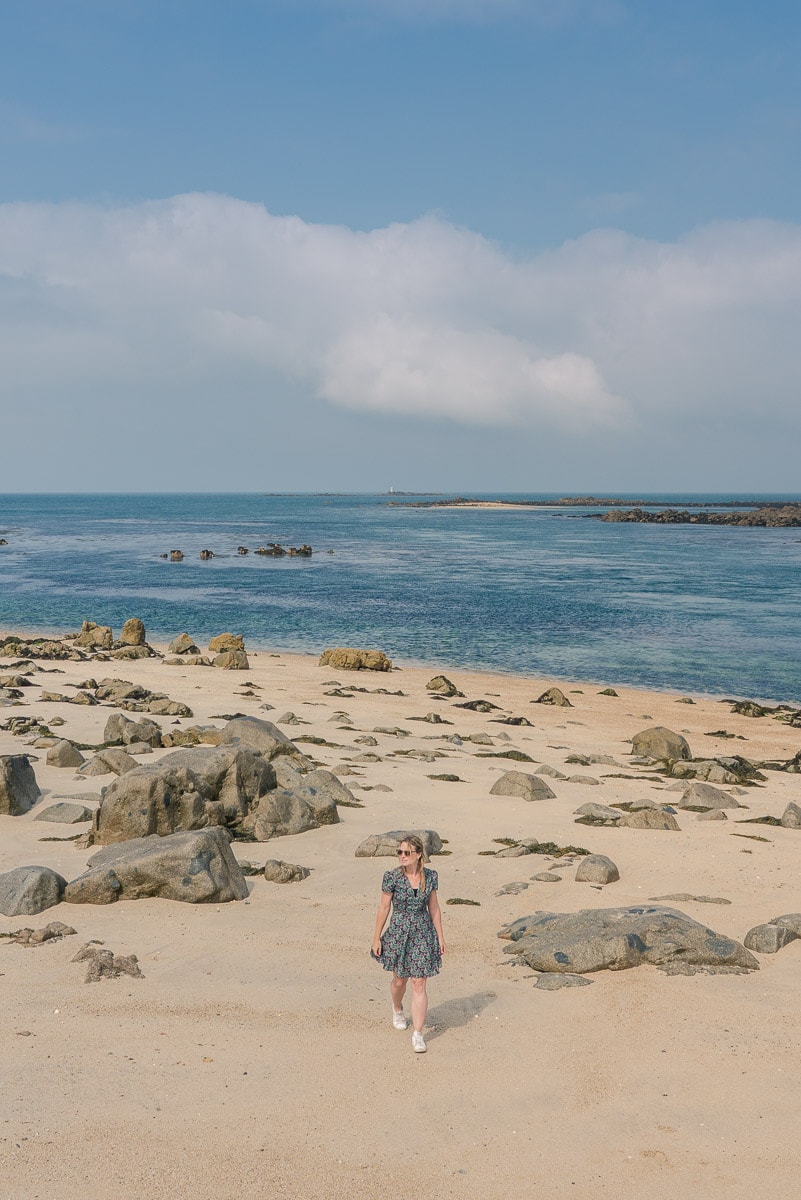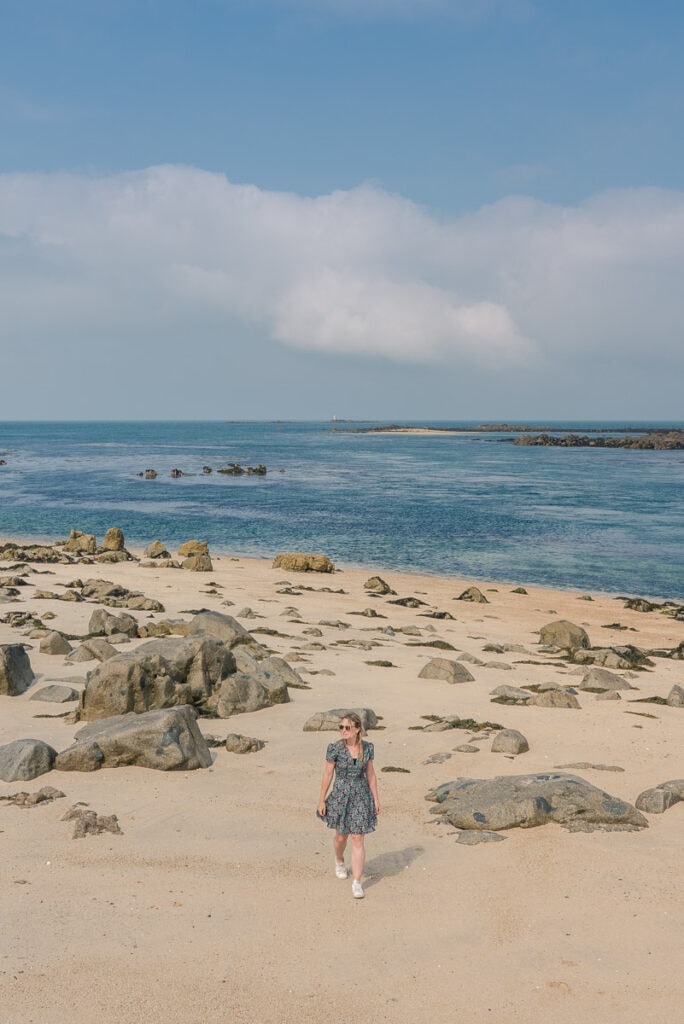 If you're not restricted by school holiday dates, I'd recommend visiting Herm at the start of July or September. You'll avoid the crowds and have a more relaxing trip. However, we visited towards the end of August, and even with lots of families around, Herm never felt busy. There's plenty of space for people to spread out!
It's also worth noting that some of the cafes and pubs are seasonal, so if you visit in the winter, you might need to pack a picnic!
---
Herm Map
Getting around Herm is simple as there are only a few paths. There are helpful signs at all key places e.g. Shell Beach and Herm Harbour. We received this map before boarding the ferry which might be helpful for planning your time on the island.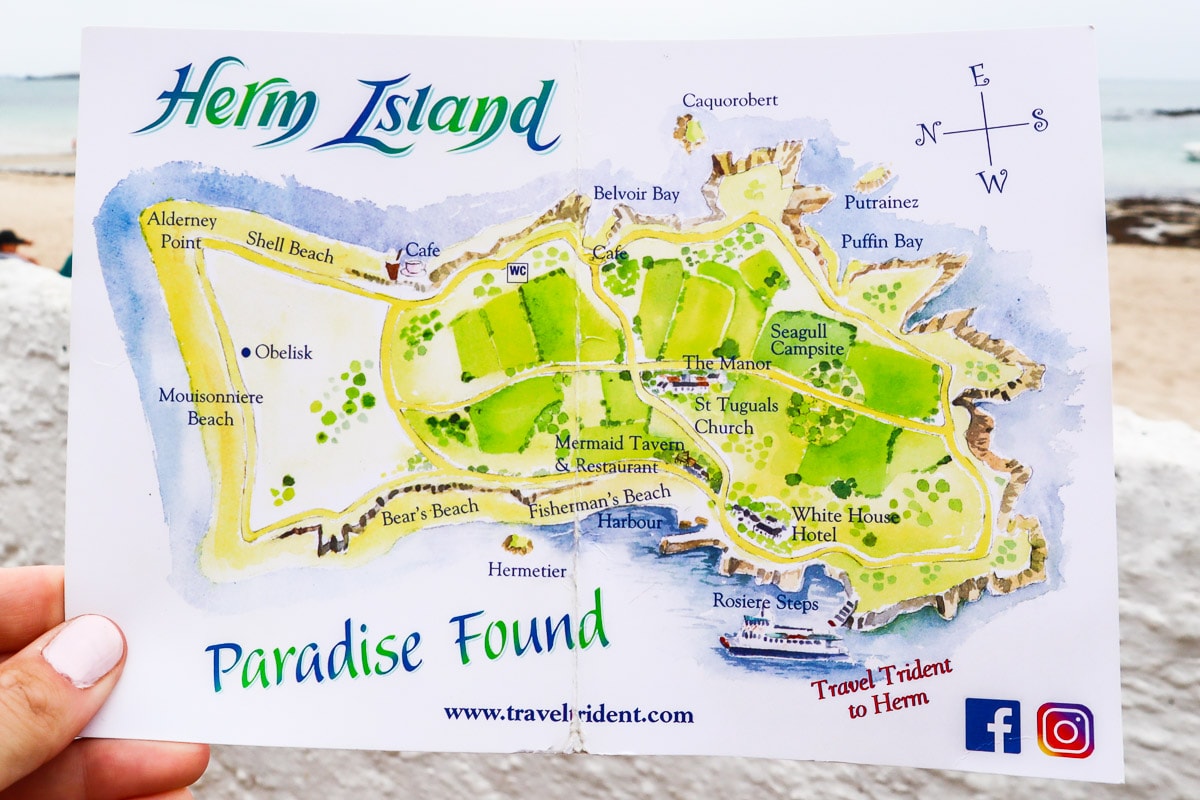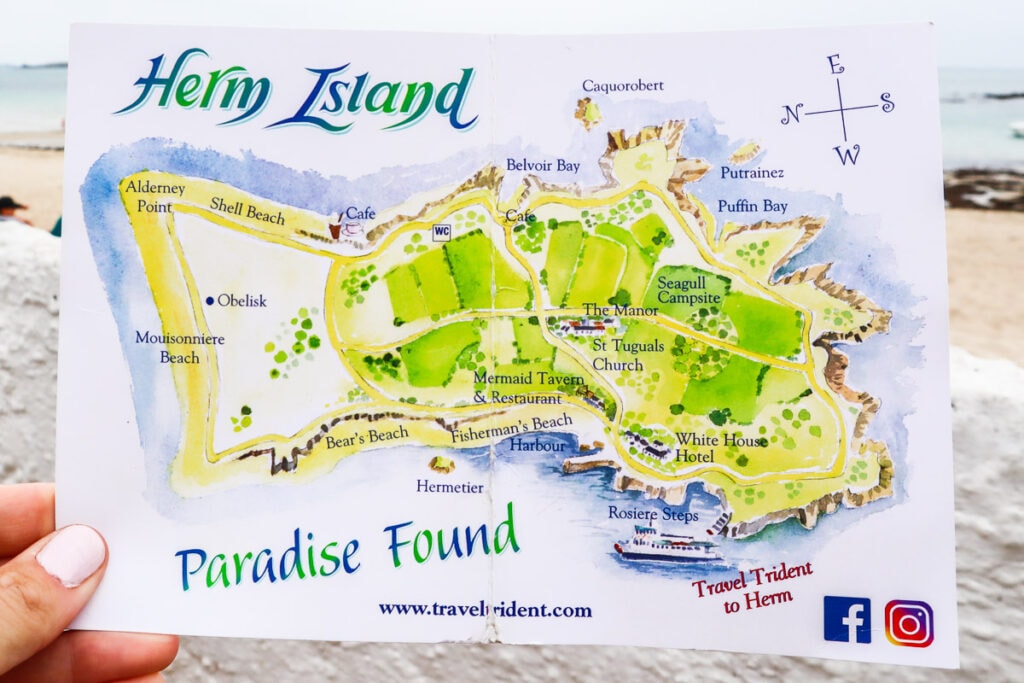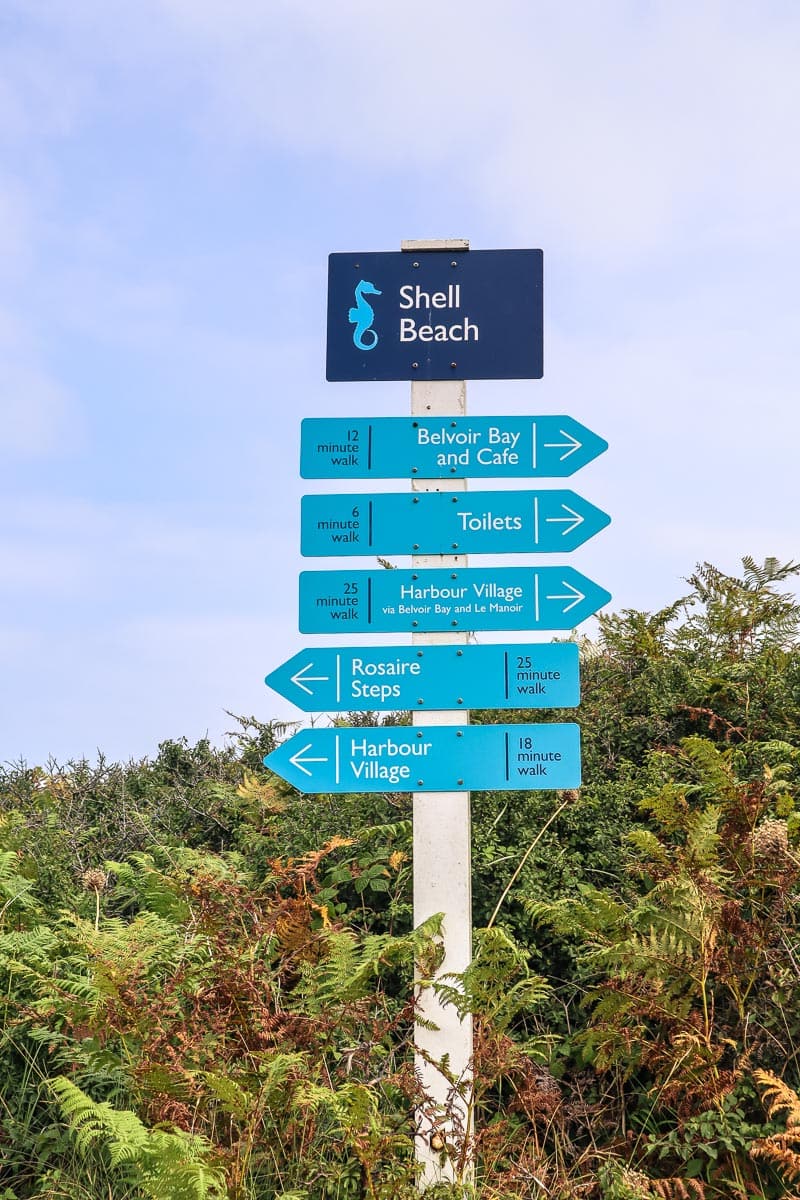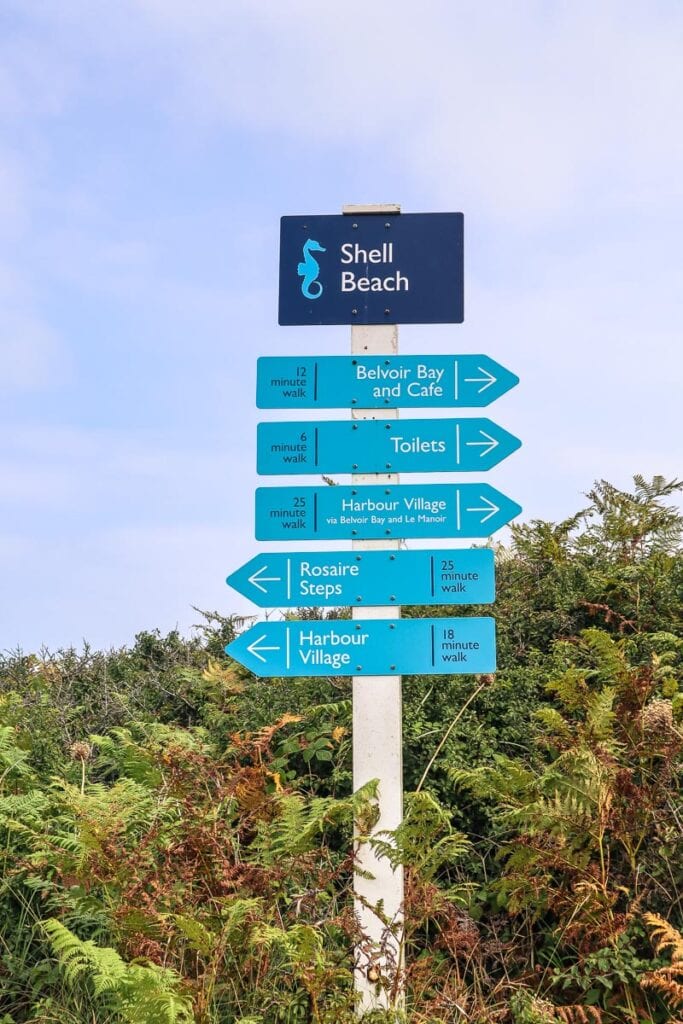 ---
Things to do on Herm Island
Walk around the island
The scenery in Herm is spectacular. We loved walking around the island, enjoying the mix of scenery from the flat bays and beaches at one end, to the rugged cliffs and rocks at the other. I'd recommend following a few of the trails and exploring the island on foot. If you fancy doing the entire perimeter, it'll take you around two hours with no stops.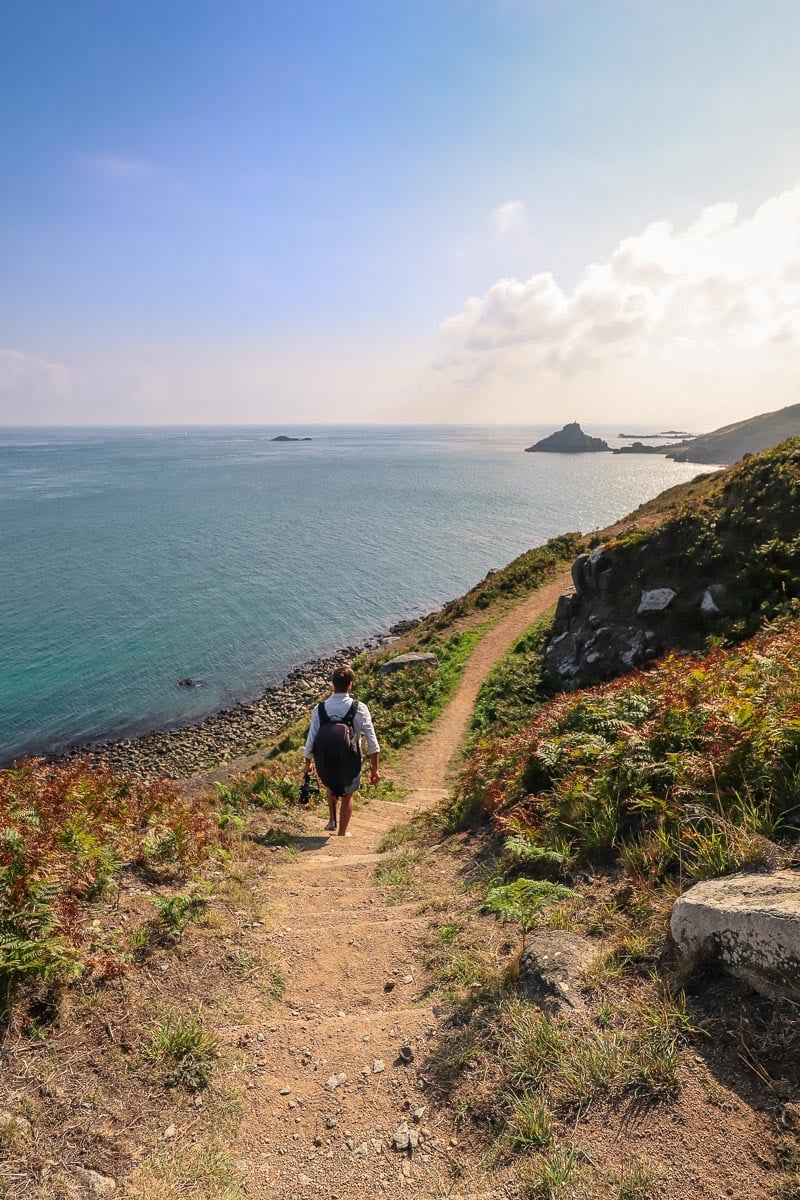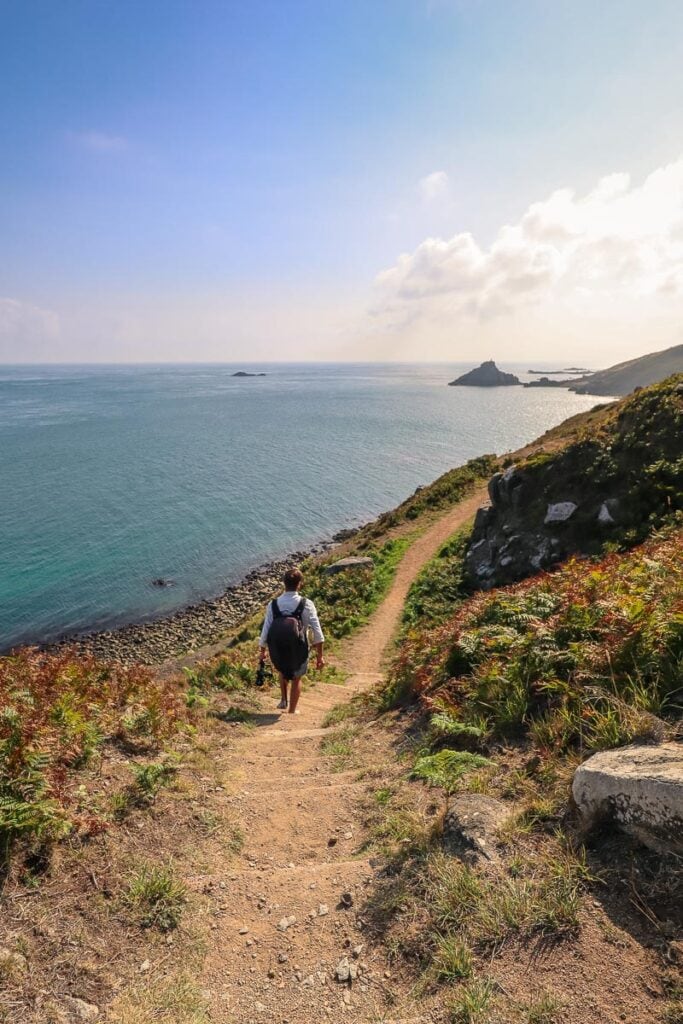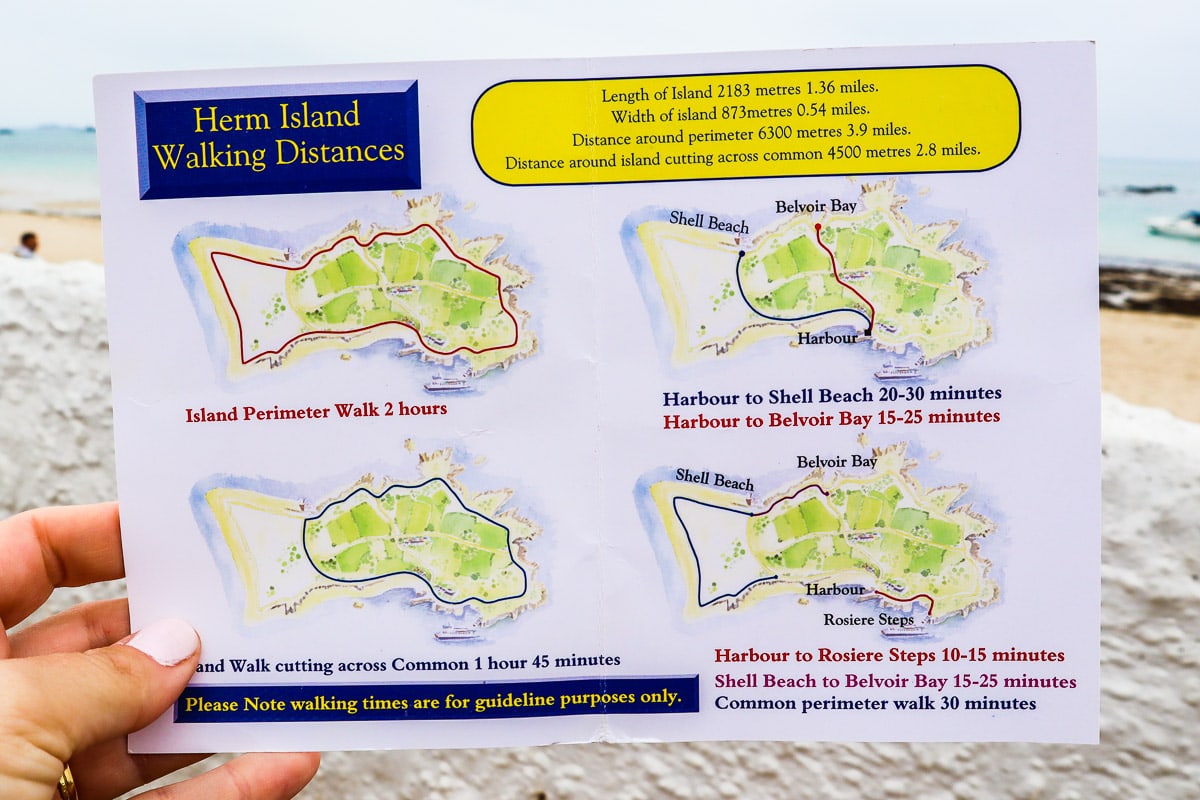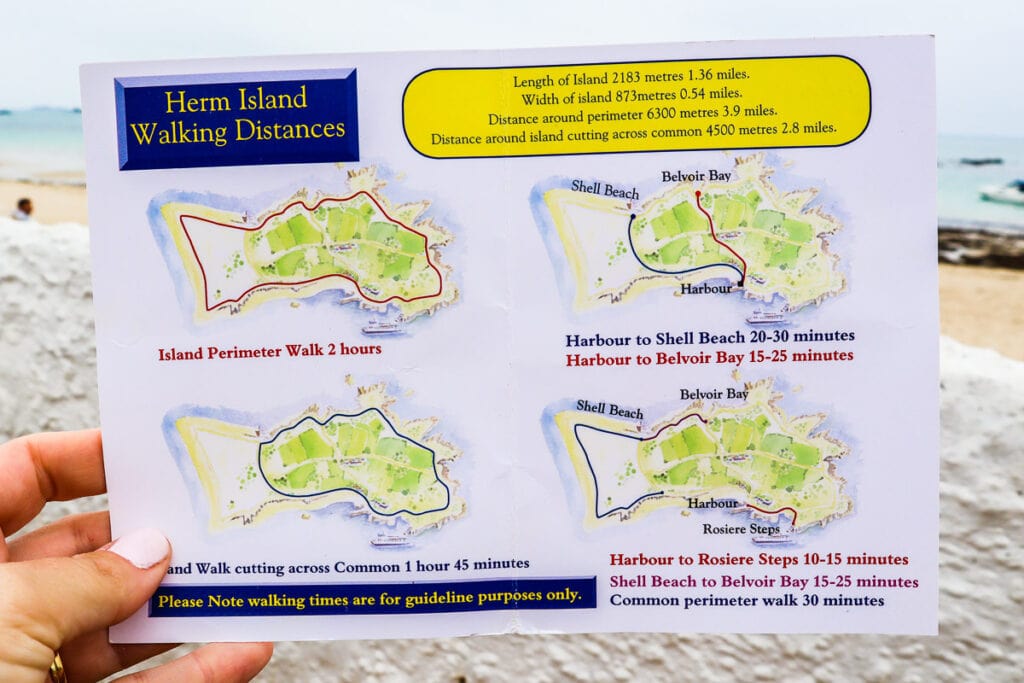 Relax on the beach
There are several beaches to choose from in Herm, but the most popular are Shell Beach and Belvoir Bay, both on the east coast. Shell Beach is a long, wide beach, famed for its striking white sand with shells dotted across it. It really is spectacular!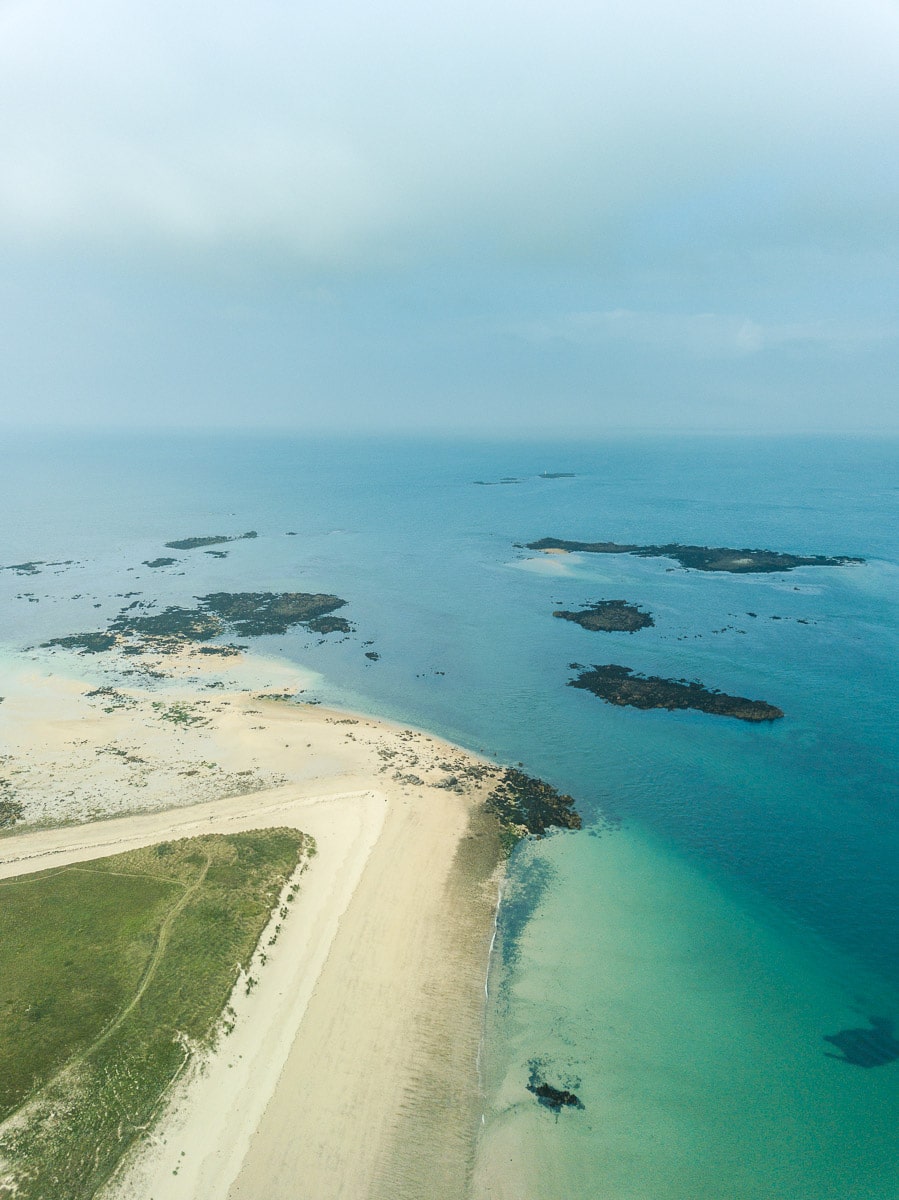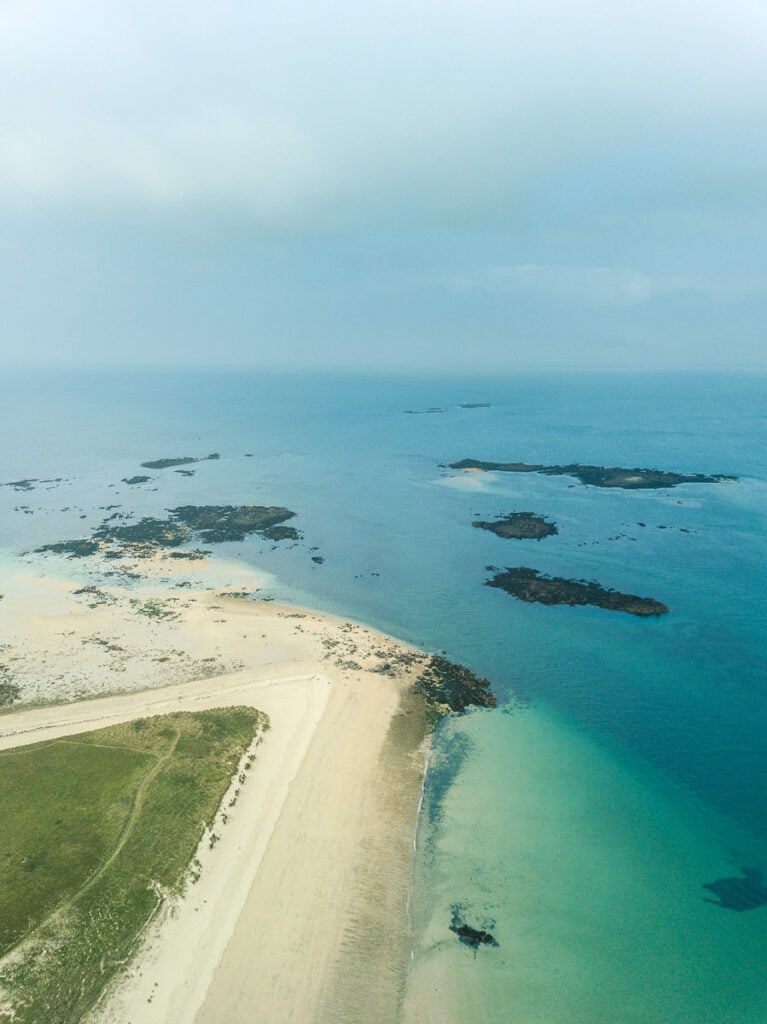 Meanwhile, Belvoir Bay is a lovely sheltered bay which is popular with families. They're both lovely so I'd recommend splitting your time between the two. They both have cafes too.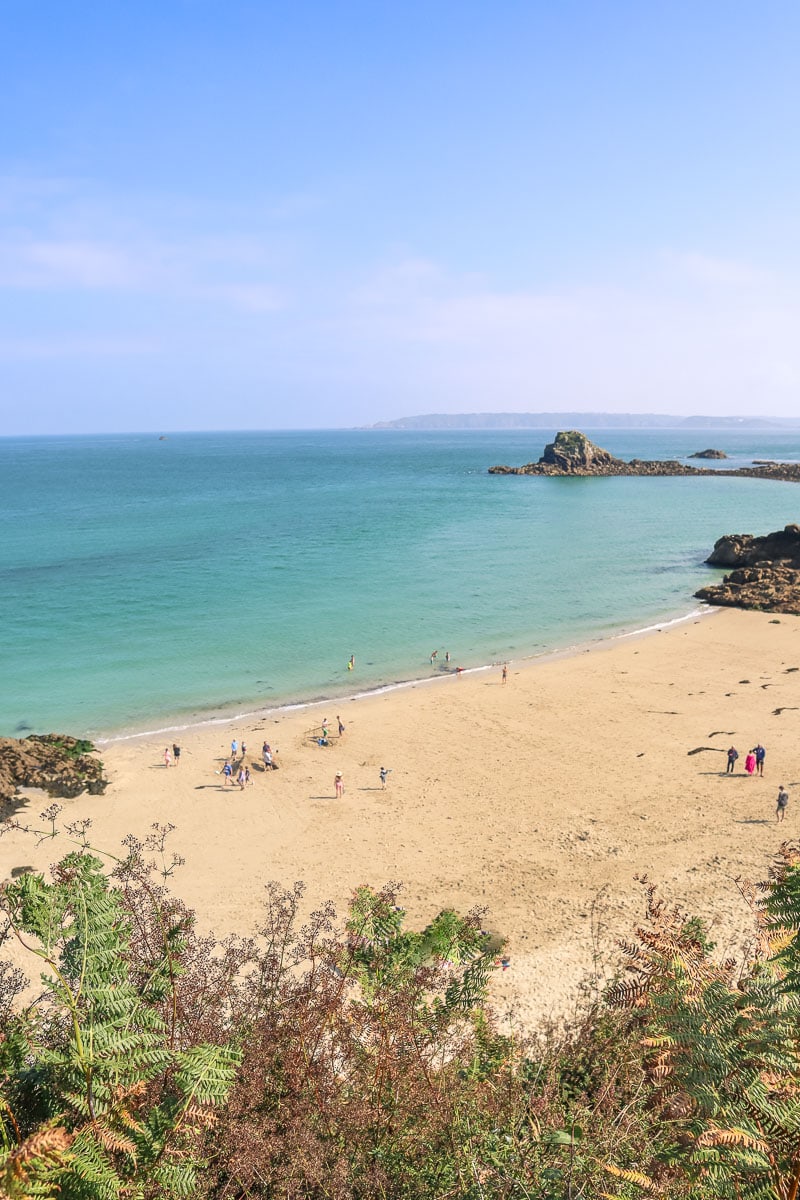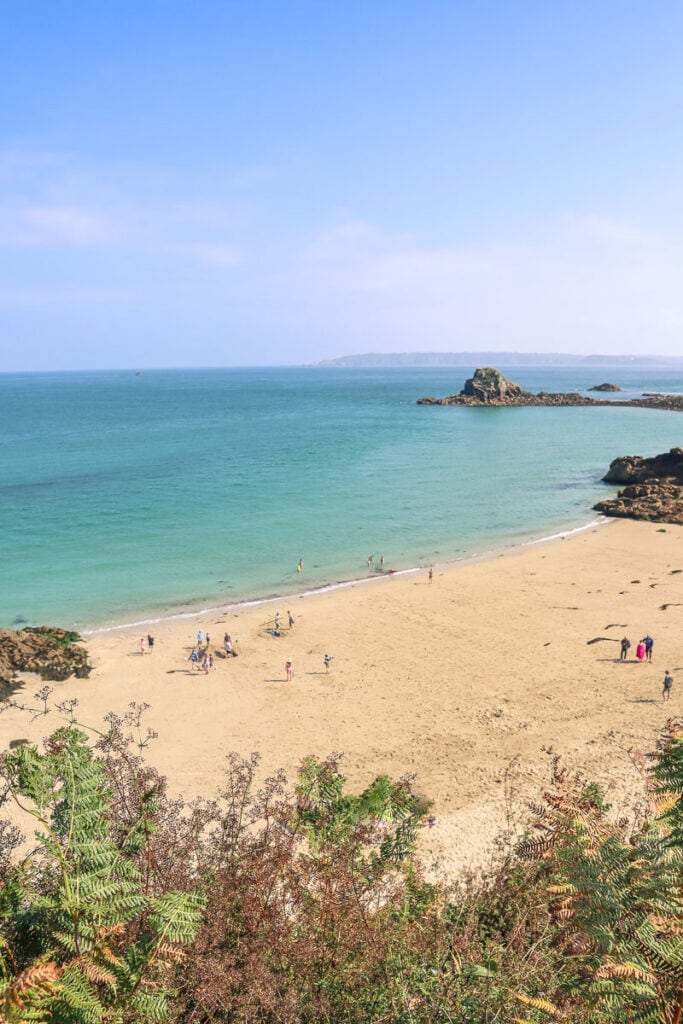 Go for a swim
On a sunny day Herm's clear waters look really inviting. However, brace yourself! While this island might resemble somewhere in the Caribbean, the waters of the English Channel have never been known for their balmy temperatures! Take a dip, but be ready to wrap yourself up in a fluffy towel when you get out.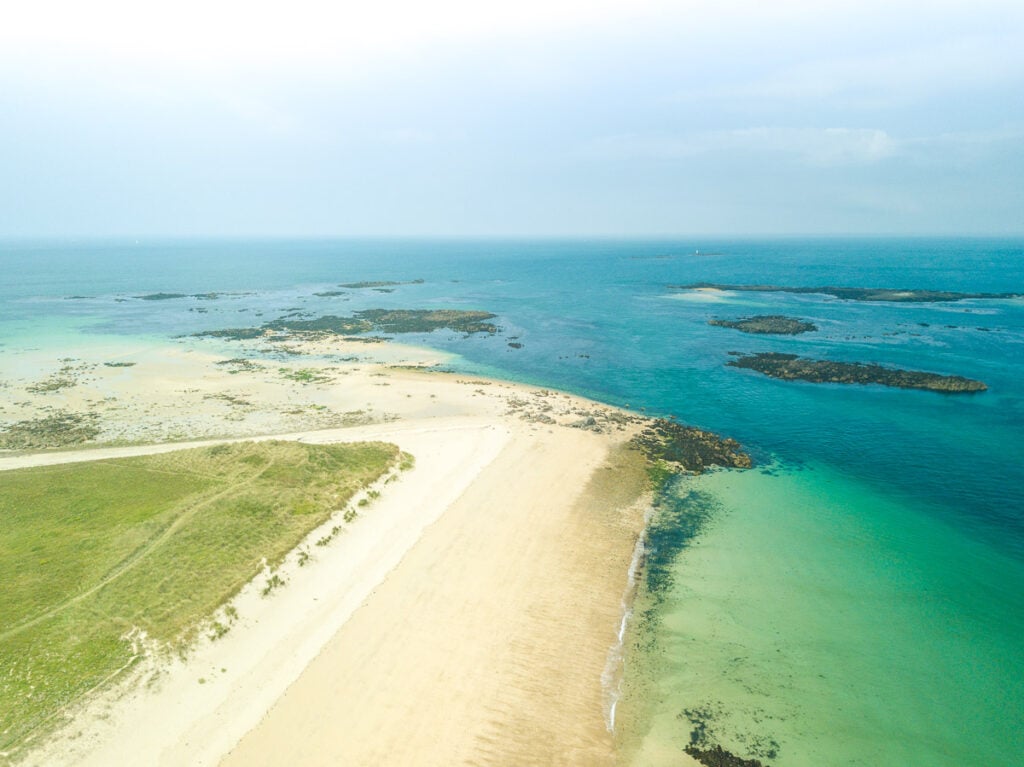 After some recent sea swimming in England, I learned that it's recommend you stay in the water for a maximum of 1 minute per degree, so if the water reaches 17 degrees in peak summer, you can prepare for a 17-minute dip!
Enjoy some water activities in Herm
We loved our kayaking tour in Guernsey with Outdoor Guernsey. The company also offers activities in Herm. As well as being able to hire kayaks and paddle boards from Shell Beach, there are specialist kayak tours around Herm. This is a great way to see parts of the island that aren't accessible on foot, as well as getting up close to the island's seals and puffins (depending on the season).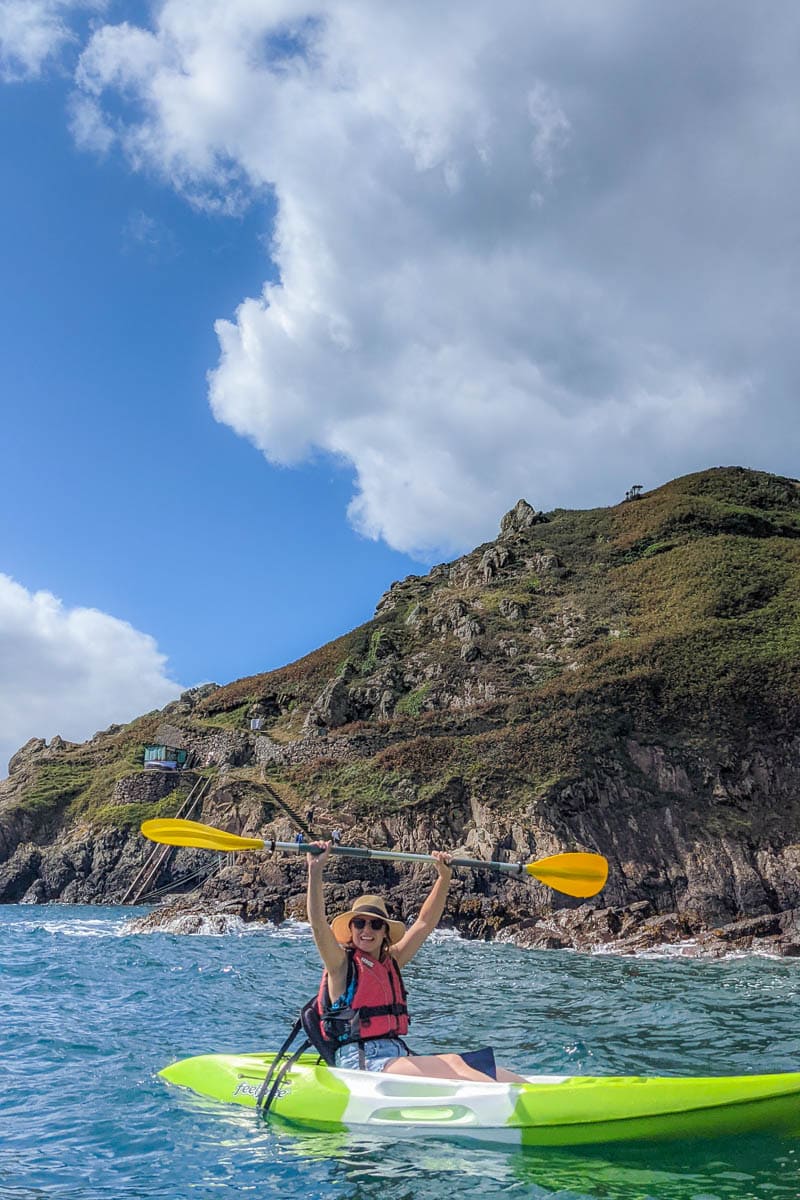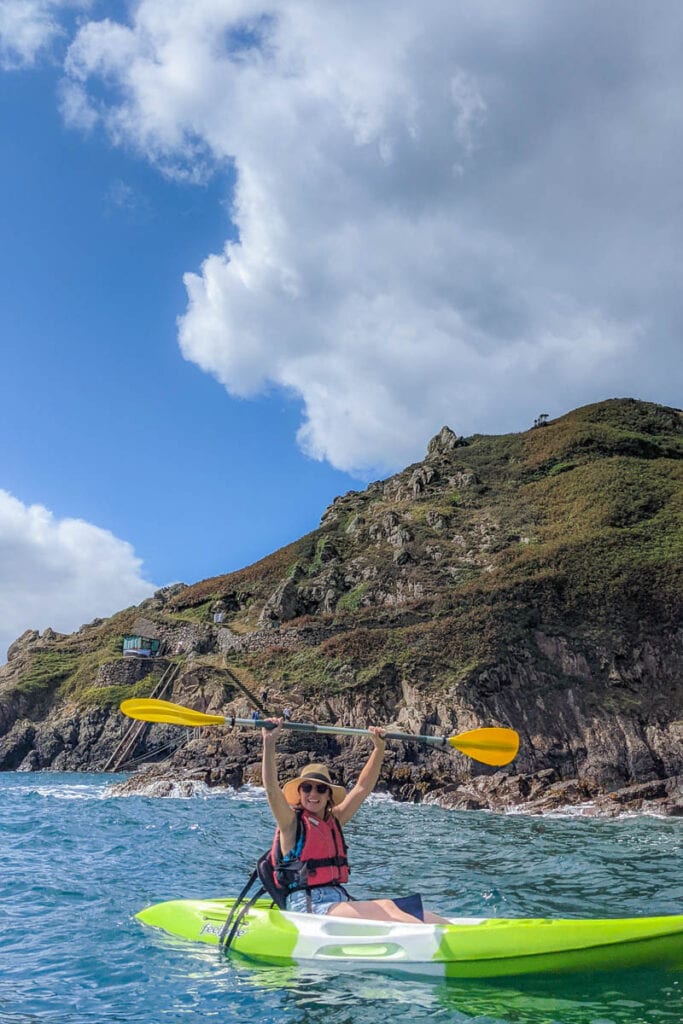 You can also take an exhilarating RIB ride around the island, stopping off at spots known for their wildlife.
Birdwatching and nature
Herm is a paradise for bird watchers and nature lovers, with seals, puffins, dolphins, guillemots and birds of prey spotted around the island. You'll see Herm nature trail boards in key locations showing the wildlife located in that area. Puffins can be seen between March and July, while Atlantic seals are sometimes spotted around Herm humps – the rocks to the north.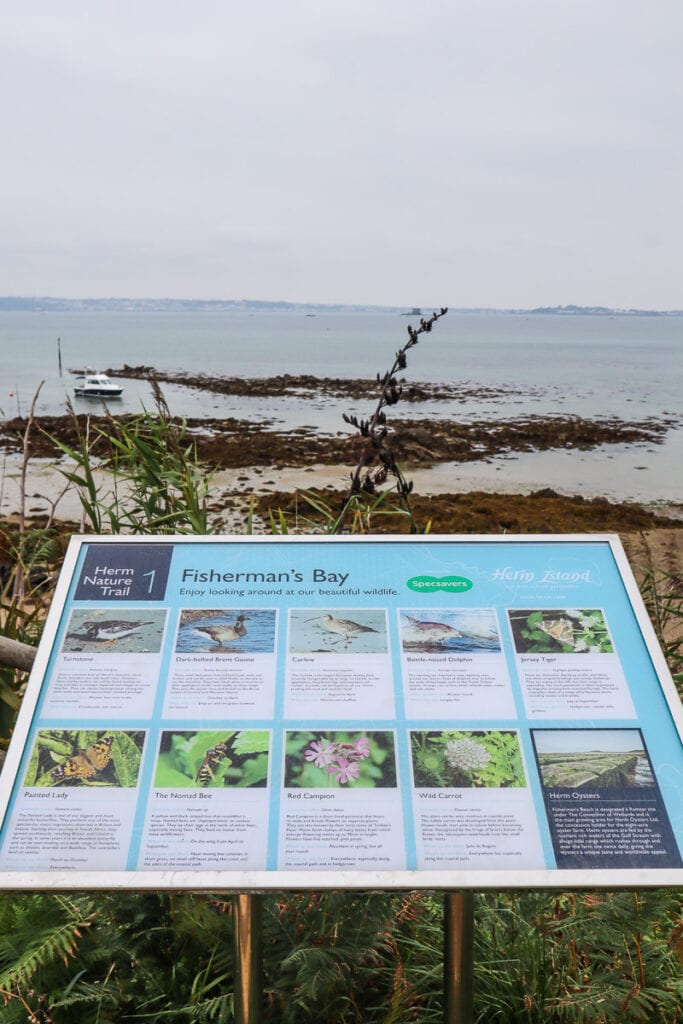 Enjoy an ice cream in Herm
There are two beach cafes and an island shop to buy ice creams in Herm. It's an excellent way to refuel during your day trip! If you want a real treat, order some Guernsey ice cream, made with super rich cream and milk from the famous Guernsey cows.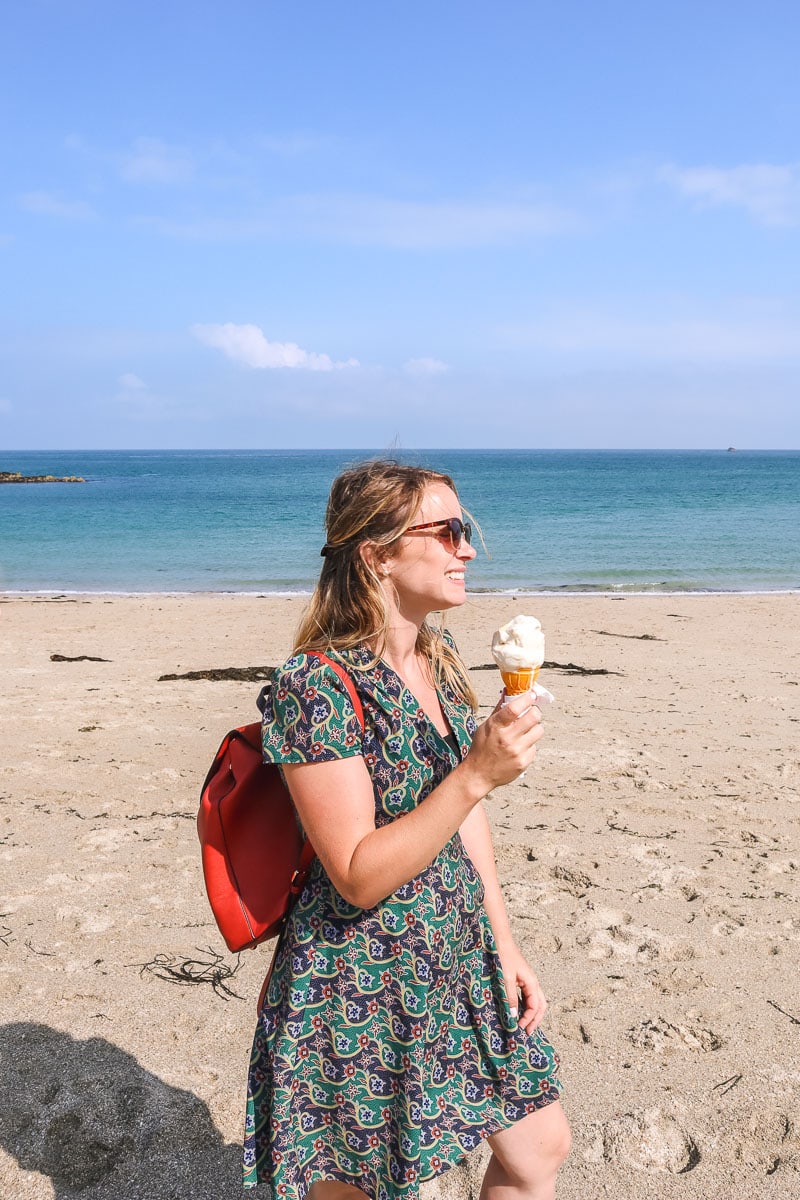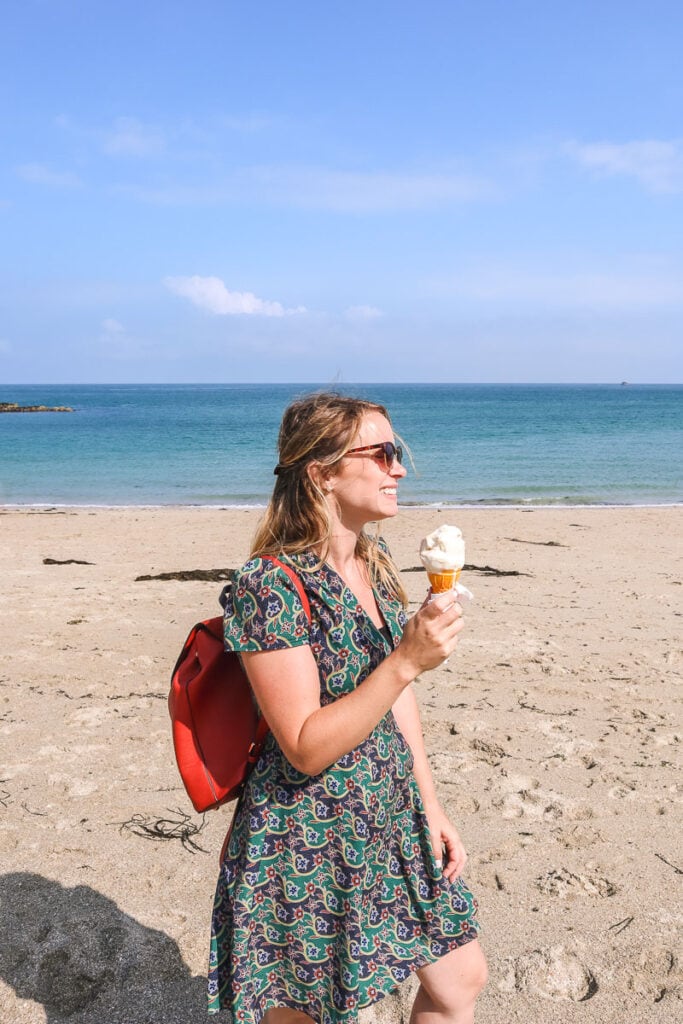 Visit St Tugal's Chapel
There's a little piece of history tucked away in The Manor – the village in the middle of the island. St Tugal's Chapel dates back to the 11th century and was built by Norman monks. It has a unique layout, which allowed the monks to sit in one part of the building without being seen by the public who would sit in another part.
It's a tranquil and peaceful place to visit. There are gardens around the chapel too, where you'll be able to see the original chapel bell.
Check out Herm Prison
As you walk past the White House Hotel you might spot a small building to your right. It seems pretty fitting that a tiny island should have a minuscule prison! Herm Prison only fits one person in a single cell, has no windows and is thought to be the smallest prison in the world.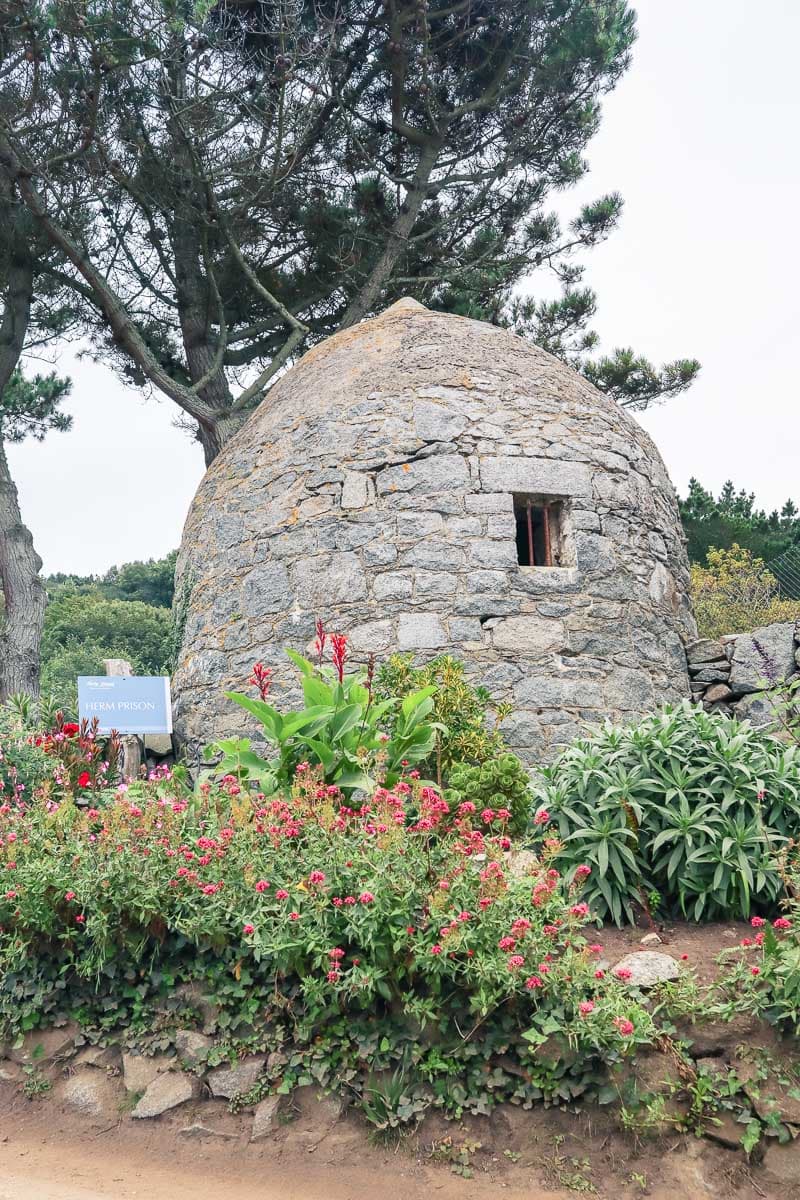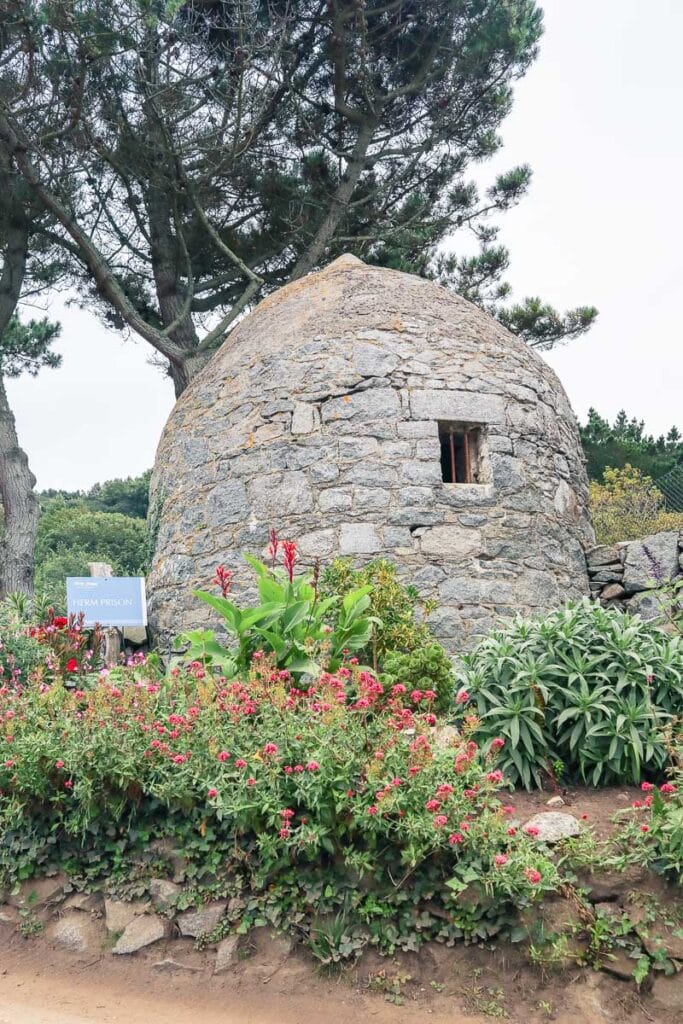 Visit the Herm Shop
Herm isn't exactly a shopping destination, but there is a cute little island store just beyond the Ship Inn where you can pick up clothes, beachwear, jewellery and souvenirs. In the summer it's popular with people buying hats and sun cream to avoid the 'Herm burn'.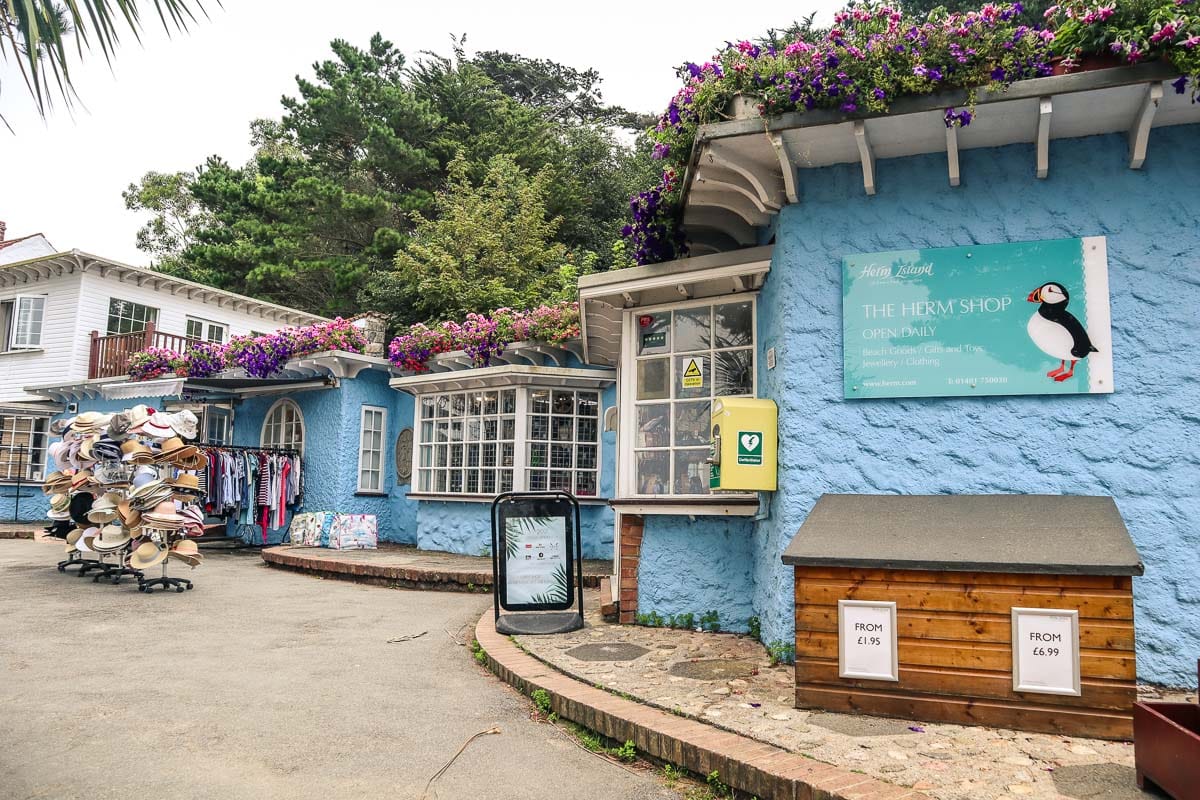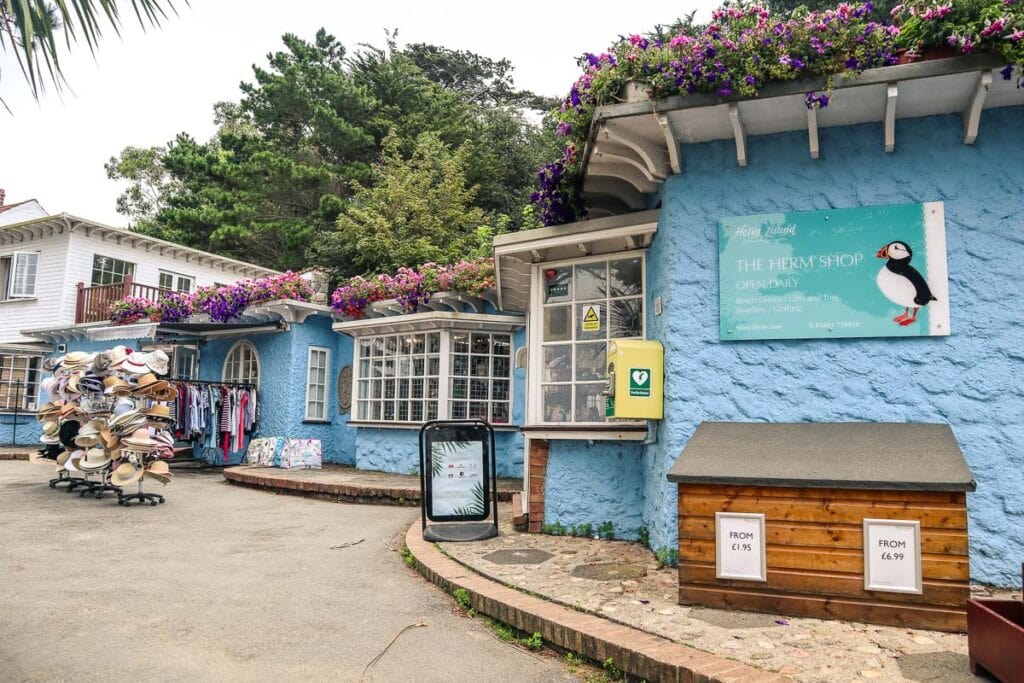 ---
Where to eat in Herm
Herm is pretty tiny, so there are only a few places to eat and drink on the island. These range from beach cafes to pubs, and a fine dining restaurant at the White House Hotel.
This cute café is located right on Shell Beach, the island's most famous beach. You can pick up a range of items to take away, as well as ordering a few dishes from a menu. When we visited there were sausage rolls, sandwiches and slices of cake to take away.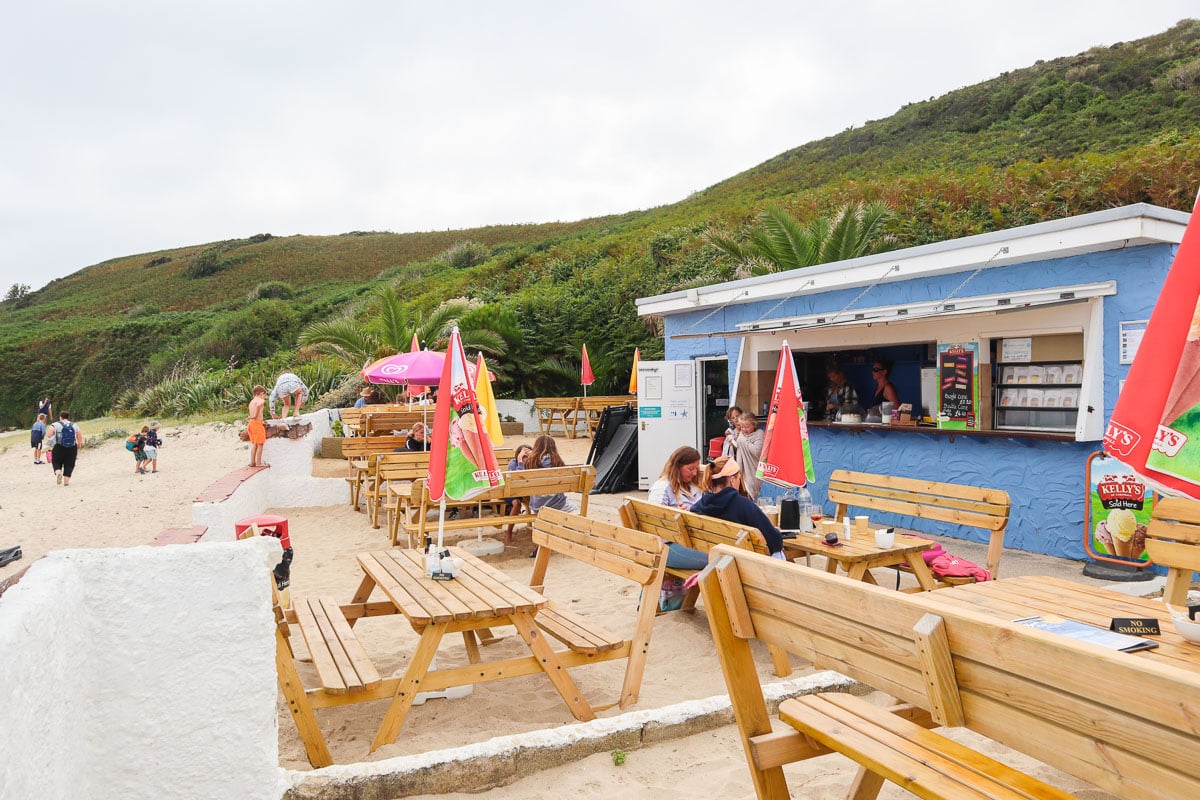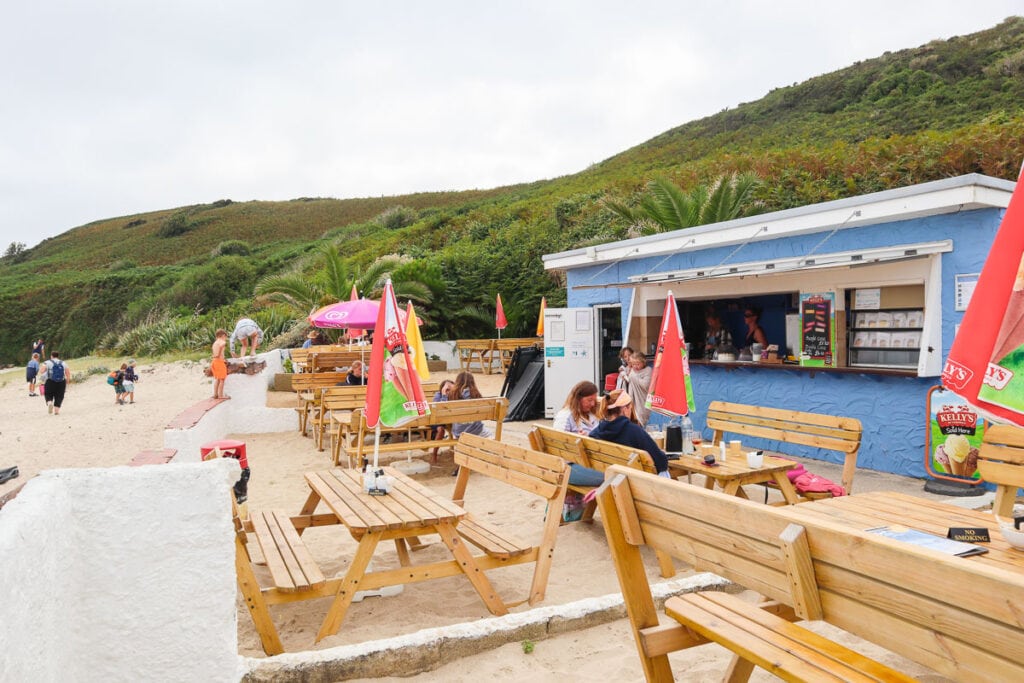 On the main menu were five salads including a chicken and bacon salad, a vegetarian kale and quinoa salad and the 'fishy feast' which we ordered. This was similar to a seafood platter, with prawns, mackerel and salmon served with delicious bread topped with Guernsey butter. You can also order portions of fries from this café.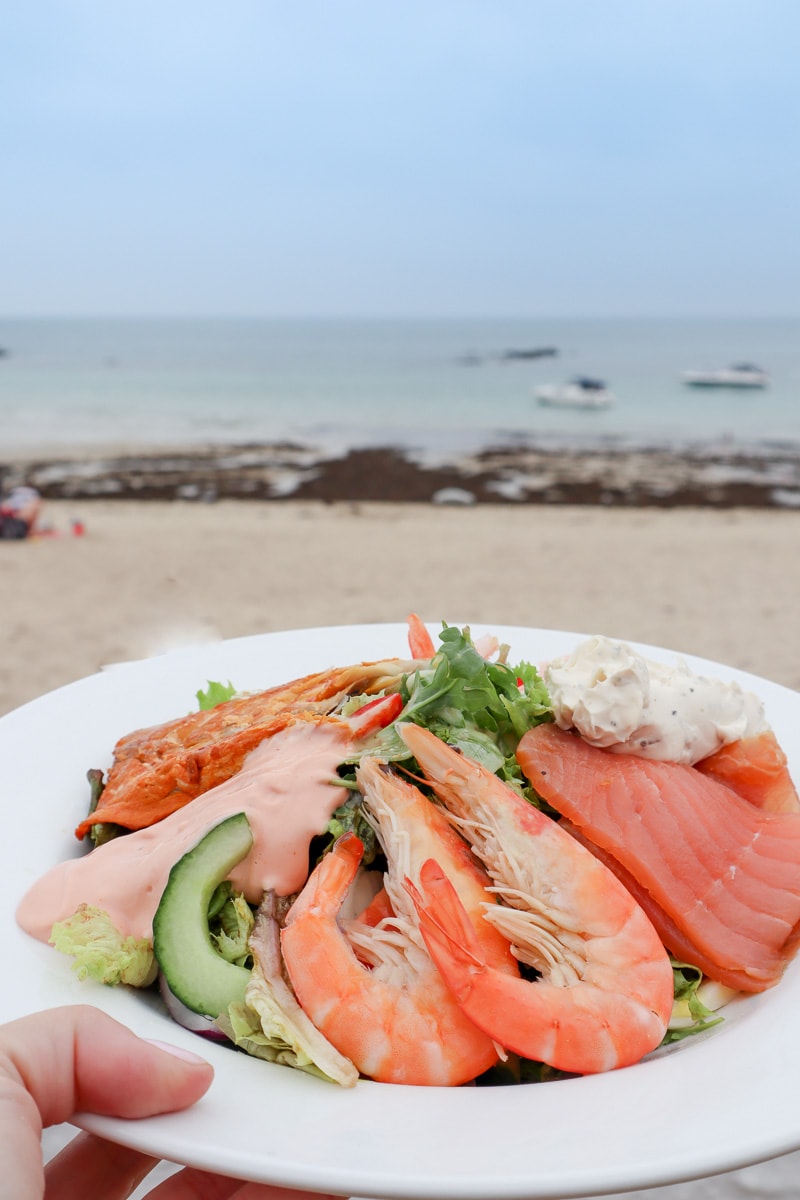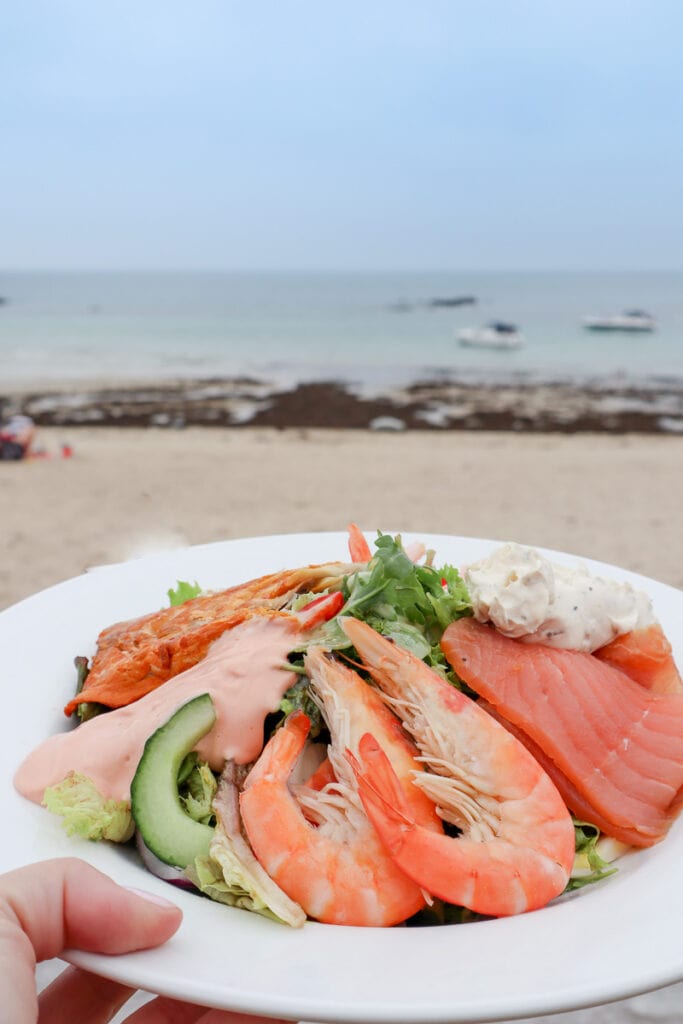 There's a long drinks menu, so a beach day doesn't have to be a sober affair! Kids will love the ice cream sundae menu too. And when I say kids, I mean big kids too!
Shell Beach Café is usually open from April 1st – September 30th, 9am – 5pm, but check before visiting.
There's another café along the east coast of Herm at Belvoir Bay. Similar to Shell Beach, it's a great spot for a light bite, an ice cream or a drink. We stopped for ice creams here. There were lots of flavours, some Guernsey Ice Cream and some made by Kelly's. The bay is very sheltered and enclosed, so it's the perfect spot for it!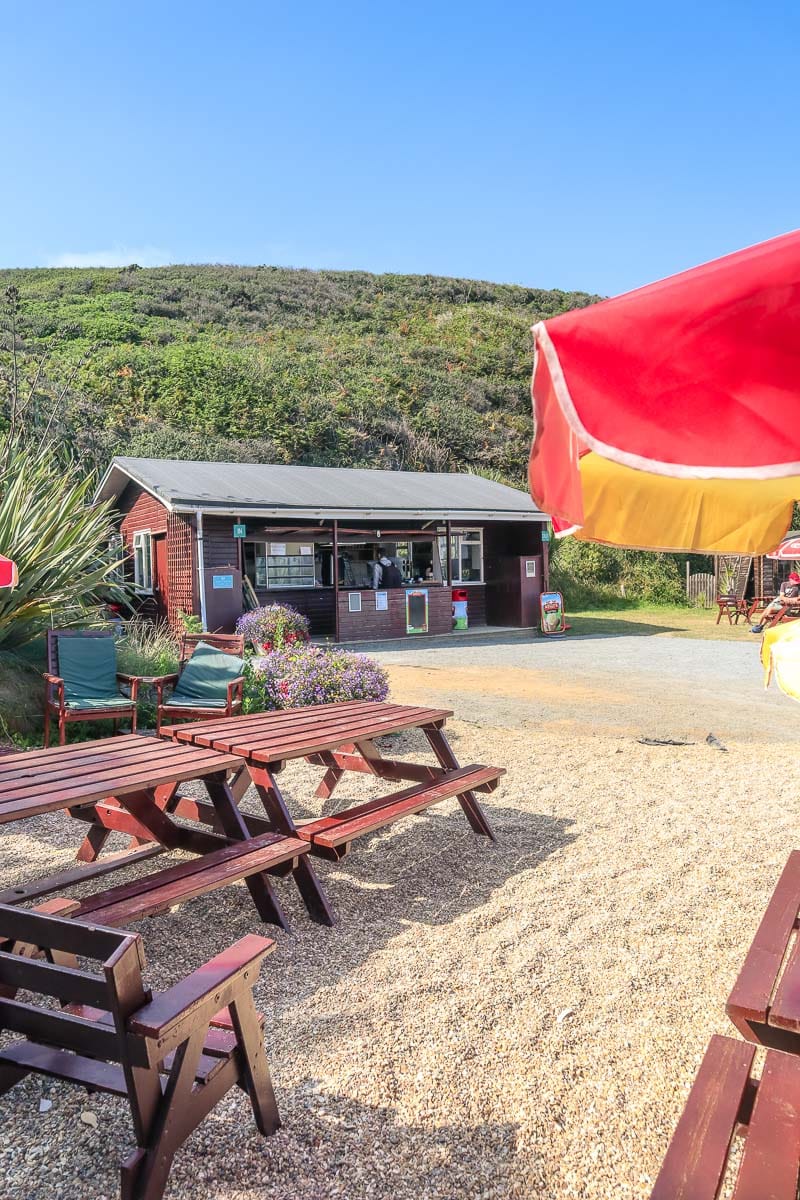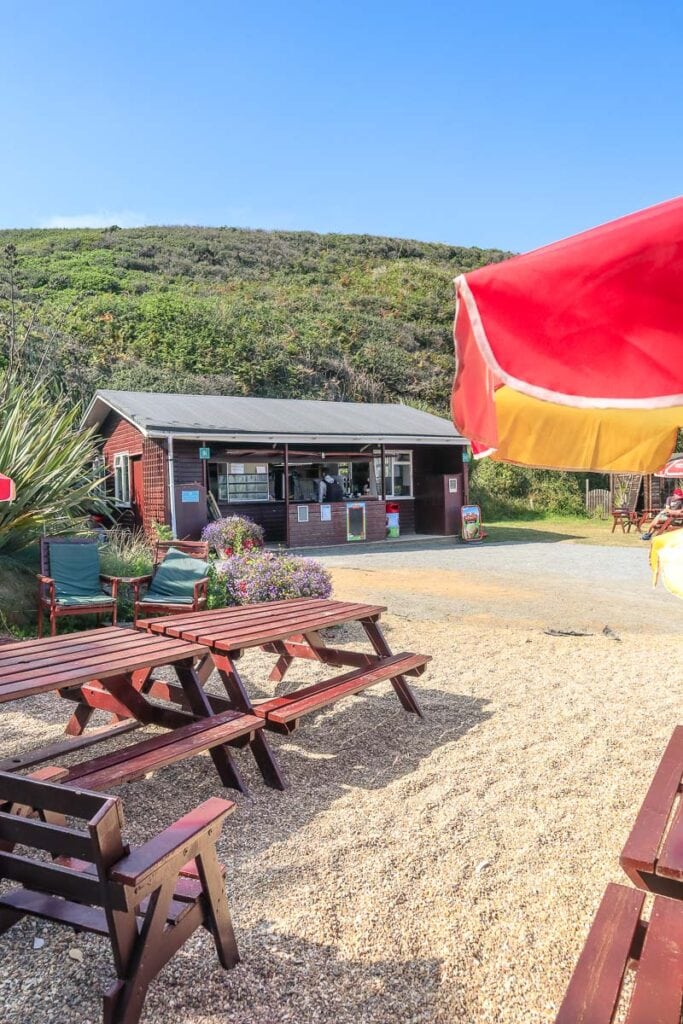 Belvoir Bay Kiosk is usually open May 1st – September 30th, 9am – 5pm, but check before visiting.
If you're looking for a great pub in Herm for an informal lunch or dinner, the Mermaid Tavern is ideal. Once a fisherman's pub, it's now a family favourite on the island. There's a big courtyard which gets busy in the summer months. Alternatively, dine indoors and enjoy a cosier atmosphere.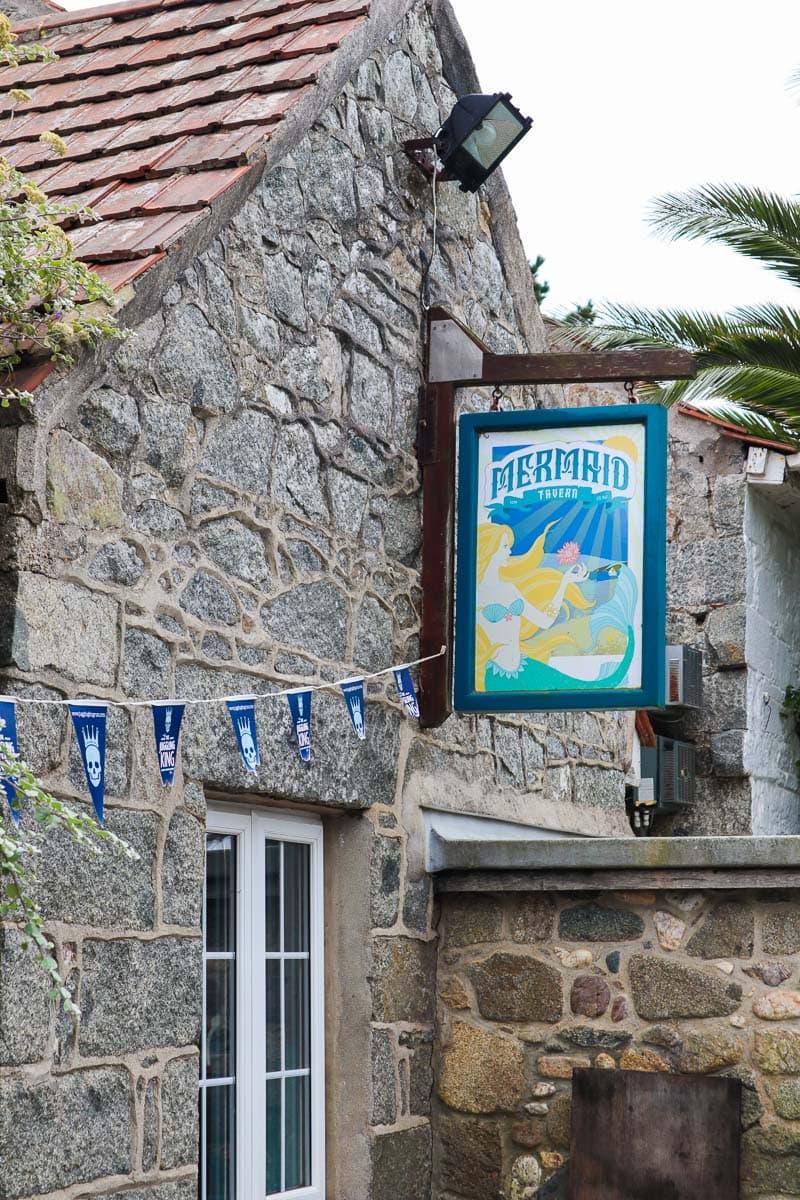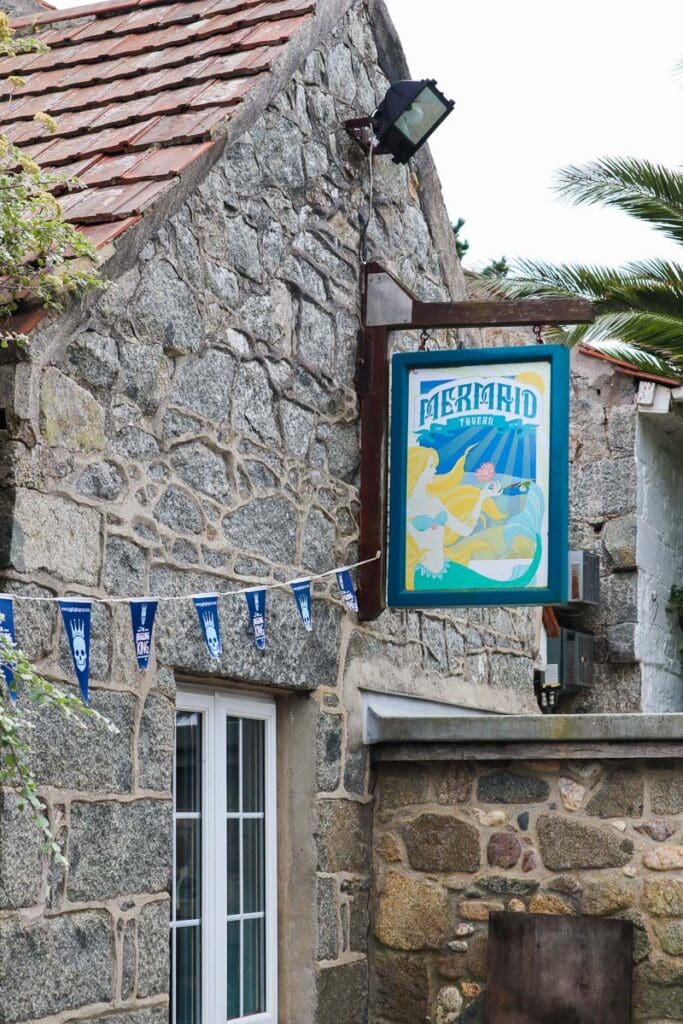 On the menu you'll find fish and chips, burgers, sandwiches, salads and a few vegetarian options. There's also a children's menu to keep your little ones happy.
This cute blue pub is a little more upmarket than The Mermaid Tavern, but still informal. As well as lunch and dinner, this pub also serves food for breakfast and afternoon tea. In fact, as well as a standard afternoon tea there's also a special gin and tonic afternoon tea!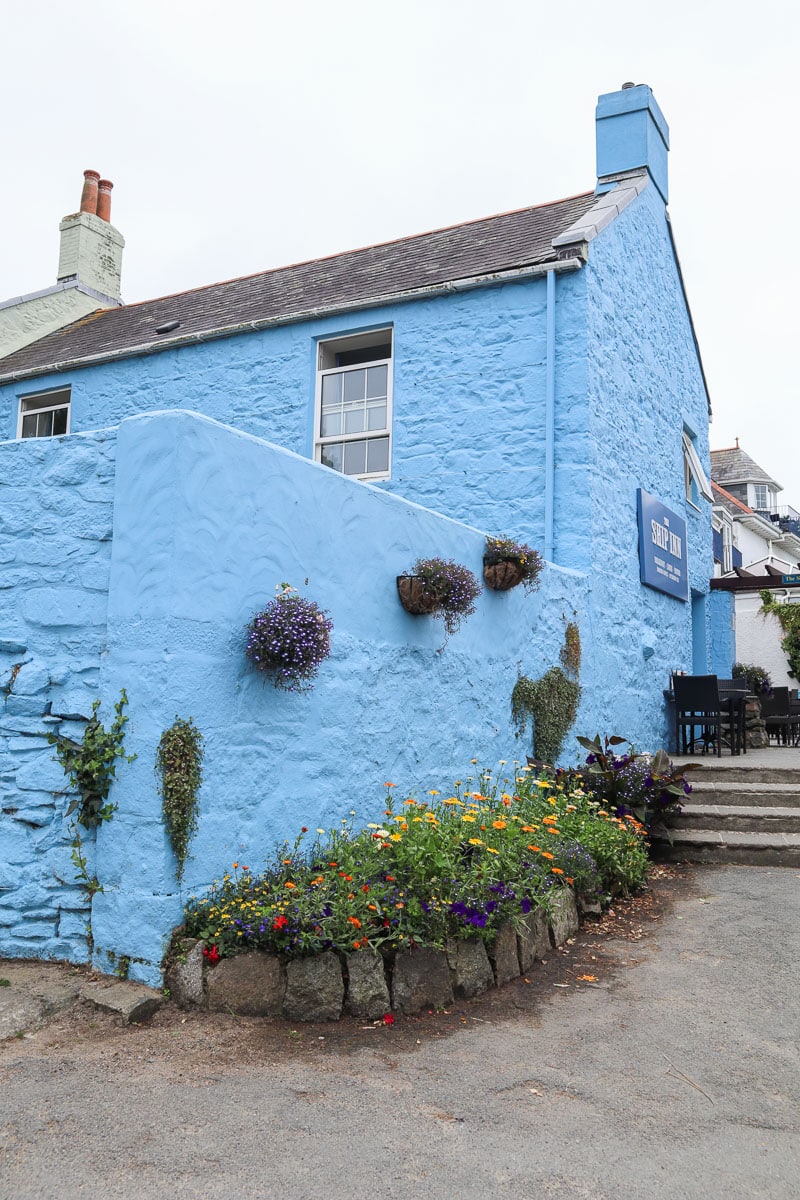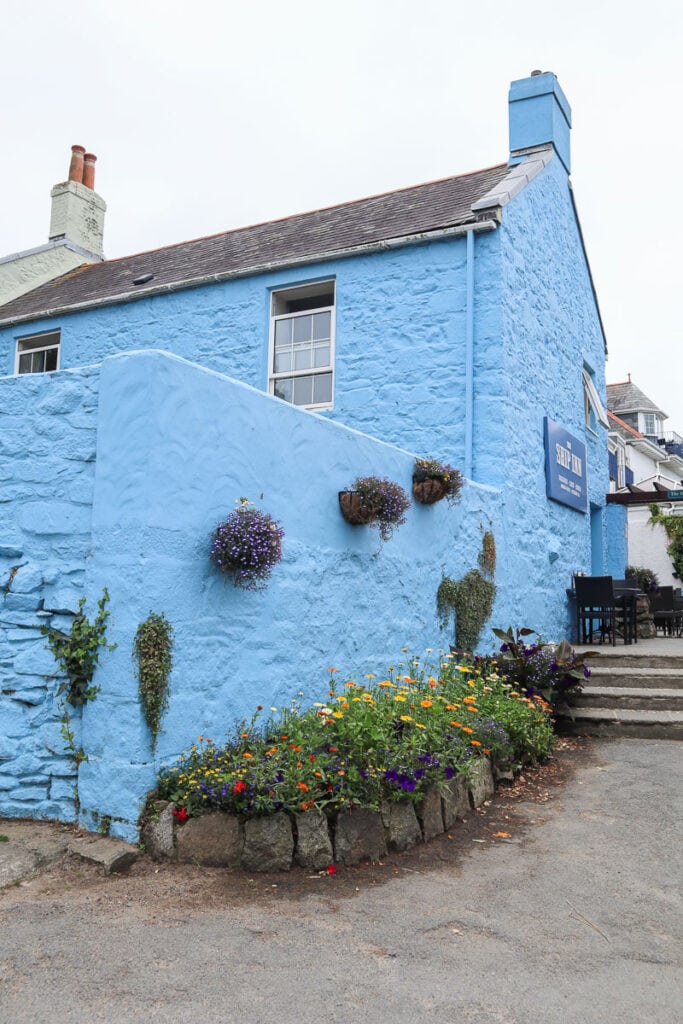 Unlike the Mermaid Tavern, you can reserve tables here for lunch inside the restaurant, but the outside areas are on a first come first serve basis.
There's a lot of seafood on the menu including local lobster rolls, dressed Guernsey crab, seafood chowder, crispy whitebait and a local catch of the day. There's also a children's menu featuring lots of crowd-pleasing dishes.
This is the best restaurant in Herm. It boasts two AA Rosettes and has beautiful sea views. Located inside the White House Hotel, this fine dining restaurant offers a three-course menu for £39.95 per person. It's an enticing menu too, featuring high quality ingredients such as scallops, duck breast and sea bass. You might even get to sample some legendary Herm oysters.
If you're celebrating a special occasion, you could book afternoon tea at the Conservatory Restaurant. It's worth noting that this is the only restaurant on the island with a dress code. It's smart / casual, but they request you don't wear ripped jeans, trainers, track suits or flip flops.
---
Where to stay in Herm
There are a range of accommodation options in Herm, although with so little on the island, it's best to book well in advance.
Hotels in Herm
There's only one hotel on Herm Island. The White House Hotel is one of the first buildings you'll see when you get off the ferry. It's a country-house style hotel with some great amenities including a swimming pool, tennis court, bar and restaurant.
You can choose between sea view and garden view rooms, and there are room options for families too.
Unlike many 4-star hotels, this one doesn't have TVs in the bedrooms. The hotel encourages guests to unwind and switch off during their stay. It also hosts fun events and special offers throughout the year, including performances by tribute acts, murder mystery weekends and gourmet stays.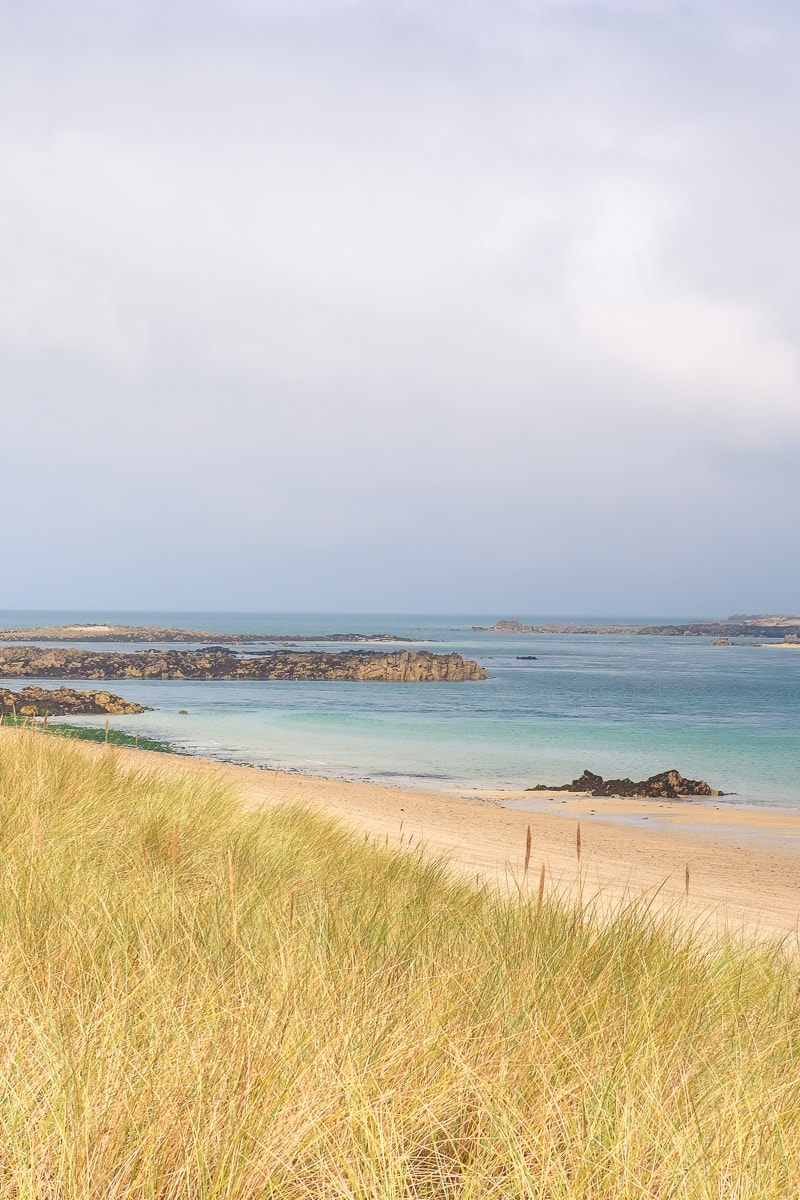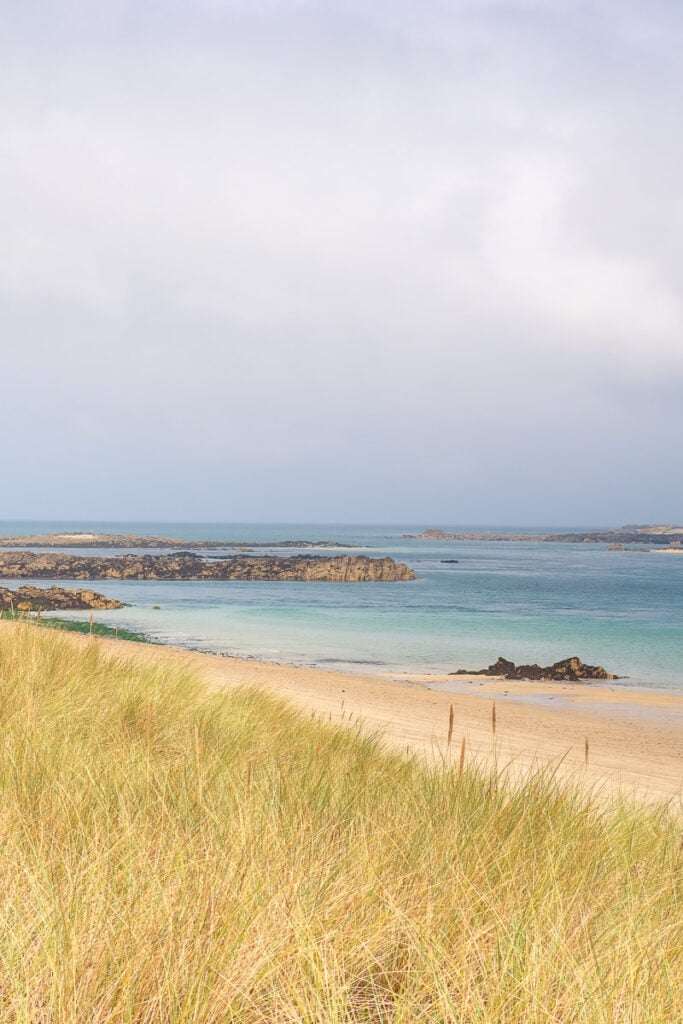 Camping in Herm
Herm Island is a beautiful place to go camping. This is a popular style of travel for families in the summer months. We saw lots of groups on our ferry over who had a lot of provisions packed for their holiday on the island!
There are two campsites: Seagull (towards the south of the island) and Moss Field (near the harbour). They have 6 or 8 man tents available, as well as pitches if you want to bring your own. It's a popular option as it's so well organised. You can have your luggage collected from the ferry and driven to the site, and even order groceries to be delivered via the island's shop.
Rental cottages in Herm
From cottages to cosy flats, there are several self-catering options in Herm, sleeping between 3 and 12 people. You can take a look at the accommodation and prices here.
---
Useful information for visiting Herm
Wear sunscreen
A few locals warned us about the 'Herm burn' before our trip. With little shade and or pollution, it's easy to burn on the island. Be sure to cover yourself in sun cream, and top it up regularly during the summer months. You might also want to find a bit of a shade at one of the beach cafes or pubs around lunchtime.
Toilets in Herm
There are public toilets on Herm Island, but you'll need to plan your loo breaks as there are only a few. There's a set of toilets right near Fisherman's Beach, close to the harbour. There's another block over the other side, on the path between Shell Beach and Belvoir Bay.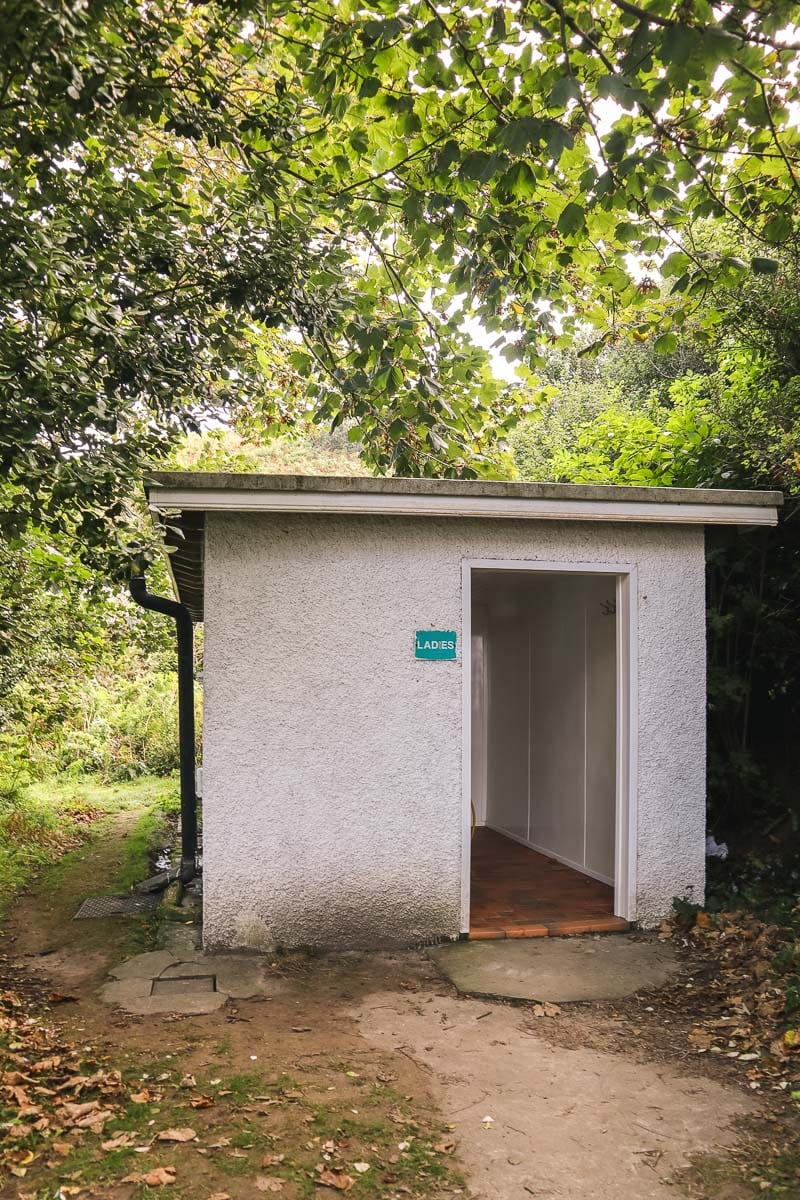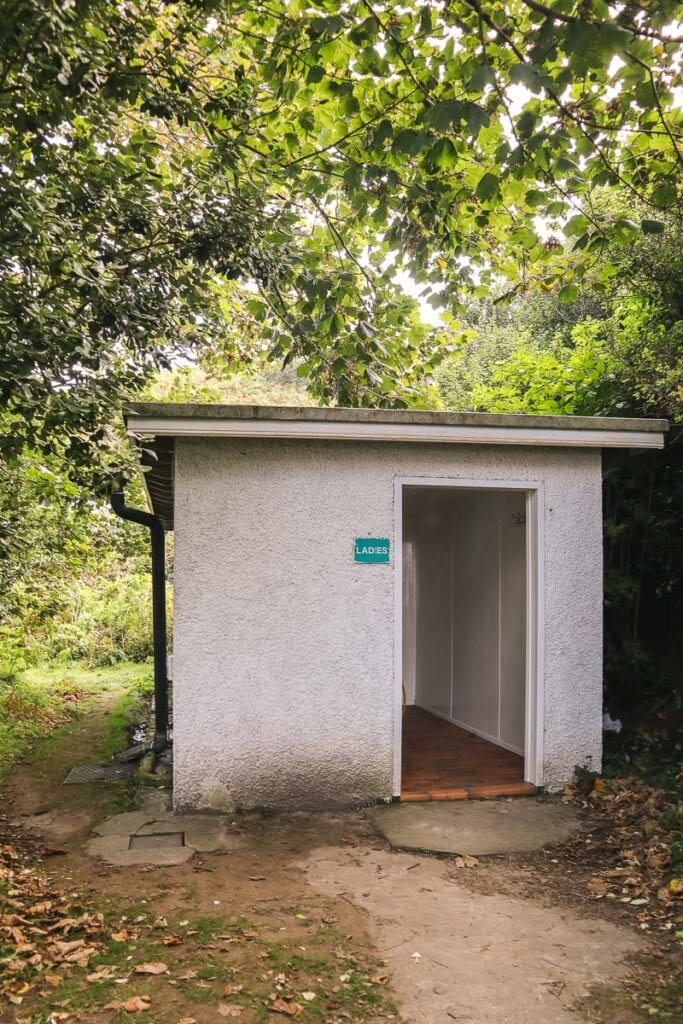 Pack light
If you fancy a good walk around the island, I'd recommend packing light and wearing comfortable walking shoes or trainers. If you're on a budget, consider bringing a small picnic to eat too. Food is on the pricey side, even for simple salads and sandwiches.
Keep an eye on time
If you want to get the last ferry back safely, make sure you allow enough time to do everything you want to do on Herm. Also, be warned, your phone may update to French time and suddenly hop forward an hour!
Take lots of photos
Herm is one of the most beautiful islands we've visited in a long time. You'll fall in love with its untouched natural beauty. From views of the beaches and cliffs, to panoramas of Sark and Guernsey, it really is amazing so take lots of photos!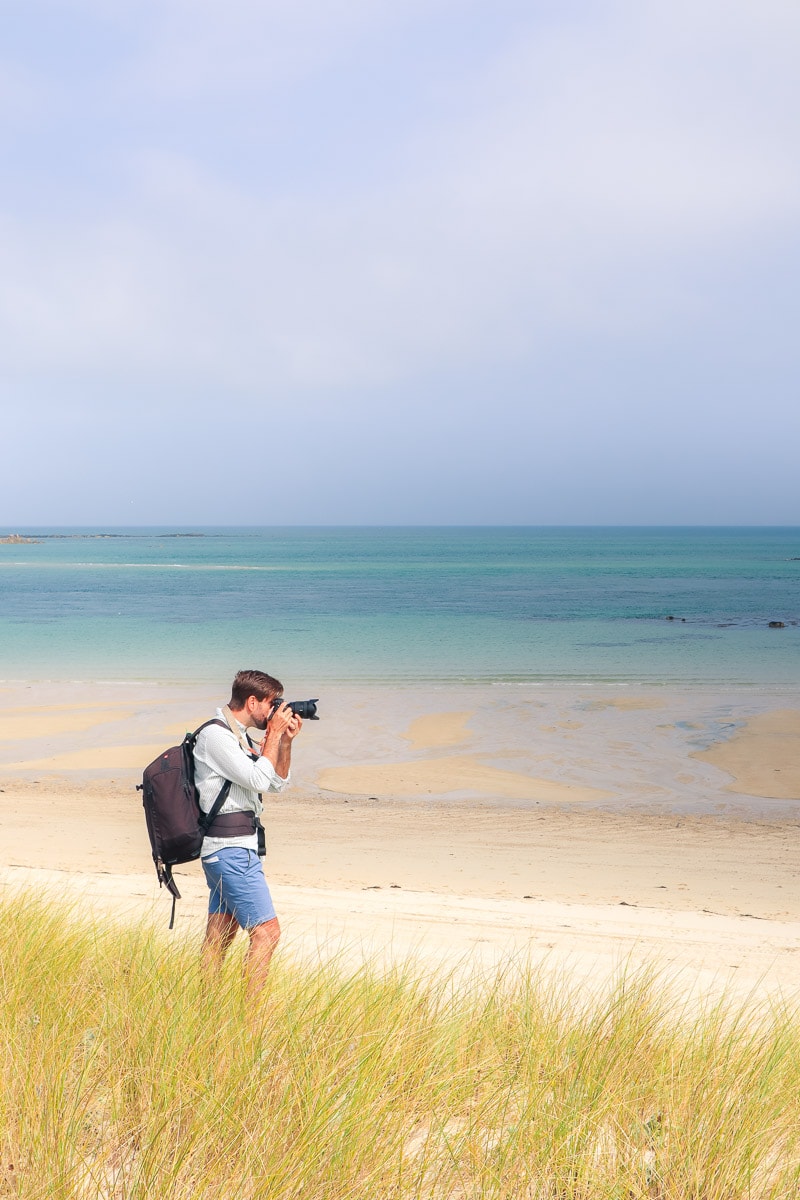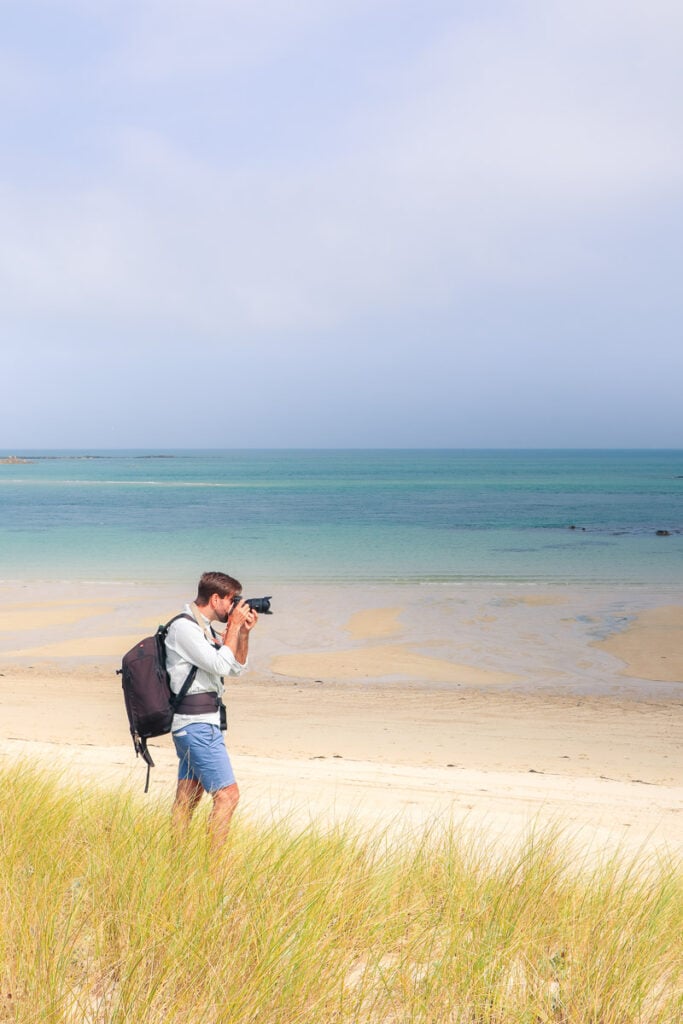 ---
We hope you've enjoyed learning all about visiting Herm Island in Guernsey. A big thanks to Visit Guernsey for inviting us to experience this little corner of paradise. If you're planning a trip to the Channel Islands, don't miss our guide to the best things to do in Guernsey.
Enjoyed this post? Pin it for later…