From walking to driving, this is everything you need to know about travelling from Lulworth Cove to Durdle Door in Dorset, England.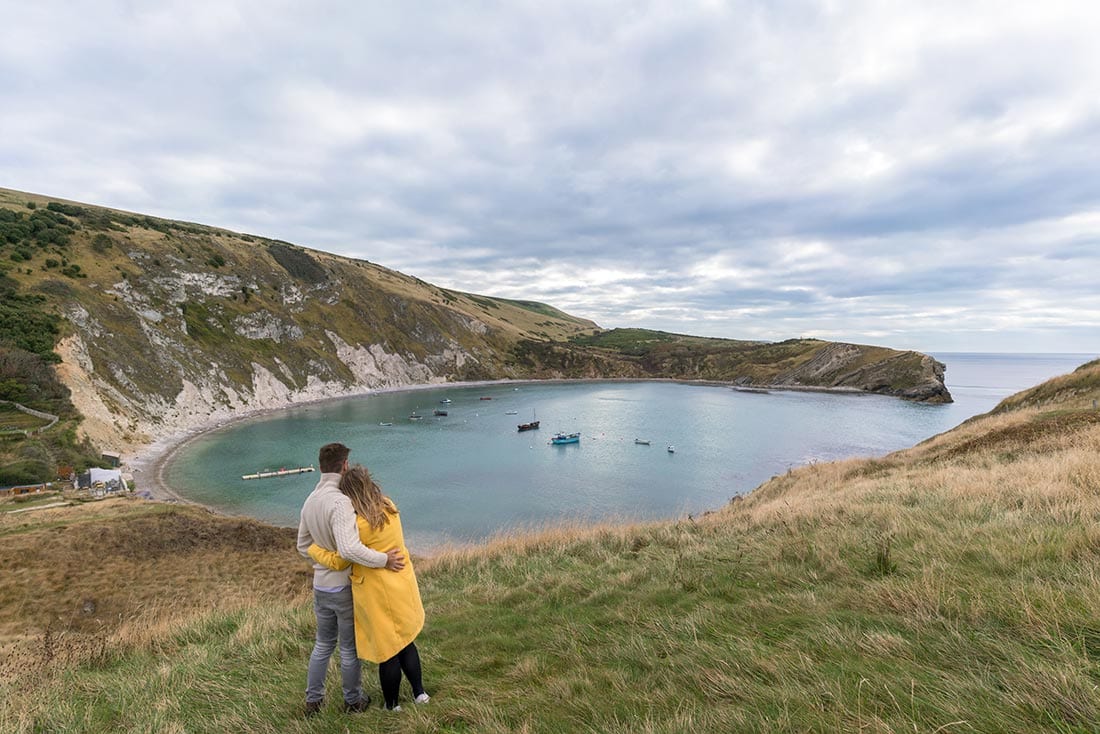 I think Dorset is up there as one of the most beautiful places to visit in the UK. With Corfe Castle, Milton Abbas and Poole, there are these gorgeous towns and villages dotted all over the county.
But for me, it's the natural wonders of Lulworth Cove and Durdle Door that really capture the imagination. These two places are the real gems in Dorset's crown. Hopefully my photos do it justice.
Lulworth Cove is a natural cove that looks straight out of the Pirates of the Caribbean films. You almost want to start searching for buried treasure in the nearby hills.
A little further down the coast is Durdle Door, a natural limestone arch on the Jurassic Coast. Durdle Door is one of the most iconic images in the UK – there's even a huge poster of the place when you arrive at Heathrow Airport!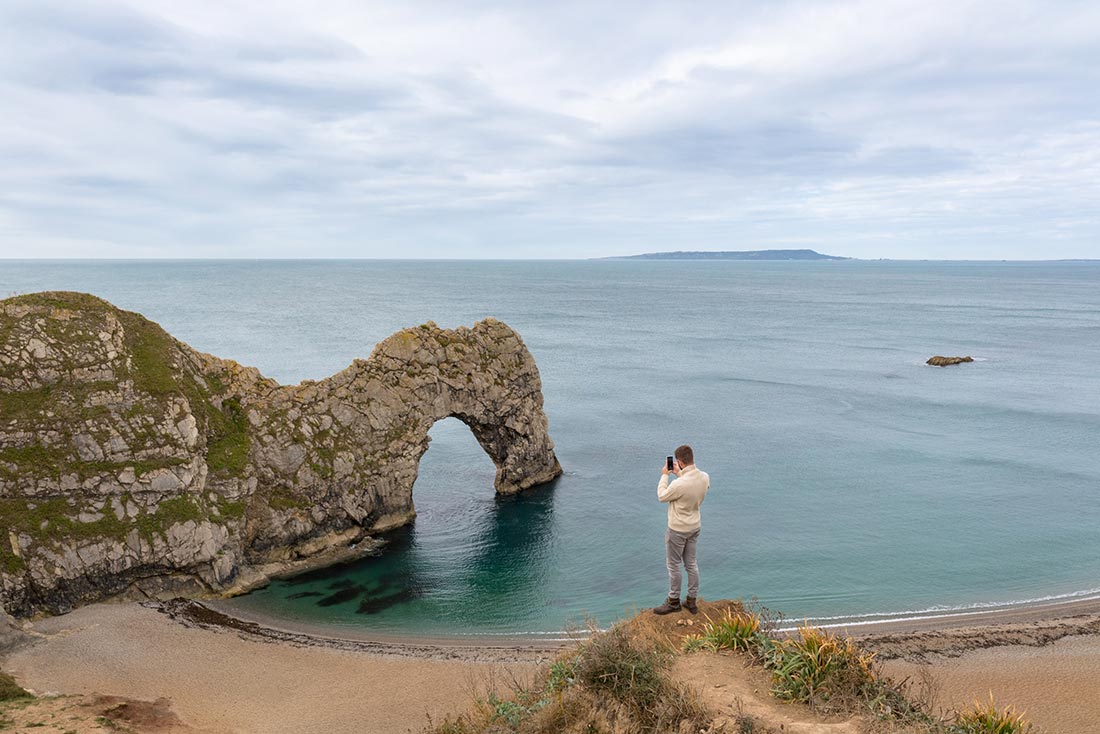 Personally, even though Durdle Door is more famous, I much preferred Lulworth Cove. There's just something so magical about the place. Also, the fact that there are a couple of pubs in the village swung my vote too.
If you're interested in visiting this area in Dorset, then this is the guide for you. From walking to driving, this is all about how to get from Lulworth Cove to Durdle Door. I really hope you find it useful when planning your trip.
One thing I can promise you is the views are unbelievable here so enjoy them!
What is Durdle Door?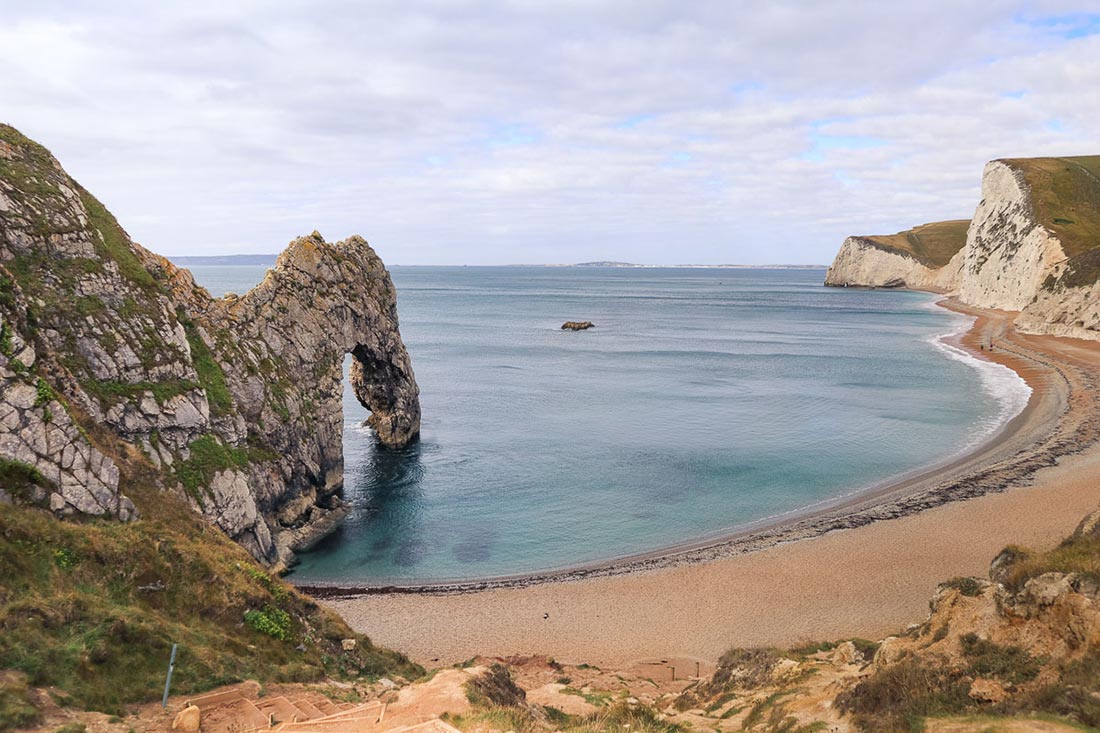 Durdle Door is a natural rock arch that dates back over 10,000 years.
Located on the Lulworth Estate, a privately owned estate in South Dorset, it is part of the Jurassic Coast. Much like the name suggests, this is an area in England that's littered with ancient fossils of dinosaurs from the Jurassic period. In fact, hunting for fossils in the Fossil Forest is one of the best things to do in Dorset, especially for families.
The coastline is of such international geological importance that it was designated England's first natural UNESCO World Heritage Site in 2001. That means it sits alongside a family of natural wonders including America's Grand Canyon and Australia's Great Barrier Reef.
Bare in mind that the beach at Durdle Door is a pebble beach. If you're planning on spending the day at the beach, I'd really recommend bringing a roll mat or something to lie on as it can get uncomfortable very quickly.
Walking from Lulworth Cove to Durdle Door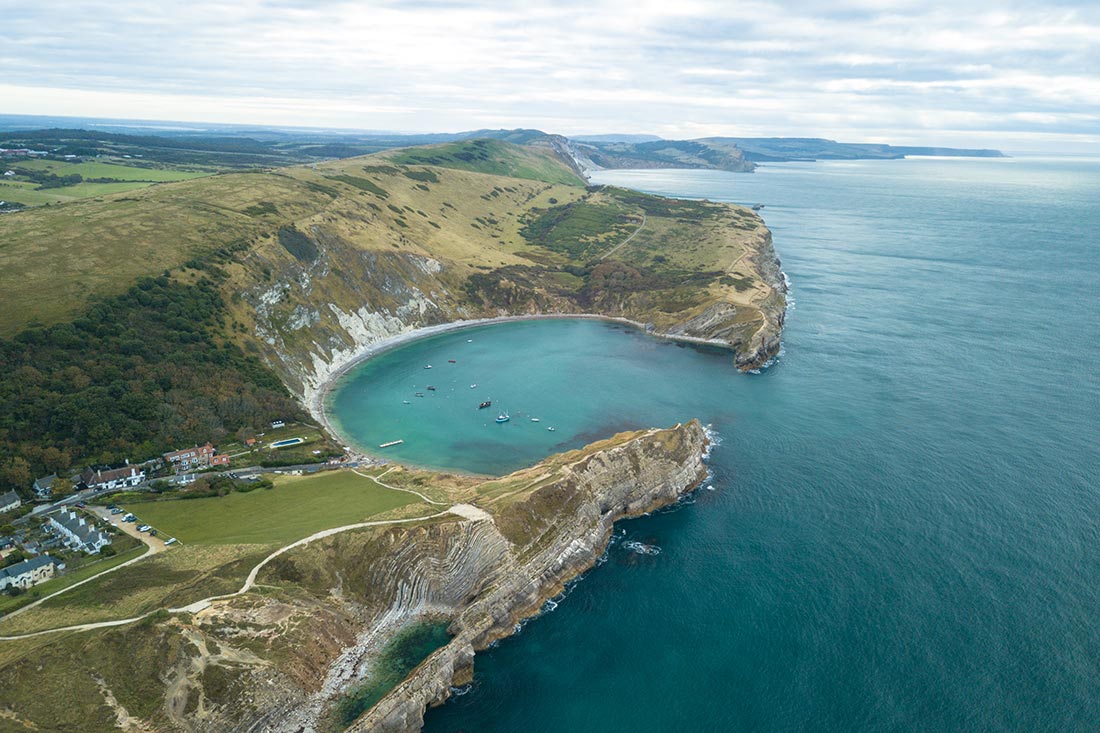 The walk from Lulworth Cove to Durdle Door is absolutely gorgeous. Following the South West Coast Path along the Jurassic Coast, this route takes you past some secluded beaches and bays to the tops of the cliffs overlooking Durdle Door.
The best place to start this walk is down on the beach itself. In summer, when the weather is nice, the cove is the perfect spot to go swimming. Be warned though, even when the weather is nice it's still very cold. If you come early enough in the morning though you'll have the beach all to yourself.
From the beach it's worth walking to Stair Hole. This is a separate cove set back a little bit from the cliffs. There's a really good viewing platform here where you can take some photos from.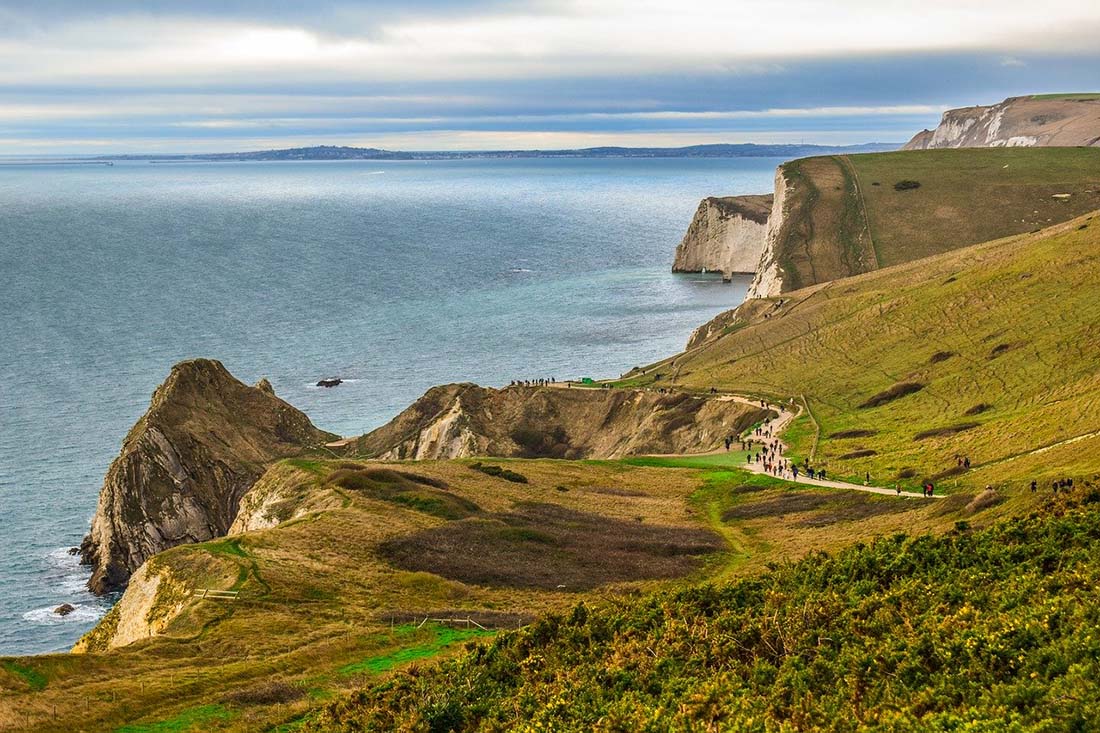 Once you've seen Stair Hole, follow the path back towards the visitors centre at Lulworth Cove. From here it's up a steep hill until you're overlooking the cove itself. Don't forget to look back because the views are stunning.
One spot that I loved was St Oswald's Bay Beach. This is the beach perpendicular to Durdle Door. Usually, because the majority of tourists drive to Durdle Door, this beach is much quieter. If you're looking for a good picnic spot then I'd definitely recommend St Oswald's Bay Beach.
Another very popular beach here is Man O'War Bay. Again, this is a lovely beach to kick back on. Also, if you want to go swimming, the shore is a lot shallower here, so you can walk out into the sea a lot further. At Durdle Door it drops off very suddenly.
In total, the walk from Lulworth Cove takes about 40 minutes. Even though it is only 1.4 miles, the first part is all uphill so it can be quite tiring. Also, it's very easy to stop for a number of photos along the way (which I highly recommend of course!)
As I said, this is a relatively quick walk, so the best thing to do is factor in an hour and enjoy it.
Driving from Lulworth Cove to Durdle Door
Driving from Lulworth Cove to Durdle Door couldn't be any easier. Even though the roads are windy, the journey is only 2 miles. That means it takes around 10 minutes to drive.
However, and there is a big however. During the popular summer months, especially on the weekend, this section of the Jurassic Coast is absolutely teeming with tourists. That means with lots of cars on the road it can take a lot longer.
There are car parks both at Lulworth Cove and Durdle Door, so it's much better picking one spot and walking between the two places as opposed to driving. You'll save yourself a lot of time.
Unfortunately, and this is another downside, the parking is very expensive. All-day parking costs £9 and the car parks can fill up quite quickly. To avoid waiting for a car parking space, try and get here relatively early in the morning.
I appreciate some of you need to drive though so it's best to be prepared! If you come early enough you will beat the crowds.
Is there public transport?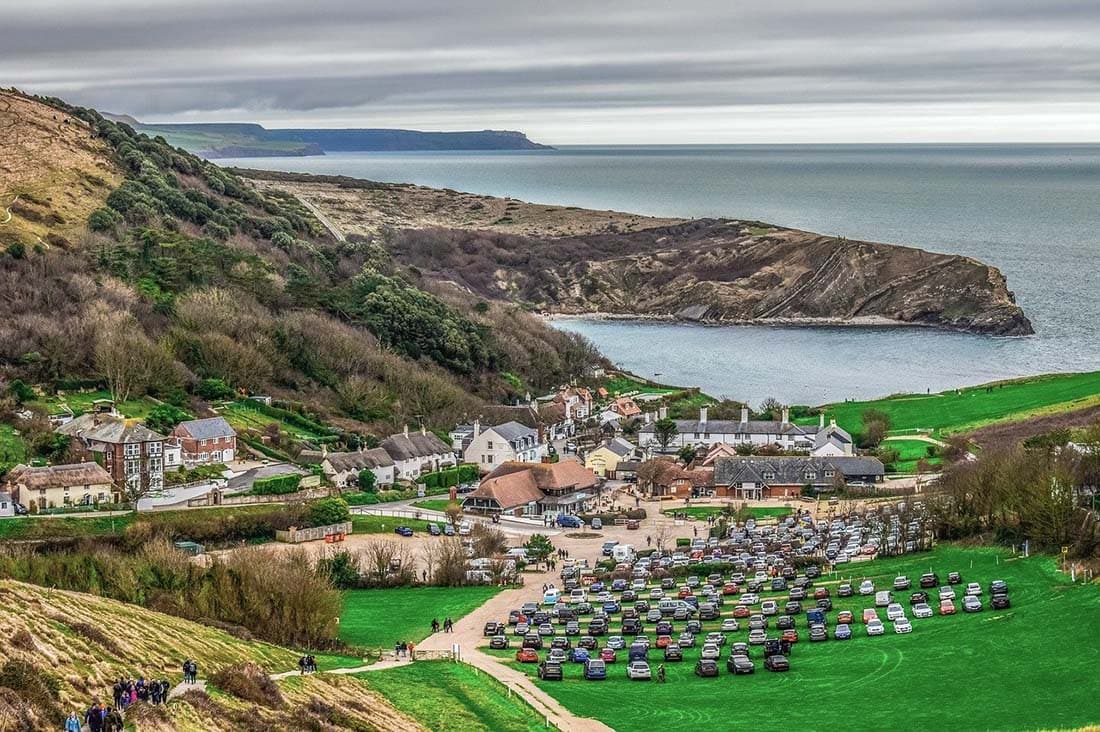 Yes, there is! The main bus is the X54 to Weymouth.
The bus stop is in the village of Lulworth Cove near to the visitors centre. Even though this doesn't go all the way to Durdle Door, there is a bus stop on the road by Durdle Door Holiday Park.
From here it's a short walk through the car park to the Jurassic Coast path and down to the beach. In total, this journey takes around 20 minutes. Again, in summer, it can take a fair bit longer.
Top tips for visiting Lulworth Cove and Durdle Door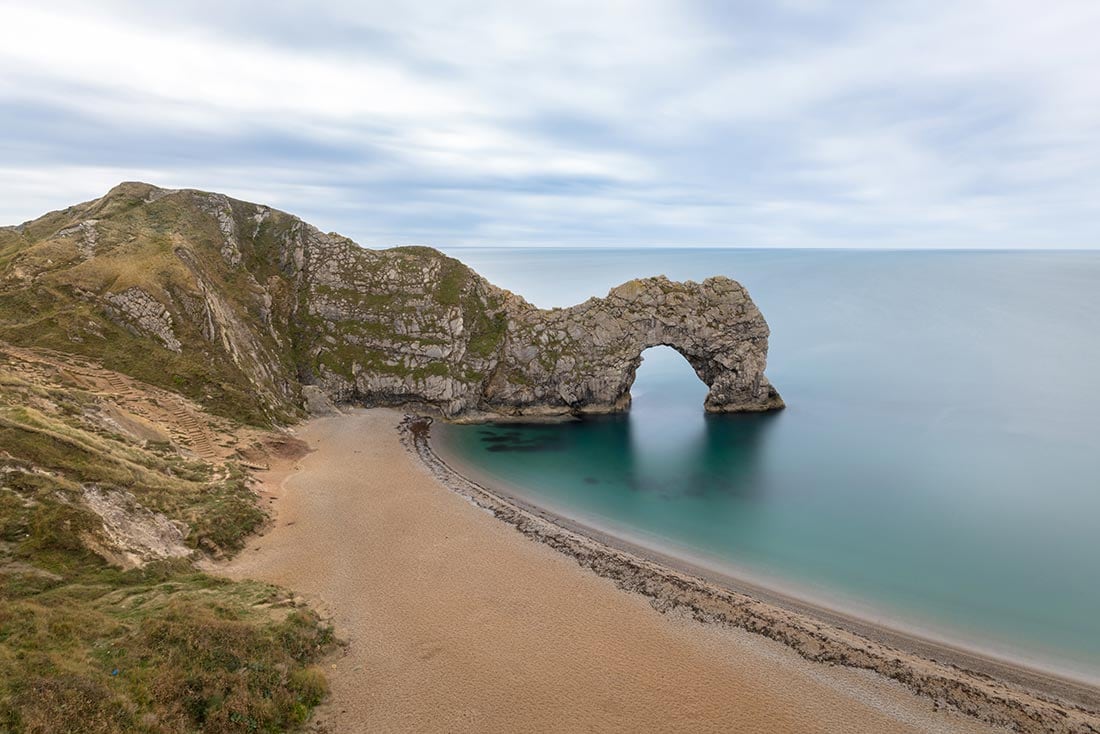 Personally, I'd really recommend visiting in April/May or September/October. This is when you should get some nice weather without any of the crowds. It can get very VERY busy here during the summer holidays so you have been warned.
Also, I'd suggest getting here very early in the morning or late afternoon. The gates to the car park open at 8am which is when I arrived. I had the beach to myself for a good hour before other people started turning up, so it is possible. Late afternoon for sunset is a fantastic time too.
The South West Coast Path national trail runs along the cliff top linking Studland in Dorset to Minehead in Somerset, which is 630 miles in total.
Low tide reveals wonderful rock pools teeming with sea creatures – great for exploring with children.
Dogs are allowed on the beach all around the year. However, please be sure to pick up after them.