These facts about Tower Bridge will surprise you. With stats, facts and surprising stories, how much do you know about this famous London icon?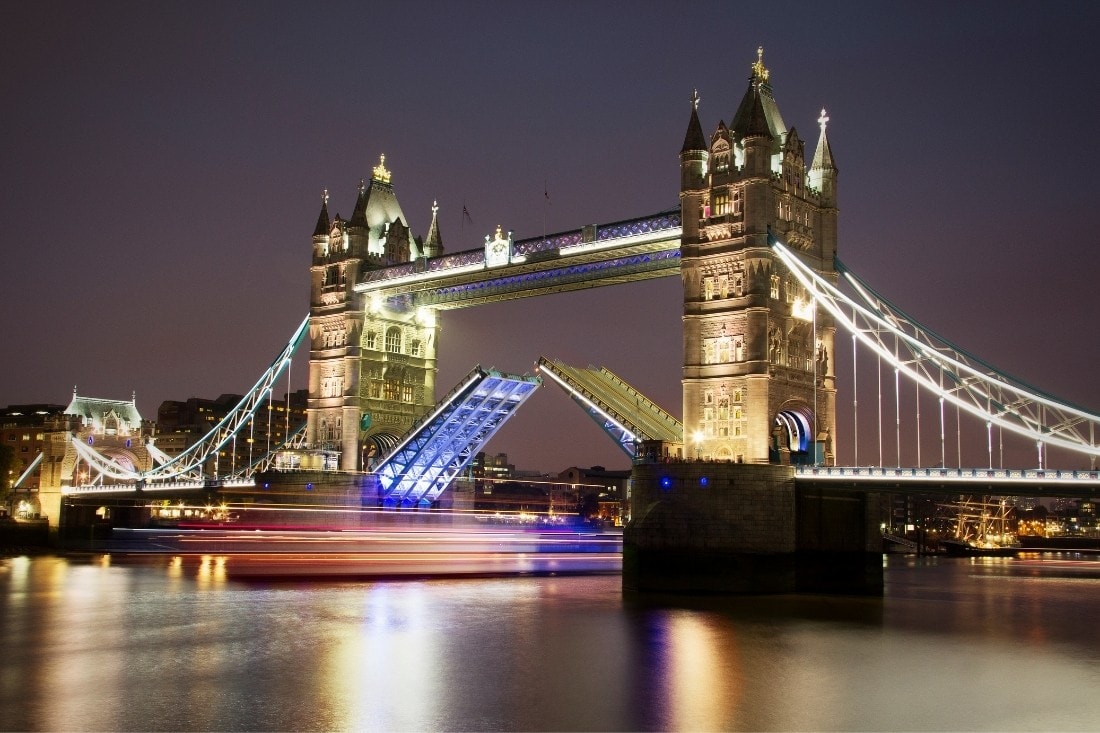 Every time I see Tower Bridge, I can't quite believe how amazing it is. The fairytale like structure is one of London's most famous icons. Tourists snap selfies by it, double decker buses cross over it, while passenger boats zoom under it. It's always a hive of activity.
But, how much do you actually know about Tower Bridge? Do you know how old Tower Bridge is? What about interesting facts about Tower Bridge's construction? Have you heard about the crazy events that take place on the walkways?
There's so much to learn about this London landmark, so if you're planning to visit, it's time to swot up.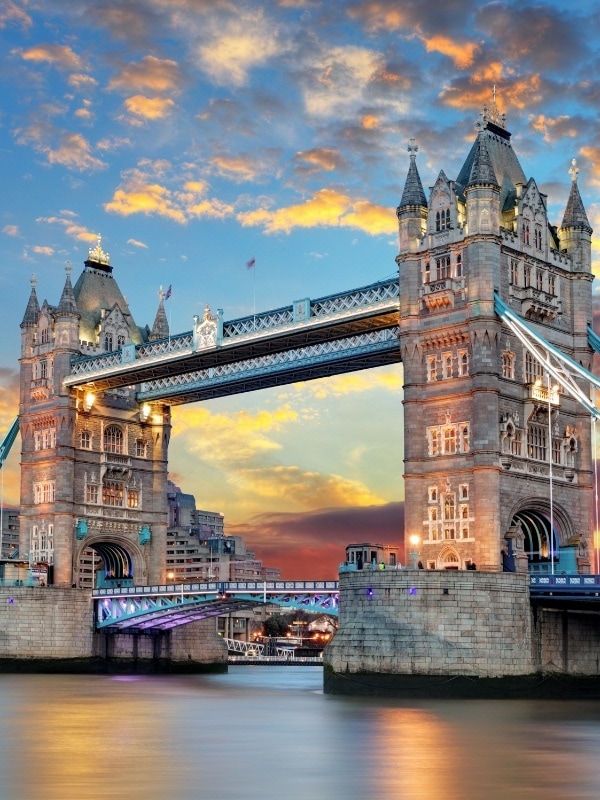 ---
27 Interesting Facts About Tower Bridge
It's newer than you think
Don't be fooled by its old-fashioned appearance. Tower Bridge was designed to look a lot older than it is, so as to blend in with the Tower of London. It was built between 1886 and 1894. It's relatively new when you compare it to the Tower of London, which dates back to 1066!
It was built as the result of a competition
Can you believe that the bridge you see today was actually designed for a competition? In 1877, the Special Bridge Committee launched a competition for the public to submit designs for a new bridge over the Thames.
There were over 50 designs to choose from, but apparently, none were chosen at that stage. It wasn't until 1884 that architect Sir Horace Jones and engineer Sir John Wolfe Barry's final designs were approved.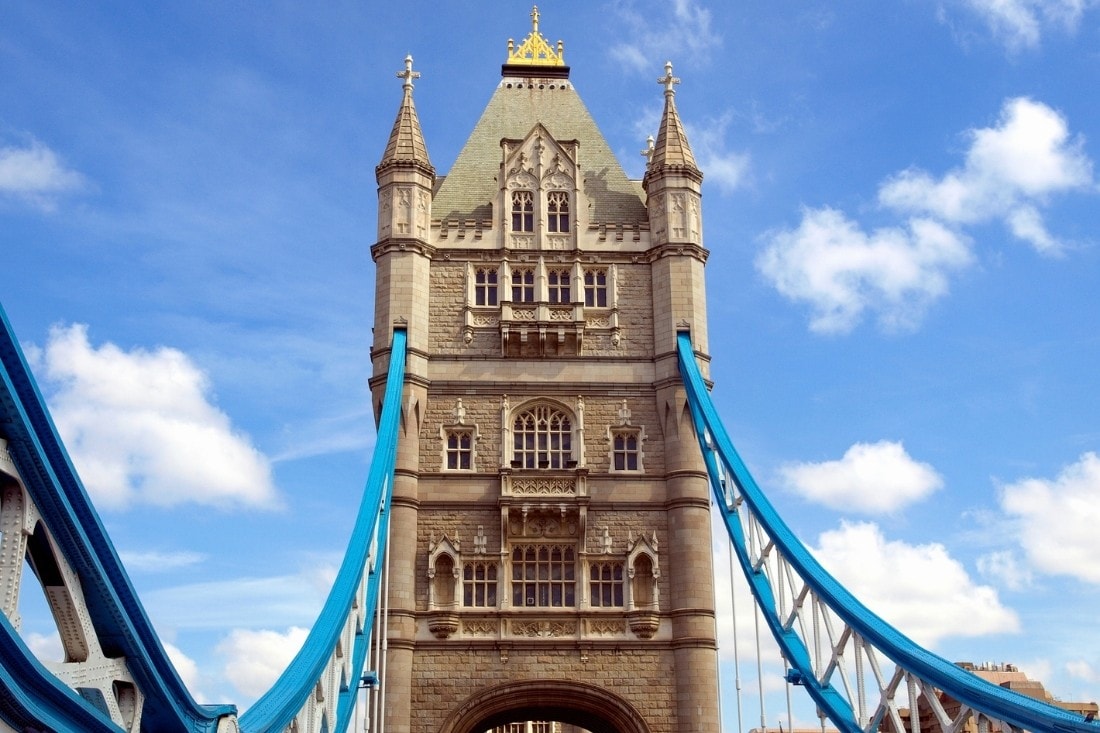 It took eight years to build
As you can imagine with something of this size (and without the modern machinery we use today) it took a long time to complete the impressive bridge. In total, over 1000 workers helped built the bridge over an 8-year period. While this might sound about right, it was only supposed to take 4 years!
The original architect never saw his bridge completed
Sir Horace Jones was knighted in 1886 but sadly died the following year. He only saw the foundations of his bridge built.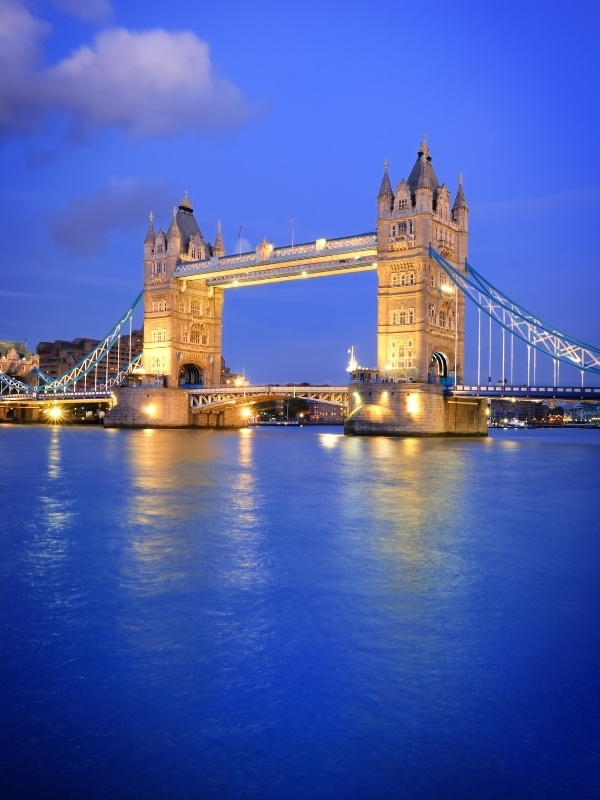 A huge variety of skilled tradesmen and construction workers were required
It wasn't just a case of getting a few builders to put the bridge together! There are plenty of jobs you might not have thought about. For example, there was a team of divers who cleared the riverbed for the bridge's vast foundations.
Other workmen included steelworkers, carpenters, painters, riveters, steam crane drivers and more! It was a risky job at times too, with 8 fatalities during the construction.
The bridge was officially opened by the Royal Family
On 30th June 1894, the Prince and Princess of Wales officially opened the bridge, with huge celebrations taking place in the area. Official invitations were sent out to notable guests and on the day the royal party paraded across the bridge in carriages.
The Prince also pulled a lever to raise the bascules for twelve steam-boats to pass through.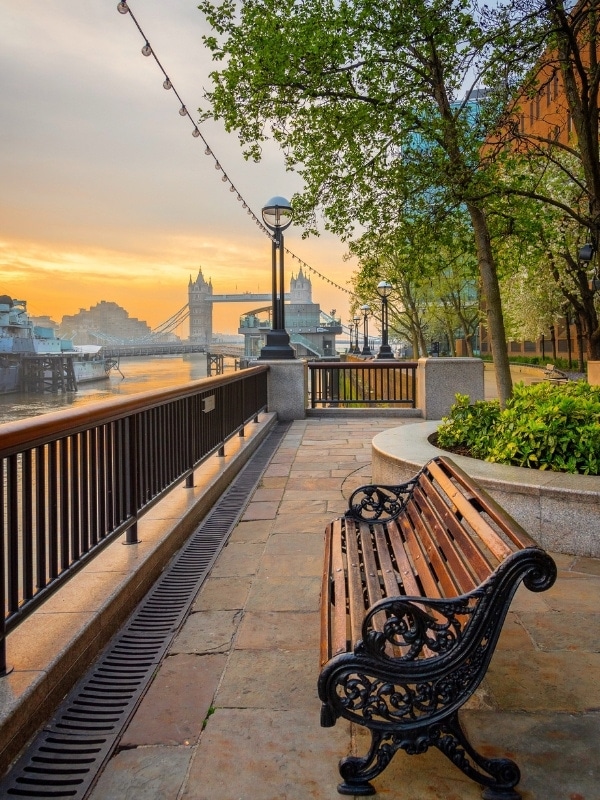 Tower Bridge cost one million pounds to construct
It's thought that the final cost was one million pounds. It was funded by a committee rather than by public money.
The moving parts are known as bascules
You might not have heard the word bascule before. It's actually a French word meaning see-saw. When the bridge was completed, it was the largest and most sophisticated bascule bridge in the world.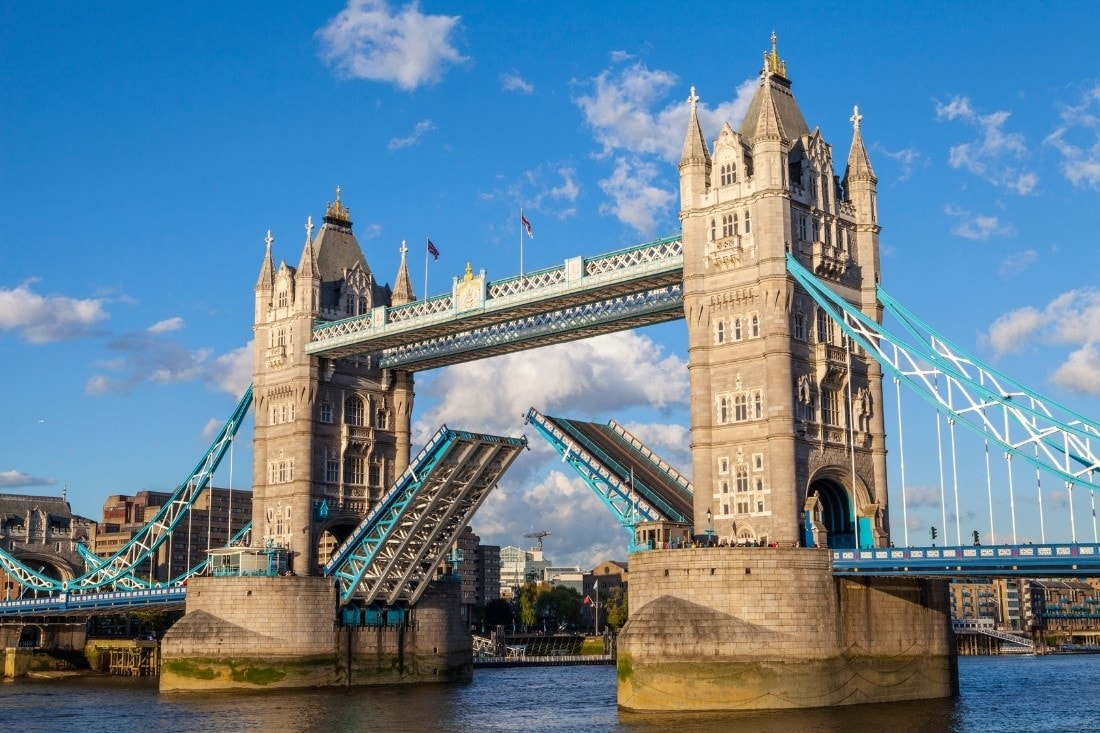 The bridge is an extremely sophisticated feat of engineering
A bridge that opens? You don't see those every day, and that's because the construction is pretty complicated! When it first opened, steam was used to power the enormous pumping engines, which in turn operated the hydraulics and raised the bascules.
The hydraulic power was upgraded in 1976, now using oil and electricity rather than steam.
It hasn't always been red, white and blue
Did you know the bridge was originally brown? It was painted red, white and blue in 1977 to mark the Queen's Silver Jubilee. Between 2008-2011 it was repainted – a job that took approximately 44,000 man hours and 22,000 litres of paint. A major restoration of the bridge is required every 25 years.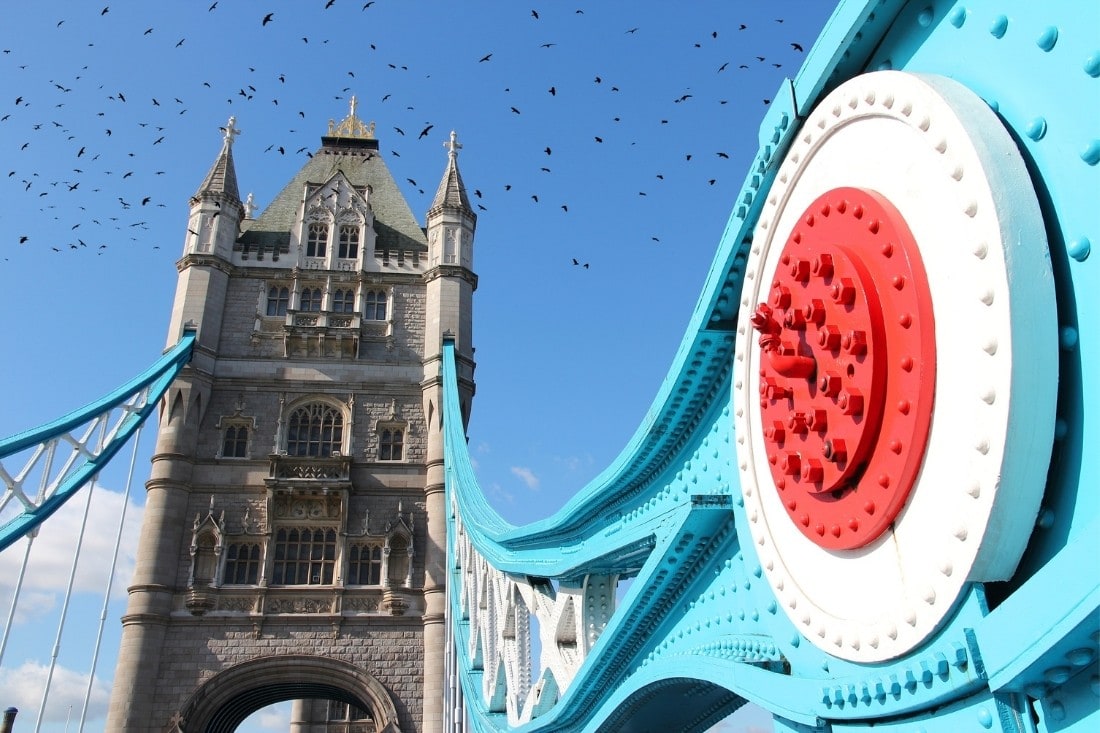 The bascules are raised more often than you might expect
In Tower Bridge's first year, the bascules went up over 6,000 times – an average of 17 times every single day. There were a lot of tall ships on London's waterways then. It might surprise you to hear that it's still opened regularly. In 2019, the bascules were raised 725 times, around twice a day.
There's also a legend that says it's good luck to see the bridge being raised.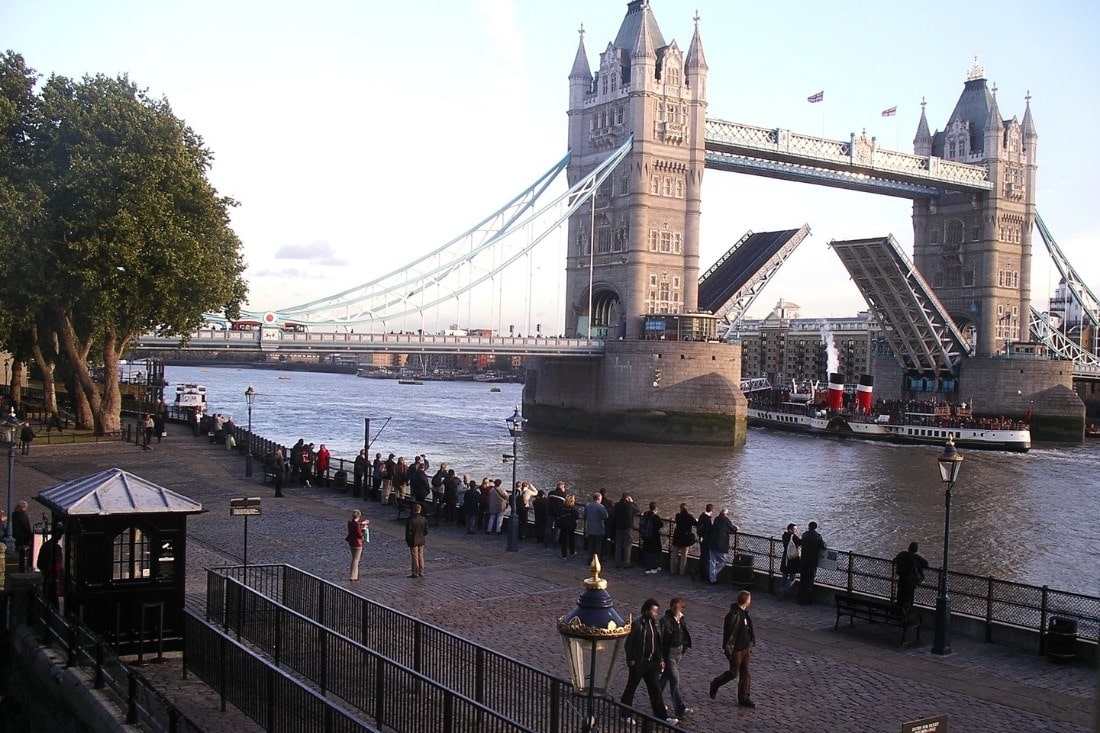 The walkways weren't always used for walking
42 metres up, Tower Bridge's walkways were a clever addition which meant pedestrians could still cross the bridge, even when the bascules were letting boats through. However, most people couldn't be bothered to climb the stairs, and opted to wait for the bascules to lower again.
As time went on, the walkways became a common spot for prostitutes and pickpockets to congregate. They were closed in 1910, due to lack of use.
A double decker bus once jumped over Tower Bridge
One of my favourite Tower Bridge facts is about bus driver Albert Gunter. He was driving a double decker bus over the bridge in 1952, when he realised the bridge was opening. He put his foot on the accelerator and managed to jump over to the other bascule.
Even better, he got a day off work and £10 for his act of bravery!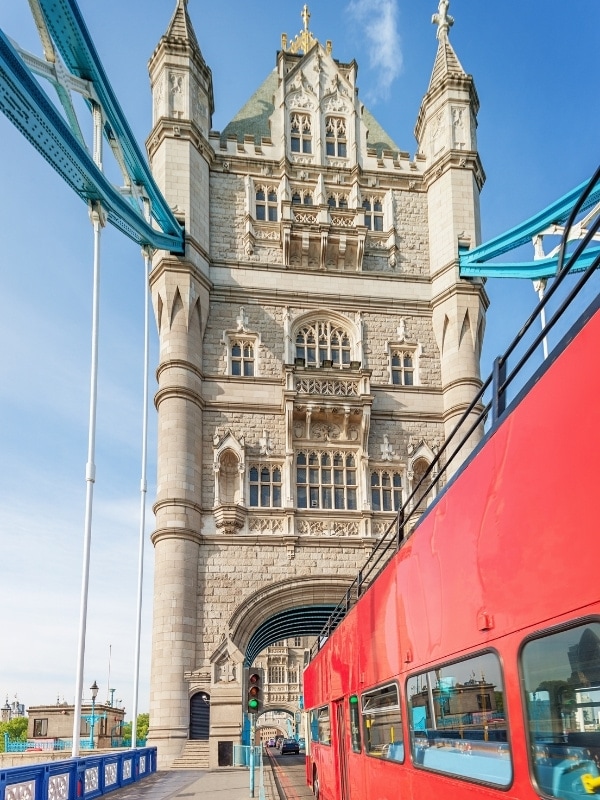 You can watch Tower Bridge right now
There's a 24/7 live stream of Tower Bridge online. You can watch the webcam here.
Many people mix up Tower Bridge and London Bridge
Tourists often refer to Tower Bridge as London Bridge as it's the most famous bridge over the Thames.
There's a great story from the 1960s when the old London Bridge had fallen into disrepair. The London council decided to auction it before starting work on a new bridge. Lake Havasu City's founder thought that he'd buy it, then reconstruct it in his city to attract tourists and future investment.
He paid $2.4 million, and had the bridge dismantled and the 10,276 granite blocks shipped to Lake Havasu City where it stands today. There are lots of urban legends that he thought he was buying Tower Bridge, but the Lake Havasu website denies that was the case. It's a shame as that's one of my favourite funny stories about Tower Bridge!
The 'Queen' flew through Tower Bridge on a helicopter
If you watched the opening ceremony of the 2012 Olympics, there was a fun James Bond sequence. At one point a stunt double of The Queen flew through Tower Bridge inside a helicopter.
The bridge has got stuck a few times
You may have seen photos of the bridge being stuck open. The last time this happened was in August 2020. The bridge's 1,200-ton bascules had opened to let some river traffic through, but experienced a mechanical fault. It was locked in a raised position for a period of time, but eventually reopened to pedestrians and traffic.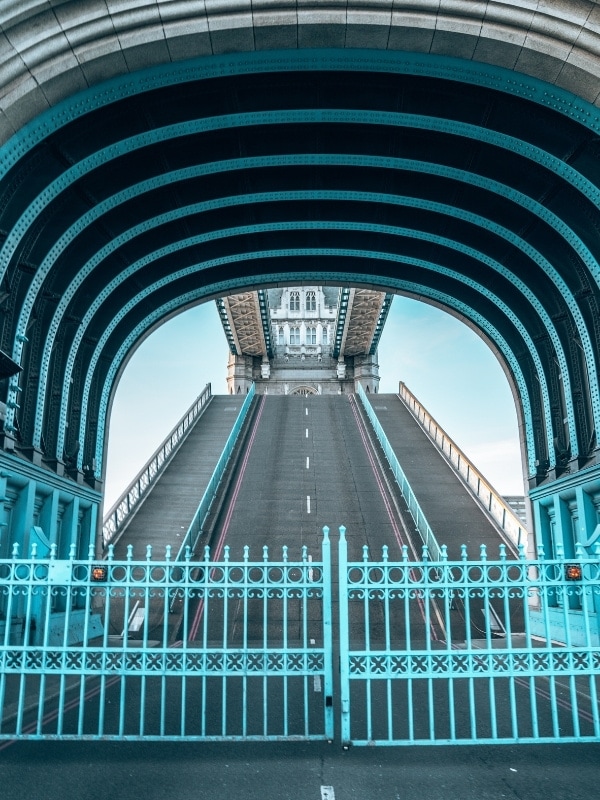 It's free to open Tower Bridge
Boats don't have to pay to have the bascules raised. According to old laws, river traffic has priority on this part of the River Thames. It was also part of the design that the new bridge not obstruct the river's traffic.
You need to have a pretty tall boat in order to open Tower Bridge
In order for the bridge to open you must have a vessel over 9 metres (30 feet) tall. You also need to give the authorities at least 24 hours' notice of your timings. I've seen a small cruise ship dock against the HMS Belfast just beyond the Tower of London. It was impressive to see how it squeezed through such a narrow passage!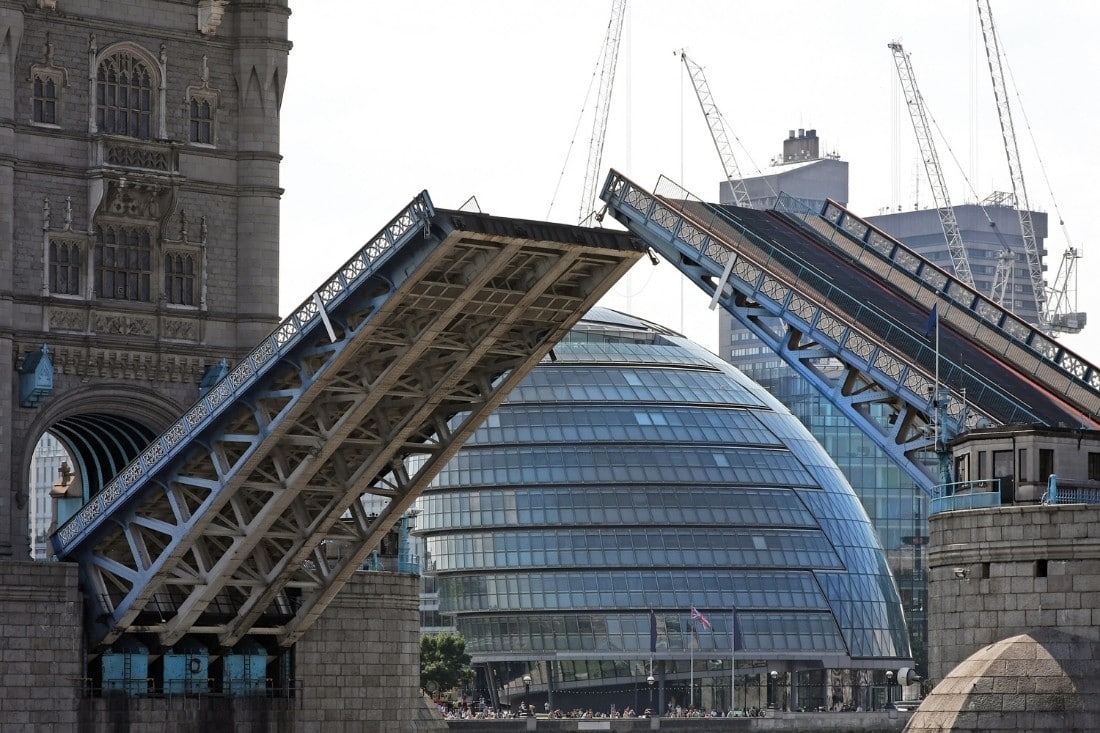 Visitors can plan a time to watch Tower Bridge opening
Seeing Tower Bridge open is a magical sight! You can find out what times it'll be opening on the Tower Bridge website here. From my experience, there it tends to open regularly on weekends in the summer months, when a number of tall ships and a steam boats like the Dixie Queen go in and out.
There's a glass walkway on the upper section of the bridge
Buy a ticket for The Tower Bridge Experience and you can go inside the towers and walkways, and learn all about the history of the bridge.

The experience opened in 1982, and in 2014 the special glass walkway was unveiled. It runs along the west walkway, and allows you to look through the floor to the boats and pedestrians below.
You can do yoga on Tower Bridge
As well as The Tower Bridge Experience, there are areas for special events and exhibitions. One of them is Yoga in the Walkways. The exclusive sunrise yoga classes take place on the high-level Walkways, 42 metres above the River Thames.
You can even grab a spot on the glass walkway area, for a yoga experience you'll never forget!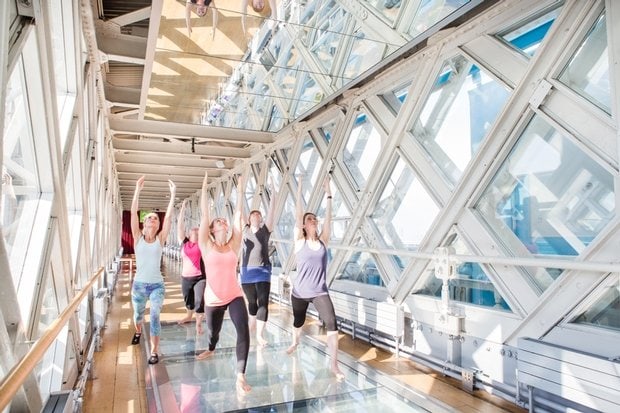 The largest Lego structure ever built was of Tower Bridge
The Lego model of Tower Bridge was 13m-high, and used 5,805,846 Lego bricks. It took a team five months to build the structure.
The Olympic rings once hung off Tower Bridge
When the London 2012 Olympics took place, the 5 Olympic rings were displayed proudly on Tower Bridge. The rings weighed 3 tonnes and were 25 metres wide and 11.5 metres tall.
There was a little controversy around it as they cost £259,817 to produce, plus a further £53,000 to install.
Every now and then, The Tower Bridge Experience hosts special events for dogs! You and your canine partner can climb the iconic Towers and discover the stories of the people behind Tower Bridge, from the architects and coal stokers to the women working on-site. You can snap photos of your pooch on the glass walkway and enjoy some mesmerising views together. This is definitely one of our favourite dog facts that we've come across!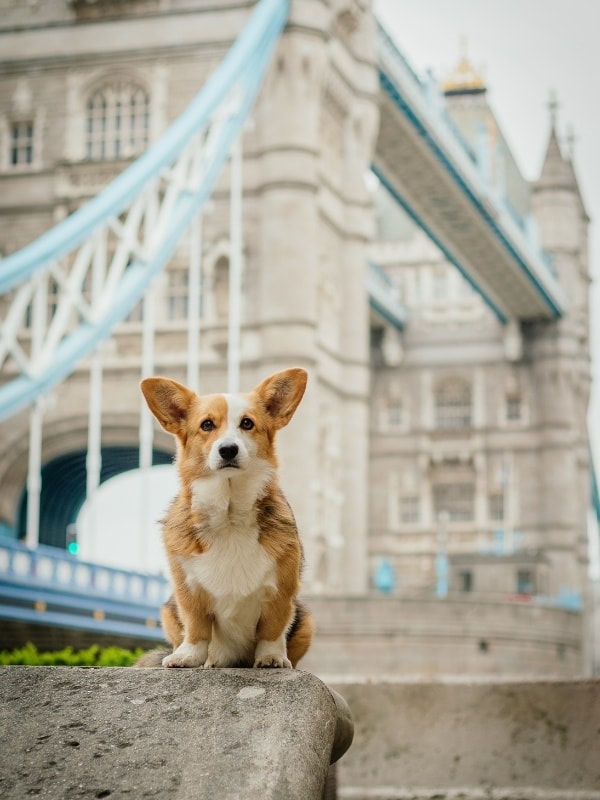 Tower Bridge is an icon of the London Marathon route
Scenes of runners streaming across Tower Bridge is one of the most memorable views of the London Marathon. I've cheered runners on here. It's just before the halfway point in the race and the atmosphere is always amazing!
You can get married on Tower Bridge
Fancy planning a wedding with a view? You can book the walkways at Tower Bridge for your big day (with a big price tag too!) I looked at some photos of weddings within the bridge and they look absolutely stunning, with tables all the way along the walkways.
For something a little different, how about holding your reception in the Engine rooms with a backdrop of the Victorian Steam Engines which once powered the bridge's hydraulics?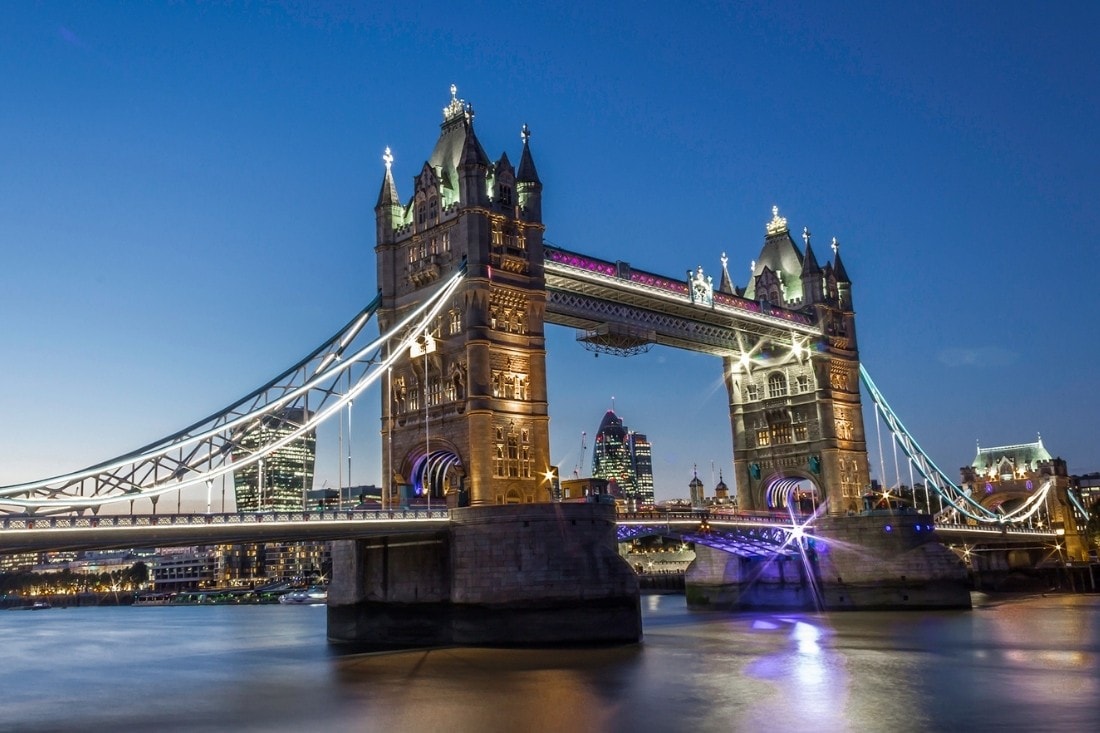 Who's ready for some more fun facts?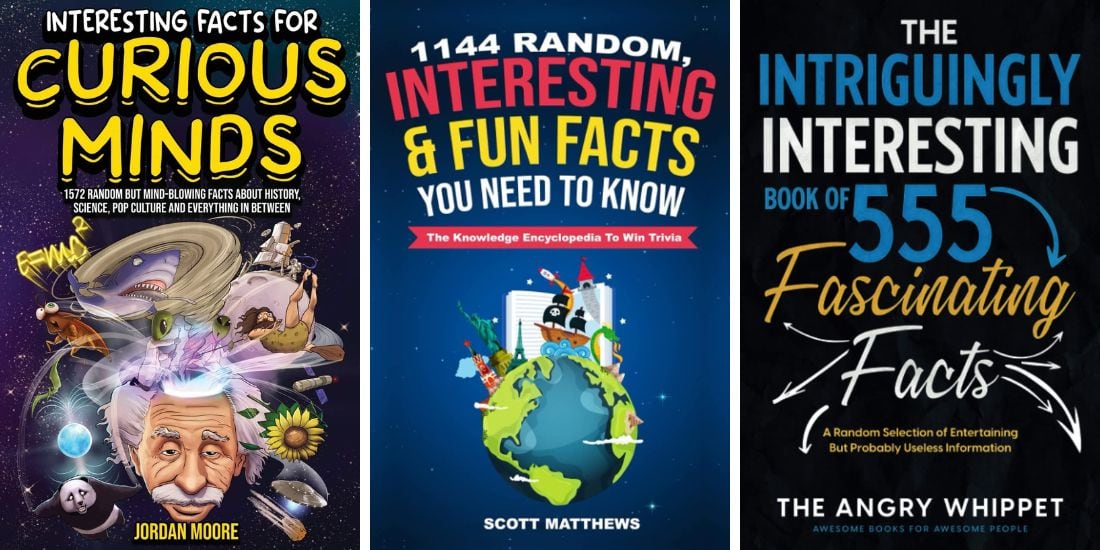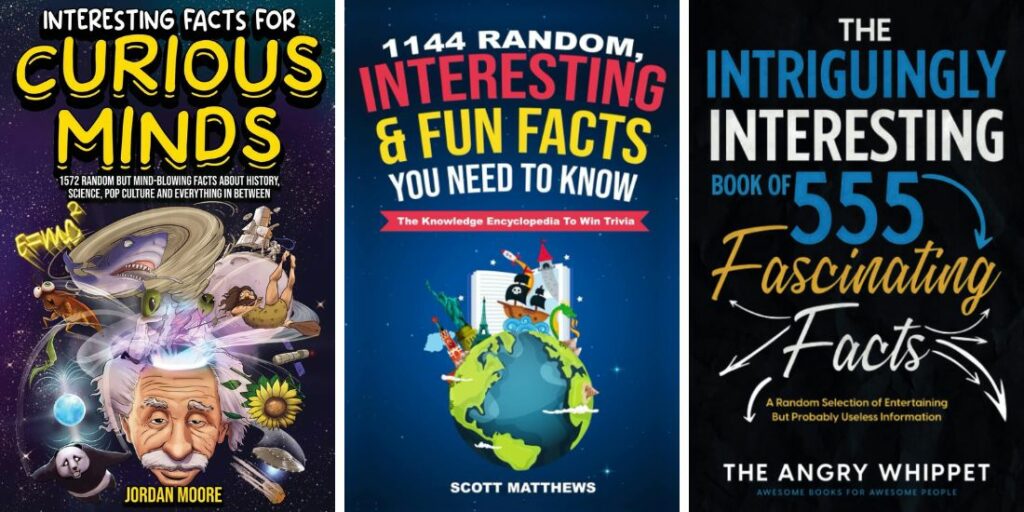 If you're looking for some recommendations, these are a few of our favourite fact books to buy. We use these when planning fun quiz nights with family and friends. They're also great for entertaining the kids too!
---
I hope you've enjoyed these facts about Tower Bridge. It's one of our favourite landmarks in London, so definitely pay it a visit if you're heading to the capital soon.
Enjoyed this post? Pin it for later….