Dark alleyways, haunted graveyards, and medieval buildings: get ready for mystery and intrigue with these fun facts about Edinburgh.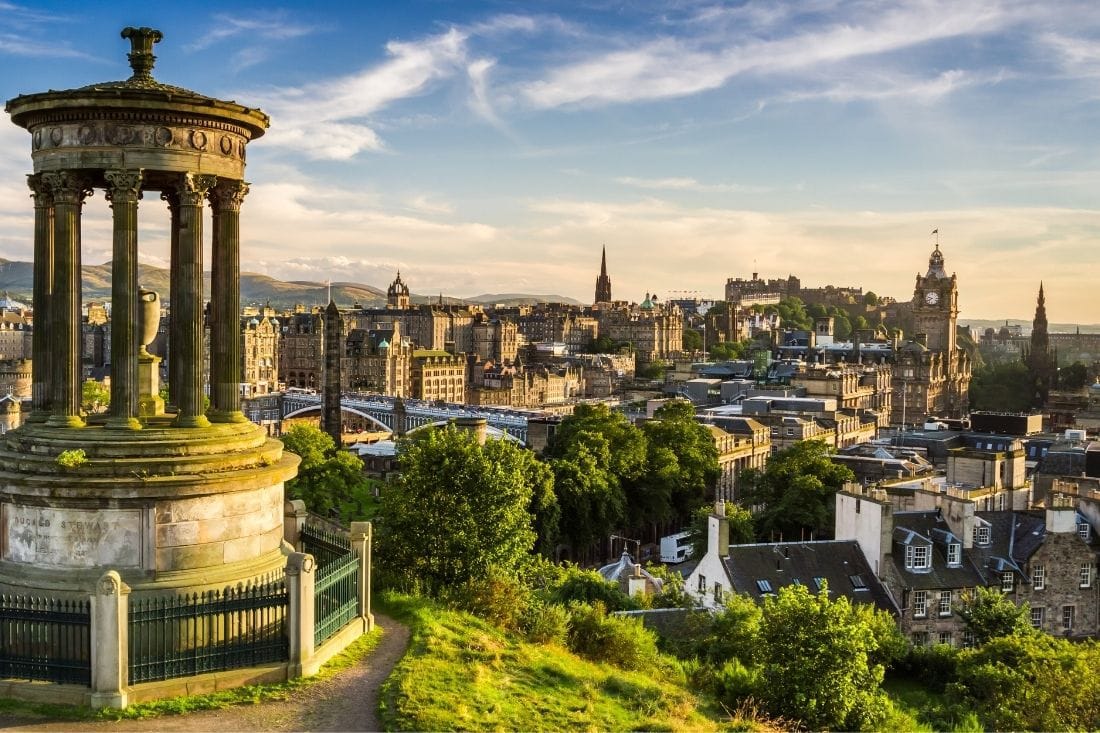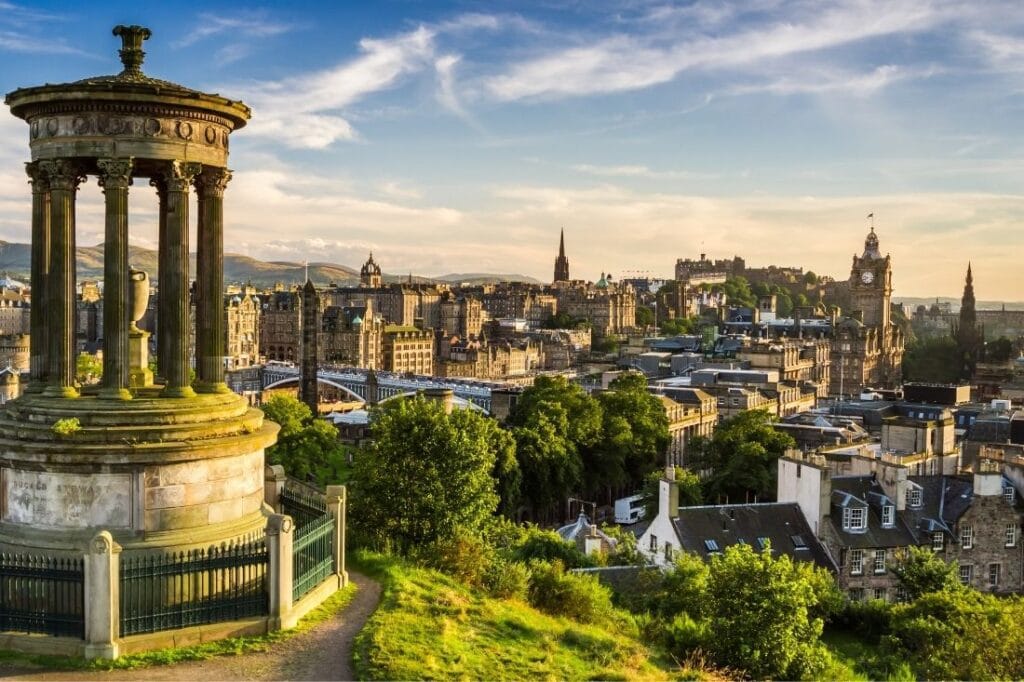 Boasting an eclectic mix of cobblestone streets and cocktail clubs, historical buildings and fresh attitudes, Edinburgh is an ancient yet vibrant city.
From almost every corner of Edinburgh the famed, centuries-old Edinburgh Castle, perched high upon a rock, creates and impressive backdrop. Outdoors the adventurous hike up Arthur's Seat or a relaxing afternoon at Portobello beach are also just minutes away.
The gorgeous city of Edinburgh, pronounced Edin-bruh, is the capital of Scotland. There are plenty of incredible facts about Edinburgh for the curious reader and seasoned traveller alike.
For example, the city plays host to an incredible month-long arts festival, where the city's population almost doubles in size! It is also the second most visited city in the UK. Its mixture of history, nature, and culture attracts almost 5 million visitors per year – not bad for Scotland's second city!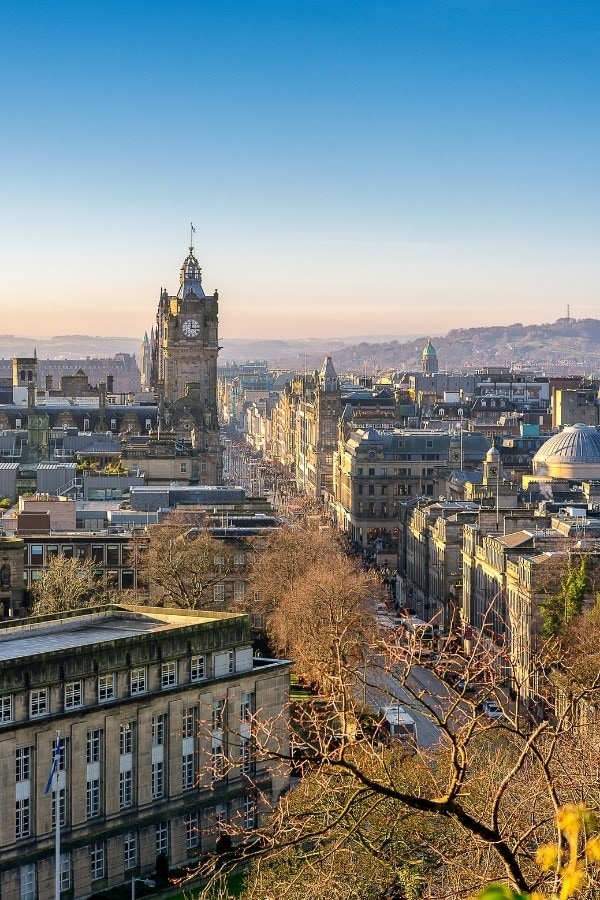 This vibrant and happening city has a deep dark past though. Witch hunts, gruesome murders, lakes filled with dead bodies: Edinburgh had it all. To this day, it is considered to be one of the most haunted cities in the world. Apparently spending the night at Edinburgh Castle is terrifying (you can check this out in our fun facts about Scotland).
So, if you're visiting the area, or you've lived in Edinburgh and you're wondering 'what is Edinburgh famous for?', this list has got you covered.  Get ready for some seriously interesting facts just perfect for fascinating your friends and family!
And if you need a little inspiration or information, check out our other site Fun Facts About. This website is full of interesting facts that'll blow your mind, so take a look now!
Fun Facts About Edinburgh
1. Edinburgh city facts
Scots name: Edinburgh
Scottish Gaelic name: Dùn Èideann
Founded: Pre-7th century AD
Population: ~488,000
Demonym: Edinburgher
First evidence of life in the area: ~2000 BC
Number of whisky distilleries: 2.5 (one is under construction)
2. Old Town, New Town
The original and oldest part of Edinburgh is appropriately named 'Old Town', and has maintained much of its medieval layout.
However, the area dubbed New Town, dating back to the 1700s, is perhaps less aptly named. The New Town area's design was based on a squared off version of the British flag, the Union Jack. Both Old and New Town are listed together as a UNESCO heritage site.
3. Going up in smoke
Back in the 1800s, Edinburgh had the nickname of Auld Reekie, meaning "old smokey". It gained this title due to the poor air quality created by the many coal and wood fires in the city.
From a distance the city appeared to be sitting in a cloud of smoke. Two hundred years on, Edinburgh, with over 130 parks and heritage sites, is actually the greenest city in the United Kingdom. What a transformation!
4. Edinburgh has a plethora of listed buildings
Alongside two UNESCO heritage sites, Edinburgh plays host to over 4,500 listed structures. Of these, approximately 900 are in the highest category, category A.
Buildings, or other structures, that are classified as 'listed' in the UK are considered to be of national architectural or historic interest. Many of the A listed buildings are to be found in the Old and New Town.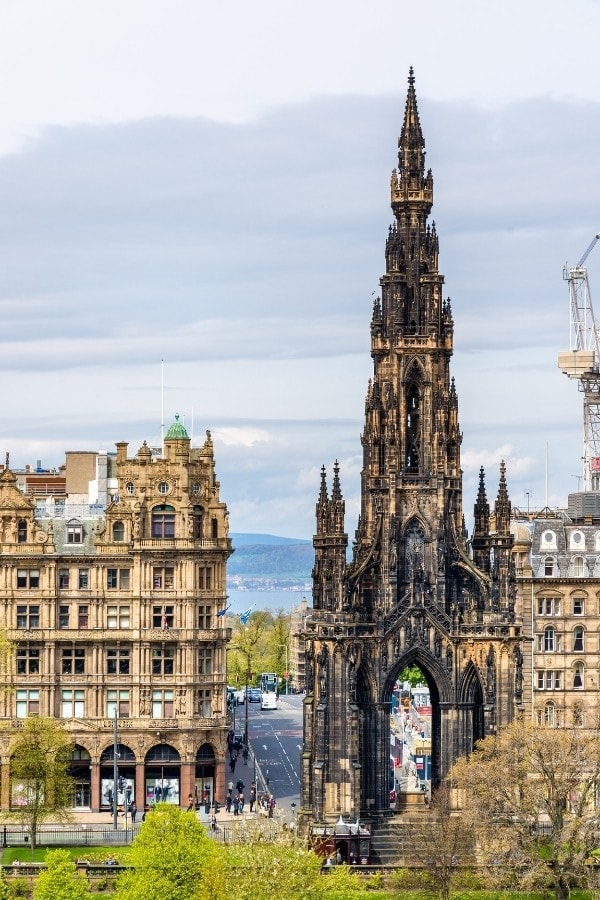 5. Edinburgh Fringe Festival
When it comes to festivals, what is Edinburgh famous for? The Edinburgh Fringe! Every year, for almost the entirety of August, Edinburgh's population doubles in size as it hosts the world's largest arts festival!
The Edinburgh Fringe Festival, also referred to as simply The Fringe, features a whopping 55,000 performances in more than 300 venues. This festival dates back to 1947 and celebrates everything that is performing arts, from theatre to comedy to cabaret.
6. Not in a Royal mile!
One of the funniest Edinburgh city facts is that the Royal Mile isn't technically a mile long. Sitting in the Old Town, stretching from Edinburgh Castle to Holyrood Palace, the Royal Mile is actually 1.13 miles and composed of several shorter streets. Furthermore, this isn't the road's official name, and businesses along it must use their real postal addresses.
7. Edinburgh: The home of Harry Potter
What is Edinburgh famous for in the modern literary world? Harry Potter! Author J.K. Rowling, wrote the majority of the Harry Potter books while living in Edinburgh, drawing a lot of inspiration from the city.
You can still visit many of her writing haunts, such as the The Elephant House, and see if you get inspired yourself.
8. Harry Potter on set
Many scenes in the Harry Potter films were also shot in Edinburgh; you'll find a lot of familiar locations if you know where to look. You can take a Harry Potter tour, find a location guide online, or simply take a wander and see where you recognise. There are a few Potter themed shops that will get you in the mood too.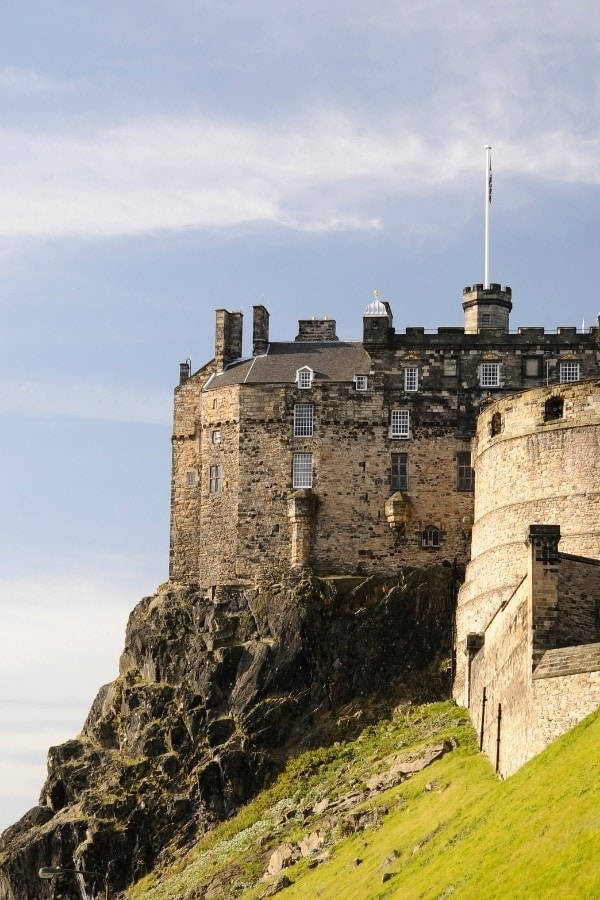 9. The impressive Edinburgh Castle
Sitting upon Castle Rock and looking out over the city, Edinburgh Castle paints an impressive picture. While the castle has naturally developed over time, there has been a royal castle in this location for 1,100 years!
One of the most important strongholds in Scotland, this castle has been under siege 26 times, making it one of Great Britain's most besieged castles.
10. A stronghold for elephants
Another one of our favourite facts about Edinburgh Castle is that it used to be home to an elephant. The elephant was brought home by the 78th Highlanders from Sri Lanka in 1838. It became a mascot for the regiment and head of the marching band. It also reportedly soon developed a taste for beer.
11. The lost honours
The Honours of Scotland, generally referred to as the Scottish Crown Jewels, is the British Isles' oldest surviving set of crown jewels. The set, which is comprised of a sceptre, sword, and crown, were first used as a set for the coronation of Mary, Queen of Scots in 1543.
For their safety the Honours were hidden within the castle in 1707, and were subsequently considered lost until they were rediscovered in 1818.
12. Taking the hot seat
Did you did you know that the rock on which Edinburgh Castle sits is actually an extinct volcano? There is another extinct volcano on the other side of Edinburgh too, the summit known as Arthur's Seat. Both have been extinct for hundreds of millions of years, so no need to fear an eruption!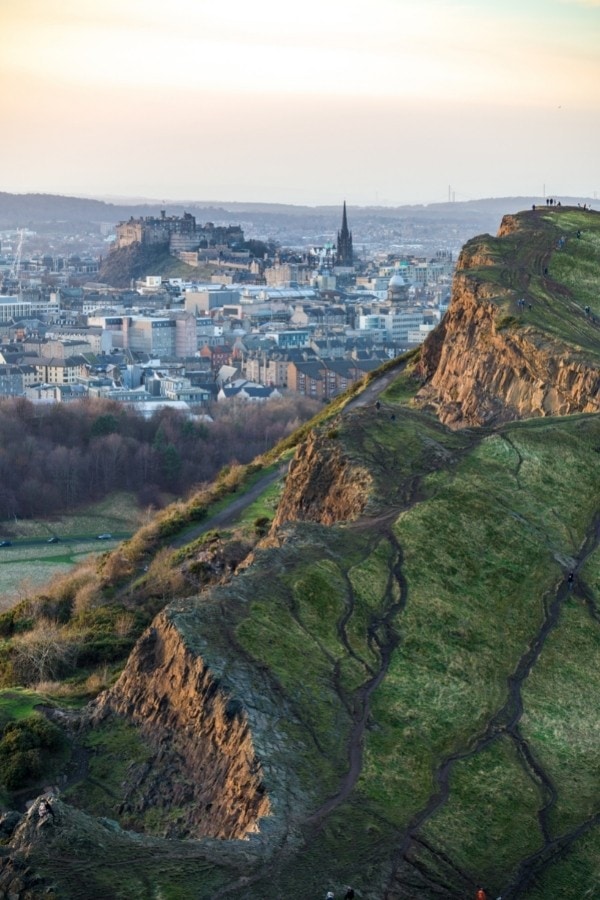 13. The Stolen Stone of Destiny
The Stone of Destiny, or Stone of Scone, is an important ceremonial symbol in Scotland. In 1269 it was taken by English King Edward and installed in Westminster Abbey.
One fateful Christmas Day, four incensed Scottish students stole the large piece of ceremonial sandstone, moving it to Arbroath Abbey. The stone was recovered and sent back to Westminster Abbey. In 1996 the stone was officially returned to Scottish soil, and is now housed in Edinburgh Castle.
14. A knight that lives in a zoo
One of the best Edinburgh city facts is that they have a knighted penguin. The only one in the world, in fact! Sir Nils Olav, third of his name, is a king penguin and lives out his days in the Edinburgh zoo. He is the mascot of the Norwegian King's Guard, where he holds the rank of Brigadier.
15. Ebenezer Scroggie: Mean man
The miserly protagonist of A Christmas Carol, Ebenezer Scooge, was based on a real person. While wandering around Canongate cemetery, Charles Dickens' gaze fell upon a gravestone inscription reading 'Ebenezer Scroggie – meanman'.
He thought there could be no bigger indicator of a wasted life than to be remembered as mean and thus the character developed. However, Scroggie's gravestone actually reads 'mealman', meaning corn trader; he was reportedly jolly and mischievous.
16. Underground Edinburgh
In the 19th century the city population was growing rapidly, and housing space within Old Town was tight. To maintain the security of living within the wall, people began converting basements and cellars into housing.
Dark, cramped and unsanitary, many less fortunate families resided in this underground network. As the city expanded beyond the walls, these subterranean abodes were abandoned and often destroyed. However, if you're curious, you can take a tour to explore this underground city.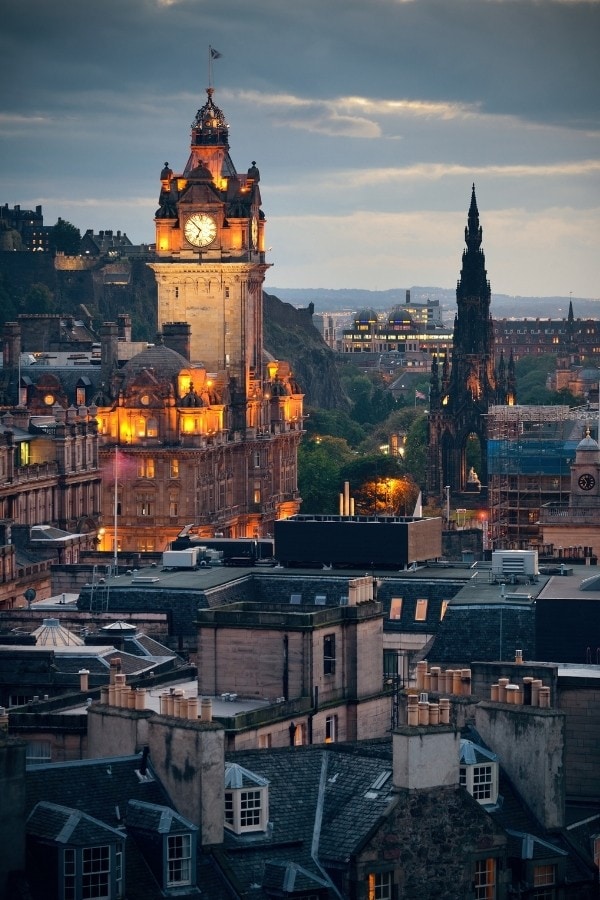 17. Nor Loch
One of the creepiest facts about Edinburgh is that the now gorgeous, green area known as Princes Street Gardens was once a lake turned sewer and dumping ground for dead bodies.
This man made lake, Nor Loch, was heavily polluted as it was not only used as cheap body disposal, but also as a raw sewage reservoir. The stench was said to be unbearable. Though if you visit today, you wouldn't have a clue!
18. Witch Hunts
It is believed that at least 300 witch trials were undertaken in the aforementioned, very polluted, Nor Loch. Between the 16th and 18th centuries, the primarily female 'witches' would be trialled by ducking in the Loch.
If they survived, this was taken as a sign of their guilt and they would be sentenced to death. If they demised during the trial, it was assumed that they had been innocent.
19. What is Edinburgh famous for? Ghosts!
Perhaps after hearing the last few facts you won't be surprised to hear that Edinburgh is one of the most haunted cities in the world!
The most notorious of all is the ghost of Bloody MacKenzie, who roams around Greyfriars Kirkyard, and is said to provide a very interactive experience. Other ghost hot-spots include Edinburgh Castle, Brodie's Close in Old Town, and Edinburgh Vaults in South Bridge.
20. The world's largest electric blanket
The final of these Edinburgh facts is that this city is home to the world's largest electric blanket, though you won't find it on any bed. It is actually nestled underground on The Mound.
It was installed under the road in 1959, in an effort to stop it from freezing in winter, allowing for safer driving. While it is unfortunately no longer functional, the 35km blanket still lays beneath.
---
We really hope you've enjoyed these interesting facts about Edinburgh – hopefully you learned something new! What was your favourite Scottish fact listed here? You can let us know in the comments below.
Enjoyed this post? Pin it for later…