Steeped in royal history and tradition, the Castle Hotel in Windsor is the perfect place to base yourself while exploring all the town has to offer.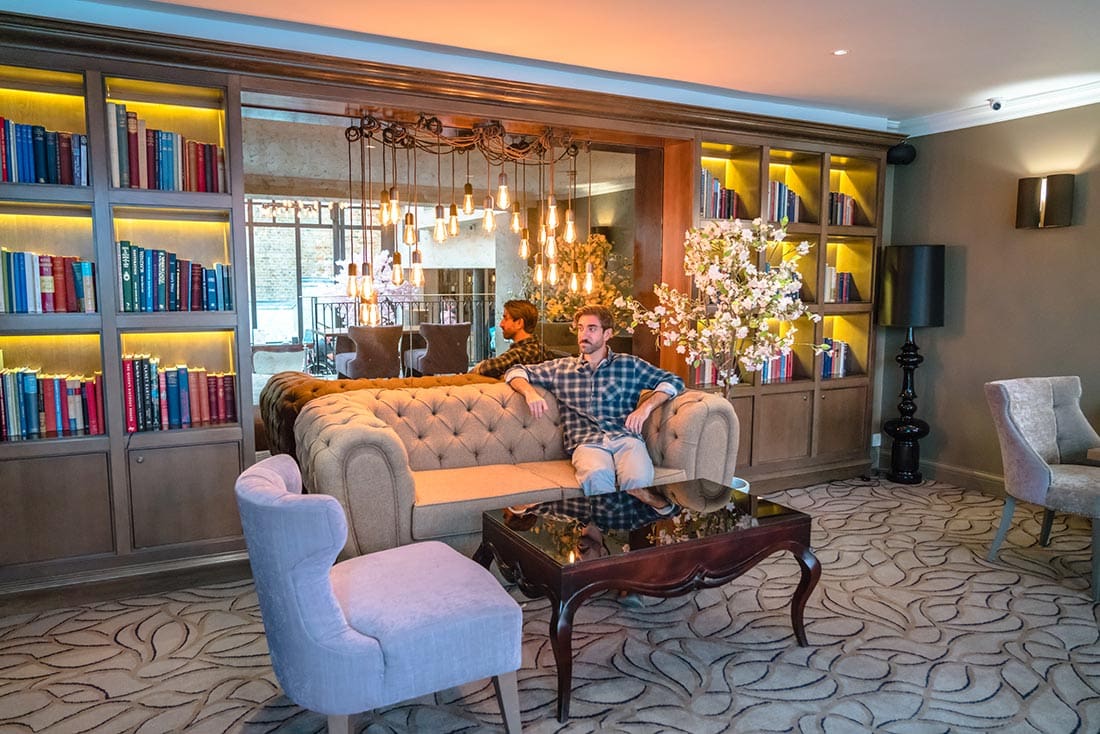 I feel like Windsor is one of the most quintessentially English places you can visit in Great Britain.
Obviously this is where you'll find Windsor Castle, the home of the British monarchy. This is without a doubt one of the most impressive buildings I've ever seen in my life and it is absolutely massive. More on that later though.
Windsor is packed full of cute tea rooms, historic wonky houses, swans swimming on the River Thames, and more Royal Family memorabilia than you'll be able to squeeze into your suitcase. When I say it's quintessentially English, I really mean it!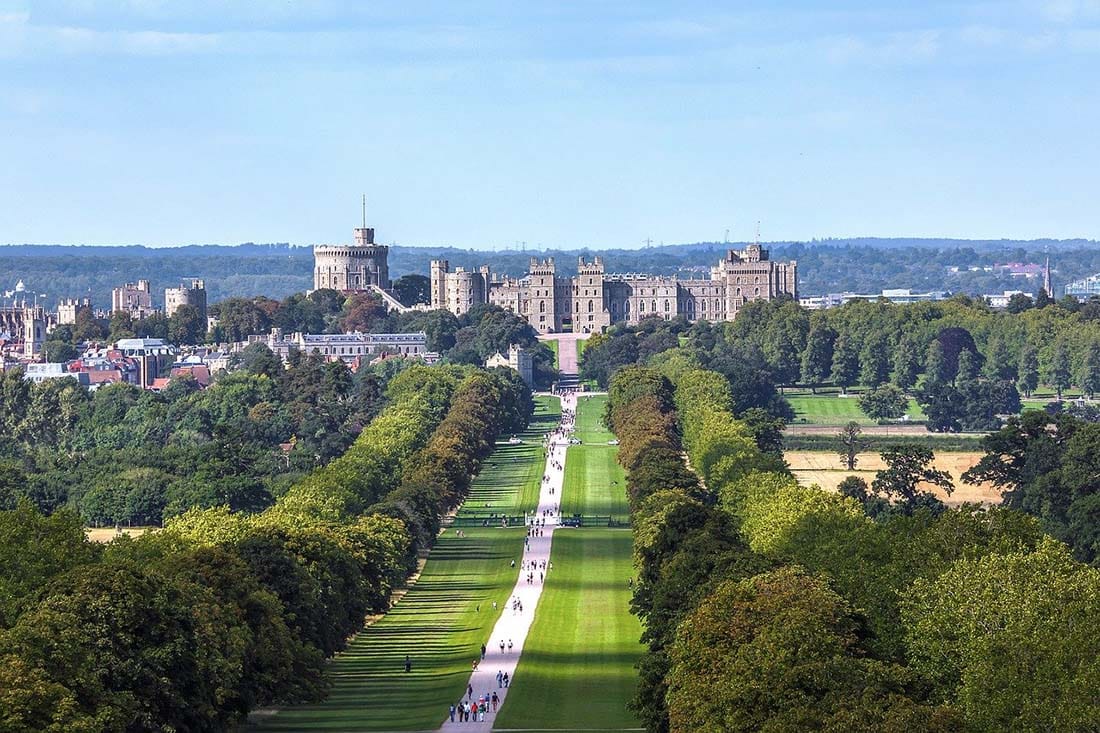 I've been to Windsor a few times before. It can get packed with tourists during the day, especially during the peak summer months.
Apparently 1.5 million tourists visit Windsor Castle each year alone, making it one of the most popular places to visit in England.
On my most recent trip I stayed at the Castle Hotel right in the heart of the town. Being so close to everything meant I could pop out and do all the top things to do in Windsor without the crowds. Also, I had gorgeous views of Windsor Castle from my hotel room. What more could you want!?
If you're thinking of having a little overnight staycation in Windsor, I'd really recommend staying somewhere like this. Hopefully this Castle Hotel review will show you why!
The history of the Castle Hotel, Windsor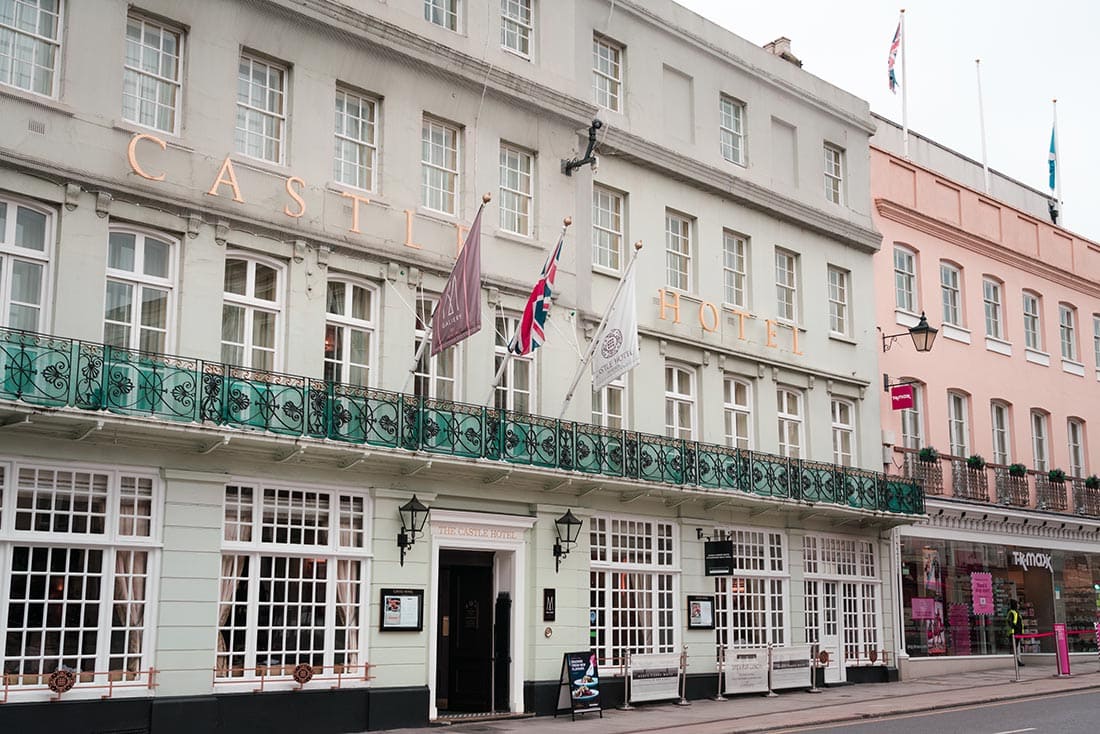 Located just 2 minutes from Windsor Castle, the Castle Hotel is one of the top hotels in Windsor.
Despite the fact that the hotel is in one of the oldest buildings, the hotel began life in 1528 as The Mermaid Inn. This was a small inn producing beer and cider for local people. Back then, Windsor was a small village of just 1,000 people.
However, in the 1700s the hotel was awarded its first Royal Warrant (today there are now eight). The warrant was to provide horses and carriages for the royal household across the road. Quickly after that, the hotel grew to become one of the grandest hotels in town.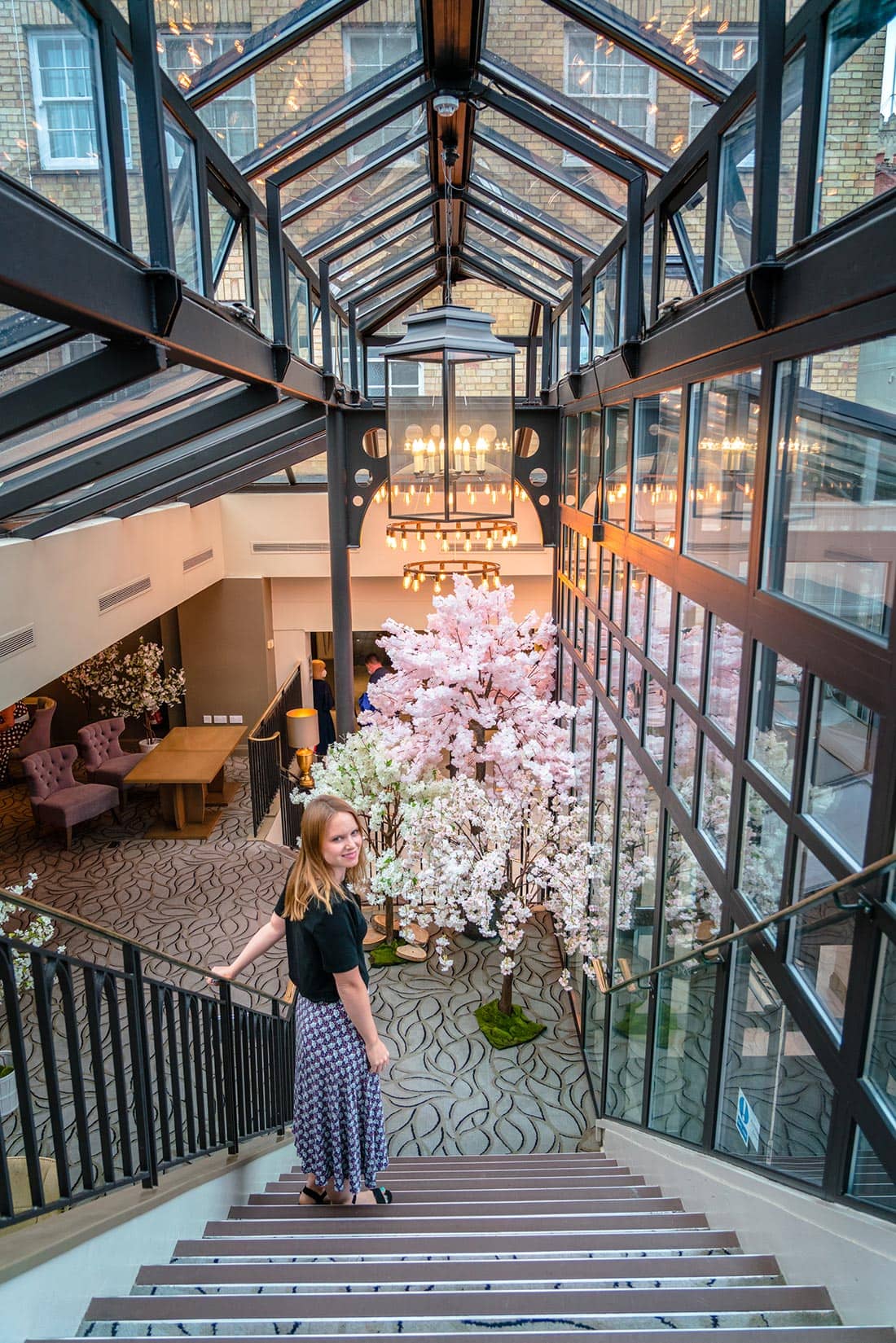 In the 19th century, the reputation of the hotel continued to grow, particularly after the Duke of Wellington stepped in to dine here after his victory over Napoleon at the battle of Waterloo. To say this place has a rich history is an understatement!
Today, the hotel still has the same old-fashioned grandeur, but with a modern twist. Just walking around, you get such a sense of the history. Then again, there are so many portraits and paintings it's hard to ignore.
I also loved all the modern touches that bring it into the 21st century. The bar is particularly modern with a sleek design – the perfect place for an after dinner drink.
The rooms at the Castle Hotel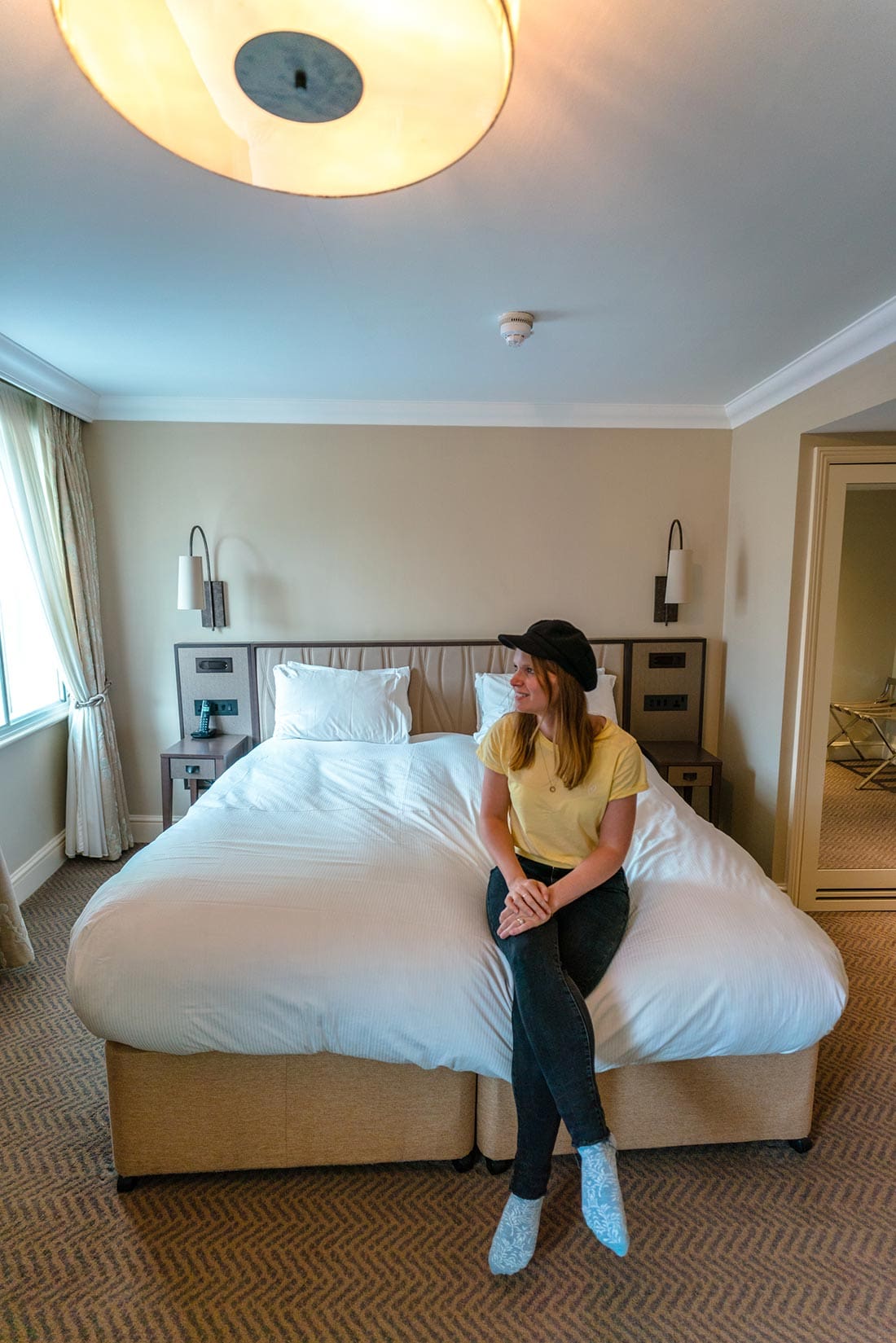 In total there are 108 contemporary styled rooms at the Castle Hotel Windsor, some of these with stunning views of Windsor Castle.
All of the rooms have giant king size beds which we completely lost ourselves in. Also, our room had a bath which was amazing. It probably sounds silly but living in a tiny 3rd floor flat in London with just a small shower room, we always look forward to staying somewhere with a bath!
For those of you who are worried about cleanliness with everything going on at the moment, the hotel has gone to great lengths in ensuring maximum hygiene standards while still retaining a level of comfort and great service. This does mean you won't find things like a mini-bar or a coffee machine in your room, but otherwise everything else is as normal.
The Castle Hotel restaurant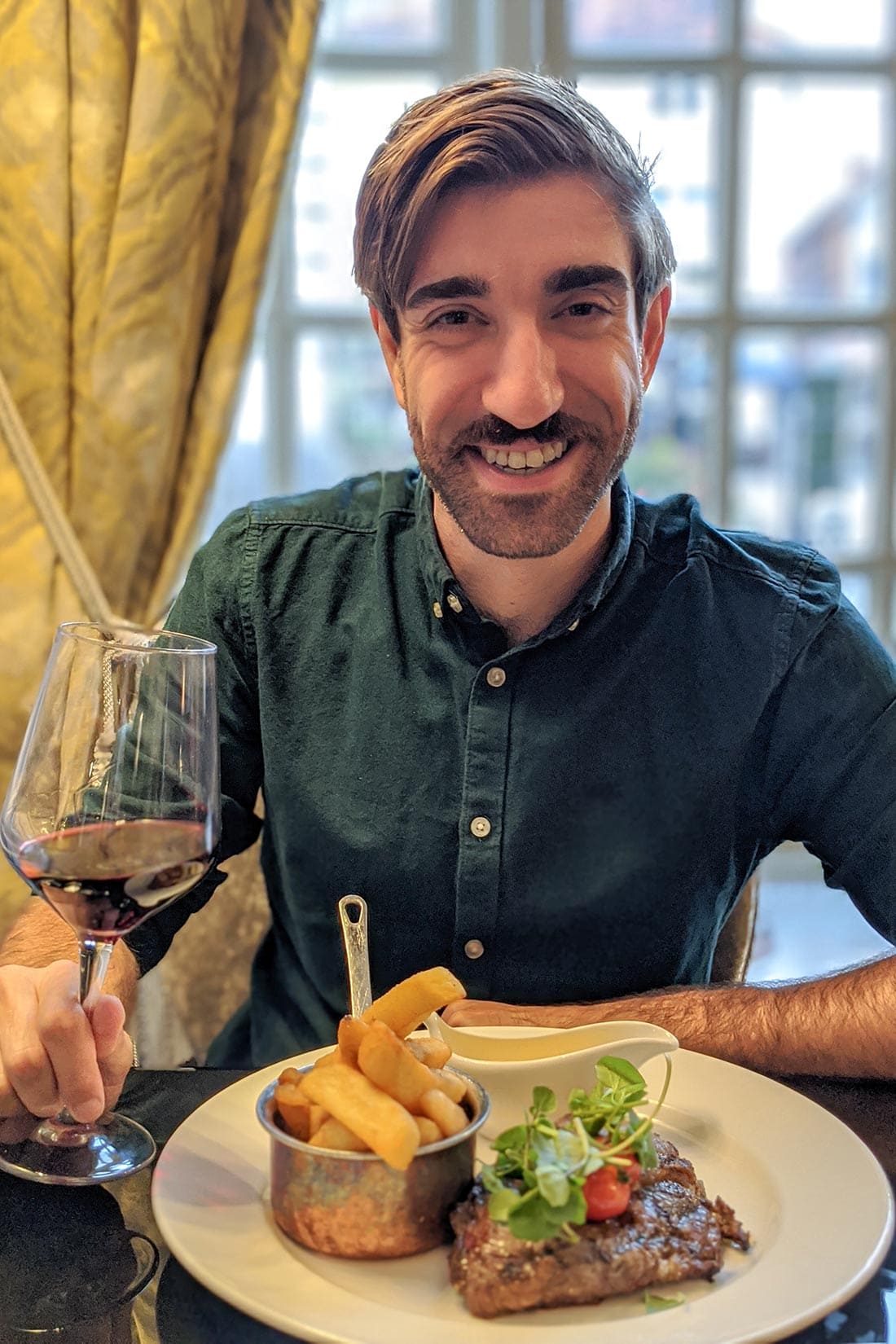 Downstairs is the hotel's restaurant. This is the same place the Duke of Wellington had his dinner – I doubt he had steak as good as this though!
As this is a Marco Pierre White restaurant, the menu is very traditional. Expect things like French onion soup and prawn cocktail for starters.
The main courses also feature traditional British cuisine. They had a steak and ale pie that caught my eye, and the roast chicken came very highly recommended.
However, as this is also a steakhouse, I couldn't resist a delicious 8oz ribeye steak with vine tomatoes and chunky chips. Even though this is a crowd pleaser, it's so good.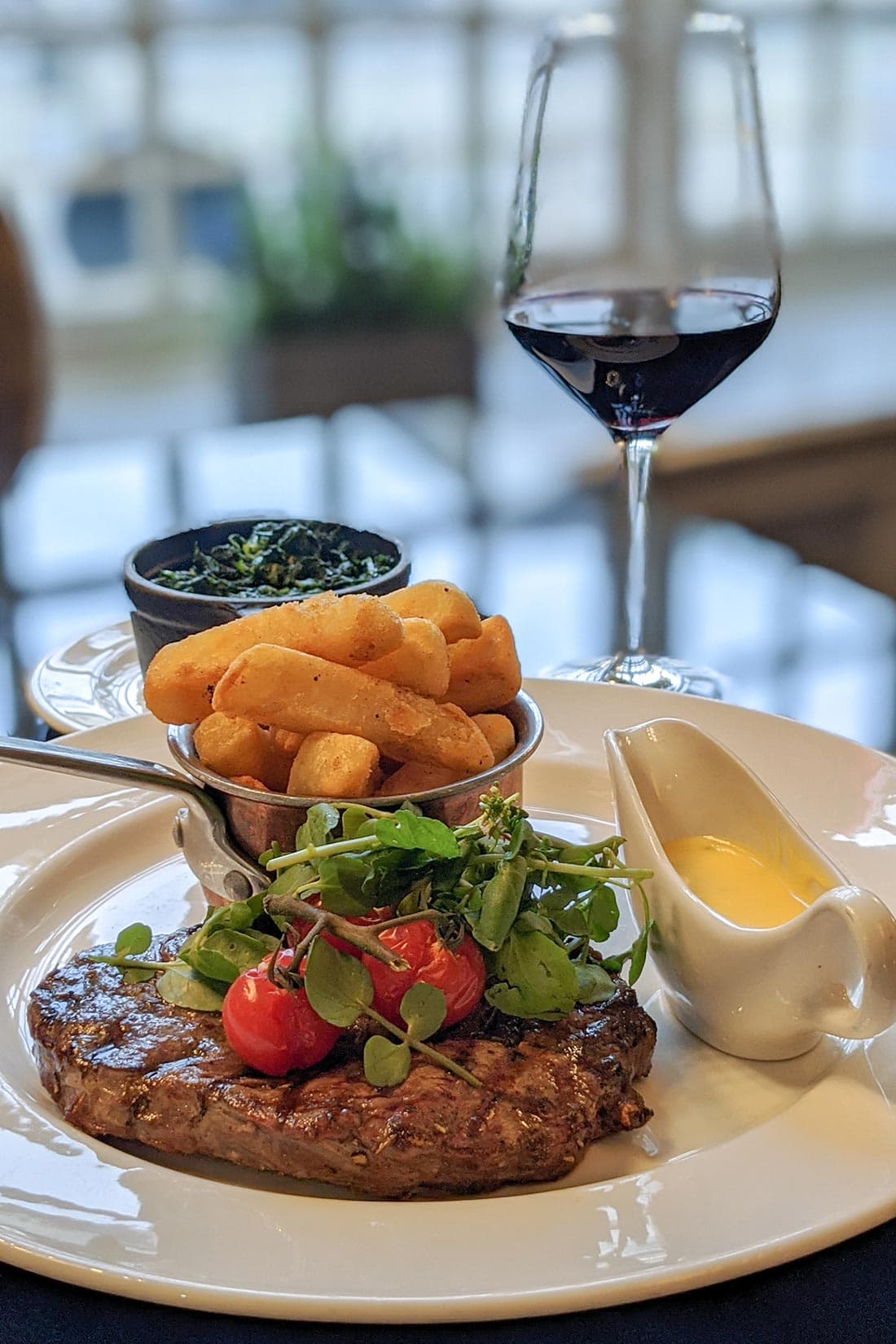 For dessert there was an English cheese board, a classic cheesecake and a dark chocolate mousse. However, as I was keeping things very traditional, I had the sticky toffee pudding. Naughty, delectable, but downright delicious.
The hotel is also famous for its afternoon tea. The elegant Highgrove Tea comes with home-baked scones and a selection of finger sandwiches. Or, if you're celebrating, you can add in some bubbles to make things a little more special.
Things to do in Windsor
If you've never been to Windsor before, I'd really recommend watching my video on some of the best things to do in Windsor. This is a great place to start when planning a trip to Windsor.
A tour of Windsor Castle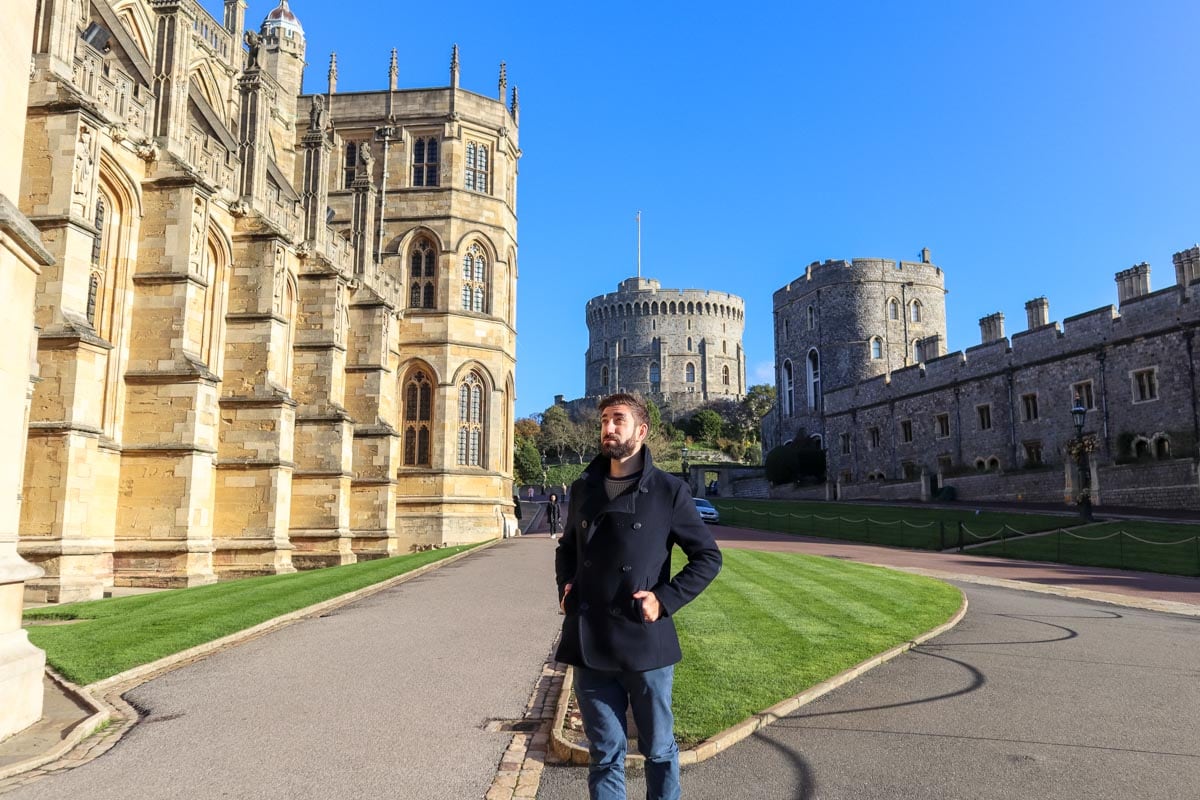 This is a fact that I never get bored of. Windsor Castle is the oldest AND largest inhabited castle in the world. It was built just after the Battle of Hastings in 1066 and it's been the home to 39 monarchs since then.
One of the best things to do in Windsor is to go on a tour of Windsor Castle, where you can learn all about the history of the castle while seeing where the Queen lives. Usually there are some fascinating exhibitions on display detailing the history of the Royal Family. If you are into your Royals then this is an absolute must while you're here.
Also, as I've already mentioned, if you stay at the Castle Hotel then Windsor Castle is just a 2-minute walk away. It really is that close.
A Windsor Castle tour costs £23.50 per person and a family ticket (2 adults and 3 under 17s) cost £54.70. This is such an amazing way of learning more about the castle and I'd really recommend it.
Take on the Long Walk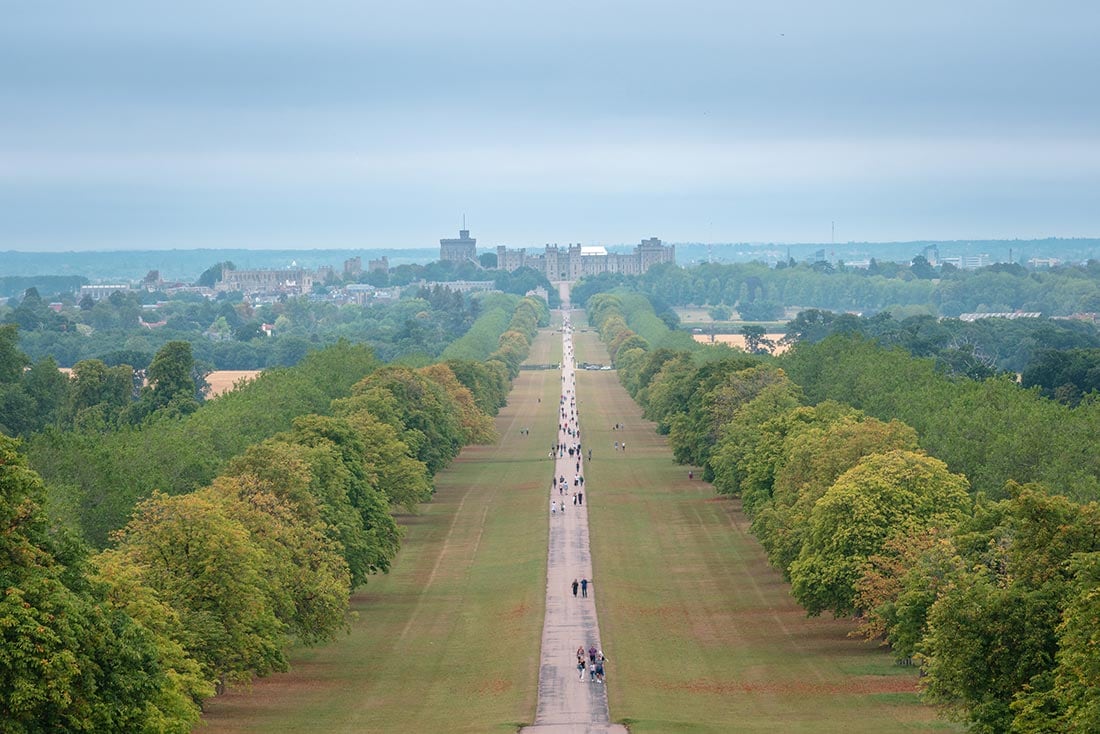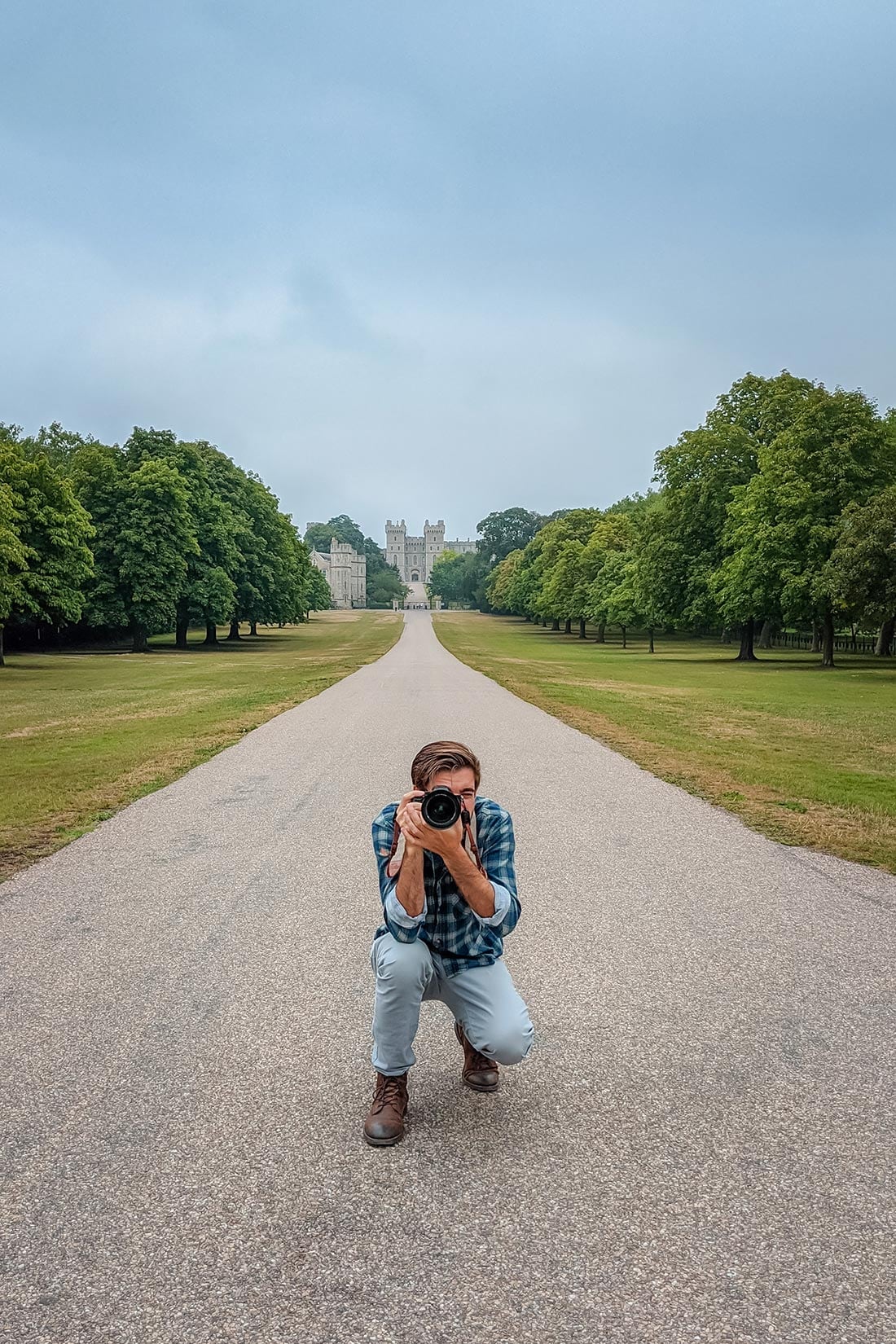 Another thing I'd really recommend doing while in Windsor is the Long Walk. This is a 2.65 mile path that leads from Windsor Castle all the way to the top of Snow Hill.
The path takes you along a tree-lined avenue that really illustrates the regal grandeur of the Royal heritage of Windsor Great Park.
At the top of Snow Hill is a stature of The Copper Horse. This is a statue to King George IV pointing at his favourite castle in England – Windsor Castle.
From this vantage point, you'll have a great view of Windsor Great Park and the castle. I know the 5-mile round trip sounds like a lot, but I promise you it's worth it just for the views.
Also, it helps work off that steak you had the night before! Or was that just me?
A boat trip on the River Thames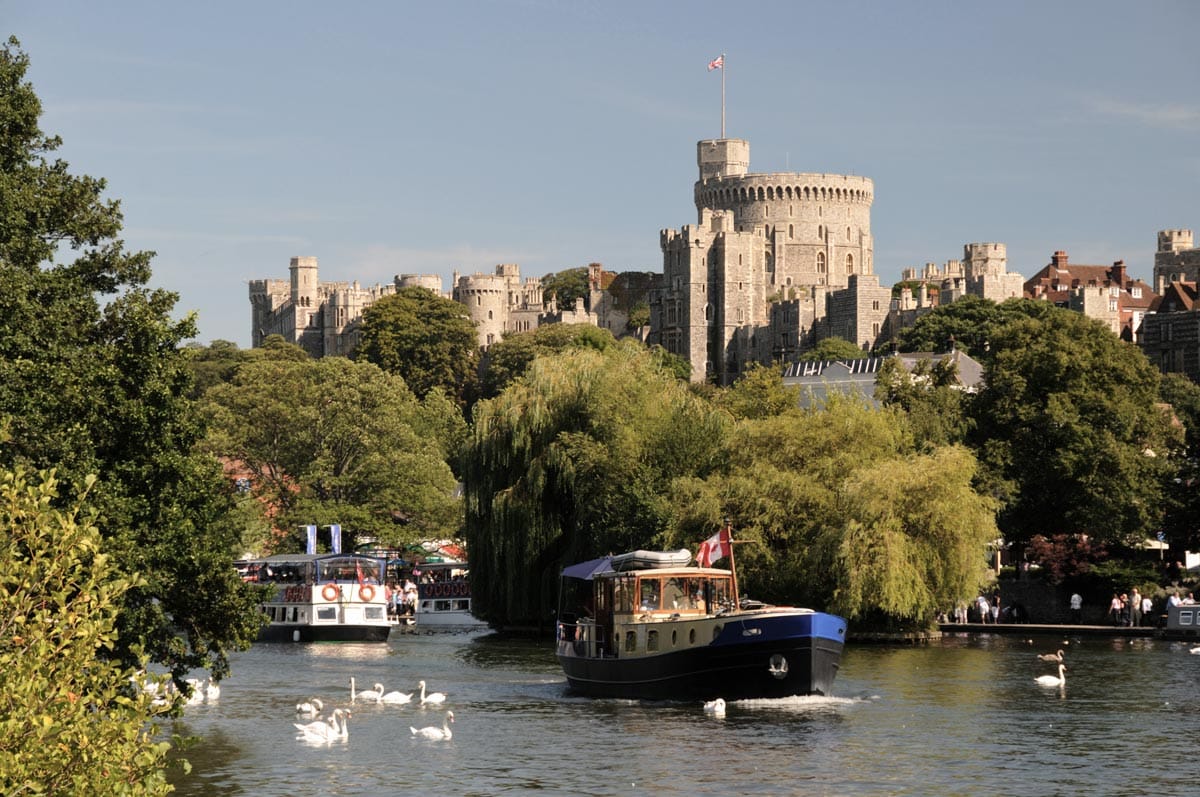 Another thing I always recommend people do while in Windsor is to go on a boat trip along the River Thames.
There are a few different companies to choose from but we went with French Brothers and they were great.
My boat trip took me past Eton College, Mill House and Windsor Racecourse with some stunning views of the English countryside.
On the way back you'll see a stunning view of Windsor Castle too. Personally, this is one of my favourite views of Windsor so make sure you've got your camera ready.
Tickets cost £9 for adults and £6 for children, though if you book online beforehand tickets cost £7.95 and £5.30 respectively.
Booking the Castle Hotel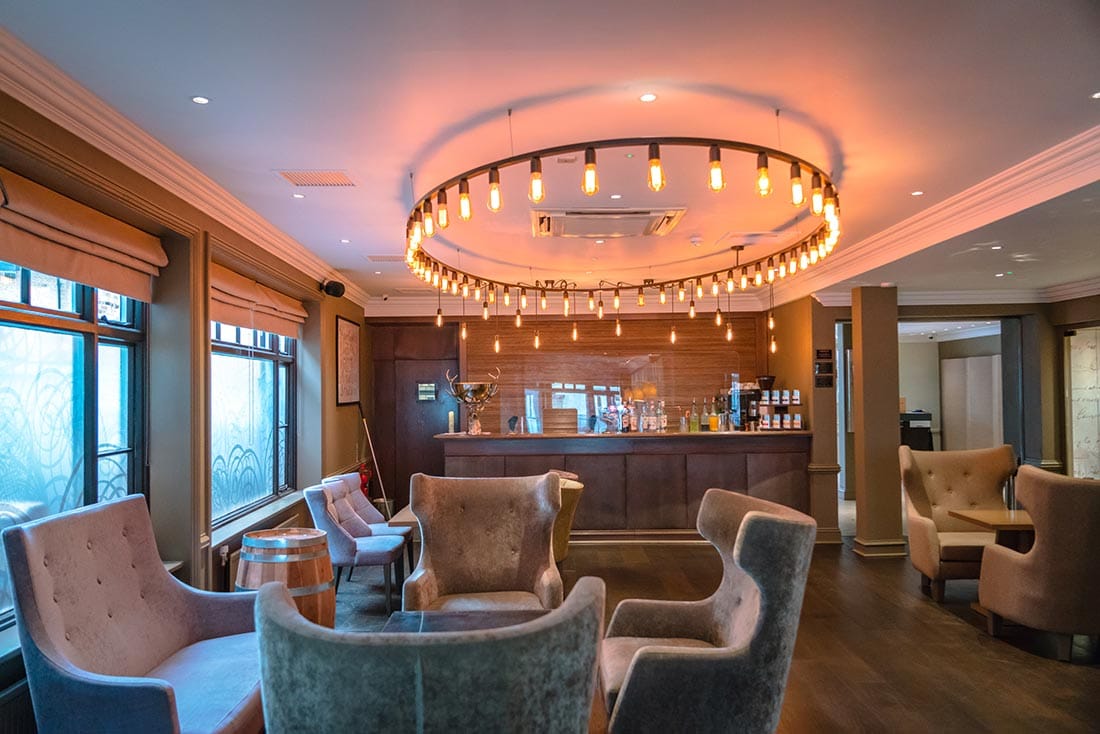 I really enjoyed my stay at the Castle Hotel in Windsor.
From royal memorabilia in the rooms to the portraits in the lounge, this is a place steeped in history and tradition. Also, it's rare to find a hotel in Windsor that's so close to the castle.
Add in a cool bar, great restaurant and spacious rooms, and you've got all the makings of an amazing staycation!
Check availability & latest prices at the Caste Hotel Windsor now
---
This post was in association with the M Gallery Hotel promoting the Castle Hotel Windsor. As always, views are entirely my own and without bias.