From pulling Christmas crackers to eating mince pies, these are the best British Christmas traditions for you to do on Christmas Day this year.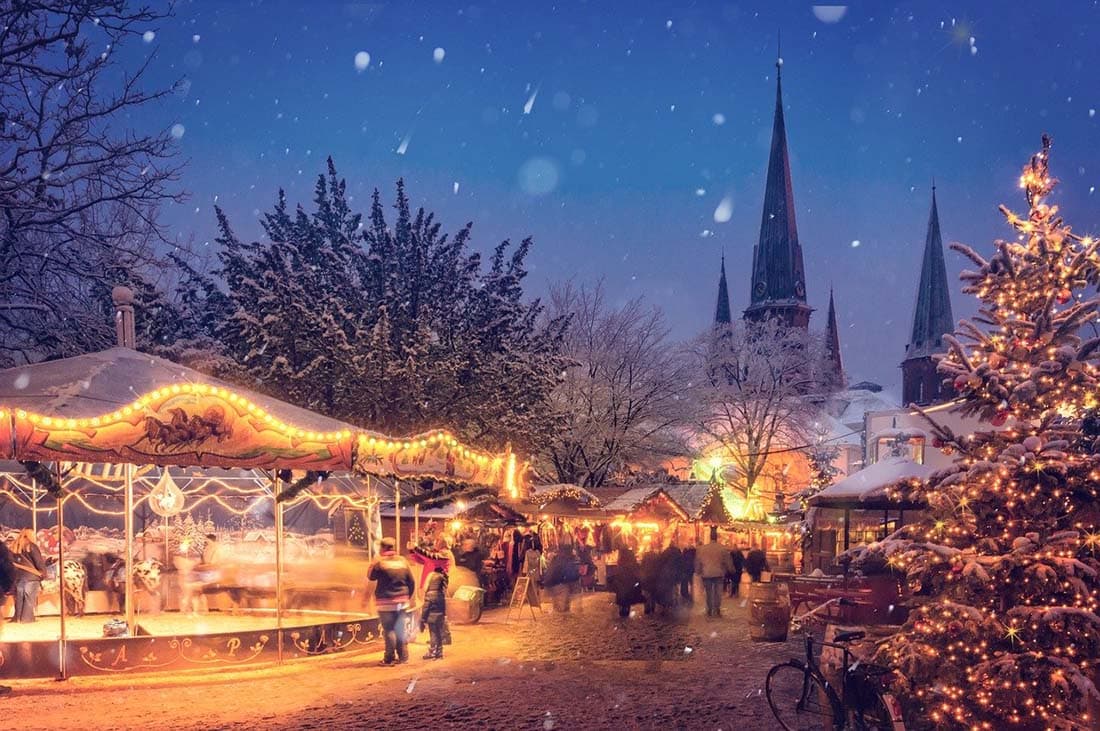 Ho ho ho and happy Christmas!
As Christmas is one of my favourite times of the year, I wanted to put together these weird and wonderful British Christmas traditions for you. And yes, they are very VERY different to anywhere else in the world!
What I love about Christmas Day is you know everyone is doing pretty much the same thing. Cooking starts at 6am, Bucks Fizz for breakfast, kids bouncing off the walls like that they've been injected with sugar, flimsy paper hats, complaints at how dry the turkey is, the odd heated argument here and there, all before passing out in front of the telly. That's what Christmas is all about for most of us.
I know we all hang mistletoe and pull Christmas crackers, but there are so many old school Christmas traditions in Great Britain that go back centuries. Some of them even longer than that. That's why I wanted to go into some of my favourite holiday traditions and tell you about where they've come from.
From sending Christmas cards to drinking mulled wine, these are the best British Christmas traditions for you to do this year!
Also, make sure you check out our blog post on traditional British christmas gifts if you're looking for that something special for someone who loves Great Britain!
Christmas Traditions in Great Britain
1. Christmas decorations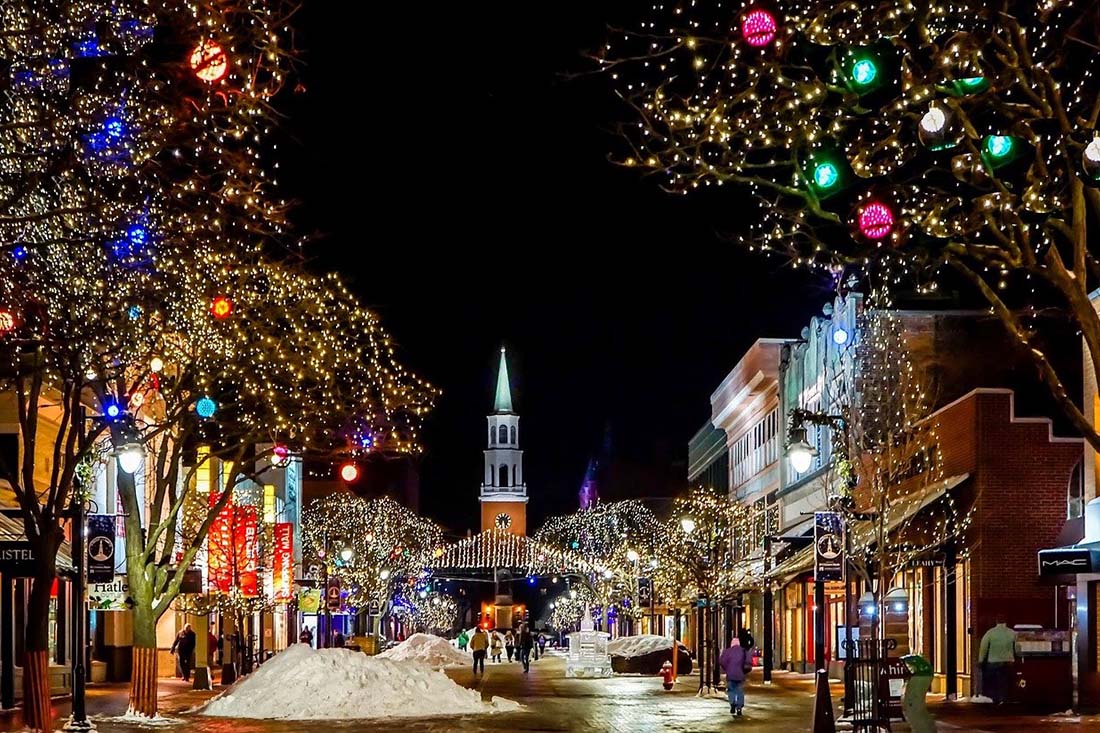 Go big, go early, that's my advice. Anything before Bonfire Night is a massive no no, but then it's basically a free-for-all. I swear supermarkets sneak them in earlier and earlier each year.
Even though there's no set date for putting decorations up, there's definitely a cut off point for taking them down. You're supposed to take down all your decorations before the end of the 12th day of Christmas, which is the 5th January. If you leave it later than this, you could be setting yourself up for a year of bad luck. Don't get off to a bad start and take those decorations down!
2. Christmas cards
The British Christmas tradition of sending cards dates all the back to 1843. At the time, a gentleman named Sir Henry Cole didn't have time to send personal messages, so he hired an artist called John Calcott Horsley to design him a card which he could send to lots of people, and that's how Christmas cards were born.
Today, over a BILLION cards are sent every year in Great Britain alone which is staggering. Yes, you read that right. Christmas cards are serious business!
3. The John Lewis Christmas advert
A lot of people think it isn't the Christmas season until the John Lewis Christmas advert is released. Often a little short film telling an emotional story, the advert always pulls on the heart-strings while spreading some festive cheer.
As a tradition, the John Lewis Christmas advert only dates back to 2007. It feels like it's been around a lot longer than that! Everyone has their favourite Christmas advert and here's mine. Obviously the Coca-Cola advert is an absolute classic too.
4. Switching on the Christmas lights
Another sign it's officially Christmas is switching on the Christmas lights. This holiday tradition began in 1954 on Regent Street in London. Local shops and businesses obviously wanted to attract customers, but they also wanted to show that London wasn't a dark and ugly place in post-war Britain. Oxford Street quickly followed suit in 1959, and it wasn't long before this was a tradition all over the country.
Today, the annual Christmas lights are usually turned on by some C-list celebrity in a really awkward and pointless event. But hey, that's Christmas for you!
5. Christmas markets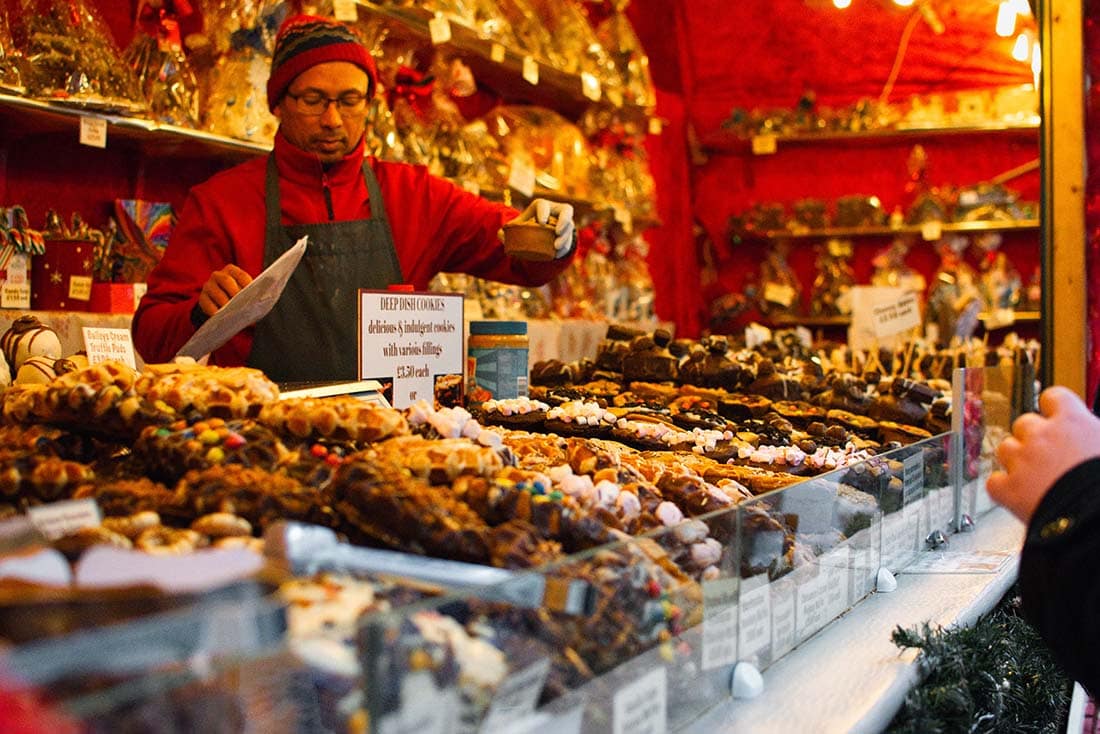 I feel like Christmas markets have become more and more popular over the years. Originating in Germany, Dresden's Striezelmarkt was first held in 1434 and is considered the first genuine Christmas market.
Now days, you can find them in every major city and town all over the United Kingdom. The Birmingham Christmas Market is the largest Xmas market outside of Germany and many people consider this the best one to visit. London has a fair few too, especially at Winter Wonderland. From drinking gluhwein to eating a bratwurst, this is definitely more of a European Christmas tradition that's found a home in Britain.
6. Mulled wine
To be honest with you, mulled wine is something I wish I could drink throughout winter; I find it so warm and comforting. Mulled wine is a lot older than you think. Created by the Romans, it dates all the way back to the 2nd century. As the Romans conquered Europe, their love of mulled wine spread.
It's always been thought that mixing wine with spices and fruit is good for your health and a way to stave off illness. However, it wasn't until the 1890s that mulled wine became associated with Christmas.
It's very easy to make yourself, or you can buy a bottle of mulled wine which is just as good!
7. Brandy butter
Brandy butter is another Christmas tradition in Great Britain. As Christmas is all about drinking and eating as much as possible, brandy butter was born. Completely unnecessary, completely delicious.
As the name suggests, this is just brandy and butter mixed together to create a thick cream/spread. For some reason it's the perfect accompaniment to mince pies or Christmas pudding.
8. Mince pies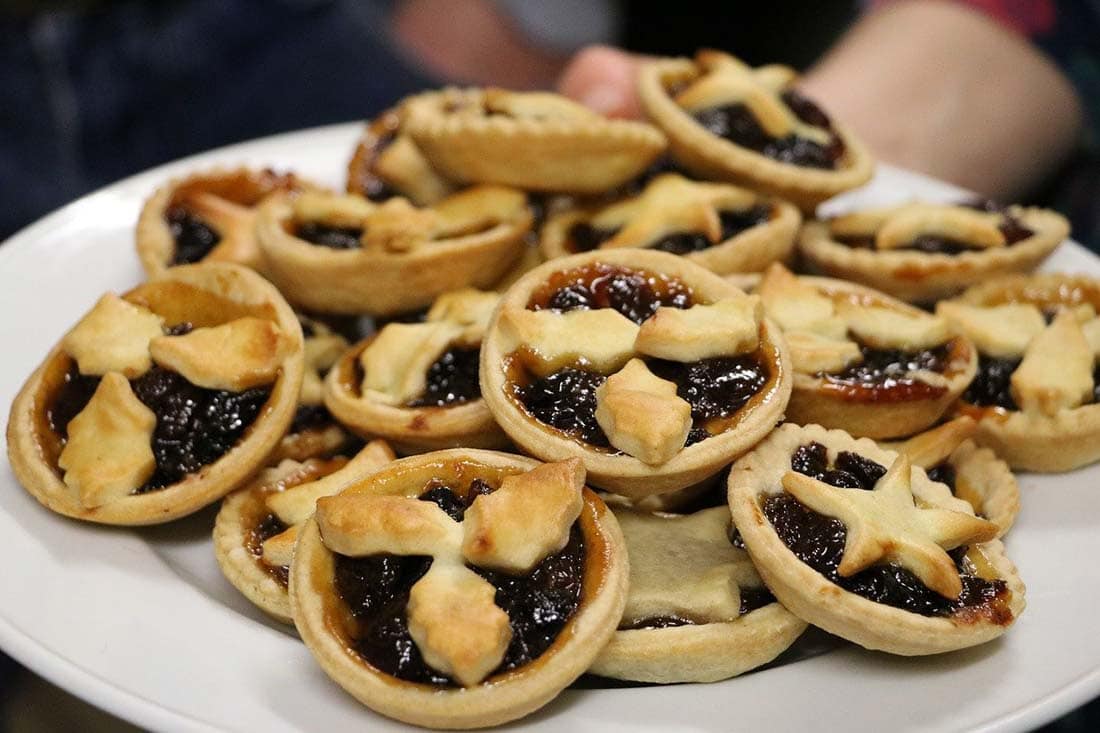 Right, it's time to talk about some good ol' British Christmas food. You know mince pies were originally stuffed with minced meat, right? Dating back to the Middle Ages, pies were filled with minced meat, chopped fruit and a preserving liquid. This was a good way of preserving meat without curing or salting it.
Today's mince pies bear little resemblance to the original ones. Heat one up in the microwave, put on a dollop of brandy butter or cream, and it's one of the finer things you can eat at Christmas.
9. Brussel sprouts
I always feel sorry for the humble Brussel sprout. Only brought out for Christmas, and only then very reluctantly, they're confined to anonymity for the other 364 days of the year.
I have to admit, I actually really like Brussel sprouts! Saying that, I'm the only one in my family who does, but dammit we have to have them every Christmas.
It's thought Brussel sprouts became popular during the 1800s as the new fancy vegetable to eat. This just happened to be around Christmas time so like all current zeitgeists, everyone wanted them, and that's how the tradition was born!
10. Bread sauce
Let's make something as thick as cement, the colour of vomit, that tastes of nutmeg, and serve that up with our Christmas dinner. Bread sauce harks back to Medieval times where they used bread to thicken and bulk out sauces – this was how bread sauce was essentially created.
I always feel like bread sauce optimises traditional British cooking. Bland, uninviting, unappealing, and yet so quintessentially British. Thankfully our food has come a long way since the creation of bread sauce! This is definitely one of the weirder British Christmas traditions.
11. Christmas pudding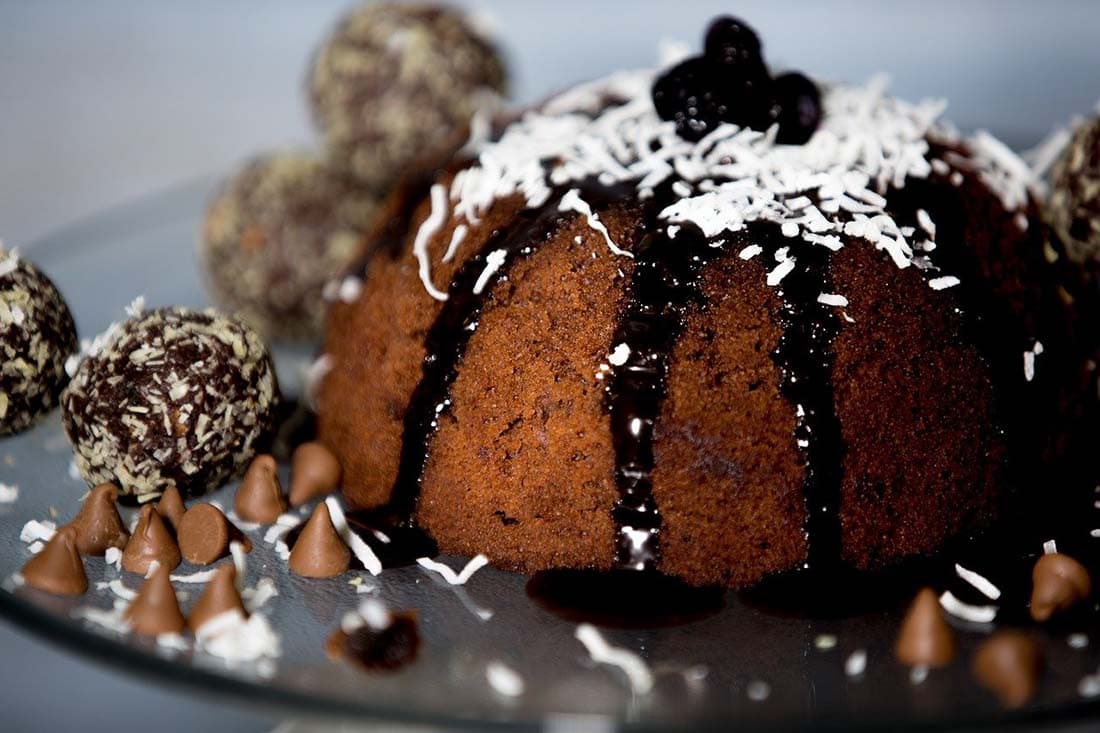 In my family, my dad is the only one who eats Christmas pudding. But as he says, it's not Christmas unless you have a Christmas pudding. This dark, dense fruitcake is usually the nail in the coffin when it comes to overindulgence.
Christmas (or plum pudding as it's also known as) started life off as 'frumenty'. This was a dish made up of beef and mutton with currants, raisons, prunes, spices and wine. Sounds yummy, doesn't it? By 1595, frumenty slowly changed into plum pudding with eggs and breadcrumbs to make it more of a cake.
Putting a silver coin in the pudding is another age-old custom that is said to bring luck to the person that finds it. In the UK the coin traditionally used was a silver 'six pence'. The closest coin to that now is a five pence piece!
12. Midnight mass
Midnight mass has become its own weird tradition over the decades. On Christmas eve, midnight mass is supposed to see in Christmas Day as a celebration as the birth of Christ.
Instead, it has become a bit of a drunken tradition where people go to the pub, say hello to people they haven't spoken to in a year, before staggering over the church to belt of some Christmas carols. As far as British Christmas traditions go, this is a lot of people's favourite.
13. Singing Carols
It's thought that singing carols commemorating the birth of Christ date all the way back to the 4th and 5th centuries. However, it wasn't until the 12th century where Saint Francis of Assisi, the Roman Catholic saint of animals and the environment, incorporated upbeat Latin hymns into Christmas services.
The best carols such as Good King Wenceslas were written in the Victorian period. This is because Queen Victoria wanted happier, more upbeat carols to sing at Christmas.
14. Christmas crackers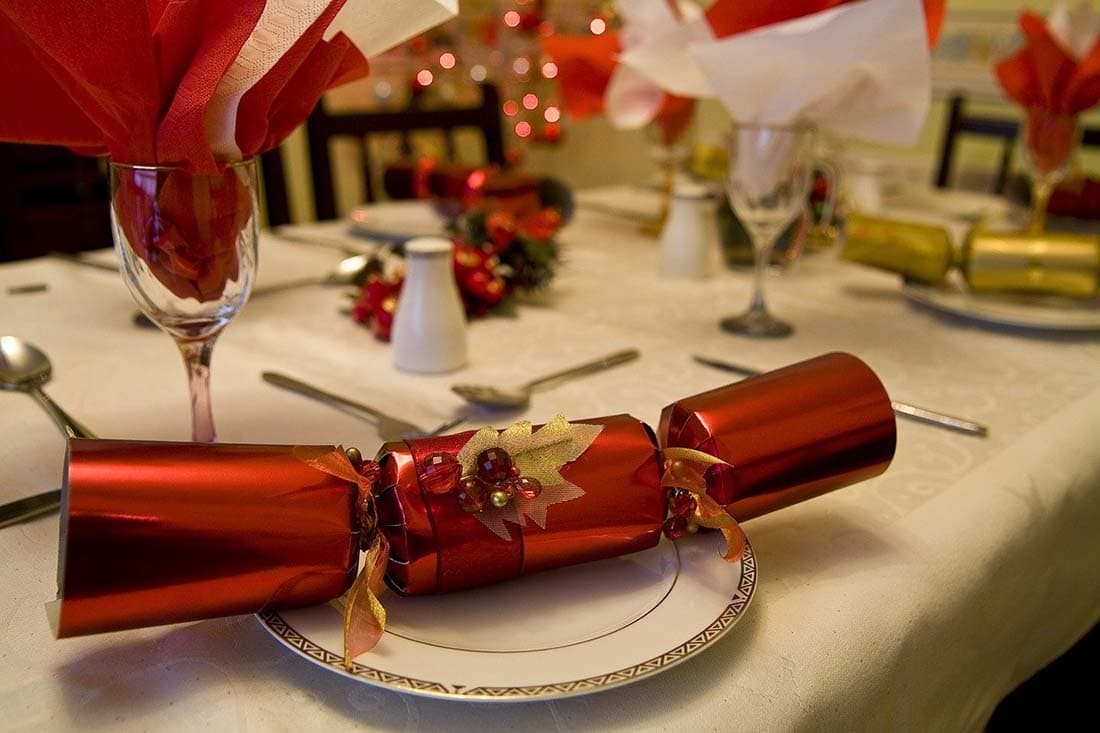 Would it really be Christmas without flimsy paper hats and bad dad jokes? Well that's what Christmas crackers are all about.
They were invented by a London sweet maker called Tom Smith in 1845-1850. He got the idea from French 'bon bon' sweets (almonds wrapped in paper), but added a small saying or riddle within the wrapping of his sweets. They didn't sell well at first, so to make more of a bang, he created a bang.
He added in the fireworks and launched a new range of crackers called 'Bangs of Expectation!' in 1861. And the Christmas cracker was born.
15. Pantomimes
"He's behind you"
"Oh no he isn't?"
"OH YES HE IS"
We've probably all sat through more than our fair share of cringy pantomimes, but as I've got older, I've come to appreciate how great they really are. Tacky? Undoubtedly, but they're actually really good fun.
Pantomimes are a revival of old school Roman comedies like Lysistrata with slapstick humour and ridiculous jokes. More for kids these days, there's plenty of adult humour in there too.
16. Christmas specials
Ah the Christmas special. Usually rubbish, occasional brilliant, the Christmas special is when our favourite characters grace our screens again, often for the last time.
A couple of stand out Christmas specials are The Office, which perfectly encapsulated how horrible office Christmas parties are. Also, last year's Gavin and Stacey brought us all a bit of much needed closure on the series. Is there going to be another one? I really hope so!
17. Mistletoe
Kissing under the mistletoe is one of those Christmas traditions in England that everyone goes along with but they have no idea what it's all about.
The tradition of hanging it in the house goes back to the times of the ancient Druids. It is supposed to possess mystical powers which bring good luck to the household and wards off evil spirits. That's the idea anyway.
Today, kissing under the mistletoe is a great tradition that sees lots of office romances blossom.
18. Swimming in the sea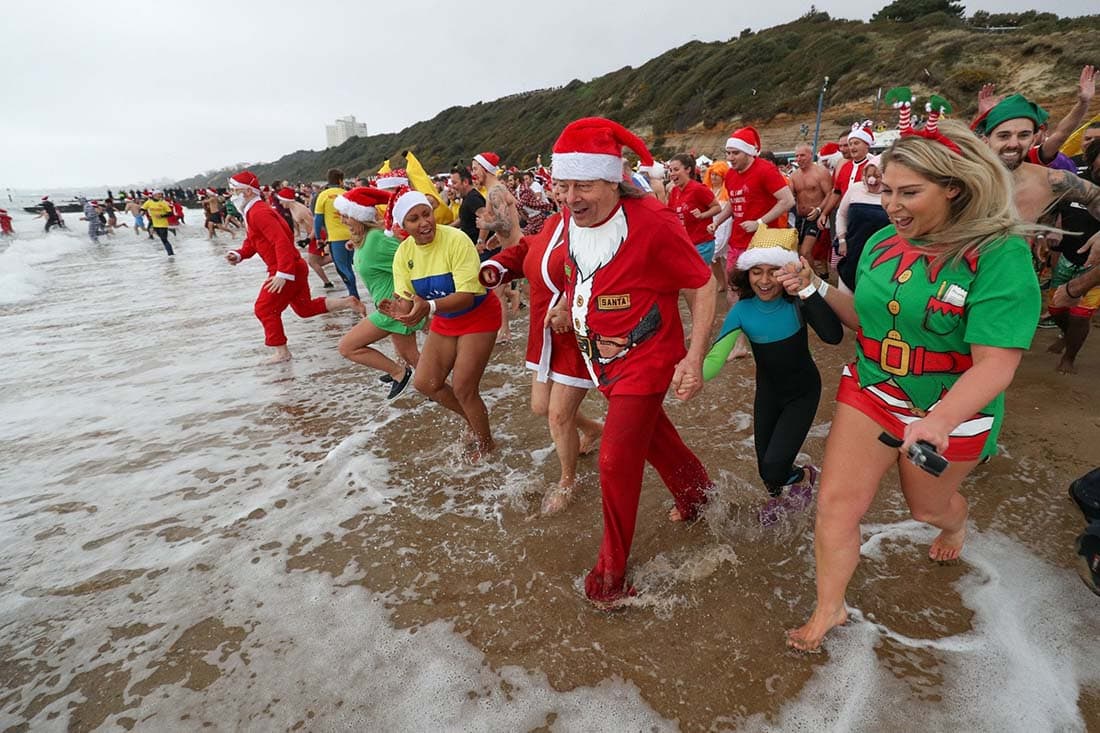 This is without a doubt one of my favourite Christmas traditions in Britain. All around the country, on the morning of Christmas Day, people dress up in fancy dress and go for an icy dip in the sea.
Some people believe this is a great hangover cure, while others think it's a great way to burn off some mince pies. Either way, it's a great event that really brings the community together at Xmas.
Widely regarded as England's longest established Christmas swim, Brighton Swimming Club's annual event began in 1860. If you fancy giving it a go yourself, head to Brighton beach early on Christmas morning!
19. The Queen's speech
The Queen's Christmas message is always one of the most watched programs on TV on Christmas Day. A whopping 6.3 million people tuned in last year.
The tradition was actually started by the Queen's grandfather, King George V, when he delivered the first address over the radio in 1932. George V's first message was written by English writer Rudyard Kipling and transmitted live from a studio that was created for him at Sandringham estate.
The tradition carried on, and in 1957, the Queen gave the first televised Christmas speech. She has given a speech almost every year since, usually about the state of world and British politics, and how, if we work together, we can get through anything. That's it in a nutshell.
20. Boxing Day
Boxing Day is one of the oldest holiday traditions out there. The day after Christmas Day, Boxing Day was invented for people to 'box up' their unwanted gifts and give them to the poor who had nothing.
Also, Boxing Day was traditionally a day off for the servants. As a present, they often, received a special Christmas box from their masters. Hence, boxing day.
There are loads of modern traditions that come with Boxing Day such as the football, hitting the sales and picking up a bargain, and eating your bodyweight in turkey sandwiches.
---
What are some of your favourite British Christmas traditions? Let us know in the comments below!
Like this blog post? Then Pin it for the future!