If you're a fan of delicious gin & amazing architecture with a small dash of history, then you'll love the Bombay Sapphire tour in Hampshire.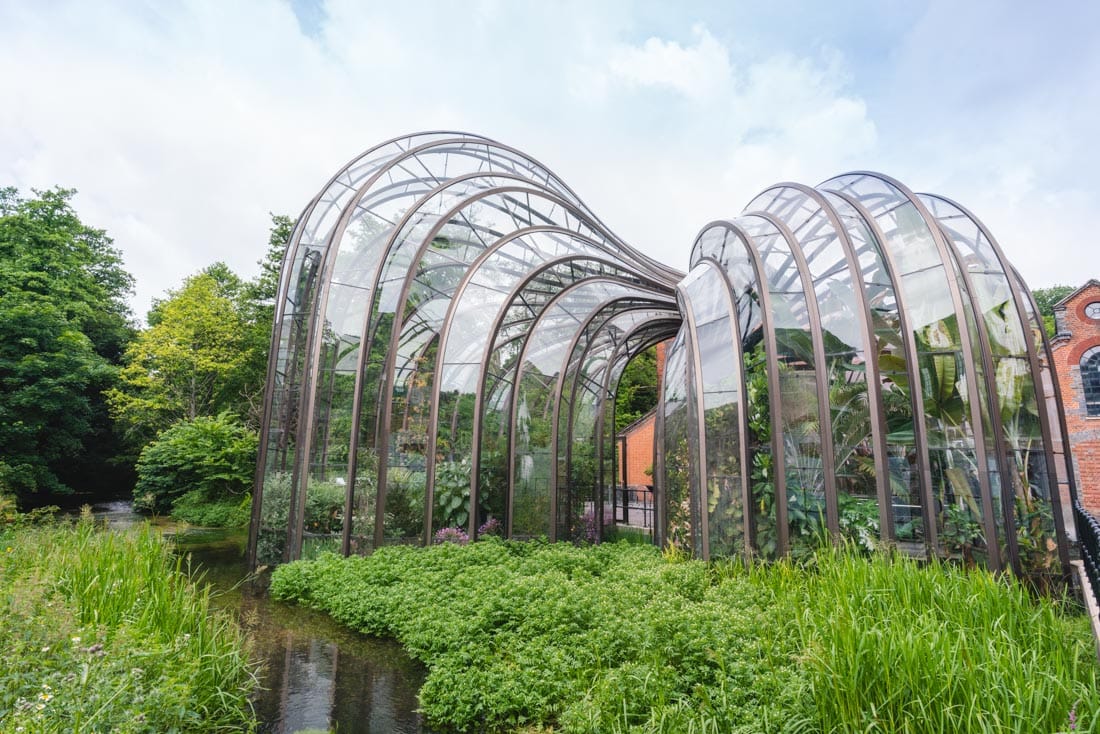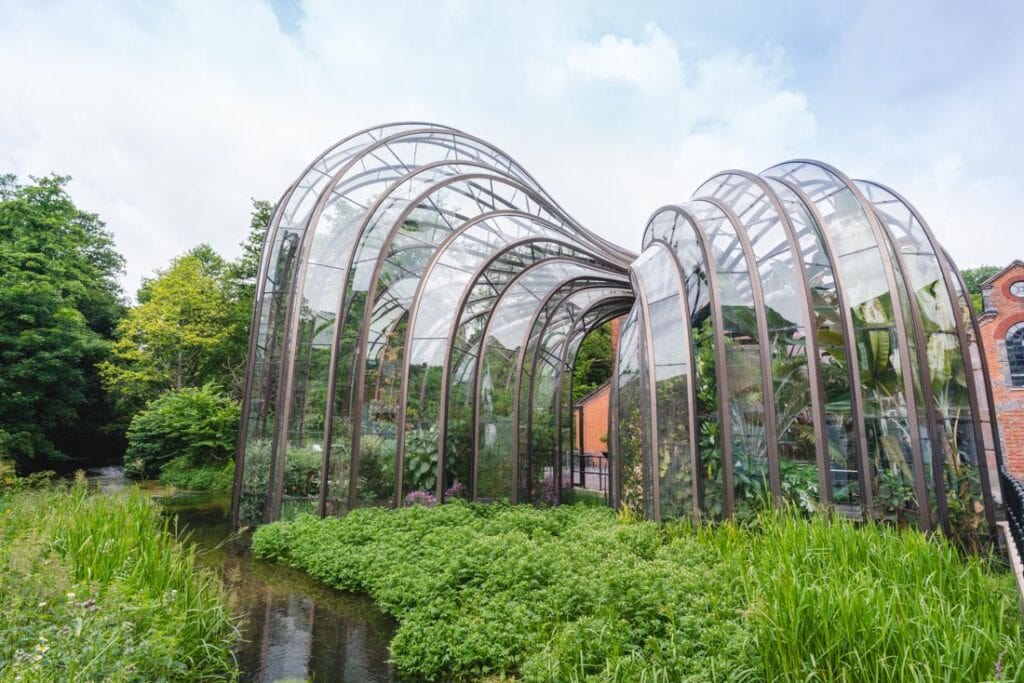 Let's start off with a disclaimer here – I am a gin fanatic. A big big gin fanatic.
I'm not saying my mum brought me up to love gin, but the fact she had a g&t to hand most days certainly helped. From summer bbqs outside to pre-dinner cocktails nattering away with mum, I have so many happy memories with gin (it's okay to say that, right?)
Basically, what I'm saying is I knew I was going to love the Bombay Sapphire gin tour in Hampshire from the moment we booked it. What I didn't know was how much I'd enjoy the architecture and history of the place too.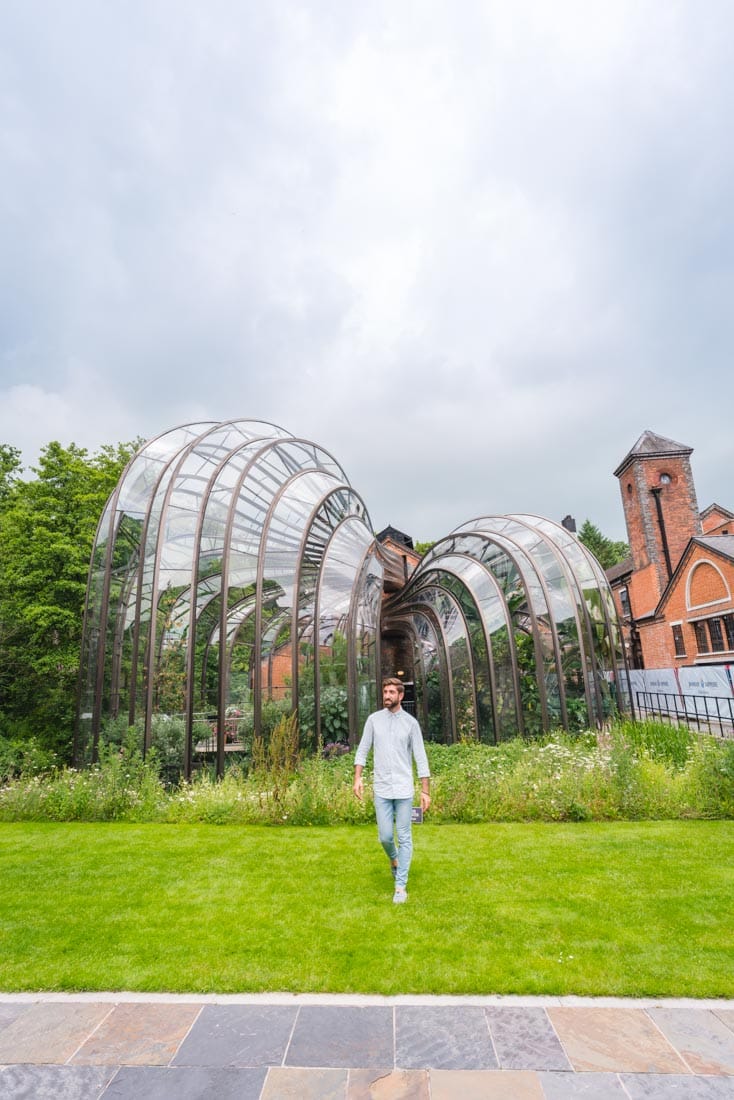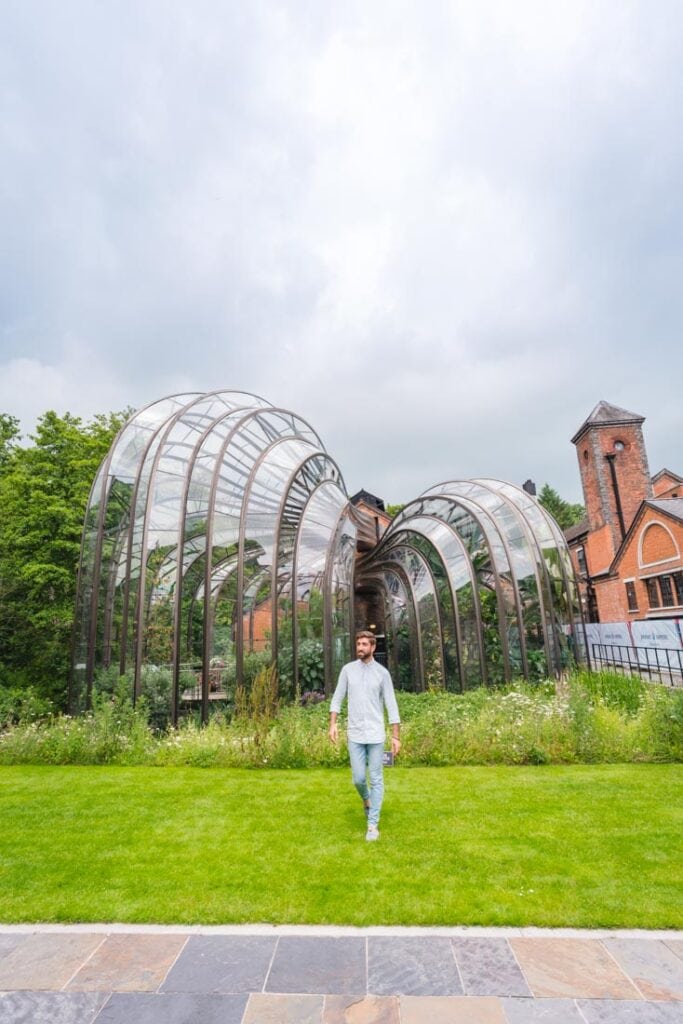 I've wanted to visit the Bombay Sapphire distillery ever since I saw a picture of their glasshouses on Instagram years ago. This is the iconic image that draws you in, but it's the gin that makes you wanting to keep coming back for more.
In this blog post I'm going to tell you what to expect from the Bombay Sapphire distillery tour in Hampshire. I'll also give you a suggestion on where to eat after the tour, and where to stay for the night too.
There's a reason why visiting the distillery is one of the top things to do in Hampshire. Hopefully this guide will help you plan your trip here!
Where is the Bombay Sapphire distillery?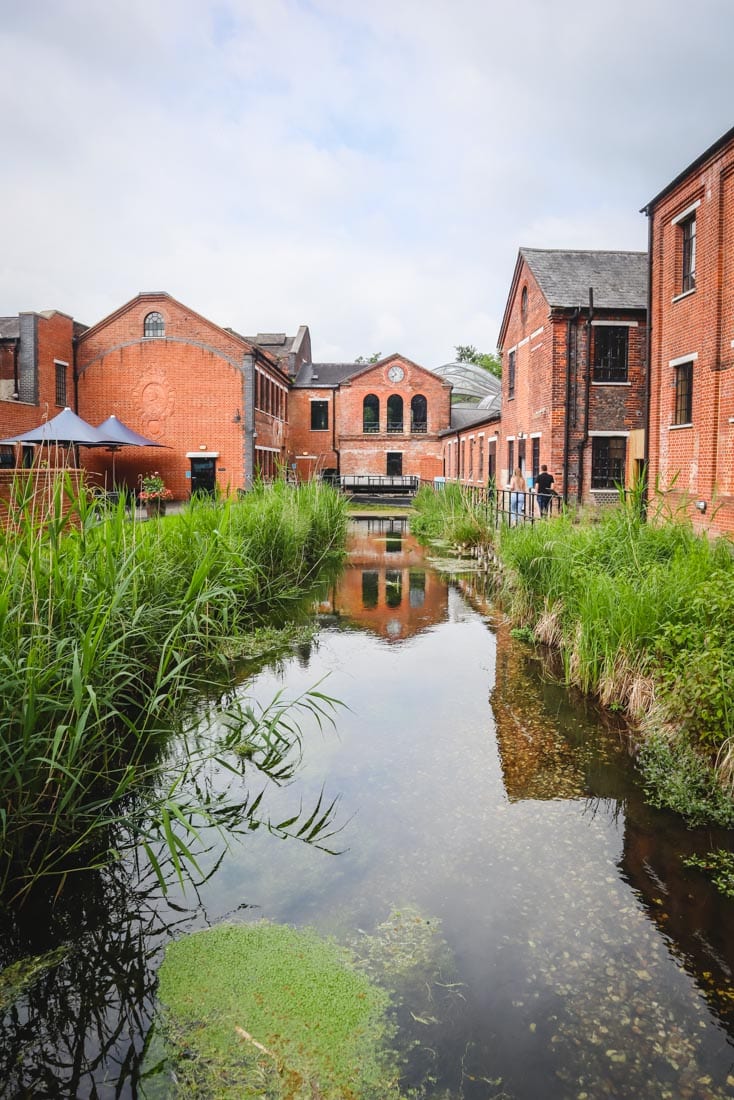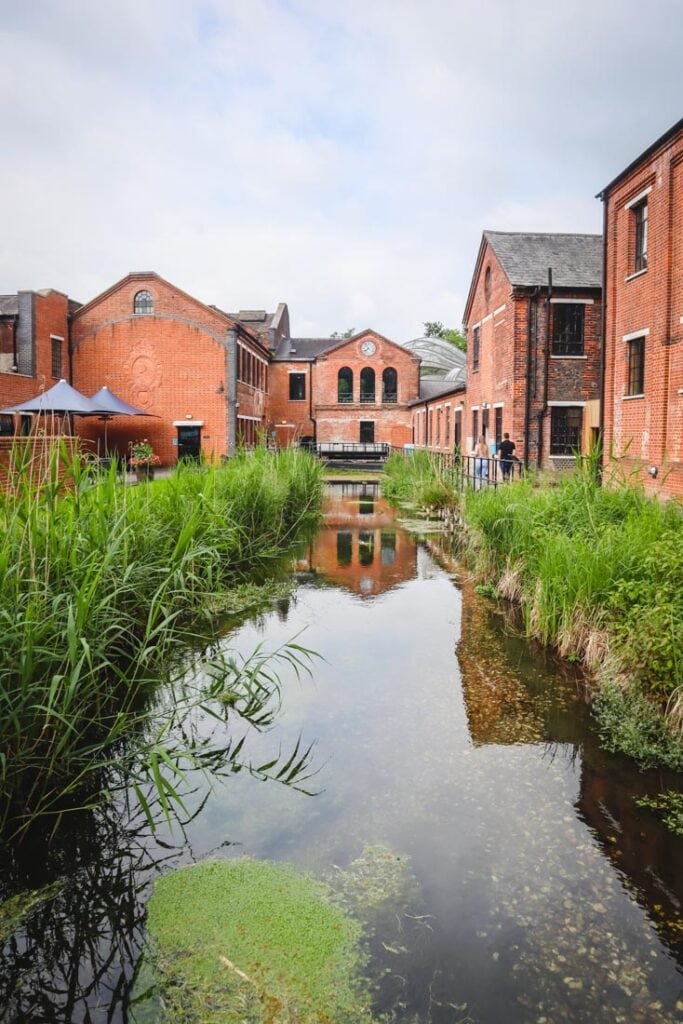 The distillery is found on the banks of the River Test in Laverstoke. This is very close to Whitchurch, and north of Winchester in Hampshire.
It's quite easy driving past the distillery as the entrance is hidden by trees and the speed limit on the road outside is 50mph. There are signs, so make sure you keep an eye out. You can find the distillery on Google Maps here.
The distillery is open 7 days a week from 11:00-18:00 Monday to Thursday, and from 10:00-20:00 Friday to Sunday.
Usually, tours are every hour during the week, but during the busy summer season and at weekends, tours can be every half an hour.
How much is the Bombay Sapphire tour?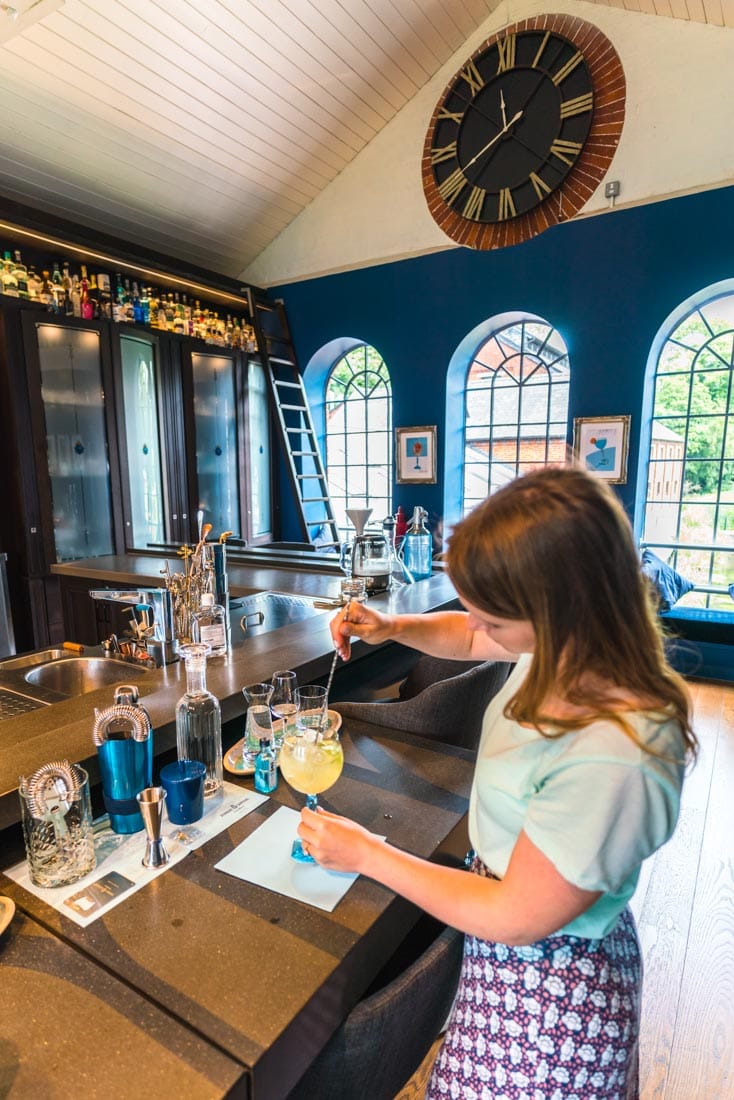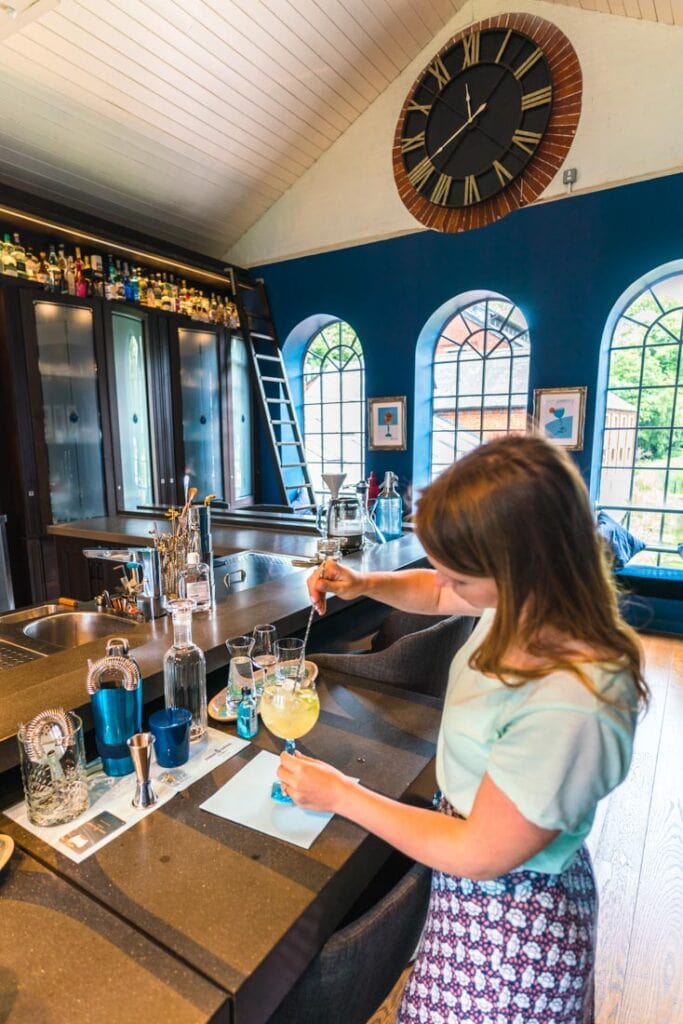 The Bombay Sapphire distillery tour costs £17.50 per person. This is for a guided tour where you'll discover the 10 exotic botanicals that's infused into the gin.
This price also includes a drink in the Mill Bar afterwards where you can choose from 11 different cocktails. I'm not going to say this is the best part of the tour, but…
Each tour takes an hour and 20 minutes. It's about 50 minutes of walking around and learning Bombay Sapphire's process of producing gin, and then a 30-minute tasting session at the end where you get to try one of their signature cocktails.
You can also go on a Gin Cocktail Masterclass at the distillery, but I'll tell you more about this later.
If you're looking at buying a Bombay Sapphire ticket, you can use the booking button below.
Check availability & latest prices now
The history of Laverstoke Mill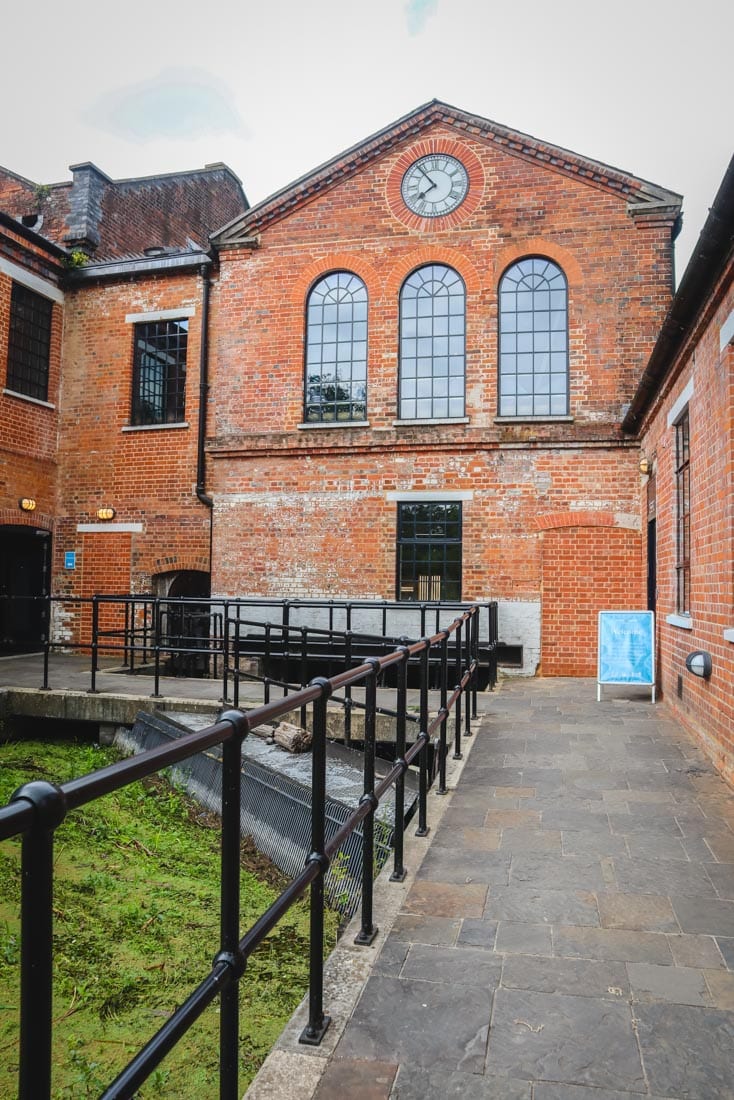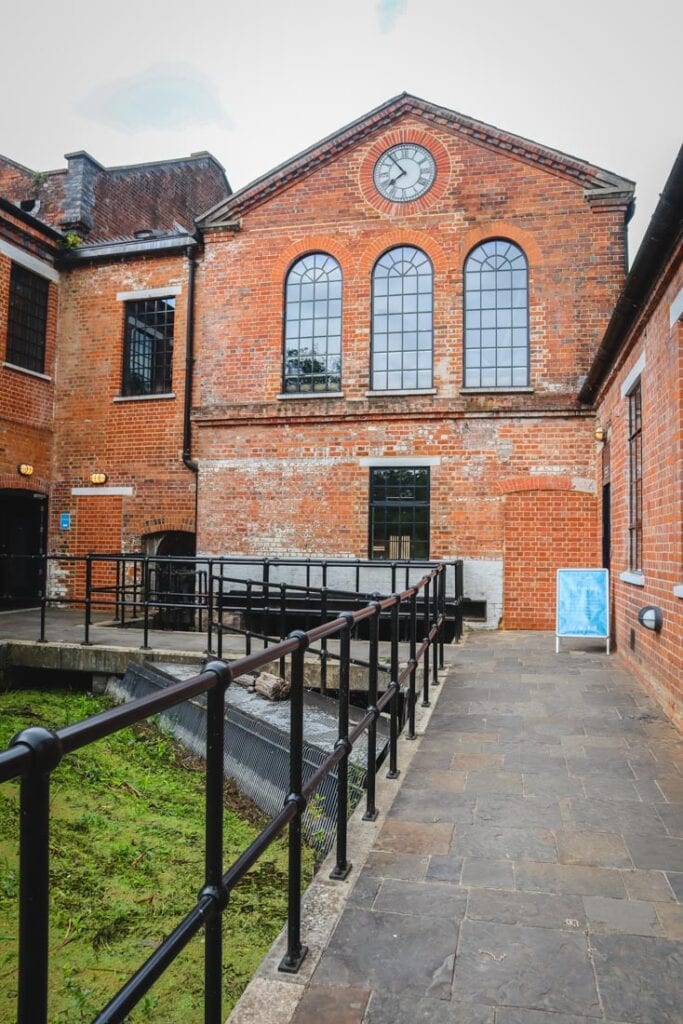 You can tell that Laverstoke Mill dates back a good couple of hundred years from the moment you arrive.
All around you are these red brick buildings, a reminder of a bygone era when this used to be a paper mill. You can even see some of the windows still bricked up to avoid the window tax (one of the craziest taxes we've had here in Great Britain).
The gin tour starts in front of the gorgeous botanical glasshouses. These were built by Thomas Heatherwick – he also designed the Olympic cauldron and the new London busses. It's safe to say he loves a good curve in his designs.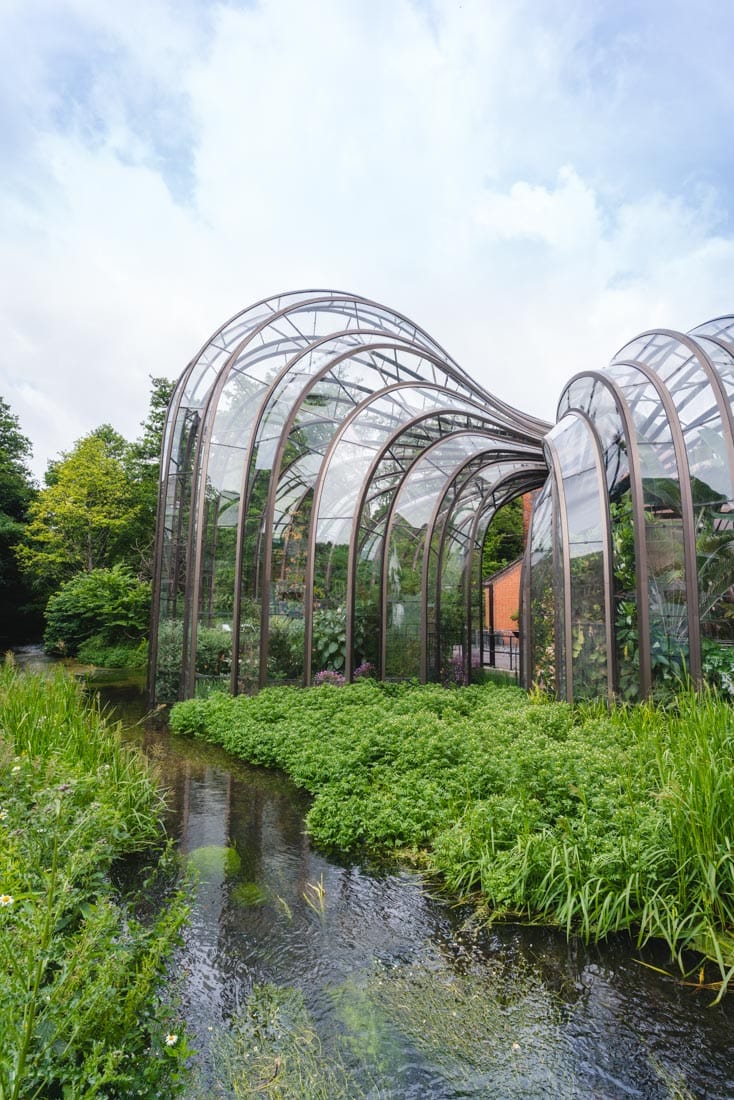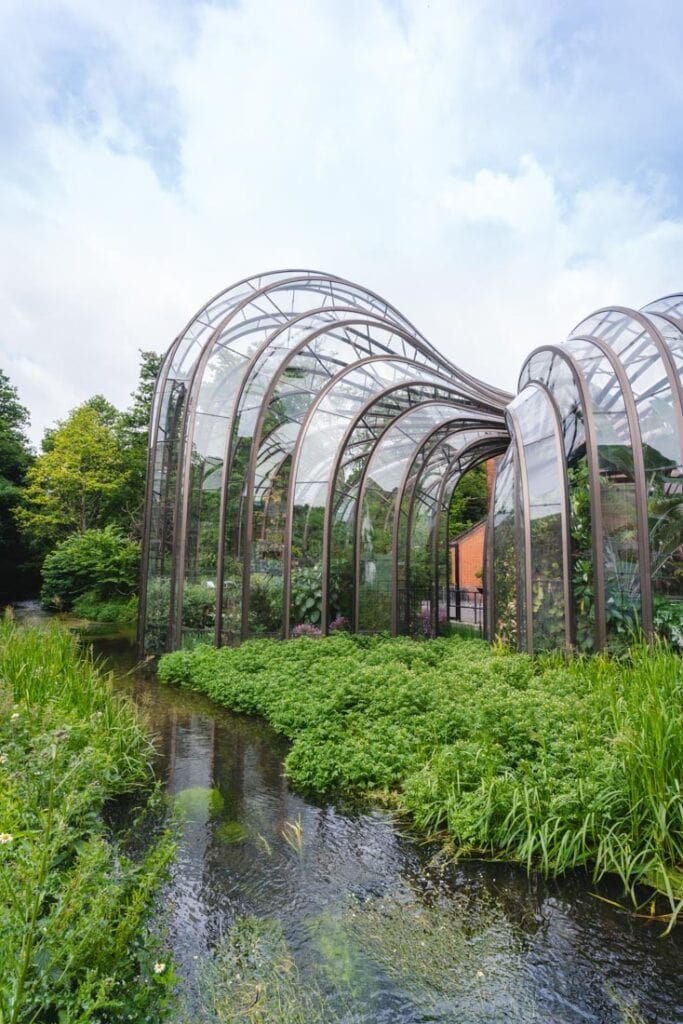 I can't tell you how much I adore this building. The glasshouses look like giant glass cloches protecting all the plants and botanicals inside.
It also looks like gin is pouring out of the old warehouse directly into the river. Somehow the juxtaposition of old and modern blends perfectly together, don't you think? As I said, if you're a fan of architecture, you'll love it here.
Once we learned all about the history of Laverstoke Mill and Bombay Sapphire, we moved onto learning all about what makes gin gin.
Learning all about the different botanicals in gin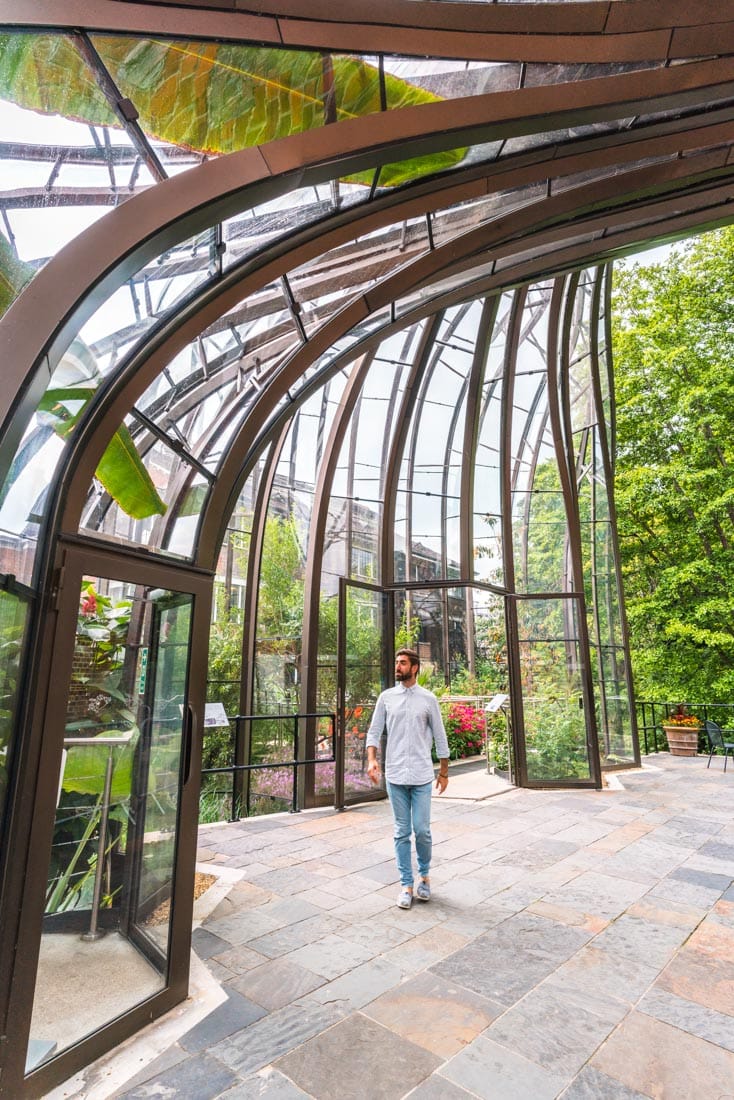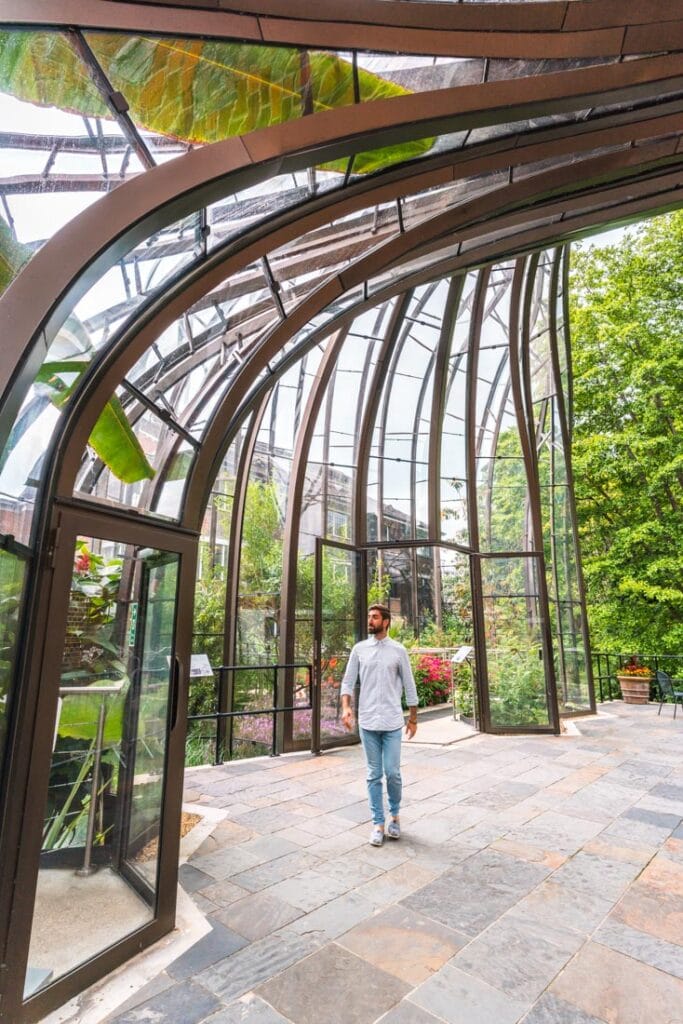 One of things I love about gin is it's a lot more complex than people realise. Unlike vodka or whiskey which only involve a few base ingredients, a lot goes into the process of making gin.
Usually, for a gin to be classified as gin, it needs to have five key ingredients – juniper berries being the one everyone knows, then lemon peel, coriander, angelica and orris root. Put all five of them together with a distilled spirit, and you essentially get gin.
Now this is the fun bit. Once you've got those five ingredients for your gin, you can go wild with the other botanicals. You can take it any direction you want, which is why you see so many different types of gin on the market.
You can have something spicy, something floral, something citrusy. Whatever your palate, there's a gin for you.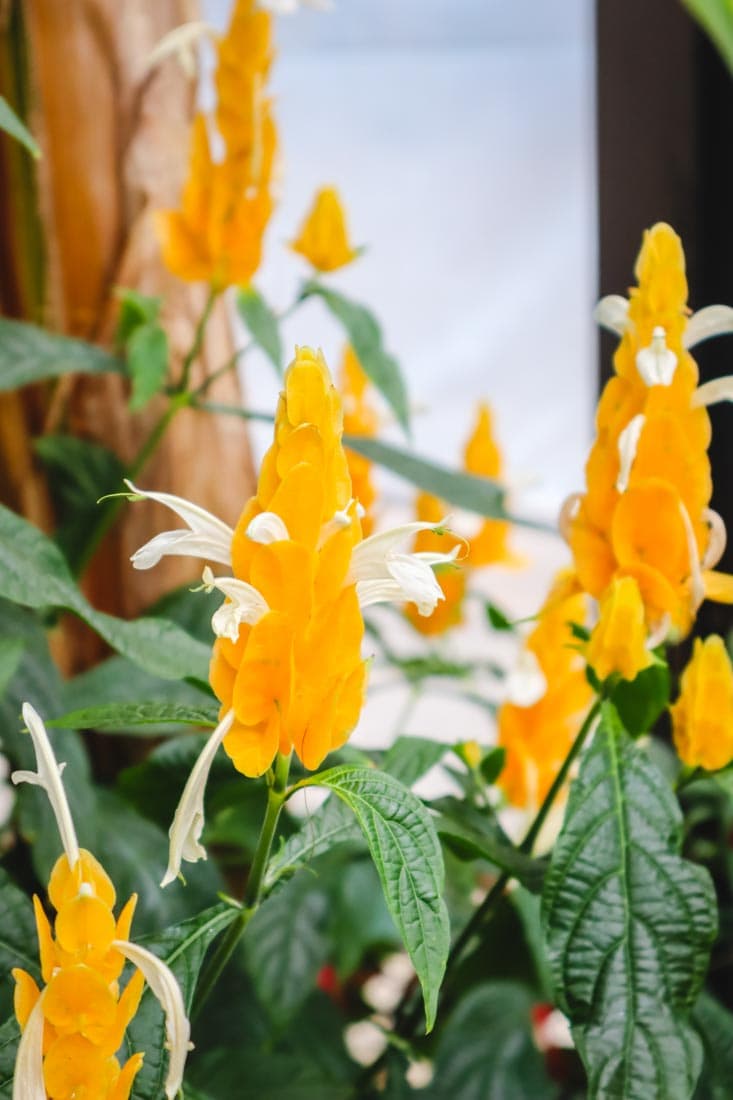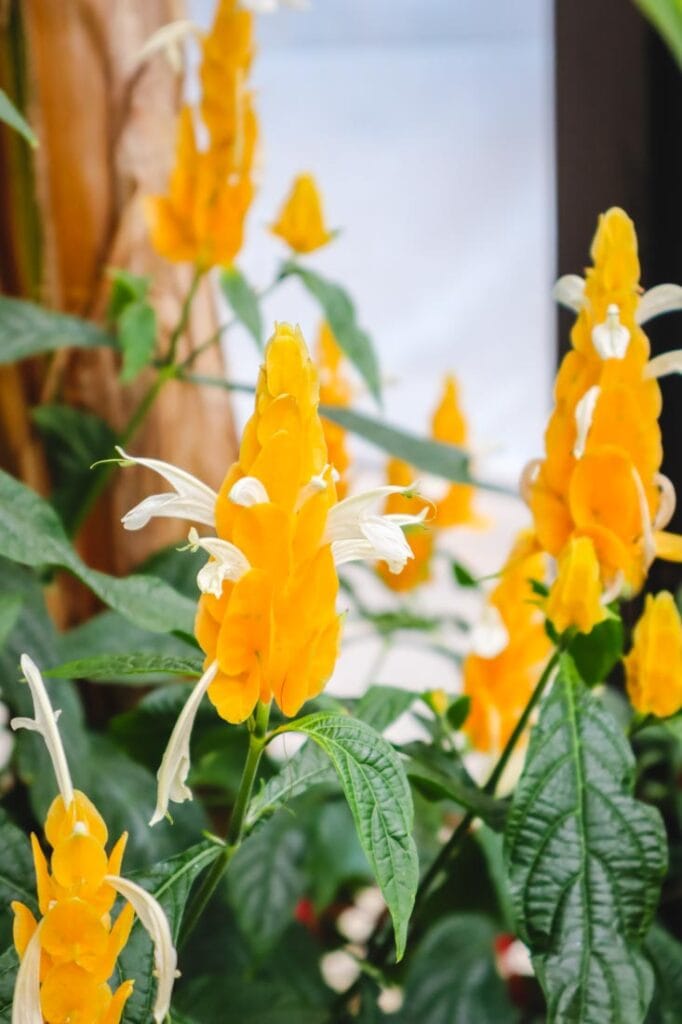 Now, Bombay Sapphire has a further five botanicals in their gin. Liquorice which adds sweetness, almonds which adds viscosity, and cassia bark, cubeb berries and grains of paradise which all add flavour. As I said, gins are so much more complex than people realise.
I have no idea how hundreds of years ago, someone was like "let's get juniper berries, a few coriander seeds, angelica, a dash of powdered orris root, and see if we can turn this into something delicious." It sounds more like a witch's potion than a recipe!
Going on a sensory journey in the glasshouses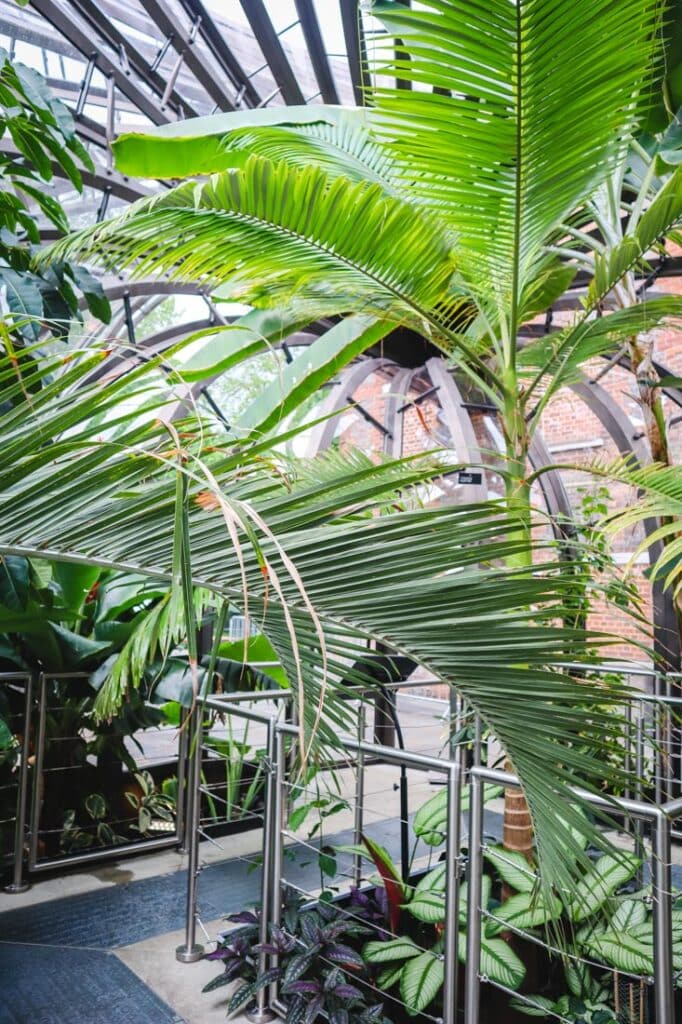 Once we learned about what goes into making gin, we headed into the glasshouses to see the botanicals growing.
The glasshouses are split into two. One is Mediterranean where seven of the botanicals are grown, and the other is tropical where the other three are grown.
It was really cool walking around the glasshouses seeing each individual ingredient. It really brings the whole process of producing gin to life.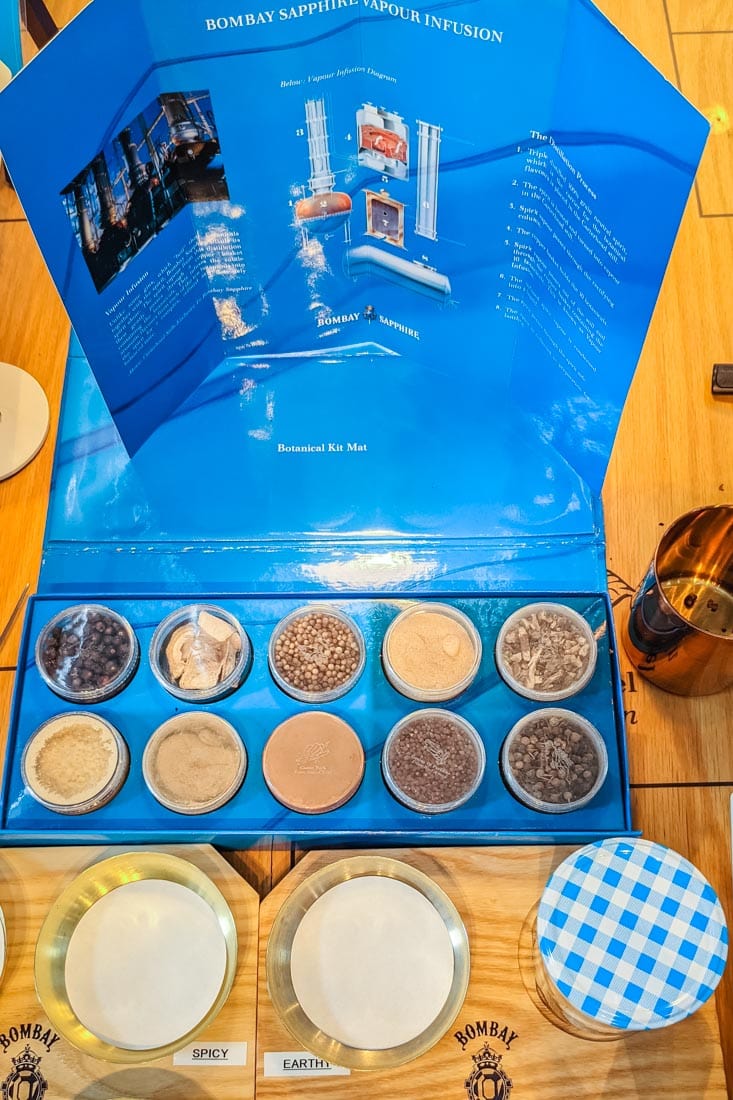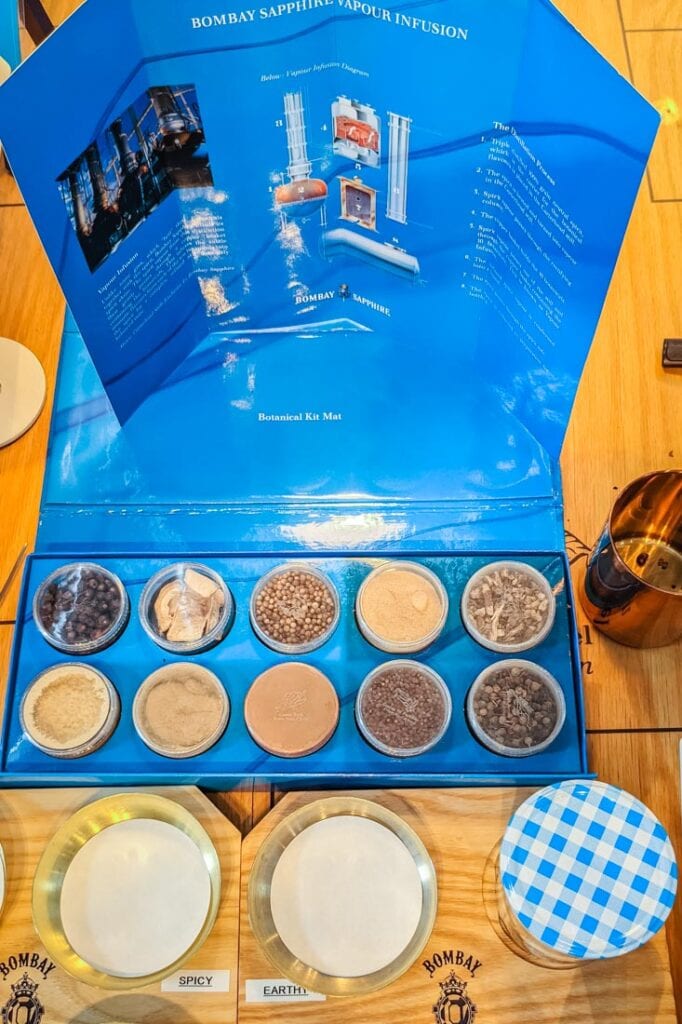 After the glasshouses, we went into one of the buildings to go on another sensory journey.
Here are all the key botanicals are laid out in front of you to sniff and smell. It's really interesting learning things like cassia bark tastes like cinnamon and adds a warm spice to the gin. And the grains of paradise add chocolate and coconut tones.
Also, from smelling all the different botanicals, you get much more of a sense of your own flavour profile. For me, I loved the smell of all the spicy botanicals, but not the floral ones.
This is really helpful when deciding which cocktail to go for, as different cocktails match different flavour profiles. Clever, right?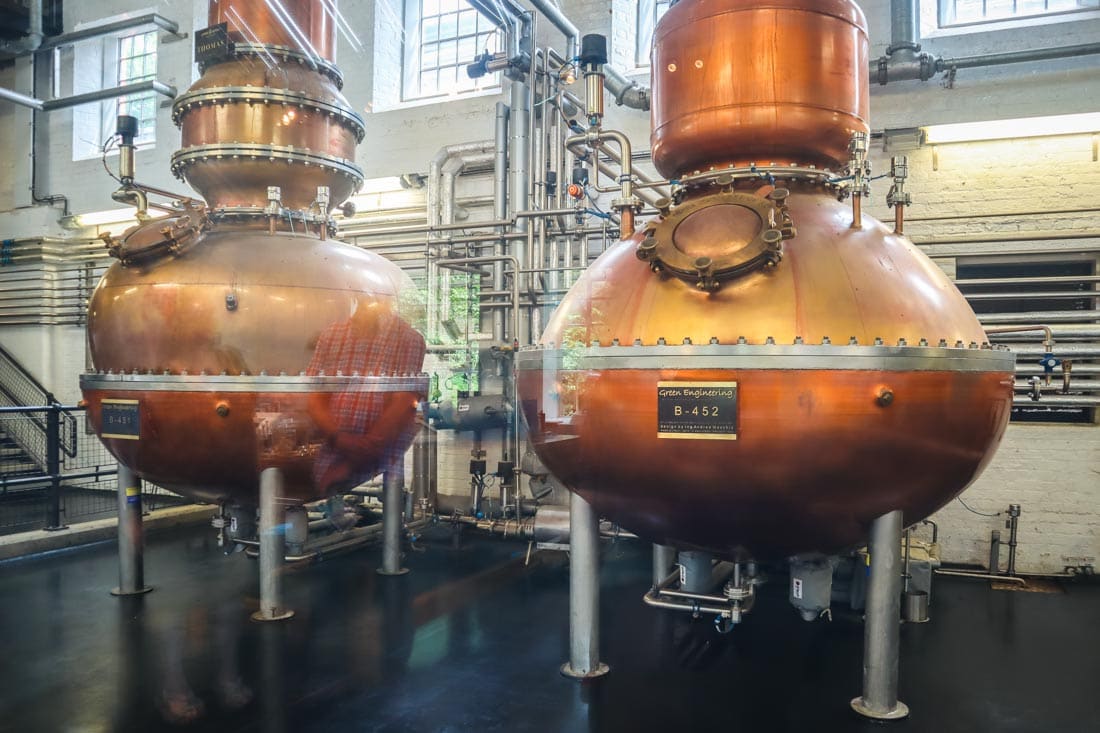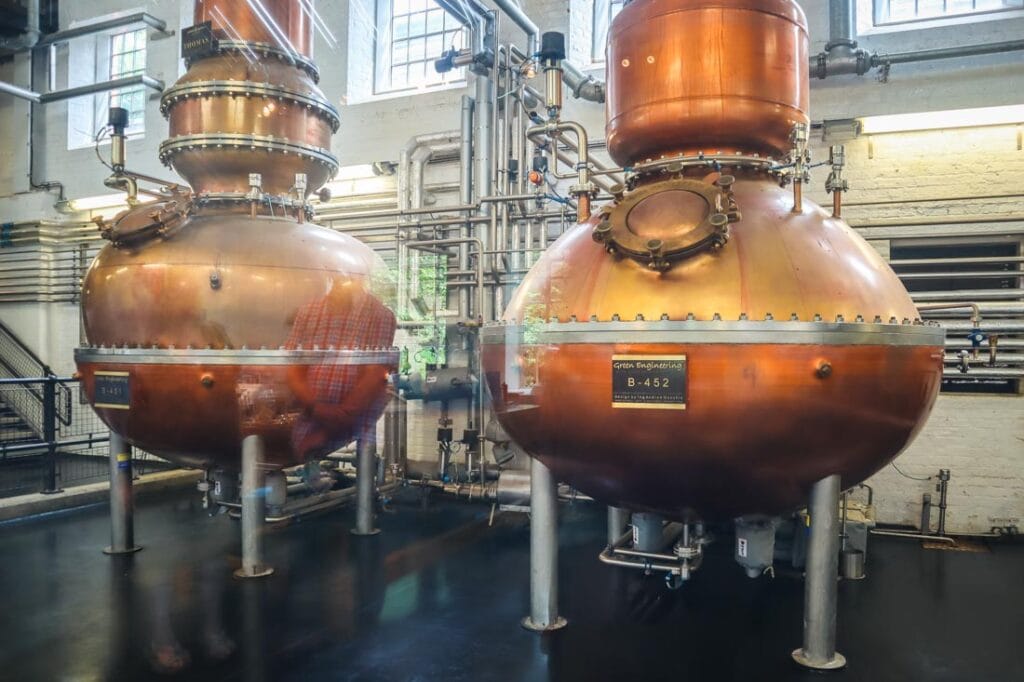 We also learned all about the distillation process and how they actually make the gin at Bombay Sapphire.
Some of the numbers are staggering. 12,000 litres of gin are produced every eight hours in the stills. Add all of this up, and it equates to over 60 million bottles of Bombay Sapphire a year. That's a lot of gin!
Enjoying a cocktail at the end of the tour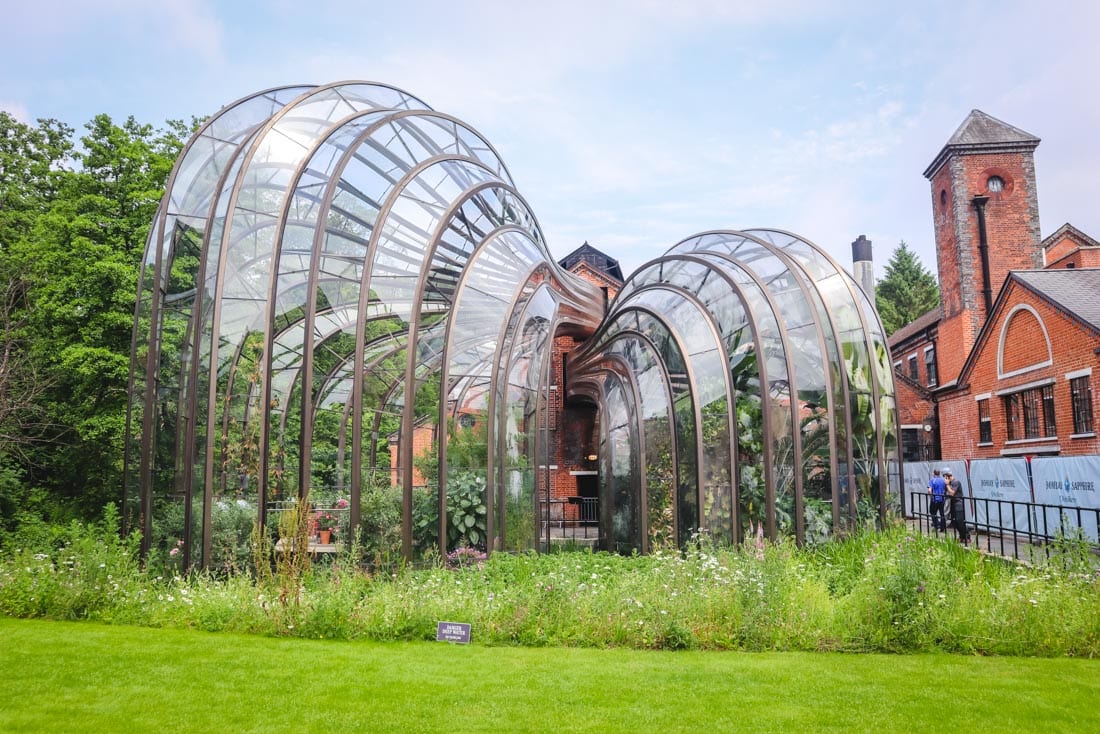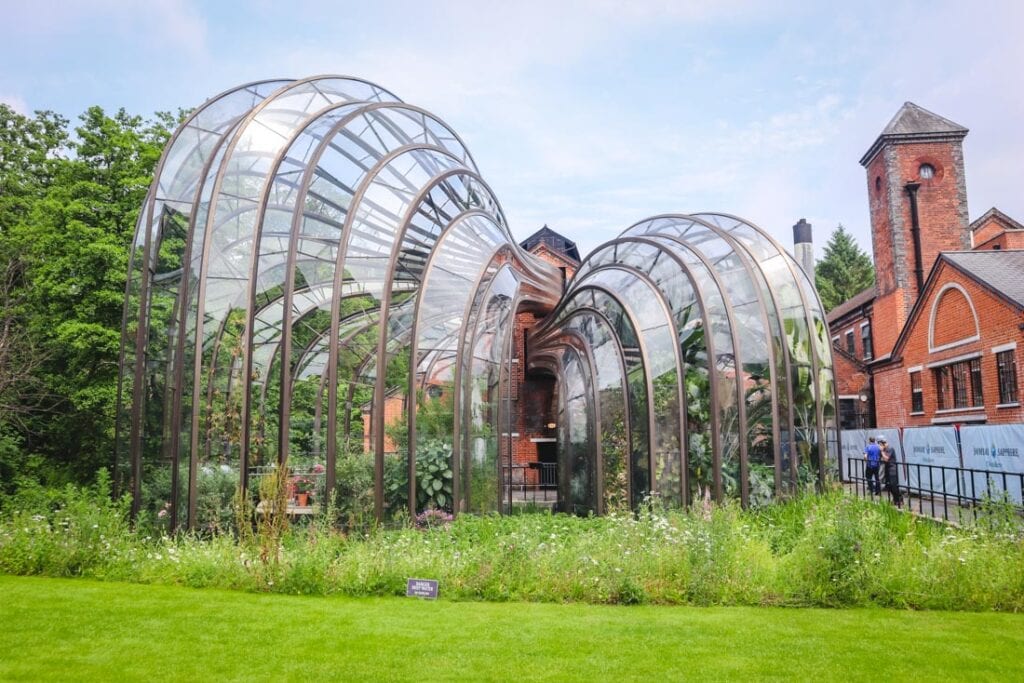 Once we had finished the Bombay Sapphire tour, it was onto everyone's favourite bit – the tasting in the Mill Bar.
Each of the cocktails they've created at Bombay Sapphire is crafted to suit your individual palate. There are a whopping 11 cocktails to choose from, so there's definitely something for everyone. All the tours included one cocktail in the price, so it's already covered. Just sit back and enjoy a good cocktail.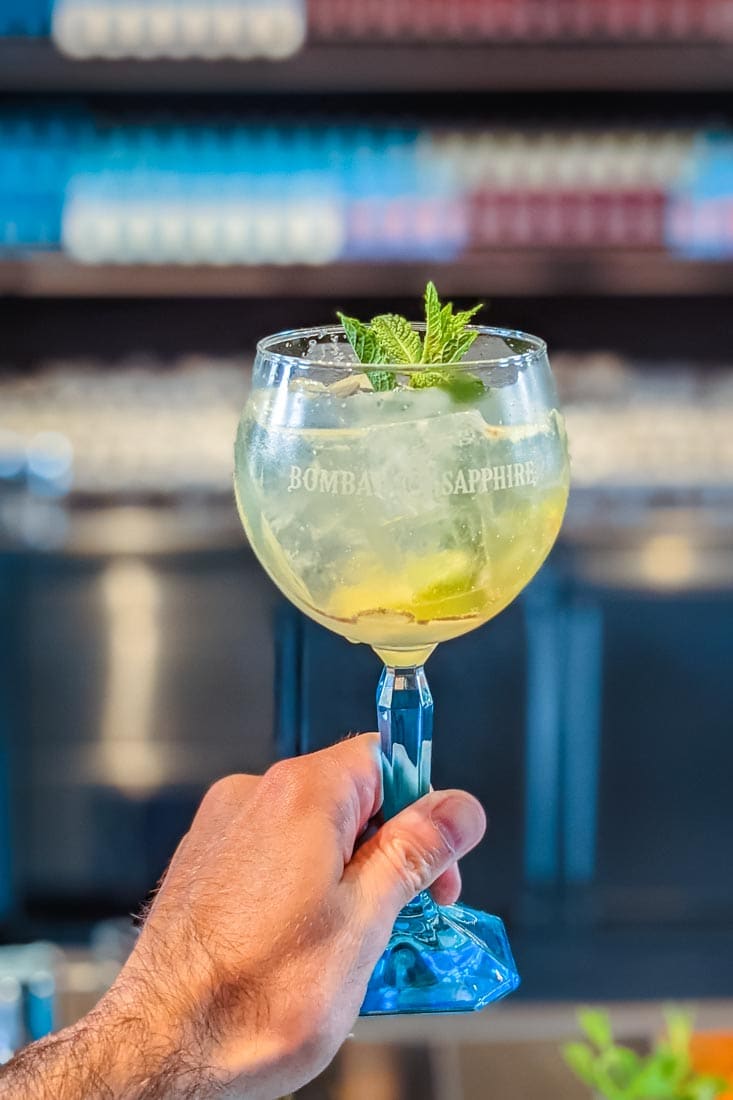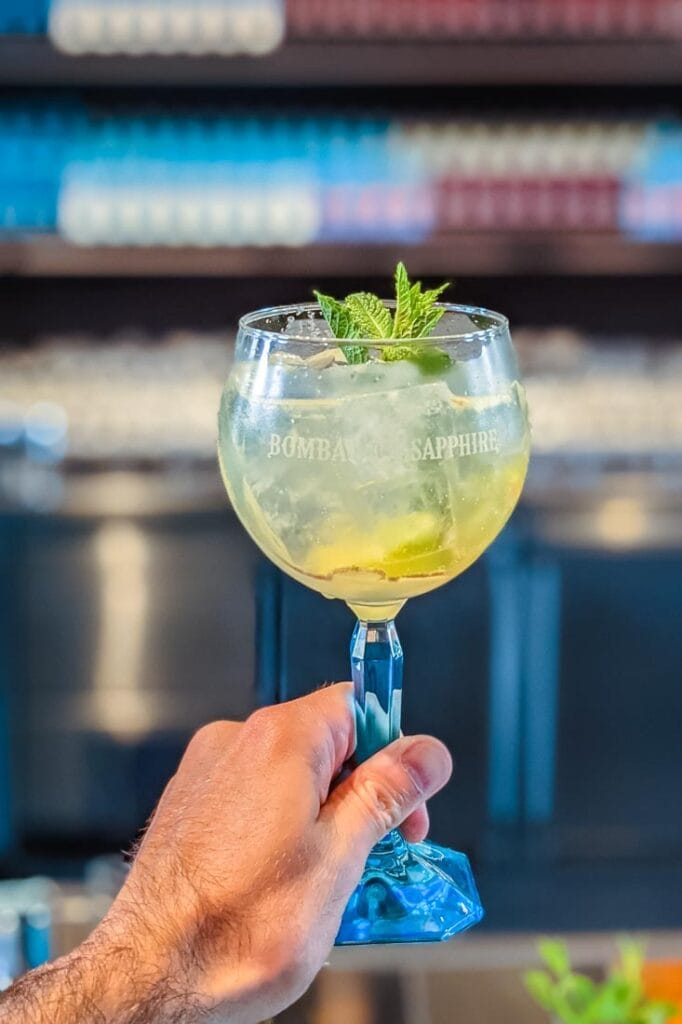 I went for Bombay Sapphire's signature cocktail – The Laverstoke. This is so far from your average g&t as it uses ginger ale instead of tonic. It's a really bright and refreshing cocktail that is thirst quenching and absolutely delicious. Honestly, it's worth doing the tour just for this cocktail!
One of the things that I thought was a nice touch was is they offer take away cocktail kits for designated drivers, and they have a couple of non-alcoholic mocktails for those who don't drink, so everyone is taken care of.
Once the tour is finished, you're free to stay in the bar to sample another cocktail.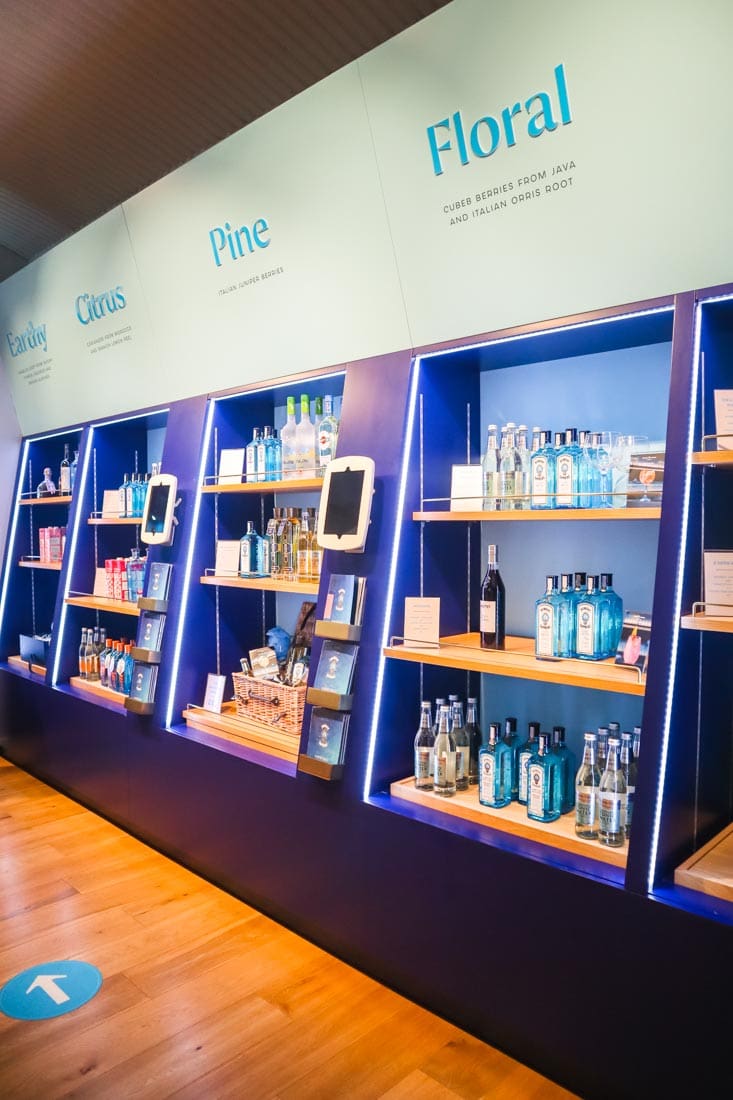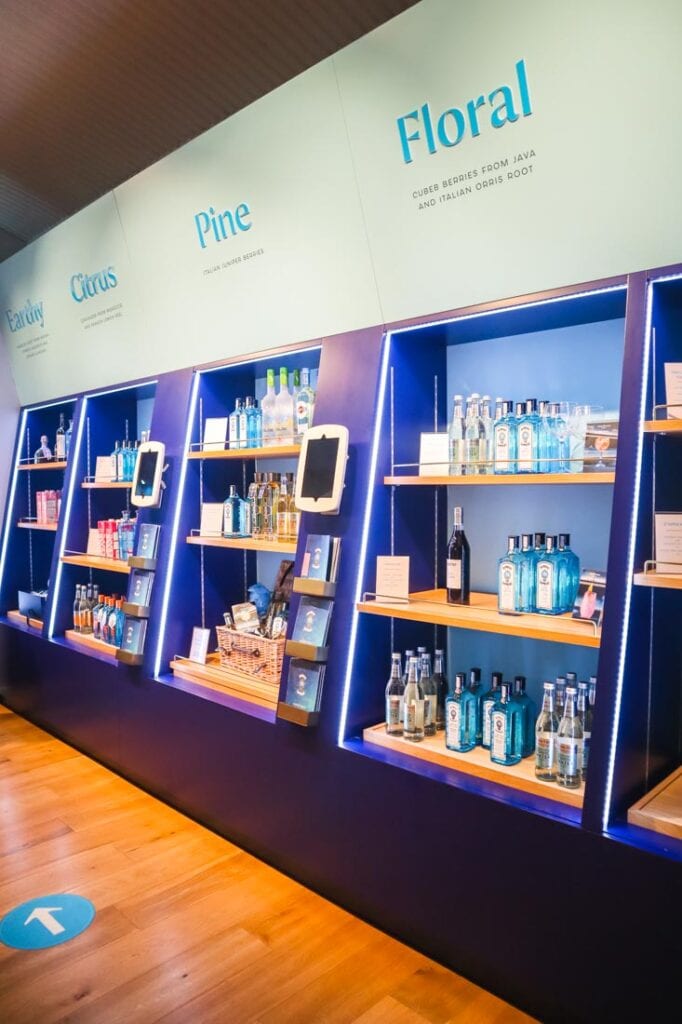 Before you go, it's worth popping your head in to the Gin Shop. It's very hard not picking up a bottle or two, but that's the point.
I bought a bottle of Bombay Sapphire Sunset. This is a limited-edition bottle with added botanicals of Indian white cardamom, turmeric and Murcian sun-dried mandarin peel. It was just a little memento of our gin tour here!
The Bombay Sapphire cocktail making masterclass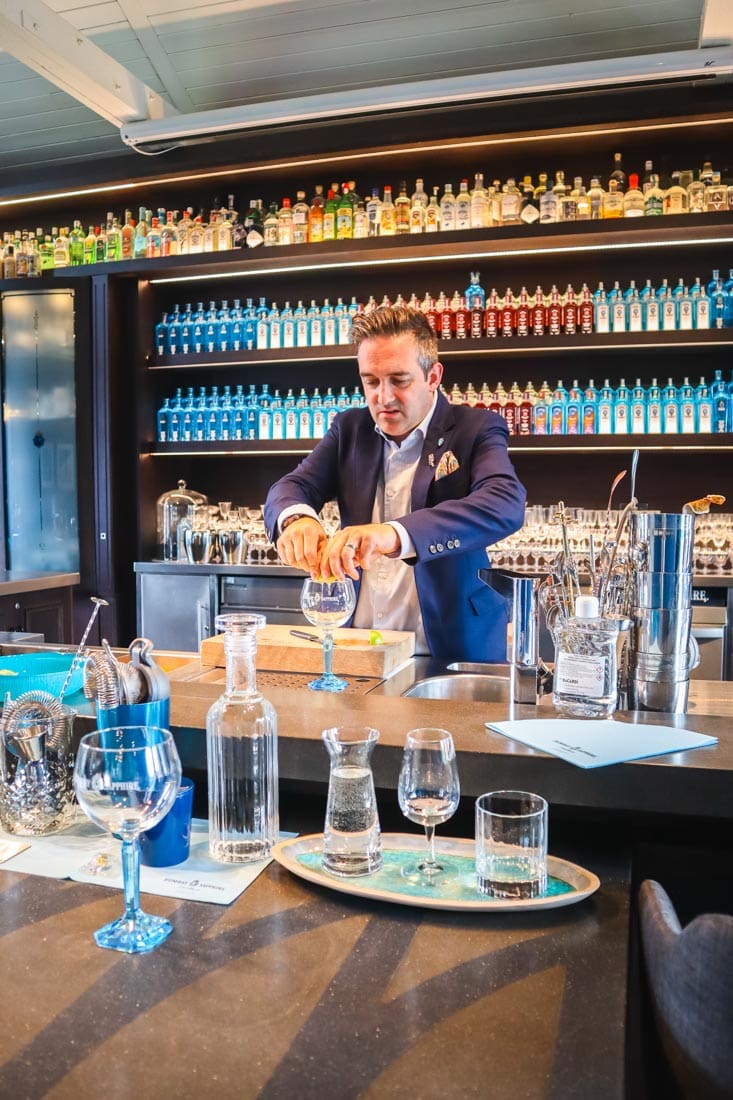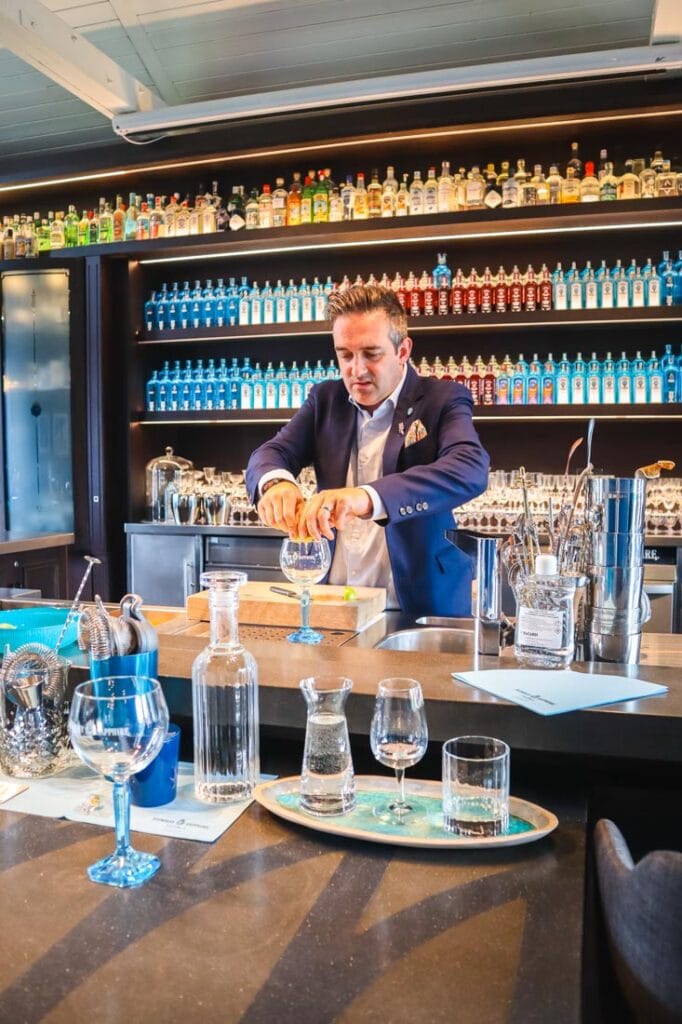 If you're looking for a Bombay Sapphire tour with something a bit more special, then the Gin Cocktail Masterclass is for you.
This is an interactive session on cocktail culture where you can learn the tricks of the bar trade so you can create your own cocktails easily at home.
This experience includes the fully-guided tour detailed as above, but once you've finished your complimentary drink, you go off for a one-hour interactive cocktail mixology session.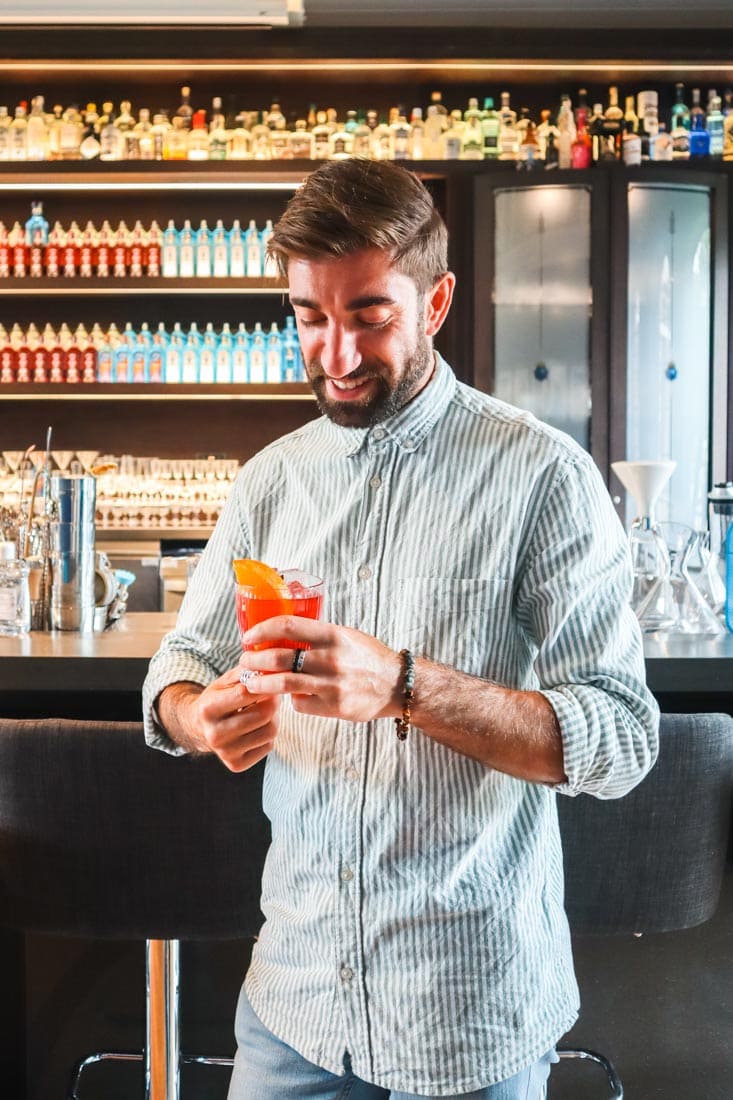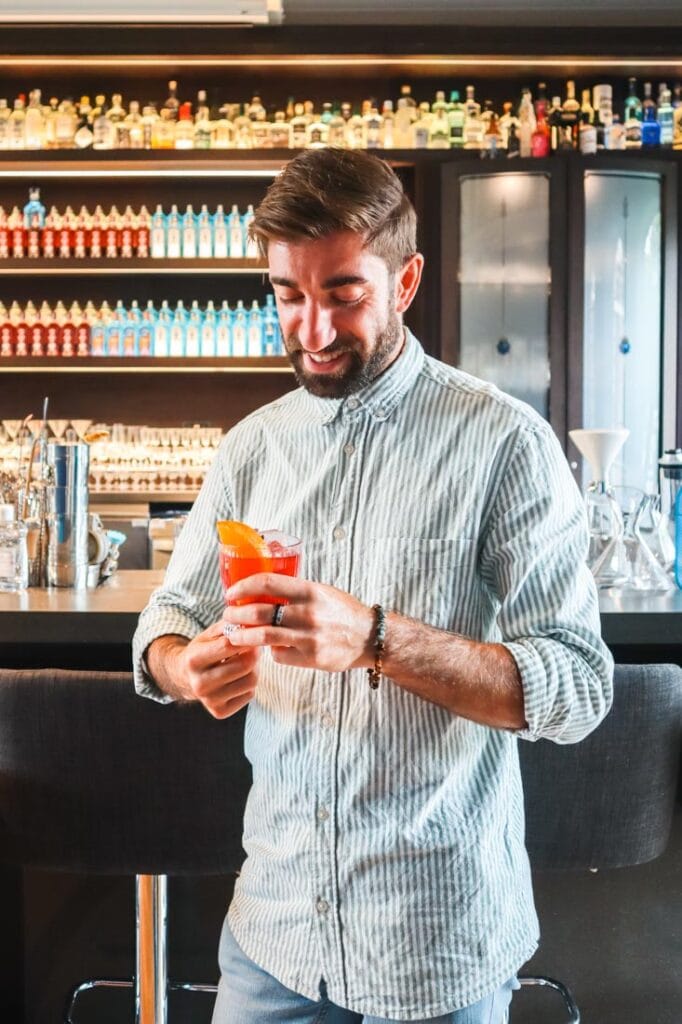 We decided to do this after our tour, and it was so much fun. We were hosted by Sam who is one of the brand ambassadors at Bombay Sapphire.
In our masterclass we made the signature Laverstoke cocktail (which I'll definitely be making at home), and a very punchy negroni.
I know it sounds cliched, but we really did learn some tricks of the trade on how to make better cocktails at home. As I am into making weekly g&ts with trying out new recipes, this was absolutely perfect for me.
The Gin Cocktail Masterclass costs £45 per person and includes the full Bombay Sapphire tour, plus three different cocktails (one you drink in the bar, and the other two you'll make).
I thought this was really good value for money. When you think a good cocktail is usually £10, that adds up to £30 of cocktails. That means the tour and learning from a professional mixologist is only £15 – bargain!
Where to eat nearby: The Palm Brasserie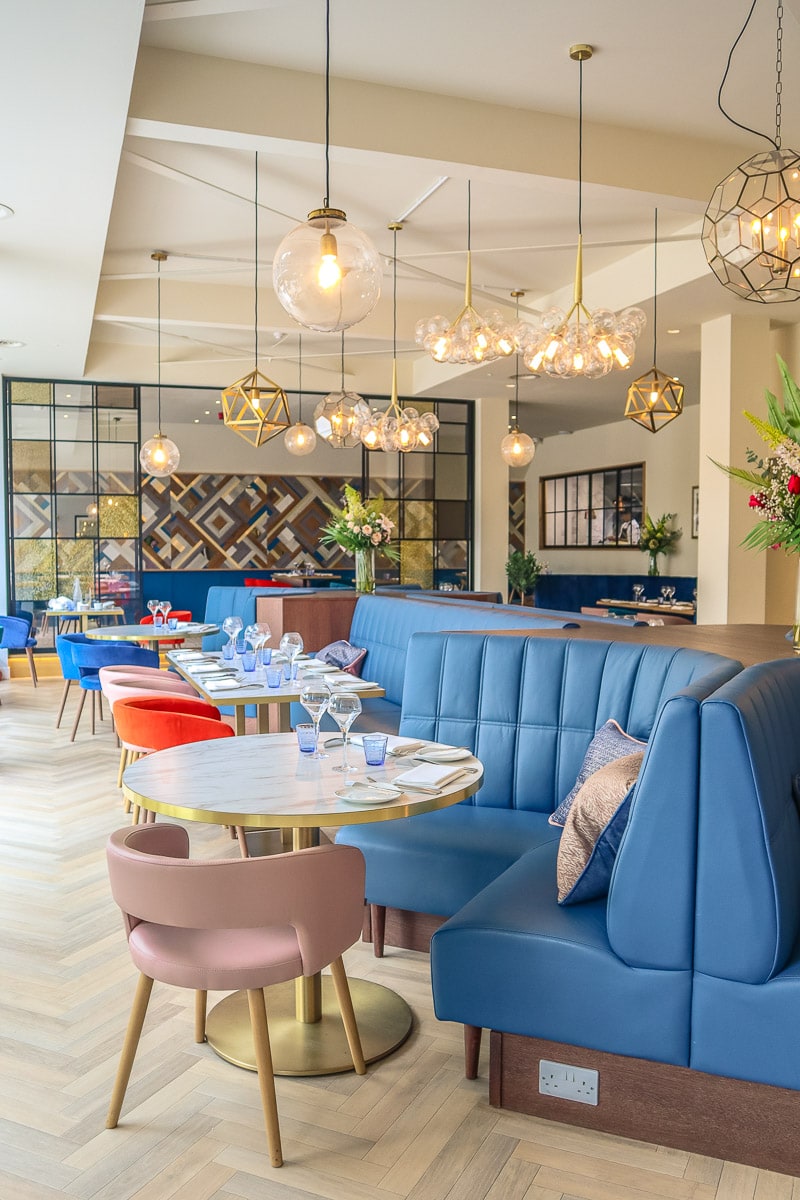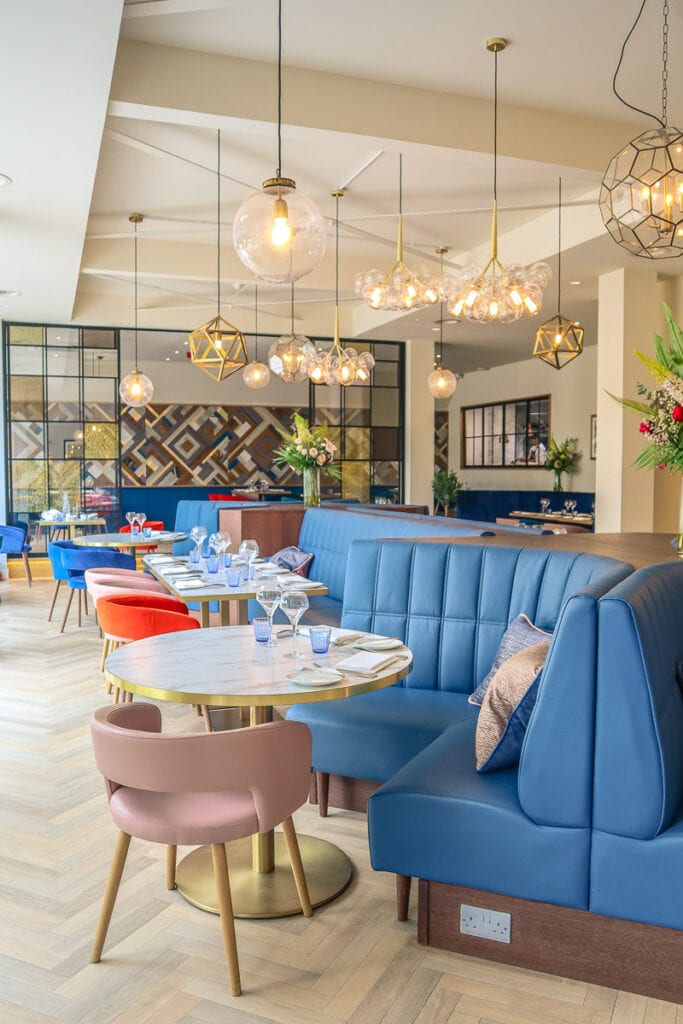 If you've worked up a bit of an appetite after the Bombay Sapphire distillery tour, then make your way over to The Palm Brasserie. This is a short 10-minute drive just on the outskirts of the village of Deane.
The Palm Brasserie is a converted pub that's recently been refurbished in 2020. The interiors are really bright and open – it definitely doesn't feel like it was once a pub.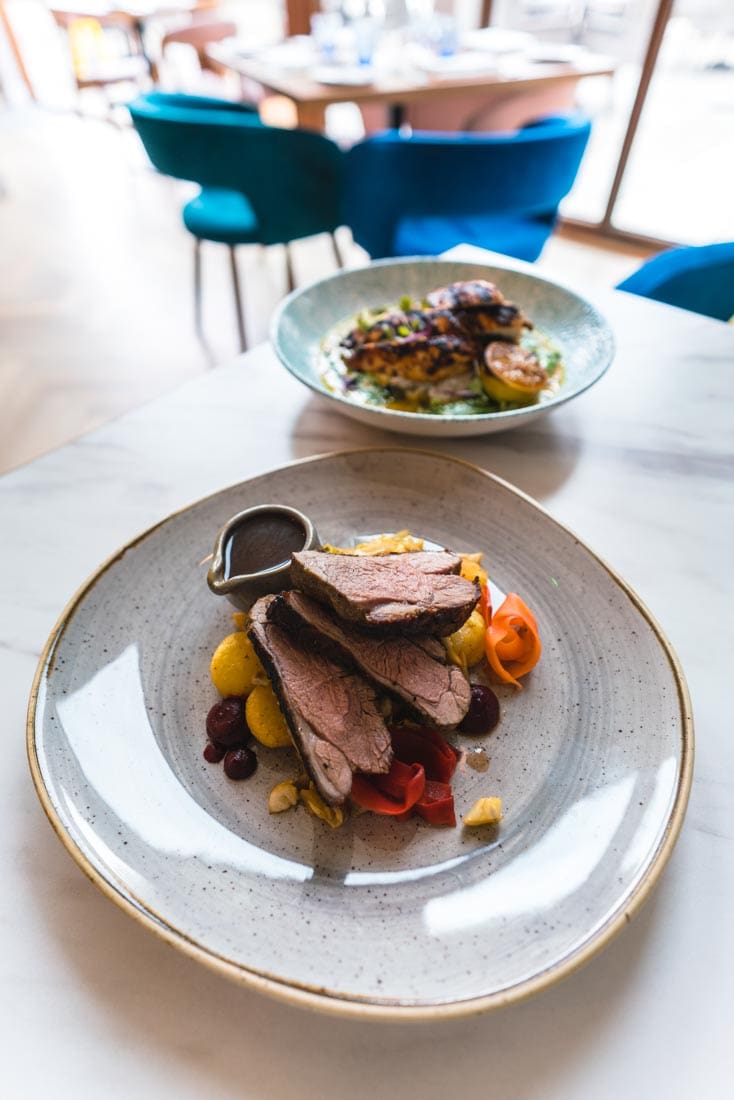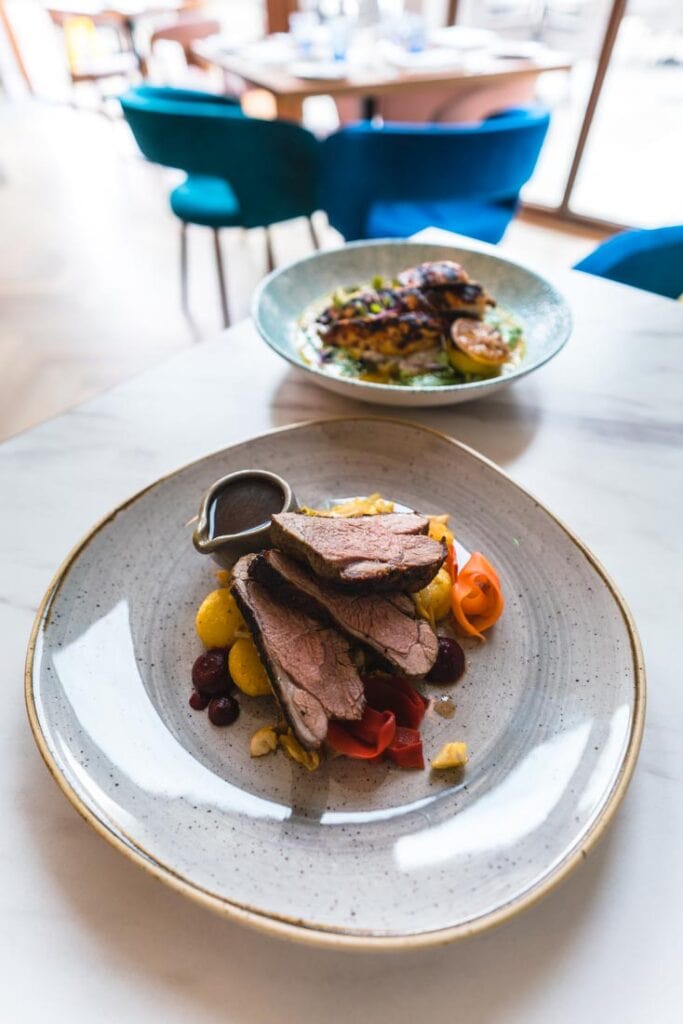 As for the food, it serves up modern Asian fusion and it's really top-quality cooking.
To start with, I had the seabass roulade on a bed of pickled seaweed, wasabi mayo and salmon roe. For mains, I had the Ras el Hanout rump of lamb with pomme parmentier, savoy carrots, pickled carrots and an Armagnac sauce.
Honestly, the food was so delicious. I really can't recommend this place enough!
Where to sleep nearby: Watership Down Inn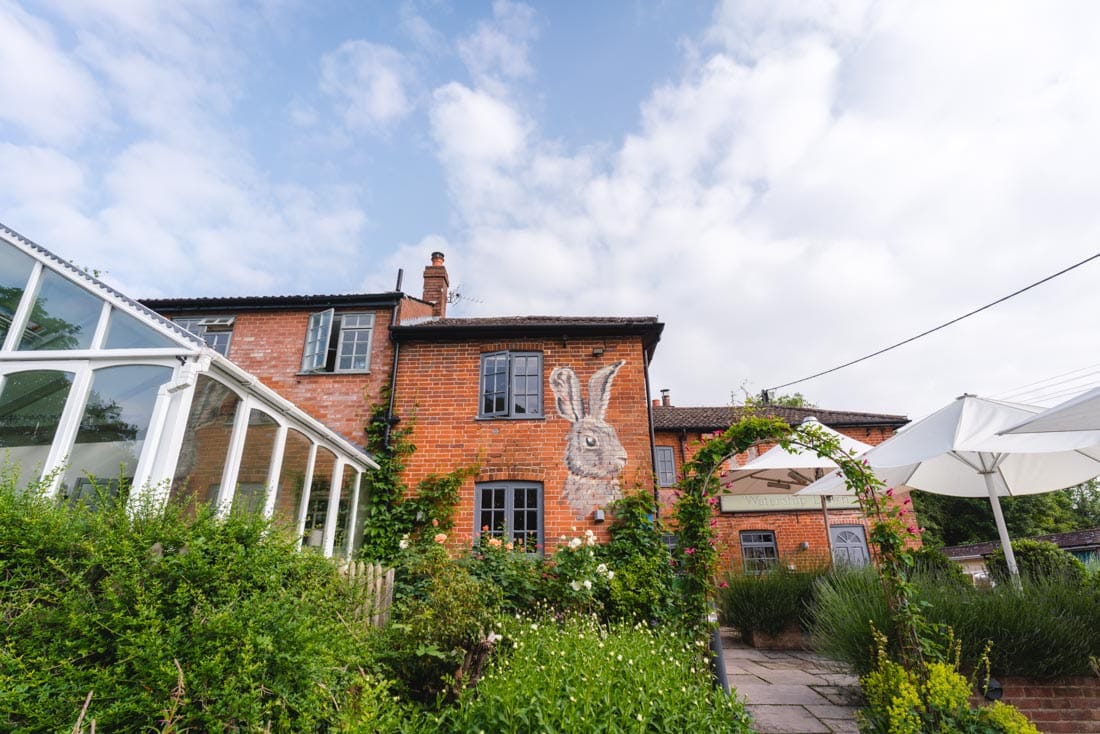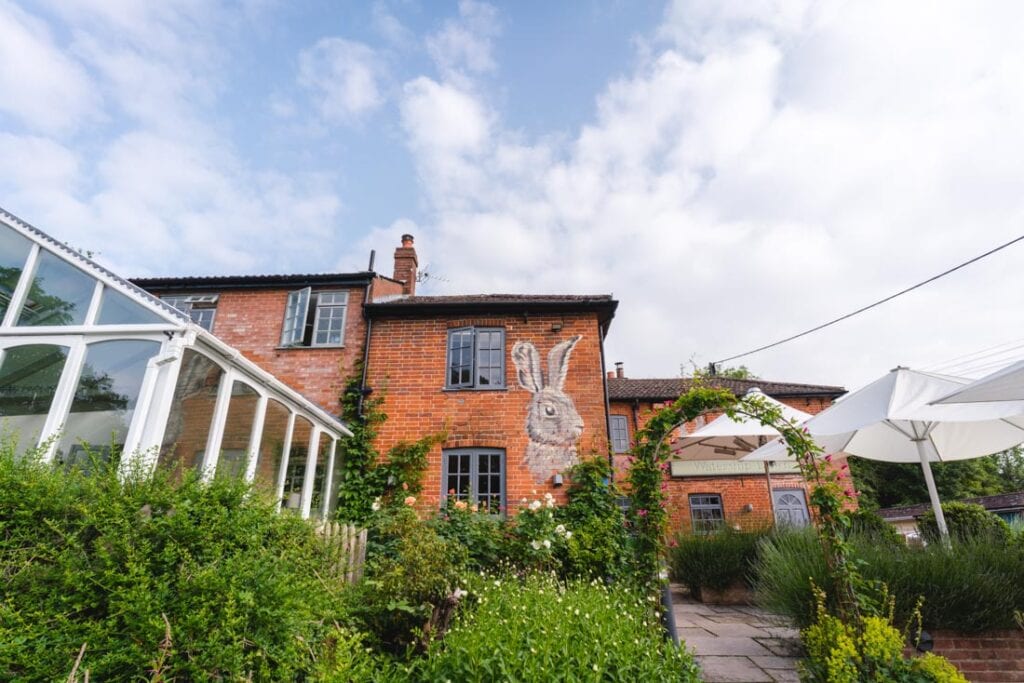 If you're looking for somewhere to stay near the Bombay Sapphire distillery, then the Watership Down Inn is the perfect place.
Located in Whitchurch, this is a really charming pub with rooms onsite. There are three rooms upstairs in the original inn, and four brand new bedrooms outside, including a very large family room.
The garden rooms are completely self-contained and quietly nestled on the ground floor within the gardens, carefully designed to complement the beautiful surroundings while bringing a new design.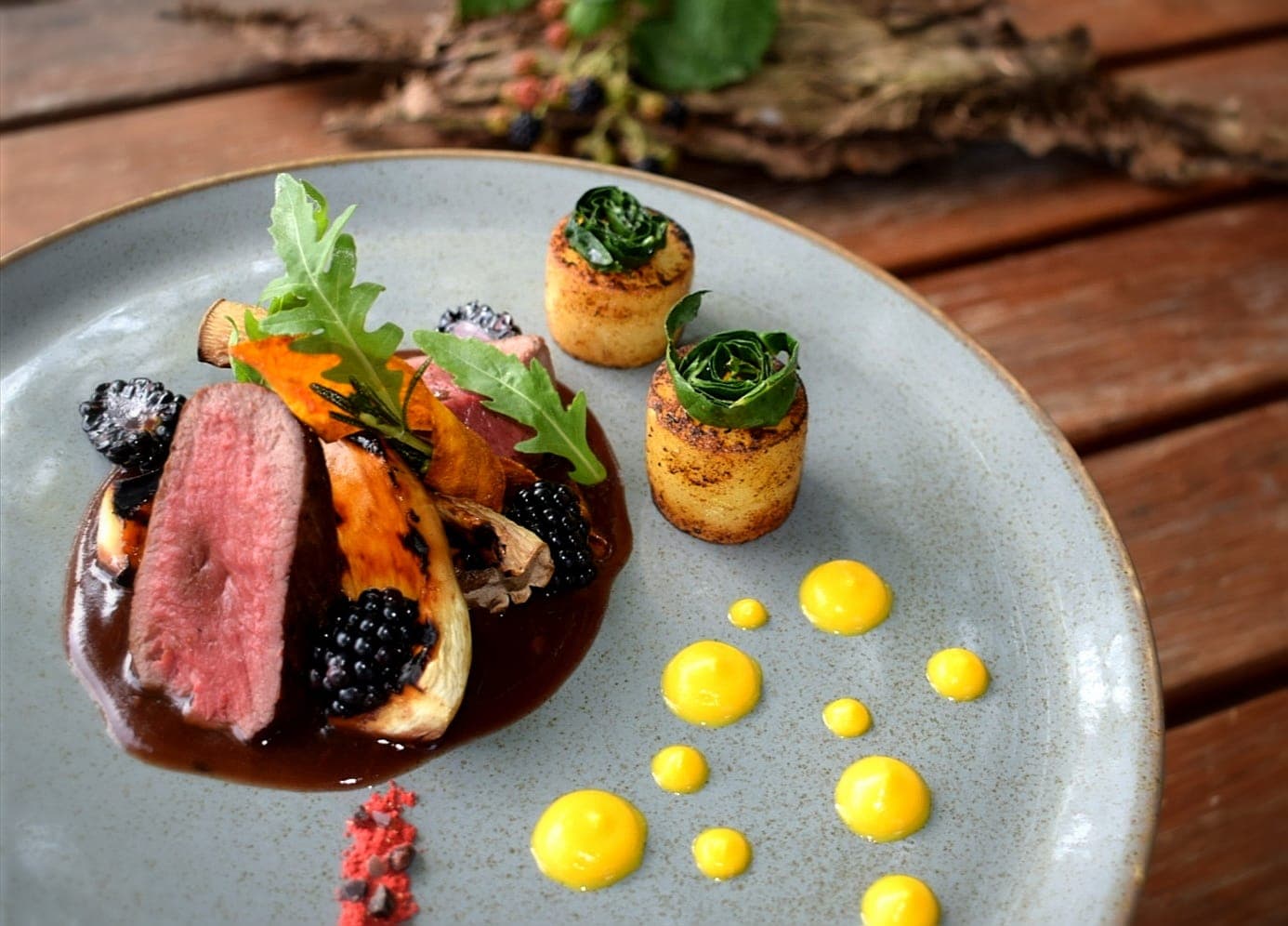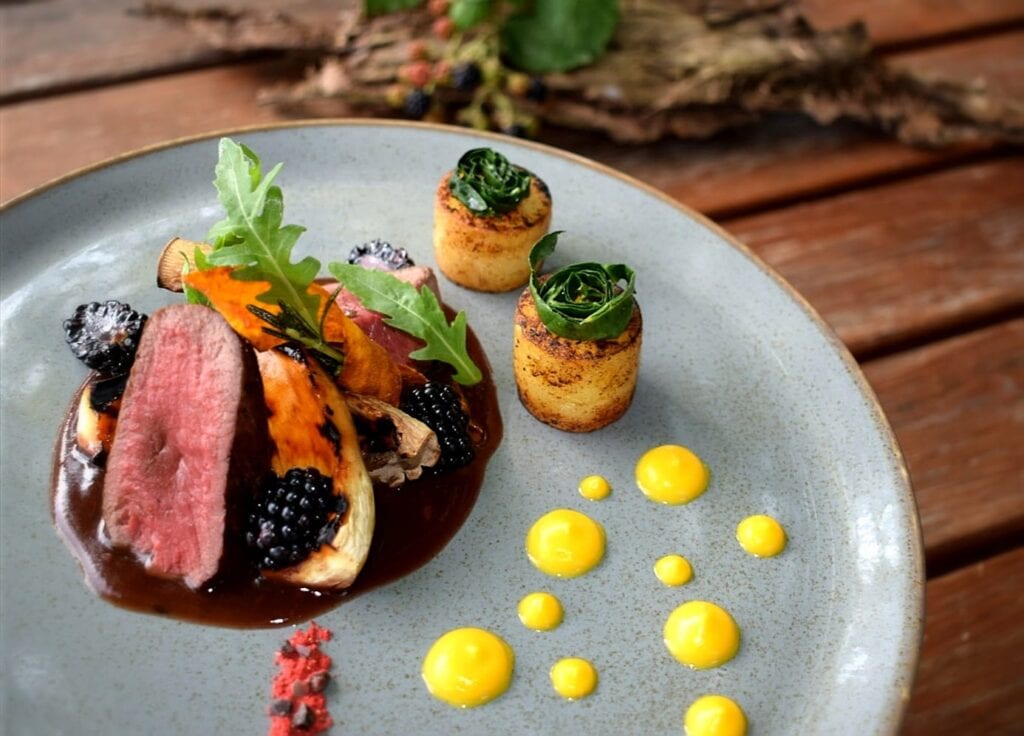 The onsite restaurant is really popular too, so this is another amazing option for somewhere to eat at.
Oh, and if you didn't get it from the mural, all the pub is themed on the Watership Down novel!
---
This post was in association with Visit Hampshire promoting some of the best things to do in the area. As always, views are entirely our own and without bias.
Are you planning a trip to the Bombay Sapphire distillery? Let me know if you have any questions in the comments below and I'll get back to you!
Like this post? Then make sure you Pin it for the future!