From authentic Thai curries and fresh sushi, to juicy burgers, if you're looking for tasty street food in a cool space, this is the Glasgow food market for you.
If you love street food as much as I do, you'll absolutely love The Dockyard Social. When I first visited this Glasgow food market few years ago, it had only just opened. It was a temporary pop-up, and reminded me of places like BoxPark, Street Feast and Pop in London. It was urban, casual and had a great vibe. Oh and the food was super tasty too!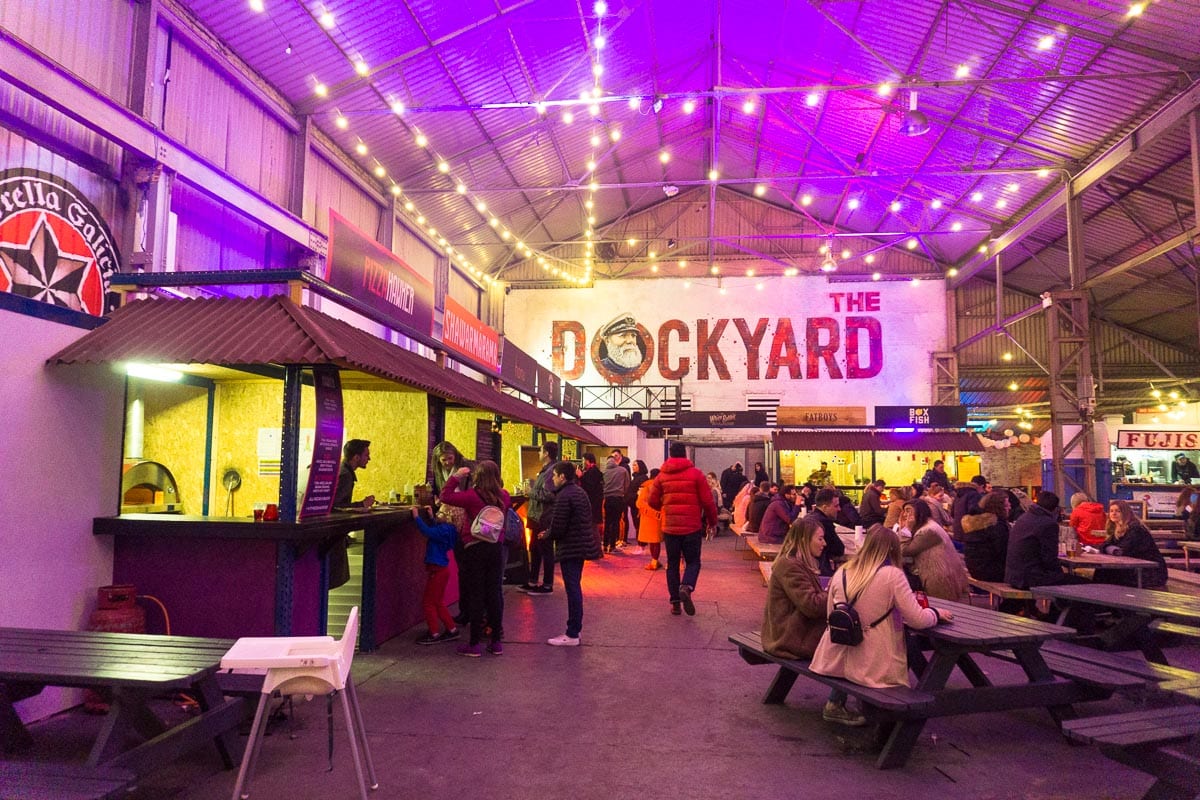 Diners at this hip Glasgow food market have the chance to eat their way around the world. Start with some fresh sushi, move on to a katsu curry and end with a sugary bubble waffle. What could be better? It's also an amazing place for big groups. Everyone will find something they want to eat… or they can opt for a liquid diet of craft beer or cocktails.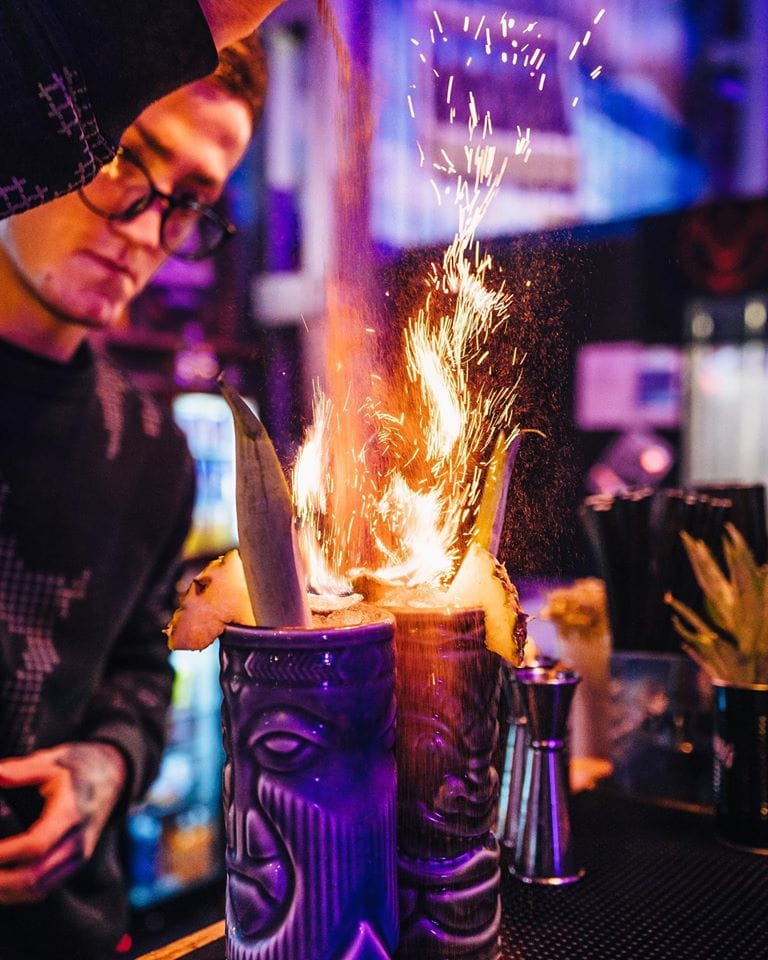 The Dockyard Social is also a place with community at its heart too. The guys who developed the concept are looking to offer jobs to those who have fallen on hard times, and to support start-ups in the food industry.
It's time to share a little more of why I adore this Glasgow food market, and help you plan your visit.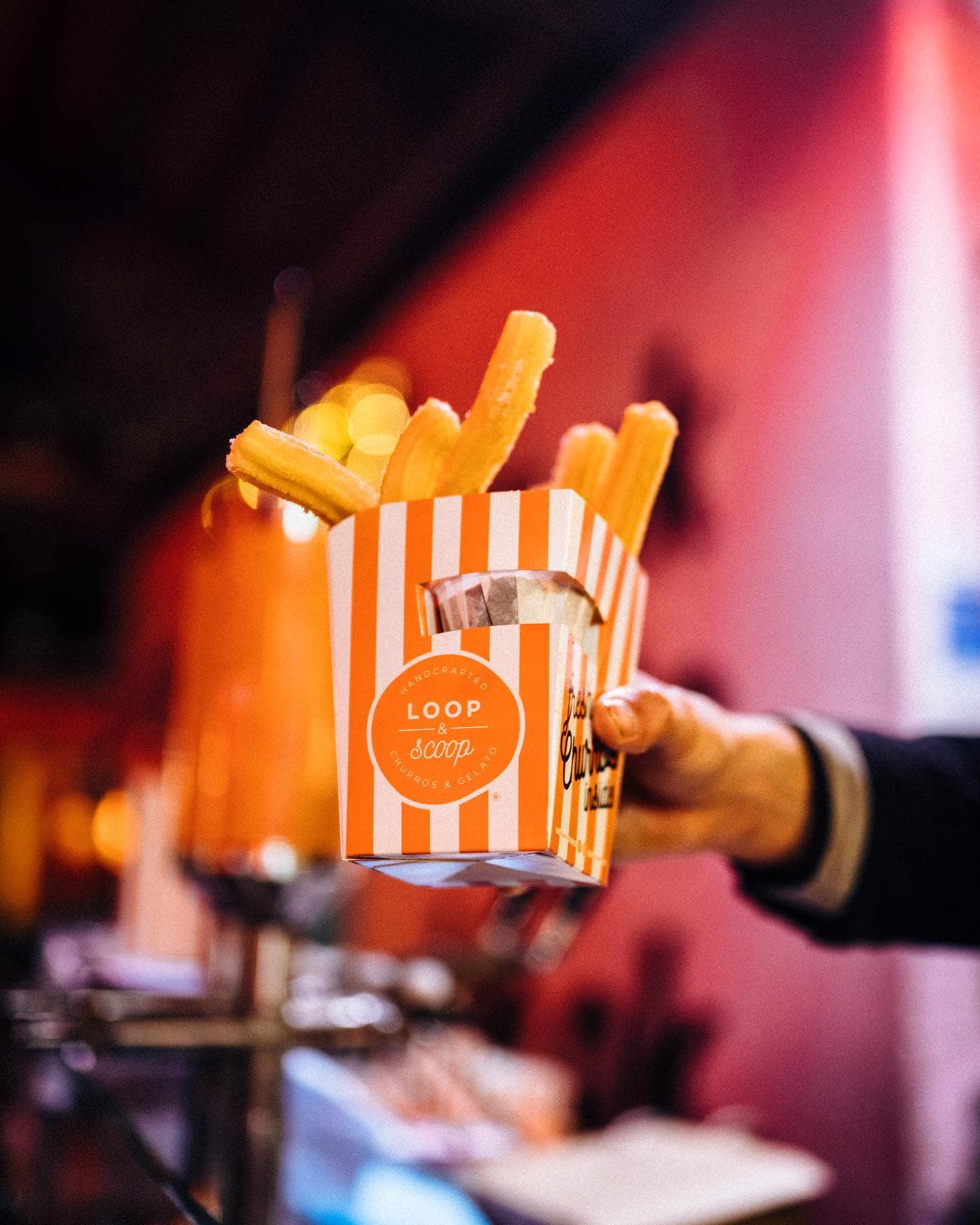 What Is The Dockyard Social?
The Dockyard Social is a popular Glasgow street food market located inside a converted warehouse, offering dishes from around the world. Each weekend, the building hosts ten carefully selected street food traders who create eclectic menus of tasty dishes.
Where else in Glasgow city centre can you find authentic Thai curries, juicy burgers, flavoursome fish tacos, slurpingly-good ramen bowls and crunchy churros all under one roof. Alongside the food stalls you'll find pop up bars with intriguing lists of craft beers, boozy cocktails and more.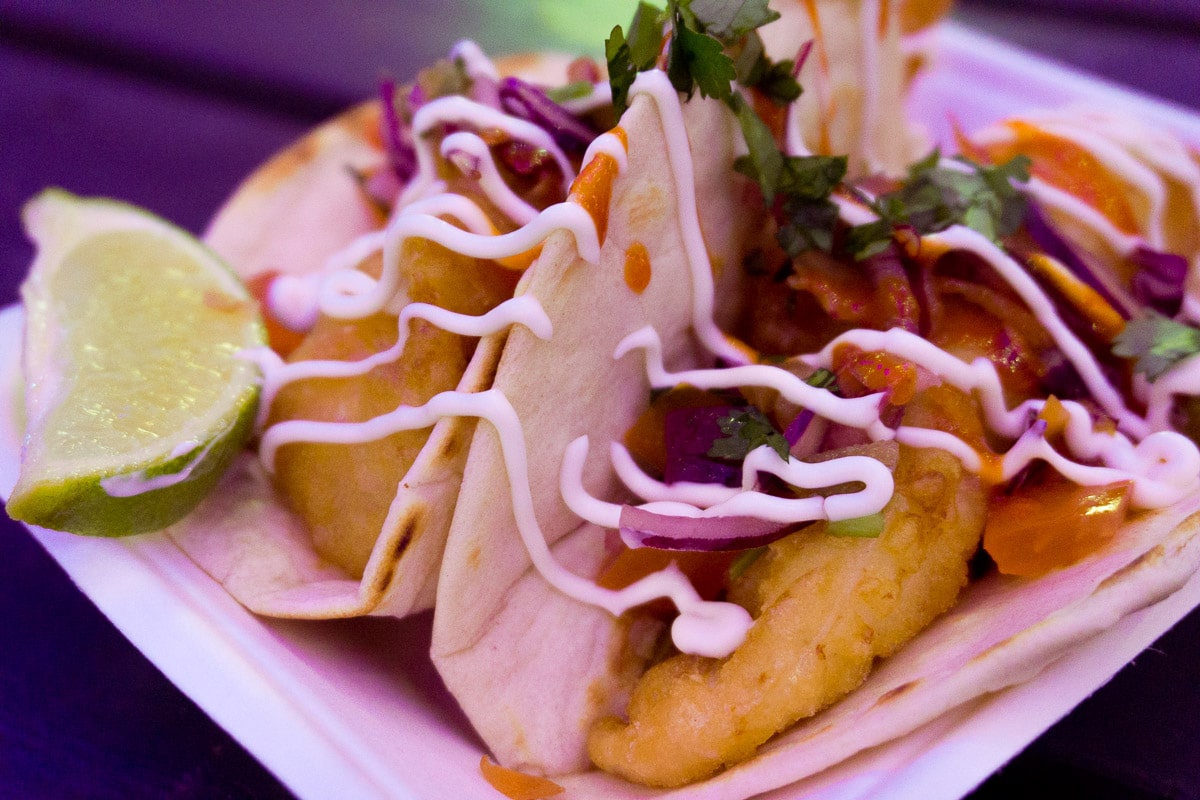 It's a great place to meet with a group of friends, enjoying great food and drinks, occasionally to the soundtrack of some live music or entertainment too. Lit by hanging strings of lights, with funky murals and colourful street art, it's a cool place to spend the evening.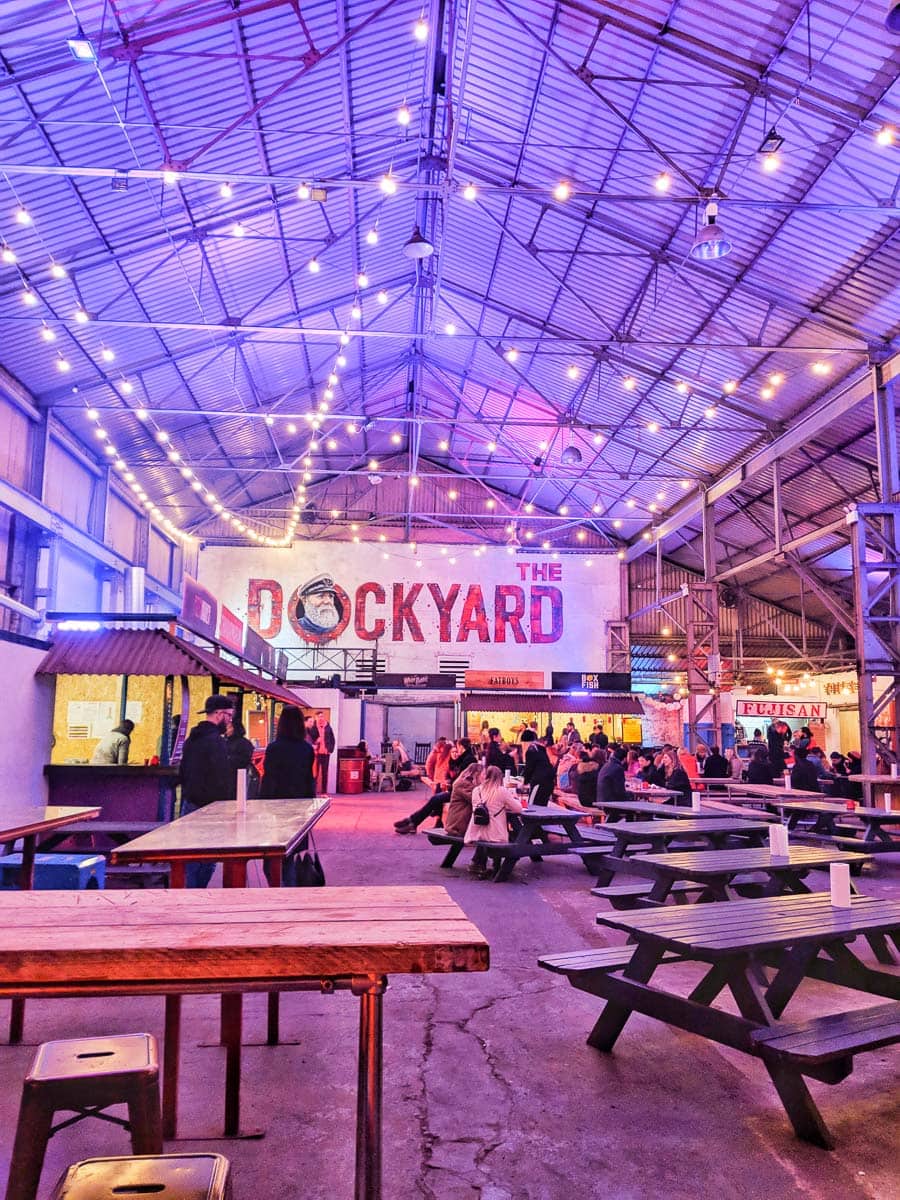 The Dockyard Social is somewhere with a strong sense of community too. The owners are looking for it to be more than a street food hall. Somewhere that makes a difference and gives back to the community, in the way a social enterprise would.
I don't know how far along the plans are now, but when I last visited they had plans to set up a training school which would offer employment and apprenticeships to homeless people or those who had fallen on hard times, teaching them practical skills they could use to get themselves back on their feet.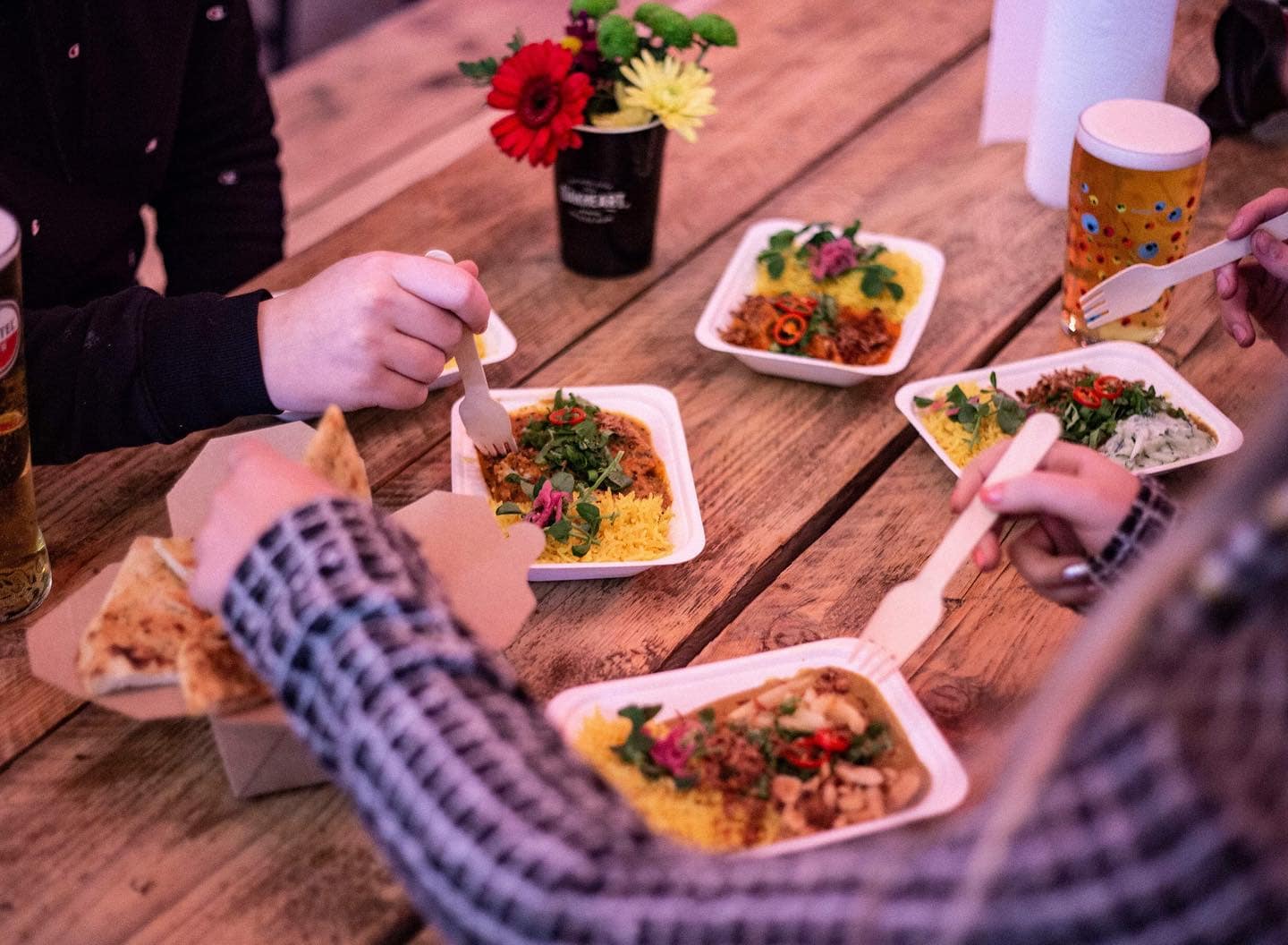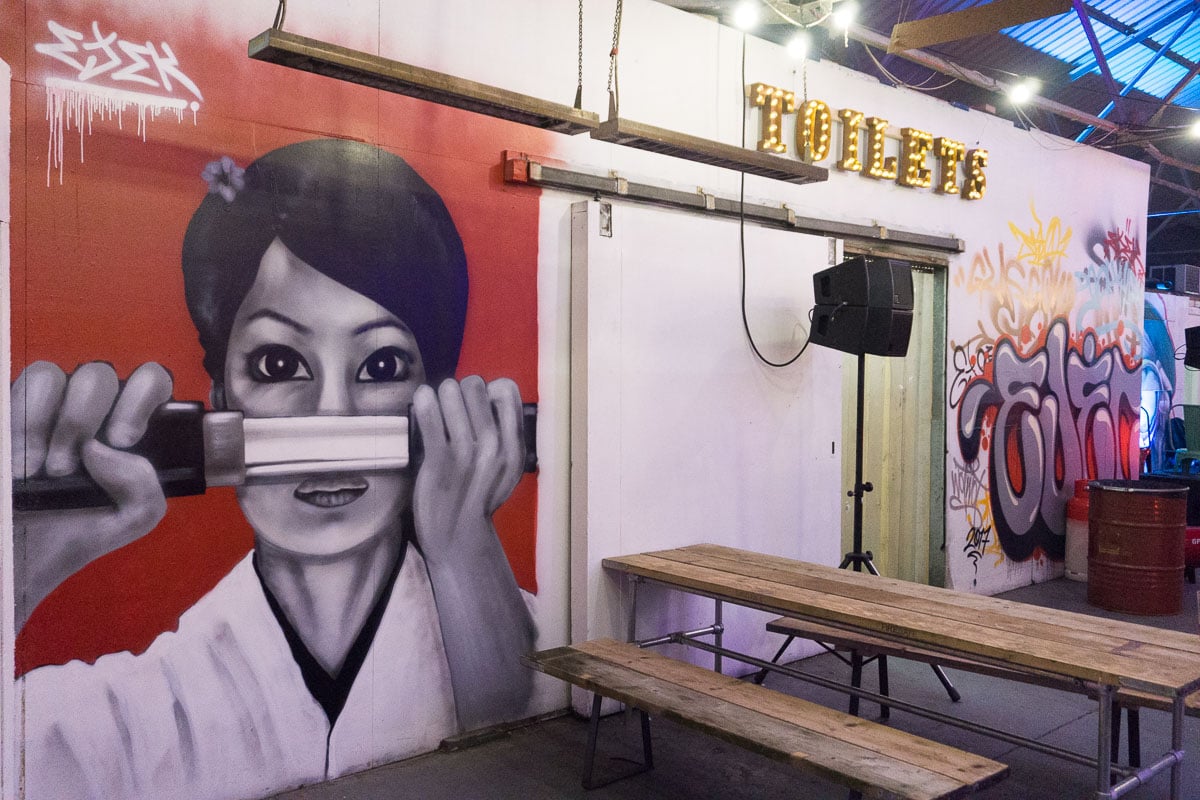 What's On The Menu At The Dockyard Social in Glasgow?
The street food vendors change, but right now there are stalls serving Thai street food, German bratwurst (including vegan sausages!) burgers, Indian curry, Lebanese cuisine, Chinese food and churros. Keep an eye on the website to see what's on the menu when you're planning to visit.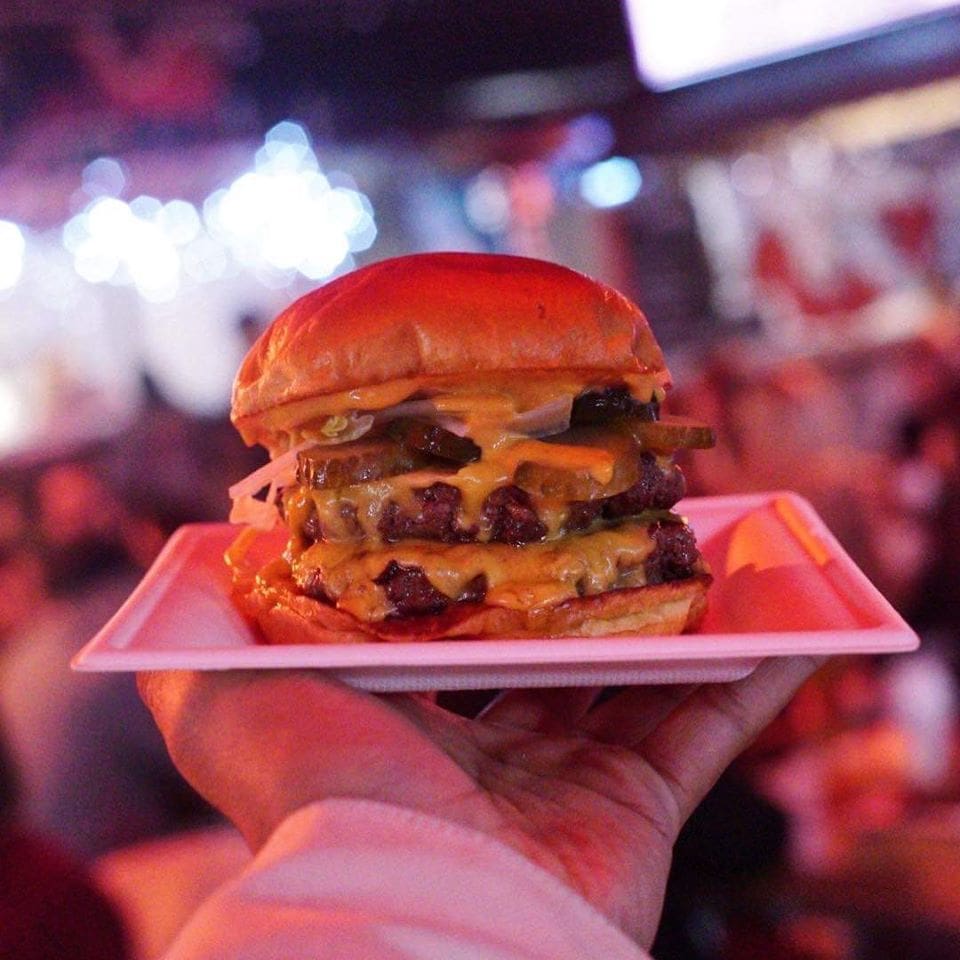 When Is The Dockyard Social open?
This is a weekend hangout, open on Friday, Saturday and Sunday. When I last checked it was open between the following hours:
Friday: 5–11pm
Saturday: 12–11pm
Sunday: 12–8pm
The space occasionally hosts special events out of these times too.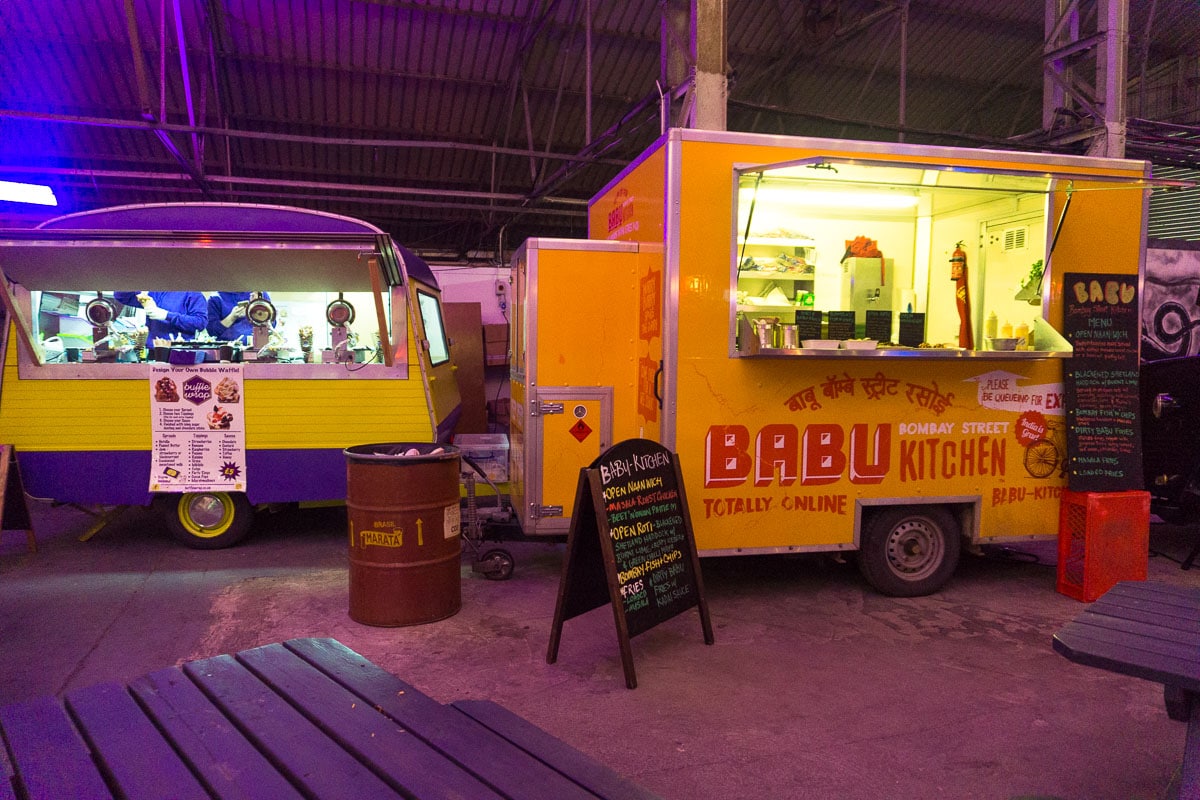 Where Is The Dockyard Social?
This Glasgow food market is located inside a trendy, converted West End industrial warehouse, just off the Finnieston strip, a short walk from the SECC, Hydro and the West End.
The Dockyard Social's address is: 95-107 Haugh Road, Glasgow, Scotland, G3 8TY. It might not look like much from the outside, but step through the doors and you'll be amazed by what you see!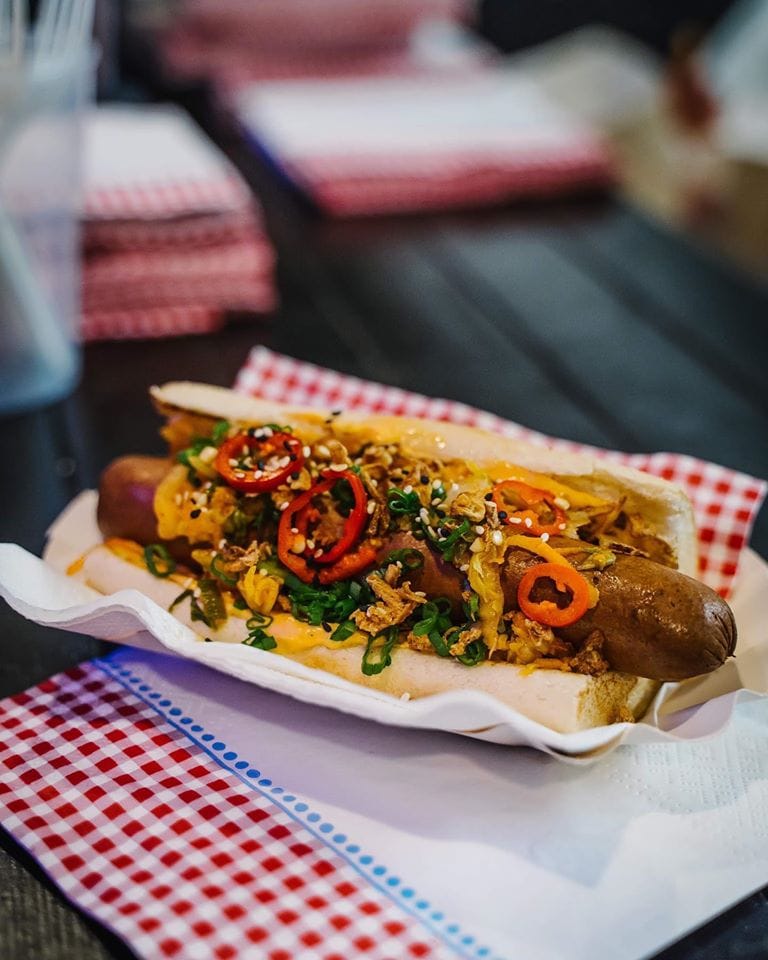 How To Get To The Dockyard Social
As mentioned, The Dockyard Social is a ten-minute walk from the SECC and Hydro. If you're looking for public transport, hop on the No.77 or 38E bus.
What Can I Expect At The Dockyard Social
Delicious food, great vibes, and a lot of fun!
Looking for somewhere in Glasgow city centre to host a big group for your birthday party… or a fun venue for a catch up with few mates? How about a dog-friendly place to pop for a quick lunch, or an all-day session with your nearest and dearest? Forget searching for a restaurant, this Glasgow food market works for all of these scenarios and more!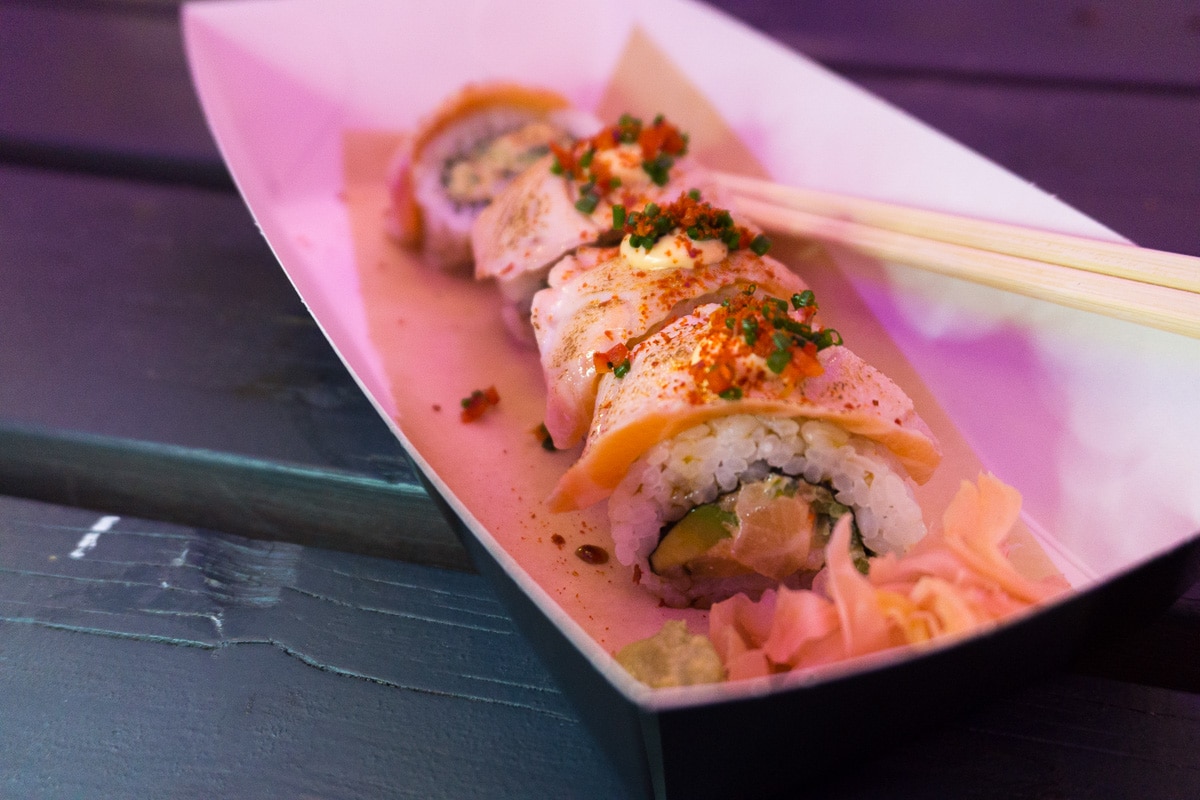 When I last visited there was a huge mix of people inside, from kids to 70-year-olds! Some were bedding in for an evening of drinks, whilst others were grabbing a quick snack. I was there on my own and didn't feel awkward at all. Places like this are great for solo diners!
While the variety of food options is a big draw, I also love the laid-back atmosphere. Anything goes. Rock up in jeans and trainers, or doll yourself up for a night out. No judgment. Just enjoy yourself!
Find out more about The Dockyard Social.
If you're looking for other travel inspiration, don't forget to see where else we'd recommend in England, Scotland and Wales.
Enjoyed this post? Pin it for later…