Some posts on this site contain affiliate links. If you book or buy something through these links, we earn a small commission (at no extra cost to you). Take a look at our privacy policy for more information.
With dungeon tours, haunted hotels, cursed pubs & broomstick riding lessons, the things to do in Alnwick are a fairy-tale just wait to happen!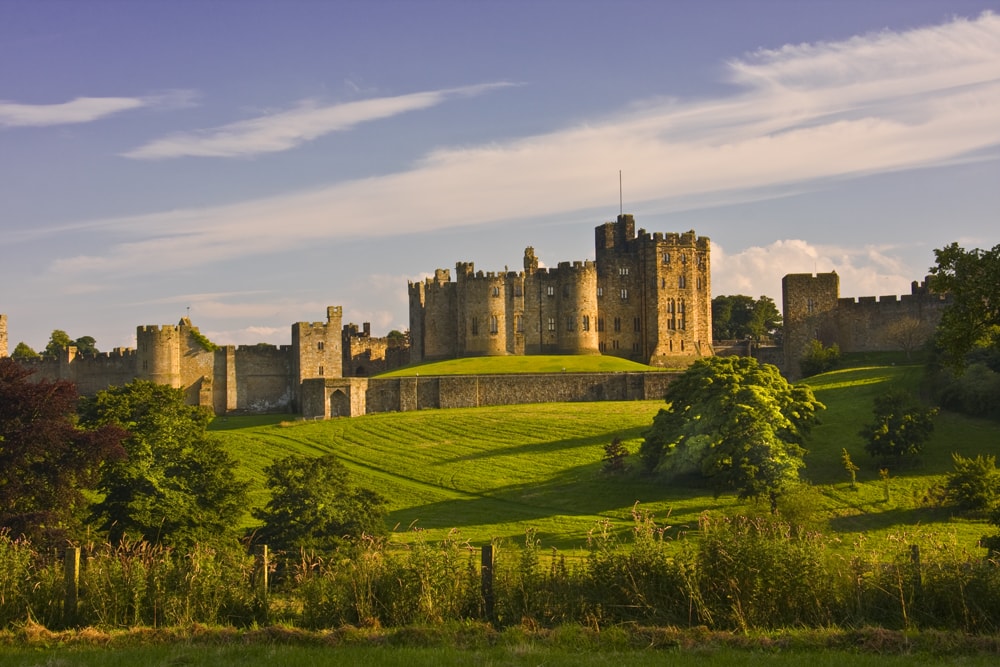 In the heart of the Northumberland sits the gorgeous district of Alnwick. And when I say it's gorgeous, I really mean it. I'll even go as far as saying Alnwick is one of the most beautiful towns in all of England. Yep, I just went there.
Alnwick (pronounced: Annick) is home to the Duke of Northumberland and boasts spectacular coastlines, castles and cobbled streets. Whether you're looking for a romantic getaway or a place to take your kids on holiday, Alnwick is definitely worth a visit.
Harry Potter and Downtown Abbey fans will be delighted to see some familiar scenes as they explore the Alnwick Castle. There are a few tours that explore the filming locations of both here. Also, ghost hunters will be excited to check out the Schooner Hotel – it's one of the most haunted hotels in Britain!
There are many unique things to do in Alnwick which will make you feel like you're in a fairy-tale.
Be whisked away on a Harry Potter style broomstick flying lesson at Alnwick Castle, lose yourself in trove of second-hand novels at Barter Books and enjoy a walk along Northumberland's pristine coastline. If you dare, take a tour through the padlocked poison garden, or drink a beer at cursed pub, The Dirty Bottles. Oh, and Alnwick also has some of the best stargazing in the country!
Whatever your reasons for visiting Alnwick, you will not be short on activities. To help you make the most of your time there, I have created a list of what to do in Alnwick for you. Let yourself be enchanted by everything Alnwick has to offer!
– Things to do in Alnwick –
Alnwick Castle
You will be forgiven for thinking you've seen Alnwick Castle somewhere before. In fact, you probably have as it has been used as a location in both Harry Potter and Downtown Abbey!
For 700 years this glorious castle has been home to the succession of Dukes of Northumberland. While the Percy family still lives in the castle, you can take a tour inside to admire the incredible carved ceilings and their collection of priceless art.
With excellent themed activities for kids such as broomstick flying lessons and dungeon tours (included in the entry price!), this is one of the best family activities in Alnwick.
Admission costs £ 16.75 for an adult, or £ 45.75 for a family ticket (2 adults and up to 4 children). Pro tip: buy the tickets online before you visit to save 10% off entry.
Alnmouth Beach
Alnmouth beach, an easy 10-minute drive from Alnwick town, is what to do in Alnwick if you want to experience the breathtaking scenery the Northumberland coast has to offer. The beach is broad, so you'll always find places to lay out your towel, even in the height of the summer holidays. Come here on a week day though and sometimes you'll have the place to yourself.
Just off the beach is Alnmouth town filled with quaint cottages and is well worth a wander through. While you're here, why not visit the 17th century Schooner Hotel, which is said to be one of the most haunted hotels in England. If you don't fancy scaring yourself still, you can play a round of golf at Alnmouth Golf Club, England's 4th oldest golf course?
Stargazing
View this post on Instagram
For those looking for some romantic things to do in Alnwick, this sparsely populated area is one of the best stargazing spots in the whole country!
Northumberland has the largest 'Dark Sky Park' in Europe, an area of 572 square miles which are dedicated as lights free. Because of this, on a clear night you can see over 2,000 stars with your bare eyes. The views of the night skies really are something special here.
Grab yourself a picnic blanket, a nice bottle of wine (or a thermos of hot chocolate in winter!) and marvel at the amazing show the night sky has to offer. Download an app or two on your phone to help you identify the planets, galaxies and constellations, or simply lay back and take it all in.
Barter Books
Formerly the Alnwick train station, this building has taken on new life as the beloved Barter Books. With aisles and aisles of second-hand books and manuscripts – organised by topic, Barter Books is a treasure trove just waiting to be discovered.
Cuddle up in one of the armchairs or next to a fireplace and leaf through one of your finds. Barter Books has a great kids section too. This section includes ride on toys, so it can be a great place to bring your young ones on a rainy day.
As the name may suggest, the store is opening to bartering, so bring your pre-read holiday reads to trade for something new.
Brizlee Tower
The 1st Duke of Northumberland had the Brizlee Tower constructed in the memory of his wife Lady Elizabeth Seymour in 1781. Situated in Hulne Park, this Gothic revival style tower is 26m (6 floors) high. You can almost imagine Rapunzel at the top of the tower, can't you?
The tower is generally closed to the public. However, it is opened for tours for special occasions. If you visit on one of its few open days, you will be gifted with stunning views as far as the Scottish hills! While you're here, take a wander through Hulne Park to see the ruins of a 13th century Carmelite friary.
Warkworth Castle
From humble wooden fort beginnings, following upgrades in the 13th century, this hilltop castle held its own against two Scottish sieges! Today, Warkworth Castle is one of the top places to visit in Northumberland.
Following the English Civil War the castle was left to crumble. However, in the mid-19th century parts of it were restored and uncovered. Visitors today can enjoy walking around the towered walls, admiring the cross shaped keep or taking an extra adventure upstream to the hermitage.
During the school holidays activities such as adventure quests and knights' tournaments are held here, so it's a great place to bring the kids. Entry is £7.20 for an adult or £18.70 for a family ticket (2 adults, 3 children).
Alnwick Garden
A trip to the recently restored Alnwick Gardens is perfect on a sunny afternoon. The gardens feature a waterfall, rose garden and cherry orchard. You can also test your skills in the bamboo maze!
One of the most fascinating things to do in Alnwick gardens is visiting the poison garden. This garden, kept locked behind bars, features a collection of over 100 of the worlds most poisonous plants. Due to the nature of these plants, you can only visit this section with a guided tour. But no touching!
If you're planning to visit the castle as well, grab yourself a combined entry ticket for £ 28.70 per adult. You can purchase your tickets online here.
Bailiffgate Museum
Set in a former church, this museum is one of the best wet-weather family activities in Alnwick. There are many activities to keep children entertained, including dressing up, and arts and crafts. The museum also features an exhibition called "Batteries Not Included", which displays a history of toys.
Not just for children, this museum displays much of the local heritage and displays items from local art and history. At £4 per adult and £1 per child this is a great place for those looking for cheap things to do in Alnwick.
Embleton Bay
If dramatic, untamed coastlines are your thing, get yourself down to Embleton Bay. Here you can enjoy a walk along the arced beach while taking in the ruins of Dunstanburgh Castle in the distance. Due to its large size and low population, Embleton Bay is a great place for families to spread out.
The beach is bordered by dunes, which are the breeding grounds for many types of birds and at low tide there are rock pools to explore. During the summer this is a great natural spot to come and relax. In winter, enjoy wandering along the coastline – then retreat to one of the friendly local pubs to warm your cockles!
Howick Hall Gardens
The tea lovers among us can enjoy the experience of visiting the creation place of Earl Grey tea – and of course, sitting down to enjoy a cup. The name of the tea is derived from the Earls Grey, who hold the ancestral seat of Howick Hall – one of whom had tea specially blended for him to complement the local well water.
Visit in the spring time to wander around the beautiful display of flowers in the gardens. Followed, naturally, by sipping on an Earl Grey tea in the resident tea room.
Eat at one of Alnwick's best restaurants
There is no shortage of options when you're looking for where to eat in Alnwick. For those looking for pub grub, The Joiners Arms has a great atmosphere and serves all your pub favourites. Head there on a Sunday to get a proper Sunday roast and enjoy the gorgeous scenery.
If you're in the Alnwick gardens, The Treehouse is definitely worth the visit. Enjoy delicious meals from locally sourced ingredients, washed down with a selection of cocktails which were created in collaboration with Duchess of Northumberland. Beautifully crafted, decorated with fairy lights and with sections connected by suspended bridges, dining here makes for a magical experience. Be sure to book in advance!
Drink at one of Alnwick's coolest bars
For things to do in Alnwick at night, be sure to check out some of the excellent pubs Alnwick has to offer. And trust us, there are so many different places to choose from.
If you've ever fantasised about being on the Titanic, make sure you head to the White Swan for a beer. The White Swan has been decked out with many of the fittings from the SS Olympic, the sister ship to the Titanic, following its dismantling in the 1930s. It's a really quirky place but it still has a lot of old school charm to it too.
Alternatively, newly established The Dirty Bottles, which local folklore believes to be cursed, is another great place to spend your evening. Featuring an excellent cocktail menu, changing guest ales and a self-service tasting wall, you'll be feeling merry in no time. Just don't test the curse!
– Hotels in Alnwick –
---
What are you looking to do in Alnwick? Any of these things jump out at you? Let us know in the comments below!
Enjoyed this post? Pin it for later…